It may come as a shock to some people to know that men tend to take as much pride in their appearance, including their hairstyle, like many women. While long hair on a man was once taboo in the US, it is now quite common. There are several different ways for men to keep long hair and still look nice.
A man who is a professional can wear his hair at about shoulder length and maintain it in a nice clean style that is acceptable to most as being appropriate. The professional style is cut to the shape of the face so that the eyes are visible without any hint of hiding behind the hair.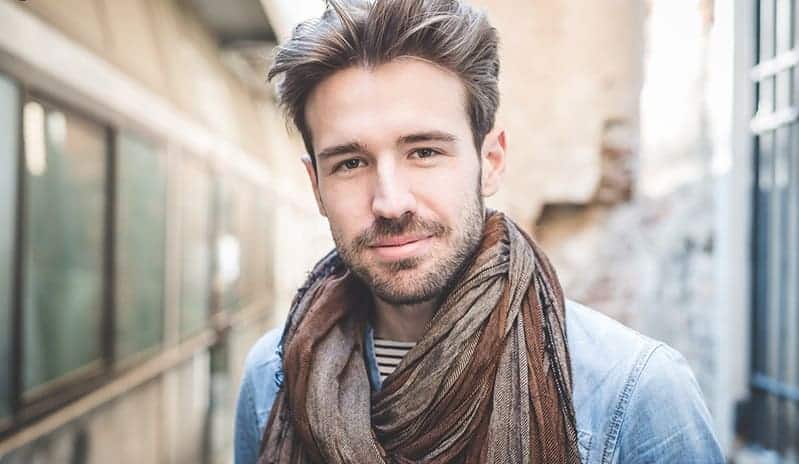 The Wildest Long Hairstyles for Men
Even though longer hair implies more maintenance and styling products, long men hairstyles turn out so great that you totally forget about all of that. And since longer locks are worth the trouble, why not try this healthy look to grab the ladies attention? Therefore, check out our digital catalog of the best long haircuts in order to let your locks run wild and free.
#1. The Man Pony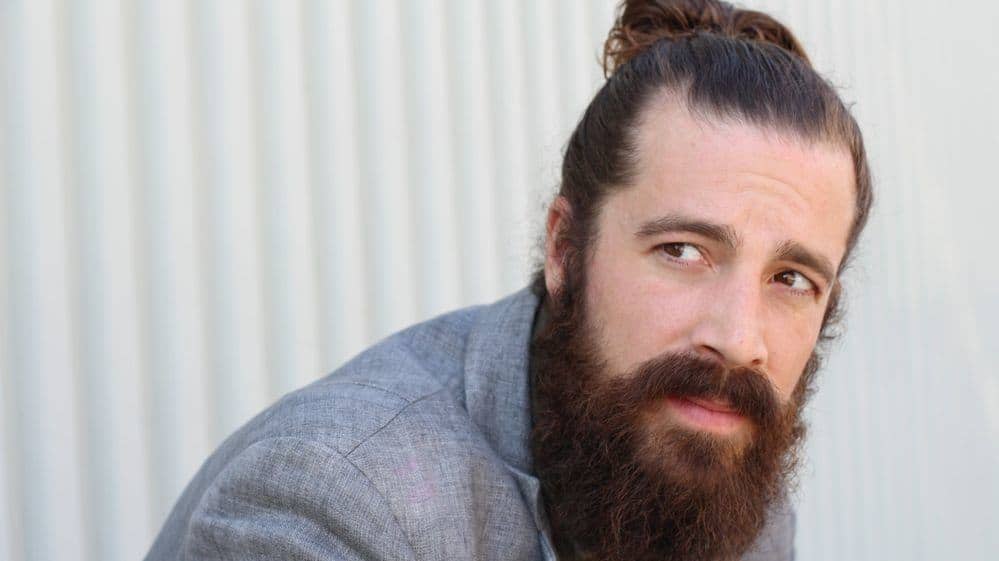 Any face shape can rock the man pony. However, not everybody knows how to style it perfectly. So, follow the steps below to guide you through the rather easy process:
Gather hair into a low ponytail.
Secure it with an elastic hair band.
Tip: Use a serum to:
Tame any flyaways.
Make your hair shine.
Control the frizz. (If any)
Maintain hair health.
#2. High Ponytail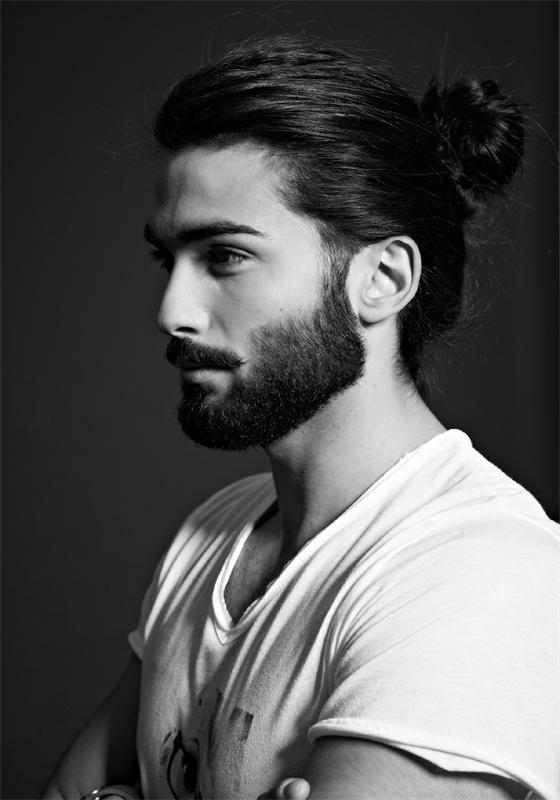 If your hair texture always ruins your party mood and prevents you from having a good time, then you probably need some hair gel. But why? Because you need to get a good grip of your hair locks. And that can happen with the help of some firm hold gel that is guaranteed to give you a naturally shiny finish.
#3. Highlighted Tips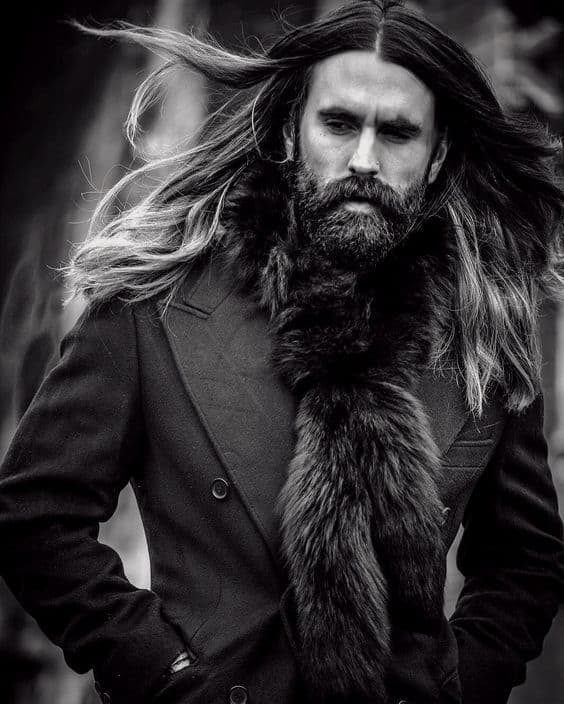 Standing out doesn't need to be done through hair textures. Because you can still do it with color variations and hair lengths. For example, the stylish guy shown above chooses blonde highlighted hair tips and relatively long hair to shine in the fashion world spotlight.
#4. Hanging Low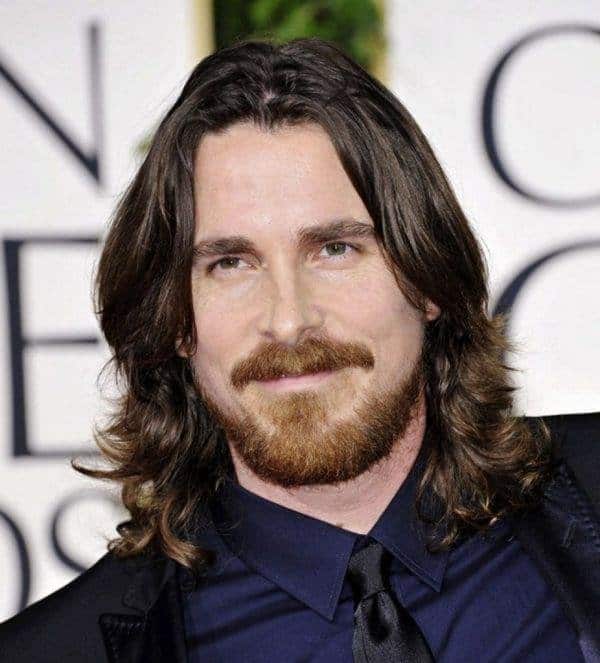 Another easy way to rock long men hairstyles is by trimming your hair short in the front while keeping it long in the back. This layered look can be obtained by:
Applying styling products to clean damp hair.
Letting it air dry if you already have straight hair. Otherwise, flat iron until you reach desired smoothness.
#5. What About Hair Weight?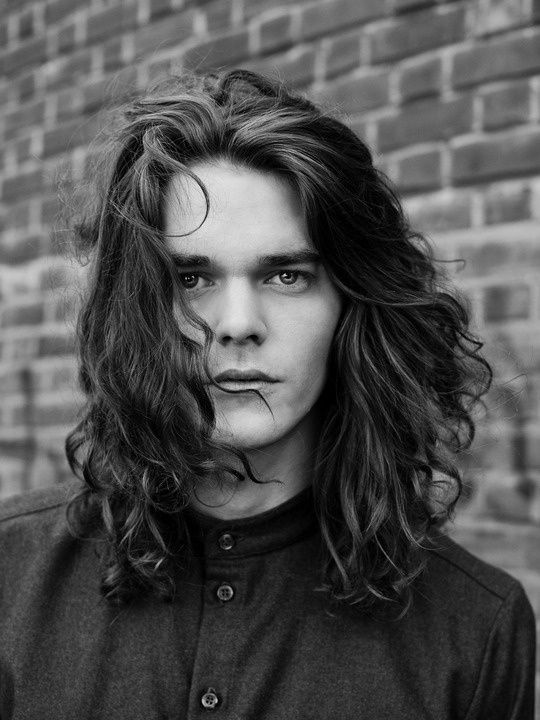 With the help of good quality hair mousse, men long hairstyles can look and feel weightless yet voluminous with decent hold. So, it's best to do that by scrunching mousse through your hair and letting it dry afterwards.
#6. Mini Ponytails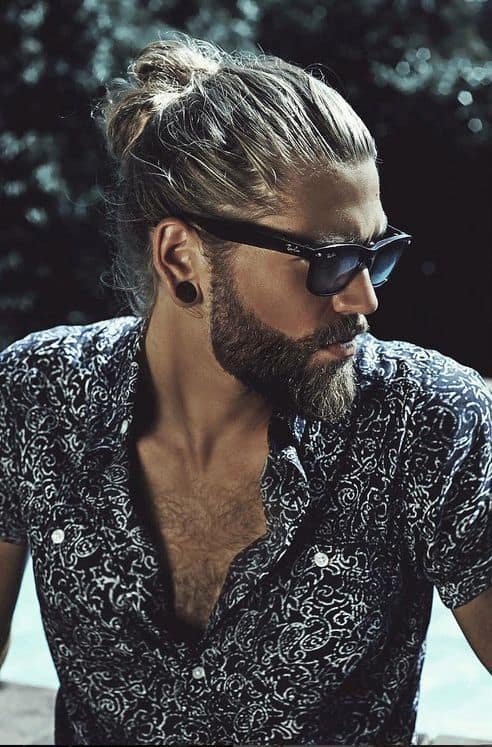 For a summer look, nothing looks better with a crisp tanned skin than long blonde hair tied up in a mini ponytail. Because its the easy way to keep your hair away from your face while still looking stylish.
#7. Bun And Mohawk Mix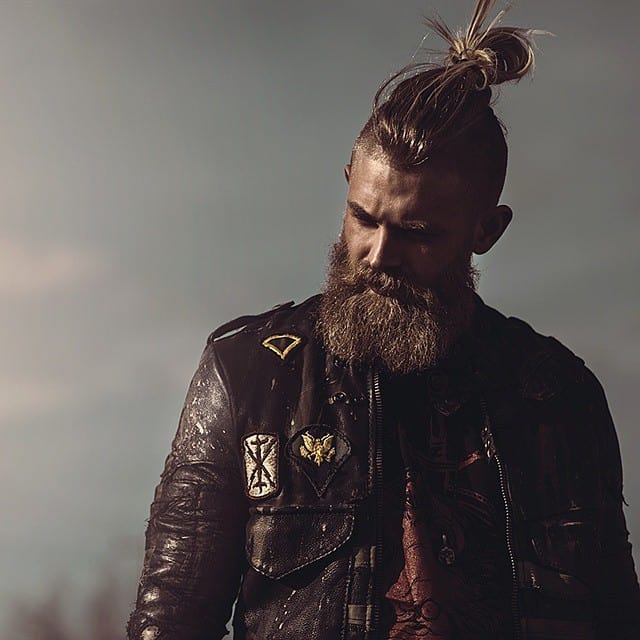 If you're one of those black leather jacket bikers, then a mohawk cut is practically obligatory to send out a message about your personal preferences. However, that doesn't mean that you need to get rid of the pleasure that comes with having a messy bun. Because you can grow out your middle mohawk hair and end it with the messy bun you had in mind. Meanwhile, the sides remain relatively short.
#8. The Power Of Hair Products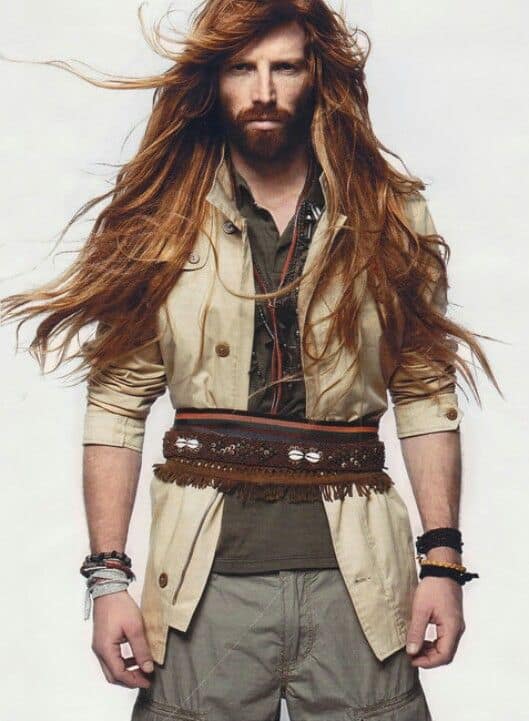 If you are worried about your long lock's lifespan, then you need to pay more attention to the hair products you buy. Because, with the right combination of shampoo, conditioner, and moisturizer you will be able to successfully avoid any chance of ending up with split ends or breakage.
#9. Just Dry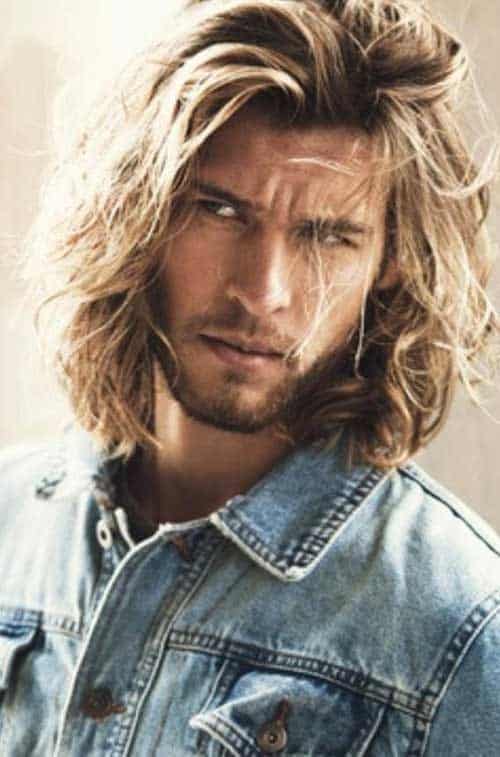 To get extremely random men long hairstyles, you can try this example illustrated above. So, all you need to do is :
Wash your hair until it is fully wet.
Towel dry or air dry it to get this frisky rough look.
#10. Blow Out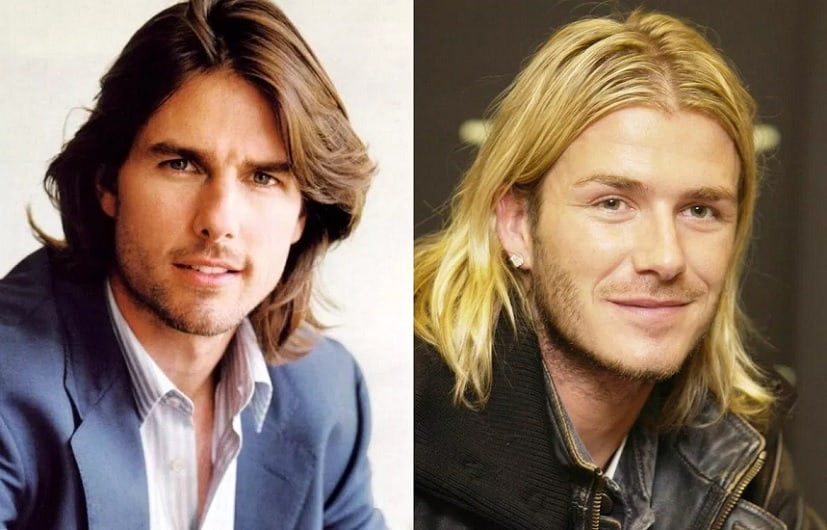 You don't always need to go over the top in order to look attractive. Because sometimes with a simple hair blow out, you can increase your hair's volume. And with a dab of serum you can make it glisten under the spotlight. Moreover, don't forget to brush your hair using a tooth comb to make it sure it is neat.
#11. Messy Hair Is Not A Mistake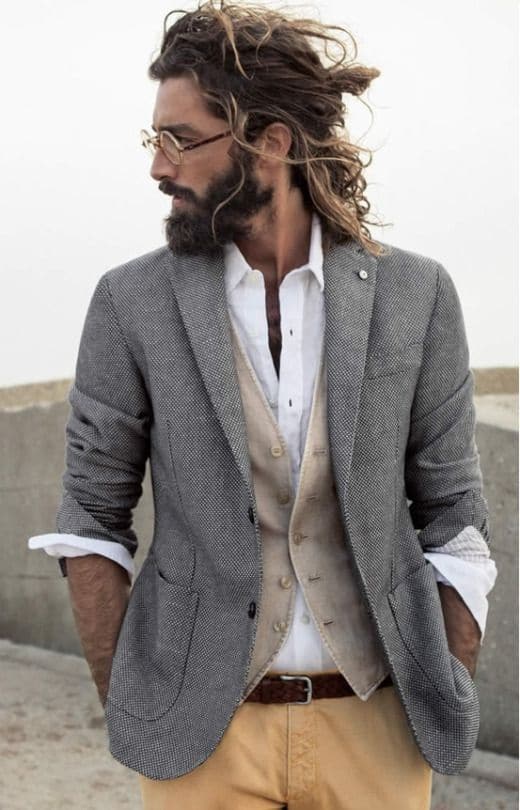 Nowadays, messy hair has become so mainstream that it's practically impossible to go out without spotting a guy rocking his messy locks. But why messy hair?
It looks more natural which takes out the faux features and focuses on what it is actually real.
It requires no real effort. So, it suits everybody including lazy lads and extremely busy businessmen.
It doesn't require expensive hair products. Then, everybody can afford it.
#12. Chopped Off Side Bangs
Randomly chopping off your side bands can be an artistic approach to the way you choose to wear your long lair. And don't forget to create some kind of visual balance between your bear and hair to reach the complete catchy look.
#13. Au Naturel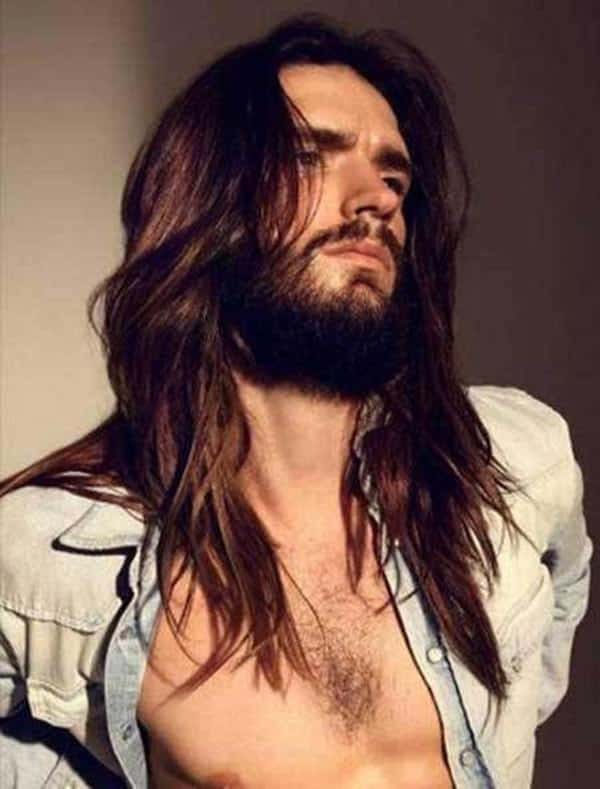 Not all long hairstyles require alot of effort. Despite the long hair shown in the above example of men long hairstyles, it requires minimal maintenance. Especially when you have got naturally straight hair, then you can go out au naturel without the fear of looking underdressed.
#14. Angeled Undercut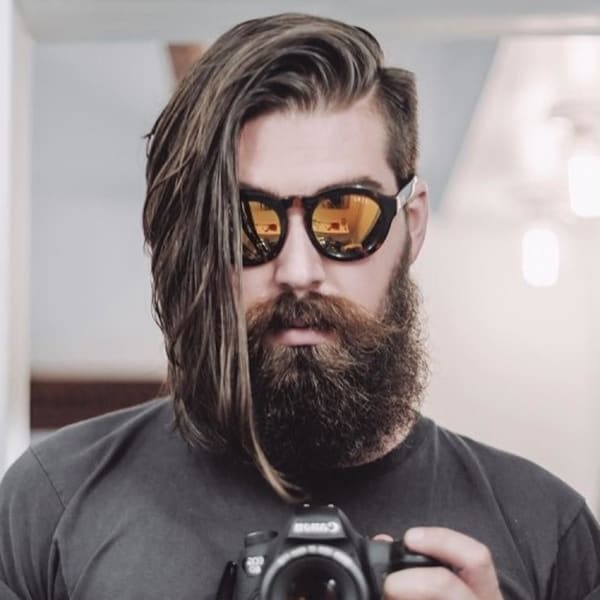 This kind of long cuts is extremely edgy and can change the entire world's perception of you. Because it has this juxtaposition appeal which is formed by trimming off the side to a minimum number 1. Meanwhile, you keep growing out the other side and use hair gel to maintain the side swept touch.
#15. The Great Groom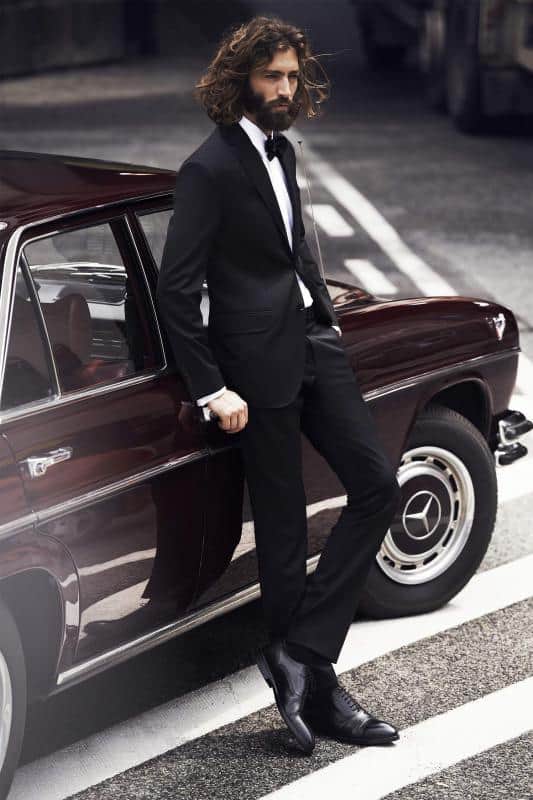 The best thing about medium length hair with slight waves is that it works for all face shapes. In addition to that, they can give a formal and elegant look when paired up with a well-groomed beard and nice black tux. This look can definitely work for grooms with long hair.
#16. Dreadlocks Design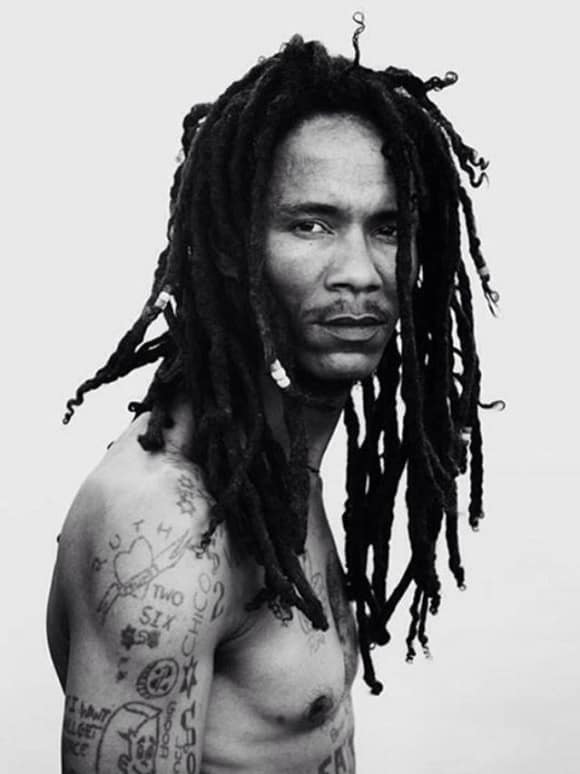 The great thing about dreadlocks is that they are those men long hairstyles that don't require any daily styling. So, the ingredients you need for this look are:
Naturally thick hair for better texture.
Round or square face shapes.
Moisturizer spray to keep the locks hydrated and healthy.
#17. Highlighted Hair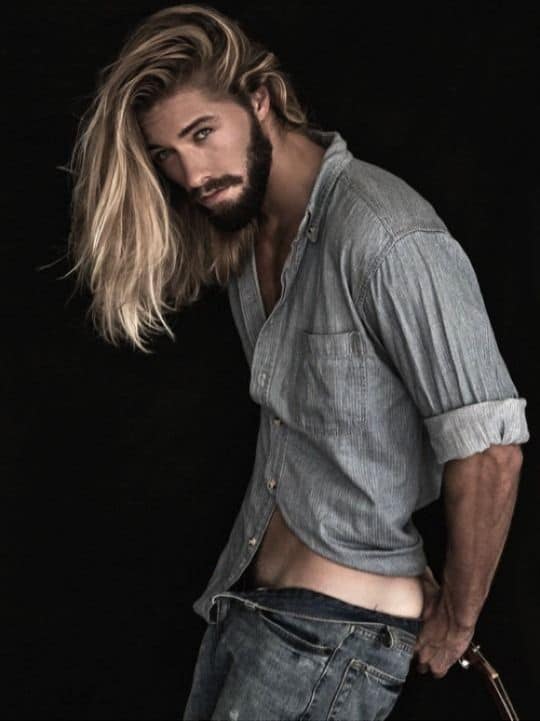 This hairstyle falls a little below your shoulder level. Moreover, it is all about the highlights that bring out its sleek layers and makes it catchy and eye-grabbing. In addition to that, you can get your hair locks to shine by using some leave- in conditioners.
Tip: You can tuck it behind your ears if you hate it when your hair keeps getting in your eyes on windy days.
#18. Up In A Bun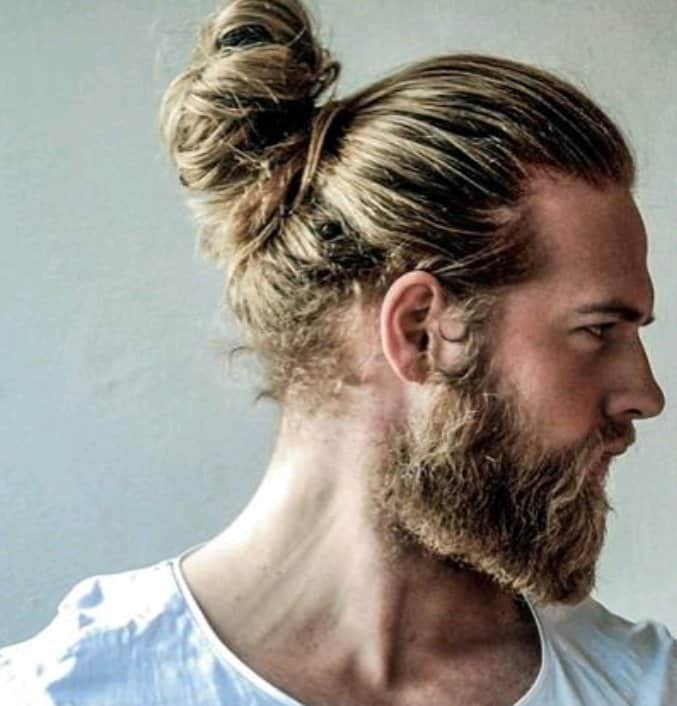 What should you do when you don't have the heart to cut off your long golden locks, yet you really hate men long hairstyles that include hair locks flapping against your face on windy days? The answer is simple because all you need to do is holster up your hair in a bun!
#19. Longer Than Usual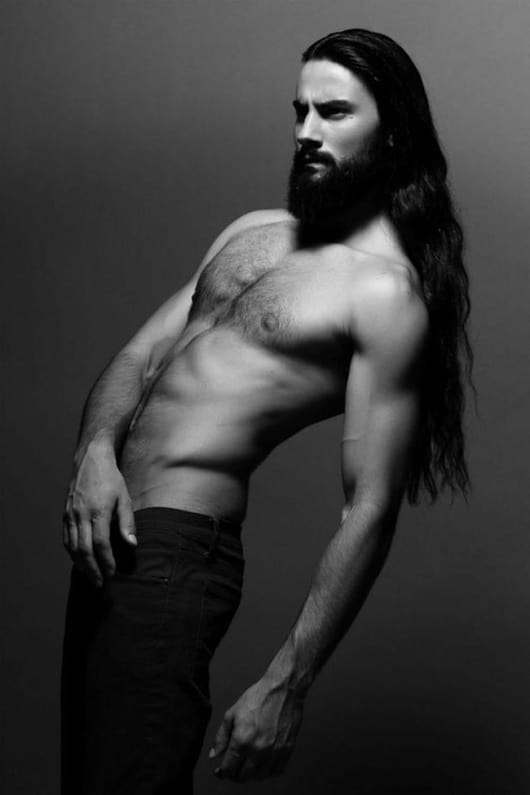 Some guys like to grow their hair longer than usual because they think it would give them a distinctive character. After all, men long hairstyles are all about standing out in the crowd.
#20. Pony Tail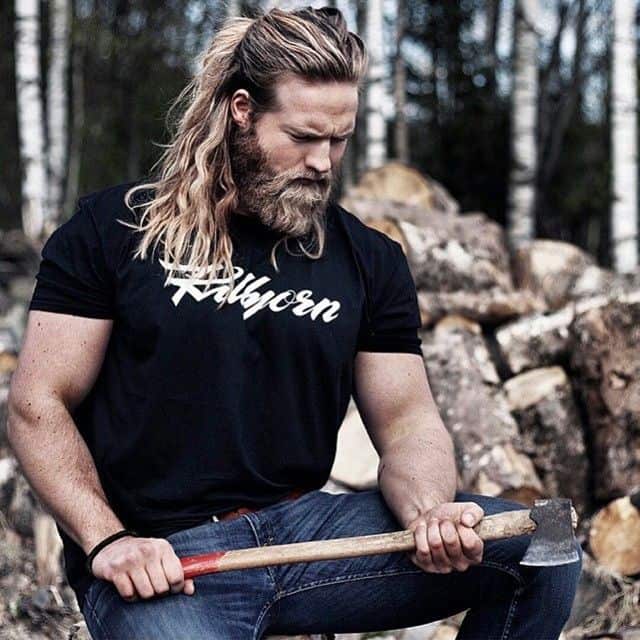 If you have not yet tried the exotic look of a man ponytail, then you need to check it out now for yourself. Because it looks sporty and natural, all you need to do to get this look done is the help of high-quality shampoo and some hair pomade to help fix your hair in place.
#21. Longer Beards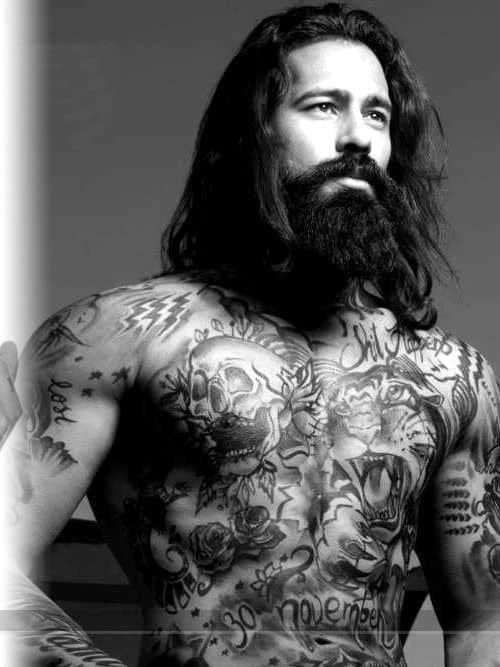 Longer hair should be complemented with longer beards causing your manly look to rank even higher on the bad boy factor. After all, tattoos alone cannot make the bad-ass look complete without the long hair and beard.
#22. The Brad Pit Cut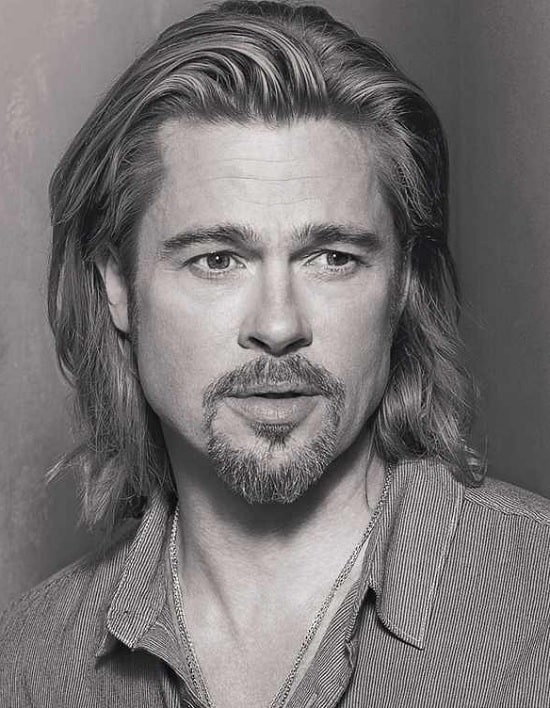 There is no other guy that can make girls so smitten like the one and only Brad Pit. Therefore, imitating his exceptional look is practically a must if you want to have the same result. So, pair up your neck long smooth hair with a goatee beard and run a dab of hair pomade through your silky blonde hair.
#23. Side Swept Cut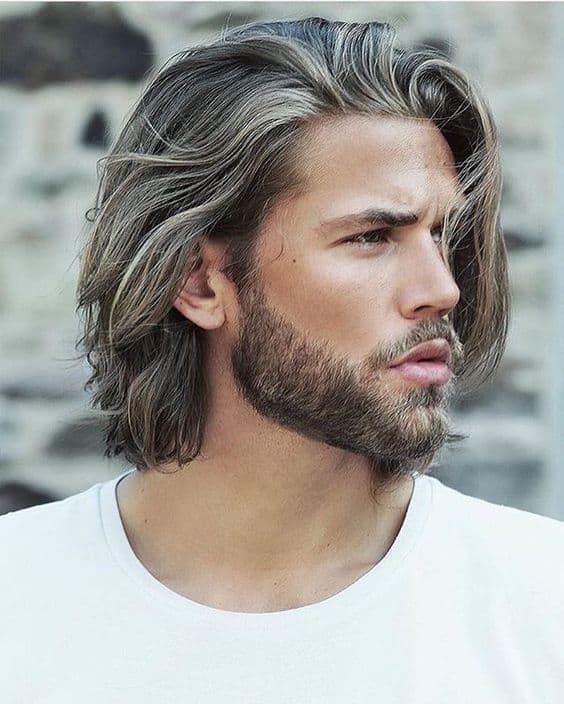 Asymmetrical cuts are very mainstream these days. And since everybody is trying them, why not join this fashion wave and go with its flow.
How Can I Always Make It Look Fresh?
If you are going out, you need to avoid disobedient hair that springs out in every direction. So, don't forget to wash your hair with shampoo and moisturizer regularly in order to avoid the mighty humidity.
#24. Just Combed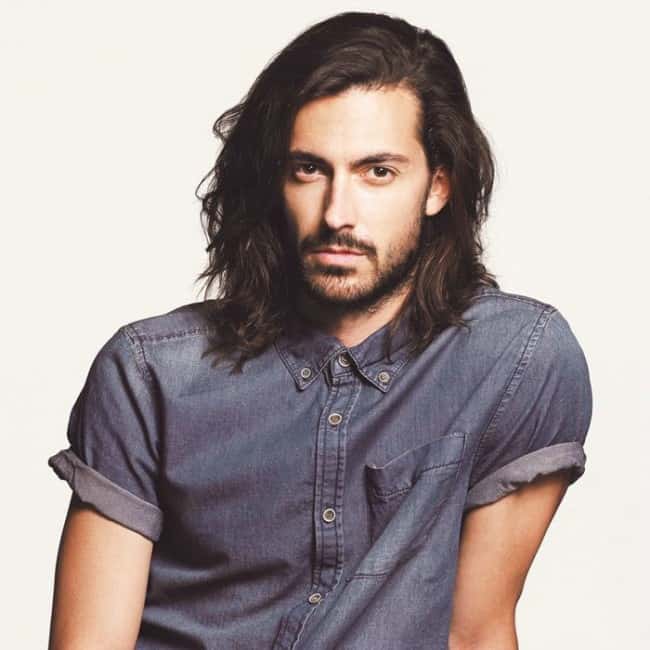 The most successful men get the long hairstyles for every day are probably the ones that support the natural texture of your own hair. Therefore, if you have got the straight hair you don't need to go through the agonizing trouble of using the curling iron for over an hour. So, you can look fantastic by simply combing your hair sideways and just letting your hair locks swing swiftly with the delicate wind brushing against your neck.
#25. Peace Out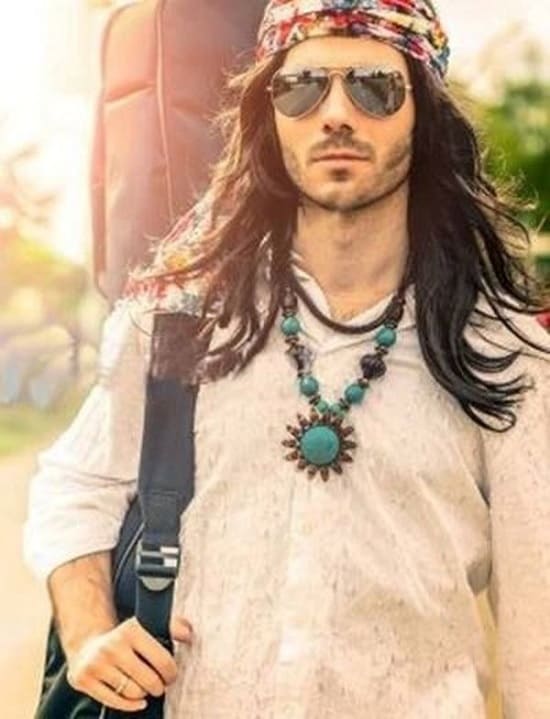 Other great ideas for styling long manly hair include the vintage 1970s fashion trends. So, take a walk down memory lane and remember your good old days with this picturesque look. And don't forget the colorful and floral headband to render this style complete.
Popular Celebrities With Long Hairstyle
Below are examples of long hairstyles for men:
Ben Barnes Shag Hairstyle
Bi Rain Hairstyle
Japanese Rockabilly
Rasta Dreadlocks
Andy Six Hairstyles
Long Hairstyle Tips
In conclusion, the longer your hair is the better chance you have at ranking higher on the fashion meter. Moreover, don't forget that long men hairstyles can take off a few years of your age and make you look younger than ever. So don't miss out on the opportunity to get yourself a young and attractive appeal!