Mark Wahlberg long hairstyle.
This kind of look is not hard to achieve. However, it is not simple, and if one makes mistakes, they are very hard to correct. Here are some tips that you may appreciate for that perfect "layered" look.
If you wish to do your own haircut, this is possible. Before you start, remember that not everyone should try this at home. If you can enlist the aid of a friend or relative, it may be a big help. With a little diligence and confidence, you can succeed.
There are many advantages to this layered look. Your flat looking hairstyle will have more fluff. If you have a thick mane, layering it will give it texture and added body. It also will give you better control of natural curls.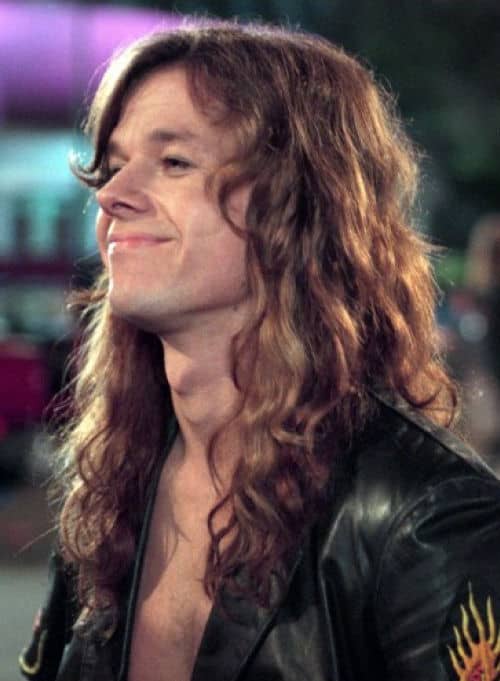 Mark Wahlberg as Izzy Cole in the movie Rock Star (2001).
Once you are ready for the perfect layered "Izzy Cole" haircut, wash and blow dry first. Make sure and use a high quality shampoo and conditioner. This will make your long locks softer and easier to work with. Comb and then bunch everything into a ponytail.
To get the look, twisting the ponytails and then cutting to the desired length. You then can twist the pony tail in the opposite direction. Snip areas that have been missed.
You can also use a texturizing hairspray to create waves in your straight hair by spritzing some sprays, then twisting/coiling and squeezing hairs using your fingers.
Getting the look of Mark Wahlberg long hair in Rock Star movie involves layering. Take your time so you do not make any errors, or you may have to let your hair grow out. Make sure and not overdo the process.
For instance, too many layers in back will make your hairstyle resemble a mullet. Keep the layers low and do not go past the bottom of the ears. This will give you the best look that the ladies will appreciate. After all, that is one the most important considerations.