Men have been experimenting with their hair since long to create style statements. Military hairstyles have become a thing of the past while shaved sides and long hair on top are embracing the fashion world.
The recent trend of shaved sides has spread like fire in the forest and is taking different artistic and bolder forms.
Latest Long Top Shaved Side Hairstyles
Let's have a look at the curated list of some amazing long top with side shaved hairstyles for you to try!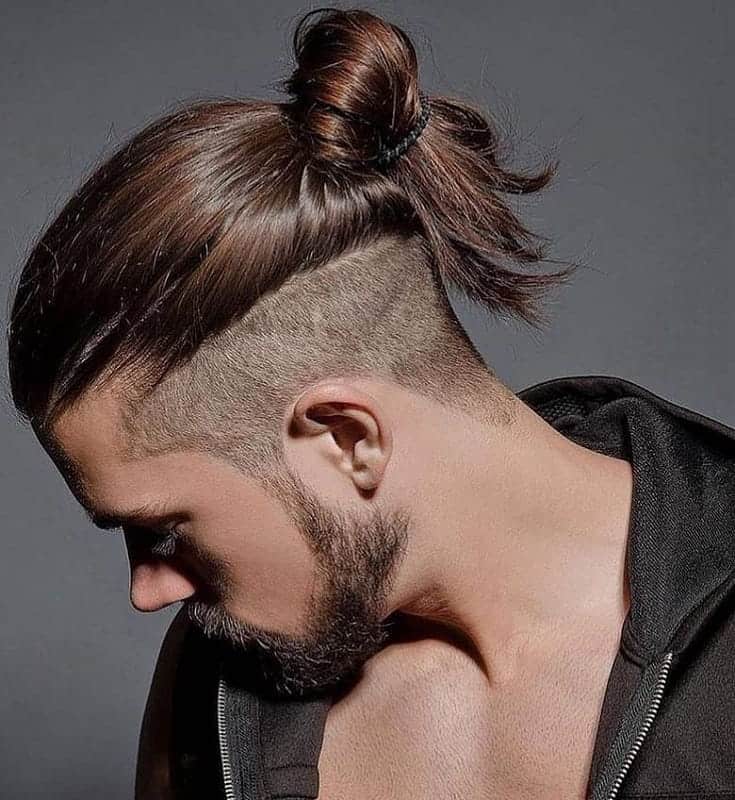 If you're a low-maintenance guy who is a minimalist for style, this undercut on long hair is a perfect hairstyle for you to carry. Ge your sides shaved and tie the top long hair into a ponytail.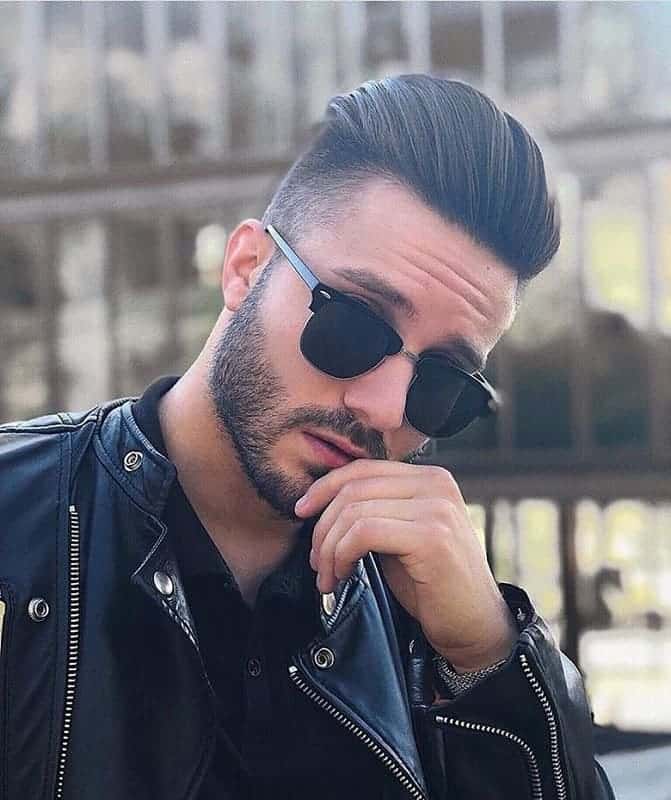 For those who want to carry a formal hairstyle in shaved sides, this classy undercut variation is good to go. Comb over your long hair and get a royal look.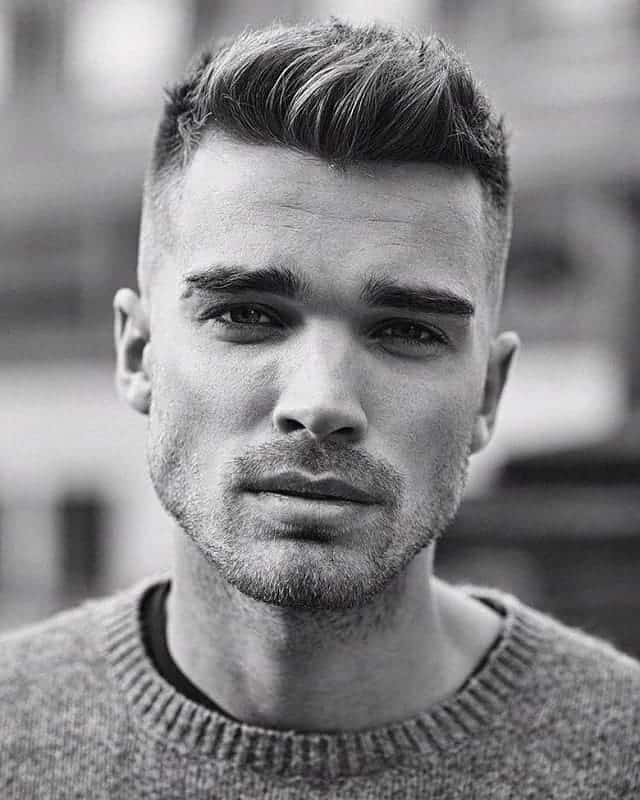 Get ready to kill the babes with sexy short quiff hairstyle. Shave your sides and forget about their styling.
Apply a few drops of hair gel on the top hair and spike them up! If your hair is thick, you won't be needing the hair gel. They'll spike up on their own if cut short enough.
4. Shaved Sides with Mohawk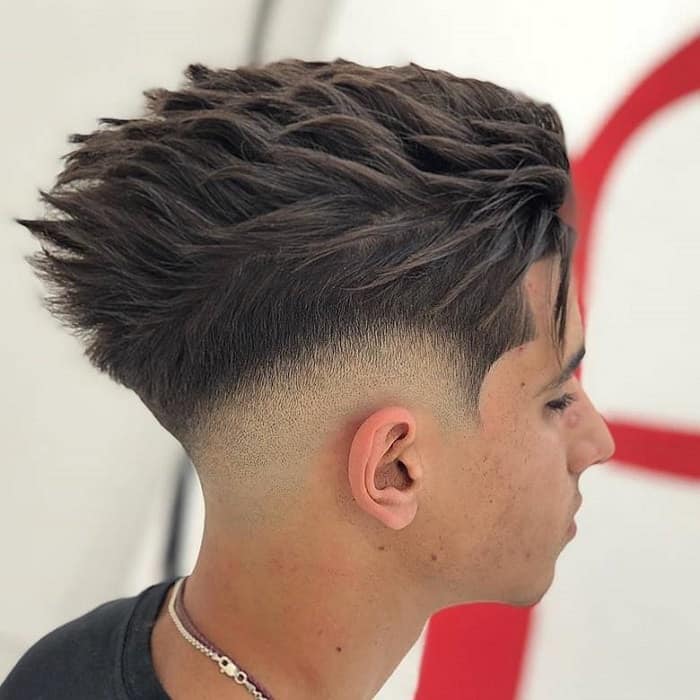 We get to see very few people carrying the original Mohawk style. This might be because only a few real professional hairstylists know how to make one.
Whatever the reason is, this hairstyle is very exquisite to carry. In it, your sides will be shaved and the top hair will run down to your neck. This is a high-maintenance hairstyle and requires close attention.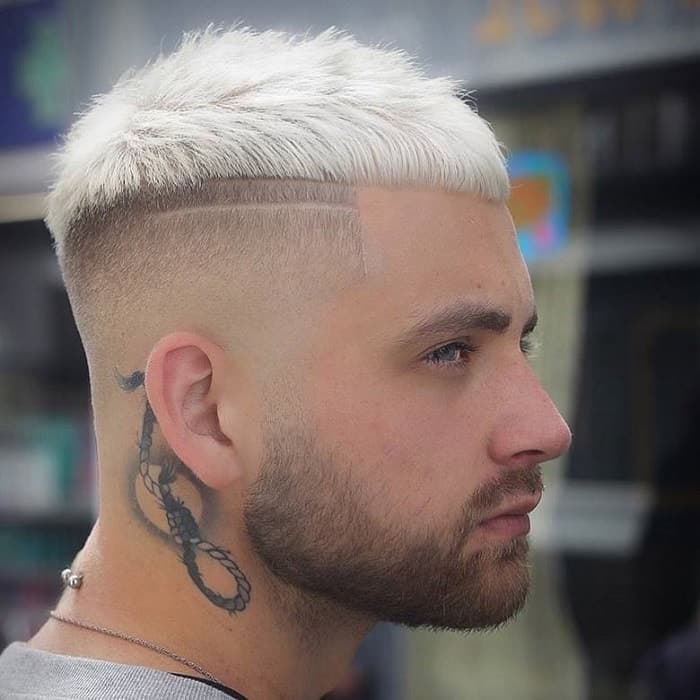 Dying your hair in a way which emphasizes your shaved sizes is a new and a bold trend. Color your top hair into Mohawk and sides in different shades in order to create a contrast between two. This will hype up your hairstyle!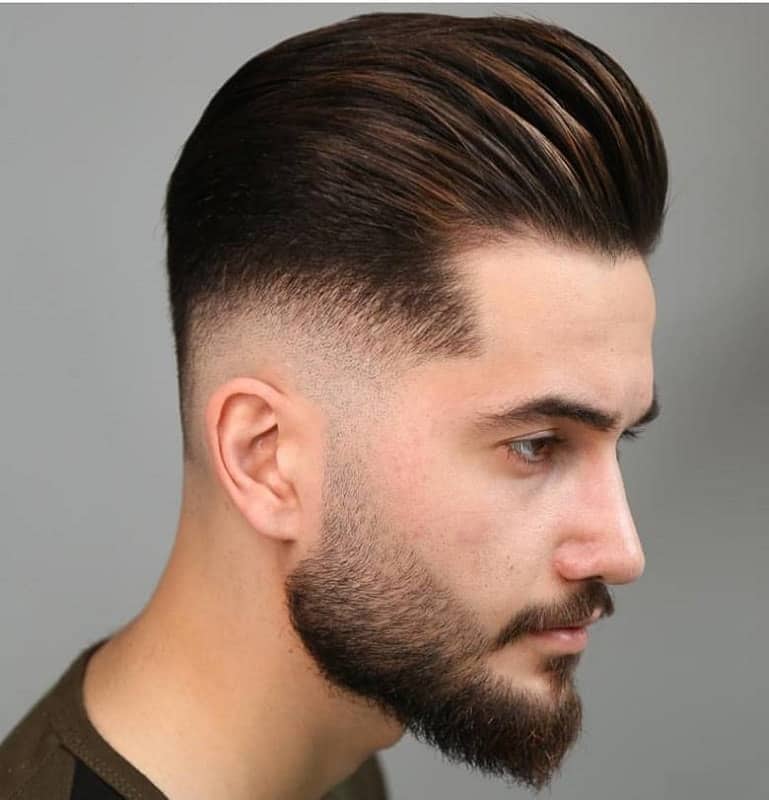 If full-blown shaved hair are too much for you, you can begin with getting something subtle. A medium taper fade is an ideal option to go for. In this, the thickness of your side hair will decrease downward gradually.
You can comb-up your top hair for a genteel look. This will help you look stylish as well as decent. You can further emphasize your style by dying your hair in contrast.
7. Ocean Waves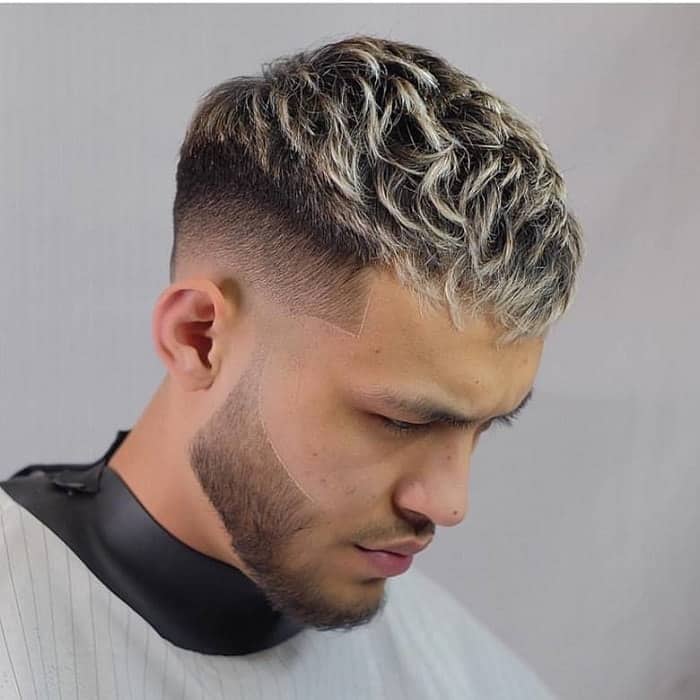 Anyone can get this side shaved hairstyle. The real deal is what you do with your top hair. If you want to keep your style alive even after shaving your sides, soft ocean waves are a great choice.
Although this hairstyle will require some effort, it will help you create a style statement of your own. Make the waves stand out with the help of contrasting hair dye.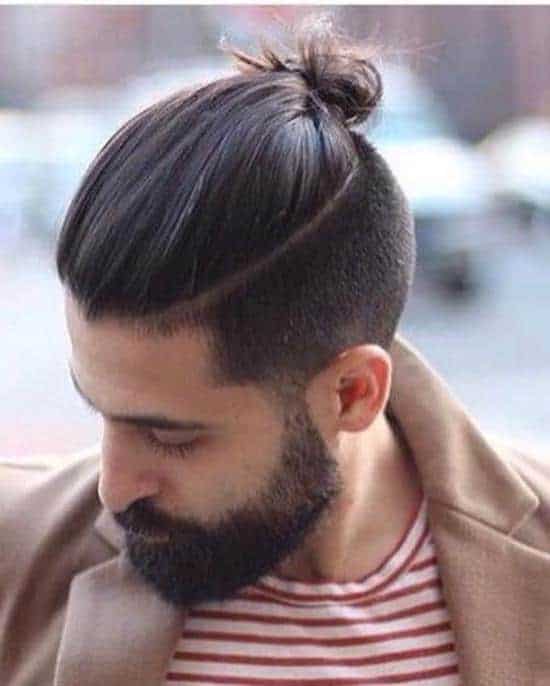 A faux hawk look is sleekest of all long top side shaved hairstyles. This is the form you get when you let your shaved hair grow a bit long.
Add further boldness to the style by dying your hair grey. A black beard with the hype it up even more. Tonight, be in the limelight!
9. Outrageous Long Top with Contrast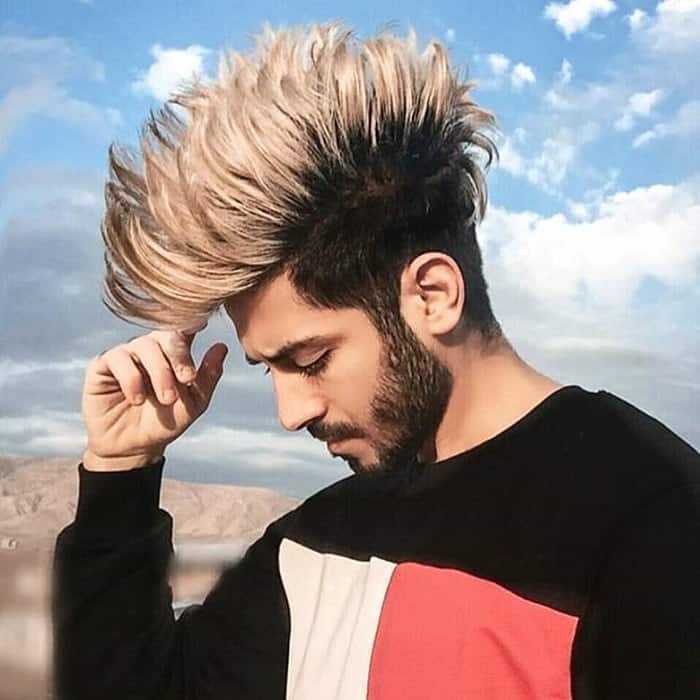 If you want to stand out, get yourself a hairstyle with contrasting lengths. Shaved sides with outrageously wild and long hair on the top will give a very ultra-modish look. Make your own style statement with this contemporary hairstyle.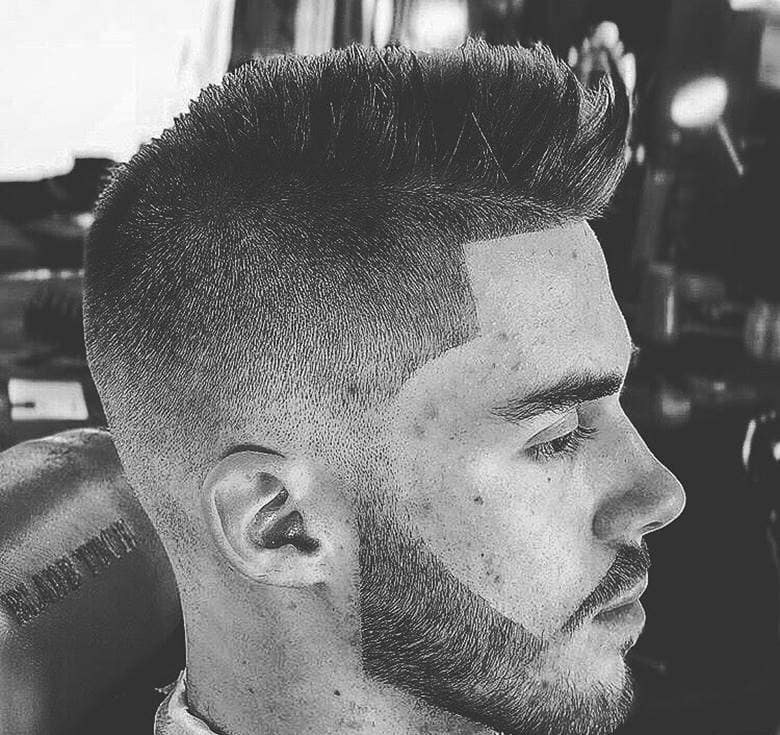 If your hair grows super-fast, mix faux hawk style with a taper fade. This mix of faded side with fohawk on the top is a great choice to brag about.
Tell your stylist to leave the hair in areas you want them to grow. This will give you the desired results. Give this amazing style to try.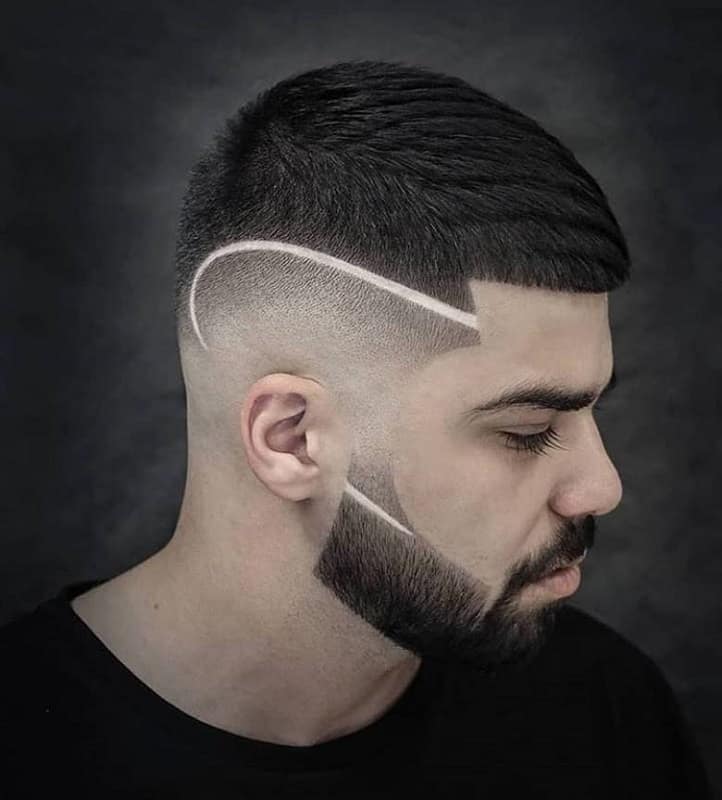 Negros and all the black dudes got an edge here. Looks like your short, curly black hair are naturally designed for this type of hairstyle.
Compliment your hair with this classy haircut. Tell your stylist to shave your sides with a sleek line between the top and sides. Give an ocean wave look to the hair on the top.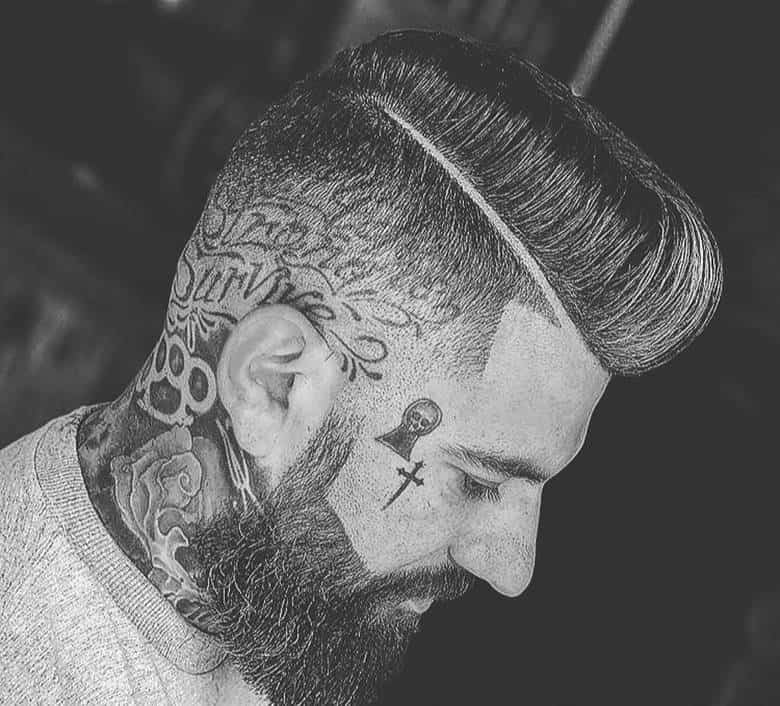 Put your creativity to use and create your own style statement. Experimenting with hair is a lot of fun and you can end up having a look exclusive to yourself. We know how much guys love to create something of their own when it comes to style.
It's time to make a real statement of your own. Get your side hair shaved with a long top and add a hard lines wherever you want. You can have a perfect look with beard was well.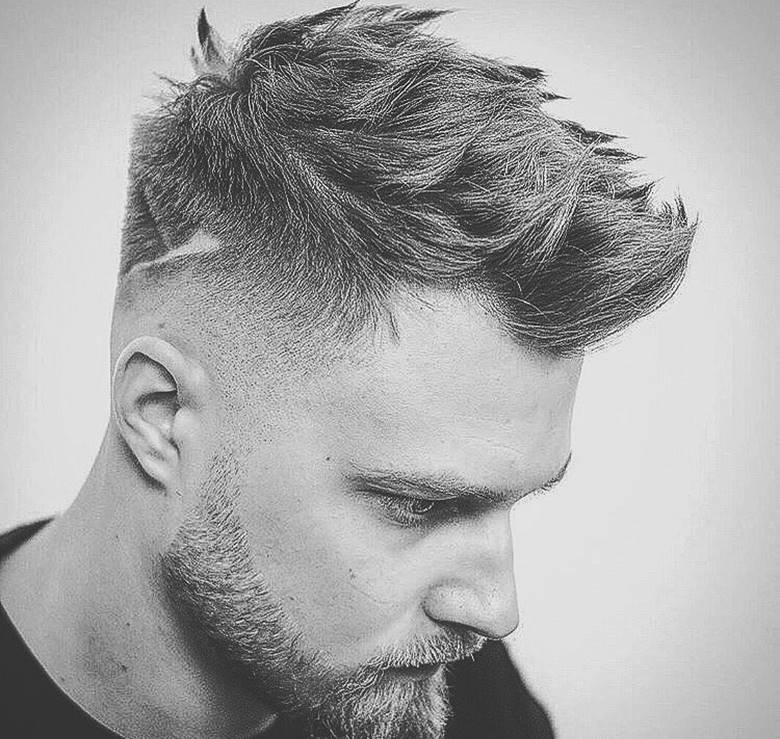 For a weirdly stylish and unique look, a messy faux hawk is a topic of interest. Get your side hair simply shaved or into a tapering fade look.
Messy fohawk on the top will make things even more interesting. Compliment your appearance with this messy hairstyle which you can carry even in your office look.
14. Shaved Sides with Taper Fade in Layers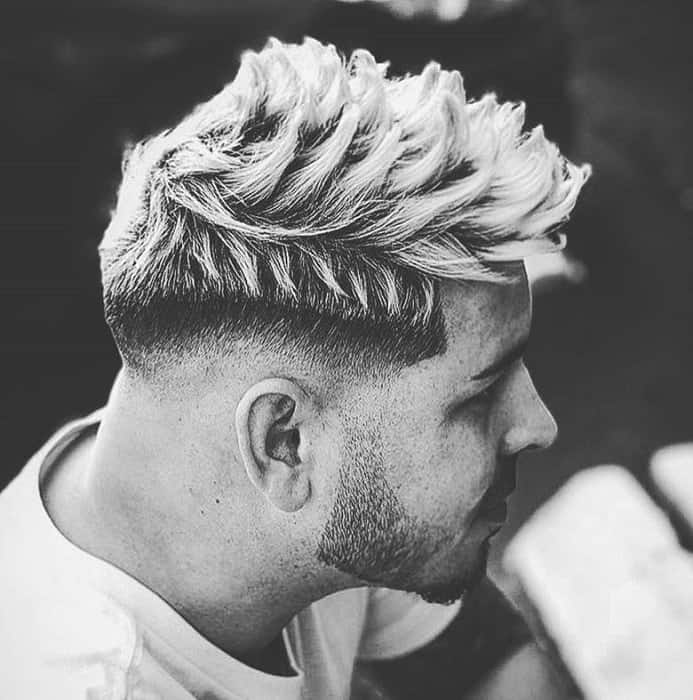 Create a different look by keeping a shorter side segment. For a classier look, get a drop fade to look in the start. You'll really like the final look.
This look is best for teenage boys as their high school style. The layered style will also save you from needing multiple touch-ups.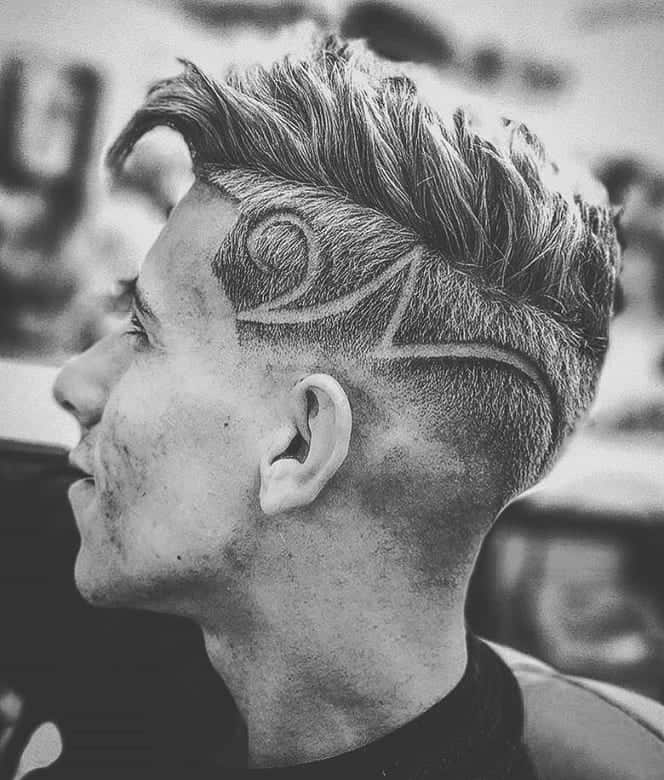 If you have a love for art, playing with your hair is something you should try. Shaved sides let you experiment with your hair a lot. Say goodbye to the mainstream simple lines and go for artistic complicated ones instead.
This artistic style will leave everyone in awe and bring you in the limelight. Make your personal fashion statement with creative design and long hair on the top.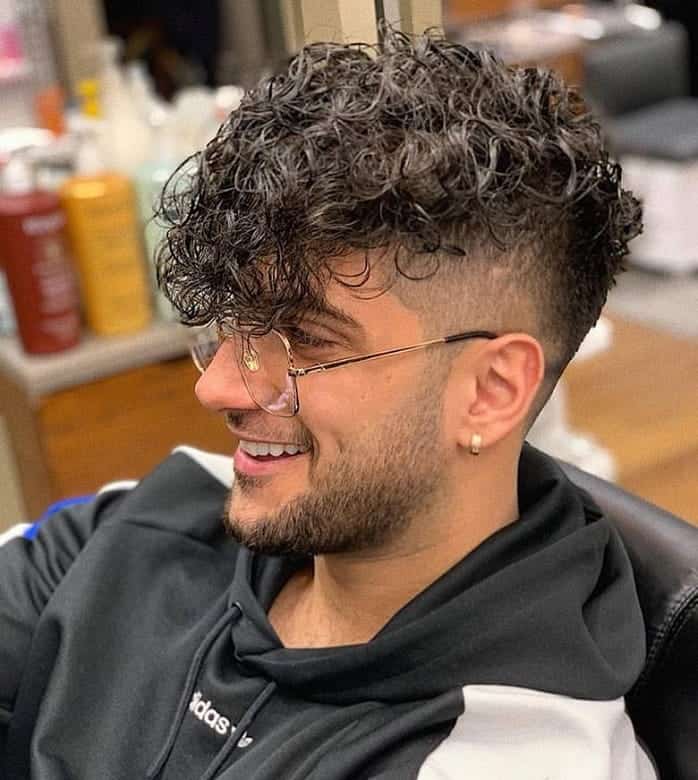 If you have curly hair, it doesn't mean you can have stylish hairstyles. Shaved sides are a must-to-have hairstyle for all those with curly and unruly hair.
Tell your stylist to keep this style in a high taper fade in order to keep it low maintenance. 2-3 inches long hair on the top will give a perfectly stylish look.
This can be your everyday look and you won't need to add much effort to it. Even if you just woke up, you'll be good to go.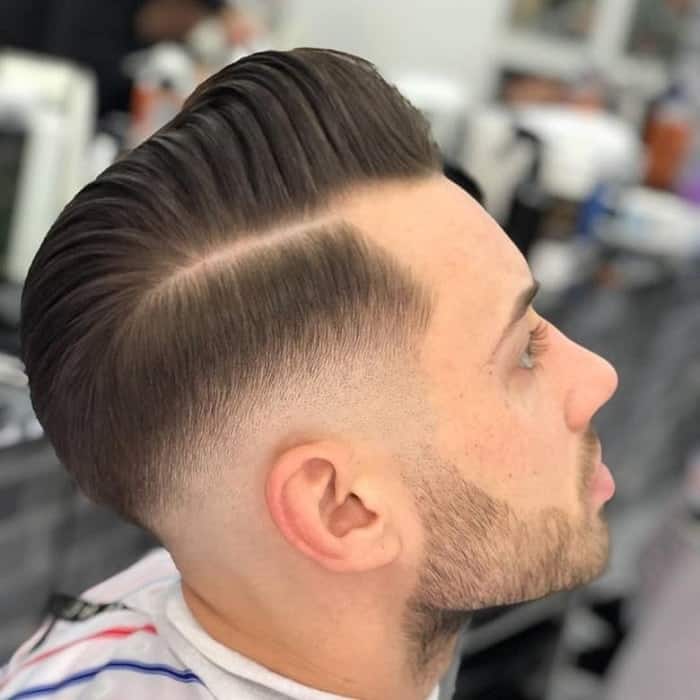 Having straight hair has its own perks. You can style your hair the way you want. Settling for low-taper fade is a style you can make your thing. Create a side partition in your hair for a fashionable look.
Keep the top 4-5 inches of your side hair long and create a comb over look to keep it interesting. Dye your hair brown and this style will go perfectly with a brown beard.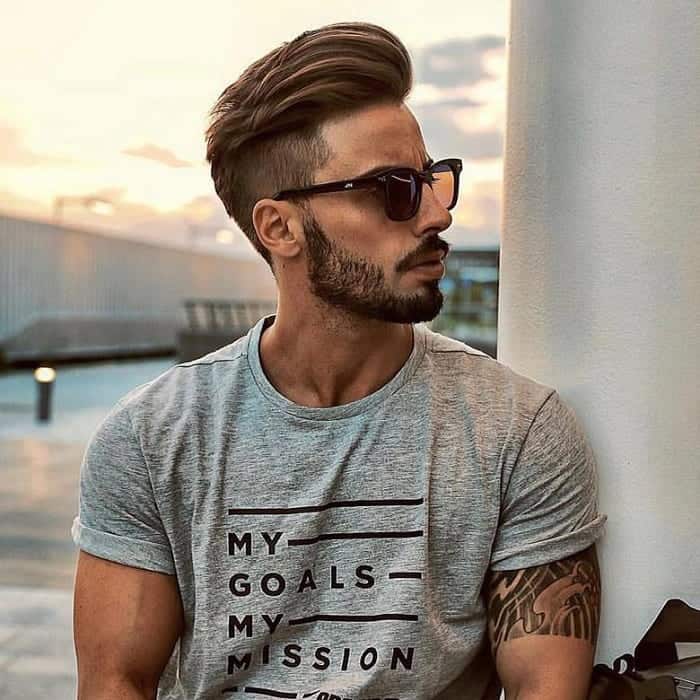 For a formal and neat look, comb over hairstyle is the best style to do. A long comb over hairstyle will have the height to your look. Only if you have a high forehead, this style might not be for you.
Although it might look complicated, this style needs very less effort to make. All you need to do is apply some hair gel equally onto your top hair and finely comb them backward. Keep your sides shaved.
19. Bangs with Sides Shaved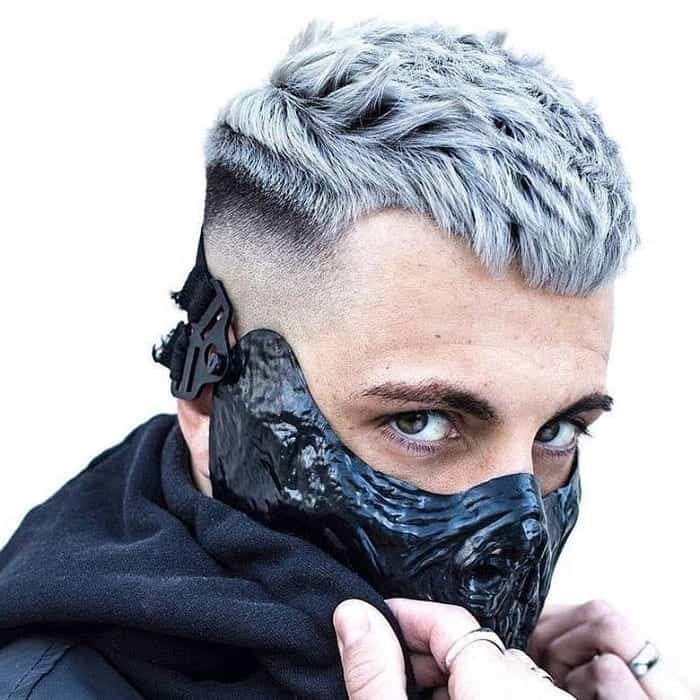 If you have a wide forehead, this style is made for you. Most of the men do not know how to carry this style. Let it be your first time! This style is perfect for those guys having thick, wavy hair.
Keep your side hair shaved and let the top hair fall on the forehead like bangs. This look will accentuate your beard style and let you go messy yet sassy.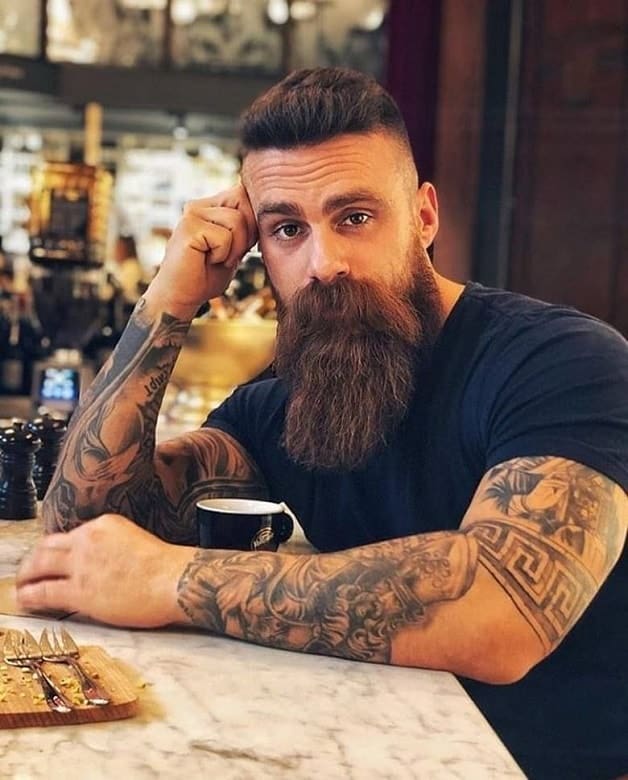 Those men who want to go stylish without needing much to do, a simple comb over is a perfect choice for them. Many guys opt this hairstyle and flaunt the natural look in the classiest way.
There is no need for complicated tapering or extra styling. Just get your side hair shaved finely and let the long top hair go natural. You can brush your fingers through the hair without the need for fine styling.
21. Tattoos with the Shaved Sides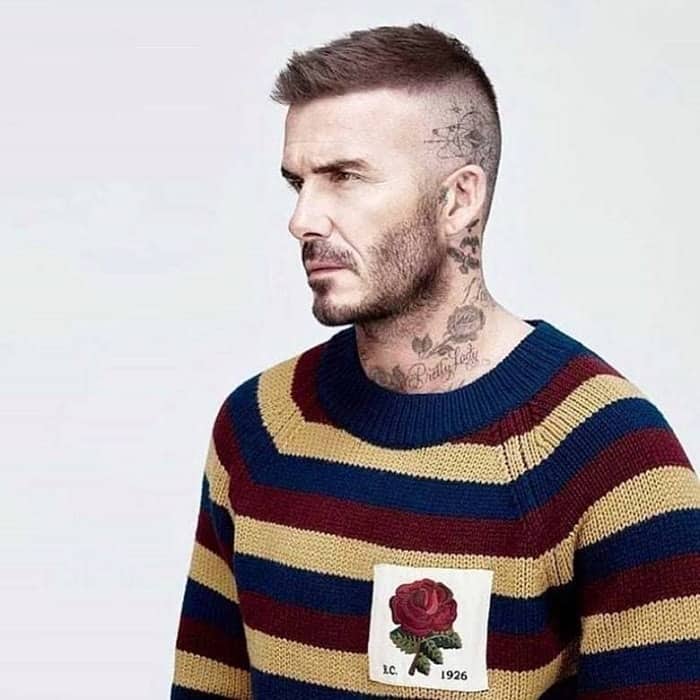 This is yet another sexy way to wear shaved sides and beard together. Make your mohawk even more interesting by creating tattoos on the shaved sides. This might be a little painful style to make, but it will be worth it.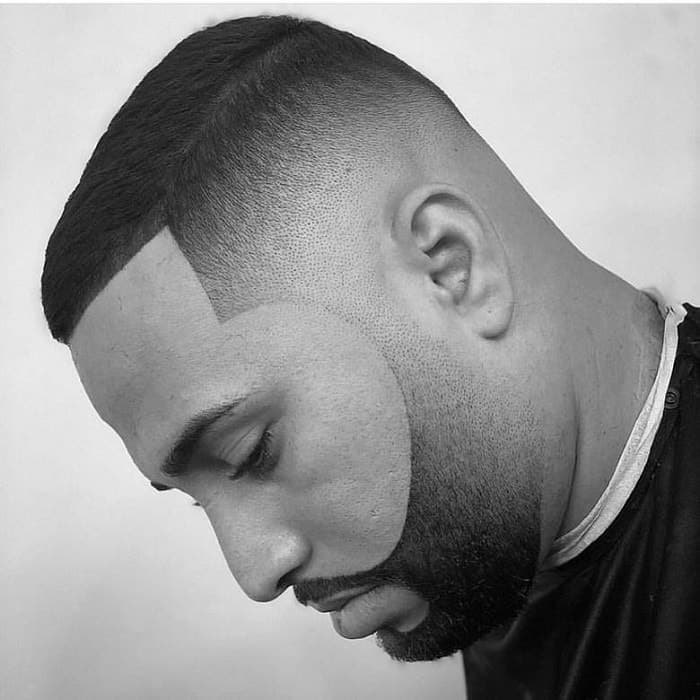 His hairstyle is an ideal choice if you are planning to go on any formal event. Tell your hairstylist to shave your sides, not too much, and comb over your top hair in a height.
This will add height to your look and also make you look like a fine man. Although not much shaving is involved in this style, It is a fantastic avatar to carry.
23. Messy Top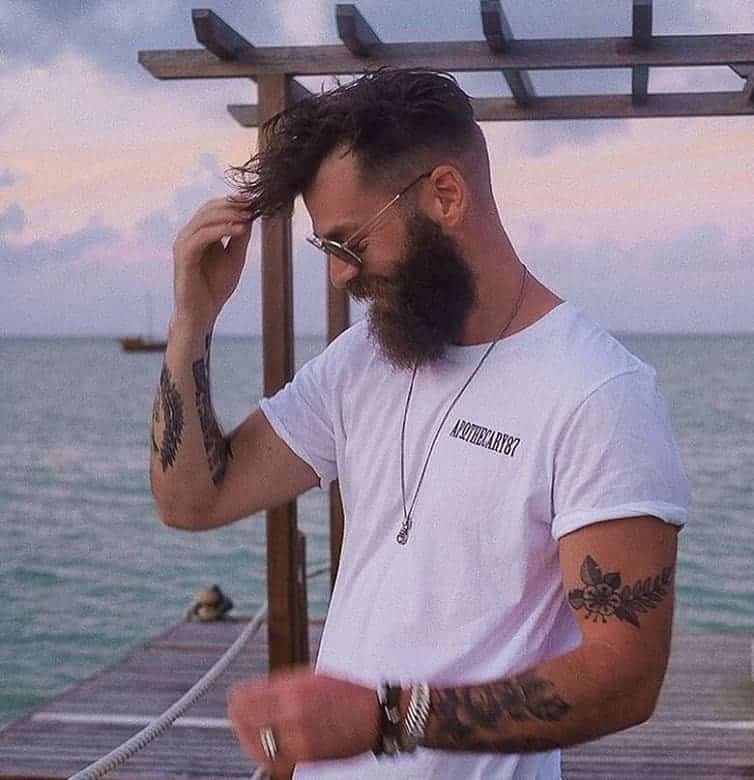 The messy look is in vogue these days. Why? Because it is a low-maintenance style and requires less effort. Combining messy style with shaved sides is something very artistic you can carry.
Tell your hairstylist to shave your side hair. For the messy top, apply some gel on the hair and make them into a messy lot.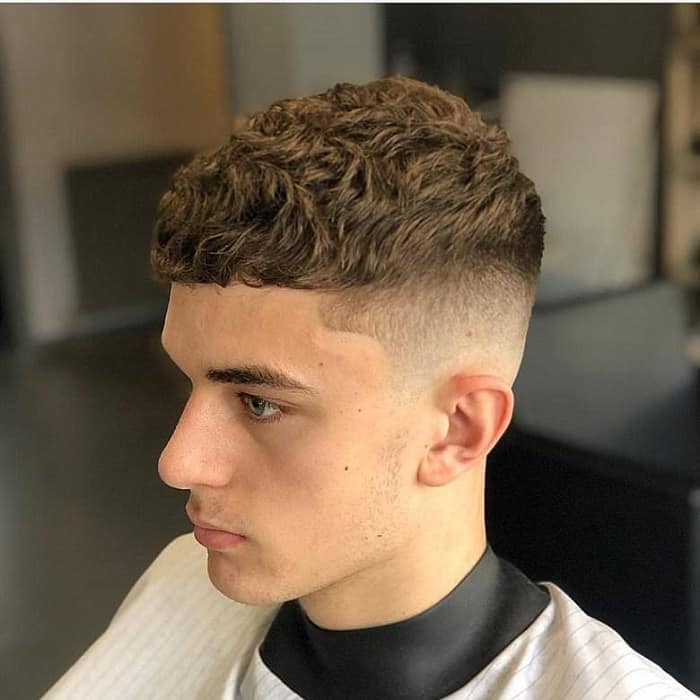 To create this look you will need a professional's help. Get your side hair shaved to your desired thickness. Tell you're stylish to arrange your slightly long top hair in neat waves.
You can then manage your hair easily after getting hang of the waves for the first time. You can carry this style to a casual party as well as a formal event.
25. Ocean Waves for Straight Hair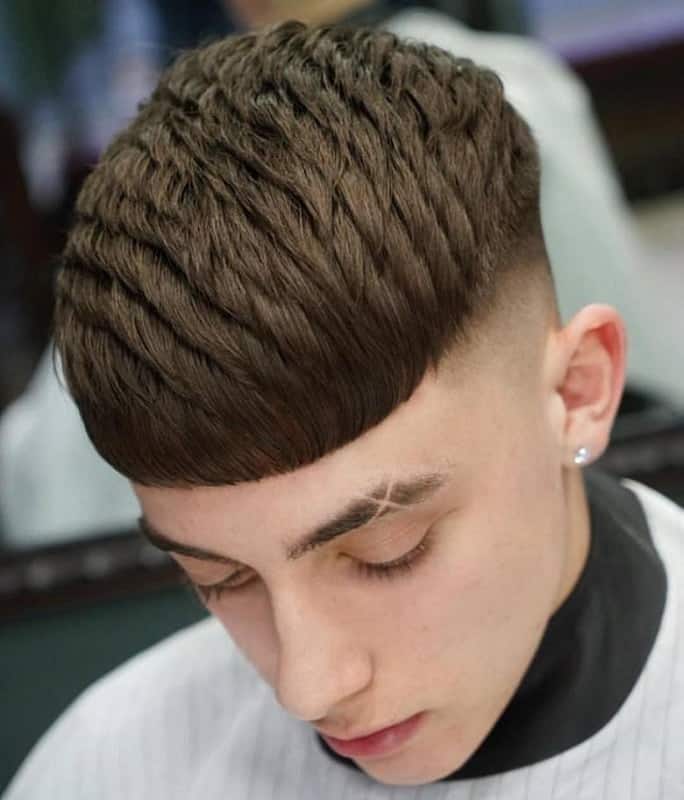 Once you have shaved your sides and it's time to experiment your top hair, play with waves. Draw your finely straight hair into classic waves to grab everyone's attention.
All you need is a hair brush and some hair gel to keep your waves in place. You can carry this hairstyle with all kinds of looks.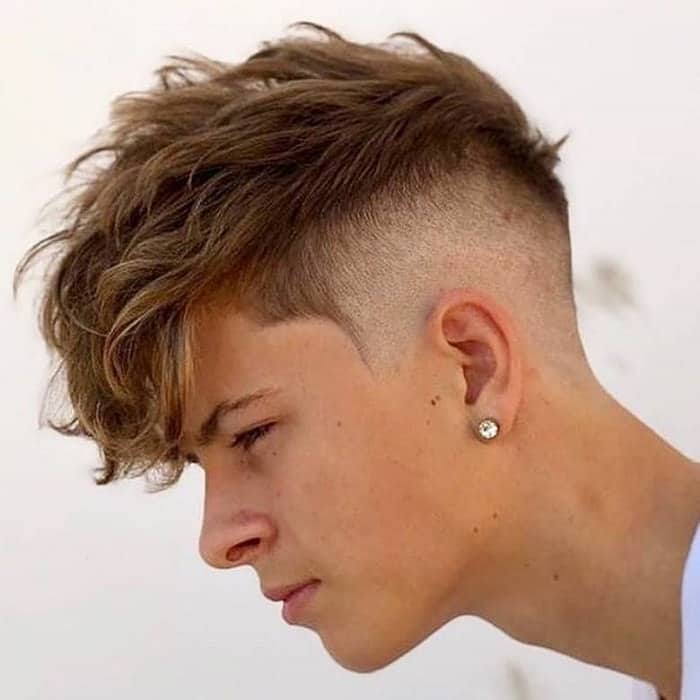 If you like to keep your hair long while keeping your temples neat, shaved sides with long bangs are the best style for you. However, before getting this cut, make sure that you can take good care of your locks.
This style is perfect for the casual all-time look and not for formal occasions. Shave your sides to your desired thickness and keep your top hair long. To keep your bangs in place, spray some gel on them.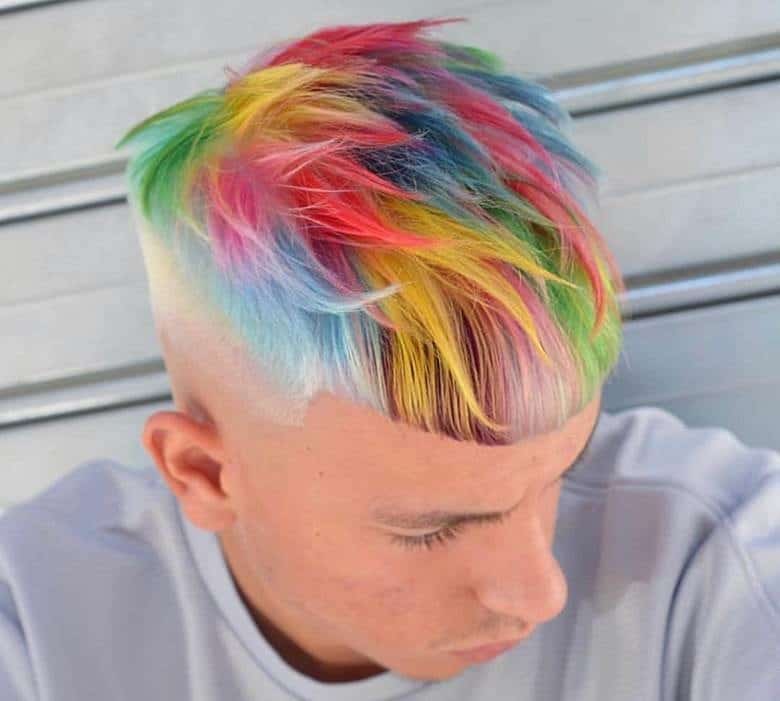 A long true mohawk gives a very appealing look. Giving color to your hair will add even more glam to your hair style.
You can experiment with fun colors like red or purple for a dramatic look. However, it will be better if you get highlights, especially on the tip, and don't die all your hair.
28. Shaved Sides Hairstyle for Thin Hair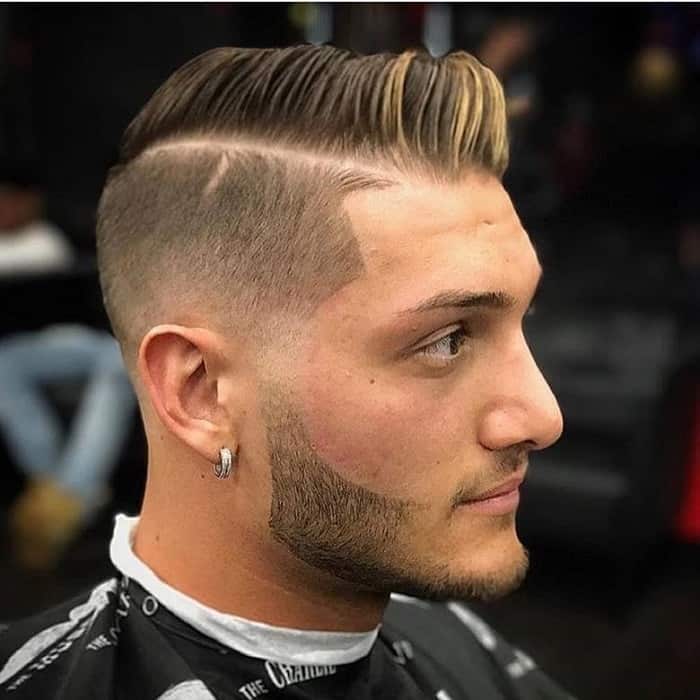 Men with thin hair face a lot of difficulties when it comes to hair styling. It's time to say goodbye to all the worries. Let the shaved hairstyle come your way.
Shaved sides will cover your bald areas and let you focus on the areas with thick hair for a more natural look.
A high mohawk is the sassiest style one can have. Finely shave your sides leaving long hair on the top. Tie the top hair into a pony or a bun for a fiery impression.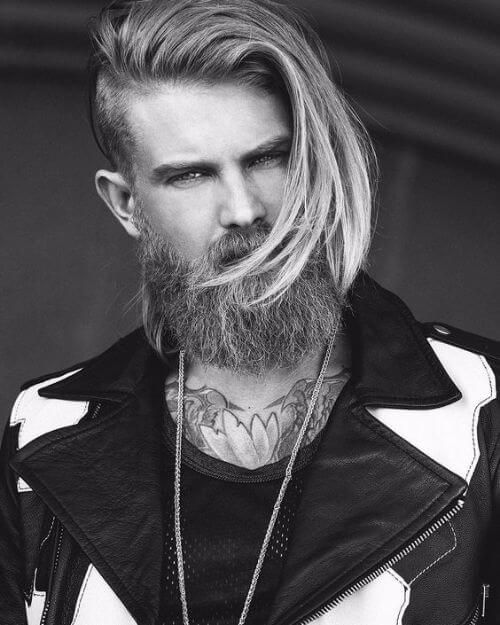 This promising hairstyle will definitely turn everyone's head towards you. You can side swept your top long hair for a fine look.
What are you waiting for? Try these diverse long hair on top and shaved sides hairstyles to create your fashion statement!