Flow hairstyles have been one of the top trends this year. Everyone from celebrities to football players has been discarding their neat haircuts and opting for this flow trend. These hairstyles give you more room to play with length, which is why they are a crowd favorite.
They are also low maintenance and easy to style. Irrespective of your job requirements or likes and dislikes, there is something everyone would like in these hairstyles.
Unique Flow Hairstyles for Men
If this is the style you are contemplating with for your next hair appointment, keep reading. Below are some haircuts and hair flow styles that might inspire you.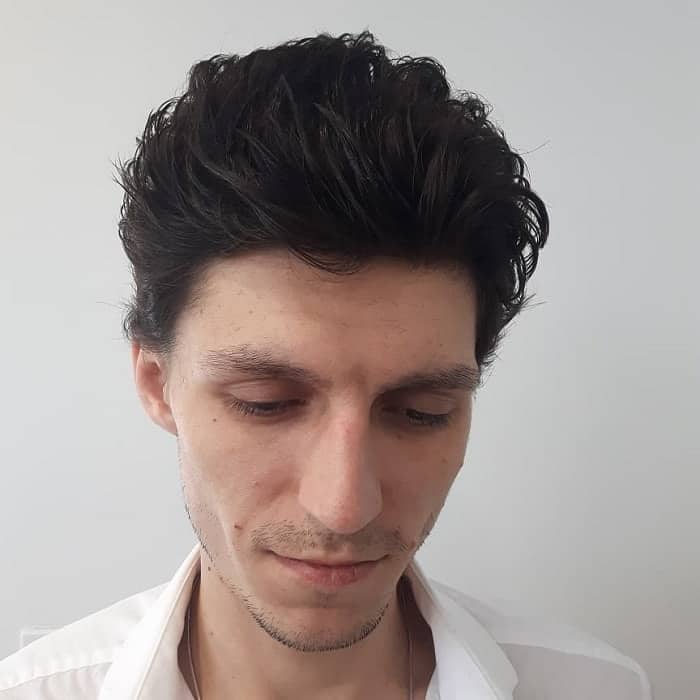 The best part about this hairstyle is that it can be worn right from work to a night out at the club. This pushed back look allows you to keep your mid-length hair whilst making it appear stylish. You could add texture to the layers with a texture spray or simply add gel and comb it backward.
2. Messy Man pony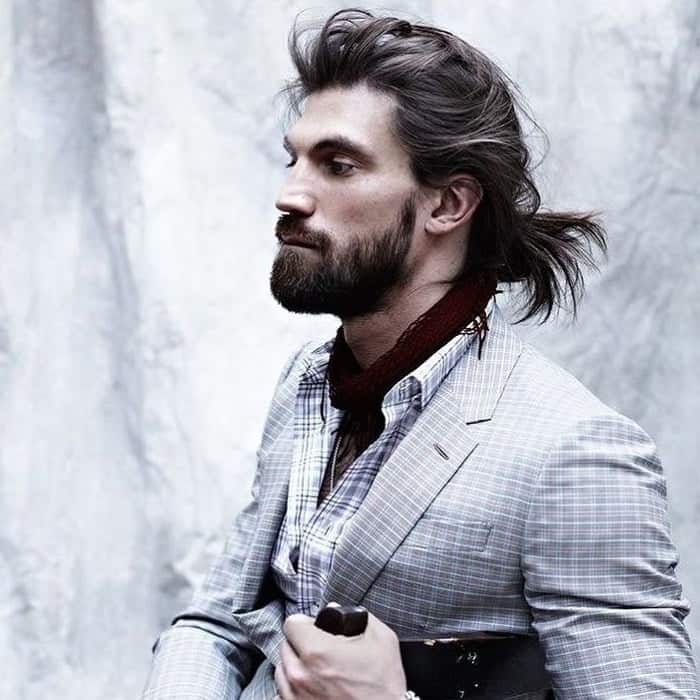 Messy long flow hairstyles have an aura that is unmatchable. They are stylish yet laid back all at the same time. This hairstyle is perfect for a fun occasion where you feel the need to make a fashion statement.
All you need to do is pull your hair back and secure it. Pull a few strands around and near the crown area to give it some dimension.
3. Clean Cut Wave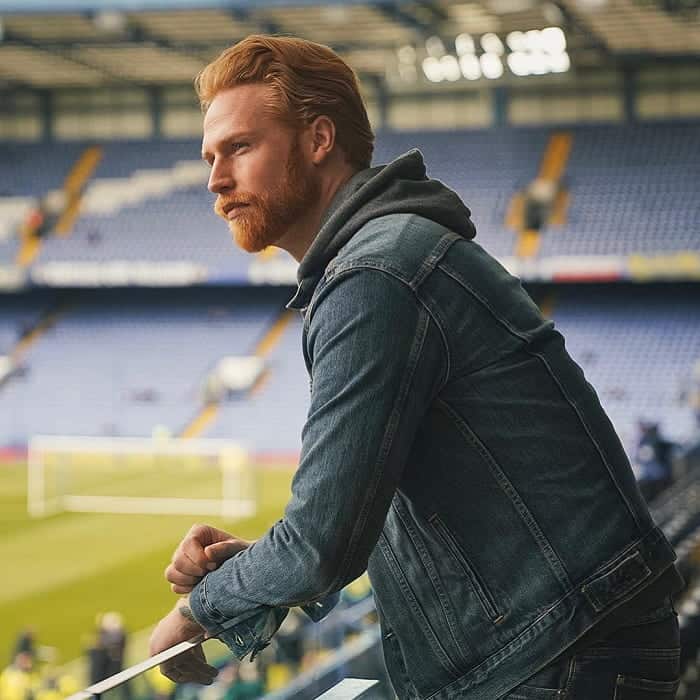 Flow styles are often linked to messy and unkept wavy hair. It doesn't necessarily have to be that way. You could have a clean-cut allure to your regular flow hair to change it up. Pairing a clean cut flow hair with a well-kept beard is the best way to style it.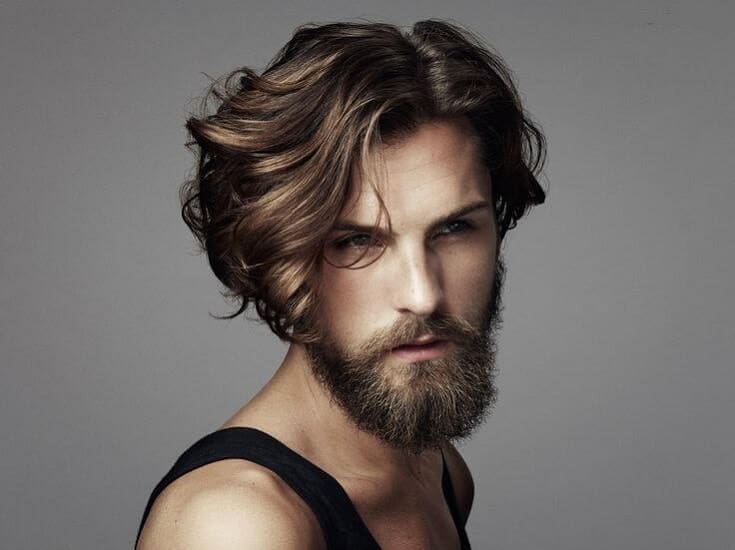 This hairstyle is a great way you could style your mid-length hair. It is perfect for hair that is naturally wavy. You could part your hair, and tuck in one side to give it more of a chic look. This hockey hair flow style being dreamy and sexy, you could wear it anywhere.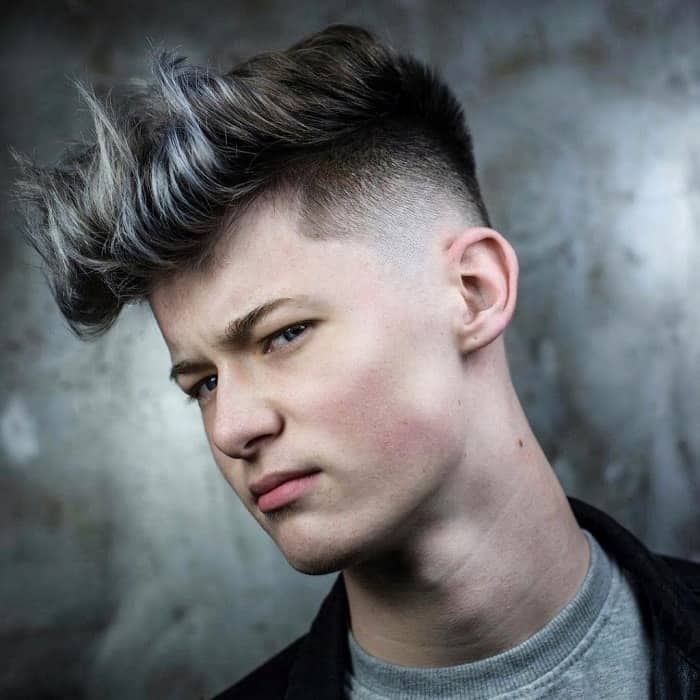 Ombre tips are a great way to emphasize the flow hair trend. Electric colors have been trending lately, and a faded blue fits right in. This way you could have a trendy color along with a trendy style. It is a great way to show your personality.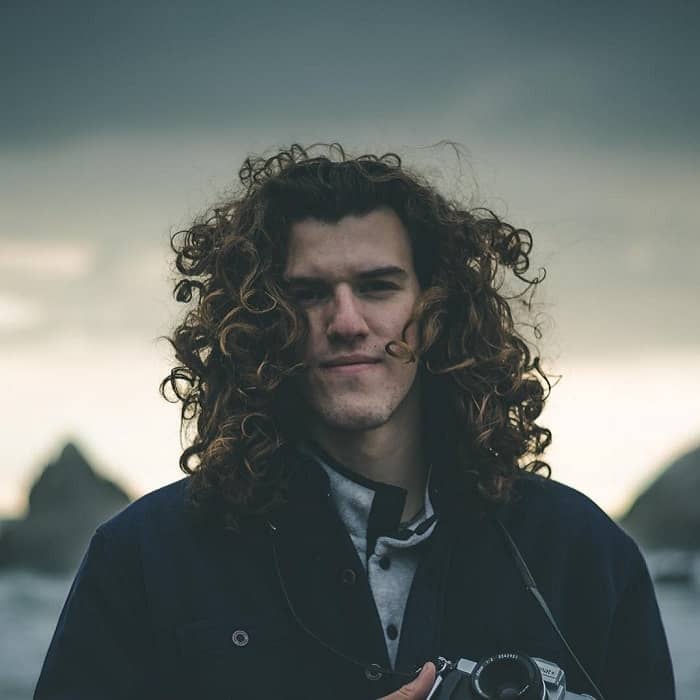 This wings hairstyle is a perfect representation of a surfer's hair. Which is what makes it so appealing and sexy. With this hairstyle, you get to keep your long and textured curly hair. The blonde highlights are a great way to add even more dimension to the entire look.
7. Half Up Half Down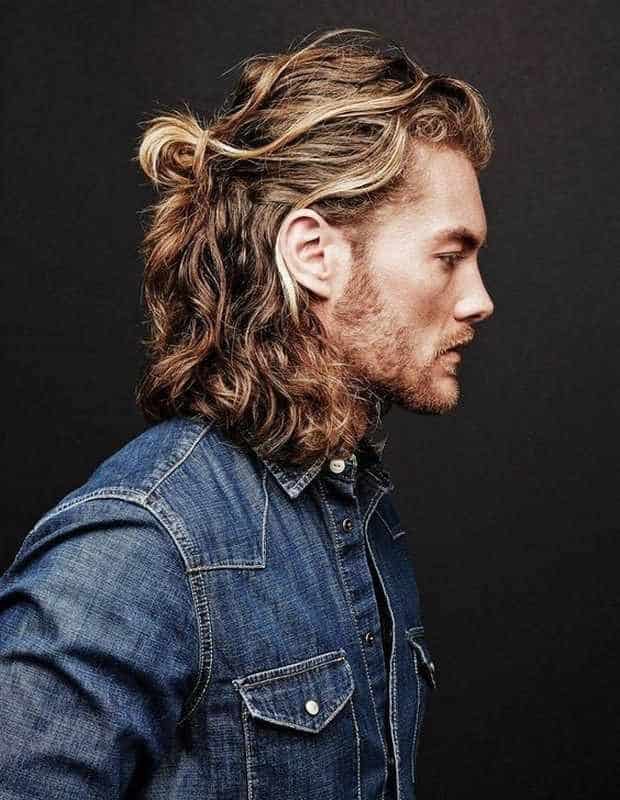 Half up, Half down topknot hairstyles are one of the most appreciated trends. With this hairstyle, you can keep your hair away and still have it down. Having textured or wavy hair complements this hairstyle even more. You can tuck a few strands behind your ears to frame your face.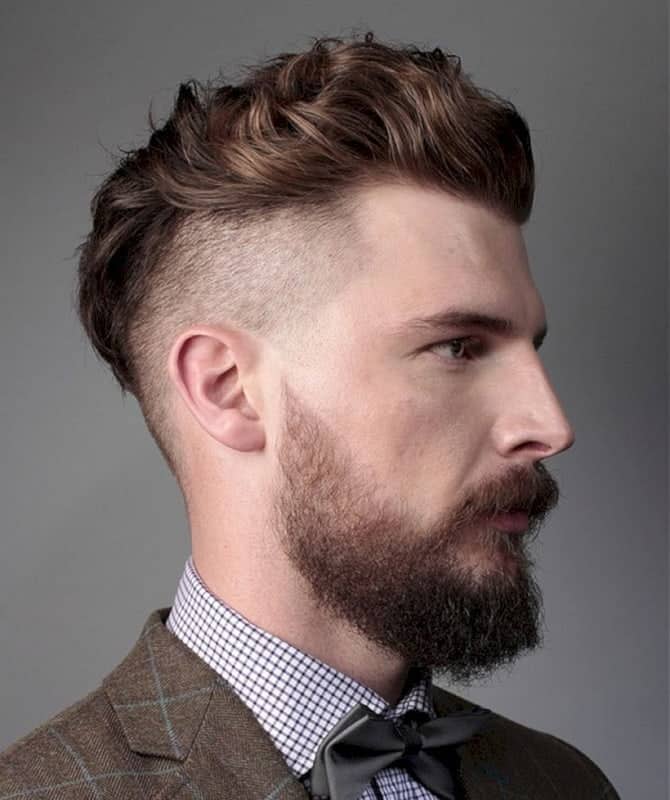 To be a part of the flow hairstyle tend, it doesn't necessarily need you to have significantly long hair. Here you can see this layered, textured short haircut with the tapered sides is the best of two worlds. You get the flow texture at the crown and you also get to balance it out with an undercut. This hairstyle is perfect for any occasion.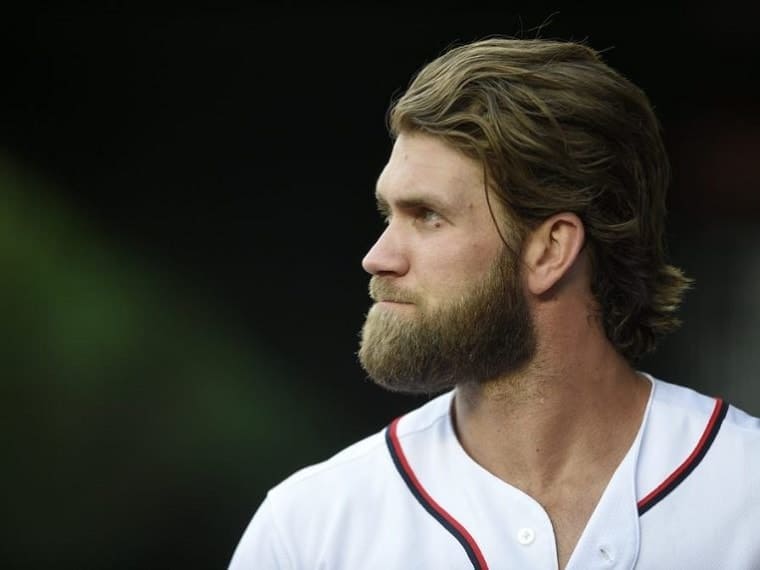 This hairstyle is often associated with sports and the way athletes style their flow hair. This is another great alternative to keep your length and yet have all your hair pushed back. Textured thick hair will compliment the messy unkept look.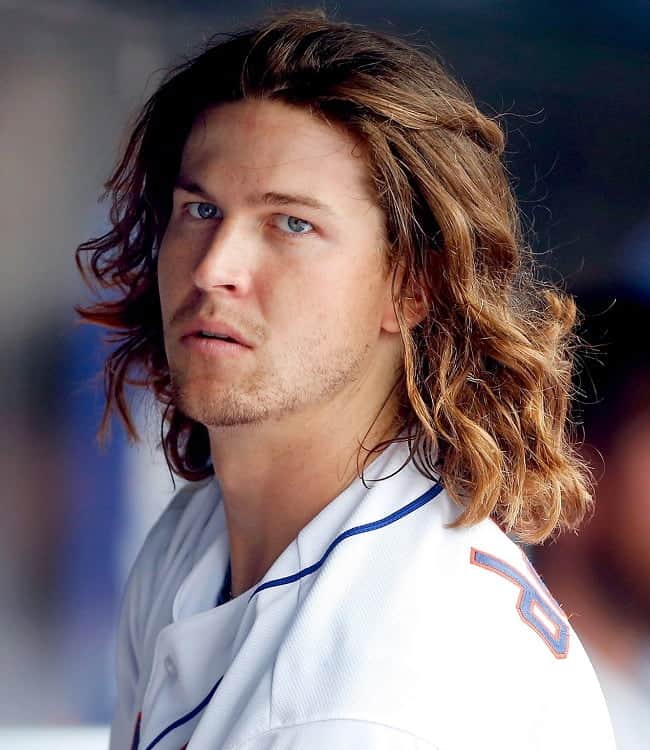 You will often notice baseball players sport this kind of hair and hairstyle. This messy medium length hair is a great fashion statement. You can alternate between letting it down and tying it up in terms of styling options. Either way, this mid-length textured hairstyle is sexy and appealing.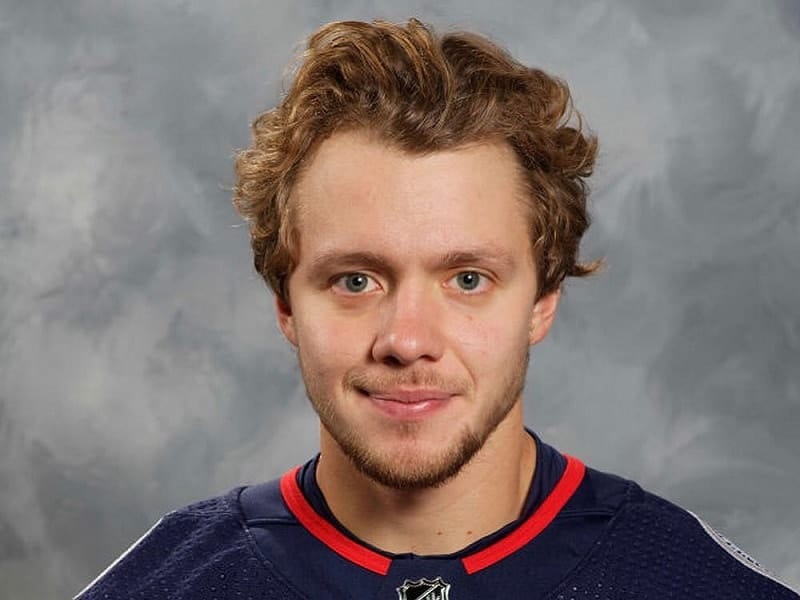 This hockey flow hair is a perfect option for mixing business with pleasure. This well cut medium long hairstyle is appropriate for an office setting and is still fun. It is great for someone who has a deep hairline as well. The other positive is that it can be easily styled and looks really appealing.
12. Combed Sides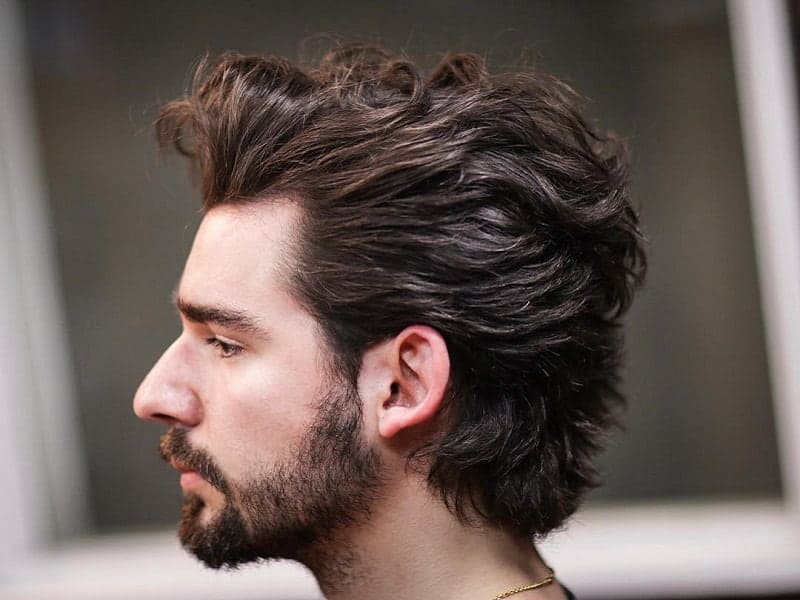 If you are someone who isn't into the entire sleeked back hair, this is a great alternative. You get to gel down your sides and let your hair towards the front be textured. Both these contrasting styles together complement each other resulting in a sexy overall look.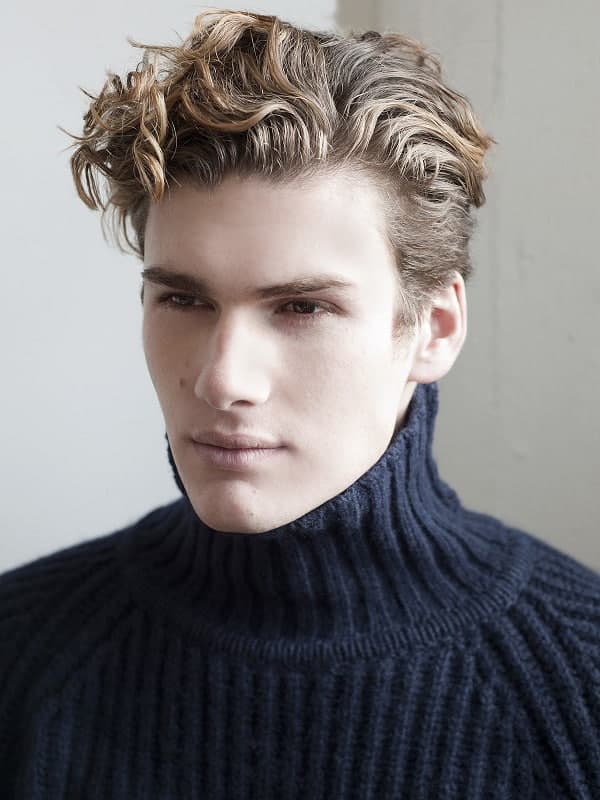 This hairstyle is an extremely chic way of styling your curls. All you are required to do is side part your hair and gel it down. Make sure the curls on the front aren't gelled down, contrary make sure the curls are messy and rustic looking. This hairstyle is perfect for a preppy formal occasion. It is chic and yet it is sexy.
14. Sleeked Back Grey Hair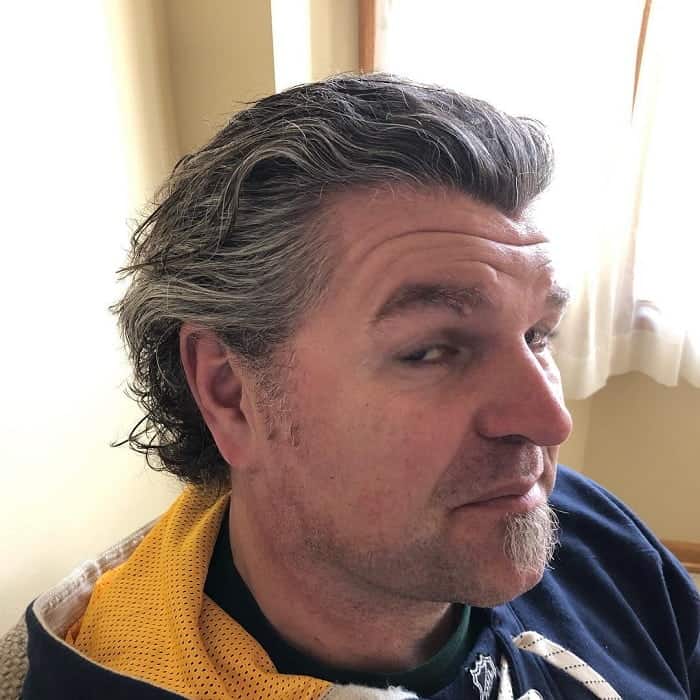 Who said that flow hair trends have age restrictions? This hairstyle is a great way to embrace and style your inevitable greys. All you need to do is comb them back and set your hair. It is quick, easy and most importantly practical.
One of the hairstyles that has stood the test of time is the pompadour. It is a great flowing trend as well. An undercut is a great way to add a modern element to this age-old hairstyle. Even though styling it might take some time, the end result is definitely worth it.
16. Tousled Flow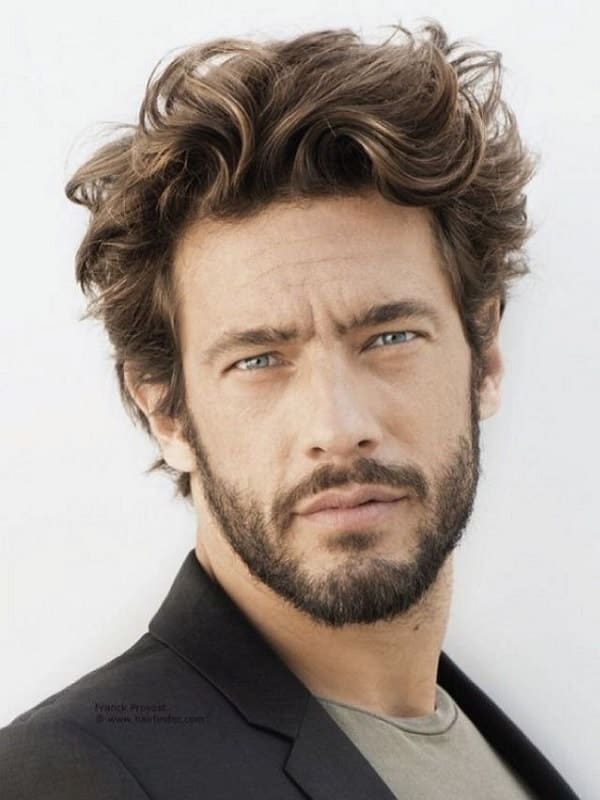 If you have straight silky hair or even wavy textured hair, this hairstyle can work perfectly for you. This hairstyle is a great bed hair look. All you need to do is add some texture and setting spray and ruffle it up. There is absolutely no woman that can resist this hairstyle.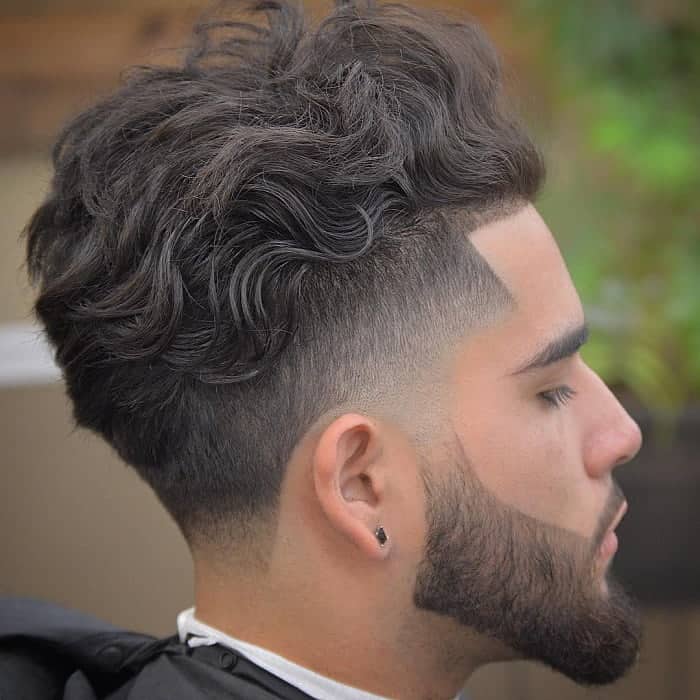 This men's flow hairstyle is a mix and blends of various types of hairstyles, which is why it looks attractive. Adding a taper fade to any haircut instantly cleans your entire look up. This way you could have messy hair on the top and have a clean cut on both sides. Both the styles balance each other out perfectly. You could wear this hairstyle anywhere and everywhere.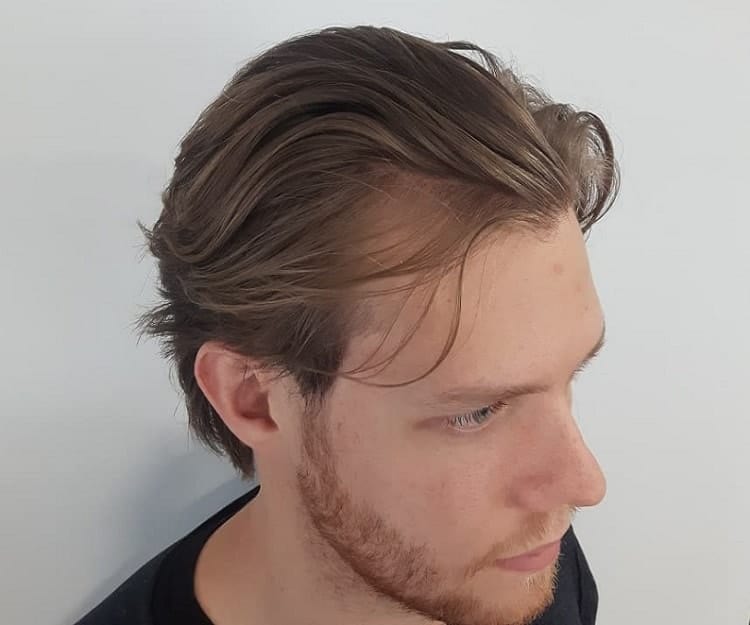 Coloring your hair a natural color will help and accentuate the entire flippies hairstyle. It adds dimension to your hair and at the same time adds that subtle oomph factor. All you are required to do to achieve this look is comb and set your hair backward. Leave one strand of hair loose to frame your face.
19. Casual Flow and Texture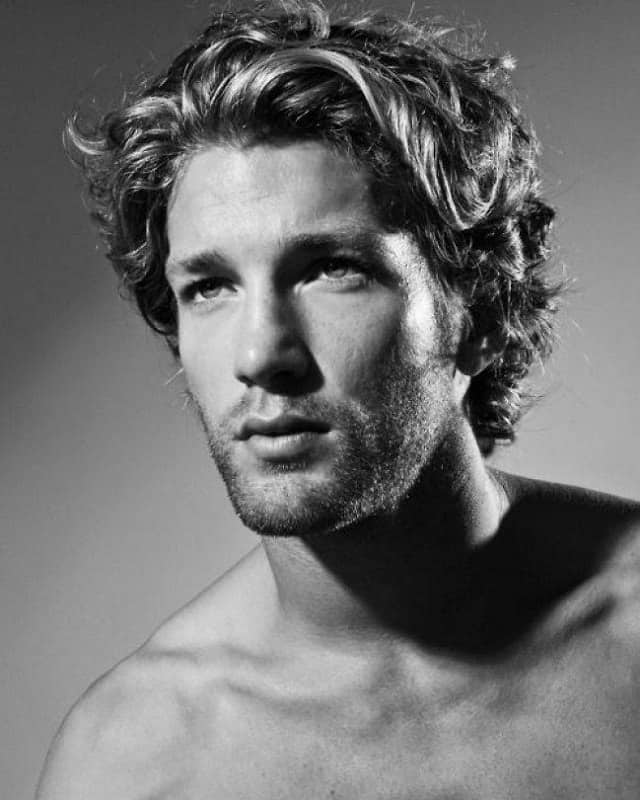 Styling wavy, curly hair can be difficult. But difficult doesn't mean impossible. A great way to style your curls is to leave the hair a little long and subtly part your hair towards the front. Add texture spray to hold your curls and make it more ruffled. This beach boy hair is sexy and hot, it can also be worn as and where you please.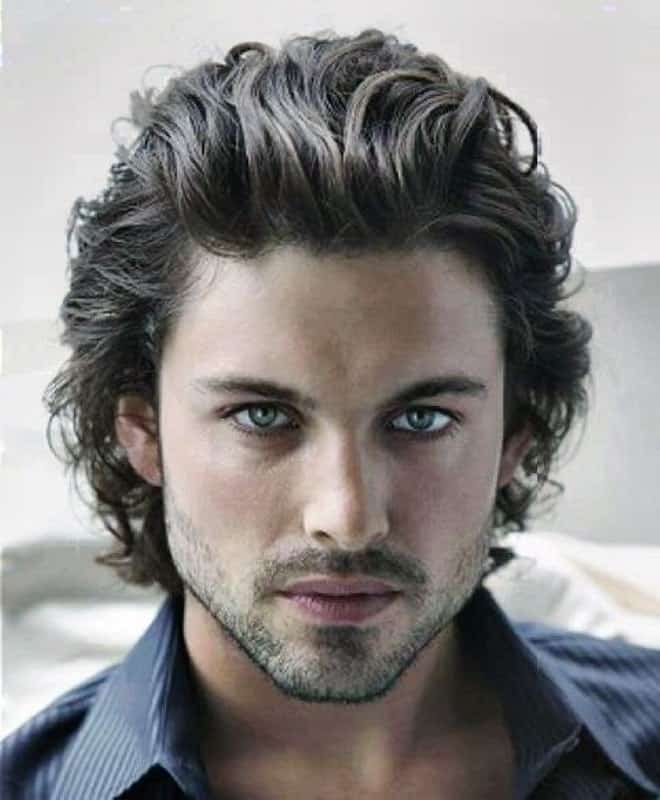 Shaggy hairstyles are almost synonyms with flow hairdos. In order to obtain this look, it is important that your hair is cut in jagged layers. You can then style it all combed back and look as sexy as ever.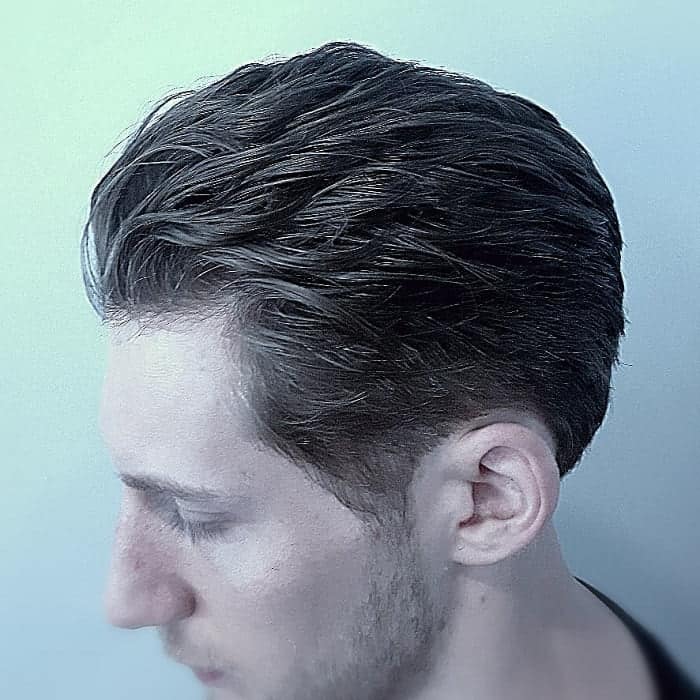 Even in this hairstyle, you can notice that they are layers that are point cut. This allows your hair to have a certain texture even while it is pushed back. You could sport this hairstyle for formal and semi-formal events as well.
22. Neat Side Part
Instead of opting for the messy side parted look; this neat side part is a good alternative. By styling your hair this way, the entire look looks more cleaned up and chic in its own way. This short straight hairstyle is perfect for formal event wear being neat and clean as expected.
23. Ruffled Side Part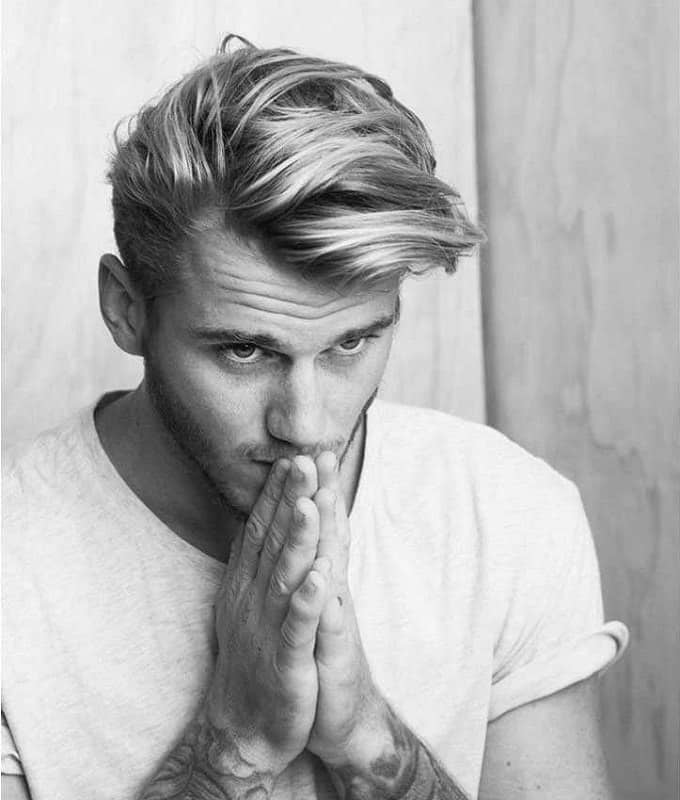 Here, you notice that the hair on the crown is quite long. In order to style it, texture spray is necessary. You could just ruffle it up with your hands and be ready to head out. It is sexy and broody.
24. Long Framing Curls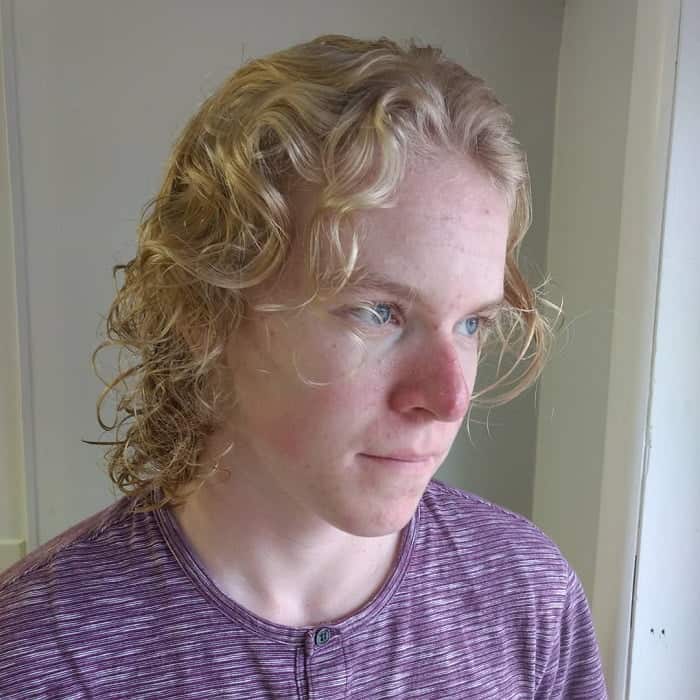 This blonde hairstyle is another way you could style your curls. Embracing your curls by letting them grow out can be the best change. You could literally just walk out without any styling and you would still look ravishing with this hockey hair flow look.
25. Side Swept Wavy Hair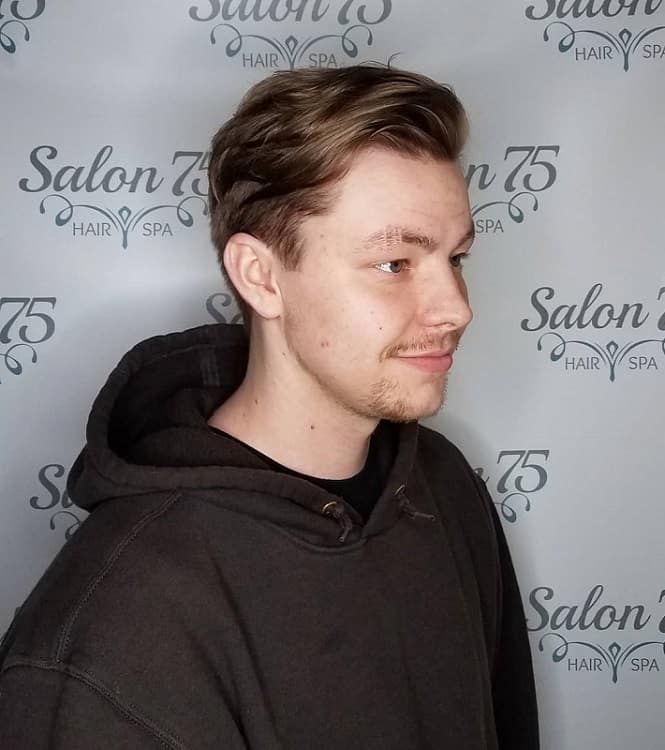 This side wave with the undercut has been sported more and more every day. You would need to grow your hair a certain length before being able to cut it this way. To style it all you need to do is comb it towards one side and use some hair wax. This hairstyle to say the least is extremely trendy and sexy.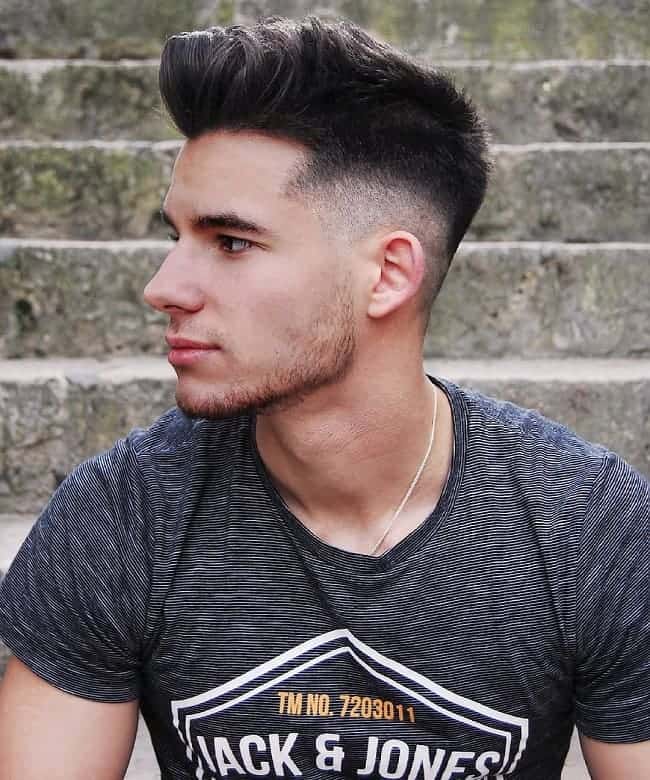 This flow hairstyle is perfect for someone who has naturally straight hair. The faded undercut complements the medium length hair perfectly. This hairstyle might be more time consuming than the others, but completely worth it. Hair wax is the perfect way to obtain that neat quiff. This hairstyle is sexy and edgy and can be worn anywhere.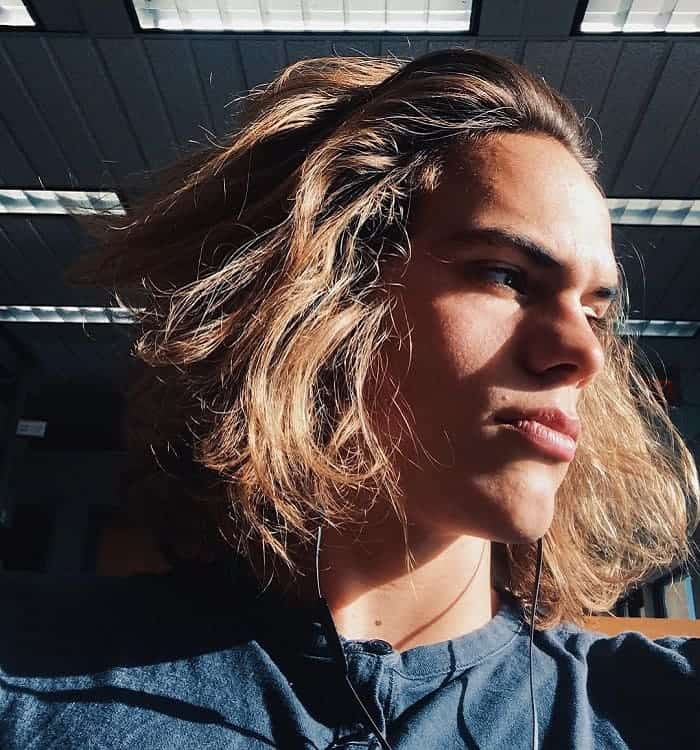 If you are someone who doesn't have much time and yet wants long hair flow, this is perfect. All that is required is to cut your hair in this particular long straight haircut way. Once that is done, all you have to do is walk out looking amazing.
28. Sleek Part with Thick Beard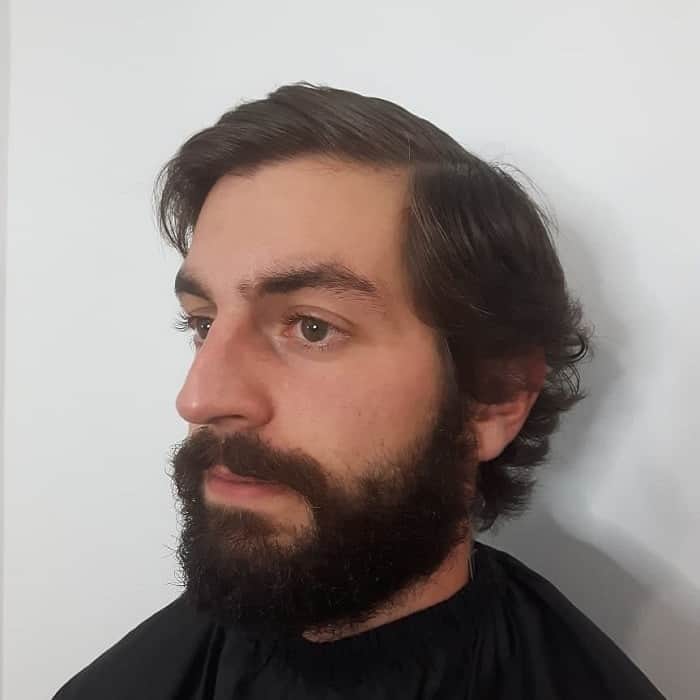 This hairstyle is perfect if you have thin brittle hair. All you are required to do is make a deep part and set it down. In order to balance out your thin hair, a heavy beard would be perfect to complete the look.
29. Natural Waves and Highlights
This flow hairstyle is perfect for naturally silky hair. All you need to do is comb all your hair back and you're done. It is a quick hairstyle that instantly makes you look chic and attractive.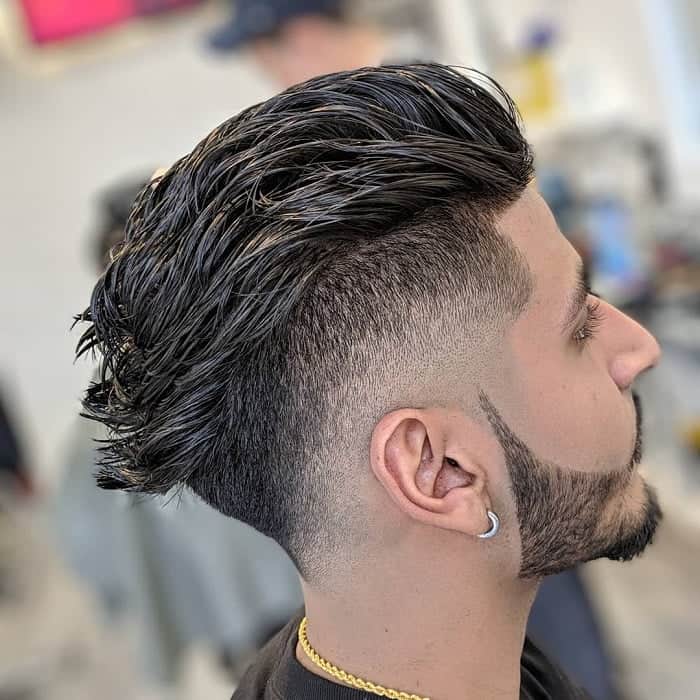 Short faux hawk hairstyles are hairstyles that mimic Mohawks. But it can be achieved with long hair as well, this hairstyle is an example. All you need to do is gel the centers and have a U-shaped undercut. This slick back undercut hairstyle is the right amount of sexy and edgy.
Top Wings Hairstyles for Men
Flow hair is also called as wings hairstyle because the long or medium wavy hair flips out and grow backward like wings around the ears instead of lying straight down.
This hockey flow hairstyle may appear innovative to some of you guys, but you will be astounded to know that the hair wings style was one of the most popular hairstyles back in the early '80s, '90s, and 2010s. It was first introduced by a Victorian gentleman with muttonchops and beard in 1830.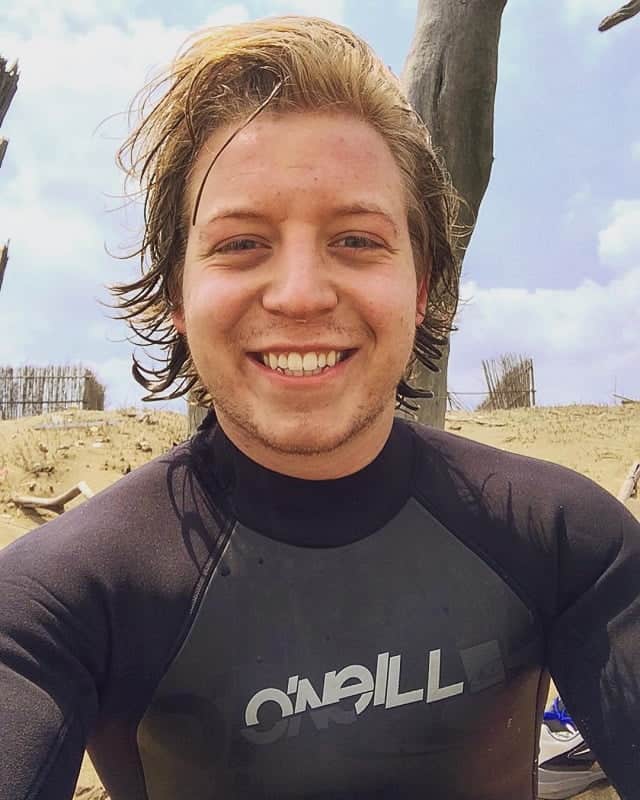 Now, this is what we call a genuine surfer's wings haircut. Here, each hair strand is giving a feathery like appearance and giving the guy uber fresh and cool features.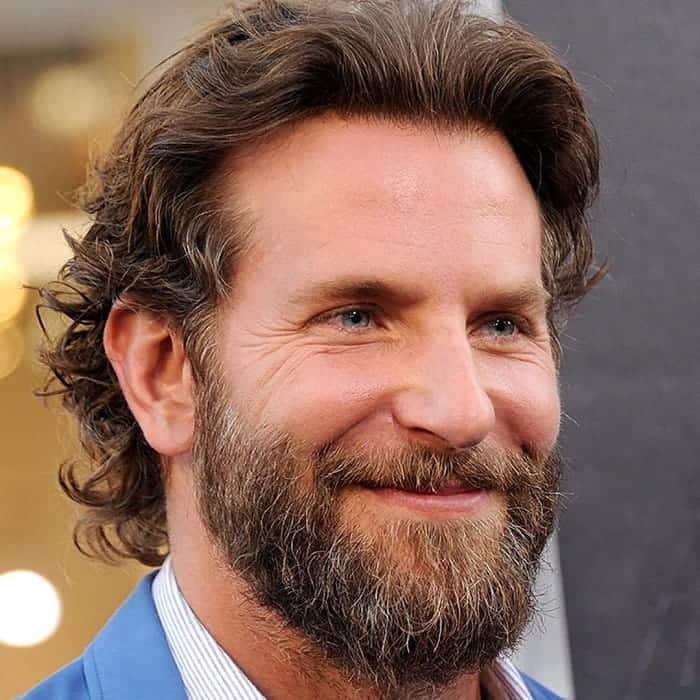 Bradley Cooper has worn the flow hairstyle so professionally that even the casual hair look gives him a true gentleman vibe. His medium length slick back haircut along with a full beard and unkempt wet locks are making an absolute fashion statement.
33. Messy and Unruly Wings Hair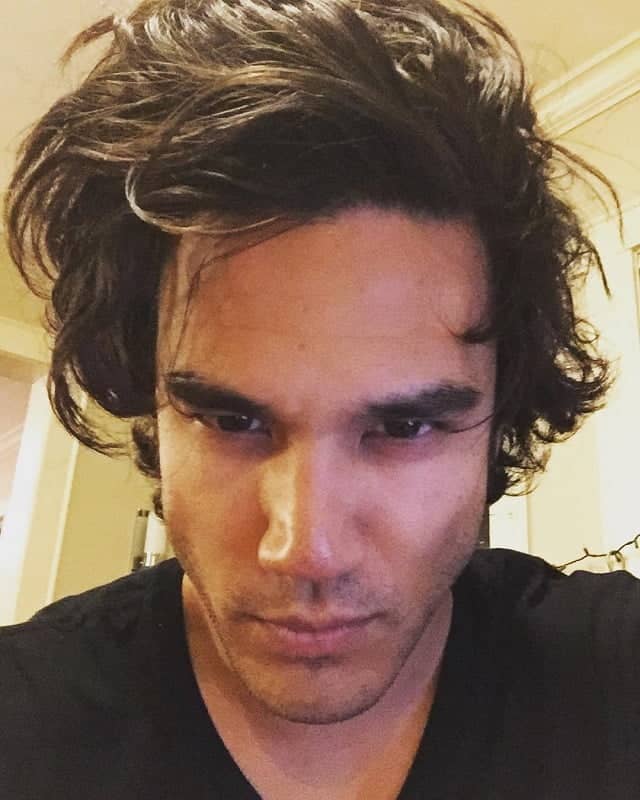 Wings hairdos are all about the casual and effortless hair look! This particular bedhead look provides men an unruly, rebellious aesthetics that the modern generation loves to reveal.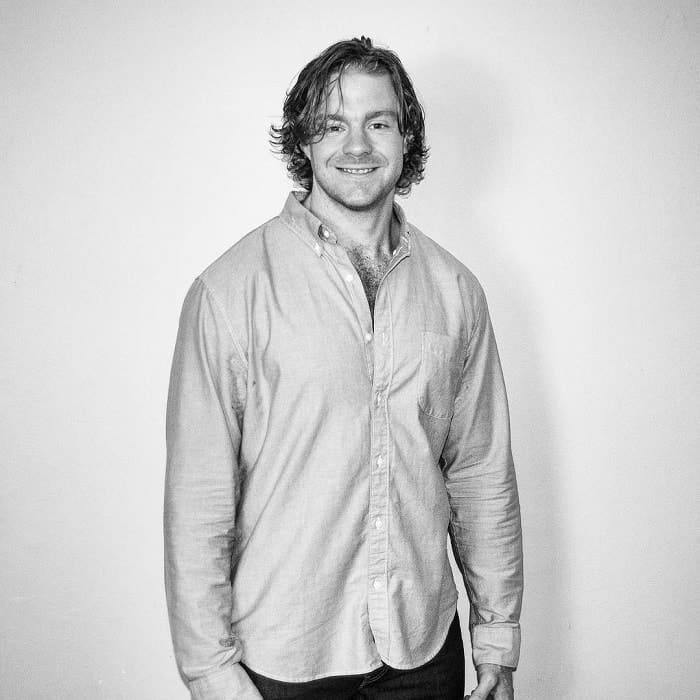 All you need to achieve this wet finish look is a good quality hair product such as pomade. You can style your hair effortlessly even without a comb just side sweep your long wavy bangs with fingers and you are done with your hair.
It is one of the most polished and classy wings haircut outlooks that men can adapt to look admiringly professional. Side sweep the long front hair and blow dry the remaining hair in backward direction to give your messy locks a well-kept and neat aesthetics.
A flow hairstyle might just be the much-needed change that you have been looking for, for a while. It has all the elements you need in a perfect haircut and style. It is easygoing, careless, sexy and alluring. Considering flow styles are a trend on its own. We recommend drawing inspiration from one or more photos that are listed in this article. Styling your hair this way could never be a mistake, you have our work for it.