Long hairstyles look amazing, especially on teenage guys, and while there are some who think that long hair takes a lot more time and energy, the truth is that there are many different hairstyles out there that are easy to keep and to style.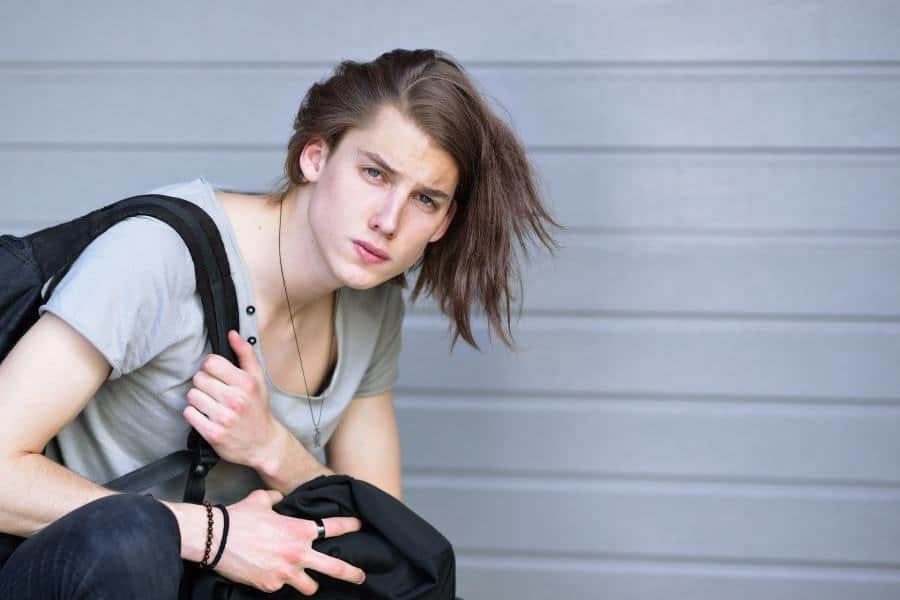 The only true challenge about long hair is having the patience and making the commitment to grow it out. There will be some awkward stages, but you'll also have the opportunity to try different looks along the way.
Long Hairstyles for Teen Boys
Having long hair takes time and discipline, but it's all worth it in the end because you get to rock a great look. To help you make that decision, here are 25 long hairstyles for teenage guys you should keep in mind!
All these looks are modern and they require very little effort, so I hope they serve as an inspiration to let your hair grow out and make the most of it.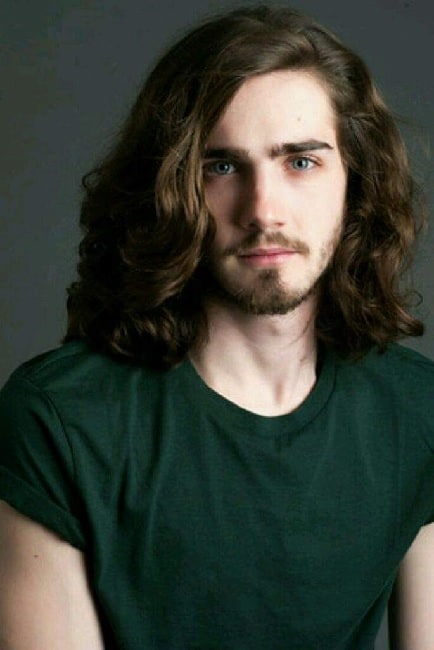 Wavy hair is amazing, and allowing it to grow out will really pay off. Wavy long hair is trendy and you can decide how long you want it to grow. You can get the Jon Snow to look or go above and beyond.
Growing out your wavy hair will give you many options when it comes to styling because you can rock different kinds of man buns, ponytails, half ponytails (like Thor), and you can even try Viking braids if you're up for it.
This is perfect for teenage boys with long hair because it requires very little upkeep and it will look amazing. Plus, not everyone grows out their hair, so you will stand out.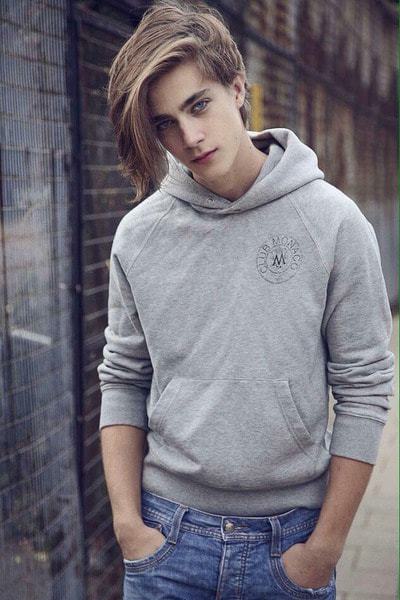 The long quiff is another way to grow your hair and still try a popular hairstyle. This long haircut for teenagers will give you a sleek, interesting look. The quiff will frame your face because it's short on one side and on the other, you'll have your long hair. This hairstyle offers a nice contrast, it's effortless, easy to style and it's also timeless.
3. Long Side Bang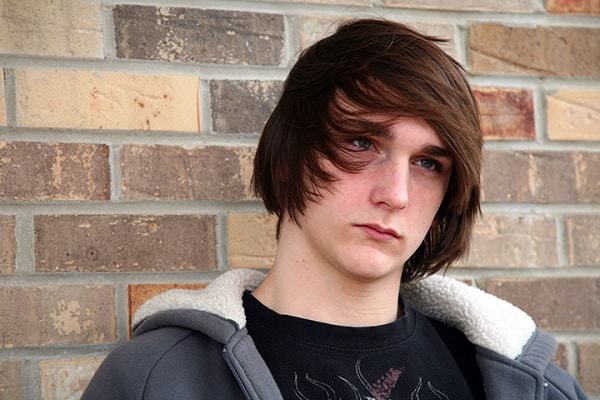 A long side bang is a common option and it's popular for a reason. It's easy, it's simple, and it's easy to style teen boys long haircut. If you add some layers, it will look even better.
4. Man Bun with Low Fade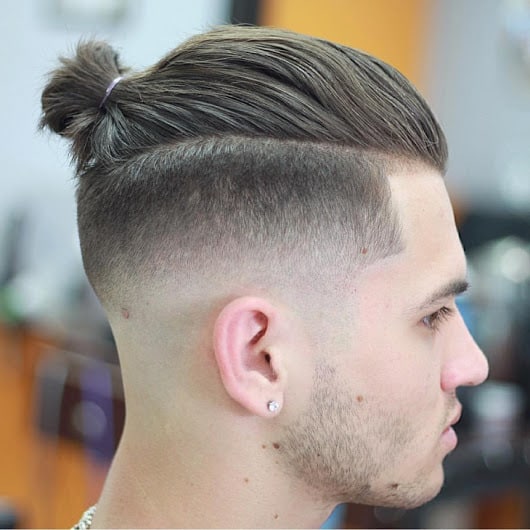 If you want to make your man bun stand out, you can make it high, combine it with low fade and even line ups so you have a unique look. Details make a big difference!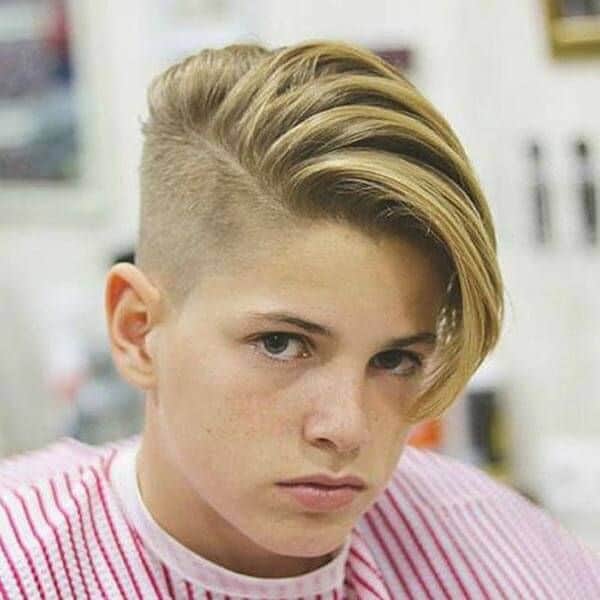 You don't have to grow out an entire head of hair to have a long hairstyle and this hard comb over is evidence of that. It's not only a classy, elegant choice, it will also help teen boys to sport long hair without committing to fully growing it out.
6. Long Slicked Back Hair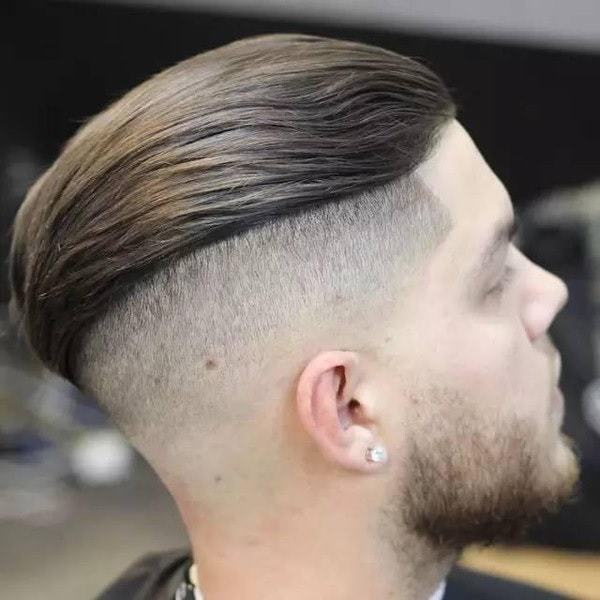 The slicked back hairstyle is a common option and it's a high contrast haircut because it combines shaved, short or faded sides and a long top that's slicked back to offer a clean, elegant look.
The slicked back hairstyle has been around for a long time and it's always evolving. It's a great choice for teenage guys who want to have a fun long hairstyle and still look sharp.
Slicked Back Undercut Hairstyles for Men
7. Textured Hairstyle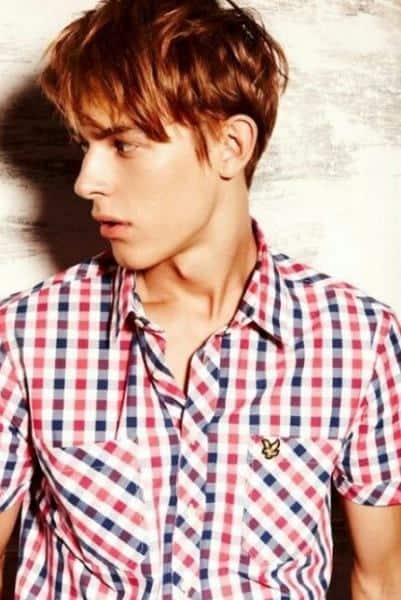 If you like long hair but you don't want to grow it to your shoulders or longer, you can always grow it just past your nape and go for a layered cut to add texture and volume. This kind of long hair look is perfect for teenage guys because it requires little to no upkeep and it looks effortlessly good because of the layers.
8. Sleek Man Bun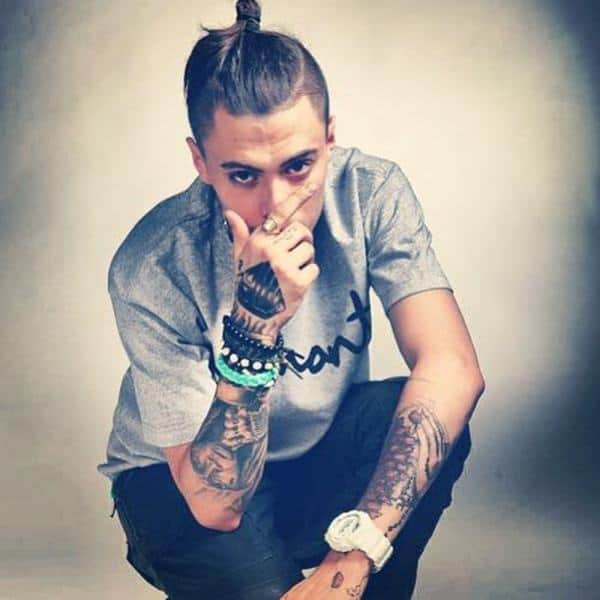 Any teenage guy with more than 6 inches of hair can get a man bun. The fun thing about man buns is that they can be very different. You can rock a loose man bun or a tight one, a low man bun or a high one, and it will always look good.
Plus, it's very simple! All you need to do is twist your hair into a bun and secure it with a hair tie. This hairstyle is perfect for all kinds of hair and face shapes as well. It's also super practical and it looks fashionable.
9. Top Knot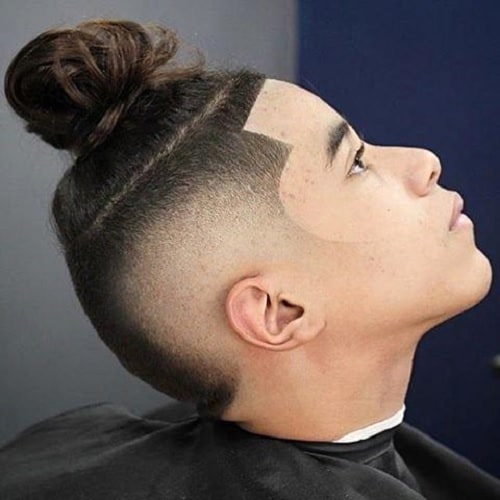 Top knots are quite popular and it provides great contrast. The buzzed sides and the long, pulled back top makes for an interesting look and you can mix things up by trying different things. Much like the man bun, the top knot is versatile and practical, so you can sport it lose, tight, or even try Viking braids.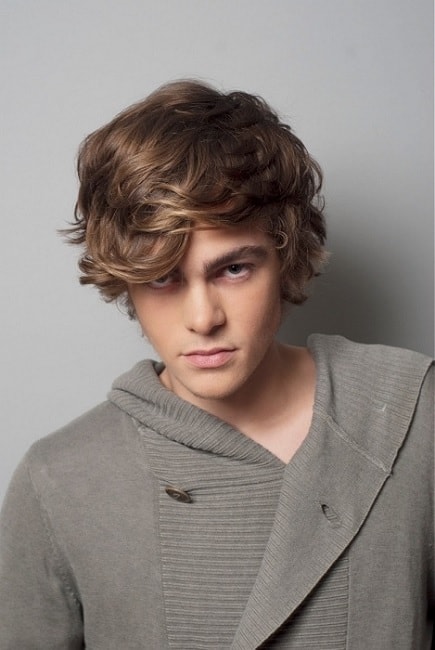 Shaggy layers offer a carefree, yet stylish option. They will allow you to enjoy your long hair effortlessly and it's super easy to maintain. Your hair will look just the right amount of untidy without going too far as to look disheveled and teenage guys can rock this long hair look with all hair types.
11. Shaggy with Side Bangs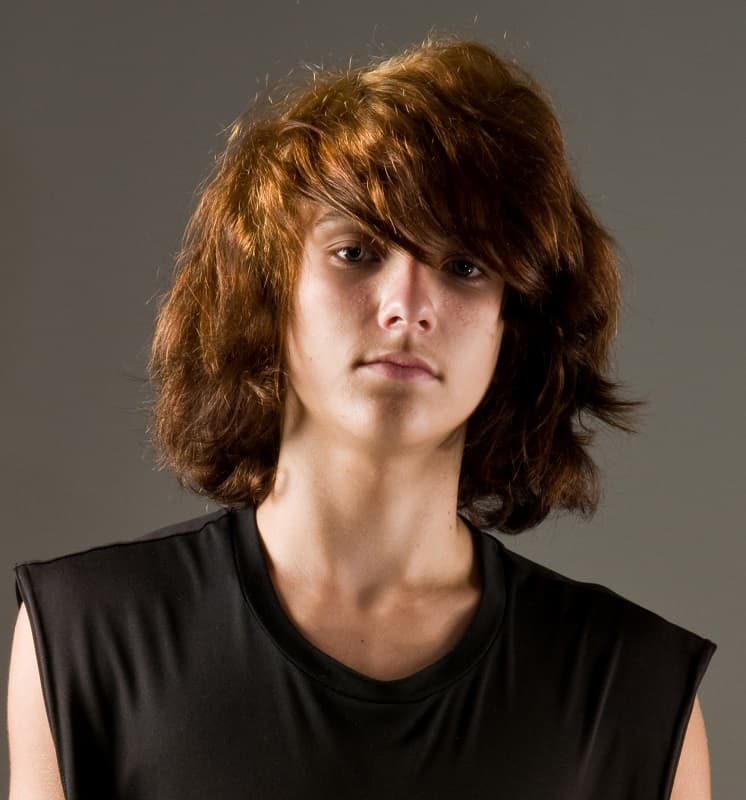 Shaggy layers on a shoulder length haircut add volume to this teenage boy's hairstyle while the long thick side bangs are the emo, punk detail that every teen boy wants.
12. Blonde Curls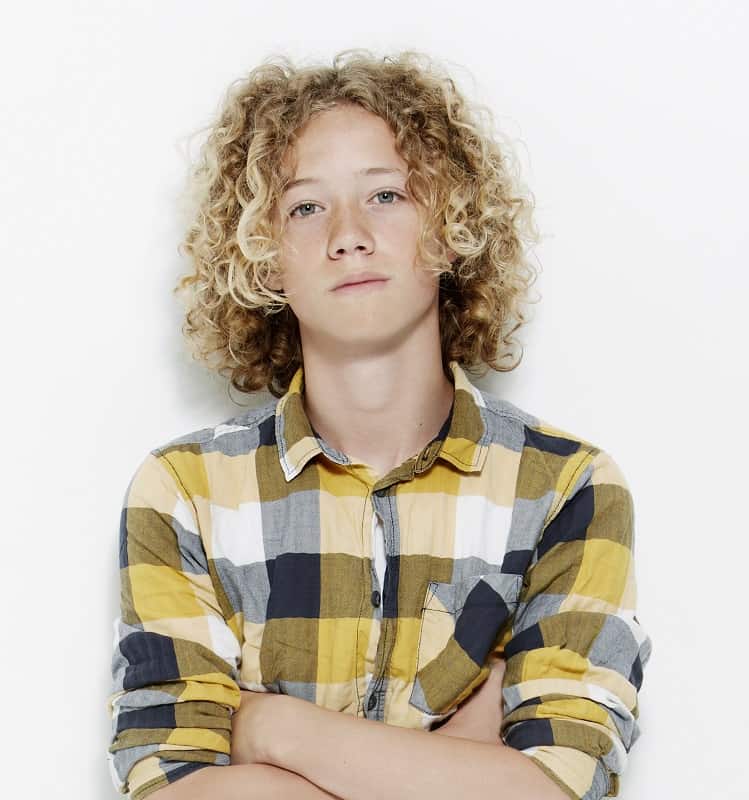 For bleached or natural blonde long hair and curly texture, teenage boys just need to add a center part for quick style.
13. Long Braids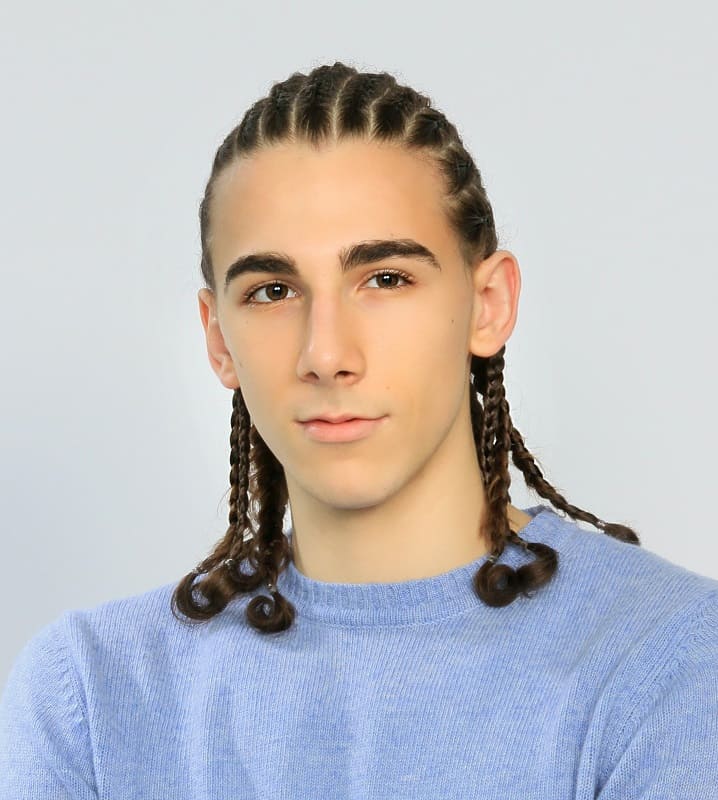 Make a bunch of small to medium sized braids that extend from the hairline through to the ends. Secure with clear or brown/black hair ties.
14. Wavy Hair with Long Bangs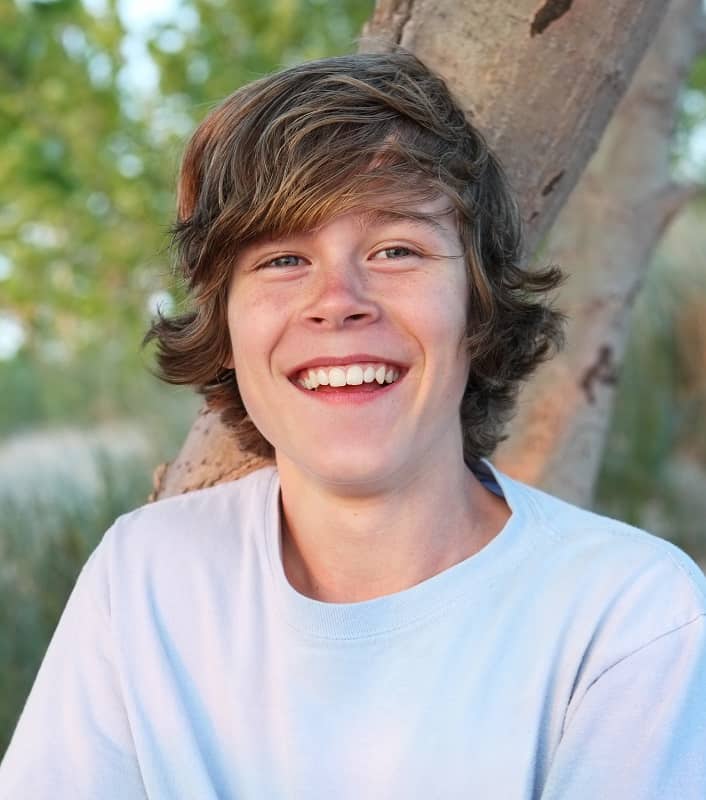 Another popular haircut for teenage boys is one with wavy texture and flipped ends. Bangs are long and brushed to the side so they graze the eyebrows. If your kid is feeling bold, he can add a patch of color to the hair like the red seen here.
15. Curly Hair with Wavy/Straight Bangs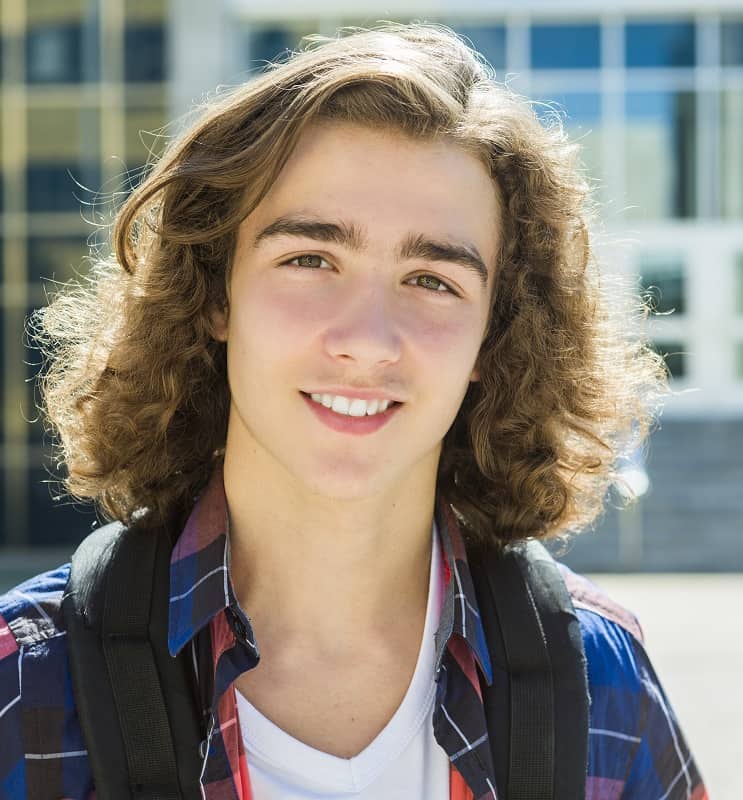 If your teenager isn't afraid of hair tools, he can use a straightener to see what wearing straight or wavy bangs looks like with his long thick curly hair.
16. Dreadlock Ponytail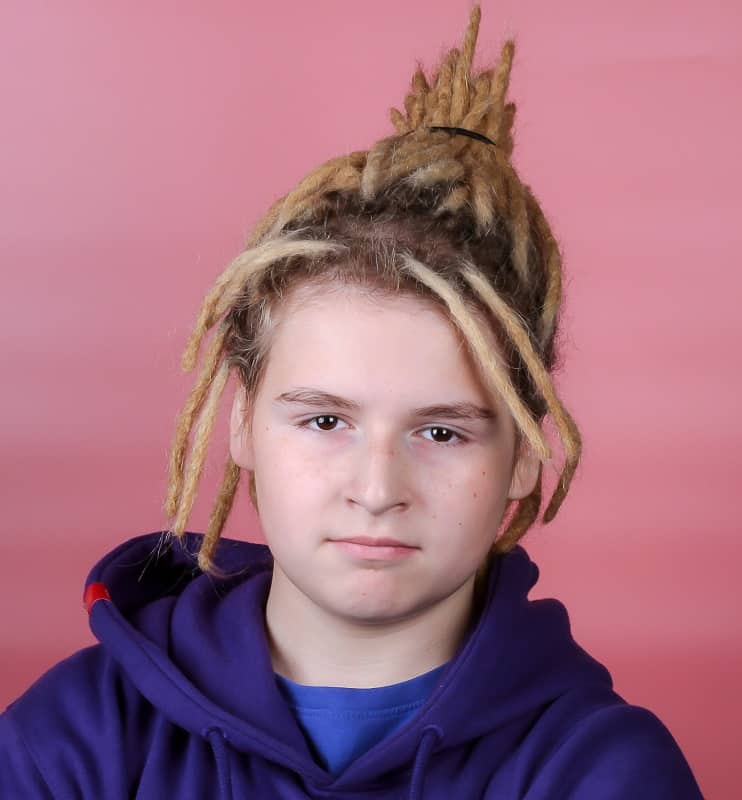 Many teenage boys go through a rebellious phase where they want to experiment with drastic hairstyles. Long dreadlocks are a cool look and easily contained in a ponytail.
17. Highlighted Long Hair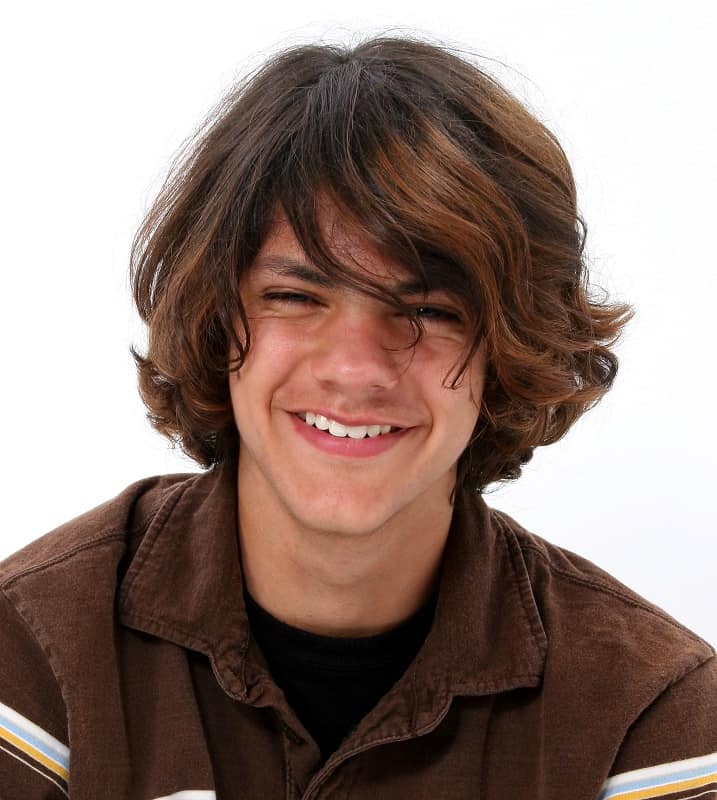 On dark brown long hair, see how your teenage boy feels about adding burgundy or blonde highlights. The way this haircut is worn, the long highlighted bangs are front and center.
18. Long Afro Hair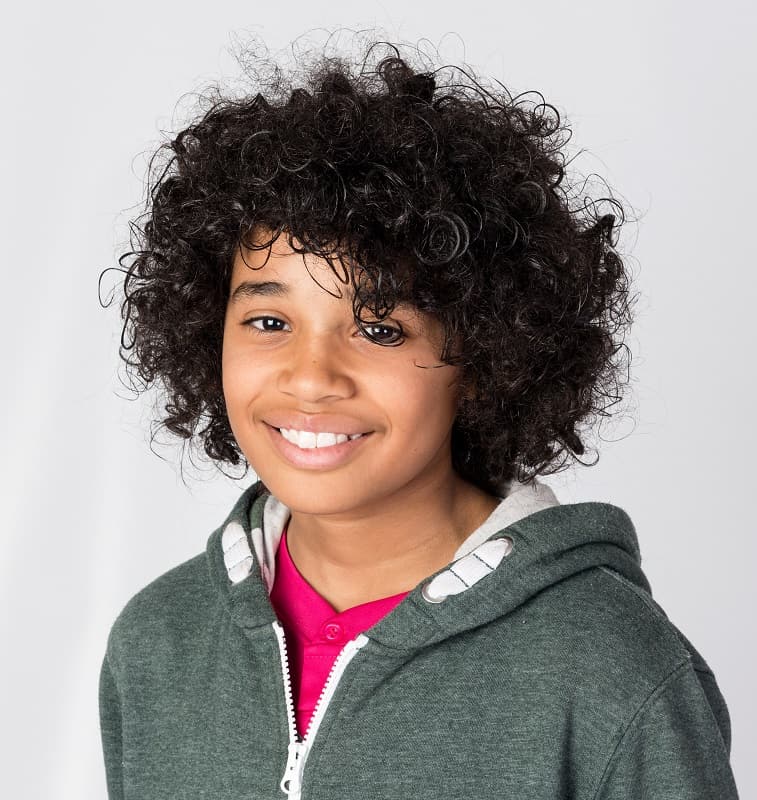 For thick long curly hair or natural hair with afro texture, teenage boys can embrace it on a long style that doesn't have bangs so hair doesn't get in the face.
19. Messy Surfer Style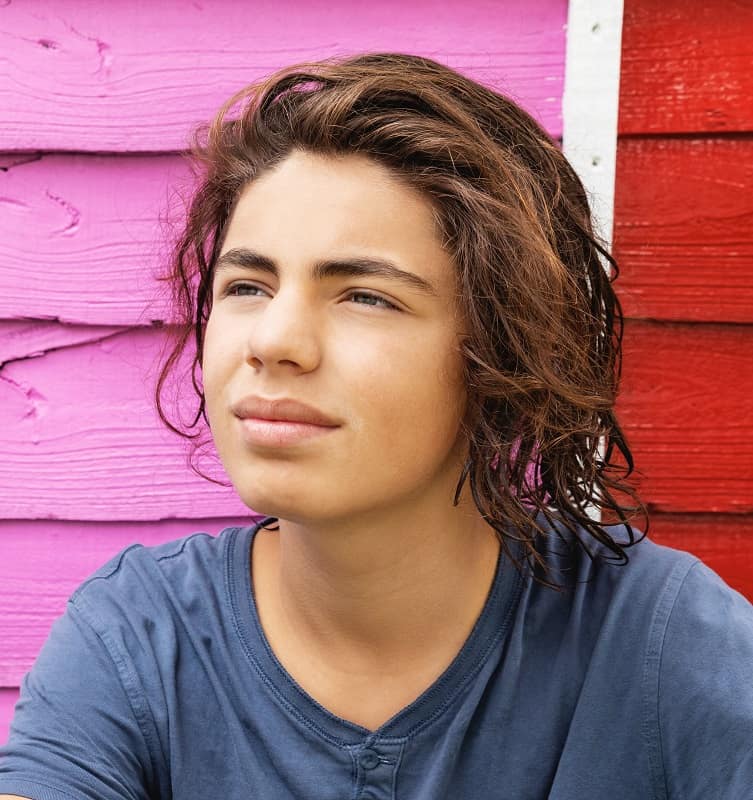 Long messy hair similar to surfer texture is a hot look for teenage boys. The key is not combing it perfectly. If anything, a center part is all that's needed, making it the best low maintenance style for teen boys.
20. Half Straight Half Curly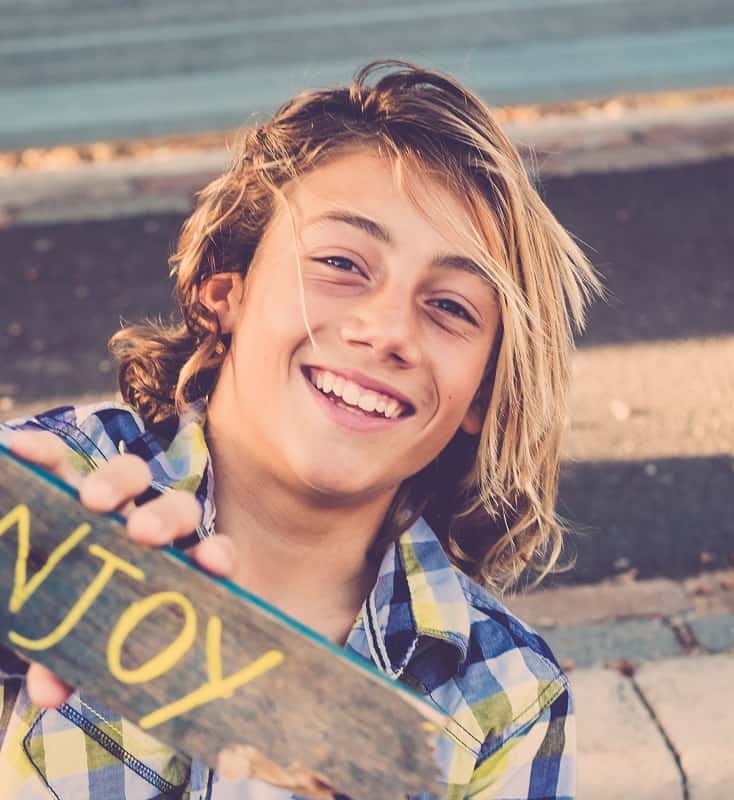 For an edgy long hairstyle not many other teenage boys will have, straighten half the hair and leave the other half curly or wavy.
21. Extra Long Straight Bangs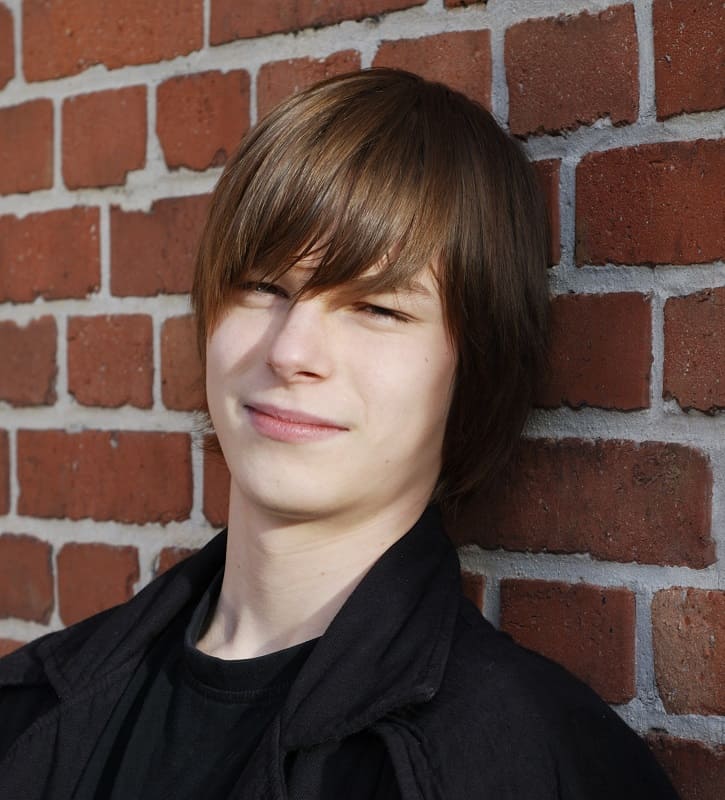 All young boys need to do for their naturally straight long hair is let it grow, embracing extra long bangs that fall across eyes.
22. Long Hair with Flipped Ends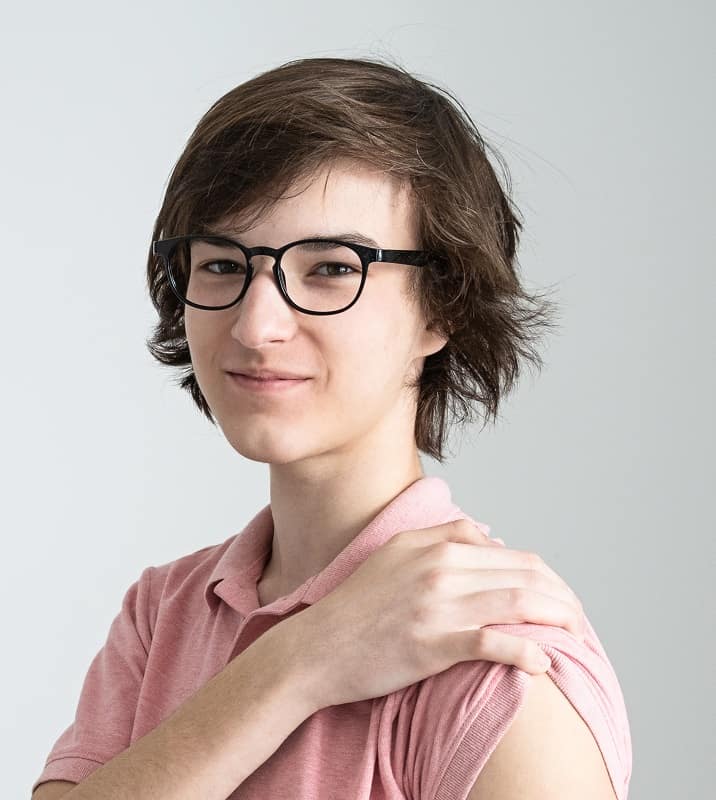 Aside from the slightly emo side bangs, this long hairstyle for teen boys features flipped ends that come naturally on wavy hair.
23. Long Hair with Side Part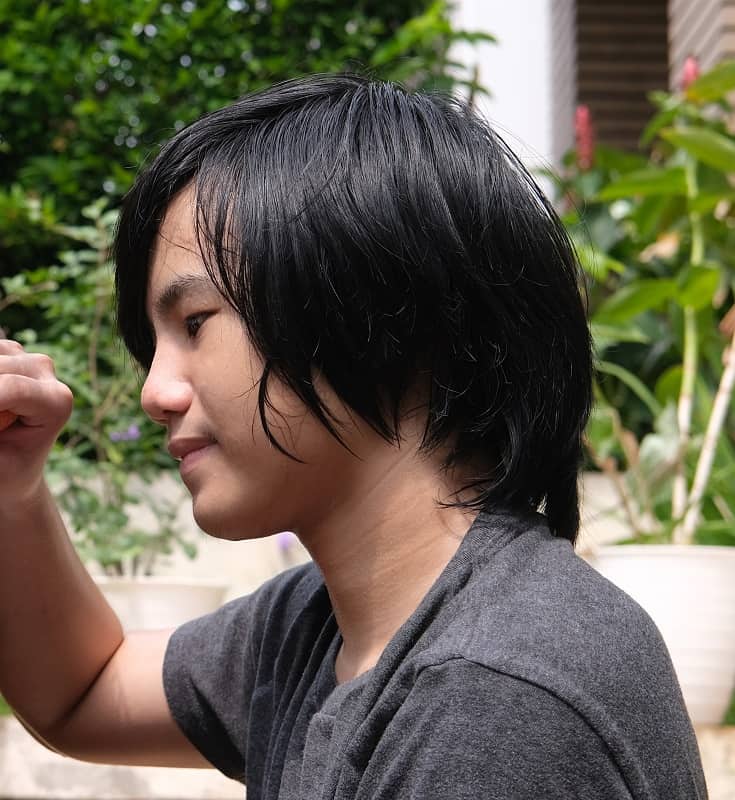 If your teenage boy uses his long hair as a kind of security blanket, he'll like that all he has to do to keep extra long bangs out of the face is comb in an off center part.
24. Long and Wavy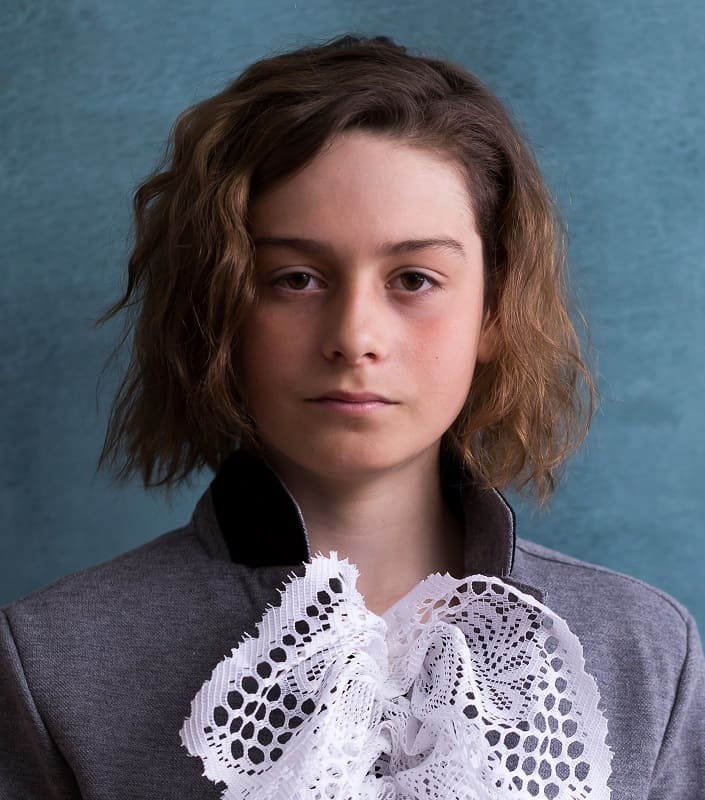 Long wavy hair is a nice natural way to show off texture and a messy part can be created by raking fingers through the hair.
25. Cheek-length Long Hair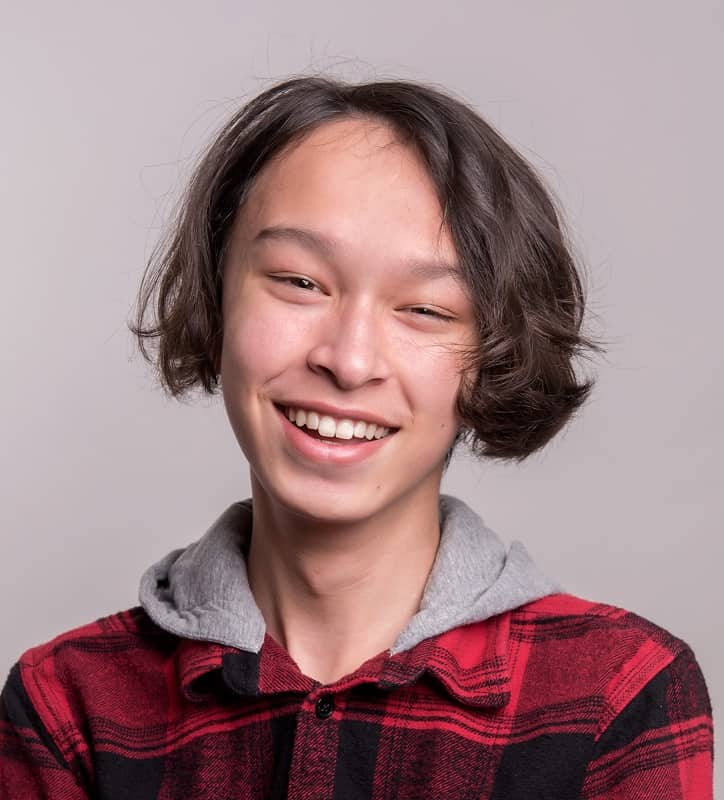 This long thin hairstyle is cut to chin-length, making it a nice balance between short and long hair. It's another great wake up and go style for teenage boys.