Rafael Nadal is a professional tennis player from Spain. He is currently the number one rated pro player in the world of men's tennis. He has won many championships and one Olympic gold medal. Here, we are going to look at Rafael Nadal short & long hair.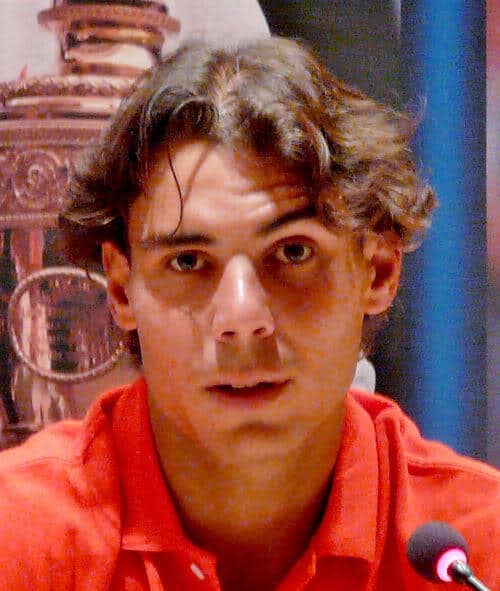 Rafael Nadal short hair style.
In September of 2009, Rafa appeared with a hair cut that was virtually identical to that of Roger Federer. His shoulder length locks had been cut to above his collar and the sides and top were much shorter as well. He did leave enough length that he had to take some time styling his hair, but not much effort went into it on the courts. He simply tied a wide headband around it to keep his eyes clear.

Rafael Nadal long hair style.
As a general rule, Rafa keeps his hair long. It usually hangs to his shoulders or just a bit below. He parts it just right of center and brushes it in either direction. It normally hangs clear of his face, though he needs a headband to keep it out of his eyes while playing tennis. This is an excellent look for him with his deep tan.
Maintaining the long hairstyle is not too complicated. He does not need much if any product to hold the hair in place. He does, however, need to carry a brush to refresh his style from time to time.
If given a choice of the two hairstyles, I think the long hair looks better on this young man than short hair. It probably has a lot to do with his facial shape and skin tone. However, he does not look bad with the shorter style either.
Rafael Nadal short & long hair give him a much different overall appearance. In either case, many men wish they could look like him to attract a larger number of beautiful women.