Men's Cornrow styles are a traditional style of braiding the hair close to the scalp. While usually done in straight rows, the cornrow can also be seen in complex geometric and curved patterns.
Often found adorned with beads or shells, the cornrow hairstyle is favored for its easy maintenance. It can be left in for weeks at a time with careful washing and oiling of the hair and scalp.
Many men think that cornrow styles are only for women. if you are one of them, check out the cornrow styles for men in this article and surely it will change your mind forever.
What Are Cornrows?
A cornrow style is a type of hairstyle where the hair is tightly braided to the scalp in narrow rows that look like neat lines or patterns. These rows can be as simple as straight lines, or they can form intricate geometric or curved designs. Here are some cool facts about cornrow hairstyles:
It's Not Just a Style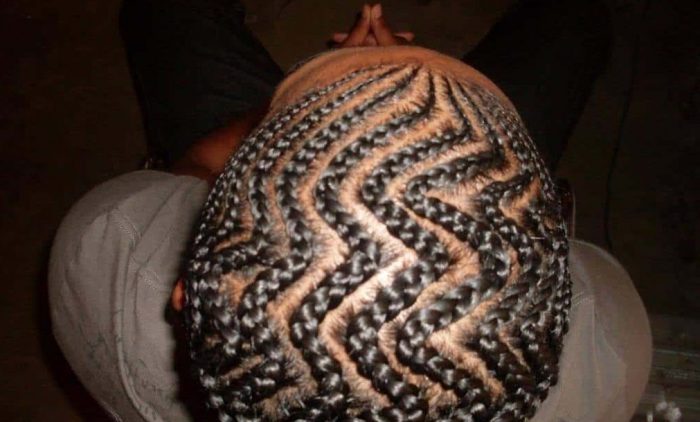 Cornrows have a deep-rooted history that dates back to ancient African civilizations. Can you imagine? Their origin can be traced back as far as 3000 B.C.! Archaeologists have discovered statues from ancient cultures with cornrow-like hairstyles.
Men's Cornrows were a common way of styling hair in Sub-Saharan Africa for centuries and were continued in the United States and other countries by enslaved Africans. The cornrow hairstyle can be used to display social status, as well.
Things like religion, age, kinship, status, and ethnicity can all be conveyed. In the 1960s the styles became widely popular among African Americans as a way to highlight their natural hair texture.
Fast-forward to the present day, cornrows are now a global phenomenon that transcends cultures and countries. Impressive, right?
The Patterns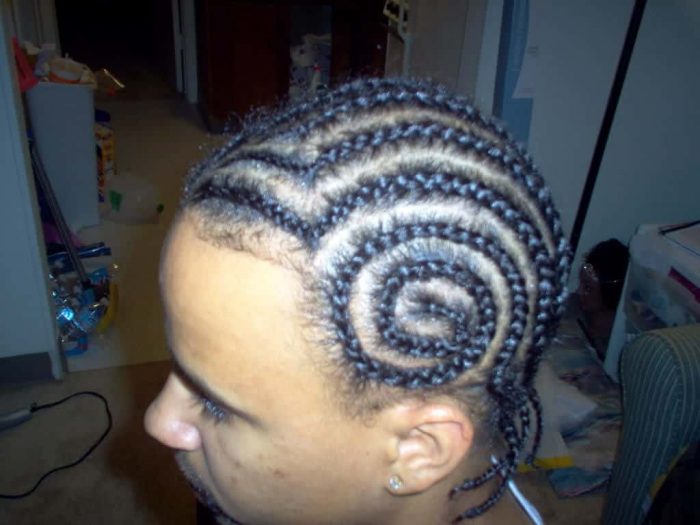 Cornrow hairstyles can range from the strictly linear, in parallel rows beginning at the front of the scalp and ending at the neck to complex geometric patterns, swirls, and curves. Although it may be tempting to consider the more stylized geometric patterns as modern, ancient artifacts uncovered in Africa reveal geometric patterns in cornrow hairstyles as well.
The hairstyle survived the era of slavery when it was common to shave the heads of enslaved people because the slaves who worked in the houses were expected to keep a neat and tidy appearance at all times. These house slaves modeled their cornrow braids after more traditional designs and kept the tradition alive.
Keeping a Tradition Alive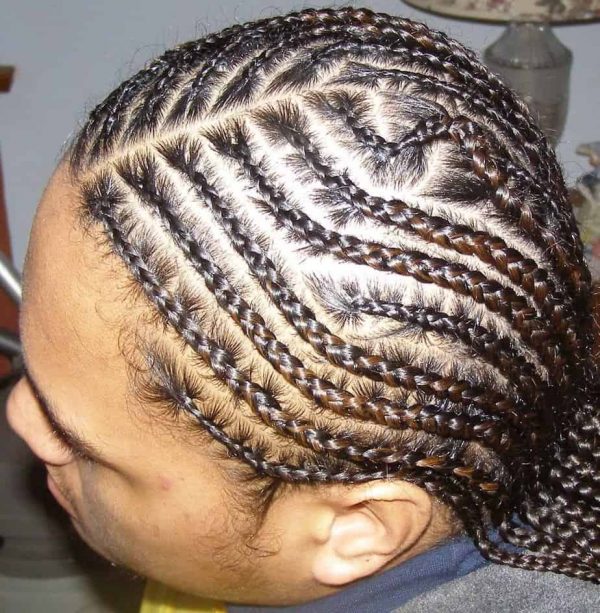 After the civil war, many adults straightened their hair, but the cornrow tradition was once kept alive by braiding cornrows in the children's hair. Repopularized in the late 1960'and early 1970s, and again with the hip hop movement of the 1980's many of the cornrow styles and designs we see today are a conglomeration of the styles found in ancient Africa, some Native American touches, and a hint of modern flair.
Why We Love Cornrows
One of the reasons for the popularity of cornrows hairstyles among men is the relative ease of maintenance. The braids are often found decorated with beads or shells and can be left in for weeks or even a month at a time with careful protection.
Cautious washing, along with regular oiling of the scalp and hair creates a long-lasting, simple and quick hairstyle sure to complement almost any person's lifestyle.
Cornrow Braid Styles for Men
The following are the top 20 cornrow braided styles for men to try that are cherrypicked by our experts!
1. Simple Cornrow Style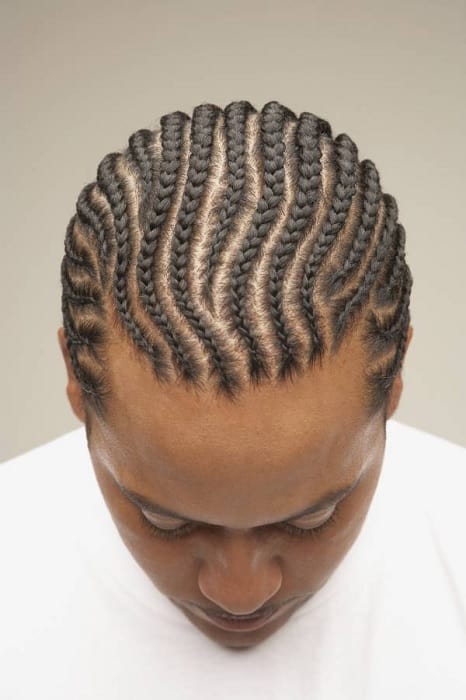 There are countless types of braids to choose from when it comes to creating cornrow styles for men. This is a very simple braid made more effective by altering the size of the plaits.
Ideal for: Most of the volume here is on the sides of the head and temples so avoid if you have a diamond or heart-shaped face.
How to Style: It is not always easy to braid the hair of varying lengths. Here they have chosen to create thicker braids around the top of the head where the hair is longer and smaller thinner braids around the temple where the hair lacks length.
2. Feed in Braids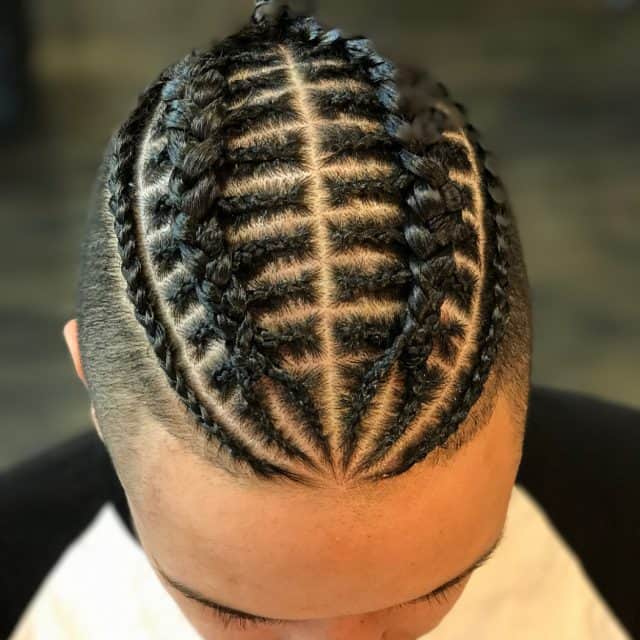 Natural Afro hair lends well to braiding as it can create beautifully voluminous braids. However, to prevent too much chunky height around the forehead you may want to consider feed-in braids.
Ideal for: The bulk of the hair is on the top of the head here, so this is great for all shapes aside from long faces.
How to Style: Feed-in braids start small and thin around the root of the plait and then thicken in size. This is a great way to add interest and definition to your hair and it helps shape your face and head.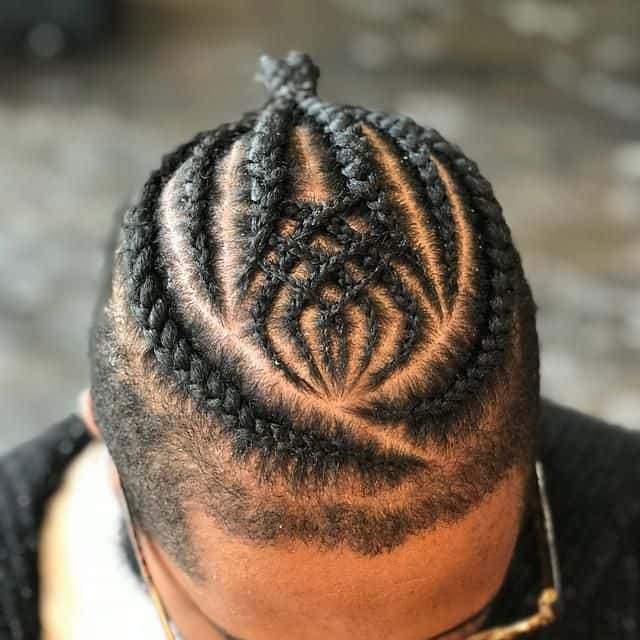 If you are opting for a highly intricate set of braids like this then you will want to pair back the rest of the style to ensure your crown gets the focus it deserves.
Ideal for: The bulk of the hair is on the top of the head here, so this is great for all shapes aside from long faces.
How to Style: By cropping the hair short around the sides and back this allows for the focus to be on those immaculate braids. Blending the shaved portion along the forehead is a clever move as it frames the crown of the head.
4. Zig-zag Patterning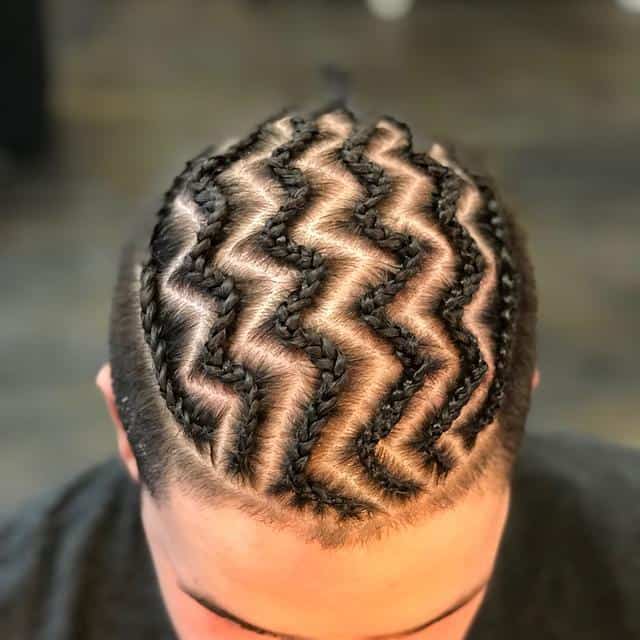 Medium length hair allows you more versatility to play around with different looks.
Ideal for: This style draws attention to the temples and the sides of the head so avoid if you have a heart, diamond or round face.
How to Style: The zig-zag pattern on the head is a very distinctive look. The contrasting straight plaits that run from the temples backward is a great way to frame the style but also define the shape of the head and face.
5. Part Braided
If you are new to cornrow styles or braiding and don't want to go the whole hog – consider styling just part of your hair.
Ideal for: Side parts are great for oval, square, oblong and triangle faces.
How to Style: By braiding two thin plaits along the part of an undercut and leaving the remaining length loose you can create a unique and interesting style without the full commitment of a whole head.
6. Funky Designing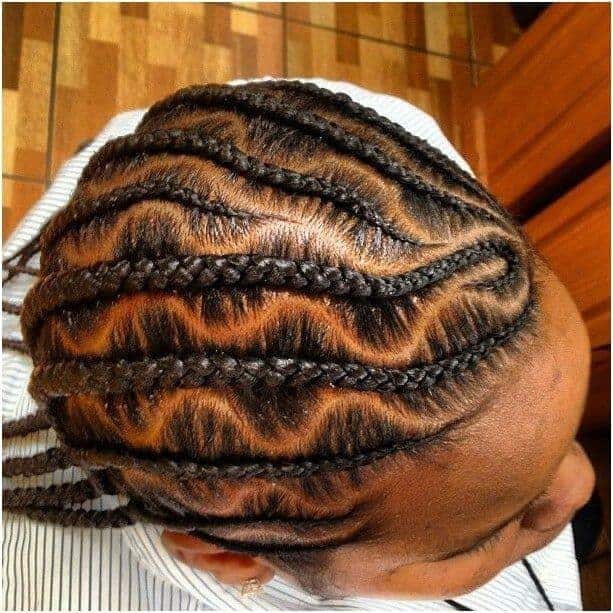 The best bit about cornrows for men are the unique and interesting designs that can be created so let your imagination run wild.
Ideal for: Such tight pulled back designs are unforgiving on distinctive and strong shaped faces so if you want to soften your forehead or jawline you will need to opt for something less harsh.
How to Style: This super swirly design is great for long hair and feeds into some loose and long braids at the nape of the neck.
7. Face Framing Shapes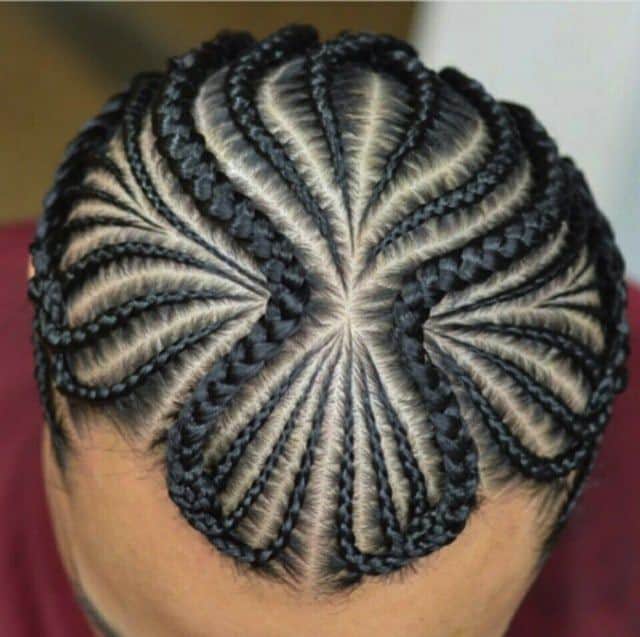 There are endless ideas of designs to allow you to be unique but also suit your face shape, style, and personality.
Ideal for: Bold faces such as hearts, diamonds, and triangles will look great with circular styles.
How to Style: This highly intricate design features concentric shapes and is therefore great for framing harsh face shapes.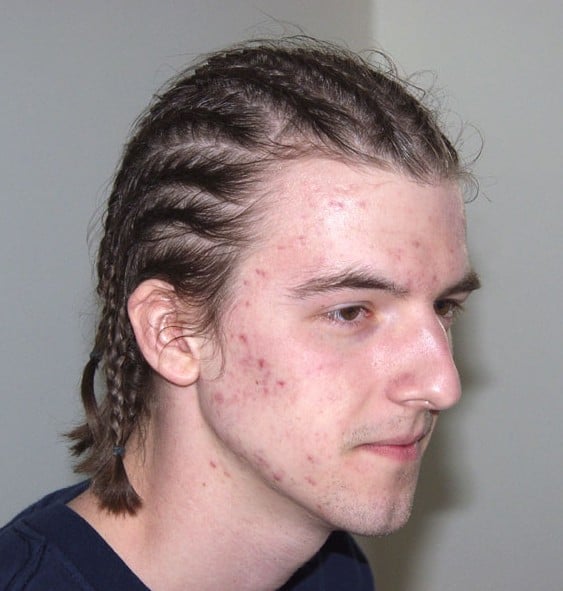 You don't need afro hair to have cornrows or braids. You can still achieve a similar look with some nifty plaiting and styling.
Ideal for: Undercuts are great for square, oval and heart-shaped faces.
How to Style: Straighter hair allows you to have some more variation in terms of the braiding you choose. Big chunky cornrows men like this are easier and faster to do than the small intricate ones and you may be able to do them yourself.
Pairing the braids with an undercut and a hard-shaved part is a great way to define this unique look.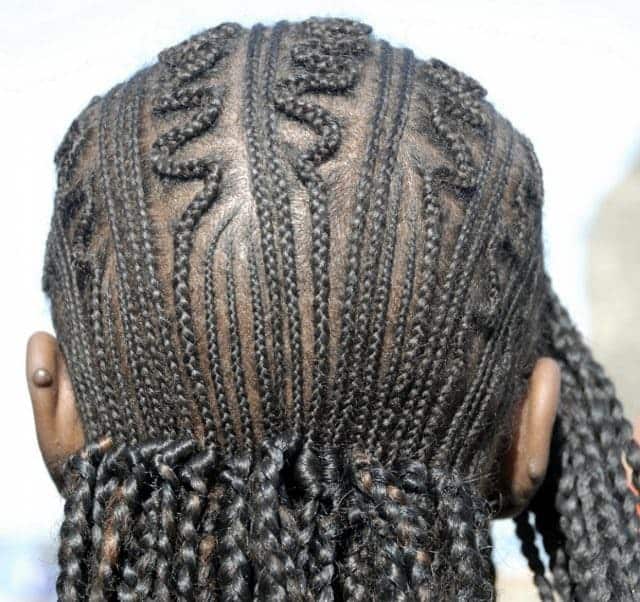 Whether your hair is naturally long, or you are considering adding synthetic hair, very long locks vary the options available for black guy cornrow styles.
Ideal for: Most face shapes however if you have a long face then you may want to pair this with a beard.
How to Style: The very fine braids are plaited straight back from the forehead, with some eye-catching waved detailing. The stark contrast is created by the alteration in plait thickness at the nape of the neck. This is a great way of maintaining the length of your hair without the hassle of it all being loose.
10. Shaved Detailing
You don't need a huge amount of hair to achieve a braided look however the part that you intend to plait will need a decent amount of length.
Ideal for: Depending on the positioning of the plaits this could suit most shapes. However square, heart and triangle faces should opt for more of a side part.
How to Style: If you don't want a full head of plaits or don't want to grow your whole hair then opting for something like this is a great idea. Two simple plaits along the crown of the head with bold shaved detailing around the temple is a unique option.
11. Ombre Braids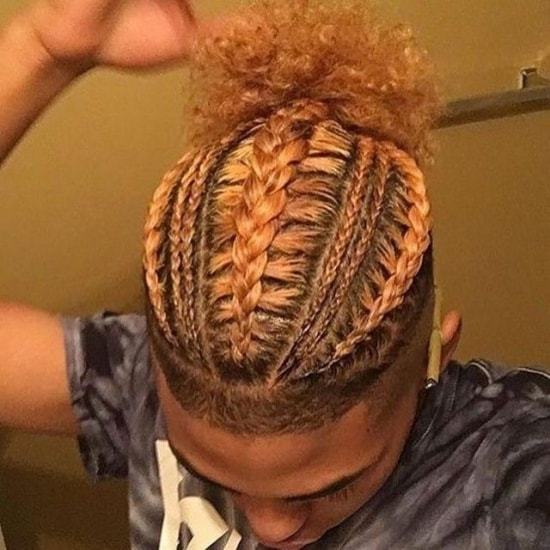 Color is a great way to add more interest and definition to your style especially when you are mixing light and dark shades together.
Ideal for: This is a wide and chunky style – you will need to avoid volume around the temples if you have a round or square face.
How to Style: The ombre coloring here with the darker roots gives the braids and hairstyle added character and more of a dimensional effect. It's topped off with a naturally curly back bun for added impact.
12. Braids with Bangs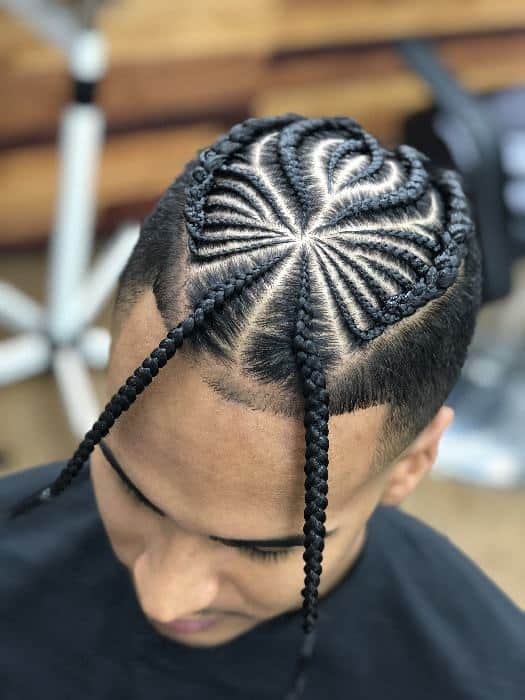 Short hair can still be made into some very distinctive patterns of cornrow styles for men even when you have bangs.
Ideal for: This is a very bespoke look which is unforgiving on any boldface shape. This is one to avoid if you have a distinctive forehead or jawline.
How to Style: Having loose plaits draped over the face like this is a very unique look, especially when paired with an undercut although this may not be a universally appreciated look!
13. Cornrow Mohawk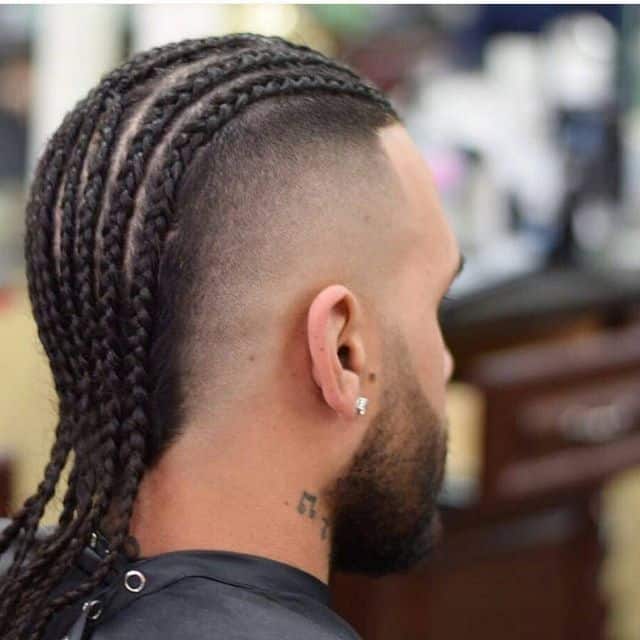 Mohawks are a great way for guys to show off elements of their personality – however if you want to give the style an even more edgy twist why not add some long cornrows?
Ideal for: This sort of slicked back 'do suits square faces well.
How to Style: By plaiting the length of the hair back into cornrows you can achieve a very low maintenance and get-up-and-go style. Depending on your hair type you can also go for super chunky braids or lots of thin ones.
14. Side Braids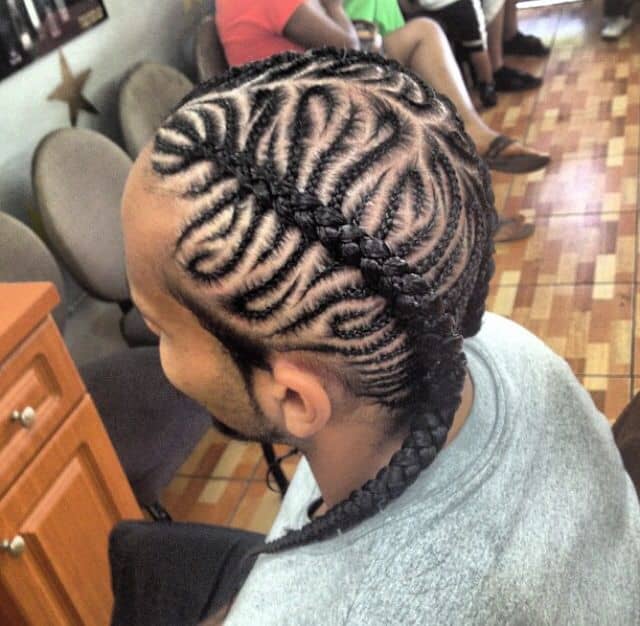 This men cornrow style is a great option for long hair – in fact, the longer your hair the better your braids will end up!
Ideal for: The double braids can help draw attention away from the face, so this style can suit most people.
How to Style: This looks like a hugely complex and impressive style that flows down into two side braids. The braids give you the option of folding into buns or tying into one low bun for daily variation.
15. Cornrows with A Top Knot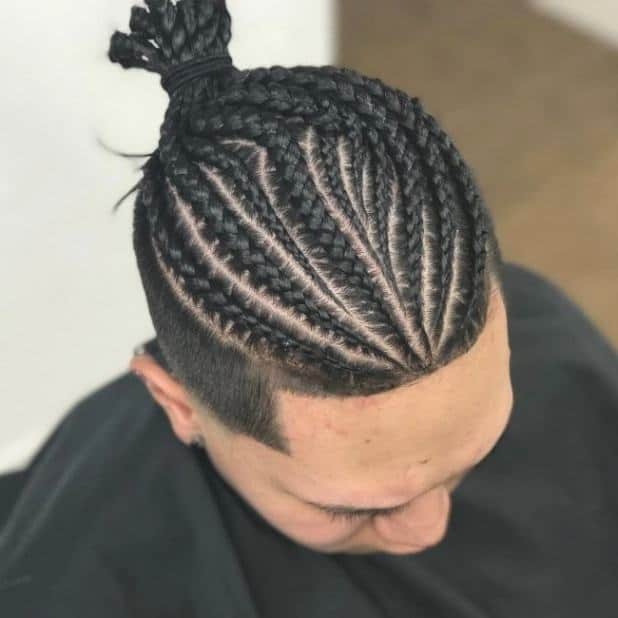 This is a dramatic cornrow style that combines all the trendy looks for men right now – an undercut, braiding and a top knot!
Ideal for: Top knots are a perfect match for oval, square and triangle faces.
How to Style: An undercut is a great way to frame the braided portion of the style. If you decide to have a man bun at the top of the 'do you will need to specifically have your hair plaited inwards, especially when opting for a bun that's higher than a standard one, so let your stylist know first!
16. Curved Cornrows
A creative variation among cornrow styles, the Curved Cornrows form an arc pattern across the scalp, offering a refreshing break from the usual straight lines.
Ideal for: This style is perfect for those with a square or round face, as the curved lines help to elongate the face.
How to Style: Instead of braiding straight back, curve the cornrows in a consistent pattern. A skilled stylist is recommended for this style.
17. Cornrow Ponytail
Among the various cornrow styles for men, the Cornrow Ponytail is a versatile and chic option. It combines the neatness of cornrows with the stylish flair of a ponytail.
Ideal for: This style suits most face shapes, especially oval and heart-shaped faces.
How to Style: Braid the hair in cornrows from the hairline to the crown, and then gather the braids into a ponytail at the back.
18. Two-Strand Twist Cornrows
Two-Strand Twist Cornrows are popular for men due to their unique and trendy look. Instead of the typical three-strand braid, this style involves twisting two strands of hair together.
Ideal for: This style is great for men with long faces, as the twists add width to the sides.
How to Style: Section the hair and twist two strands together for each cornrow. The result is a slightly raised, twisted braid.
19. Side-Swept Cornrows
Side-Swept Cornrows offers a different take on men's cornrow braid style, with braids sweeping across the forehead and down one side.
Ideal for: This style works well for all face shapes, particularly for those with a broad forehead as it helps to balance the facial proportions.
How to Style: Instead of braiding straight back, the cornrows are styled diagonally across the head, sweeping towards one side.
20. Ghana Braids
Also known as banana braids, Ghana braids are among the oldest cornrow styles for men. These braids are thicker and noticeably raised, creating a striking look.
Ideal for: This style suits most face shapes, especially round and heart-shaped faces.
How to Style: The process involves feeding in synthetic hair to create thick, standout braids. Ensure you find a skilled stylist experienced with Ghana braids to achieve this look.
How To Style And Maintain Cornrow Braids
To get started with cornrows, you'll need a comb, hair clips, and hair styling products. Easy enough, isn't it? These tools will help in neatly parting your hair, holding sections in place, and ensuring your hair stays smooth and tangle-free throughout the process.
Cornrowing involves a series of steps, primarily involving dividing the hair into sections and weaving it closely to the scalp. Picture yourself creating a regular braid, but it's tighter and closer to your scalp.
Each strand is intertwined, forming a neat, continuous plait that runs from the forehead to the nape of your neck or beyond. Now that's some hair art!
Maintaining your cornrows includes regular washing, but not in the same way as unbraided hair. It's best to use a diluted shampoo or a shampoo specifically designed for braids. Think about it as giving your cornrows a gentle bath to keep them fresh and clean!
Keeping your cornrows moisturized is equally crucial. A dry scalp can lead to itchiness and flaking, which we definitely don't want. Using natural oils or a moisturizing spray will keep your cornrows looking vibrant and healthy. Remember, hydration is the key!