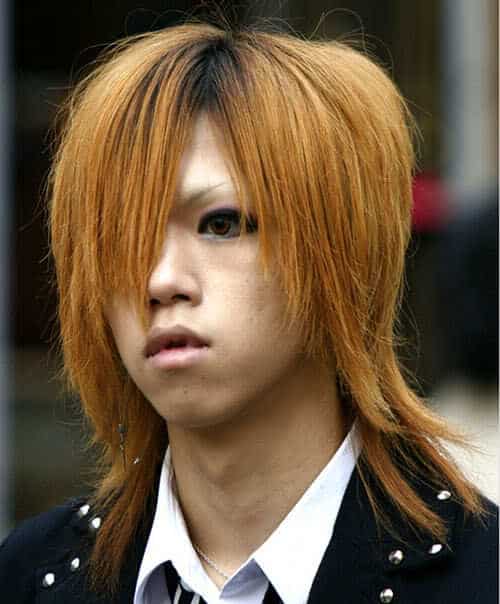 Harajuku hairstyle.
"With your underground malls in the world of Harajuku
Putting on a show, when you dress up in your clothes
Wild hair color and cell phones
Your accessories are dead on"
That's the lyric from Gwen Stefani song entitled Harajuku Girls. The song expresses her admiration on Harajuku style. Harajuku is an area around Tokyo's Harajuku Station. This area is the center of boys and girls fashion style and internationally well known for its cultures.
They usually wear fashionably unique clothes. Ranging from gothic style, hip-hop, punk, to the style of anime character. The specialty of Harajuku style lies on its glamorous beads, harmonizing dark and bright theme, and melting the feminine and masculine element, both from its style as well as the function.
The style is actually divided into various styles such as Lolita, Kogal, Gongaru, Cosplay (costume play), Yamanba, and many more.
The extreme costume from Harajuku is also supported by the extreme of makeup and hairstyle. The Harajuku hairstyle is actually extreme, glamorous, and eye-catching. To apply Harajuku hair, you should razor your hair, make it wild, let the hair down, & dye your hair (usually with a bright color) like the pictures below.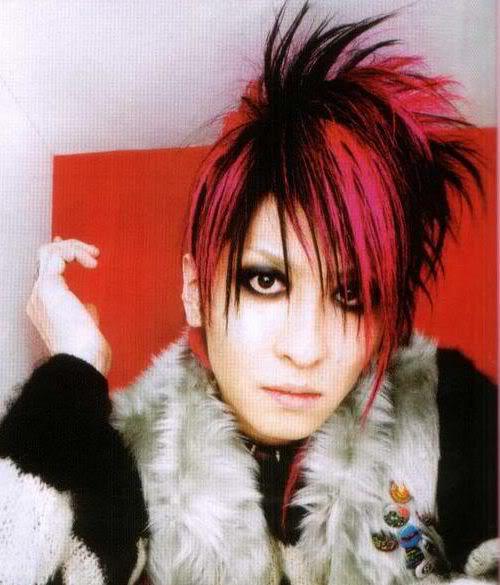 Red highlighted hair.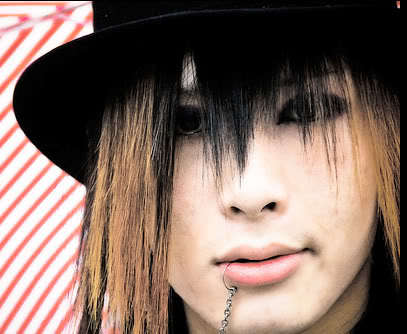 Harajuku razored hairstyle. Haircut picture by manganite.
A Look At Harajuku Male Fashion
Fashions seen in Harajuku area have become a somewhat eclectic blend of different styles from around the world. There are many variations on the punk style. There are also several styles of gothic fashion that are quite popular.
One of the most popular, among males, is known as Gothic. The boys wear dresses and makeup but strongly deny any suggestion that they are transvestites. There is also a fairly large number that chooses to wear fashions modeled on the styles worn by members of the hip-hop culture and street skaters.
It is also not uncommon to see boys and girls both dressed up to look like their favorite characters from different anime series. Many people choose to blend the styles of 80s heavy metal, rock, and techno music bands. These outfits are often brightly colored. People have named this style, Visual Kei, and is usually worn by members of bands who put on visual as well as musical shows. This practice has come to be known as cosplay, or costume play.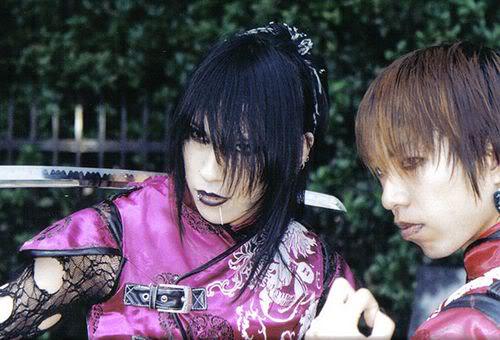 Harajuku cosplay.
Hair fashions are somewhat wild in this area. Guys often razor cut their hair so that it uneven and ragged looking.

Harajuku boys.

Harajuku boys.
They also dye portions of their hair bright, neon colors or bleach it to blonde. It is also not uncommon to see men and boys wearing wild makeup and face paints.

Harajuku blonde hair guy.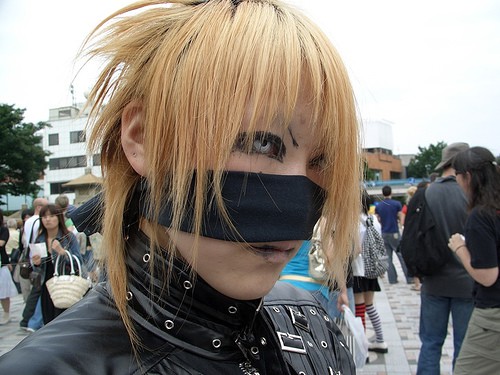 Harajuku guy.
Harajuku male fashions are loosely based on popular fashions from around the world. They soften the lines between male and female in many ways, with boys wearing dresses in some cases. These styles are quite colorful and interesting.
Photos of Different Styles Of Men's Harajuku Hair
Men's Harajuku hair comes in many different styles. The one thing they all have in common is that they are brightly colored and very different from the run of the mill Japanese hairstyles. Many of these styles were created to match the clothing fashions that have become popular in this area.

Harajuku cosplayers.
Many men dye their hair blonde. Others choose to dye the hair in bright, neon colors and/or highlights. They, then style the hair in an assortment of looks.

Harajuku bright colored hair.
More men choose to create a messy look with the hair razor cut to make it uneven and ragged. Many create spikes in the hair of different types. Some wear Liberty spikes while others go with a porcupine spike look.

Harajuku spiky hairstyle.
It is also not uncommon to see hairstyles that are inspired by anime characters. One might see several men wearing their hair in a spiky style that looks like that worn by Goku in the series, Dragonball Z. Often, when the hair is styled after an anime character, the clothing worn looks much like the costume worn by the character as well.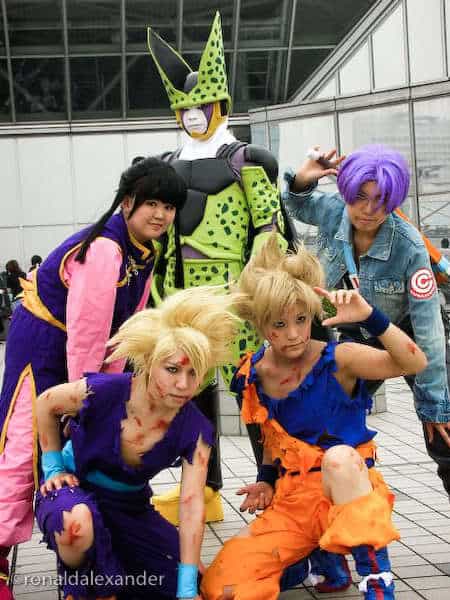 Dragon Ball cosplay with Liberty spikes hairstyle.
It is not terribly uncommon to see retro hairstyles such as mullets, pompadour and other styles that were popular in the 1980s. This is because much of the fashion of the area is inspired by the musical groups that were popular in that era. It just seems natural to style the hair to match the costumes.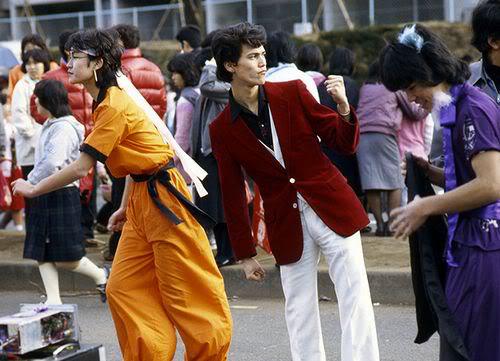 Boys with their retro styles were dancing at Harajuku.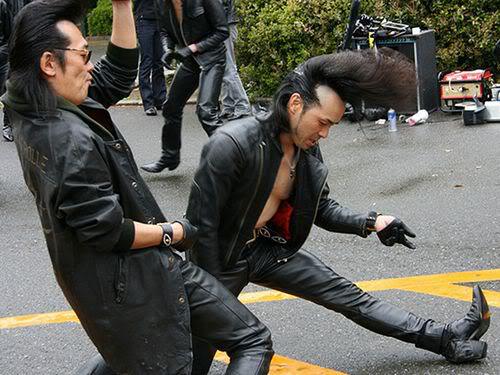 Harajuku black shadow dancers with pompadour hairstyles.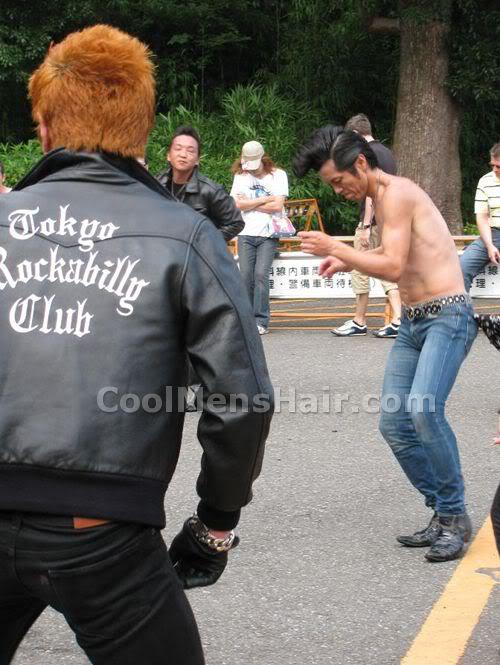 Rockabilly dancers in Yoyogi Park, located adjacent to Harajuku Station.
Men's Harajuku hair comes in a wide range of styles and colors. It is a far cry from the short, straight black hair worn by most Japanese men. However, this area has come to be known as the fashion capital of Japan among young people. Therefore, it is expected that most will try to create a unique look that displays their personality and individuality.

Harajuku style.

Harajuku boys.

Harajuku couple.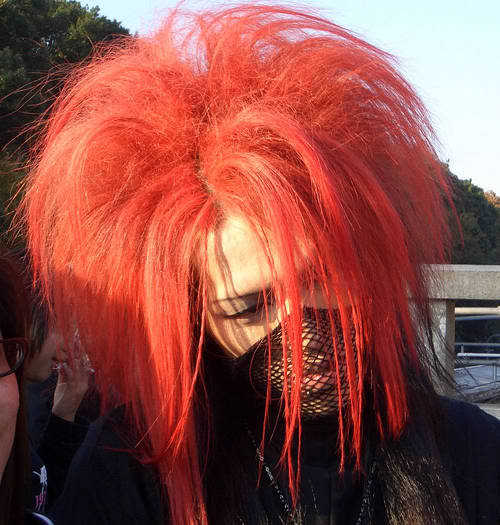 Red gothic hair.

Harajuku cosplay.

Harajuku boys.

Harajuku messy hairstyle.