Medium hair for teenage guys is very comfortable because it allows you to show off your hair while still being able to try all different kinds of hairstyles and haircuts that are not super high maintenance. As you can imagine, there are as many choices out there as there are personal styles.
Best Medium Hairstyles for Teenage Guys
A change of hairstyle is always a good idea, but the abundance of options can make the decision rather difficult, so that's why I'm narrowing the choices down for you. Here are 30 medium hairstyles for teenage guys to try out.
1. Side Short Bangs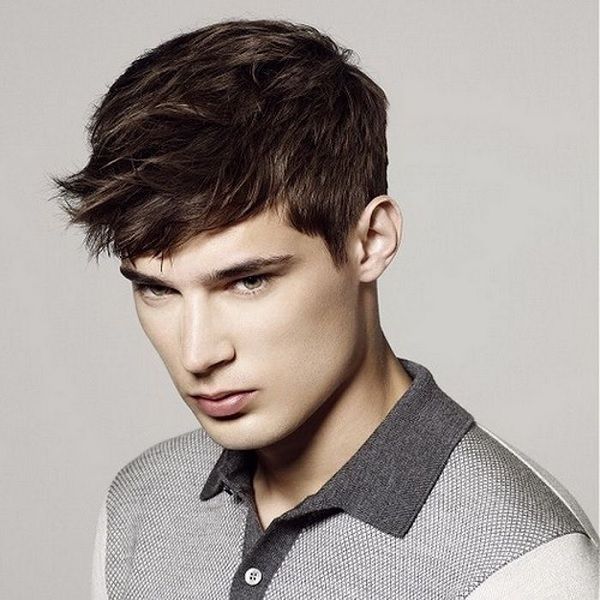 Side short bangs are yet another common option for teens and they offer a carefree, easy option. You can style it however you want and you can add layers for some texture and movement. This option is great for teenage guys with medium thin hair, whether that's straight or curly.
2. Tousled Hair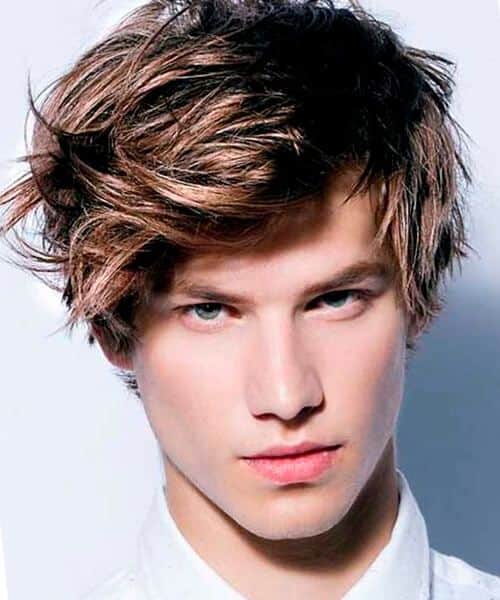 Tousled hair makes it easy for teens with naturally greasy hair to style their hair without too much effort and always make it look like it's on purpose. Messy, tousled hair doesn't only look good, it's easy to maintain and easy to style.
All you need to do is put some effort into getting the messiness right; it's supposed to look "orderly" even in its messiness. A little gel can help! This teenage guys medium hairstyle will look best on curly or wavy hair.
3. Sharp Side Part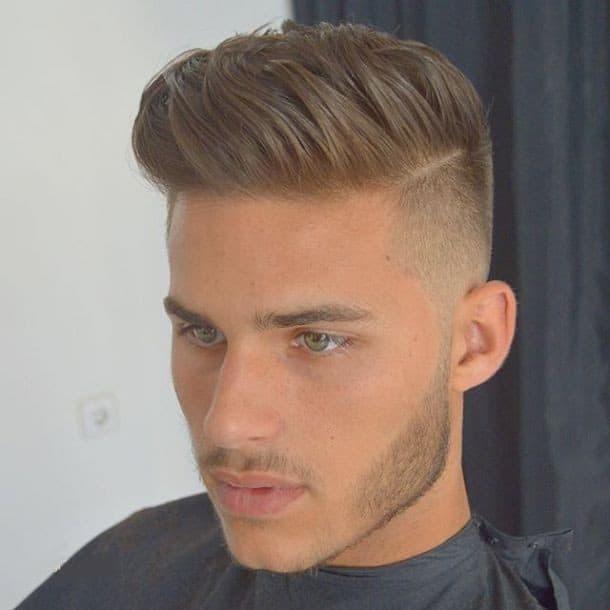 The sharp side part hairstyle is a popular option and it offers a sleek, elegant, yet simple choice. The hair is parted by a shaved line and you can couple this with temple fade, just like the picture, so that the part can be the focus.
This medium hairstyle for teenage guys allows you to keep the rest of your hair as short or long as you wish.
4. Undercut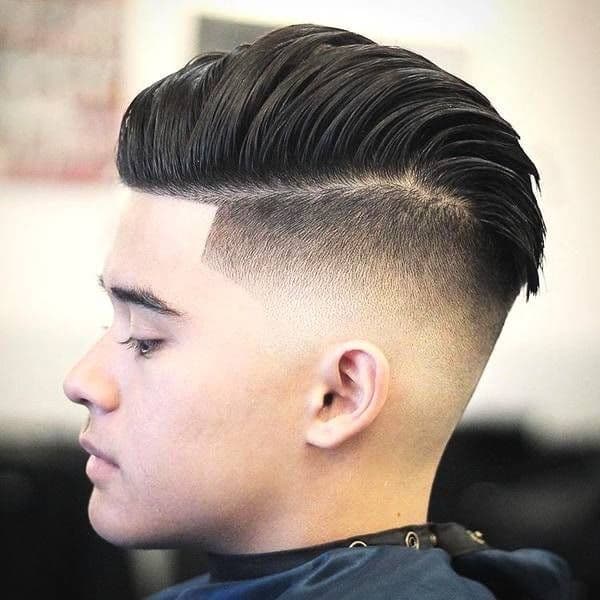 The undercut is another popular option that looks conservative but fashionable and stylish at the same time. The top can remain medium length and layered to add texture, coupled with shaved sides for a clean look.
As your shaved sides grow, the undercut will still look amazing, but you can always maintain the hairstyle as originally intended.
5. High Taper with Fringe
A high taper is a great option for teen boys with medium hair and it offers a clean, yet fun and free look that will allow you to show off your hair. The long fringe can be layered for texture, as you can see in the picture, and this will look good on curly, wavy and straight hair as well.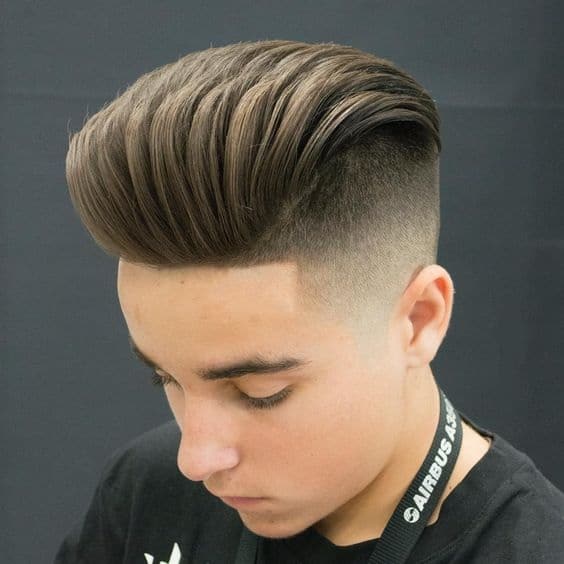 A pompadour hairstyle is a classic option. It was cool when Elvis Presley did it, and the modern version is cool today, so it's no wonder that more and more teenagers are going for it. This hairstyle has a flare and it's very flattering; it also allows you to keep your medium length hair while still looking sharp.
7. Top Layers with Shaved Sides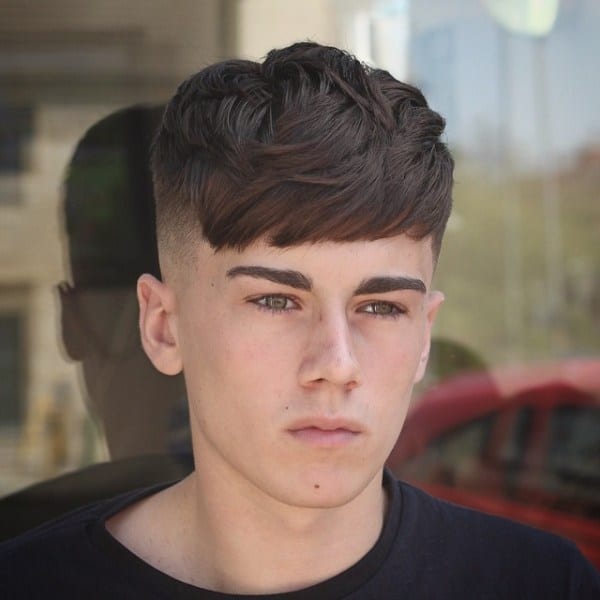 Top layers are often featured in medium haircuts for teenage guys because they allow you to show off your hair while still remaining low-maintenance. Couple the top layers with shaved sides, and you have a great look.
You can let the top layers rest on your forehead and rock a chopped cut, you can also comb it over or go for a slicked back style whenever you need.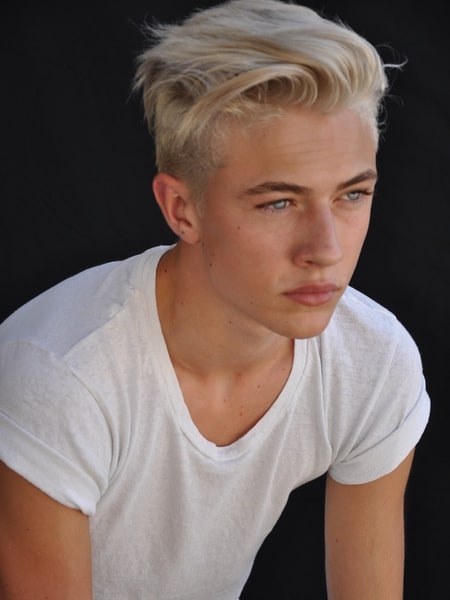 James Dean was one of the most fashionable men that have ever lived. In fact, some people might state that there was no one more fashionable, and they would be right. You can pull this off with wavy, curly, thick or medium hair, just make sure you keep the side shorts to maintain the James Dean look.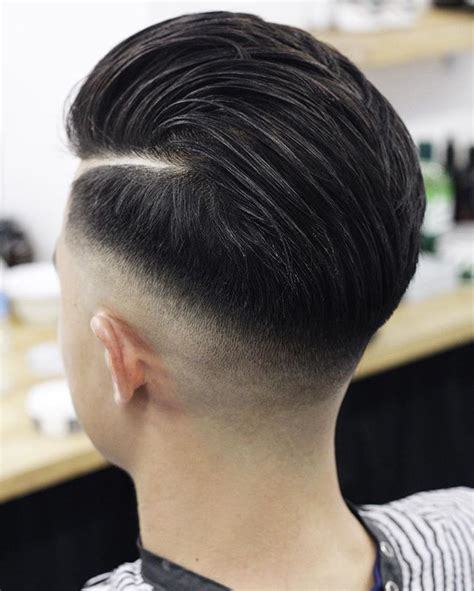 Low fade has become very popular, and for good reason. It looks great and it provides a clean, elegant, yet current hairstyle. For teenage guys who are looking for a medium haircut, this one can be a great choice.
This medium hairstyle for teenage boys offers a relaxed look because there aren't any blunt cuts, it's all consistently fading into the shaved skin, which is what makes it look so neat.
The comb over or side part is another classic and it looks great on teenage guys. The tapered hair is elegant and it looks super clean. This haircut will allow you to keep your medium hair in a stylish manner and, as you can see from the picture, it pairs well with temple fade.
11. Messy Layers with Green Highlights
This cut is ideal for teen boys with medium hair. The green highlights add a relative fun element to the whole style. It makes it creative, appealing and attention-grabbing.
Moreover, this kind of hairstyle for teenagers does not really interfere with the natural hair growth. Rather it allows your boy to have some adult styling fun ahead of time.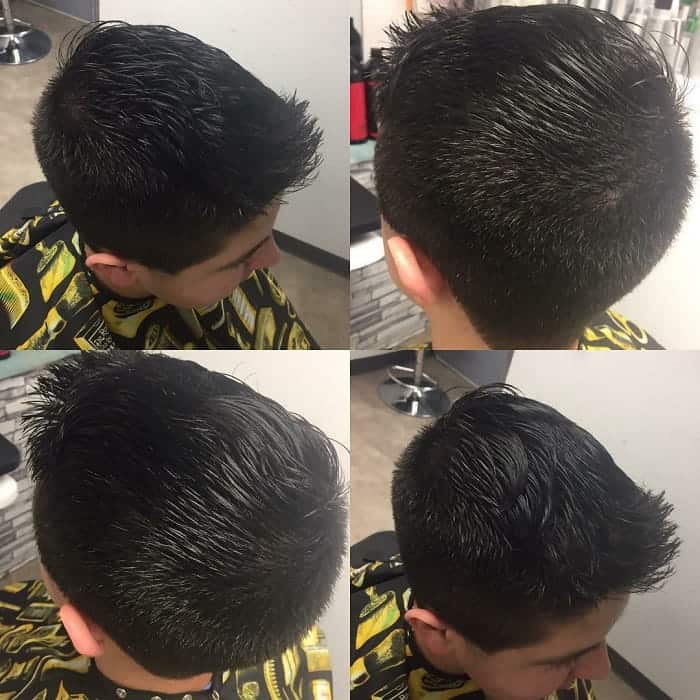 This is a very practical haircut. It is short, functional and versatile. It keeps them comfortable even after spending long hours in the sun or extended sports practice. This cut also encourages healthy hair growth. Moreover, this is one haircut that does not need too much care or maintenance.
This hairstyle for teenagers is all about keeping the childish innocence intact even as your precious one steps into the teens. It is naughty, happy and uniquely stylish.
The undercut also makes it a very practical haircut, especially for curly hair. The ginger color to adds a special appeal. This will keep them comfortable even in the heat.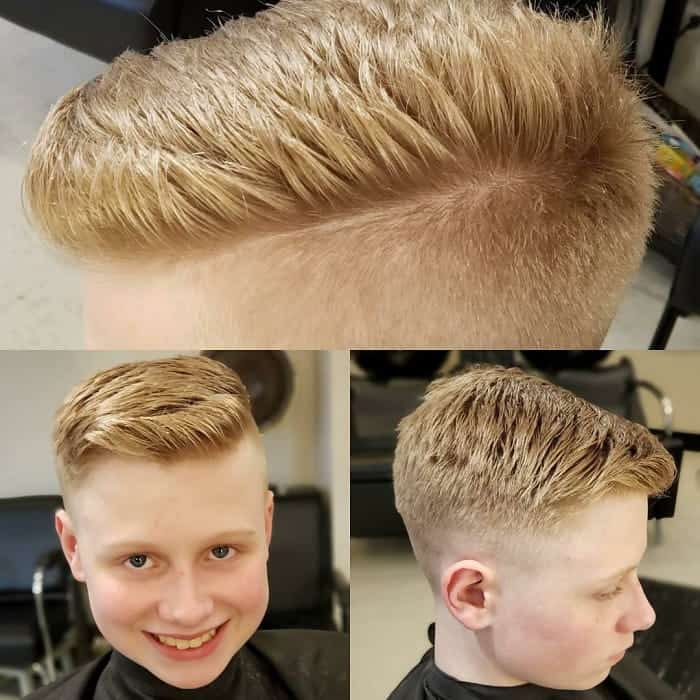 If your boy just stepped into the teen, then this is the hairstyle that will make all those years a lot more mature and handsome. This hairstyle for teenage guys is cool and stylish and at the same time all about celebrating the natural fall of the hair. This is in fact, some of the most common and popular haircut options for boys.
15. Dreadlocks with Shaved Lines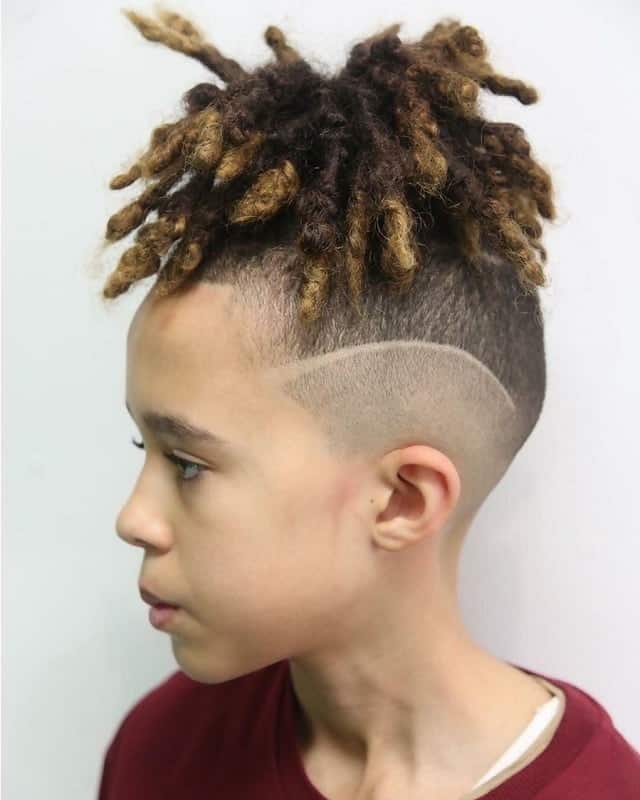 When you are looking at hair ideas for teenage boys with medium hair, the need to combine the health of the hair with the natural fall is important. These are the growing years and it is important to maintain hair health. This style comes across as a really convenient option in this regards
16. Medium Length Messy Crop
Carefree, stylish and impish, well this hair is exactly what teenage boys are. This is the type of hairstyle for teenage guys that helps them literally wear their attitude on their head.
17. Side Swept Brush Back with Parting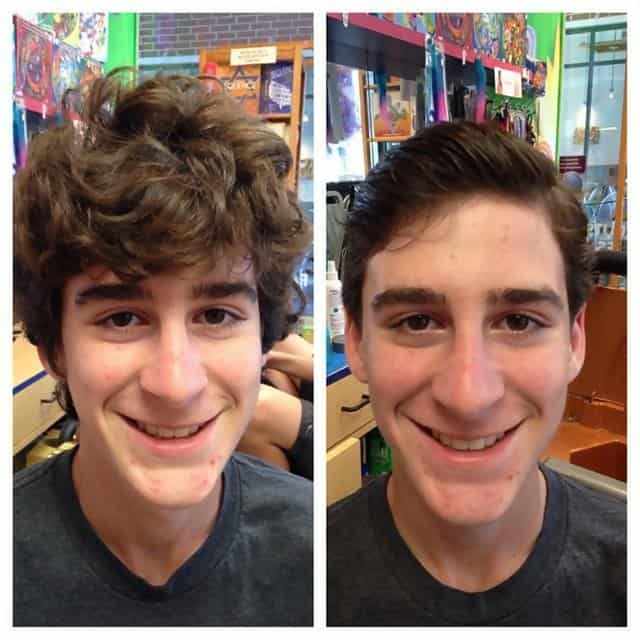 This is another functional and versatile hairdo for teenagers that is an ideal style for boys with medium hair. This style is flexible and you can wear it a little more formally or completely casually, depending on the situation.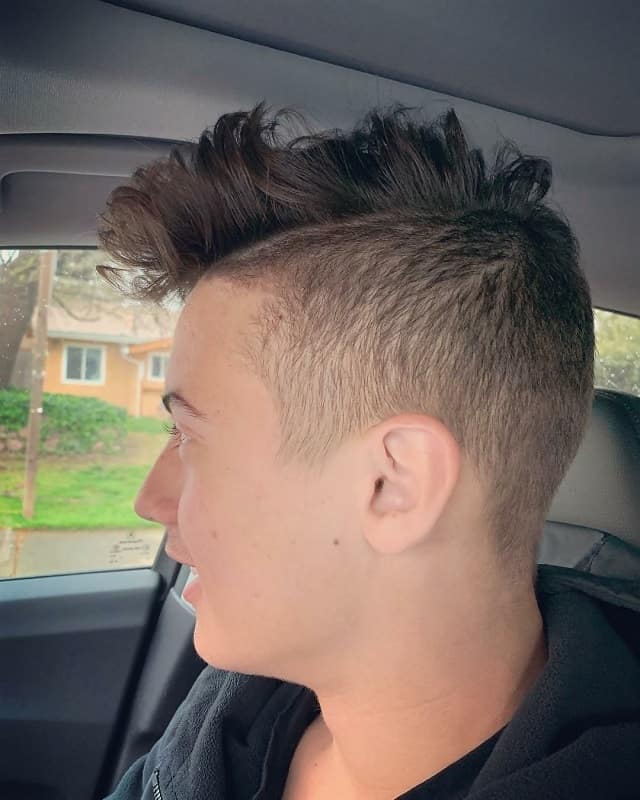 When you are looking for interesting medium hairstyles for teenage boys, this is a great alternative. It is both stylish and at the same time functional, especially for boys in their growing years.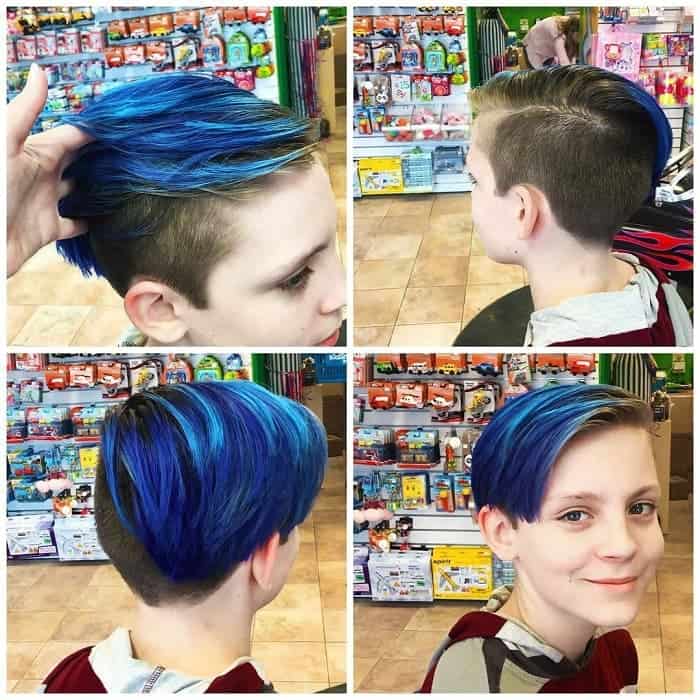 The blue color is what makes this a super cool hairstyle for teen boys. Those in their early teens can look particularly dashing and can the blue gels spectacularly with the naughty look.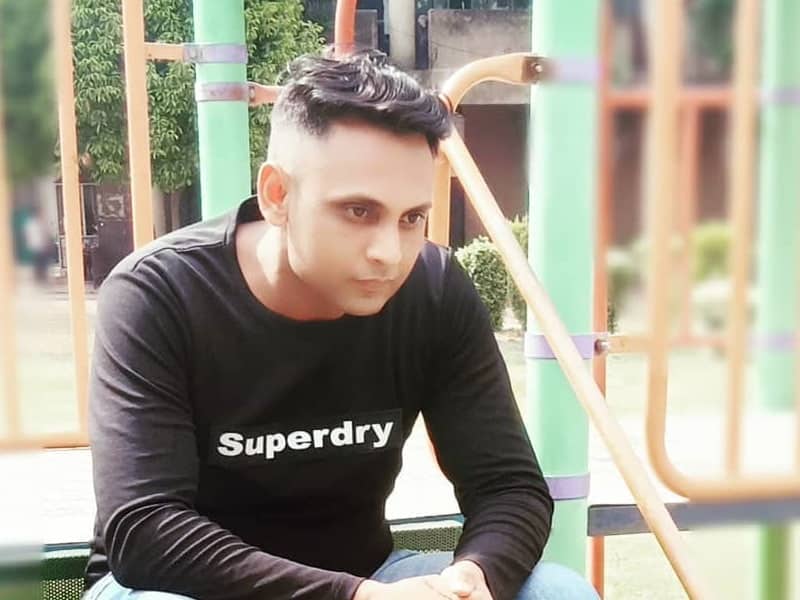 This is another haircut that sets the right tone for the gradually evolving maturity in their personality. Along with being stylish, it is also a very functional haircut and gives absolute comfort to teenage boys.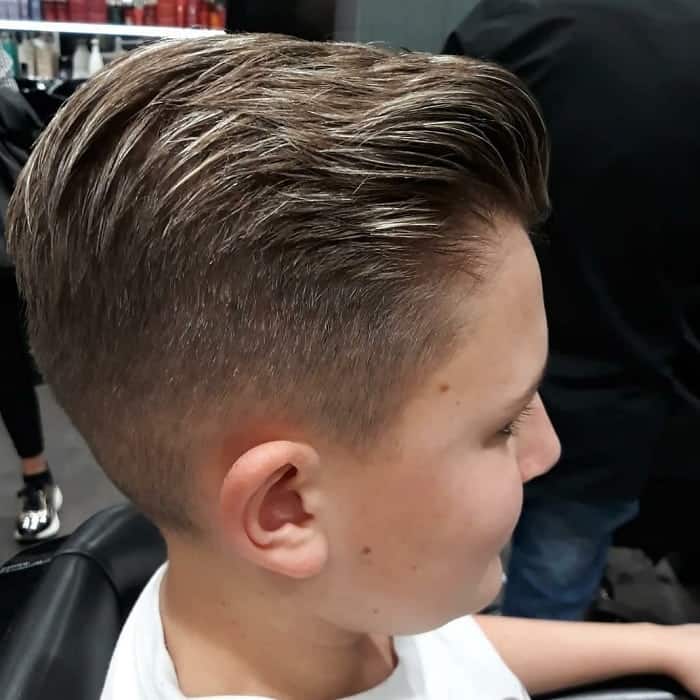 Stylish, mature and uber cool, this is one of the most popular hairstyles for teenagers. It celebrates the natural thickness of the medium length hair but at the same time allows them to take advantage of a short hassle-free hairstyle.
22. Medium Length Side Comb Over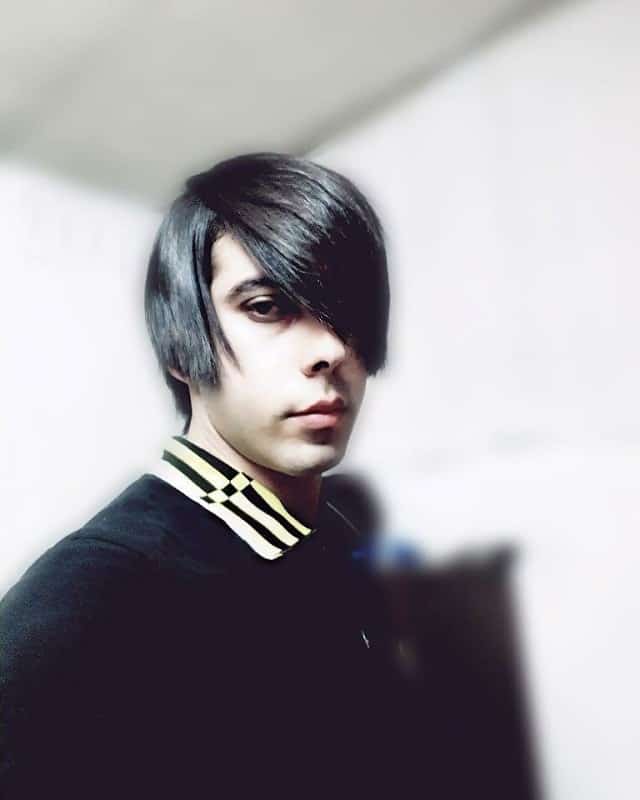 But if your teenager is turning out to be a rather stylish dude, then this is the right hairstyle for teenage boys with medium hair. It creates a brilliant combination of a soft casual appeal with the underlying sense of subtle machismo.
23. Ducktail Pomp with Designer Shaved Lines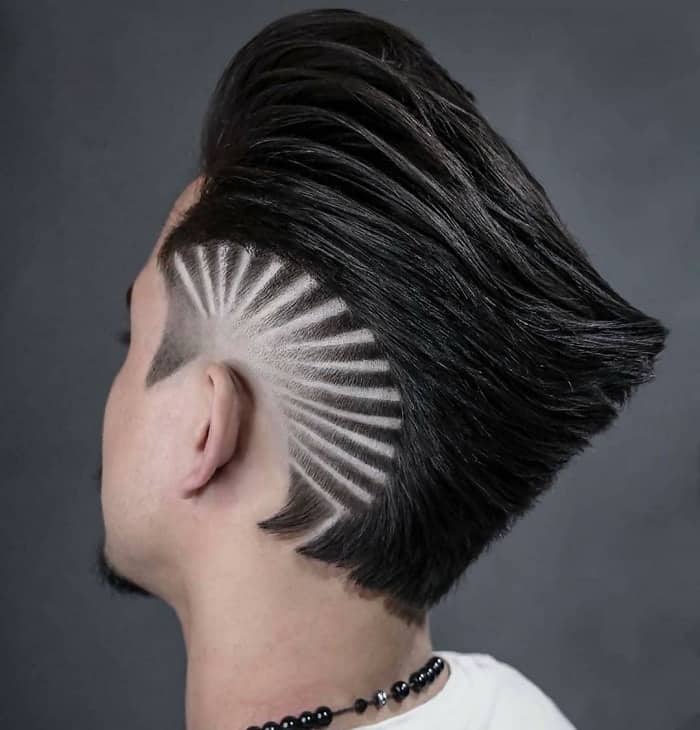 If your boy likes some fun and games, then this is the kind of hairstyle for teenagers that would appeal to him. The conventional pompadour gets a ducktail to add more fun and drama and the shaved lines are crafted intelligently too.
It effortlessly combines poise, drama, aesthetics and decided fun. In many ways, that is what sets it apart.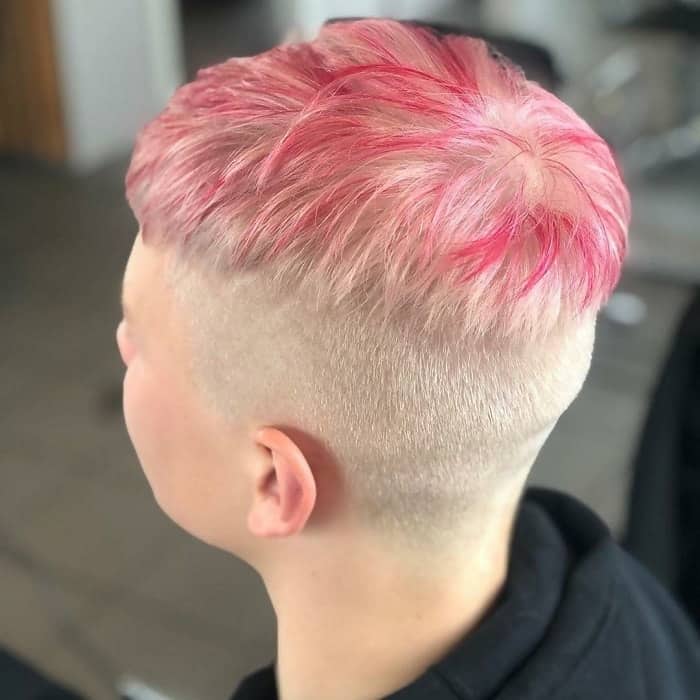 The undercut is not striking and perhaps something most teenage boys with medium hair have to deal with. However, the candy floss colored crown makes it a standout combination. It not only does add vibrancy to the personality but also lends a distinct identity to your precious one.
25. Messy Spikes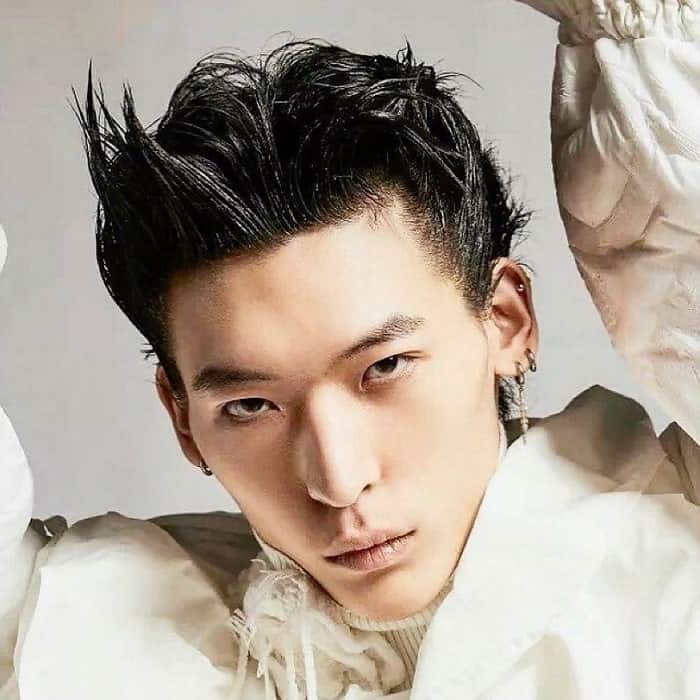 This hairstyle is all about teenage and the rough road ahead. It is intense and overwhelming and creates a definitive and edgy look. If your teen boy enjoys being in the limelight, this is the type of hairstyle for boys with medium hair that will guarantee all the attention.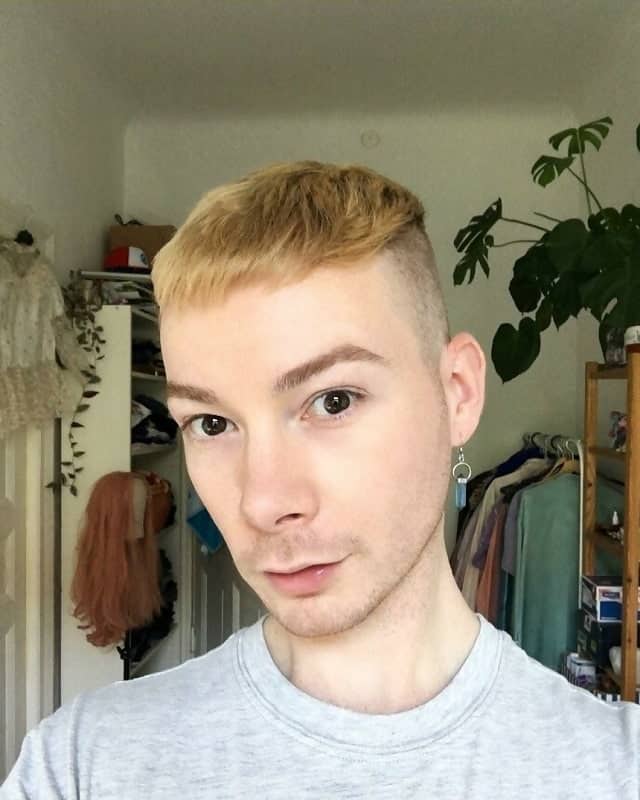 As your precious boy gets set for adulthood, this particular haircut for teenage boys with medium hair gives just the right tone to their personality. This haircut is a cool and creative adaptation.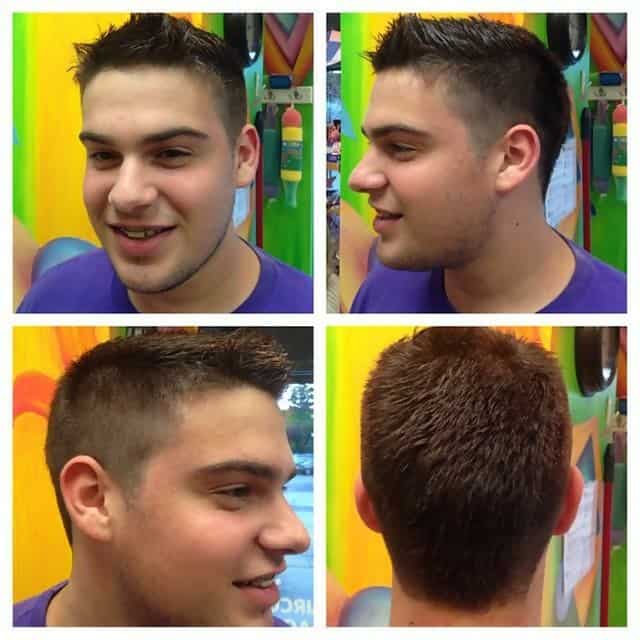 The taper fade in this hairstyle for teenagers is an absolute game changer. It gives the faux hawk a brand new interpretation.
28. Tapered Slick Back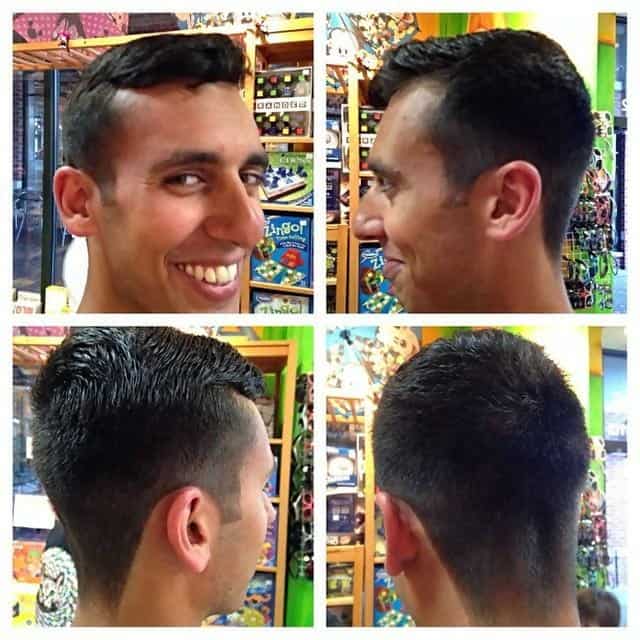 This is another stylish hairstyle for teenagers. It completely brings to light a balance between teen innocence and gradual evolution of the hairstyle into something more mature.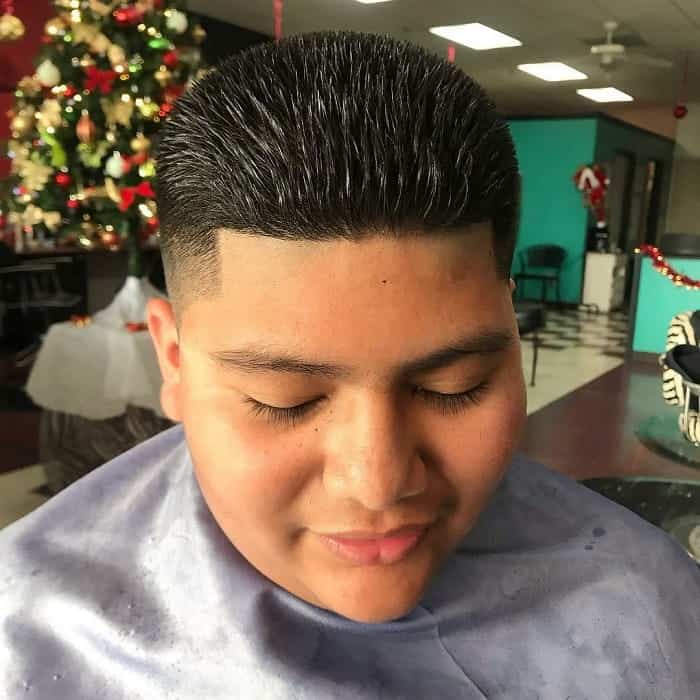 When you are deciding on medium hairstyles for teenage boys, remember they like to act mature and older than their years. Well, this is the type of hairstyle that can actually help them to do exactly that. It gives them a bold and handsome appeal.
This is one of the most versatile haircuts. Be it, teenage boys or young adults, this is one hairstyle that will always stand out. It combines subtle masculine energy with the depth of teenage charm. It is about creating a perfect balance between these two forces.
These are the top 30 hairstyle choices for teenage guys to help them define their style however they see fit. Each one of these looks offers a great alternative and they are all very different, elegant, carefree, stylish, classy, and clean.
Your hair is one of your main features, which means that choosing the right hairstyle for your personality is very important, so think it through!