Who said that only women could create gorgeous highlights for their hair? Men's hairstyle trends are now evolving, and highlights play a big part in transforming their looks. Blonde highlights for men can make their hairstyles look fresh, are perfect for the summer, and easy to recreate.
These blonde highlights for men can be used on short or long hair, curly or straight, and fit any outfit or occasion.
1. Dark Hair Blonde Highlights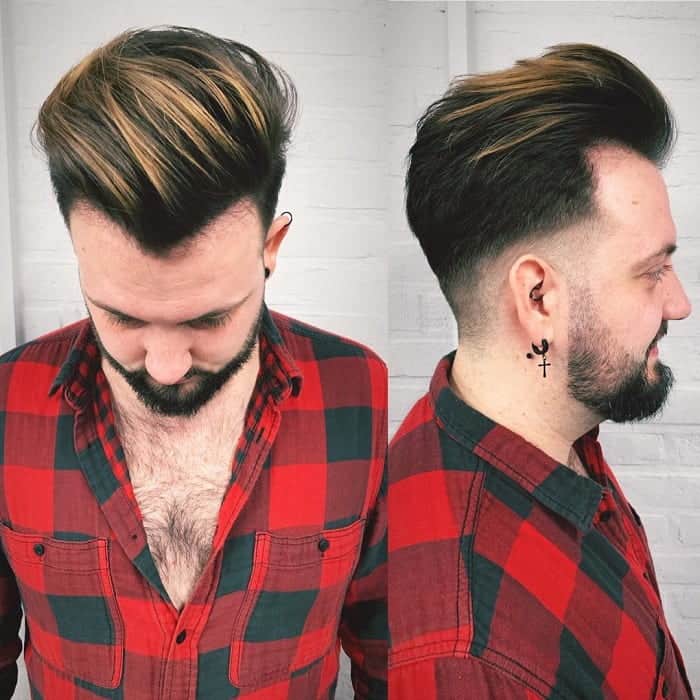 If you want to take your pompadour hairstyle to the next level, create a short trim on sides that gradually makes dimension in the top of your hair. Create some blonde highlight but leave a few inches between the blonde shade and your scalp.
2. Brown Hair with Blonde Highlights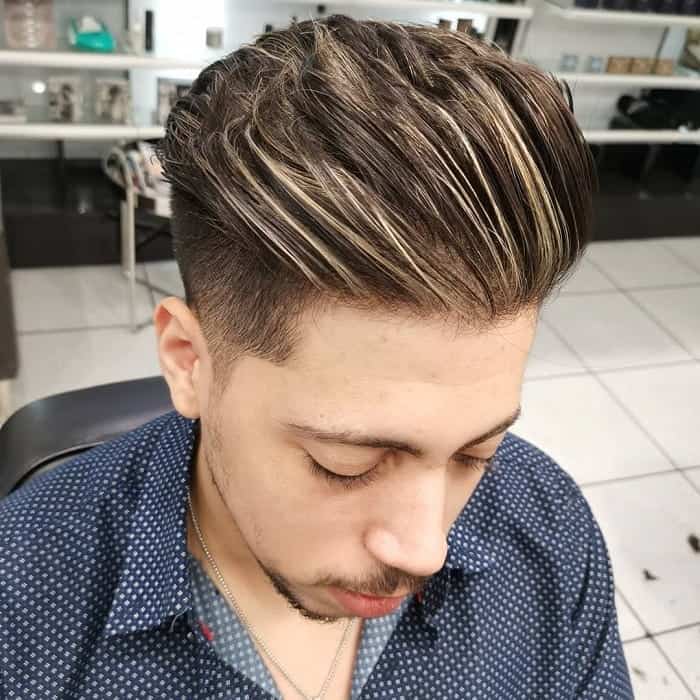 These gorgeous blonde thin highlights for men are ideal if you want a trendy, fashionable look. Style your hair with some hair wax and make your hairstyle last with hairspray.
3. Short Blonde Highlights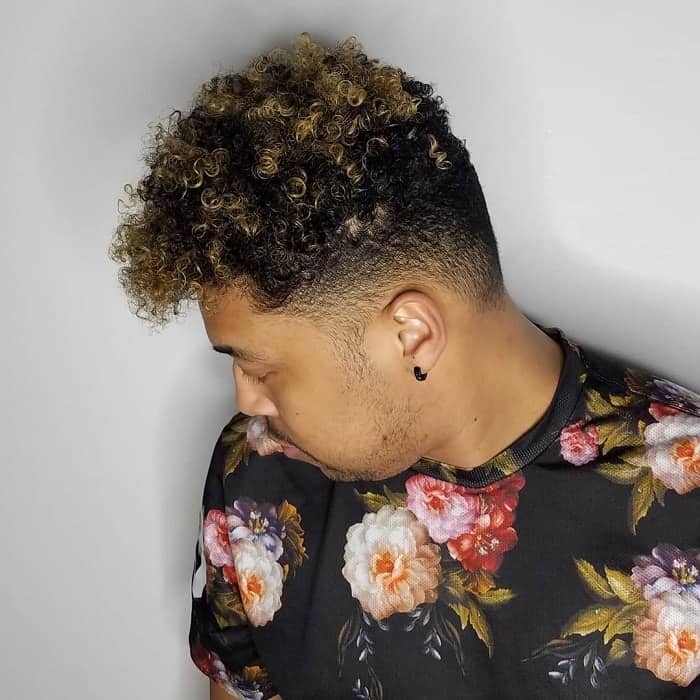 Take your Afro American curls to a whole new level by creating some ombre blonde highlights on your tight ringlets. Your hair will look glamorous, and you will love this unique appearance!
4. Black Man with Blonde Highlights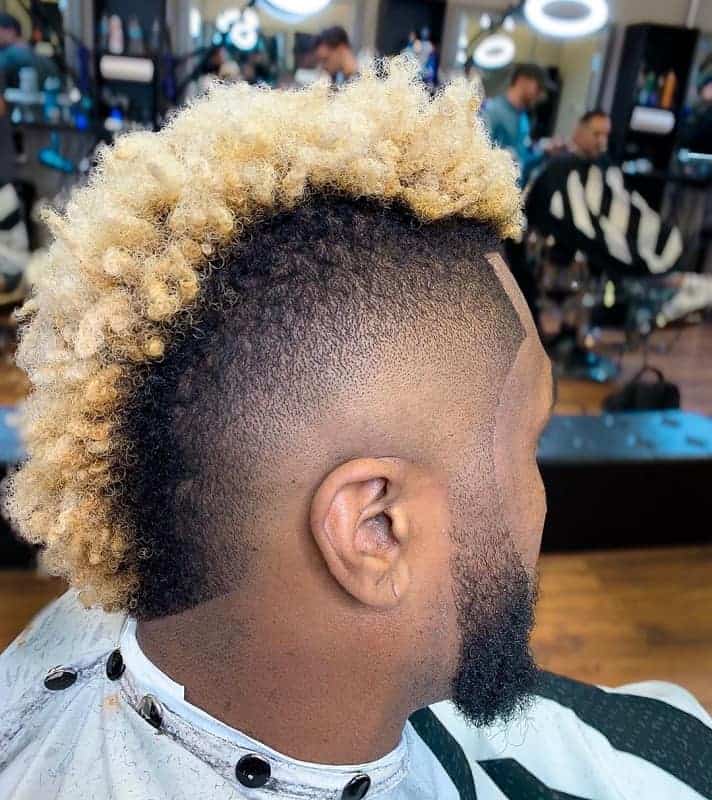 Whenever you want a look that gains reactions from people around you, frame your face with a short trim.
Gradually shave your sides and create a blonde highlighted mohawk on top of your hair. Apply the blonde dye a few inches from your scalp.
5. Dirty Blonde Highlights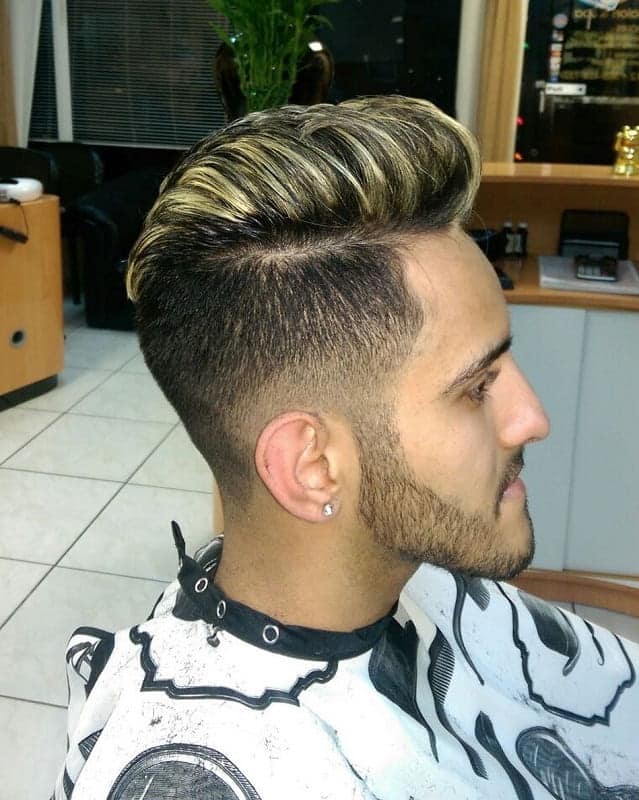 Want a fabulous look that will make any girl appreciate your transformation? Create a long quiff and use a platinum blonde dye to create some dense highlights on top of your head.
6. Long Hair + Blonde Highlights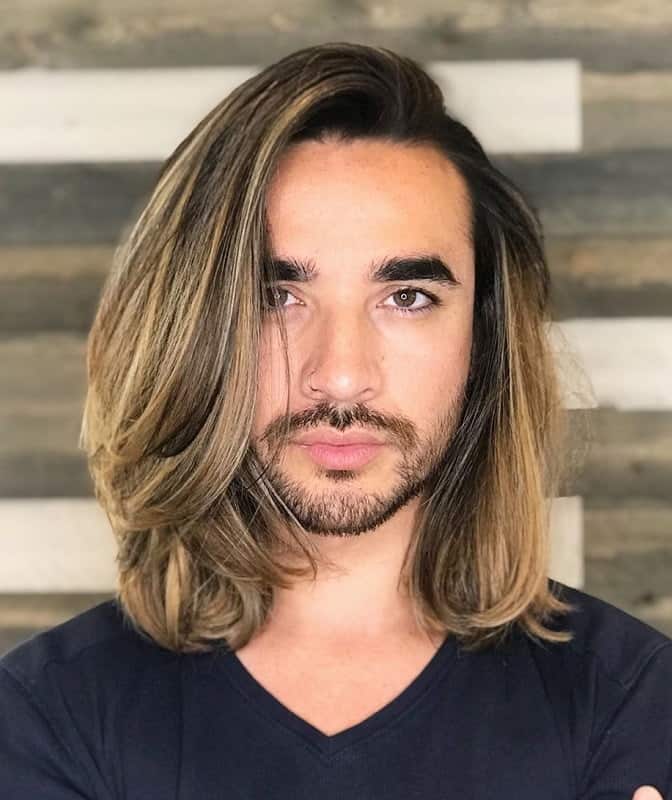 A macho man look can easily frame your face and can be obtained with long layered hair with blonde and light brown highlights. This haircut will gorgeously draw attention to your facial features and make you look so hot!
7. Platinum Blonde Highlights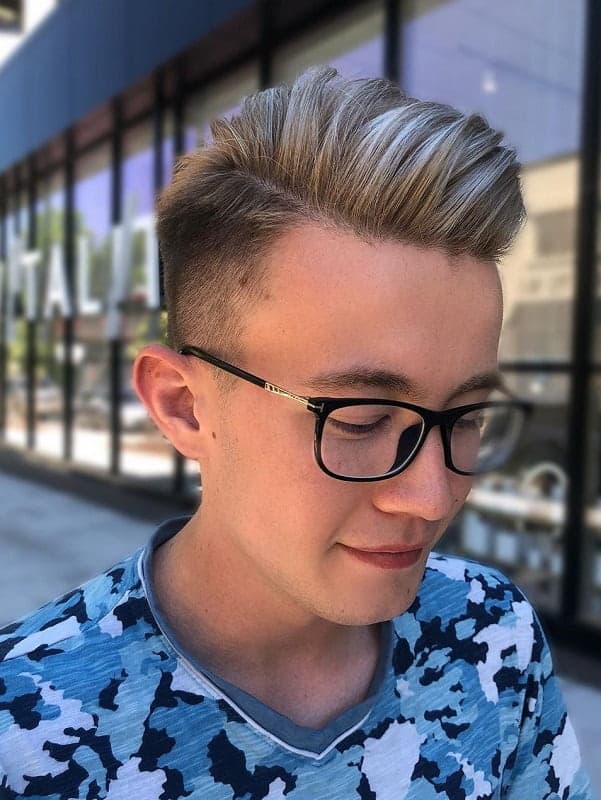 This look is hugely trendy among guys, and it will suit you like a glove. Create a hairstyle that gives dimension to the top of your hair and choose a platinum blonde hair dye to create your hairstyle.
8. Ash Blonde Highlights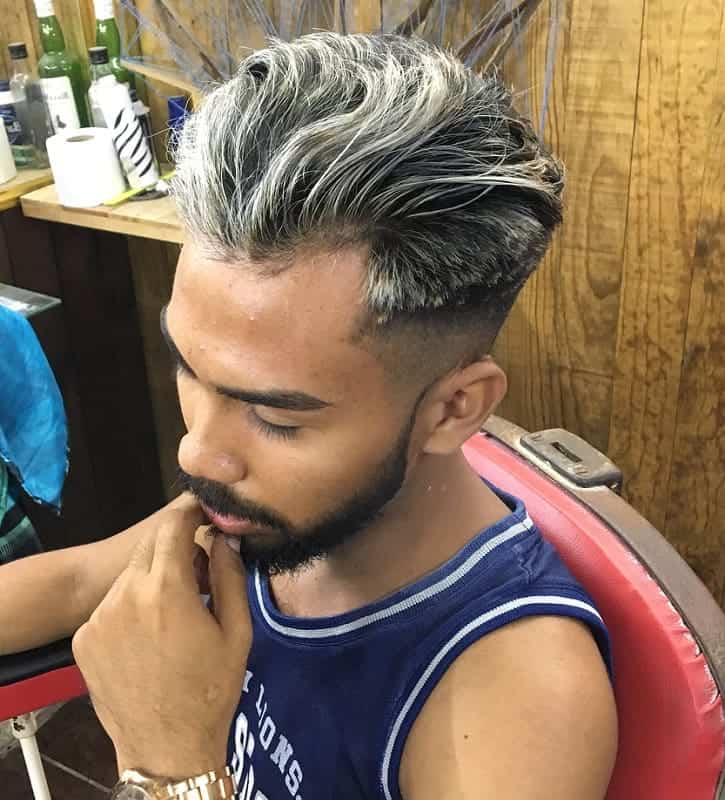 Ash-blonde highlights for men are gorgeous and can undoubtedly change the impression you make. You will look glamorous, trendy and even girls will be jealous of your dyeing technique.
9. Honey Blonde Highlights
Imagine the golden touch of honey gracing your locks. That's what you get with Honey Dipped Highlights. For men with blonde highlights, this hairstyle creates a soft and warm appearance that's appealing to the eye.
Perfect for adding a touch of sunshine to your look, it's an ideal choice for those seeking a natural yet enriched style.
10. Ash Blonde Streaks
Step into sophistication with Ash Blonde Streaks. Try this men's blonde highlighted hairstyle if you prefer subtle elegance and looking for a more understated look.
The cool tones of ash blonde integrate seamlessly into your hair, bringing an air of poise and finesse.
11. Sunlit Gold Highlights
Capture the essence of a sunlit day with Gold Highlights. This radiant style breathes life into your hair, creating an effortlessly vibrant look. Especially effective in the summer months, these highlights work in harmony with your natural hair color, ensuring a seamless blend.
12. Platinum Dream
Take elegance to a new level with the Platinum Dream. This striking blonde highlight style creates a high contrast look that's sure to catch attention. With its near-silver hue, it is the epitome of chic, ideal for the fashion-forward man.
13. Subtle Sandy Highlights
Experience the serene touch of the beach with Subtle Sandy Highlights. This look is all about creating a calm and collected appearance with its subdued blonde tones. It's a perfect choice for adding a touch of intrigue without overpowering your natural hair color.
14. Beachy Waves with Blonde Tips
Combine the casual flair of beachy waves with the grace of blonde tips. This style is the perfect way to add dimension to your wavy locks. The blonde tips provide just the right amount of contrast, creating a playful yet polished appearance.
15. Bronze Fusion Highlights
Fuse warmth and depth with Bronze Fusion Highlights. This shade is perfect for men with darker hair, as the bronze tones complement the rich base color. It's a versatile look that suits a variety of skin tones.
16. Copper Touched Blonde
Add a hint of copper to your blonde highlight for a unique and enchanting style. It's vibrant and full of character, perfect for those who like to stand out in a crowd but in a subtle way.
17. Toffee Toned Highlights
Let the rich sweetness of toffee inspire your next hairstyle. Toffee Toned Highlights are perfect for men with blonde highlights looking to add depth and warmth to their look.
18. Classic Blonde Highlighted Quiff
Elevate the timeless quiff with a touch of blonde. The Classic Blonde Highlighted Quiff combines tradition with a dash of modernity, perfect for the stylish gentleman.
19. Silver Blonde Highlights
Silver Blonde Highlights offer a cool and sleek finish to your look. It's perfect for those looking to make a bold statement with a touch of icy sophistication.
20. Golden Chestnut Blend
Experience the perfect marriage of golden blonde and chestnut brown with the Golden Chestnut Blend. This warm and inviting style is as comforting as a cozy fireplace.
21. Mocha Infused Blonde
Indulge in the rich, smooth blend of mocha with Mocha Infused Blonde Highlights. This combination offers a delightful contrast that's both dynamic and sophisticated.
22. Blonde Ombré
When it comes to adding depth and dimension to your hair, going for the ombré effect is an impeccable choice.
What's fantastic about this style is its subtle transition from your natural color at the roots to a lighter blonde at the tips.
It's a modern and sophisticated look that requires relatively low maintenance. The key to nailing this style is ensuring the transition is seamless and natural. It works exceptionally well for both short and long hair.
23. Caramel Blonde Highlights
Elevate the richness of your hair with caramel highlights. These warm and inviting tones can bring life to even the dullest hair.
Whether you have curly or straight hair, incorporating caramel highlights will add that touch of elegance and class to your appearance. This blonde hair color works splendidly for those with darker hair, as the contrast with the caramel tones creates an eye-catching effect.
24. Ash Blonde Highlights
For those seeking a cooler tone that exudes grace and poise, ash blonde is the way to go. These men's blonde hair highlights can be especially flattering for men with a cooler complexion.
With its subdued and understated hues, this style adds a contemporary flair without being overpowering. It's essential to consult with your stylist to ensure the ash tones complement your skin tone perfectly.
25. Blonde Lowlights
Lowlights are often underestimated, but they can be incredibly effective in adding depth to blonde hair. By adding darker strands, you create an illusion of volume and texture.
This men's blonde highlighted hairstyle is particularly effective for guys who already have light hair but want to add some complexity to their look.
Remember, the goal is to make the lowlights subtle, enhancing the natural movement of your hair.
26. Blonde Balayage
Balayage is an art, and when done right, it can transform your look entirely. This technique involves hand-painting highlights onto the hair, creating a natural, sun-kissed effect.
With blonde balayage, the highlights are placed strategically to accentuate your features and bring out the best in your hair. This is an ideal choice for those who want a bespoke, personalized look that's both stylish and effortless.
27. Rose Gold Hints
Experiment with the trendy Rose Gold Hints. Adding a touch of rose to your blonde highlight creates an alluring and fashion-forward look that's perfect for those who like to keep up with the latest trends.
28. Fiery Blonde Streaks
Finish with a bang by introducing Fiery Blonde Streaks into your hair. This bold option adds an element of excitement and is ideal for those seeking an adventurous look.
There you have it, a collection that caters to the diverse tastes of men with blonde highlights. Ensure to consult a professional stylist to tailor these blonde highlight options to your specific hair type and skin tone. Step out with confidence and grace, knowing that your hair speaks volumes about your impeccable style.
Blonde Highlights for Men With Short Hair
29. Platinum Edge Blonde Highlight on a Textured Top
Next up, let's talk Platinum Edge. Mix it up with a textured top and you've got yourself a match made in heaven. The platinum blonde highlights create this cool, almost silvery effect which is super trendy.
And with the textured top, you're adding that extra depth and character. People will be giving you double-takes and for all the right reasons!
30. Sunlit Streaks Blonde Highlight on a Tapered Buzz Cut
Fancy a bolder look? The sunlit streaks on a tapered buzz cut have got you covered. The buzz cut is all about that bold, confident vibe, and when you throw in some sunlit streaks, it's like you're carrying your own spotlight.
This short hairstyle is great for those looking to have that fresh and clean look without the need for much maintenance.
31. Golden Touch Blonde Highlight on a Caesar Cut
If you're into a more refined yet striking look, the golden touch blonde highlight on a caesar cut is what you need. The Caesar cut itself is sleek with a touch of royalty – hey, it's named after Julius Caesar for a reason!
And those golden blonde highlights? They add that extra touch of majesty. This style is perfect for making an impression without shouting from the rooftops.
32. Beach Vibes Blonde Highlight on a French Crop
Lastly, for the short-haired men with blonde highlights who want to capture that laid-back, effortless style, the Beach Vibes Blonde Highlight on a French Crop is your ticket.
The French crop is all about that relaxed, easy-going charm, and adding in beach vibes with blonde highlights. You'll feel like you're on vacation every day. Not to mention, it's super easy to style.
33. Ashen Waves Blonde Highlight on a Short Wavy Cut
Let's wrap it up with the ash waves blonde Highlight on a short wavy cut. If your hair has a natural wave, this is the style for you. The short wavy cut is simple, yet elegant.
Adding ashen blonde highlights brings a mystique and depth that's subtle and intriguing. It's for those who like to keep things classy with a twist.
Blonde Highlights for Men With Long Hair
34. Beachy Blonde Highlight for Men with Long Hair
Let's get that sun-kissed, just-out-of-the-ocean vibe going on with Sunlit Waves! This beachy blonde highlight is perfect for long-haired men with wavy tresses.
The idea is to incorporate light blonde shades that make it seem as if the sun has naturally lightened your locks. It's breezy, it's cool, and it's definitely a summer favorite. Pair this with a laid-back attitude, and you're good to go.
35. Golden Ombre + Surfer Shag
Imagine a golden sunset cascading down your hair. That's what the Golden Ombre is all about. The Surfer Shag style is perfect for those who have a wild side and aren't afraid to show it.
The golden tones at the ends of your hair blend into your natural color as they move up, creating an awe-inspiring effect. Don't forget, this one's for the free spirits out there.
36. Honey Dip + Layered Locks
Alright, let's talk about something sweet – the Honey Dip! If you're looking for a more subtle yet vibrant blonde highlight, honey shades are your friends.
Long-haired men with blonde highlights in honey hues can rock this with layered cuts. The layers work to add movement and depth, and the honey shades give you that perfect balance of warmth and richness.
37. Platinum Streaks + Rockstar Mane
Who says you can't be a rockstar? With Platinum Streaks in a Rockstar Mane, you'll be ready to take the stage.
Platinum blonde highlights can be bold, but when they're done right, they can be absolutely amazing. This style is definitely for the daring, and it works wonders on long hair. Let your inner rockstar take the spotlight.
38. Ashen Contrast + Bohemian Rhapsody
Create an enigmatic aura with the Ashen Contrast, perfect for a Bohemian Rhapsody style. Ash-blonde highlights can be mysterious and contrasting, making them an excellent choice for those looking for something different.
When combined with a bohemian style, long-haired men with blonde highlights in ashen tones convey a sense of creativity and non-conformity. Just let your hair do the talking.
39. Bronzed Tones + Luscious Lengths
Finally, we have Bronzed Tones in Luscious Lengths. This is all about adding a rich, warm, bronze blonde highlight to long, flowing hair. It's like having a touch of autumn in your hair all year round.
This long hairstyle is incredibly versatile and is perfect for those looking for something that can transition from day to night effortlessly.
When long-haired men with blonde highlights choose Bronzed Tones, they're opting for a timeless, classic look that is always in style.
40. Strawberry Blonde Highlights
If you're after a look that's as sweet and vibrant as a bowl of strawberries, this one's for you. These highlights bring together the best of the blonde and red worlds. It's like your hair is having a little party with every strand.
Perfect for those who aren't afraid to embrace the playful side of life. Chat with your stylist about how strawberry blonde highlights can be your next adventure.
Whenever you want your hair to look in its best shape, use some blonde highlights for men that will drastically change your appearance. That trendy, fabulous air will attract girls like a magnet, and it will certainly boost your confidence.