If you are a guy, chances are you have or have had a taper fade haircut at least once in your life. These popular men's haircuts are performed with the use of electric hair clippers, and they are among the most requested types of men's haircuts in salons and barbershops the world over.
A taper fade cut is essentially a haircut in which the length of the hair either decreases or increases gradually, generally featuring longer hair on top that gradually tapers and fades too much shorter hair along the neckline and above the ears.
What is a Taper Fade Cut?
The sides and back of your hair gradually transition from slightly longer at the top to super short or almost bald near your ears and neck. That's what a taper fade is. This smooth-as-butter transition is what we call a 'fade'.
You might hear barbers throw around terms like 'low fade', 'mid fade', or 'high fade'. Don't let it throw you for a loop!
This just refers to where the shortest part of the fade begins. Low is closer to the ear, mid is around the temple area, and high is, well, higher up the sides.
Now, let's talk customization because the taper fade is like the Swiss Army knife of haircuts. You can pair it with almost any style on top. Want to keep it longer and slick it back?
Go for it. Feeling a bit more casual with a messy, textured look? You can totally rock that too. Or, if you want to keep things tight and professional, a short, neatly combed style would look smashing.
Maintenance-wise, it's not too high maintenance, but you'd probably want to swing by the barber every few weeks to keep it looking sharp and fresh.
Trendy Taper Fade Haircuts
These are the most popular taper fade hairstyles that men love. Have a look to get yours.
1. Low Taper Fade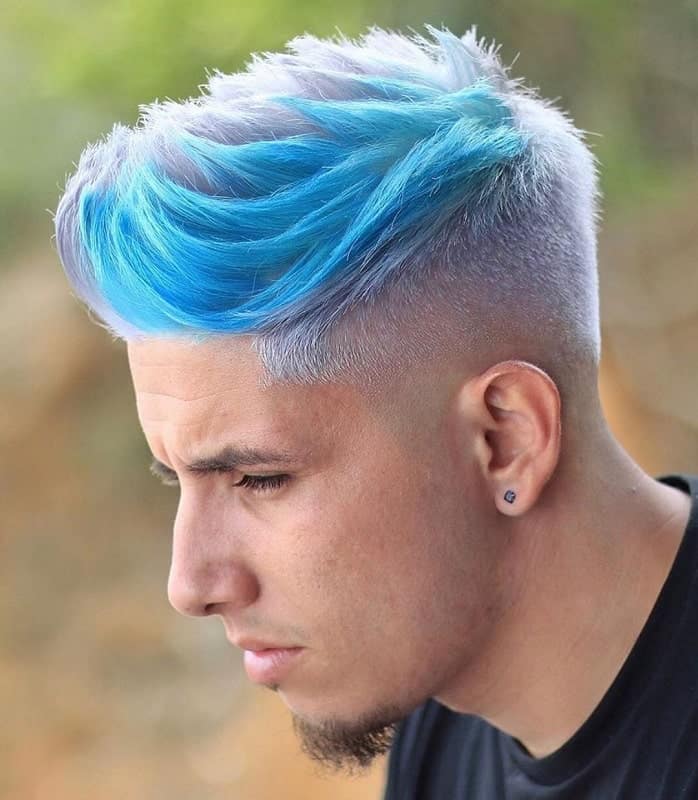 With the high taper fade, things get edgier as the fade starts way up high on the sides and back. This is perfect for making a statement and it gives you plenty of room to work with different styles on the top. The high taper fade is definitely a head-turner.
2. High Taper Fade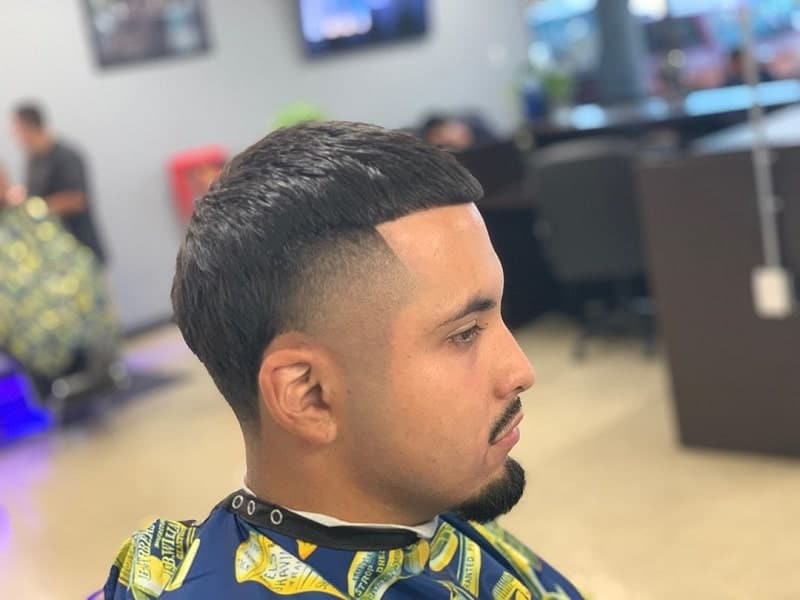 With the high taper fade, things get edgier as the fade starts way up high on the sides and back. This is perfect for making a statement and it gives you plenty of room to work with different styles on the top. The high taper fade is definitely a head-turner.
3. Mid Taper Fade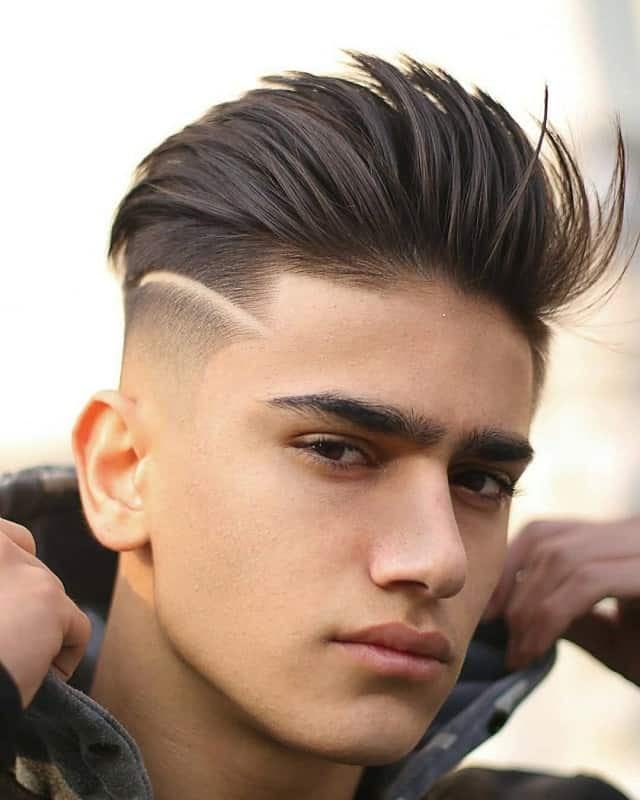 Sitting in that sweet spot between low and high, the mid taper fade is for the Goldilocks in you – it's just right. It starts around the temples and is a balanced blend that's versatile and trendy. This is your go-to if you're looking for something modern but not too extreme.
4. Bald Taper Fade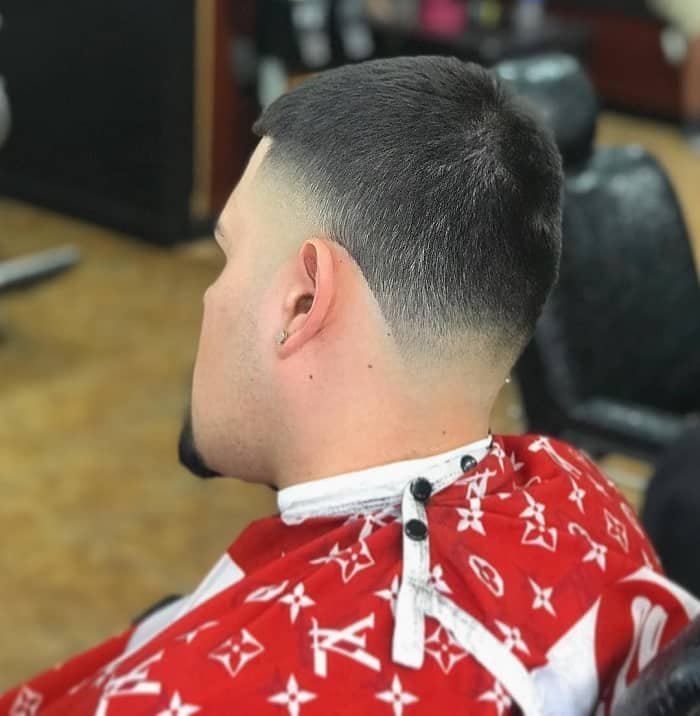 The bald taper fade goes down to the skin, so it's super short and sharp. This is perfect if you want that ultra-clean look. It's low maintenance and has a certain bad-boy charm that's hard to ignore.
5. Taper Fade for Black Man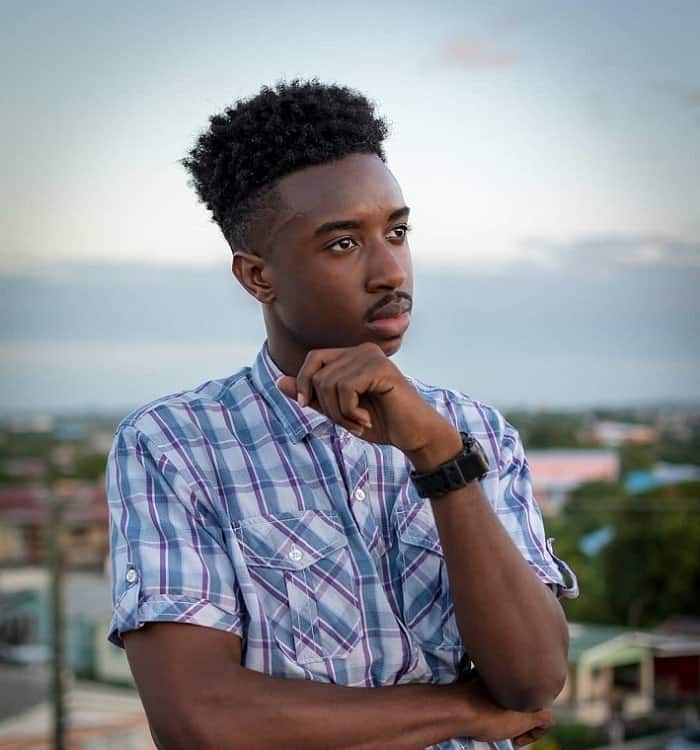 This one's a classic! The taper fade for black men often incorporates tight curls or afro-textured hair, with the sides fading into the skin. It's stylish and brings out the natural texture, making it perfect for a fresh, vibrant look.
6. Wavy Hair with Taper Fade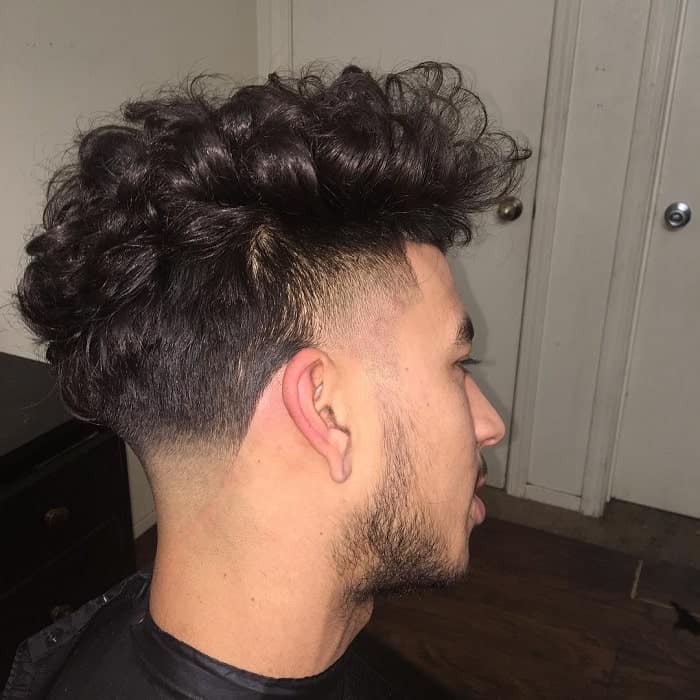 Got natural waves? A taper fade can work wonders with wavy hair. Keep the waves flowing on top and let the sides fade down. This look is relaxed and effortlessly cool – perfect for the beach or just chilling on the weekend.
7. Mexican Taper Fade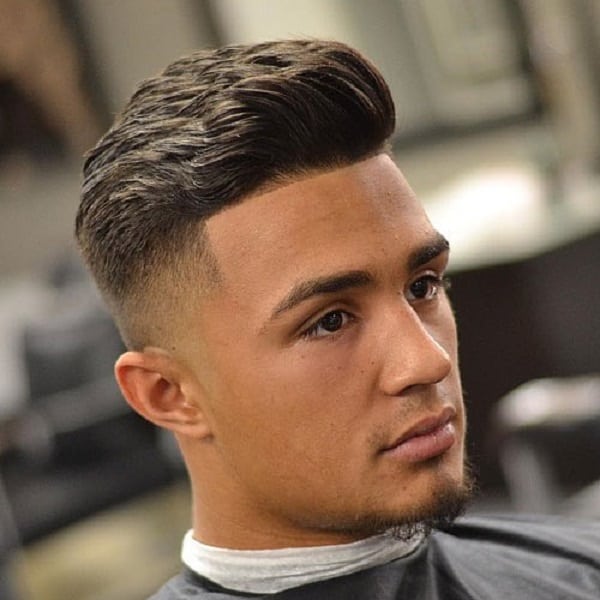 Spice things up with the Mexican taper fade. Often featuring a bit more texture and volume on top, this style is great for thick hair. It's edgy, stylish, and works great with a well-groomed mustache or beard.
8. Taper Fade with Beard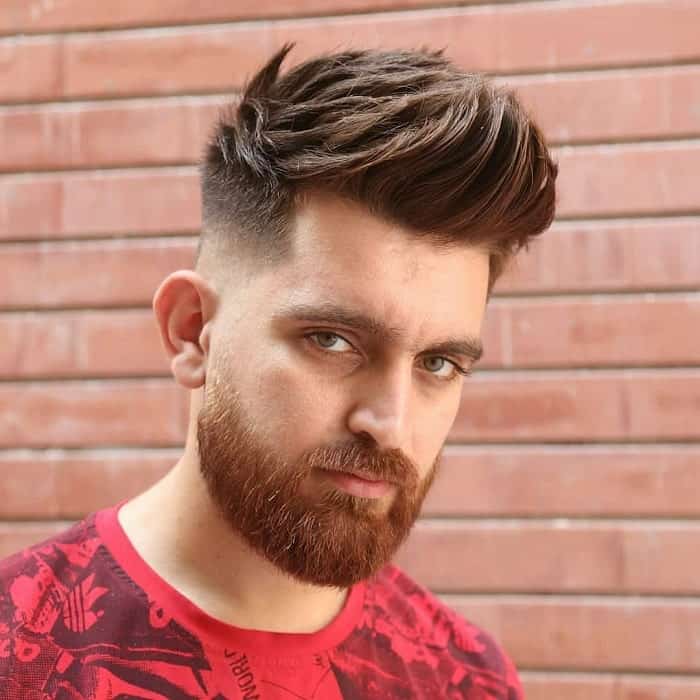 Pair your taper fade with a beard for a look that's both sophisticated and manly. The key here is to have the fade transition smoothly into the beard. This combo is perfect for the guy who wants to make an impression without saying a word.
9. Taper Fade for Medium Hair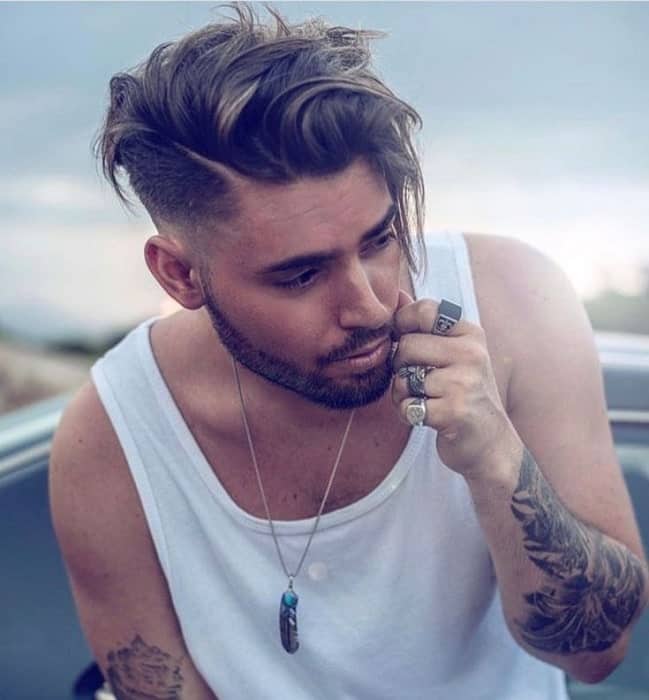 If you've got medium-length hair, the taper fade can give you a sleek and manageable style. Keep the length on top for a more flowing look, and let the sides fade down.
This faded hairstyle is perfect for those who want to keep things tidy without losing length.
10. Blowout Haircut with Taper Fade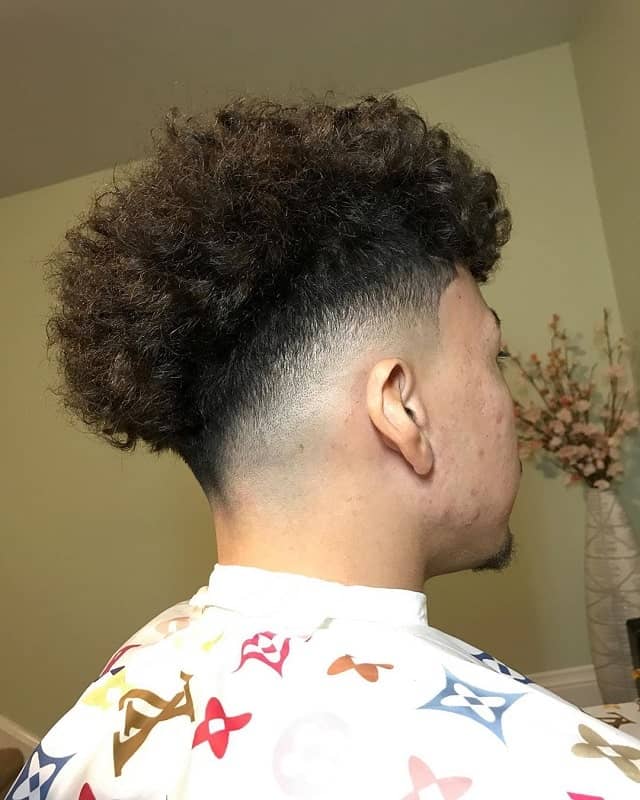 Ready to rock the stage? This taper fade haircut is loud and proud. With the hair longer and styled upwards on top and the sides faded, the blowout haircut with taper fade screams confidence. This is for those days when you want all eyes on you.
11. Taper Fade for Straight Hair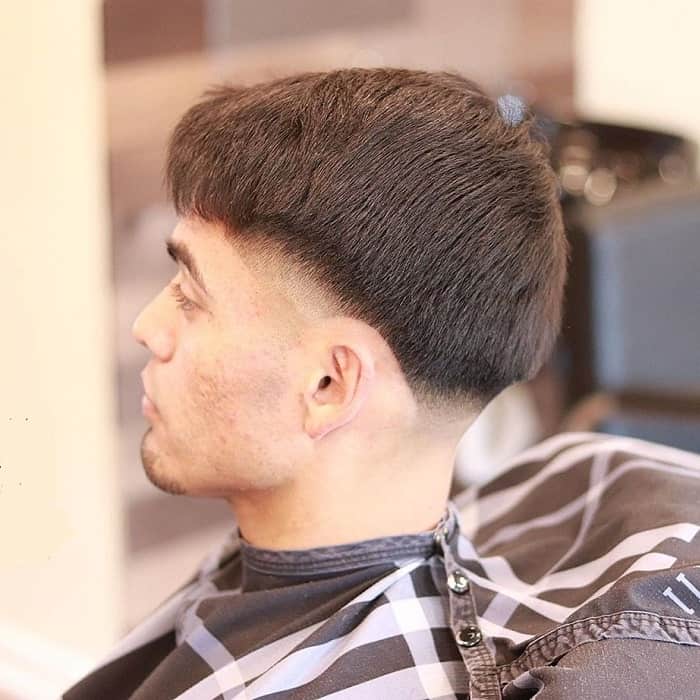 Want to keep your taper fade simple and elegant? Try this haircut.
For those with straight hair, a taper fade can add a touch of class. It's understated, but with the right styling on top, it can be the epitome of sleek.
12. Taper Fade with Braids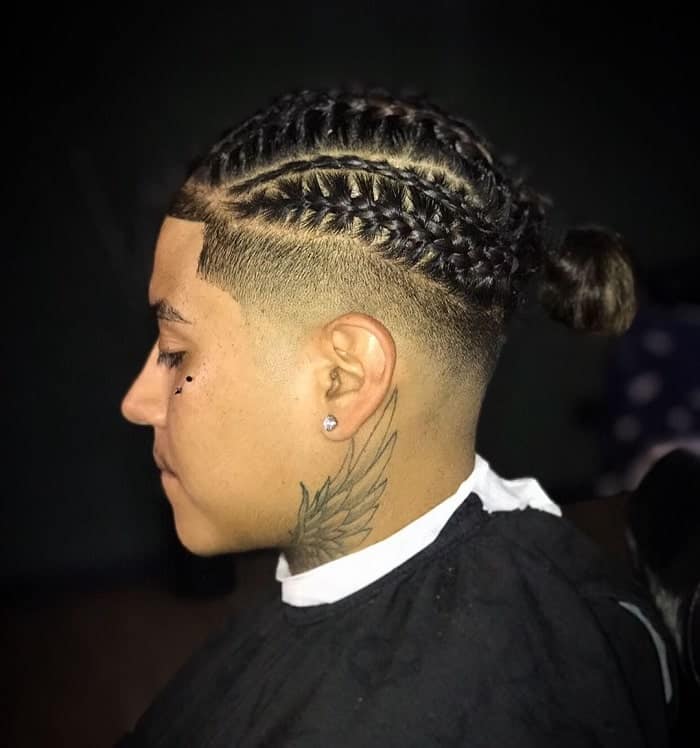 Get creative with this braided taper fade hairstyle. Whether you have long or short braids, combining them with a taper fade on the sides is both stylish and edgy. It's a look that's sure to make a statement.
13. Burst Taper Fade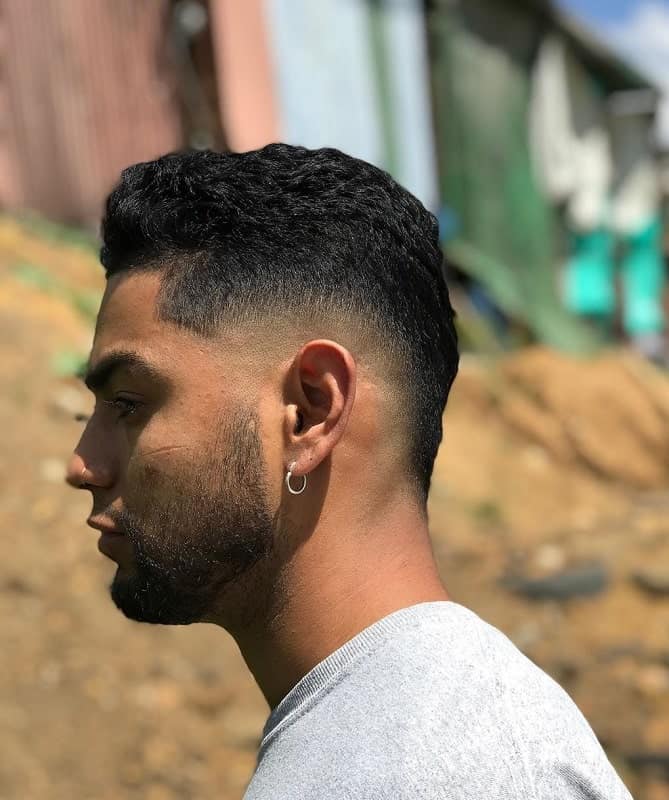 The burst taper fade features a more circular fade around the ears, almost like a sunburst. It's a unique twist to the classic taper fade and works great for those who like to stand out in a crowd.
14. Drop Taper Fade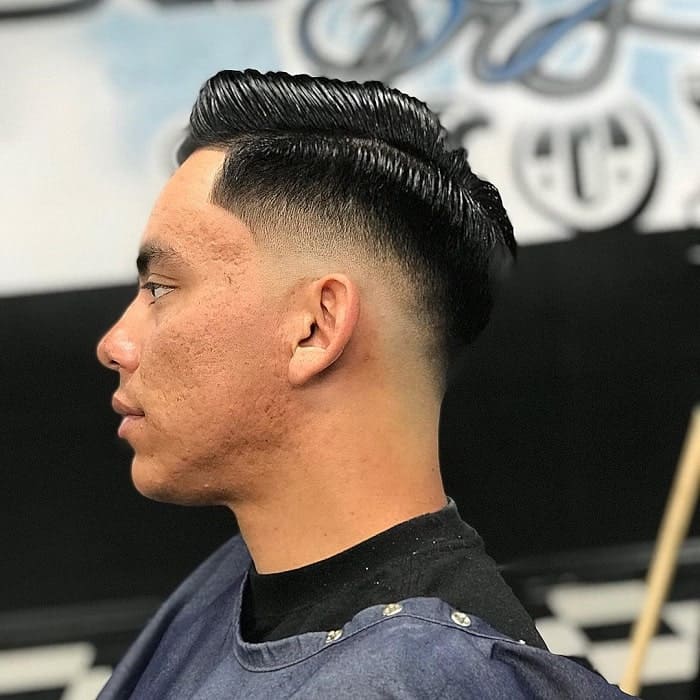 The drop taper fade drops down behind the ears, creating a sleek arc shape. It's great for adding some contour and depth to your hairstyle. Perfect if you like the classic look but want a little extra character.
15. Taper Fade for White Guy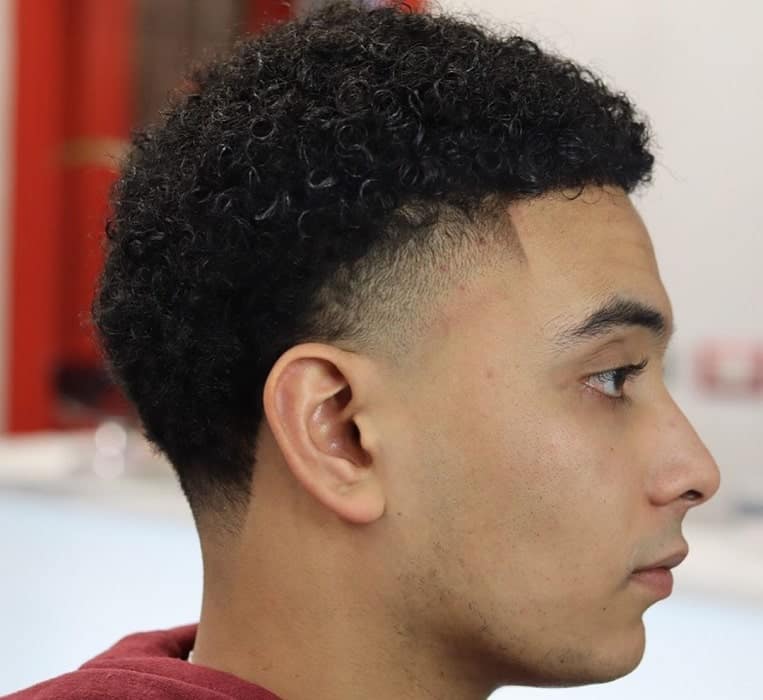 Classic and versatile, the taper fade for white guys often comes with a range of textures on top. Whether you have straight, wavy, or curly hair, this style is always a safe bet for looking polished and put-together.
16. Asian Taper Fade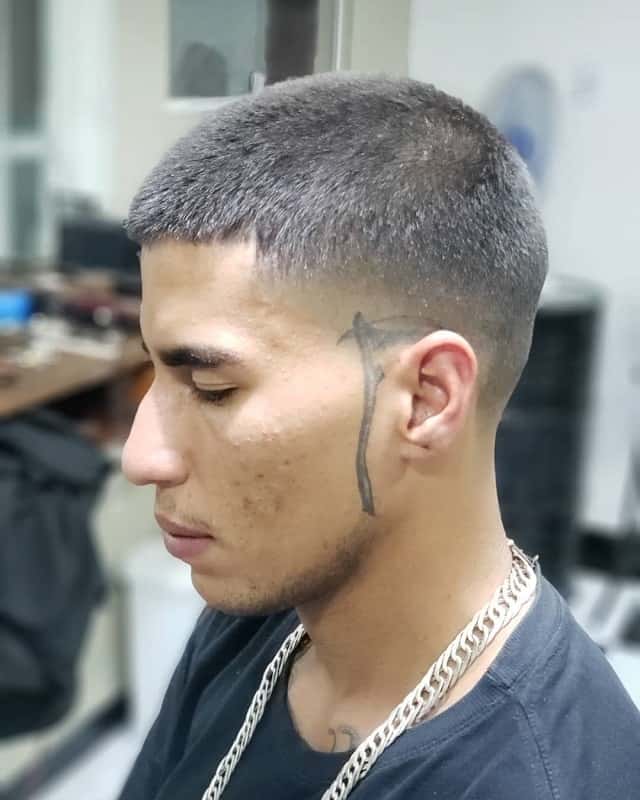 Clean lines and sleek styling define the Asian taper fade. It often features straight hair with a sharp fade, and it looks super stylish with various lengths on top.
Whether you want to rock a pompadour or keep it simple, this taper fade has got you covered.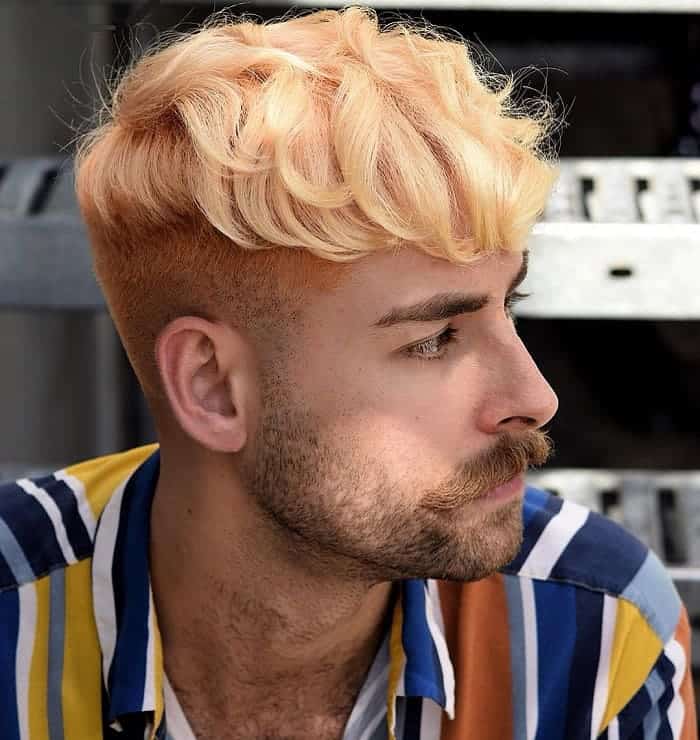 This haircut is one of the most common haircuts of this season. You honestly get the best of both worlds. Mid-length hair is focused on the crown area that fades into shorter hair.
The fade at each side provides this very put-together touch to the haircut. You could opt for this irrespective of your hair being either curly, wavy, or straight. Which is why it has been a recent favorite.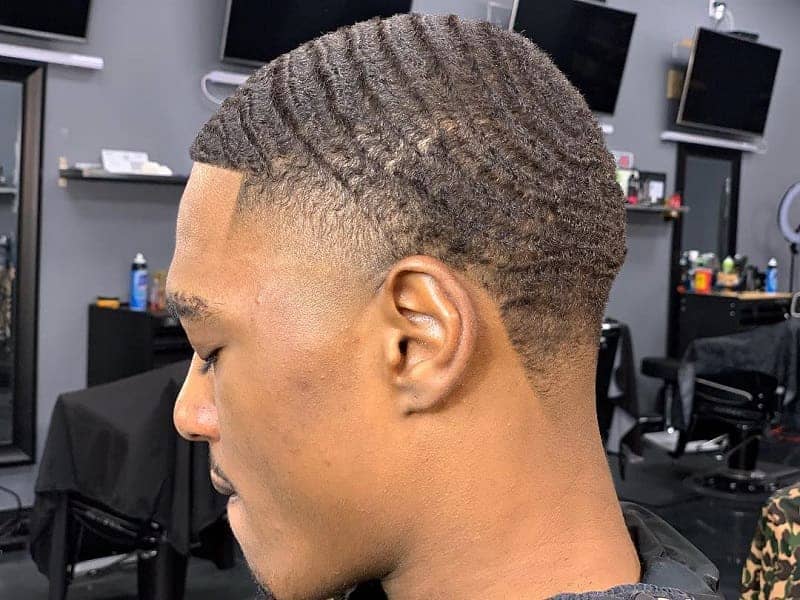 This haircut is a great option for no maintenance at all. To add a little bit of edge to normal taper fade style, a wavy cut near the forehead helps. This wavy cut will also create an illusion if you have a deep hairline. The faded ends of this haircut make the look edgy.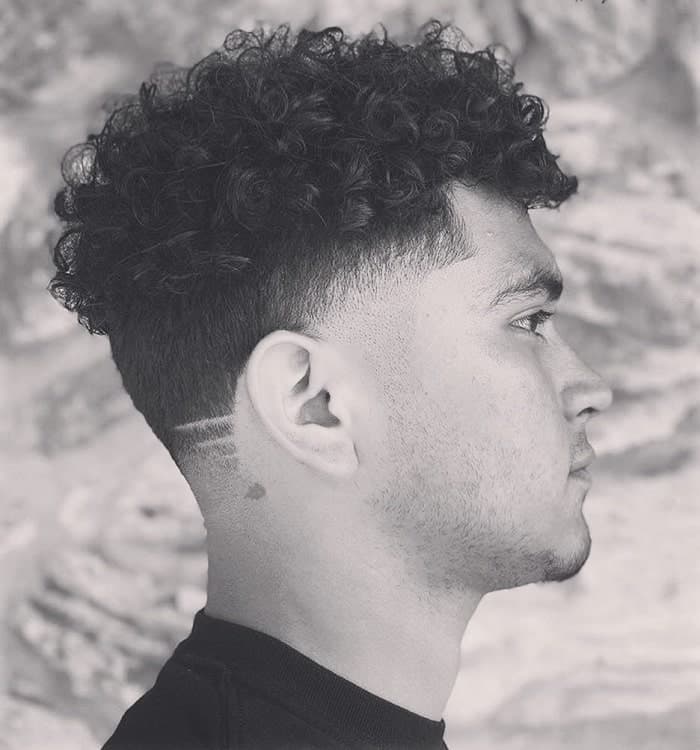 The most appealing thing about taper fade haircuts is how sexy the edginess looks. You will almost instantly realize the difference faded sides make.
This haircut is especially attractive to men with curly hair who like a little bit of length. Towards the crown, you have the opportunity to keep the curls.
Having the sides faded adds to the beauty of curly hair. You can add to the edginess by blade cutting three stripes in ascending order towards the bottom of your head.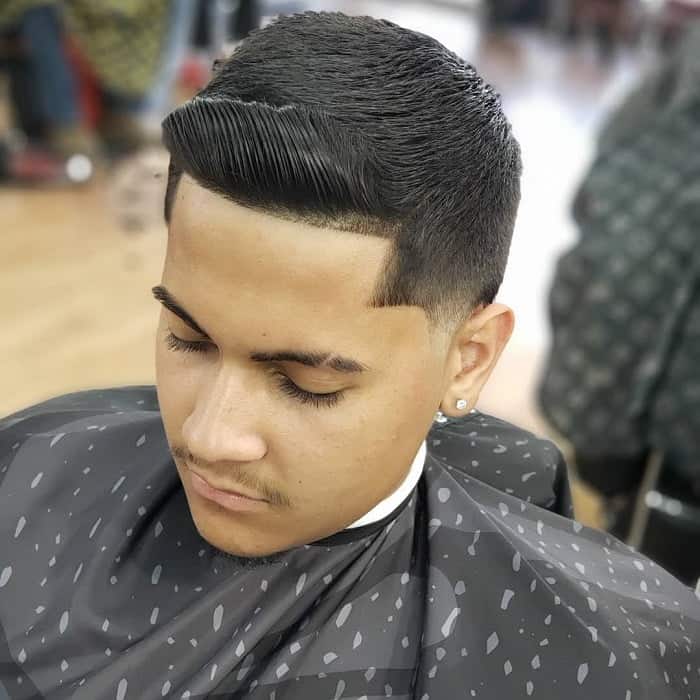 If you are used to having your hair longer towards the front, this men's taper fade is just right for you. Fade cut for the sides can just add a different dimension to your regular haircut.
You could still sweep your hair up in a wave and have a fade at the same time. This haircut can make you look a little bit of good and bad, all in one!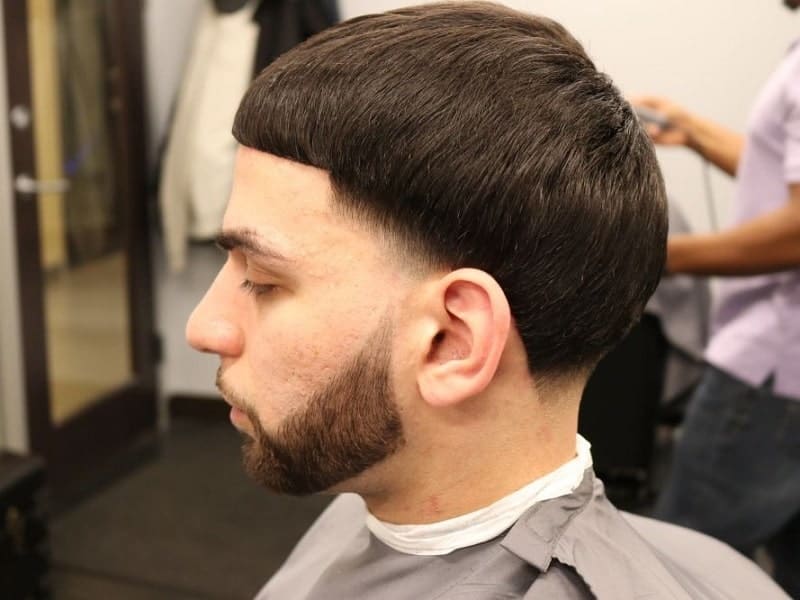 This Spock-inspired haircut has been on the charts lately. A lot of men have been sporting it. It is one of the rising trends. If this haircut interests you, we have a welcoming twist you could add to it.
An elegant fade cut for the sides instead of just having it cut round on all sides. The fade makes the haircut a little subtler and that is what is attractive.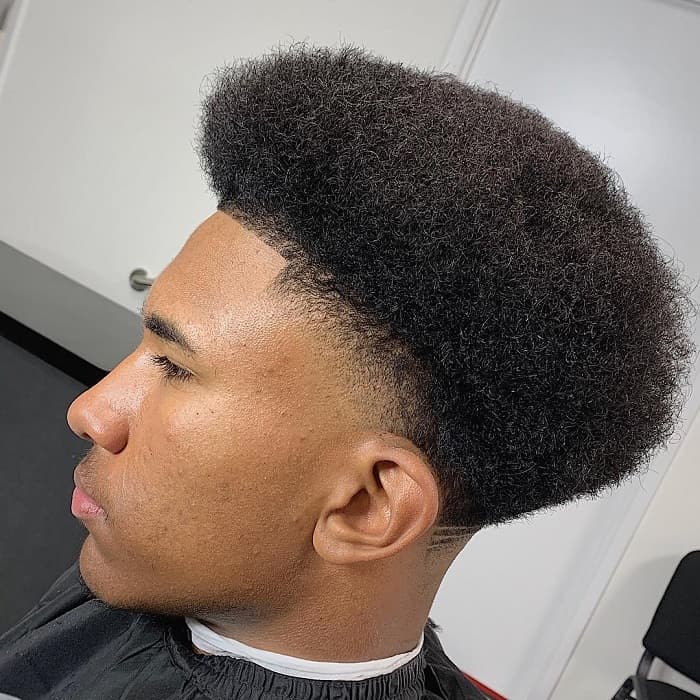 If you are kind of bored with your regular fro, this is a great variation you can adopt. It will change the whole look and make it look sleeker overall.
At the same time, you get to keep your fro you worked so hard on growing out. This taper fade is a perfect win-win situation.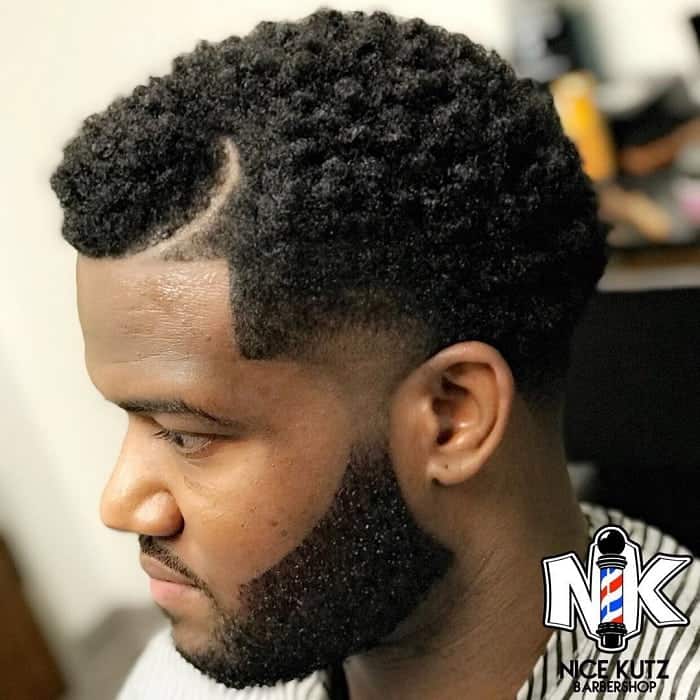 Adding a razor cut adds a huge difference to the entire haircut. As you can see here, a razor cut fro at the start of the hairlines makes the haircut tense.
The fade cut on the edges also adds charm to it. The haircut looks clean and smart which is why it is a great option.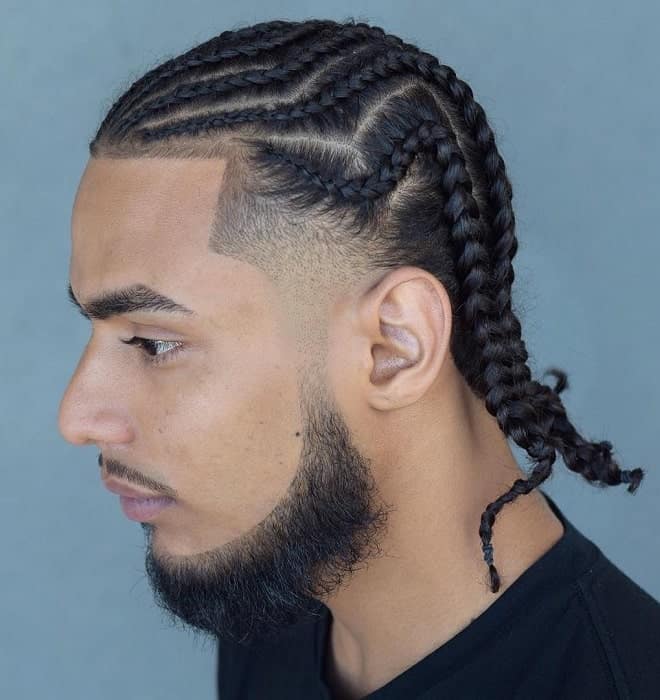 Who said cornrows and taper fade cuts don't go hand in hand?
This haircut is proof that even with cornrows you don't have to miss out on this trend. Instead of braiding your hair from the sides, start a little higher. Fade that specific area off and get this clean and charming look.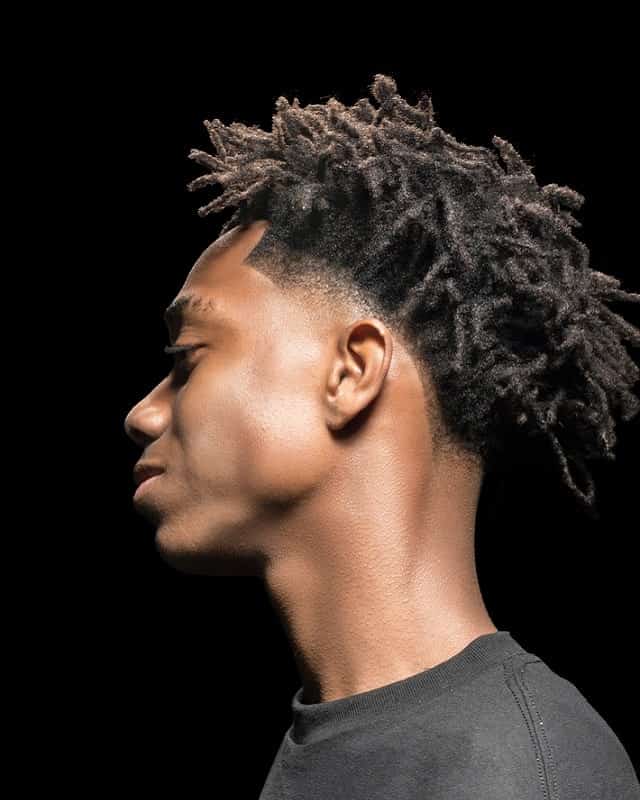 Here is another way you could pair dreadlocks and tapered fade for the sides together. This haircut has shorter dreadlocks spread all over the width of the crown.
Towards the sides and the back the haircut fades, which makes the look a tad bit softer.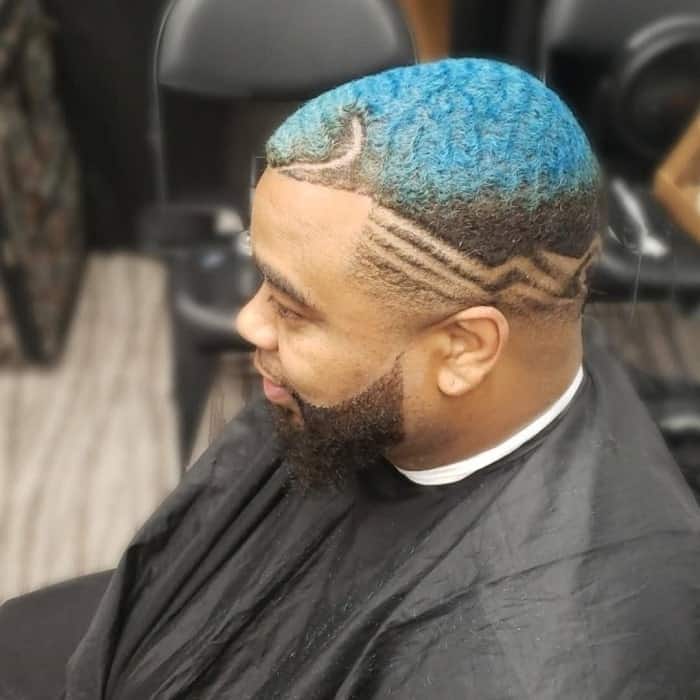 This is another taper fade haircut option for you if you like clean razor cuts in between your hair. It definitely adds to the edge of the entire look. This look is easy to maintain and would look absolutely stunning if you could pull it off with confidence.
27. Makeshift Mohawk with Taper Fade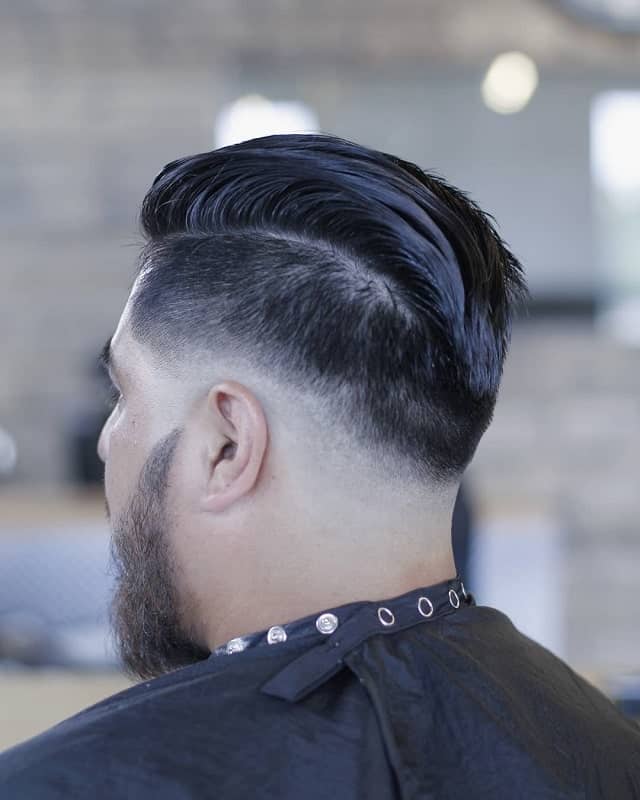 If you are too afraid to get a Mohawk but still like that particular style, this haircut is perfect for you. You get to keep your usual hair but at the same time, you can style it in a Mohawk. The fade with tapered haircut towards the side gives that Mohawk style a different appeal.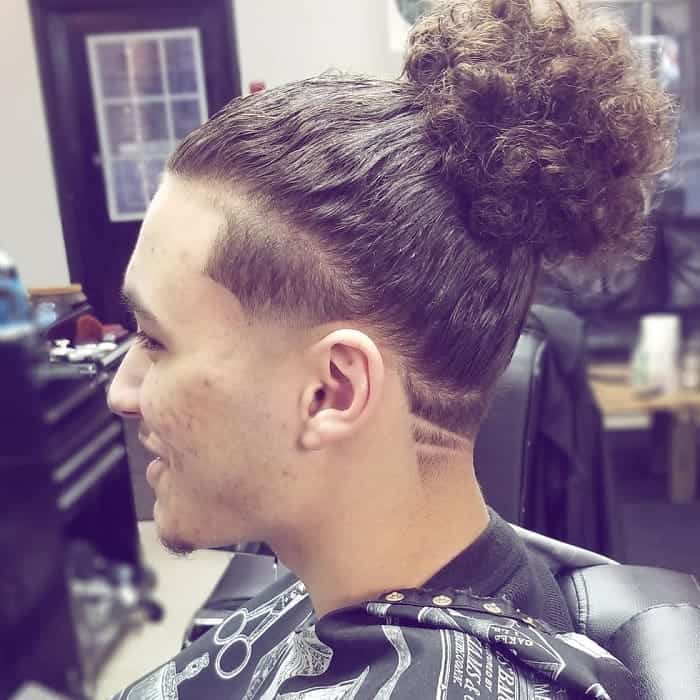 In this picture, you check out how you could spice up the regular man bun. Again, pairing a taper fade cut definitely helps in adding this tense edginess.
Here, you can see that the fade undercut and sides complement the man bun perfectly. It gives the look a different feel, whilst still letting you keep your long hair.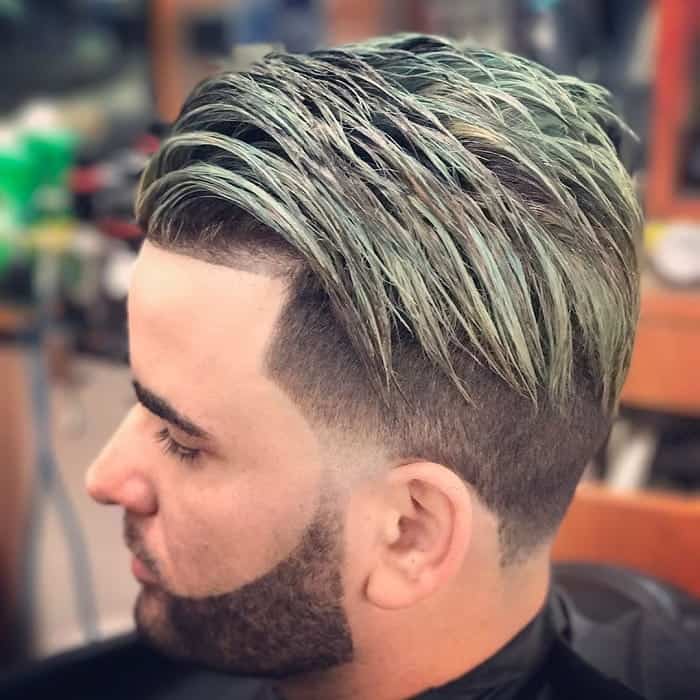 If you are a fan of men's taper fade, this haircut is a good option. As you can see, the majority of your hair are a part of the fade whilst a very little portion of hair is kept long.
This taper fade hairstyle will make your face look more elongated. It is perfect to go for if you have a rounder face.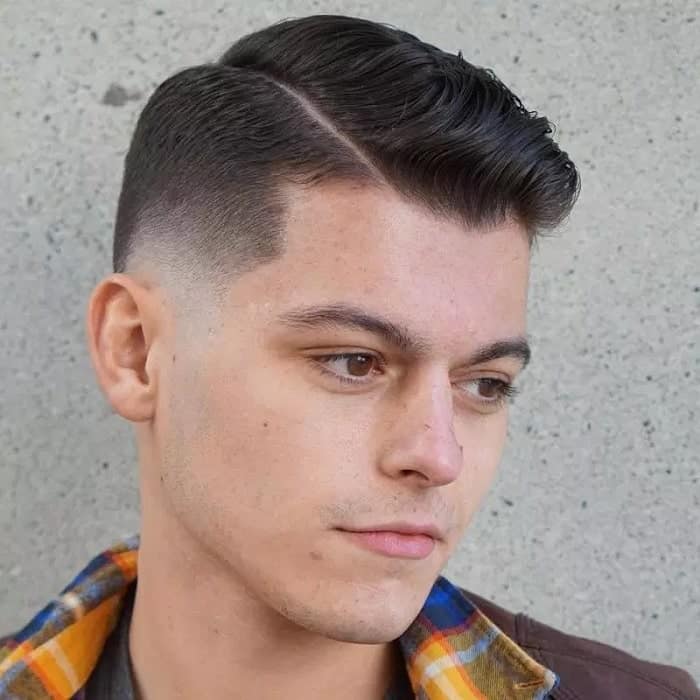 This taper fade haircut is more of the sleek poised look. And, if that is your style, this is the right fit. The parting in the middle along with the fade on the edges adds grace to the haircut.
31. Skin Fade with Symmetry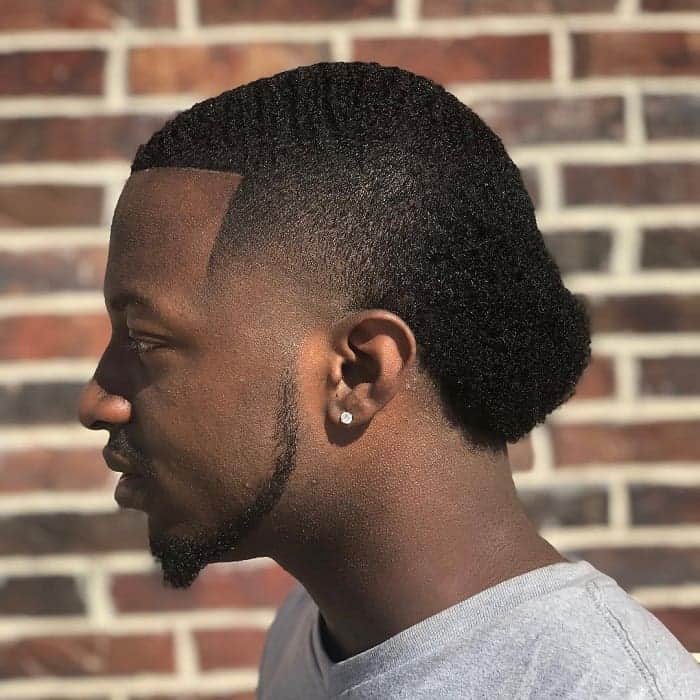 In all the variations of haircuts above, you must have noticed both the sides and the back have a fade cut. In case you aren't about that; this is something you would like.
The side fades balance out the bunched-up hair towards the back of the head. Making it look clean and sexy.
32. The Classics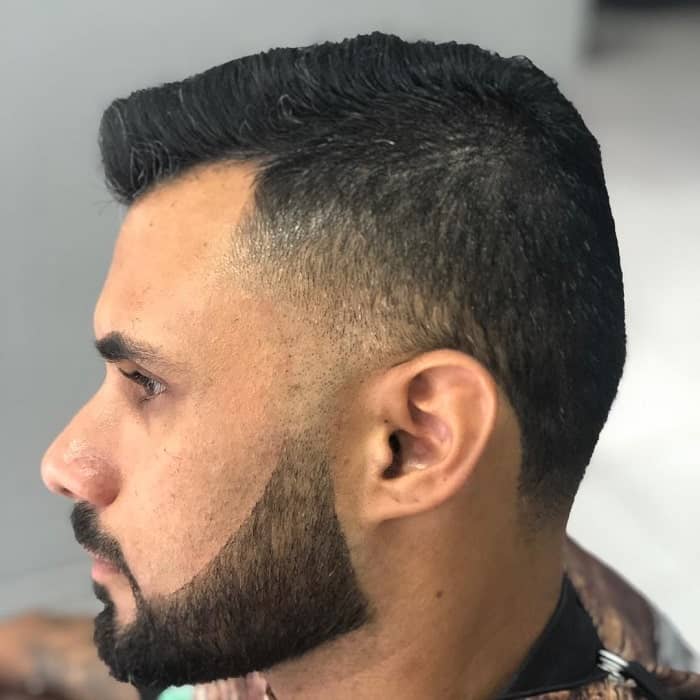 This taper fade hairstyle is a classic. It is one of the most accepted haircuts. The fade on the sides along with short hair or the top gives a squarer shaped illusion to the face.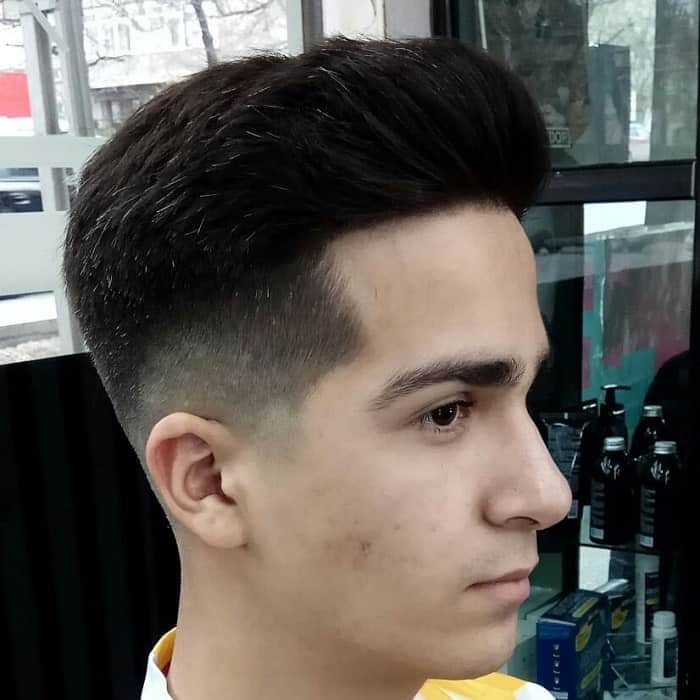 If you have been blessed with thick voluminous hair, this haircut can balance everything out. You could keep your length and still look sleek with the sides faded. Making your hair look proportionate for your face for the best appeal.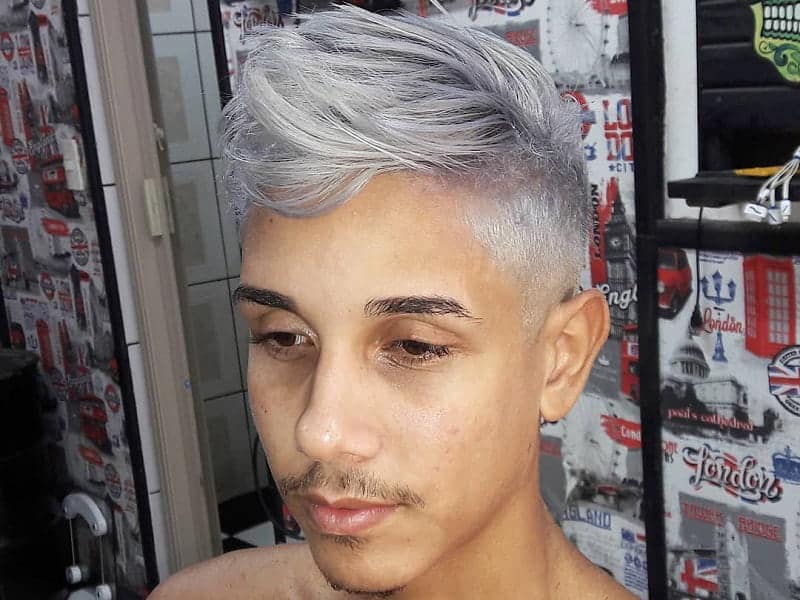 This taper faded haircut allows you to keep your hair length and be sleek, all in one. If you notice properly, even the fade isn't cut with a zero blade. So if you like a little bit of stubble, this is great.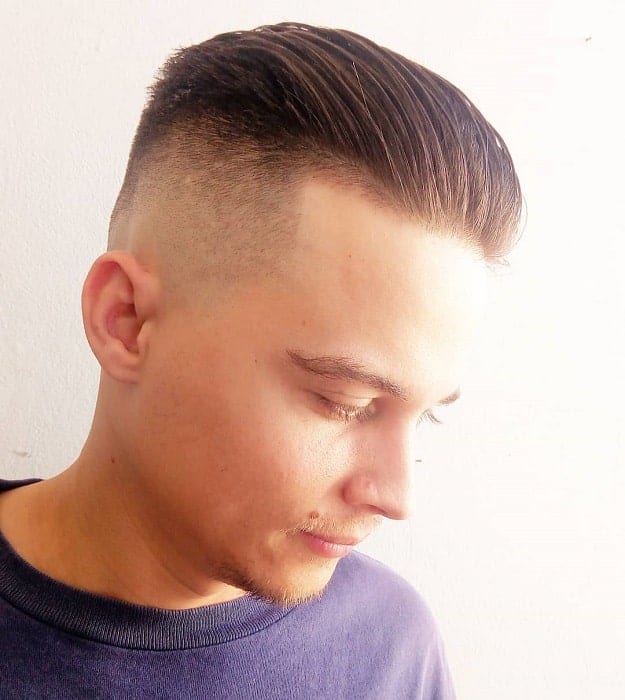 Here is a haircut that has the tiniest hint of a taper fade. The whole point of it just being there as a hint, makes this haircut so chic and hot.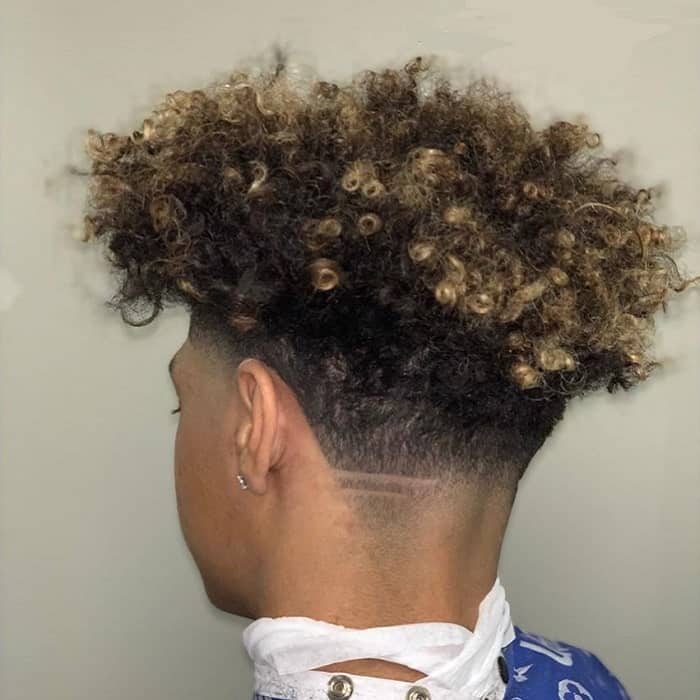 If you are into haircuts that are faded into nothing, this is just the right one. Again, another alternative to keep most of your length and yet incorporate the fade. Leave the curls wild and free to give your hair a natural dimension.
37. Short Taper Fade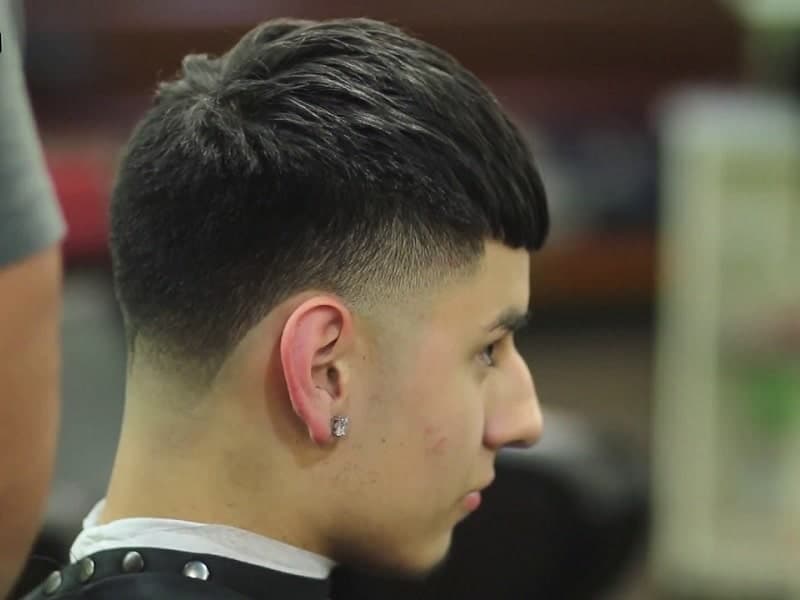 Here is another haircut that is short and sexy. This men's taper fade is perfect for short straight hair. It will make your face more defined and squared.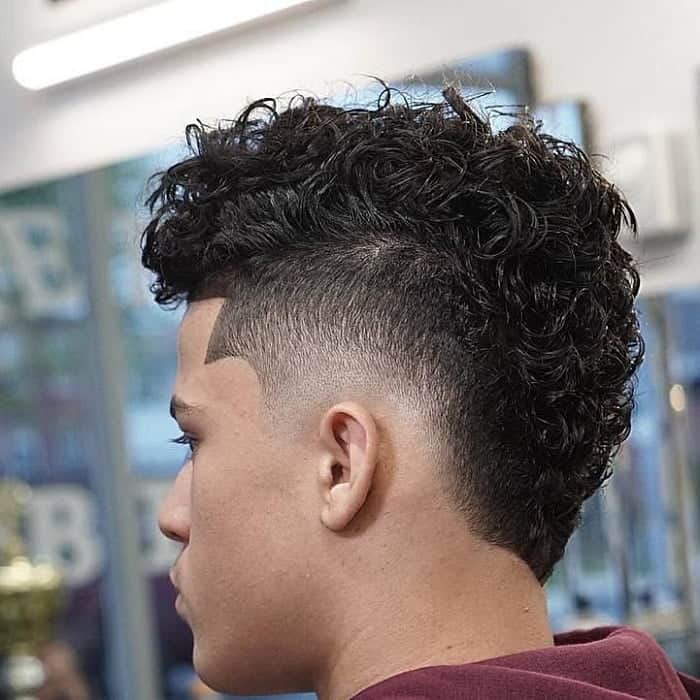 Give your Mohawk cut a unique touch. Add a taper fade to the sides for a graceful appeal. A sharp, geometric hairline makes it even better!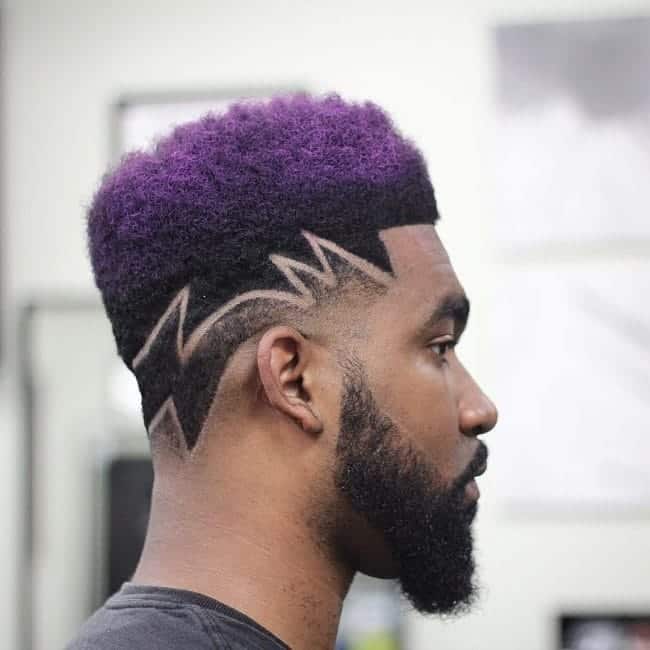 The razor clean zigzag cuts add something amazingly appealing to the regular full hair to tapered fade haircut. If you are someone who wants to stand out and sport something different, this haircut should be it.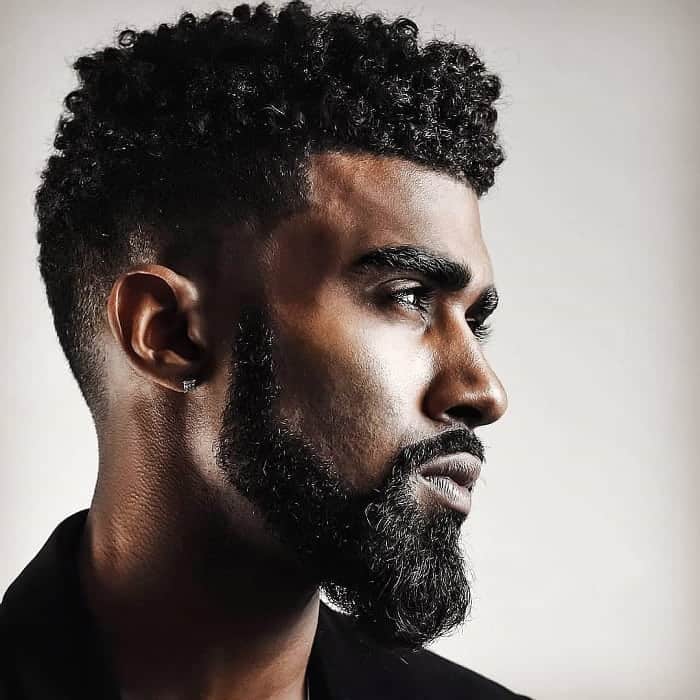 Styling winglet curls can sometimes be a challenge. This doesn't mean that fade cut wouldn't suit curly hair!
This tape fade hairstyle is a perfect example of how you could keep your curls and still fade your sides. Make sure that your hair isn't too long or you won't be able to achieve this sexy brooding haircut.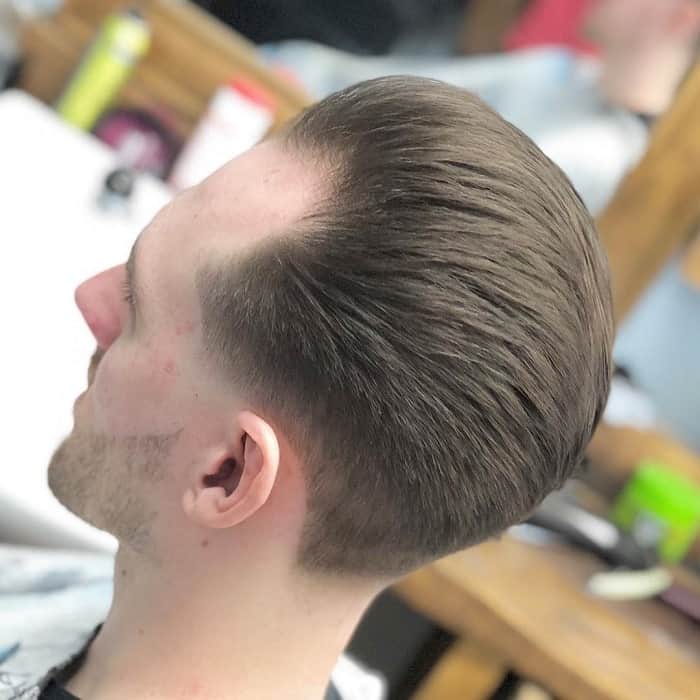 If you have a deep hairline here's how you could have the fade side trend. The best way is by embracing your hairline and shaping the rest of it. You could have your hair medium length and then fade the sides and the back. Your hair will look much sleeker and sexy by doing so.
How to Get A Taper Fade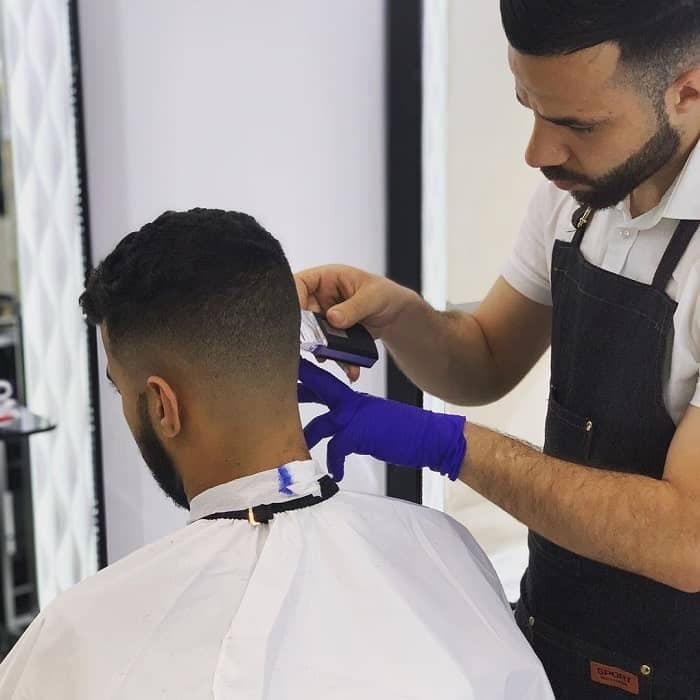 While men's taper fade can be achieved at home by using virtually any electric hair clippers (most of which come with attachment guides to easily control the length in which you cut your hair), the fact is that taper fade has become something of an art form in many communities.
Only trained hairstylists or barbers can often provide cleaner lines and a far more polished, professional, and put-together overall look than most people can achieve on their own.
Taper fade hairstyles are among the most popular haircuts for men for a number of reasons, not the least of which is that they are so extremely versatile. They can be modified in dozens (if not hundreds) of ways, allowing for easy customization and personalization of a classic style.
This means that any man can easily put his own twist or flavor into this classic style. Some of the most popular modifications of the taper fade haircuts include such things as asymmetrical lines in the back, splashes of color, and longer than is traditional hair on top. In fact, the taper fade is often the starting point of such edgy, trendy haircuts as the faux hawk.
In reality, the taper fade haircut is a quintessential men's trademark. It is almost universally favored among men and women of all ages, and in its most traditional forms, it is a fallback that any man can turn to in order to ensure that his haircut is both fashionable and appropriate.
Any barber or hairstylist worth their salt will be able to hook you up with a perfectly executed men's taper fade, or you can try your hand at doing the job yourself. There are dozens of tutorials on the market that can start you off in the right direction. Here are a few of the best tutorials:
How to Maintain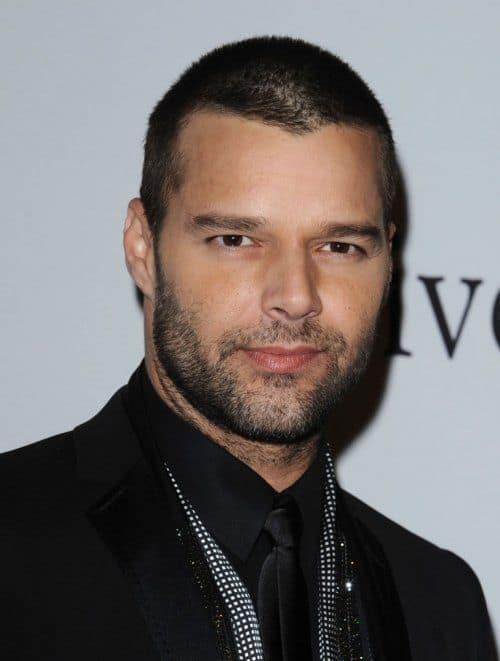 Anyone would relate to how difficult it is to maintain your hair. Cutting your hair short in a taper fade style makes it much easier. Cutting it short also means that you won't have to comb it as often as you would otherwise. If you choose to keep your hair long, it is ten times the work.
Often, maintaining it becomes tiresome which is why these haircuts are a more viable option. All the more having your hair short can also help with being hygienic. You won't have to worry about washing it often or even invest in too much aftercare.
All the haircuts above are different ways you could include the fade haircut into your natural hair. Which is why we have made sure to include all different types and textures of hair. Taper fade haircuts are in style, and you shouldn't hesitate about getting it.
The best thing about this haircut is that it is versatile. There is absolutely no way that it would go with any style or any length of hair. Plus the hairstyles above are proof that taper fades make everything sexier.