There are many types of hair combs on the market today. Some men will only be concerned with something like a pocket comb. However, there are a lot of important tools that can help the modern man stay well groomed. Here is a look at types of hair combs you may encounter.
Wide Tooth Comb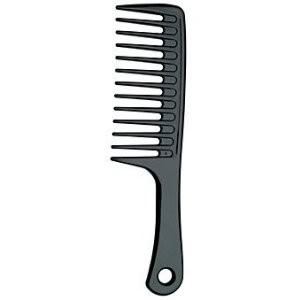 Diane Ionic Extra Wide Comb With Handle
Some comb designs have wide teeth and some have fine. Wide teeth are best for getting out tangles. This often happens when you first get up in the morning. However, if you are going for the bedhead look, be careful. You may not want to do anything with your hairstyle in the morning.
Fine Tooth Comb


Ace Fine Tooth Comb
A fine tooth comb is for getting the hairs all in place. You may wish to begin with a wide tooth and then finish up with the fine tooth model. Take it slowly, as it may hang up in very thick manes, and you may lose more hairs that you want. This depends on how much you have to spare, of course.
Rat Tail Comb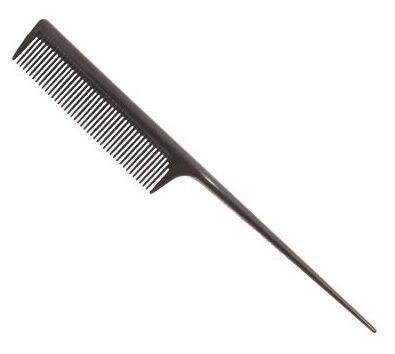 Scalpmaster 8″ Nano Rat Tail Comb
Many men may think that the rat tail is simply a comb with a handle. This is not the case. The rat tail is used to help get parts straight. Maybe you want a part down the middle or to one side. Use the handle portion of the "rat tail" to run across the area you wish to part.
Pin Tail Comb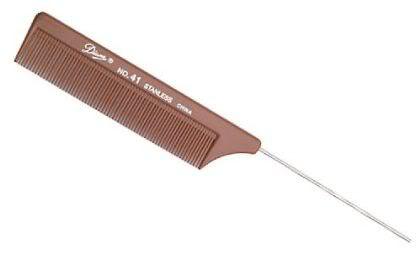 Diane Pin Tail Comb
A close relative of the rat tail is the pin tail. This is similar to a rat tail but has a much finer tail. This allows for precise parting. It is also a good tool for men that wish to straighten their hair with a flat iron. You can work with one particular section without leaving stray hairs. It also keeps you from accidentally poking your scalp.
If you want to change your hair color, the pin tail comb is a good tool. It allows for precision work. This is especially important if you want to have a hairstyle with a blond streak. You may never use rollers, but if you do, the pin tail will be more effective for gathering just the right amount of hairs.
Barber Comb


ACE Barber Hair Comb
Most men have seen barber combs and are familiar with their use. They allow the barber to cut and trim without getting too close to the head. It is similar to guards that are on electric clippers. These combs are tapered to provide a lot of different options.
Pocket Comb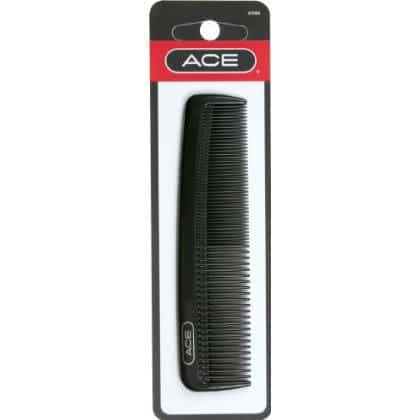 Ace Classic Pocket Comb
The pocket comb is a very handy tool and usually has one side with much finer teeth. It serves a lot of purposes. Most men are familiar with this kind of tool, and not much else needs to be said.
All-Purpose Comb


Ace All-purpose Comb 7″ Fine-teeth
You may see something that resembles a pocket comb but is much larger. These are usually called all-purpose combs. These are very sturdy tools that work well for many things. However, due to their size, they are best left at home.
Rake Comb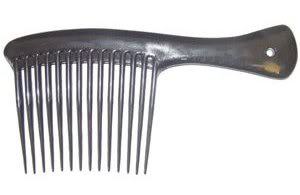 Rake Comb
The rake comb gets its name for a very good reason. It resembles a garden rake. It is very good for untangling long hair. This allows you to rake through your hair with minimal pain and loss. It is a good way to straighten out a big mess.
Teasing Comb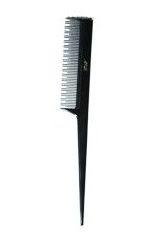 Ace Teasing Tail Comb
Maybe your hairstyle selections seem limited because you have thin hair. You might want to add some texture and body. The teasing comb looks like someone has taken a rat tail comb and attached a dinner fork to it. However, this is used to tease hairs.
The teasing comb is used by taking a strand of hairs and holding them straight up. Run the teasing tool from six to ten times through the hairs. Do this with as many strands as you like. You should have a fairly long hairstyle for this to be most effective.
Styling Comb Set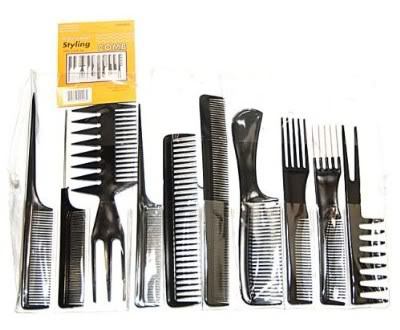 Magic 10 Piece Professional Styling Comb Set
No talk of the types of hair combs would be complete without recommending a good product. If you want to have an excellent selection of hair grooming tools, you may wish to consider the Magic 10 Piece Professional Styling Comb Set. It has ten kinds of combs and also a vinyl carrying case. It is very inexpensive and is a good gift for your significant other. She will enjoy it, and you can borrow the ones that you need. However, if you need them all, just buy two sets. It's available in black or brown set.
The below three hair combs are also popular in the hair community in 2023.
Choose a hair comb carefully, don't just buy a random hair comb which will cause serious damage to your hair. All the above hair combs are popular for reasons. Lot's of options: jut pick the one you like the most!