Comb over fades should be on the bucket list of hairstyles every man should try at least once in their lifetime. I mean, think about some of the most famous actors and entertainers right off the bat. You are most likely to have seen them sport a comb over fade at some point on the red carpet!
The comb over fade is trendy for a reason. This hairstyle makes men get the look they wish for – smart, sharp, and very attractive. In this article, we are going to review 50 best comb over fade hairstyles that are hot right now.
Let's start with some introductions first. To fully appreciate the look, it would be better if you know what a comb over fade refers to. Let's read on!
What is a Comb over Fade?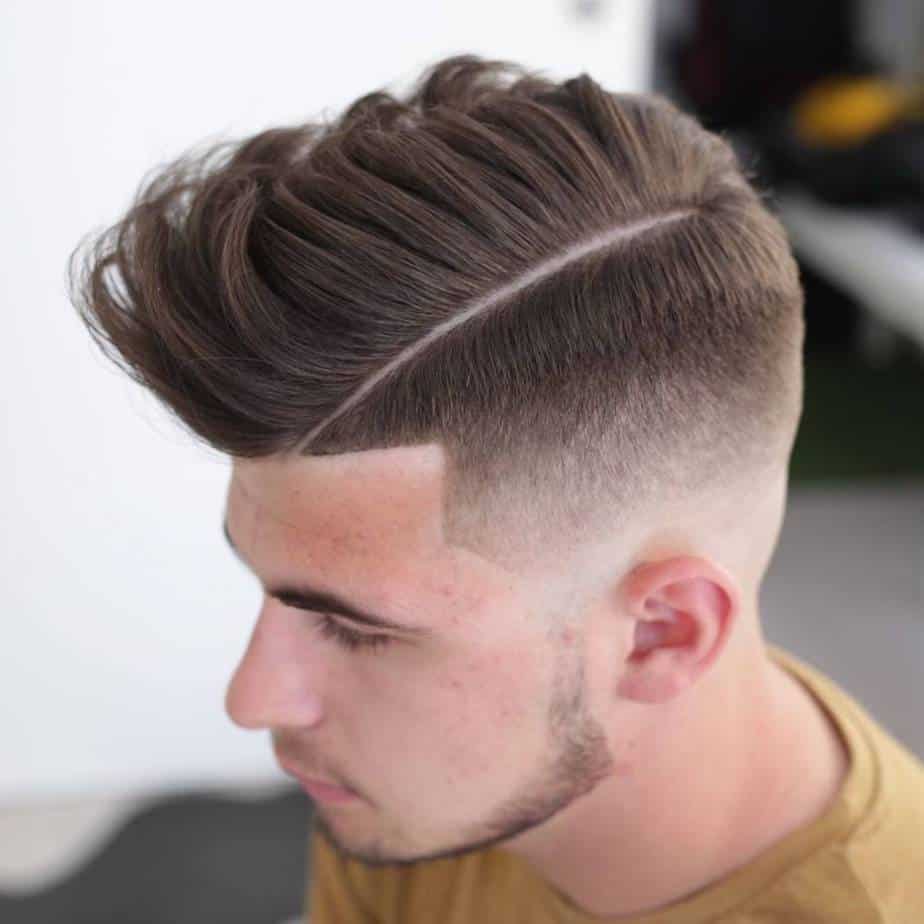 There are two components in a comb over fade hairstyle – the comb over, and the fade. The comb over focuses on the hair parting line at the top. The length of this part depends fully on you. You might have a really long comb over, a mid-length or even short and still swept back. A fade meanwhile, refers to a very short taper that gradually blends into the longer sides of your hair at the sides and on top. It's called a fade because this short hair length fades into your skin.
Now, imagine a combination of a comb over on top with a well-blended fade. This combination makes up the trendy comb over fade style that is always trending.
Different Types of Comb Over Fades
Even with the comb over fades, there are several different variations. It can generally be divided into 5 types though, and we will give you a review of what these different types are all about.
Low Fade Comb Over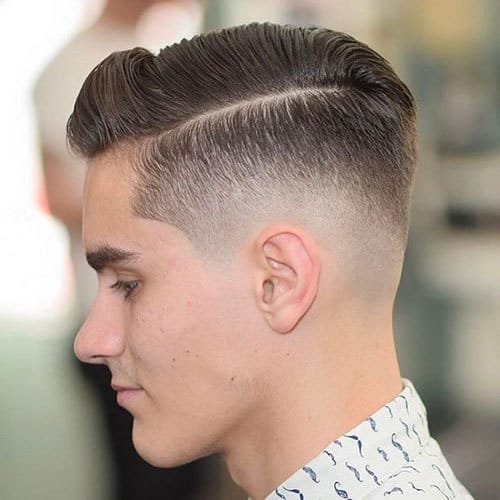 When you have a low fade, it means that your hair is only tapered from your ear levels or even lower. A low fade gives you a more subtle transition towards the longer hair at the top and goes really well with beards. Combining a low fade with a comb over basically gives you a small twist to the contemporary, classic look.
High Fade Comb Over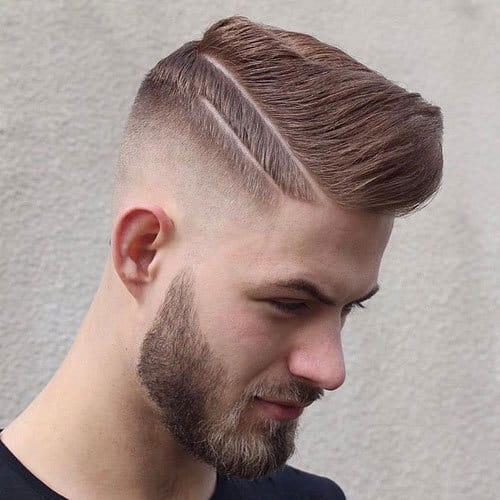 Best for the trendy ones who are not afraid to make bolder fashion choices, a high fade gives you a stark contrast between your long top and the sides. With little room for transition, the high fade will certainly bring focus to your brow lines where the fades are near. If you rock a short haircut, a high fade is the best choice for you! No worries though, this doesn't mean that you can't take on this hairdo if you have longer hair.
Mid Fade Comb Over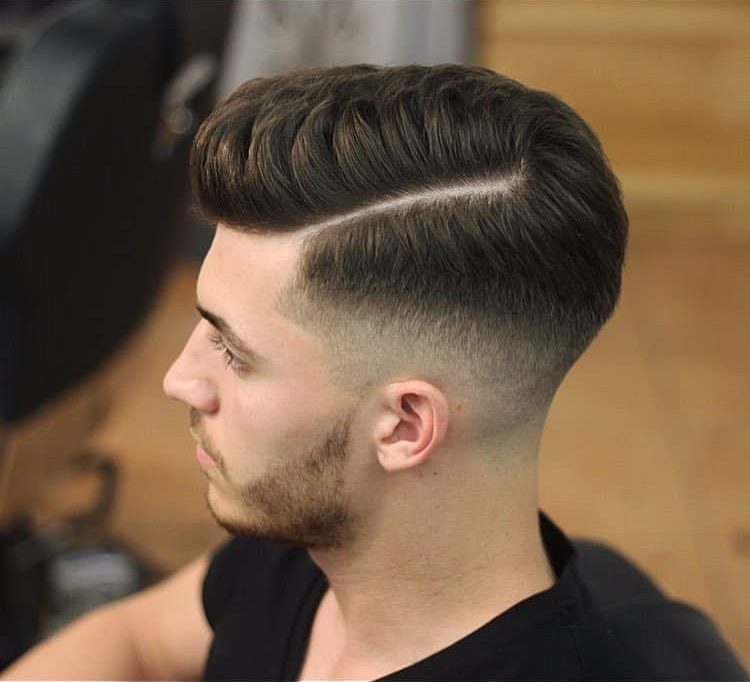 A medium fade still has plenty of room got a good transition from the lengthy ends and the short tapers. This hairstyle is less conservative than that of low fades, but still not too bold. If you have straight hair that you can style well, a medium fade is for you.
Skin Fade Comb Over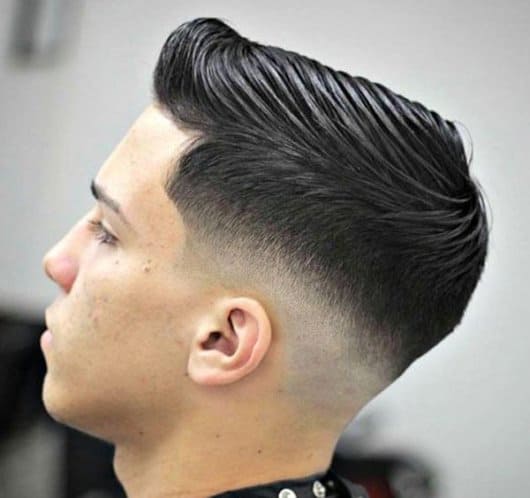 A high fade would have been a bold enough choice, but a skin fade is here to bring your bold fashion choices to the next level! As the name suggests, a skin fade gives your hair a taper that transitions into your skin. Rather than leaving some short lengths for the taper, a skin fade is a neat, military-style choice which keeps the top neat over the skin fade.
Bald Fade Comb Over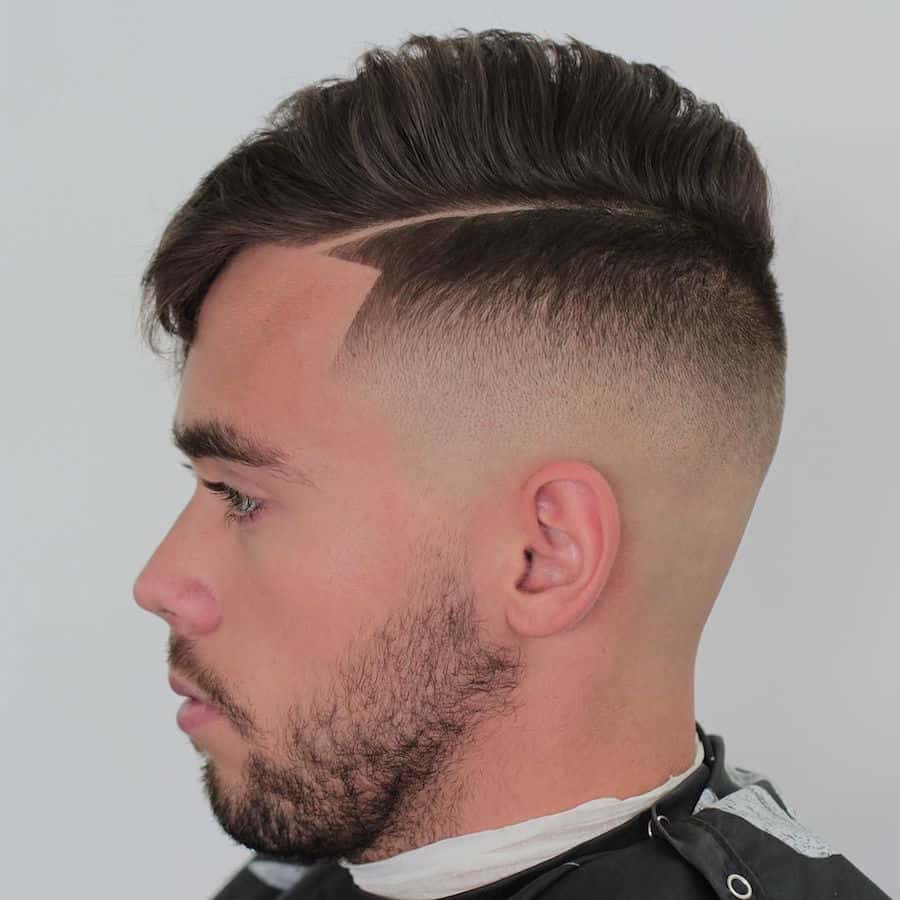 A bald fade comb over is essentially the same thing with a skin fade comb over. However, you can expect the fade for this style to be a lot shorter and perhaps higher than that of a skin fade.
How to Style a Comb Over Fade?
So, you already have a good base for a comb over fade. Your hair is cleaned and dried. Now, if you are looking for a high volume look, blow dry your hair on high heat. However, if you are going for a more casual, everyday look, just use some styling cream. Want your hair to look firmer with a good shine? Apply some water-based pomade! Whichever product that you choose to use, just start applying them from the roots at the back of your head and work it upwards.
Are you going for a neat look or a messy one? You can just create a rough parting with your fingers if you're going for the latter. Otherwise, run a comb vertically from the back of your head and separate your hair after that.
Who Should Try The Comb Over Fade?
Everyone should! A comb over fade is a versatile and modern hairstyle that can go with any and almost all face shapes. It can be styled with line-ups, hard parts or no parting at all. Additionally, if you want to style it with your own styles, you can do that too. So, why not try a comb over fade hairstyle when you feel like having your next hairstyling appointment?
How to Ask for A Comb Over Fade In The Salon?
If you want to get this hairstyle done in the salon, try asking your hairstylist to give you a side parting first. Afterward, you can choose any comb over fade haircuts that you'd like depending on your hair length or style that you're going for. Depending on the end result that you want to achieve, you can keep the sides longer or shorter. Here's some pro tip for you!
Look for photos – you can select photos that you found on this website too – of hairstyles that you'd like to try and bring it to your hairstylist.
A good hairstylist will tell you if that look can be achieved with your natural hair type or length, or if another look might suit you better. You can also ask your hairstylist for hairstyling products when the style is achieved. They will be able to recommend you some good holding gels, water-based pomades or anything else that you might need to style your hair from home.
Comb Over fade Hairstyle – Before and After Look
Most of us don't take much care of our hairstyles. It looks presentable? Good enough. However, a comb over fade can make a real difference to your overall style! Here are 3 comparisons that you can look at. After going through the before and after, you'll surely be motivated to try this hairdo yourself!
From Zero to Hero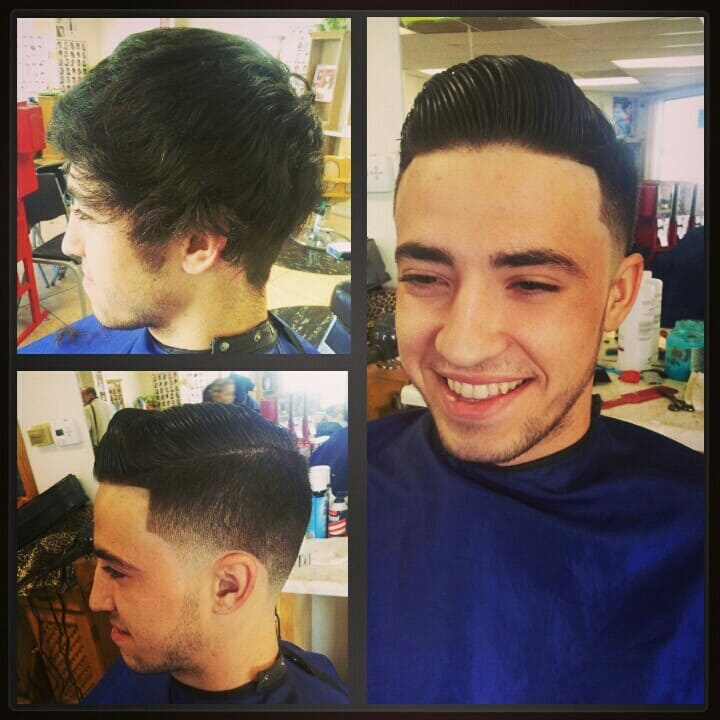 Your hair can look fine before, looking all fluffy and soft. A comb over fade can give you a much more energetic appearance immediately! Not much explanation needed when this picture can speak a thousand words. Let's just note the appearance of added volume that comes with this hairstyle. All that it took was some upsweep!
Looking Charming!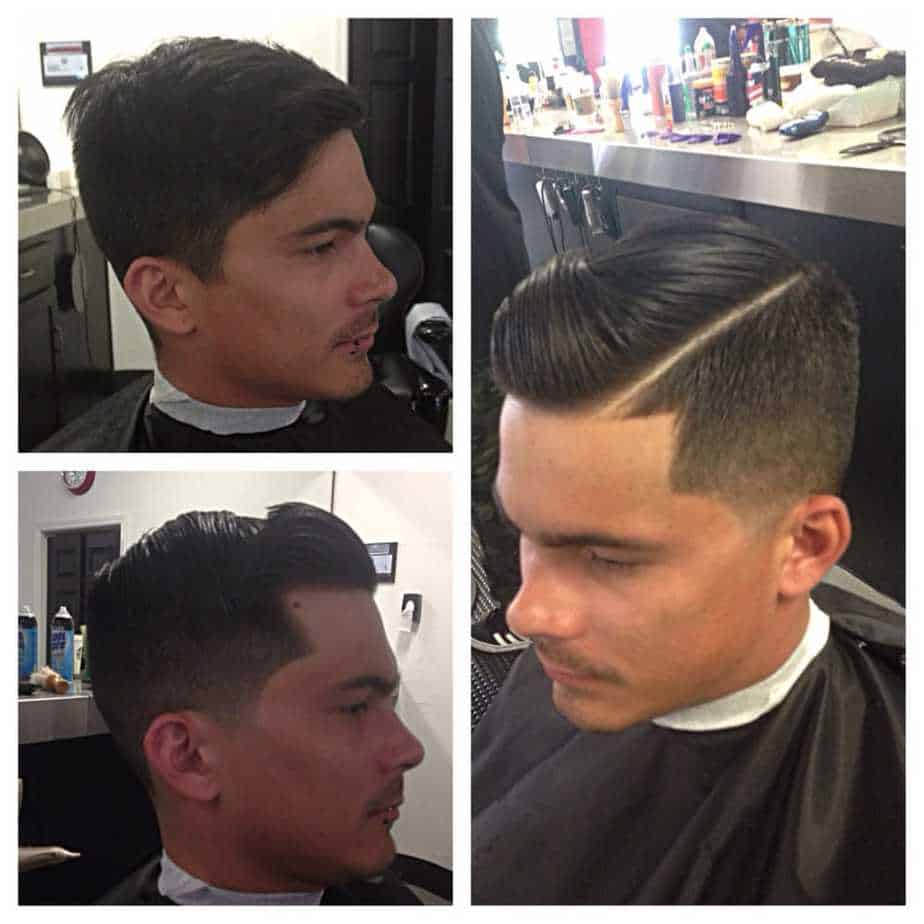 A comb over fade can change you from being the neighbor next door to a stylish business owner. When your hair is swept up after separating the parting, your hair will look much thicker than it actually is. The hard parting paired with the line-up just completes the look! This style is not too fancy and can be styled from home with some hair gel.
A Facial Structure Boost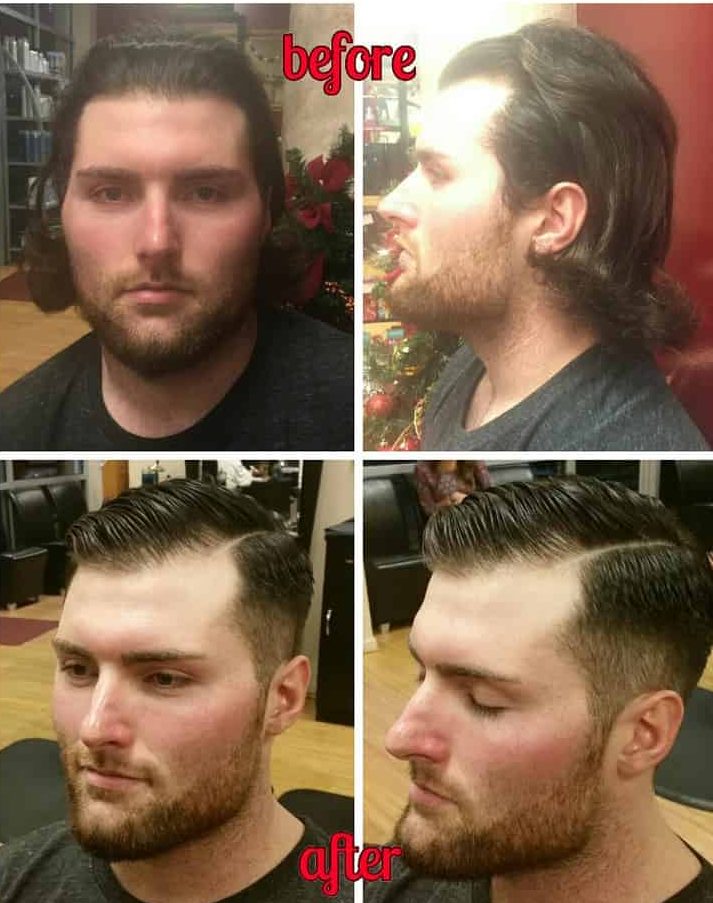 Long hair can frame over your face and conceal the facial features that you should be proud of. A good fade paired with a comb over will bring anyone's gaze to your facial structures! The stubbles also look a lot neater with the beard line-ups. It's okay even if you have a widow's peak too! That can serve as a good hair parting line reference.
Will Comb Over Fade Look Good with A Beard?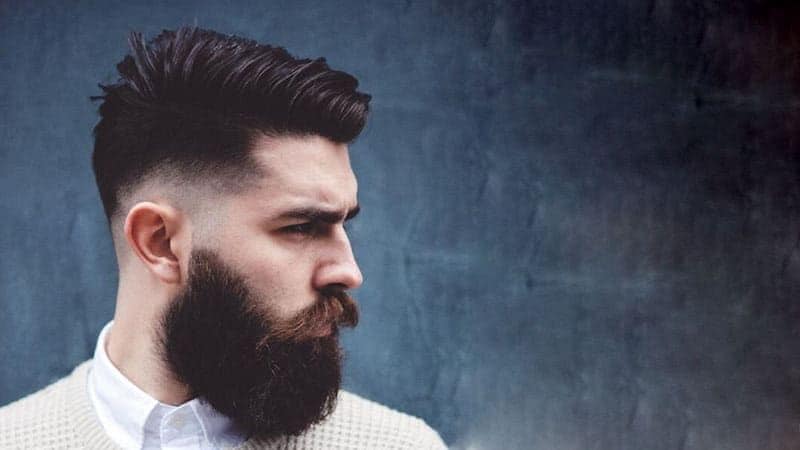 Yes! If you haven't already grasped this concept from the photo samples that we have shown you above, here's another reminder from you. Comb over fade can look good if you have a well-maintained beard! In fact, if you can rock a beard fade, that would be the pinnacle of any hairstyles when paired with a beard.
If you are looking for a neat look, just ensure that the hairlines – even those for your facial hair, are well-defined. Of course, you'll also need to ensure that your beard is about equally lengthy all around rather than being irregular to boost it up.
Want a manly look? Keep your beard bushy and your fade, well, compatible with the length of hair on the top. Short hair? Go for the high fade. A medium fade is a safe option for most styles. Low fades for most simple styles that do not require much maintenance.
Comb over Fade vs Taper
Fades and tapering are similar concepts, and the only difference is how fade is much shorter than a taper. Both tapers and fades can be done with clippers and guards, or just with shears. A fade ends with the hair length shortening to the point of baldness, but a taper is usually longer than that.
Ultimate Comb Over Fade Hairstyles for Men
Let us get to the part of the article where you can get some hairdo inspirations for your next comb over fade hairstyle. We have divided them into several sections so that you can choose from the type of comb over fade that you are looking for!
Top 5 Most Popular Comb Over Fades
Some styles never go out of time. While a comb-over is generally one of it, you can expect there to be several styles which are always trendy and popular. Here's 5 of the most popular comb over fades.
1. Just A Little Flick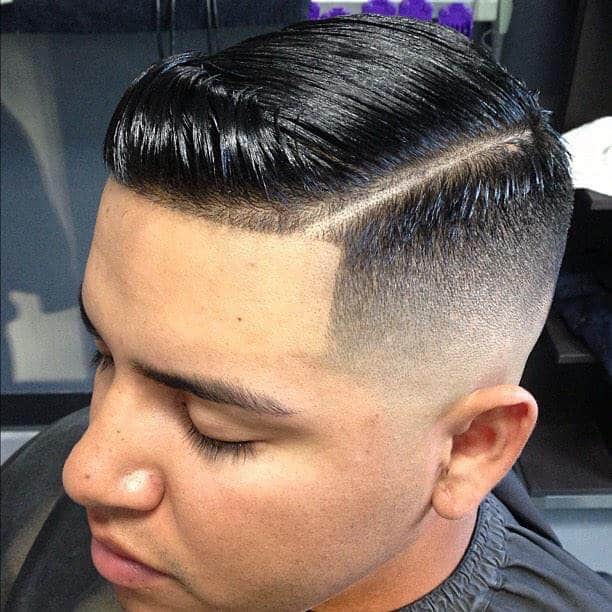 Pair your comb over fade with a shaved part. By adding a small upsweep to your combover, you are creating a trendy variation of an otherwise conservative look! The upsweep can also give you a small height illusion.
2. Faux Mohawk Comb Over Fade
No one said that a comb over has to be neat and plain crew cut-like. Spice it up with a mohawk-style combover & keep it stylish with a high fade!
3. No-Part Fade & Comb-Over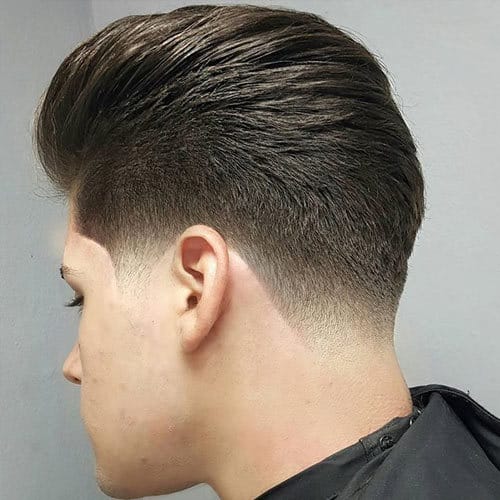 Get a streamlined look with a no-part comb over. The low fade just adds on to how smooth your entire hairdo looks!
4. Simple & Neat Parting
This hairdo will suit those with a preference for a more conservative style. Part your hair along the sides with a comb and some holding gel, then use a medium fade to finish your look.
5. Side-Swept
You can't go wrong when you follow a celebrity's hairstyle techniques. If you have grown out your hair a little, you can get this natural-looking comb-over by using a gentler gel option. A low fade will suit this look perfectly!
Low Fade Comb Over Styles
Want some good inspirations for a comb over with low fade? Here are 5 variations that you can try depending on your hair types & more!
6. Keeping it Stylish with a Beard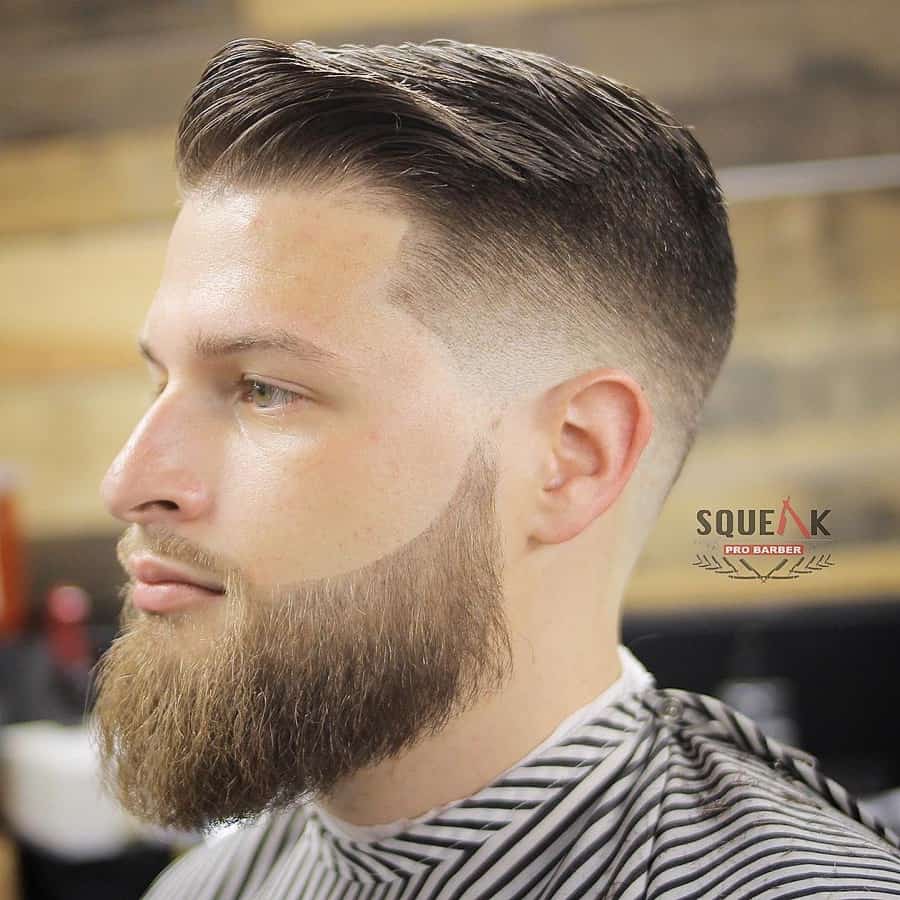 If you have a beard, you can start tapering a clean fade where your beard starts growing. You might not even need to have a proper parting for this hairstyle. Comb your hair with some gel for a neat comb over.
7. Disconnected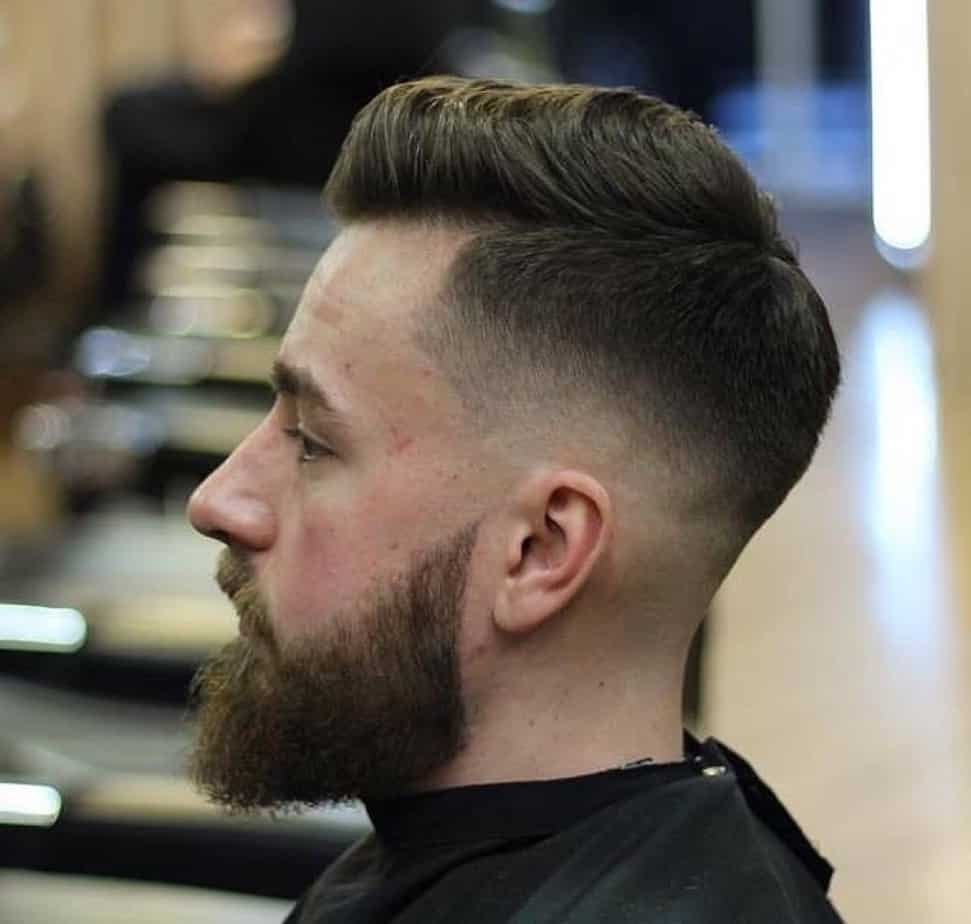 Not one for sideburns? You can choose this variation instead! The hairline around the medium skin fade curves nicely to appear entirely separated from the beard.
8. No-Part with Stubbles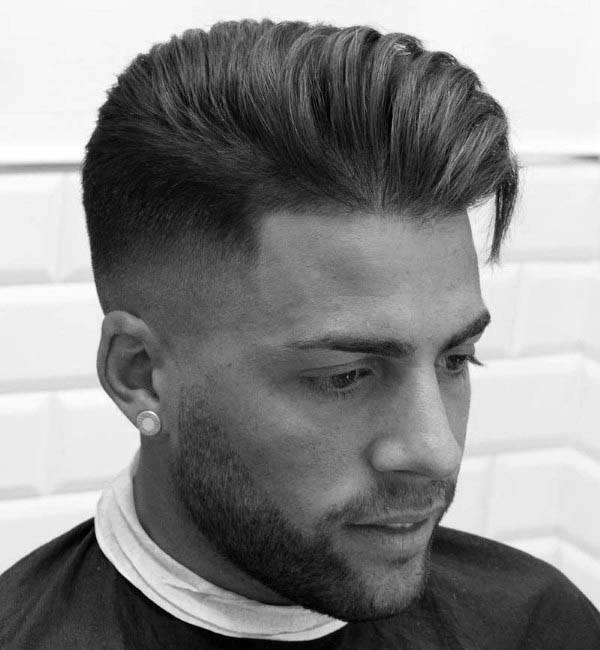 Low-fade comb over goes extremely well with some form of stubbles or beard, as you can see from our collection so far. Comb your hair upwards if you have a long top, and keep your beard well trimmed. Then, you're all good to go!
9. Razor-Shaped Hairlines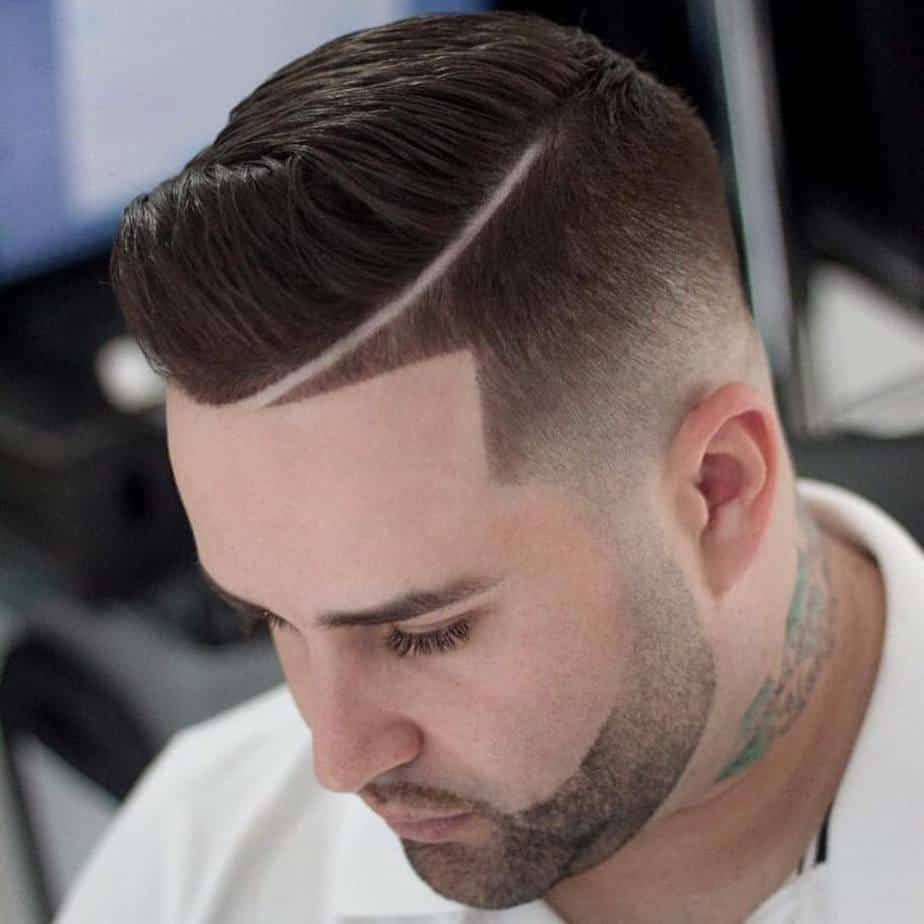 Stay sharp with those razor-sharp parting & hairlines. After all, if you're already at the hairdresser's, why stop at grooming your hair? When you create a parting using a razor, you will never need to doubt about how clear your combover contrast is with the line-up.
10. Natural Parting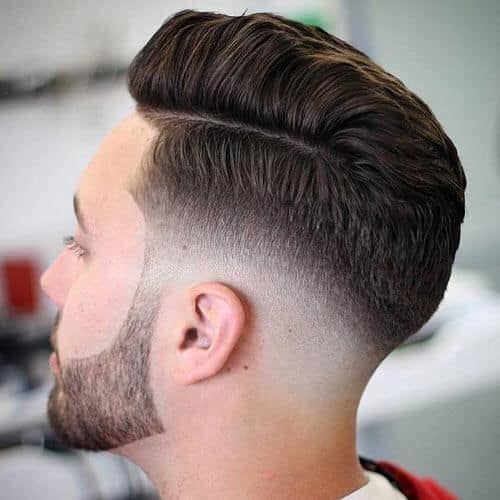 If you think that it's too much hassle to visit the hairstylist every now and then to keep your razor parting sharp, you can just opt for a more natural parting look. Keep your fades and maintenance low with a classic side comb-over.
High Fade Comb Over Styles
Prefer a shorter, sharper hairstyle? A high fade is for you. Let's take a look at the high fade comb over options that you can consider below.
11. The Essentials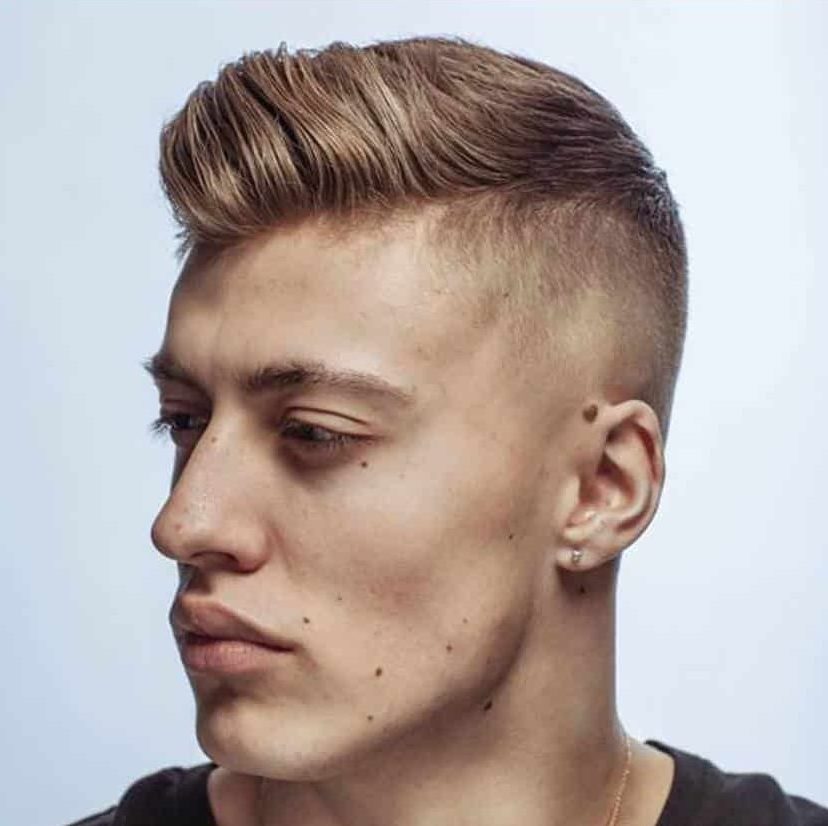 Let's get back to basics! A short cut, longer at the front and swept up, with a high fade. Perfect for if you want to keep a cleanly-shaven face to match!
12. All About Business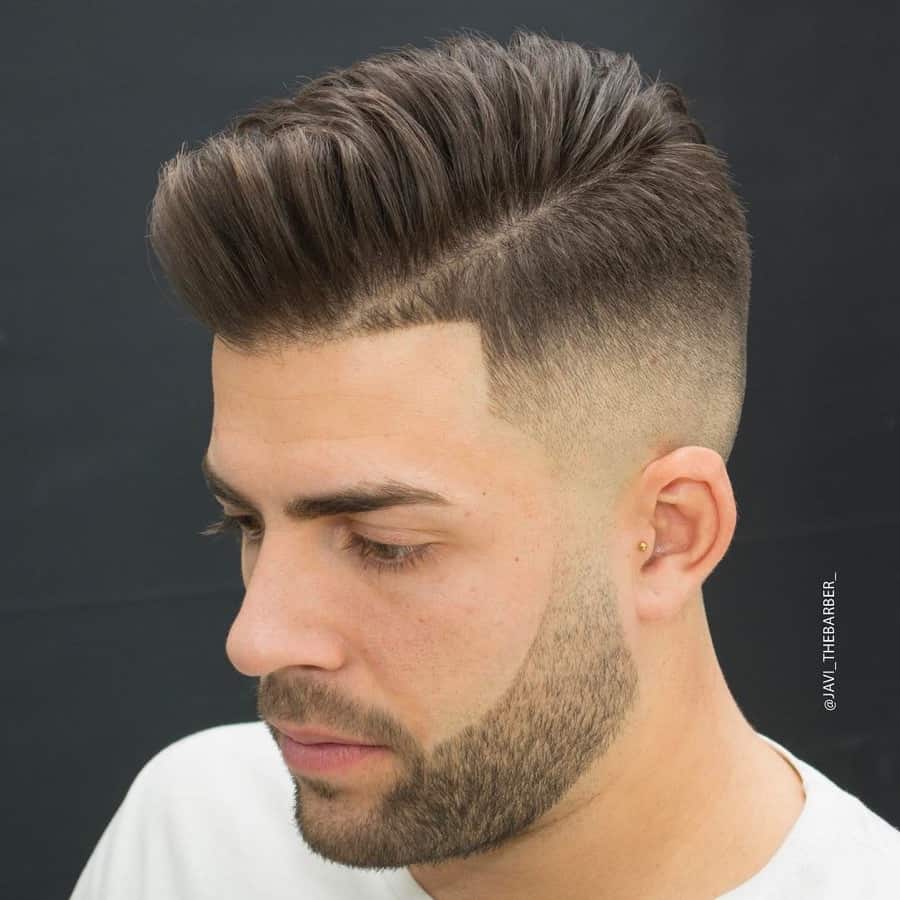 Get to business with this serious high-fade look! This comb over gives your hair the illusion of high volume hair, whether or not you truly have it. Keep your facial hair Well-groomed and trimmed, pair it all up with a suit and you're all set to get down to a business deal!
13. Looking 'Ruff
Want the focus only on your hair's center? Keep it slightly tousled and messy with some holding gel, and finish off your fierce look with a razor line right at the parting!
14. Sweeping Up Texture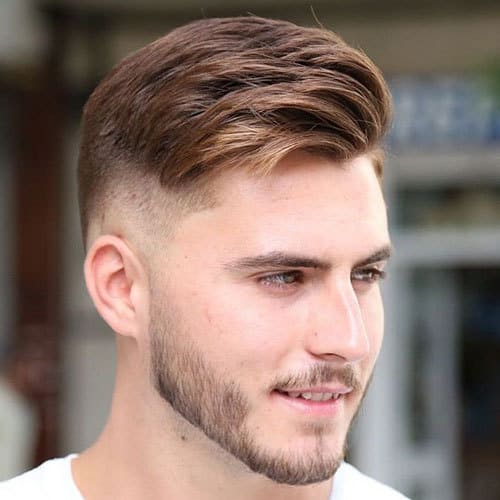 Want something a little more textured? Sure thing, we got you! Create these textured look by applying hair gel on to your hair layer by layer. Start with the lowest layer and work your way up!
15. Long & Dyed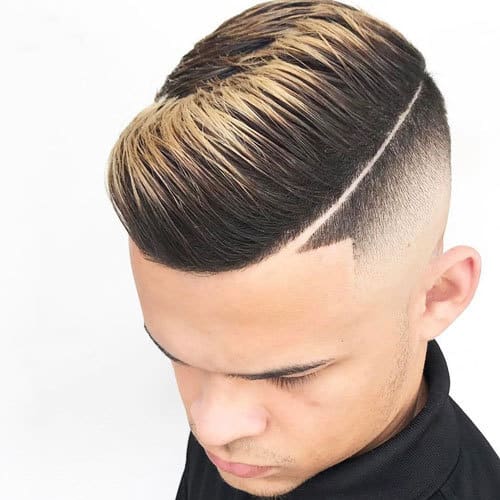 Highlight where your hair typically curves upwards in a comb-over. This hairdo is definitely for the experts and will require high maintenance! Apply these highlights only if you're sure about your hairstyle.
Mid Fade Comb Over Styles
A mid-fade can easily serve as a good transition medium between your top length and any facial hair that you might be growing. No worries even if you are planning to stay clean-shaven though, mid-fades are a safe option for most of us! Here are 5 looks that you can refer to.
16. Slicked Back, Lined Up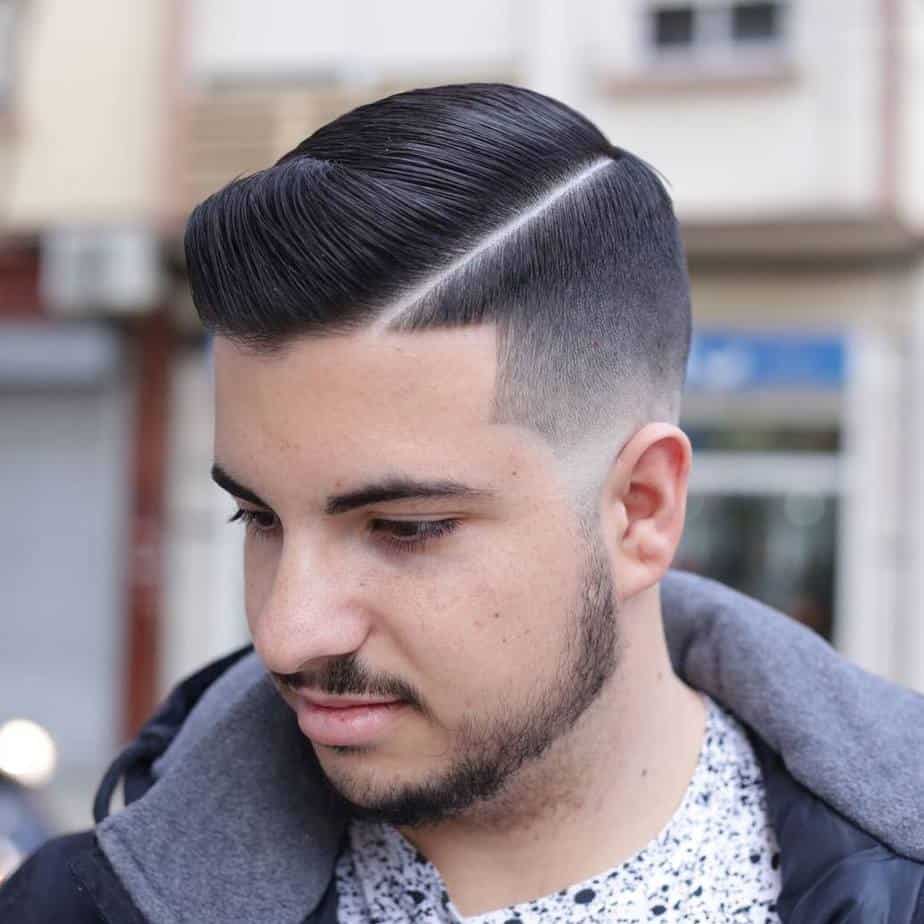 Each part of the hair is going exactly where they should be in this hairdo. You might have some longer hair at the front that you can style differently on other days. In those cases, you can simply hold them away from your eyes by combing them upwards!
17. Much More Subtle
Just for a glimpse of how different a mid-fade can be from a high fade, this photo will do the job! You can maintain minimal facial hair with a mid-fade, and you don't need a clear parting line. As long as the fade contrasts enough, you're fine.
18. For Really Long Tops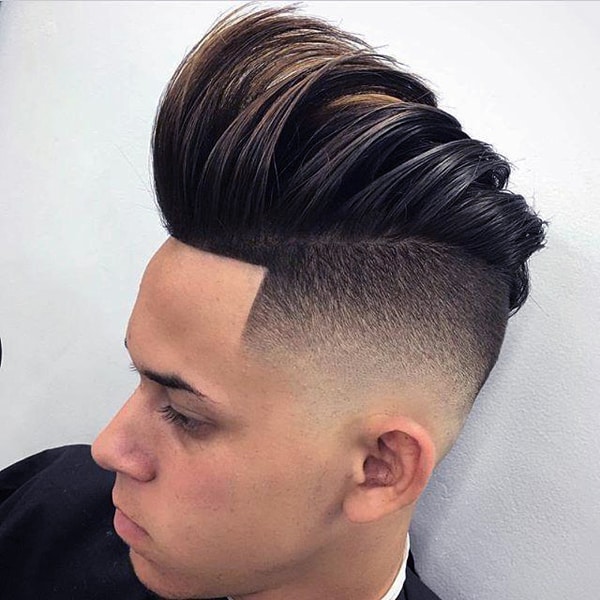 This isn't exactly a mohawk, and not quite a pompadour style either. Either way, you can create a no-part look with long hair at the front with this hairstyle. The medium fade is a nice touch here for an extra smooth transition!
19. Carefully Trimmed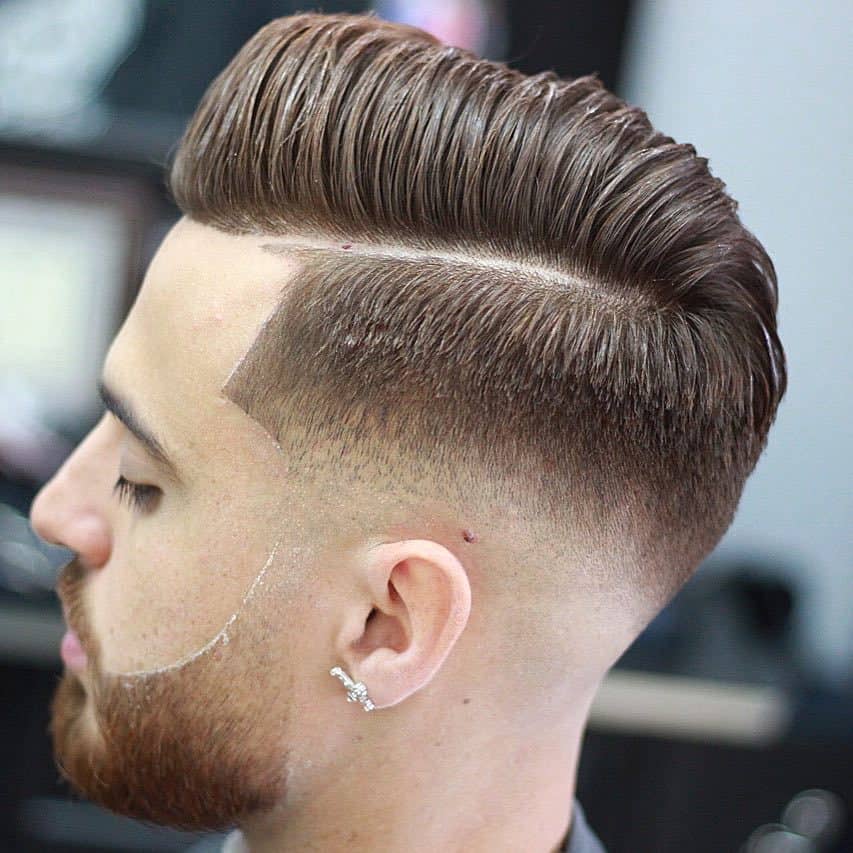 You can see how much care has gone into creating this perfect beard fade to match the mid-fade in this style. This fade combination allows for a cleanly-shaved area just around your ears. Some maintenance is definitely required here!
20. Keeping It Bushy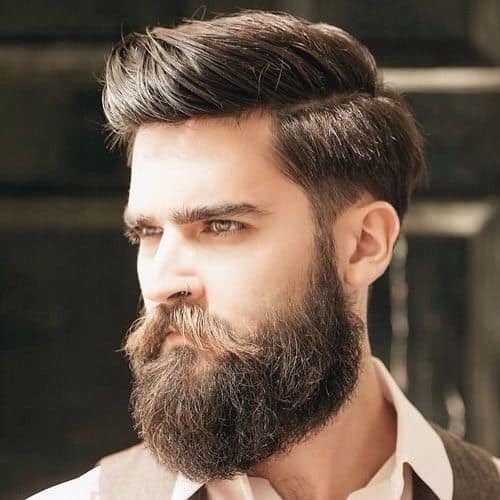 Want to keep long hair all over? This is what you could look like. The fade here is a lot subtler than other styles portrayed in this article, and you can expect the fade length to be what you might get after leaving your hair maintenance-free for a while. The styling is mostly involved in the top part only.
Skin Fade Comb Over
Skin fades should be considered the 'ending move' for any haircuts with a fade involved. No fade is complete until they blend into your skin! Here's 5 styles that you can rock your skin fade comb overs with.
21. The Basic Skin Fade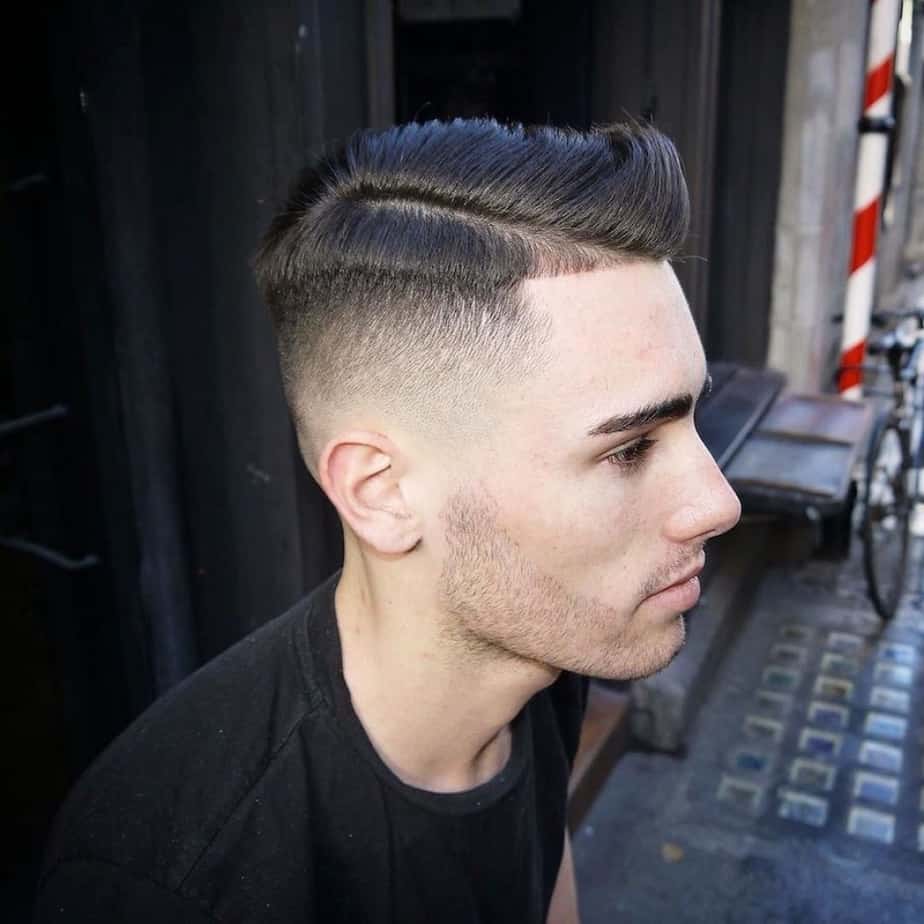 The hair and facial hairs are clearly distinguished with a skin fade. Rather than having a complementary beard fade, you can go for this look if you want to keep some focus on your stubbles.
22. Keep Them Long & Messy
Relatively low-maintenance, you can head out to meet your friends with a slightly tousled look. Just run your hands through your hair with a little hair wax and you're all good to go.
23. Lengthy at the Front
Most of the top for this hairdo is equal in length, except for the front part. If you have this hairstyle, just comb your hair slightly to the side after sweeping it upwards. Any loose strands that end up falling around your forehead can give you an extra stylish look!
24. Sweeping The Curls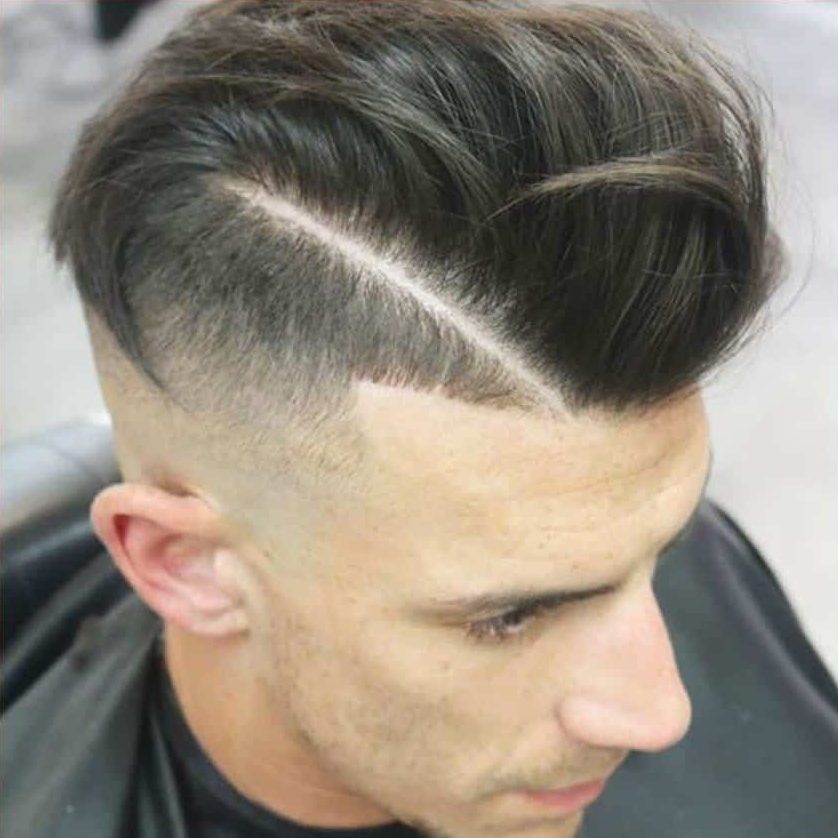 A comb over doesn't need to be in that one style. You might not even need to use holding gel like you do for most other hairstyles. Comb over your lengthy ends and leave the curls to their jobs. It's alright if the curls are all around the place!
25. Pair it Up with a Square Hairline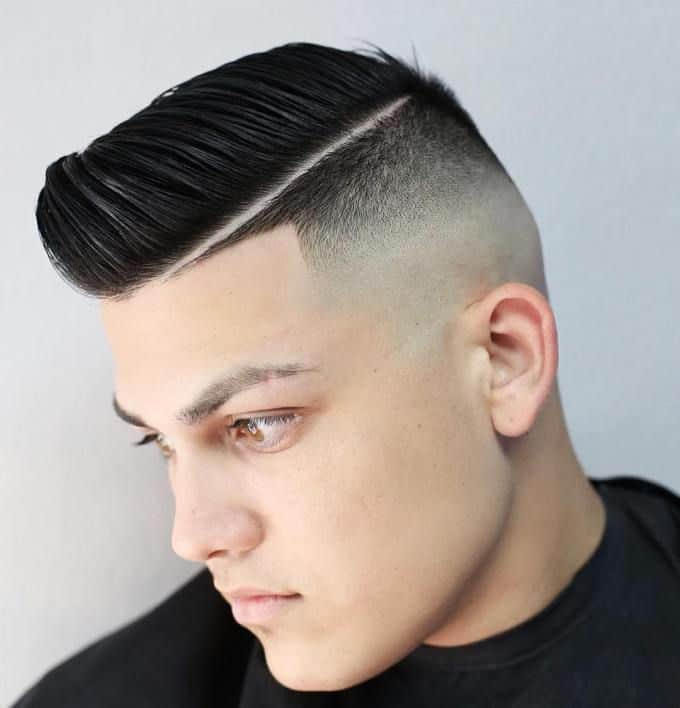 Want an extra touch to your comb over fade? Enhance the contrast with by using a clearly-defined square hairline and a line-up to match! This classic-looking comb over will give you an overall sharp look.
Bald Fade Comb Over
Are you looking for a fade along the sides that give you a bald look once the fade 'dissolves' into your skin? That's a bald fade. Here's 5 bald fade combover looks that you can rock this week.
26. Bald Fade with a Line-Up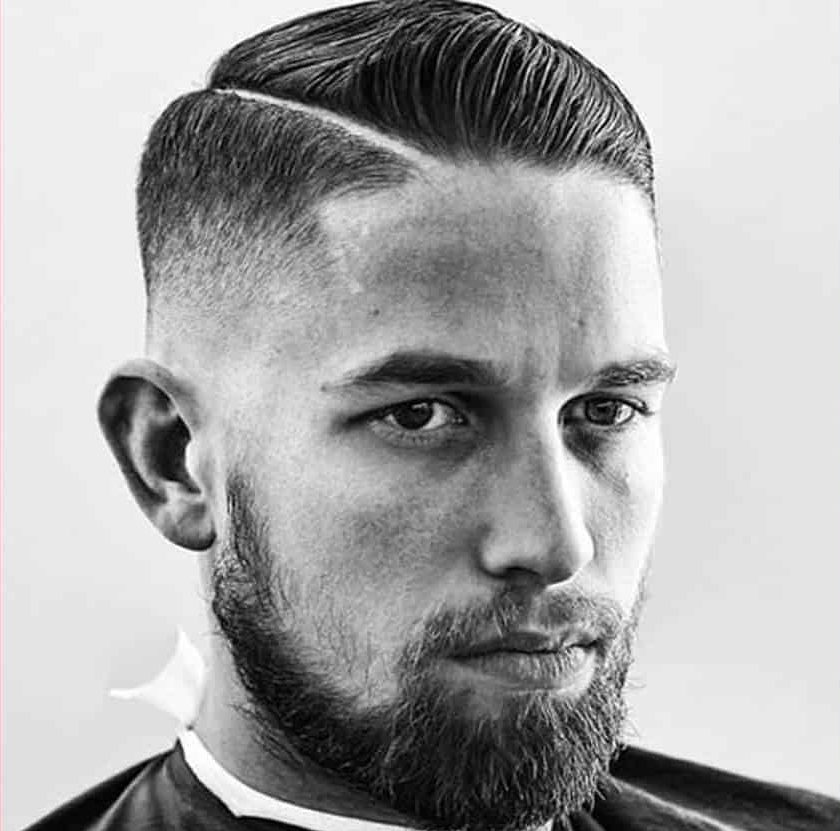 Stay classy with a swept-up fringe and a razor line-up along your parting lines! This military-style look gives you a stern, no-nonsense look that will fit just as well on people in the time of war! In the recent modern days, this style will not look out of place in a business setting.
27. Long Fringe Comb Over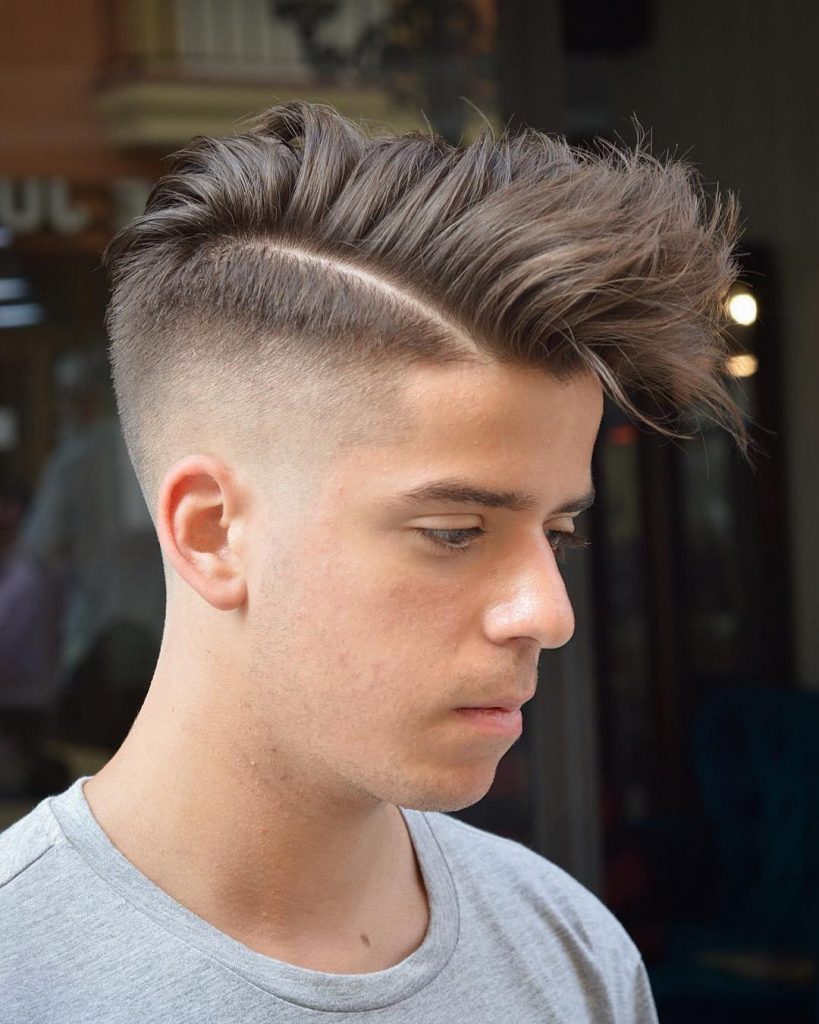 A long fringe comb over will contrast really well with the bald fade on the other side. I probably didn't need to tell you this, but you will notice that you can head out with your bed hair and it'd still be fine if you have this hairstyle.
28. Short Comb Over, Bald Fade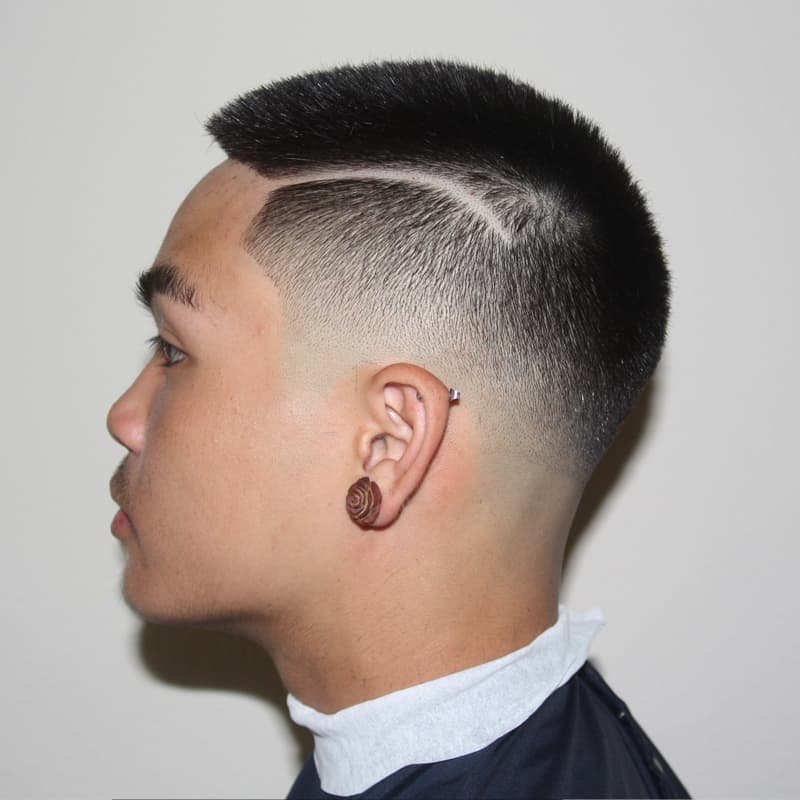 Well, you don't exactly need a comb over if you keep your hair short. Nevertheless, you can always keep an illusion of a comb over with a line-up if you prefer keeping shorter hair.
29. Fading In
You can just comb your hair to one side and have the bald fade do the rest of the job of keeping your hairdo stylish for you! Rather than looking as if you have thick hair all over, the bald fade will bring out a nice contrasting look for you.
30. The Beard Fade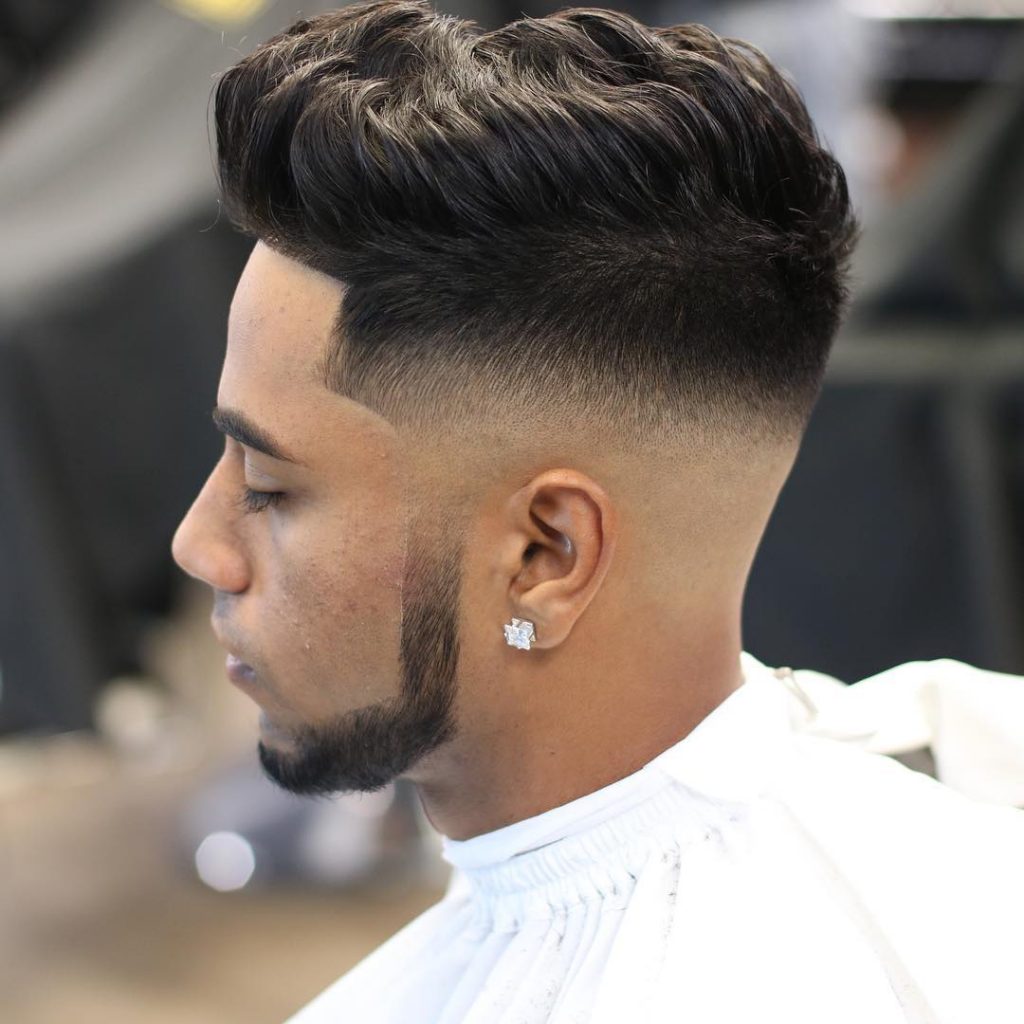 Blend your bald fade in with your beard to create a smooth transition for your fade along with your facial hair. Have your hairdresser get this look for you, but you'll need regular maintenance to keep the shaved lines looking sharp!
Comb Over Fade with Line Up
Sometimes, your natural hairline just doesn't make the cut. This is where a line up comes in! A line-up will give you a neatly shaped and trimmed hairline any way you like it. You can get the edges of your fade very clearly defined with these, and they can make any common-looking hairstyles pop! Here are some examples to get you started.
31. Razor-Sharp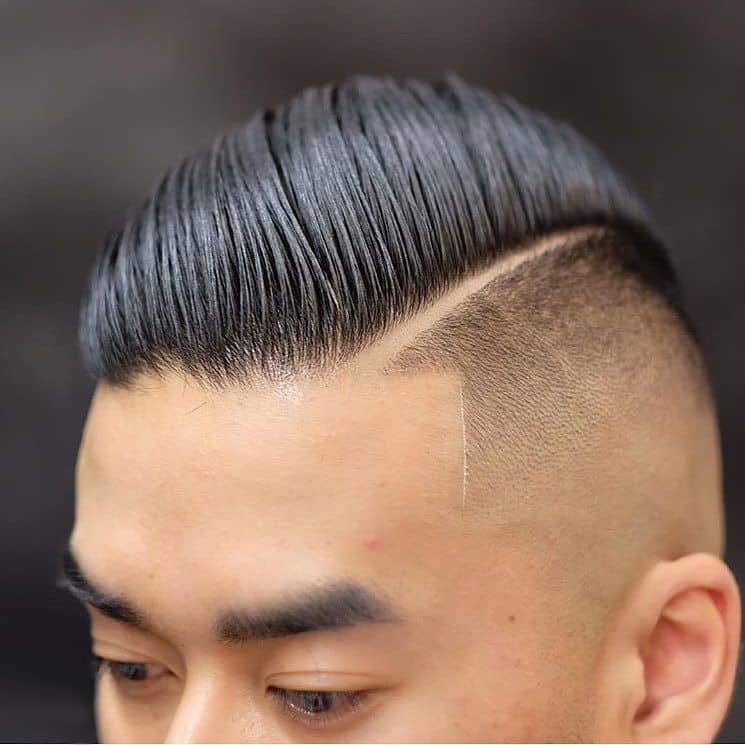 After doing a comb-over, you can make it easy to find your hair parting with a hard part. The one in this photo is clean-shaven with a razor, but you won't need to worry much about it growing back too long. The difference in length in the shaved parts and the fade will let the contrast stay for a while. Combine this look with a line up around the temples to complete your hairstyle!
32. With Some Curls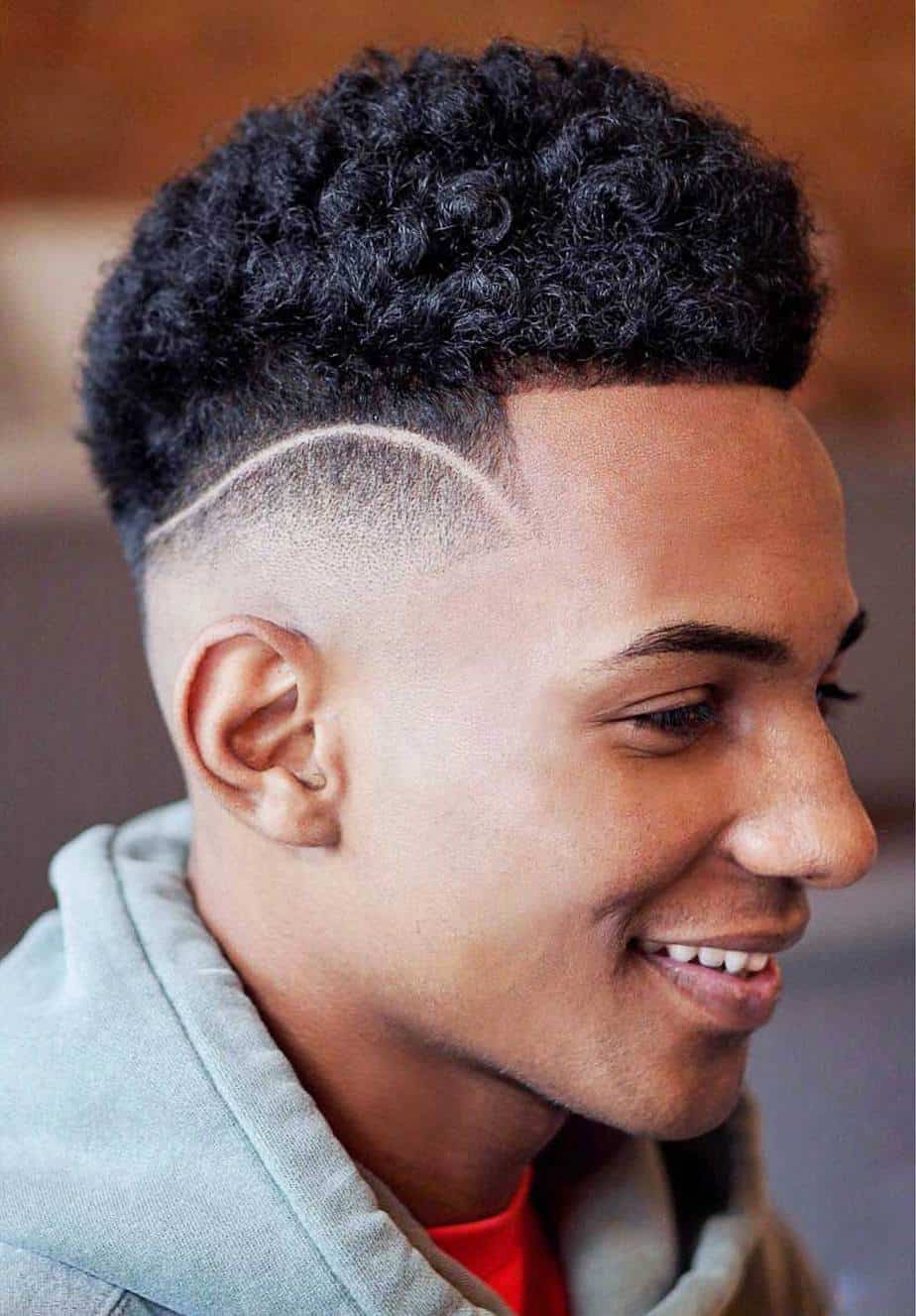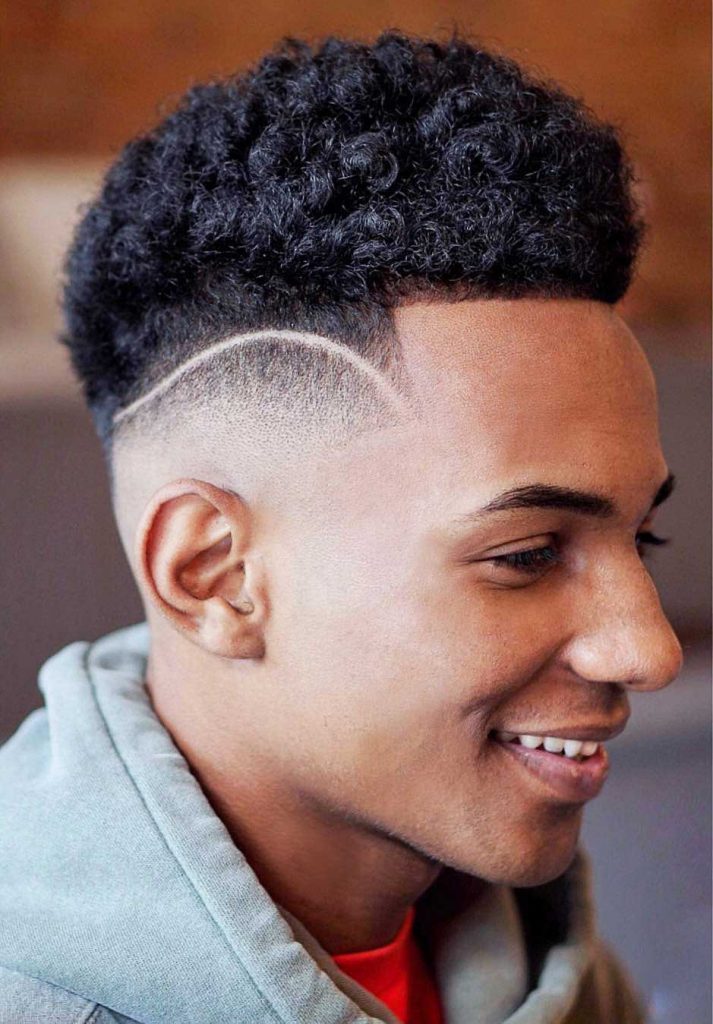 Admittedly, it's hard to do comb overs when you have curly hair. However, there's nothing stopping you from getting a line-up with a high fade like in the photo above! We love the curved razor line in this style as well. If you are still adamant on having a nice comb over with your curly hair, you might need some strong hair gel.
33. Dyed A Little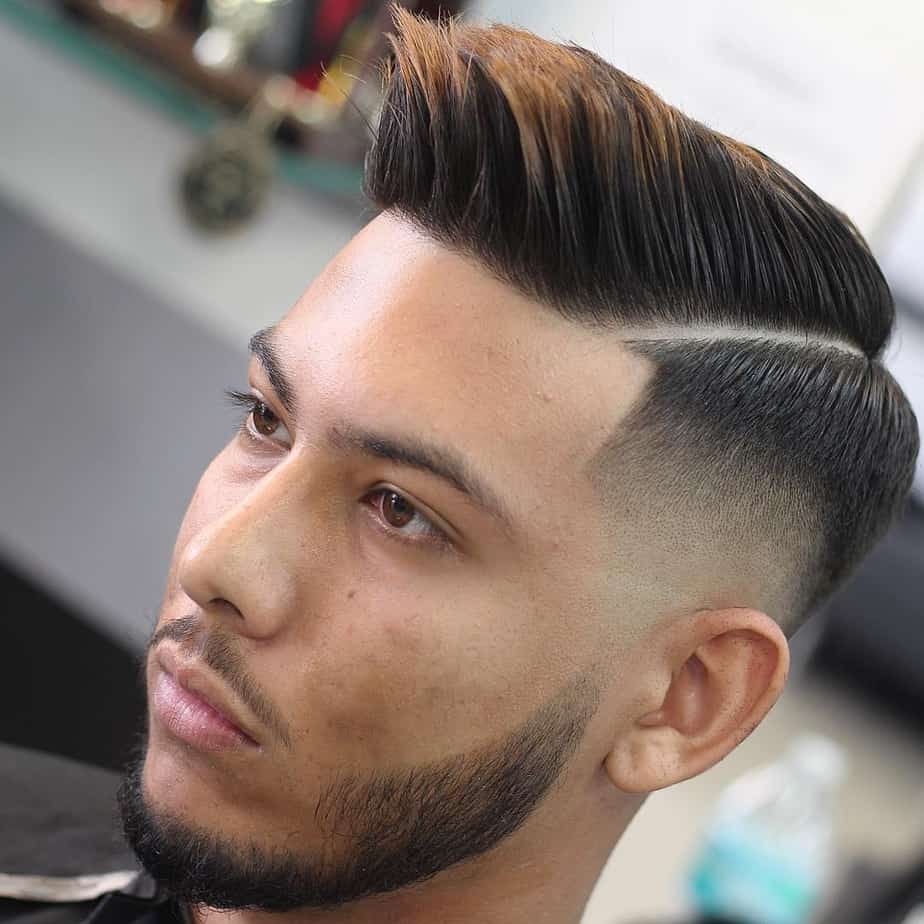 Every single lining and hairlines in this style contribute to the overall sharp look in this photo. Not one for upsweeps or comb backs? Just have your fringe a little pointy towards the end. To top it off, dye the tips of your hair with a bright color for a sunshine-glazed look!
34. Go Light Brown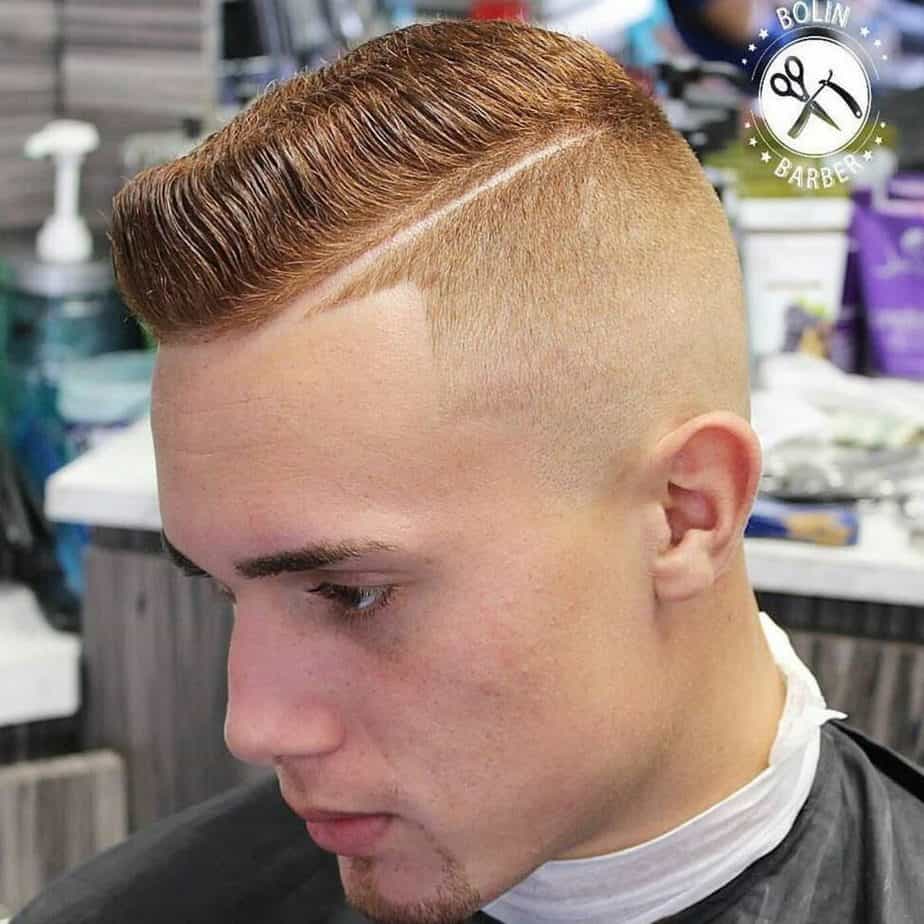 Even the simplest and most common hair dye color can bring a pleasant change to your hairstyle! Pair your comb over fade with a line up together with some hair dye while you're still in the hair salon. I mean, why stop at just styling if you are already there?
35. Textured & Wavy
You can still have your hair looking soft and textured even if you do get a line-up with your comb over fade! If your hair is naturally curly, getting textured hair shouldn't even be a concern to you. You'll be able to get this look quite naturally without the help of any gels or creams!
Comb over Fade with Hard Part
Hard parts are achieved by adding in a shaved line along your scalp to give your hairstyle some added contrast. The line can be as thick or thin as you'd like.
36. Line-Up with Hard Part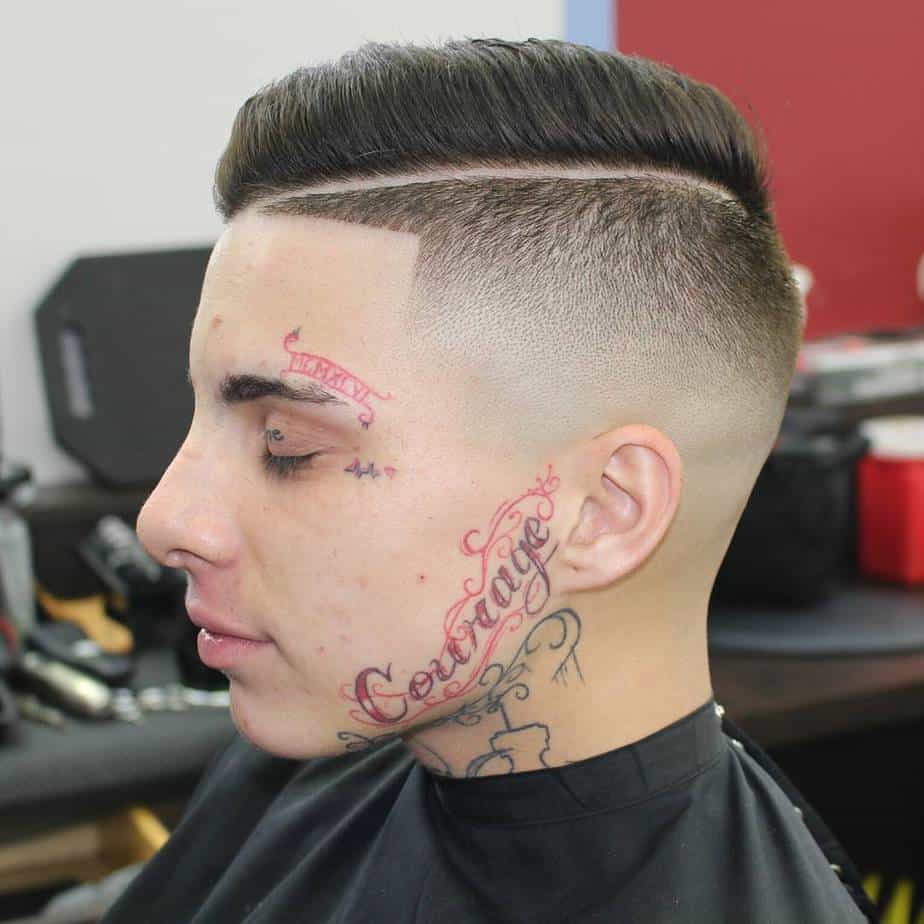 Even in the above section, you would have noticed that line-ups go extremely well with hard parts. This look is even further enhanced by having a bald fade thrown in as well. The tattoos add on to the overall punk style look!
37. Around the Swirls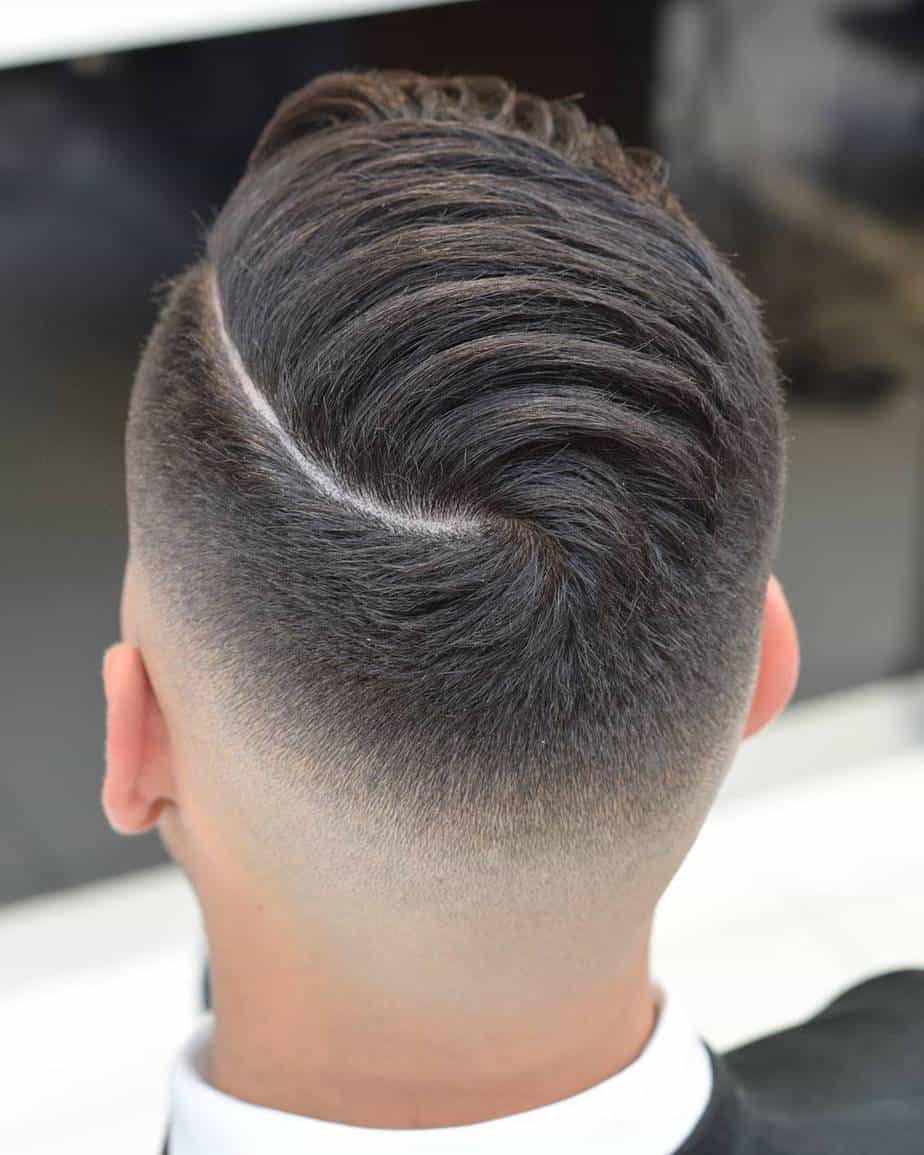 The hair parting in this style is centralized around the hair's swirling direction. The unique hard parting is equally swirly in this look!
38. The Conventional Way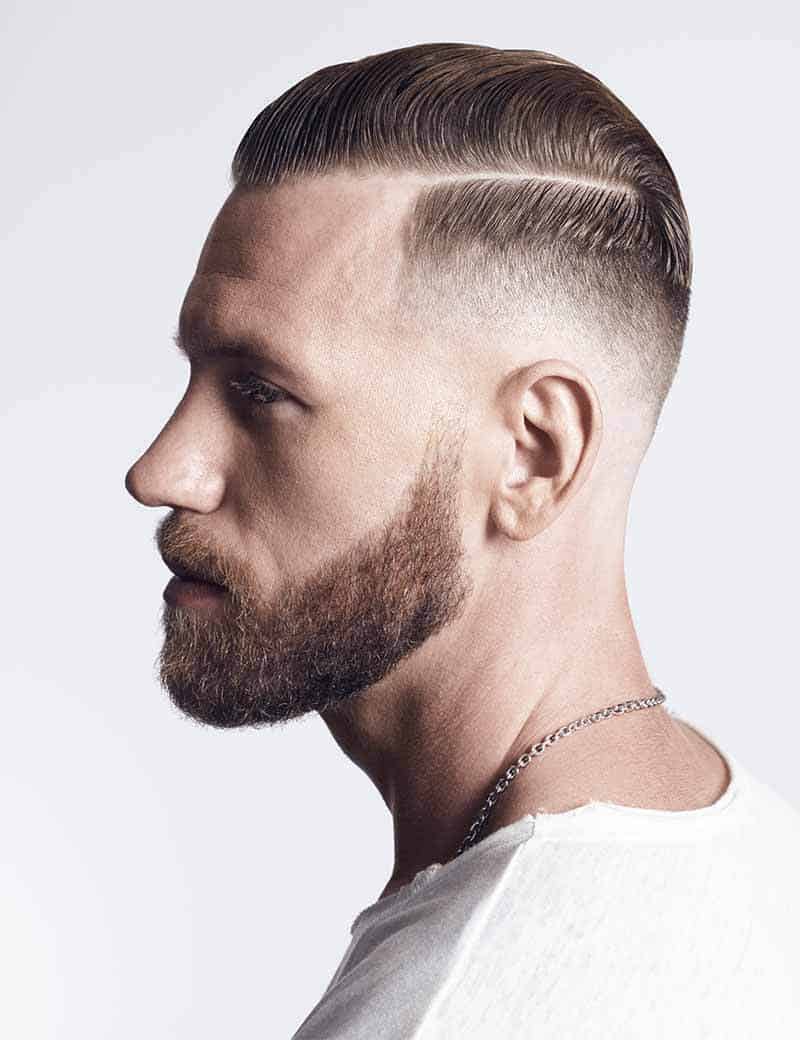 Hair short- to mid-length, combed and slicked back, with a no-nonsense high fade and hard part. This looks screams 'conventional' and strictness!
39. Keeping it Lengthy & Casual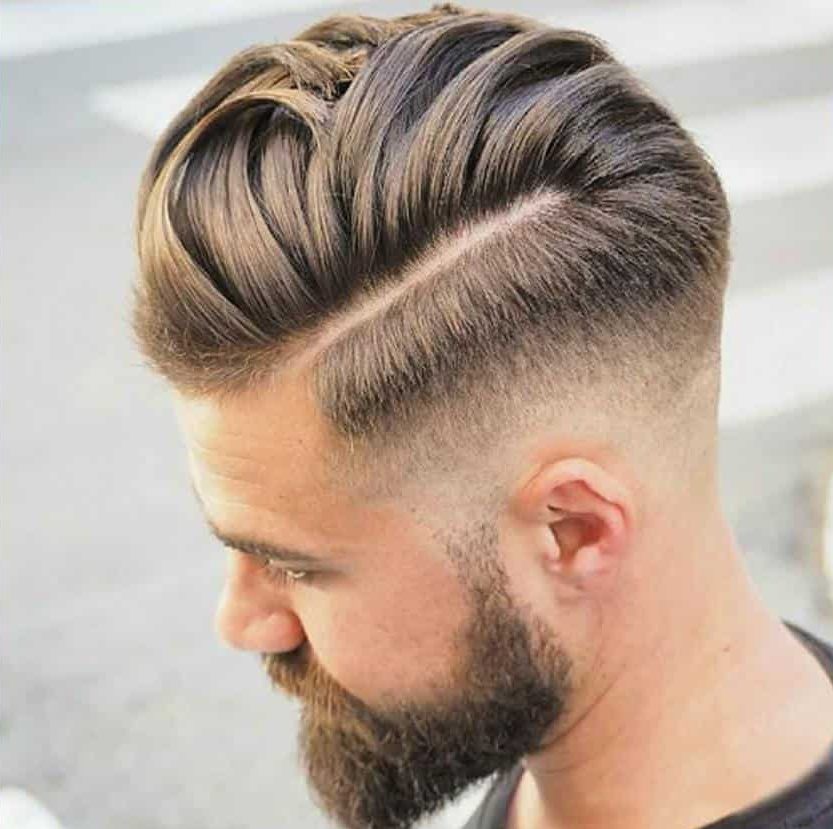 Enhance your casual hairstyle with your hair casually slicked back in loose curls! The high fade adds on to the excellent contrast in length between the top and the sides.
40. Leonardo DiCaprio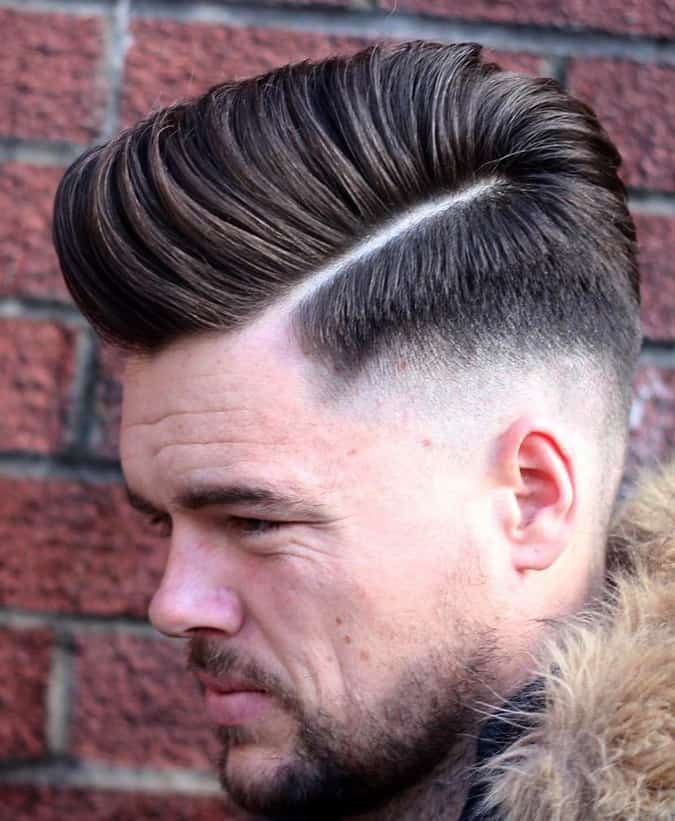 Thick hair upswept and medium fade dissolving into the scalp pairs well to produce an overall extravagant look befitting of this famous actor.
Comb over Fade without Part
Comb over fades need not have a clearly-defined parting line. Curious? Read on to see 5 examples of this low-maintenance hairstyle!
41. Even for Thinning Hair
A comb over fade can give an illusion of volume easily for men having thin hair issues. The tip is to blow dry your hair with high heat to keep your hair looking thick!
42. The Everyday Look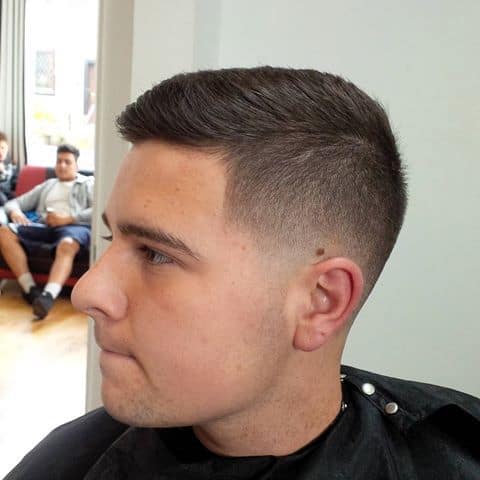 Other than needing to redo your fade every once in a while, there isn't much maintenance needed in this hairstyle. Depending on your hair type, you might also need to hold the comb over in place with a little more gel.
43. Line-Ups Everywhere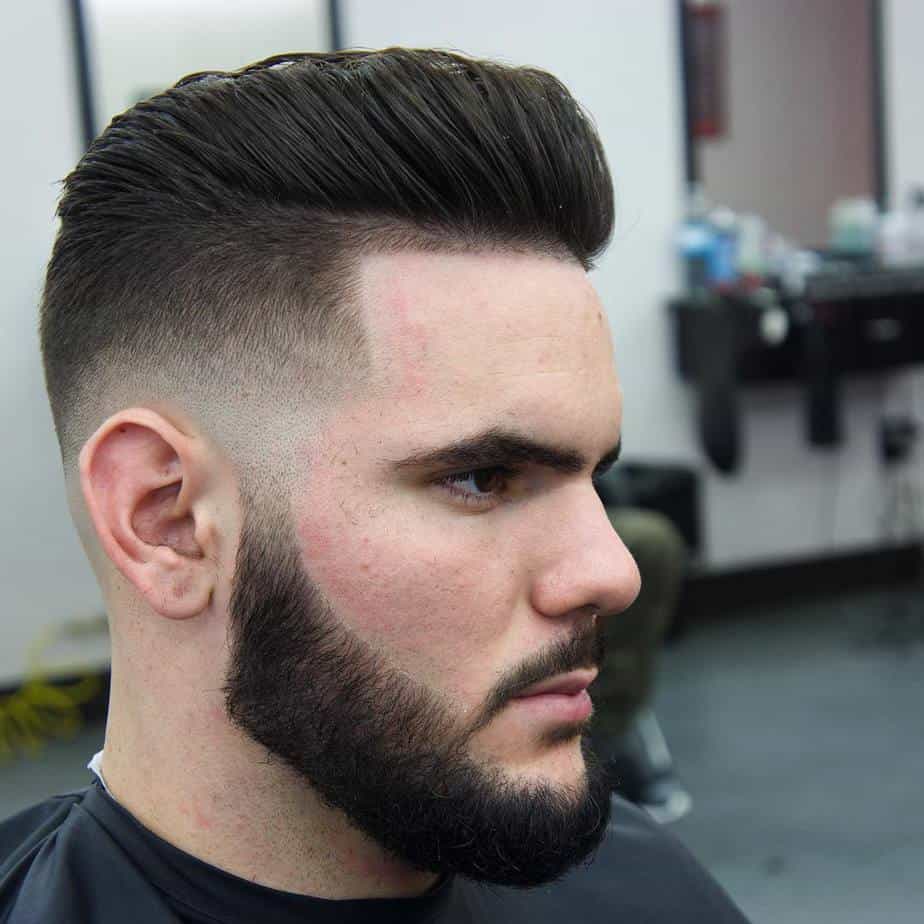 The line-ups are really satisfying to look at simply because they are all so neat and well maintained! If you are one of the lucky few who can grow a uniformly bushy beard that you can groom in this manner, by all means, go ahead.
44. All Gelled Up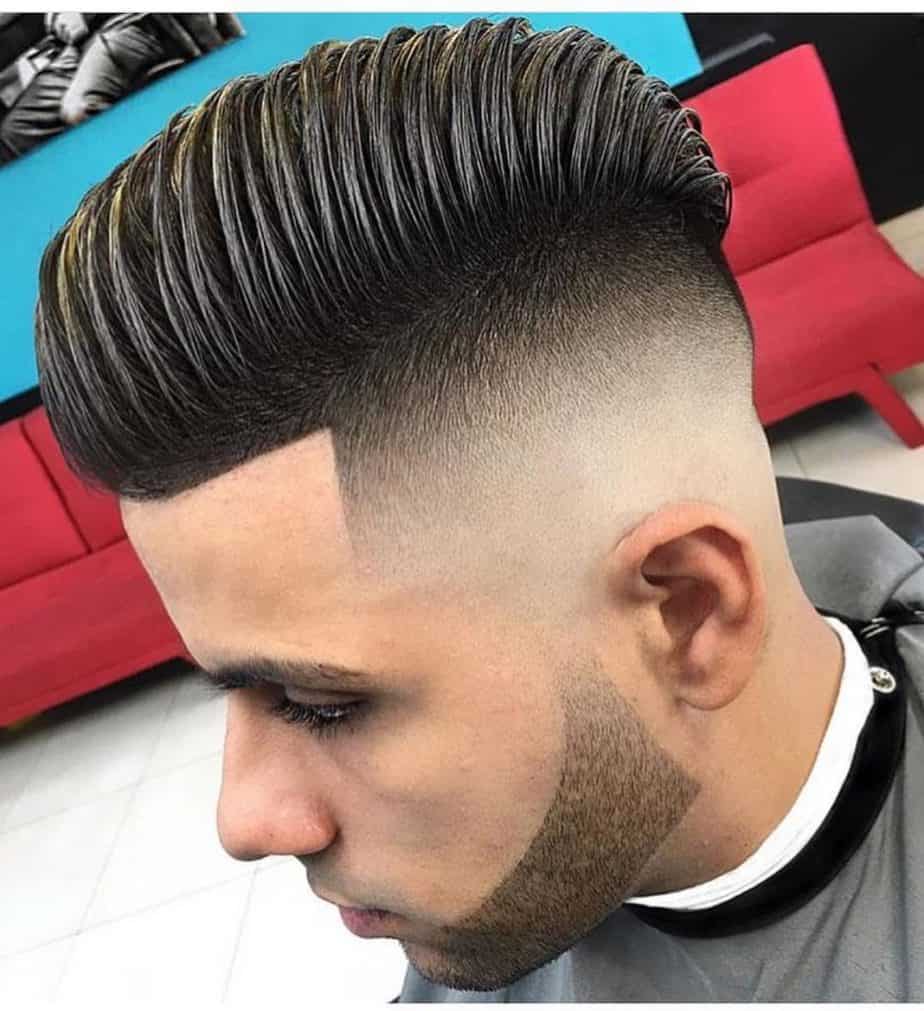 Thick hair will require lots of hair gel to keep your hairdo slickly combed over the entire day. The curvy line-up around the beard can frame your face well!
45. Combed Back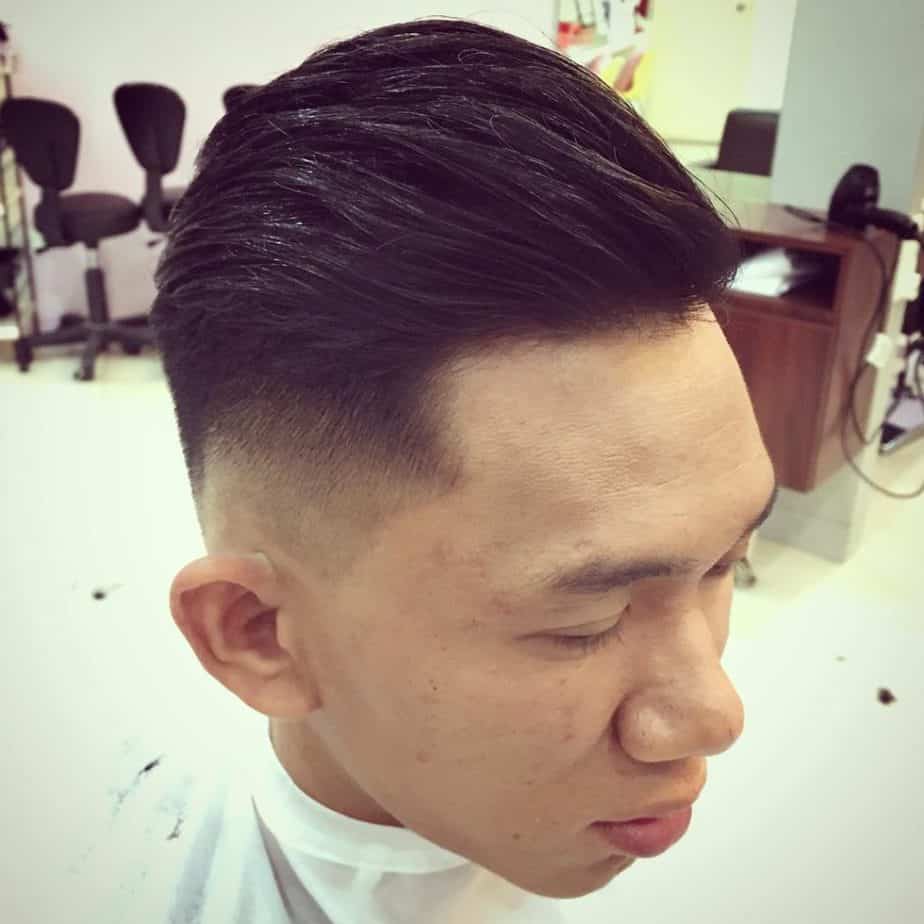 They said 'comb-over', but they never specified in which direction. You can achieve this look by sweeping your hair upwards over the contrasting fades at the side.
Comb Over Fade for Curly Hair
Curly hair can rock the comb over fade looks too! However, how clearly your hair is parted could differ greatly depending on how curly your hair is overall.
46. Wild & Free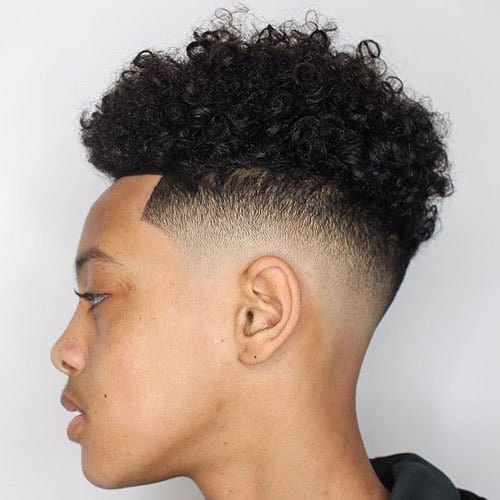 A high fade, line-up and curls on the top all in one hair style. If your hair is more stubborn and refuses to get combed over, this is a style that you can go for. The curls will contrast well with the high fades on the side!
47. Loose Curls All Wavy
You might not need much styling if your hair is naturally curly like this. Just make sure that your curls blend into a fade nicely on the sides so that it does not appear too out of place.
48. Free-Spirited Trendiness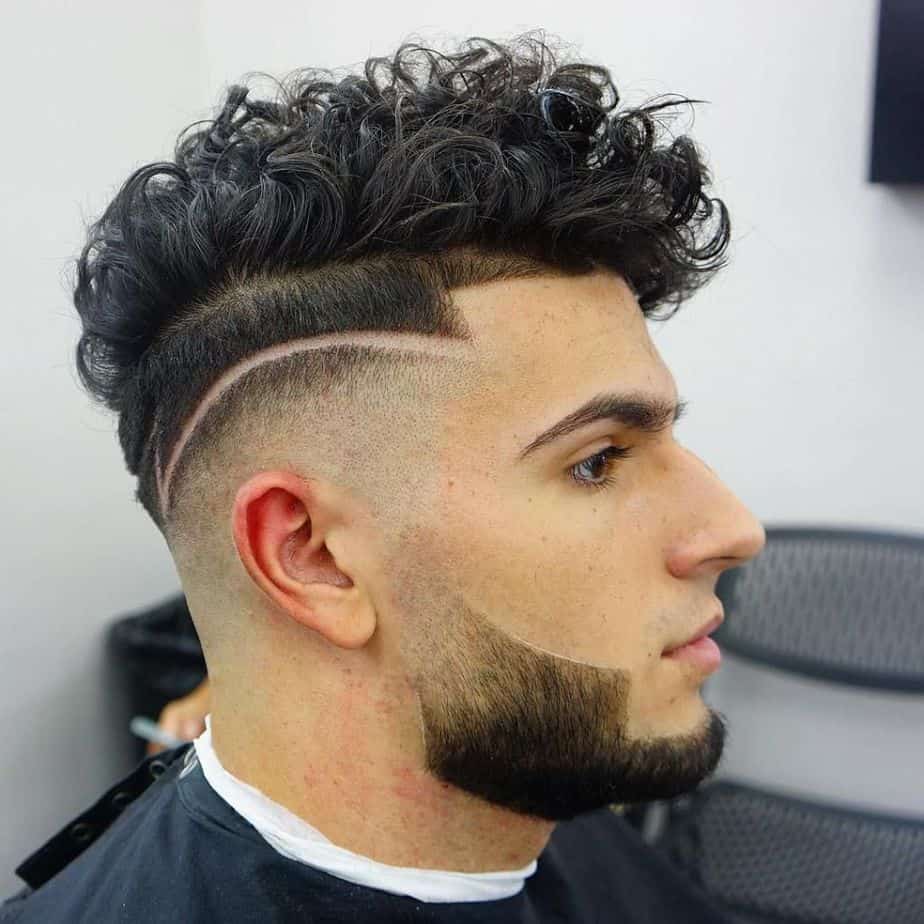 Curly hair on a comb over can look just as good without any tending to! With a clear parting line and curvy line-ups to match, you are matching several modern hairstyle components all into one. It's definitely a look for you to rock for taking vacation photos!
49. Tousled Fringe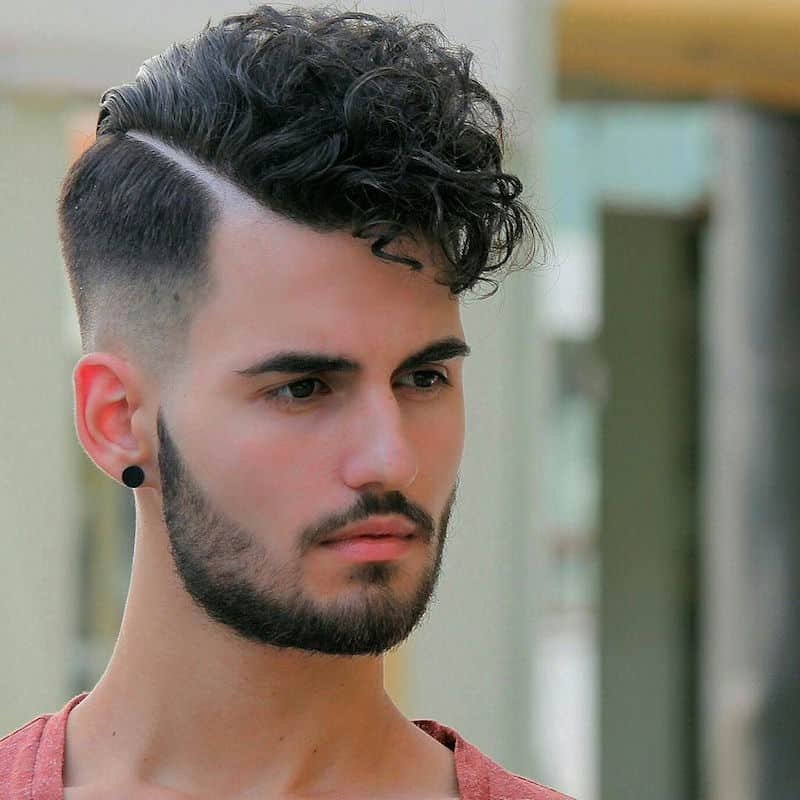 If you want to appear a little tousled but not too messy, this is a look that you can go for. You can keep your fringe long and leave the curls to dangle over your forehead. At the same time, keep a medium fade that starts around where your curls fall. It keeps a very satisfying balance for your overall appearances! The thicker part just right before the fade blends in perfectly with the rest of the fade.
50. Wild Strands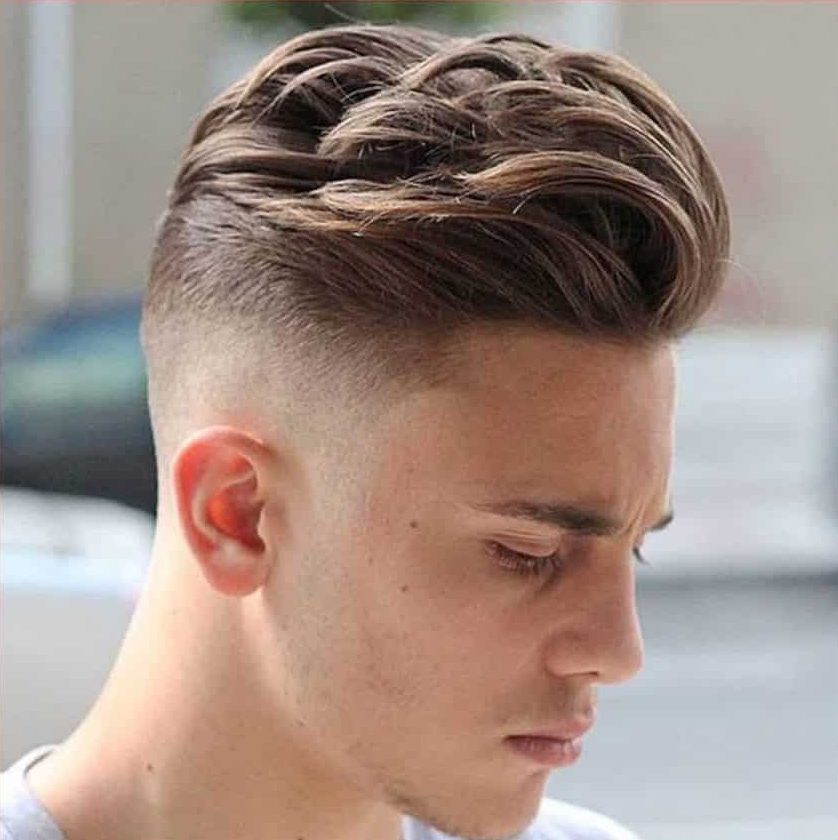 If your hair is just slightly curly, perhaps only at the ends, you can comb over your hair in that direction. Look as if you have the wind in your hair without too much mess with this look! Apply your hair gel onto your hair layer by layer to perfect this look. See, even if you are clean-shaven, a comb over fade can suit you perfectly well!
Try Comb Over Fade with Various Designs
Like pretty much all other hairstyles, a comb over fade can also be done with unique designs embedded into it. Who said that your parting has to be exactly where your hair and fade is separated? No one said that the line-ups need to be a straight line either. See the looks below to get an idea of what you can do!
Curved Razor Line
Even sparse stubbles can look good if you can line it up with the fade. Watch how the beard curves right into the rounded corners of the fade near the ears! The curved razor line also adds a nice touch to the overall style.
Two Razor Cuts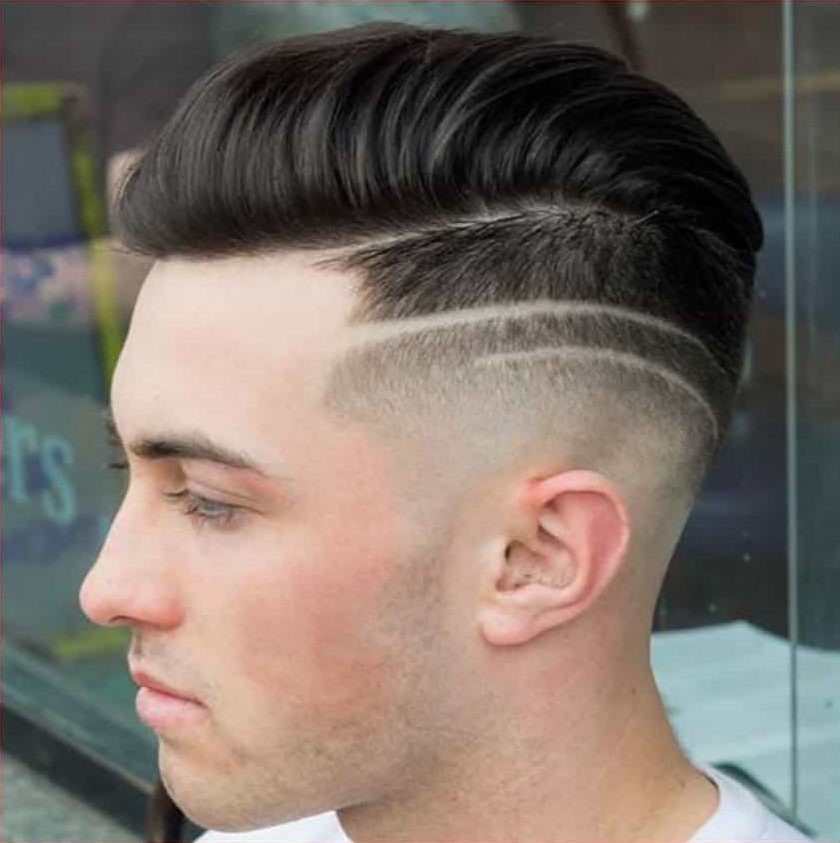 There's your hair parting, then there's a razor line along the line-ups from the front. Then, to add on, there's yet another shaved line underneath the first line, originating from the back of the head. This look creates a unique look that can complement your high fades!
Fading In With Style
Want a bolder fashion choice? Embed a pattern into your fade! Patterns such as the feather within this fade are more compatible with high fades. There's no real reason. It's just that it leaves more space for your hairstylist to experiment around with. You can embed a short name, simple geometric patterns and more into your fade! Imagine how good this might look right along the sides of your comb over!
There's only that many basic cuts that a man can go for. Rather than getting your classic crew cut every time, you can try getting a comb over with fades to spice up your fashion choices a little more! Did you find a style that you like in this article? Let us know which one is your favorite by leaving a comment in the section below!