Gone are the days when we used to see men sporting slicked back and perfectly combed hair. Surfer's hair is the latest and hottest trend these days that is gaining the attention of the masses every day.
Now, unlike its tradition of gaining surfer hair through surfing and experiencing the beach air and salty water, men have come up with many convenient solutions for those who are not big fans of surfing and yet are interested in surfer's hair.
This hair trend dates back to the 1950s when naturally thick long hair, bleached ends, and a tousled appearance of the hair were all the rage.
How to Get Surfer Hair?
Let Your Hair Grow
First, you need to let your hair grow at least a few inches. The longer the hair, the more material you have to work with for those awesome waves. So, patience is key here.
Build The Texture
Now, let's get to the texture. That beachy, wavy texture is a hallmark of surfer hair. To achieve this, sea salt spray is your best friend. Just give your damp hair a good spritz and scrunch it up with your fingers. Instant beach vibes!
Condition Hair
The sun and salt can be tough on your hair, so it's important to keep it moisturized. Use a conditioner in the shower, and consider a leave-in conditioner for that extra bit of love.
Create The Waves
If you have natural waves, great! If not, you can use a curling iron to create some. Just be cautious not to go too curly – you're aiming for loose, natural-looking waves.
Wash your Hair Less
This might sound a bit odd, but try not to wash your hair every day. Allowing the natural oils in your hair to build up helps with texture and gives it that authentic beachy look.
Lighten Hair With Sun-Kissed Highlights
If you want genuine sun-kissed highlights, spending time outdoors is key. The sun will naturally lighten your hair. But remember, while you're basking in the sun, always wear sunscreen to protect your skin.
Embrace the Mess
Last but not least, don't stress about having perfectly styled hair. Surfer hair is all about being natural and relaxed. If it's a bit messy or the waves aren't uniform, it's all good. That's part of the charm!
Surfer Hairstyle Ideas for Men
The number one thing to do when one wants to achieve surfer's hair is to let the hair grow naturally. You will have to control the urge to 'trim just a little' so as to achieve the perfect type of surfer's hair. Length of growing hair varies but from sides, it is preferred to be till the chin and from the front, to be till the eyes or even lower.
The texture, curls and beachy waves will come with time and different styling techniques and products. The following are the unique and most popular ways to style a surfer's hair.
1. Men's Tousled hairstyle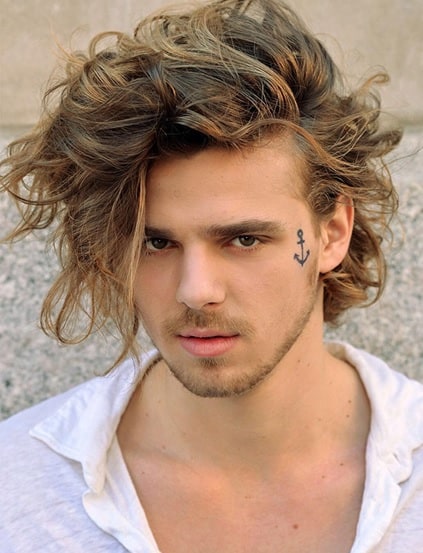 To achieve a perfect tousled wave with surfer hair, a little bit of styling product will go a long way. The usage of a styling product will make the bleached parts of the hair visible and will give texture to the hair. This look does not require hair in very long length but can be manageable in both short and long hair.
2. Middle-parted slick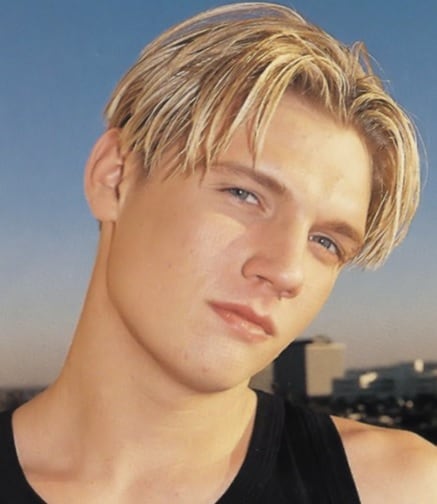 This is the most basic hairstyle in the surfer hair book. It requires little to no effort. Just middle part the hair and apply some styling product to slick them in place.
3. Undercut style
This type of style does not really give off a very surfer hair vibe but is classified so. This haircut requires the main, bleached tuft of hair to be on the head and the sides are almost shaved.
The shaved tuft of hair is what shows off as surfer's hair. The tuft of hair on the head is usually long in length which is why it can be switched to either side of the head for styling purposes.
4. Curly style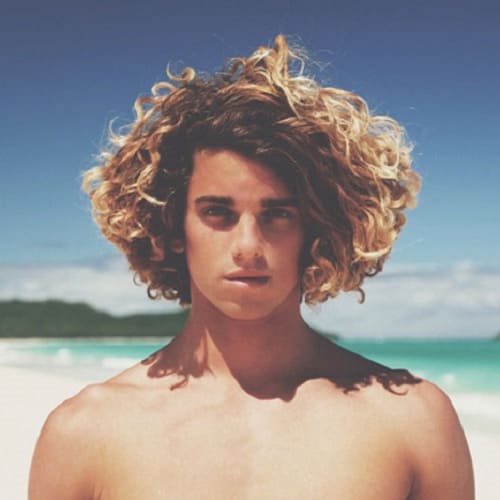 This style is specific for those who have curly hair naturally. It does not require much effort at all this style asks for is to grow your hair out to long length, naturally and then either let it be or style it in any way that you like.
5. Short Surfer Hairstyle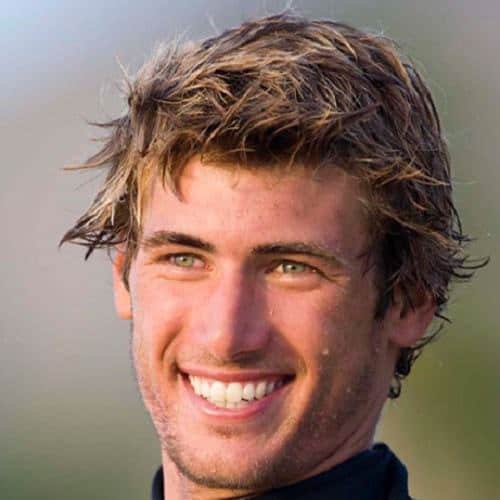 When talking about surfer's hair, it does not always mean having to grow the long length of hair and experience salty water for the look. Surfer hair can also be achieved with short haircuts such as the one shown in the picture.
The only thing done to achieve this look is to get parts of the hair bleached and then styled in a beachy way.
Damn Cool Crew Cuts for Stylish Guys
6. Short hair, side-swept surfer hair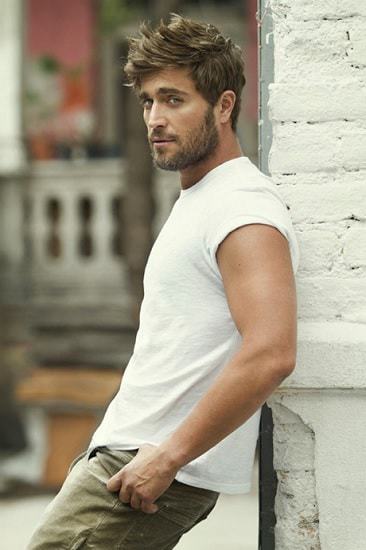 When looking at the name of this hairstyle, it sure looks like a lot of effort but it requires very little in real. This haircut can be considered very similar to that of a Mohawk as well.
The short hair, side-swept surfer hair look is achieved by getting the haircut in one side direction and getting them styled in such a way that they look windswept.
7. Formal surfer hair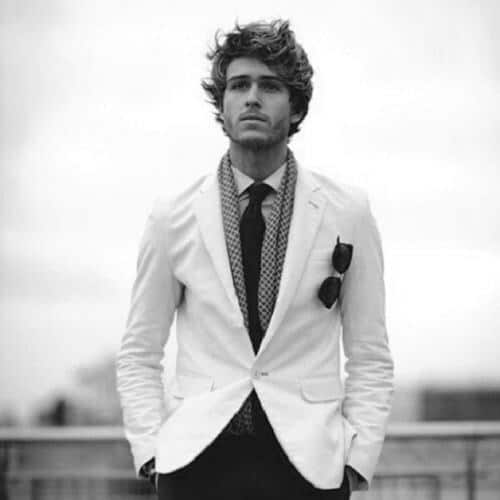 The name itself, surfer's hair, gives off a very casual vibe. However, it is not necessary that this look can only be achieved in a casual manner. It can also be styled to carry in a professional setting like the one shown in the picture.
8. Shaggy and Free
Let's kick it old school with the shaggy and freestyle. It's the classic surfer dude look, with hair that seems like it's never seen a comb. Don't worry though, it's all about letting your hair do its thing.
Just let it grow and use your fingers to sweep it back every now and then. A little sea salt spray and you're golden.
9. Sun-kissed Waves
Want that perfect beach vibe? Go for sun-kissed waves. This is basically what your hair looks like after a day of surfing – natural waves with that beautiful sun-bleached color.
To get the look, use some lightening spray and let the sun do its thing. Add a touch of texturizing spray for those waves.
10. Laid-back Bun
Sometimes the waves can get in your face, no worries! Just pull it back into a laid-back bun. Keep it loose, don't stress it. It's like a man bun, but more chill. Perfect for when you're grabbing a post-surf snack.
11. Side Part Surfer
This one's for when you wanna look a bit polished but still rock the surfer vibe. It's simple – just make a natural side part and let the waves hang.
A little bit of light-hold product will keep things in place without making it look too done-up.
12. Saltwater Slick-back
Imagine riding the waves and then heading straight to a beach party. Keep the ocean vibe by slicking your hair back. It's all about capturing that wet, fresh-out-of-the-water look.
Use a high-shine pomade and comb it back. You'll look like you just stepped off your board.
13. Loose and Long
If your hair is naturally long, this style's for you. Just let it be, man! Let it flow down your shoulders, loose and natural. The wind and salt water will give you all the texture you need. It's the ultimate carefree surfer look.
14. Wavy Pompadour
Take the classic pompadour, add some waves, and boom! You've got the wavy pompadour. It's like Elvis went surfing. To get this style, you'll need a good volumizing product.
Apply it to damp hair, then blow dry while combing it back. Give it some wave with your fingers.
15. Beachy Spikes
Remember those spiky hairstyles? Let's give that a surfer twist. Instead of using gel, use a texturizing spray. Make those spikes a little wavy and messy. It's like you're too busy catching waves to worry about perfect spikes.
16. Headband Hero
Rock the waves and keep them out of your eyes with a cool headband. Choose something with a beachy pattern. It's functional and gives you that chilled surfer look.
17. Braid
If you have longer hair, try braiding it. Not too tight, keep it loose and relaxed. It's practical for when you're hitting the waves and stylish for when you're chilling on the beach.
18. Surfer's Fringe
Let your hair grow long in the front and sweep it to the side, letting it hang down a bit. It's a relaxed fringe that says "I spend my days riding the waves."
19. Textured Top with Faded Sides
Get a fade on the sides but keep the top longer and full of texture. It's like a modern surfer meets skater vibe. It's clean-cut but still says you know how to have fun on the waves.
20. Full-on Flow
And for the grand finale, let's go full-on flow. Long hair, don't care. Let it grow, let it flow, and let the saltwater and sun give you the best natural highlights and texture.
Surfer hairstyles are all about the waves and the laid-back lifestyle. Grab your board and hit the beach! Now you have seen a cool collection of hairstyles to style your surfer's hair. So hurry up and grab your hairstyle to get a beach boy look!