A cowlick is a tuft of hair that shoots up in a different direction than the rest of the hair. Cowlicks are very visible and common among men since men usually have short hair, so any stray or errant lock is easily visible.
You just watched a few stunning hairstyles on the internet that are easy to make and look great. However, thanks to your cowlick, you can't really pull off the hairstyles the way you wanted to. Well, what do you do now?
Many men have to deal with cowlick hair that just would not stay down. It can appear on the front side of your hair or at the back but most guys have cowlick hair located on the crown of the head.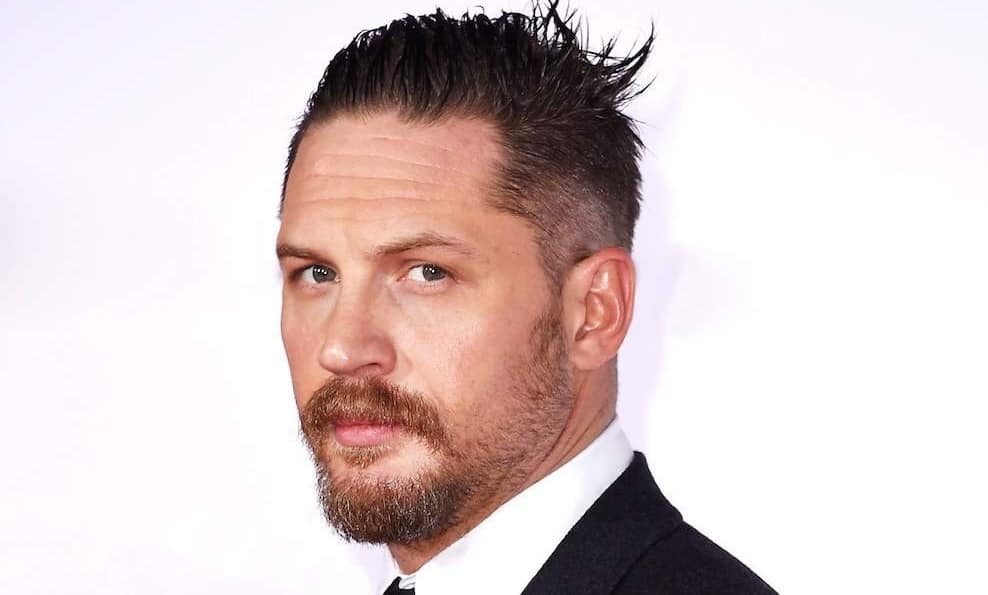 Fortunately, there are various ways to keep it down. We will guide you to tame those cowlicks and create stunning hairstyles that complement your overall look.
Identify Your Cowlick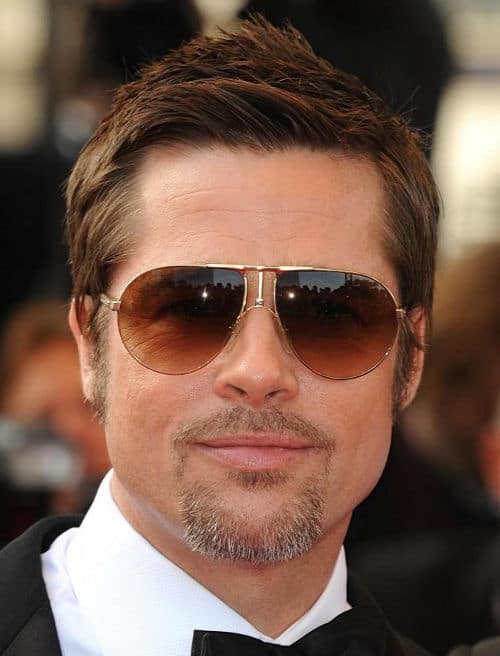 The first step in fixing your cowlick hair is knowing where the cowlick is. You can easily identify cowlick hair since it is characterized by a swirl of hair going in the opposite direction as the rest of the hair.
In some cases, a cowlick appears right on the front of the head, over the forehead, and on the crown where the tuft of hair sticks up and is easily noticeable.
Once you know where it is located, you can tell your barber about it. Most barbers know what to do with cowlicks so they do not stick up as the hair grows. The most important thing to tell your barber is to avoid cutting too close to the pivot area.
They shall start by thinning the hair so that there is less hair in the cowlick. Thinning shears are then used to blend the cowlick with the rest of the hair by feathering out the ends. Make sure you & your barber know the location(s) since the wrong haircut can make the cowlick more conspicuous than it already is.
How to Style Your Cowlick Hair
There are many different ways that you can style your cowlick hair. To help you out in your search for amazing hairstyles, we've collected a few tips on how to style your hair with a cowlick!
In Front
If you have cowlicks on the front hairline, you can use a parted hairstyle that will hide it. Follow the bellow tips to style your cowlick hair in front.
Flatten Your Cowlick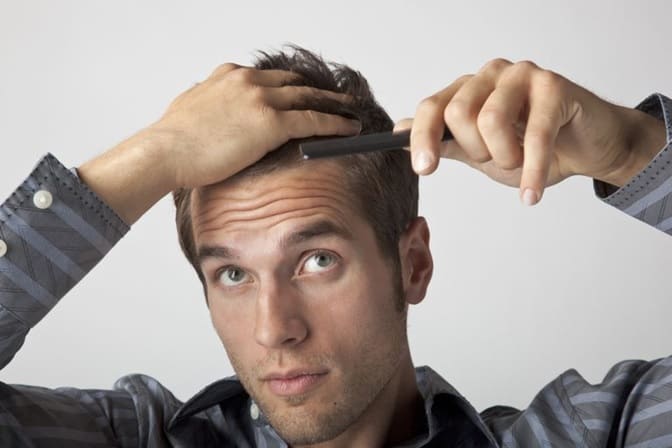 Immediately after you're done blow-drying your hair, apply pressure to your cowlick hair so that it doesn't expand and become obvious. You can do this by clipping that specific strand so that it remains compressed. Clip it for a few hours immediately after getting out of the shower in order to make sure it stays that way.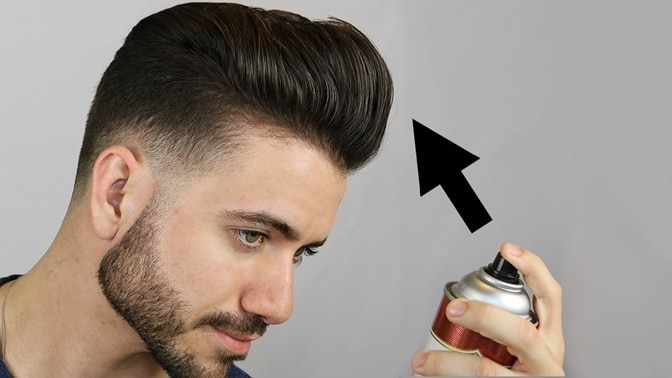 Set the cowlicks against the rest of your hair so that it doesn't appear raised or too obvious. Then, apply some hairspray to make sure that your front cowlick stays like that and doesn't flare up.
Cover It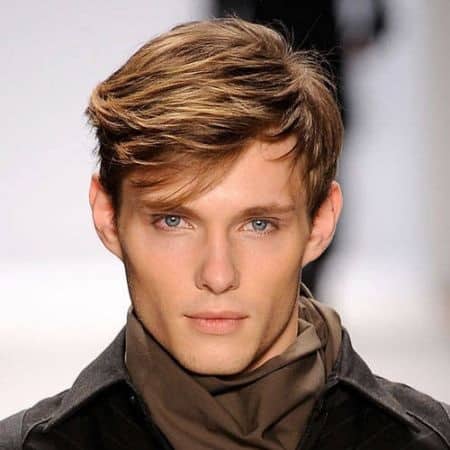 Use the hair on the front of your head to cover your cowlick. This way, you'll not only be covering your front cowlick hair but you'll also have a great hairstyle!
The Back
Here are the ways to style back cowlick hair for men.
Spray Some Water on Hair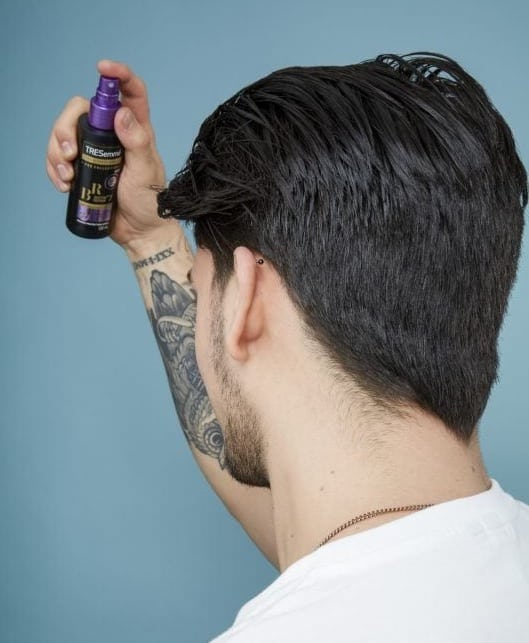 Work while the hair around your cowlick is wet or if it's dry, spray some water on it. After that, style your hair the way you want it to stay normally. Next, blow dry in the same direction that you want your hair to stay in.
Normally, blow drying isn't recommended because of the damage it does to your hair but if your cowlick hair is bothering you, then it's okay to use it. Make sure that your hair is completely dry after the blow-dry! Now, set your hair using some hairspray or gel.
Go for A Messy Look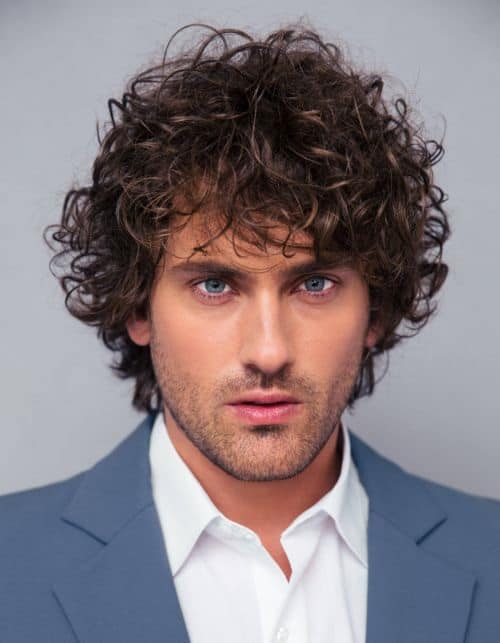 Your cowlick hairstyle will only be noticeable if your hair is organized and neat. However, with a messy look, your cowlick won't be noticeable because of the rest of your messy hairstyle with catch your attention.
Furthermore, by messy, I don't mean a bad hairstyle. Messy cowlick hairstyles are actually very attractive!
Best Cowlick Hairstyles for Men
There are various hairstyles suitable for men with cowlicks. I recommend going long enough or very short for you who have cowlicks on the crown. A long or medium-length style will weigh the hair down so that the cowlick does not stick out. We've collected 14 amazing cowlick hairstyles for you!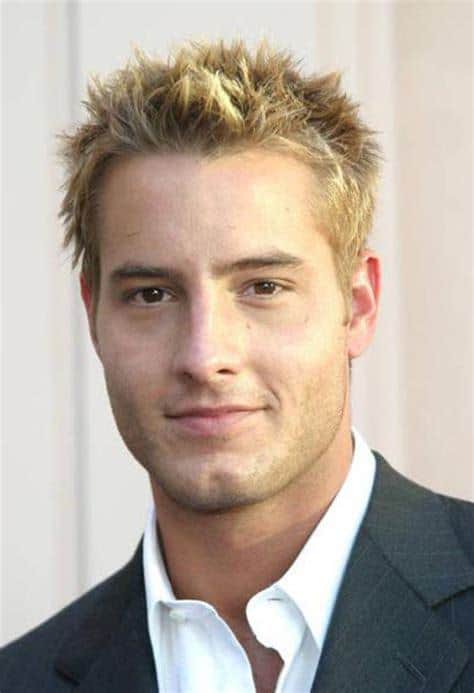 Spikes are loved by everyone. When combined with a classic cowlick, spikes look the best. Spike up the outgrown hair with your styling gel to get the desired look.
2. Textured Cowlick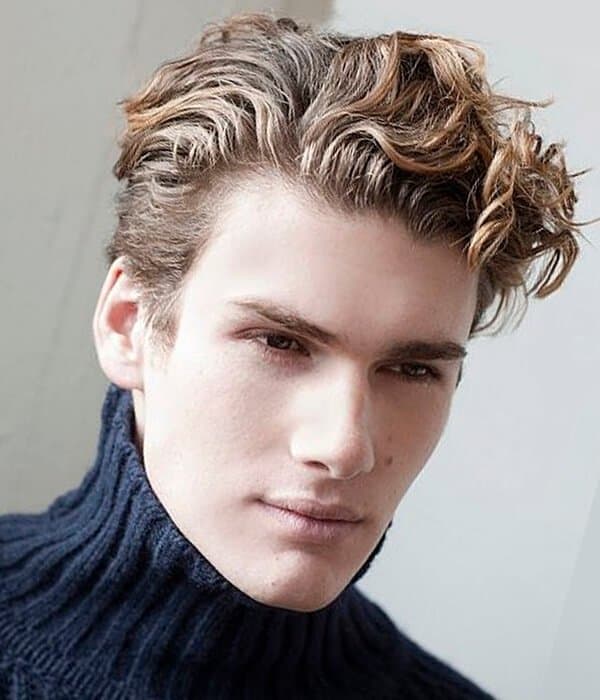 Men with wavy hair or curly hair have a great texture that gets accentuated with the cowlick cut. This cowlick style adds some shape to the texture that is already there in men with such wavy hair. This is a great way to style your natural curls.
3. Angular Cowlick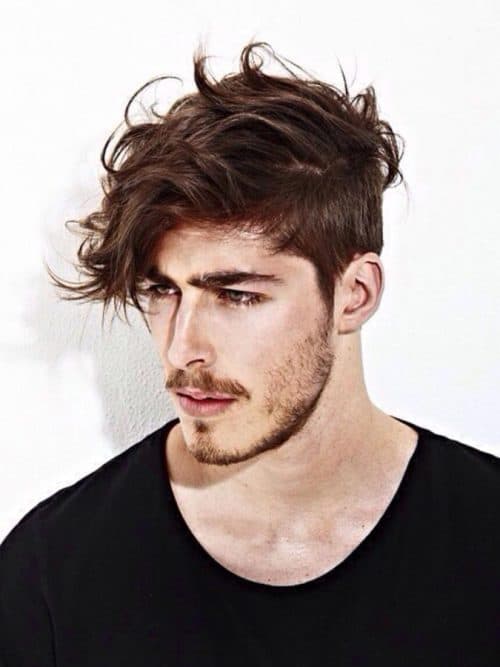 Round-faced guys should ideally try the angular cowlick hairstyle to add some length to their face. These messy angular fringes left over your forehead gives a unique look. The fringes are cut at an angle to highlight your face.
4. Blonde Quiff Cowlick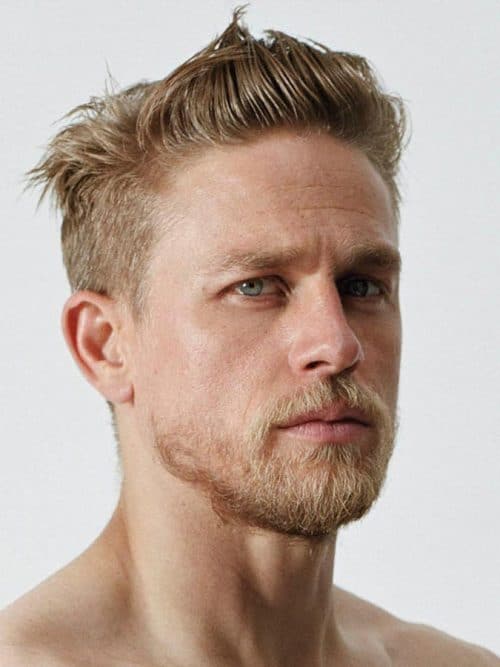 You can never go wrong with blonde ever. It has all the right elements needed to grab attention. Highlight your quiff in a blonde shade and spike it or cut it in a Mohawk style for the best effect.
This is one of the most popular cowlick styles in the world and has been tried by almost all male celebrities once in their lifetimes. If you love a classic cowlick hairstyle, this one should be tried by you at least once.
5. Brushed Up Cowlick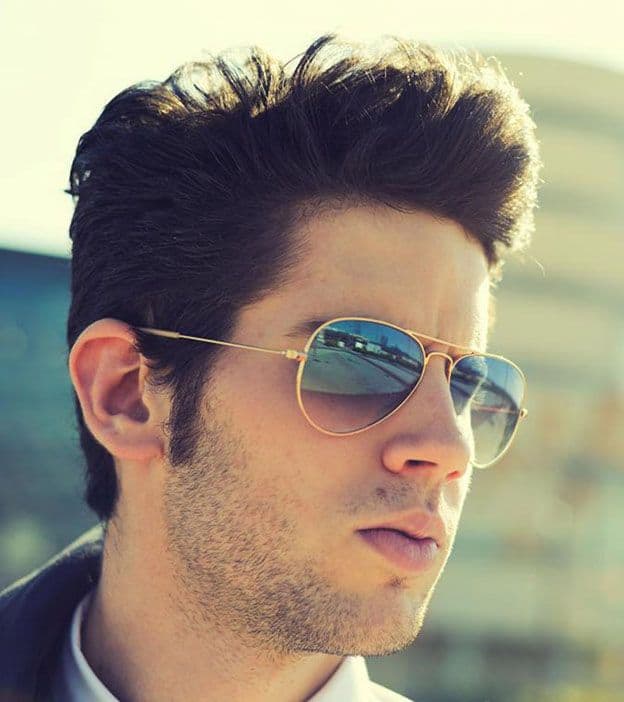 As is very evident from the name itself, this kind of a cowlick hairstyle involves brushing up the hair vertically while the rest is combed back. The vertical brush up stays in place with some hair product that you can use for styling.
This looks really dapper when you let your tuft stand upon the head in a spiked or wavy vertical brush up. Alternatively, you can also don this look in a very natural way without much styling. Just grow your hair a bit longer in the front and central portion to form the perfect cowlick and keep the sides slightly trimmed to let the cowlick naturally stand up because of its volume.
Brush it upwards and brush the rest backward for a natural brushed up cowlick hair that lets you step out in style any given day.
6. Fringed Cowlick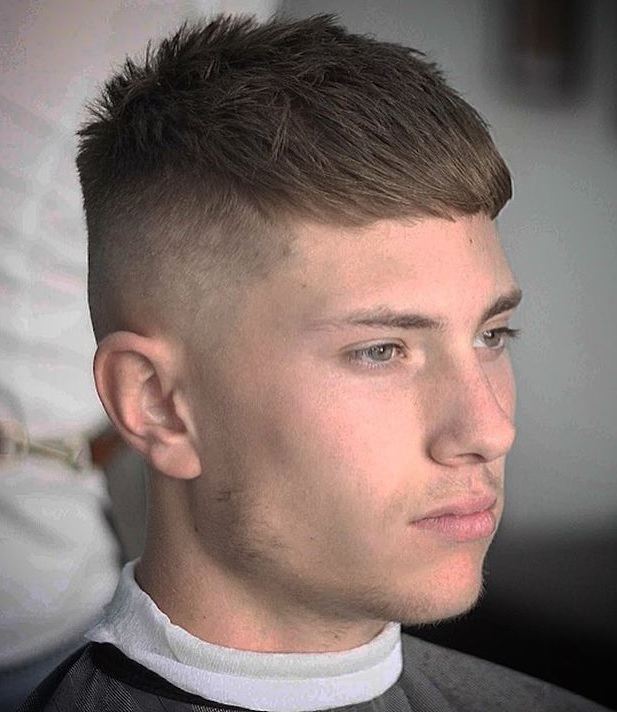 The fringed cowlick is a versatile haircut for men which suits almost all face shapes. Fringes are cut with the main section of the hair in the middle to make it the center of attraction while the sides are trimmed, tapered or shaven to form a Mohawk.
The fringes can be styled up with hair gel or combed frontwards or angularly as per your wish. Try variations with your fringes every day.
7. Perfect Tousle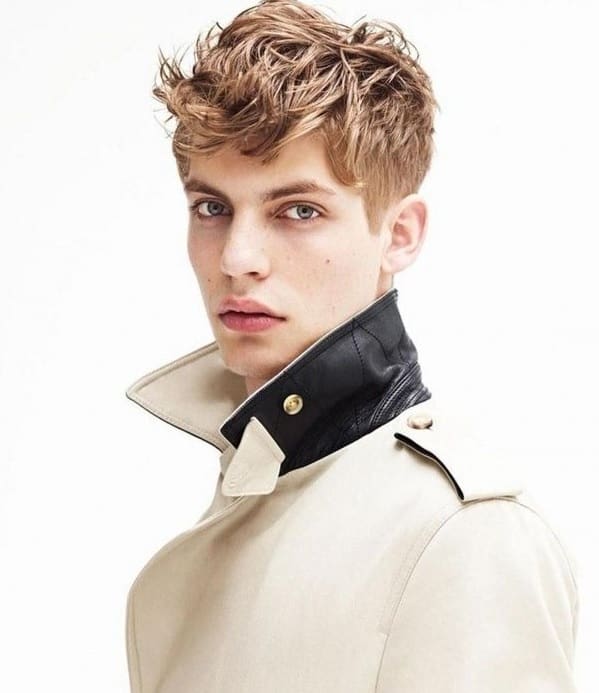 Men with middle length hair can have the perfect tousle especially if their hair is a bit wavy. It is a messy hairstyle that requires less maintenance and can be sported all the time carelessly.
The trick is to let the cowlick grow freely in the front and leave it naturally messy and tousled. The sides are slightly trimmed to let the middle and front section have the maximum volume for the perfect tousled effect.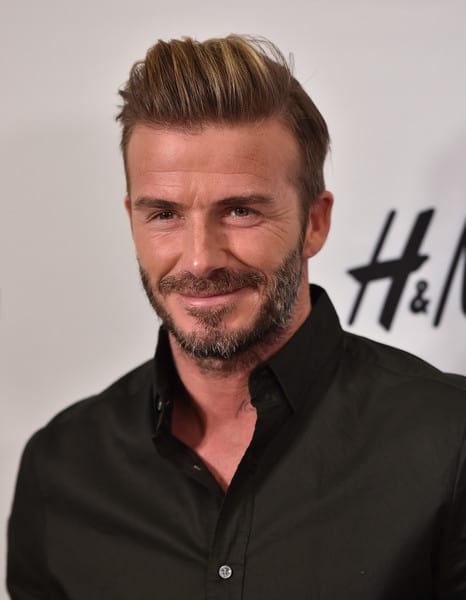 Let's be honest here, every young man, teenager or boy out there has, at least once, wished to look like David Beckham. Most of them haven't even noticed that he has a cowlick.
That is because he wears a simple but elegant quiff hairstyle most of the time which completely distracts almost everybody from even noticing that his hair is not that perfect after all. Using a little bit of hair product to style your hair just like does will help make that hair look smokin'.
9. Modern Cowlick Style
Keep it short and keep it simple. That's how Bonno does it. When you go to a salon ask for a hairstyle including your hair trimmed short at the sides and a little bit longer on top. Then you can brush your hair up and use a hair cream or a gel to make it stay in place. You will get that cool rock 'n' roll vibe that is also very easy to maintain.
10. Messy Cowlick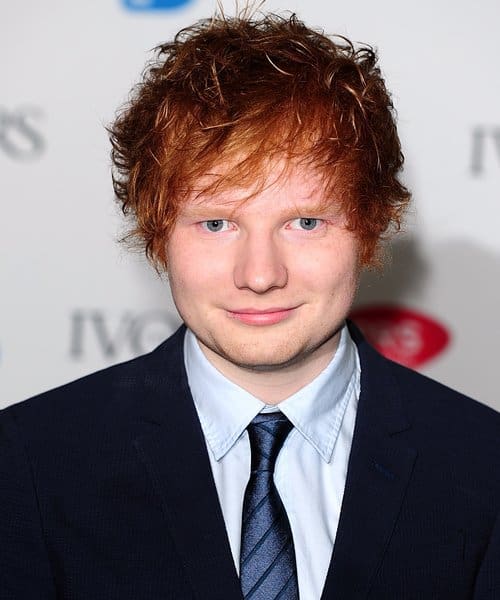 Ed Sheeran is a cool guy, we all have to admit it. A great part of his boyish charm is his messy hair. But what does he hide underneath that messy ginger hair? One spike to the left, one spike to the right, a little bit to the side, the chances of ever combing it are completely out of the question.
And all that to hide a cowlick. If you are a guy who hates to go to a salon regularly or using a lot of hair products, but you are still irritated by your hair never looks the way you want it to, try rocking that effortless, messy hairstyle.
11. Angular Fringe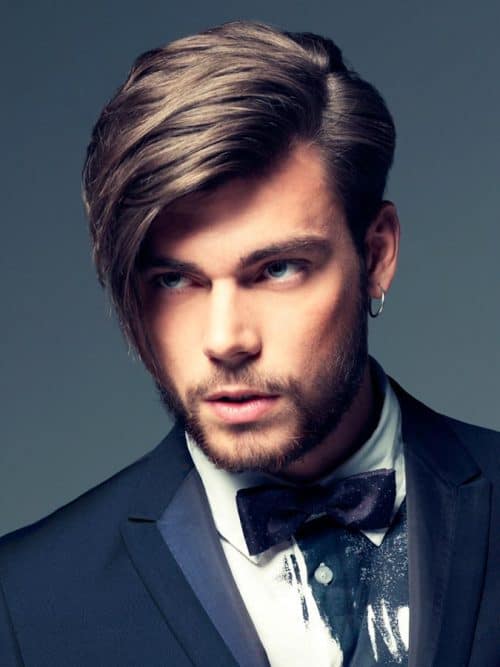 You are bold and daring and you absolutely refuse to conform to the rules of your stubborn cowlicks. Then use it to your advantage. Get the sides of your head trimmed really short and leave your fringe long, pull it to the direction of your cowlick hair creating an angular, yet effortless and messy shape.
12. Textured on Top
This is the one option is one that a lot of men with a cowlick choose to go for. They realize that having a cowlick hairstyle requires your hair being cut carefully and properly. This is achieved through layering and texturing the hair on the top of your head in a suitable manner.
13. Cowlick with Fade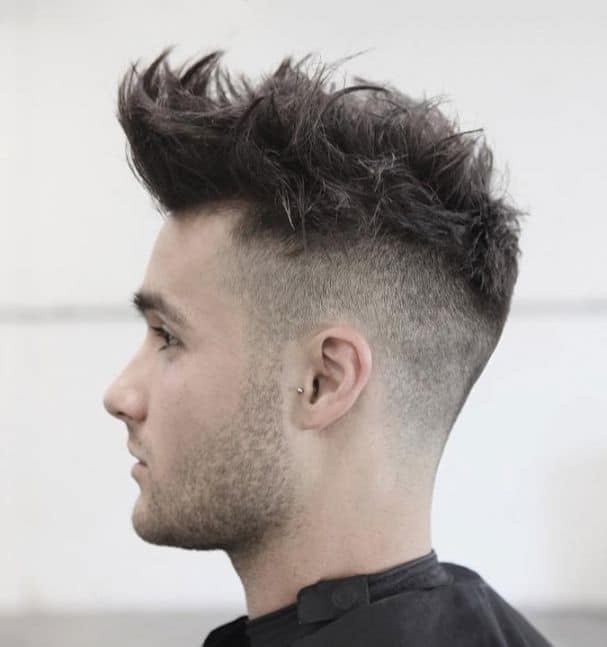 You want it to be low maintenance, and yet you don't want it to look like you haven't visited a salon in a year. Then we suggest you trim your hair really short on the sides and wear it really messy and spiky on the top. That way you won't have to do much every morning when you wake up, and it will still look modern.
14. Undercut with Elegant Taper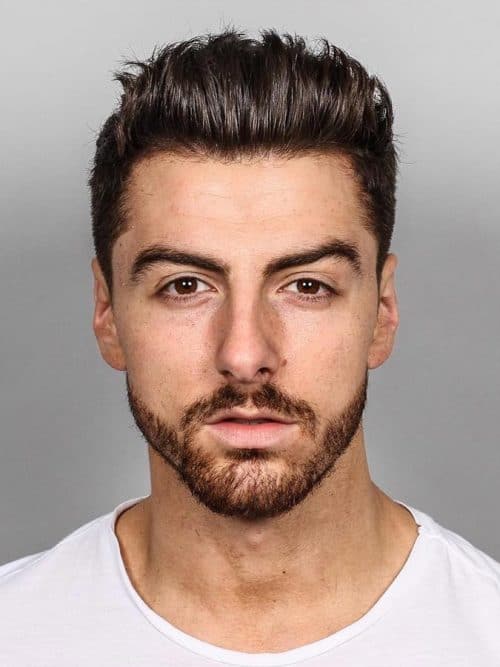 You are a man who is tired of having to deal with that irritating cowlick on the top of your head and is not afraid to show that he's edgy and different. Then rock that beautiful pompadour undercut, but instead of pulling the rest of your hair to the front, pull it to the back, it will look amazing.
The other option can be cutting the hair very short, in a buzz cut, for example, so that it is no longer visible. Guys with long hair can also use a messy spiky haircut to camouflage the cowlick.
The classic side sweep is a timeless hairstyle that works well with cowlicks in the front. Start by combing your hair to the side, opposite the direction of the cowlick. Apply some styling products to keep your hair in place. This hairstyle is suitable for both formal and casual occasions.
A sleek and sophisticated hairstyle for cowlicks in the back is the slicked-back look. Apply a generous amount of styling gel or pomade to your hair and comb it back, following the direction of the cowlicks. This style gives a polished and elegant appearance suitable for formal events or a night out.
If you prefer a more relaxed and casual look, try the messy pompadour hairstyle. Apply a texturizing product to your hair and use a comb to lift the front section, creating volume.
Push the hair back and slightly tousle it for a messy and effortless finish. The messy pompadour adds a touch of modernity and charm to your style.
18. Short Tapered Cut
For a low-maintenance option, consider a short tapered cut that works well with cowlicks in the back. Keep the sides and back of your hair short, while leaving some length on top.
Combine the edgy faux hawk with a faded haircut to tame cowlicks in different areas. Keep the hair on the sides and back short with a fade, while leaving more length on top.
Style the top section into a faux hawk by pushing the hair up and towards the center. This hairstyle creates a bold and modern statement.
20. Mohawk with Undercut
For a daring and adventurous look, try a mohawk with an undercut. Shave the sides and back of your hair, leaving a strip of longer hair in the center.
Turn the longer section into a mohawk by pushing it upward. This bold hairstyle embraces the cowlicks in a unique and eye-catching way.
Products to Use
Products can make various cowlick hairstyles possible. Hair pomade or hair gel is good for keeping spiky styles in place. Strong-hold gels can pin a cowlick down, although they give the hair a hard, crisp texture that is far from natural.
For a more natural hold, styling mousse or volumizing sprays are also good options. It is important to remember to style the hair while damp to ensure maximum hold and easier styling, something which can be hard to do when the hair is already dry.
Say goodbye to embarrassing hair-days with the tips and best cowlick hairstyles above and embrace the beauty of your hair! Remember, at the end of the day, it's important to love yourself the way you are and be confident in yourself!