Ever woke up, looked in the mirror, and thought, "My hair actually looks pretty good?" Welcome to the fascinating world of messy hairstyles for men. This trend, known for its carefree vibe, continues to resonate with men worldwide.
A messy hairstyle can be a refreshing deviation from traditional styles, promising both comfort and coolness. Let's clear up a common misconception right off the bat. Many people tend to mistake messy hairstyles for unkempt hair.
However, there's a significant difference between the two. Messy hairstyles are a deliberate style choice. They embody a relaxed and carefree vibe, yet involve thoughtfully applied techniques and products to achieve the desired 'messy' effect. On the other hand, unkempt hair indicates a lack of grooming or maintenance.
A messy hairstyle might appear disordered, but in reality, it's a careful balance of casual charm and calculated styling. It's all about controlling the chaos and creating a look that's effortlessly stylish. This is why it's crucial to maintain hair health even when sporting a messy hairstyle.
So, if you're a fan of the bedhead look or tousled waves, remember – your hair isn't unkempt, it's artfully messy!
How to Do Messy Hairstyle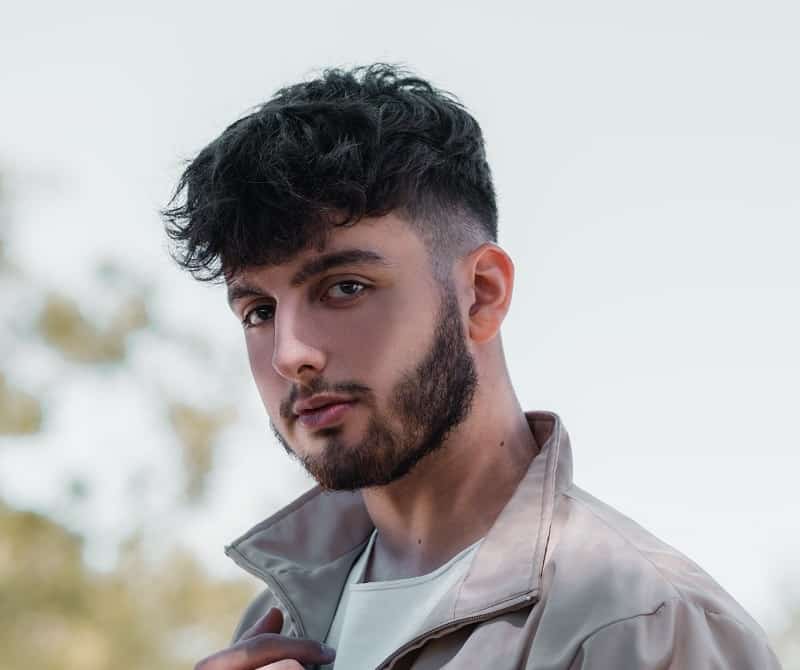 The first step in creating one of these styles lies in the haircut. Many of these hairstyles only work if the hair is razor cut to give it texture. If the edges are a bit uneven, this is better for creating deliberately messy hairstyles for men. For the most part, longer hair makes it easier to create such a style.
The next step one must master is the use of different hair products to achieve the specific look one desires. For the wet, just out of the shower look, pomade is going to become the hair's best friend. For most other looks, gel is sufficient to provide adequate hold after the hair is positioned and styled.
For the most part, these hairstyles are created by running the fingers through the hair and/or deliberately placing different sections so that they point in different directions. In some cases, one may even pull two or three small spikes up at odd angles.
After the hair has been cut and styled in the fashion one wishes, application of gel or pomade will provide the hold and/or appearance of being wet that goes with the look one is trying to achieve. For a completely dry look, a small amount of hair spray may also suffice.
Messy Hairstyles for Men
Messy hairstyles know no age limit. It's all about finding the right style that matches your personality and comfort level. Here are some cool messy hairstyles for men of all ages.
1. Curly Messy Hair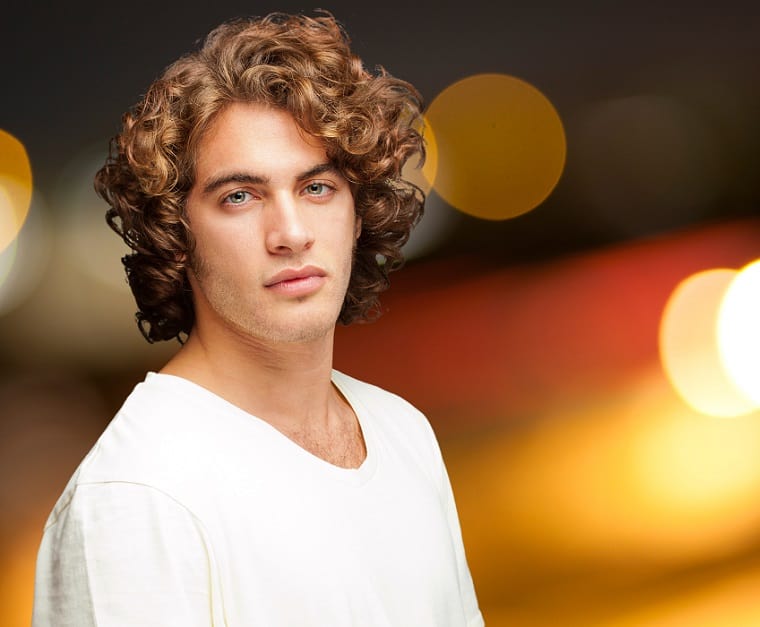 If you're blessed with curly locks, flaunting a shoulder length curly messy hairstyle can be an excellent way to let your natural beauty shine. The drawback of this style is it requires regular upkeep to maintain the blonde hair color.
You can make your curls more noticeable with some styling cream to keep them defined yet pliable for that perfect tousled effect. Part your hair in the middle and maintain a clean shave to get a elegant look like the men with messy hair in the picture.
2. Long Messy Hair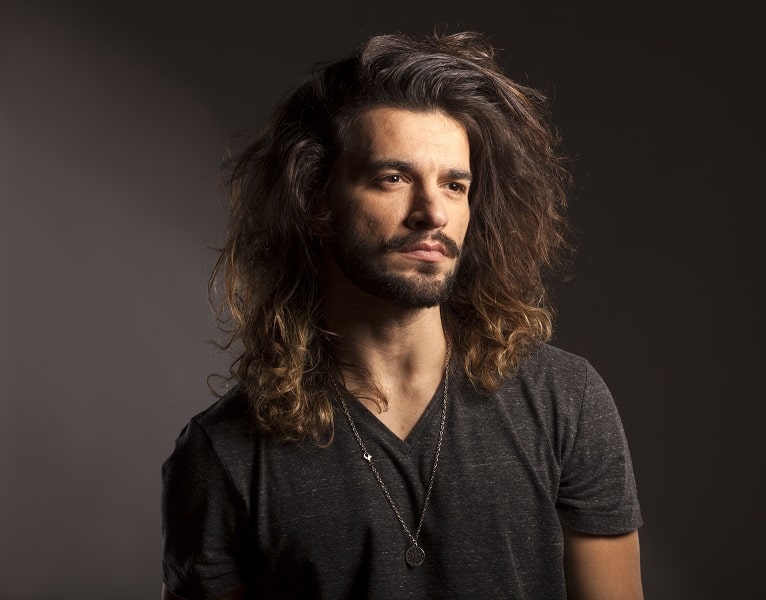 A style that represents freedom, nonchalance, and a touch of wild, long messy hair is for the man who is not afraid to let his hair down, quite literally.
This hairstyle is akin to an open road – vast, free, and captivating. Long messy hair demands attention, holds an unruly charm, and expresses a bold, confident personality. Infuse some leave-in conditioner to keep your mane healthy and radiant.
3. Medium Messy Hairstyle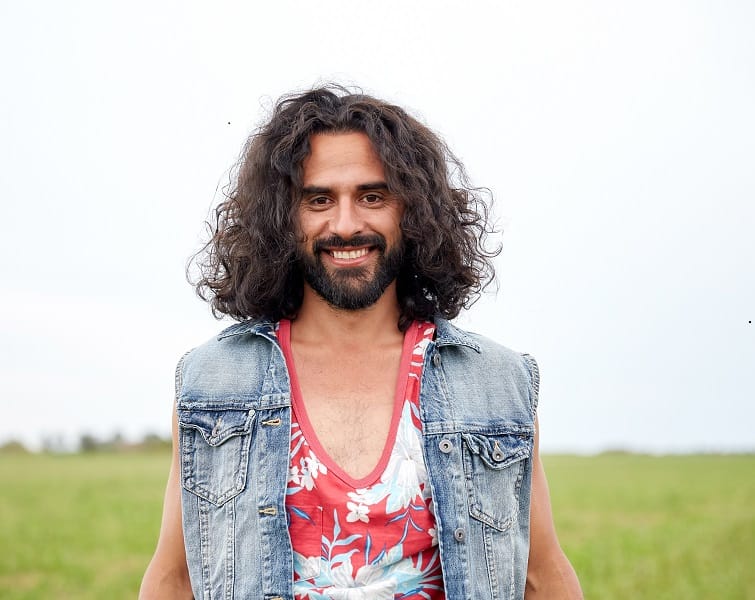 If you're a fan of balance and versatility, the medium messy hairstyle is your match. This hairstyle is the metaphorical middle ground, boasting the best of both short and long hairstyles.
The length provides room for creativity while ensuring that your hair remains manageable. Using some texturizing spray, you can add extra oomph, creating a look that's both casual and chic.
4. Short Messy Hair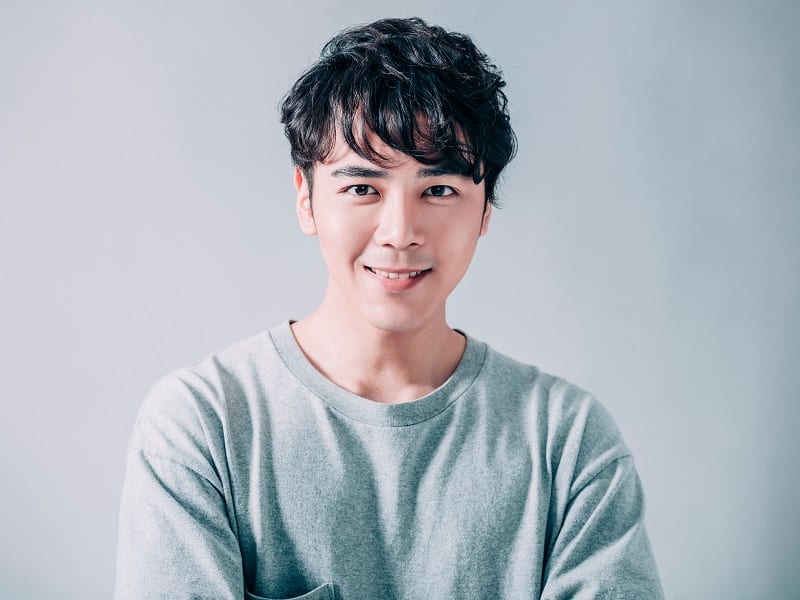 Do you need to have long hair for a messy hairstyle? Not at all. Messy hairstyles can be achieved with short, medium, or long hair. It's more about the technique and products used to create the desired messy texture.
Look at this short messy hairstyle that is modern, manageable, and perfect for those who value practicality without compromising on style. A bit of matte wax will give your hair the hold and texture it needs to look impeccably messy.
5. Messy Hair with Undercut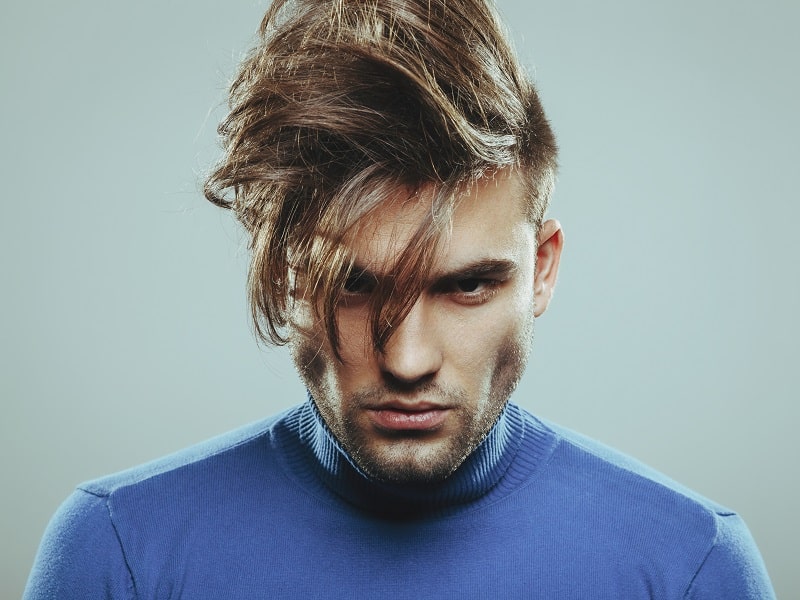 Picture a smooth jazz number with an unexpected rock guitar solo. That's the messy hair with an undercut for you – traditional yet surprising.
The undercut brings a sharp, clean-cut edge to the wild and free messy top. It's an adventurous hairstyle that plays on contrast, turning heads wherever you go. Using a strong-hold pomade can help maintain the disparity and enhance the style.
6. Wavy Messy Hair
The wavy messy hair is like the ocean's waves, calm yet vibrant, giving a whole new dimension to your style. The natural texture adds volume and movement, mimicking the nonchalant charm of a surfer hitting the beach at sunset. It is a delightful balance of coolness and class.
7. Messy Straight Hair
The clean lines of straight hair paired with a messy style can be compared to a well-orchestrated symphony with a surprising improvisational solo.
This hairstyle offers a neat yet spruced-up appearance, showcasing a perfect blend of order and chaos. It's a versatile look that suits both casual and formal settings. Use a texturizing spray for added volume.
8. Messy Man Bun
A messy man bun is like the unexpected twist in a gripping novel – it's intriguing, stylish, and breaks the monotony. This hairstyle provides a practical solution for men with long hair while still maintaining a strong fashion statement.
It's a modern adaptation of the classic bun, bringing a touch of relaxed flair to the table. Use a light-hold hair spray to keep your bun in place while retaining its laid-back look.
9. Messy Hair with Fade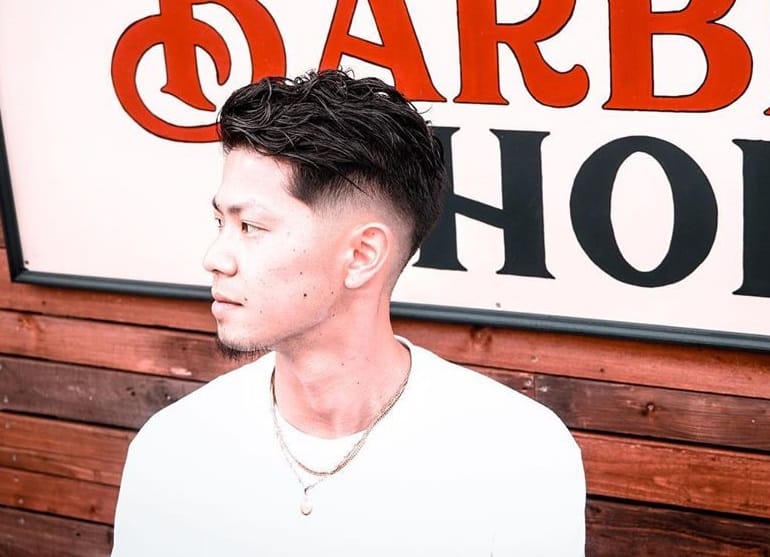 The fade cut provides a clean, crisp backdrop for the lively messy top, creating an eye-catching contrast. This look is edgy, modern, and exudes a cool urban vibe. A strong-hold gel can keep the top messy and the fade neat all day long.
10. Messy Hair with Beard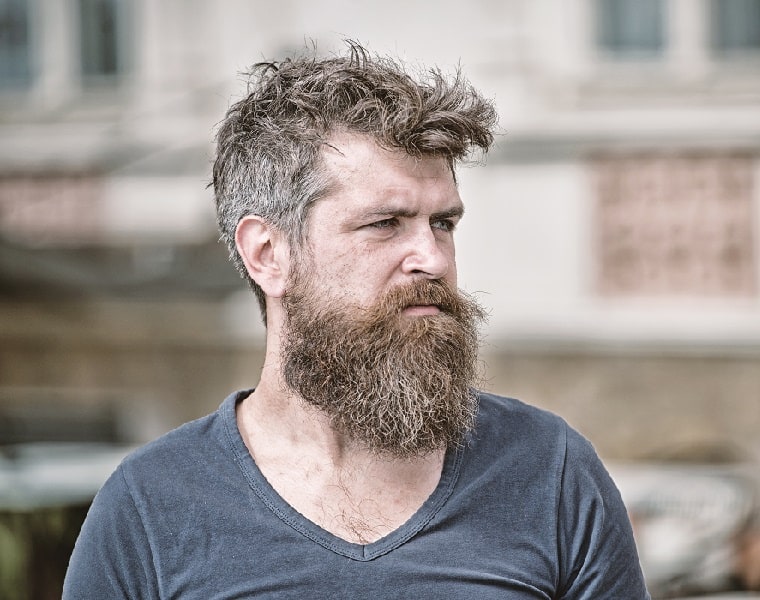 Combining a messy hairstyle with a beard complements each other perfectly. The beard and the messy hair will give you a hipster look. Use good quality beard oil along with your hair product to keep both your hair and beard well-groomed.
11. Side Combed Messy Dreadlocks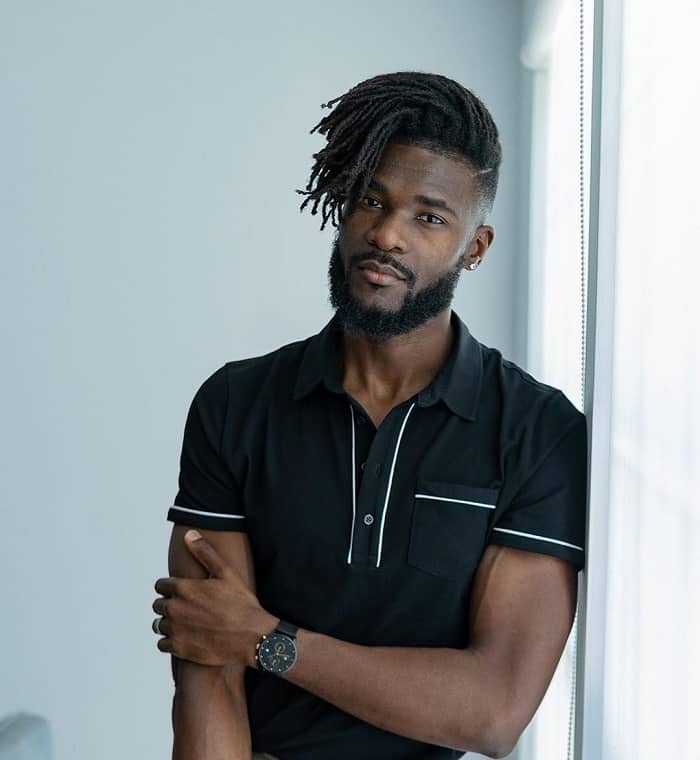 If you are an African American black man, this messy dreadlock hairstyle is for you. The dreadlocks are kept on one side and the hair is faded from the hard part on the other side. The fade makes this messy hairstyle look more dramatic and stylish.
12. Messy Fringe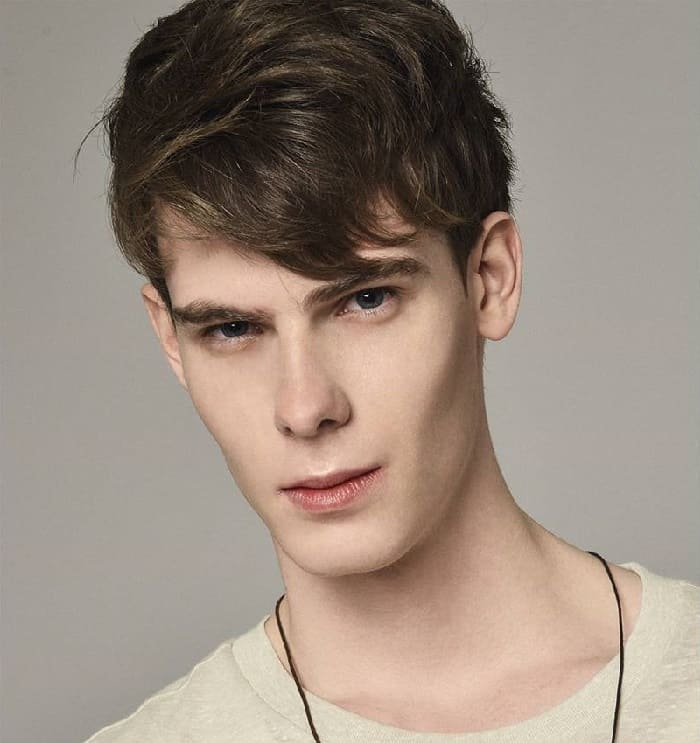 The messy fringe is like the captivating plot of an indie film – unconventional yet alluring. It brings attention to your eyes, frames your face, and adds a modern twist to your overall look.
This hairstyle suits men with all face shapes and hair types, making it a versatile choice. A lightweight wax can keep your fringe looking naturally tousled and fresh.
13. Ponytail For Asian Men
Ponytails are not just for women anymore; they have become a trendy and fashionable hairstyle choice for men as well. if you're an Asian man looking for a messy hairstyle for you, try this messy ponytail hairstyle.
14. Shaggy Layers

If you have longer hair, try a shaggy layered hairstyle. Ask your stylist to add layers throughout your hair for a messy and effortless appearance. Style with a texturizing spray or mousse for added volume.
15. Tied Up Messy Dreads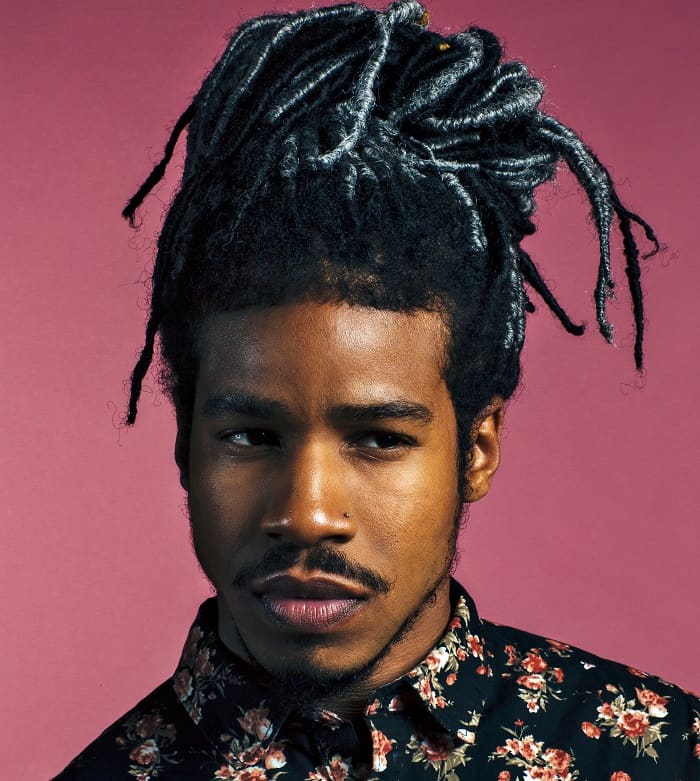 This look keeps the expressive nature of dreadlocks but introduces a new twist by tying them up. The tied-up style can be practical, helping to keep hair out of the face. This style works well for those who love their messy hairstyles but also want to experiment with a different, more controlled look.
16. Messy Hair with Highlights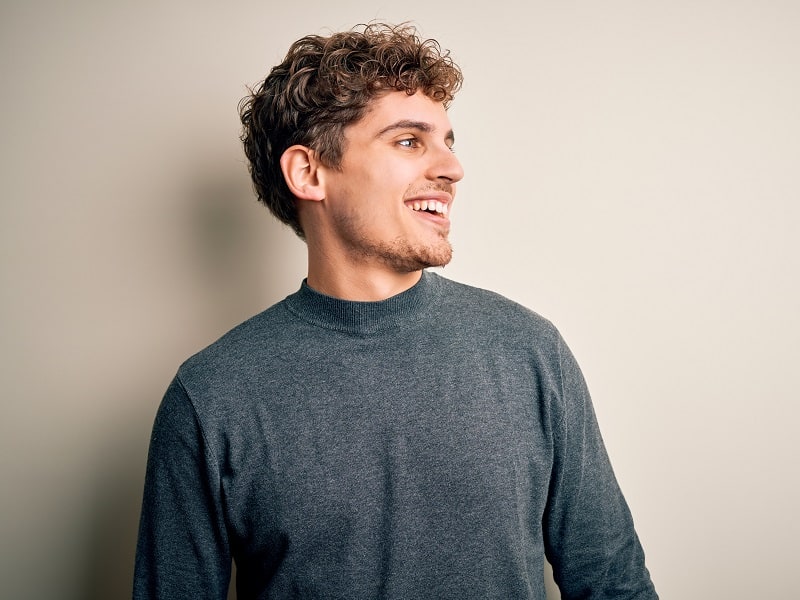 For those men wanting to experiment with color, a messy hairstyle with blond highlights can provide a fresh and unique look. The messy texture and the color contrast will surely make a fashion statement. Use a color-protecting shampoo and conditioner to maintain the vibrancy of the highlights.
17. Messy Quiff Haircut
A quiff hairstyle paired with a messy finish can look modern and effortlessly cool. This look is perfect for those who want to add height and dimension to their face. Using a matte finish pomade, you can achieve that tousled quiff while maintaining its structure.
18. Messy Mohawk Haircut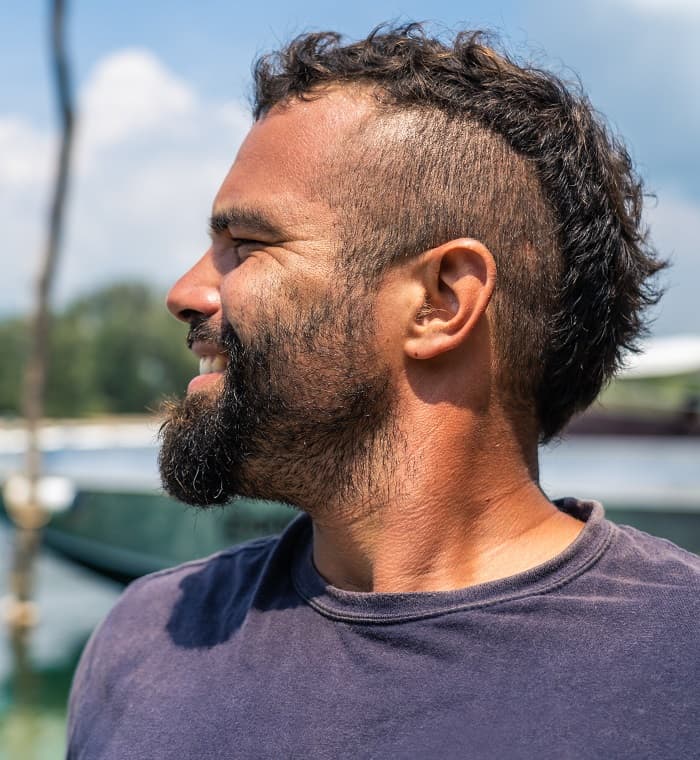 A Messy Mohawk Haircut is a modern twist on the classic punk-inspired Mohawk. Instead of the usual stiff, upright spikes, this hairstyle invites a touch of disorder. The hair is longer in the middle, from the forehead to the nape, while the sides are shaved or cut very short.
The key to this style lies in the imperfect, tousled spikes of the Mohawk, adding an unexpected rebellious charm. Use a high-hold gel or pomade to create and maintain the texture of the Mohawk, while keeping the rest of the hair messy.
19. Messy Spiky Hair with Fade Designs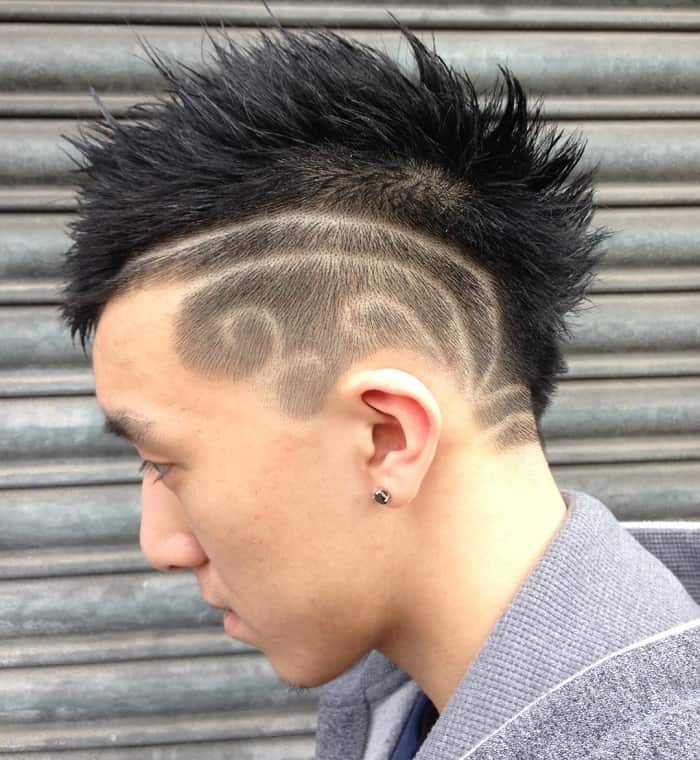 This is a bold and modern hairstyle that merges the rebellious spirit of messy spiked hair with the clean precision of a fade on the sides. The messy spikes on top create a youthful, energetic vibe while the fade on the sides adds a sleek, refined touch.
The fade on the side even includes a geometric design for added personal expression. A strong-hold gel or wax will be needed to maintain the spikes and a regular trip to the barber to keep the fade and design looking sharp.
20. Messy Ginger Punk Hair
This long messy hairstyle is for the rebellious at heart, combining the fiery charm of ginger hair with the edgy style of punk. A good styling gel or wax will help maintain the desired messy look while highlighting the vibrant ginger color. This hairstyle is an excellent choice for those looking to express a non-conformist attitude.
21. Long Messy Brown Hair
In this hairstyle, the long messy brown hair is loosely gathered and secured at the nape of the neck or the back of the head using a rubber band.
So go ahead, tousle that mane and let your messy hairstyle do the talking!