Black men have plenty of hairstyling options yet you'll find most of them get the same common hairstyles. Yes, some hairstyles do suit the black men more than the others but that should never limit you from choosing unique hairstyles with some customizations to fit your own face shape, personality, and style!
The Best Hairstyles for Black Men
There are hundreds of hairstyle variations and different styles flatter different face shapes. Each hairstyle requires daily maintenance and takes time, some more than others. Depending on the hair type and style, the black hairstyles are unique and great.
The black men hairstyles are unique and stand apart from those who are not of African American descent. It is naturally curly and for the most part, has a soft texture. You can try long or short whatever you want.
Every event has its own dress code and hairstyle etiquette. Despite whatever problems you have tumbling down on your head at home, you just can't show up underdressed for any occasion.
#1. Blonde Hair for Black Man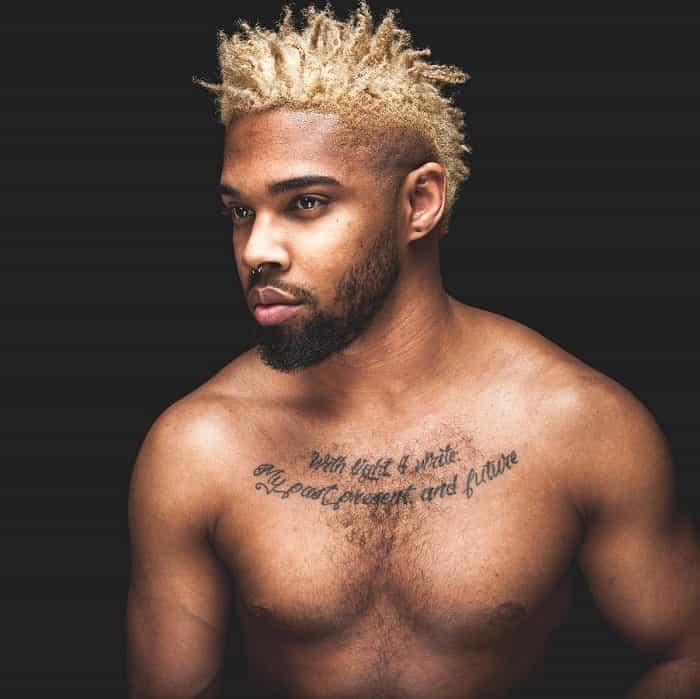 Blonde hair is a beautiful contrast for any black man's hairstyle. Whether you choose a warm tone or platinum blonde, the lightness next to dark skin is a truly flattering combination.
#2. Straight Hairstyle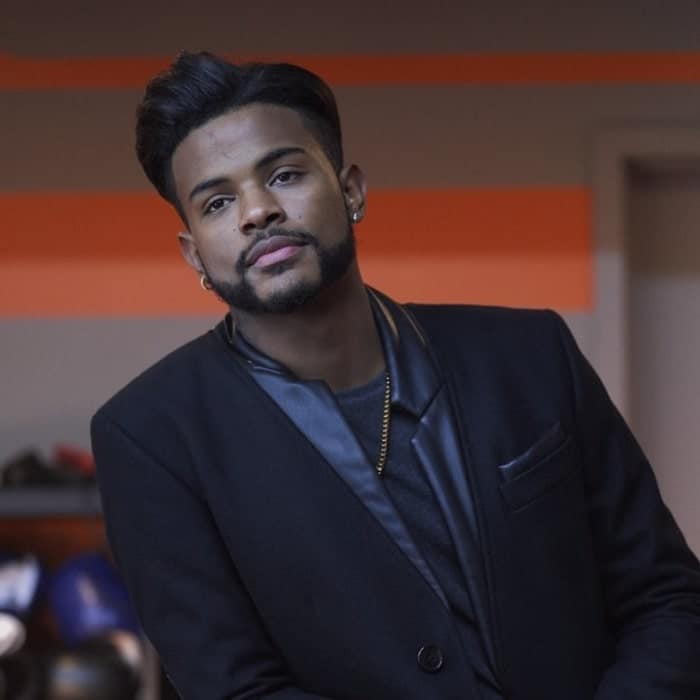 Thick black hair can be easily styled with a side part or, to switch it up, a center part. To control the shape and make sure hair stays brushed back, use hairspray.
#3. Low Fade Haircut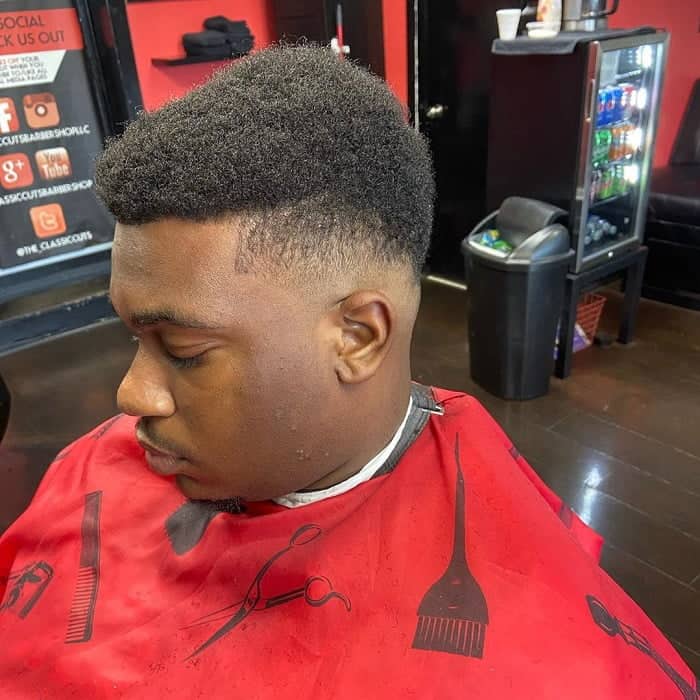 Low fade haircuts work for every texture of hair and every face shape, so if you're ever in doubt what style to go for, resort to this favorite!
#4. Black Man with Grey Hair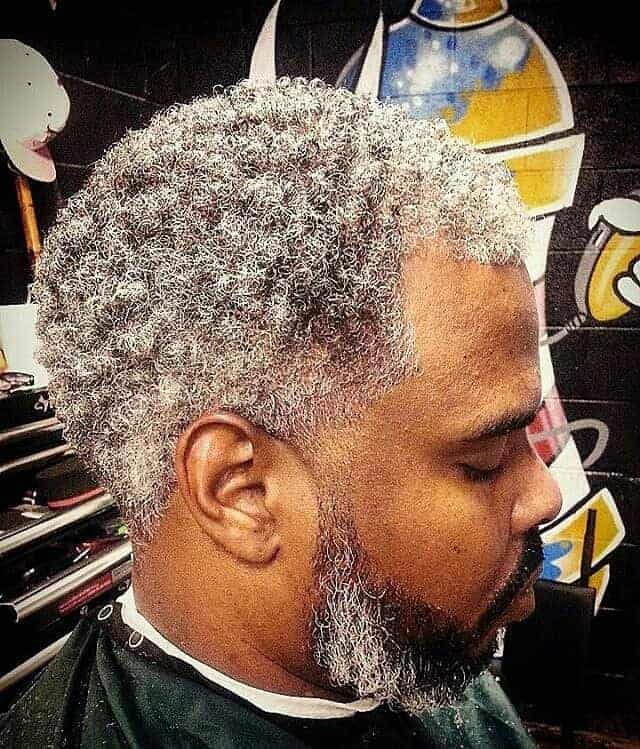 When your hair starts going gray, embrace your natural color and show it off with either a line up haircut or a fade. One thing you should try to avoid is coloring your facial hair one all over color that doesn't match your head hair – this always looks just a little awkward.
#5. Medium Length Black Hair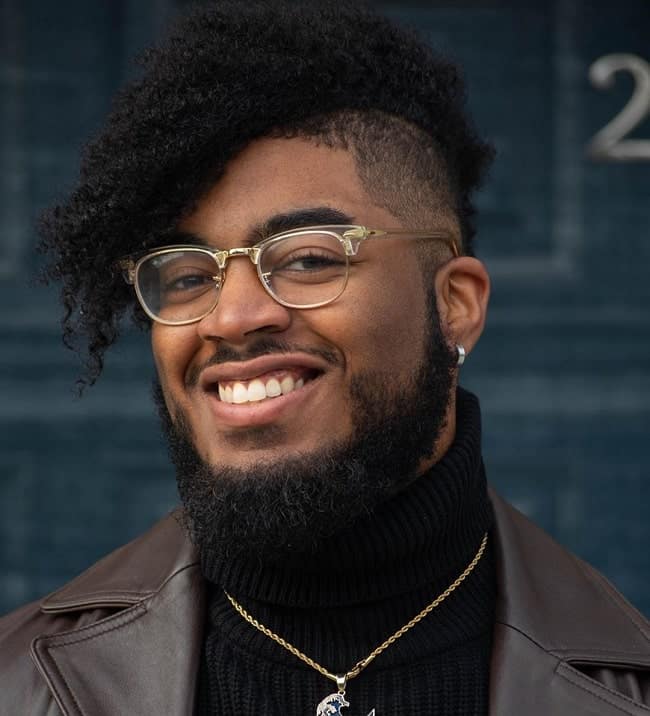 The way this medium length black hair is styled brings a lot of dimension to an oval face shape. Brush your hair to one side so the length covers a part of the forehead. The longer pieces create an interesting contrast when there's a fade on the other side.
#6. Haircut with Design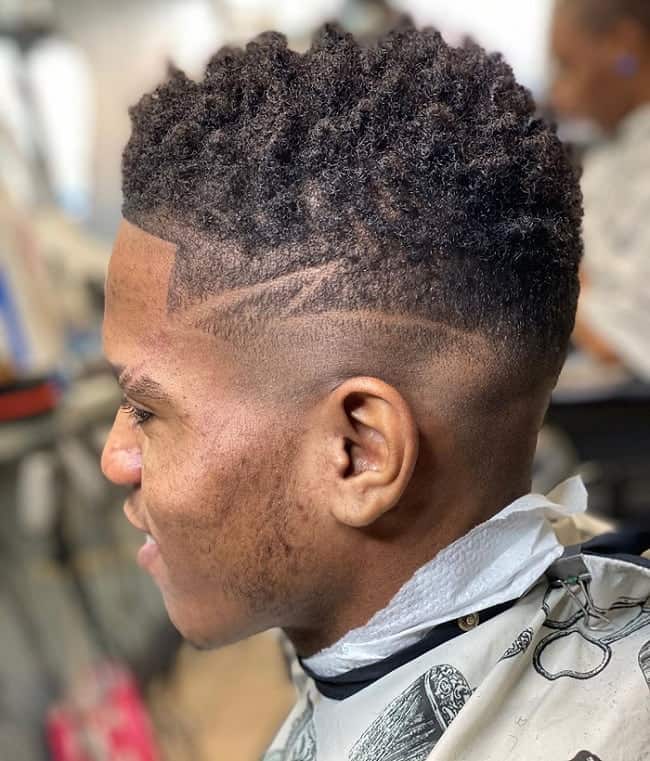 Instead of waking up every day having to worry about styling your hair, have your barber shave in lightning-shaped designs for a built-in style. It may have to be touched up every couple of weeks but it's a worthy hairdo for someone who would rather not mess with their hair in the morning.
#7. Black Messy Hair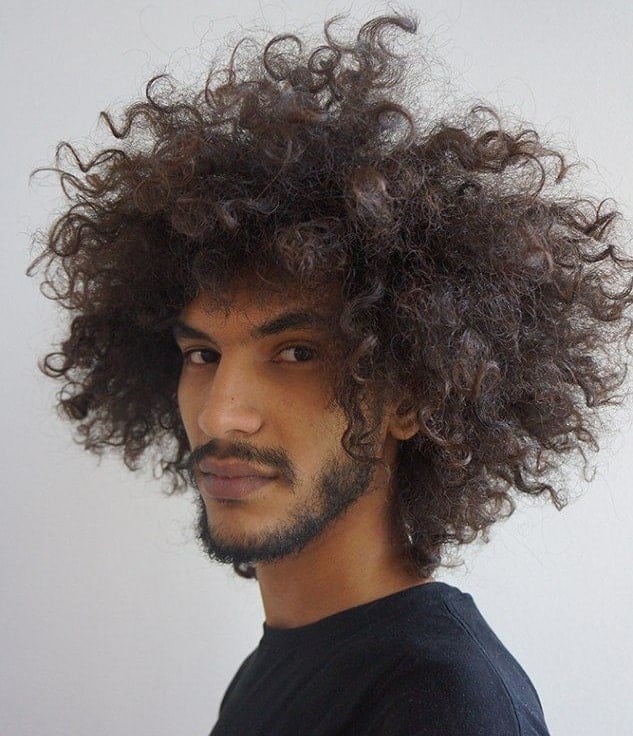 A messy hairstyle is very artistic and doesn't have to look too "I don't care" with the right products. The important thing to remember with this style is to run a comb through so it doesn't get knotted up!
#8. Highlighted Hairstyle for Black Man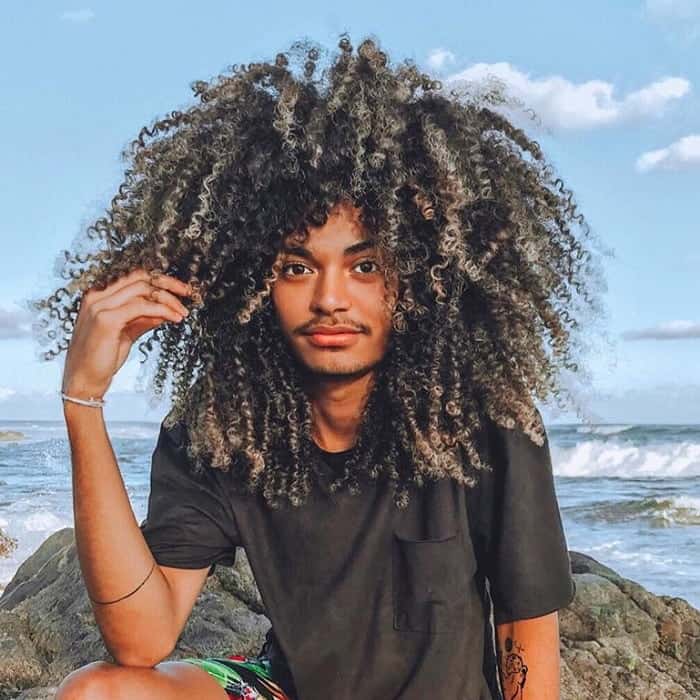 Show the world your carefree side with a highlighted hairstyle that works with any hair type. On long thick hair, the highlights bring a warmth to skin tone while helping the overall style be anything but plain.
#9. Frizzy Hairstyle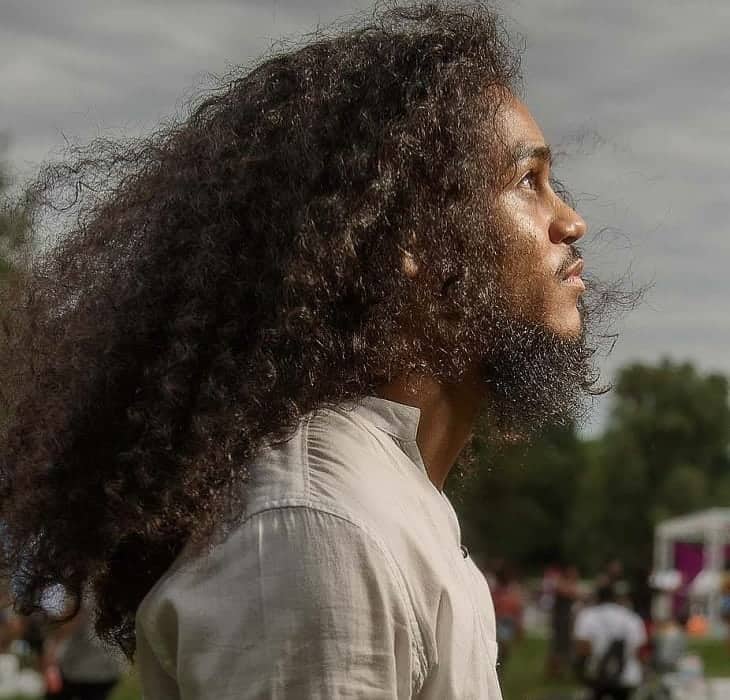 There's a right way and a wrong way to do frizz – this style pulls it off by using a small amount of hair oil, which anyone in tropical climates will need! Comb it through or use your fingers to control and manipulate how you want your hair to look.
#10. Low Side Parted Taper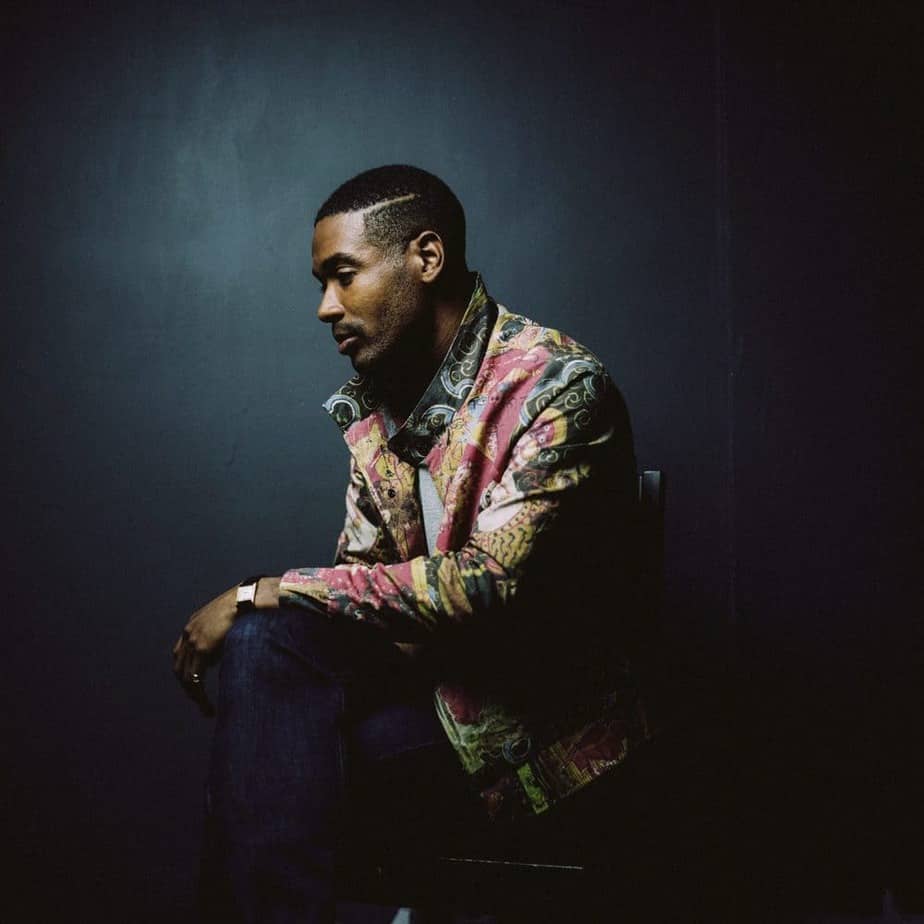 Two main characteristics of this trendy cut are that it has clean edges and deep side parts. So, this cut goes to all guys who are not afraid to stand out in the crowd with this bold line that separates the top portion from the sides. After all, go bold or go home.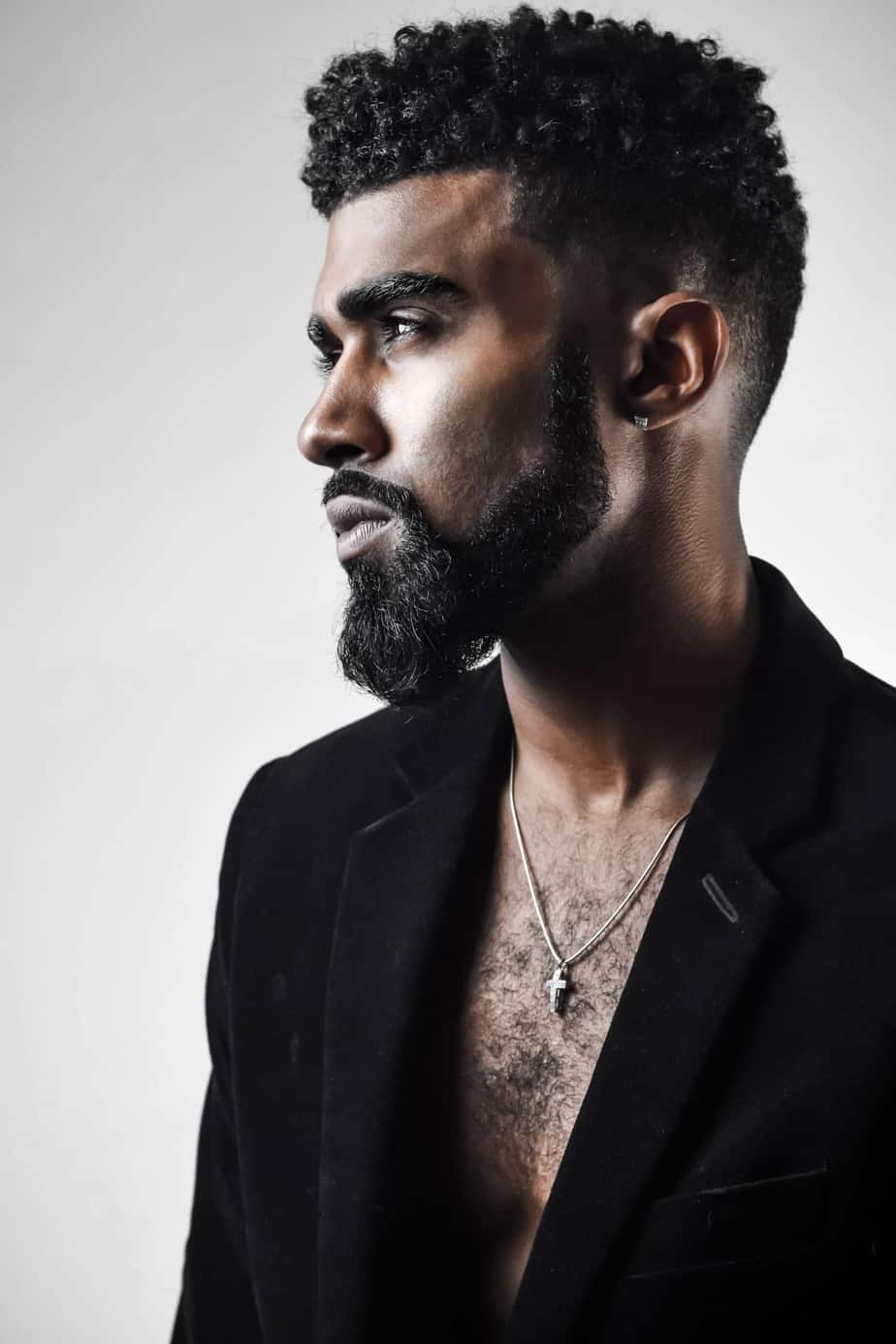 For African Americans with curly hair and little time for styling yet a passion for being in style, we recommend the curly undercut shown in the picture above.
Because maintaining your natural hair is easier than spending hours to style it otherwise, this might one of your top choices. Thus, all you need to do is ask your barber for an undercut which includes your precious curls on top.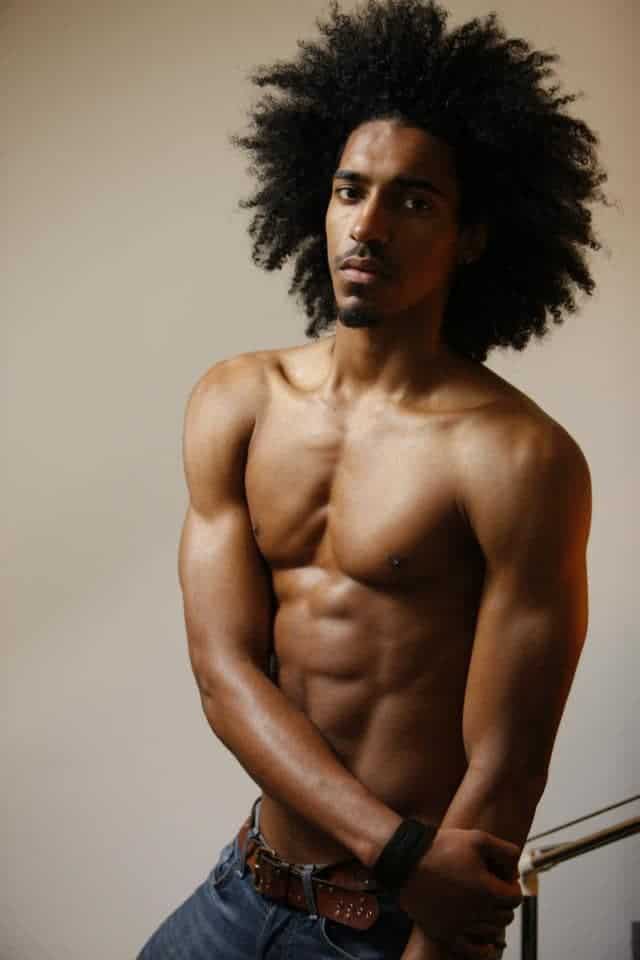 The afro has always been one of the basic black men hairstyles. Because it goes way back that we don't even remember when and who originated it, it is practically one of their legacy. So, if you do not desire to put too much effort styling your hair, you can always leave it thick, curly, and free like shown in the photo above.
#13. Juxtaposition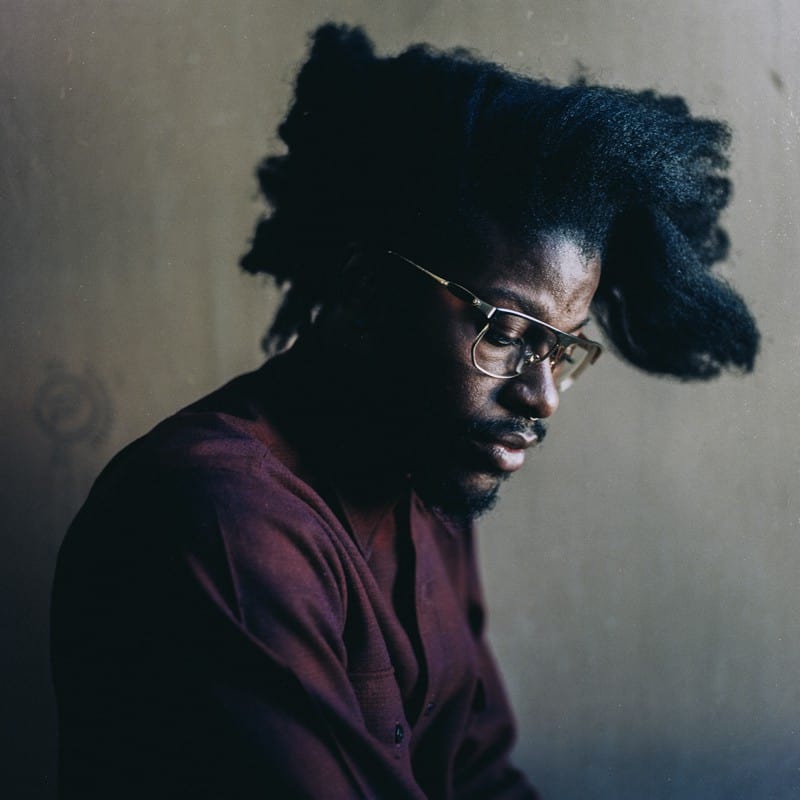 Contrast and juxtaposition can make your hairstyle more and more interesting and eye-grabbing. So, in order to get noticed by everyone in the room, this guy decided to go for something completely different and unique.
Because by side sweeping most of his thick long hair to one side, he succeeded in creating a catchy look. And all he needed to do that is fixative hair spray to tame those thick hair strands in place.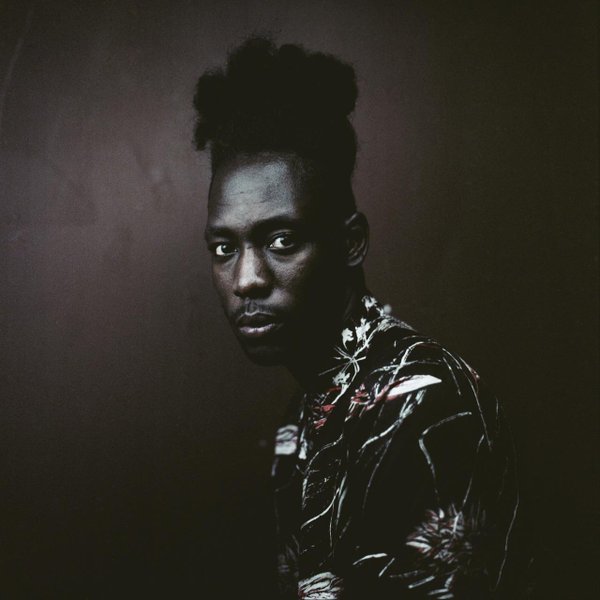 Here's a mohawk with a little twist to get outside your comfort zone. So instead of the classic spiked up hair strands, you will go with your natural hair texture. Therefore, for every black guy who wishes to look even edgier and badass, this design goes to you.
#15. Mixed Up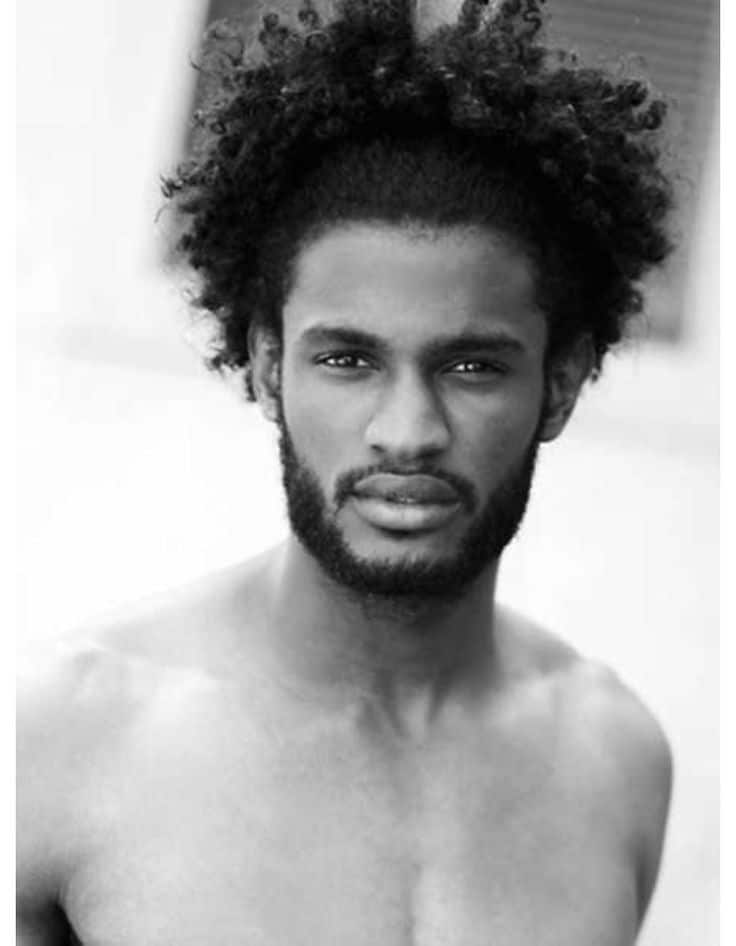 For those who are a little bit confused or torn between two classic designs like the low taper fade and the full-on afro, here's what you need to do.
Because choosing one style wouldn't make you feel as half satisfied as choosing both would, why not try to merge the two into one complete package.
So, you would end up with the best of both worlds including the fun all-time party afro in the back and the serious taper in the front.
#16. Baby Cub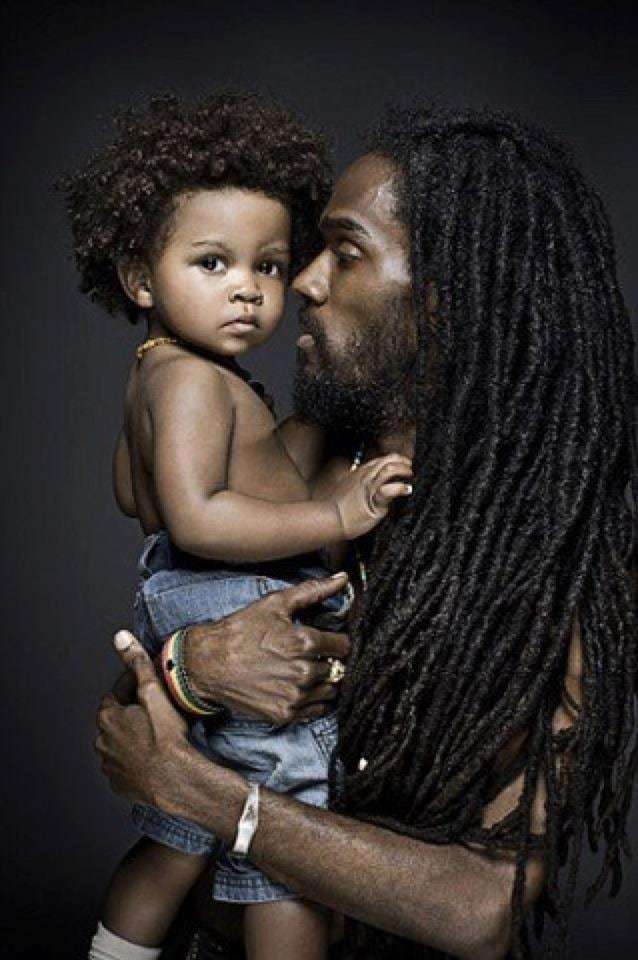 Some dads like to pair up their black men's haircuts with their newborn baby cubs just for fun. Because nothing sounds more satisfactory than the phrase "like father, like son".
However, choosing something that would suit both despite the generation gap is not an easy task. So, going with long haircuts can make it easier, because, for black babies, afros have become so popular these days.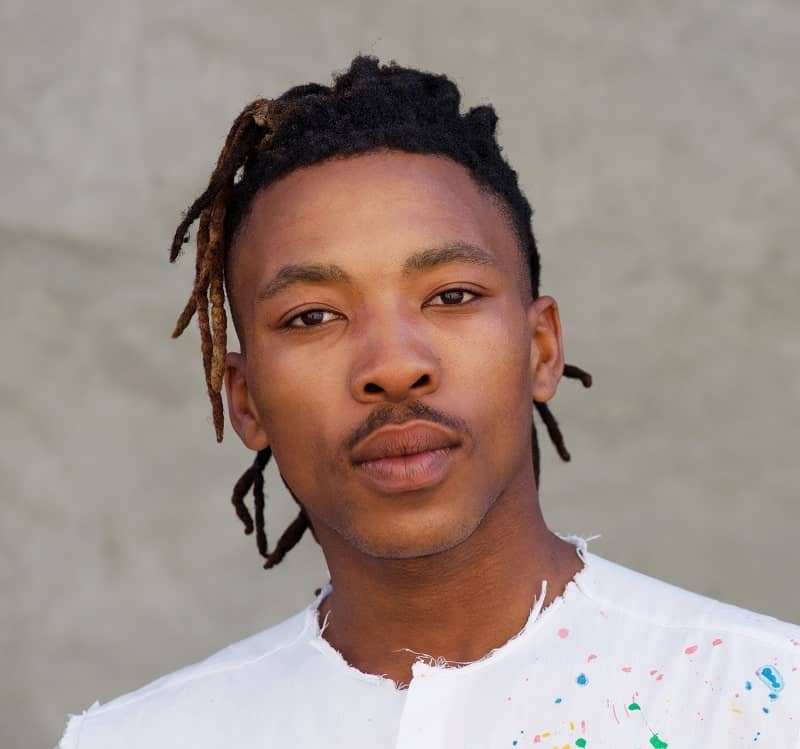 Forming dreadlocks can consume a lot of time for a man with little time to waste. However, once you complete the task, you will no longer need to worry about styling your hair for a matter of 3 – 4 days of the week.
Because the dreadlocks are the kind of black men hairstyles that can endure several days or even weeks without maintenance. In addition to that, it makes you look younger and more stylish than ever.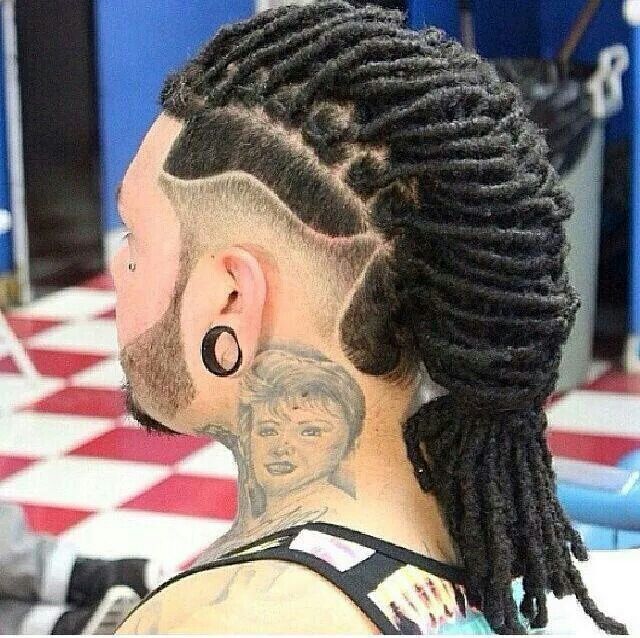 In the photo above, this guy mixes up a lot of designs that you don't even know where to start first. So, if you are in the mood for some party boy freestyling, here's a list of the hairstyles included in the above wild combination:
Faded haircut gives the dramatic ombre at the sides of your hair.
Dreadlocks initiated from the roots and waxed to ensure more time without maintenance.
Mohawk formed from entwining the dreadlocks together in the middle.
Razor separation line as a wavy shape to create a little flair.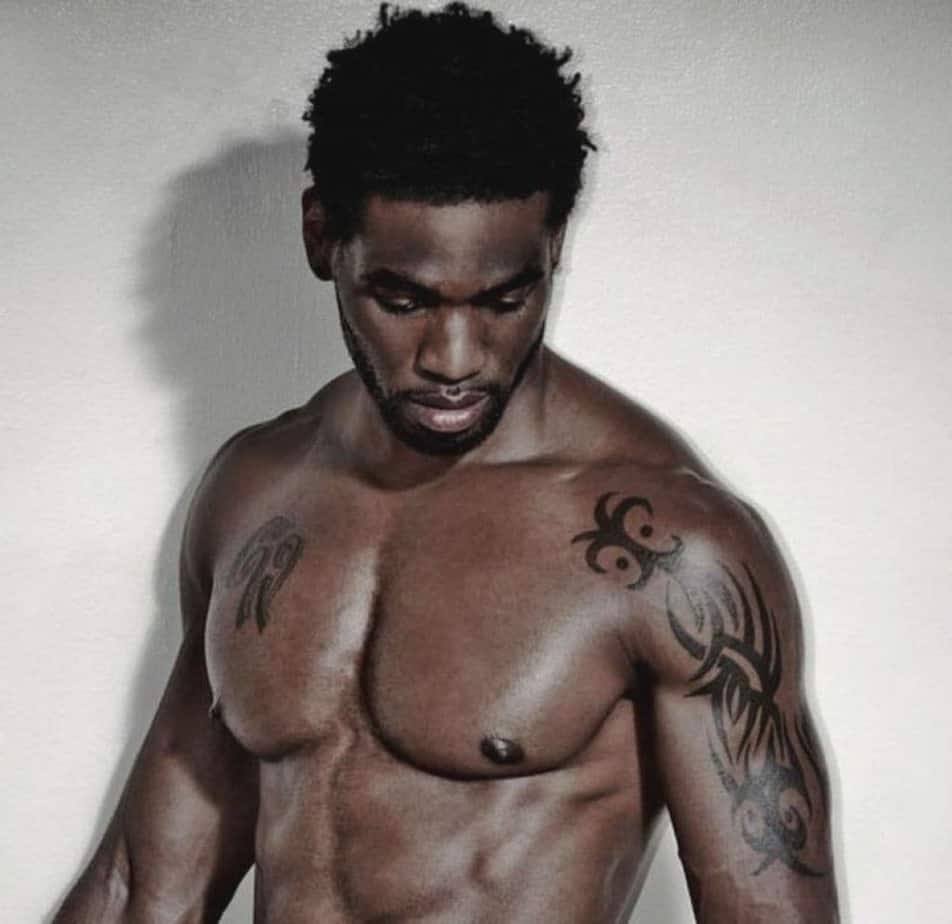 If you crave the afro cut, yet you do not want to go for the full commitment of having a long one, you can always choose the mini afro style to be your upcoming new look. So, if you are planning on going for this design don't forget to apply:
High-quality hair conditioner to enhance your curls.
Hair gel from roots to tips.
#20. Faux Strands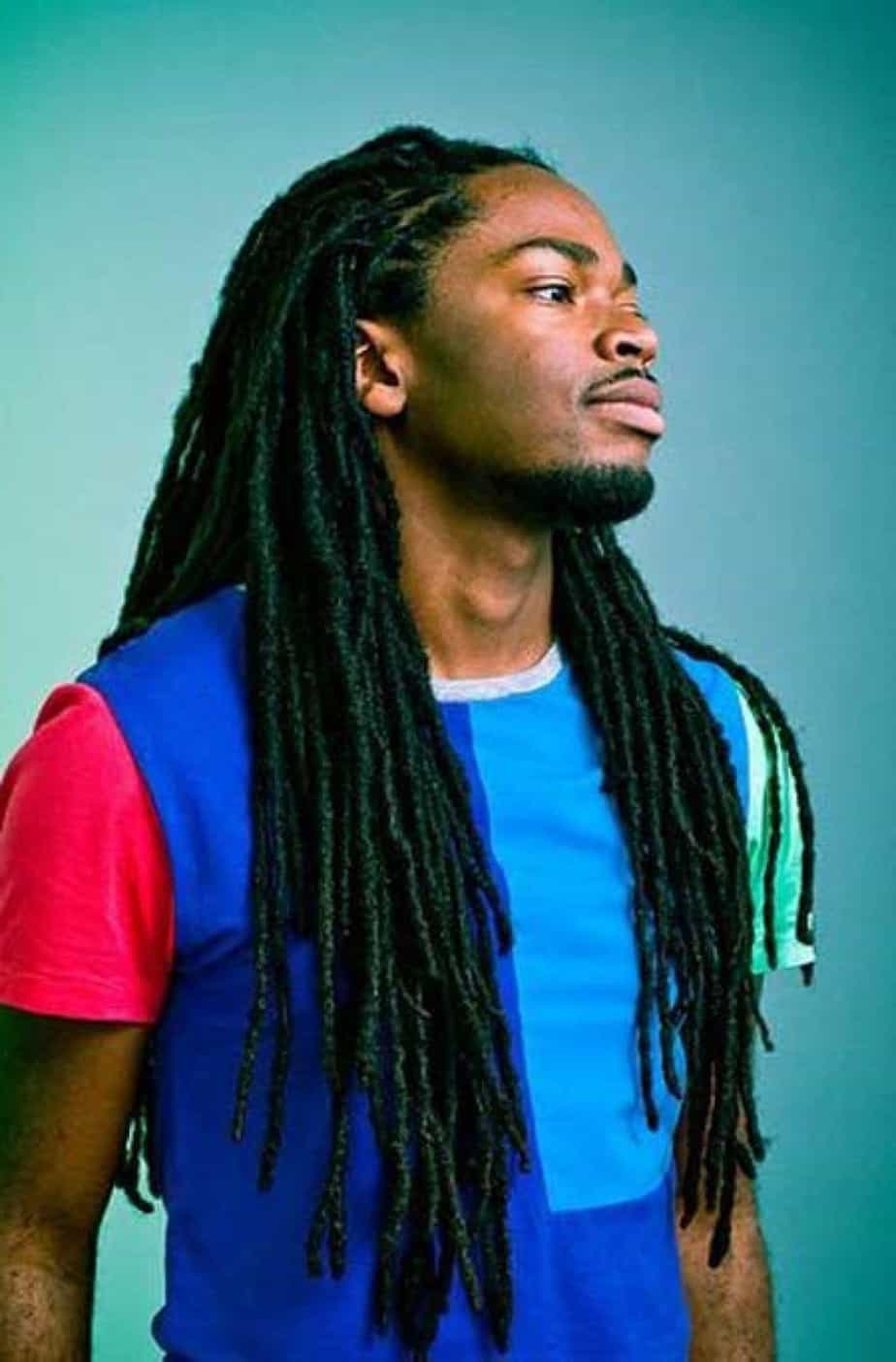 For black men who have always wanted a long haircut, yet never could actually grow their hair long because of constant split ends and hair breakage, here's what you need to do. So, instead of hating your natural hair texture you can always cut it short and use the faux hair or wigs to make your dream haircut a reality.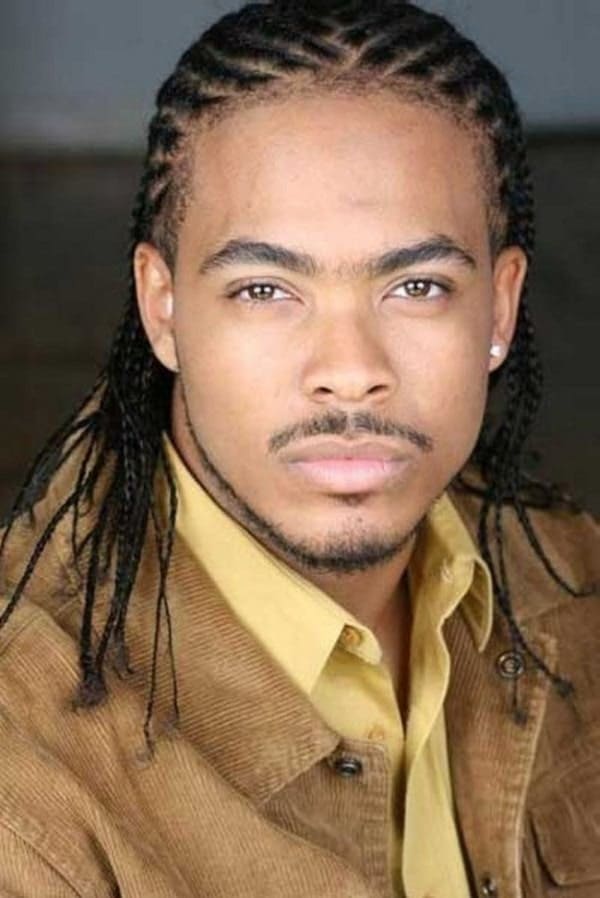 For guys with medium or neck hair length, braiding your hair is another technique to look stylish. Moreover, braided hair can work as an overnight design to last for more than one day. Especially, for guys who don't have enough time and end up rushing out of the door to work every morning.
#22. Swirly Style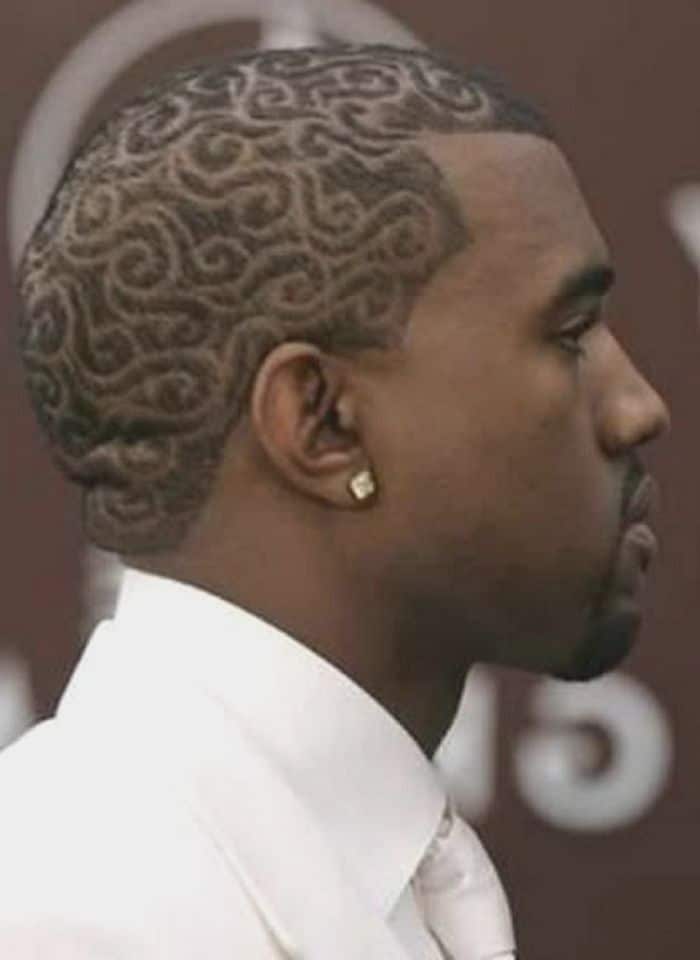 When a short buzz is just not enough for your cool look, you will have to think a little bit outside of the box. So, as a starter idea, a swirly pattern can add plenty of dimension to your black male hairstyles.
Because this version expertly carves swirls and curls so they work with hairs whorl and land just right along the forehead, it makes the perfect pair up for your requirements.
#23. Rapper Roll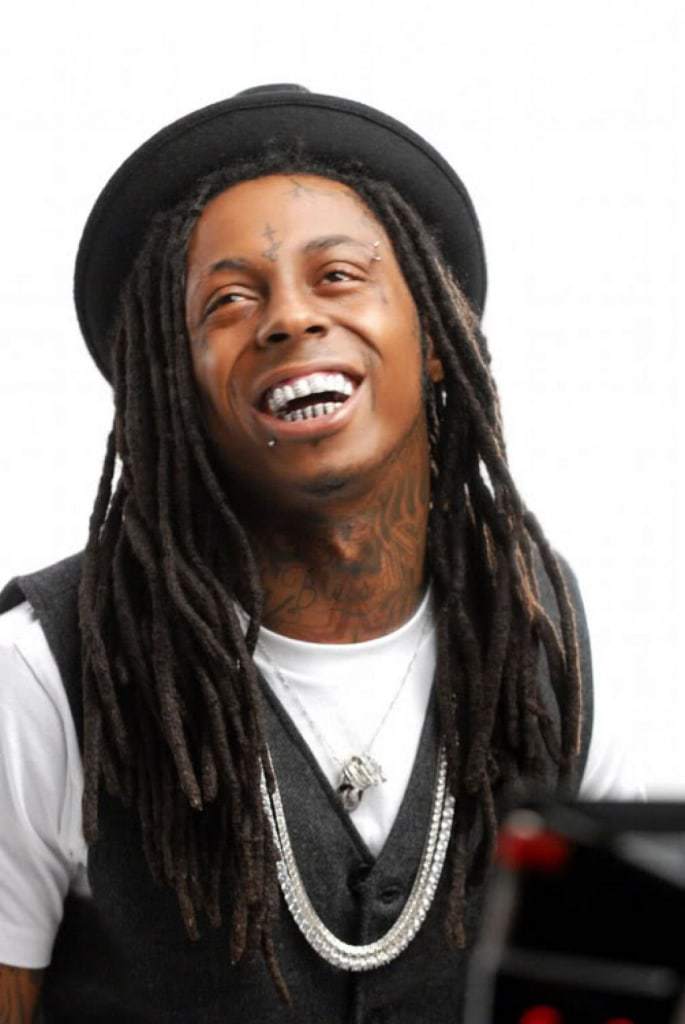 If you are a rapper in the music business, get yourself these unbeatable faux dreadlocks. Especially, if you are the type of guy who likes yo changes hairstyles as fast as changing your outfit. Because with faux locks you will never have to make this long-lasting commitment.
#24. Snake Braids
Rather than going bald and hairless, some black men hairstyles are pretty close to that length yet enabling you to look stylish as ever. So, check out the snake silhouette of the braids shown in the photo above and try to imitate them as your upcoming fashionable experience.
#25. Curly Natural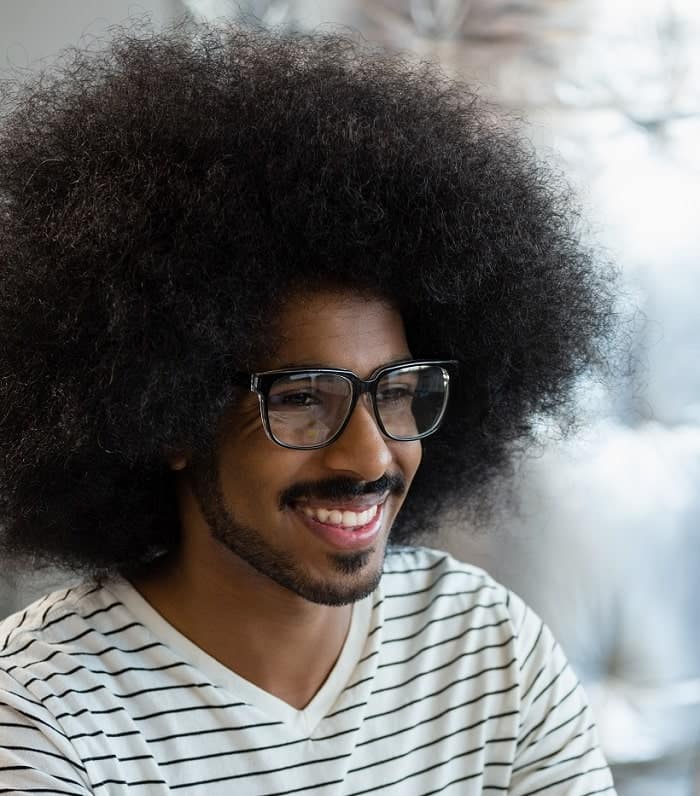 Going outside doesn't necessarily mean that you need to spend endless hours styling it up for everyone to enjoy. Because sometimes going au naturel with your " I just rolled over from bed" hair can send a message to everyone about how little you care for opinions about your outer look. Thus, what truly matters is what is on the inside.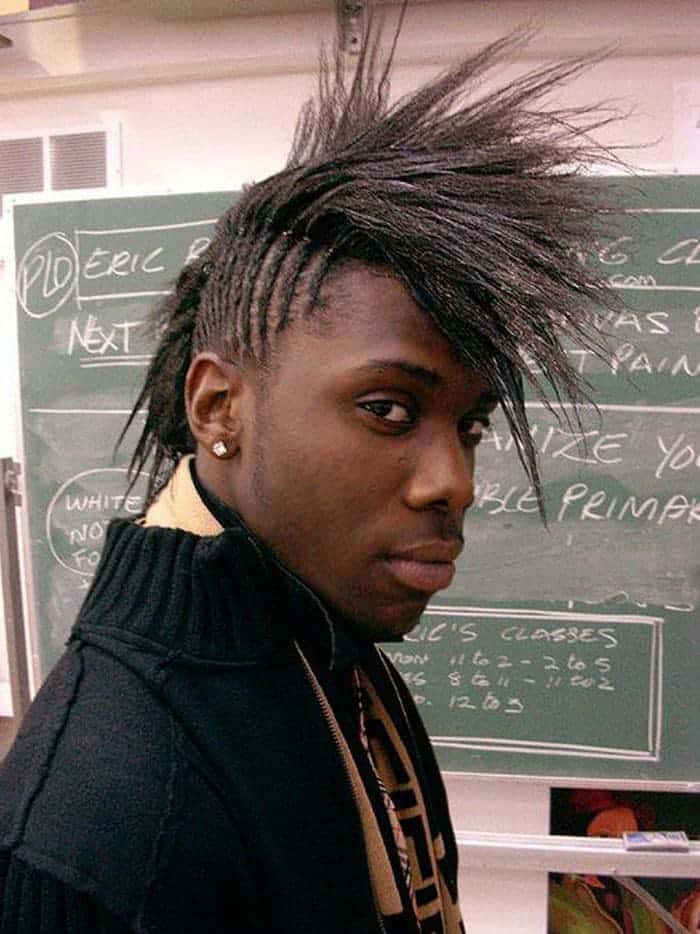 For some fashionistas, plain and basic black guy's hairstyles are just not enough for them. So, they need to go for the over the top designs or else they feel as if they are underdressed for the occasion. Thus, if you remotely relate to them, check out the crazy creation above and try to copy the parts that you like.
#27. Curly Fade + Separation Line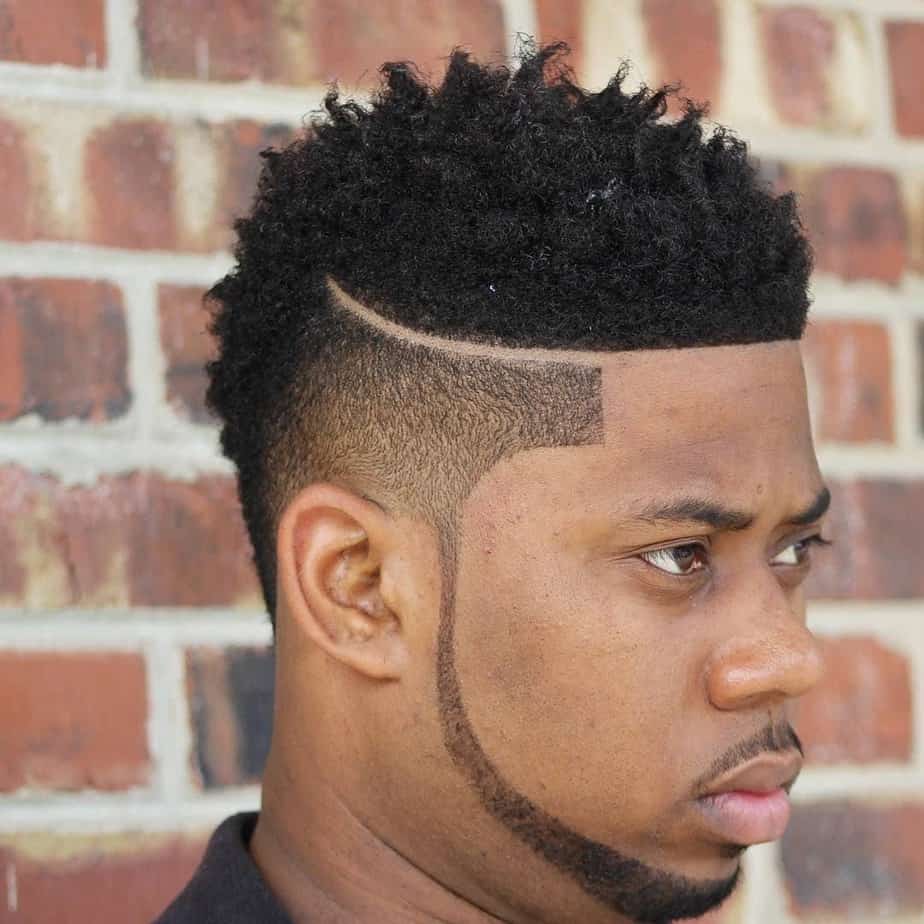 It's all about geometrical shapes! So, if you want a fresh style that is all about geometry you should get the extra details that form the surgical line separating your top portion from the sides. And don't forget that thin lines are what make this contrasting look more and more catchy.
#28. Burst Fade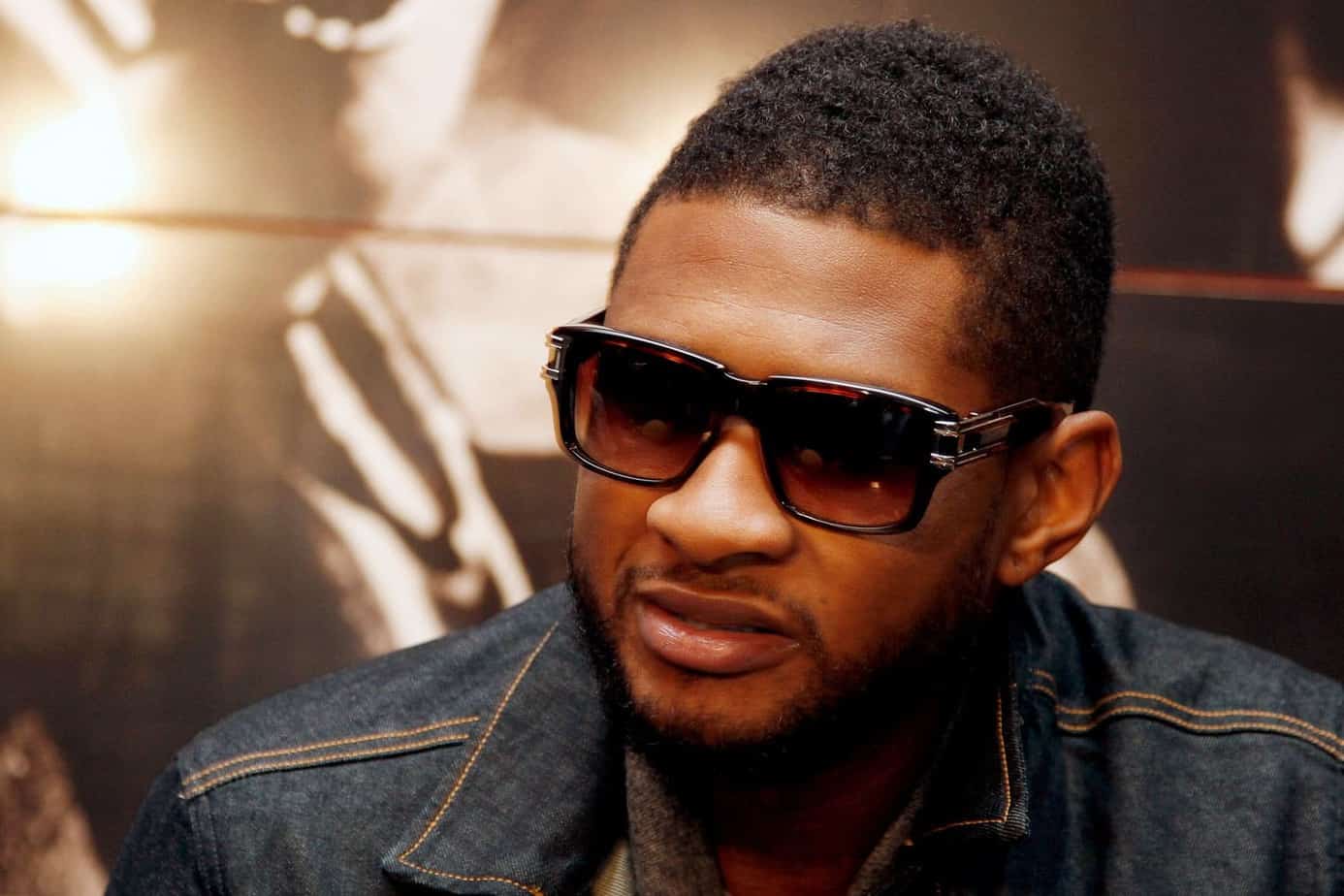 To all short hair lovers, this cut has enough freshness in it to look retro yet tightly sleek because of the burst fade on either side. Moreover, what makes it so tempting is that it requires no effort whatsoever, not even simple combing.
#29. Partly Dyed Curls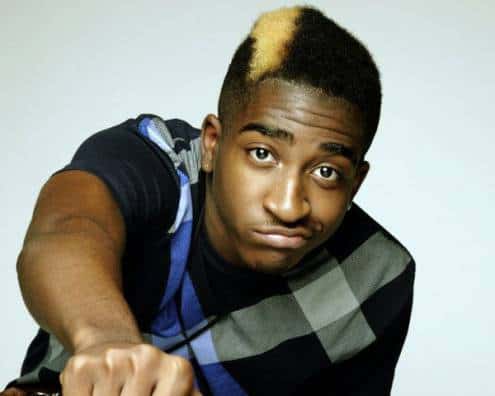 For guys who are all for standing out in the crowd and being different, this is the black style for you. Because, whether you are the proud owner of long or short curly hair, dying a portion of it with a bold hue will result in a daring design.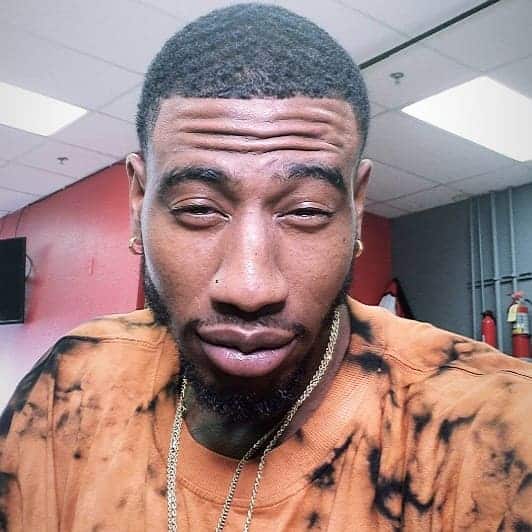 The short cut is a hairstyle that is always trendy and elegant. It never goes out of style. It is perfect for black men who want a simple and clean look, without spending too much time on maintenance. The cut comes equal from all the sides, with a sharp and clean line at the front, on the back and on the sides.
#31. Curly Hair Held in Headband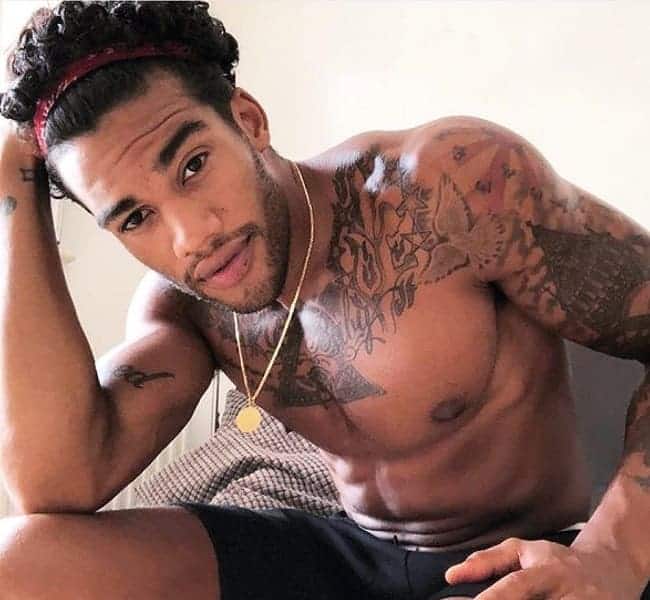 This is another simple look that will keep your hair in place. If you have naturally curly hair and don't want to wear it in the regular haircut, you can try pulling it back with a headband or headscarf. Just look for one that is thin and that will not cover your face. The curls will come over the band but the look will be great.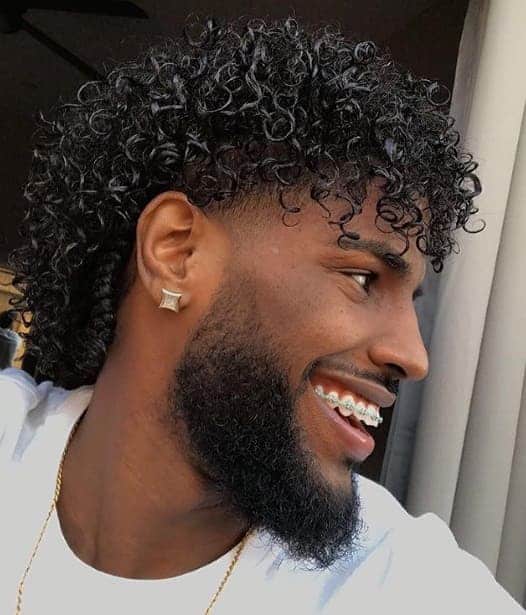 The curly shag hairstyle is seen very often among black men. The cut involves layering and this look presents a bald side fade. It is interesting as the curls are natural and small, coming from all the sides, even on the forehead. The styling here will require a suitable product for curly hair.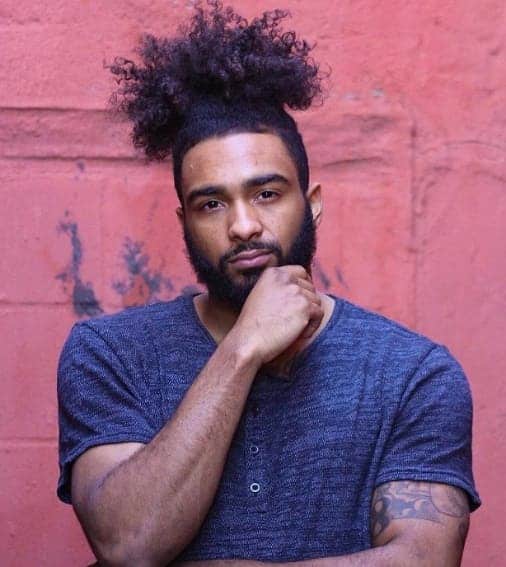 Mixing the short and the long hairstyle for black guys comes together in this look. The hair all around the head is cut short, while the top is left in long curls. They are being wrapped in a high, voluminous and curly ponytail.
#34. Buzz Cut with A Curvy Line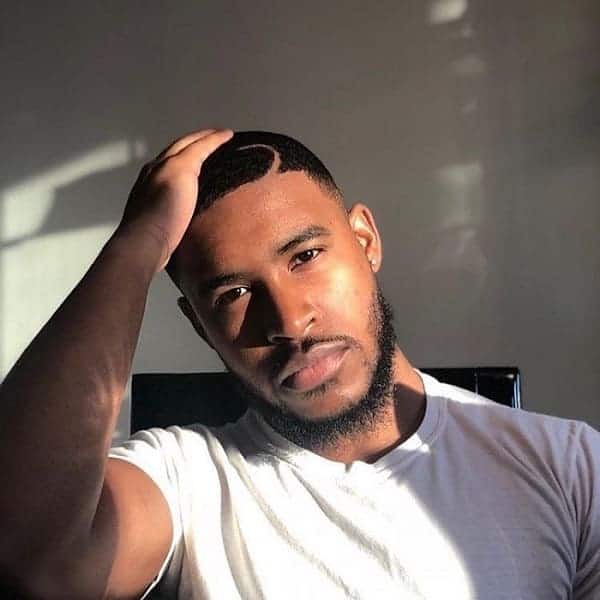 The buzz cut is a popular haircut choice among black men. It is short and classy. This look presents a mid fade, with a textured top that has an added curvy line. The line gives an upgraded and fresh look to the buzz cut.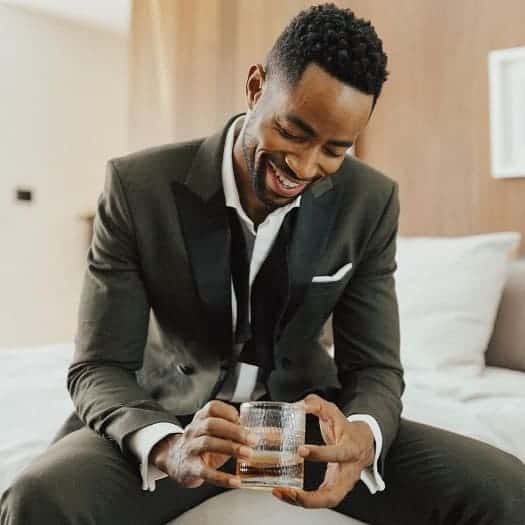 This is an elegant look among black businessmen who want to wear short but different hairstyles. The sides come in medium fade while the top is textured and wavy. This is the hairstyle for modern men who want to look presentable and elegant.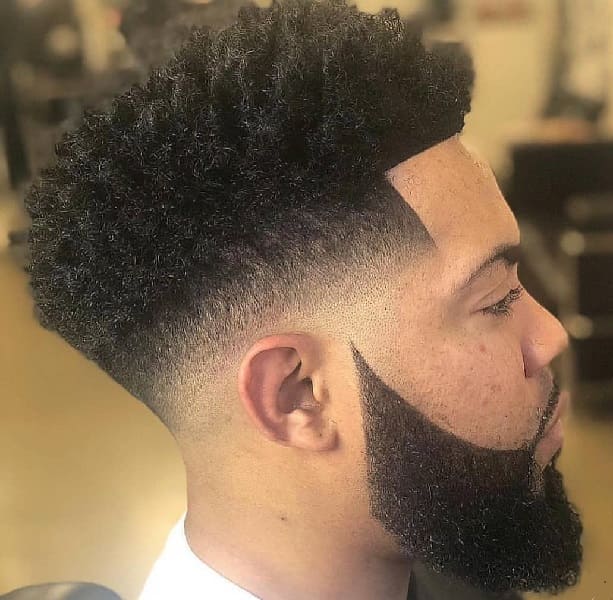 The taper fade is a much more interesting version of the regular fade. The top is what defines the hairstyle with texture. The sharp temple lines make it even more appealing. The top visually opens to the sides and the fade keeps is grounded.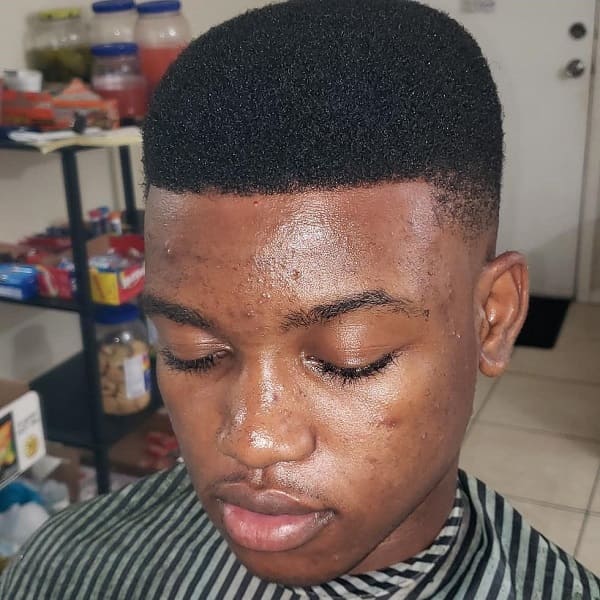 The simple high fade top is a short black men hairstyle. The sides come in a high fade, shaved, while the top is left a bit longer. Depending on the hair type, it can be styled with extremely low fringes. There is no particular maintenance here, just the regular trimming.
#38. Sponge Twist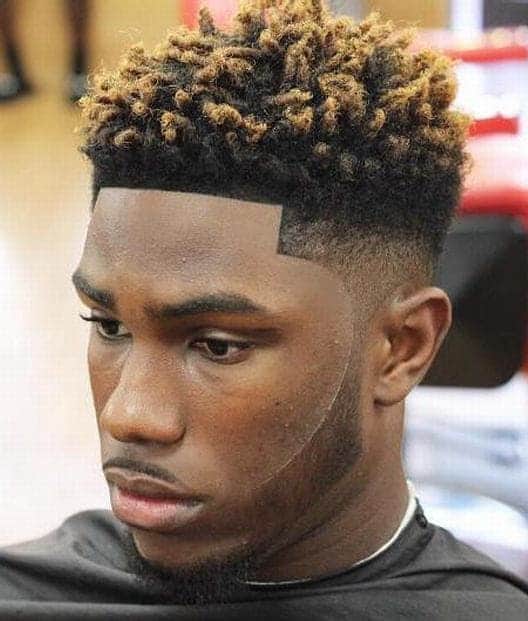 The hair on the top is twisted and looks very chic and cool. It presents a sponge-like top that finishes in a clean fade. Spicing up the look can be done with highlights on the twists or making them in some other color.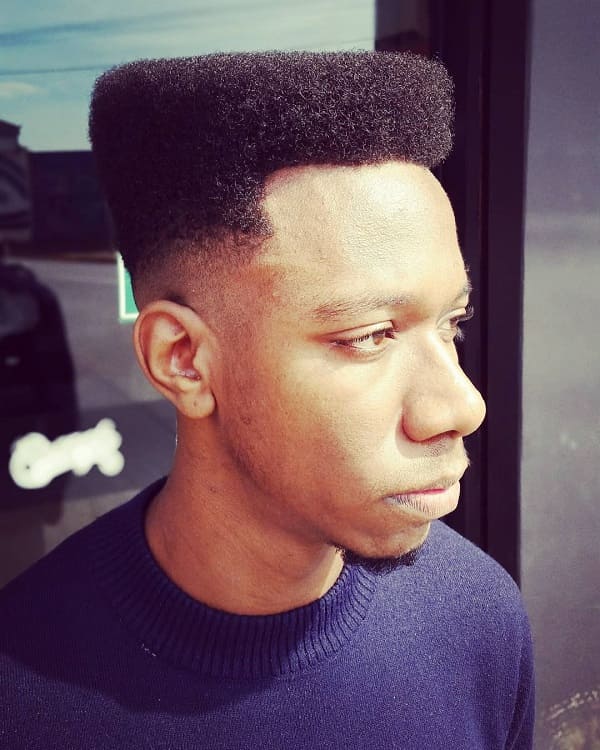 The flat top hair can be done only on black men who have extremely thick hair. The thick hair is great for sharp lines and edges. The flat-top in this hairstyle is medium-high, while the undercut is gradual. This is the retro look from the '90s. The higher the top is the more unique the hairstyle will be.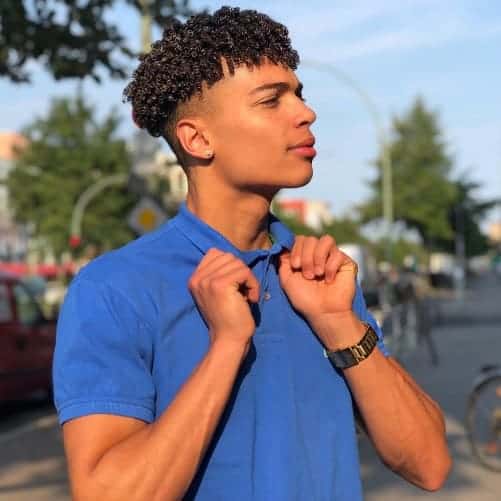 The curly bowl cut presents a style where all of the curls fall evenly to the sides. It is a modern hairstyle that is great for black men who have curly and naughty hair. The cut can be upgraded with a bald fade of shaved sides.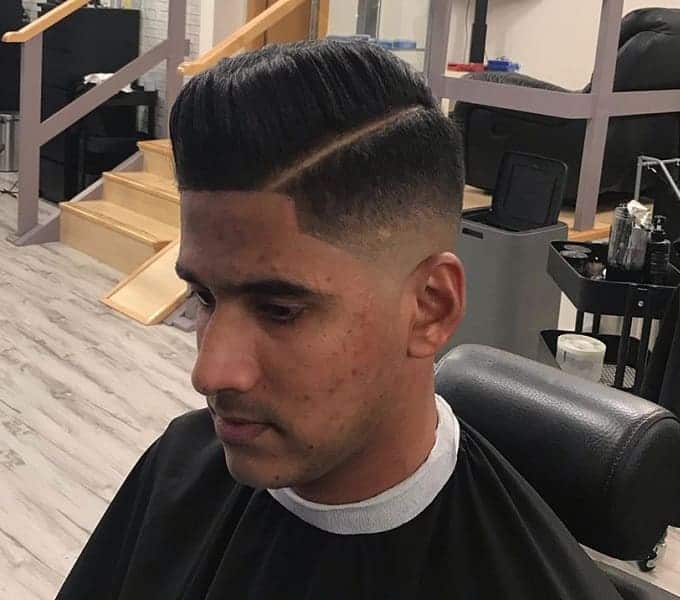 This black men's haircut is similar to the regular hide flat top hairstyle. The only difference comes in the thick line that appears on one of the sides. It is sharp and curvy and adds to the beauty of the look making it more interesting and unique. The top can reach any height. It can also be flat for a more dramatic look.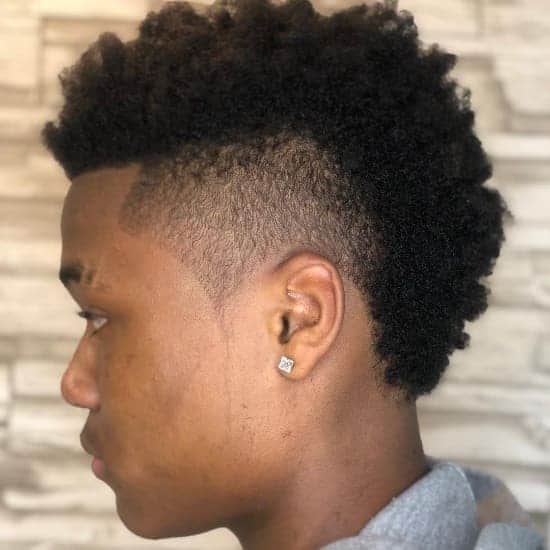 This variation of the undercut Mohawk is called a frohawk. The fade here gives an idea of distinctive appearance. The top is left curly or spikey while the sides drop in the fade. It resembles the Mohawk style but with softer edges.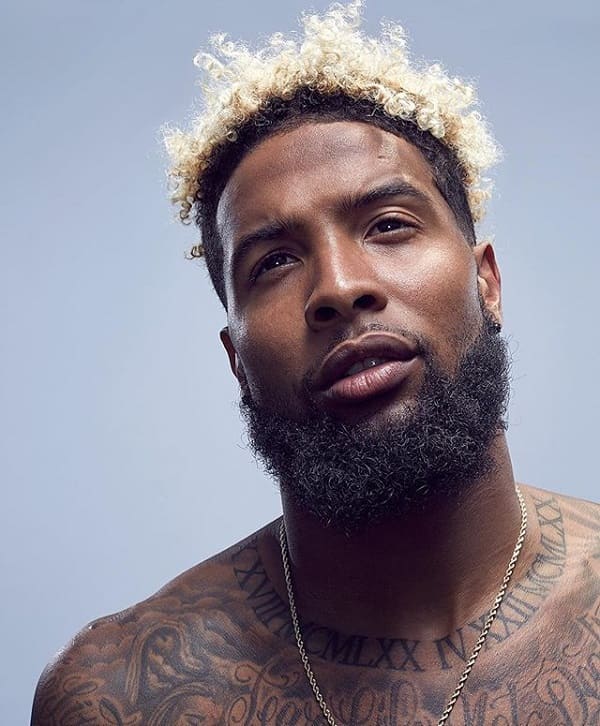 The look might not be so catchy and interesting if it is made in one color. The combination of the blond curly top with black base gives a nice change to what we are used to seeing. The sides are cut short while the top is curly and colored blonde.
#44. Disconnected Twists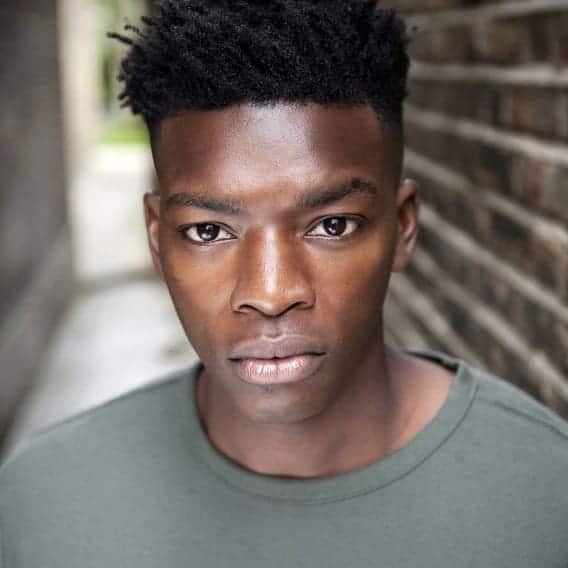 The high bald fade creates just necessary to disconnect the hairstyle needs. The top is styled in mini twists that bring definition and texture to the look.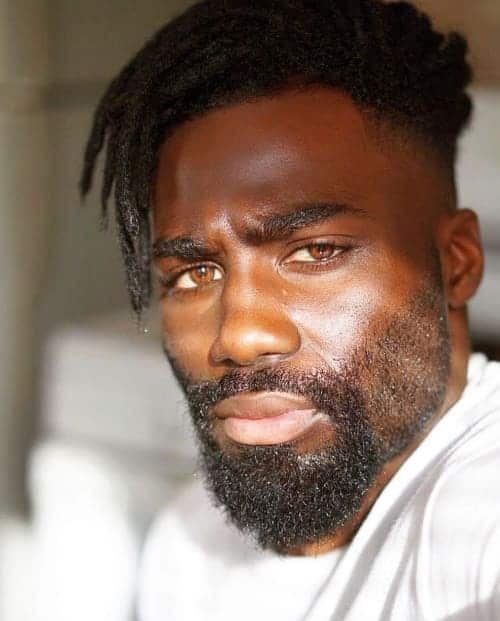 The middle length dreads can be styled alongside a fade in this trendy look. One of the sides comes in almost bald undercut while the other is entirely covered with medium dreads. The front side and the side-swept direction of the dreads make this hairstyle for black guys unique and beautiful.
#46. Shoulder Length Dreads
The beauty of the dreadlock is well-known. They represent a relaxed, street and hippie style. Black men just love wearing dreaded hair. Those who have shoulder-length dreads are already flaunting a popular hairstyle.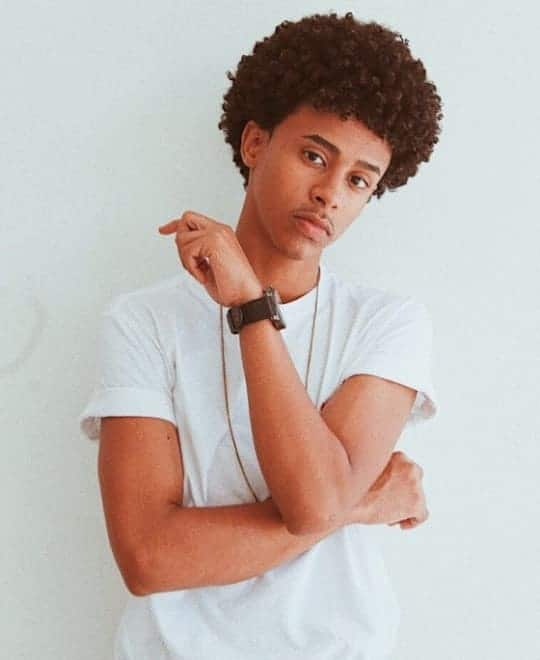 The afro style presents a voluminous style with an iconic shape. It starts as a short curly cut and then opens up, in bushy and big curly shag. This is a black boy's hairstyle that will require regular use of products, trimming and daily styling.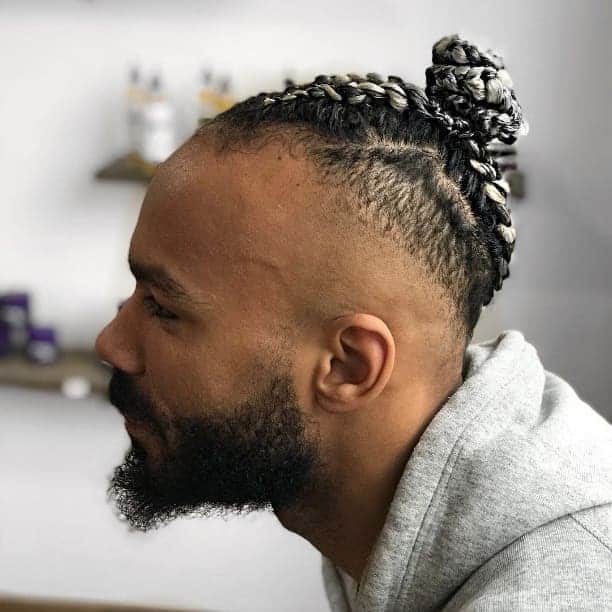 Cornrows are kind of braids that give different looks on the head. Black men often choose cornrows when they want to look more young and trendy. For an even better look, the cornrows are pulled back in a bun. The sides can be a bit faded or the cornrows can start immediately.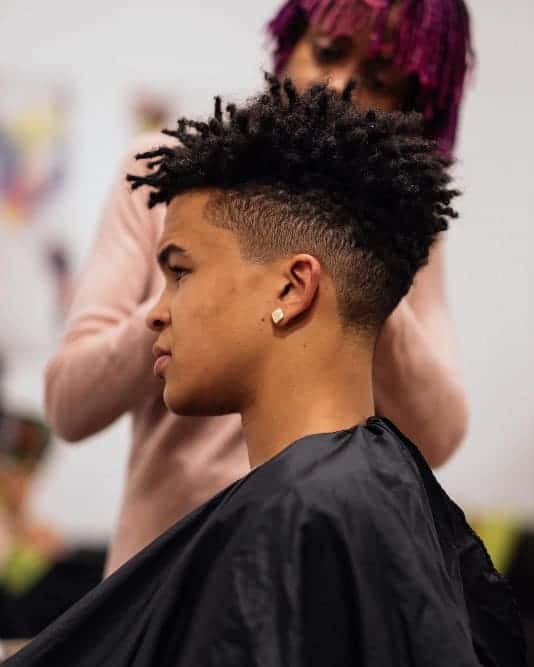 The classic look of dreads presents messiness. But these kinds of dreads are neat and presentable. They are short, come on the top of the head and make the style totally on point. They will come in full light if they are accented with shorts sides.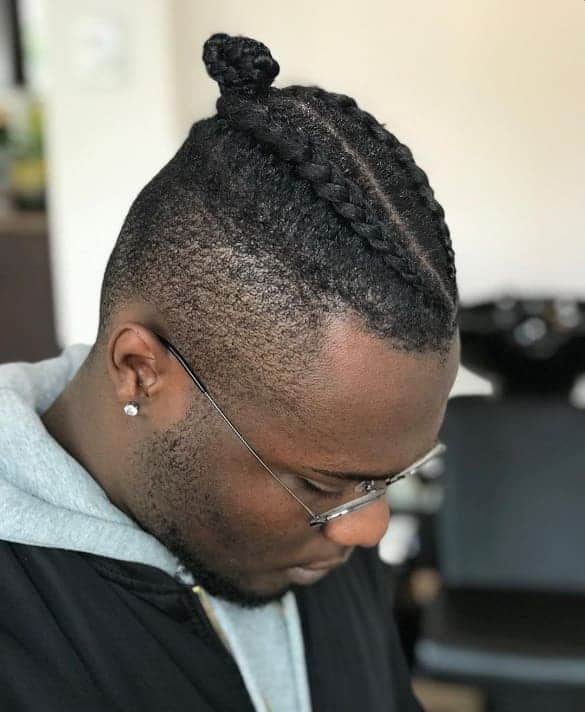 Although this look can be done with cornrows too, many men choose to do it with the regular braids. The top comes braided in two parallel braids, equally positioned from both sides of the middle part.
They end up wrapped in a mini bun. The sides are high faded and create a nice contrast for this black male haircuts.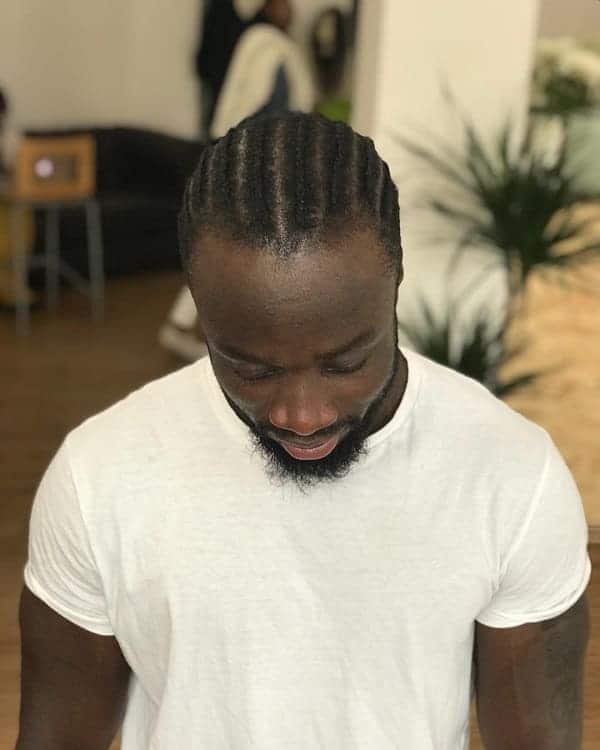 As mentioned above, cornrows hide an intriguing style that has been and is still very popular. They come as a version of regular and twisted braids, with clear parts between them.
Depending on the length of the hair, they finish tied up with a band. This is a neat look that is presentable and original.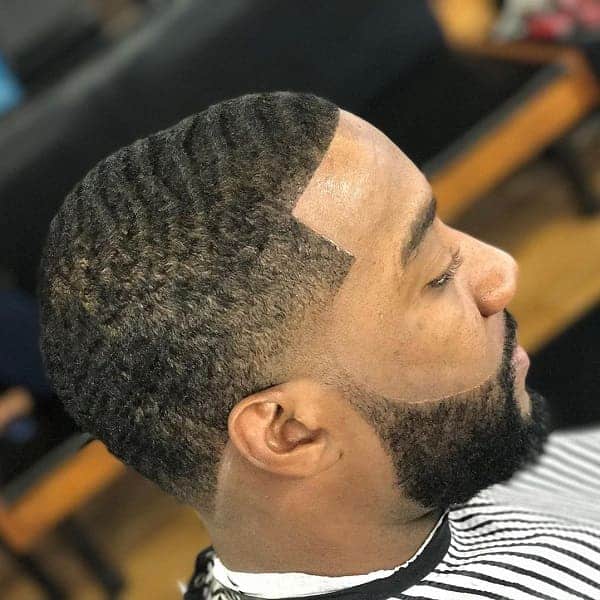 The beauty of this cut lies in its uniqueness. There is no similar haircut that presents the same look. Seen from above, the entire head looks wavy due to the technique of cutting the wavy hair and leaving interesting parts in between. This haircut looks best on very short hair.
#53. Creative Flattop with a Drop Fade
This is something that is rare and you have to be bold to decide to have this haircut for black men. First of all, it can be done only on men who have very thick and dense curly hair. Styled with very sharp lines, the look starts with an accented fade that quickly rises into the high top.
The top is flat from the above. To add some edginess of the look, there is a curved line that goes around the middle of the top, separating the haircut in two parts.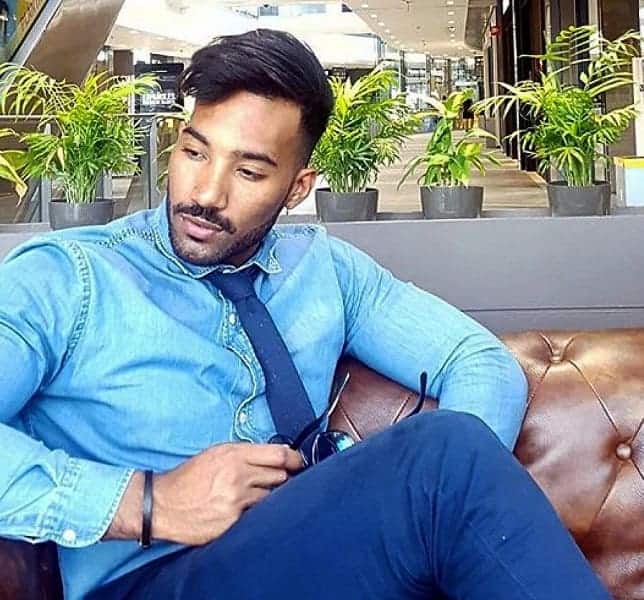 The side-swept undercut for black men is one of the trendiest hairstyles. The coolest side-swept looks can be done with straight hair. This look presents a deep side part with a regular short cut. The top is styled to the side. It is a bit layered and gives the hairstyle texture.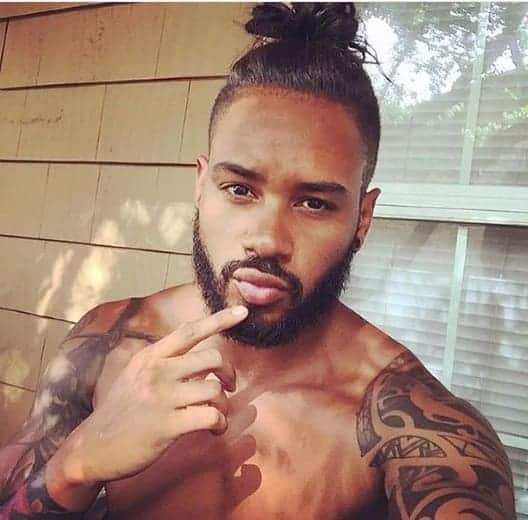 Top buns are very popular lately. Especially when they come in combination with a high fade, they create a totally opposite look. The sides are short while the top hair is long, pulled back together in a top messy bun.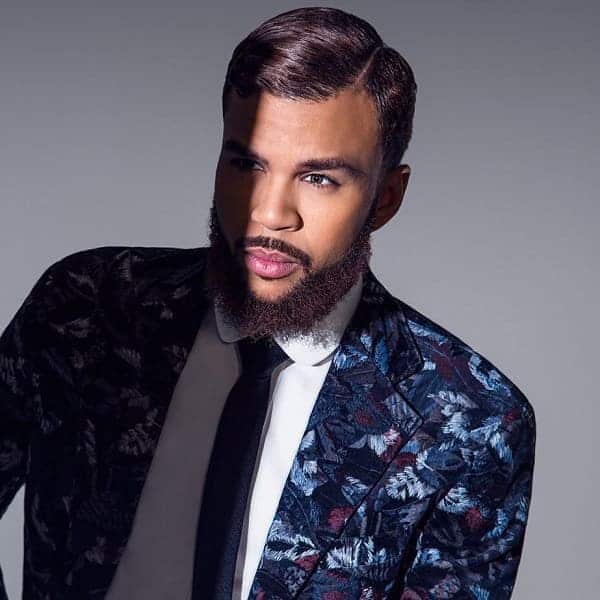 There are certain hairstyles that are very elegant and modern and don't involve braids and dreads. One of those black men hairstyles is the sleek side sweep. It can only be done with straight hair, so men with curly one should not even try to do it.
The hair is parted to the side with a deep line. The one side comes in a natural fade, not very short, while the other one is very sleek and styled to the side.
#57. Long Thin Dreadlocks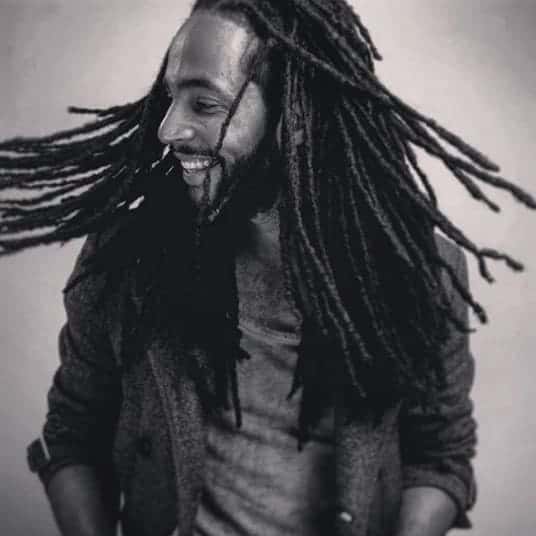 Black men with long hair almost always opt for wearing their hair in dreadlock. This makes them look more original and unique. The long hair is made in thin dreadlock that can later be styled in many different ways.
This look is a combination of 3 haircuts. First, the undercut is low but visible. The next is the short dreads, in medium thickness, falling from all the sides. At last, the frontal dreads are being pulled back in a half-up pony.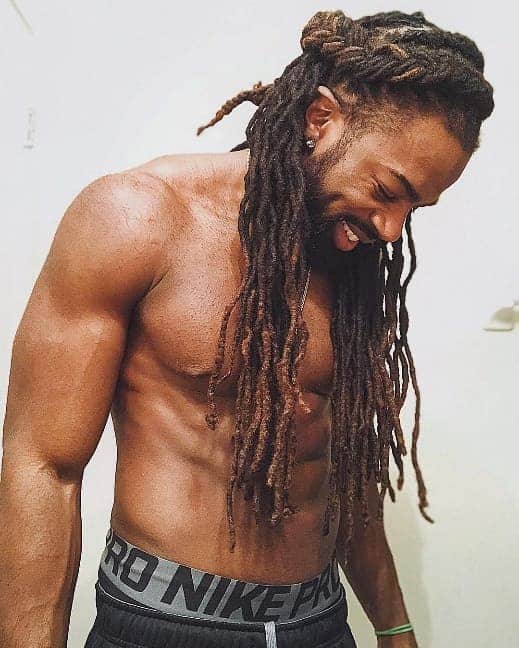 This is a hairstyle that involves a lot of work. Namely, the long hair is braided in tiny twisted dreads. After that, the front part of the braided hair is being pulled to the side in one huge braid made out of the tiny dreads. It ends somewhere on the back, while the lower dreads are falling down freely.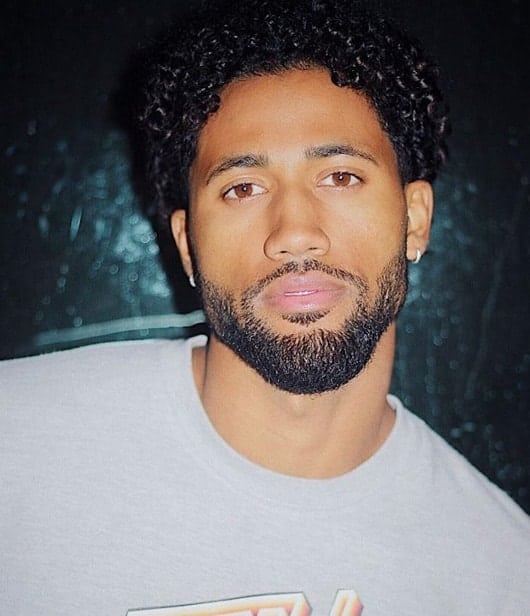 This is a hairstyle that can come as a natural look for black guys. The curls are small and spirally, falling to the sides. The entire hairstyle is layered and it gives a nice frame to the face. There is no undercut or fade, just curls everywhere.
How To Take Care Of African American Natural Hair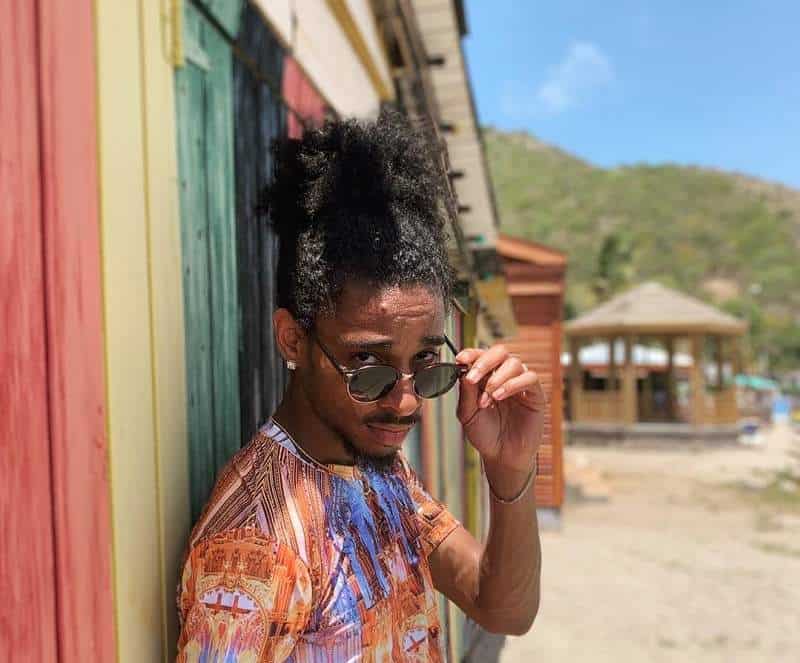 African American men who wear their hair in natural styles know that it requires a great deal of special care. Their hair may have a coarse, strong appearance, but the truth is that it is really quite fragile and prone to damage. That is why we are going to list a few tips on how to take care of African American natural hair for men.
One of the first things to be aware of is that African American men's hair tends to dry out easily. The curly texture of this hair often prevents the hair's natural oil from traveling all the way down the length of the shafts. For this reason, it is important to use products that provide moisture to the hair, such as those formulated for dry hair. These products will contain special moisturizers and emollients needed by the hair.
Ideally, one should choose products that contain natural oils and moisturizers. Petroleum-based products tend to simply coat the outside of the hair rather than penetrate and moisturize the hair. Such products are also more likely to add weight to the hair and put it under stress as well as clog pores and attract dirt.
One should never brush the hair while it is wet. The brush puts strain on the hair that can damage the follicles and cause early breakage and damage. This can seriously slow the natural growth of the hair. Even dry, one should use a wide-toothed comb when styling the hair. This puts less stress on the strands and leads to less breakage.
It is a good idea to wear a satin or silk cap to sleep in. This is because the hair can catch in the fabric of pillowcases and such when one moves. This can damage the hair and lead to breakage. Satin and silk are smooth materials against which the hair can slide without catching.
If a man has long hair and wishes to wear it in a ponytail, he should use a scrunchie made of elastic with not metal. This is because the metal can catch in the hair and pull it out or break it when taking the ponytail down. However, ponytails are a hairstyle that places strain on the hair and should be avoided as much as possible.
In order for black men's hairstyles to stay fresh and presentable, they use hair products that cater to their hairstyles. They will use sheen, braid oil or other hair products that will work for their hairstyle and texture.
To keep their hair from frizzing, a scarf is placed on their head before they go to bed. For some black men's hairstyles, more maintenance is involved because of the texture of the hair. Every man's hair texture is different from someone else's.
The modern black man knows that his hairstyle is one of the greatest advantages he can flaunt. Curly or straight hair, the hairstyles for black people are unique and fabulous.
Finally, if you have been working on changing your haircut, copying one of the black men's hairstyles above is the first step towards achieving stardom. Therefore, all you need to do is scroll back up and pick the design you most relate to.