From the braided top knot to the 2-braid bun, if you want to flaunt your manhood, the braid is your best friend currently. One of the hottest trends in men's fashion world, there are various types of braids that black men can carry today.
The braid is not just a fashionable solution for long hair but also a practical way to manage the long tresses, be it a girl or a boy. It is a low maintenance option for keeping your high maintenance hair in proper shape.
Tips for the Perfect Black Men Braids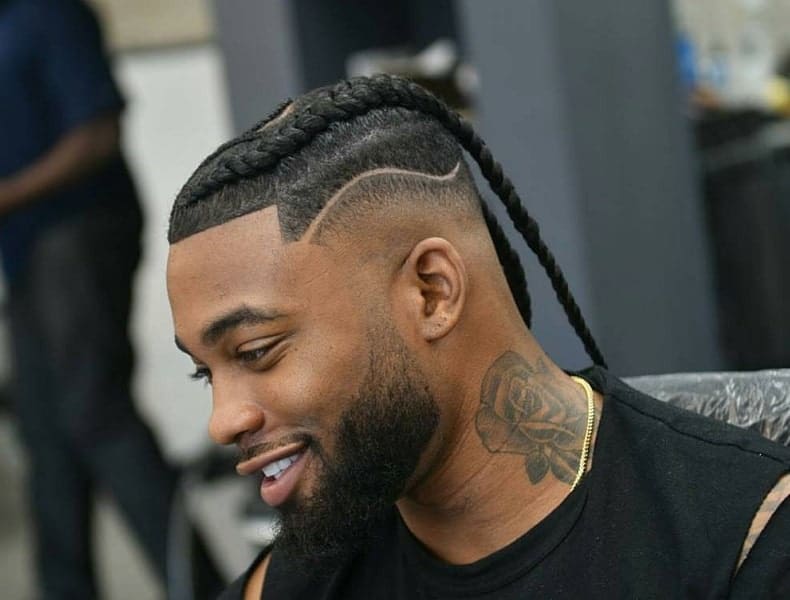 If you are keen on achieving the perfect braided hairstyles for black men, here are some easy tips on how you must prepare your hair. These will not just keep the style intact but also provide nourishment to the hair.
Make sure your hair and scalp are as clean as possible. Use a gentle shampoo and conditioner too if required. The idea is to fortify the hair as well as possible before braiding so that you cut down chances of hair fall as well as you can.
In case your hair is coarse or dry, it is better to use a non-sulfurous shampoo.
Detangle the hair completely and remove all knots for best result. That way, it will be fairly smooth. Divide the hair into two or three parts and disentangle each one separately. That will result in lesser breakage of hair.
Use a wide-tooth comb that can set deep into your scalp. That way, the knots will all come off at the same time without any effort.
After that, divide the hair into smaller sub-parts. This will, of course, depend on the number of braids you are making and the length you want for each.
Moisturize the hair after it dries so that it makes the entire braiding much more relaxed, and you can separate the strands easily too.
The men braid styles depend a lot on the health of your hair. So when you follow these tips, you can maintain the overall hair health. Needless to mention, that will always enhance the styling of your hair.
Also, this will enable you to keep the style intact for a longer duration of time. The luster and length of the hair are also directly proportional to the kind of care regimen you follow.
Classic Single Braids Styles for Men
Striking Braids Styles for Black Men
Here is a look at some of the most striking style of black man braids.
1. Classic Braid with Fade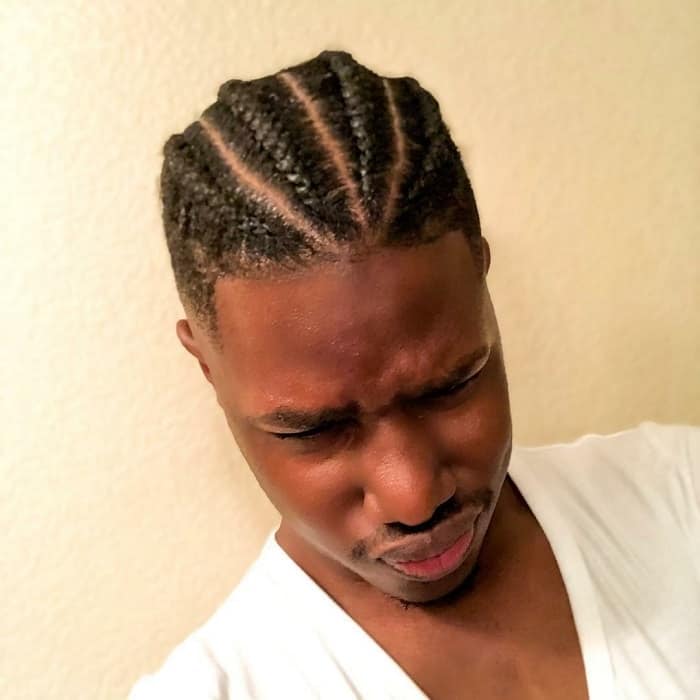 This classic braids for black men is an outright winner. The strict braid lines with the high skin fade create an intensely rugged and masculine look that is hard to ignore.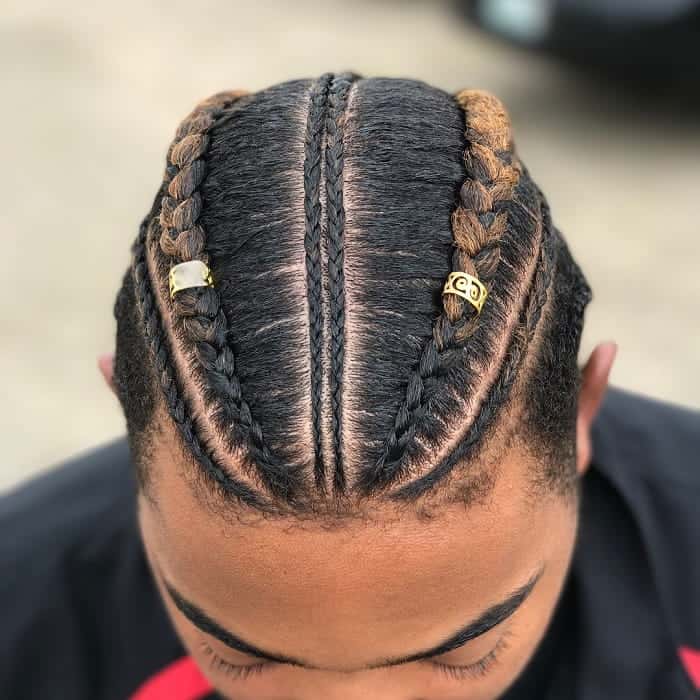 This is one of the simplest of the braided hairstyles. The Dutch braiding style does not take a lot of time on its own, but when done properly, it can look really cool.
3. Drop Fade with Dutch Braid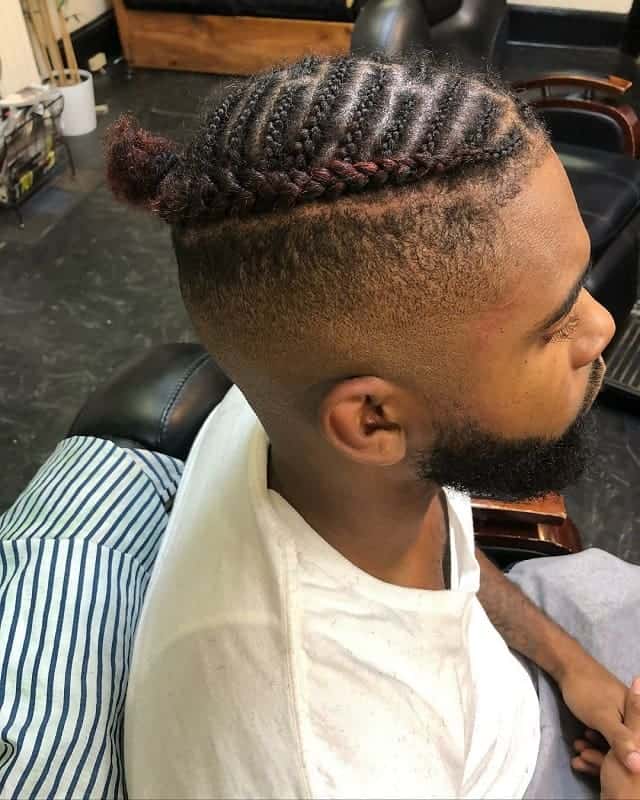 The drop fade here accentuates this braided hairstyle for black guys. It offers a variety of texture, concept and a sense of exotic to the whole setup.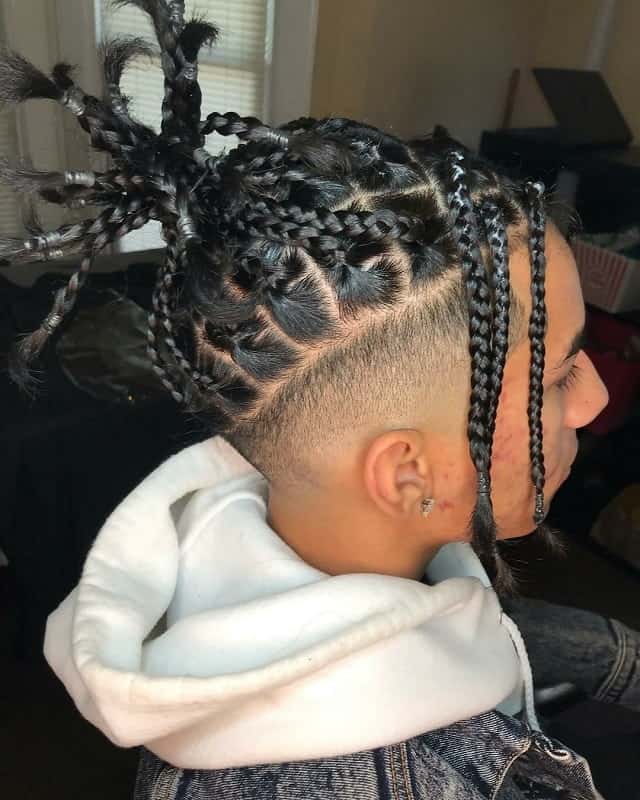 In this, the layer of braids has been tied together in a knot on the top. This introduces further texture to the hairstyle and makes it stand out as a distinctive braid style.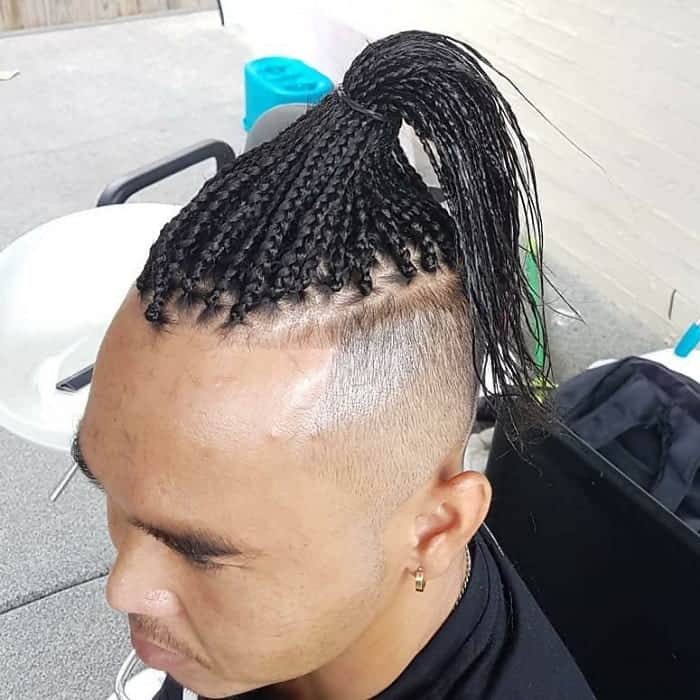 Think of the high fade with a box top. Now try and replace these with a stunning collection of braided strands well, you get the perfect box braid.
One of the most common black man braid styles; this is special on account of its stunning simplicity.
6. Braids with Fancy Extension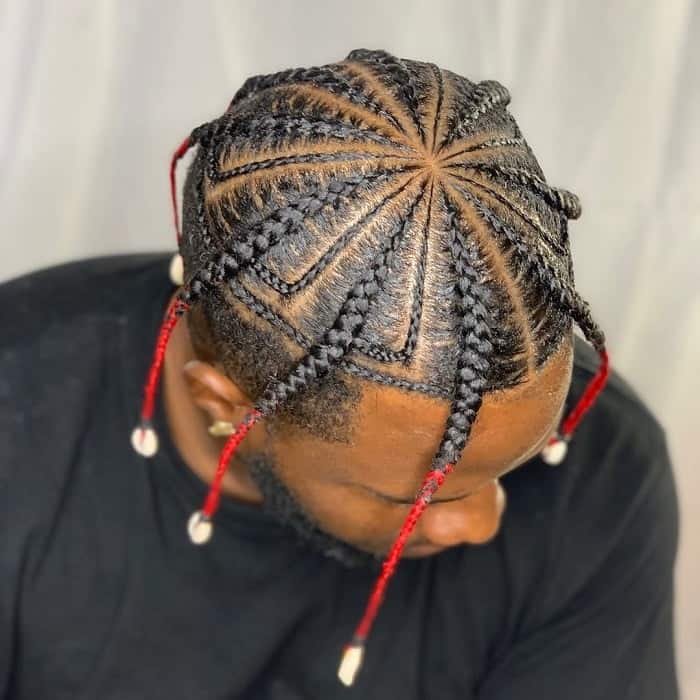 These fancy hair extensions add both color and excitement to your braid style. It creates a sense of exotic to the overall braided hairstyle for men with short hair.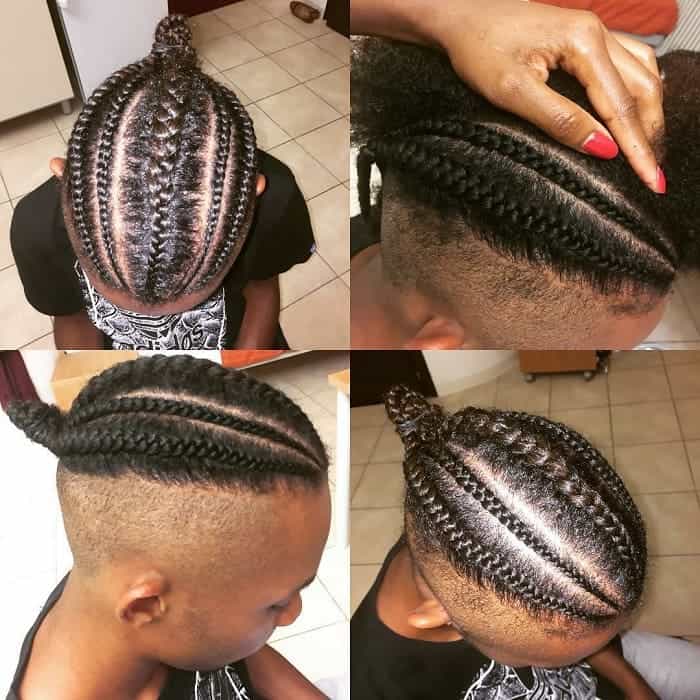 When you are looking for that perfect man braids, it is hard to beat this one. One of the quintessential braid styles, this is neat, classic and absolutely stylish.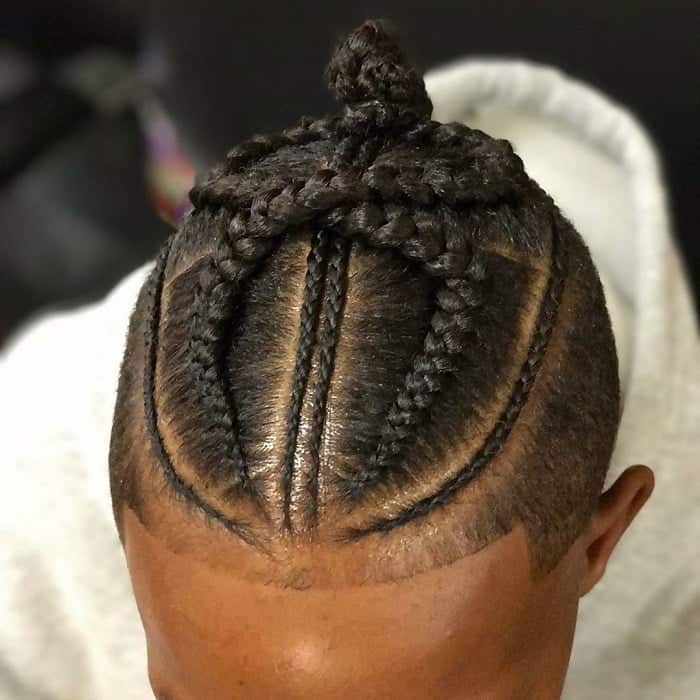 This is the picture of absolutely exquisite black men hairstyle. The braids are bunched up in a bun. One of the unique adaptation of braid styles; this is an outright winner.
9. Double Bun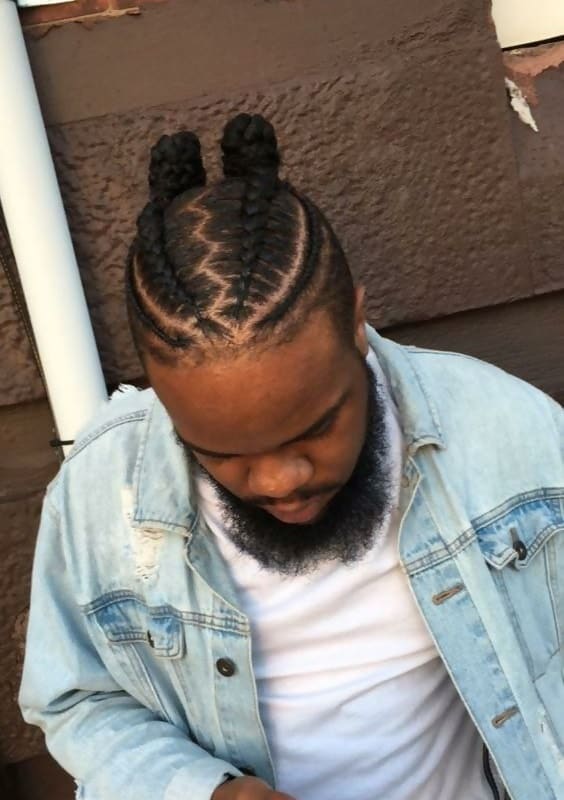 In case you like making buns with the braids, here is a double dose. The most striking aspect about this style is it represents the rugged, rough and tough you but at the same time, it also highlights a sensitive you.
10. Braided Mini Bun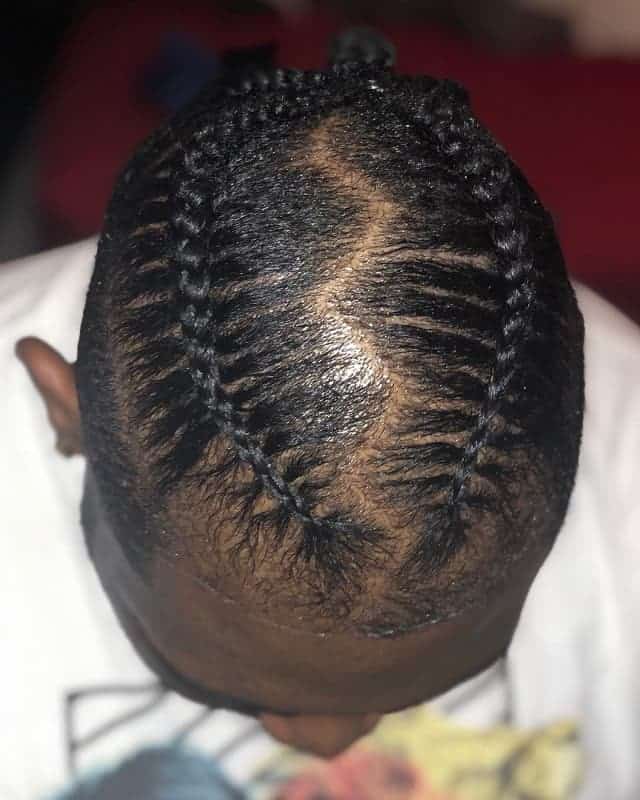 In this black men braid style, you have a rather trendy proposition. Just two braids on two sides and a bun, this is also a style that most can pull off rather quickly. It is ideal for those with relatively long hair.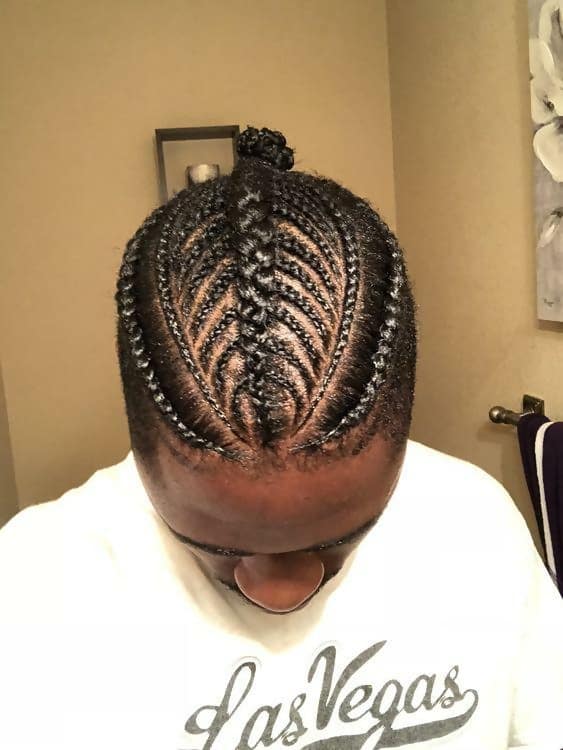 This is a slightly complex braid style for men and needs relatively long hair. But it is unusually sexy and stylish and undeniably one of the top black braid styles to choose from.
12. Double Braid with Fade & Tattoo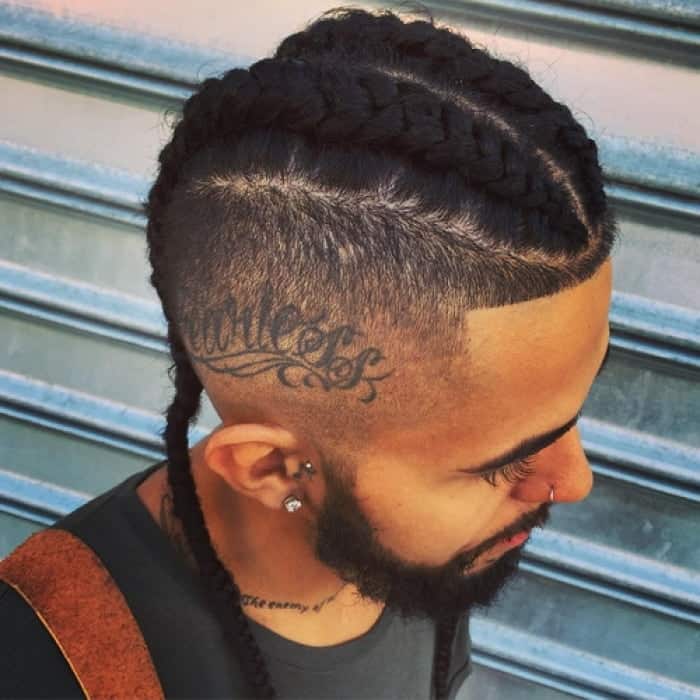 Often braid for black men is a subtle representation of their machismo and style quotient. But this style completes with the tattoo and the fade speaks volumes about this man's masculine energy.
The beard and the long strand of braid behind projects a carefully curated image of the man who is creative and absolutely in sync with his manhood.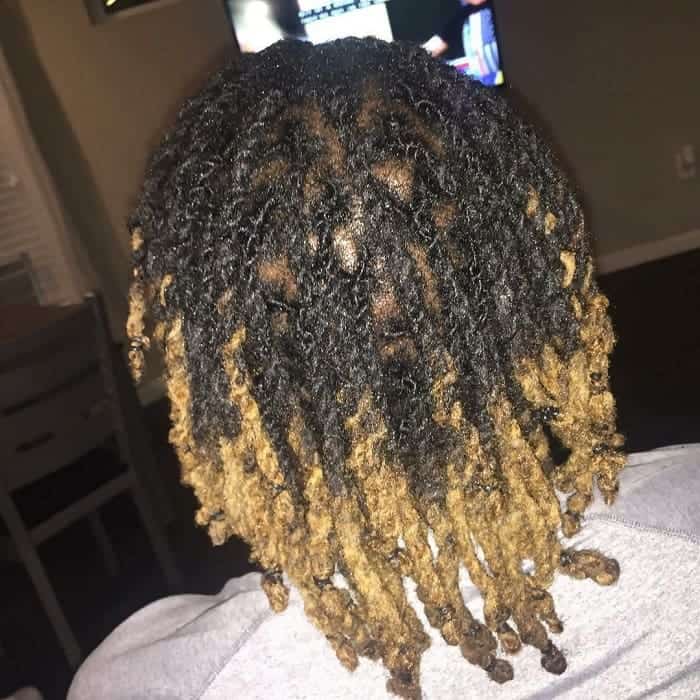 If the regular braid styles does not appeal to you, this one will surely do the trick for you. It is kinky, classy and an absolutely gorgeous.
If you are looking for that rugged casual and in control of the world look, this is the right way to accessorize your look. It portrays a bold, style-conscious man who is not worried about flaunting his love for long hair.
14. Braids with Color Highlights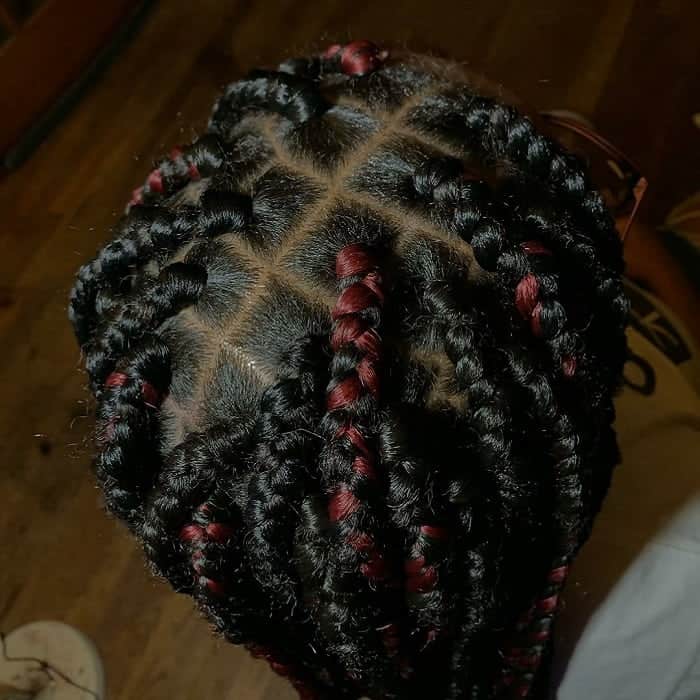 In case you think plain braids are boring, here is a braid style that will absolutely rock your look. It is classy, exciting and absolutely rocking.
The little burgundy highlights are not just about adding colors, it is a subtle improvisation that makes the regular men braids absolutely stylish. This also offers an interesting twist to your overall styling initiative and helps you standout tall in almost any group of stylish men.
15. Tribal Braids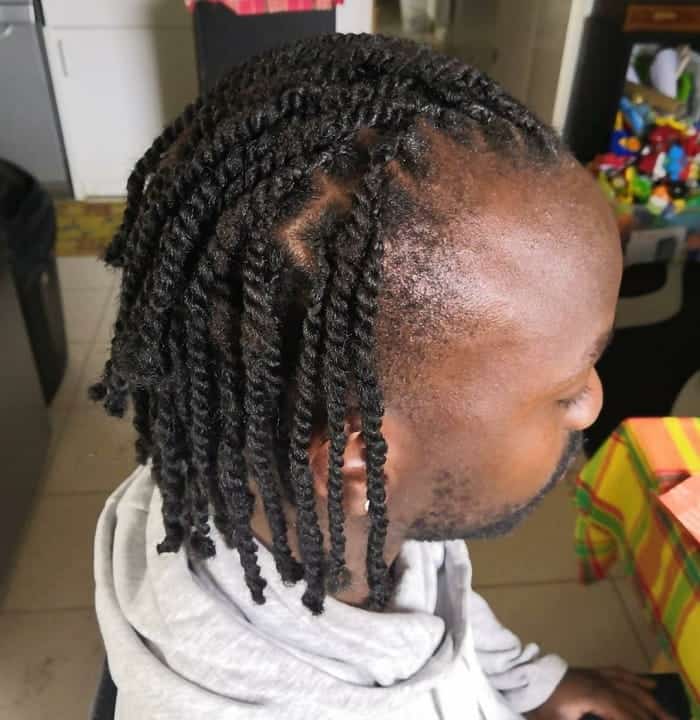 The dreadlocks with braid here stand out for the interesting mix of textures. It is no doubt one of those fashions that can hardly go wrong in the world of braids for black guys.
It is cool, sophisticated and classy. However, getting this perfect look may take time and patience too. Moreover, care for this type of hair is also a complex process.
16. Side Braid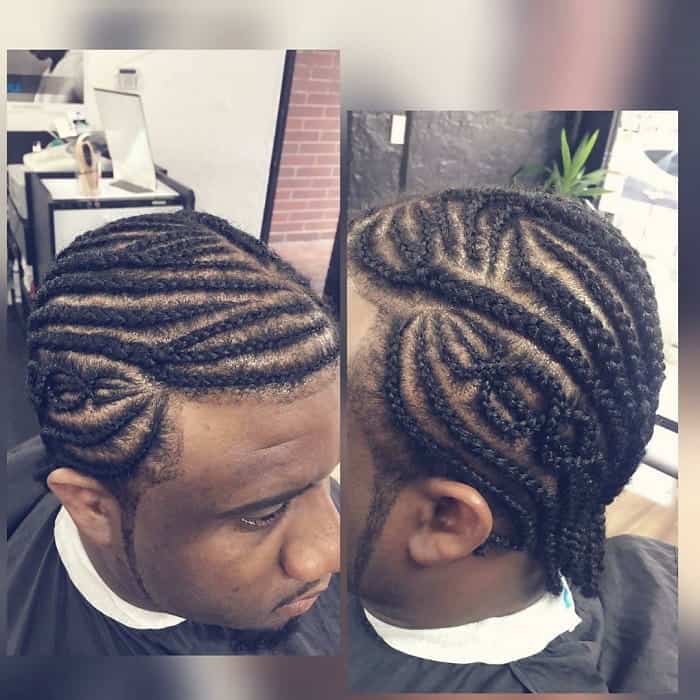 This is probably not that common, but the side braid is an interesting variation. It speaks volumes about the man and his preferences. This is the type of braids that is for black men with finer taste and a penchant for something new and unique.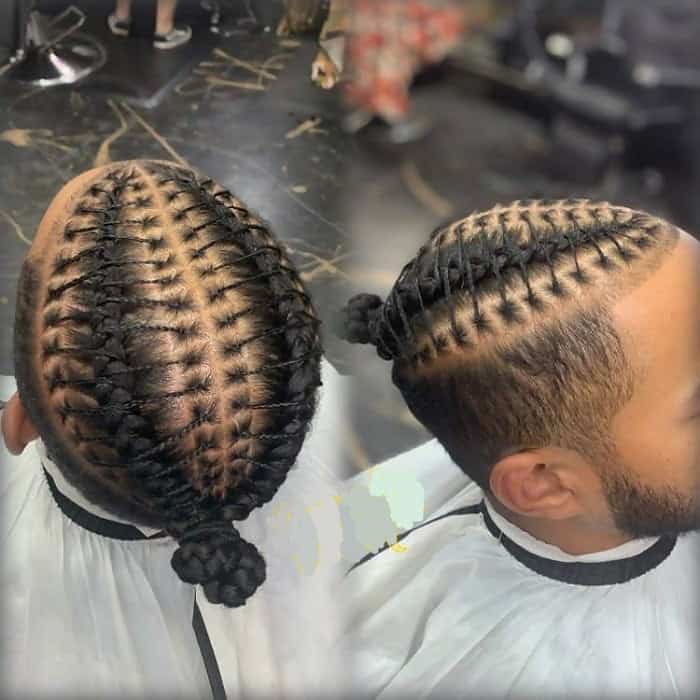 The cornrows are undeniably one of the most distinctive black braid styles. When combined with a single bun it brings out the subtle machismo.
18. Cornrows with Big Braid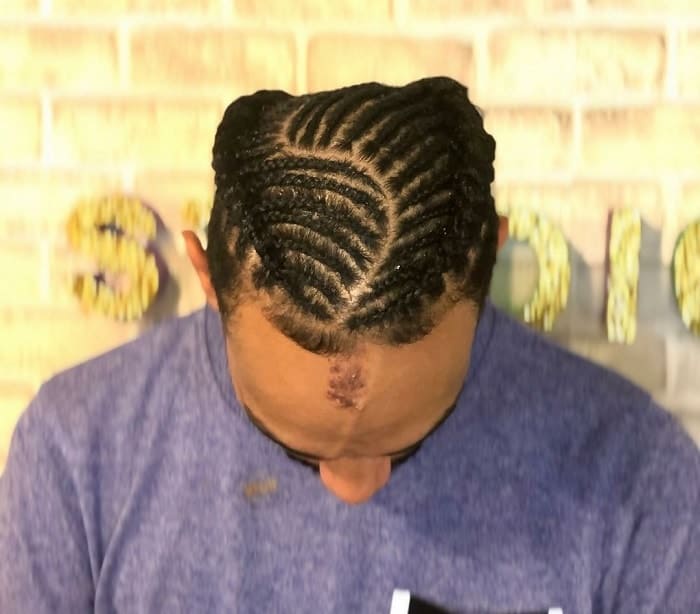 This is one of those men braid styles that you can opt for if you have long hair. Hereafter the cornrows, the ends are gathered together in a double bun. This surely adds a sense of exotic to the regular cornrows and makes you grab attention wherever you may step out.
19. Blonde Braids For Black Men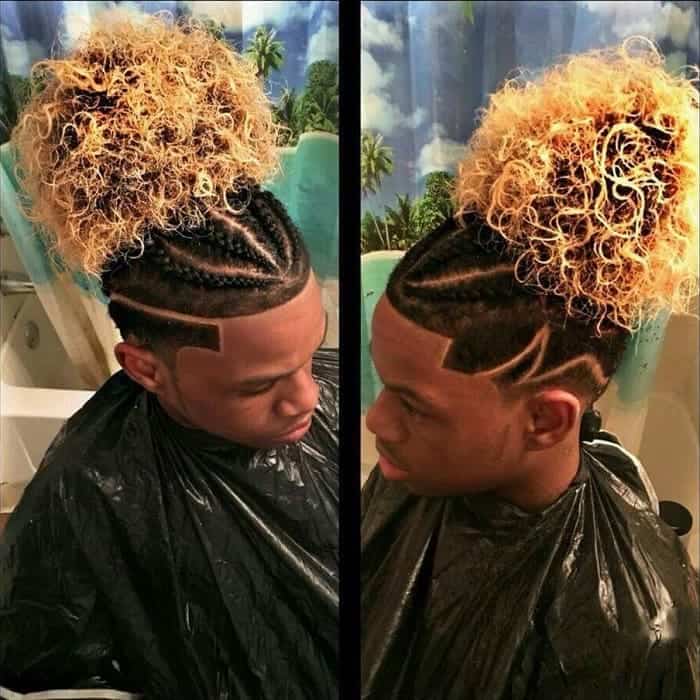 If you are looking for a no-hassle classic yet exciting hairstyles, this is one of the best bets. It is simple to style but at the same time absolutely rocking and exciting. With this type of braided hairstyles, any black man is sure to grab attention.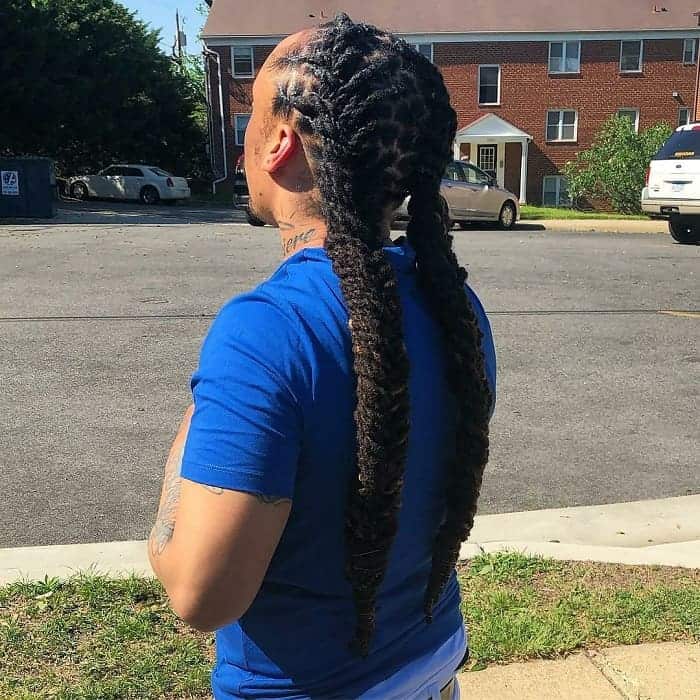 When you are looking at exciting braid styles for black men, this is one of the top contenders. It combines locks and braids to create a stunning combination.
21. Side Braid with Bun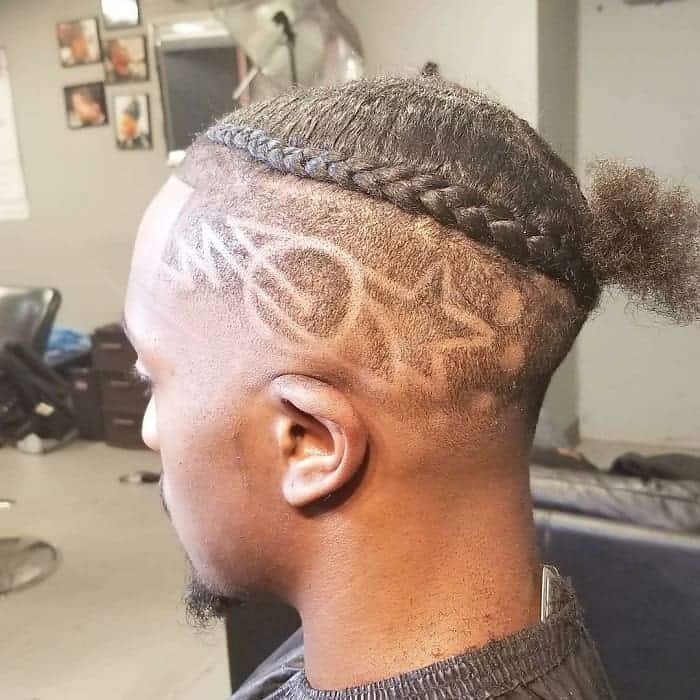 The bald taper fade with the side braid ends up with a braid here. This is undeniably one of the interesting twists to the otherwise mundane braids for guys.
22. Twisted Classic Braids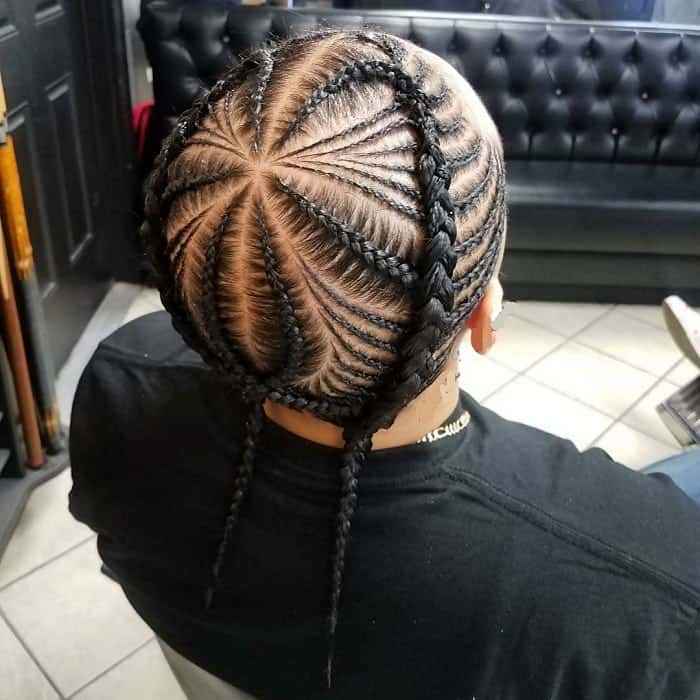 This is one of the most interesting twists to the otherwise classic long braid for black men. The ends of the individual small braids are then all collected together and tied into one long continuous braid. Together, it provides a stunning combination.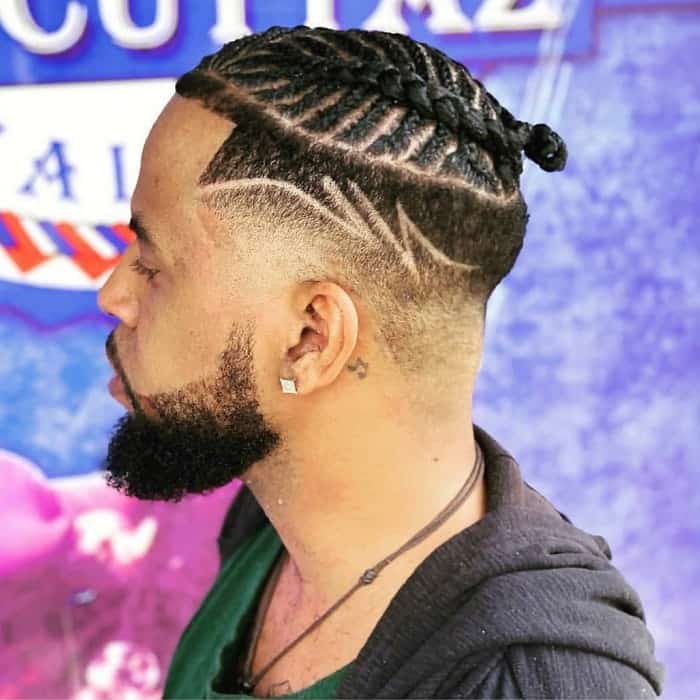 If you are in the mood for a mix and match braid style, this surely will fit the list totally. You have a pronounced fade, a hard part, a side braid, and a bun. It literally combines all the major style concepts in men's fashion in one go.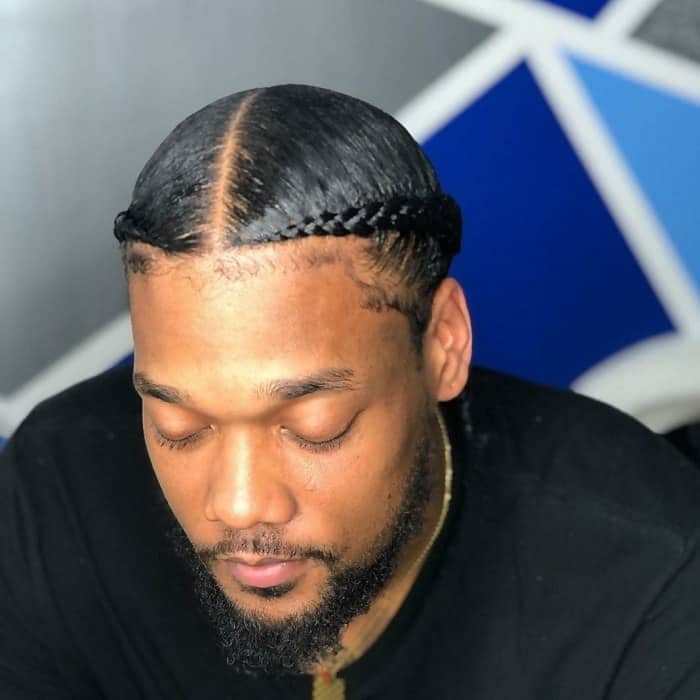 Talk of a minimalist look and this black braid style will fit the bill. The hair tied into a bun at the back and the two side braids accentuates the clean top. The beard too adds to the overall look.
25. Travis Scott Inspired Braid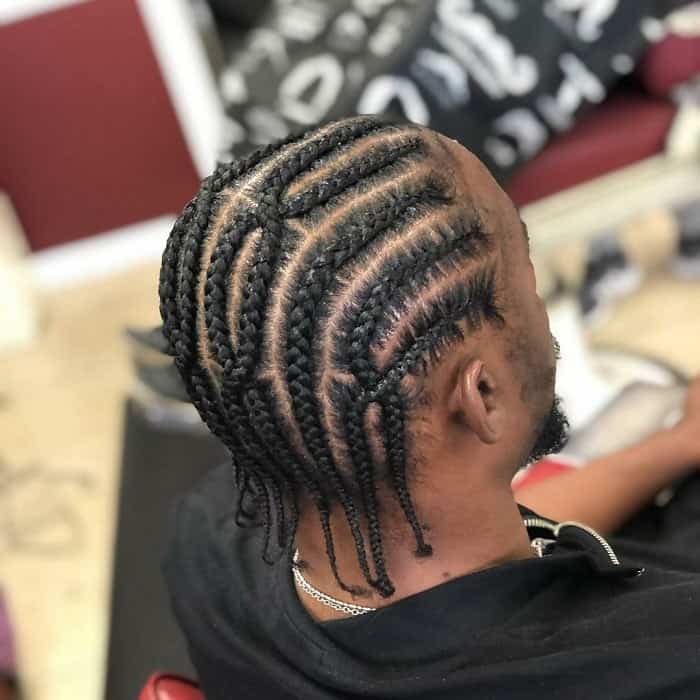 The American Rapper Travis Scott is a big influence in the world of men's fashion. This black men braid is perhaps the most pronounced one in every possible way. It is cool, out of the ordinary, creative and absolutely attractive. A second look is guaranteed when you flaunt a style like this.
26. High Fade Braid With Bun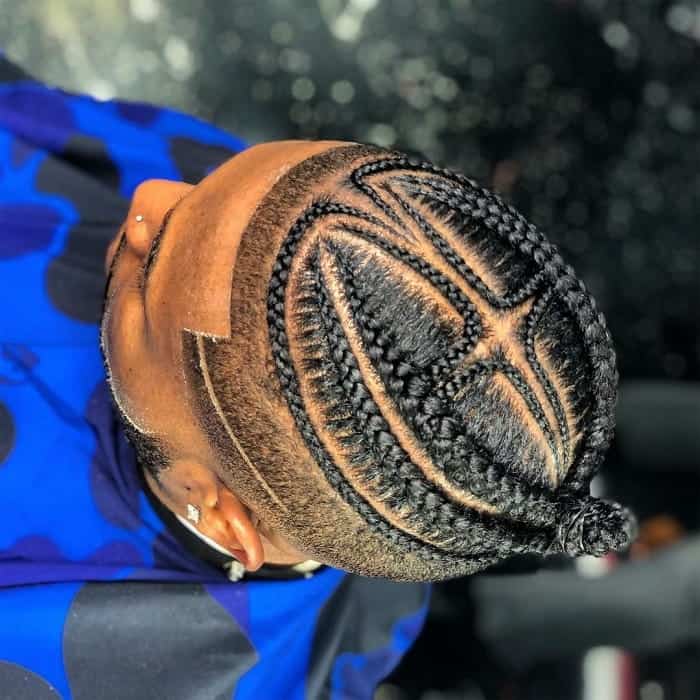 This is the kind of braid style that is ideal for those with relatively less hair that is long. The high sharp fade provides a stark contrast and makes it cool and rugged look for black men.
27. Colored Braids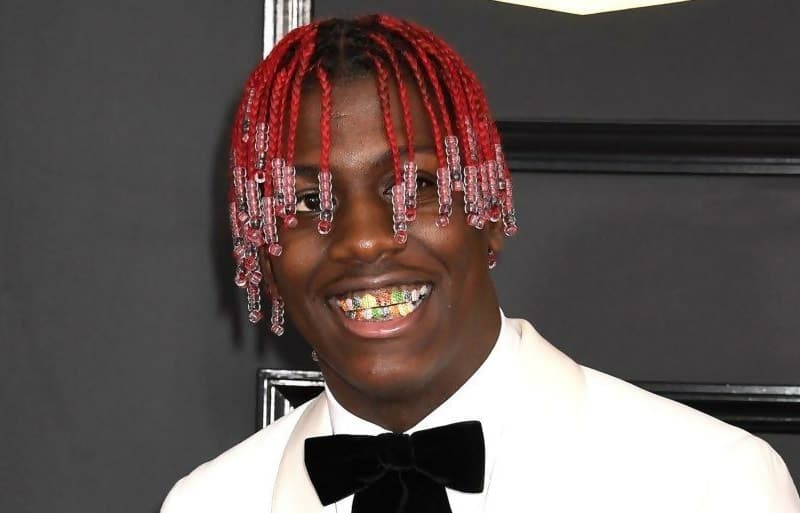 When you are looking for variety in braid styles, this is one of the perfect options for black men. The combination of red, black with bright glass beads makes a sure winner.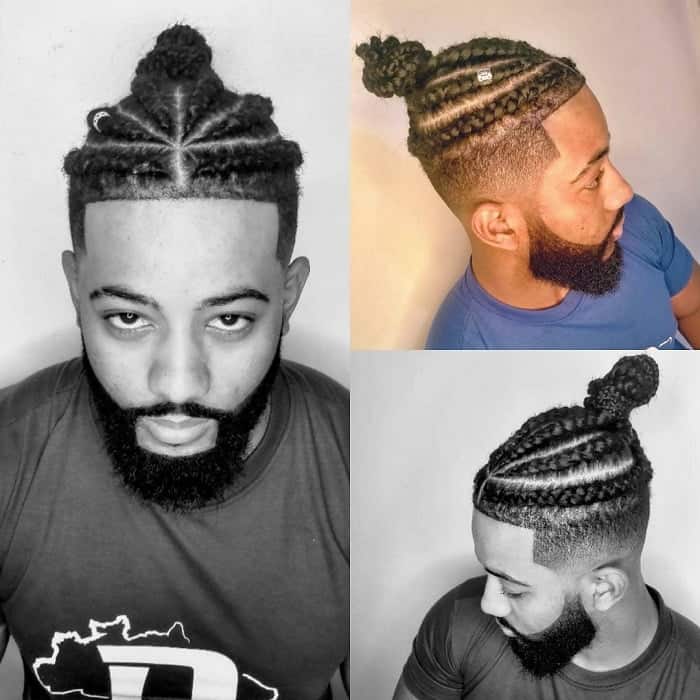 Call it wacky if you want but it is hard not to notice this one. The middle partition accentuates the impact to a large extent.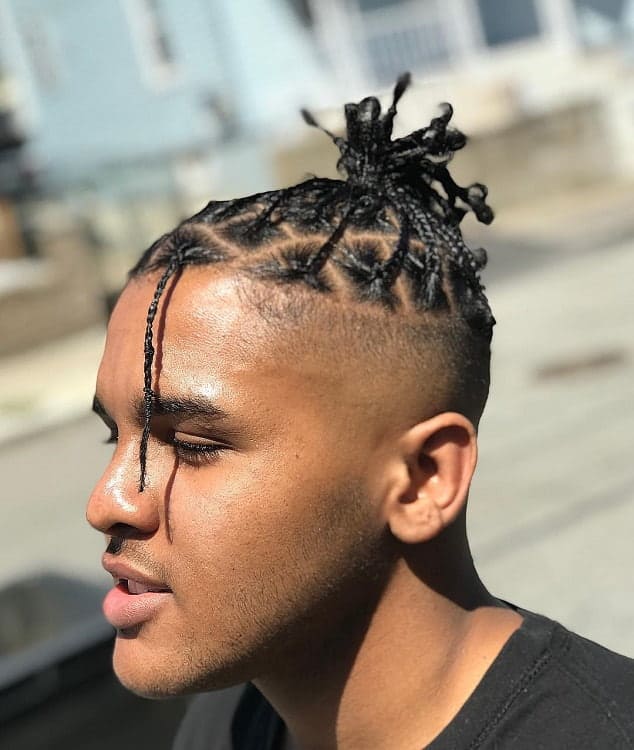 Whether it is a braid style for a young boy or any mature black man, there is a timeless appeal about this bald fade with braid. It is classic and convenient and undeniably stylish.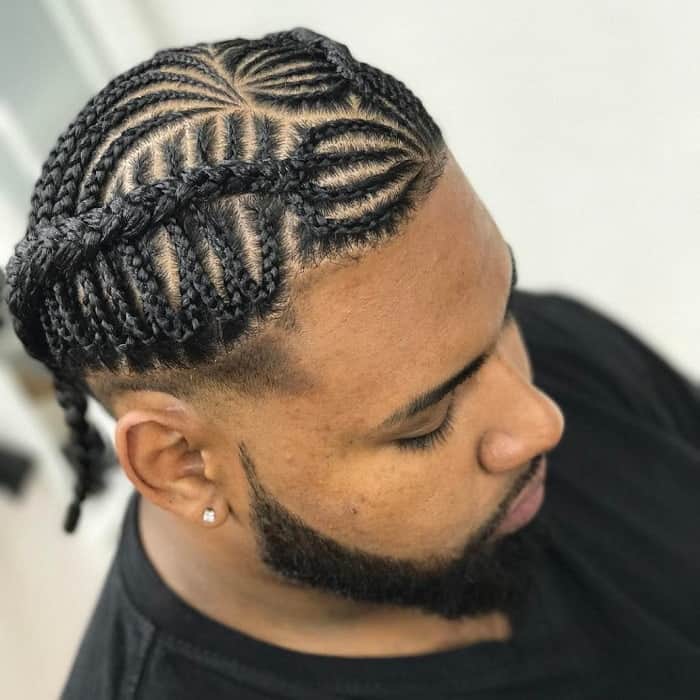 There is a timeless appeal about this fade with braid. It is classic and convenient. The triangular zigzag design in between gives the hairstyle an edgy and stylish twist to the whole style.
31. Half & Half Box Braid With Curls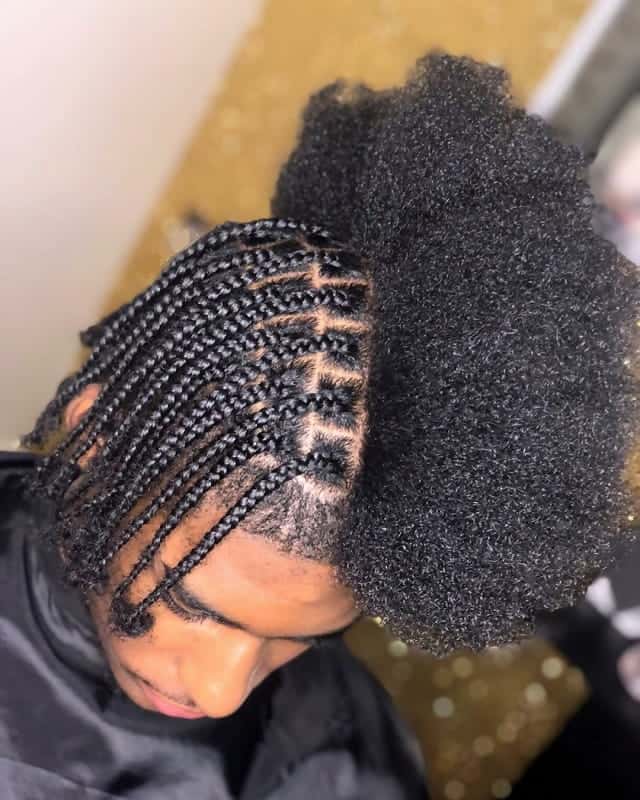 Call it wacky if you want but it is hard not to notice this one.
32. 4 Braids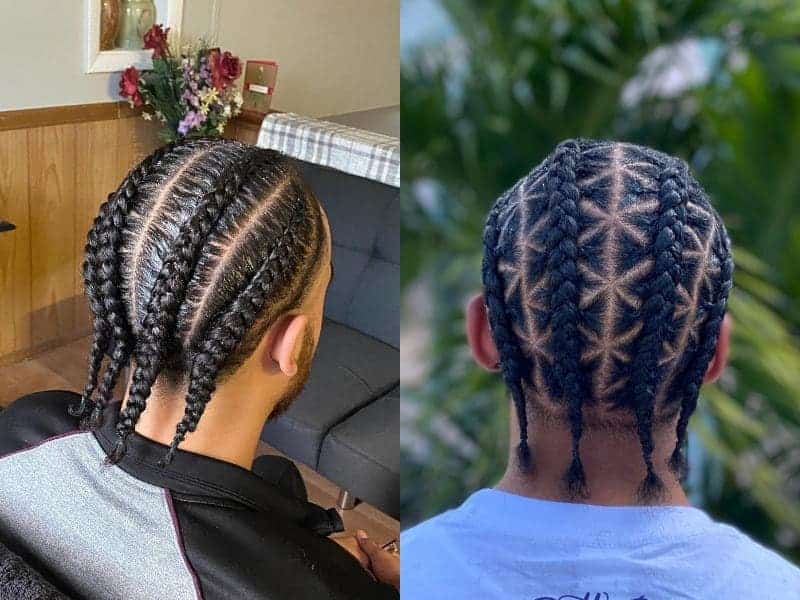 For your Afro American hair, before starting braiding, make sure that your hair is highly moisturized. This will prevent the coils from tangling when you braid them. Create four sections to style four medium braids.
33. Small Braids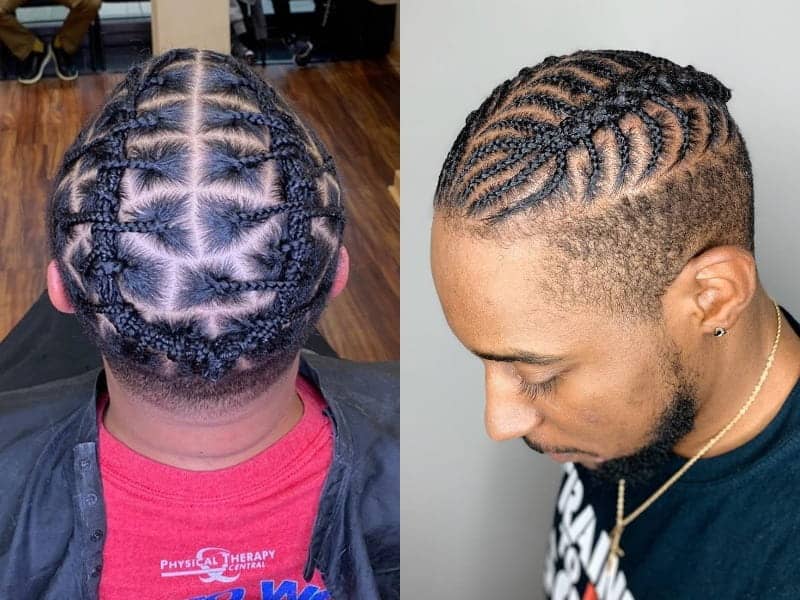 Get a faded part on sides and create half cornrows for your crown hair. Gather them all in two braids and secure them in the back. Choose to make even more complicated braiding designs by sectioning your hair in smaller parts and twist that to form a knitted crown for your top head.
34. Two Big Braids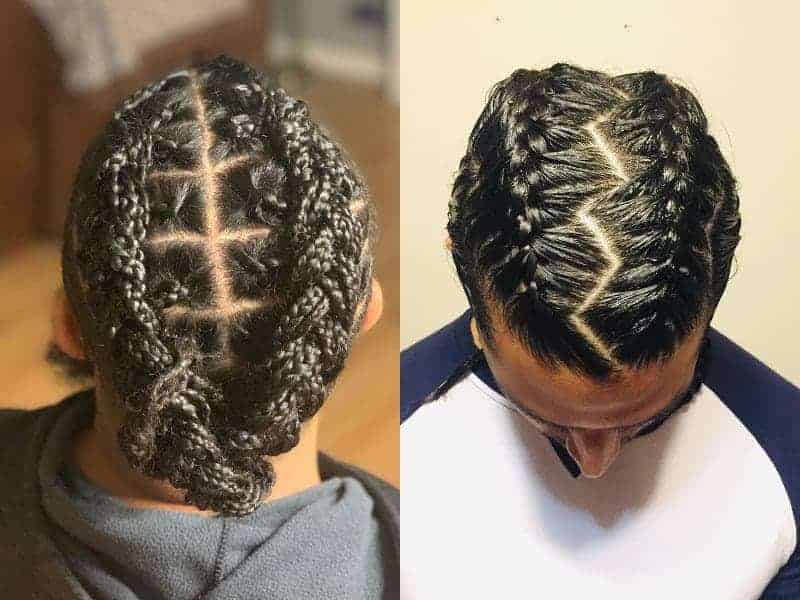 French braids are ideal for black men too, even if you already have your hair knitted. Split your hair into two parts and braid them to create a fabulous effect. Also, for natural hair, make a zig-zag part in the center and start knitting each section.
35. Zig Zag Braids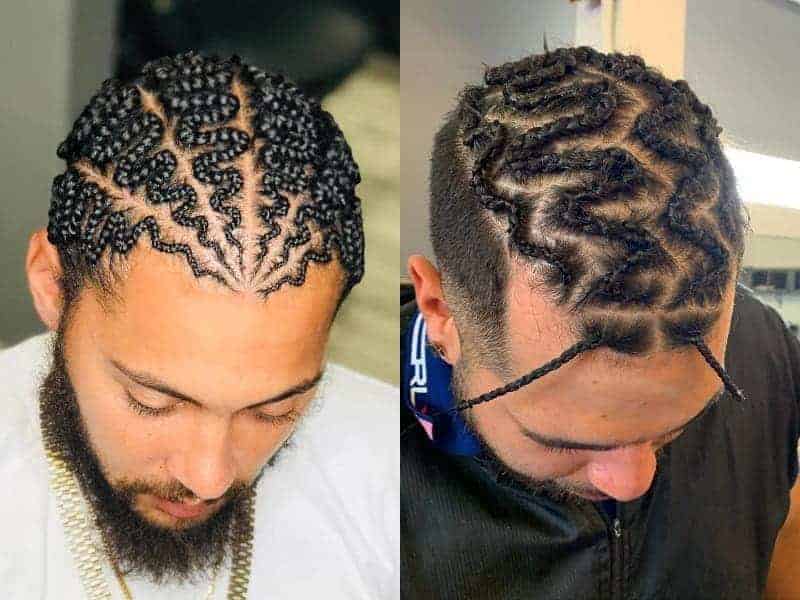 Such a spectacular hairdo! You can recreate it by braiding your crown hair, and while knitting them, orient each braid in the opposite direction to create that zig-zag effect.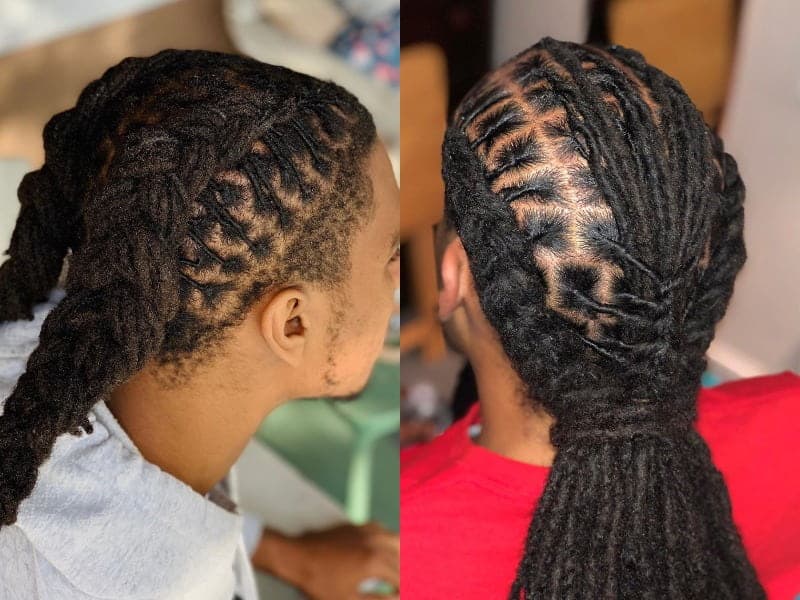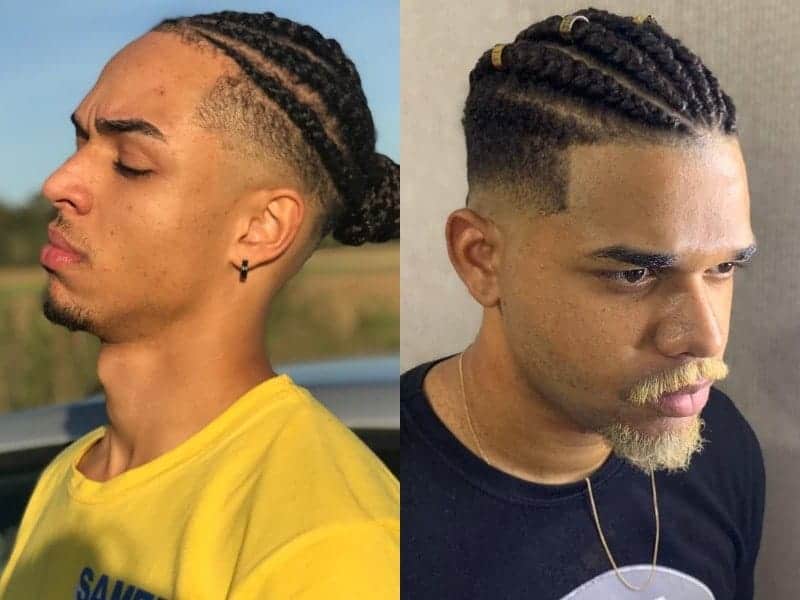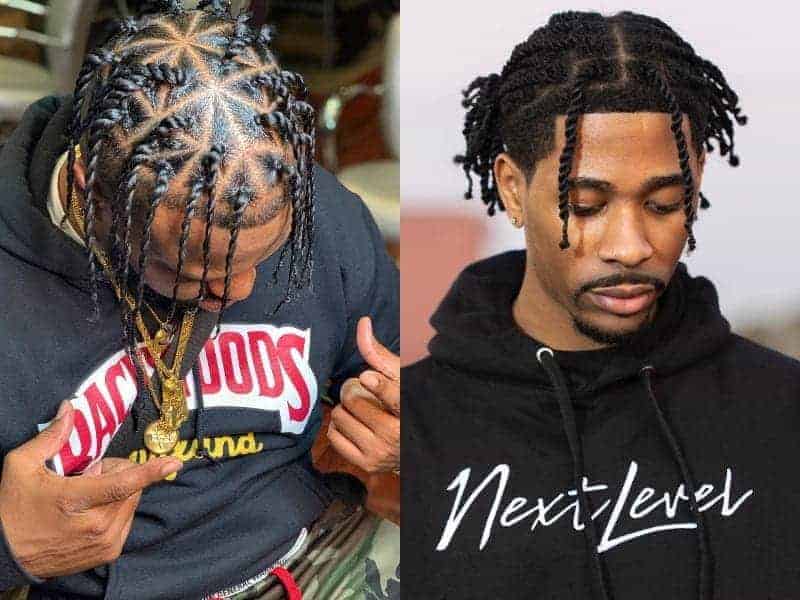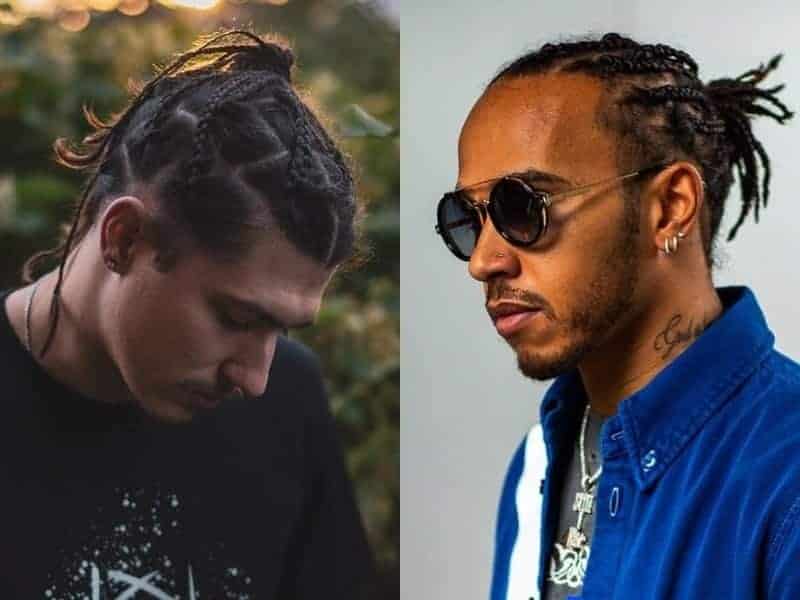 Therefore, the perfect braided hairstyle for men is a function of creativity and a genius of application. The braiding techniques are just a handful but what makes the styling exciting is how well you can combine multiple styles and bring a completely new and attractive variant.
So all in all, it is the amalgamation of all these factors that can offer a complete solution for you.