If anyone were to ever describe a flat top haircut, the words would be classic, timeless yet chic and well put together. It's one of the most popular hairstyles commonly worn by black men.
It has two distinct categories: the short flat hair, and the longer top fade. The original flat top that inspired a whole style and looks is the short military-inspired haircut.
Trendy Flat Top Haircut Ideas
These haircuts was at its pick of popularity in the 1950s. The 1980s and 1990s were the official golden age of the flat top haircuts.
They suit all hair texture, which is exactly why they are so popular. Below we are going to touch upon styling ideas with flat hair on top for different hair textures.
Amazing Flat Top Hairdos for White Guys
Undeniably, your race plays a major part in your hair texture. An American and an Afro-American have drastically different hair. Different hair also means different ways to take care of it and style it. Keep reading and you will find 8 suggestions for flat top hair for a white guy.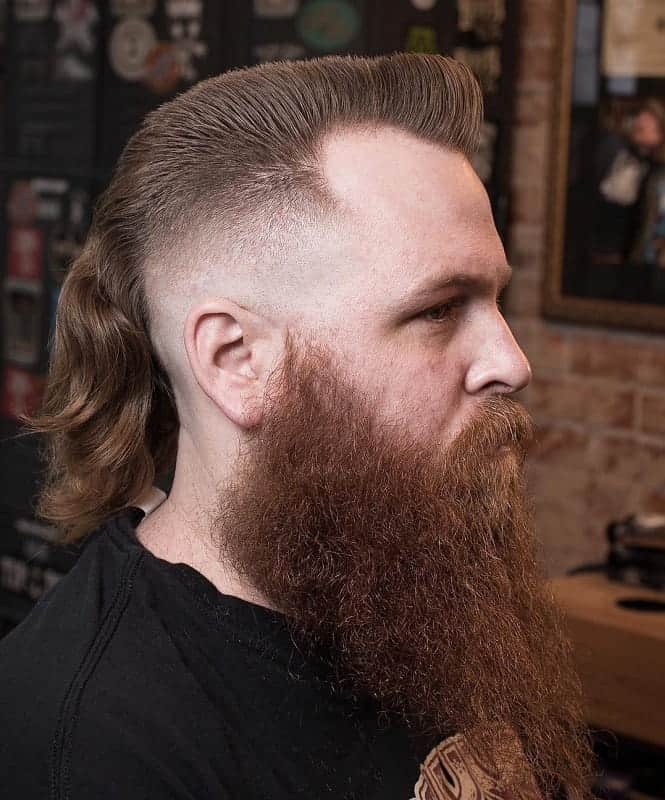 If you like a mullet hairstyle, this haircut is a great idea. You get to have a modern variation that looks chic and stylish. Compliment the hair with a long beard and long hair towards the back.
2. Modern Flattop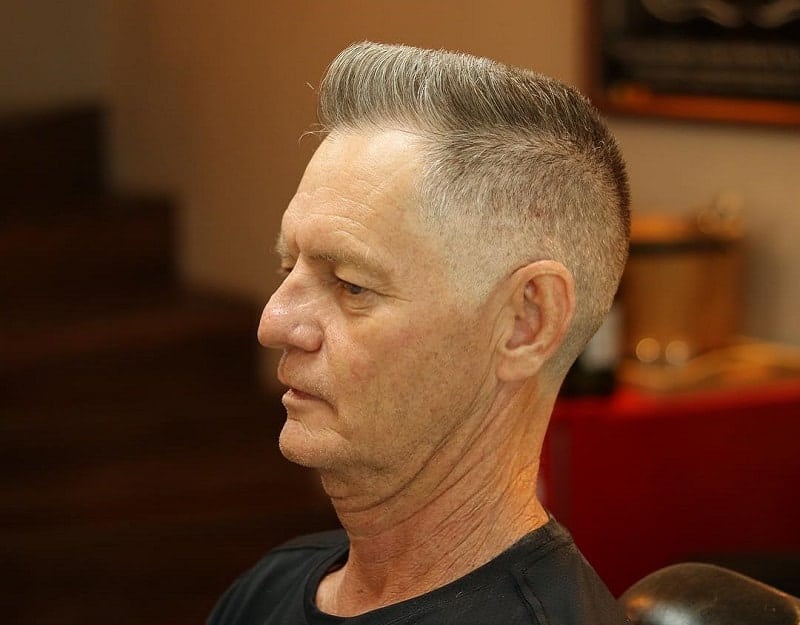 This haircut is perfect for all ages of men, you could also wear it to any occasion and it would be appropriate. The descending flat hair on top that fades out into a drop fade is modern and chic.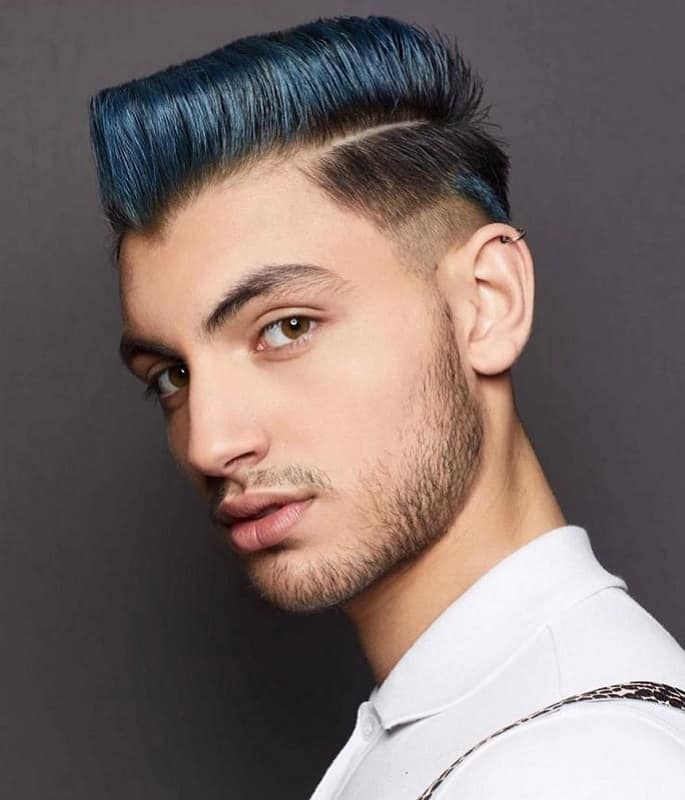 A great way to have a modern touch on a haircut is to add color and have a hard part. The hard part and blue highlights make the haircut look very trendy and edgy. If you are young and have a fun personality, this flat top hairstyle is right up your ally.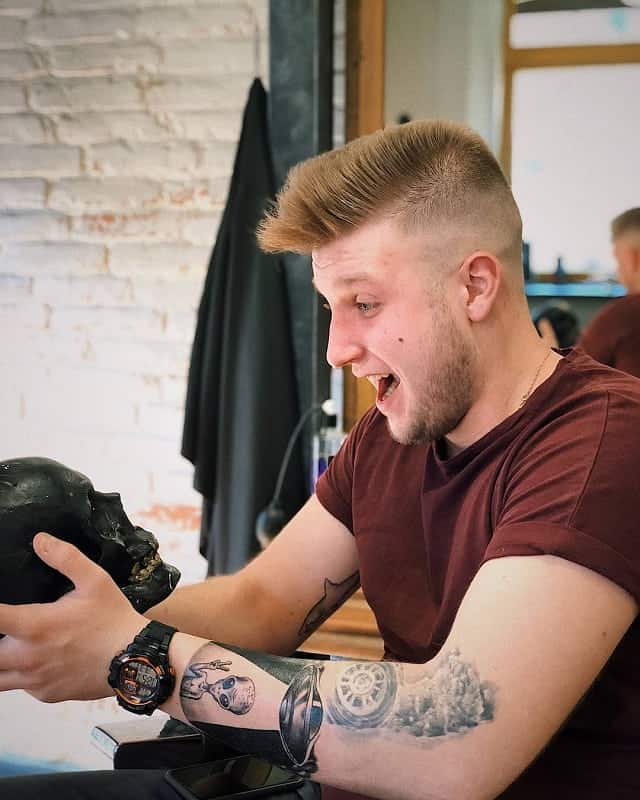 This haircut is apt for someone who has thick straight hair. By opting for this style, it wouldn't require you to spend too much time styling your hair either. The angular hair with faded sides is modern and fun.
5. Ginger Hair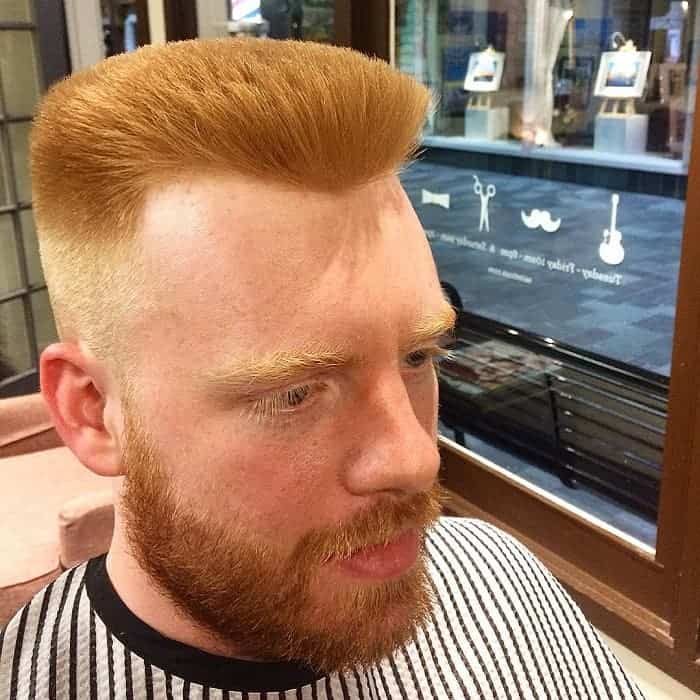 This flat top haircut is ideal if you have a receding hairline. The side fades make the look modern and clean. It is perfect for all ages and occasions.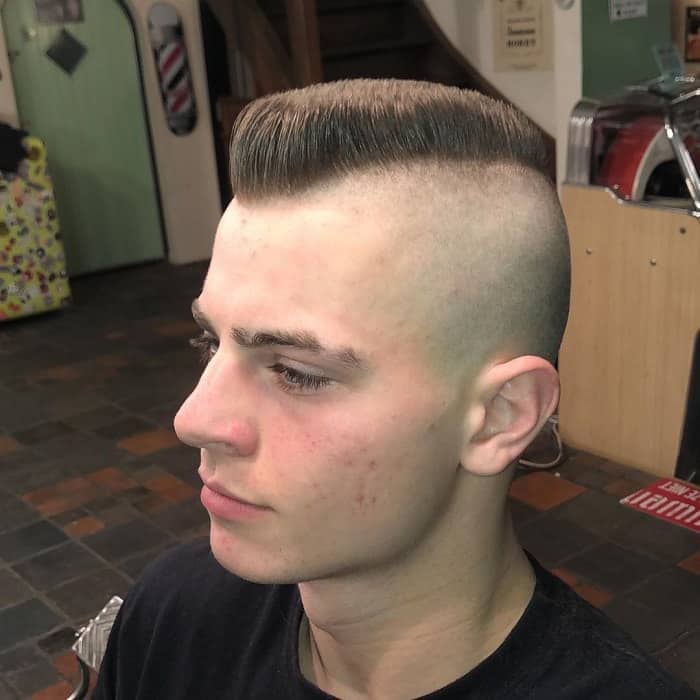 If you are not someone who prefers the tapered fade, this variation of the flat hair on top is great. The clean sides accentuate the top hair making you look sophisticated and chic.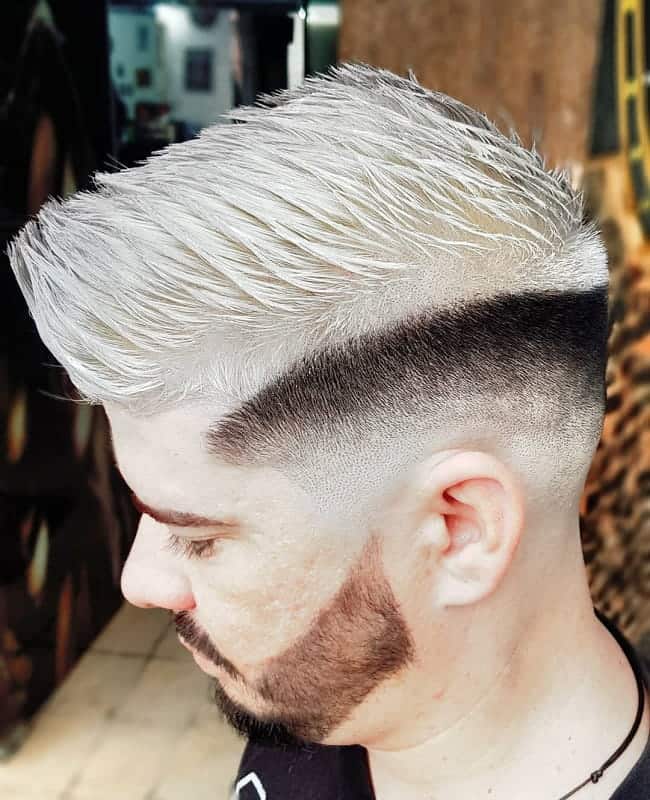 Dual-color is one of the seasons ongoing trend. If you seem to warm up to it, this faux hawk taper haircut and style are perfect. The asymmetrically long flat top hairdo is extravagant and a perfect fashion statement. The dual color compliments the look making it chic and trendy.
8. Classic Flat cut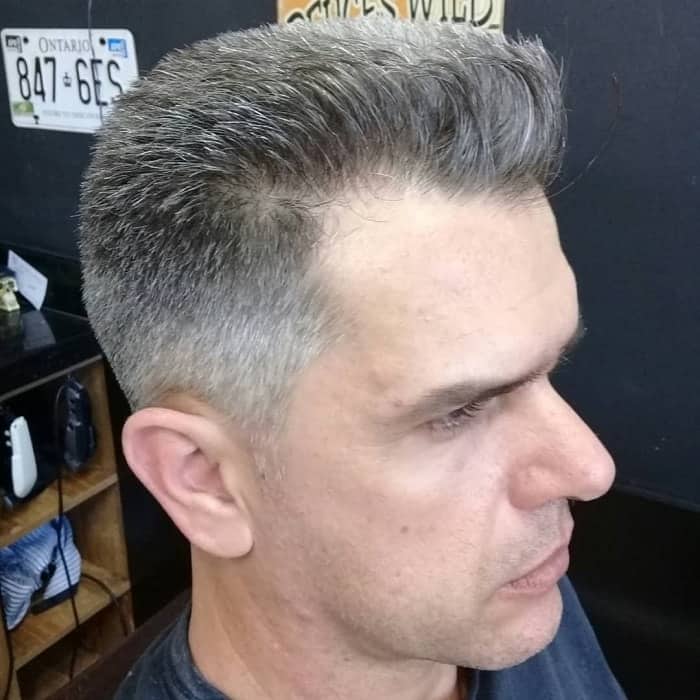 This short haircut is perfect for if you don't weigh towards buzz cuts or tapered fades. Someone old as well as young can also sport it. This classic hairstyle is timeless yet trendy and chic.
Latest Haircuts for Black Men with Flat Hair on Top
If you are an African-American man, your hair is one of your most prized possessions. The flat top hairstyle is perfect for your hair; it is practical and looks chic and sophisticated.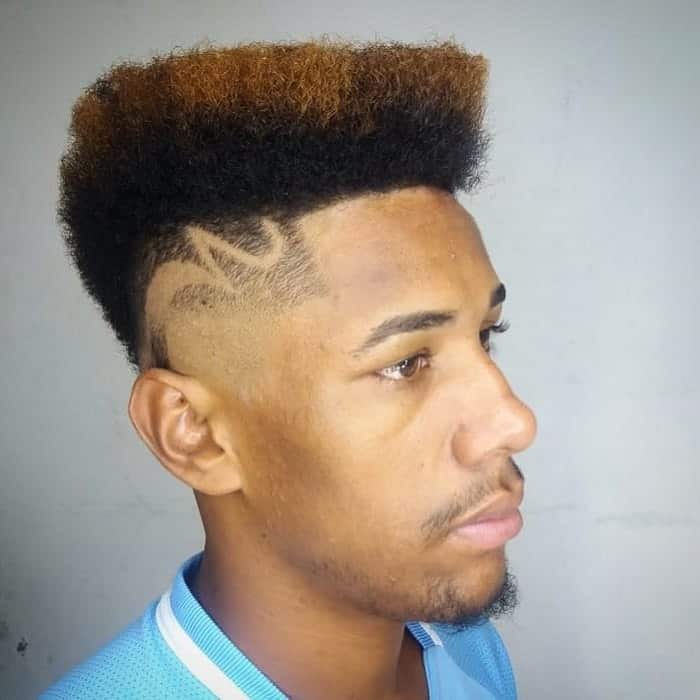 A great way to modernize a flat top is to add razored details in the area of the taper fade. This tends to add more edge and fun to the complete look.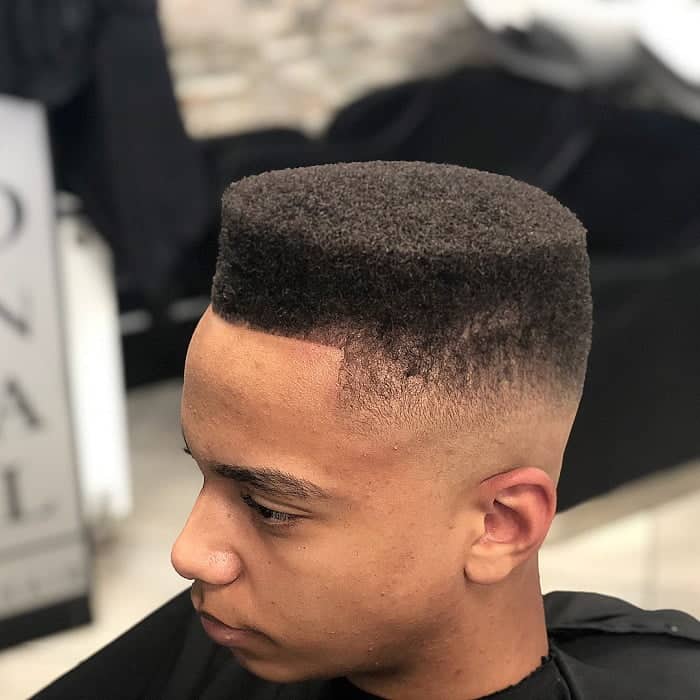 In case you are the person who prefers a bit of length, this hairstyle is perfect. It allows you to keep a little bit of length whilst shaping the top precisely. It is a fun and neat hairstyle.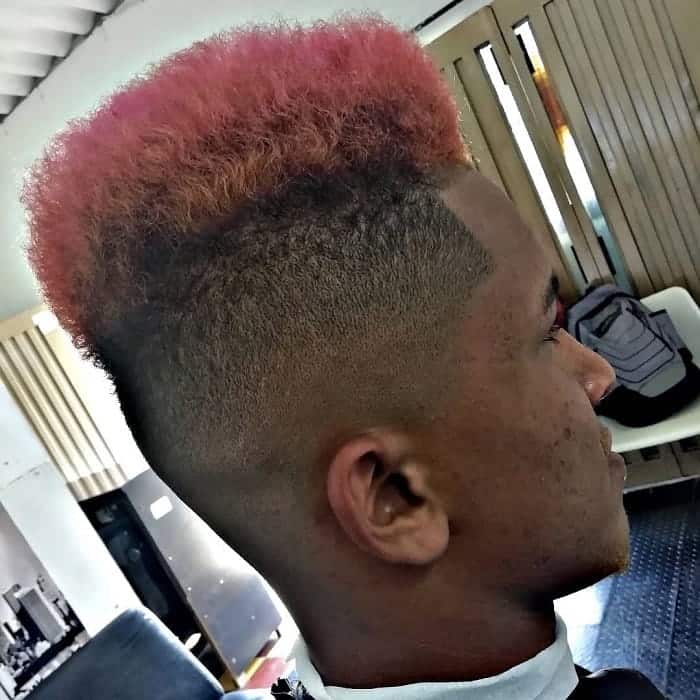 Pink is a great color for tanner skin; it goes well with dark roots as well. Pink tips with your regular flat top haircut is the right way to spice it up. It's edgy yet looks great.
12. Neon Taper Fade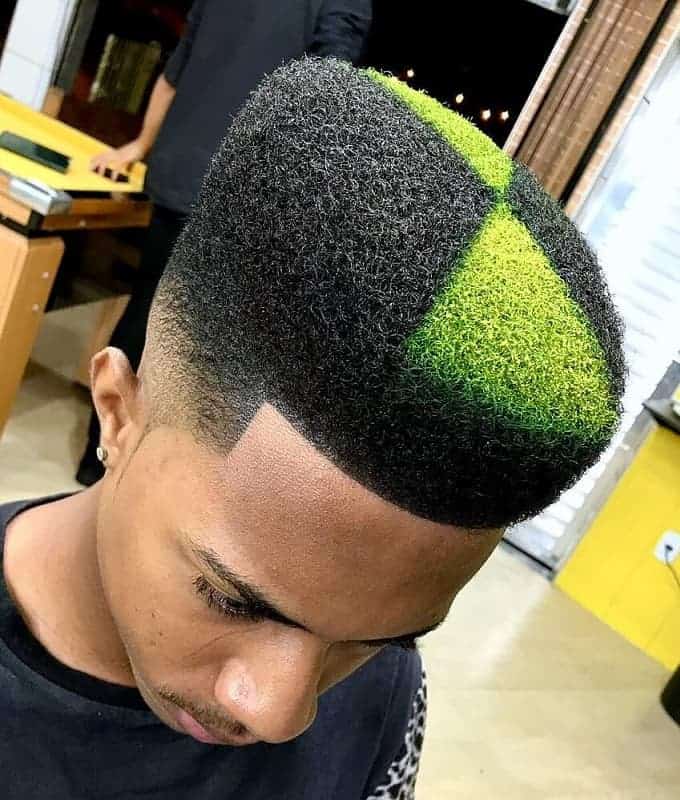 The best part about being African-American is that you can pull off sporting any color. Since neon has recently made a comeback, this haircut is perfect. You can incorporate neon to spice up a flat haired top. It's trendy and it looks stunning.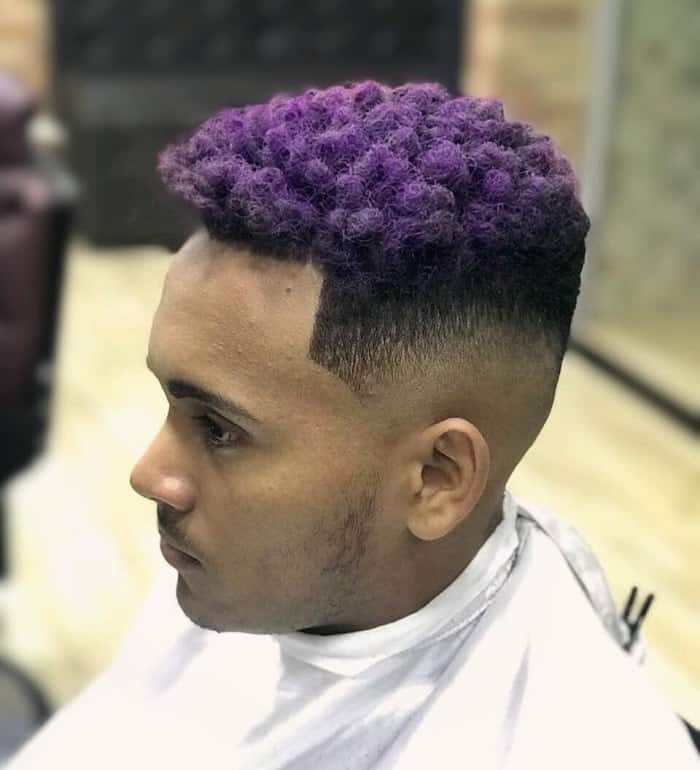 Here is another example of Flattops and color being a perfect combination. The purple color is trendy but not extremely out, it draws the right amount of attention. The look is fun and a great way to make a fashion statement.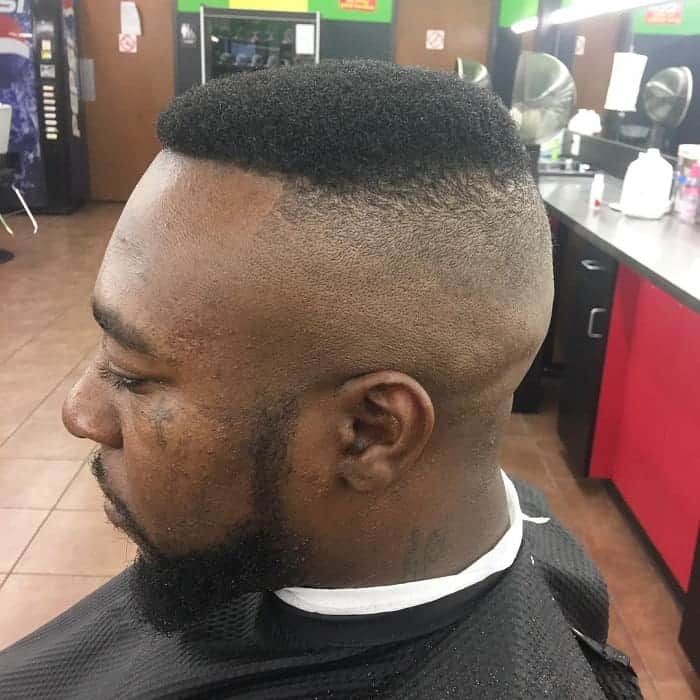 This flat top haircut for black men is highly inspired by a military cut. If you prefer short, practical and low maintenance hair, this is perfect.
15. Triangular Flat Top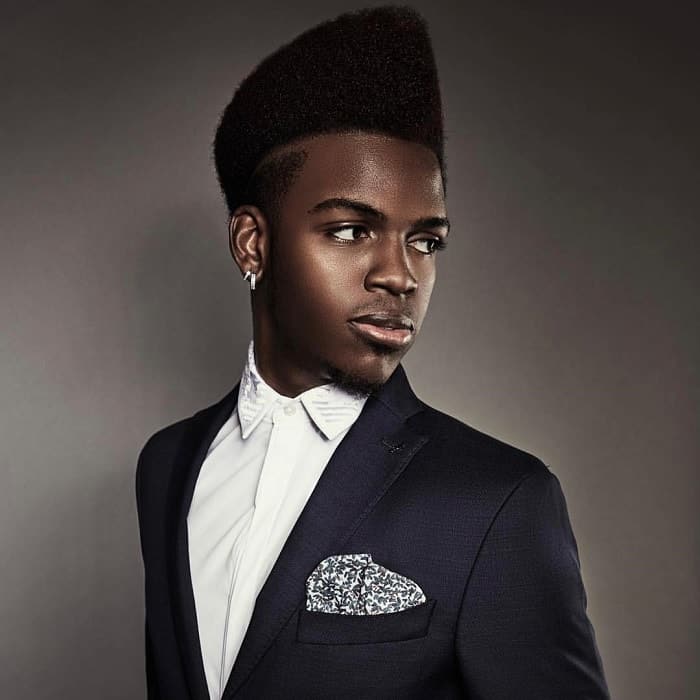 This triangular asymmetrical flat hair on top with a hard part is the perfect fashion statement. Even though it is extravagant the look is clean and chic.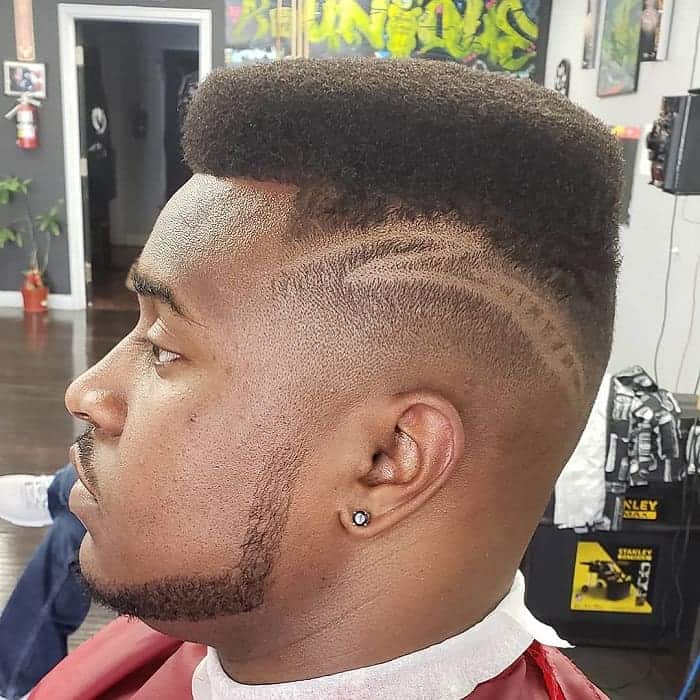 This flat styled hair along with razored details is a great mix of classic and modern. It is practical and looks trendy and stylish as well.
Popular Flat Top Haircuts for Curly Hair
Curly hair can be a challenge to style and take care of. Which is exactly why you need a haircut that makes your hair natural looking fresh and stylish. These flat tops hairstyles are examples of exactly that.
17. Classic Medium Length Cut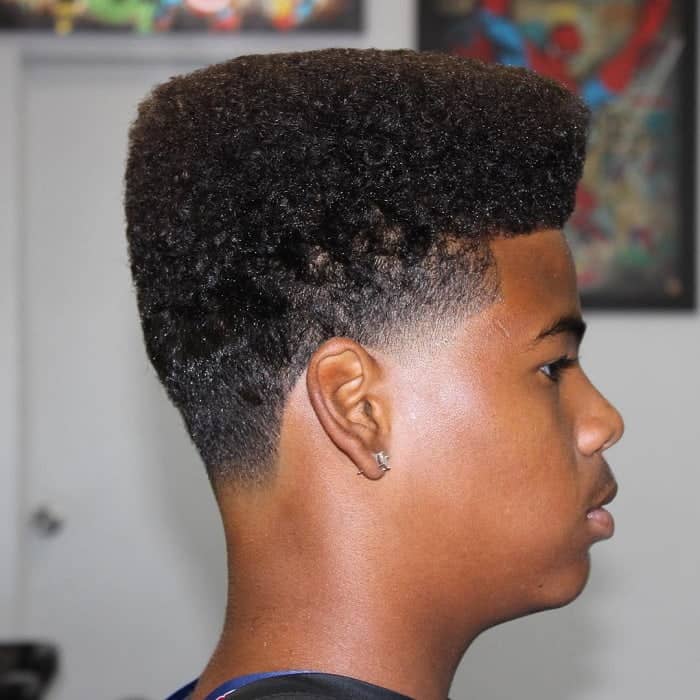 This hairstyle is a timeless medium length hairstyle. It allows you to look trendy with the top flat hair and doesn't require much styling as well.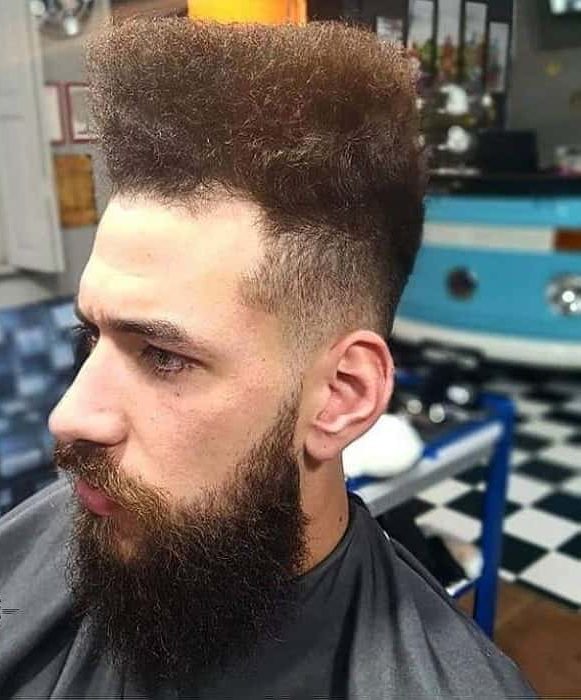 Incorporating a taper fade means less hair to worry about whilst looking amazing and trendy. This curly flat top haircut is perfect if you like your curly hair a little longer than usual. The complete look an edgy and clean.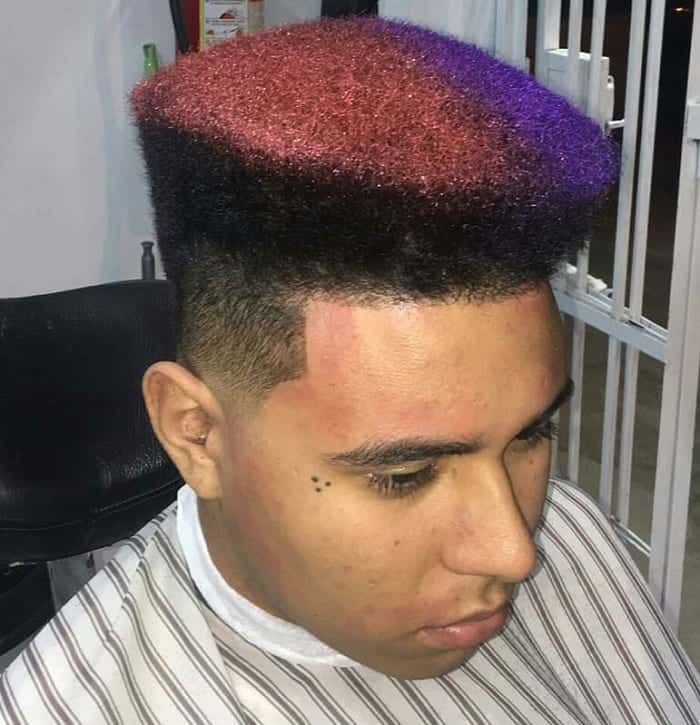 If you are someone who enjoys playing with color, this haircut is perfect. You could dabble with both pink and purple with go perfectly with this curly top. The disconnected undercut accentuates the flat hair as well.
20. Bright Pink Hairstyle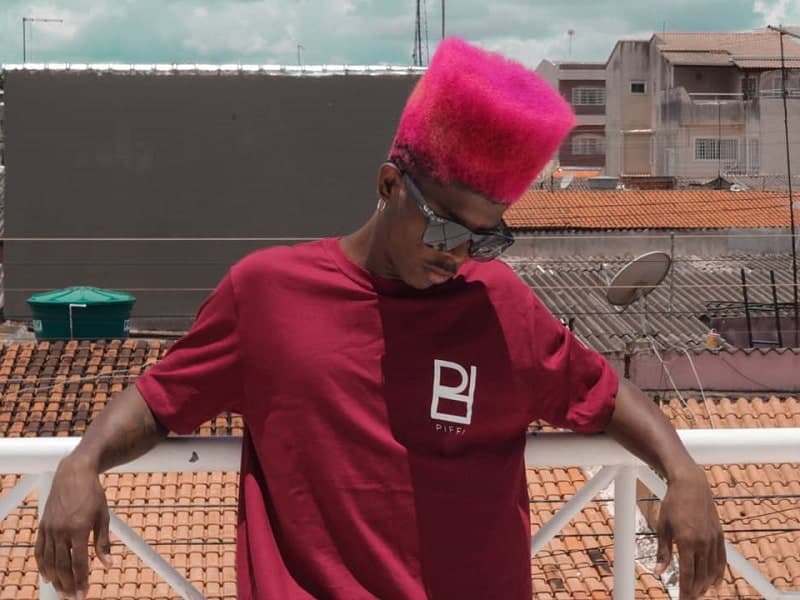 If you love color and length, this hair is ideal. You get to look funky and fun and at the same time don't even have to put too much effort into styling your long curly hair.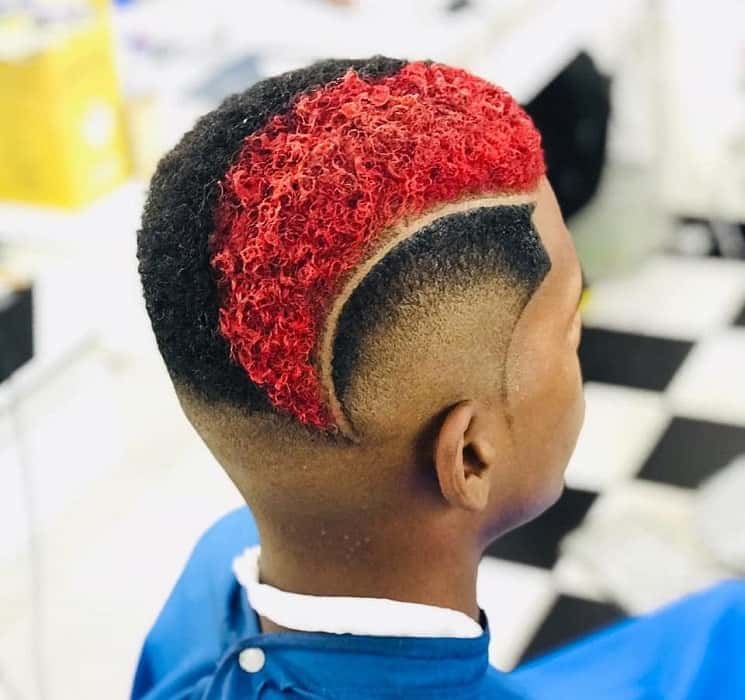 Hard parts that are off center bring out a different dimension. That paired with flaming red color is a stunning look. This flat top hairstyle can be perfect for someone who loves the spotlight.
22. Flat Top with Funky Undercut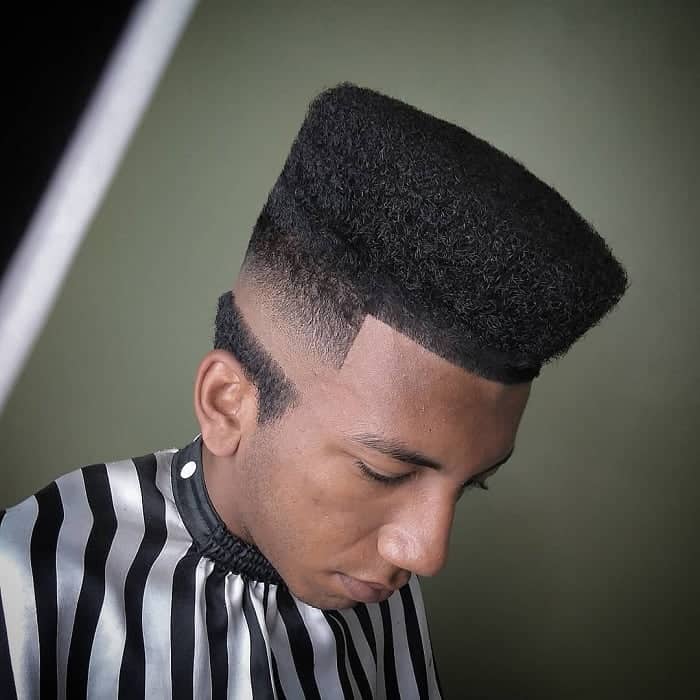 This flat hair on top is a classic but the funky undercut is what makes it unique and trendy. If you need change when it comes to your curly hair, this haircut is the right one.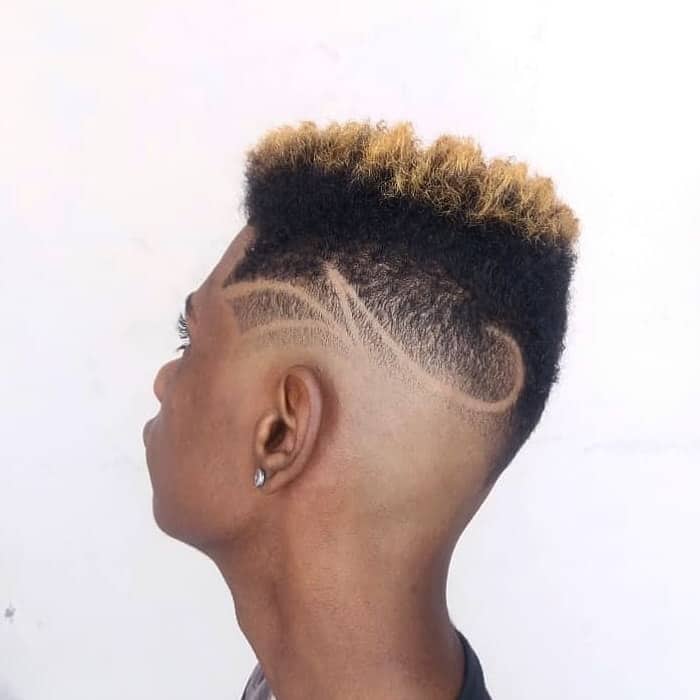 Blonde is a color so versatile that is suits every skin tone. If you intend to color your hair for the first time, the flat top haircut is perfect. The razored details add some oomph to the entire look, making it fun yet classic.
Razored details can add a lot to a simple haircut. This haircut is an example of how much more fun edgy razor details can make your hair look.
It is ideal for curly hair that you don't want to spend too much time styling.
Attractive Flat Top Fade Haircuts
Tapered sides, faded sides, buzzed sides are all different names for the fades that are currently trendy. You would be surprised by how much this simple modern addition can do to your haircut.
Adding fades isn't just trendy but helps your head look more structured and defined. It is a great way to help your haircut look clean and fresh. Below are 8 flat hair on top with side fade haircuts to inspire you.
The pompadour hairstyle has been around long enough to prove that it's timeless as well. Having a flat top and pomp haircut mix is the right kind of classic hairstyle mixture. The high bald fade helps the entire look, look cleaner. It's a hairstyle to wear anywhere.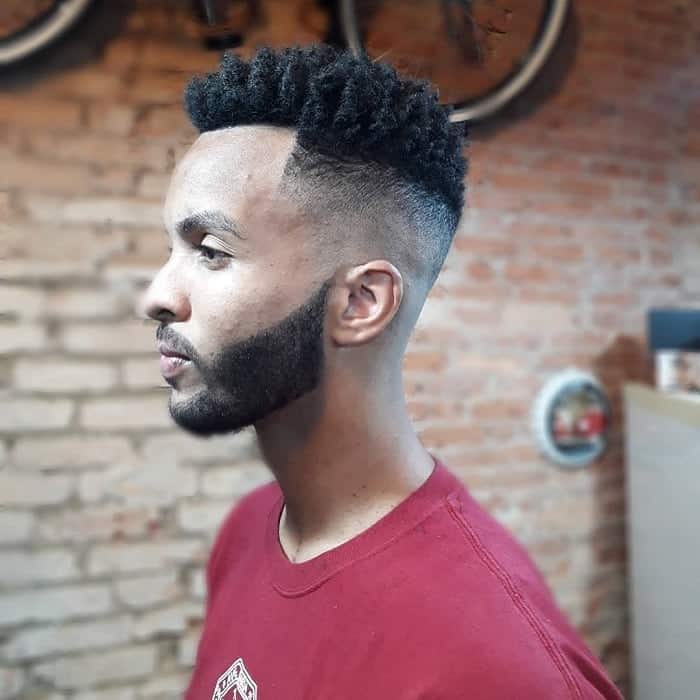 Just because you have short afro hair doesn't mean that you can't be a part of the trend. This picture a great example of how curly haired flat tops go great with taper fades. It makes the look more hip and fun.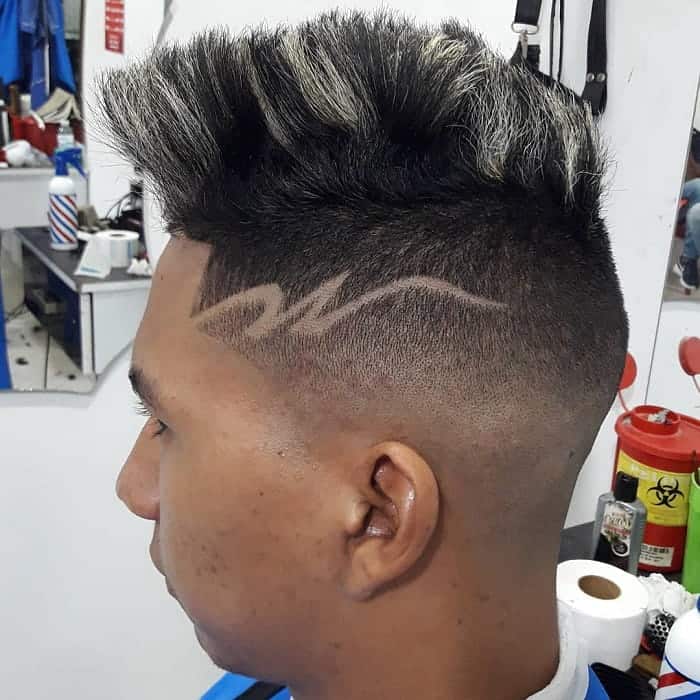 This flat top hairdo is a short faux hawk inspired hairstyle. Pair it with razored details and tapered fades and add to the funkiness in a very chic manner. This haircut is perfect for a fun event like the festivals season.
28. Textured Flat Top with Fade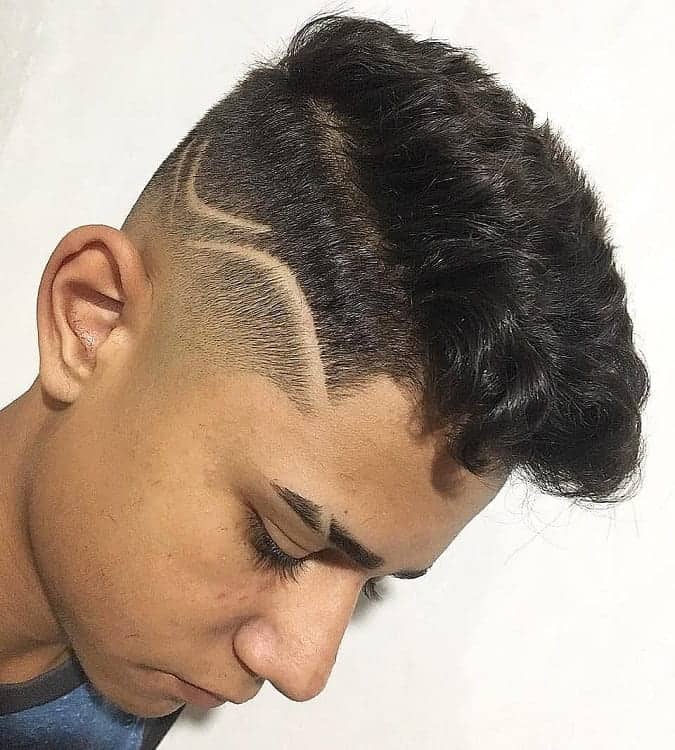 This textured top looks even better with the low fades towards the sides. It's a great way of bringing about a trendy change in your hairstyle. It is also an apt hairstyle for someone who is young and fun.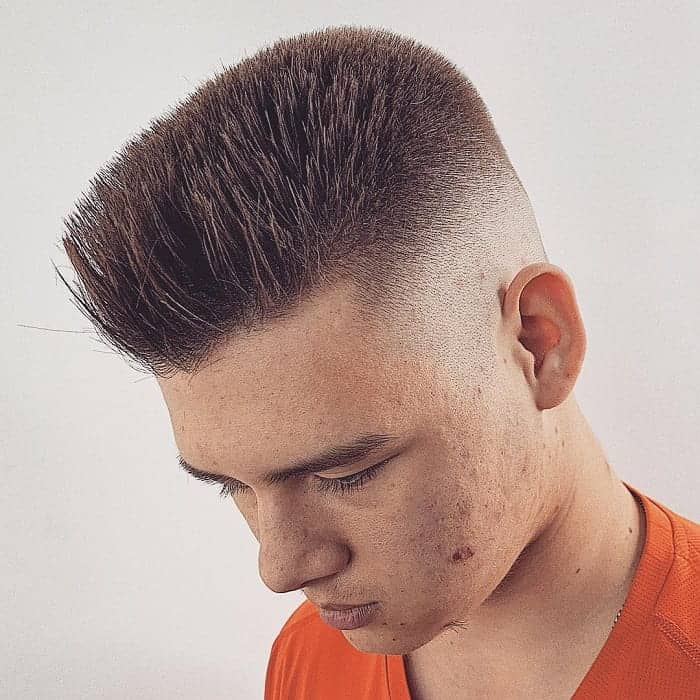 If you have thick hair and hate taking too much time to style it, this haircut is the right one for you. The tapered fade calms and softens the haircut while the flat top adds a fun element to it. It is appropriate for all occasions.
30. Very Detailed Haircut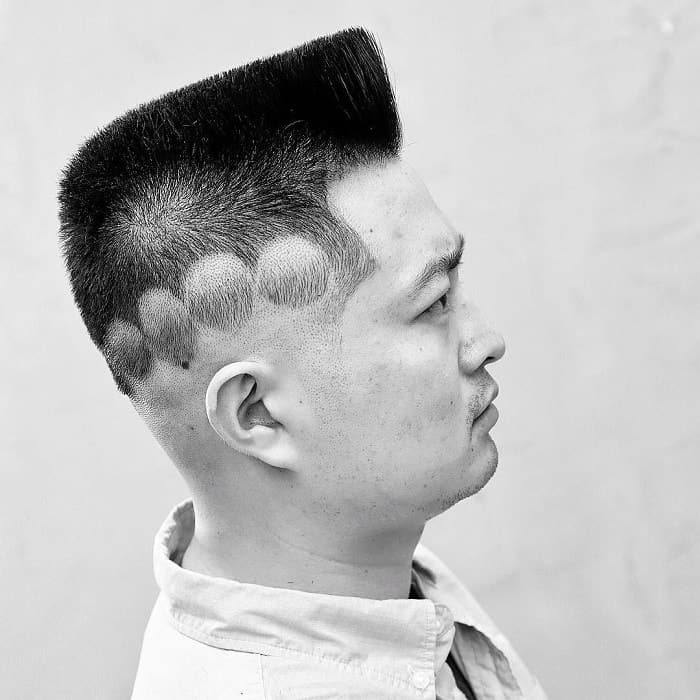 If you are some who is into unique detail, this quiff haircut is great. You get to play around with different elements like the fades and a flat haired top. The end result is fun and sophisticated.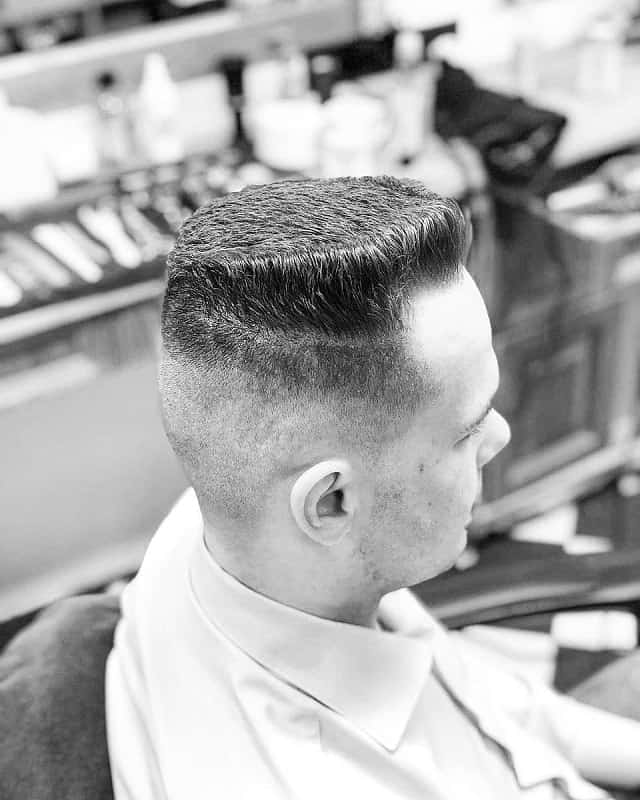 If you want to do something different with your rounded top, this is it. The high faded sides add a modern, clean touch to the classic flat top hairstyle for men.
If you intend to keep your long hair and yet want to be trendy and chic, this is the right way too. Pair your long flat top with high taper fades. This results in a much more 'in look' that is fresh and sophisticated. This haircut is perfect if you want to turn some heads.
If you are a classic man who wants to go back to his root, this section is for you. You don't have to be a particular age to sport this haircut. Some of the falling haircuts do have modern elements added to it, which you can get or omit. At the end of the day, these classic 80's flat top haircuts are only to inspire you. If you are interested keep on reading.
33. Military Flat Top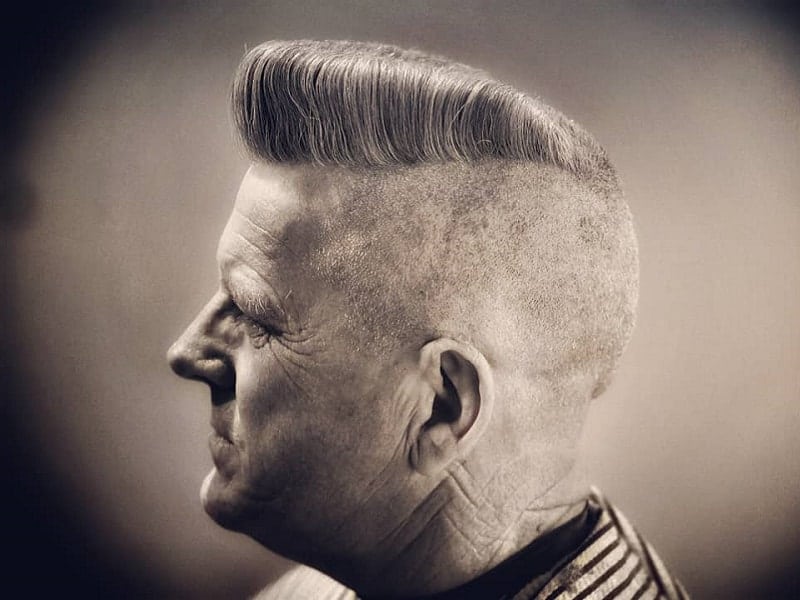 This is yet another military haircut inspiration. The best thing about military flat top haircuts is that they are practical, clean and hot. You get to keep a little bit of length at the front as well. The buzzed sized adds to the clean chic look.
34. Classic Flat Haircut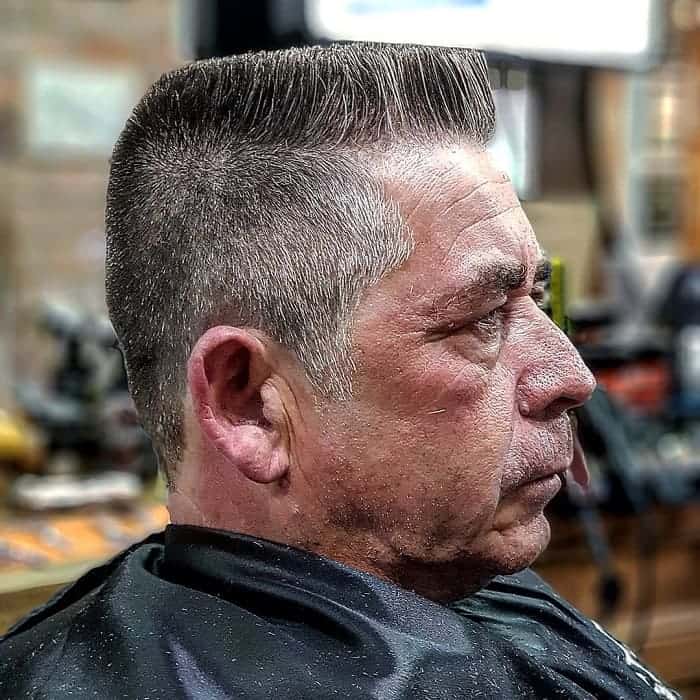 If you aren't into faded sides this classic flat haircut is the right option. It looks stunning and literally requires no maintenance at all. It is a great short haircut for older men who are constantly on the go.
35. Curly Hair Flat Top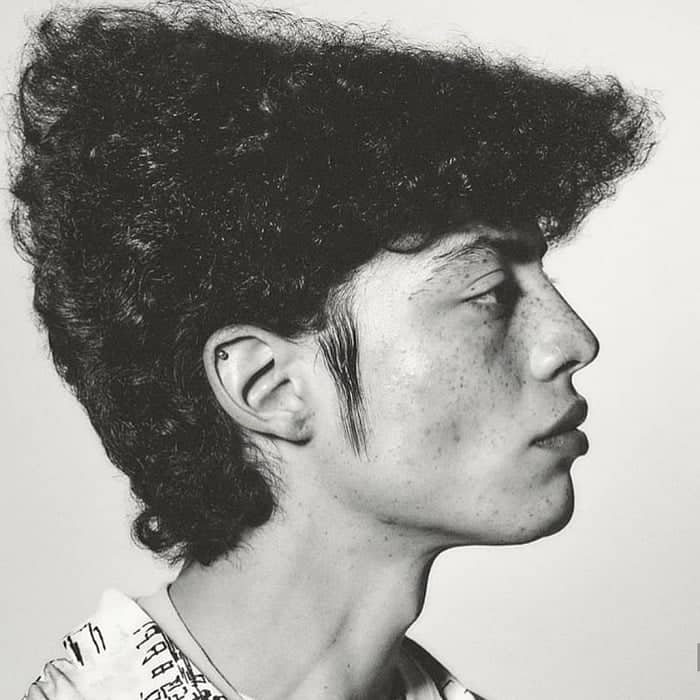 This flat top hairstyle is really is the definition of vogue and chic. If you are into embracing your curly hair, this cut is just right up your ally. Even though it might take a bit of work it is worth it. You will definitely be the center of attention for all the right reasons with this haircut.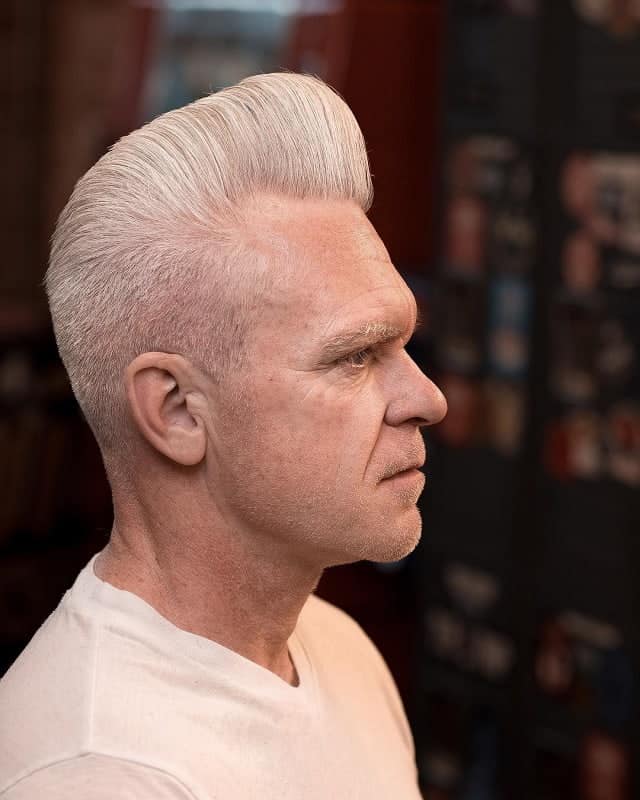 The pompadour combe over hair look has been around from forever. There is something about the sleek back hairdo that makes it look extremely sexy. If you want a great alternative for a top flat haircut, this is perfect. It is great for all ages and is sexy as well.
37. Asymmetrical High Top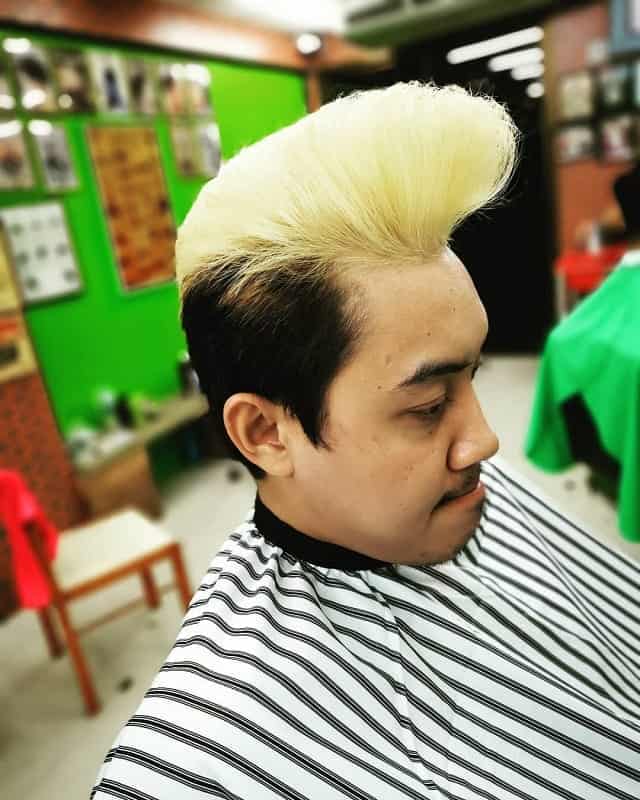 The asymmetrical high tops have always been around. This Asian haircut is apt for someone who likes having an out of the box aura about them. It adds a little extra oomph you could color your hair light brown. This haircut is classic, fun and edgy.
38. Flat Top Boogie
Boogies have been a cult favorite haircut from the '60s to the rockabilly boogie. This men's flat top haircut is as classic as it gets. To add a modern twist to it, you could color you're a purple-blue. This makes the loon in trend, fun and classic.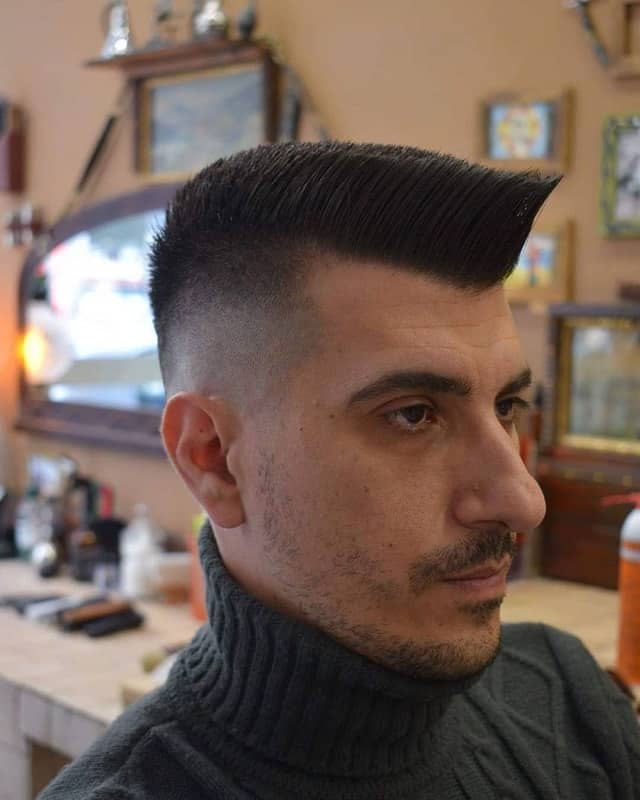 If you are into Mohawks but at the same time need change that's not far off, this is the right idea. This smooth faux hawk gives you the best of both worlds. In order to make it modern and relevant, you can add tapered fades.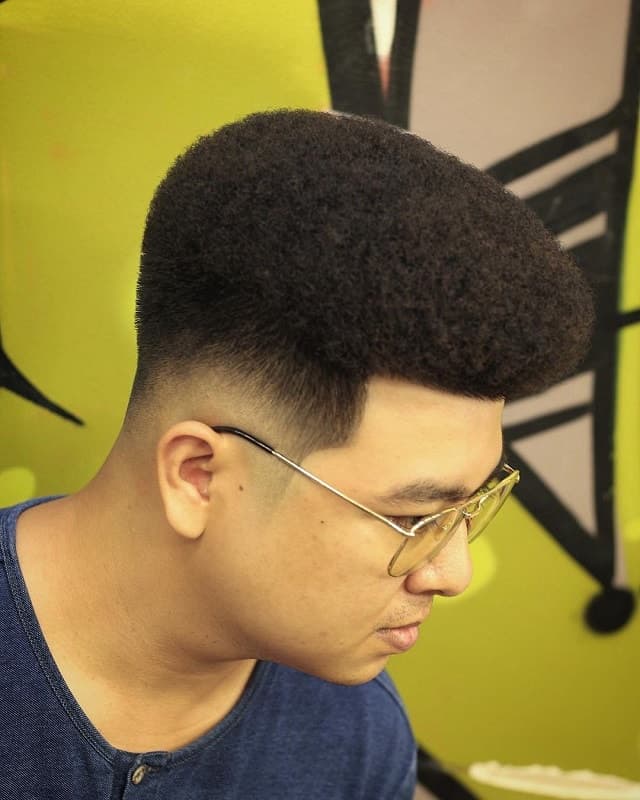 An 80s crowd favorite paired with a 20th-century trend. This flat hair on top style and cut have the right balance between old and new. If you want someone old and new all in one, this hairstyle is your pick.
There are plenty of endless variations to choose from when it comes to flat tops. You could also choose according to your hair texture and preference. This haircut is timeless and is the safest bet you can make on looking trendy and chic. There is absolutely no margin to falter or go wrong with flat haircuts.
They can be either a sophisticated hairstyle or can also be an extravagant fashion statement. You could draw inspiration from the 40 different kinds of flat top haircuts above. It is the right change for anyone and if you want to get it, overthinking it will ruin everything. So, just book a hair appointment as soon as you can get a trendy haircut.