If you're on the hunt for a haircut, you don't have to cut your hair too short but still look clean-cut and professional. Bald fade haircuts allow you to keep your longer hair on top while the sides and back are shaved close to the skin for a fresh style you'll feel confident in.
There are three types of bald fades: low, medium, and high, you can experiment to fit your taste. The minimal hair left on top also means you won't have to worry about too much styling.
Bald Fade Haircuts for Black Men
Check out these 21 trendy bald fade haircuts for black men you can rock in 2023!
1. Bald Faded Fohawk
If you have afro-textured hair, a bald faded fohawk will really show it off in a hip way with only little maintenance.
2. Low Bald Fade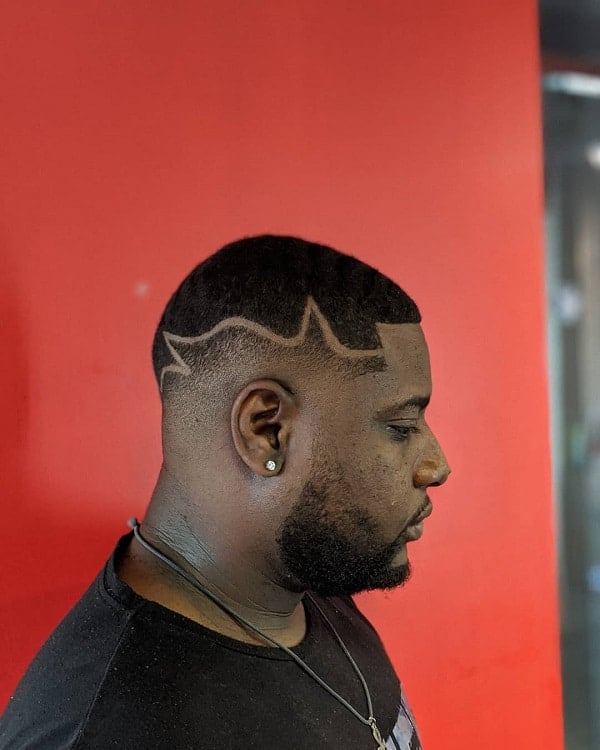 This low bald fade works for all face shapes and will also allow you to choose a cool design to shave into sides for a fun detail.
3. Bald Fade with Part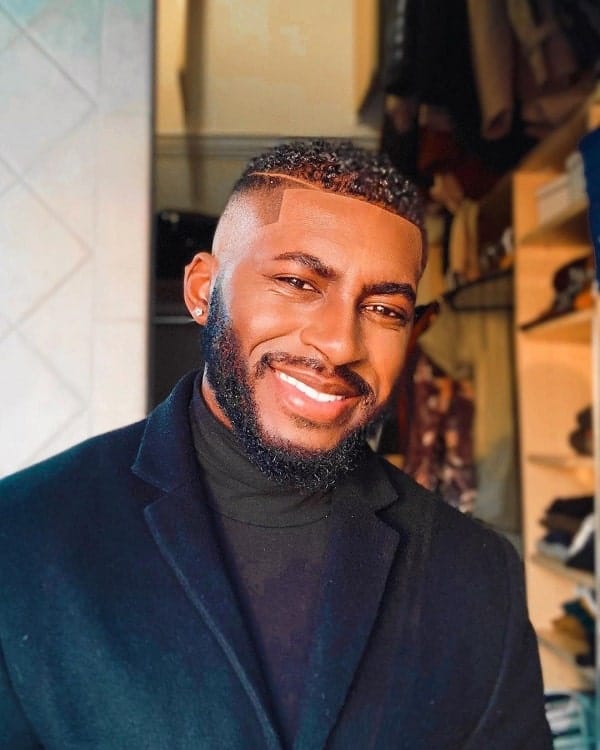 A bald fade with a part that's a little off-centered gives plenty of dimension while clean shaved lines add classy style your friends will envy you for.
4. Bald Fade with Waves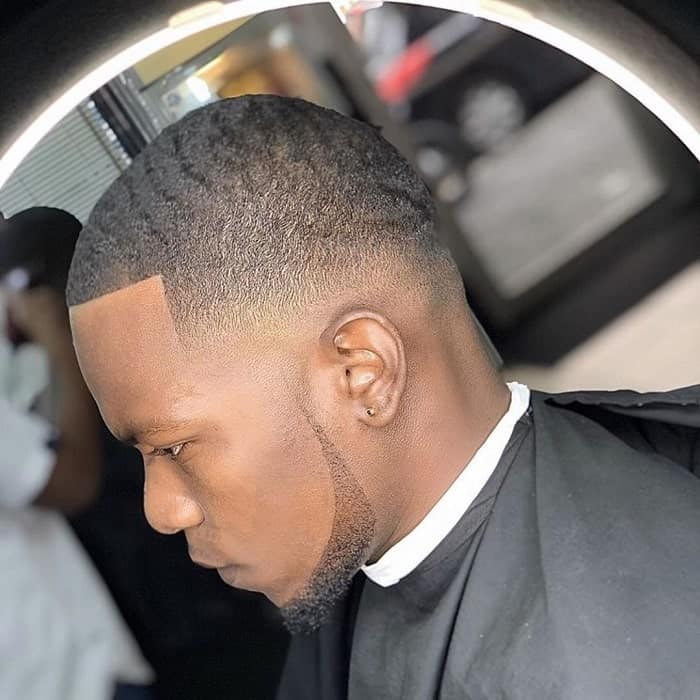 Wanna ride the waves without hitting the beach? The Bald Fade with Waves hairstyle is your ticket! Get your hair buzzed close on the sides and back, and then work those waves on top. A brush, some pomade, and a wave cap at night are all you need to make waves!
5. High Bald Fade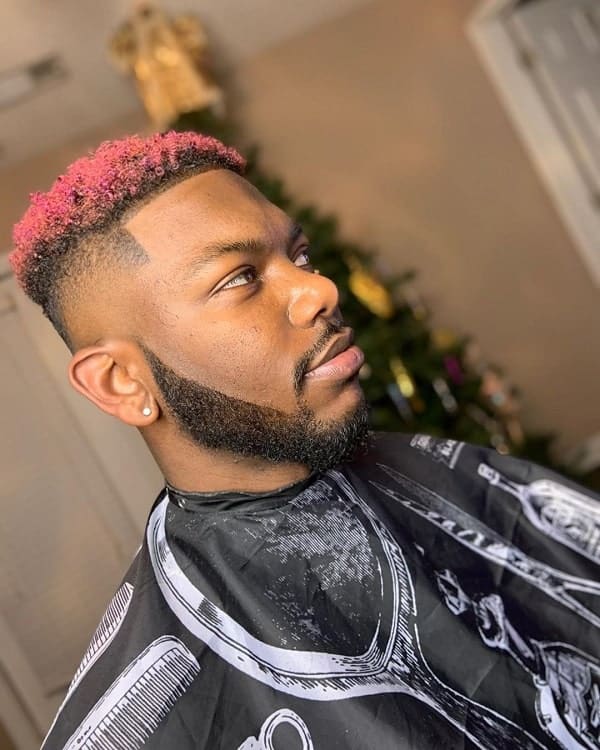 Raise the roof with the High Bald Fade! This one's all about the contrast – close-shaven sides that go way up, and a top that's begging for attention. Style the top any way you want; spikes, comb-over, or just messy. You can't go wrong!
6. Bald Temp Fade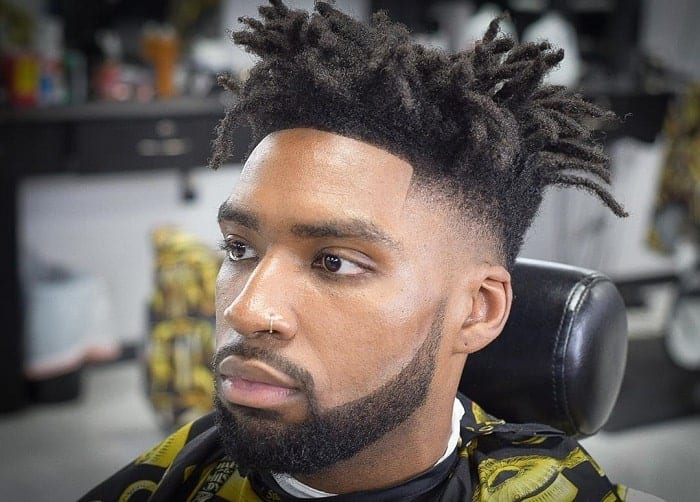 Go edgy with the Bald Temp Fade! This style is tight and clean around the temples, and gradually fades into nothingness. The top? That's your canvas. Go wild or keep it sleek. A bit of gel or wax and you're set to rock this fresh look.
7. Bald Fade Dreads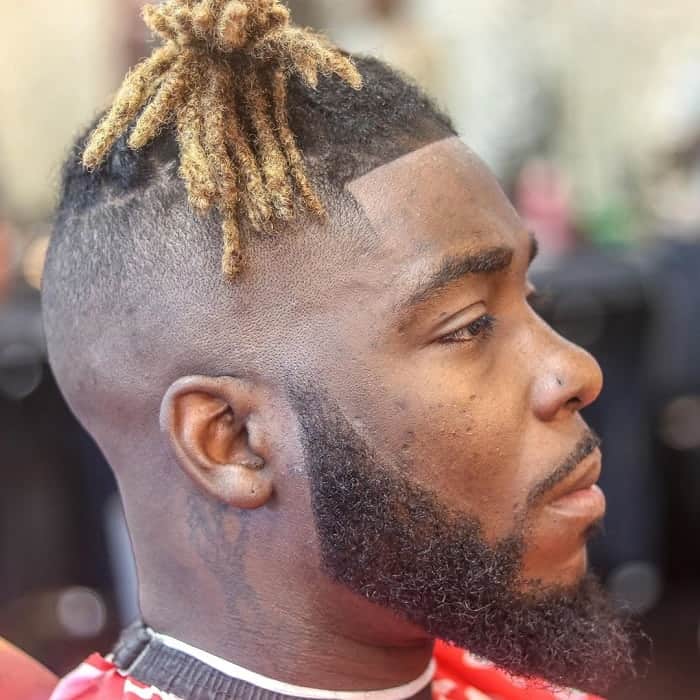 Mix up classic with cool with bald fade dreads. The sides go bald, while the top stays dreadlocked. It's the best of both worlds! Just keep those dreads maintained and the sides faded. Boom! You've got a killer style.
8. Bald Fade with Beard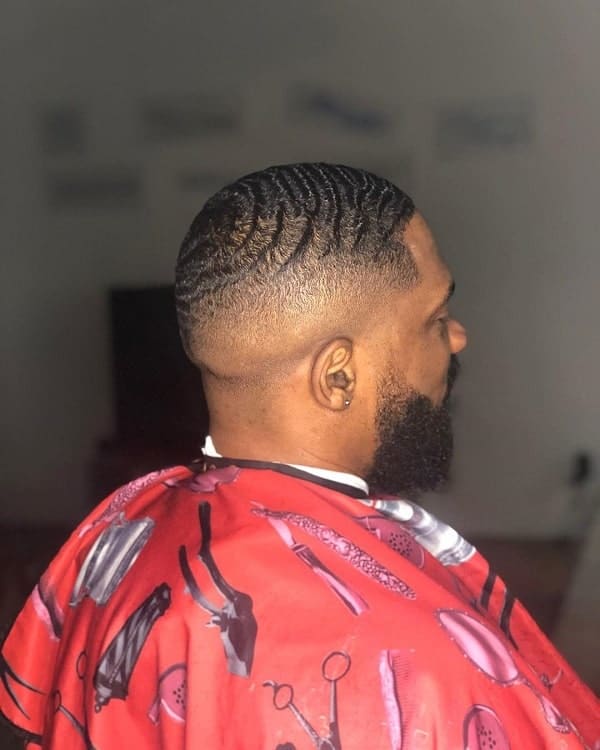 Be a boss with the bald fade haircut with a beard! Close-shaven sides, textured top, and a beard that means business. This look screams style and confidence. Just trim the beard to keep it sharp, and you're the king of cool.
9. Undercut Pompadour
The Undercut Pompadour is a throwback with a modern twist. Shaved sides and a voluminous top that's slicked back. The secret sauce? A good quality pomade and a comb to get that perfect pomp. Feel like a rockstar, because you look like one!
10. Slicked Back Bald Fade
Clean and classy – that's the Slicked Back Bald Fade. Close fade on the sides and a slicked-back top makes this look effortlessly cool. A dash of pomade or gel and a comb are your weapons of choice. Stay dapper!
11. Mohawk Bald Fade
Unleash your inner punk with the Mohawk Bald Fade! Shaved sides and a strip of hair running down the middle. Spike it up or wear it natural; either way, it's a head-turner. Grab some hair gel, and let's rock!
12. Side Part Bald Fade
Charm everyone with the Side Part Bald Fade. It's a gentleman's choice. Faded sides and a defined side part create a polished look. Comb it neatly, use a touch of pomade, and you're ready to rule the day.
13. Bald Fade with Curls
Curl it up with the Bald Fade with Curls! It's your curly hair on top and clean-shaven sides. Let those curls be the star! Just moisturize and define your curls, and you're ready to wow everyone.
14. Buzz Cut Bald Fade
Stay sharp with the Buzz Cut Bald Fade. It's minimalism at its best – short all over with a close fade on the sides. Low maintenance, high style. Just a trim every few weeks and you're always on point.
15. Low Bald Fade
Get smooth with the Low Bald Fade. This style keeps the fade low around the sides and back, giving a subtle but sleek look. Any styling on the top goes – messy, slicked back, or textured. This low-key style is high on charm!
16. Mid-Bald Fade
The Middle of the road has never looked this good with the Mid Bald Fade. Not too high, not too low, it's the perfect balance. Style the top to your liking – messy, spiky, or slick. You're in control, buddy!
17. Skin Bald Fade
Go bold with the Skin Bald Fade! It's the baldest of the bald fades – shaved to the skin on the sides and back. The top can be styled to your heart's content. Get this cut, grab your pomade, and make a statement!
18. Bald Fade with Hard Part
Take a stand with the Bald Fade with Hard Part. This cut has a striking, etched part that adds an edge to the fade. The rest of your hair? Style it how you like. The world's your stage with this cut!
19. Bald Fade with Design
Express yourself with the Bald Fade with Design! Get creative with patterns shaved into the fade. From simple lines to intricate designs, let your imagination run wild. Stand out from the crowd with this unique look.
20. Afro Bald Fade
Embrace your roots with the Afro Bald Fade. A close fade on the sides, and a voluminous, textured top. Just pick out your afro to keep it looking fresh. This style celebrates natural hair in a big way!
21. Faux Hawk Bald Fade
Get the hawk without the commitment with the Faux Hawk Bald Fade. Shaved sides and a strip of hair that's longer in the middle, but not as long as a traditional mohawk. Use a bit of product to spike it up or wear it down. Either way, it's sure to turn heads.