Some of the best hairstyles for men with straight hair are listed right here. If you have straight hair and you are not too sure how to style it, give it volume, or rock on your everyday basis, we will help you figure it out. Guys who are in their teens or even mature men will easily find their go-to hairdo, just by browsing through these 25 images.
How to Style Men's Straight Hair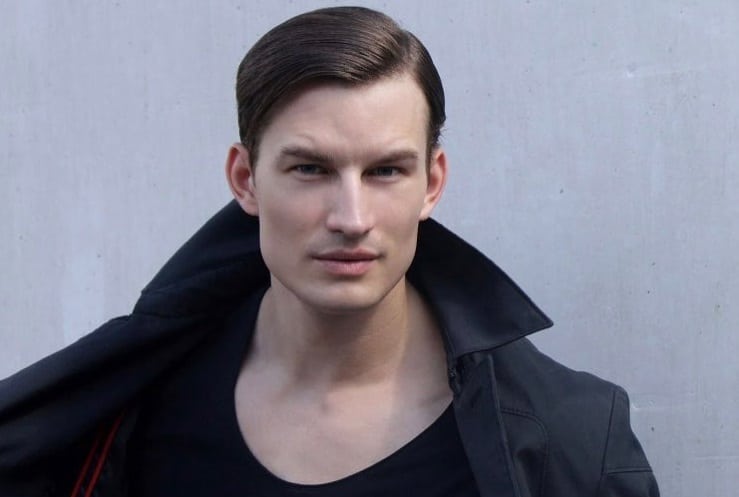 Step 1: Make sure you determine what is your exact style of straight hair. Some men have long and thick straight hair, while others have not been blessed with luscious curls and thick strands. If your hair is thin and brittle make sure you purchase as many hair growing and enhancing shampoos, as well as conditioners just so you speed up the growing process. Guys with strong hair can use any kind, as long as it is sulfate and paraben-free.
Step 2: Get regular trims by a highly trusted barber. In fact, you should go for a haircut every 3 weeks, just so you maintain your hair naturally strong and breakage-free. You can go to a regular hairdresser shop as well, or stick to a barber. This pretty much depends on how much your hair is demanding, or how complicated your wanted outcome is. Often barber shops are a better choice for more complicated hairdos, or when you need to trim your beard.
Step 3: Try and get something unique which enhances your head shape, your eyes, lips, or any other good looking feature. For guys with oval faces, a lot of hair on top may be a good illusion. Those with square face shapes should get a nice beard in order to round up their look. Guys with round faces who want to emphasize their eyes should go for a set of bangs. Either way, ask your hairdresser for their opinion, or also browse through our 25 inspirational pictures!
Step 4: After you get your wanted and preferred hairdo, make sure you take care of it. How? Hair gel which is a bit more expensive, as well as a nice trimmer for the beard or your edges, are great to start off with. Don't blow dry your hair too often, and rather stick to air drying. Make sure your purchased hair-care products are as natural, mild, as well as ideal for your hair type (aka dry, oily, thin, etc).
Straight Hairstyles for Men
We have listed hair the most popular straight hairstyles for men to rock this season!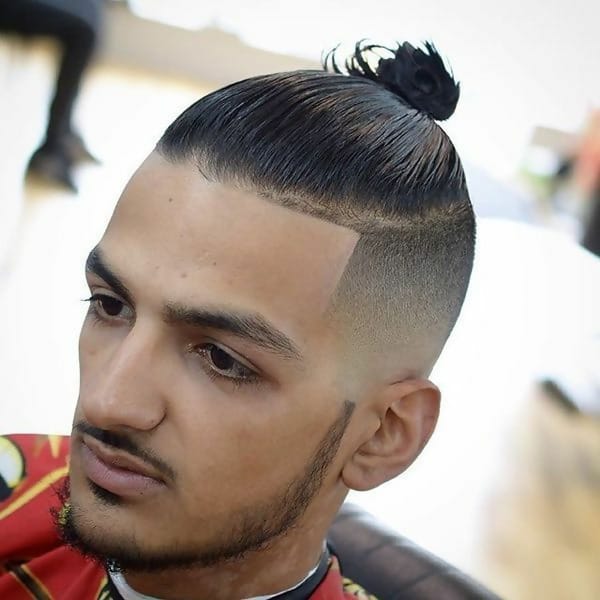 If your hair is naturally straight and you prefer unique and different hairdos (as well as practical for sporty activities) you will love this man bun. It is easy to achieve, plus perfect for daily activities and men who prefer shorter styles.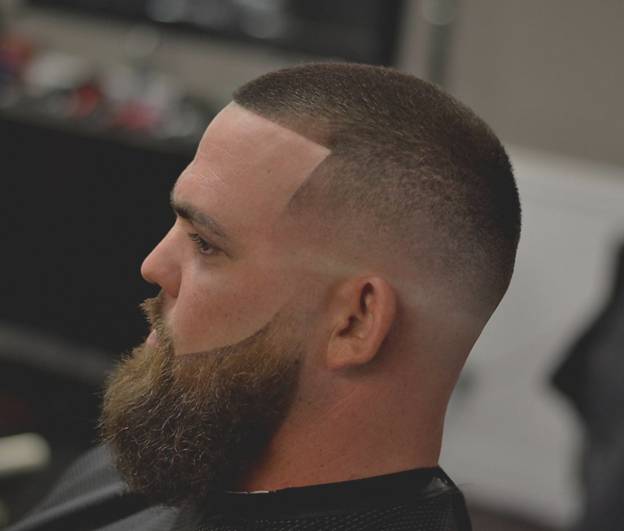 You can easily match your longer beard with your straight hair, but make sure you go to a well-trusted salon. This hairstyle for men with straight hair can be a bit demanding and hard to achieve, but it is definitely attention-seeking.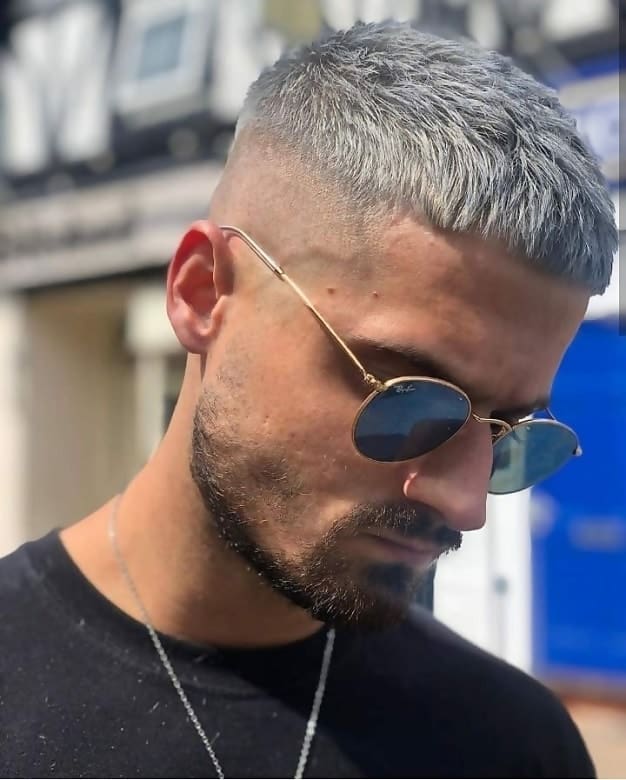 If you are not afraid of some shorter fringe bangs and some unique and bold colors go for this straight haircut. It is ideal for the Summer season, as well as guys who have thinner or brittle strands.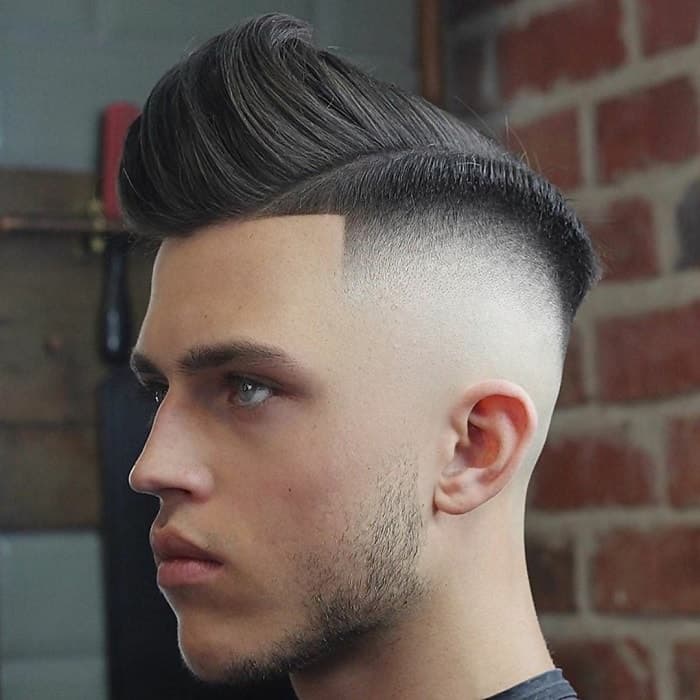 If you love precise and defined men's haircuts and you have a voluminous top this straight haircut will suit you the best. It is very bold and attention seeking, and it will suit men who are in their twenties the best.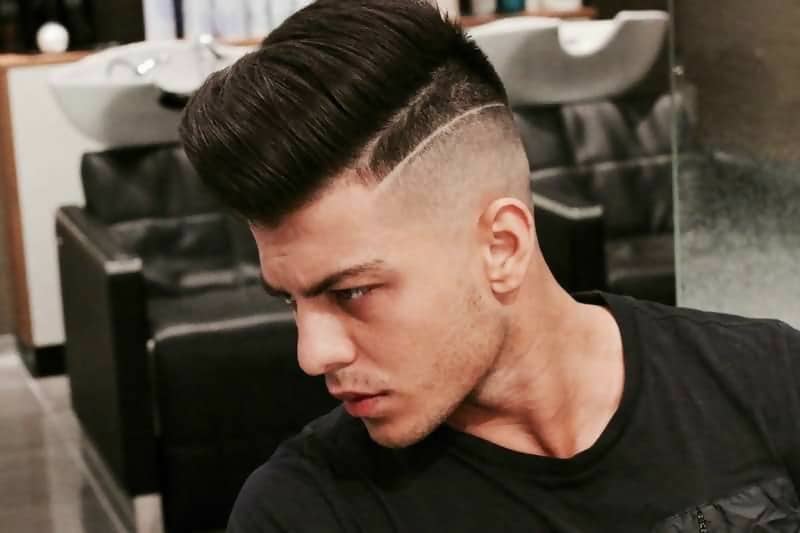 Men who are into these sharp and unique haircuts and who are into sidecuts can rock this style. This is an ideal hairstyle for guys with straight hair who are in their 20-30, and it is super straight and defined on the edge. It requires 5-10 minutes each morning to style, but it is worth the maintenance.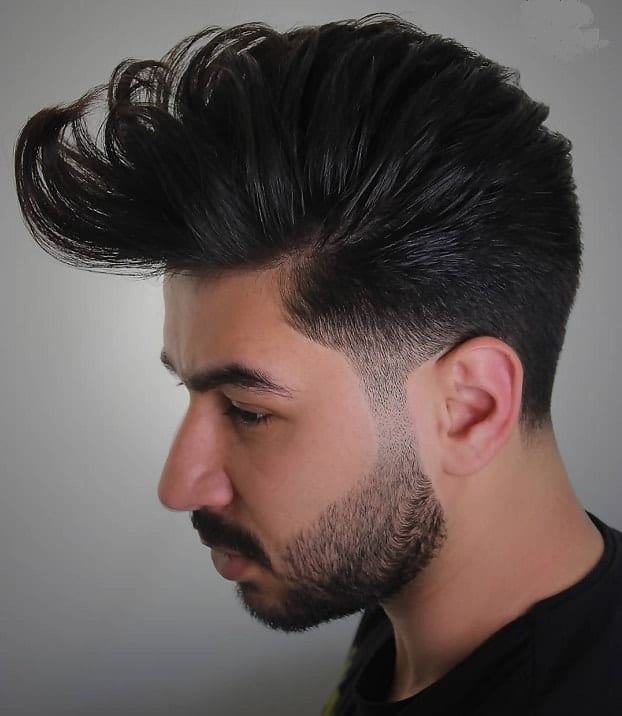 You don't have to cut your bangs in order to enjoy this men's straight haircut. Simply use some hard hair gel to keep your bangs in place and to give them that fierce lift.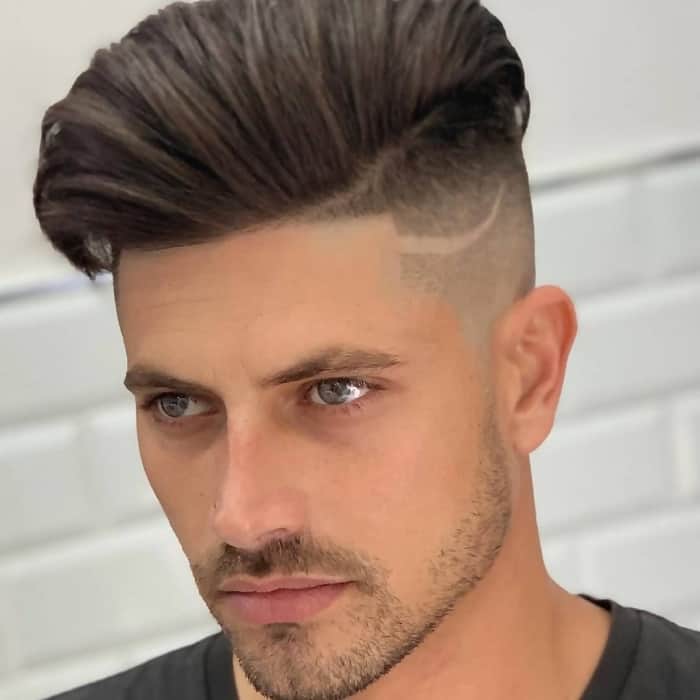 Pompadour haircuts are worn by men who love sophisticated styles and who are always business ready. This haircut looks ideal for the office, and it should be worn by men who have thick, straight and long hair.
8. Straight Silver Hairstyle with A Fade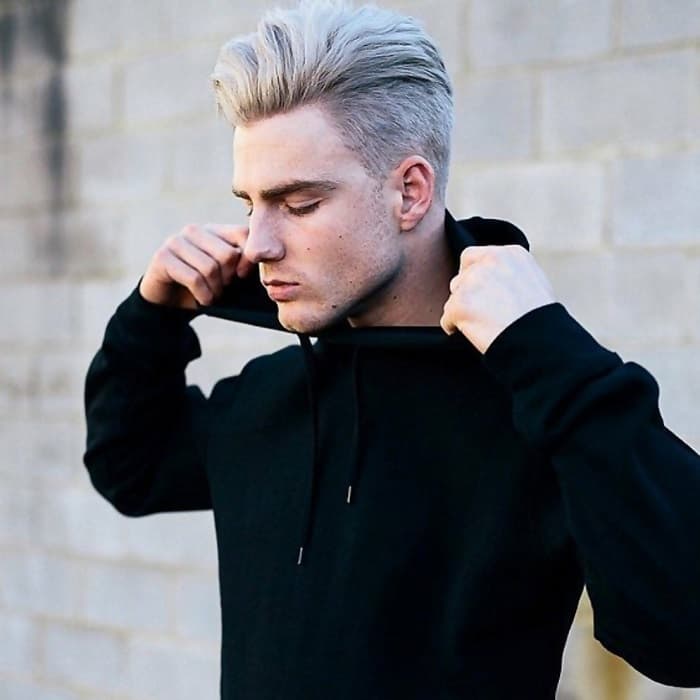 Silver hair color is hard to achieve since it requires a lot of bleaching. However, if you do succeed bleaching it out on your own make sure you condition it. Once properly done, you will be left with the best hairstyle for men with straight hair.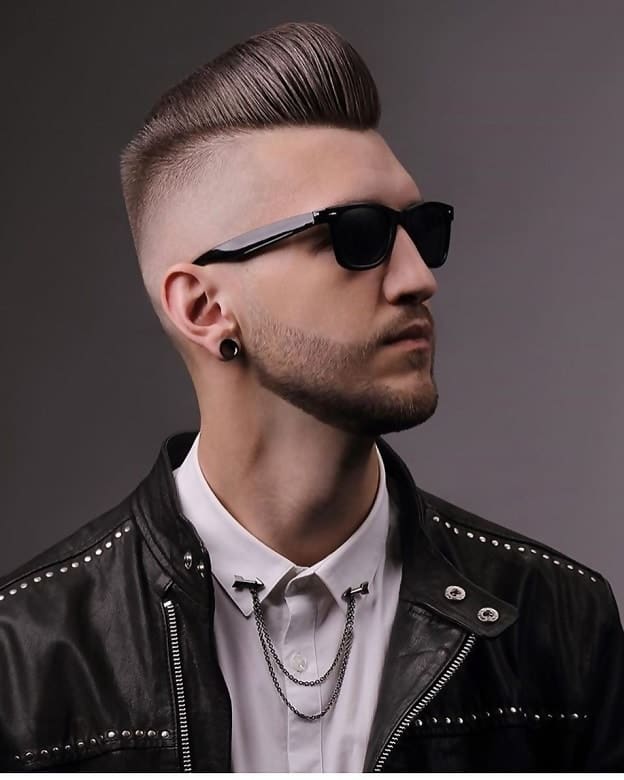 If your hair is naturally thin on the sides make sure you trim it but leave the top voluminous. Also, you can use some hairspray to keep your strands from getting frizzy (especially during the Summer).
10. Bangs with Mid Bald Fade
A voluminous top with side fade hairstyle is appropriate for any age group. You can emphasize straight haircuts for guys by getting a set of fringe bangs, some manly jewelry, or a defined beard.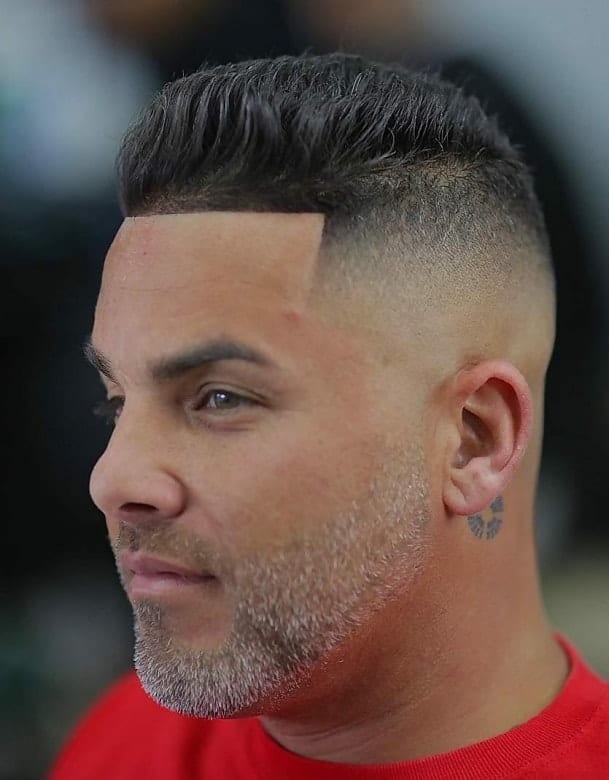 A box shaped haircut is ideal for sports players, athletes, and especially basketball players. This one is straight and short, ideal for minimalistic lovers. You can match it with your beard and enjoy when off to any event.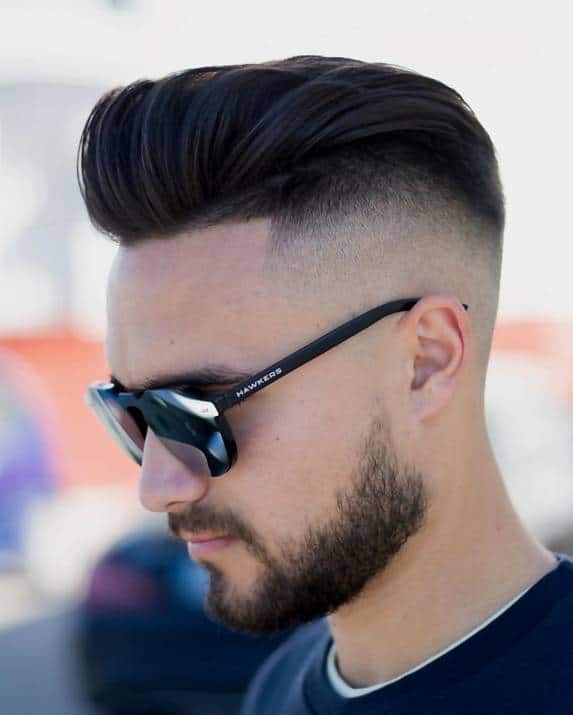 A pompadour haircut demands some softer hair gel if you want your strands to look silky smooth and frizz-free. You can wear a pompadour no matter your hair length or texture, but it may look the best on men with straight hair.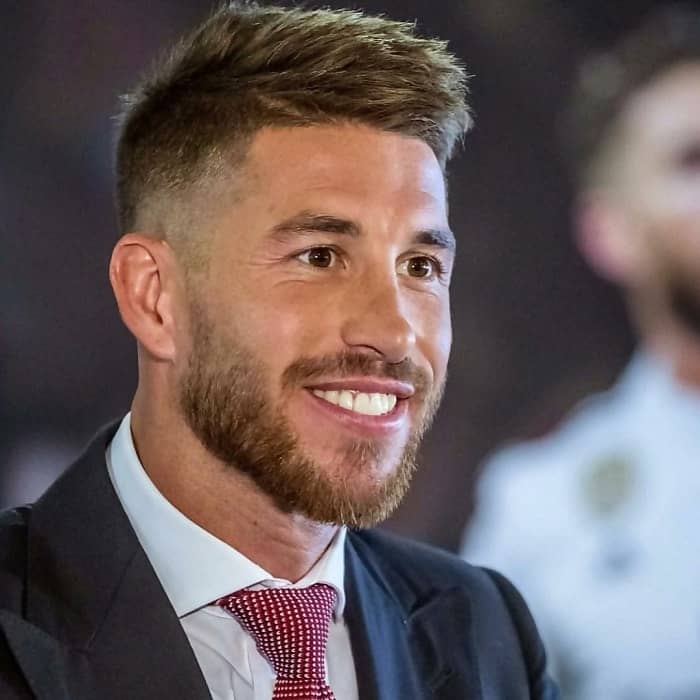 Spikes are not hard to achieve and are usually worn by younger men. This straight hairstyle is defined on the side, and it is ideal for the office, school, college, job, or any other activity – as long as you have enough time to style it every morning.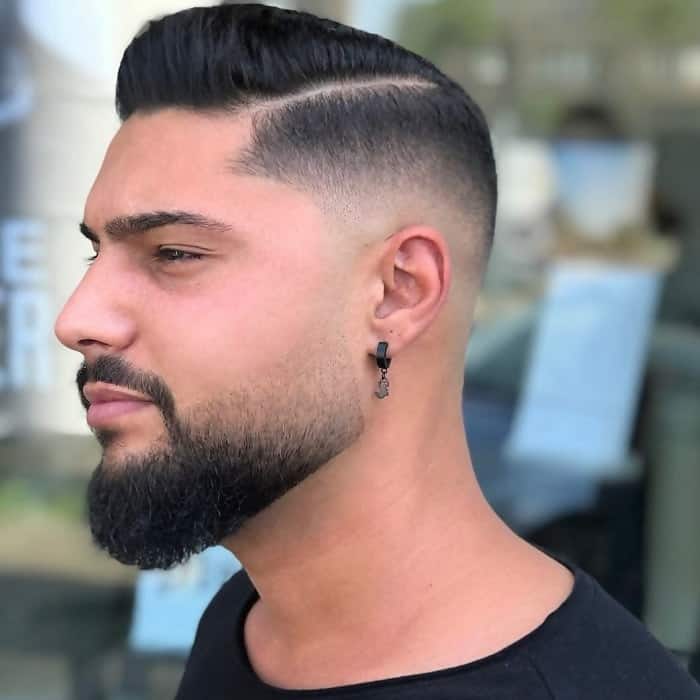 If your hair is naturally shorter, thinner, more brittle, and straight you can still rock a fashionable haircut. Make sure you gradually shave and fade the sides, but leave some volume on the top to balance this hairstyle for guys with straight hair out.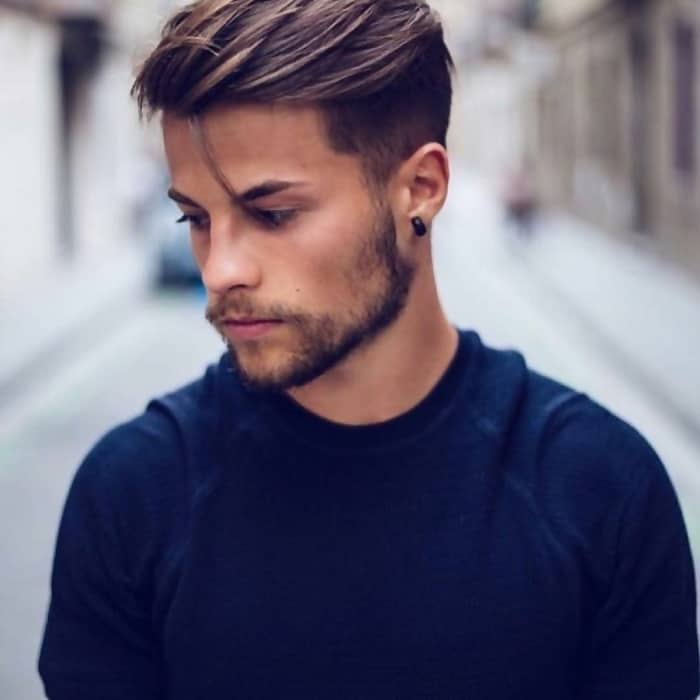 If you are into highlights and you are not afraid of bold cuts to get this slicked-back style. It is not hard to achieve, just make sure you wash your hair every 3-4 days, especially if you use a lot of product.
16. Fluffy Blonde Hair with Shaved Sides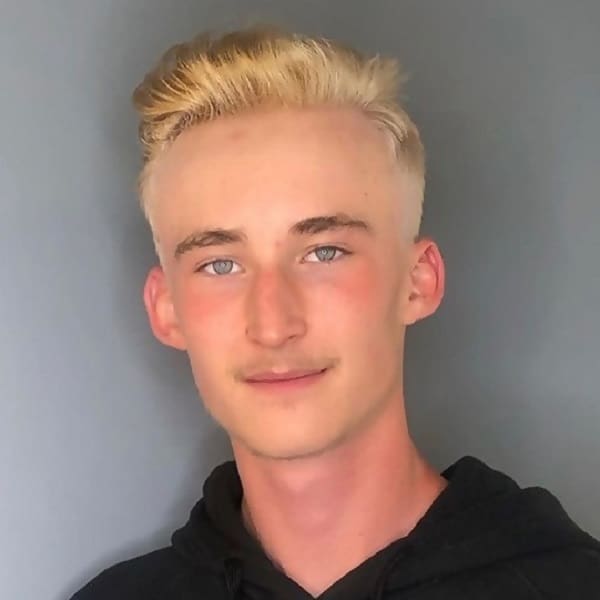 The perfect school-appropriate hairdo which can be worn by those who are still in middle school, or even at college! A short straight haircut once lifted on the middle will give out an illusion of a more mature side, ideal for younger men.
17. Medium Textured Quiff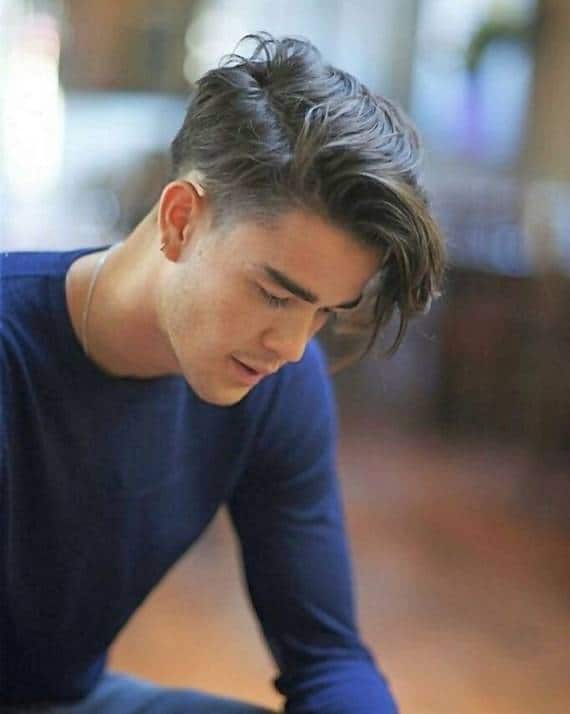 If your natural hair is thick, long, straight, and voluminous – why not let it grow out? It can easily attract looks, seek attention, and look awesome on straight haired men who are into softer and not as manly looks.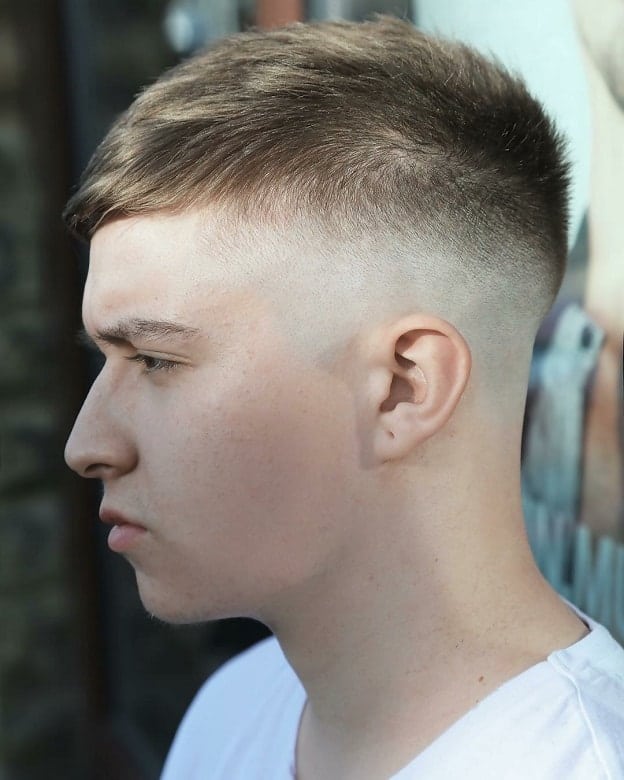 This straight hairstyle for men is appropriate only for those who can bleach or lighten their strands. It is playful and perfect for clubbing, guys who love bold and short as well as charming looks.
19. Long Quiff with Low Fade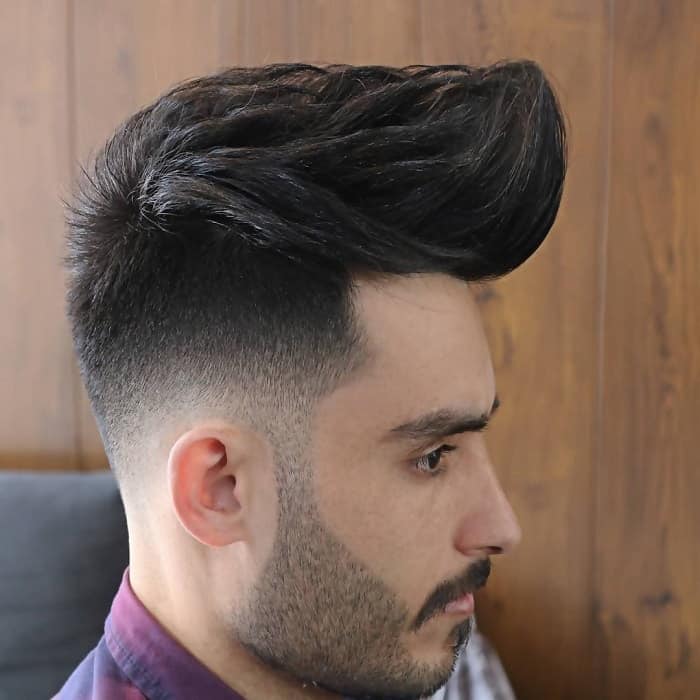 Don't cut your bangs, and rather let them grow! This haircut for men with straight hair is only for the brave ones who can wear this cut to their jobs or their everyday activities. Make sure your hair is thick and long enough since otherwise, you will not be able to rock it.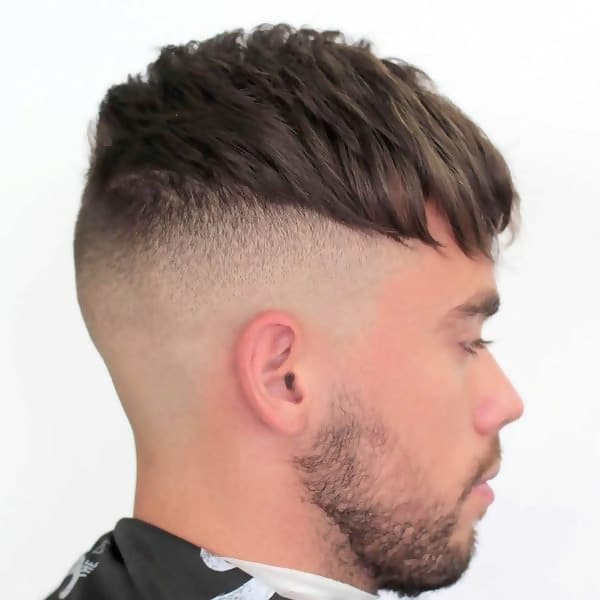 Cropped fringe bangs are worn by men who have longer foreheads. In fact, these baby bangs can be a great distraction from your other minor imperfections. You can connect your hairdo with your beard and enjoy the overall well-put look.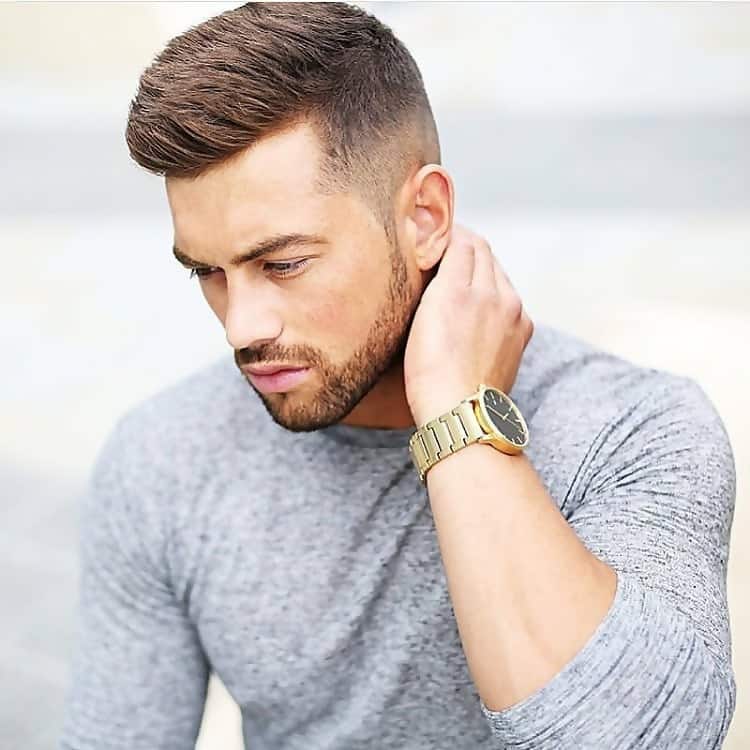 A short faux hawk is a low maintenance, and you should get this straight hairstyle if you are into simpler looks. Make sure you use some hair gel on a daily basis and enjoy a beautiful short faux hawk.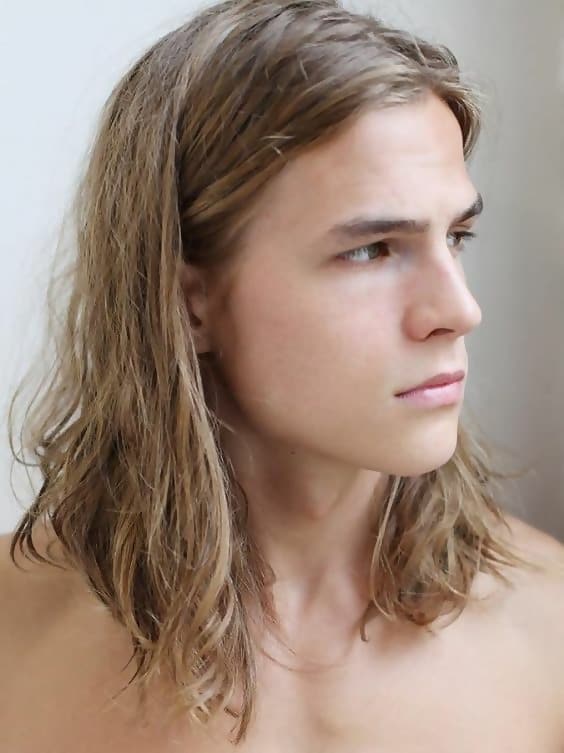 Never cut your long and healthy hair. Guys who are naturally blessed with luscious strong and straight hair should let it grow out. Some men can rock this look for their work, while others may stick and choose this hairdo only when going to a vacation.
23. Straight Hair Highlights with Bangs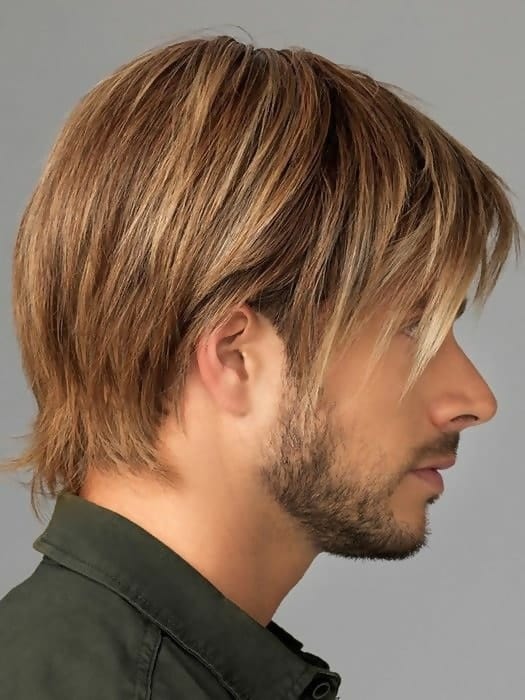 Long straight hair with bangs usually looks the best on older men, as well as on those who have square-shaped faces. If this sounds like you, get this straight and long hairstyle the next time you visit your barber shop.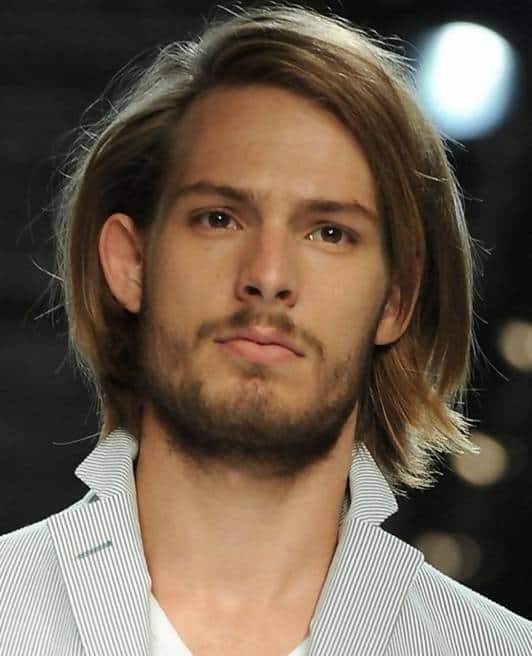 Lastly, this long and macho straight hairstyle for men is suitable for any opportunity. Just make sure you have the right comb, some hairspray, as well as 5 minutes each morning to style it in order to enjoy the ultimate outcome.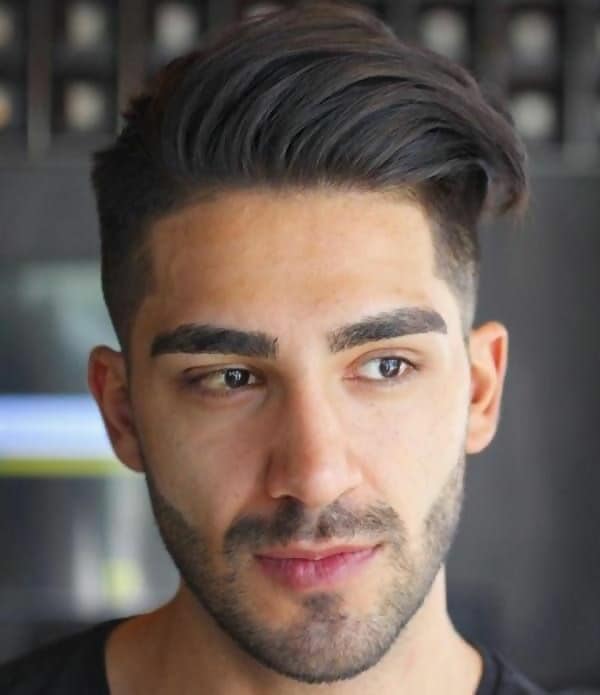 Messy and spiky hair looks very model-like, and it should be worn by younger lads. Once paired up with a serious shirt, some sunglasses, or even stylish jewelry, this hairstyle for men with straight hair can look high-end.