If you are into classy edgy and fresh hairstyles, this is the perfect hairstyle for you. The hard part haircut has been one of the trendiest hairstyles for the last couple of years. These haircuts tend to have a very prominent touch of attitude and a certain sexy aura, which is why it is liked as much.
This haircut has been a result of small bits and pieces from many others before. It has resulted in the new style that is a mixture of both classic and modern. If you are someone who intends to dabble around this style, this article is perfect for you. Below you will find 45 different hairstyles to inspire you.
Trendy Hard Part Hairstyles
These are the trendiest hard part styles that are taking the men's hairstyle world by storm.
1. Classic Part with Short Pomp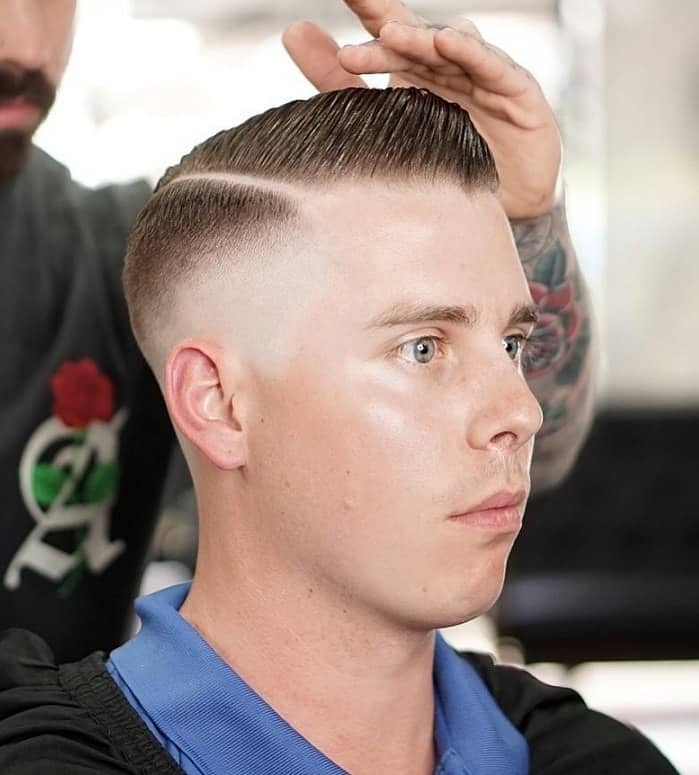 Our first hard part hairstyle happens to the most popular mixture of old and new. The sleek brushed back look is a classic pompadour while the side fades represent a modern style.
The best part about this hairstyle is that it can look good on all aged men. It has some advantages for younger as well as older men. Another positive is that it can be worn almost anywhere.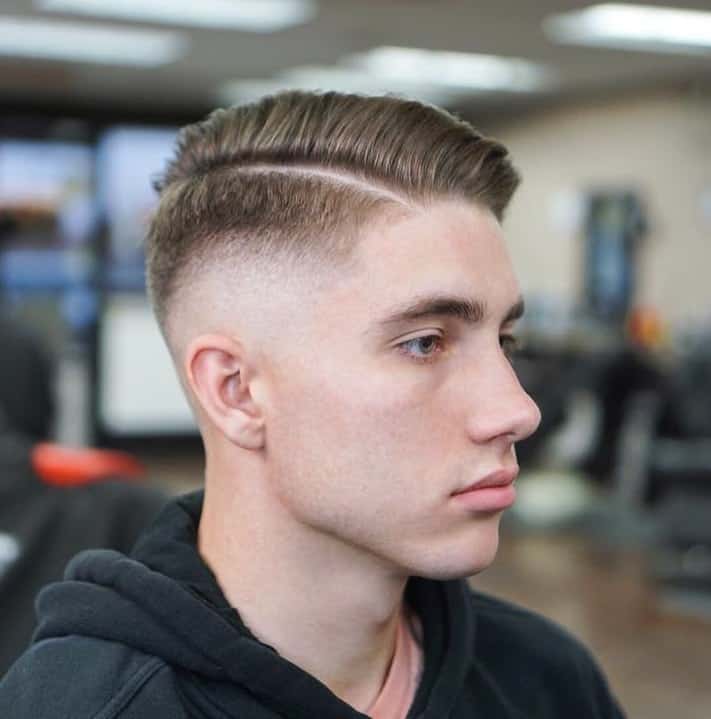 In the 1950s this haircut did it all. Fast forward to the 20th century this haircut still has the same effect. It is sexy, clean, and chic, everything you would want in a new haircut.
The smooth fade and the disconnected part really compliment the longer hair towards the top. This sexy, nostalgic military cut will always be a good idea.
3. Asymmetrical Hard Part
If you think these cuts are only for straight hair, you couldn't be more wrong! Temple fades are often an African American favorite. It is a perfect choice if you want to have short hair that's cut clean and chic. It is a great choice overall.
4. Hard Cut for Thick Hair
Keeping thick hair long can be a challenge, which is why opting for short hairstyles are apt. This haircut is perfect, as it needs little to no maintenance. The hard part makes it look fun while the fades and the side-swept hair makes it look classic and clean. It is perfect for someone who's even towards the elder side.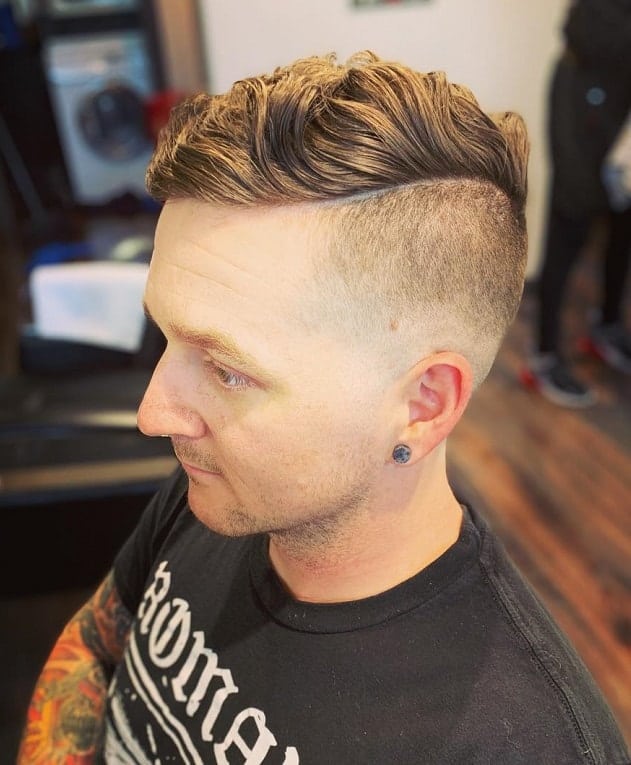 Textured hair gives a whole new look to the personality. If you have wavy hair, your hair is perfect for the hard part haircut.
The dynamic texture will provide you with natural volume making the part stand out more. The taper fades will also contribute perfectly to the look. You could wear this style anywhere and it would be appropriate.
You don't have to have short hair brushed or sleeked to one side to incorporate this cut in your hairstyle. This hairstyle is a perfect example of how the disconnected part works with different hairstyles.
The two complement each other creating a perfect balance. This men's hard part haircut is fun and clean at the same time.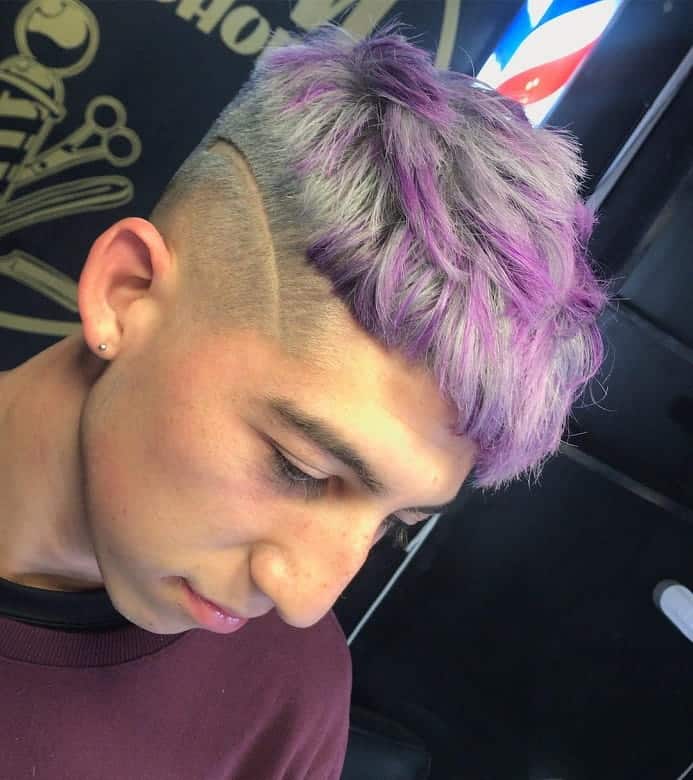 This haircut is another modern example of regular shaved parts. As you can see, having it on your side makes your haircut look more edgy than usual. This can be a great way to showcase your unique and fun personality.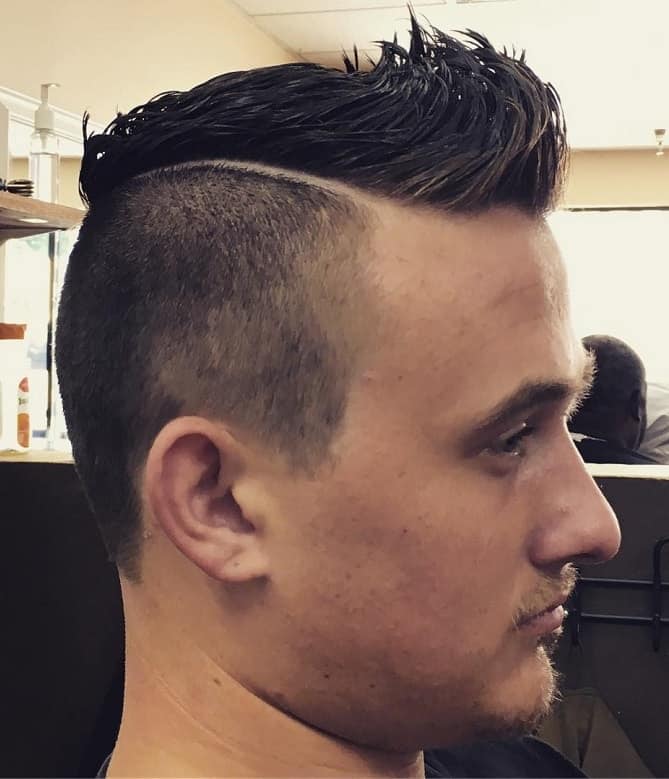 Spikes are of the ways of styling that will always be relevant. Since they are trendy, pairing them with a hard part seems like a great idea. This way you get to have an element that's classically paired with something that's modern. This hairstyle is perfect for a fun night out.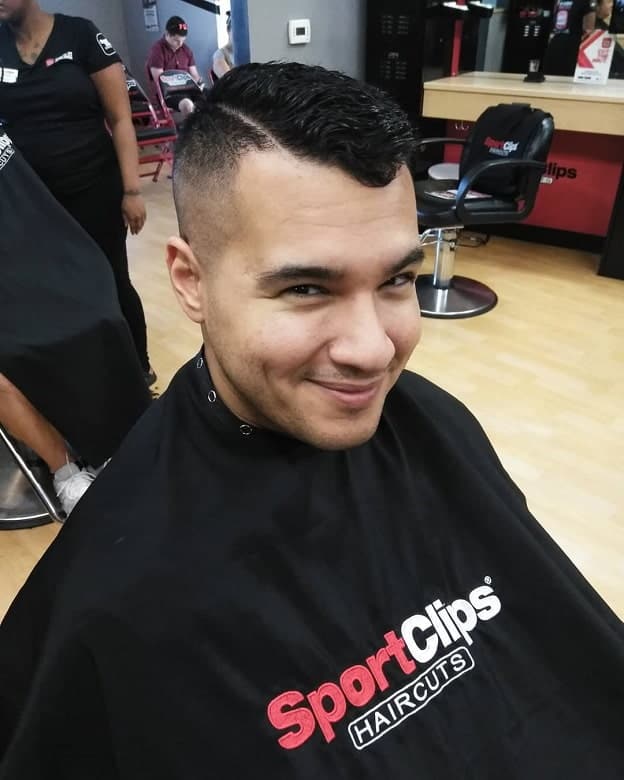 The high and tight hard part hairstyle is the trendiest of all. Pairing this with short hair and a taper fade balances everything out perfectly. This way, you get to keep your short hair but at the same time style it trendily. This hairstyle looks clean and chic perfect for any kind of hair texture.
If you are into having the pompadour hairstyle, this is a great way to add the hard part fade to it. This way you could have something you are used to. Yet at the same time, it is something that is new. These two contrasting styles are a perfect representation of someone who is fun and yet classic.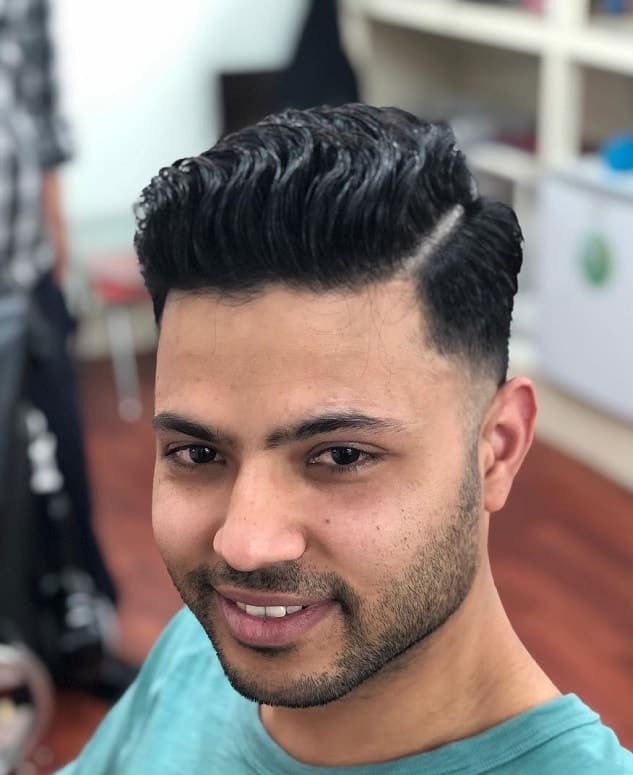 If you have short straight hair that is naturally thick this hairstyle couldn't be more perfect for you. You would style your straight thick hair straight up and use the hard part to make it look softer. Pair the hard cut with the tapered fade to add a cleaner aura to the look.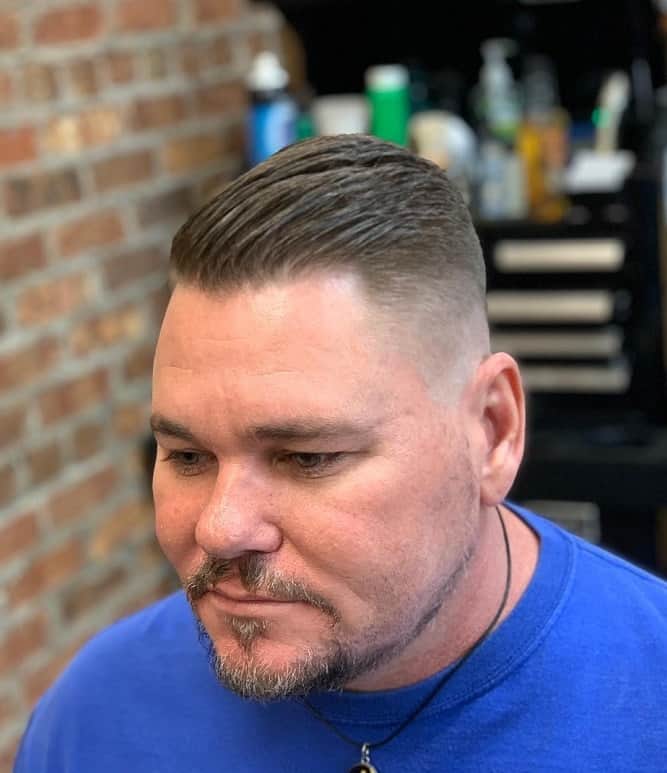 Pairing your combed back look with a hard part haircut is also a great idea. This way you could add a little bit of spice to your otherwise safe hairstyle. It would add a little bit of oomph and be the right kind of trendy change that you need this season.
13. Side Part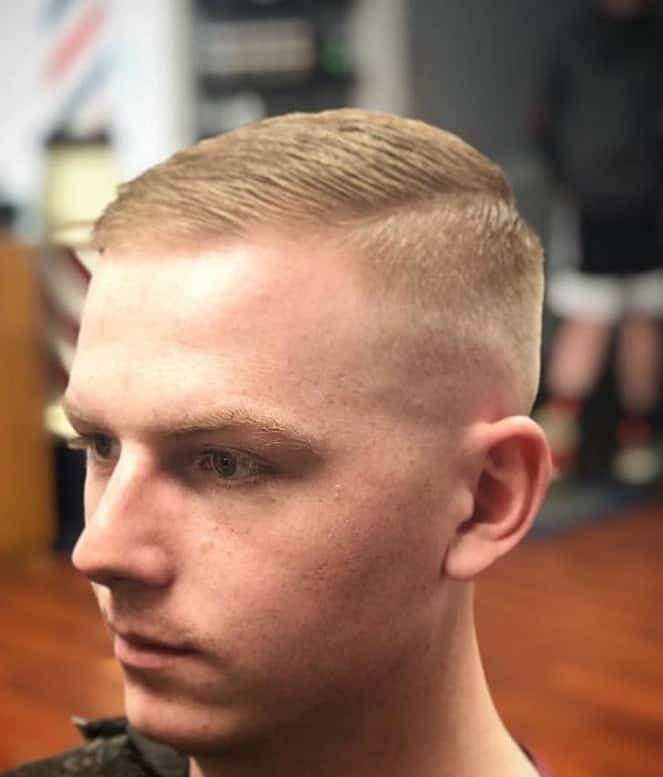 If you are used to parting your hair towards one side, a hard part hairstyle is perfect. All it would do is make the part much more evident and make the look much chicer. This way, you could still sport your regular hairstyle but add this trendy element to it.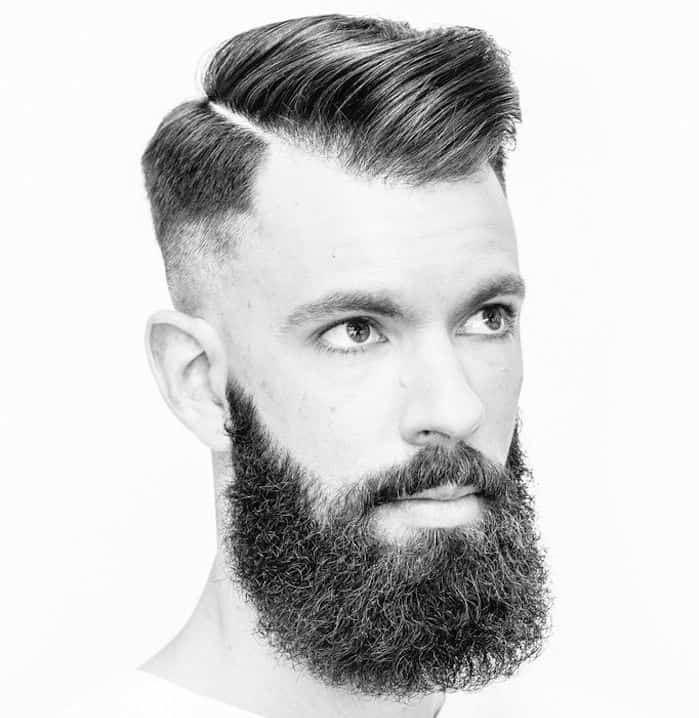 Just like we've mentioned before, hard parts work for all ages of men. This haircut will help you have minimum hair yet look trendy and in style.
The hard part fade will add a modern touch to your look. I bet you will feel sexier after getting your hair cut this particular way.
15. Medium Length Hard Part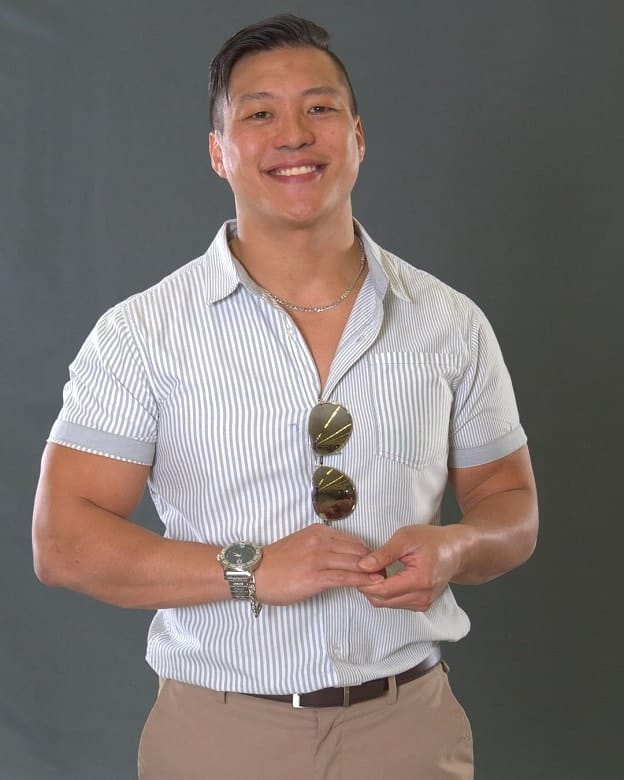 This hard part comb over hairstyle is something that is easy to maintain and yet, lets you keep your long hair. The taper fades go extremely well with the medium length hair. It is easy to style and also fun and trendy at the same time. You could sport this anywhere because of how versatile it looks.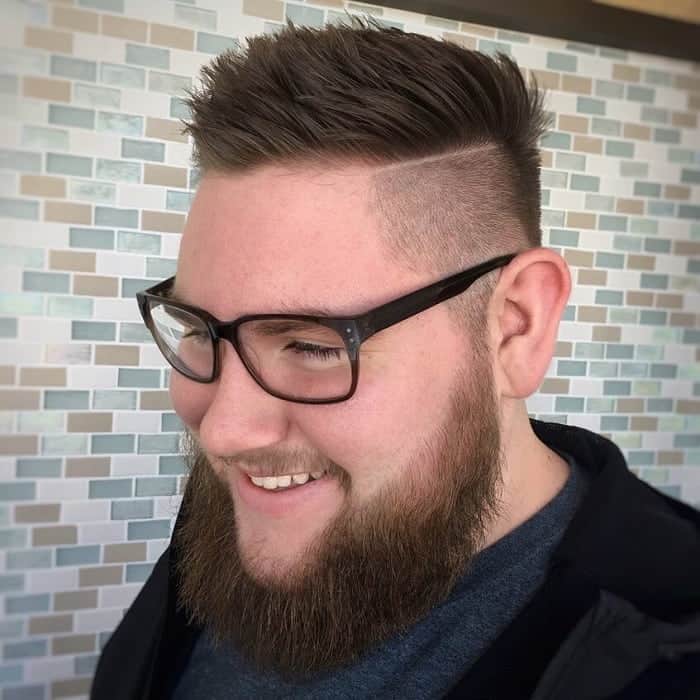 This haircut is perfect for someone who has thin straight hair. The attractive part about this hairstyle is that it's also slicked towards one side. All of these elements coming together really make the haircut look sexy. This hairstyle being fun and clean it can be worn anywhere as well.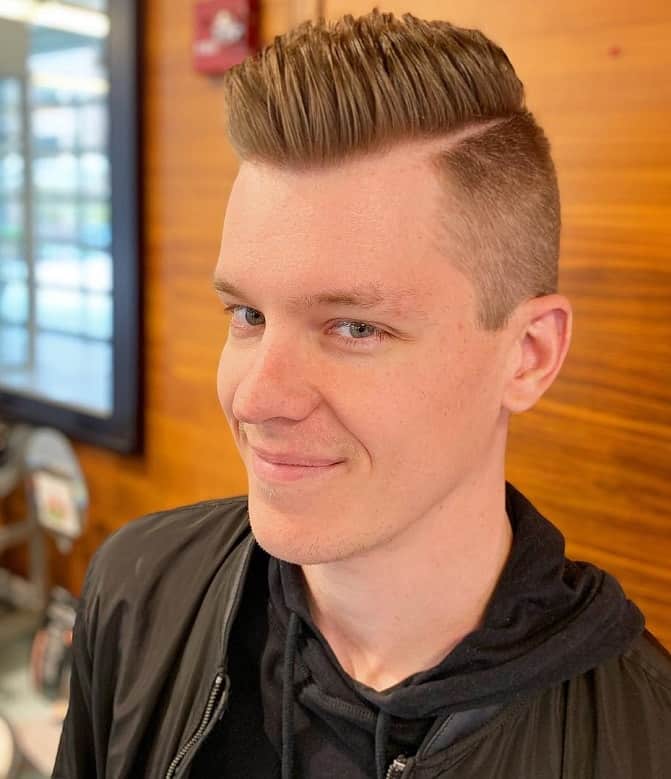 Hard part hairstyles don't necessarily have to be straight down. A great way to change it up is to have them lightly diagonal. This is a simple yet effective element that looks really attractive. It is a good option for a slight but safe change.
This haircut is highly influenced by military styles. It's clean, sexy and chic. The best part about the cut is the fact that you can sport short hair stylishly. The tapered faded sides look and go perfectly with the faded sides.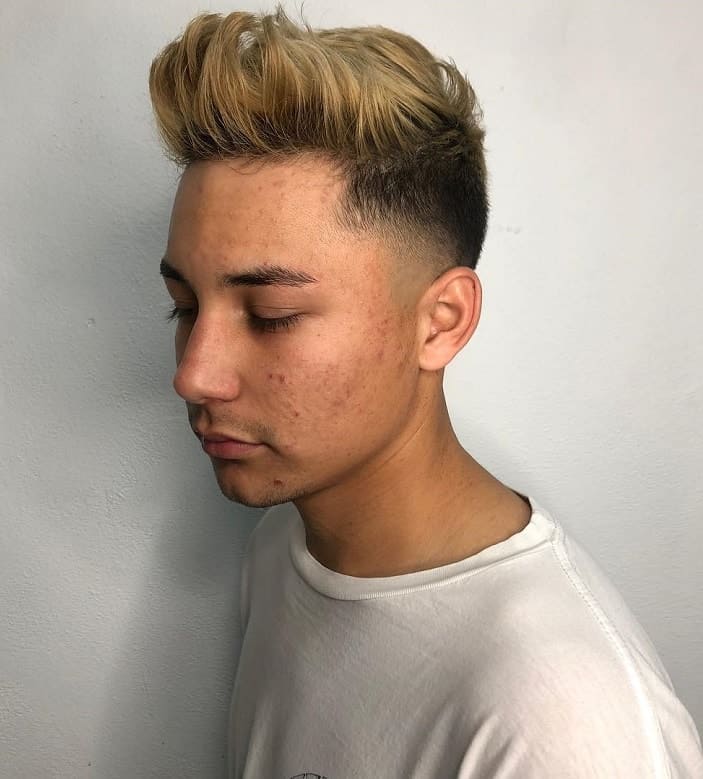 In case you want to add a little bit of an oomph factor to your colored hair; tapered fades are a great idea. Having taper fades will soften out the look and still let you keep your length. It's sexy and fun, perfect for someone who exhibits a similar personality.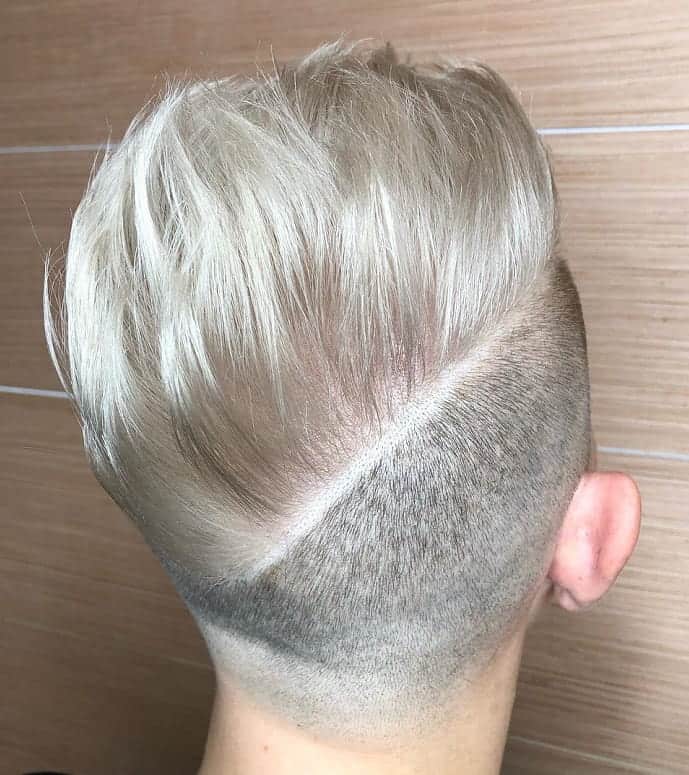 Here, we have another alternative for someone who isn't into the classic straight part. Having a hard part fade diagonally come down at the back of your head is a great way to add dimension. It is fun different and looks extremely edgy. If you are an out of the box person this haircut is perfect.
Are you all about punk hairstyles? This hairstyle is Mohawk hairstyle along with the hard part and taper fade is a great option for you. It's fun, semi-old school and semi-modern all in one.
22. X'ed Out Part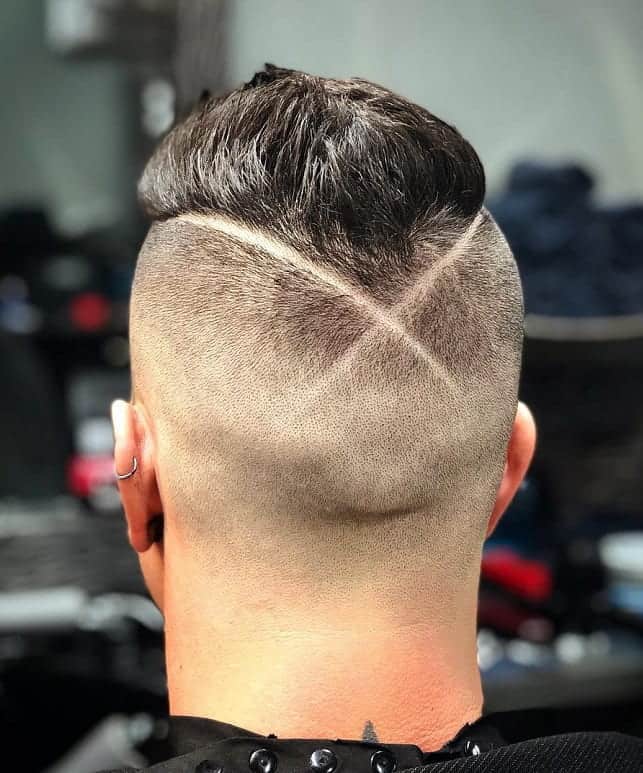 If you are into doing things that stand out, this hard part comb over is just perfect for you. It allows you to keep your medium length hair at the same time you have an unusual edgy element.
23. Diverse Fade with Parting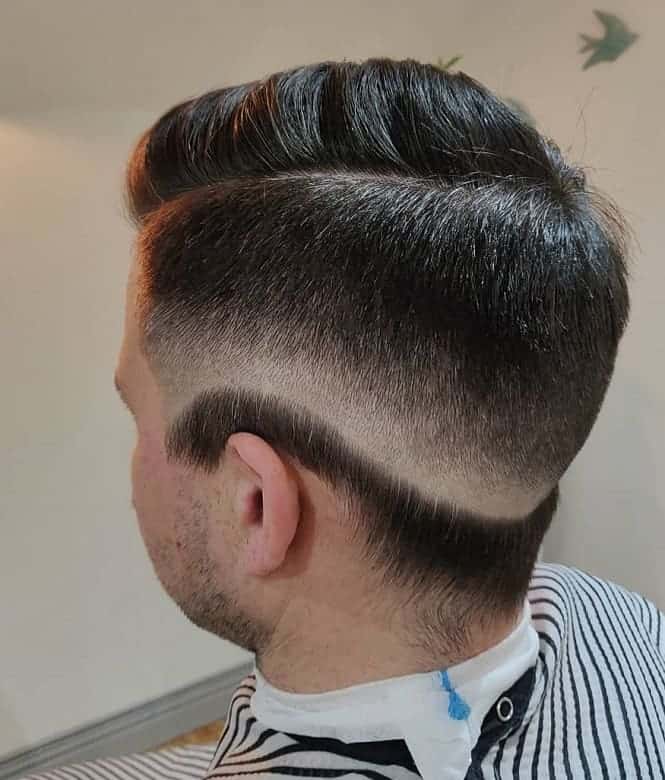 This haircut will surely turn some heads. All the multiple elements come together to create an edgy and unique look. The fade and the two different kinds of hard parts compliment each other. This cut brings out the personality that is unique, quirky and fun.
24. Razored V Cut
This is another unconventional way of opting for a hard part haircut. The v-shaped parting in a pattern looks sexy and edgy. The sleek side-swept hair complements to the v-shaped haircut as well.
Having two hard parts, one shorter than the other is also a great way to add detail to your regular hairstyle. It works with any and all types of styles, which is why it is so attractive and versatile.
26. Side Swept Hair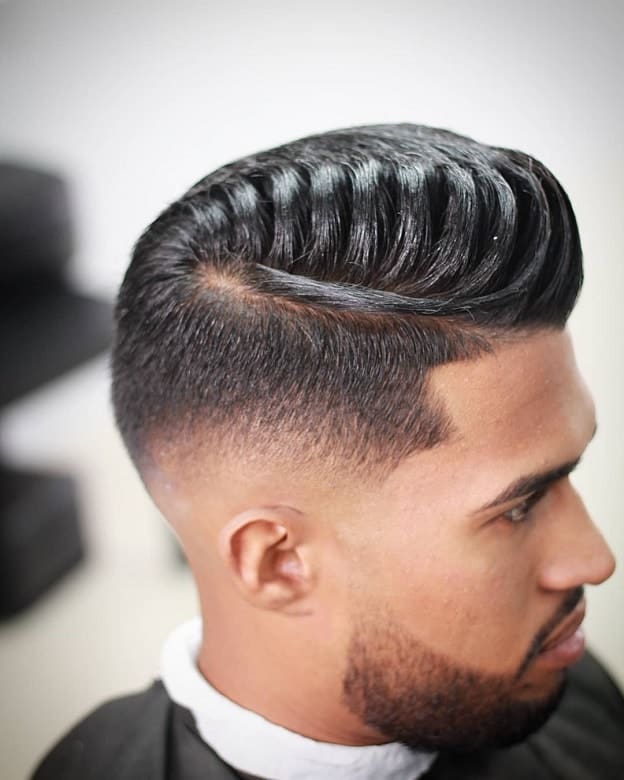 This hairstyle makes will definitely make you stand out. The side sweep with hard side part makes a perfect hairstyle. You could sport this haircut on formal as well and semi-formal events.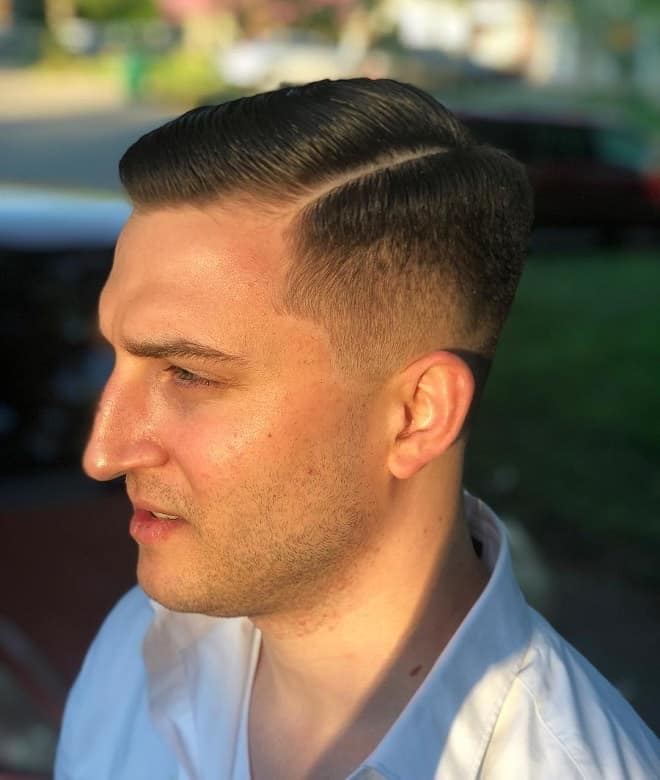 Comb over isn't just for long hair. Short hair can also mimic the same look and feel. The hard part style and the tapered fades make the hairstyle look more clean and formal.
This haircut is perfect for a broad forehead. The side fringe allows you to cover your forehead making it look smaller. The hard part fade makes the side fringe more chic and evident.
29. Side Sweep with Double Part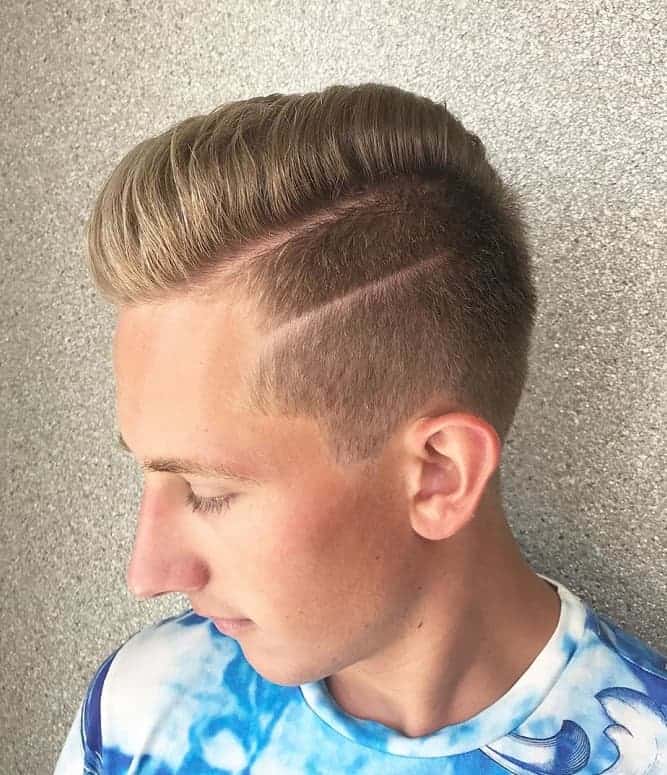 This is yet another alternative to a double part haircut and style. It adds subtle detail that is noticeable enough. It also adds to the edginess to the otherwise class side comb-over. This hairstyle is perfect to be worn anywhere.
This is a great fade haircut for men who don't want to go way too overboard. It is easy to style and at the same time looks really sexy. The straight hard part adds an extra element that compliments everything else. This haircut is perfect for a first timer.
31. Clean Hard Part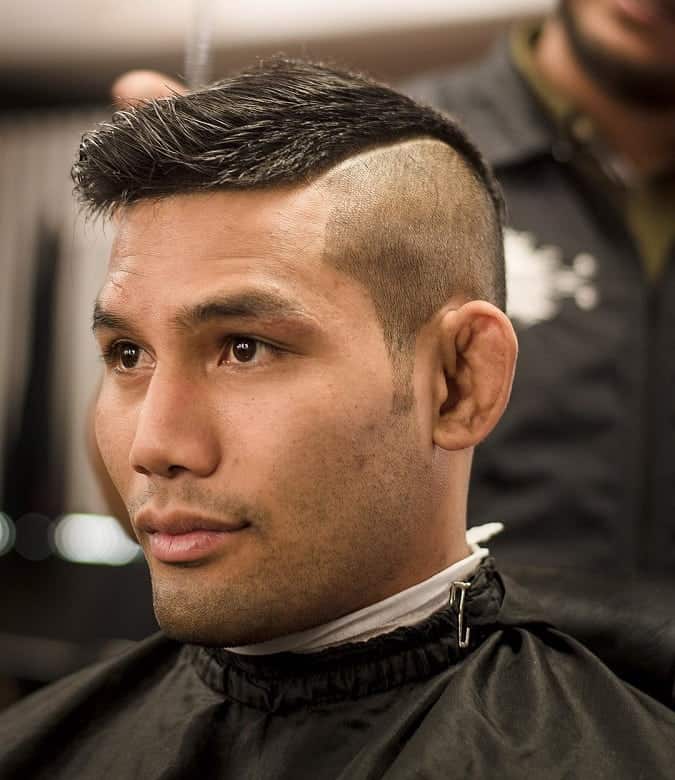 If you aren't into the tapered fade and don't mind going for your sides being buzzed cut, this haircut is ideal. It gives you the opportunity to keep your sides clean and have length on the top. It is perfect for a classy look.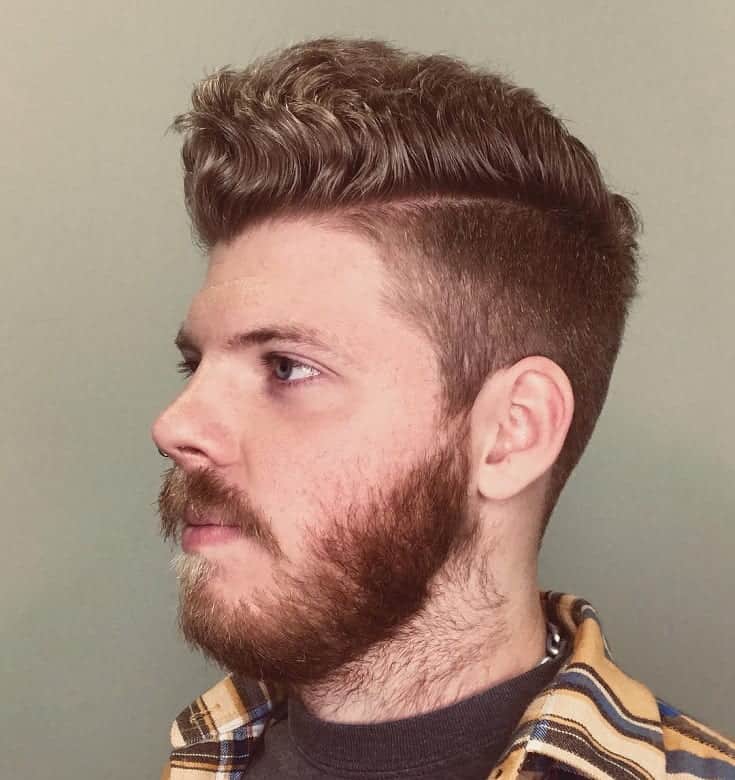 Wavy hair really does look stunning with faded sides and a part. Here, you can see the parting is comparatively subtle. If you are new to the parting trend, you can start with this.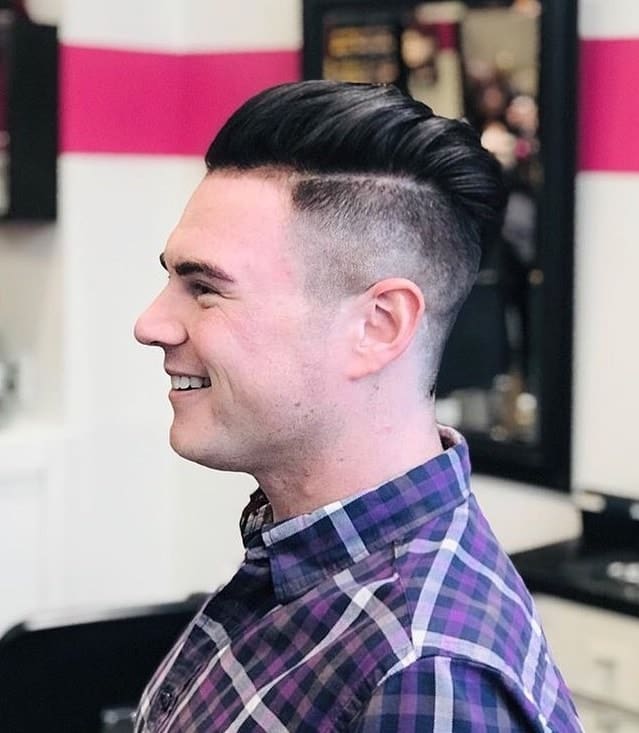 If you like your mid-length hair and intend to keep it, this hard part haircut will suit you best. The sleeked back look looks chic, classy and sexy. At the same time, the part adds a subtle amount of fun and edge.
34. Gelled Down Part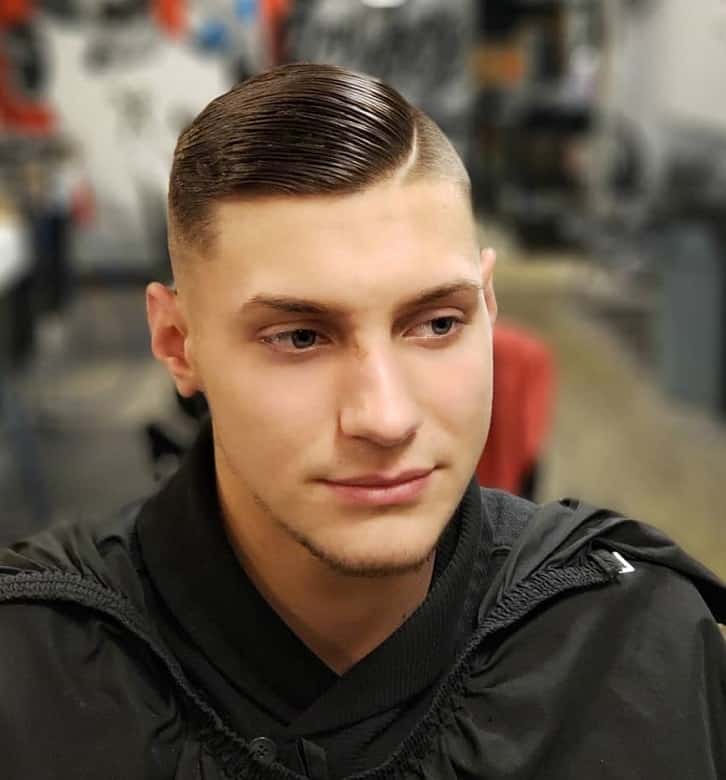 This side part is another variation; instead of it being the usual cut, it is curved around the crown area. The gelled down hair at the crown goes perfectly well with the curved men's hard part style. It's sexy and fun, all in one!
Another variation for someone who is into hard parts not being centered. It adds a little bit of a different variation and dimension. Perfect for any and every occasion or any hair texture!
If you aren't all-in about the evident hard part hairstyles, this thin parting is a good idea. It is enough of a change to be noticeable and make an entire haircut look sexy and chic.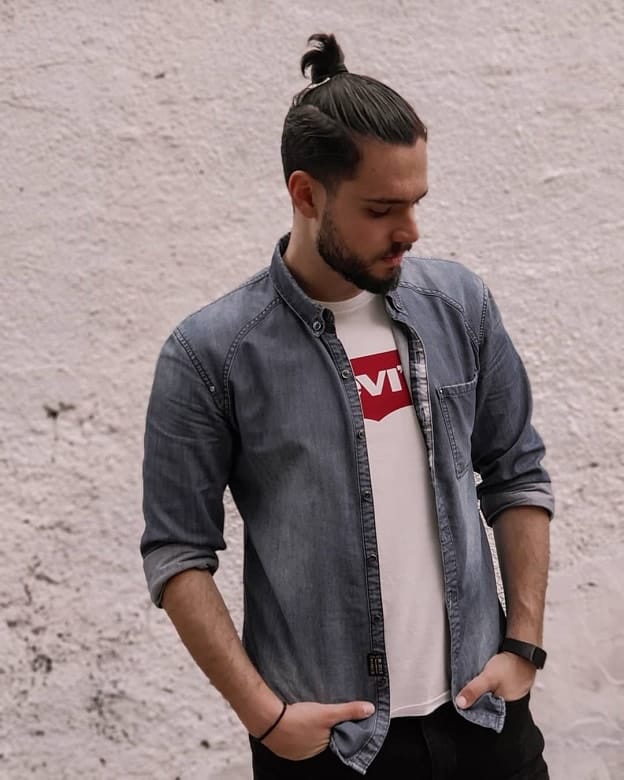 Who said that topknots and partings don't go together? This is a classic example of how the two styles perfectly compliment each other in the best way! If you already have a topknot getting a hard part comb over is only apt.
A great way to bring attention to your braids is adding parts on either side. The taper fades also add to bringing attention towards the braids. It a great hairstyle for someone who loves fun and unique looks.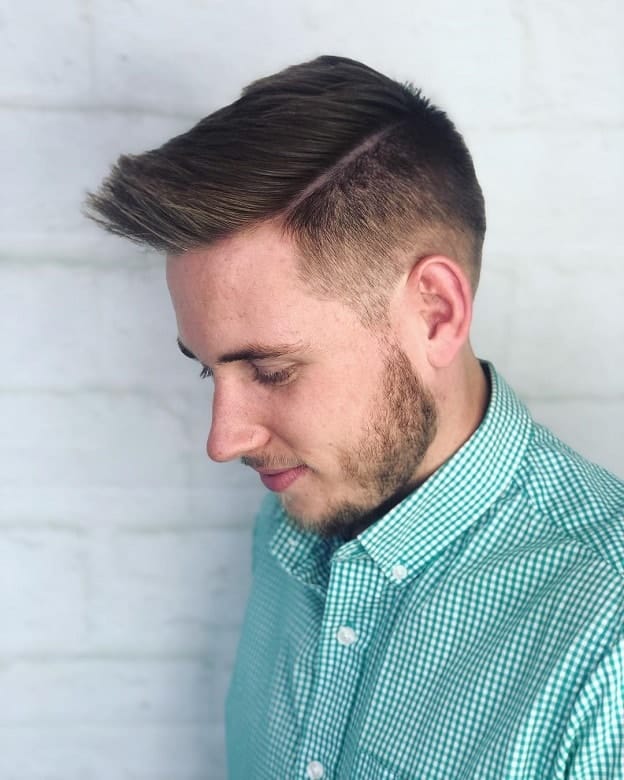 If you aren't sure about going full Mohawk, a faux hawk is your optimum solution! Another great edgy element you could add is a hard part. This haircut is on the safer side but yet it is fun.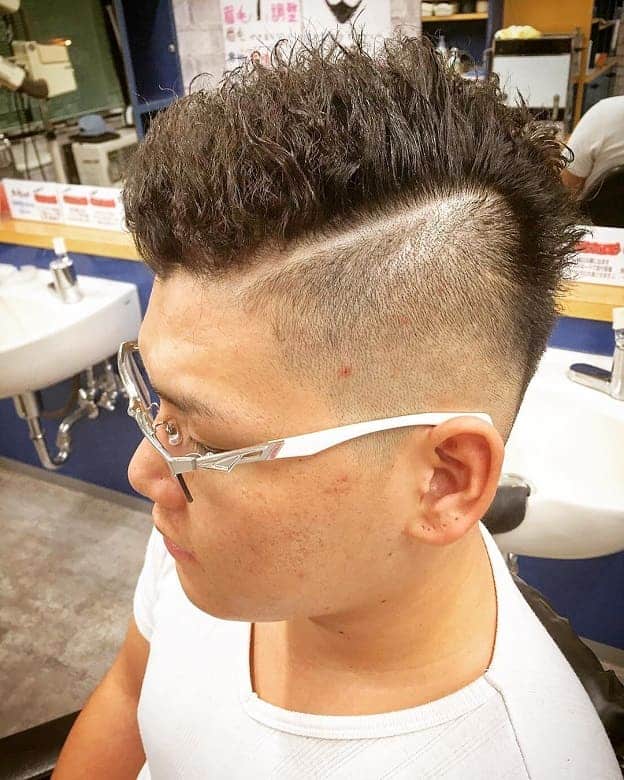 If you want to change your hairstyle and have textured hair, this could be something you could go for. It is low maintenance and yet looks like you put in a decent amount of time. The hard part fade goes perfectly with the textured hair at the crown.
41. Classic-Modern Quiff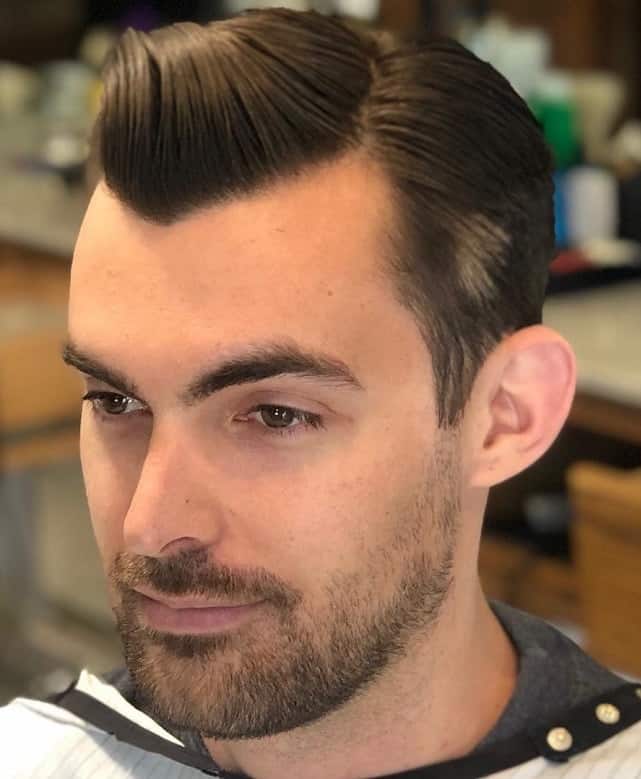 This haircut is perfect if you are more of a corporate man who still wants to look stylish. The side part at the crown adds dimension but yet is clean enough for an office job. It's trendy and classic and also sexy.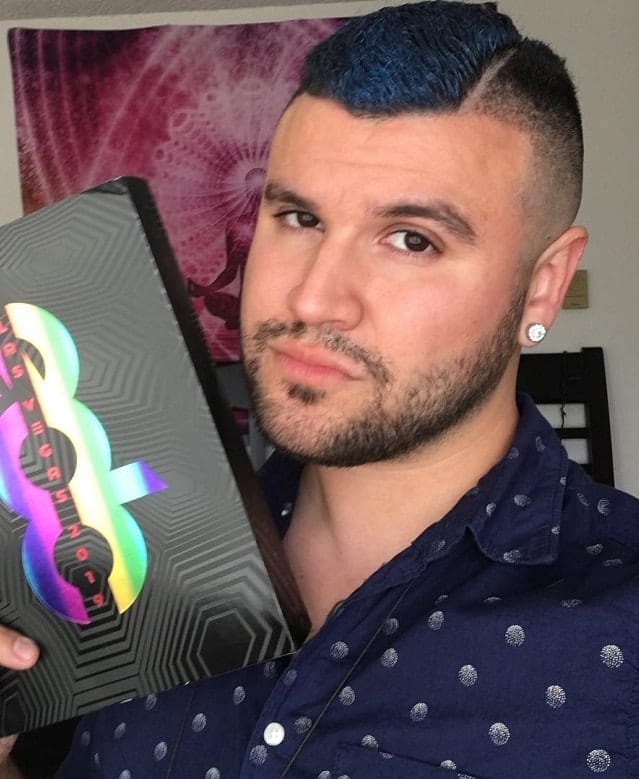 If edgy and classy are two adverbs that fir your personality, this haircut is perfect. The blue highlights and the hard part ads the perfect subtle edge. While the taper fade ads class to the look.
If the straight parting seems too overdone for you personally, this variation can be the perfect one. It's not too much but yet adds a dimension of edge to your haircut. The comb-over also adds and completes the look.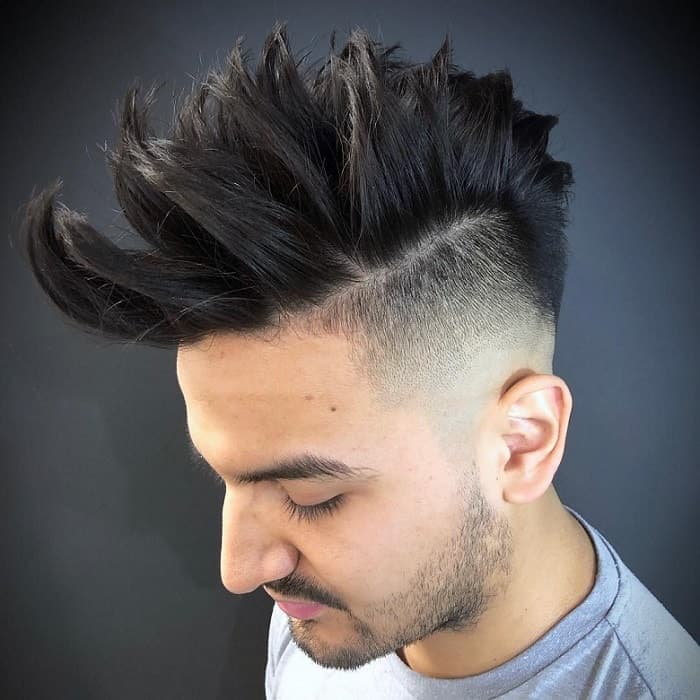 If you are someone who is all in for extravagant haircuts that are out there this one will perfectly fit your bill. The long spikes are a great way to style your long hair.
Even though this hairstyle might be an investment of time the end result is quite a pleasing one. The taper fade and hard part balances out the long hair and makes them look soft.
45. Neat Hard Cut
If you are into neat hairstyles that look classy and chic and yet are a style statement, this is perfect. You could wear this hard part fade haircut for men as a style statement as well.
Hard part haircuts are a great option for change. It could be a brilliant choice for your next hair appointment. There are countless variations and option for this particular hairstyle that you can choose from. With this haircut, you could work with your natural hair texture and style something sexy and chic.