Pompadour haircuts have been around right from the '50s when grease first came out. Through the years it has stayed as one of the most liked hairstyles, being nothing less than a style icon.
Pompadours are safe, fun and stylish, Elvis Presley, Bruno Mars, and Justin Timberlake would definitely agree. It is one of the most timeless hairstyles that have ever existed, which is what makes it so appealing.
There is absolutely zilch chance for you to not look trendy and attractive whilst sporting a pomp haircut. If you are toying around with the idea of getting a Pompadour, this article is the right place for you.
Popular Pompadour Haircuts for Men
We have listed 41 pompadour variations that any man can try regardless of their hair length and texture.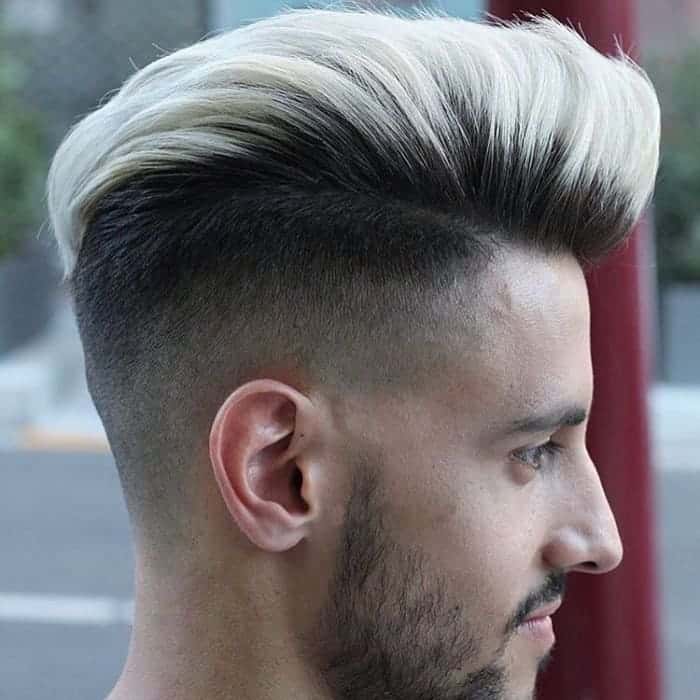 One of the most common adaptations for a modern pompadour will most likely include an undercut. It is preferred to keep the top long and the rest cut short simply because it results in a cleaner look. To add a little more fun to the hair, platinum blonde hair highlights are a good idea. The color is natural and will go well with black, so you don't have to worry about touchups.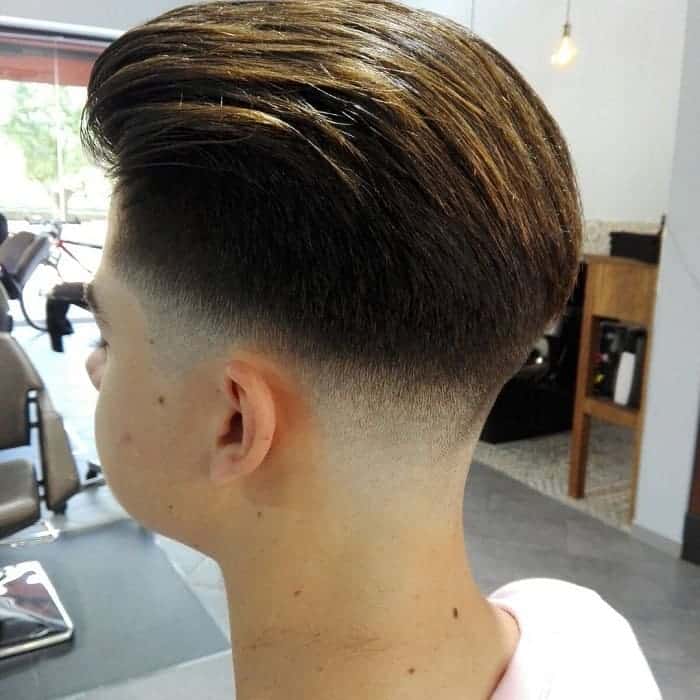 Low fades are more of a subtle classy look. If you are into the same, a low fade to go with your pompadour hair is perfect. It is also perfect for someone who has never had an undercut before. The sleek back style adds to the classy look for this entire hairstyle.
This pomp haircut is perfect for someone who has medium length hair. The taper fade towards the sides adds a smooth touch of clean and classy. The razored detail adds a bit of fun. This hairstyle has all the elements in one. It is perfect for someone who's fun and casual.
4. Front Curl Pomp Cut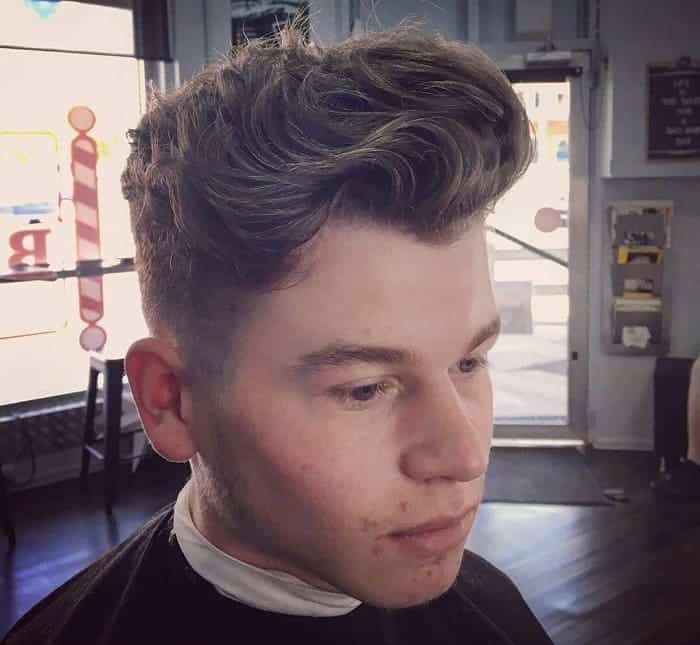 This hairstyle is a modern variation of Elvis Presley's hair. It is perfect for someone who doesn't have naturally straight hair. The curls and waves add a different but appealing touch to the hairstyle. The faded sides add to the clean look. Just apt for someone who has a classic aura!
5. Stylish Pompadour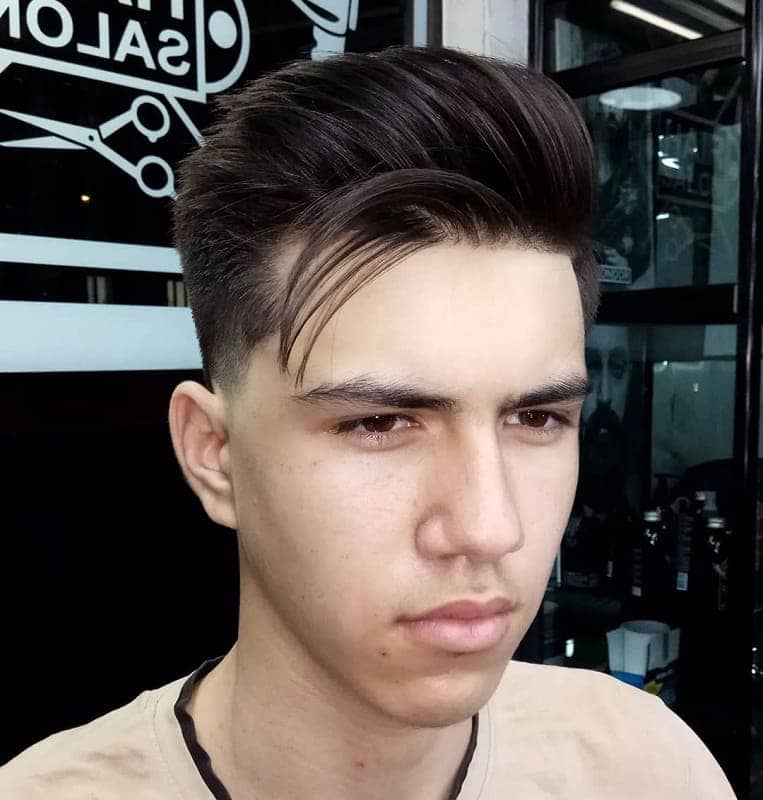 This pompadour hairstyle might be a little more work than the rest, but it's worth it. It is perfect for someone who isn't into the gelled-back look. This styling approach is more of a natural look. The strand let loose adds a bit of fun and unkept feel, which makes the hairstyle look sexy.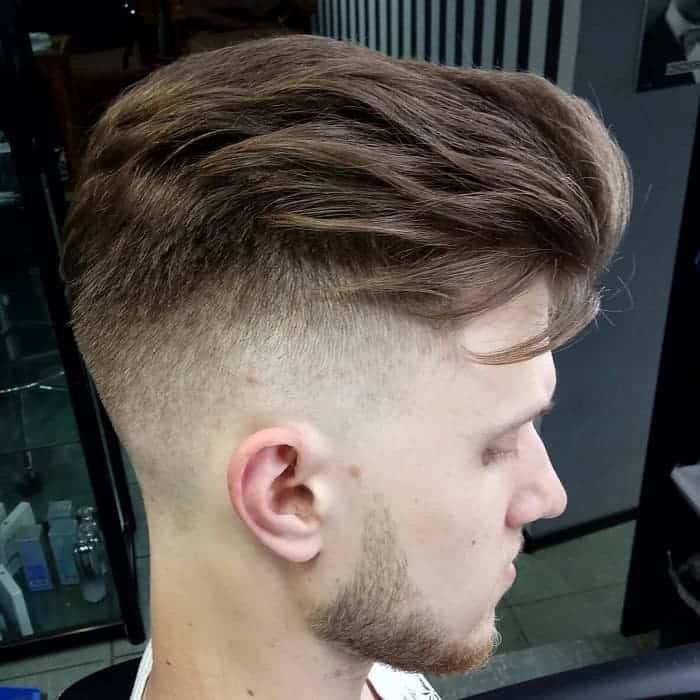 This hairstyle is again another variation for someone who isn't a fan for the sleek back gelled look. The unkempt hair towards the front of the pomp adds to the ruggedness of the look. This hairstyle is perfect for someone who doesn't have a lot of time on their hands to make sure their hair is perfect. The messy look is an appealing style of its own.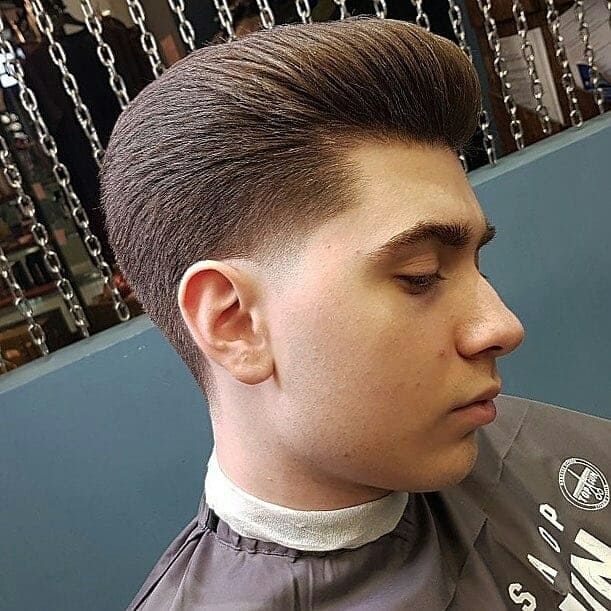 This swept back look has been one of the most timeless classic hairstyles ever. The best part about this hairstyle is that the hair is cut to constantly look like its swept back. If you are someone who is on the go, this hairstyle is perfect for you. You get the best of both worlds.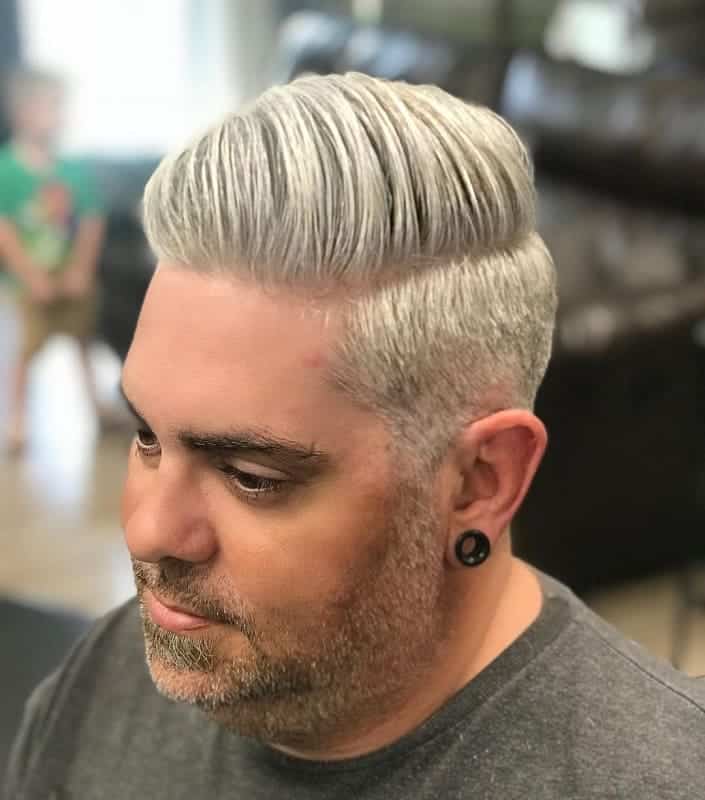 Grey hair has been the color of the season. If you are planning to dye your hair, this haircut will go perfectly with it. The sleek style of the pomp on the crown perfectly complements the parted undercut.
This haircut and style are perfect for you if you are either already grey or want to go grey soon. If you like it old-school, this one is surely for you!
This is perfect for someone with medium hair. If you notice the pompadour is only focused on the crown while the rest of the hair has been cut short. This hairstyle is also perfect if you have a receding hairline, as you can see it is a perfect way to hide it. Styling won't be that time consuming either. It's perfect for someone who is fun yet classic.
Pompadour hairstyles can work equally well for hair that's a little bit towards the longer side. If you are someone who is into extravagant looks and wants to make a style statement, this is perfect. The voluminous gelled back hair is attractive yet classic. It is perfect for any and all types of hair.
11. Textured Quiff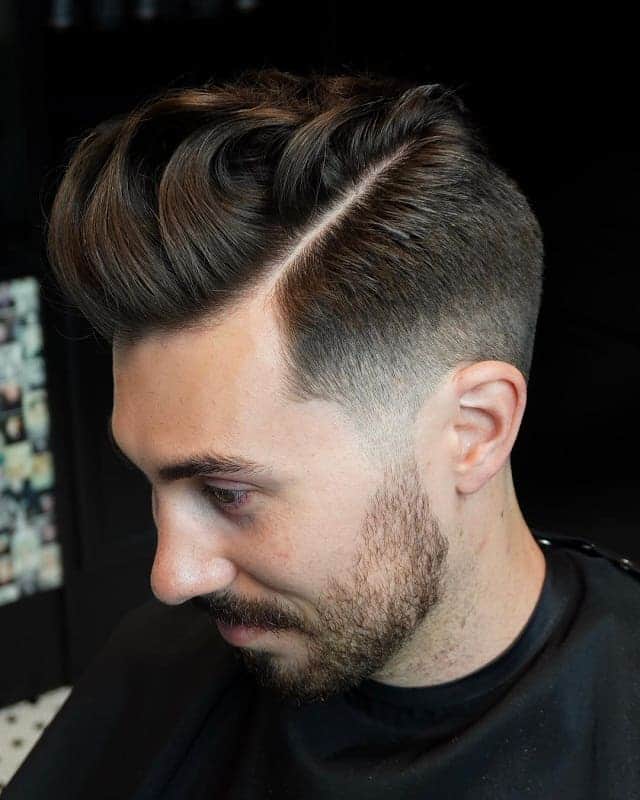 Textured pomp hairstyle is as attractive as the classic sleek backed ones. This pomp is perfect for someone who has hair that's a little bit more textured. Instead of opting for a sleek pulled back style, this hairstyle allows you to accept and embrace the texture in the best way. The disconnected cut and part add a cleaner and chicer look. This hairstyle is perfect for all occasions as well.
12. Brushed Back Pomp
One of the wide varieties of modern styles is mixing the pompadour haircut with the brushed-up styling. Here the front of the hair is a little curved towards the back giving it a very classic 50's style. Although the low undercut and the brush back hair gives a more modern touch. This hairstyle is perfect to wear everywhere.
13. Messy Pomp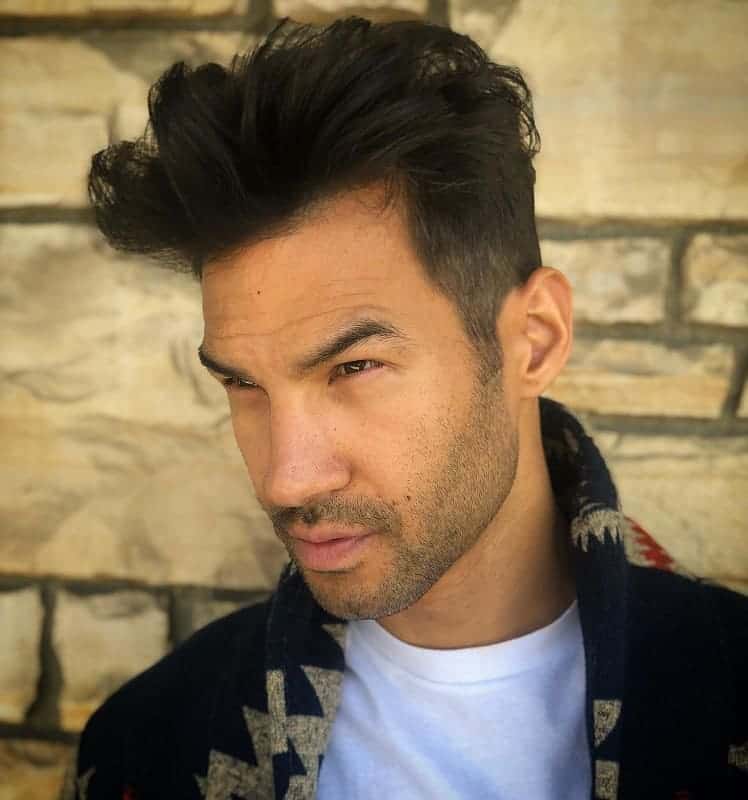 In the 20th century, the messy look is a style and genre on its own. Pairing the short messy hair look with anything makes it relevant and instantly fun. This is perfect for someone who has thick hair and doesn't want to spend too much time styling it. The bed head look is perfect for someone who just wants to walk out of the door but still look sexy. Create a style statement with this pomp cut!
14. Deep Parted Pomp
One of the ways to bring about dimension into your hairstyles is by switching around the part of your hair. Here you can see that there is a side part of the pompadour style adds a unique look. The voluminous pomp balances out the undercut making it look clean and chic. This hairstyle is sexy and apt to wear anywhere you, please.
15. Side Part Pompadour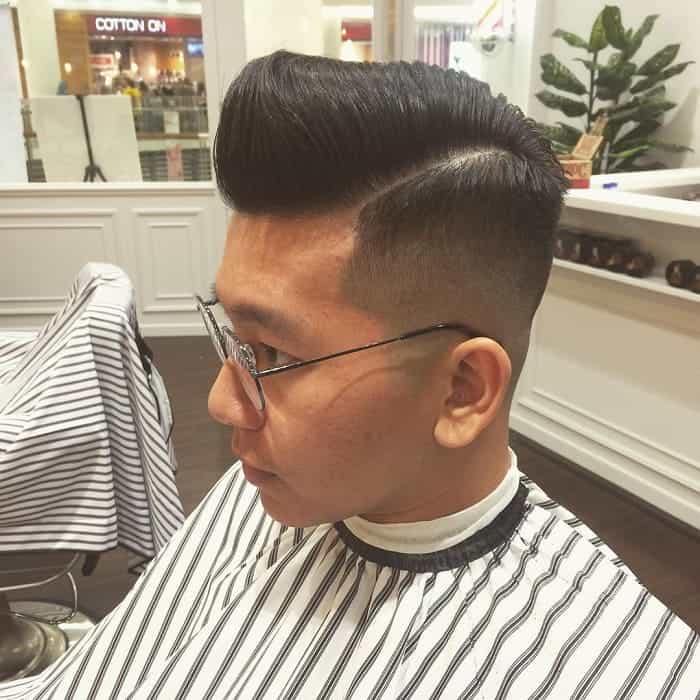 Side part pompadour with low temp fade looks great on those who prefer a little stern, serious look. For the best look, blow-drying and setting the hair using a gel would be a great idea. The look goes well with both, casual as well as formal attire. Get dressed up in fine attire and style your hair into this trendy style and rock the look!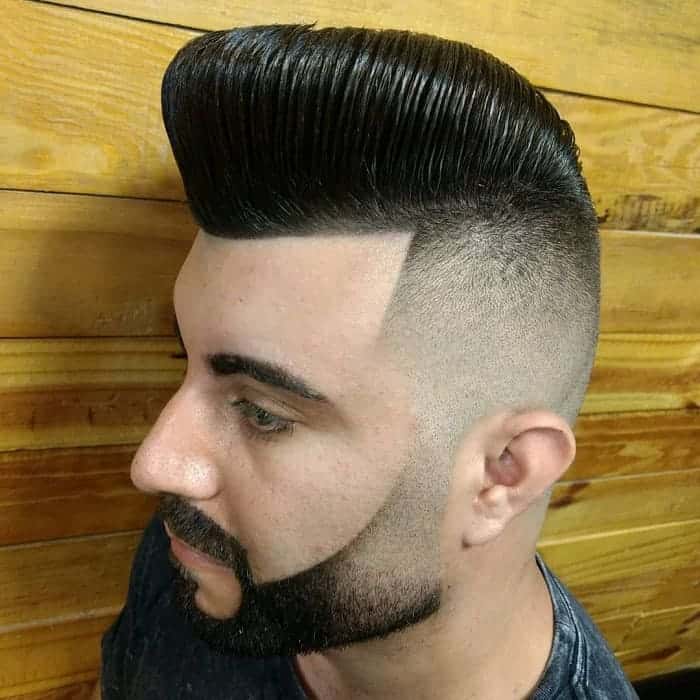 The razor finish pomp is an elegant haircut ideal for men with a broader face structure. The rich black color of the hair adds more richness to the overall appearance and a beard adds up to the entire look.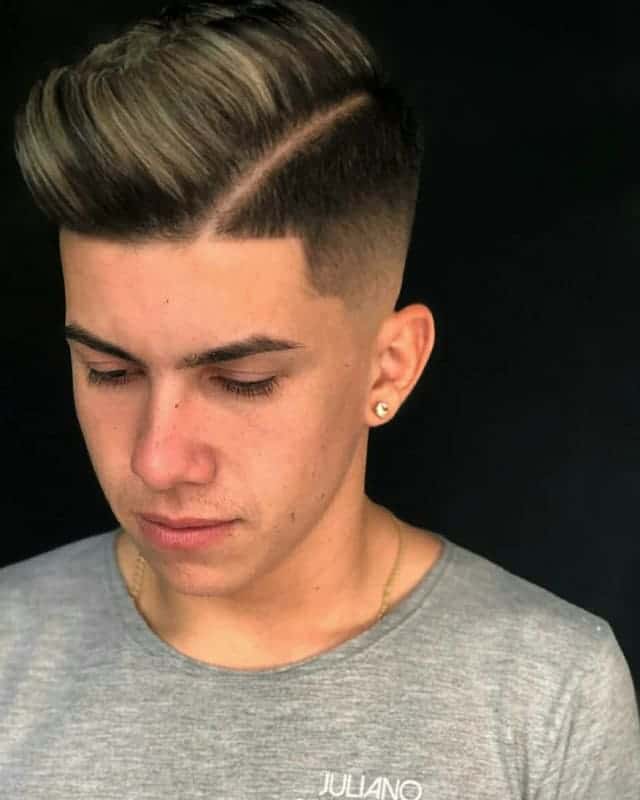 Highlights are totally in trend these days. And, if you are unsure of which color to opt for, blonde or gold shade is the safest choice. This is quite prominent and a sharp geometric line slightly at the side adds a style factor to it. Walk with style and attitude in this highlighted cut.
18. Fine Finish Pompadour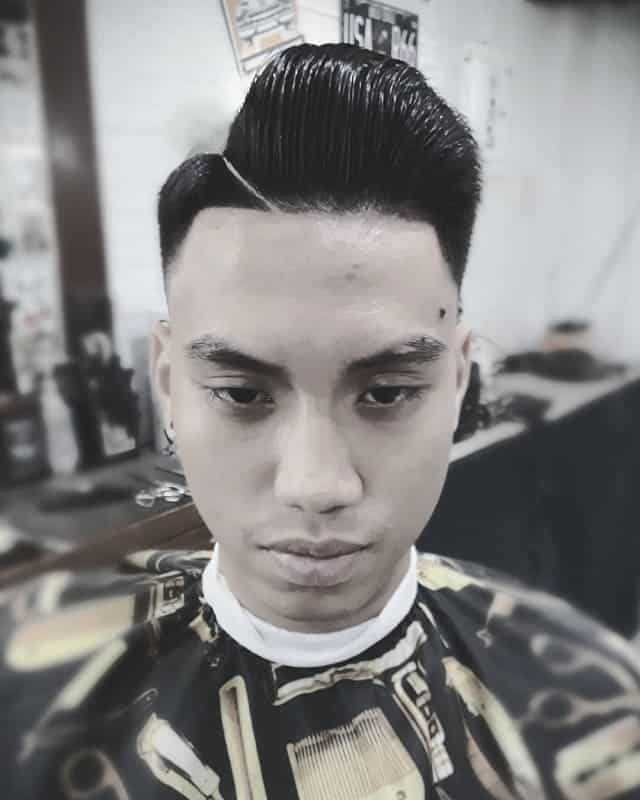 A temple fade with a part is a great combination. This pompadour haircut looks better on men with an elongated face. If you wish to try a slightly different look, you could try a beard with this hairstyle.
Men's pompadour hairstyle with hair blow-dried backward looks pretty fashionable. Keeping a mustache or a small beard adds to the grace of the look. The look is styled and yet, simple and clean. Hence, for one to rock this style, not much effort is required.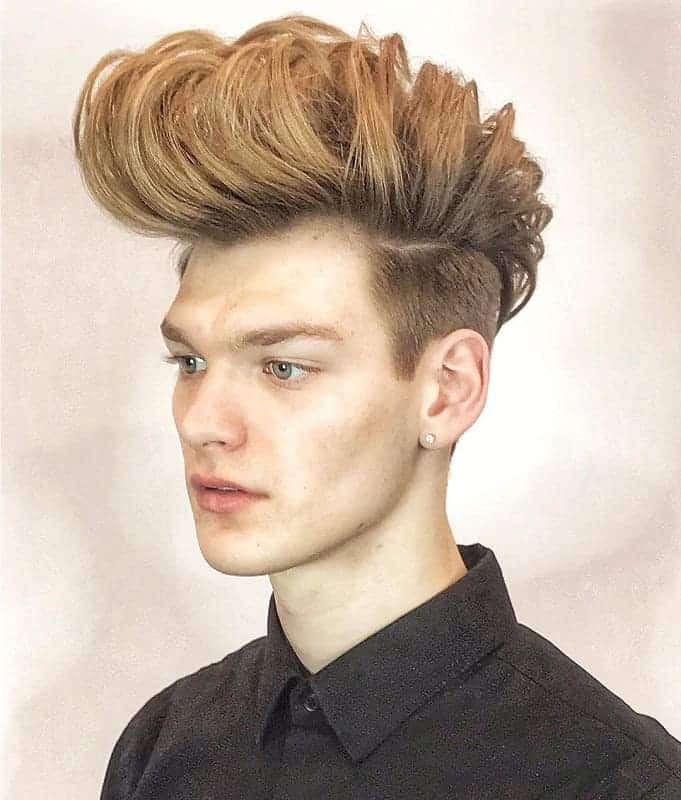 This pomp is a perfect mix of pompadour and a Mohawk haircut. And, the colored hair just creates a different fashion statement. The top part of the hair is kept longer than usual and curled upwards and slightly backward. For the sides, a little trimmed cut would be good.
21. Mohawk Pompadour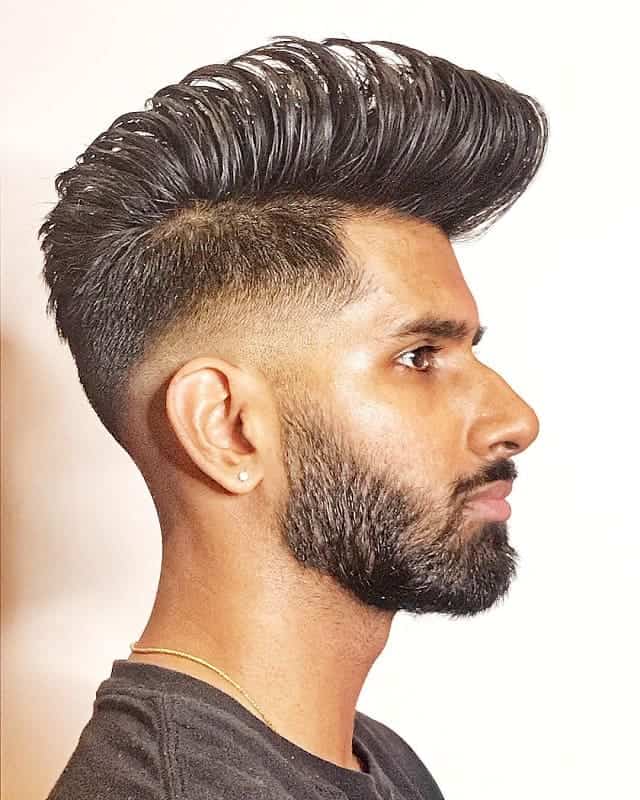 If you are someone who doesn't like to experiment much, this look is great for you. It has a subtle fashionable look to it and does not really stand out in a crowd. So, if you would like to sport style with grace, this mohawk look paired up with pomp haircut is ideal for you.
22. Sleek Finish
Add a twist to your regular pompadour by twisting it from the top a little. Take a part of the top hair and twist or roll them slightly towards the back. This style looks great on formal attire. And, for the sides, you could try a middle bald taper fade cut with a razor line.
For this look, focus on having maximum hair on the top part of the head only. For the sides, shave them off completely if you are a little daring. For a subtler look, you could just trim them short and simple. Keep the beard trimmed and clean too to perfect this hairstyle.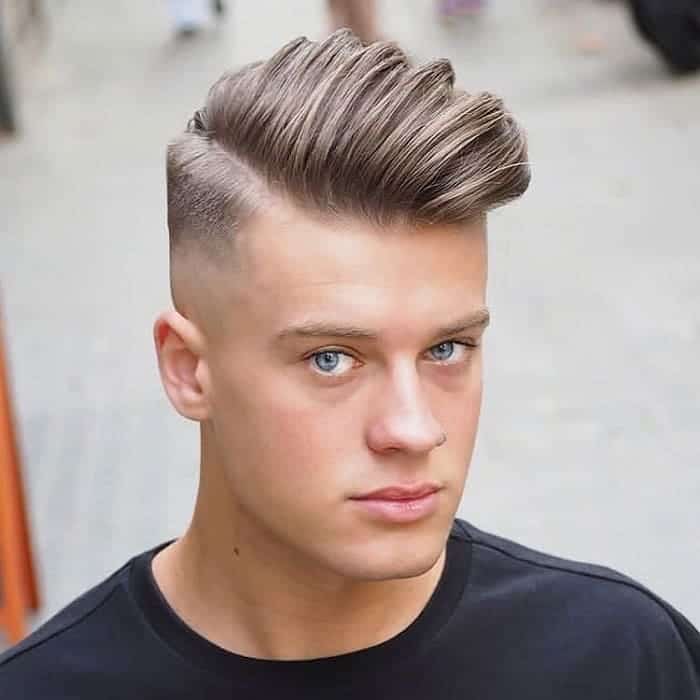 If you have relatively thin hair texture, this pompadour style will look great on you. This style is quite simple and does not require much effort to be put in it. A normal side part with trimmed sides and pomp on top is what adds simplicity and thus, elegance to the look.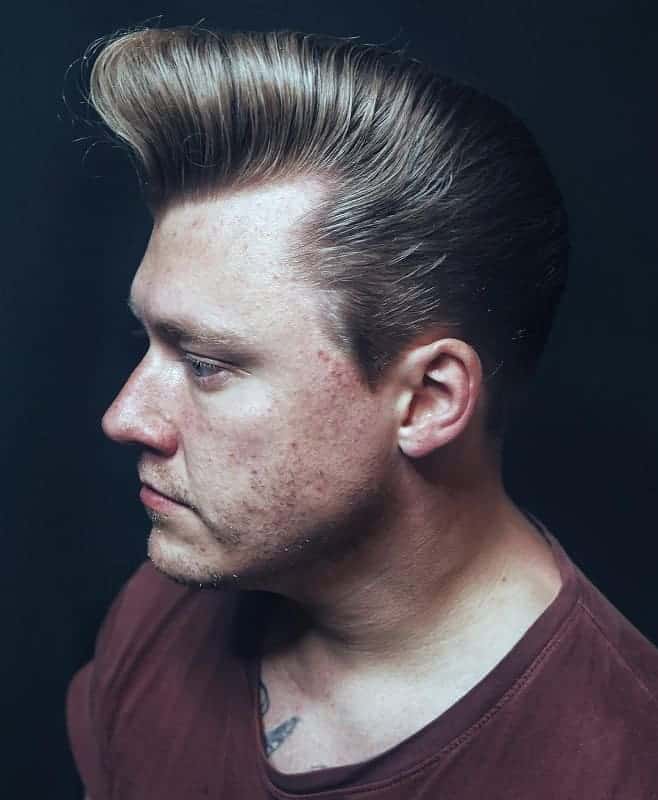 If you like to stand out a little with your appearance, this pompadour haircut can be a good option for you. The top hair is kept fairly long and styled and set properly using a good hair gel. This look, too, can work best for both casual as well as semi-formal and formal appearances.
26. Crowned Pompadour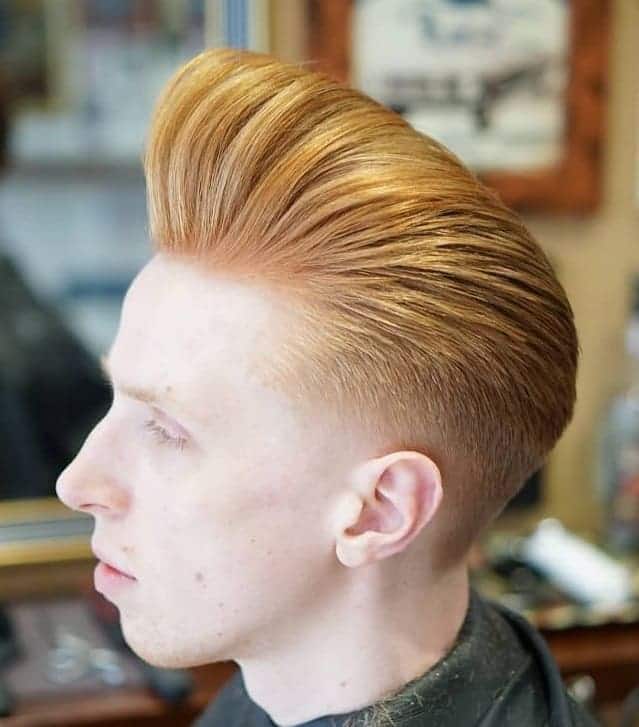 Try an ombre color on your hair if that's not your natural hair color and opt for this crowned pomp. This hairstyle provides a quite clean look with sides trimmed moderately. Remember, a complete fade cut for the sides will make you look bald, rather than fashionable.
27. Sleek Pulled-Back Pomp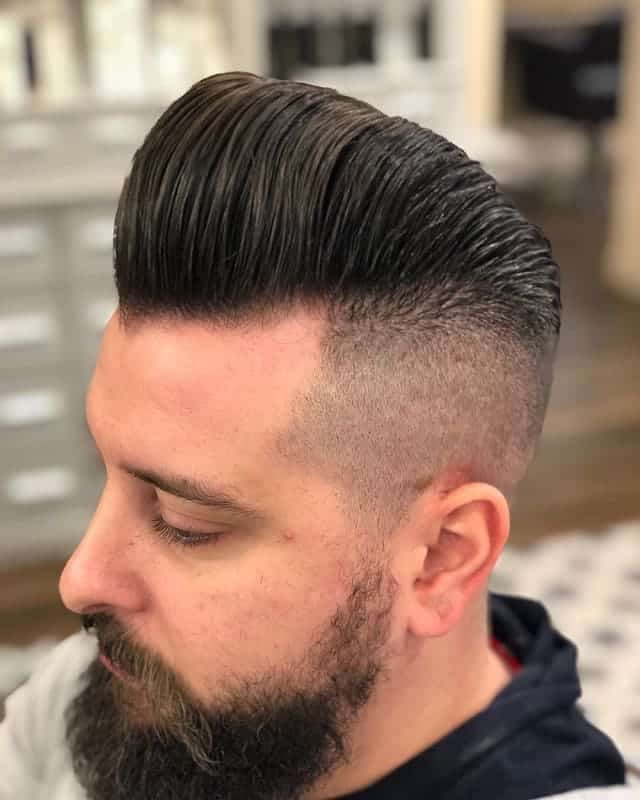 If you prefer a slightly 'Viking' feel and like it rugged and wild, a sleek pulled back pompadour will work well for you. This look is clean and yet, wild in its own way. Style your hair in this type of pomp and rock the look wherever you go!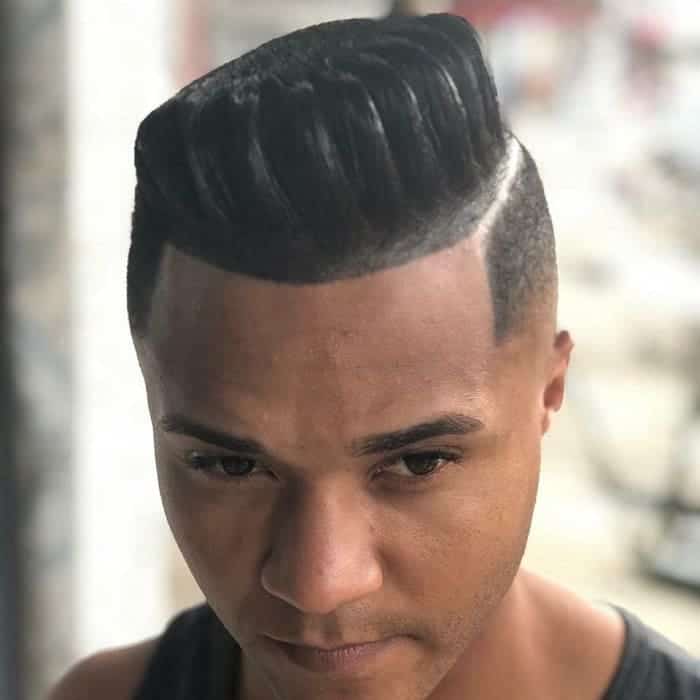 Keep a clean look for the sides and partition the top from the sides with a clean, geometric line differentiating the top and the sides. Combed back top hair in pomp looks simple, elegant and classic. If you don't prefer to get a look that 'stands out', this is a great choice!
Formal hair looks are completely in trend. The whole 'Gentleman-ly' appeal works wonders and is super charming! Mid-fade cut for the sides and a full combed top pomp hairstyle looks great. This look is elegant, classic and the beard just adds more effect to it.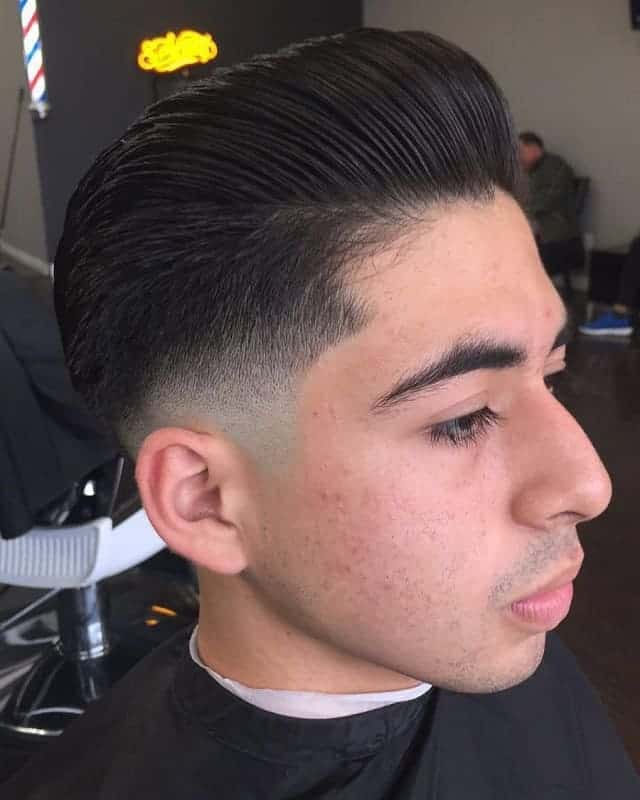 Fade cuts and pompadour hairstyles work great together. And, this low fade with voluminous pomp is just a perfect example for it! The look is subtle, rich and stylish all-in-one!
31. Long-Length Pompadour
Men's pompadours imply longer length hair on top and this haircut just enhances the length even more. Getting you top hair colored blonde and put a nice serum and hair gel to set them right and rock the look with attitude.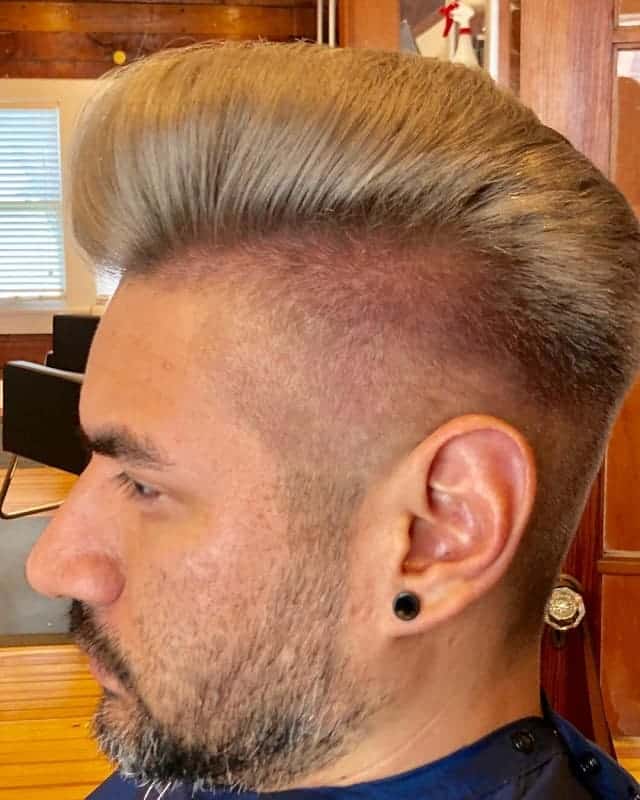 This pompadour haircut with a blend in of faux cut is stunning! The hairstyle adds volume to the top and the trimmed sides complement it completely. Keeping a beard would suit along with the haircut. This haircut is sure an evergreen one that can never lose its charm.
33. Side Trimmed
Mohawks are a forever-love for men! To simply put it, they are somehow always in style and look great on all types of face structures. The mildly trimmed sides add the oomph factor to the Mohawk plus the pompadour cut.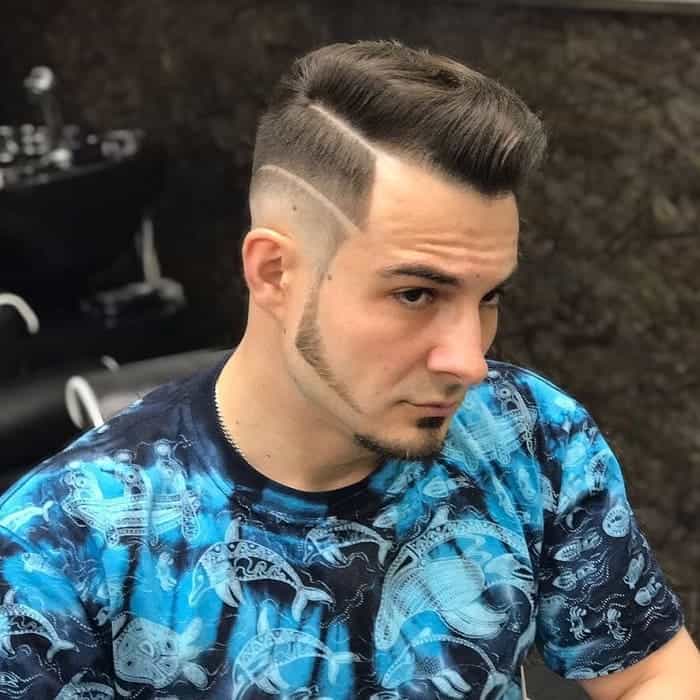 Geometric lines or abstract patterns look great on men. There is an unexplainable charm to them. And, when the geometric cut is lined with a good beard and a pompadour cut, the look is completely different and quite versatile.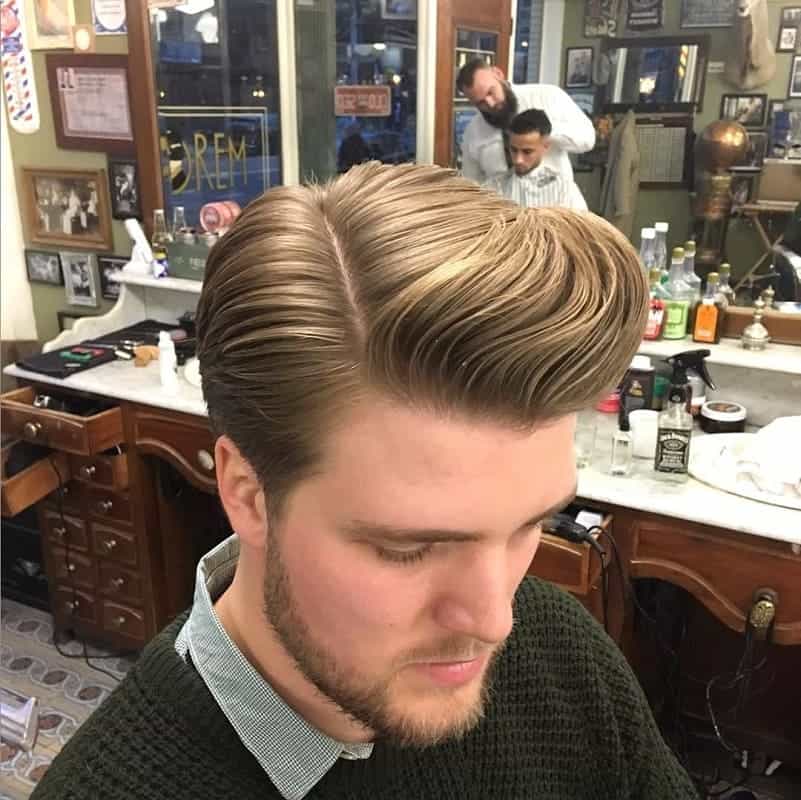 This pompadour haircut is very red-carpet style, don't you think? Wear it with a suit and get dressed for a party/ event and put your pomp into this business hairstyle, you are sure to catch everyone's attention! Be a lady's man in this perfectly stunning and handsome look.
36. Clean and Classic Pomp
For those of you who like the hair pulled back or held back instead of covering the face, this pompadour for guys is ideal. Its clean look is its oomph factor, and the well-combed pomp adds complete grace. The rich black color of the hair just enhances the look even more!
37. Gradual-Steep Pomp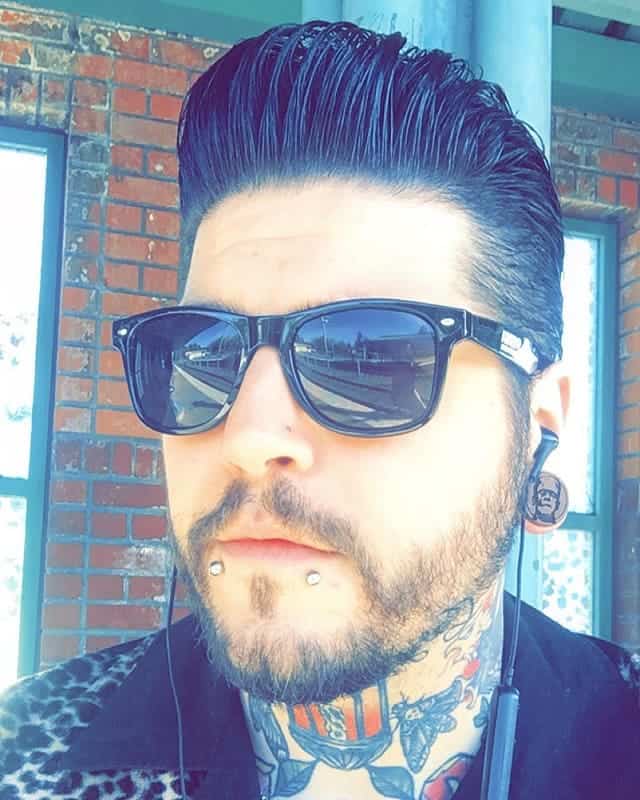 Having a gradual steepness to your pomp adds an edge to the pomp look. The side hair in this cut is also kept of a moderate length instead of the usual trimmed or fade look that most people opt for with a pompadour. Its uniqueness is what makes it better.
38. Helmet Pomp
If your face structure has a quite sharp jawline and you have a fine beard, this helmet pomp would suit you well. Colored hair looks even better in this pompadour haircut as the color adds a little brightness and charm to the overall appearance.
39. Rolled-Up Pomp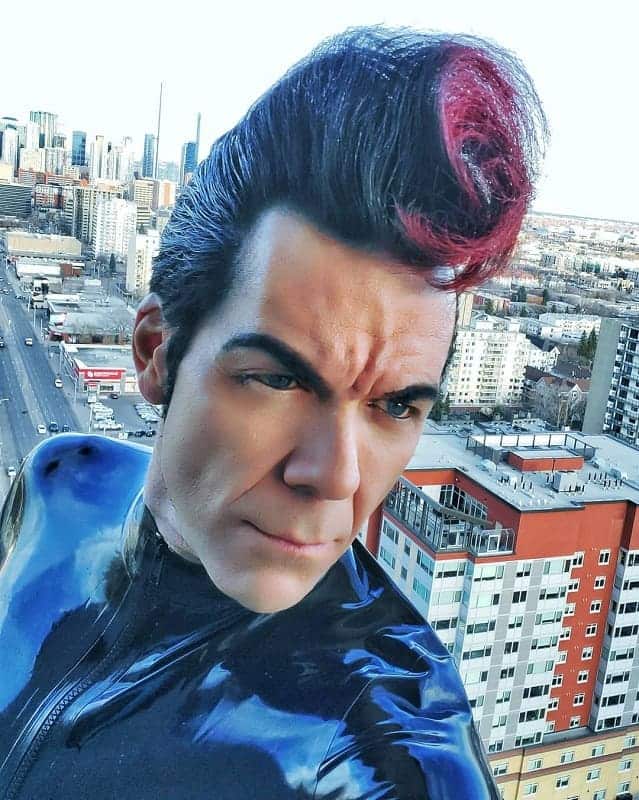 This pompadour is quite superman-like in appeal. The front hair of the is kept long and are twisted or rolled to add style to the looks. Adding a vibrant highlight to the look makes it more stylish and outgoing. If you are someone who likes to stand out in a crowd, this look is a great idea.
40. Shaped Pompadour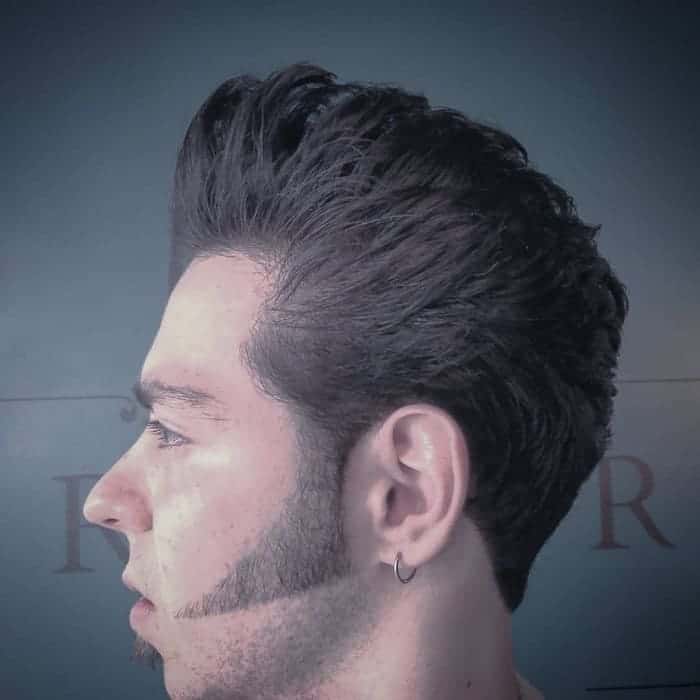 Well-shaped pompadours look great and suit men with an elongated face really well. The pompadour style is quite voluminous and gradual in appearance. One can style the look well with formals as well as funky, casual outfits equally greatly.
41. Rich Pomp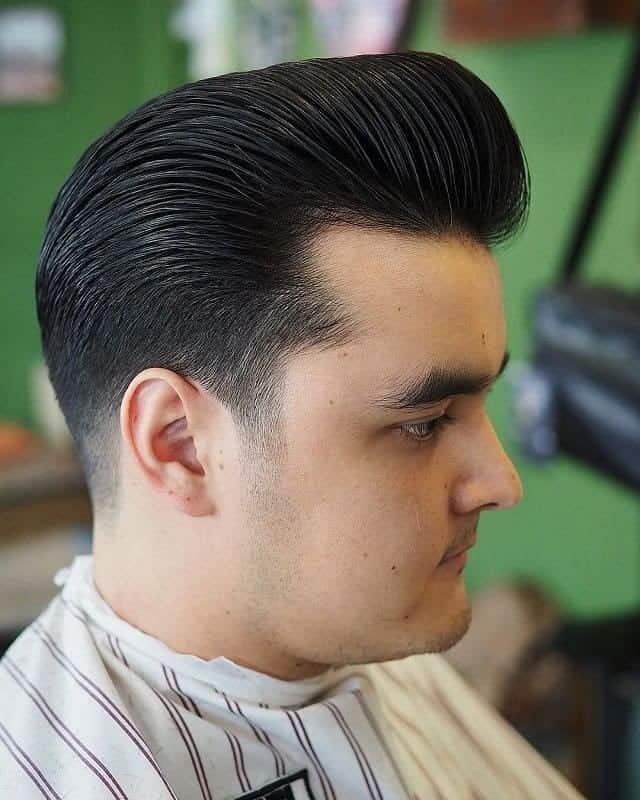 While some of you like it rugged and messy, the others prefer clean, tidy and pulled back fine look. This type of pomp is ideal for those having a slightly broader face. This look can be styled well for both formal as well as casual looks.
These were some of the trendiest and most appreciated pompadour hairstyles among men. If you like to keep yourself updated with the fashion and hair industry and are planning to get yourself a pompadour cut soon, try one of the above-mentioned looks. Every look has something special and attractive about it that sets it apart from various other hairstyles in men.