Many times, fade haircut is combined with a flat top to create a classic hairstyle. The flat top haircut is nothing but where the hair is cut and styled in such a way that it stands up vertically and form a flat deck. Being one of the most popular hairstyles for men, fade haircuts look good and complement every man's hair type and style.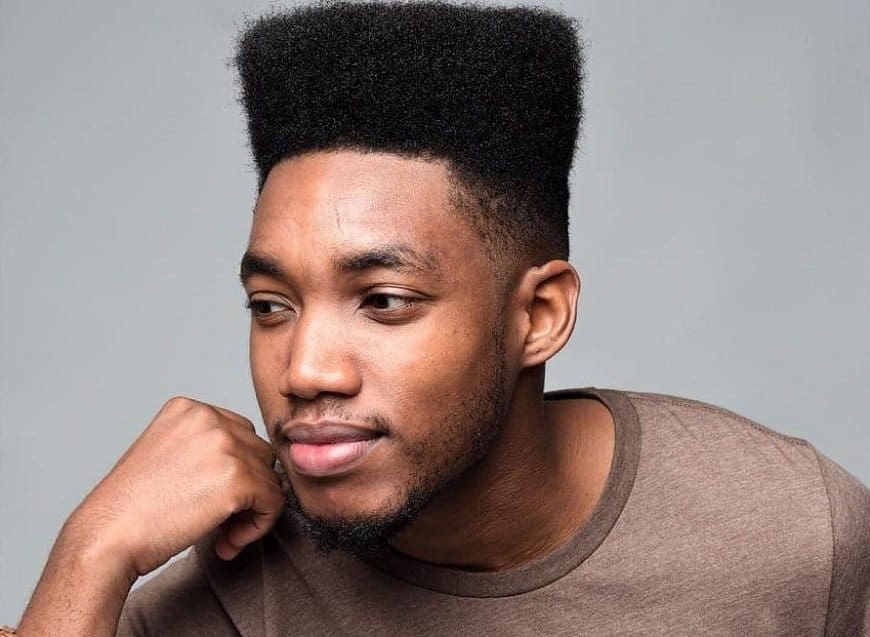 This hairstyle was first started by the military but later was embraced by black barbers. There are different types of fade haircuts which include low fade, temple face, quick fade at the neckline, etc. Let us have a look at some of the famous flat top fade haircuts for men which you could definitely try.
Inspiring Flat Top Fade Haircuts
Below are the most splendid flat top fade haircuts for men to give a shot. Take a look at our amazing collection and pick the best one for you!
1. Side Part Flat-Top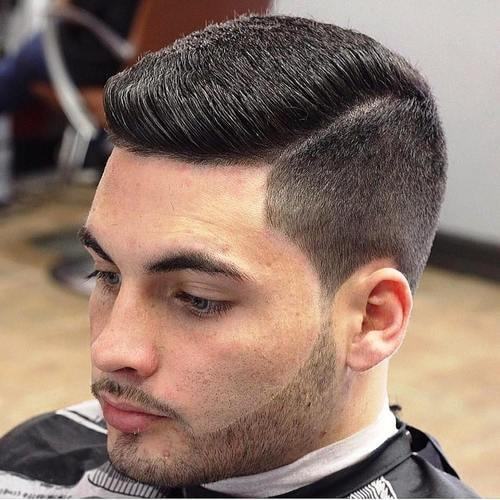 In this low fade hairstyle, your hair is taken and parted to enhance the flat top look. The sides are faded to create a neat side pearl and softened the edge.
2. The Precision Flat Top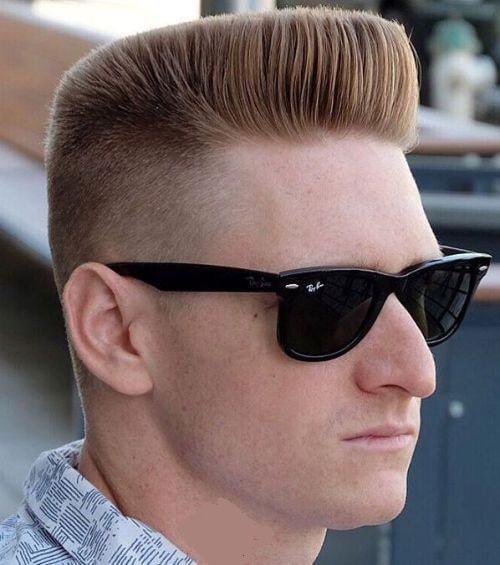 This cut needs an expertise to precisely cut to create a flawless low flat top. The sides are expertly buzzed as well as the backs. It is cut in such a way that it features the perfect angle above the forehead. If styled properly, it suits men who have well-maintained hair.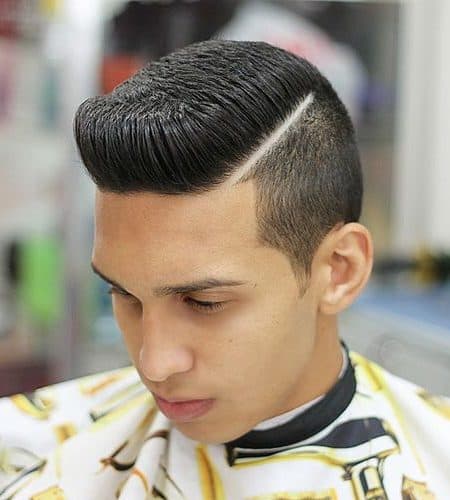 Pompadour is considered to be the conservative version of a flat-top. This cut gives a neatly coiffed appearance and men in the past decades used to have this type of haircut.
But nowadays, in the modern era too, men have started adopting this haircut with a flat-top. In order to complete your look, just side part your hair and give it a formal hairstyle appearance.
4. Curly Flat Top with Fade Cut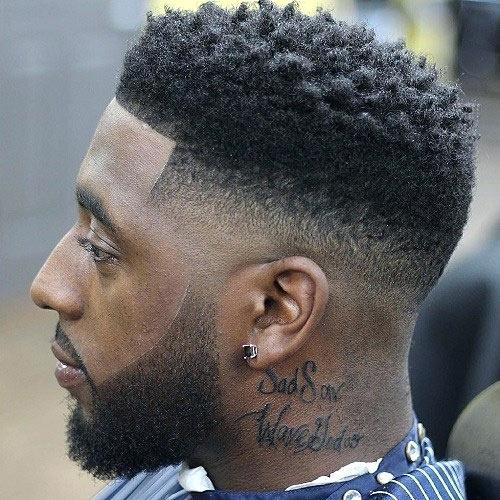 Are you a guy who has curly hair? Are you confused or fed up with trying out new hairstyles? This hairstyle comes to your rescue. It not only gives your hair the perfect style but also brings out the right texture. Men with hair color other than black can also try this faded tall flat top hairstyle.
5. Mini Flat Top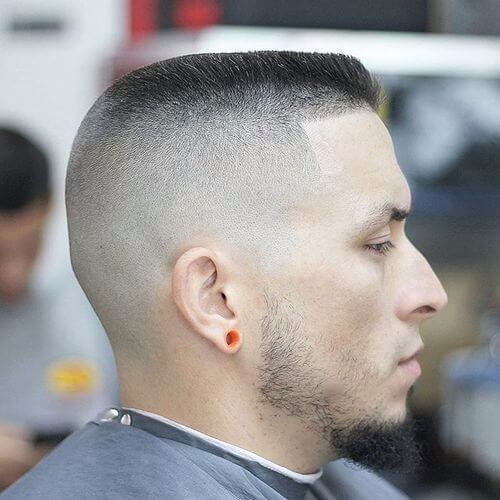 This flat top with a fade haircut is barely seen and thus it is named as mini low flat-top. In this hairstyle, the sides are completely shaven whereas the top section is low cut. It resembles the popular military haircuts and thus you can also call it military style flat top.
6. Rounded Flat Top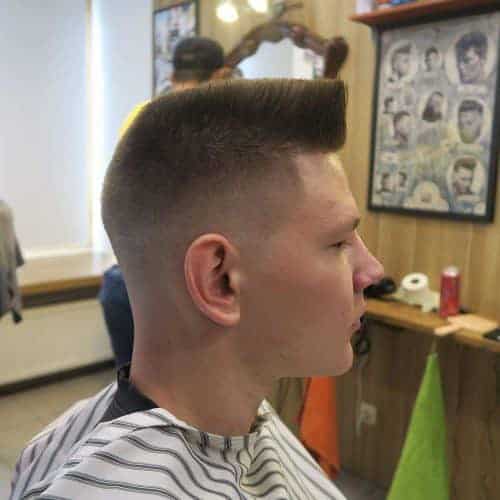 In this fade with a flat top hairstyle, you can look a bit different. You do not need to style your hair, it simply suits your natural hair. The thickness of the top section of your hair and the rounded shape makes it look different from the other hairstyles.
7. Old Classics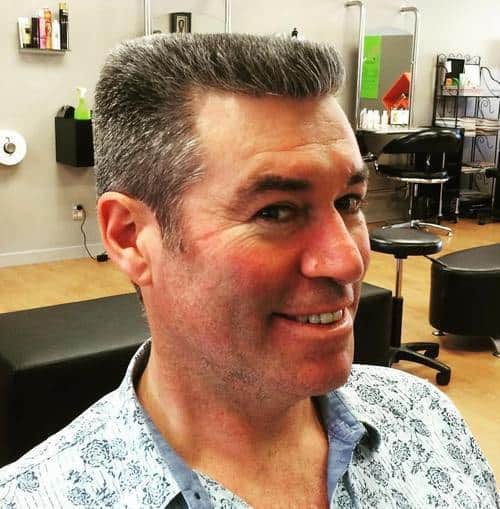 Being famous amongst the older group of men, this hairstyle is also acquired by many youths. This haircut has a flat top, but you can also add a little extra twist by fading the sides. The top is left short and this makes everyday hair styling easy.
8. Flatly Styled Undercut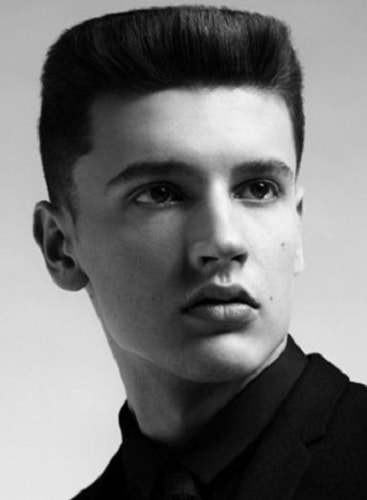 When you simply modify the top, you tend to get this hairstyle. The flat top is combined with a pompadour undercut where the sides are cut short but of same length. The top section is long such that you get the desired shape.
9. Long and Flat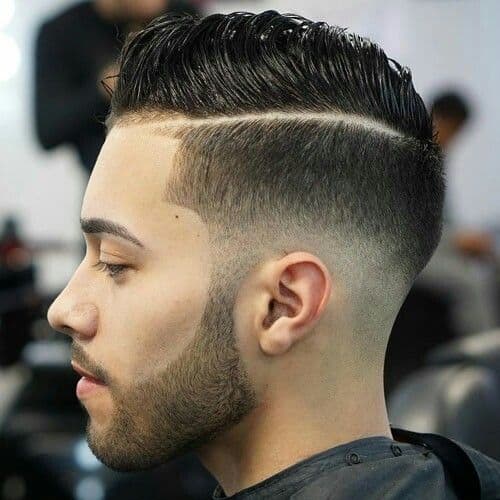 The never going out of style hairstyle is famous in the Bollywood as well as in Hollywood. The top part is cut short enough such that it stands up. Now the shorter hair can be brushed back. This will create a curvy appearance and also reduces the amount of maintenance.
10. Spiky Flat Top
Spikes added to the classic faded flat top gives rise to the spiky flat top. You do need some hair gel in order to keep the spikes intact.
11. High Flat Top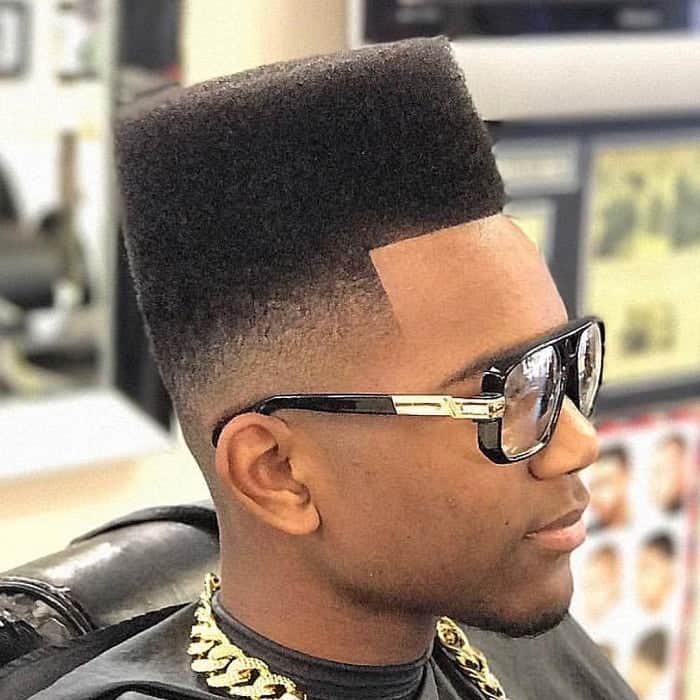 This medium length flat top fade is as clean and flawless at anything could be. This very factor makes it look sexy. The precise buzzed sides help add to the entire neat and clean look. It is great for fun events and at the same time, looks great on formal occasions too.
12. Short and Spiky cut
If you aren't a fan of long hair with a lot of volume, this short and spikey hair is a good option for you. The entire look is neat and chic and can be worn anywhere. This look will also make your face look more structured which is an additional bonus.
13. Wavy Flat Top Fade
This hairstyle fits the bill if you don't like all your hair neatly gelled. Even though the sides are combed backward, the lack of gel makes it look a little unkept. It is ideal for when you don't want to spend too much time perfecting your hair.
14. Curly Top
This hairstyle is heavily inspired by the music industry, which is also why people have warmed up to the idea of sporting this style. This haircut gives you volume and looks chic and clean. It is a great hairstyle to wear anywhere.
15. Curly Flat Top with Low Fade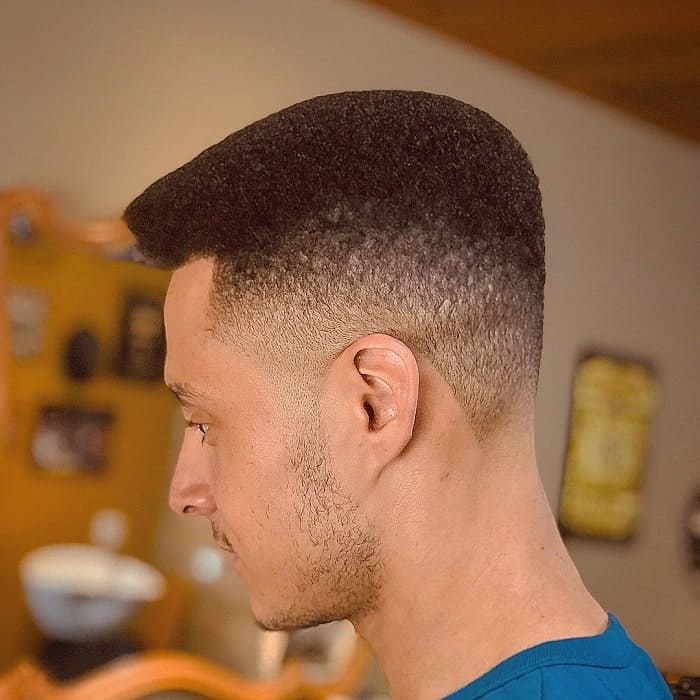 This haircut is a mix of two styles that complement each other completely. When the Angled front is combined with faded sides it looks neat and clean. It helps your face to look more structured and accentuates your features as well. This hairstyle being versatile you can wear it anywhere.
16. Volume Flat Top with High Fade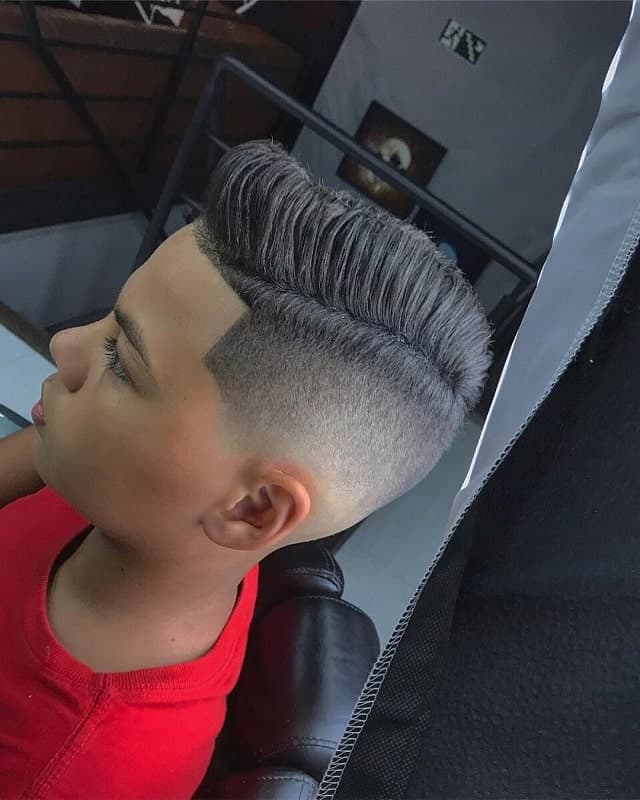 This kind of flat top for men suits all hair textures, which is why it is a crowd favorite. The hard part makes the hairstyle look neater than usual and creates a little bit more of a dimension. This hairstyle is great for any and all ages of men.
17. Spiky Flat Top with Bald Fade
If you have thin pin straight hair this hairstyle might just be the next best thing for you. It is almost little to no maintenance type cut and you would barely need to style it at all. It could be worn for any and all occasions. It is fun, yet neat and tidy.
18. Blue Highlighted Hairstyle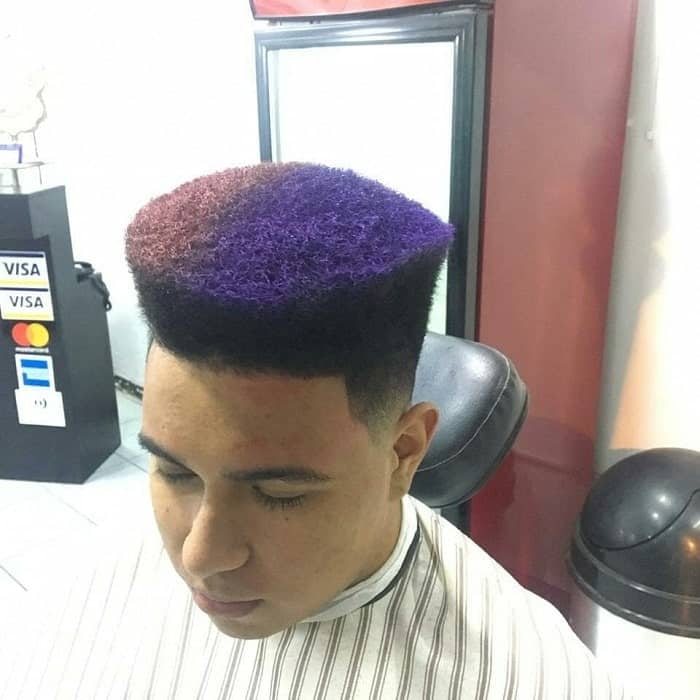 If you are into a little bit of extra oomph, this fade haircut for men is a great option. The purple and pink highlights add an extra element to the regular flat top. This hairstyle can be a depiction of your fun and out of the box personality. The hairstyle isn't common, it isn't extremely out there either which makes is apt.
19. Flat Top with Partial Fade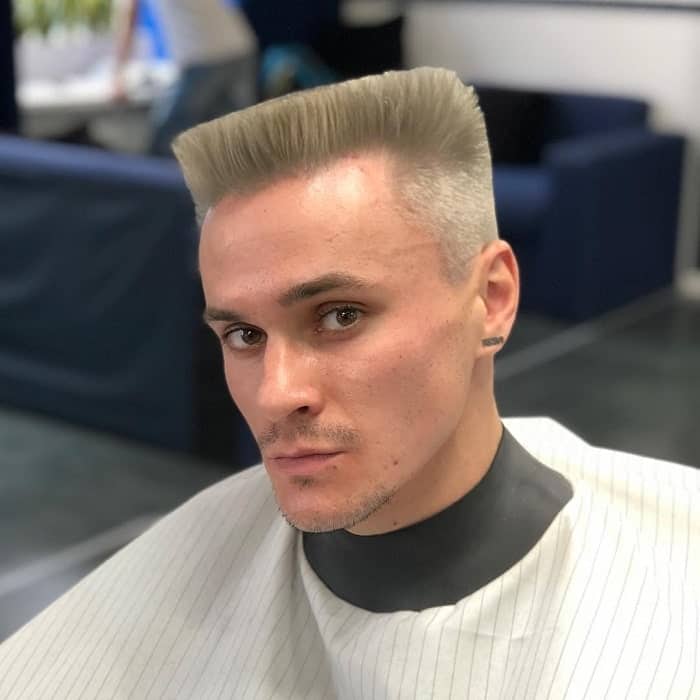 This flat-top haircut for men is with the back extended is very similar to the faux hawk hairstyle. Hence it is an ideal option for someone who does have a faux hawk and wants to try something different. It is basically the mix of a flat top and faux hawk which is great.
20. Flat Top with Low Skin Fade
This is a great hairstyle if you intend to keep your medium length hair. It might take a while to style this particular flat top but the end results are great. The smooth tapered fade helps bring attention to the crown. Every element in this hairstyle fits together in the right manner. The hairstyle itself is different yet extremely appealing.
21. Afro with Tapered Sides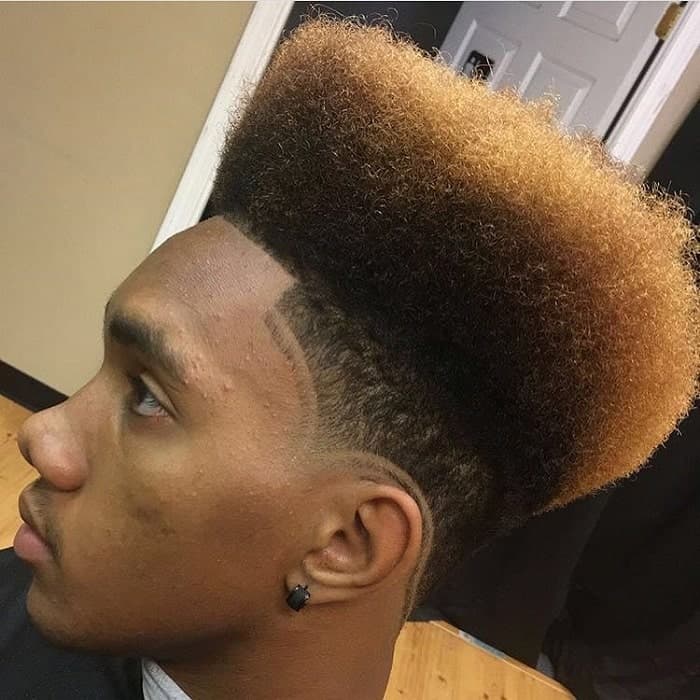 This hairstyle is a good idea for an African-American man who prefers his hair to have a bit of length. You could add to the haircut by coloring the ends as well. Another exciting element would be razored detail just as shown in the picture. This haircut is fun yet well kept and chic.
22. High Bald Fade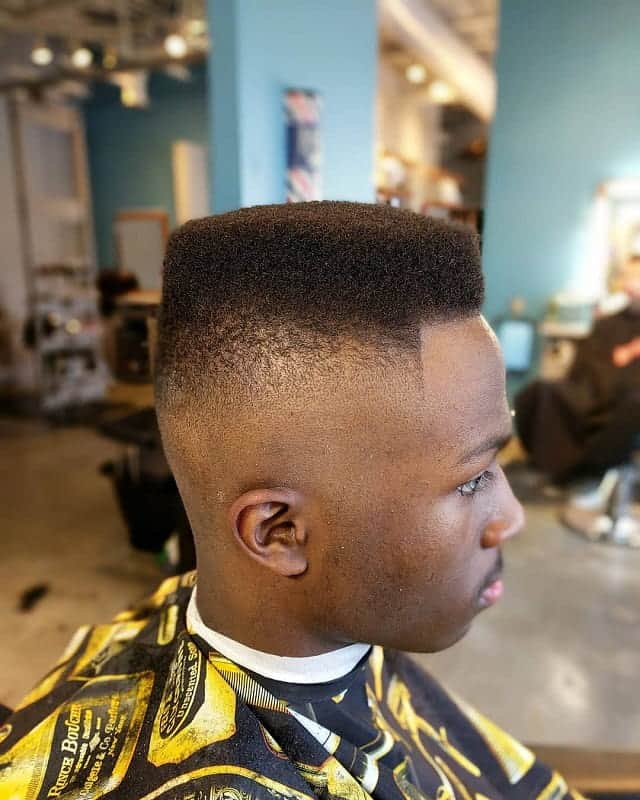 This haircut is another alternative for an African-American man. The positive factor is that you could tame as well as style your curly hair by opting for this haircut. The taper fade towards the sides adds and accentuates the look bringing it all together. You could sport this hair anywhere.
23. Afro Top with Low Fade
This flat top fade is ideal for afro hair. By styling your hair like this, you can easily manage it and take care of it. You could wear this hairstyle anywhere and it would be appropriate. This versatile element makes it attractive.
24. Feathered Flat Top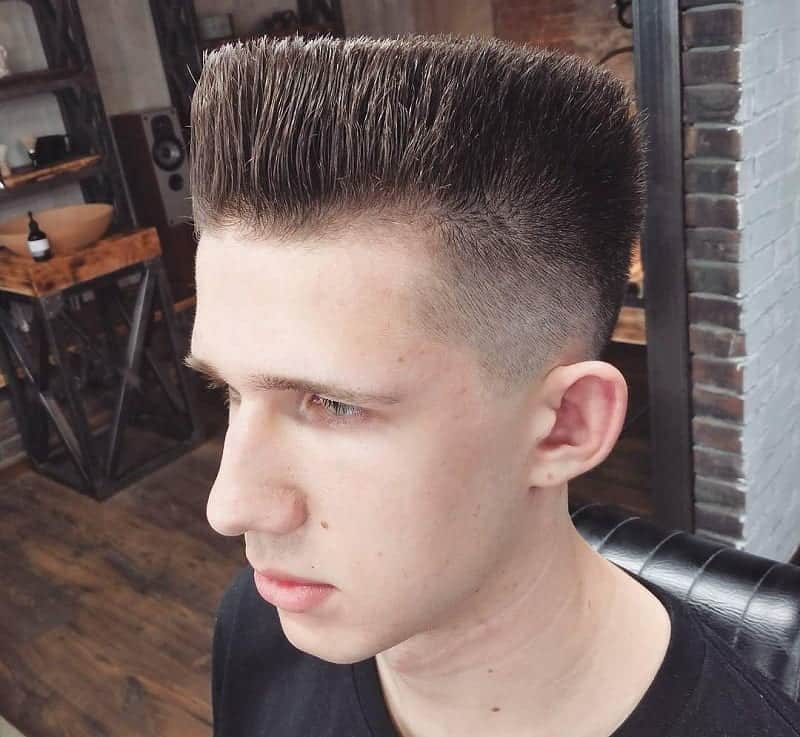 This is a great option to style your thick straight hair. This hairstyle won't require as much time to style either. At the same time, it will look like you put in a lot of effort to achieve this final look. This hairstyle is perfect for someone who isn't interested in investing too much time.
25. Pompadour Fade
This hairstyle is a great variation for the regular pompadour. It is a mix between a pompadour and a flat top which is why it is so appealing. It is fun and neat, it can also be worn by anyone with any hair texture.
26. Short Flat top with Undercut Fade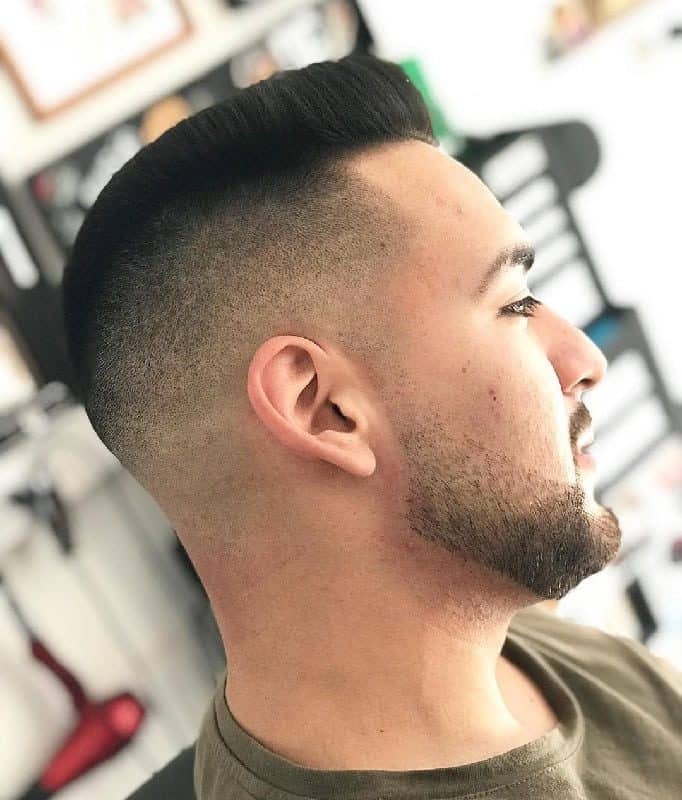 This hairstyle is right up your ally if you like your hair short and maintained. You could wear this haircut for all kinds of event and be sure to be turning heads your way. It is fun but at the same time sophisticated.
27. Combed Back Hair with Red Highlights
If you are someone who leans towards the combed back/brushed back look this hairstyle is great. It has elements of both the brushed back look and the fade haircut for men. It is equal parts fun and classic.
28. High Rise Flat Top
If you like being the center of attention this high rise flat top is a great idea. The faded sides balance out the high rise in the crown area. It is clean and chic.
29. Quiff Style
This asymmetrical flat top fade is a great option for someone who prefers hairstyles that aren't the regular kind. It's fun and neat and you could sport it anywhere you want to.
30. Clean and Short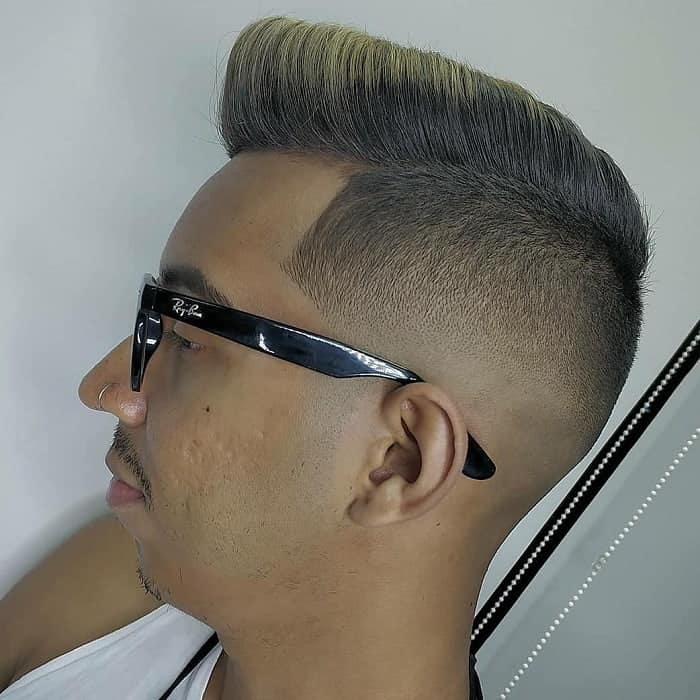 This clean Flat top fade is a great haircut even if you work in the corporate sector. Even though it is fun it is clean and sophisticated enough to sport in an office setting.
The next time you visit your hairstylist, a flat top would be an ideal option for change. You can refer to the best styles above for inspiration. This hairstyle is perfect for being edgy, conservative, classic or modern which makes it just the perfect hairstyle to try out.