Short pompadour has once again taken the hairstyling industry with a storm, hasn't it? The way that it is so easy to style and maintain makes it such a popular option. A lot of men along with many celebrities have tried this hairstyle. Pompadour hair looks attractive and at the same time has low maintenance.
It can be adopted in all hair types and goes well with all face. Get inspired by the most popular short pomp hairstyles collected below and select the best one according to your choice!
Trendy Short Pompadour Hairstyles
The short pomp hairstyles are so classy and trendy that you can have them for all of your events. They are equally great for informal and formal occasions, making sure that your irresistible appeal never ends. So, here are 21 perfect short hair pompadour styles for you to spice up your personality this season.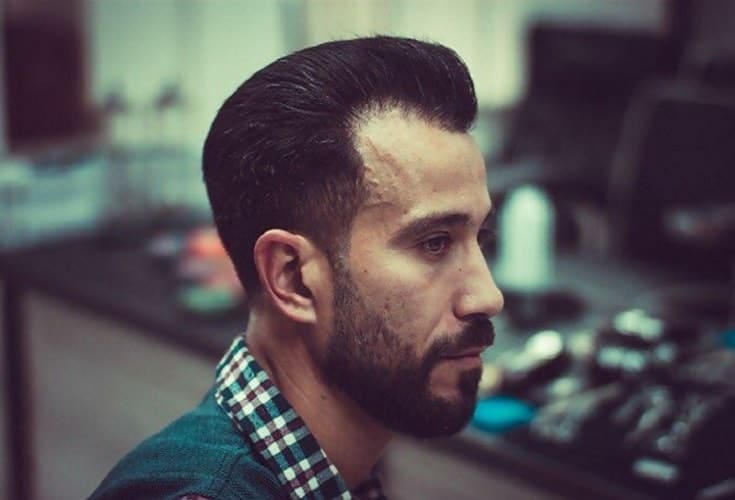 A classic short pompadour, there is a timeless appeal in this hairstyle. It is easy to maintain, does not involve a huge lot of styling, and invariably offers a simple and elegant charm that is hard to ignore.
This is one of those low maintenance short hair pompadours that are stylish and can be easily adapted to your personality. With or without the beard, this is the kind of style that comes across as fashionable and fairly low maintenance.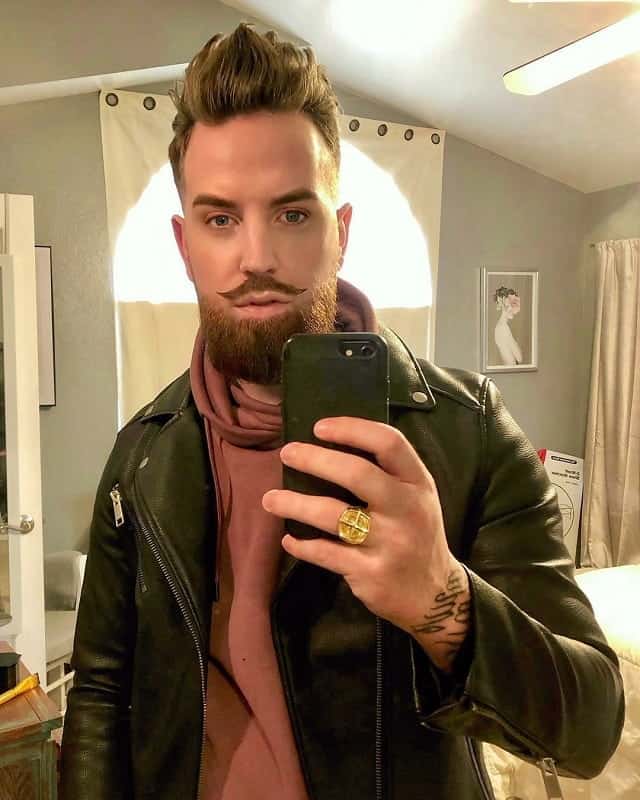 The thick bushy top becomes the focal point of this pompadour style on short hair. You can never miss the edgy element in this style and some ways, this is a rather imposing hairdo. The hint of a handlebar and full-beard accentuate the impact.
4. Pompadour with Hard Part
This short pompadour haircut has a David Beckham twist. The salt and pepper goatee accentuates the overall look. It adds an absolute masculine ruggedness and makes it significantly more imposing.
The salt and pepper color combination along with the flat top makes this short hair pomp stand out. It is simple yet stylish and one of those styles that have a rather timeless quality about it.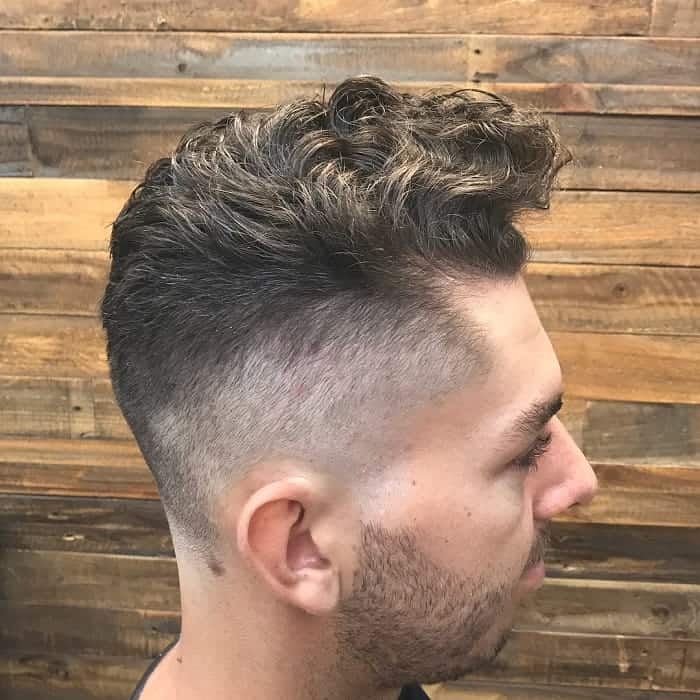 If you thought you need straight hair to carry a short pompadour, then think again. The curly top and the fade lines make sure that this hairstyle stands out every time you step out. It is classic, effortless and offers a creative edge to the overall styling.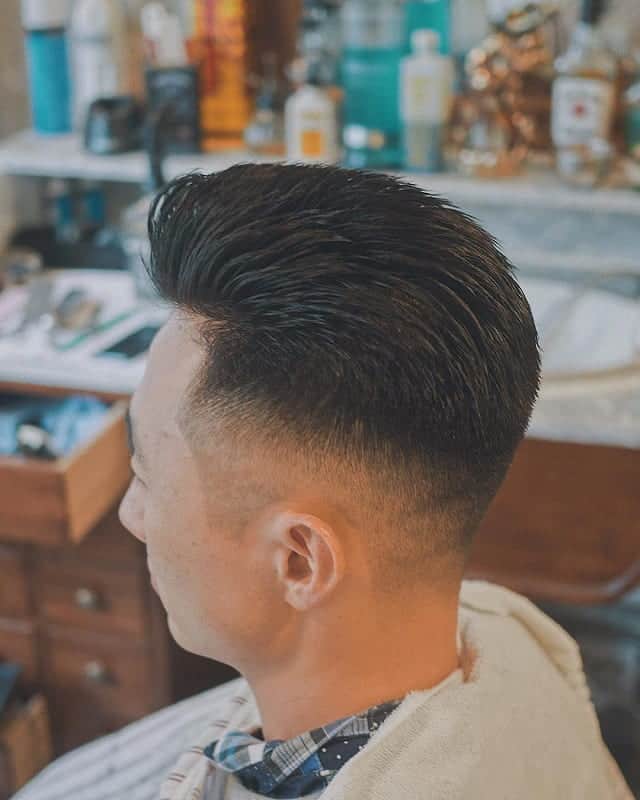 This undercut pompadour with short slicked-back top is a classic hairstyle that has timeless appeal. This is a type of cut that is ideal for corporates and those who are firm believers of formal dressing. The undercut sides also make it a relatively hassle-free style.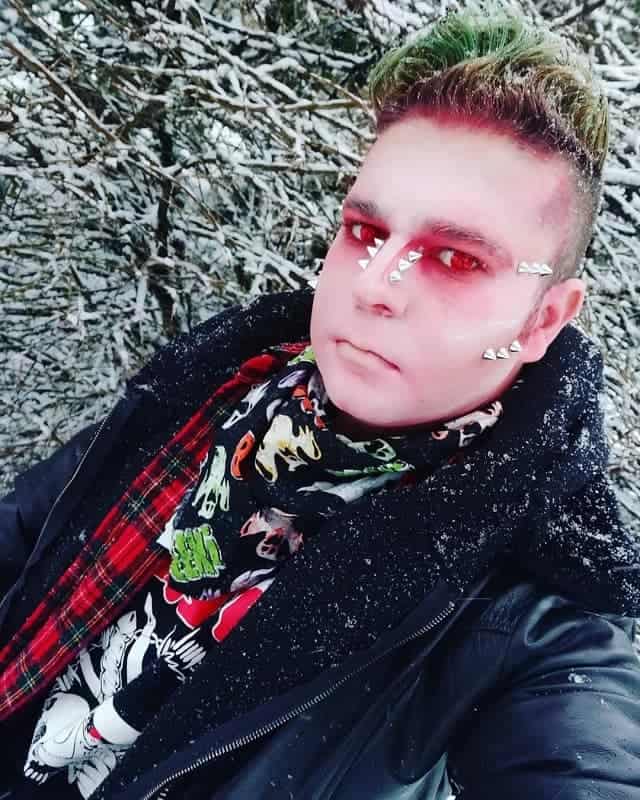 And an edgy and slightly exotic variant of the short pomp hairstyle, this is sure to attract attention wherever you may go. This has a quirky punk hairstyle twist to it as well. It is creative, attention-grabbing and absolutely esoteric.
But make sure that you have the personality to match the style. For example, this isn't something that will suit a corporate or a banking professional, but if a musician or even a soccer star wears it, it could be a bit from the word go.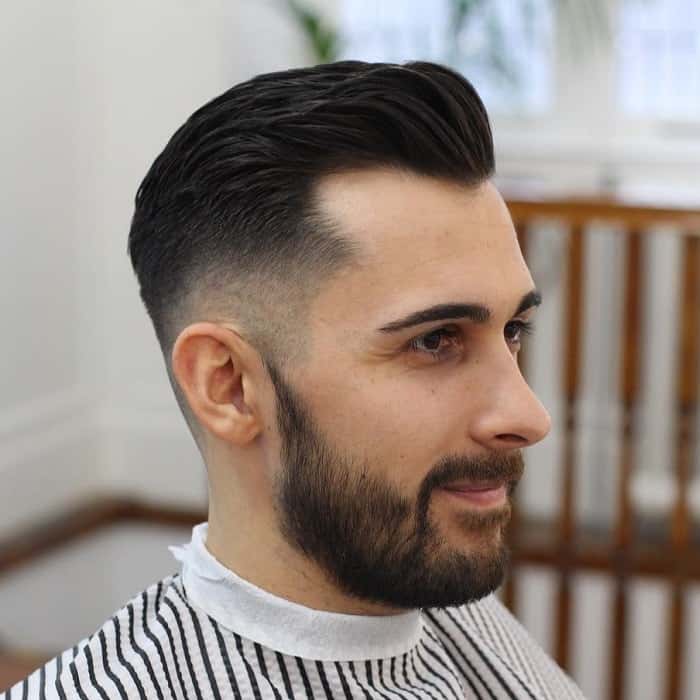 The quiff makes this short hair pompadour stand out. If you have particularly thin hair, it is important to style it in a way that can make it look relatively more voluminous. The other significant advantage is that this style hides the receding hairline quite smartly as well.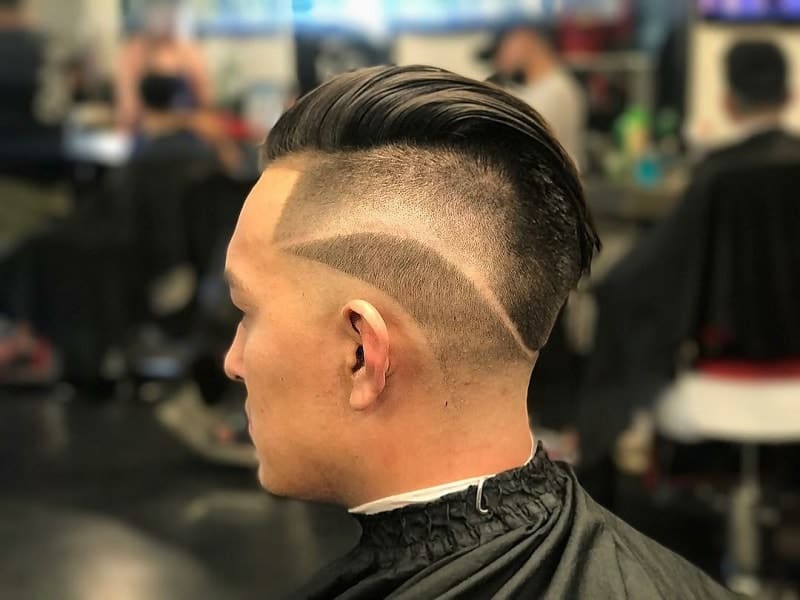 This short pompadour is striking and stylish in every way. It is edgy and attractive and gives your personality depth of rugged masculine energy. This is the type of style that will make you stand out.
11. Full Short Pomp
Usually, the hair from the center is given styling to make pomp while the rest is faded. But this pomp involves all of your hair which makes it simple yet stylish.
This unique short hair pompadour is amazing for all seasons since it keeps the hair away from your face. The hair is kept short too which makes it even easier to take care of it.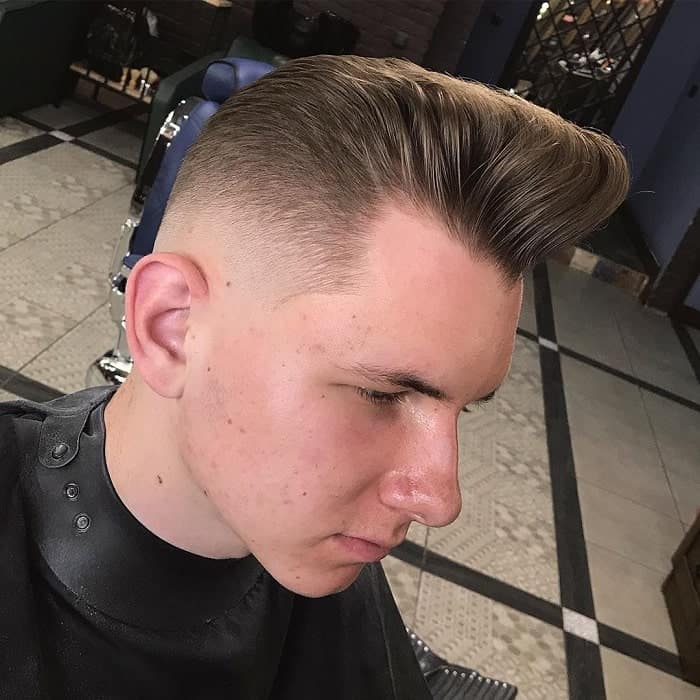 There is no point of going for a pompadour if you are not going to bring in a traditional touch to it, is there? This pompadour with short hair has the perfect symmetrical slating shape at the top.
This helps you look classy and traditional at the same time while making sure that you do not lose your attractiveness. This is great for men of all ages since everyone has the right to look their hottest version, right?
Short pompadours do not have that much intensity usually, do they? But you can easily make them more intense and fashionable by giving them a medium fade.
This brings more attention to the short pomp while making sure that your hair gets a curious asymmetry. The hair can be dyed to give it more detail and character too, but you can keep things natural if you want to.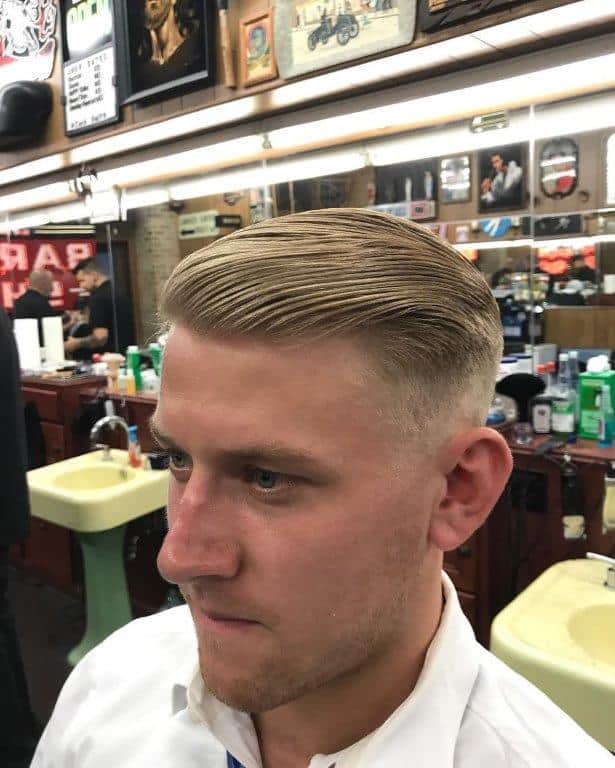 If you have natural blond hair and want to add some sexy appeal to it then go for this exquisite hairstyle. The pompadour is sleek and well-gelled to have the hairstyle ready for all of your formal events too.
This Hollywood inspired short hair pompadour is a particular hit among men around the world. So, give it a try this season irrespective of your age as it is surely going to spice things up.
15. Curved Short Pompadour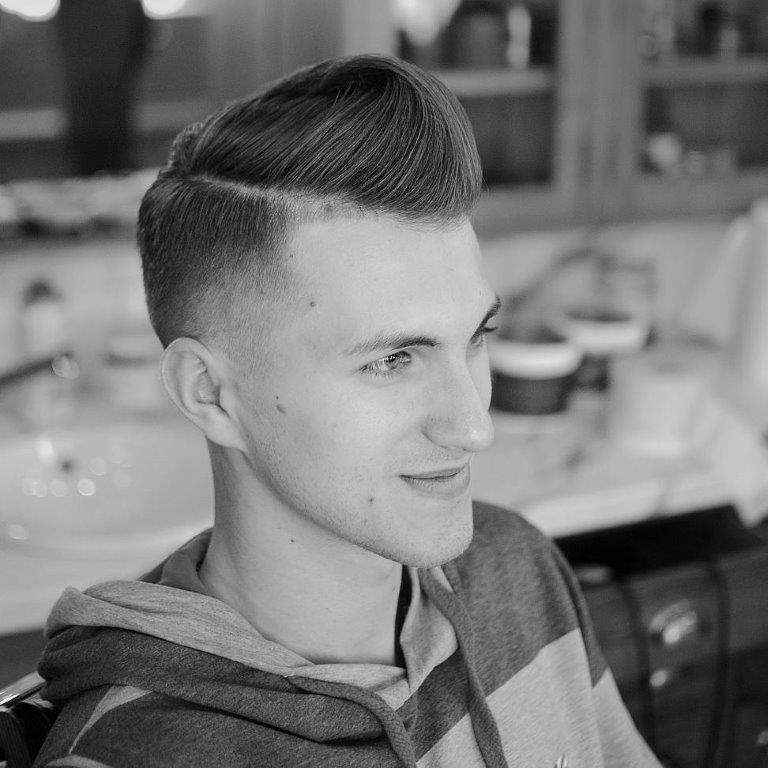 The mixture of modern creativity and traditional hairstyling has never been as good as this short pomp hairstyle. The pompadour has all of the hair brought together and then curved backward to make it so good. The elegance and charisma that comes with it is definitely hard to ignore, isn't it?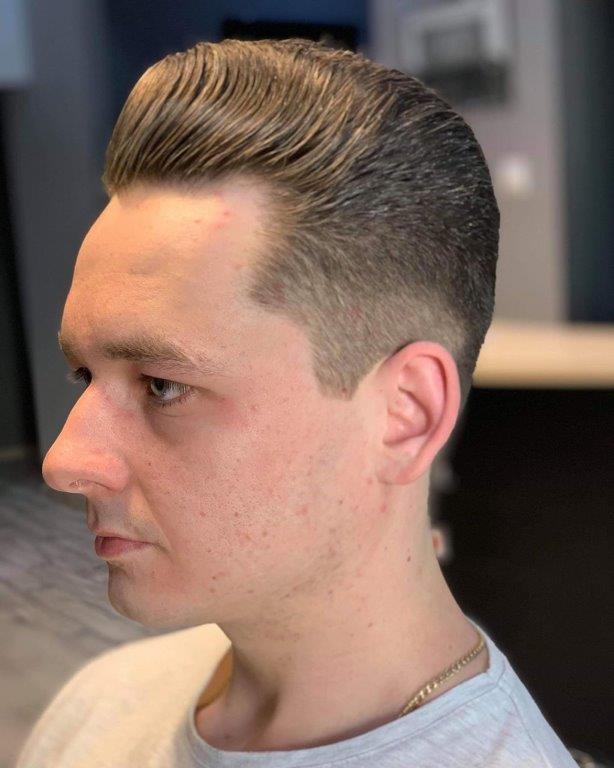 If you have a receding hairline or bare temples then you do not have to worry about the perfect hairstyle anymore. This exquisite short pompadour takes all of your hair to the back making sure that the bare temples feel more like a fashion.
You can even dye your hair to bring more attention to it than the front of your hair. So, say goodbye to trying to hide your receding hairline and own this hairstyle with confidence.
17. Asymmetrical Pomp with Low Fade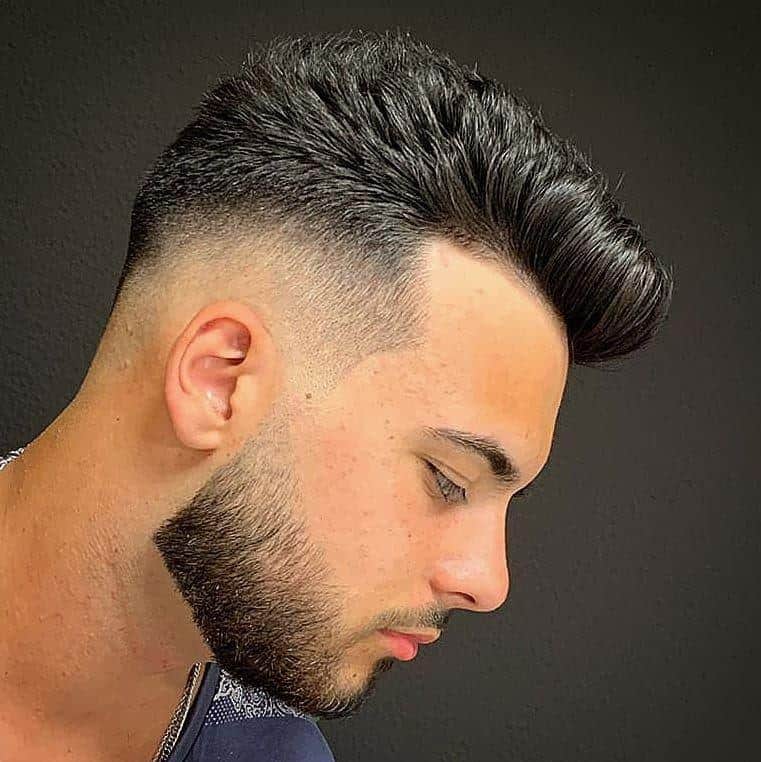 Who doesn't love a little asymmetry and freestyling? This pomp has all that you need to look fashionable and imaginative at the same time. The short pomp has a subtle asymmetry to it which makes it look so cool. The front is curved backward while the sides are curved towards the center making it perfect.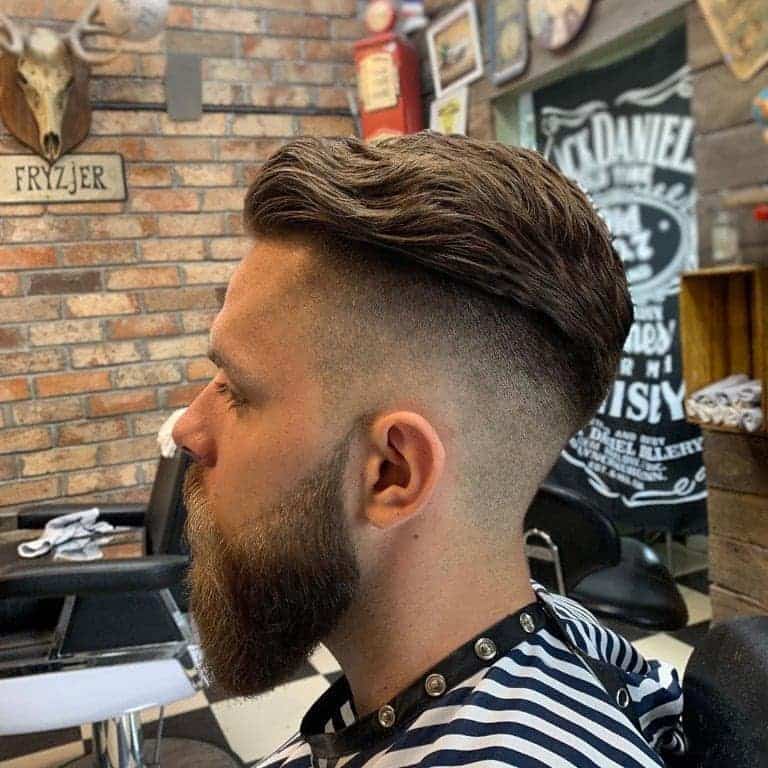 Well, you can unleash your imagination with this creative and imaginative hairstyle. The short hair pompadour is disconnected with an undercut to it which makes things a lot more interesting.
The undercut can be given design or a tattoo too if you are up for embracing the cool guy look. This is definitely a fun addition to our list.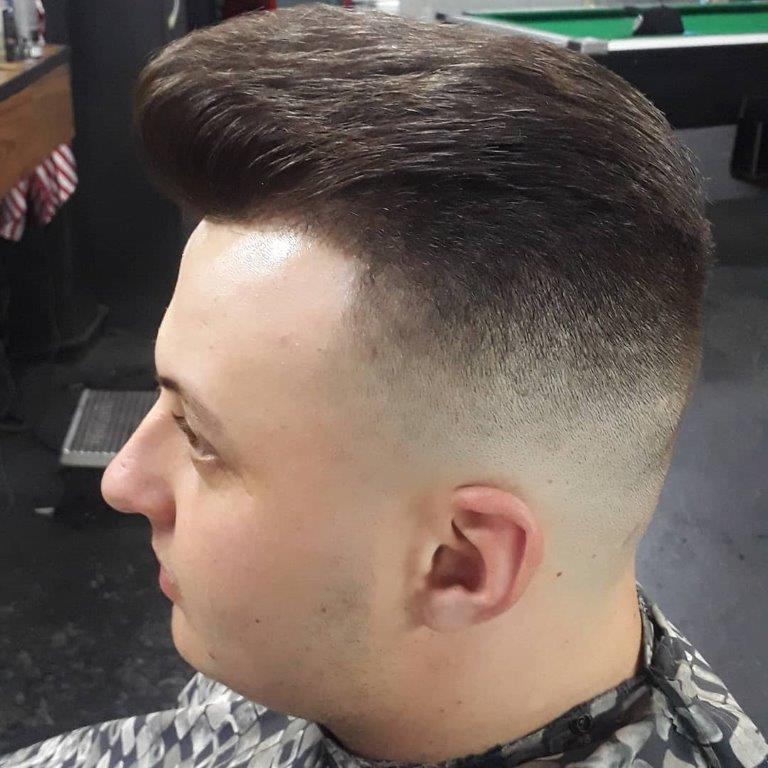 For those who want a simple yet intense hairstyle, a short pompadour with shaved sides is perfect. The pomp has the classic backward combing while the addition of high fade and shaving makes it cooler. Most of the attention is caught by the hair at the top leaving you more confident of your appearance.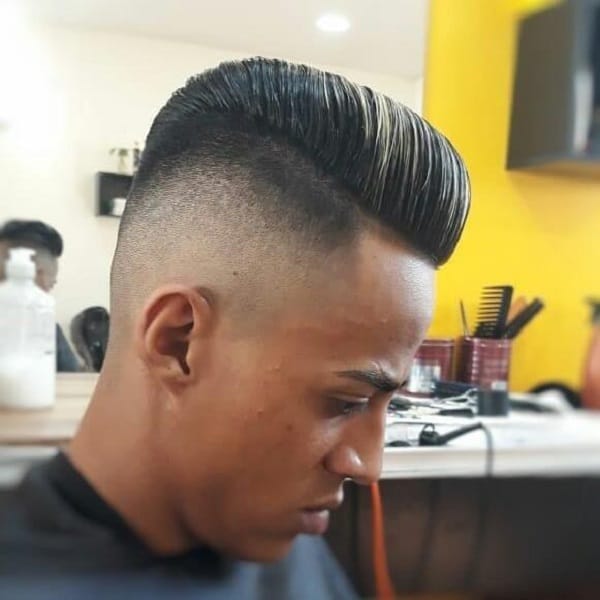 If you love both a pompadour and a Mohawk and cannot decide between one then why not go for both of them? This is a perfect combination of these two hairstyles as the Mohawk is quite cool and classy.
It's cutting and shaping like a pompadour make it much more impressive as it shows people how much time you invest in your styling.
21. Wavy Hair with Medium Fade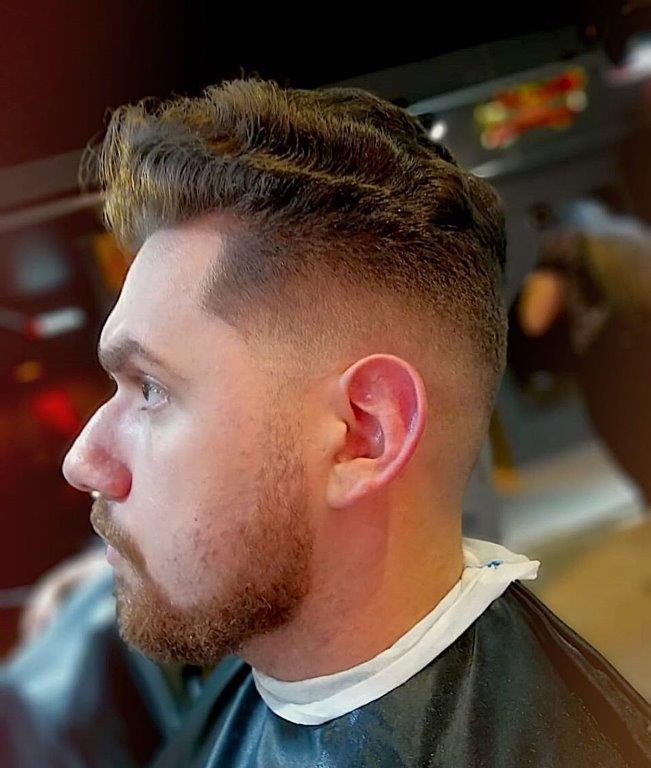 Why always settle for a funky and messy hairstyle when you have curly hair? You can have classy and sophisticated hairstyles even if you have curly hair.
This short wavy pompadour is the best manifestation of impressive formal hairstyle for curly hair. In order to keep things decent, you can have a medium to a high fade which balances the unruly character of curls.
So, if you want a short pompadour to style up your hair then why wait when there are so many amazing options!