Military haircuts are known to be one of the trendiest haircuts for centuries. These types of cuts are usually short and faded which is what makes them extremely likable by everyone. Short hair is low maintenance and much more hygienic. Even though they are all short, they have different variations.
Best Military Men Haircuts to Inspire
Keep reading for 20 military cut hairstyle ideas you can draw inspiration from.
This hairstyle is inspired by the Mohawk; the only difference is that it is cut down short. This haircut is a good variation to just the regular graduating fade. The haircut also screams masculinity and sexy all at the same time. You could wear this military haircut fade anywhere and everywhere.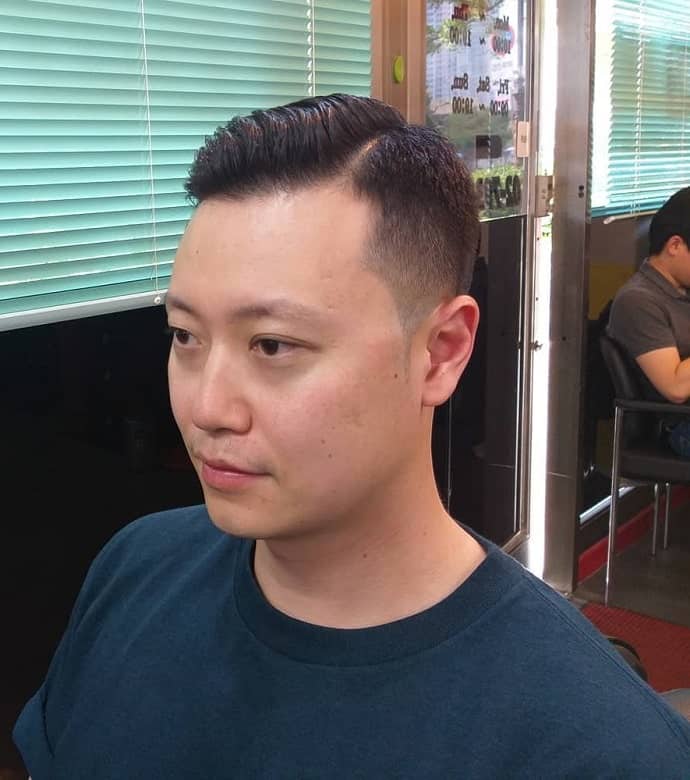 This haircut is inspired by the officers at higher posts in the military. They were allowed to keep 2 inches of hair towards the front. If you aren't all in with the buzz military hairstyle, this is a great alternative for you. You could still have your length and to style it you could sleek it back and make it look sexy.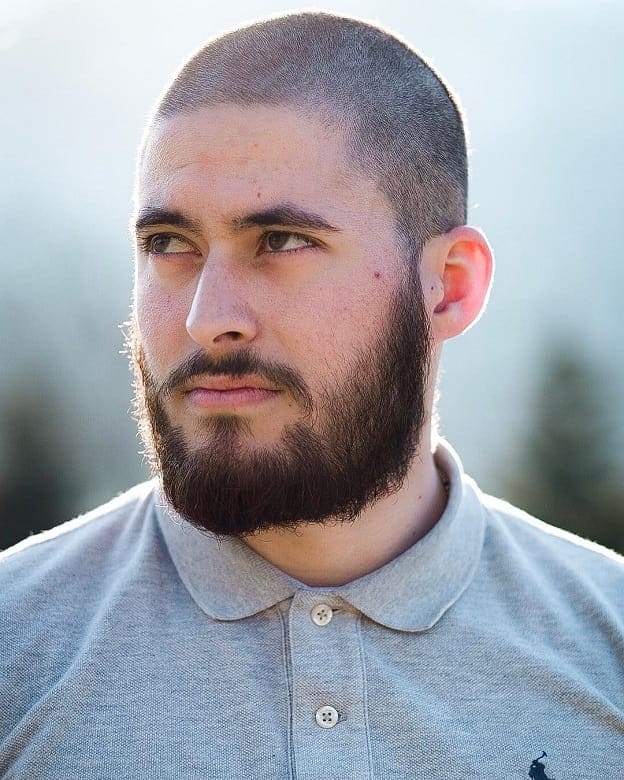 A guard number of two or one is used to clip all your hair off to obtain a military style burr haircut. If you are used to short stubbles of hair, this haircut is perfect for you. It looks nice and it has absolutely no maintenance what so ever. It is perfect for someone who has no time to invest in hair care and is always on the go.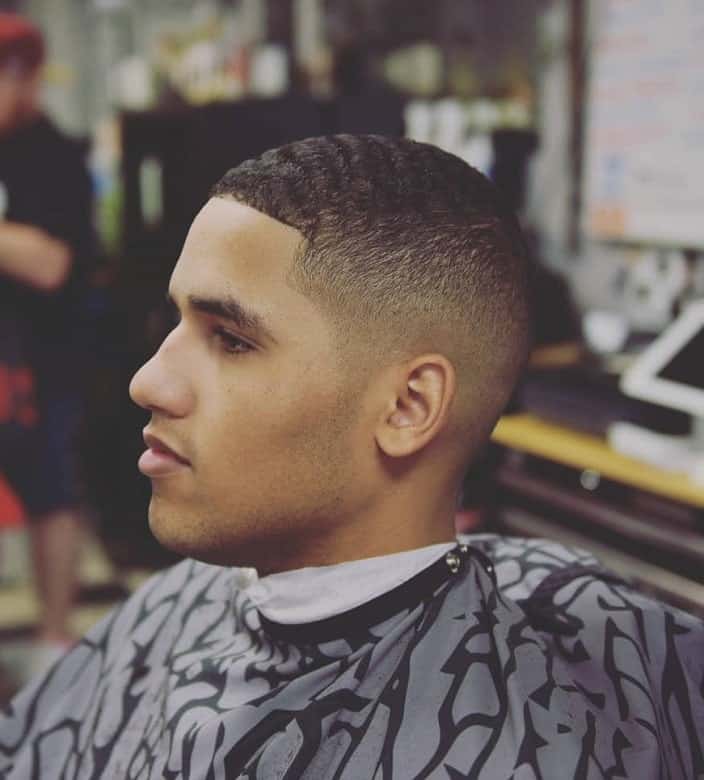 This military haircut was something all the boys and men wore in the 80s and 90s. It is a classic hairstyle that looks clean and chic. The only difference is the way the sides are faded. This classic hairstyle with the twist of the seamless modern fade makes it looks stunning.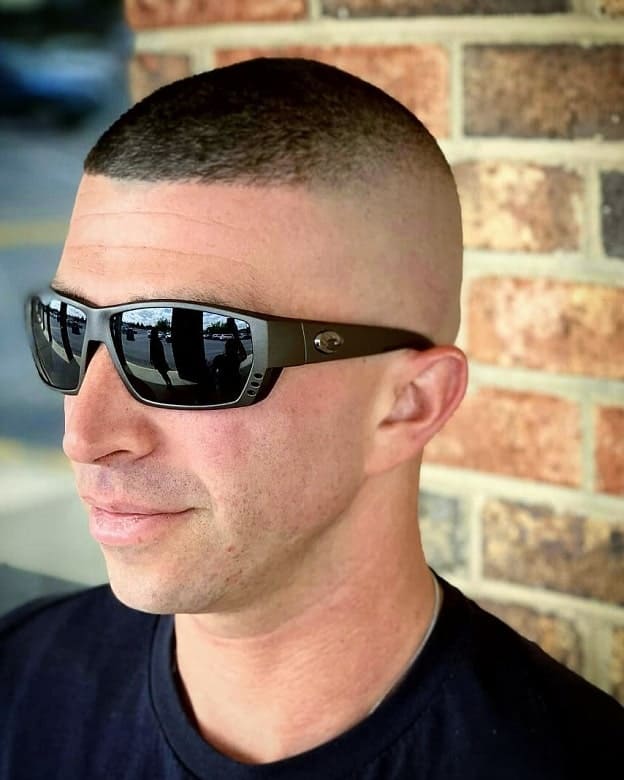 The way your hair is cut on towards the front makes a whole lot of difference. This short straight haircut helps your forehead look smaller than it actually is.
It is a great way to hide a receding hairline as well. This might seem old-fashioned but these haircuts are slowly coming back into trend. This haircut is perfect for any and all occasions.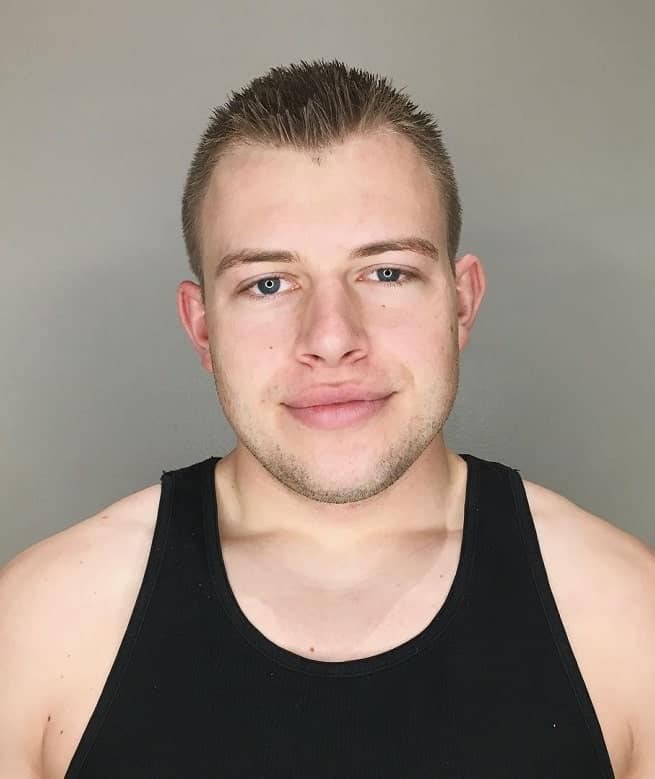 This military cut is perfect if you want a clean, fresh and younger look altogether. It is easy to style, as you can use little to no gel. It is low maintenance but extremely trendy and can be worn for any occasion.
This hairstyle was famous in the 50s. In the 20th century, it is having its well-awaited comeback. A modern twist to the classic faux hawk haircut is the messy hair styling near the crown. It is the perfect balance of fun and classic at the same time.
Here you can see that the hair isn't cut short and close to the scalp. There is a fair amount of hair towards the crown area. Towards the sides, the fade also has more hair than usual. A great way to add a bit of funk is detailed razored cuts on the sides.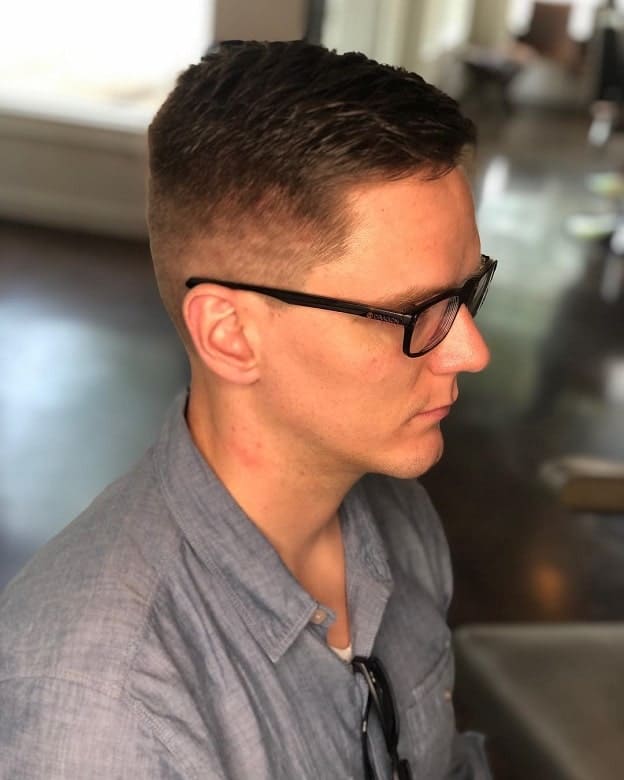 In this military haircut styles, you will notice that all the hair is predominantly swept to one side. This helps the face create a more structure illusion. It is also a good change from the hair either falling straight down or pushed back up.
10. Buzz Cut with Tiger Stripes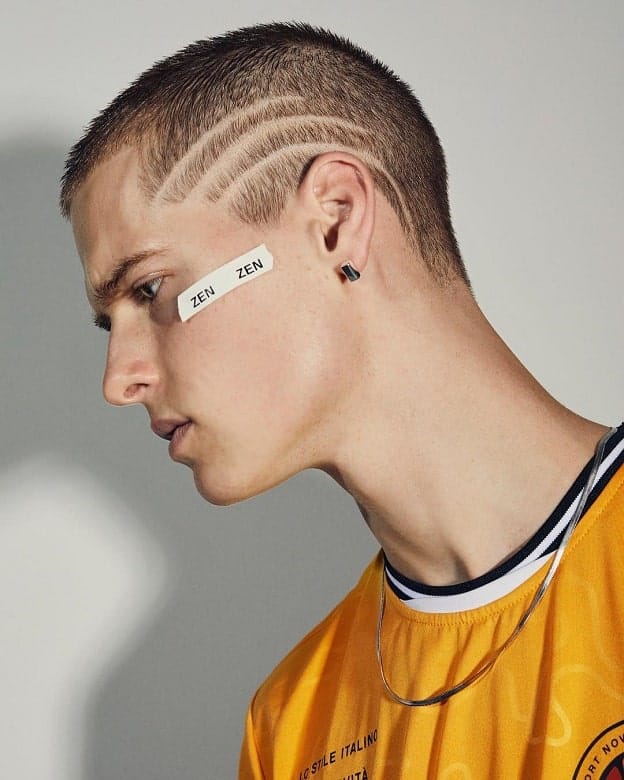 Razored details on the sides have been around for a long time. These three stripes is a more chic alternative to the otherwise regular designs. The short-spikey military men hairstyle also adds to that chicness. This hairstyle is bold and yet, at the same time fresh and trendy.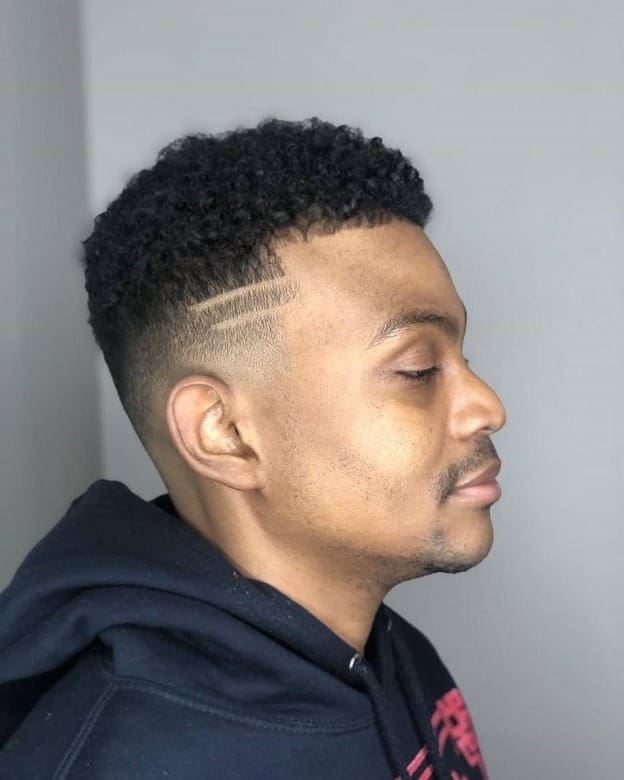 Often when you have ringlet curls styling and haircuts become challenging, because your hair is hard to work with. This military cut hair variation is a good chance you could adopt. You get the opportunity to keep your curls yet at the same time look trendy with the stunning fade and razored detail.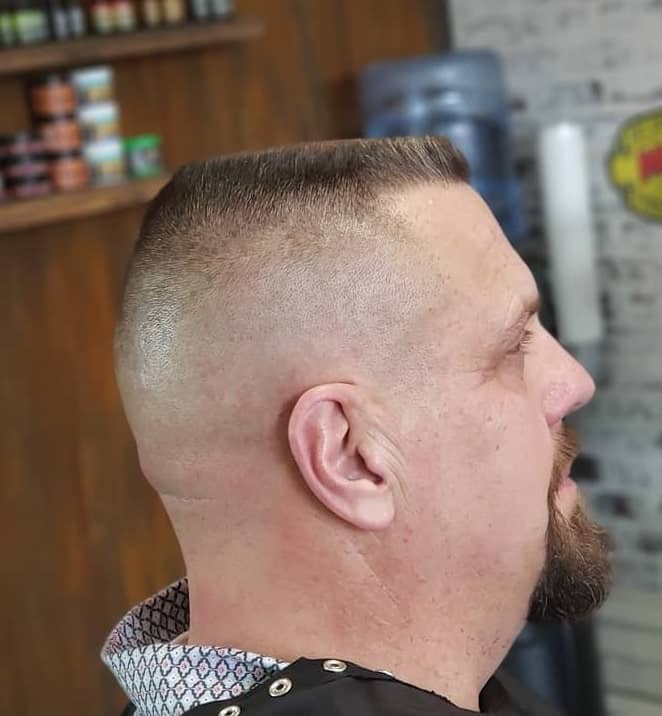 Flat tops are considered dad hairstyles, although with the right confidence anyone can rock it. It is classic and chic but most importantly low maintenance. You could wear it anywhere are stand out.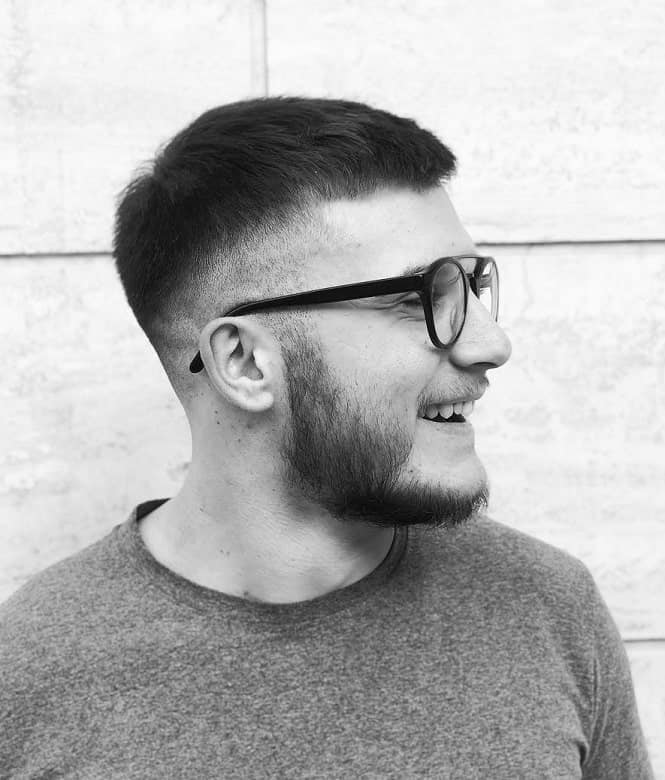 The feathered slight fringe helps frame your forehead and face. It is also the reason why this haircut is liked and sported globally. It is perfect and trendy for any hair type and face shape. The side fades and a modern tinge to the otherwise classic military haircut for men.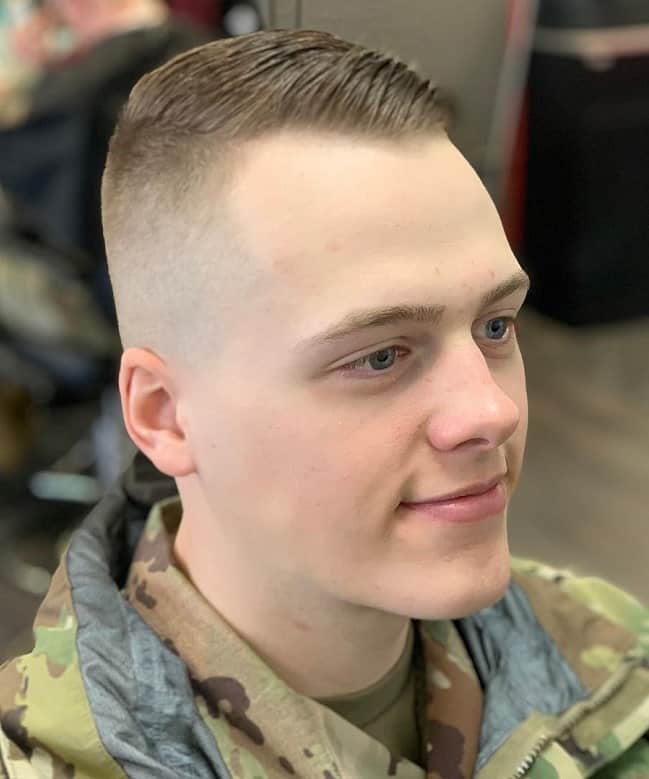 This haircut is straight out of the army handbook and still worn by men in the army. But because of the clean fresh and sleeked back look it is worn by men otherwise as well. The seamless tapered sides compliment the sleeked back hair perfectly. This military fade haircut screams nothing but clean and sexy.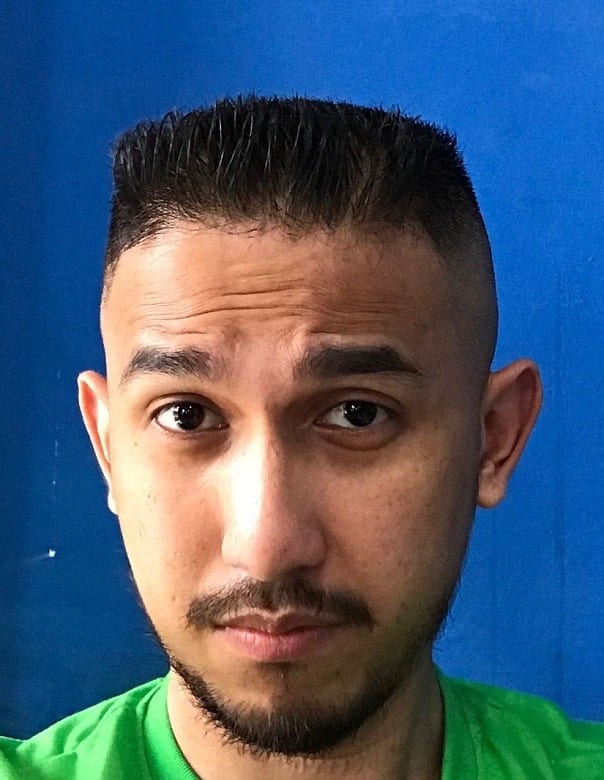 This is another variation to the flat top. As opposed to the previous one, this haircut allows you to keep your length. It is fresh and chic, it can also be worn anywhere.
This army crew cut is perfect for someone who doesn't want to spend time taking care of their hair. At the same time doesn't want the classic buzz cut. With this hair cut, you get to keep a little length towards the top. And fade it out towards the sides. This is perfect for school, college or otherwise.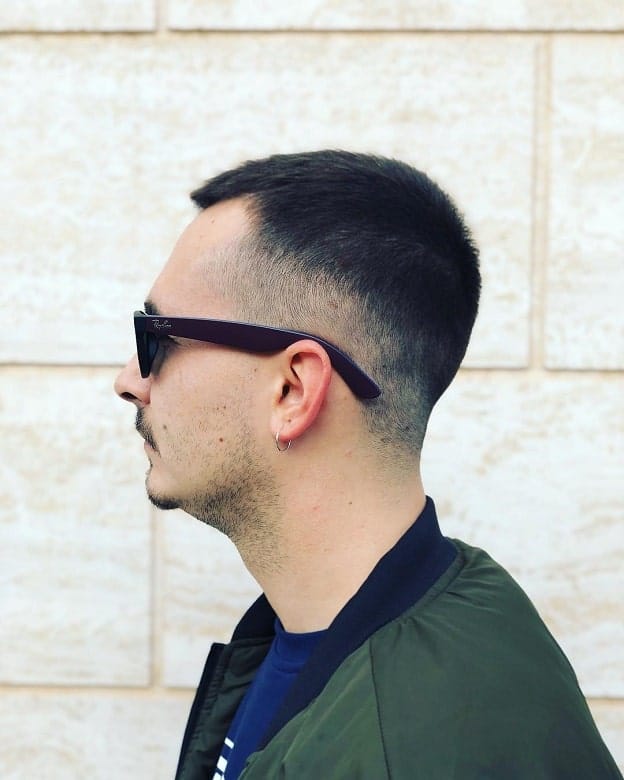 This military haircut is famous amongst preppy boys who attend Ivy leagues schools. But that doesn't mean they should only wear it. Here you can noticeable see that the undercut begins much lower. This is perfect for someone who's trying out the undercut for the first time.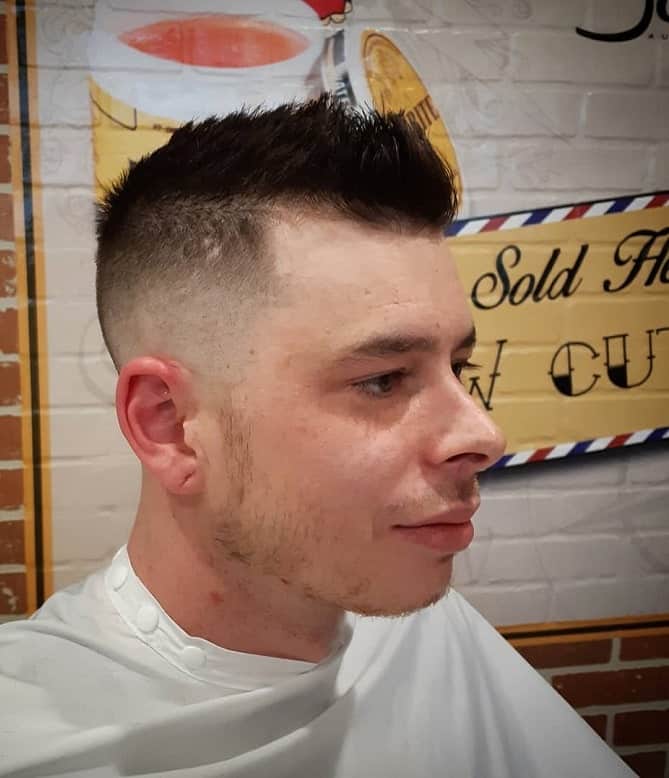 This haircut was worn a lot in the 90s. The length at the crown allows you to keep your medium length hair and style it by spiking it. A modern twist is brought about by the taper fades. It's the perfect balance for fun and sexy.
19. Choppy Haircut
Not all military type hairstyles are perfectly aligned and comb, hence here is a one that just perfect for the clean groomed looked. It's a great haircut symbolizing perfection.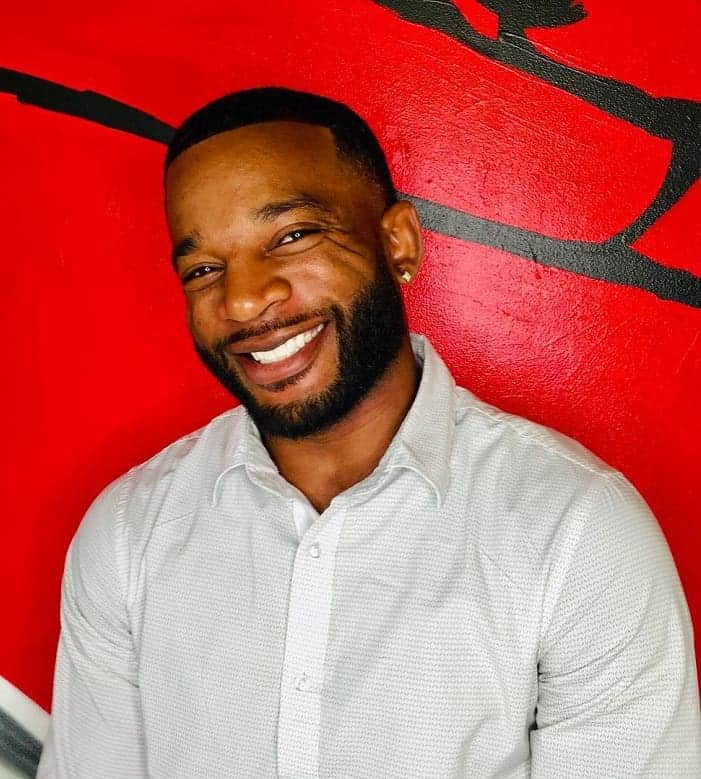 This army haircut is perfect for any and all types of hair textures. It is also perfect for the hot summer where you want to be particle yet want to look stylish. This haircut is the perfect help for your head, in order to make it look more symmetrical. And the best thing about it is that it is low maintenance and chic.
Military hairstyles are a practical and trendy option, especially for the warmer seasons. You won't have to put too much effort into styling or grooming your self. You could just literally walk out and it would be fine. All you would have to do is wash your hair and comb it every once in a while. It is practical, classic and chic. All good things wrapped up in one.