Receding hairline is a common issue faced by many adult men including black guys. Unfortunately, researchers say that there's nothing you can do to stop it.
Receding hairline haircuts are a great option when you struggle with this problem. The issue seems to be hereditary, and there are some treatments that can only slow it down. If none of them work for you, you can change your haircut and opt for one that doesn't highlight the problem, but beautifully masks it.
You can go for short buzz cuts, long top hair with fades, or comb-overs. You don't need to panic, there is always an option, and you can find below some examples of receding hairline haircuts for black men!
Receding Hairline Haircuts For Black Men
A receding hairline occurs when the hairline starts to gradually move backward, revealing more of the forehead. This can be a result of various factors, including genetics, hormonal changes, aging, and certain medical conditions.
While it may seem like an uphill battle, these haircuts can work with a receding hairline to create stylish and attractive looks.
1. Short Buzz Cut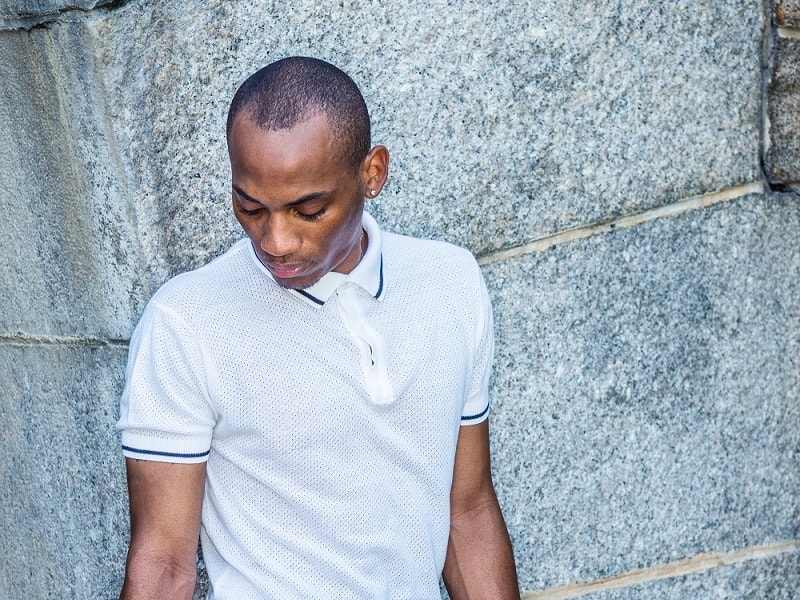 A short buzz cut will not only correctly mask your receding hairline's bad situation, but it's also a hairstyle that doesn't need much styling. You'll solve two problems with one bullet!
2. Long Hairstyle with Receding Hairline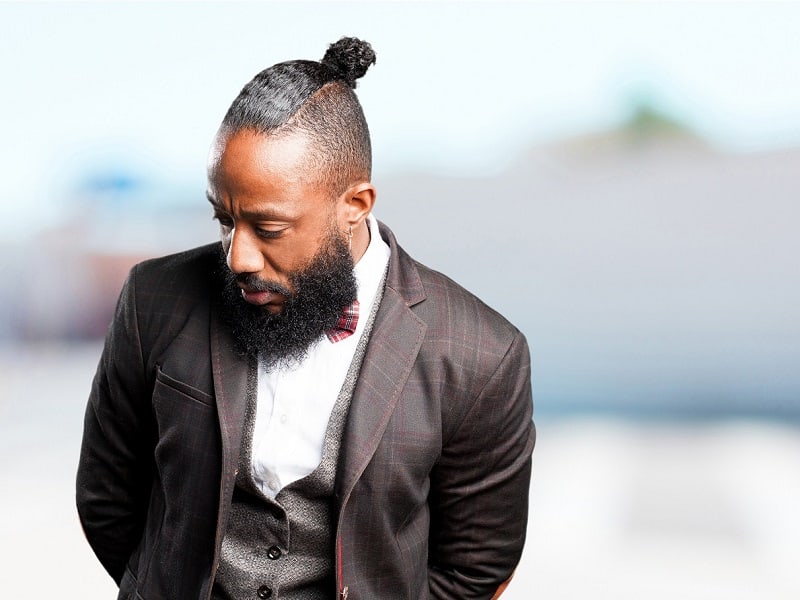 Another gorgeous hairstyle for receding hairline is this long top hair with back and sides shortly cut. The top hair can be as long as you want and will provide a lot of styling opportunities such as men buns or a side-swept top.
3. Curly Haircut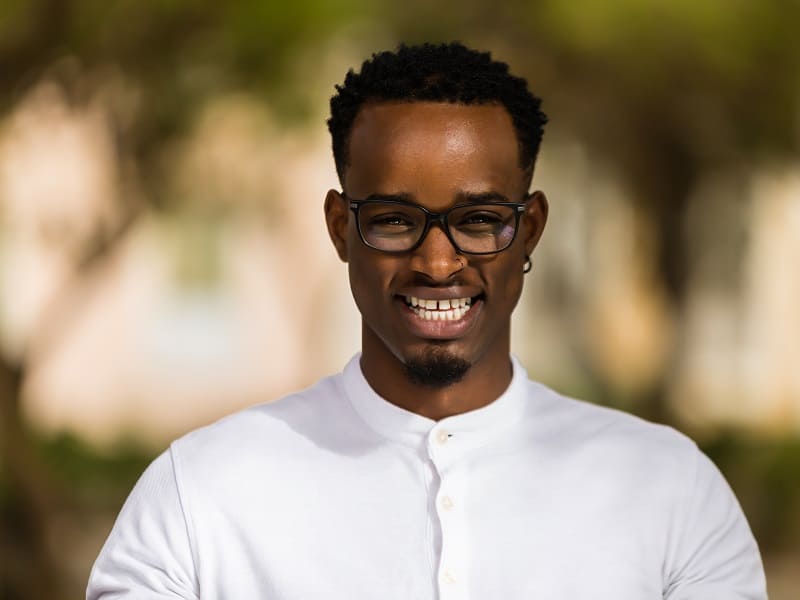 This is one of the best receding hairline haircuts for black men because it grabs all the attention on those thick curly strands. Lift the top and get a tapered haircut for the sides and back. If you want to style the top hair, use your favorite jam to give the coils a better definition.
4. Fade Hair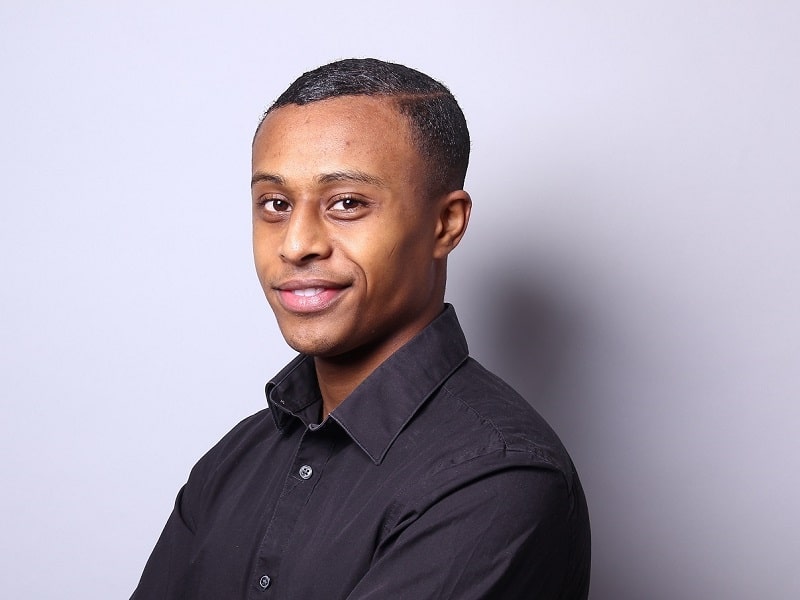 If you want to recreate this look, remember that you will need a lot of product to keep your Afro-American hair in place. Use a fade for the sides and back and toss the top strands on one side.
5. Receding Hairline Haircut with Beard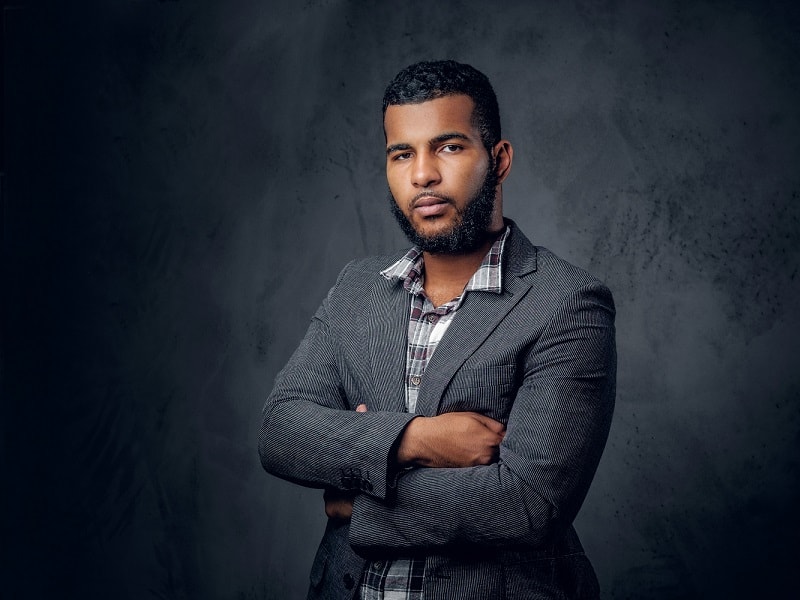 If you need a hairstyle that makes that receding hairline fade, opt for a short trim and a short beard. Make sure there are no interruptions between the sideburns and the facial hair.
6. Short Top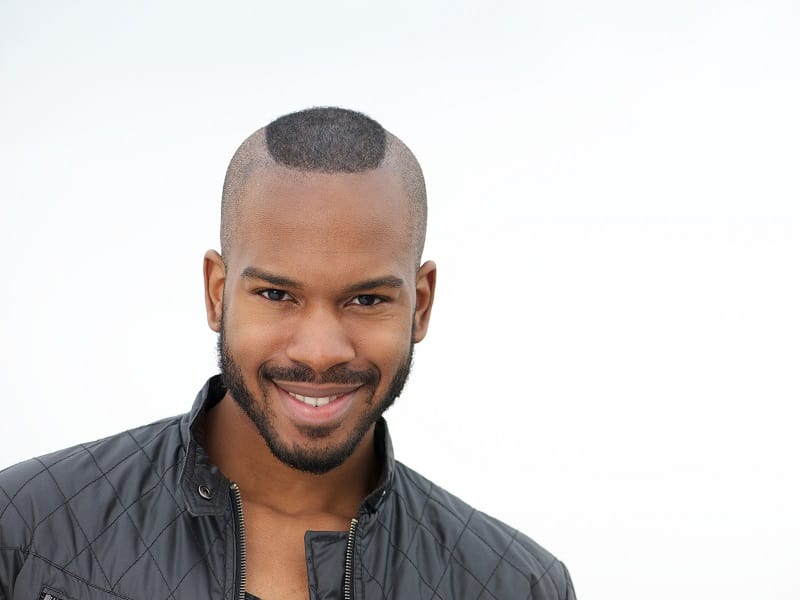 There's no better way to style your hair when fighting against a receding hair. Shave the sides, the back and areas where you start getting bald and keep only the top hair. Cut it really short and complete the look with a beard.
7. Comb Over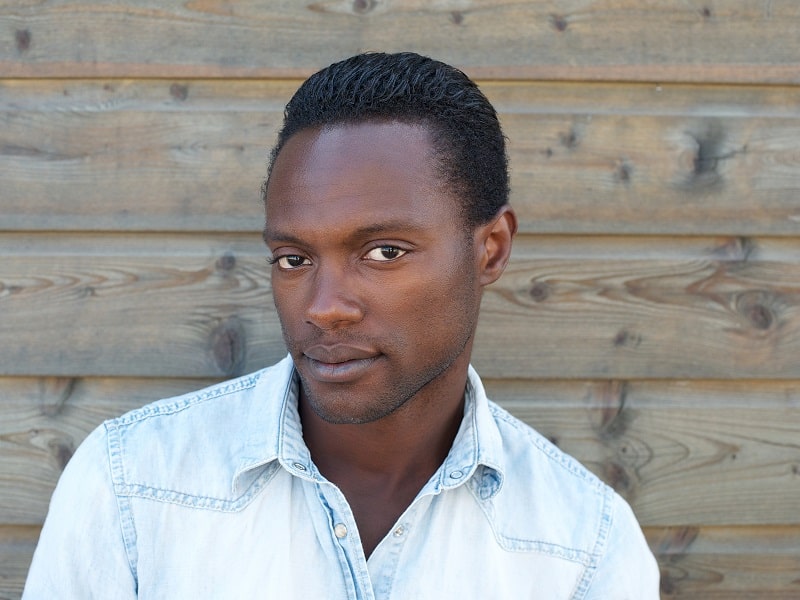 If you have medium hair, this hairstyle will help you hide that annoying receding hairline. Opt for short sides and comb over the top hair. It will also gain height and will make your face look longer and slimmer.
8. Dreads
Dreads can certainly help you with your struggle. If you have medium hair, build the hairstyle from your own mane.
9. Braids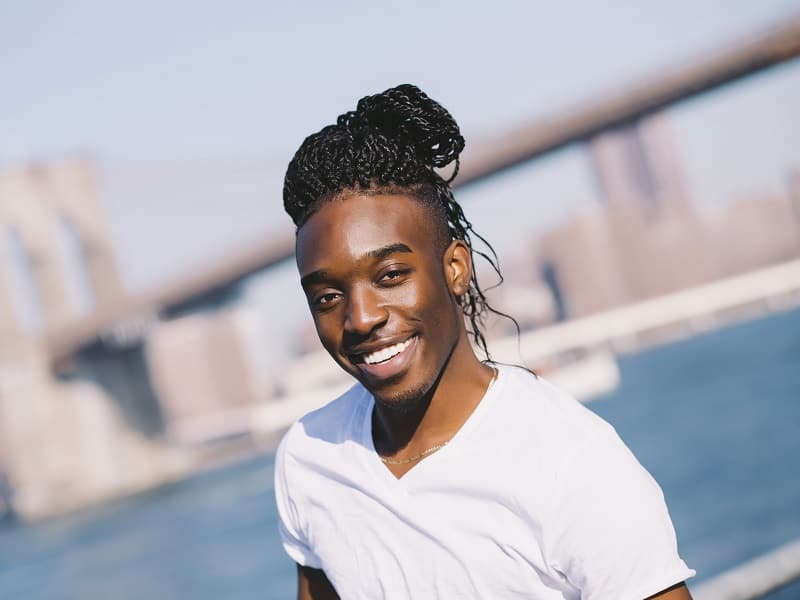 Braids can also help you hide your receding hairline by creating an illusion. Get a faded cut for the sides and back and use the top hair to build your box braids. If you want long knits, use some Jumbo hair and pin them all in a big bun on top of the head.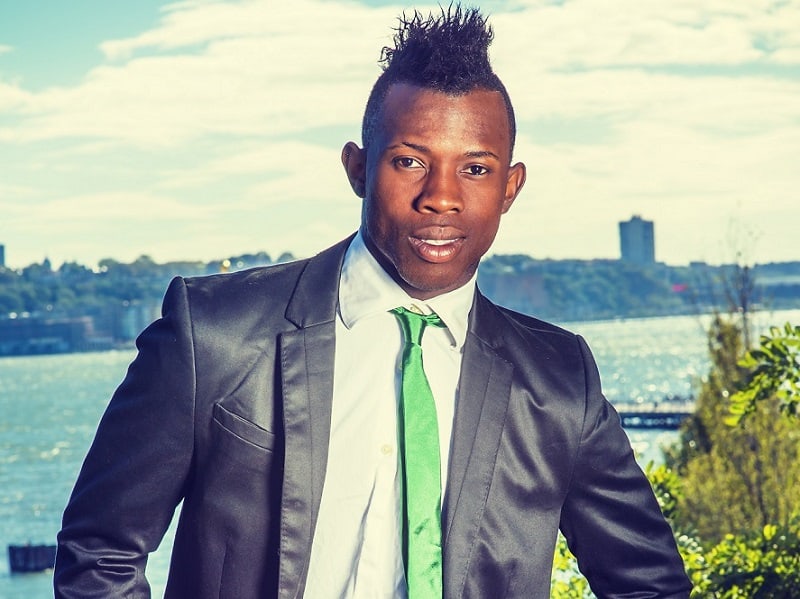 Style a high bald fade for the sides and keep the top hair long. Use hair gel or spray to create your spikes. Make them look messy, and you will get one of the most helpful receding hairline haircuts for black men.
11. Crew Cut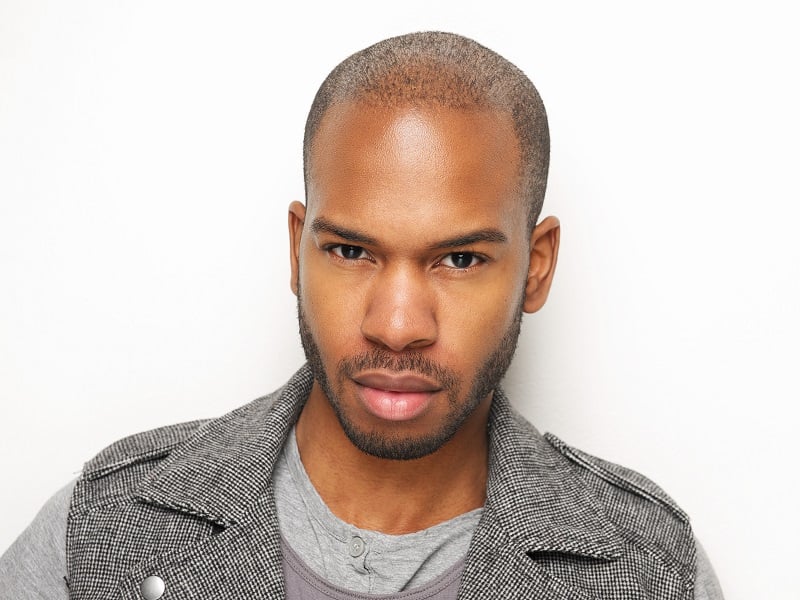 As we previously mentioned, once your receding hairline appears, there's nothing you can do to stop it. A short trim will undoubtedly help with your appearance, and a beard that has the same length will beautifully complete the look.
12. Receding Hairline with Twists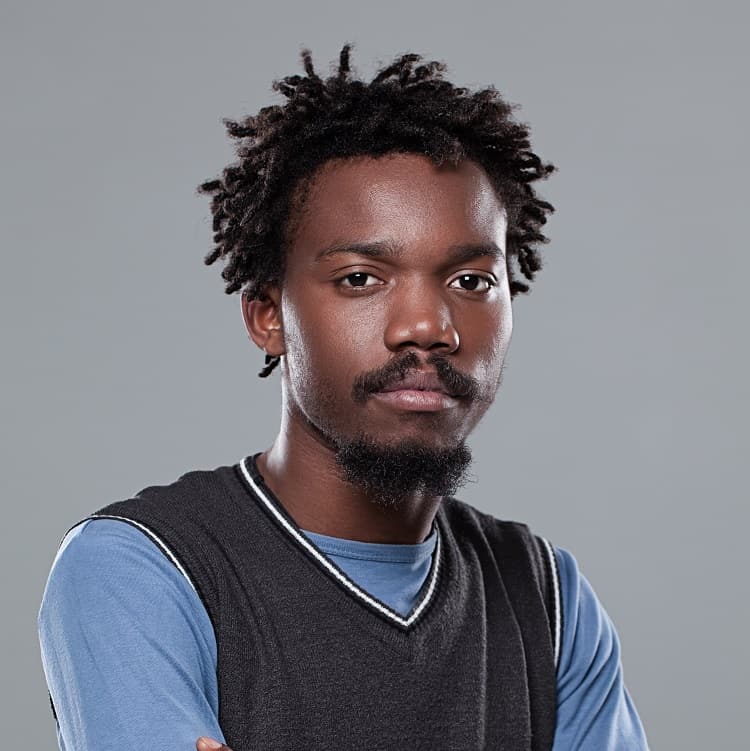 Twists that give you hair volume will properly hide the receding hairline. When you have coils, roll them to create the knit and you will obtain a hairstyle that marvelously covers the problem. You can even get a mustache and a goat beard.
13. High and Tight
If you're looking for a stylish option that diverts attention from your receding hairline, consider the high and tight haircut. This haircut features shorter sides and back, while leaving a slightly longer length on top.
The high and tight creates a sharp and clean look that draws attention away from the hairline and towards the well-groomed top. It's a versatile haircut that can be adapted to suit your personal style.
14. Bald Fade haircut
For black men with receding hairlines, the bald fade is a versatile haircut that can work wonders. This haircut involves gradually blending the hair from shorter lengths at the bottom to longer lengths on top, creating a faded effect.
The bald fade draws attention to the top of the head, diverting the focus from the receding hairline. With its clean and polished appearance, the bald fade can elevate your style and give you a fresh and modern look.
15. The Shaved Head
If you're ready to embrace a bolder look, why not consider shaving your head? The shaved head is an excellent option for black men with receding hairlines. By completely shaving off all the hair on the head, you eliminate any concerns about a receding hairline.
It's a liberating choice that exudes confidence and showcases your facial features. Plus, it requires minimal maintenance, giving you more time to focus on other aspects of your grooming routine.
16. Caesar Cut
The Caesar cut is a classic and stylish option for black men dealing with a receding hairline. This haircut features short, horizontally textured hair on top with slightly longer lengths at the front.
17. Taper Fade
It is an excellent hairstyle for black men with receding hairlines. It is a low-maintenance, high-style cut that tapers from a longer length at the top to a shorter length at the sides and back.
The tapered sides naturally draw the eye upward, shifting attention away from the receding hairline. You can experiment with different lengths on top, from short and neat to longer and textured.
18. Undercut
This hairstyle is characterized by short or shaved sides and back with significantly longer hair on top. The contrast created by the longer hair on top and the short or shaved sides can detract from a receding hairline. The long top can be styled in numerous ways, including slicked back, swept to the side, or left natural and curly.
19. Pompadour
If you are an African American man with a receding hairline doesn't mean you can't have fun with your hair. The pompadour is a classic hairstyle that works great for black men with receding hairlines. This style creates volume on top, which can help draw attention away from the hairline. Plus, the slicked-back style can give you a more refined look.
20. Faux Hawk
The faux hawk is a more subdued version of the classic mohawk, but it's equally stylish. It involves a strip of longer hair running from the front to the back of the head, with the sides cut shorter. This creates a "hawk" effect that can draw attention away from a receding hairline.
Receding hair is a problem most men face at some point. Unfortunately, some of them have to deal with it sooner than they think. Because of that, black men found a lot of creative receding hairline haircuts that will help offset the problem.