Long curly hair has always been a way of expressing the good looks of men. Styling and maintaining long, curly hair can be burdening sometimes. A little guidance and specific choice of style, however, can change the game. How about we give it a try then?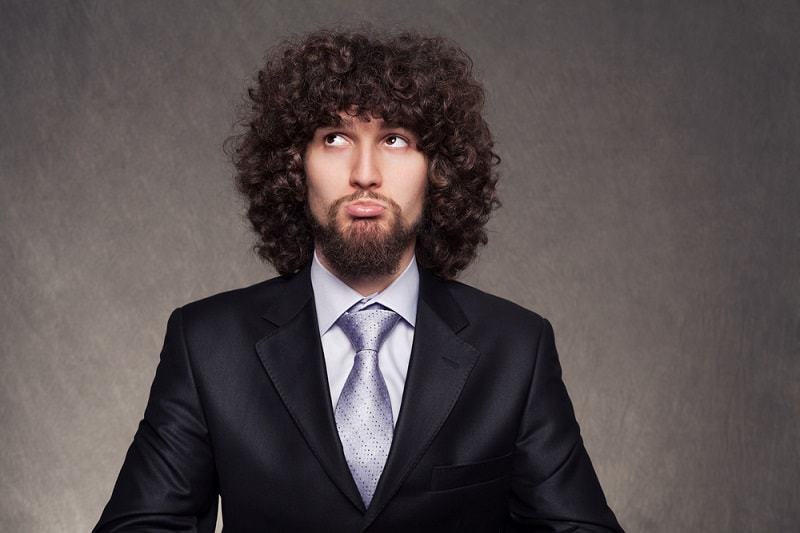 Men's Long curly hair can be styled in many different ways. It depends on how you want to style your hair, how long you want the length to be, and the extent of commitment you are willing to make. You can wear your long mane as a bun, or tie it up like a ponytail, wear it in braids or just style it in different tasteful ways.
The choice is yours. You will find a plethora of styles to choose from. More precisely, the plethora of "sorted" choices. This will be less confusing and more functional for men with long, curly hair to choose a hairstyle. Just pick your style and you will be all set!
Buns for Men with Long Curly Hair
Buns are manly and ooze a distinct appeal in a man's look and accentuate the beauty of man's long curly hair. It is also the most low maintenance and functional hairstyle for men with long hair. This costs very low, all you need is a hairband. You can also check these bun haircuts to get inspiration.
1. Tiny Curly Bun
For men with the moderately long mane of curly hair, tiny, curly buns can be a good hairstyle to put on. Tie it on the back of your neck and leave the tips free. The tips will curl and give it a semi-messy look. This hairdo is ideal for work or the classroom. And very easy to sport on run.
2. Loose Curly Bun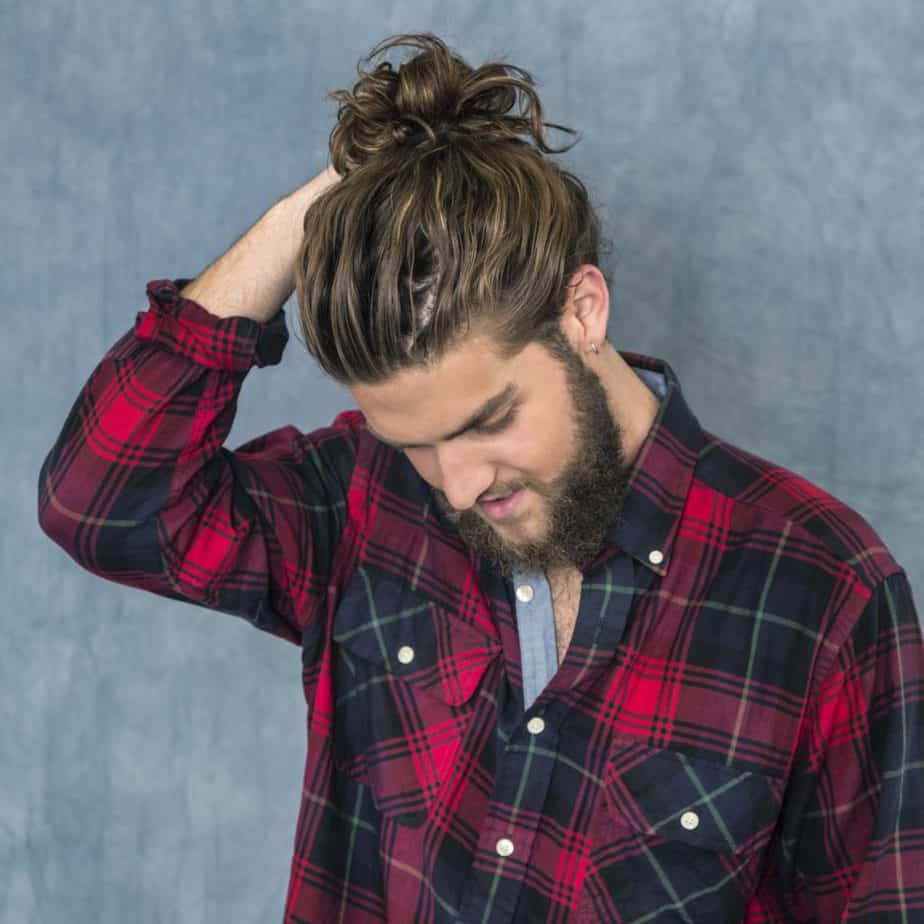 Loose buns add beautiful texture to men's long curly hair. It does take a little work through for a bun, but the result is satisfying. It involves tying a loose ponytail at the back of the head, then make a loose bun by tucking your hair in.
3. Messy Bun with Curly Long Hair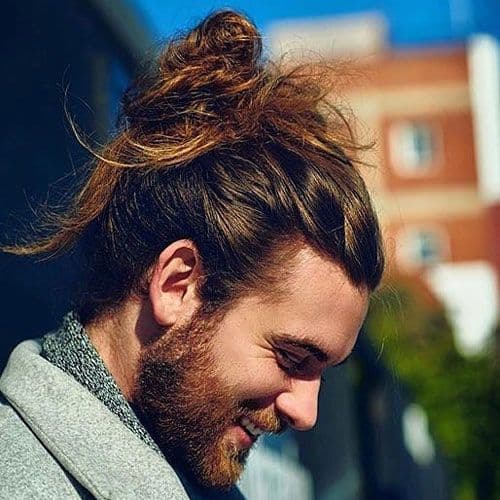 Messy buns give a man rather smoldering look. And men with long curly hair can sport a messy bun in the most artistic way. So far it is the easiest of the buns to put on. Just grab your mane and pull it into a loose bun at the back of your hair, no initial "ponytails" necessary.
4. Semi Bun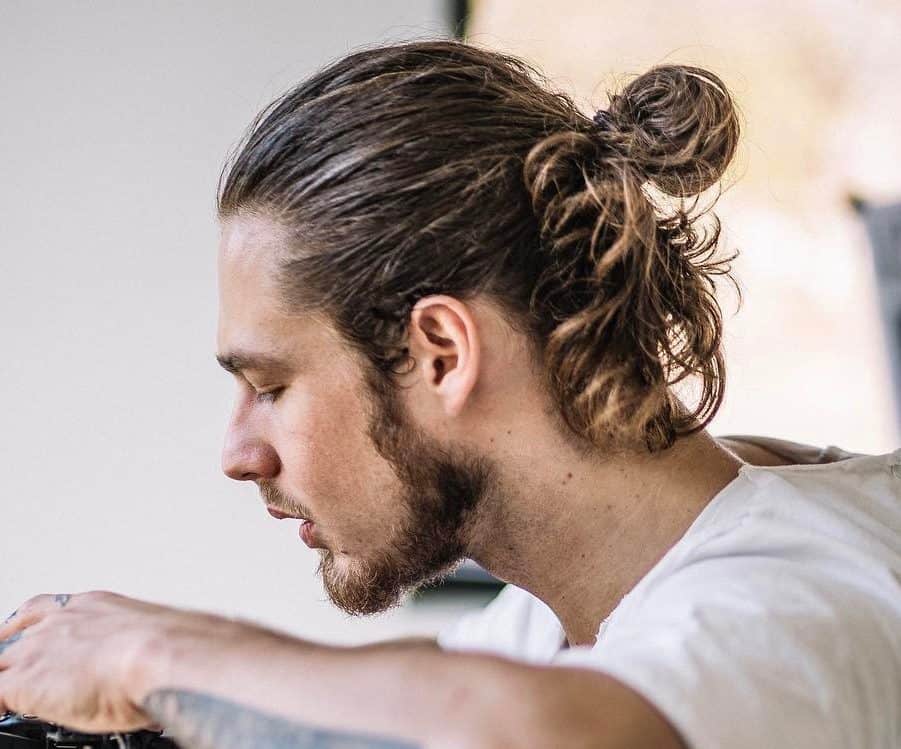 This one is for more of a relaxed and effortless hairstyle for long curly haired men. Loosely tie your hair in a bun without tucking the ends in. For a further smoldering look, frame your face by leaving some strands out in front.
5. Samurai Bun
Samurai hairstyles look good on men with long and curly hair. Even though some would argue that since this is an oriental hairdo, it would fit better with straighter or slick hair. However, Samurai Bun would suit any hair type if you are willing to give it a shot.
For long, curly-haired men, the tangible and wavy texture of the hair gives the hairstyle more personality and grit. At the same time, it is very functional as well.
6. Twist Your Waves in a Bun
If your hair isn't too long, you can twist those curls and make it into a low, relaxed bun. Divide your hair into two parts, make a ponytail of those two by joining those and tuck that into a low bun. Voila, your relaxed beach look is ready.
7. Slick and Smooth Bun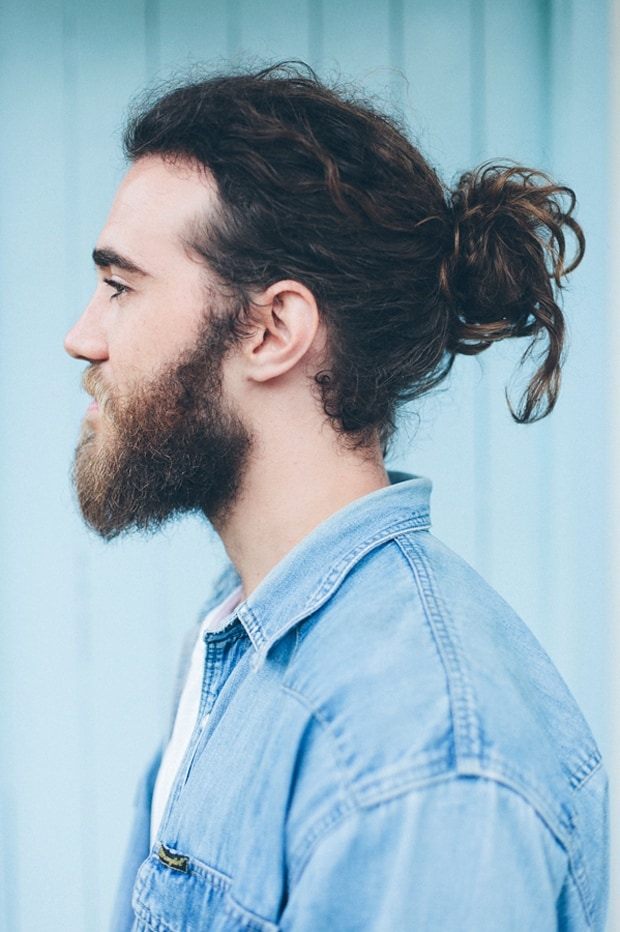 Sure, your hair is long and curly, that does not mean you cannot make it slick and war it in a bun. You can do whatever you want with your long, curly mane of hair. Use hair products to make it slick and smooth and then knot your curly mane in a bun at the back of your head. You've earned it!
8. Buns with Braid and Strong Side Part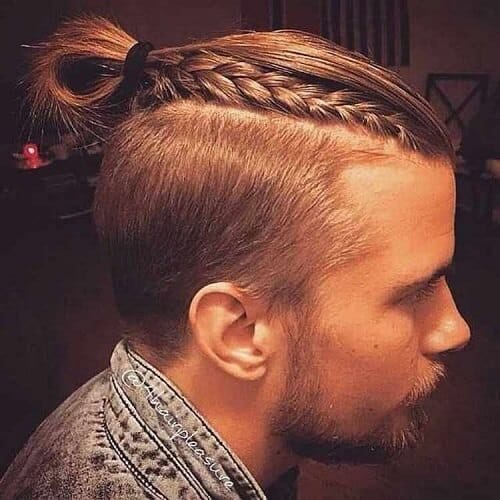 Stand out with your hairdo by braiding it and tucking the end of the braid in a top bun with the rest of the long hair on top. A strong side part will give your wavy or curly hair a gritty and impressionable look.
9. Dreadlock Buns with Bandana
This is a cool and impressionable dreadlock style that's easily manageable and great for sports activities. Or any work that requires your hair to be set in place. Not just your long curly hair's texture will make it unique, you can rock new bandanas now and then spice it up!
10. Corporate Buns
Who says man-buns can be "serious, manly look"? You can rock your long, hair in buns in very formal and impressionable look as well. Just choose the right way to tie your hair in buns. You can also rock informal or semi-formal looks with that as well. You might want to use some product to tame the curls or the waves for better, however.