The Quiff haircut has been around for some time since the 1950s. It trended even more after rock-and-roll was introduced into the music world. Then, the quiff became an icon of revolt, rebellion, and confidence among everyone who wore it.
Does this introduction pique your interest even more about what the quiff is all about? Read on to find out about the latest trending quiff haircut styles that you can try!
What is Quiff Haircut
This haircut can be described as a mix-and-match for pompadours, mohawks and flat tops, taking an element out of each of those styles. The results? A voluminous, amped-up look that suits most men regardless of their face shape, style or age.
A quiff usually features longer hair at the top and front areas which is swept upwards and backwards. The sides and back are typically short, although there are plenty of variations that you can choose from recently.
Your upswept hair can be messy, brushed or even straightened, making any quiff look versatile to suit the look that you are going for.
This is different from a pompadour, which is a much 'louder' style that demands more attention with its sleekness and glossy look.
Quiff Hairstyle Ideas
If you thought that we were going to let you off without showing different quiff hairstyles, you are wrong! Let's start with 10 of the most famous quiff haircuts, simply because they were worn by celebrities.
Famous Male Celebrities With Quiff Haircuts
In case you needed more reassurance to get a quiff haircut, here are some of the celebrities who rocked the style!
1. Justin Bieber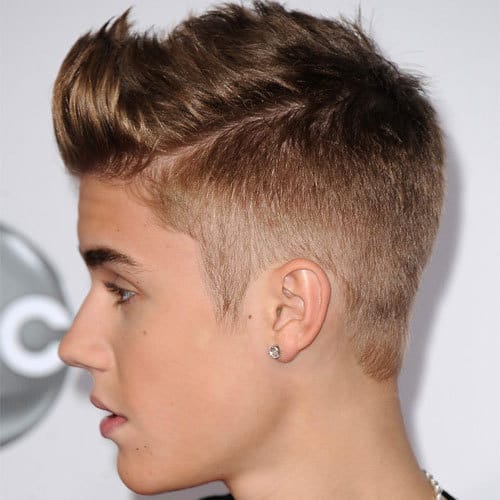 Remember Justin Bieber in his earlier, much younger days? Pretty much all of us recognized him by the quiff that he sported for most events that he went to. It's hard to miss this little quiff swept up and back!
2. Elvis Presley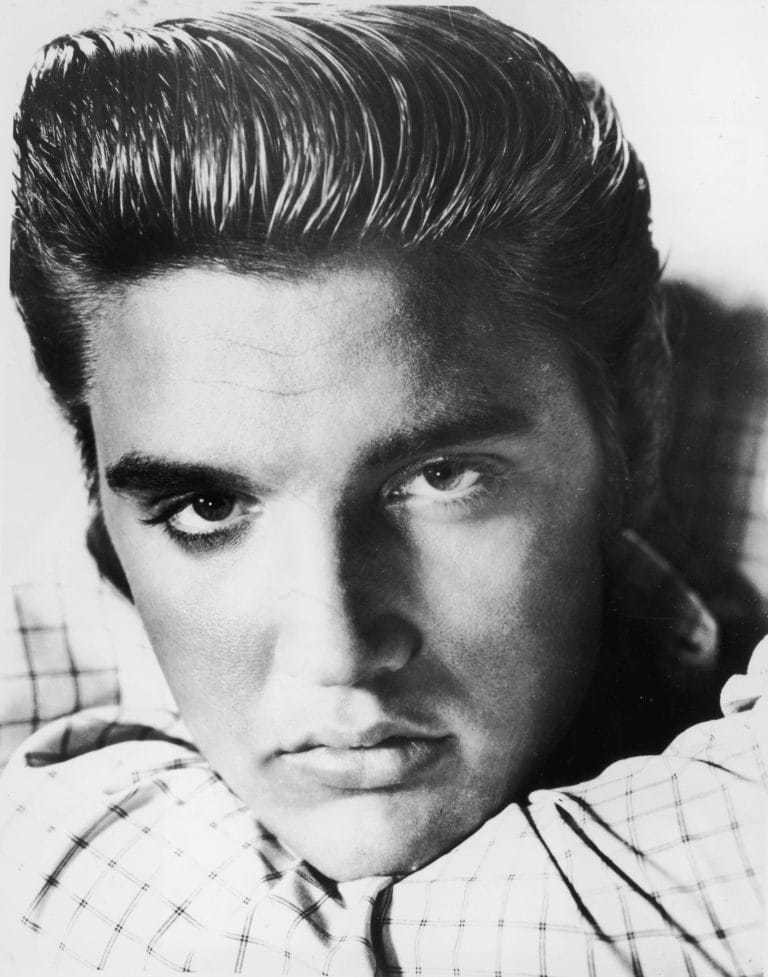 Elvis Presley, the king of rock n roll! He used to sport a neat, slicked back quiff as well. This could be one of the first few pictures of a celebrity with a quiff haircut that made this style so trendy for the era!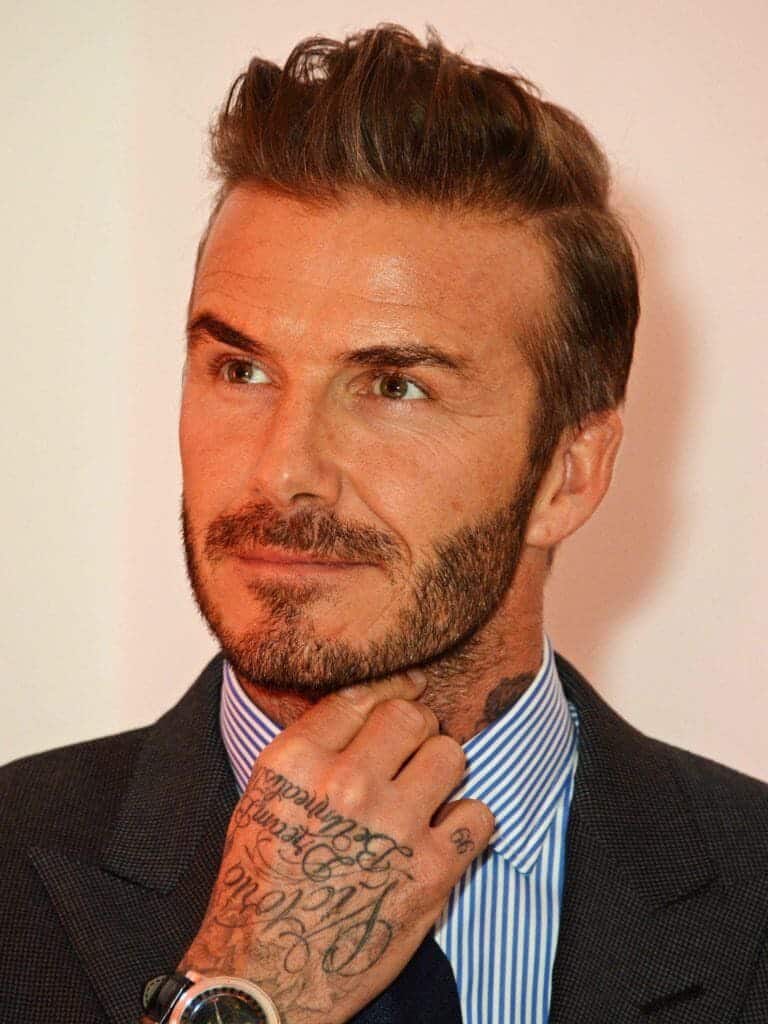 This footballer definitely has his messy quiff styled to look good! David Beckham rocked his quiff with some trimmed stubbles in this look. We have no questions asked!
4. David Gandy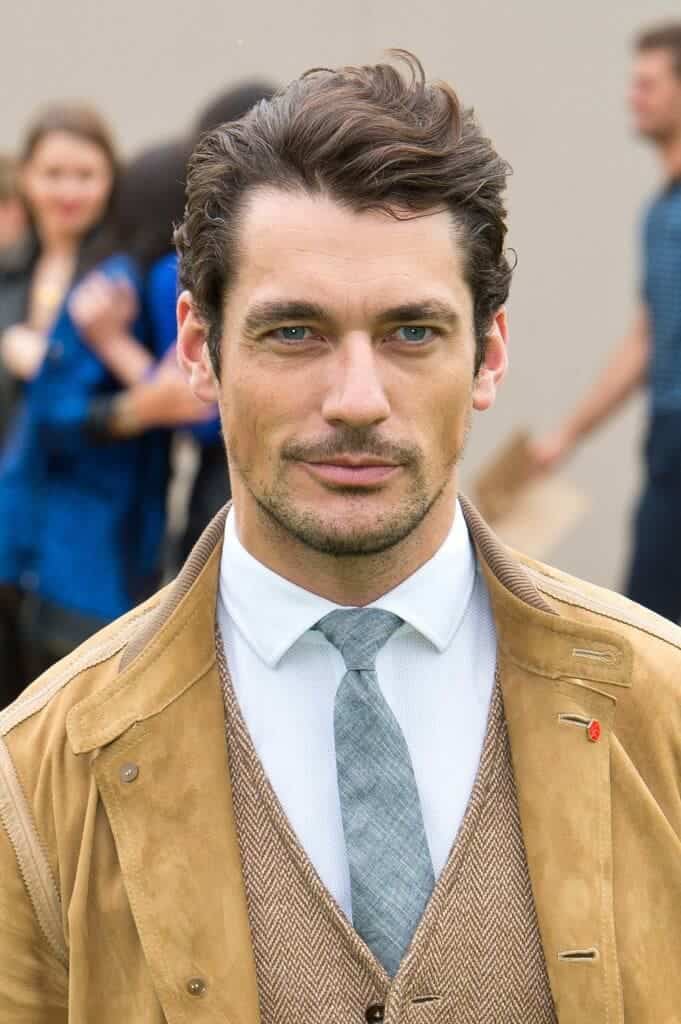 David Gandy wore his soft quiff well with the coat that he's wearing. The quiff appeared to have a wavy texture, giving him an overall gentle but stylish look that can be difficult to replicate.
5. Liam Hemsworth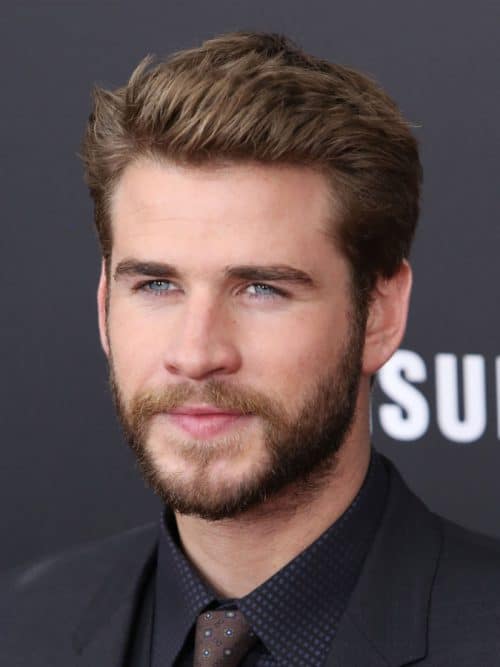 Liam Hemsworth sported a slightly toussled quiff for some of his movie appearances and more. The look paired well with some light beard as well. He certainly resembles his brother greatly, doesn't he?
6. Ryan Gosling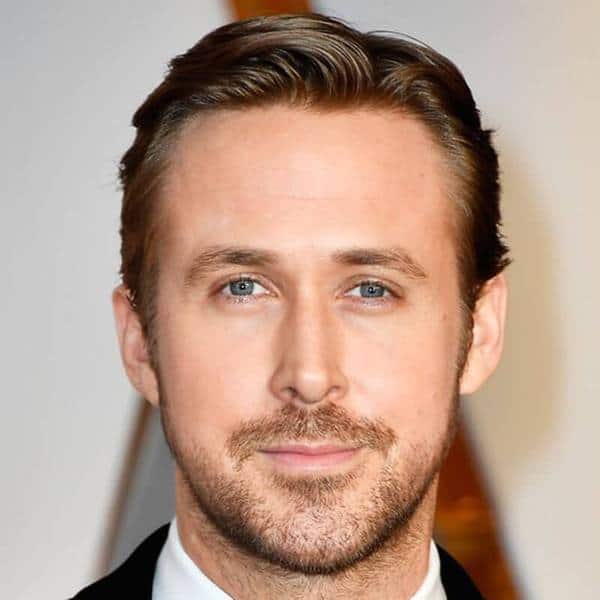 Ryan Gosling wore his quiff with a side parting and a glossy look. Even with the short haircut he maintained, the style still looked perfect on him!
7. Harry Styles

If we needed to have a picture depicting a messy quiff, this is it. A messy quiff gives off a very disarrayed appearance, but who are we to judge?
8. Conor McGregor

Even the famous fighter has sported a quiff. Are there any further reasons that you need to consider trying on a quiff haircut? McGregor's quiff haircut look is more tousled than others, presumably swept back with just his hands and a little gel.
9. Zayn Malik

This charming singer wore his quiff a little towards the side rather than having it swept up and back like the classic cut. We aren't opposed to the idea!
10. Adam Levine

Sugar? Yes, please! Adam Levine rocked a classic quiff haircut with medium length hair all around. The clean and neat quiff styling showed off his radiant face very well.
Different Types of Quiff Hairstyle
With celebrities' quiff haircuts out of the way, explore 35 other quiff haircuts below.
11. Swept Back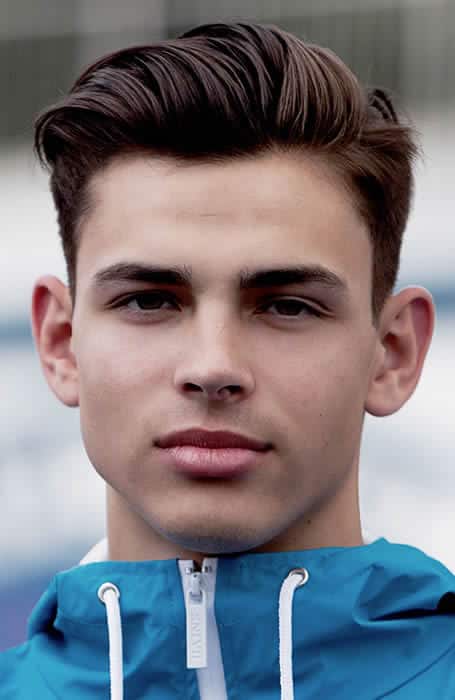 Here's your classic style for a quiff! Swept-back, glossy and looking all neat without any obvious stray hairs going all about.
12. Textured Quiff
Nothing can go wrong with a little texture in your hairstyle! This will keep your haircut looking sleek and you will be looking just as sharp!
13. A Modern Twist

Just like many other modern looks recently, there is no more telling which direction your haircut is going next. Is it going upwards? Curling backwards? No one really knows.
14. Messy Quiff, Don't Care

This style could be the perfect excuse for people with hair types that are a little difficult to handle. Keep rocking your messy looks and call if fashion. With enough confidence, no one will doubt you!
15. Curly Quiff

Your quiffs don't have to be straight all over. Style them by curling them inwards. It would still appear as a good look for this haircut style that you are going for!
16. A Side-Swept Look

The classic side-swept look would give off a nerdy appearance, and this look is enhanced even further with a pair of round glasses. We cannot deny that the stubbles made the entire look completely enticing to the viewer, however!
17. Messy Curly Quiff

Do you have natural curls? Do you not like the hassle of hairstyling? You can go for this look! Combine the messy and curly element to create this unique look and start your day looking all natural!
18. With a Fade
Why not pair your quiff with a fade? Depending on how you are styling your hair, you can pair the swept-up look with a high fade, medium fade or even a low fade. If you want to stay safe, just keep to a medium fade!
19. Thick, Voluminous Quiff
Have a liking for the extravaganza and fashionista style? Capture attention with your high and voluminous hair, which could be greatly enhanced if your hair is naturally thick. It might need quite an amount of styling paste!
20. The Old but Gold Classic
You can never go wrong by going back to basics. The classic swept-up-and-back look usually creates a gentle textured look. Pair it up with a natural-like parting at the side and you're all good to go!
21. A Textured Undercut Pairing
If you want to be more adventurous, you can pair your quiff with an undercut! Keep your long top textured to focus your viewers' attention towards your rich crown and the effort you put into styling your hair that morning.
22. Classic Short Quiff
Don't believe anyone if they told you that short hair will not look good with a quiff. You can still achieve the classic look even if your hair is short! Style it up with some gel for a glossy and slicked back look. This is usually a style typical of the older English town.
23. Quiff with a Side Part
Get that classy gentleman look by pairing your quiff with a side part! If the picture doesn't already tip you off, You can most definitely master the elegant look even further by styling your hair for a glossy finish and some stubbles that aren't too wild. Add on with a suit for best effects!
24. Rockabilly Quiff

Get into the rock n roll mood with a rockabilly quiff to show your love to the 80's. To be fully immersed in this look, pair up your hairstyle with a leather jacket and everything else associated with the music genre! Rock on!
25. Psychobilly Quiff
Perhaps the more hipster type of hairdo, this unique haircut style requires a different hair length from the front to the back. The further back you go, the shorter your hair gets! Style them all up with the same quiff manner and you will get yourself a nice psychobilly look.
26. A Side Quiff

To be fair, no one said that a quiff needs to be exclusively swept back or anything. A version that is swept toward the side might look even better than the classic version! If anything, it does give off some extra charm.
27. Blond & Sharp

Maintain your sharp looks even with blond hair! This picture just proves that a quiff haircut can look good with any hair colors – it doesn't need to be black or dark brown. If you are feeling adventurous, you can even go for a brighter color!
28. Short Spiky Quiff with Designs

Remember, your haircut style can always be spiced up with some razor lines and designs! This particular style has been paired with line-ups and designs in the high fade. These razor lines are also present in the beard and mustache. Such simple lines can definitely attract attention!
29. Quiff with a Shape-Up

Highlight your quiff with a shapely line-up for your hairlines. For this particular style, the line-up isn't too obvious. Nevertheless, it has been trimmed just sufficiently and neatly enough for this guy to appear like a boss.
30. Wavy Texture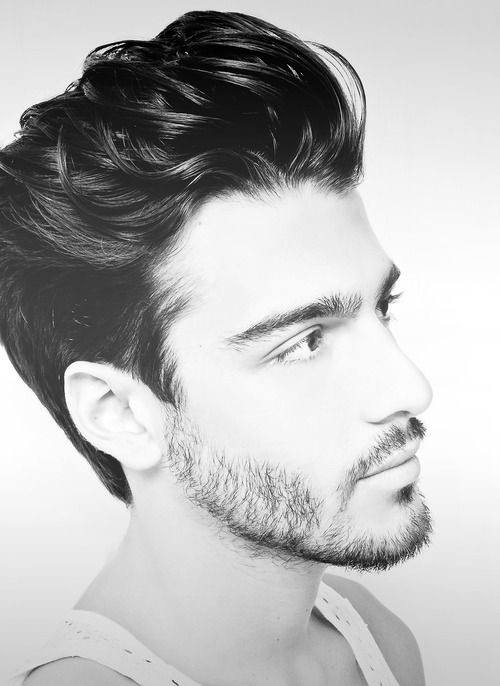 Keep your wavy game on with these gentle curls! Your hair can look just as stylish even if it isn't your classic spikes and gloss. This style would look good even without the stubbles, so you won't need to worry about trying to grow your own beard or anything.
31. Elegant
Here's what those waves can do – it can bring your elegance to a higher level – beyond your expectations. You'll be getting plenty of plus points if your stubbles are uniform and evenly short.
32. Modern, Tousled Quiff

Who are we to judge fashion, am I right? Get a nice gentle and tousled look with your out-of-bed hair and if you're feeling confident in it, carpe diem by all means! Even the quiff is in a disarray in this look.
33. A Voluminous High

This is what we like to call the typical frat-guy look. You might also see guys sporting this haircut in a night club, or anywhere else where you are ready to have fun. Style your quiff up high and give an illusion of volume with some strong holding gel!
34. All Brushed Up!

Okay, there may have been some bed looks in the previous photos, but this one takes the cake. There is no gel or pomades involved in this – only a simple brush swept upwards and really dry-looking hair. It can be a good look for a pajama party though!
35. Textured with Short Sides
Here's one for the texture fanboy inside you. Go for a manly look with ease by sporting a textured quif and tapered side. A good length of facial hair would suit this haircut extremely well too!
36. With a Forward Fringe

Do you prefer the funky style? Style your quiff with a fringe that flops forward at the end, and just let it go! As you can see from this picture, the exposed hair at the bottom of the quiff shows the hair's natural color. It still looks really good, and could potentially look better than had it been just utilizing a single color.
37. Feathery Quiff
Make your hair strands appear all feathery by using some hairspray. Your hair would appear quite static, but it is sure to be held in place for quite a while. Just don't go to a pool party or all your effort is going to be literally washed away!
38. With a High Skin Fade

What better way to put the focus fully on your lengthy top than cutting off the sides completely? Use a skin fade to make your hair appear longer at the top, whichever direction you choose to sweep your hair towards later on.
39. Platinum Shine

This relatively-spiky look is sported with such a gentle color that the look can be said to be contrasting itself! Pair gentleness and some rebellion together in this style to create your own unique angsty teen look.
40. Layers Formation

We are definitely interested in the hair product that he is using to keep this style. We also salute the hairstylists! The quiff in this style is done in such a way that it appears endless with one layer overlapping the next. The sharp line-ups for the hairline and fade adds on to the overall charm as well.
41. Smooth High Fade
If your hair is already smooth and sleek, you can enhance the effect even further by adapting a fade style that blends in well. Rather than going for the contrasting disconnected look, this style will complement your lengthy top to create a unique uniformity!
42. Taper Add-on with Designs

We have seen fades, and then there's this. This style is paired with a taper and subtle fades here and there. What catches the eye the most are the two razor lines at the back, cut so sharp that one can't help but to notice them first from the back!
43. Thick & Wavy
If your hair is thick, you might find it a little difficult to create a quiff look. This is why you can opt for a thick, wavy appearance to pair with the element you have in mind, and your hair will appear neat and stylish both at once!
44. High Side Swept Quiff

We love the subtle contrast between the quiff and the rest of the hair along with the facial hairs. By highlighting his quiff brown, the high side-sweep is further enhanced and appears to complement the entire hairdo well.
45. Medium-Length Tousled Quiff

Want to keep your hair easily manageable but stylish? A medium length hair is the best for you. You can make your hairdo appear much more natural with a slightly tousled look just like the one shown in this picture.
How to get The Desired Quiff Look
Depending on how you want your quiff to look, you can have several different styling aids to choose from. Traditionally, the best styling aid to create a quiff is a high-shine pomade, which can give your hair a shinier appearance but could also feel oily to the touch. It might be difficult to wash off as well.
Prefer your hair to look more natural without all that shine? Use a styling paste! This paste is translucent to help your hair show its natural shine. Of course, you can use this paste to help you keep your quiff in place as well.
If your quiff is a little more exaggerated and needs a lot more holding power, hairspray is your best friend. Hairsprays can give your hair a good, firm hold without needing to fill your hair with hair products. It can also be applied quickly, giving it an upper edge.
How to Cut a Quiff Haircut?
This classy look requires very little complex cutting styles! As long as you got a nice medium fade going on and blend it all well, you're doing good. Refer to the section below to learn to style a quiff from home by yourself!
Get a close buzz – perhaps a #1 or #1/2 at your necklines
Work your way up with a medium fade
Take care to blend your sides and top carefully without any disconnection
Keep your hair at the top around 3 inches long or more.
What to Ask for A Quiff Haircut
After you have cut your hair according to the instructions above, you can proceed to style your quiff by following the guide below.
Make sure that your hair is clean and towel-dried.
Apply a high-heat setting on your blow dryer and direct the heat towards the top of your head.
Use the texturizing salt spray on your head. Keep it about 8 inches away from your head and spray it around.
Blow-dry your hair upwards with the help of a brush to give your hair the extra height needed for the quiff style. Having someone to help you with this step would be helpful!
Use texture paste to preserve your quiff hairstyle. This should also help to preserve some of the volume you produced during the blow-drying process as well.
How to Maintain A Quiff
There is little maintenance required for the quiff haircut beyond the routine trimming and some styling wax to help you preserve the look. This is primarily due to the fact that a quiff is a lot easier to take care of than something such as a pompadour or a blending fade which will require plenty of routine trims and cuts.
Quiff vs Undercut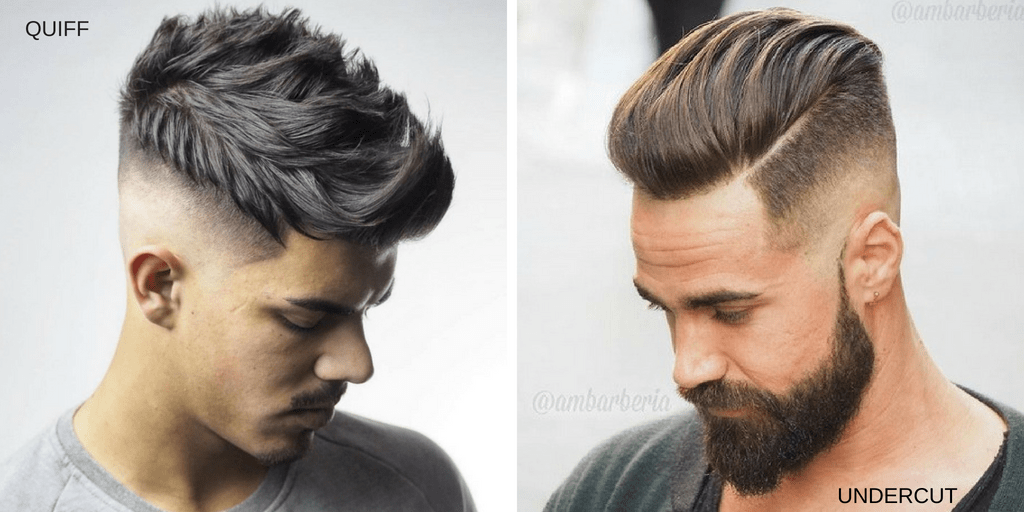 Comparing a Quiff to an undercut is similar to comparing a car's windshield and the engine – they are hardly related! An undercut refers to the shorter haircut at the side or the back which can be in the form of a fade or simply as a buzz cut. A quiff meanwhile refers to your hair styled upwards and/or backwards at the top of your head, usually much longer than the sides.
We hope that you have found a quiff haircut that you have taken a liking to on this list. A quiff is very versatile, and can be paired with various other haircut elements – line ups, razor lines, fades and so many more. Just don't confuse them with pompadours when you ask for a quiff! If you have tried out any of the haircut styles that we recommended in this list, let us know how it looks for you in the comments!