We know, if you're a man, you have probably never considered pink for your hair color. But there are so many reasons why you should!
First, it's a color choice not often seen on men, meaning you'll stand out that much more. Second, it's a punk and edgy fashion choice that'll show the world you're bold. And third, almost any man can pull it off!
Bold Pink Hairstyles for Guys
Whether you color your whole hair pink or just throw in highlights, experiment to make the hair color your new favorite. These 11 pink hairstyles for men will prove why you need to give it another thought!
1. Pastel Pink Hair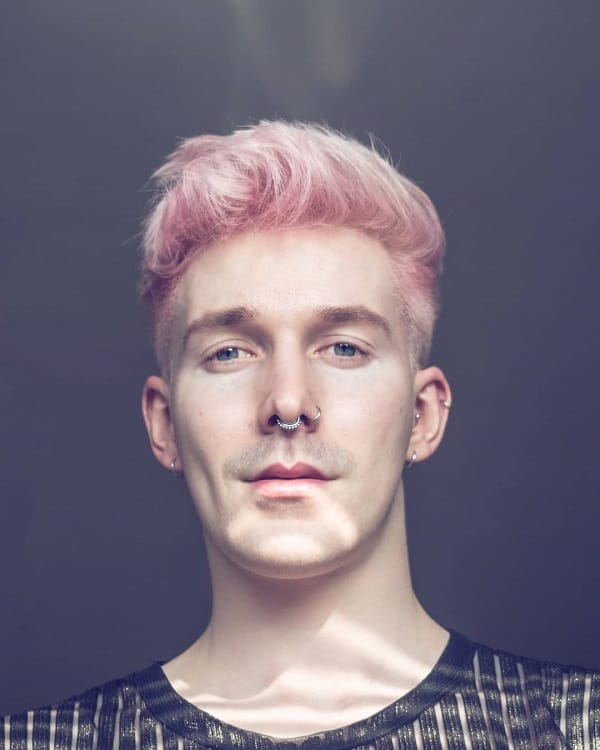 A pastel pink brightens up any haircut and will typically flatter any skin tone. You know what they say, real men wear pink!
2. Light Pink Hair Color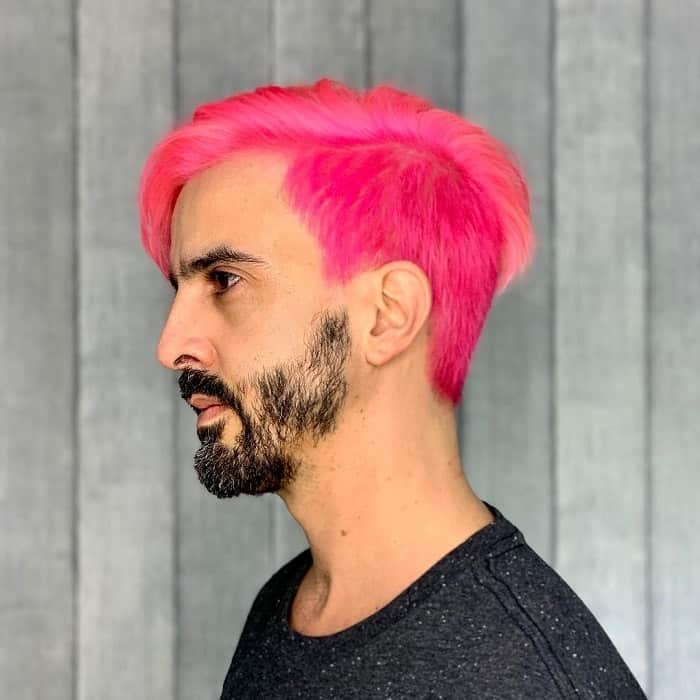 A hot pink hair color is a stark contrast to the dark color facial hair presents but if you're looking for an edgy hairstyle, this is it!
3. Pink And Blue Hair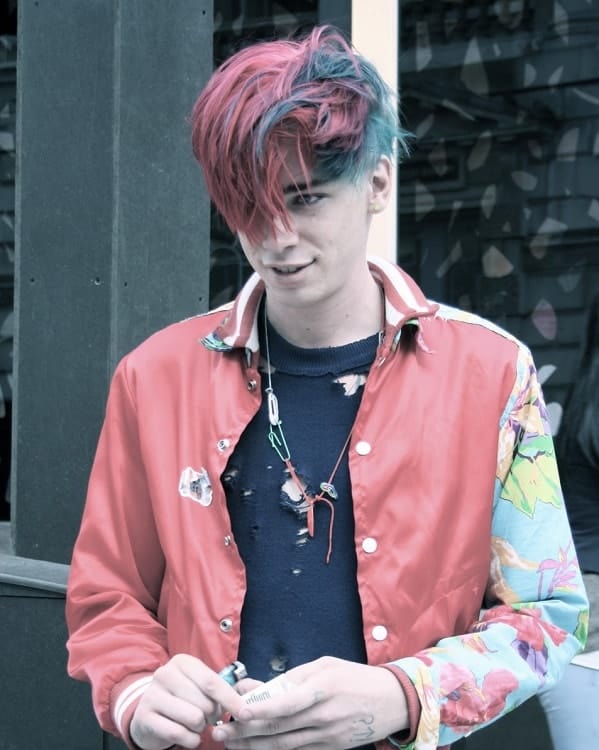 Pink and blue hair color mix together to create a cool blend for a long straight haircut. Choose any color combo and your hair will be a hit.
4. Asian Pink Hair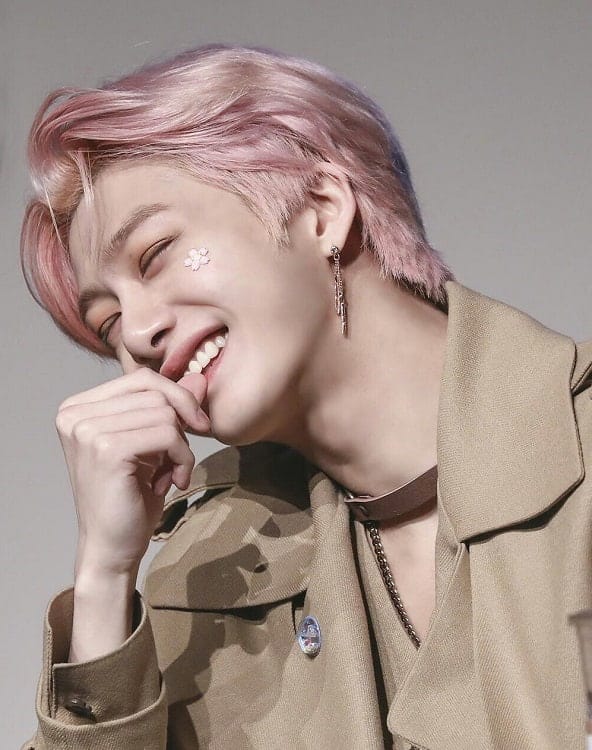 Go bold, my dear Asian men! Let's stir things up with a unique combination of your naturally dark hair and striking pink hues. With a blend of soft pink and bold magenta, men with pink hair color can effortlessly pull off a standout look that complements Asian skin tones. This style has an animated, edgy appeal that is sure to turn heads. Just keep in mind to use color-protecting shampoo to keep that pink vibrant.
5. Black Man with Pink Hair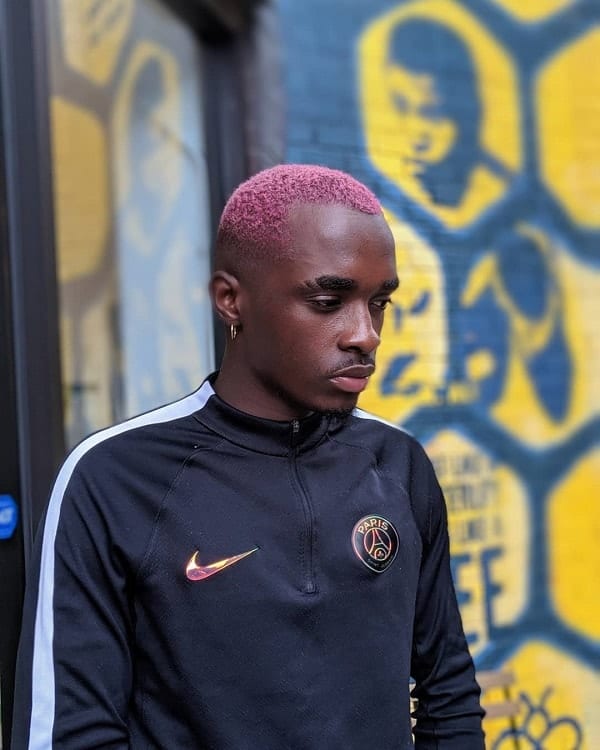 Step into the spotlight with a rich pink hue that makes a statement. For black men, pink hair color is not only stylish but also a great way to express individuality. Pair it with a cool fade or tight curls to make the pink pop. Pro-tip: if you're going for pastel pink, be sure to consult a professional to achieve the best results without damaging your beautiful locks.
6. Guys With Pink Highlights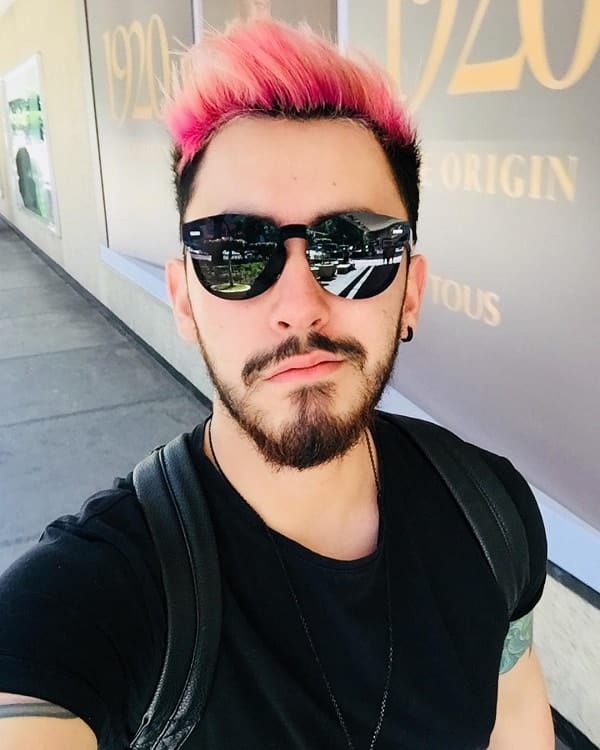 Not ready to go full-pink yet? No problem. Spice up your current hairdo with some stylish pink highlights. It's like dipping your toes into the pink pool without taking the full plunge. Guys with pink highlights can rock a cool and understated look. The subtle streaks add an element of surprise and are perfect for both casual and formal settings.
7. Men's Rose Gold Hair Color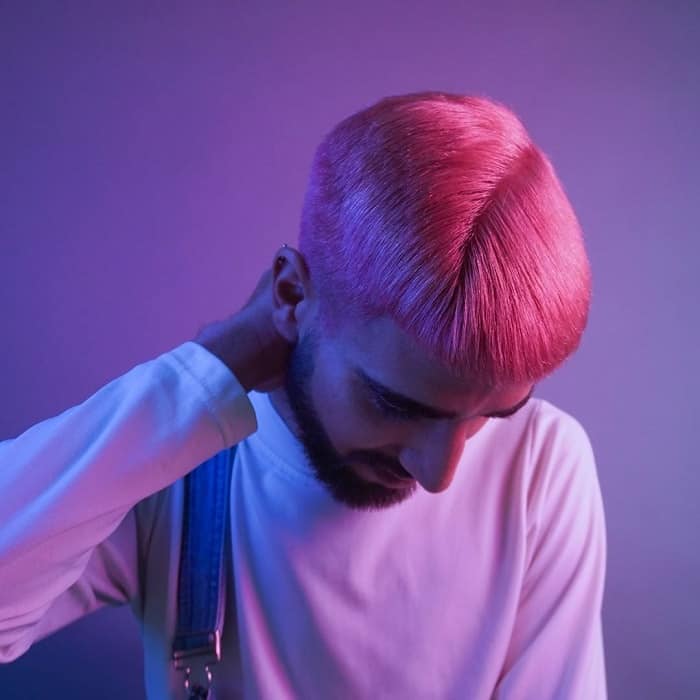 Ah, rose gold – the epitome of classy with a hint of sass. The rose gold hair color is like having a perpetual sunset on your head. It's elegant, modern, and absolutely mesmerizing. This hue is perfect for men who want to experiment with pink but prefer a more understated shade. Pair it with a sharp outfit and you're golden – or shall I say, rose golden!
8. Pink Hair + Beard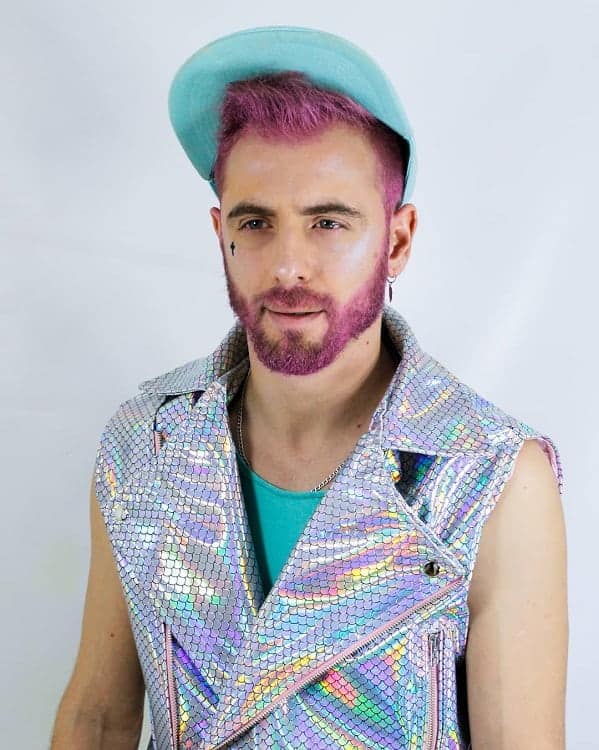 What's more manly than a beard? A beard with pink hair, of course! This combo is for the adventurous man who's not afraid to be the center of attention. The contrast between the rugged beard and the soft pink hair color is bound to make you stand out. The key is to keep the beard well-groomed to complement the vibrant hair.
9. Hot Pink Hair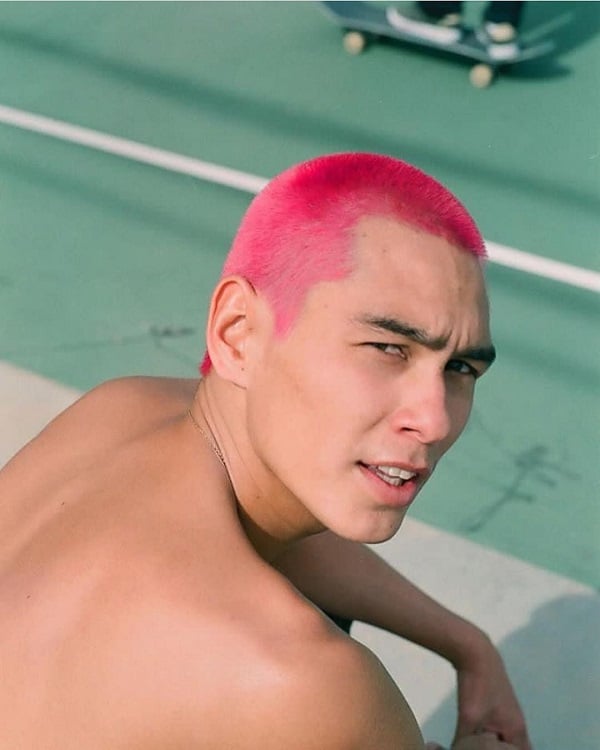 Set the world ablaze with hot pink hair. This vibrant shade is for the bold and the daring. Hot pink is audacious, fun, and full of life. So if you're looking to make an entrance, this is the way to go. This intense shade works well with various hair lengths and styles. Just remember, with great pink comes great responsibility – maintenance is key!
10. Pink Emo Hairstyle for Men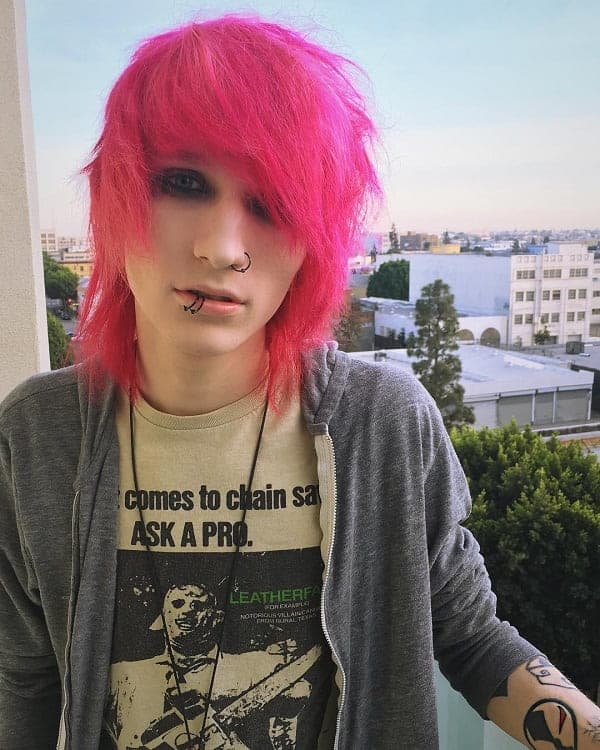 Bring out the emo vibes with a dark pink hue. Long, straightened hair with pink shades speaks volumes without saying a word. The pink emo hairstyle for men is a nostalgic nod to the early 2000s, but with a modern twist. Whether you're going for brooding and mysterious or soft and sensitive, this style covers all bases.
11. Merman Hair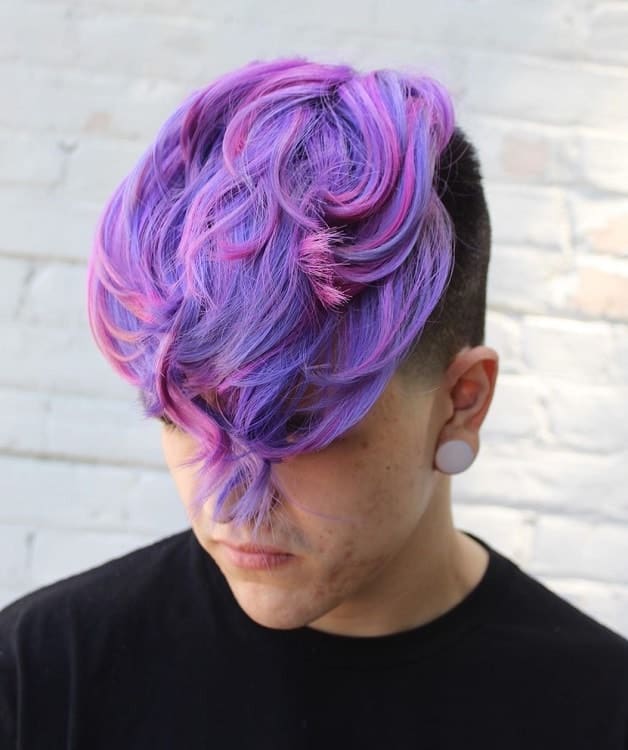 Dive into the depths of color with the Merman hair trend. This one is for aquatic adventurers. Think shades of pink mixed with blues and greens, reminiscent of the ocean.
Merman hair embraces a sea of possibilities and is the epitome of fantastical pink hair colors for men. Grab your trident and embrace your inner Poseidon.
12. Pastel Pink Perfection
Embrace the softer side of the color spectrum with pastel pink. Pastel pink is like a soft whisper in a crowded room – it's subtle but captivating. It's a great option for men who want to experiment with pink without going overboard.
The delicate shade can be paired with a variety of styles, from sleek and straight to curly and wavy. For an added touch of finesse, try incorporating subtle lowlights in a slightly deeper pink or even lavender.
13. Punk Rock Pink Mohawk
Unleash your inner anarchist with a punk rock pink Mohawk. The iconic Mohawk takes a colorful twist with bold pink shades. This style is not for the faint of heart. It's rebellious, edgy, and screams confidence.
For an authentic punk look, add some texture and volume to the Mohawk with a high-hold gel, and don't forget the studded leather jacket to complete the ensemble.
14. Pink Ombre Waves
Surf's up with pink ombre waves! The gradual transition from your natural hair color to various shades of pink creates a surfer-dude-meets-rockstar vibe.
Ideal for medium to long hair, the waves add volume and movement to the look. Use a sea salt spray to achieve those perfect beachy waves, and remember to protect your colored hair from the sun's rays.
15. Cotton Candy Twists
Get a taste of the sweet life with cotton candy twists. Perfect for men with natural curls, this style combines light pink hues with twisted curls, reminiscent of everyone's favorite sugary treat.
To achieve this fluffy look, twist your damp hair with a curl-enhancing product and dry it using a diffuser attachment. Keep your twists soft and bouncy with moisturizing hair products.
16. Two-Toned Pink
Double the fun with two-toned pink hair. Why settle for one shade when you can rock two? Choose contrasting shades of pink for a dynamic look or go for adjacent hues for a more harmonious blend.
Experiment with different placements of the colors, like having one shade at the roots and another at the tips or even splitting your hair down the middle with two shades. It's all about creativity!
17. Pink with Silver Undertones
Step into a fairytale with pink hair laced with silver undertones. The silver adds depth and a touch of elegance to the playful pink. This combo is versatile, making it suitable for both casual and formal settings.
Use a silver or violet shampoo to keep the silver undertones vibrant. Combining the silver's sophistication with the pink's vibrancy will make you feel like you've stepped out of a fantasy realm.
18. Pink Panther Sleek
Channel the mysterious charm of the Pink Panther with this sleek style. Smooth, polished, and cunning, this hairstyle is for the suave man. Keep the hair straight and glossy, with the pink shade making a stylish statement.
Use a high-quality serum for that extra shine and pair it with a sharp suit or tuxedo. You'll be ready to solve mysteries or attend a gala with the grace of the infamous Pink Panther.
19. Neon Pink Burst
Illuminate the room with a neon pink burst. This electric shade of pink is perfect for the audacious ones among us. The neon pink is so vibrant that it almost glows, giving your hair an otherworldly aura. Style it with an undercut to add even more edginess. But beware, this color requires commitment as it demands regular touch-ups to keep its brilliance.
20. Pink Balayage
Subtlety meets style in the form of a pink balayage. This technique involves painting the pink dye onto the hair in such a way that it creates a gradual, natural-looking transition from your natural hair color to pink. The outcome is a seamless blend that looks both sophisticated and effortlessly cool. It's also a lower maintenance option for those who aren't keen on frequent salon visits.
21. Raspberry Pink Tint
Indulge in a delectable raspberry pink tint. This shade is deep and rich, reminiscent of the ripe berries. It's perfect for adding a touch of romance and mystery to your look. Raspberry pink works wonderfully on curly or wavy hair, giving it a lush, voluminous feel. Don't forget to smell like the part by adding some fruity hair products to your routine.
22. Punk Pink Faux Hawk
Who said punk couldn't be chic? Combine the rebellious spirit of punk with modern style in a punk pink faux hawk. Unlike a traditional Mohawk, the faux hawk features shorter sides, making it more wearable for various occasions. Spiking the pink locks in the center will lend a sense of defiance, while keeping it slightly tousled can be more sophisticated. Your hair, your rules!
23. Pink Frosted Tips
Take a nostalgic trip back to the 90s with pink frosted tips. This style involves lightening the tips of the hair and then applying a pink dye for a playful and youthful look. It's particularly effective on textured or spiked hair, where the pink tips can create a striking contrast against your natural color. Add some sunglasses and baggy pants, and you're ready to bring the 90s back!
Male Celebrities With Pink Hair
24. Jaden Smith's Eccentric Pink
Let's talk about Jaden Smith, the epitome of eclectic style. He effortlessly rocks a twisted, dreadlock-inspired look with pink hues. His hair is usually medium-length, allowing the pink color to seamlessly blend with his natural hair. Jaden's fearless approach to fashion and style makes this look both daring and iconic.
25. Zayn Malik's Pink Buzz
Zayn Malik is known for his ever-changing hairstyles, and his pink buzz cut is no exception. He pairs the short, buzzed hair with a bold yet understated shade of pink. This look is both edgy and minimalist, which means it's easily wearable whether you're on the red carpet or just grabbing a coffee.
26. Machine Gun Kelly's Punk Pink
Machine Gun Kelly (MGK) rocks the punk scene with his long, messy pink hair. The strands are dyed a vibrant shade, which he often styles into loose waves or spikes. This electric style screams rock star status and matches MGK's energetic stage presence.
27. Jonah Hill's Subtle Pink
Jonah Hill surprised everyone when he stepped out with pink hair. He opted for a more subdued shade, almost a wash of color over his naturally curly hair. This style shows that even a small change in hair color can make a big statement, especially when it's an unexpected shade like pink.
28. Jared Leto's Pink Ombre
Jared Leto, the master of hair transformations, once graced the red carpet with long, flowing locks that transitioned from his natural brown to a rosy pink. The ombre effect was subtle and gave his hair a dreamy, ethereal quality. This style perfectly complemented his bohemian fashion sense.
29. Pharrell Williams' Pink Highlights
Pharrell Williams knows how to make a style statement, and his venture into pink hair was no exception. He added thin streaks of pink throughout his blonde hair, creating an unexpected pop of color. This playful touch added vibrancy to his style without being overpowering.
30. Justin Bieber's Pastel Pink
Justin Bieber has experimented with various hair colors, but his pastel pink was truly a standout. The soft pink was styled in a tousled manner, giving him a laid-back yet stylish appearance. This look was youthful and fresh, in line with his pop star persona.
31. Kanye West's Pink Streaks
Kanye West, always one to make a fashion statement, went for an edgy look with pink streaks in his blonde hair. The contrast between the platinum blonde and the hot pink streaks created a dynamic and attention-grabbing style that only Kanye could pull off with such aplomb.