Sweeping the nation for the last year or two is the faux hawk (fauxhawk) or fohawk hairstyle. This newer version of the Mohawk hairstyle which was so popular in the 1980s does not involve cutting the hair so drastically on the sides of the head.
A simple slightly shorter cut to the sides and back with the hair somewhat longer on the top of the head allows for the faux hawk hairstyle to be easily manipulated into shape with a touch of gel or wax. Simply smooth the sides back, ease the top into a tapered point and you're done!
How to Cut and Style A Faux Hawk
Cutting a faux hawk is a fairly simple matter. The sides of the hair are cut shorter while leaving a band of longer hair up to the middle. The advantage of this style is that it can be worn in a more conservative manner for working and restyled into the faux hawk at night for going out.
The hairstyle is easy to maintain with a regular trim. And you can style it in minutes. The video below shows you how to get a faux hawk haircut for men.
Popular Faux Hawk Hairstyles for Men
Following are the most updated fohawk hairstyles for men.
1. Front-Swept Hawk
Let's start off with a classic faux hawk hairstyle. Well, maybe it's not so classic—there's a fade happening on the sides, leading up to a slightly longer crop, which transitions into the actual fauxhawk. I love the swept-forward 'do—there's always something a little impish and badass about it.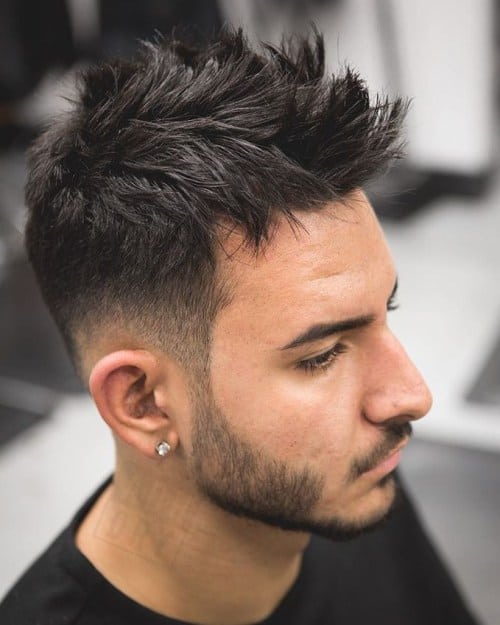 A few layers add dimension and depth to your faux hawk—alternately, and cleverly, known as a fohawk, by the way. Texture creates instant bedhead, plus it gives you the chance to mess around with a variety of styles.
Technically speaking, this is more like a real mullet, but the curls are kept short, and you don't shave it to the scalp. I prefer the fade, and that hard line is a magnificent detail. Those curls, though—I die.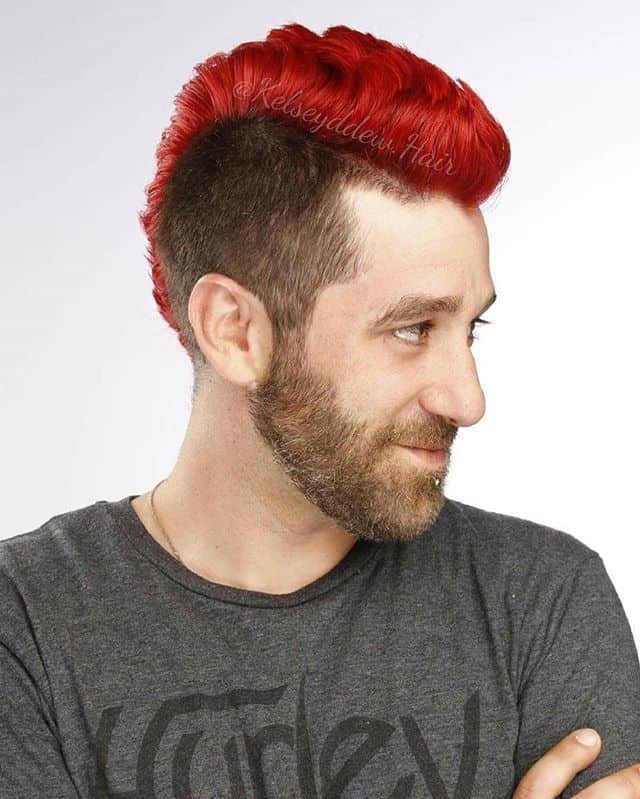 Why not have some fun with your faux hawk hairstyle? Dye the longer hair with daring hair color to get punk hair look. Red catches the eye, but it's a safe choice. Experiment with a hue that no one expects from you.
5. Tousled to Death
You'll have women—or men—running their fingers through your hair from the moment you step out with this cut. It's tousled to perfection. Seriously, that's flawless. The fade is an eye-catching touch, particularly with that hard line.
6. Classic Fohawk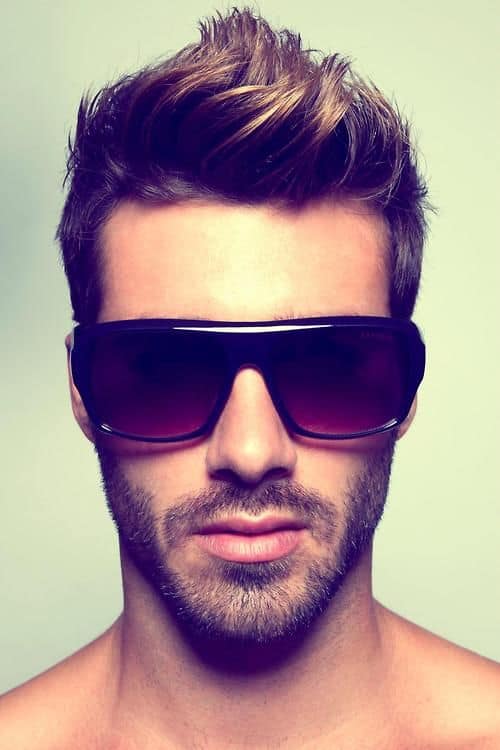 Feast your eyes on the traditional fohawk haircut in all its messy, stylish glory. Note the hair that remains along the temples. That's the hallmark of a genuine faux hawk. The long hair then spikes upward, inward, and slightly backward.
7. Swooped 'hawk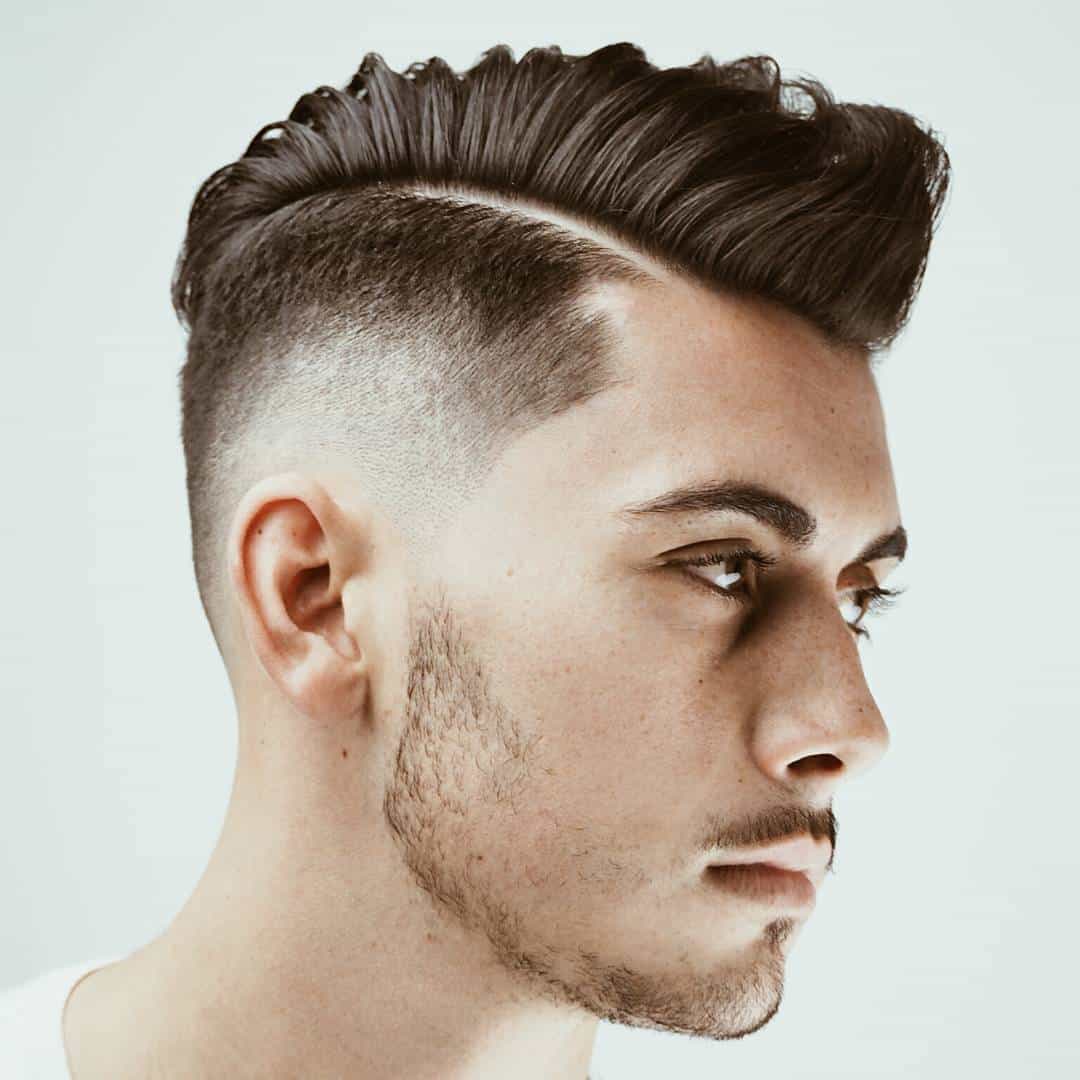 This is a faux hawk hairstyle that has undercut aspirations. Instead of combing your hair to the side or straight back, however, you style it upwards with the faintest hint of a short pompadour with undercut.
8. Embellished and Edgy
Check out that flawless design. That's art. You couldn't make that more perfect if you followed a stencil. The fohawk is a classic, as well—short, tidy, and slick as hell.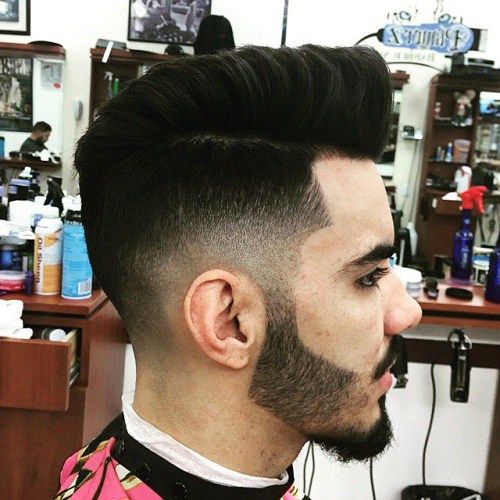 The undercut and the faux hawk honestly are a match made in heaven. His fade is sick, too—the gradient is on-point.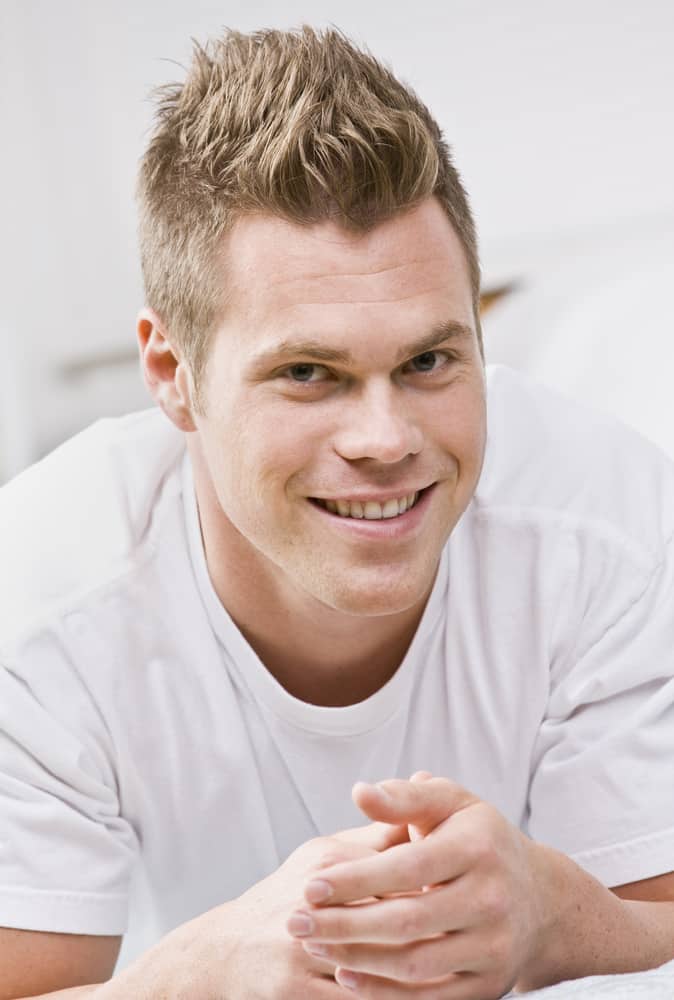 Here's another perfect example of a faux hawk hairstyle in its original form. It's all about the shape of the hair on the type. Remember inward, upward, slightly back.
11. Splendid Hawk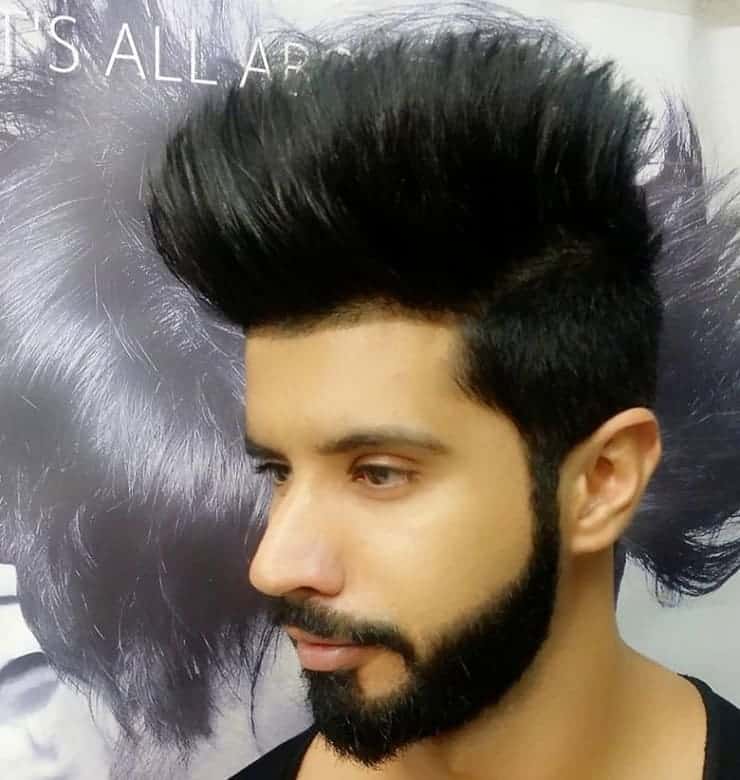 Guys who do not want to compromise on their hair texture and length, but still want a modishly excited look can opt for this one unhesitatingly. Long hair and beard, tapered sides, and hulky top make a tame combo altogether. Blow dry and pomade will help you get the desired texture.
The one who always does justice with fohawk is David Beckham. He always keeps the hairstyle very proportionate that looks extraordinary on his face shape. You can keep this look messy or combine the refined top with a fade but must grow stubble for a macho outlook.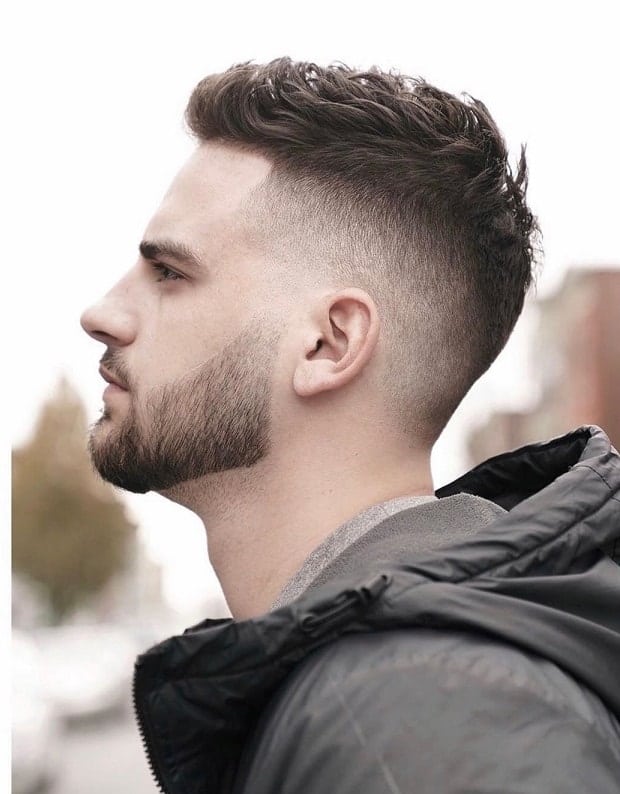 It is best for those guys who want an edgy, but a balanced look that fits on their face shape sophisticatedly. To get this look, keep the hair flat and side-swept from the front, and turn the remaining hair on top into a spiky texture. Use a matte product for a dry texture.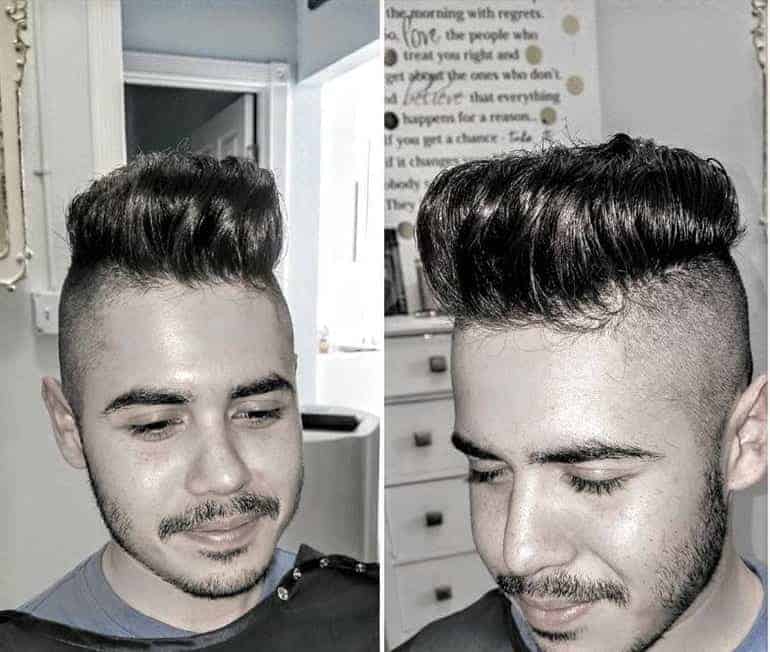 Instead of going with an edgy look try this smooth and voluminous Fohawk, you will love it for sure. Combine the fluffy top with an undercut to maintain the funk factor of faux hawk hairstyle.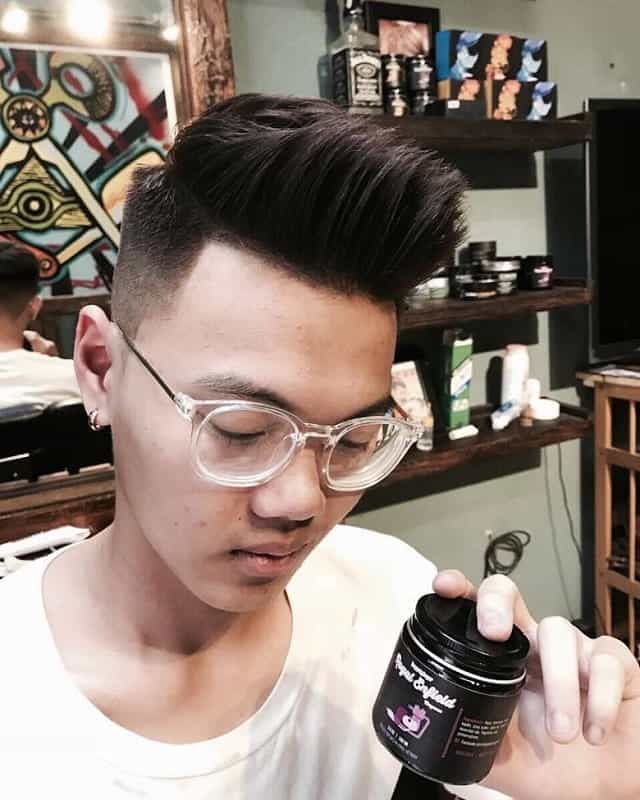 The taper fade is a startling way to blend the faux hawk on the sides. You can try any hair length with this combo, but to keep it on the safer side go with medium length hair as it will give you captivating hair texture.
16. Extremely Edgy Look
This dramatic and edgy liberty spike hair structure is particularly for those guys who are in continuous search of these types of looks. Fade the sides of the head through clipper and keep the remaining hair long now, shape the long hair into a spiky structure to get finish look.
17. Faux Hawk Allure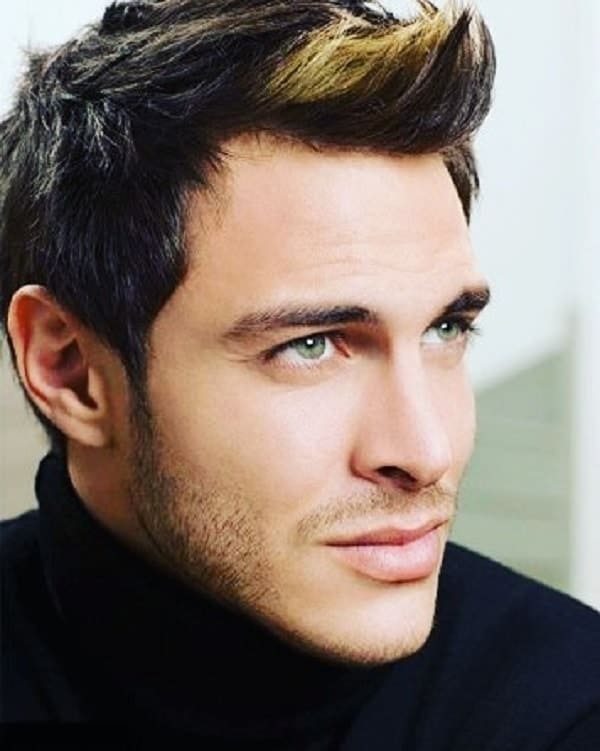 Add class into your appearance by opting for this classy faux hawk that looks uber-charming on boys. Guys with short to medium hair can flaunt with this hairstyle, astonishingly. There is no need to taper or skin fade the sides and back as the layers and Ombre are enough to give you an impressive outlook.
Have you ever seen a faux hawk with bangs? It creates a very unusual combo, but this can be a stylish choice to hide your wide forehead. Keep the top ultra-edgy and push forward the flat bangs to complete the look. If the above style is executed professionally with proper care, the end results would be awesome.
19. Asian Fohawk Fade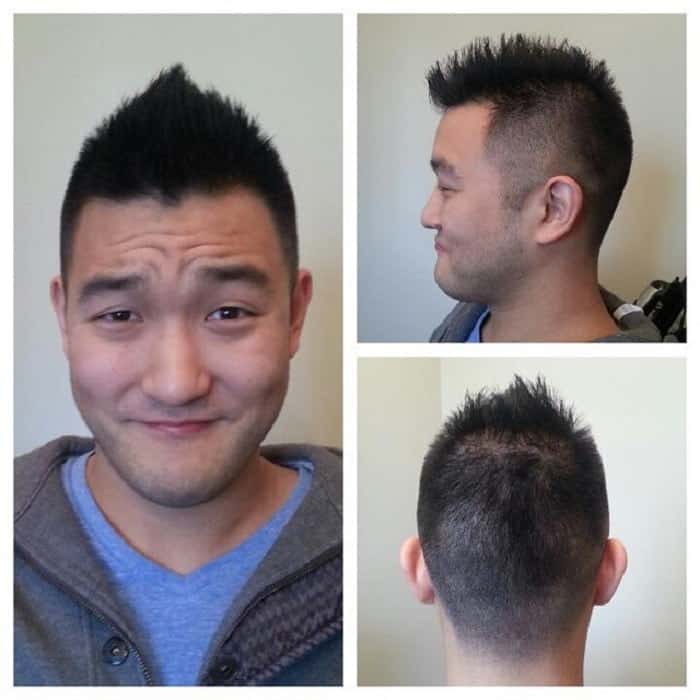 Most of the Asian guys usually hesitate to wear edgy haircuts, but if you are among those who are looking for a new and distinctive look for cool attire, you can experiment a Fohawk fade during your vacations to see how you can flaunt with this look.
20. Gentlemen's Fohawk
It is one of those short faux hawks that you can wear for your office without the fear of getting scold from your aggressive boss! It features flatter top while the hair at front styled into a slightly spiky structure. It looks fabulous on guys with widow's peak.
21. Two-toned Haircut
Who says Fohawk fade is not for older age group when they can wear this haircut heroically. Two-toned hair gives you an exciting look. If you are in doubt about the hair length, we suggest you go with short Fohawk and beard as less edgy styles will look better on men over 40's.
22. Vintage Fohawk Fade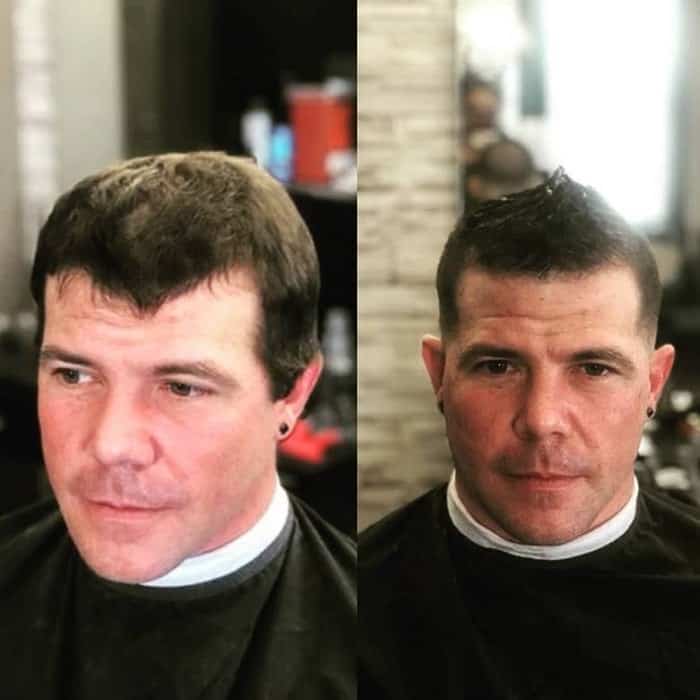 This version is a stately blend of modern and retro elements that features low fade at the sides and back of the head while top crew cut is styled into a bit edgy and short fohawk haircut. Get pomade to achieve this fresh and shiny look.
Guys with natural wavy medium length hair can give a more defined and refined look to their hair by adopting a Fohawk hairstyle with fade. The hair at back is trimmed shorter while the top is kept longer and the sides got skin fade.
24. Long Fohawk with Highlights
It is less dramatic, edgy in appearance, but has an admirable length. Low fade the side of the head and keep the remaining hair long, from top to neck's nape. Golden highlights for men are so trendy add them to get an edgy look.
Want to add some dramatic element to your looks, try this artistic hairstyle. It fits well on guys with the oval face shape. Low fade the sides and neck's nape for a clean look. Sure, it requires a lot of maintenance to hold the peak. Vibrant highlights will add more verve element to the entire attire.
26. Debonair Hair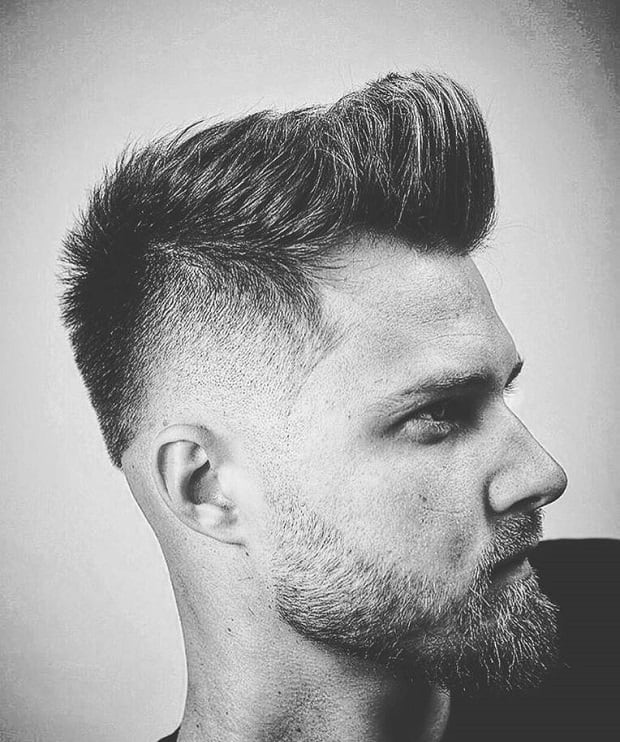 Want to highlight the long and short hair contrast? Get this pic to your barber and ask him to focus on each and every detail that boy in the above pic is carrying. It features drop fade, razor shaved neck nape and well-executed faux hawk. This combo becomes more influential when you pair it up with a full faded beard.
27. Hair Tattoo
This is literally a Fohawk fade roar! It executes well on textured hair while a perfect lineup provides refined structure to the entire hairstyle. The sides of the head got overstated with leopard tattoo design and a tramline, for fascinating appearance.
This Christmas, get attire that will make you a stunner of the occasion. Get this tattoo at the trimmed back side of the head and style the top into a well-structured short Fohawk to get this winning outlook.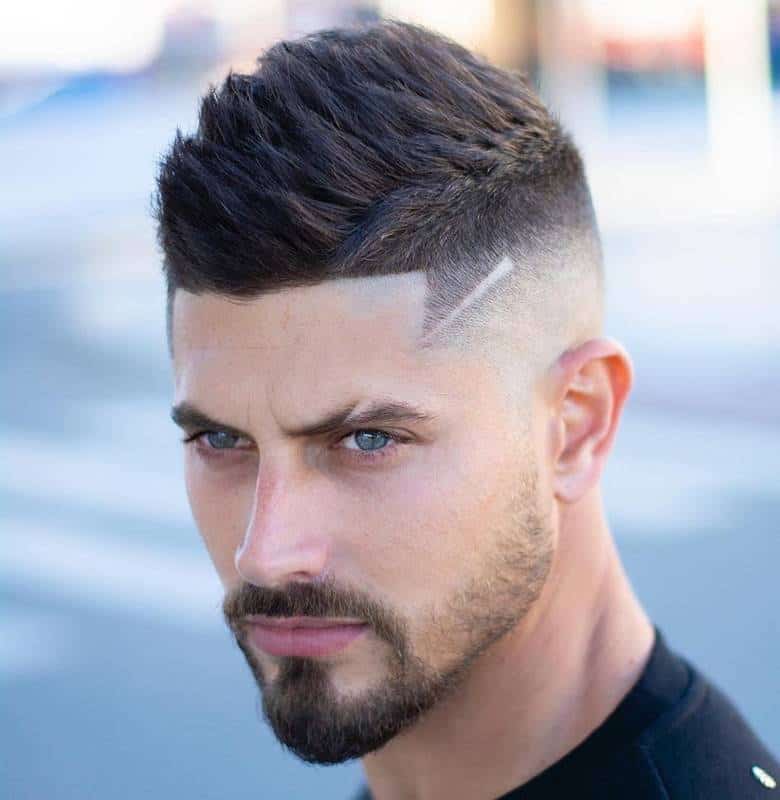 It reveals an aggressive and bold personality of guys. You can achieve this look by keeping a textured, soft spiky hair on top and high fade at the side and back of the head. A short razor line and full beard will make the whole look even more appealing.
30. Athletic Fohawk Fade
Working hard to get the above body goal? Then, work and think hard for your faux hawk hairstyle as well because it adds a huge impact on your overall outlook! Faded full Beard, fade, and spiky top provides you a heart throbbing personality.
31. Silver Frosted 'hawk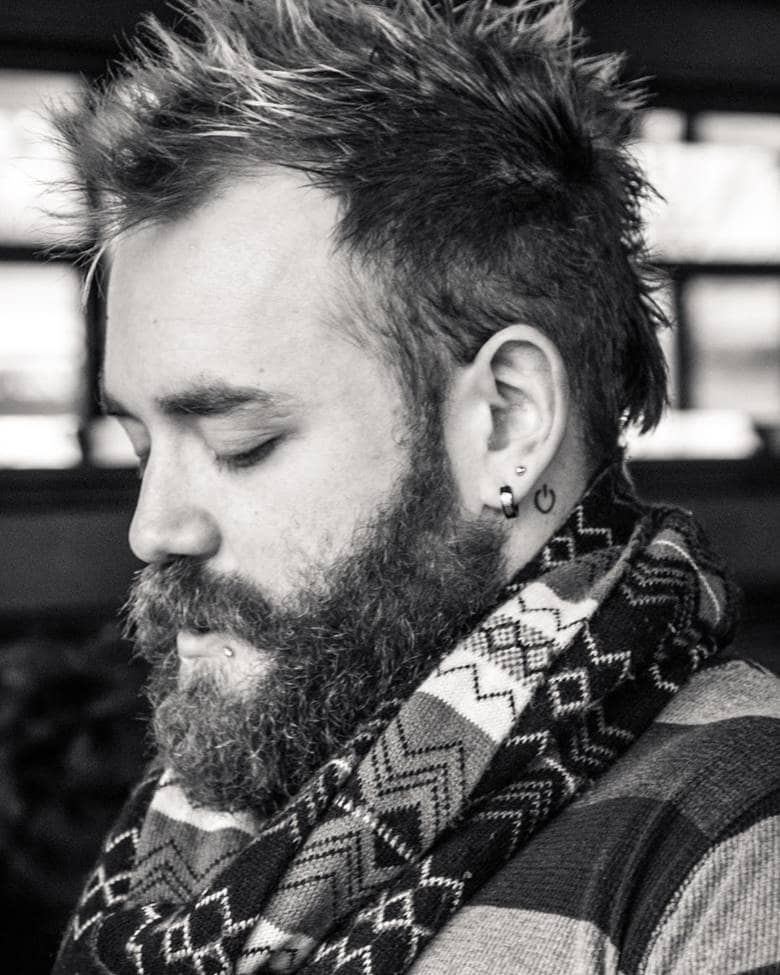 It is one of the imposing looks to wear for winters! Rugged beard, messy and edgy faux hawk with unkempt sides and back of the head gives you bad boy vibes. Silver blonde the pointed tips to get the finishing touch.
32. Shaved Design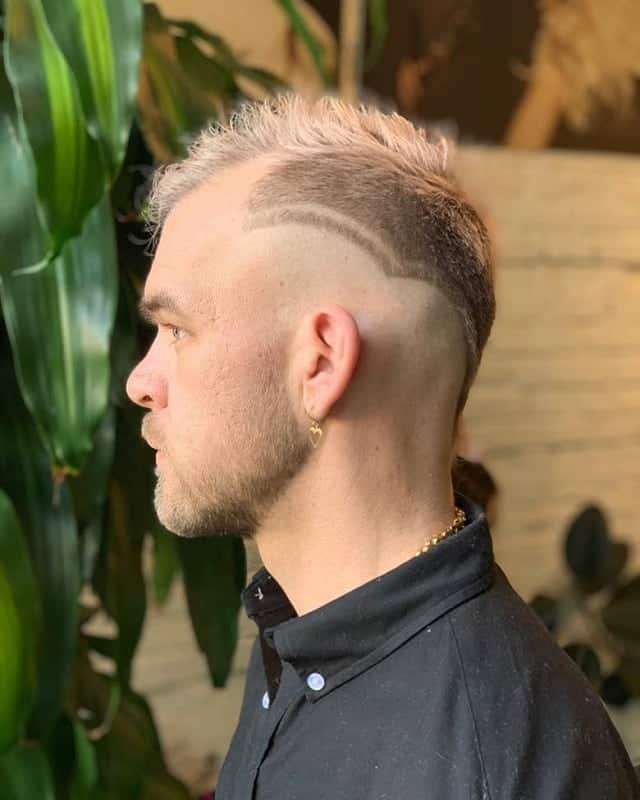 All fohawk haircuts give guys a bold personality. But, if you are looking for an ultra-bold or eccentric look then, you will probably like this edgy combo! Razor shaved the sides and outline the side with a stylishly executed line. Platinum blonde the top Fohawk, wear earrings and grow a blonde beard for funkier aesthetics.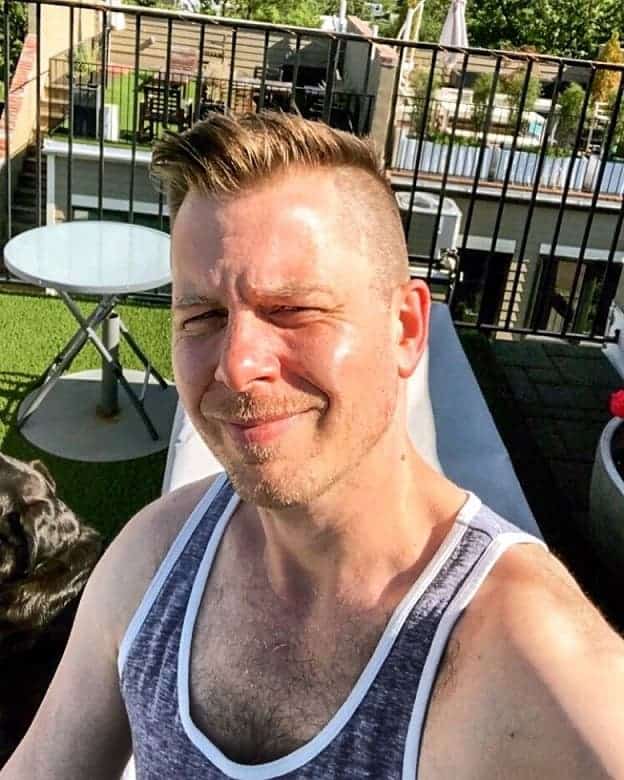 If we talk about the best summer hairstyles, short hairstyles come in the priority list of the majority of boys. Then, why not to have some fun in summer with a buzzcut and beard with polished Fohawk! It is super easy to achieve and maintain, and you can consider it for your vacations to get casual attire.
34. Blended Fade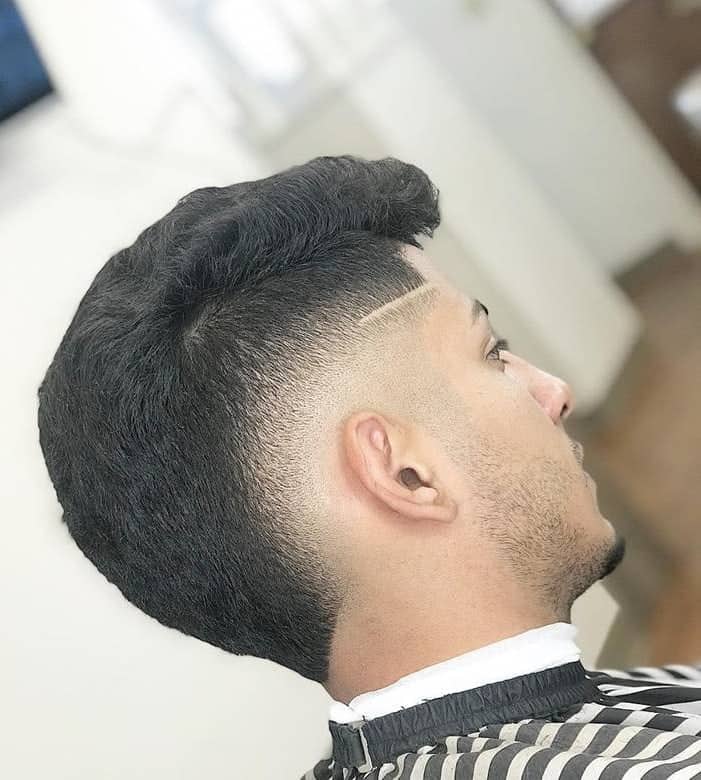 We really appreciate the way taper fade is blending into the Fohawk hairstyle. The hair on the top and back of the head looks styled into a smooth texture for a neat and sophisticated look. You can add extra definition to your haircut by incorporating the razor lines on sides and growing a faded beard with a prominent goatee.
Are you a big fan of high top, line up hairstyles? If yes, this particular haircut will inspire you as well. It is ideal for medium length hair and suits well on oval and oblong face shape the most.
The high skin fade makes the Fohawk disconnected from the sides. An anchor goatee with unkempt cheeks area will give you an effortlessly jaunty look.