An afro Mohawk is a modern combination of afro hair and Mohawk haircut, which makes this variation relatively less edgy than the traditional Mohawk or Fohawk, to wear for daily life routine. It is also known as a frohawk hairstyle because of its execution on afro hair texture.
Darrent Williams with His Iconic Afro Mohawk Styles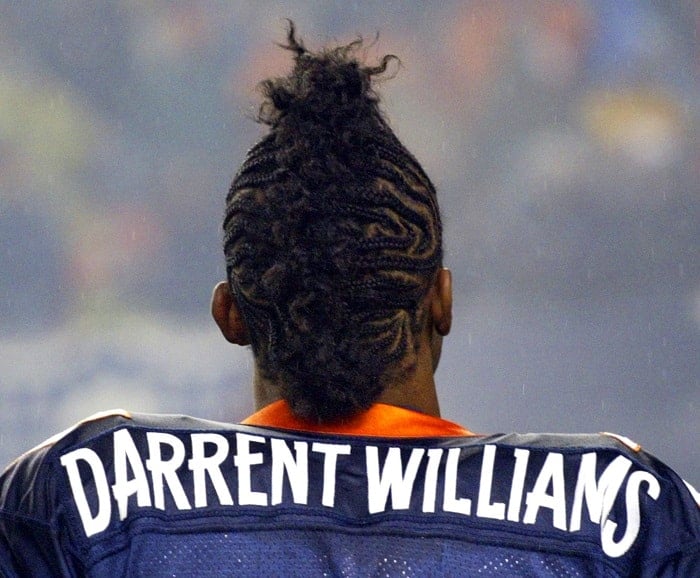 Darrent Williams was one of the famous players for the Denver Broncos prior to his death. He was a renowned cornerback, but more than just his playing skills, more fans adore him because of his hair.
Afro Mohawk is actually a hybrid of afro and Mohawk. Thus, to get the same hair, you simply need to cut your hair modern Mohawk style. Keep the majority of the hair on the middle and let them stand up through backcombing. Braid the remaining portion of hair on the side.
However, since it is also an afro hair, which should make any Mohawk bushier, you need to ensure your hair is curlier or kinkier.
Indeed, this is another hairstyle that makes you different from the others. Nevertheless, more than just a style, consider it as a loving remembrance to the fallen Williams.
Trendy Mohawk Hairstyles for Afro Hair
Kindly explore our artistic compilation of afro Mohawk below, to get an innovatively cool hairstyle this season.
1. Afro Hawk and Cornrows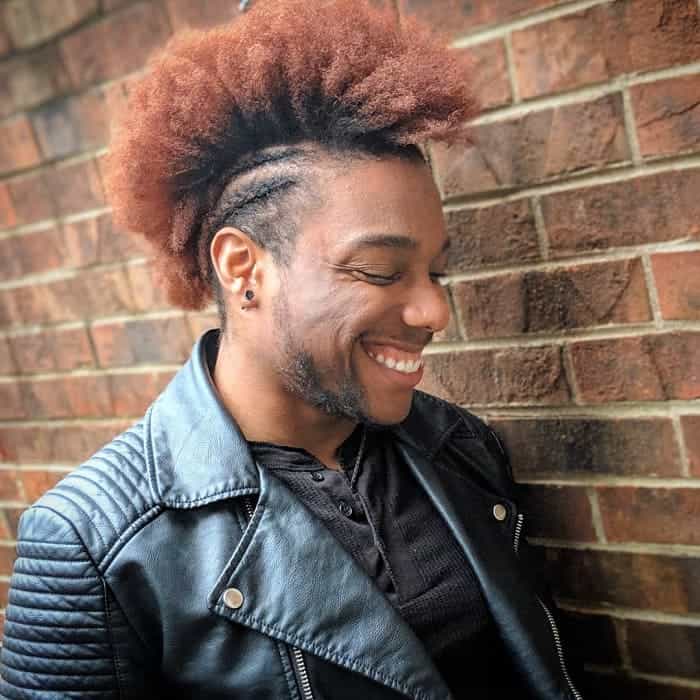 When someone hears about the word Afro Mohawk, a bushier, unkempt top hair appears in the imagination. But, this above image will change your perspective about afro hairstyles. Despite the kinkier top, it looks well tamed. The whole haircut is further embellished with side cornrows and rusty auburn hair dye.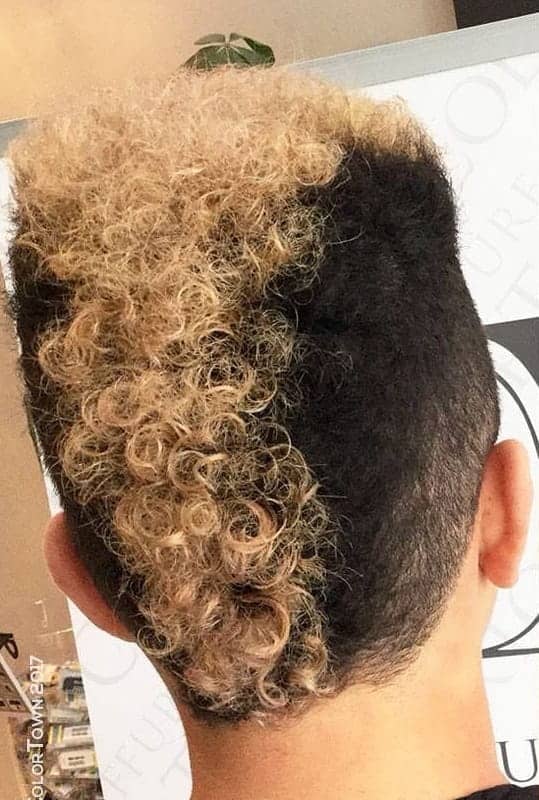 To achieve this look, keep the hair at the center longer and tapered undercut the sides of the head. Turn the afro hair Mohawk ends into golden blonde for a trendy touch. It is a low maintenance haircut and suitable for those guys who find no time to style their hair.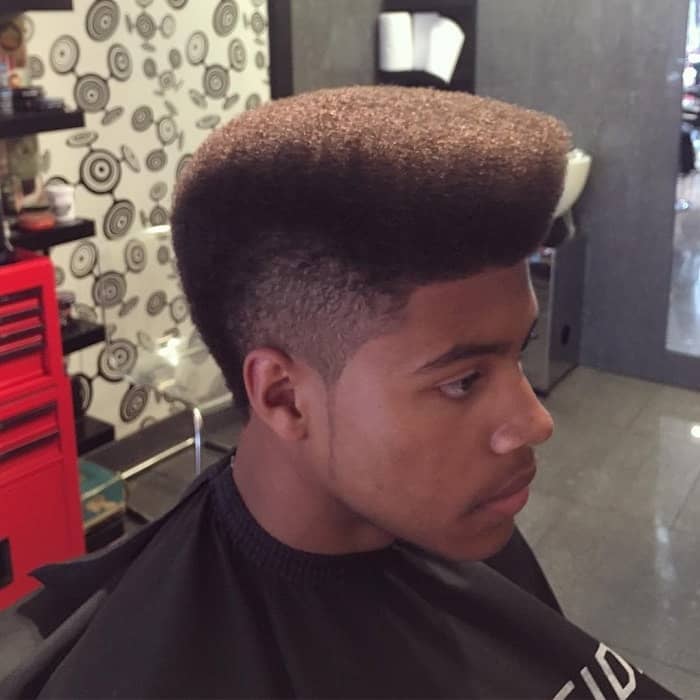 Big afro hair can give you the chance to achieve a high volume Mohawk with undercut sides, remarkably. To get this haircut, the long top is first styled into an upright direction and then cut into flat level while the front hair resembles a box shape.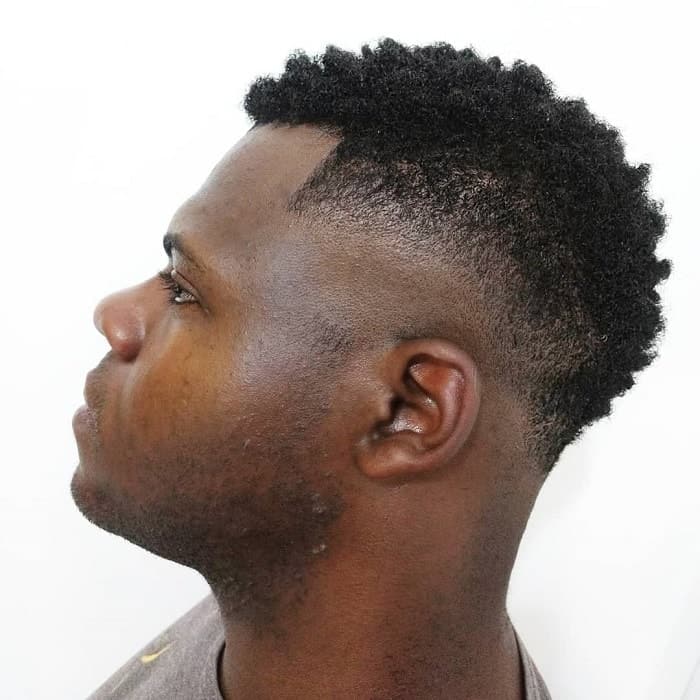 Combining the bald fade with a short Mohawk can be the best choice to wear for the men with afro hair in the summer season. Keep the top shorter than the other Mohawk haircuts to get the less bushy, yet tamed afro top while the bald sides will add edginess to your overall appearance.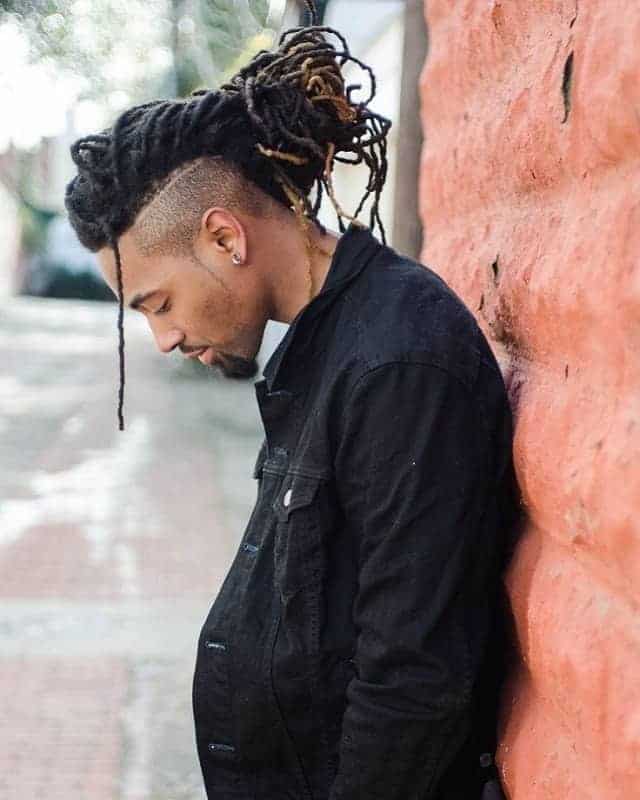 Long afro Mohawk dreads when combined with tapered side and low fade at the back of the head, it creates classy haircut and provides men with sophisticated features.
Disconnect the long afro top from the sides with a hard part. Add a few caramel highlights into the dreads and tie the long afro dreadlocks into a man bun for the finished look.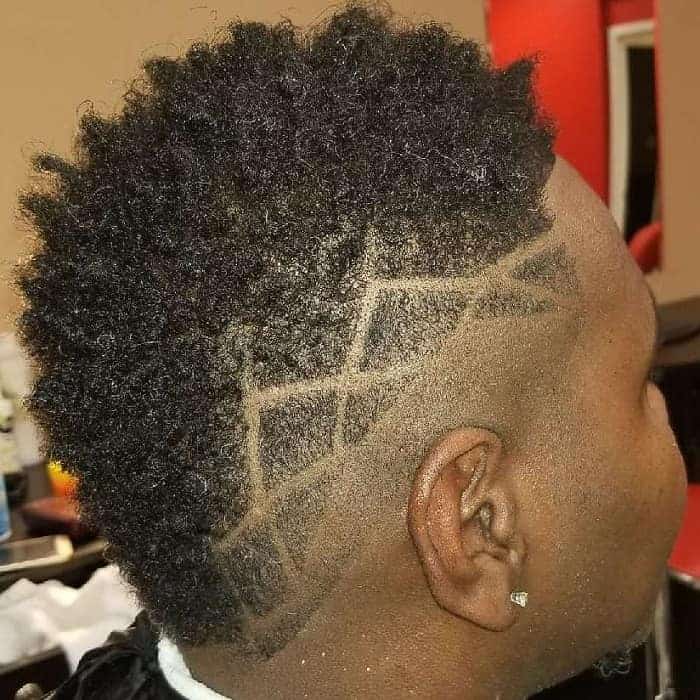 If you are going for a less edgy afro hair Mohawk then, style it with hair tattoo and low drop fade on sides for a trendy look. It looks uber-cool because of its exhaustive versatility. Apply good quality hair product on afro-textured top to add shinning aesthetics.
In this particular Mohawk on afro hair, the top is styled a bit flatter than the other-discussed haircut. Skin fade the sides of the head and shape the temples professionally. Create a crispy lineup to execute proper haircut structure.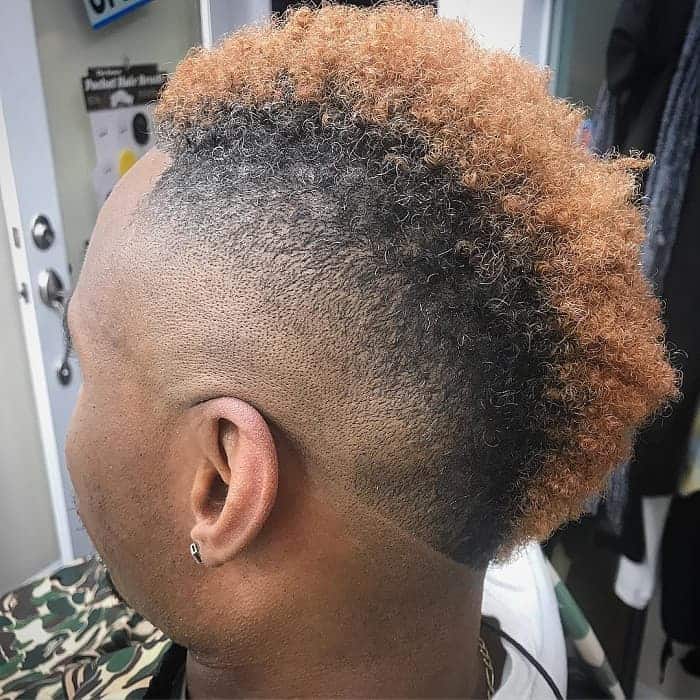 It features high faded sides, afro Mohawk with blonde ends while the back of the head is shaped into a v-line shape from the neck nape.
Well, did you noticed that the above-mentioned every afro Mohawk haircut is styled by pairing it up with low fades, taper fades, drop fade, etc as all types of fade do an exceptional job for men with afro hair. You can choose any 'hawk according to your preferences and club these up with beard or mustache as well to add uber-manly features to your personality.