Afro hairstyles are popular for men for several reasons: you don't need a certain face shape, your hair doesn't need to be a certain length, and a lot of them require little regular maintenance. It's a great young men's hairstyle for those of you on the go and with busy lives.
Additionally, if you like hairstyles that draw attention, afro taper fades to leave room for plenty of customizing so you can guarantee no one will have a haircut like yours.
Find out why the Afro taper fades are the look you should go for in 2023. Check out the 18 best styles below!
1. Low Afro Taper Fade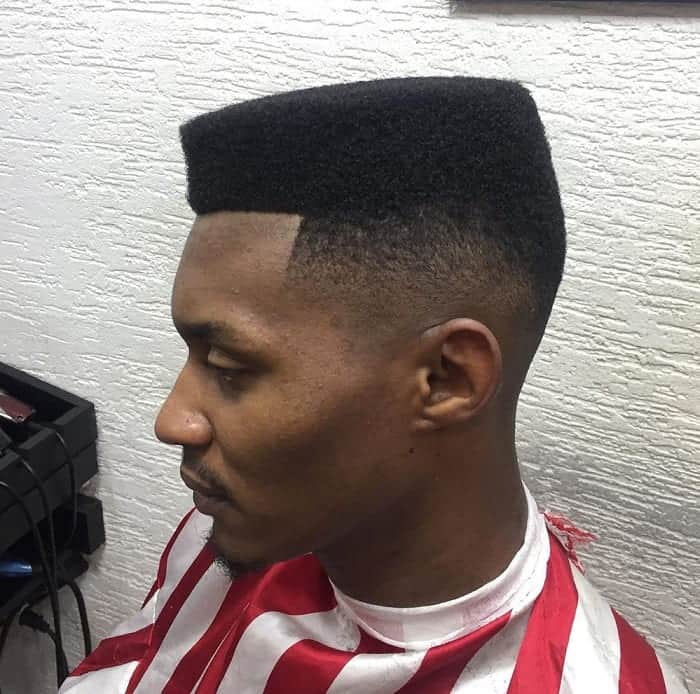 A flat top is the scene stealer for this low taper faded afro. It has plenty of shapes and none of the maintenance.
2. Mini Afro + Taper Fade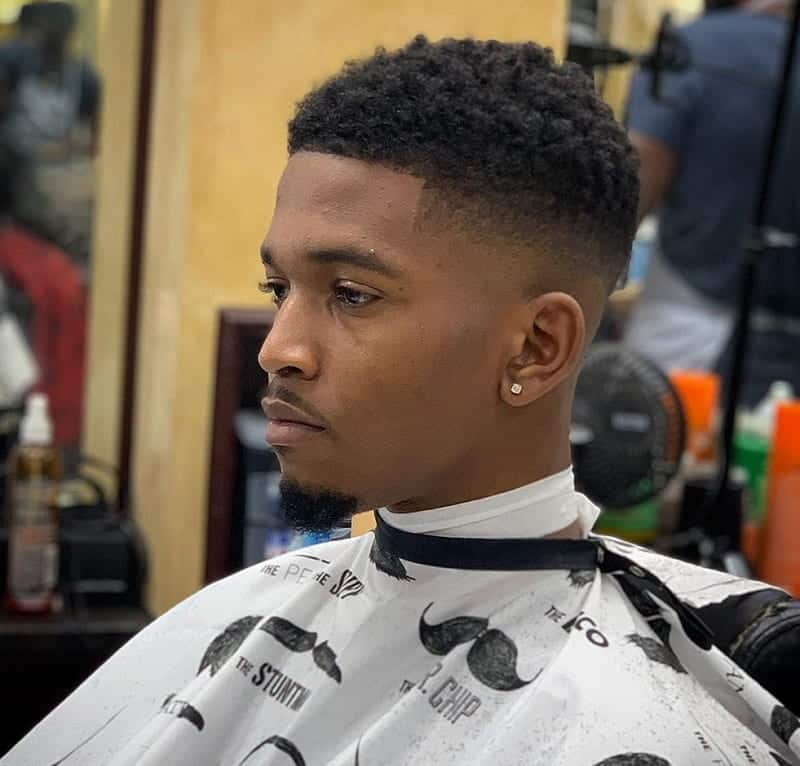 If you're all about a haircut that's simple but still like your style, try a mini afro with a taper fade. The fade is the only part you'll have to touch up.
3. Tapered Afro with Twist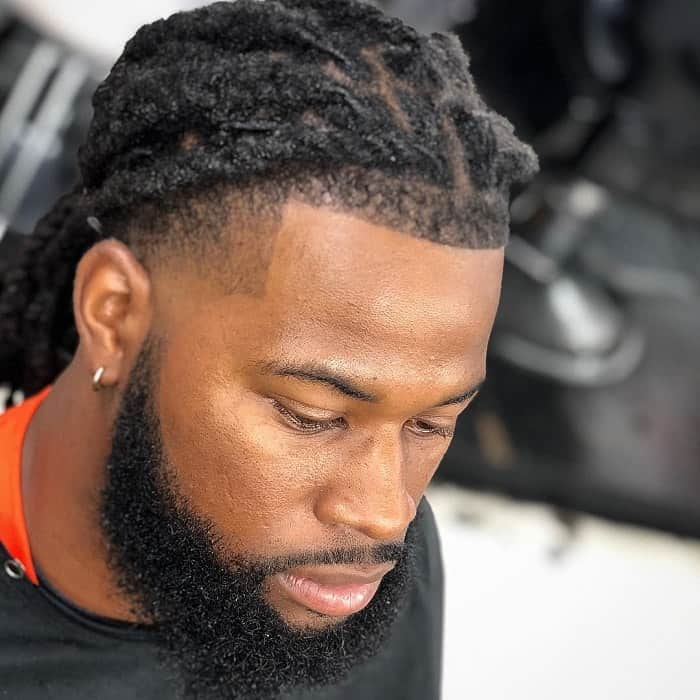 A tapered afro with a twist is a great protective hairstyle and made for men whose hair is longer than shoulder length.
4. High Taper Faded Afro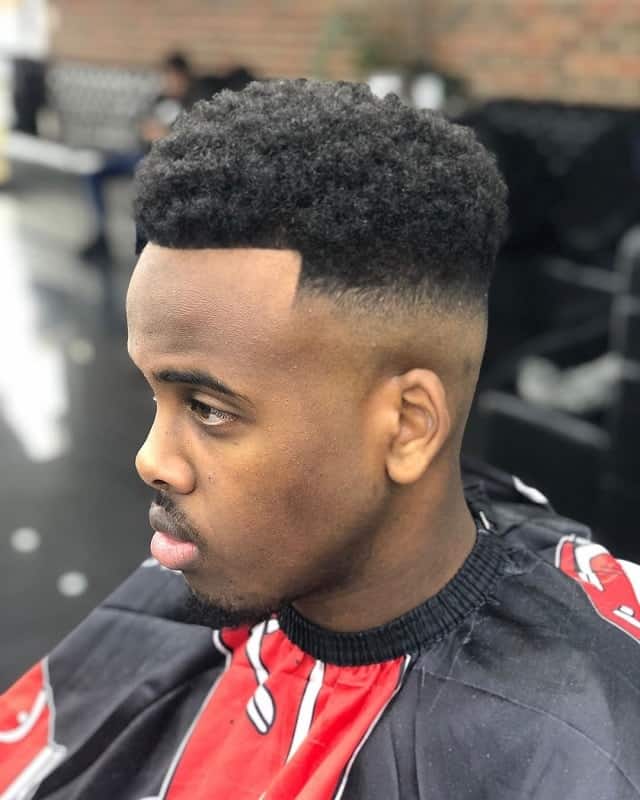 Let's talk swagger! The High Taper Faded Afro is all about volume at the top and smooth fades on the sides. This style screams cool and is perfect for those who love their afro but want a little edge. It's classy, it's fresh, and it's a definite head-turner!
5. Afro Taper with Design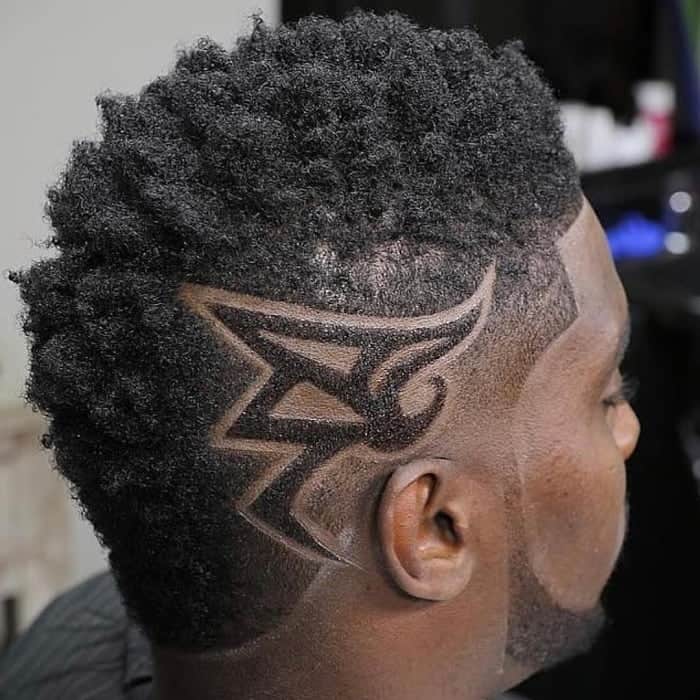 Want to level up your afro game? Say hello to the Afro Taper with Design. Imagine your classic afro, but with a creative twist on the sides. Barbers can etch in anything from simple lines to intricate patterns. Go wild or keep it subtle; the choice is yours!
6. Afro Fade with Part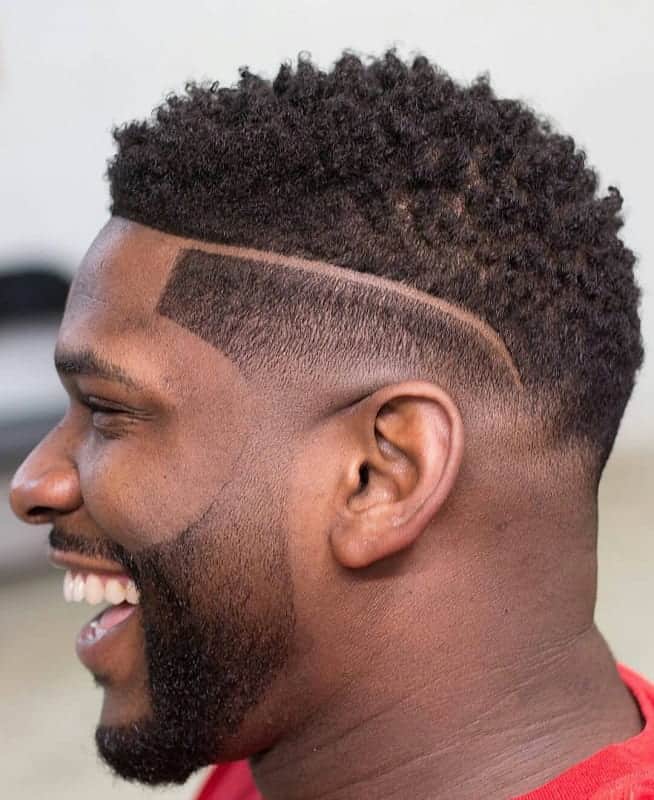 Take your afro from everyday to red-carpet ready with the Afro Fade with Part. The side part adds structure, while the fade gives it a modern twist. It's the perfect blend of elegance and street style. Plus, it's super versatile for any occasion.
7. Bald Taper Fade on Afro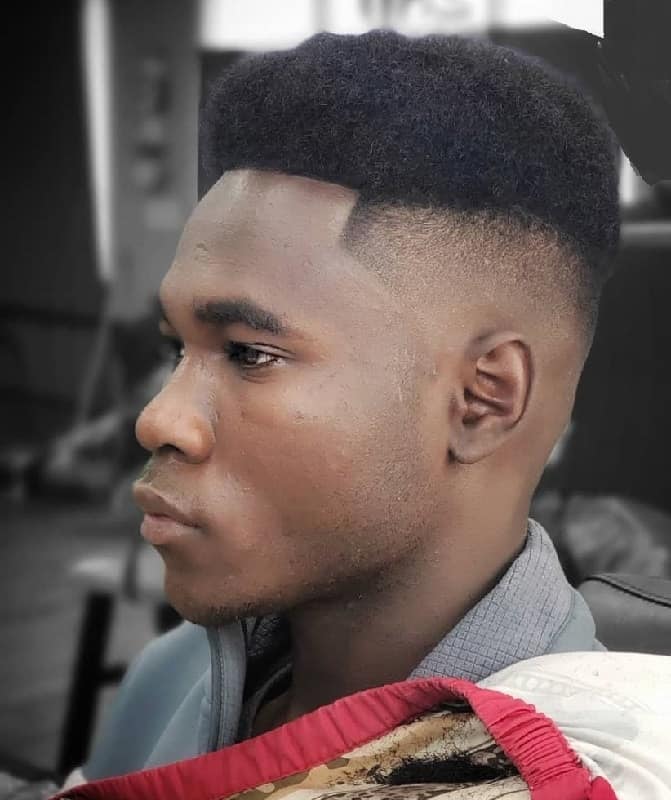 For the bold and the brave – the Bald Taper Fade on Afro is where it's at. This style gets right down to the skin, giving you a clean and sharp look. It's the best way to keep cool and look hot at the same time. Rock it with confidence!
8. Afro Blowout Taper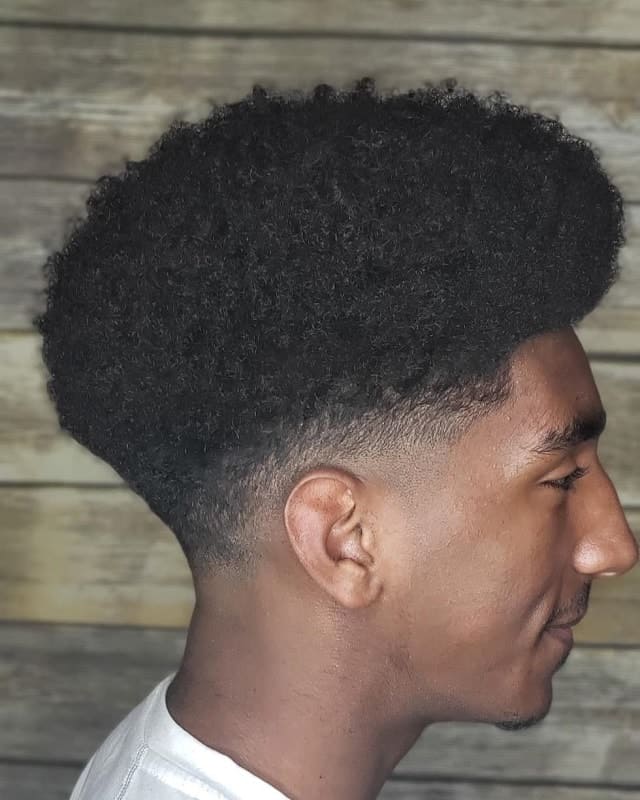 Ready for some retro vibes? The Afro Blowout Taper is a nod to the iconic 70s style. It's got big hair, soul, and an unforgettable presence. The tapered sides keep it from looking too bulky.
9. Afro Hair + Tapered Drop Fade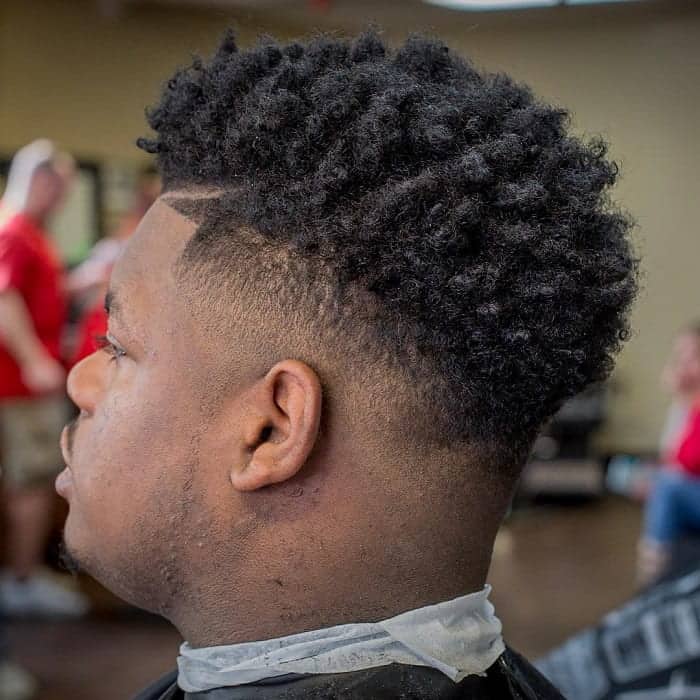 Class meets street in this Afro Hair + Tapered Drop Fade. The drop fade curves around the ear, creating a soft gradient. It's smooth, it's sleek, and it adds an extra layer of cool to your afro. You won't just enter the room; you'll own it.
10. Tapered Afro with Beard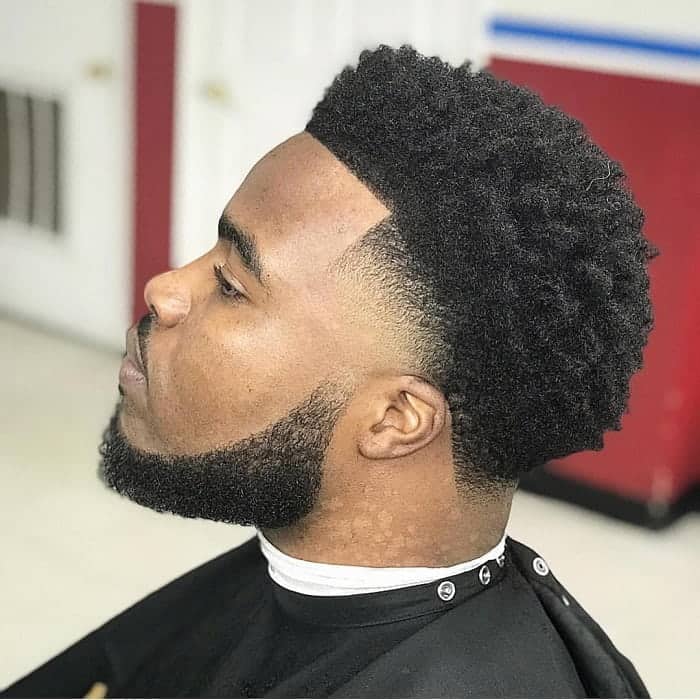 Embrace the fullness of your hair with the Tapered Afro with Beard combo. The beard connects the look and gives it a rugged, manly vibe. It's the ultimate statement for those who love their facial hair as much as the hair on their head.
11. Tapered Frohawk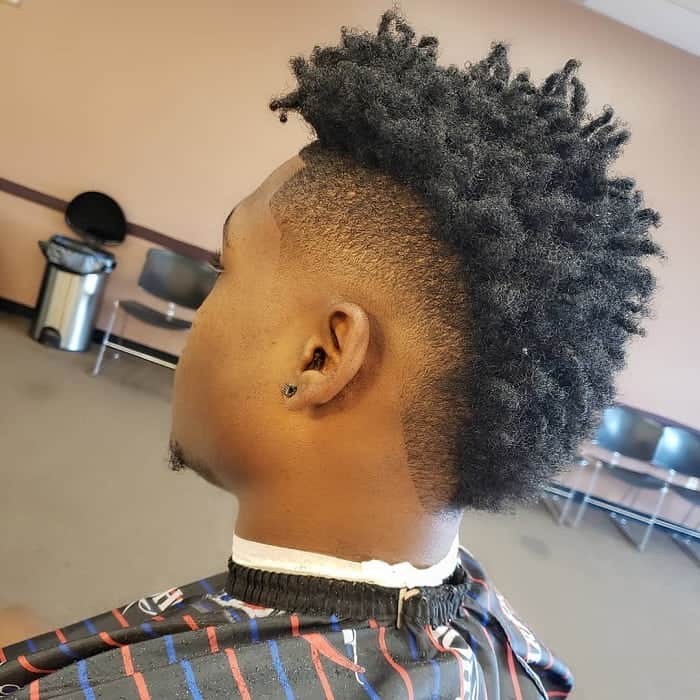 Tapered Frohawk is the mohawk's cooler cousin, blending an afro's volume with the rebellious spirit of a mohawk. Party in the front, party in the back, and definitely a party on the sides.
12. Afro Taper Fade with Line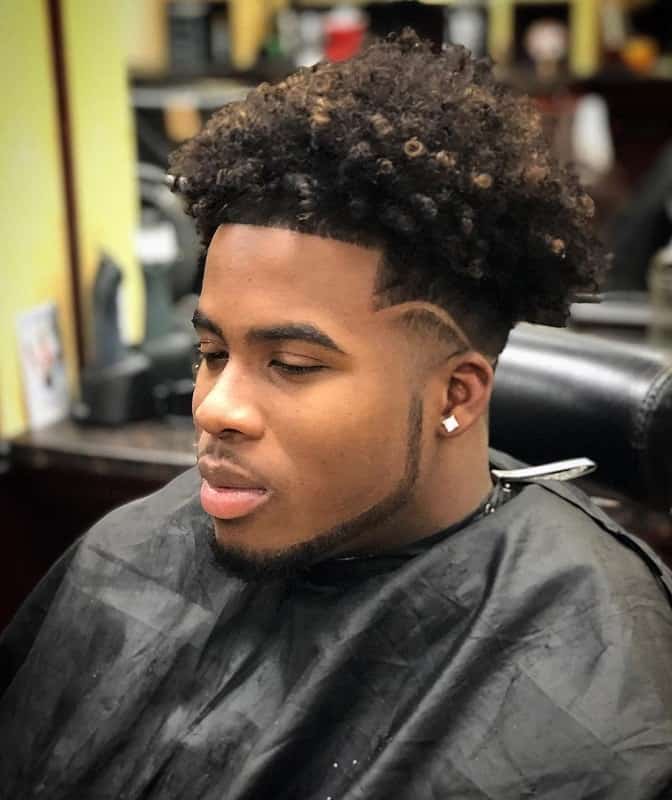 Define your afro with the Afro Taper Fade with Line. The sharp line adds a splash of sleekness to the softness of the afro. It's structured, yet playful. A modern take on a classic that never goes out of style.
13. Curly Afro with Skin Fade
Keep it curly and cool with the Curly Afro with Skin Fade. This one's for the guys who love their curls. The skin fade on the sides highlights those luscious curls on top. It's fun, flirty, and effortlessly stylish.
14. Afro with Temple Fade and Line Up
Step up your game with the Afro with Temple Fade and Line Up. This style features a subtle fade at the temples and a sharp line up front. It's like your afro put on a tailored suit – clean, refined, and downright dapper.
15. Short Afro with Burst Fade
Looking for something low maintenance? Check out the Short Afro with Burst Fade. It's neat, tidy, and the burst fade adds that touch of flair. Perfect for the guy on the go who still wants to look sharp.
16. Afro Undercut with Side Part
Meet the Afro Undercut with Side Part – the style that's both retro and modern. The undercut gives it a contemporary feel, while the side part and volume up top bring in some old-school charm. A style chameleon!
17. Kinky Afro with High Fade
Embrace the texture with the Kinky Afro with High Fade. This style lets your natural kinks take center stage, while the high fade keeps everything in balance. It's the perfect blend of natural and sculpted.
18. Afro with Faded Sides and Twists
Twist it up with the Afro with Faded Sides and Twists. This one takes your afro to a new level, adding twisted locks on top. The faded sides keep it fresh. It's a style that says, "I'm here to have fun and look great doing it!"