Black men love braids, especially long braids. There are infinite ways to style black men's hair ranging from short natural short shaved to a long afro.
Long Braids for Black Men
And since picking out your own hairstyle is a big responsibility, considering how it would affect your whole look within a few touches. Consequently, we have prepared a list of long braids styles for black guys to help you pick the right hairstyle.
#1. Straightened Roots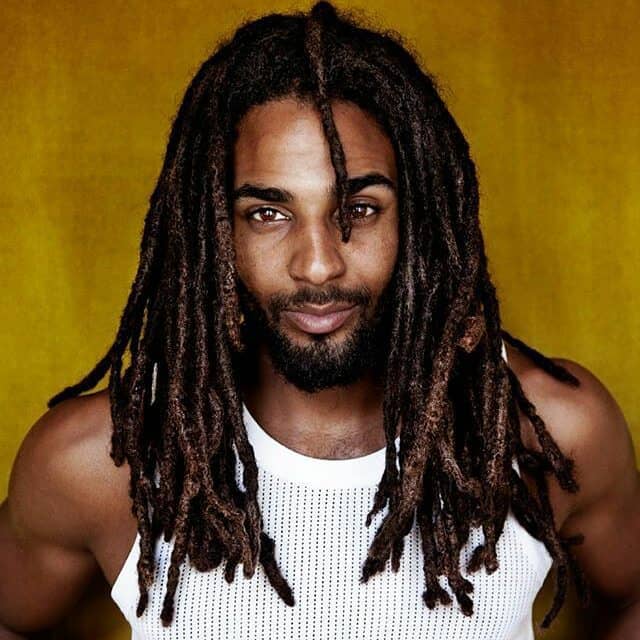 For an edgy look, you can go for a full half shaving your head without any fade required. Take advantage of that shave for a cool tattoo sequence spreading all overreaching your neck and arm.
Meanwhile, the other half of your head still rocks the black men's long hairstyles like you're in the party mood 24 hours a day. So, for a neat look, all you have to do is straighten the roots with a curling iron and leave the tips naturally thick and kinky.
#2. Come As You Are
The great thing about long hairstyles for black guys is that they have a natural "come as you are" option. This means that there's an actual option where you can both: look stylish as ever and do nothing at the same time. So, just comb your head backward, and leave it to sway with the wind.
#3. Straight Hair For Black Men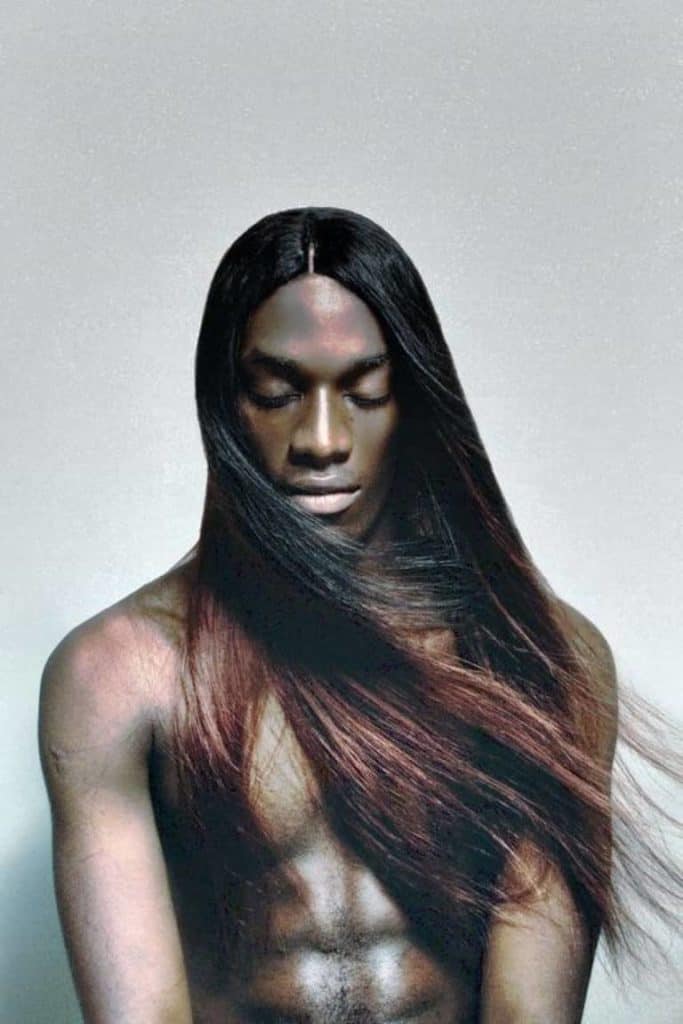 Who said that black men can't enjoy straight hair? The curling iron can do wonders for any kind of hair. Just a spritz of fixative hairspray and you'll be on the right track towards maintaining one of the well-styled long hair designs out there.
Tip: For a playful effect, dye your hair tips with a flashy color.
#4. High Bun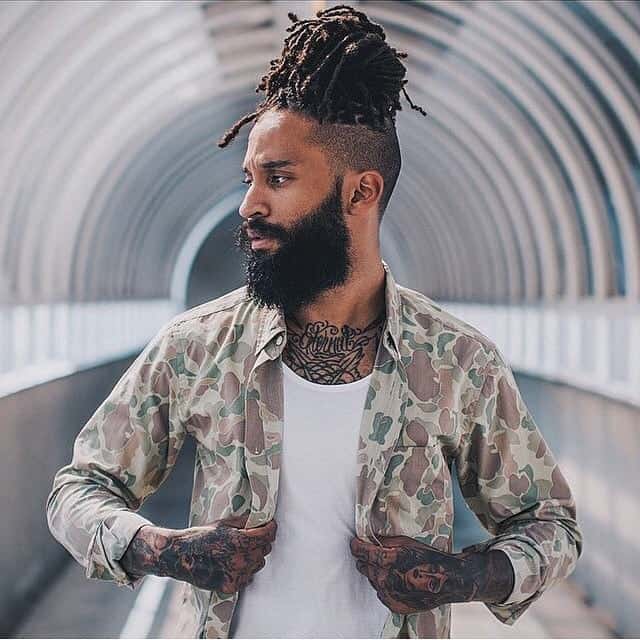 Here's one of those black styles that require braids and really short fade-ins. It requires:
Requesting really short side fade-ins from your barber while the top part remains relatively long.
Braiding what is left of your hair.
Holding them up in a stylish high bun.
#5. Trying Something New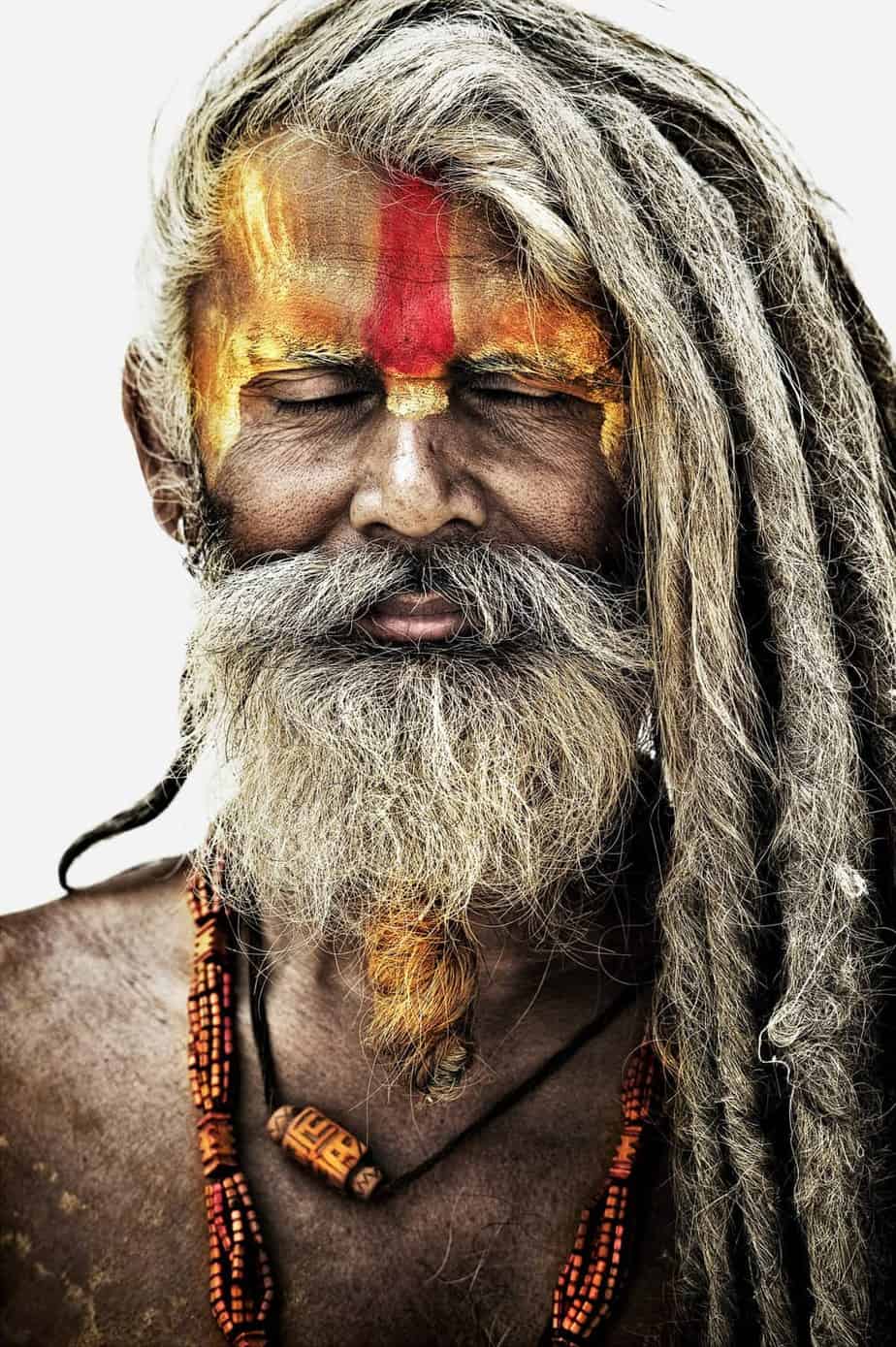 It is said that if you want to create a good design, you have to come up first with an idea worth remembering. So, here's an idea that would definitely cause a scene where you star as the man with the great hair. Therefore, you have to do is:
Choose an interesting color to dye your hair with. (Bleach blond can be an option.)
Pair up your really long hairstyle with a relatively long beard.
#6. Longer sides
This long hairstyle resembles the one shown in number 4. However, this includes longer sides instead of trimming them off extremely long.
#7. Twisted Braid Design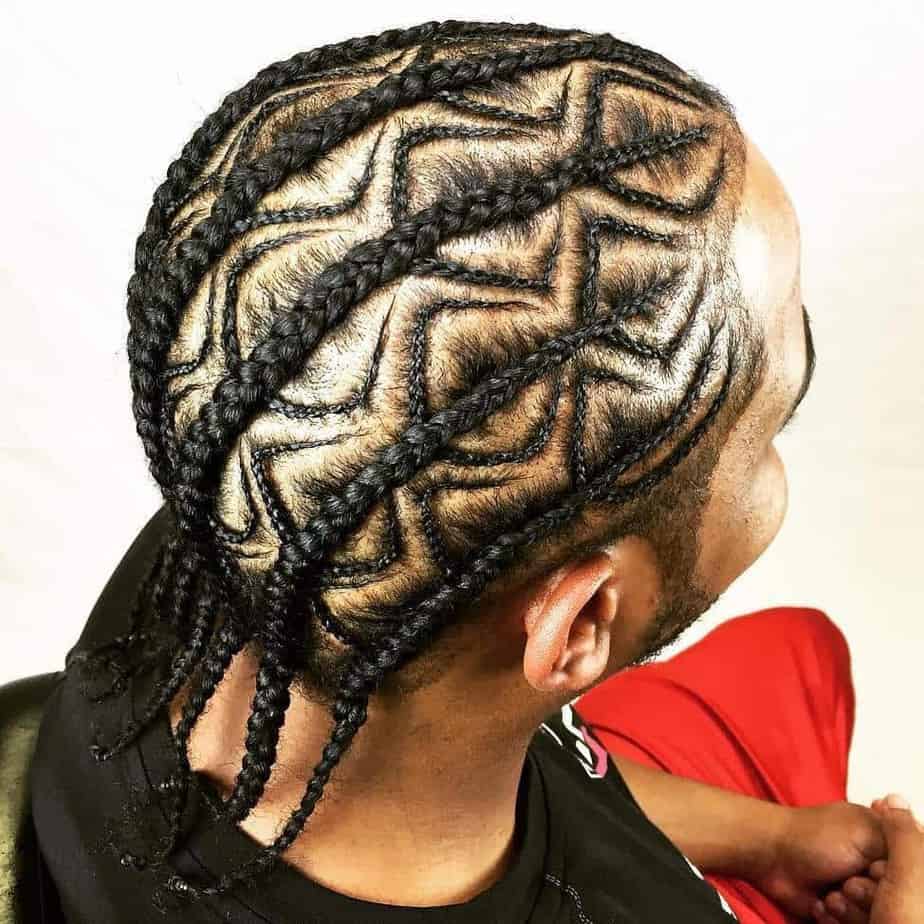 One awesome advantage of incorporating one of the black men long hairstyles ideas is that you get to finally incorporate a full braided design! But, there are a lot of techniques to do that. So instead of sitting there and wishing it will happen, start off with this twisted braid idea. Finally, you will need 6 thick hair strands for the main 6 braids and get creative with the mini ones.
#8. Humongous Swirls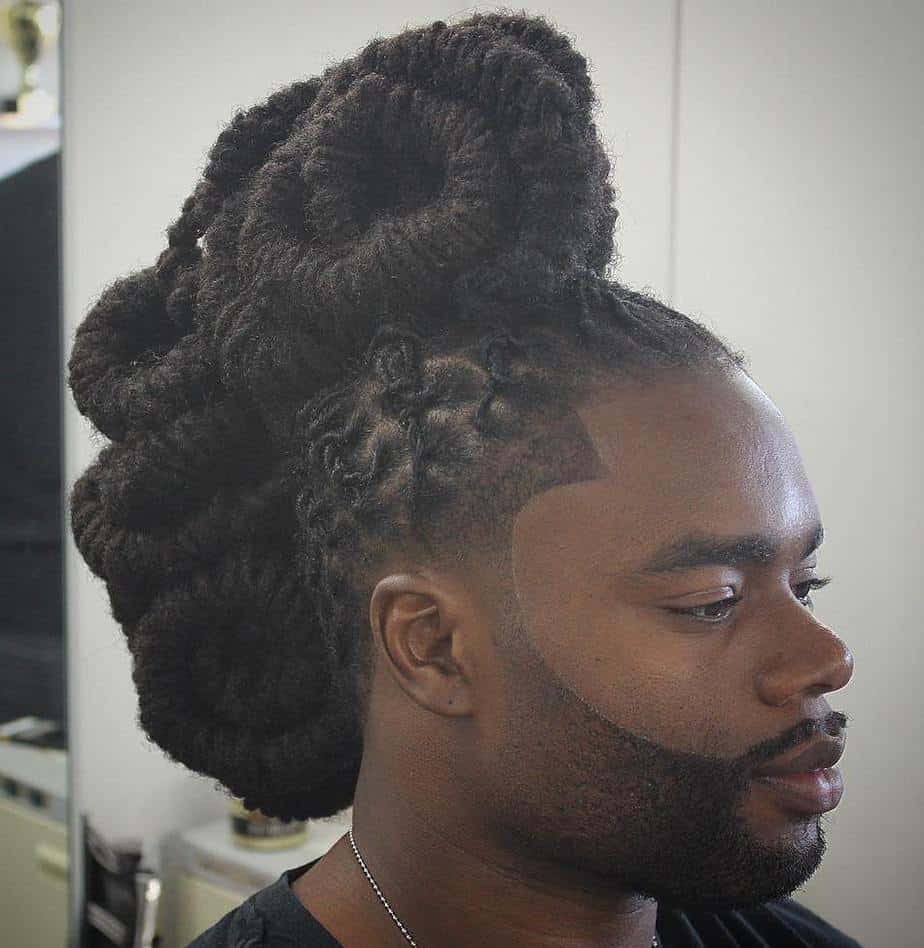 Now here's an example of a black man who knows how to take advantage of ever long hair lock he has. Get creative with the shapes you can make using your long hair strands in order to go higher up in the fashion world. Check out the above example, and see how he used his hair's long length to come up with not only one swirl, but four!
#9. Long And Puffy
With the help of some long hair conditioner and a blow dryer, this kind of black men long hairstyle can happen. Just be sure to blow dry and leave your natural genetics to do the rest of the work on its own.
#10. Dreadlocks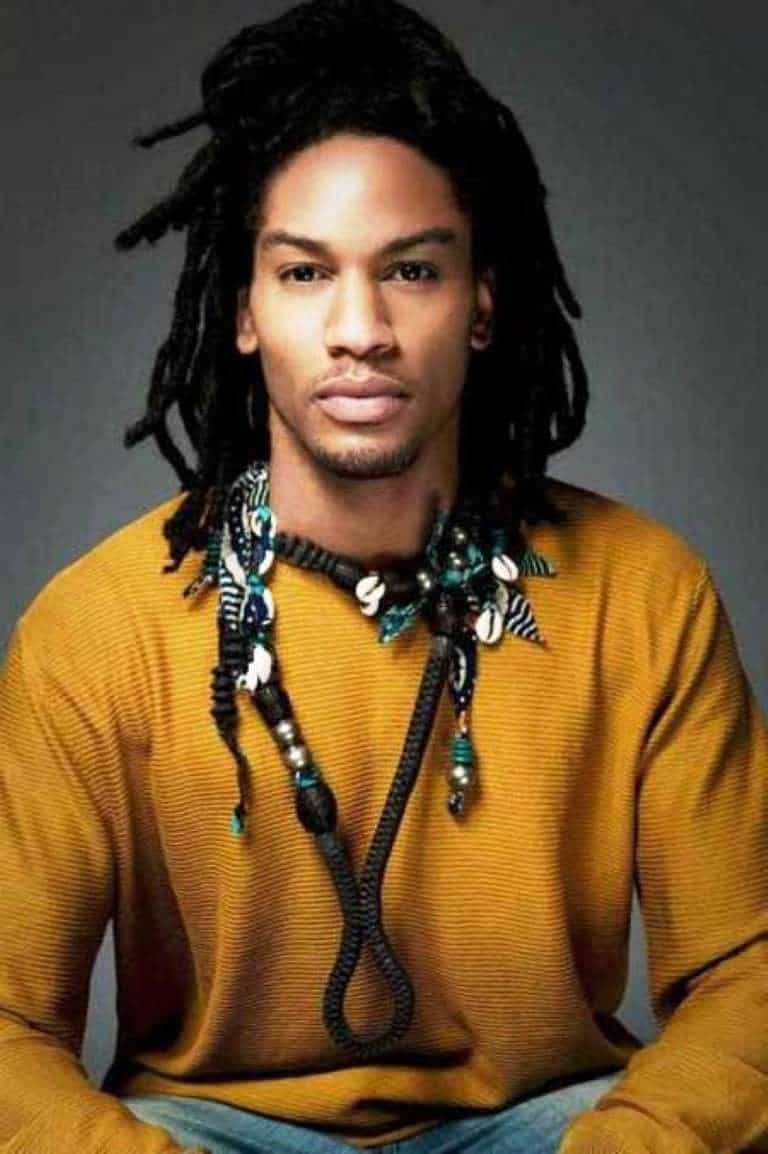 Dreadlocks are one of the most popular black men long hairstyles out there. They are widely known for working practically with any face shape. So, to make them happen all you need to do is:
Let your mane grow long.
Use some hair wax to form the dreadlock.
And Voilà!
#11. Dreadlocks Plus Bun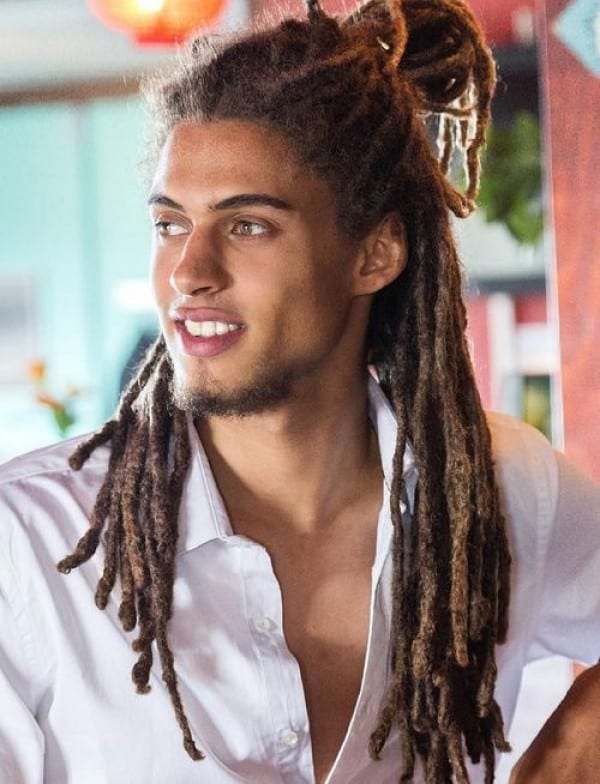 Who said you can not have the best of both worlds? Here is a long hairstyle that combines both dreadlocks with a high bun because why not? Your hair is long enough to establish it, so why not go with the flow and try out this new trend?
#12. Two Different Approaches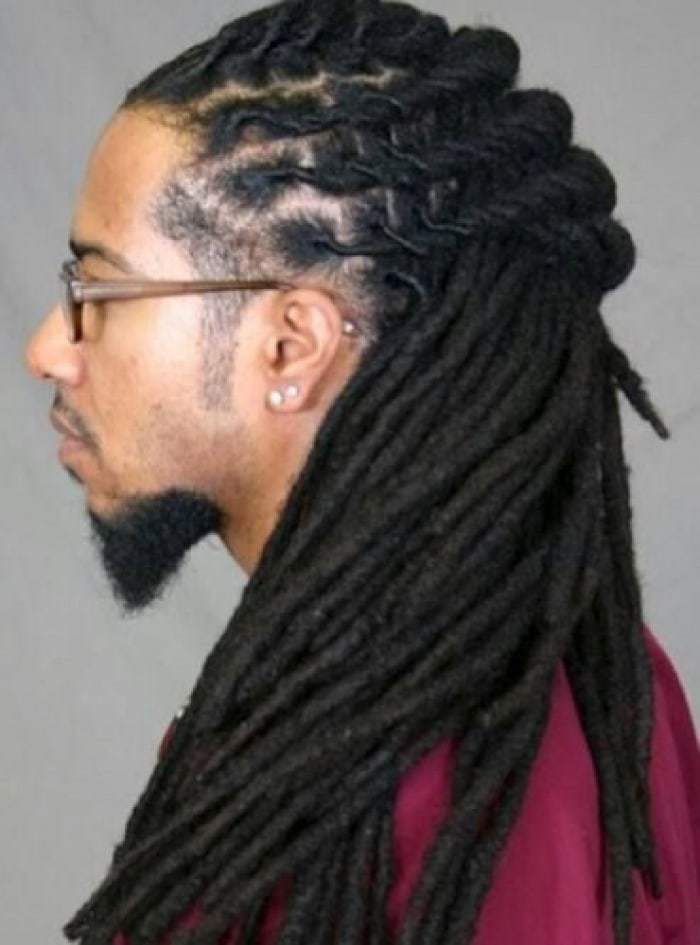 Start hairstyling from the top with two different approaches. So, start off with twisted locks that go all the way around your head horizontally. Then, let it fade in gradually until it disappears completely into the classic yet trendy dreadlock idea.
#13. Extremely Curly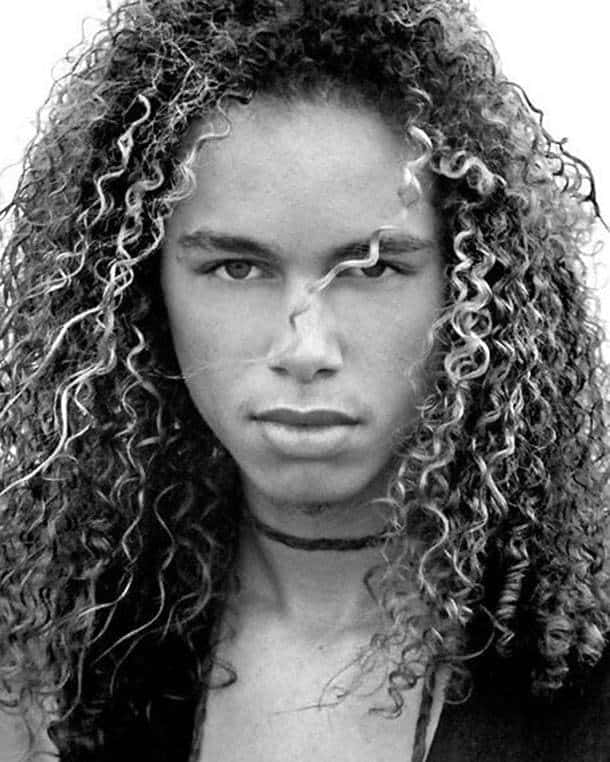 To get their perfect curls, you'll need a:
Round hair brush
Blow dryer
Curling iron
Fixative hairspray for the finishing touch
#14. Dreadlock Pairs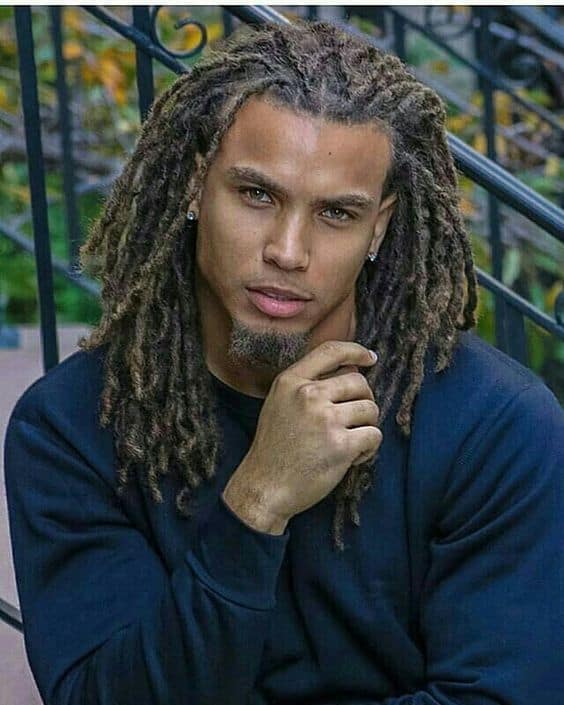 This kind of black men long hairstyles would turn out best when paired up with a long beard. However, you can break this tiny rule and look good with a clean shaved face. Why would you do that? Because you want to focus completely on the hairstyling in order to make it perfect.
#15. Styling Your Dreadlocks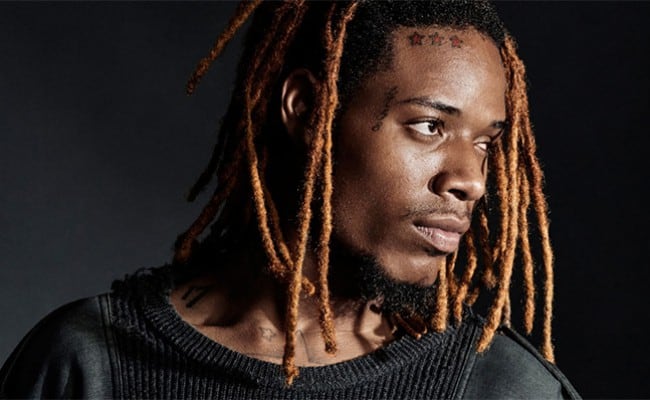 Dreadlocks can totally change how you look. Because they can bring your fashion score up by a factor of 10. So, by simply letting them flow with their natural length and the use of hair wax, you'll be ready to go. Therefore, remember to keep the top neat and the sides dangling.
#16. Natural Afro
Nothing beats naturally long hair for black men! So, those who are blessed with naturally curly hair should consider this kind of black men long hairstyles as an option. Why? Because it will make them stand out in the crown as the fashion icon of the event. Moreover, what make's a natural afro so great is that it is really easy to wear and style.
Tip: Make your curls shine in the spotlight with the help of a few hair products.
#17. High Contrast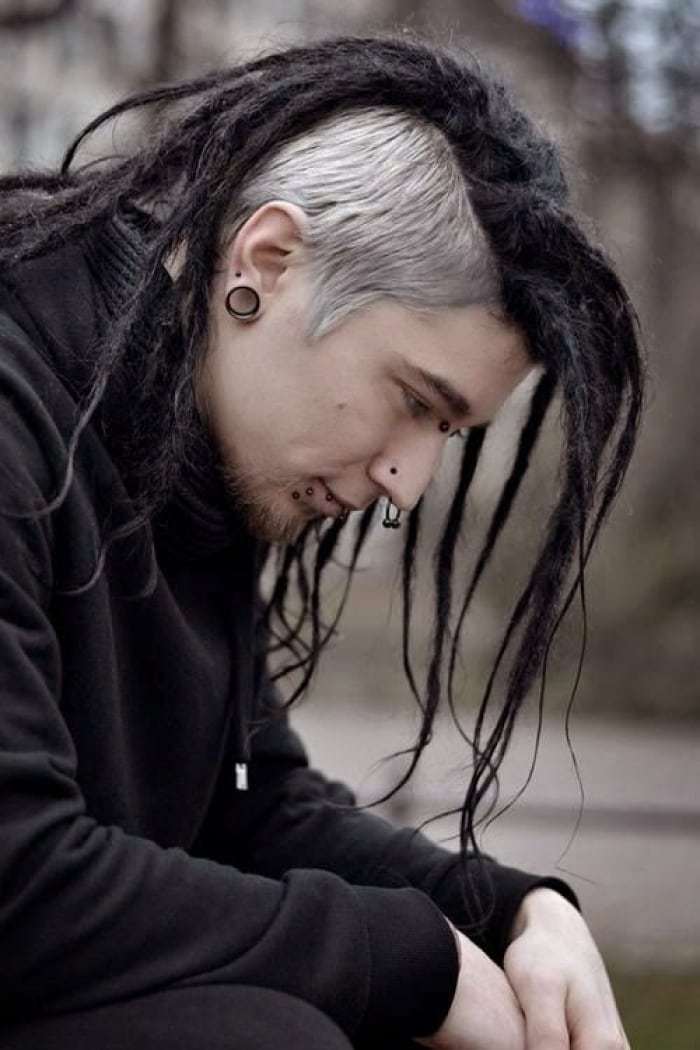 Since contrast is one of the main principles of design, then you should try to incorporate it in your next upcoming black men's long hairstyle. So, all you need to do is simply divide your hair into two parts. And dye one with a relatively bright color and keep the other side with the black or dark color it already has a catchy look.
#18. Contrast Of Another Kind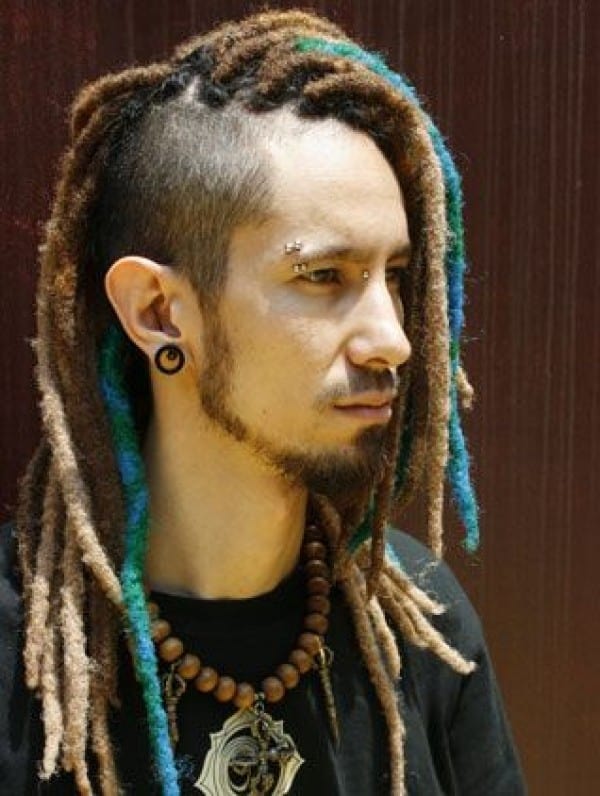 By pulling your dreadlocks to one side and leaving the other to be extremely short, you are establishing another kind of contrast. One that does not involve color and involves hair length. Also, add extensions like the blue ones shown above to add a little flair to your whole look.
#19. Completely Twisted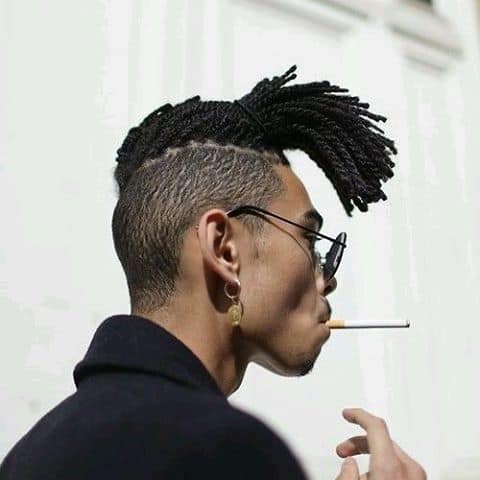 Besides the twists in the braided locks, this whole design is a complete exquisite unconventional hairstyle.
Then, how can we style it?
Leave the long locks in the top zone and tilt them frontward in a band; the opposite of the usual side forming the opposite of a ponytail.
Leave the rest of the head relatively clean shaved for a neat bad ass look.
#20. Long And Curly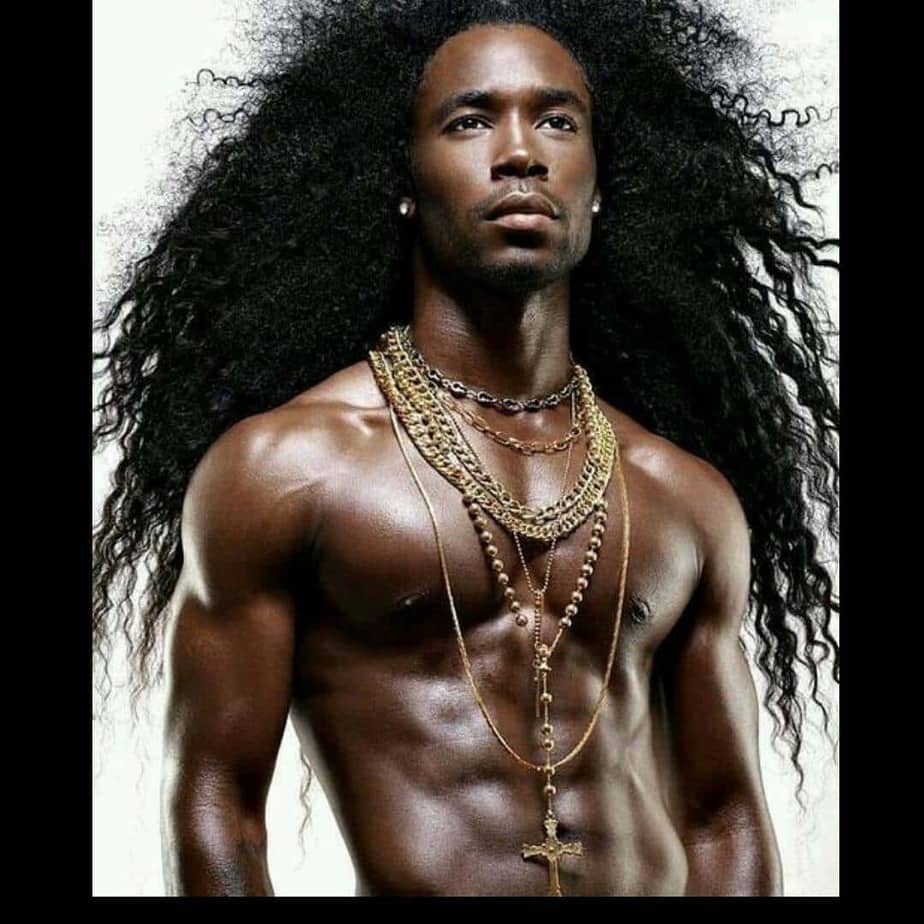 Go back in time to when the idea of barbers and haircuts were not even invented yet. And go with this type of historical black man long hairstyle as an imitation game to the natural and innate hairstyles they had back in the day. In addition to that, this design requires zero effort! It needs no styling whatsoever because it depends on your natural curls and frizz.
Picking the right black men long hairstyles can be a tricky task. Because of that, following the above tried and true advice can help you maintain the styling level you always opted for. So don't hesitate to go for a style change and fear the new look. With the list above, it is guaranteed that you would never go wrong.