When we think of hairstyling, it's a common misconception that this grooming habit is only for women. It's the 21st century, and men can sport various crew cut styles to suit them depending on various factors.
You should look good with a crew cut style if you have naturally curly hair, and might be suited for another style if you have a longer face shape. So, what crew cut style are you looking to sport today?
In this article, we are going to review everything that you need to know before going for your next hairstylist appointment. Keep reading to find out more!
What is a Crew Cut?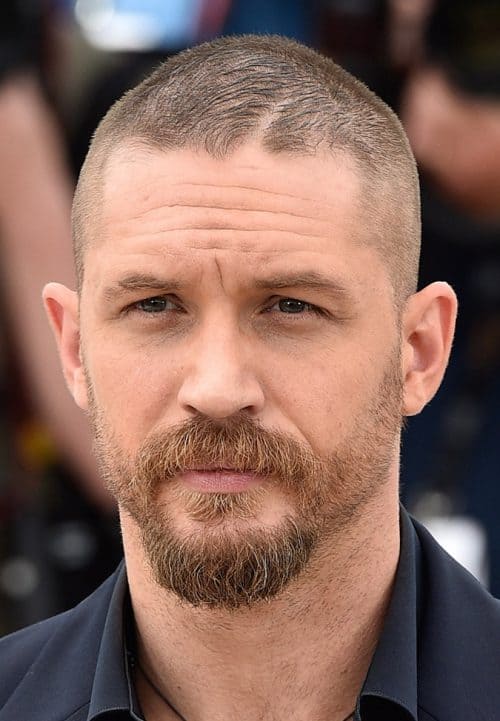 Generally, you can think of a crew cut as a very short haircut, usually adopted by men and boys. Here are some of the properties of a crew cut:
There will be fades involved
Tapered on the sides & back
Your hair is longer on top & front
A short crew cut could be referred to as a butch at times, although butches usually mean that the top is uniformly long. Meanwhile, a longer version is sometimes referred to as the Ivy League crew cut. However, generally speaking, crew cuts can be known as buzz cuts at times.
History/Origin of Crew Cut
The crew cut dates all the way back to the 18th century in the year 1927! While this haircut is trendy around the globe, its origin can be traced back to the United States – where it got its name as a crew cut.
While we do not know the exact specifics about how the crew cut came to be, we do know that Jock Whitney, a rowing team member at Yale cut his hair that way and the rest of the team members followed suit. It is possible that crew cut came into play for rowing teams since long hair could easily get into their eyes as they steer their boats with both hands.
There are also other explanations for how a crew cut came about. It's possible that this hairstyle was used to distinguish crew members from football team players. Whereas football team players had longer hair to provide some padding under their thin helmets back then, crew cut was a lot shorter.
Did you know that American soldiers sported high and tight crew cuts during World War II? This hairstyle was maintained to help the soldiers manage head lice issues. Perfectly understandable, one would say, since hair lice would spread easily in tight quarters during wartime.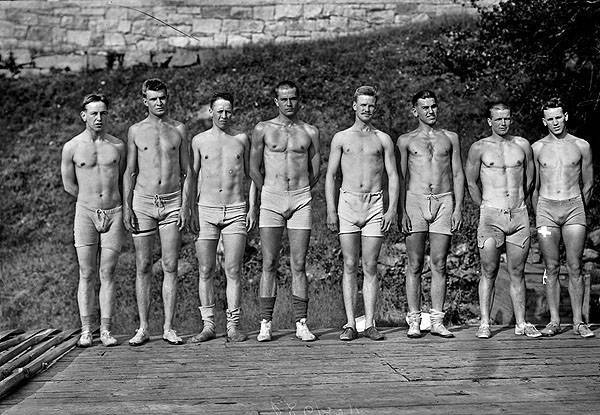 Crew cuts continued to trend and stay popular through the 1950s, particularly among Ivy League university students. However, shortly after, the trend was taken over by longer hair during the Rock 'n' Roll era. Nevertheless, this hairstyle remains an essential style among men and has been adapted to various styles ever since.
How to Style a Crew Cut?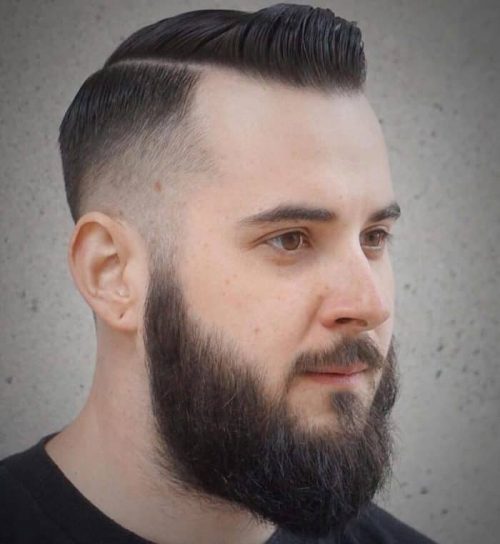 Most crew cuts are really short, so there isn't much styling required. However, if you want to add a little texture and height to your hair, feel free to use a high-hold wax. It is completely up to you whether you prefer your hair to stand upright using the wax. For some of us with thicker hair, we'll be able to do that on its own. Want a more trendy look? Style the front of your hair to be swept to one side!
If you're looking for extra styling to go with your crew cut, you can consider pairing it with a comfortably thick sideburn and a tapered nape! Although, to be honest, you can easily skip your morning hairstyling routine and still look just as great when you have a crew cut.
Crew Cut Lengths
Here's what you need to know. The length of the guards used on your hairstylists' barbering clips, whether it's 1/8th of an inch, or 1 whole inch, have a number dedicated to it. When you have a haircut with a 1/8th of an inch guard, that's how long you can expect your hair to be after the haircut. Generally, crew cuts can be divided into 3 different lengths – shorts, medium & long.
Short – Refers to either length #1 or #2 which stands for 1/8th of an inch and 1/4th of an inch respectively. That's really short!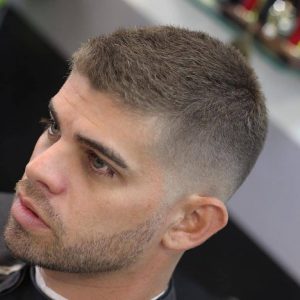 Medium – Refers to either length #3 or #4, which stands for 3/8th of an inch and 1/2th of an inch respectively.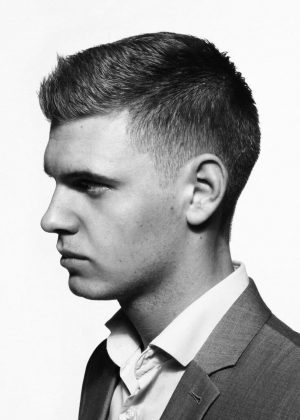 Long – Refers to the length of #7 or #8 at max, which stands for 7/8th of an inch and an entire inch respectively.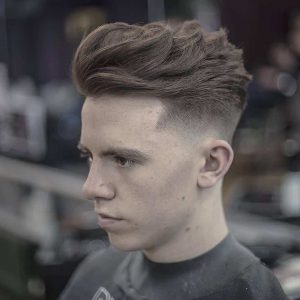 How to Maintain Crew Cuts
While it's true that there isn't much styling required for crew cuts, you will still need to perform some maintenance to make sure that your hairstyle continues to look nice. How you maintain your crew cuts may differ depending on the lengths that you are keeping!
Short Crew Cuts
If you have a short crew cut you will find that your hairstyle quickly loses its shape. While your crew cut is still fresh, you barely need to maintain it! In fact, you won't even need to bother with combing or gels if you sport a #1 or #2. However, the frequency of your maintenance depends on your hair growth rate.
For some of us, our hair can grow fairly quickly, thus requiring more maintenance. If you are one of them, you will need to visit your hairstylist at least once every 3 weeks if you intend to keep that hairdo. Keep your sides tapered regularly for a smooth and clear transition from your neckline to the top of your head.
Long Crew Cuts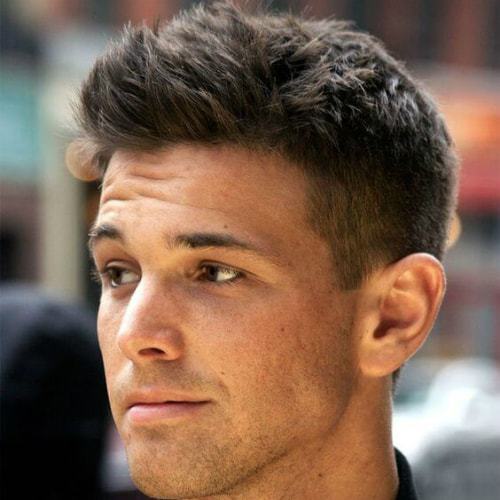 Prefer your crew cut a little grown out and tousled? You'll need a different maintenance method! A longer crew cut usually means that you have long hair at the top. The contrast between your long top hair and your buzzed sides will reflect well on your overall appearance! Just be sure to comb or gel them well before you go out. Otherwise, your 'tousled' look will just appear messy to everyone else.
Does Crew Cut Go Well with A Beard?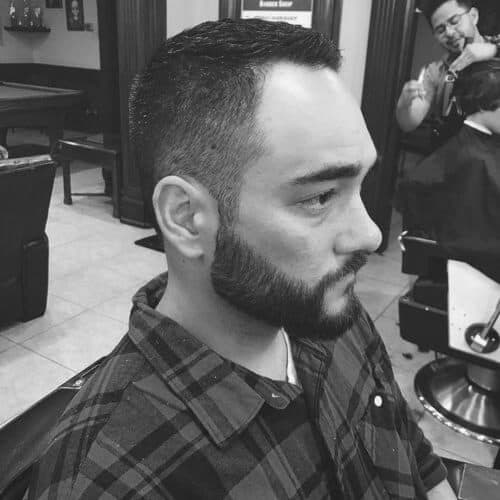 Oh, hell yes! If you want your crew cut to make you look more manly, keep a neat beard. Not wild stubbles, and definitely not something patchy with a few hairs.
Allow your beard to grow long and thick, and make sure that they grow up to your sideburns! You can style your beard along with your sideburns. This combination will make your overall appearance look as if you have your crew cut and beard as one neat, complete look.
What Face Shapes Will Look Good With A Crew Cut?
The best face shapes for a crew cut are square, oval and round. Diamond-shaped, heart-shaped or triangular faces can still fit relatively well, but if your face is oblong-shaped, then a crew cut will not suit you.
When it comes to crew cuts, your face shape determines how suitable a crew cut is for you rather than other factors such as the size of your head.

If your face is more oval-shaped, you will find that you are quite blessed when it comes to facial proportions. You can pretty much rock various lengths of crew cuts with this face shape. Try different top lengths and varying fade heights and choose whichever that you like the best!
Have a rounder face? A crew cut can help to make your face appear narrower, giving you a facial structure that appears more angular. However, do note that you will need to keep a higher hair volume on top of your head to achieve the desired effect.
A square face is the most suitable face shape for crew cuts. Since a square face appears much more structural and the features are more angular, military-style crew cuts will suit them plenty. However, to get the best looks, you might not want to keep your hair too short. Square faces look the best with medium or high fades and don't taper any lower than your ears.
If you have a diamond-shaped face, your crew cut might look fine on you with a low-to-medium fade. Your ears might be exposed a bit too much.
Is your face heart-shaped? Don't take up any crew cuts that will make cause your forehead to appear wider than it already is. If you insist on a crew cut, make sure that your fades are very low, and make it subtle. You should keep to a comfortably long length as well.
Triangular faces need to ensure that there is enough volume around your temples just to balance out your jaw-lines. Try a mid-to-low fade!
Who Shouldn't Try A Crew Cut?
When your face shape leans towards an oblong-like shape, you do not need your hairstyle to elongate your face even further. If you do want a crew cut, you can try for one with a low fade, but it is still not recommended.
Best Crew Cut Ideas for Men
A crew cut doesn't have to be plain and boring. There are various ways to style up your hair, regardless of your hair type, length or preferences. In this list, we will review 50 crew cut styles that you can request for your next barber visit.
1. Brushed Forward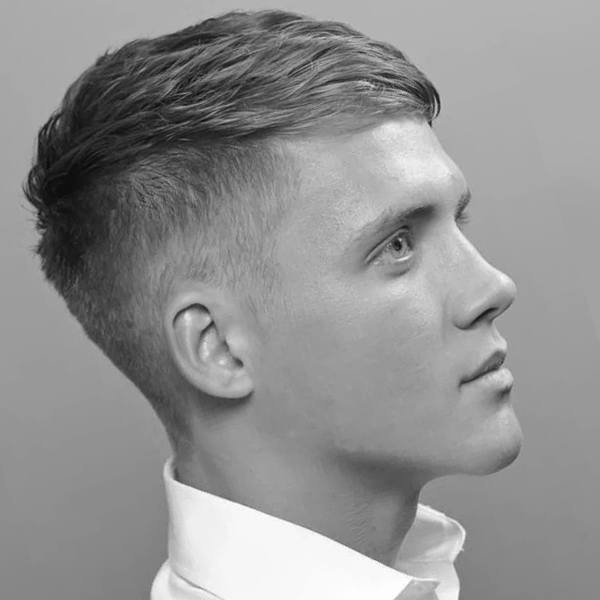 Have a longer top? You can brush them towards the front for a short, textured and modern look. Depending on your hair type, this look might appear slightly tousled at times as well, even if it's brushed. For best effect, keep the back of your head short from the mid-part downwards!
2. Brushed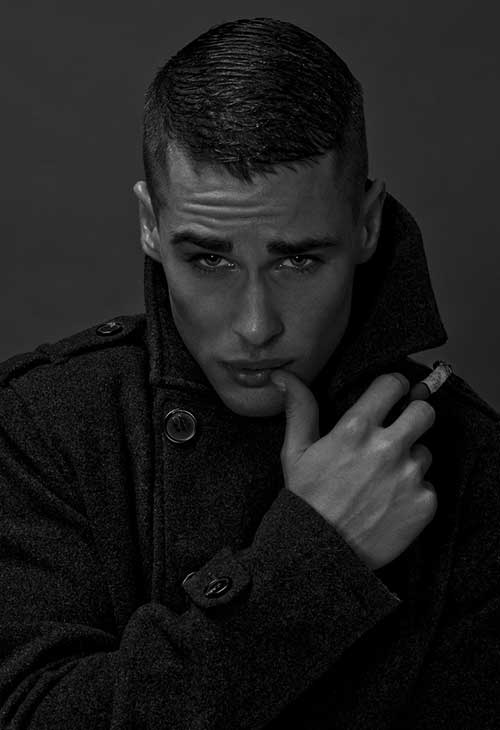 Nobody said that your hair can only be brushed forward! With some help from hair gel, you can create this unique textured effect. It works well even if your hair is short or thinning, and you can keep the sides shaved really closely so that you can bring out a nice contrast for your top.
3. Center Only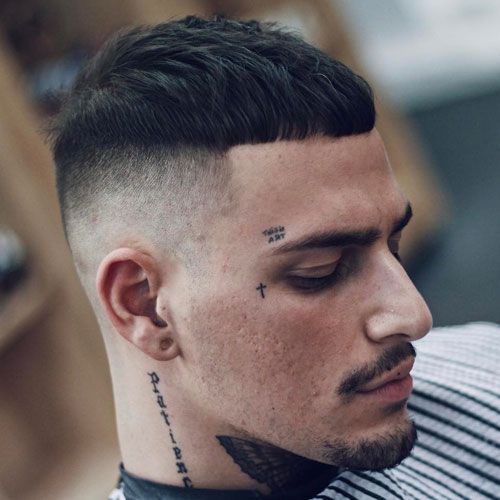 If you don't want any hassle, a center-only crew cut could be the perfect fit for you. Leave only a comfortable length in the center, and deliver a thin taper to the remaining sides. If you have sharp facial features, you'll find that you can even pull this hairstyle off with a well-kept mustache and light beard!
4. High-Contrast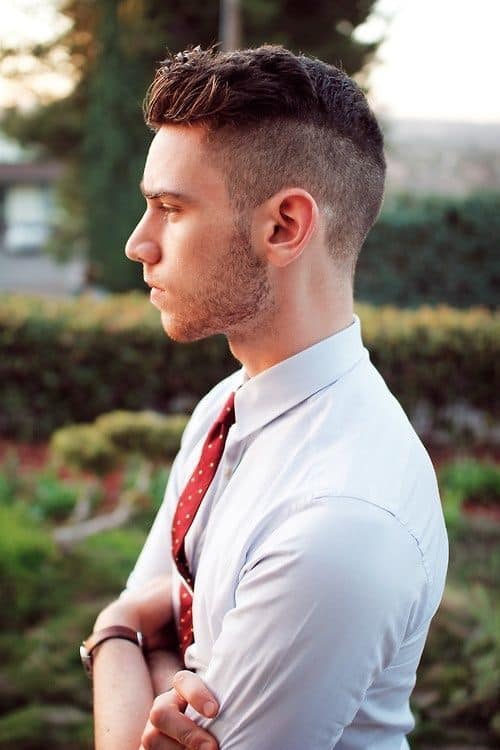 A thick top and neatly tapered sides are all you need to achieve this highly-contrasting look. Keep some well-groomed stubbles to enhance this effect! Works best if you wear your hair top slightly tousled for a more natural look.
5. Crew Cut with a Fade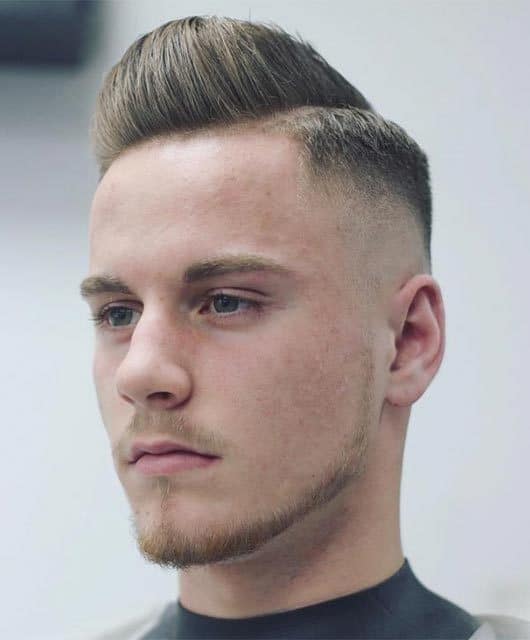 Comb your long top upwards, secure it with some gel, and use a high fade. This is perfect if you are intending to grow your hair out on top and might want to style it differently every once in a while. Pair this hairdo with a high collar shirt and a sweater and you'll be rocking the 2018's Hipster Looks!
6. Crew Cut with Highlights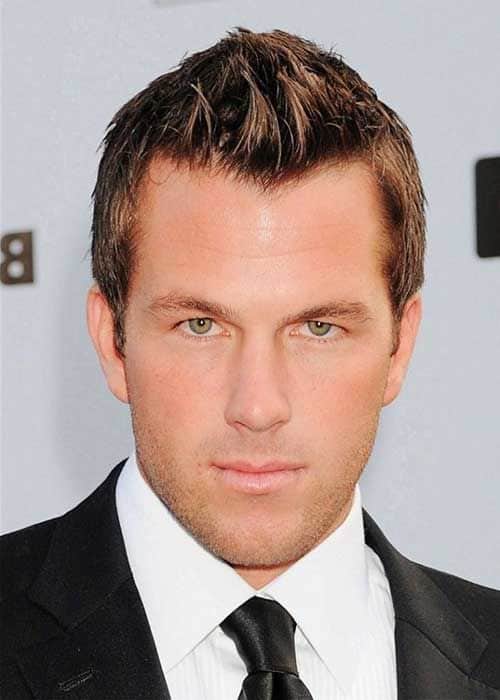 You might also know this as the California Crew Cut. Either way, this look works best if you have a thick top. Highlight the lengthy parts to give your colorful twist to your otherwise-basic crew cut! This photo uses a medium-length top, and you'll need to be prepared to use some hair gel while you comb your hair if you have a longer length.
7. Crew Cut With Quiff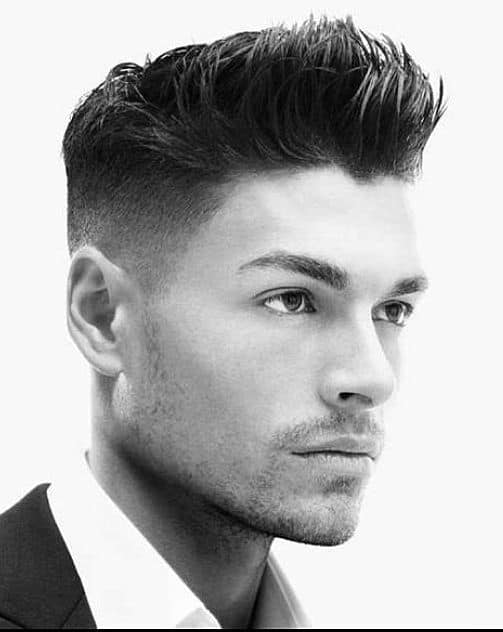 This look will require you to have a high volume of hair on your top. You will need to maintain a much shorter length along your sides and the back. Get that quiff look by sweeping your thick hair at the front upwards!
8. Fluffy Spikes
You can go around telling people that "I woke up like this" and it will be 100% believable, which is the best perk of this hairdo. It looks entirely natural, and messy – but in a good way if you keep a clean-shaved look otherwise. This look features a long crew cut all the way round, and kept even longer at the top. Simply tousle your hair a little with your fingers to get this look!
9. Asymmetrical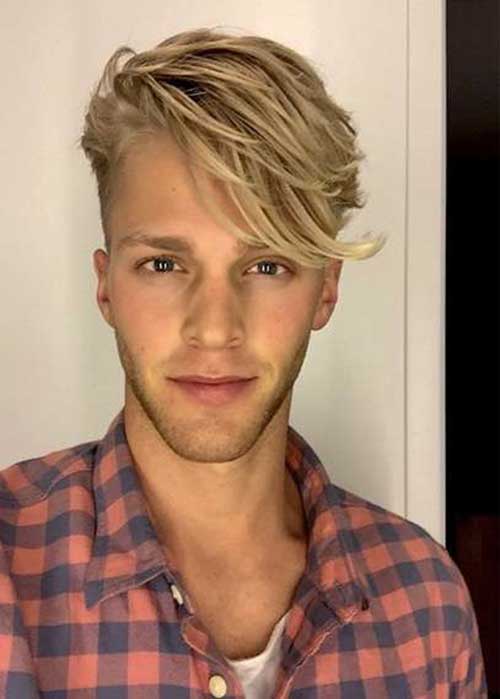 Style your crew cut with irregular lengths on both sides to create a textured, fluffy look. This look will look the best if you have a long top and medium or short lengths on the side. All you have to do is to part your hair on one side to create an asymmetrical side part.
10. High & Tight Crew Cut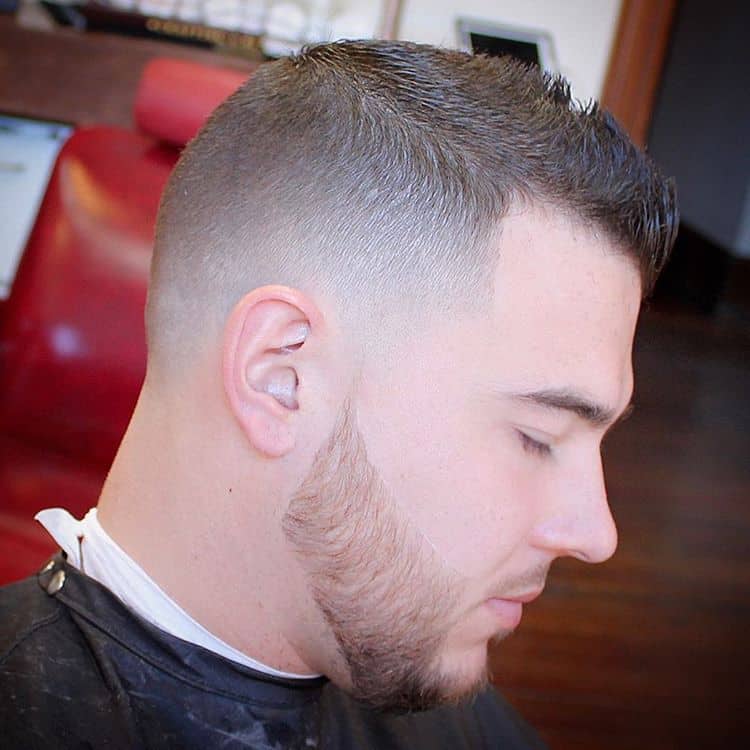 Be amazed at how polished you'll look with the classical high-and-tight haircut. Request a short crew cut from your hairdresser with a high fade to achieve this look. If you are looking for that contrasting line between your top and sides, simply do a comb-over to get the effect!
11. Hipster Flattop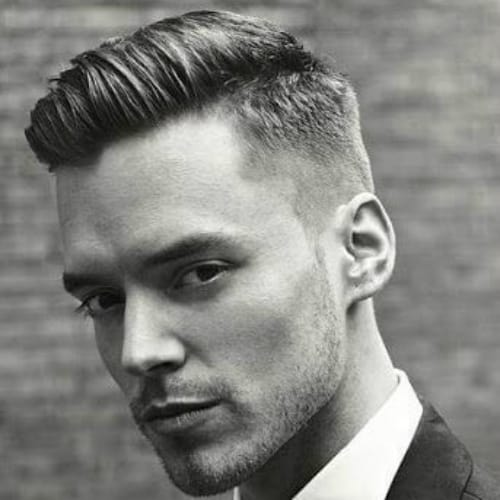 Comb over your long top and keep a short tapered side with light stubble. The upswept hair at the front and sides of your top will give you a neat appearance as long as the sides are neatly trimmed.
12. Ivy League Crew Cut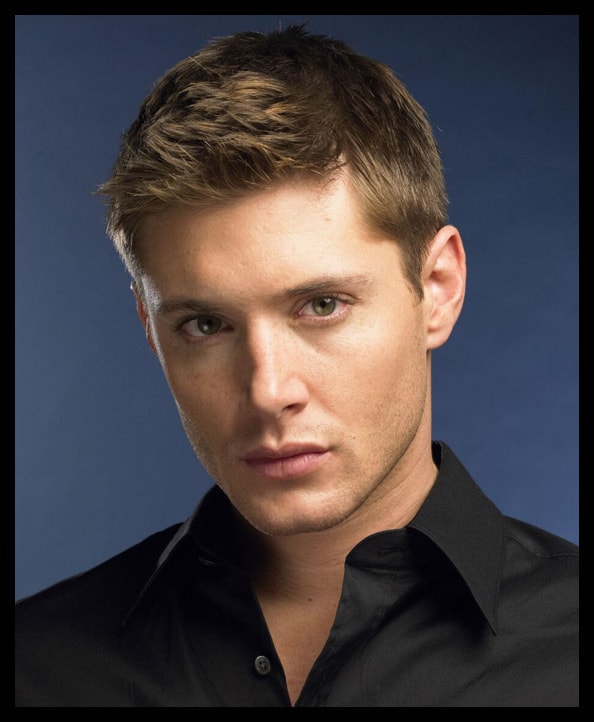 This is the hairstyle that you can expect to see among university students. It's simple to maintain, and anyone can rock this hairdo easily! Give your front fringe a little tousle and you're good to go.
13. Long Top with Subtle Fringe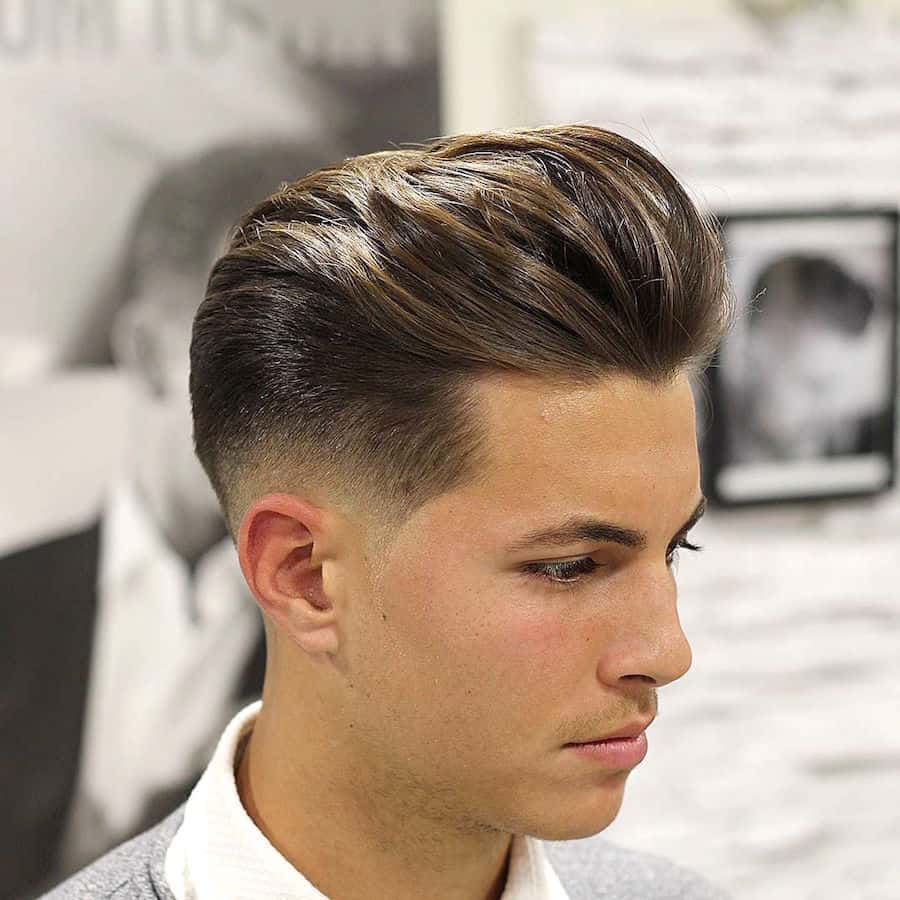 Keep a long top and have it all combed upwards – just hinting that you have front fringes but not showing it. If you have a suitable hairdo for this, you can easily style it in various ways to achieve different looks! Long fringes go a long way in hairdos.
14. Long Top with Tapered Sides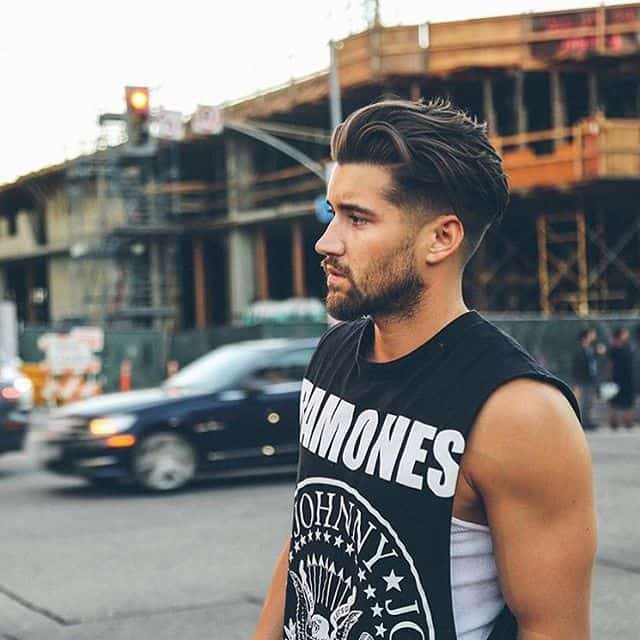 Taper your sides neatly with a subtle fade, and leave the rest long and wild. With some help from holding gel, you'll achieve this rockstar look!
15. Long, Tousled & Dyed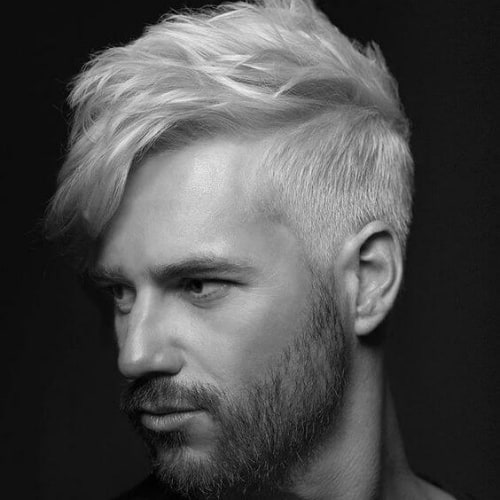 There's no rule that said you can't have your hair and beard in different colors. However, having a contrasting color on your hair will surely look better if you have long hair on top to fully flaunt your colors.
16. Crew Cut with a Micro Flick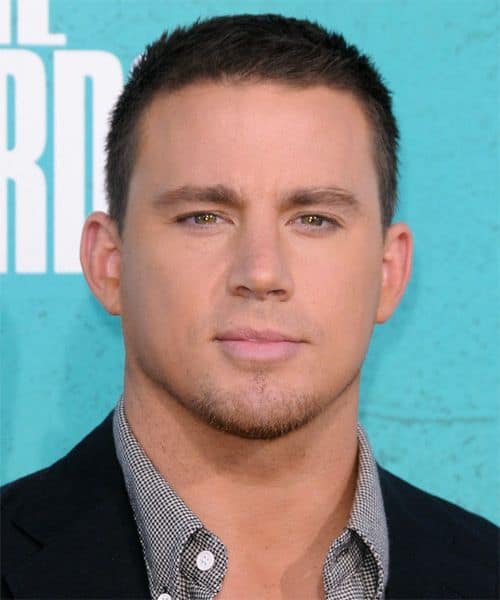 Want a simple haircut but don't want your crew cut to appear too plain? Give a small flick to your hair at the front to give a little texture to your hairdo!
17. Mid-Length Crew Cut, Slightly Curled
Medium length crew cut looks good on most individuals, but just look at how well this hairdo fits slightly curly hair! This crew cut looks much better if you maintain a medium hair length all around, and perhaps a little longer at the front.
18. Mild, Short Crew Cut with Light Beard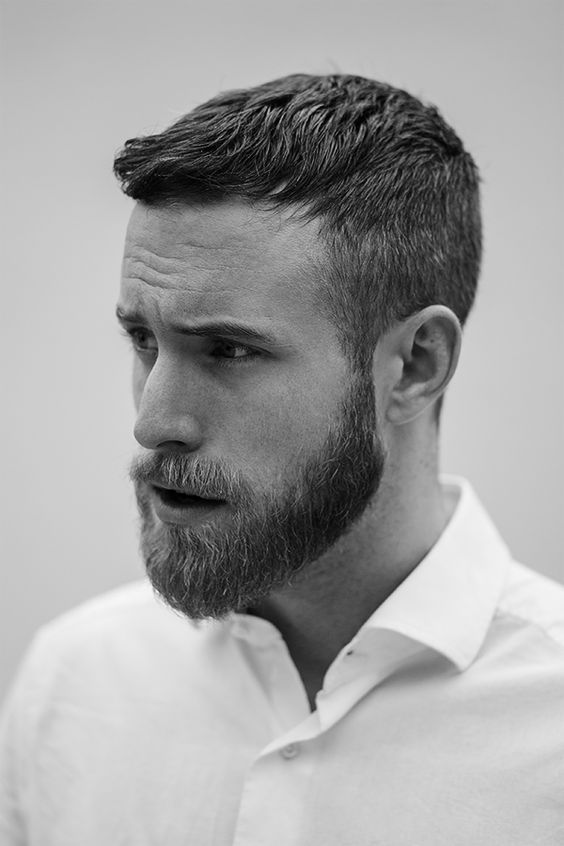 When you have a short crew cut, you can give it a little texture by combing over them with some gel. Keep your crew cut short and your beard a little long, but be sure to maintain thin & sparse sideburns!
19. Mid-Length Crew Cut with Subtle Spikes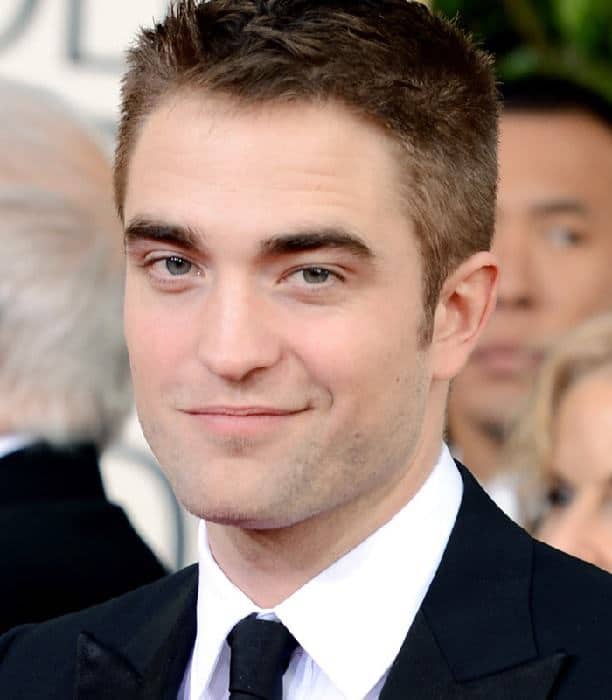 So you've decided to keep a mid-length crew cut, but it looks way too common. Spike it up a little with a micro-flick at the front and you'll have yourself a sporty look.
20. Simple Mid-Length Crew Cut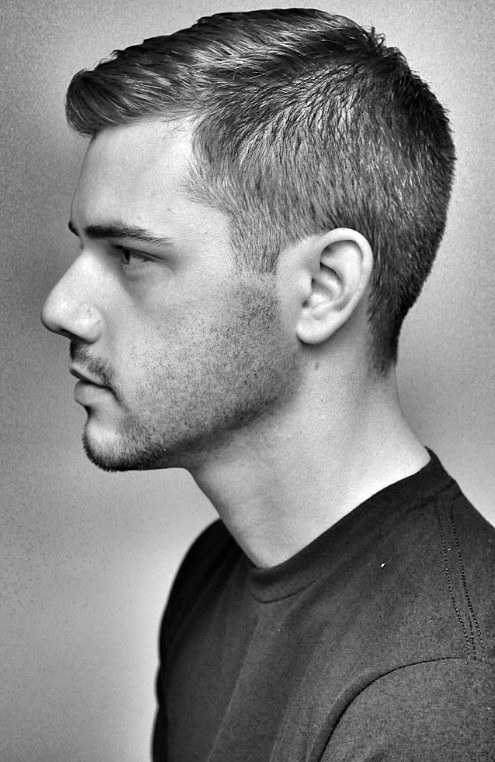 Simple can be good too! Keep your hair mid-length at the center & top, and keep your hair tapered short on all other sides. This will give your hair a slightly spiky look where it's tapered, and trendily neat on the longer side.
21. Mohawk Crew Cut for Curly Hair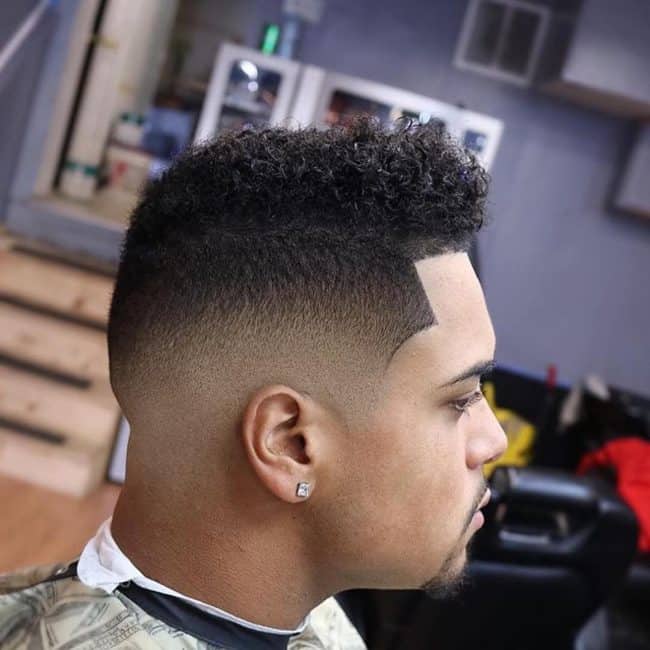 This hairdo works for you if you want to focus only on the center part. Even curly hair can rock a centralized faux mohawk style! Can we just take a second to appreciate that state-of-the-art fade?
22. Natural & Sleek Crew Cut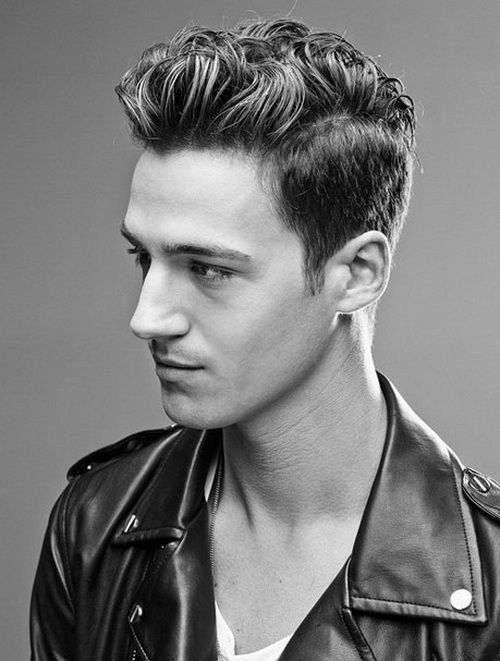 Like the name suggests, this crew cut lets you go through your day with your natural hairdo. Let your hair grow out a little, and just try not to make your hair look way too messy. A little gel or wax can go a long way with those long curls!
23. Out of Control Crew Cut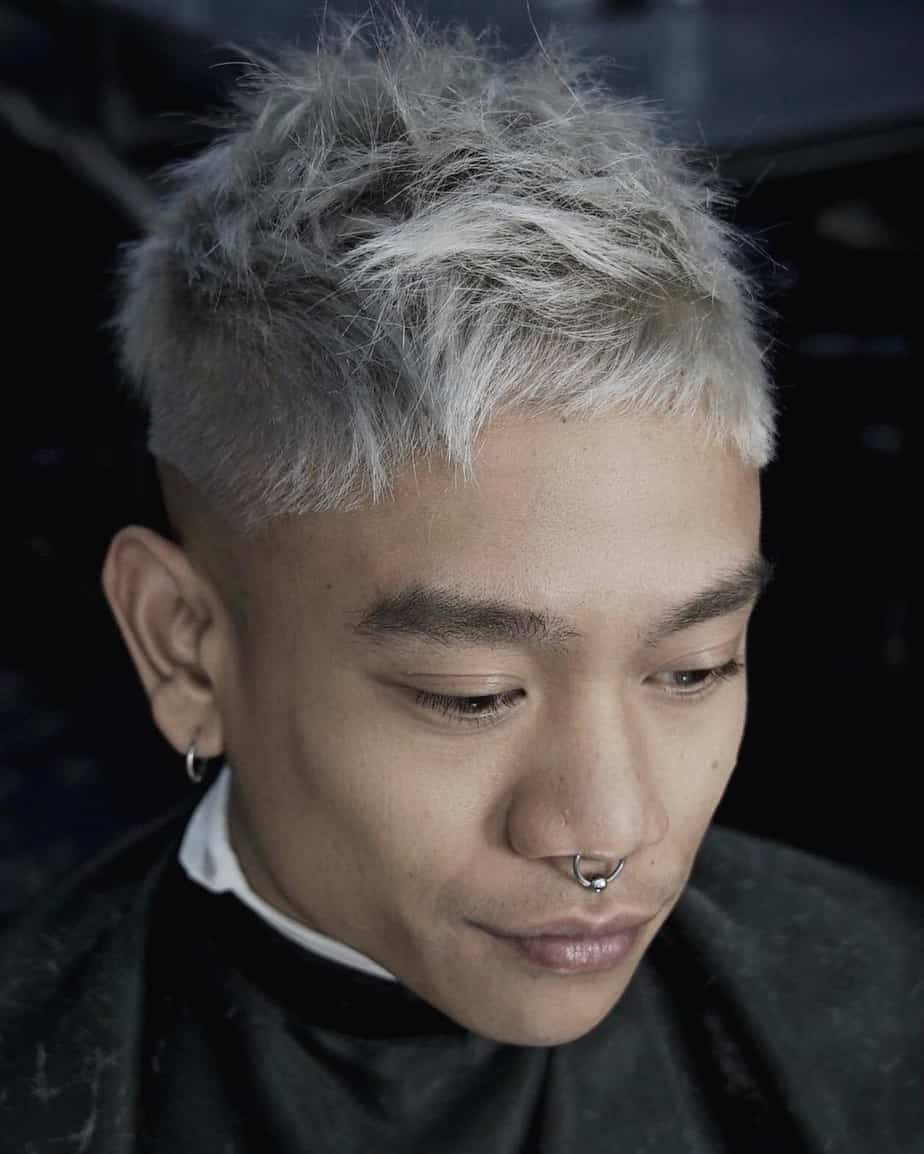 Let your hair grow wild and free with the out of control crew cut. It's essentially telling your barber, "Just give me a K-Pop hairstyle". If you're bold enough to take on this look, take an extra step and get your hair dyed with another bolder color like this one as well!
24. Short, Disheveled Spikes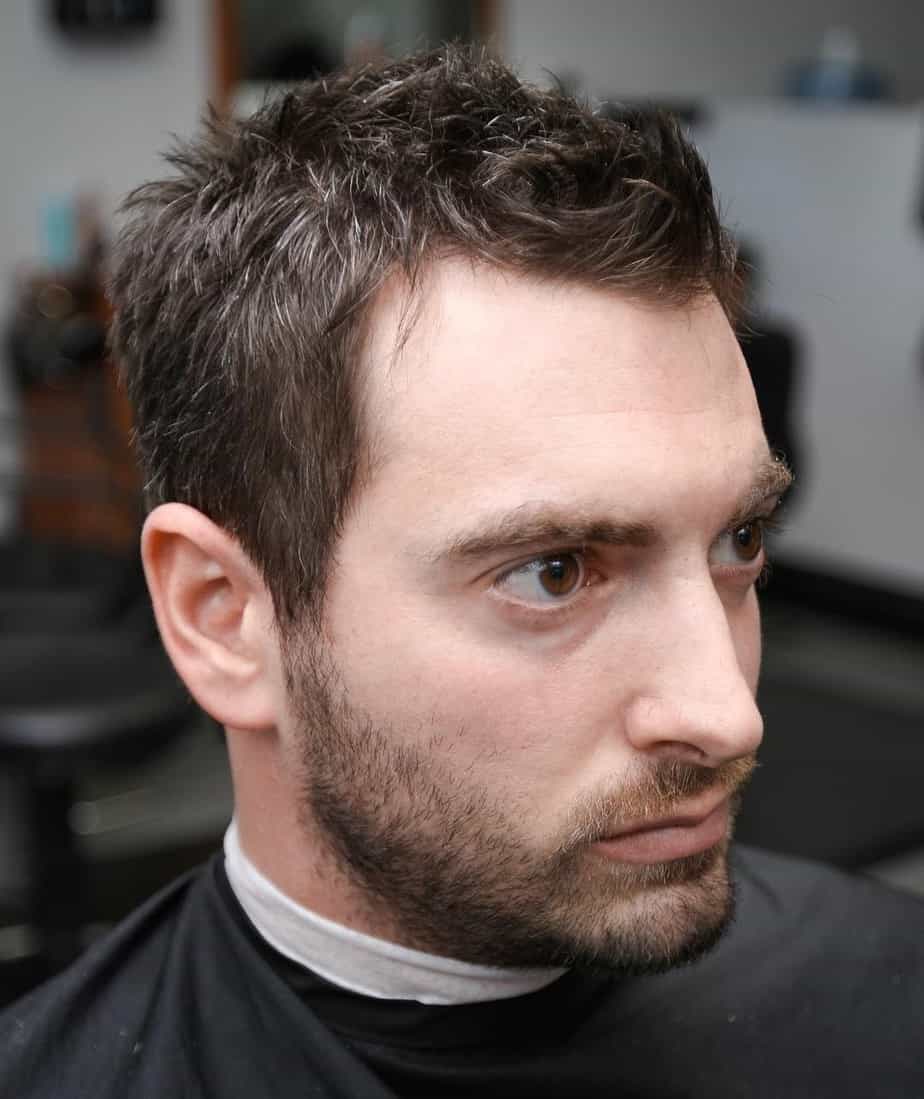 This hairdo could probably be renamed as 'The Programmer Hair' and people would easily get a rough idea of how the crew cut looks like. This crew cut is easy. Get a short crew cut, wake up, and just go about the day. No styling required.
25. Simple, Short & Neat Crew Cut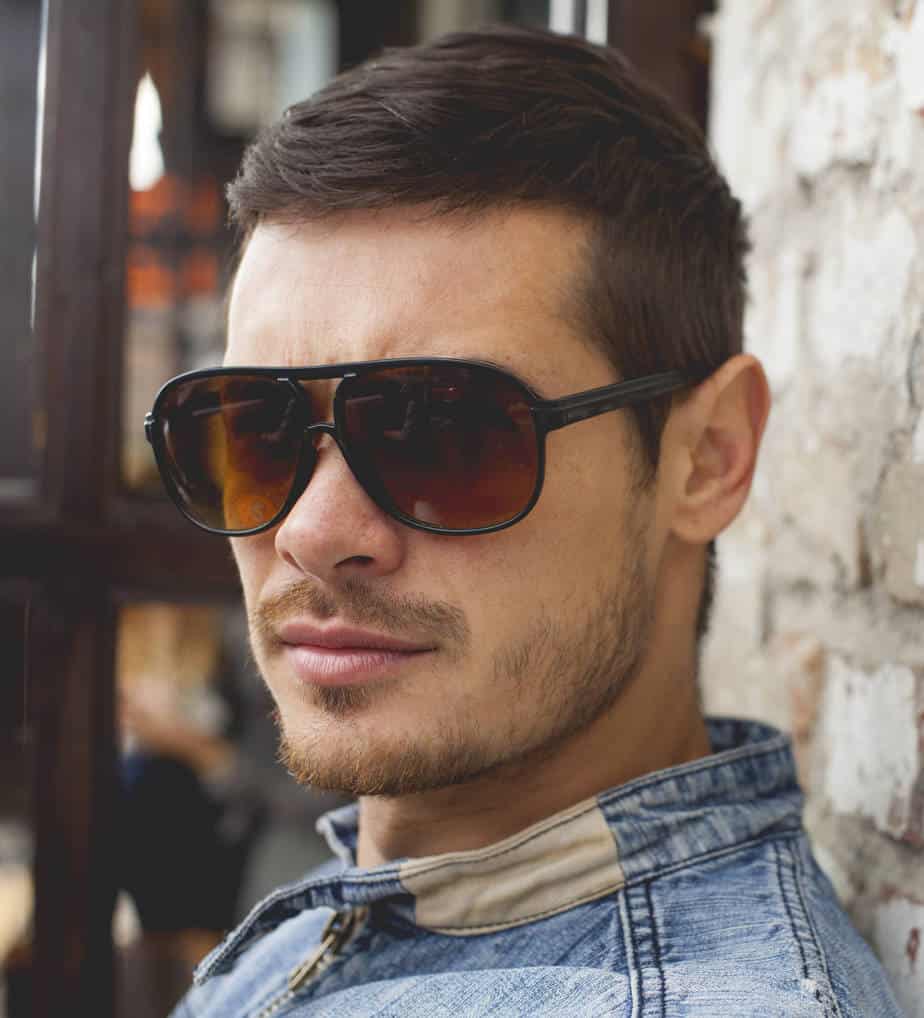 Here's a variation of the crew cut above. The only difference is that you are keeping your crew cut well-groomed in this hairdo. There is definitely some hair wax involved in this one!
26. Swept-Up Crew Cut, Slightly Tousled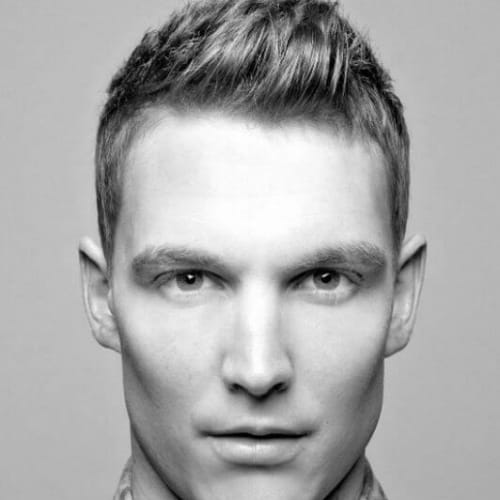 Look just the right amount of tousled by sweeping your long front upwards. Keep your sides short to get the contrast!
27. Side-Swept Crew Cut, Tousled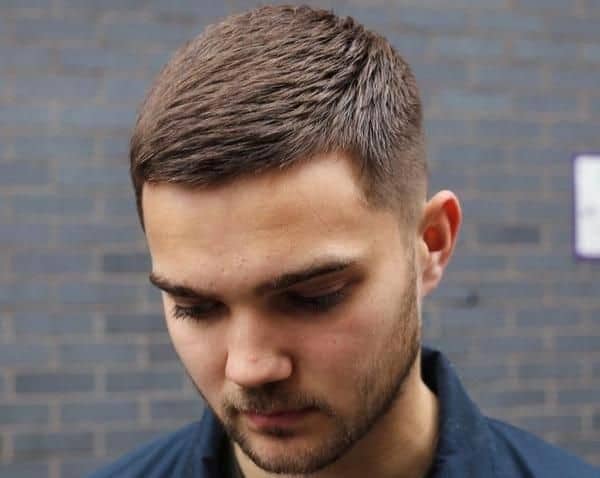 This look may appear spiky or tousled, but whichever way you look at it, it's a short crew cut that you can keep neat and stylish for your next business appointment!
28. Simple, Long Crew Cut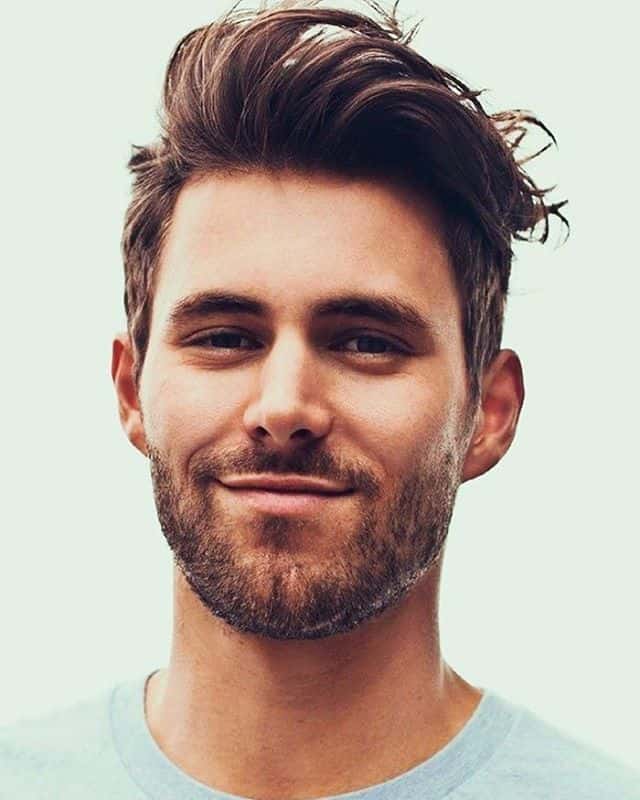 If you have thick, luscious hair, you should feel blessed. Just some gentle combing will do the job. This crew cut features a long cut on top and at least a mid-length all around otherwise.
29. Slightly Curly Crew Cut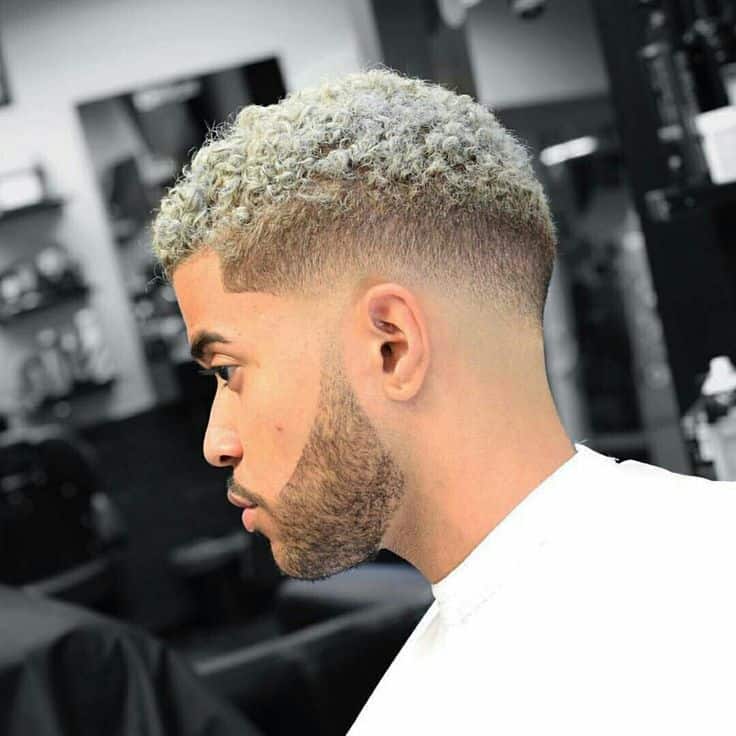 Sharp, contoured fade & tapered sides and back matches well with short curly crew cut on the top. Keep a closely shaved mustache and beard to frame your face even better!
30. Soft Spikes & Tapered Sides
Spikes don't have to be aggressive and sharp all the time. You can rock yours with just a little gel and a gradual fade down the sides and back!
31. Spiked Crew Cut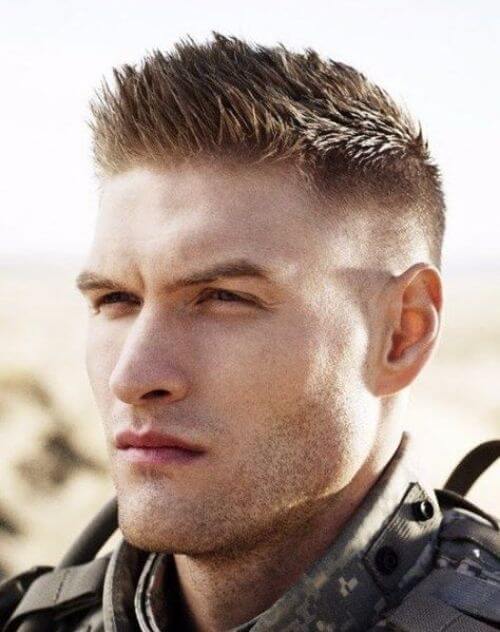 This military style-inspired look features a short crew cut, spiked up all around but swept to the front. You'll definitely appear sharp and alert with this hairdo!
32. Spiked Fringe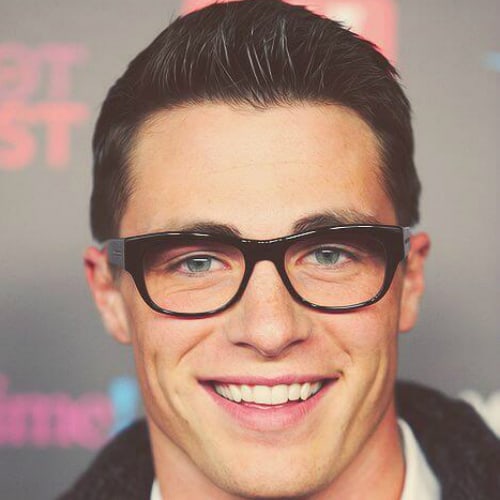 This crew cut is the perfect balance between a smart, classy look and a Friday's night out style with the bros. Just spike up the few wild strands at the front for your desired effects!
33. Square Hairline Crew Cut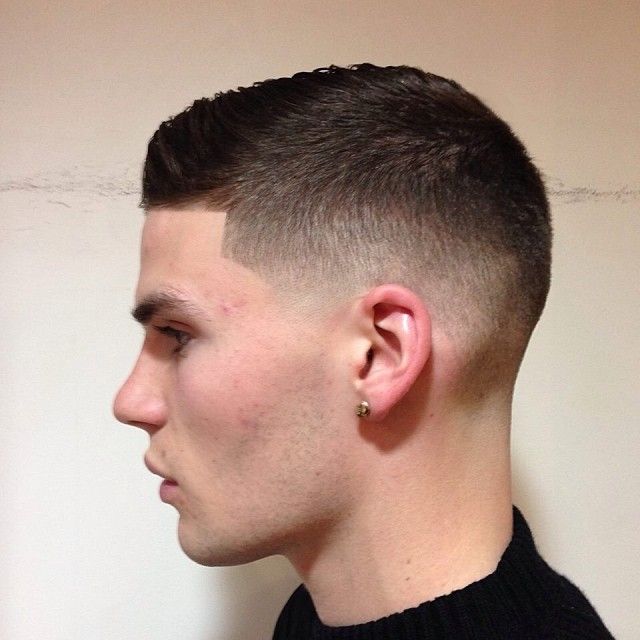 You can be sure that your face is not being covered by any wild hair strands with a square hairline crew cut. You'll want to ensure that you have a short crew cut at the top and even shorter sides and back.
34. Side-Swept Straight Hairline with High Fade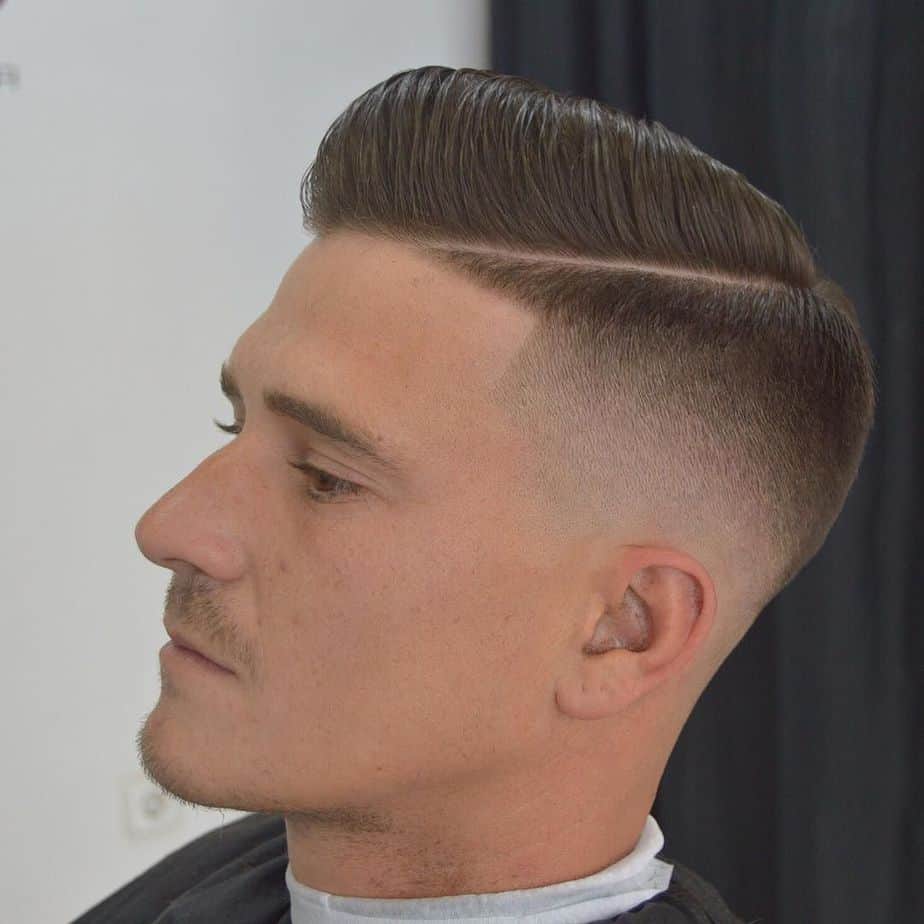 Achieve this sharp fade by combing over one side of your hair to create the high-contrast part! For best effect, you'll want to ensure that your hair is tapered really short on the shorter side of the part.
35. Stubble on the Side, Stubble on the Beard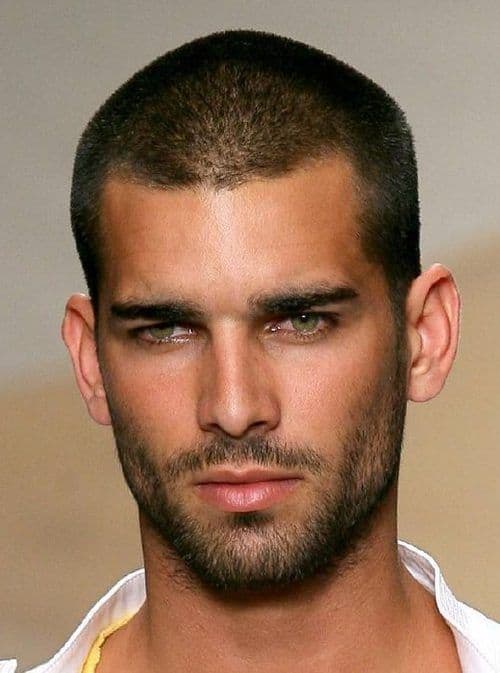 This short crew cut can look really manly with stubble that is just as short. It could be the uniformity in the hair length all around.
36. Subtle Faux Hawk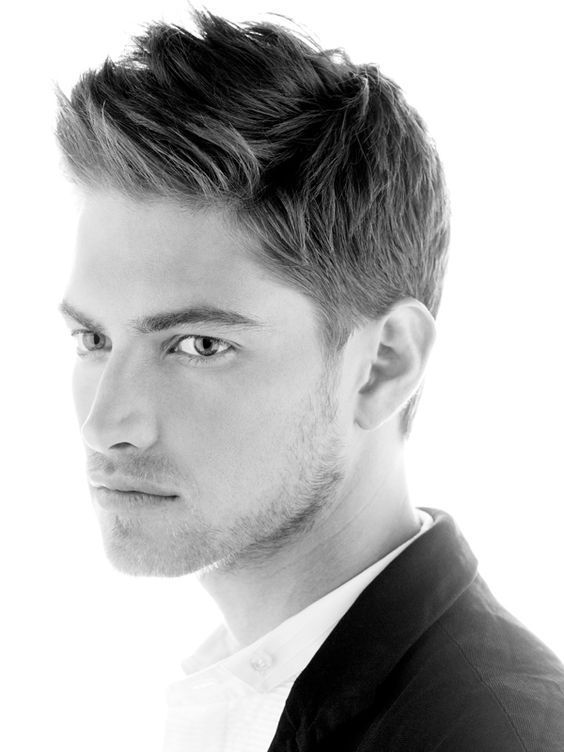 Get a faux-hawk crew cut by combing your hair upwards from both sides a little distance from the center. For best effect, keep a long crew cut in the center and give the front a little up-sweep!
37. Subtle Side-Sweep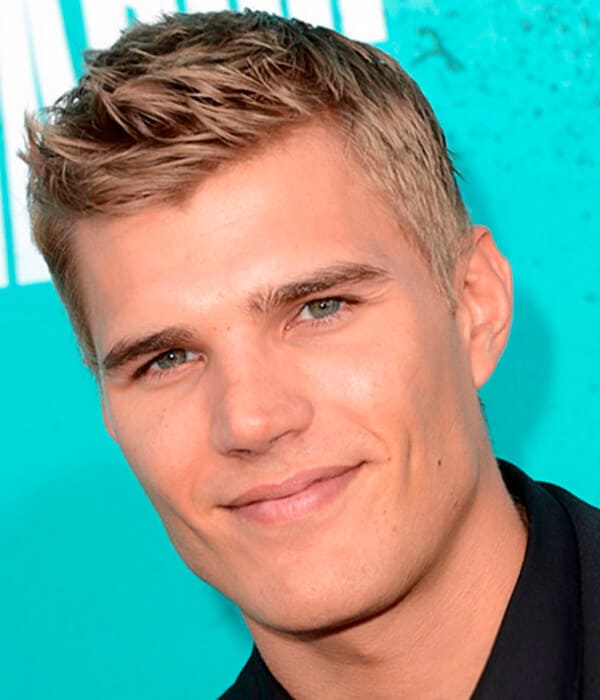 It's okay if you're not into extravagant hairstyles. You can get a short crew cut and just give it a simple comb-over to the sides and call it a day!
38. Textured & Fluffy Crew Cut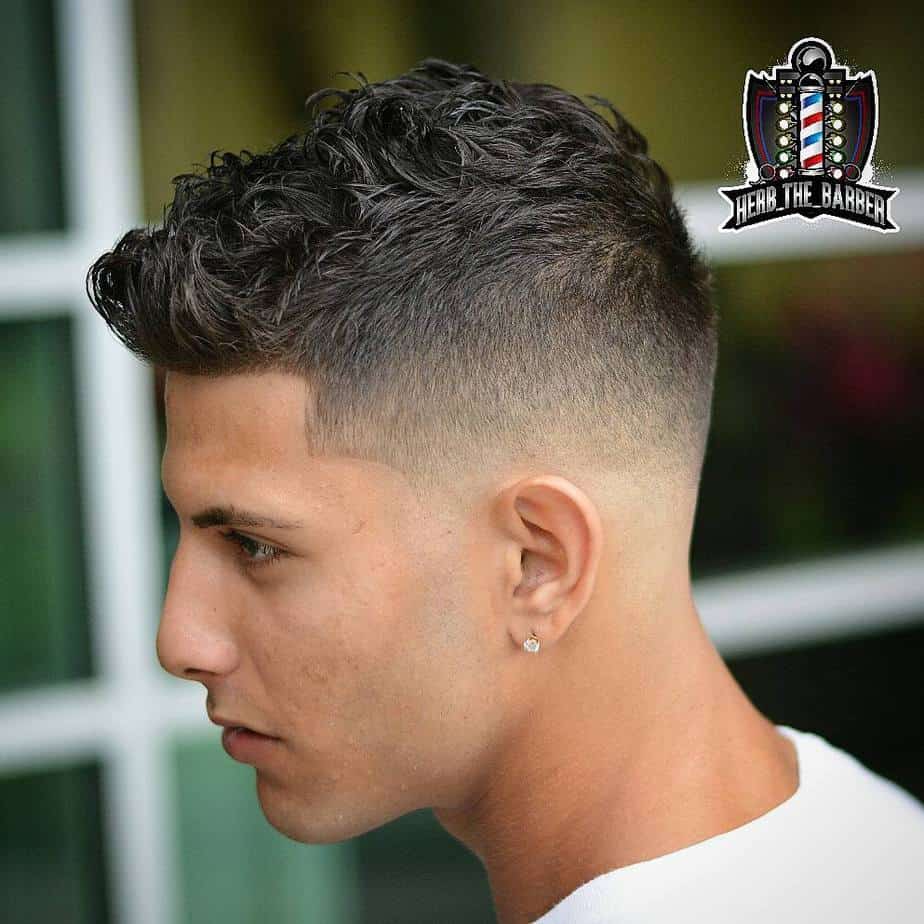 Is your hair naturally curly? This would give you an advantage for textured, fluffy hair looks. Get this classic crew cut with focus on the top and center!
39. Thick & Curly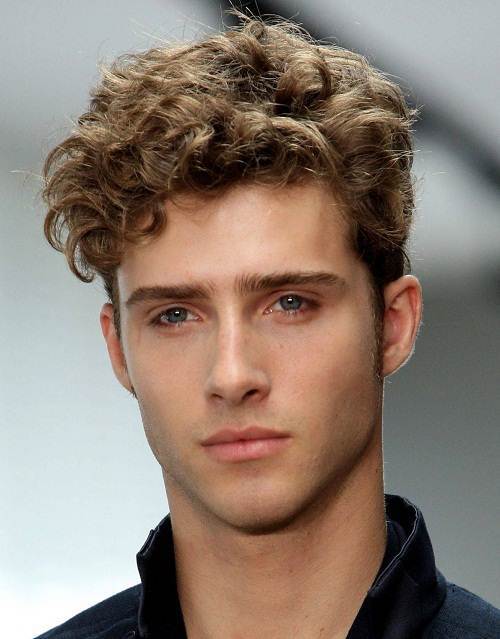 As long as you keep the lower sides and back of your hair short. you can still look just right with a thick and curly top. This tousled look will also give your hair a really fluffy appearance!
40. Thick Top, Slightly Tousled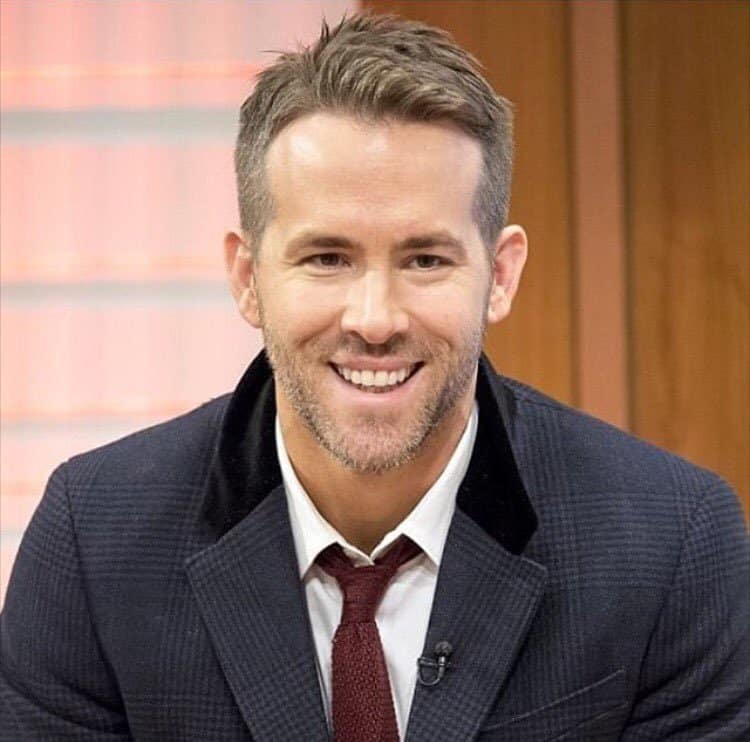 Ryan Reynolds definitely rocked this looks. His angular jawline pairs well with the square hairline, and his thick, high-volume hair just adds on to the perfection. In fact, tousled hair never looked better. Just run your fingers through from the front to the back and you're good to go.
41. Thick Crew Cut with Tapered Sides & Light Beard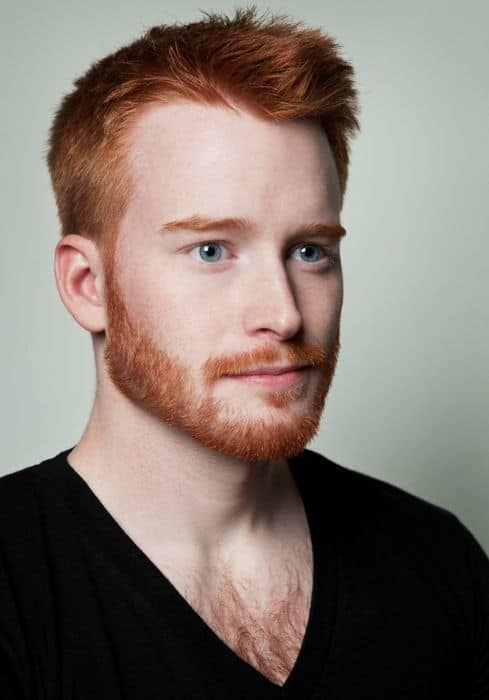 So what if you have an irregular hairline that's not quite a widow's peak or anything else for that matter? When you can grow a beard well, you can match your sideburns and well-kept beard together for a refreshing, fashionable look. There isn't too much styling required in this one – simply comb your tapered sides in one direction and let your long top run free!
42. Thick Crown with High Contrasting Fade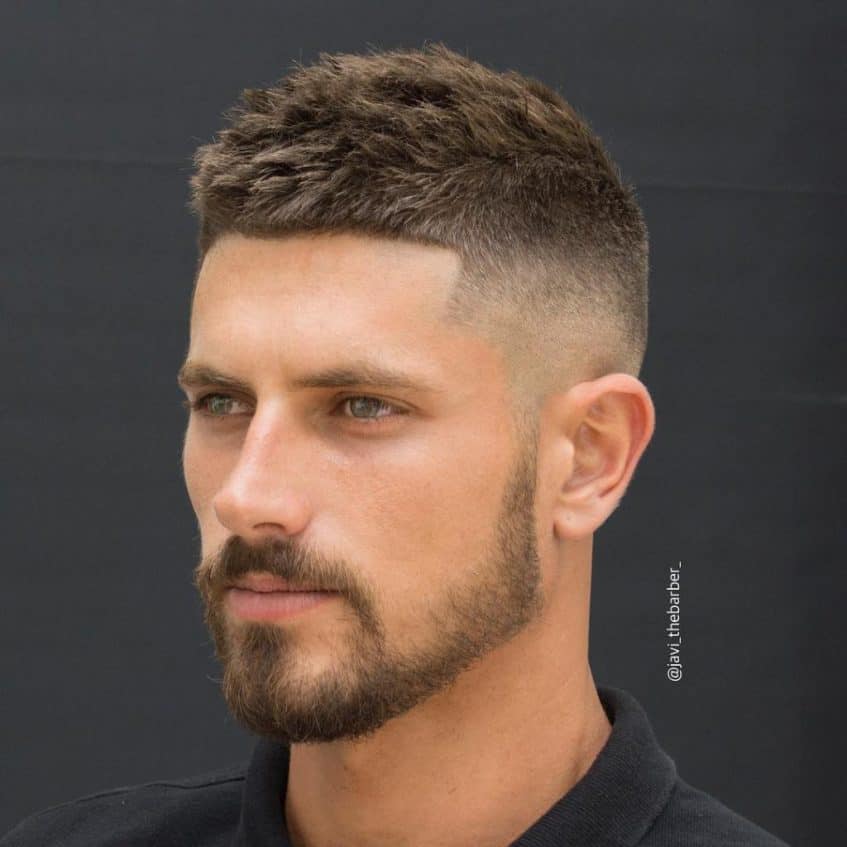 Let us all just be quiet for a minute and admire how the fade contrasts so well with the top crown. Get a straight hairline cut, and keep your hair at the front slightly long so that you can style your hair for this look. Having thick, long hair at the top will blend nicely with an almost clean-shaven fade along the sides.
43. Thick, Tousled & Textured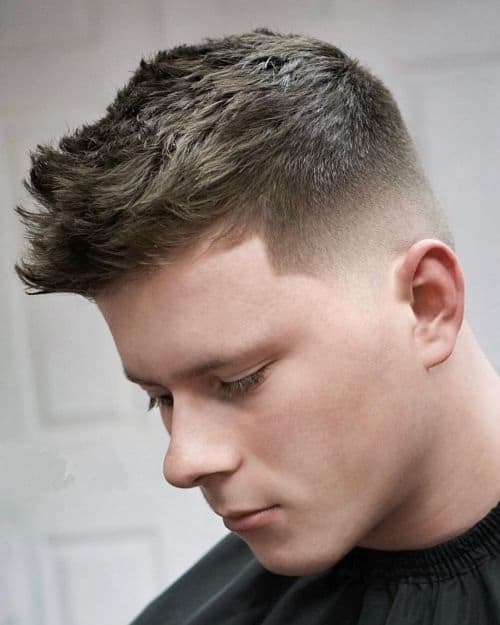 Doesn't this hairstyle just scream 'tug-able' to you? The only trick to this crew cut is to keep a cleanly-shaved face – although, a light stubble will do the job too. Try to keep your sides at short or medium length. There's a thin, fine line between 'trendily tousled' and 'just plain messy', so you'll need to balance this out carefully!
44. Thick, Long, & Slightly Curled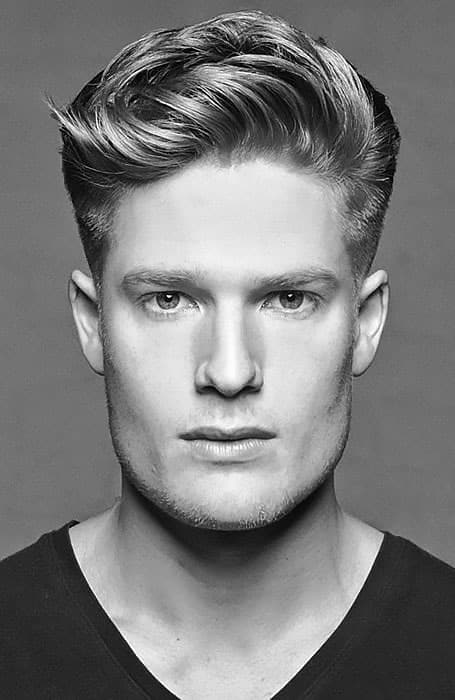 Rock this wavy hairdo at the beach or in a business meeting – this look can be suitable for any occasion and still look perfect!
Notice that this hairdo matches square or slightly more angular face shapes. The sides are gradually tapered down rather than an abrupt one like most other crew cut styles. You might need some practice with the comb-over and gel to get this look familiarized!
45. Thick & Tousled with Thick Beard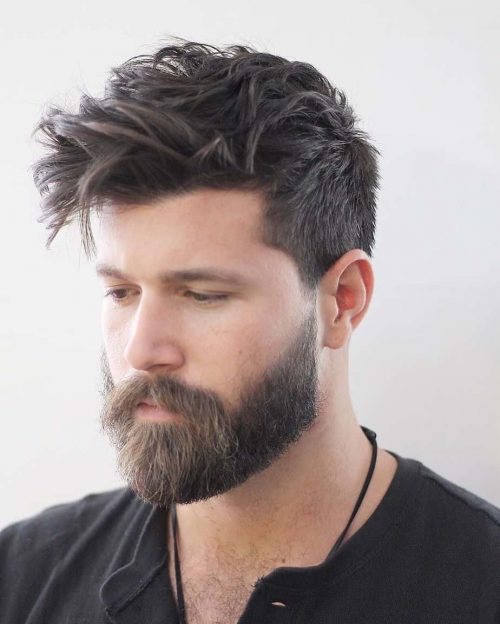 If you're going for a rough, lumberjack look with a modern-day charm, this is a look that you can go for. Featuring a straight-hairline cut and really thick hair upfront, you just need to run your fingers through the thick parts to achieve the look.
As you can see, the heavily tousled hair goes perfectly well with an equally thick mustache and beard. It will definitely give you some extra points for manliness!
To make this style work, you have to make sure that your sideburns are neatly trimmed. You should also ensure that your beard is well-maintained and groomed as well.
46. Thin & Tousled Top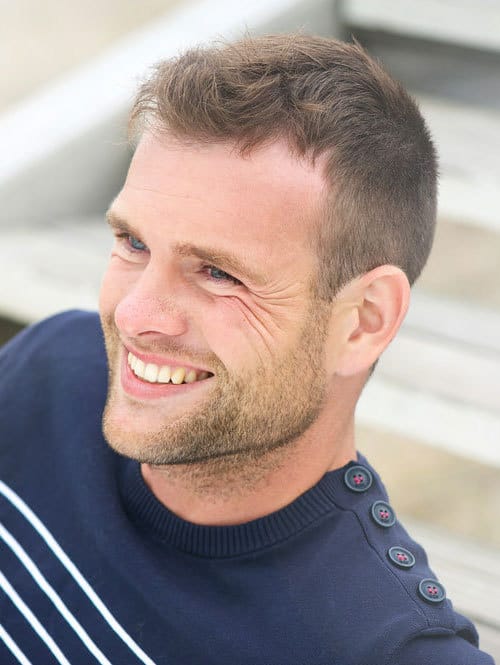 Even middle-aged men with thinning hair can sport this look! All they need is to ensure that the sides are cut to a short and sparse length, and perhaps match it with some light stubble or beard. You can always keep your hair tousled if your hair leans towards the thinner side. For some of us, our hair is so thin that we can't cover the top in any ways. If you are one of the less lucky ones, this look can suit you fairly well.
47. Thinning Hair Crew Cut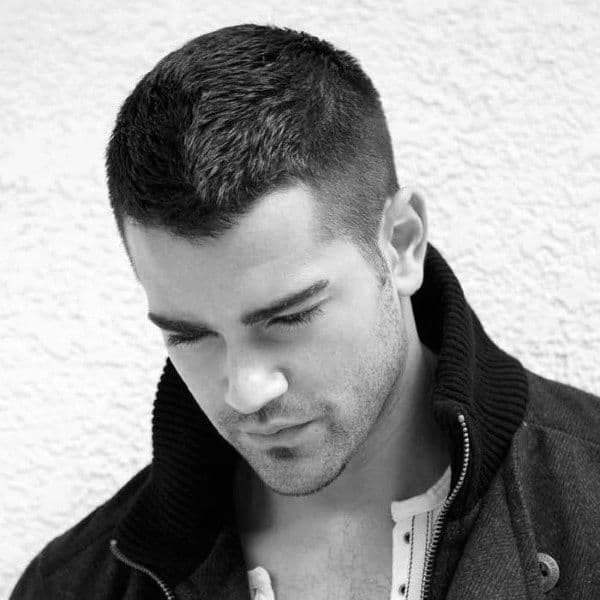 Don't worry too much if your hair is thinning. A crew cut is a one-stop all-solution basic haircut that will always have you covered.
Give your hair a comb-over towards the front from both left and right sides, and gel it up to hold it in place. As long as the top of your head is swept and combed enough, your crew cut can disguise your hair's length – or its lack of.
48. Uniform Length Crew Cut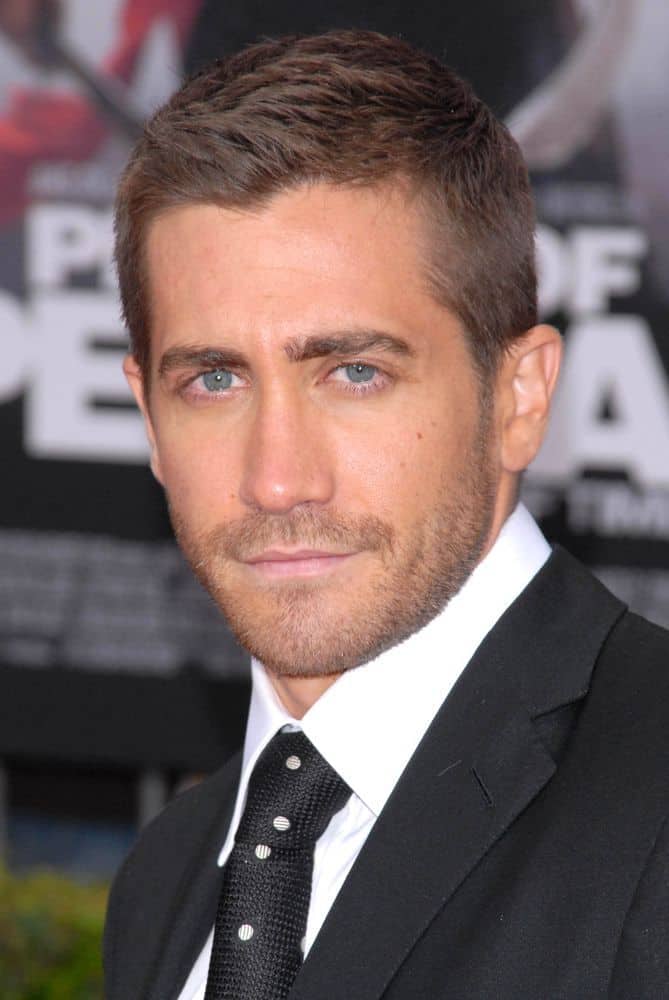 Here's a classic. The simplest form of crew cut there is, with exception that the length of the hair is uniform all around instead of being contrastingly short.
y keeping a medium length crew cut on the top and just one guard size shorter at around the sides and back, you can achieve a neat, uniform look. A gentle comb-over around the top will give you some texture to spice it all up!
49. Widow's Peak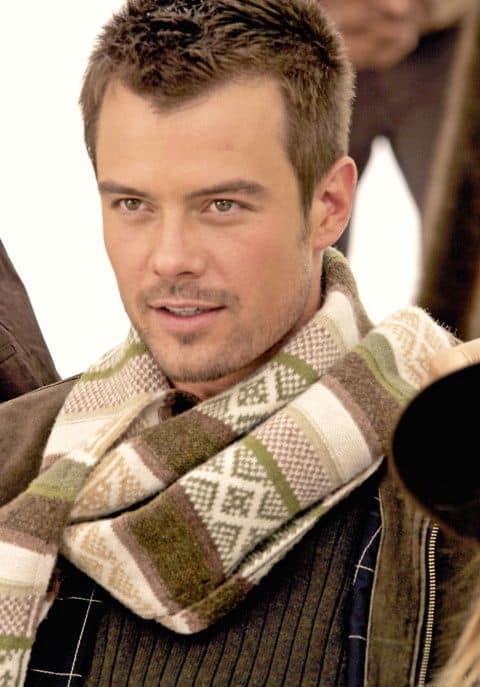 Who said that you can't rock a crew cut if you've got a widow's peak? Some light & wiry spikes paired with medium length tapering on the sides will give you a fresh trendy look. If you are not into wiry spikes, just give brush your hair towards the front for a similar effect!
50. Wiry Spikes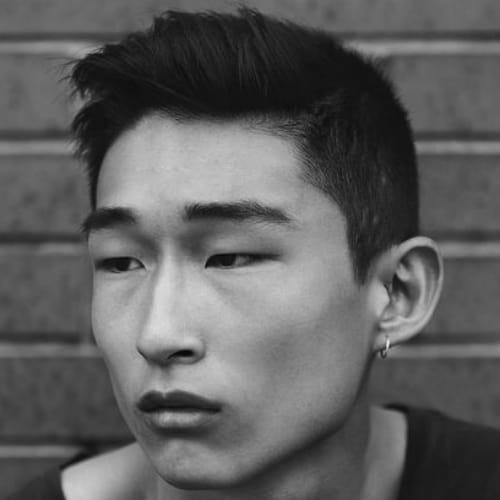 If you like to spike your hair in random directions, a wiry spike crew cut is for you. It basically features the standard crew cut – longer at the front, tapered at the sides and back. The only twist is that you use some gel to spike your hair up into thin strands.
How to Ask for a Crew Cut In The Salon?
It's understandable that requesting for something as simple as a crew cut can be confusing when you are not sure what the numbers mean and how to convey the style that you're looking for. However, there are several tips to help you achieve the look you have in mind.
i) Note Your Terminologies
It's alright if you don't know the words to describe what you want. As an example, you could explain to your barber that you want your hair to appear shorter and shorter from the back of your head to your neckline. A good hairstylist would be able to guess that you are looking for a fade or taper. However, if you DO decide to describe your ideal hairstyle with terminologies, make sure that you know what you're talking about!
ii) Bring a Photo
If you see a hairstyle that you like, bring a photo! This will accurately tell your hairstylist the style that you're looking for without needing much information.
iii) Factor in Your Natural Hair
Let your hairstylist know about some specifics of your natural hair if you are not sure what you're looking for. Are you planning to grow a beard? What about sideburns? Do you get cowlicks that are difficult to gel down every morning? Your natural hair – curly or straight, will also mean that you are suited for a different kind of hairstyle, so don't be too disappointed if your hairstylist tells you that one style might not suit you or can't be done!
Crew Cut vs Buzz Cut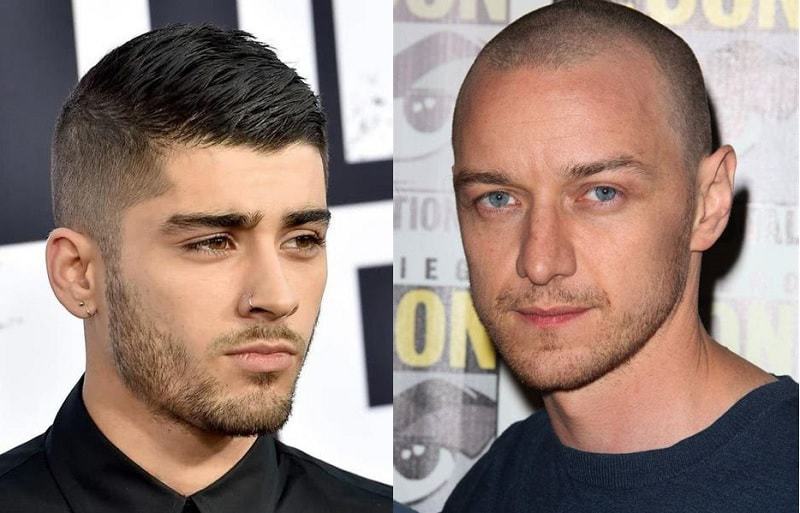 A buzz cut is usually uniformly short, just as you might expect from a haircut of a military background. In fact, the buzz cut is achieved easily by just using clippers!
On the other hand, a crew cut will feature hair that is tapered towards the back and side. When you request for your hair to be short at these areas to your barber, a crew cut is what you'll get! You can expect the difference between your top and that of your side and back to be about an inch in length.
Crew Cut vs High and Tight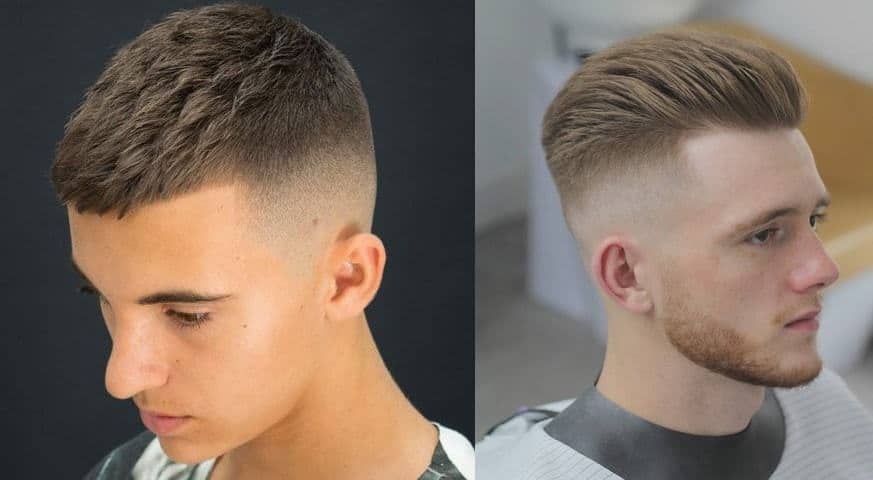 You might know the High and Tight style as a 'skin fade'. The hair length all around for a crew cut is typically longer than that of a High and Tight.
In the latter style, your hair is cut in a neat and short manner – much shorter than a crew cut. You can expect the sides and the back to be no more than 1.5mm in length, right up to a little over your temples. The top of a High and tight is usually kept at just a little over 1cm.
Crew Cut vs Fade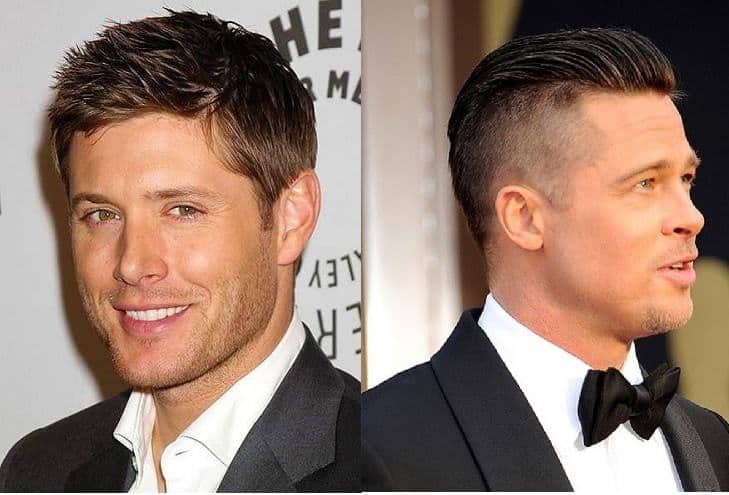 While you might see the tapered sides and back similar to fades, a crew cut does not mean that you are getting a fade!
Additionally, a fade is not a hairstyle on its own. It is just a part of most other hairstyles, completing your haircut's look.
Depending on the style that you are looking for, your fade can be highly contrasting against the rest of your hair, or it could be subtle – a smooth transition from your top to your tapered sides. That's right, a fade is essentially how your hair tapers down the sides and the back.
So, here's everything that we have to cover about crew cuts today! Remember, crew cuts are that famous and well-known because it has been easily stylish so far. We do believe that it will continue to trend with more and more variations in the future as well! We'll end this post with some extra tips for you, simply because you have read this to the very end!
Best 5 Crew Cut Styles For Men, Summarized
1. High Fade Crew Cut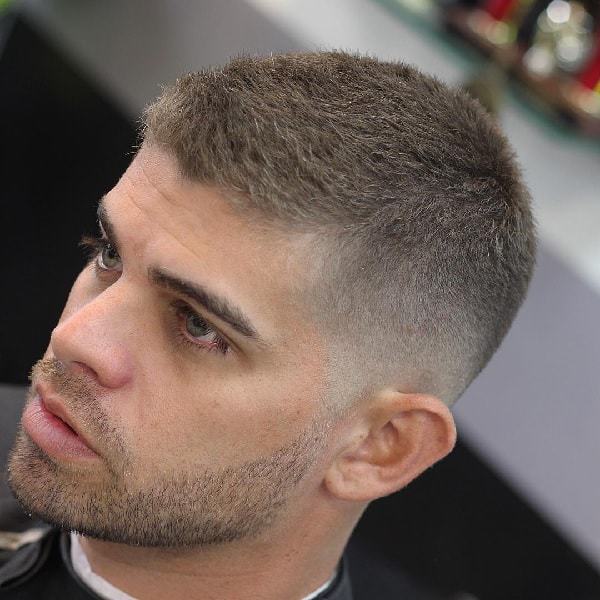 Military style, extra neat with short top & high fade on the back & sides. For extra edginess, get a disconnected undercut. Suitable for most.
2. Drop Fade Crew Cut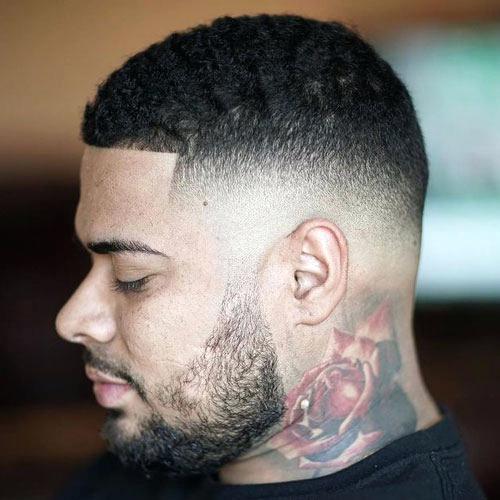 Seamless transition from your crown to the back. This drop fade will work well on short, curly hair.
3. California Crew Cut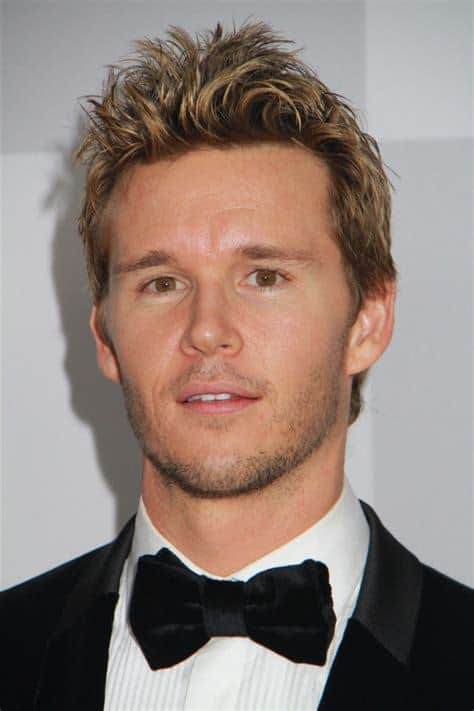 Just add some highlights to the top where your hair is longer for a stylish take.
4. Textured Top Crew Cut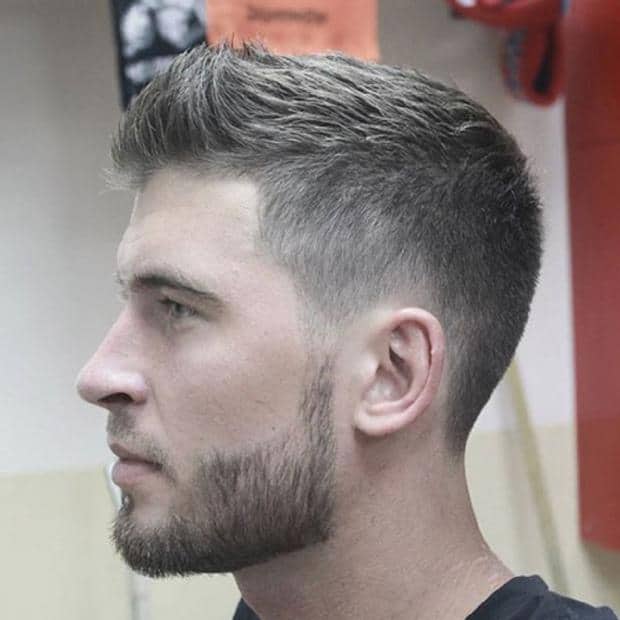 Tapered sides, hair short around your ears and hair styled upwards for your face to appear longer.
5. Comb Over Crew Cut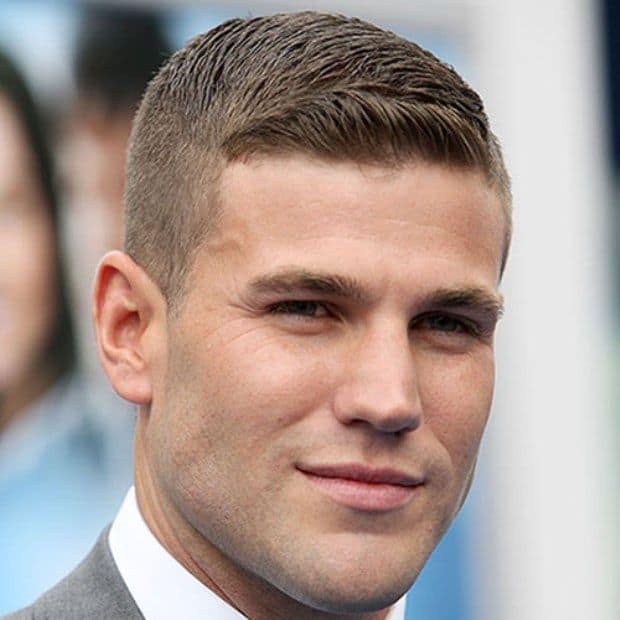 Hunky style. Comb your hair in one direction, but flip up the hair around your forehead for your hair to appear longer than it is. Best for wide faces.
Are you looking forward to get your next crew cut soon? Maybe you can save a photo from our site to show your hairdresser the exact crew cut style that you're looking for. Meanwhile, good luck with choosing your next crew cut style!