Have you ever struggled with finding an attractive new short hairstyle you felt confident in? It's actually not that difficult to spice up short hair and bring new life to it.
Whether it's by shaving in detailed lines on the sides of your head, giving it an off-center part, forming an unusual arrow detail at the back, or trying another stylish technique, there are many ways to give your short haircut a new glow.
Short Hairstyles for Men
The next time you're on the hunt for short hairstyles you don't need to worry about having the right face shape for, you'll want to check out one of these 35 short haircuts and hairstyles for men.
1. Short Thin Haircut
If you have naturally short thin hair or just like to keep it that way in general, a cut that appears buzzed with a curved line shaved in at the sides is the easiest and lowest level of maintenance you'll get besides going completely bald. Switch the design up when you get bored to play with style!
2. Short Thick Hair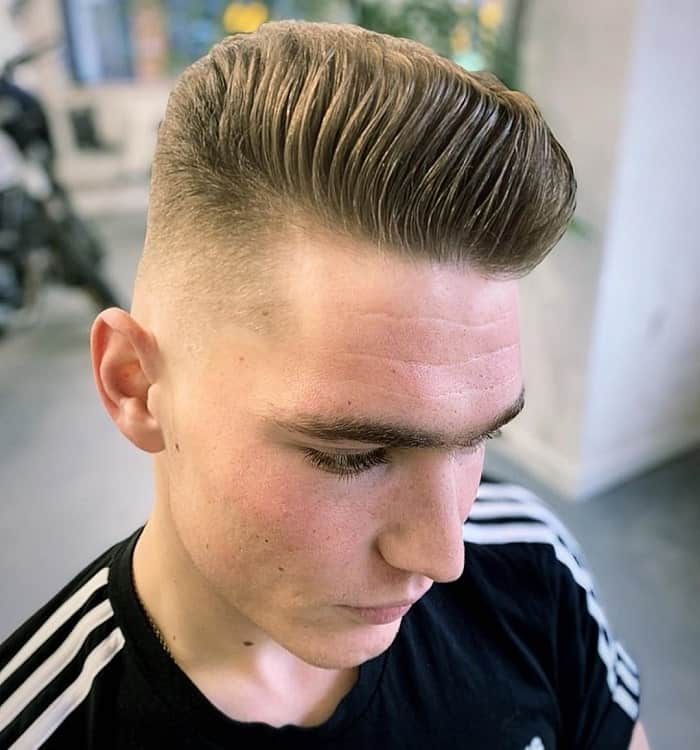 For men with thick hair, take advantage of your luscious locks and style them up into a pompadour framed by a low fade. It'll take a bit of combing and some gel to get it shaped and smoothed like this, but the result will be enviable!
3. Short Haircut for Black Man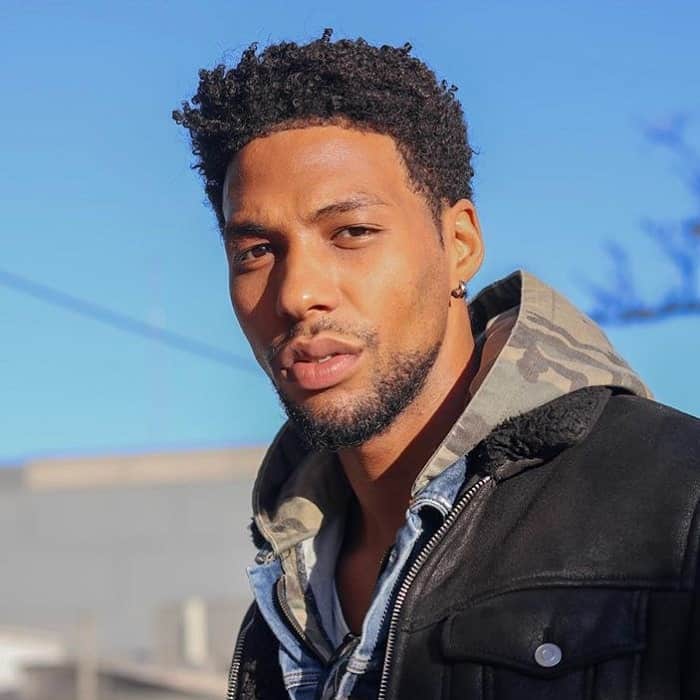 For afro-textured hair, a short haircut is professional and always in style. If you have a job that requires you to look on point at all times, this hairstyle will help you look dapper and clean-cut.
4. Short Straight Hairstyle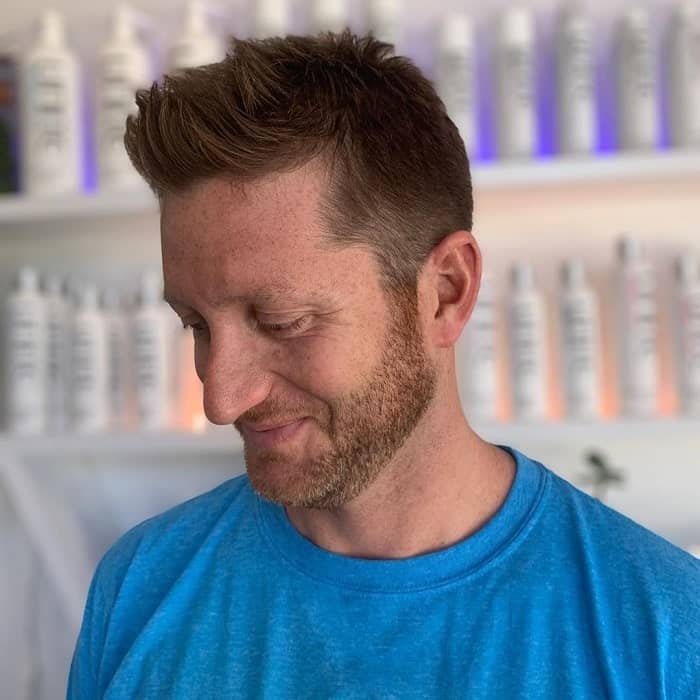 Men with straight hair can rock a short style swept up at the front. Use a hair dryer or just your hands with either hairspray or gel to create the shape, then brush down the rest.
5. Short Hairstyle for Receding Hairline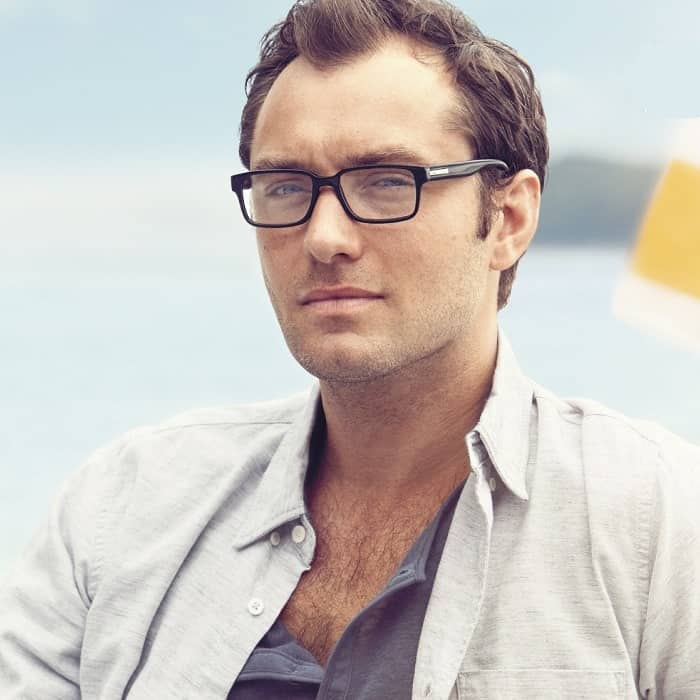 Jude Law is the perfect example of someone with a receding hairline, but no one pays attention to it when you have his hairstyle! The key is to play up texture with your fingers, so your style doesn't look too perfect.
For an off-center side part with a medium bald fade, make sure your hair has a couple inches of length to it that you can smooth and part to one side. The other side features the medium fade with a cropped cut near the top for a nice edgy contrast.
7. Short Hair with Back Arrow Detail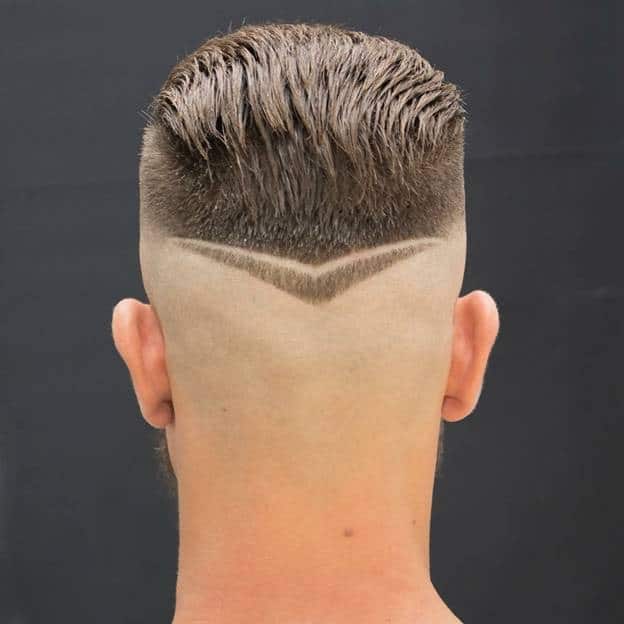 If you want a haircut that screams fashionable, you need this one for short hair with arrow detail at the back. The neck up to the ears and just past is free of hair but the eye is drawn to a skinny arrow that lies underneath a mix of buzzed and long hair.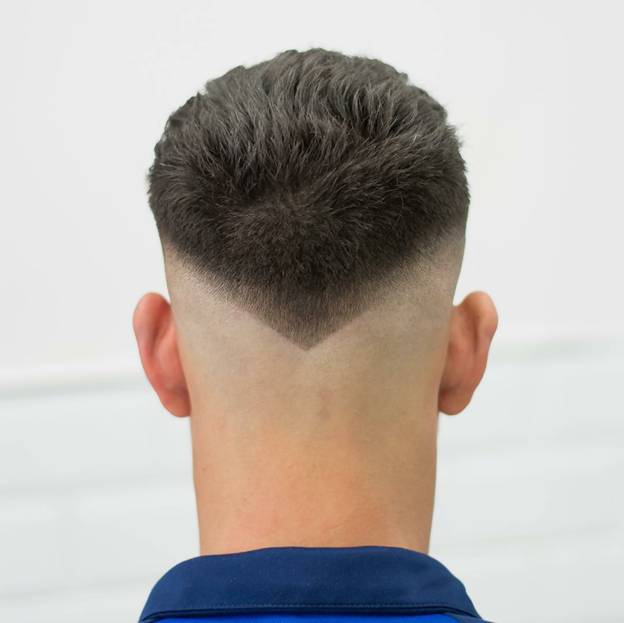 A V in the back of this haircut adds a touch of detail to a high skin fade. This style will need touch-ups to keep it precise and its point looking symmetrical. The other important part of this haircut is keeping the fade cleaned up.
9. Parallel Lines in The Front
Looking for a bold haircut for your short hair? Parallel lines that begin at the edge of your forehead are a great style option for men wanting a haircut that stands out. These shaved in lines can be thick or thin and be enclosed or open for a multitude of style options.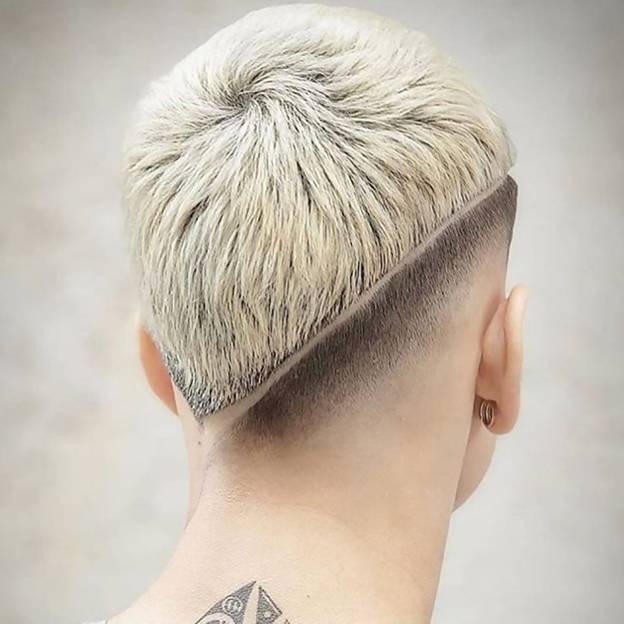 Maybe you're wanting a little punk style thrown into your haircut. Opt for platinum blonde on your short hair but cut it at a diagonal and shave in a line to separate long hair from a low fade.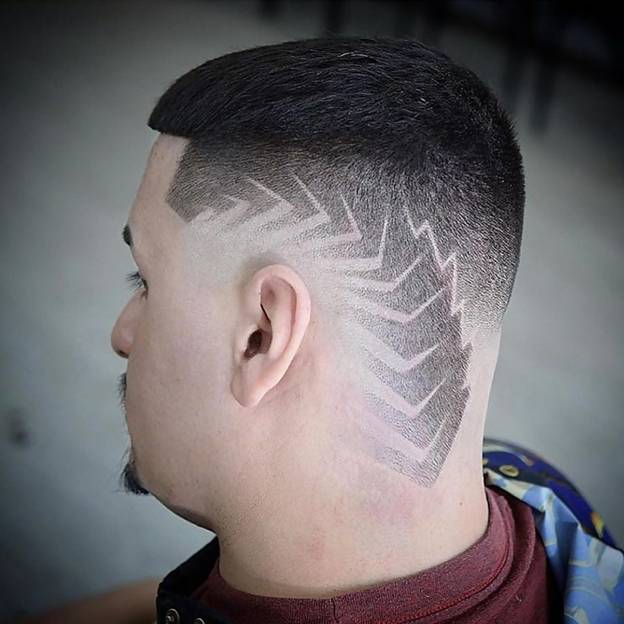 When you have more time to commit to a statement hair design, a line of arrows that begin at your temple and lead down to the nape of the neck is another attractive, eye-catching hair technique to consider.
12. Dripping Side Art for Short Hair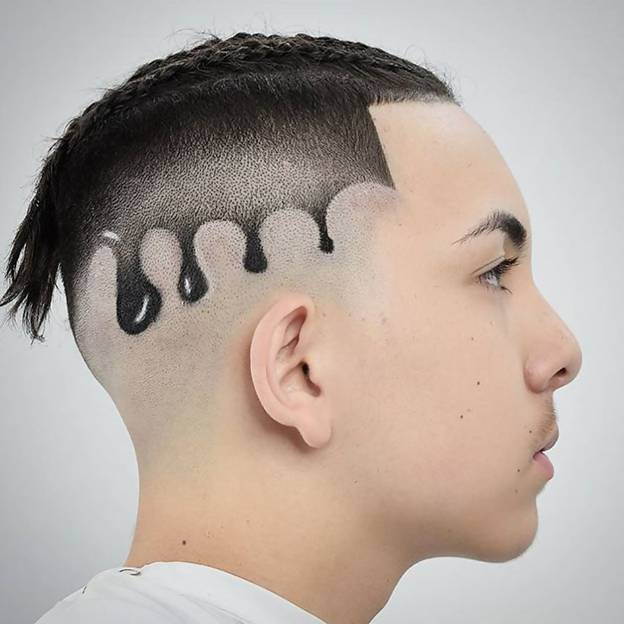 This dripping side art is definitely unique. It's created by skilled stylists who shave in curved fades for the appearance of color. Braid the top part of your hair straight back for a truly punk-rock hairstyle.
Guys with naturally short curly hair can style it with waves. This is a short hairdo great for men with curly hair. Simply brush the curls while your hair is wet and after you've moisturized it. You will need a quality brush for this mane.
14. Platinum Blonde Buzz Cut
You can always go platinum blonde and stand out in the crowd. Great for all men with short hair, who can try it out and if it doesn't work grow it out or cut it. There is no need to style this haircut, just dye it platinum blonde!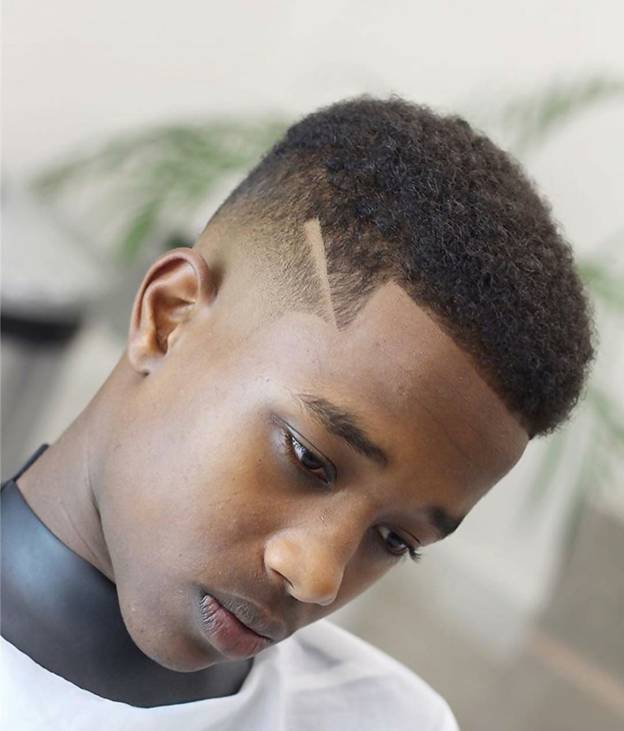 Once summer comes you can cut your curly hair short to spare yourself from the heat. Even naturally curly hair can look short and chic. This hairdo is very low-maintenance, which makes it perfect for African-American men with thick curly hair. Just use your regular hair products.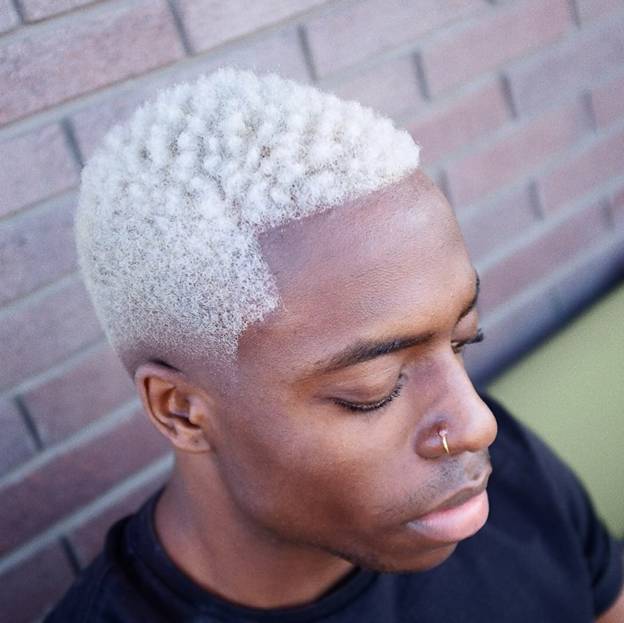 Silver is another very flattering color that men are loving this season.
Ideal For: Great for everyone who's into unique hair colors.
How to Style: Just cut it short and dye it silver. That's all you need for this look.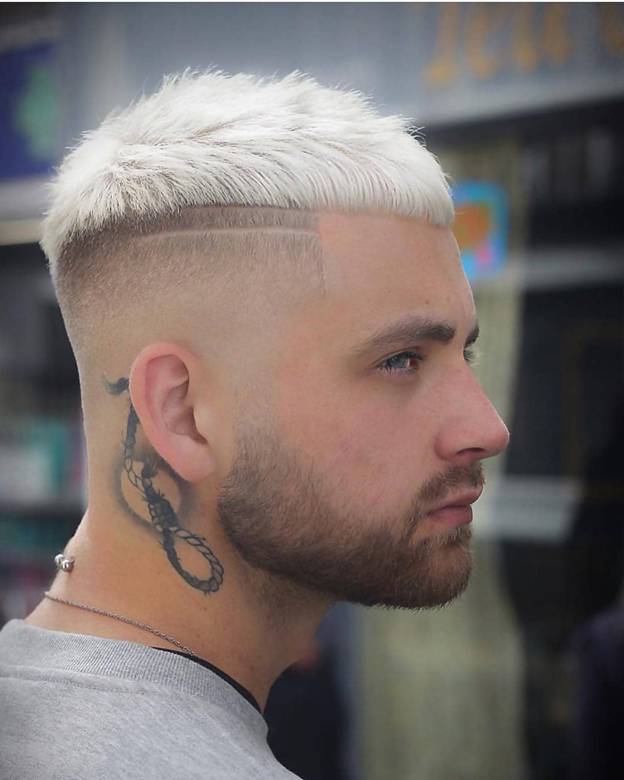 Getting horizontally cut bangs is definitely a big change for men, but the end result is so cool.
Ideal for: Perfect for younger guys with short hair and the ones who want to get fringe.
How to Style: Color the top part of the hair platinum blonde and leave the rest short and in your natural hue.
18. Half and Half Hairdo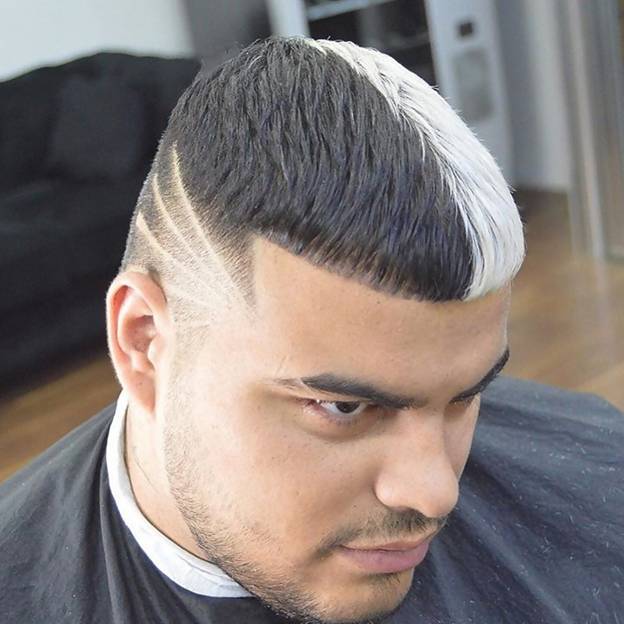 Choosing two hair colors has never been easier.
Ideal for: Even if it is a short-term choice, this short haircut will attract so many looks.
How to Style: Do one half in a striking white color and leave the rest in your natural dark brown.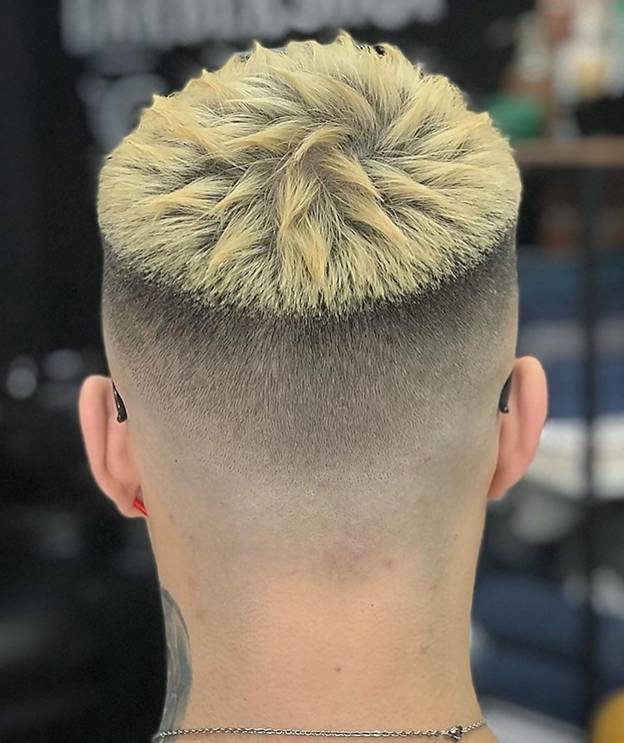 A blonde spiky top is all you need for a standout men's short haircut this summer.
Ideal for: Ideal for teenagers and young adults.
How to Style: When you go to the barbershop ask for a new blonde dye. Style the spikes with wax.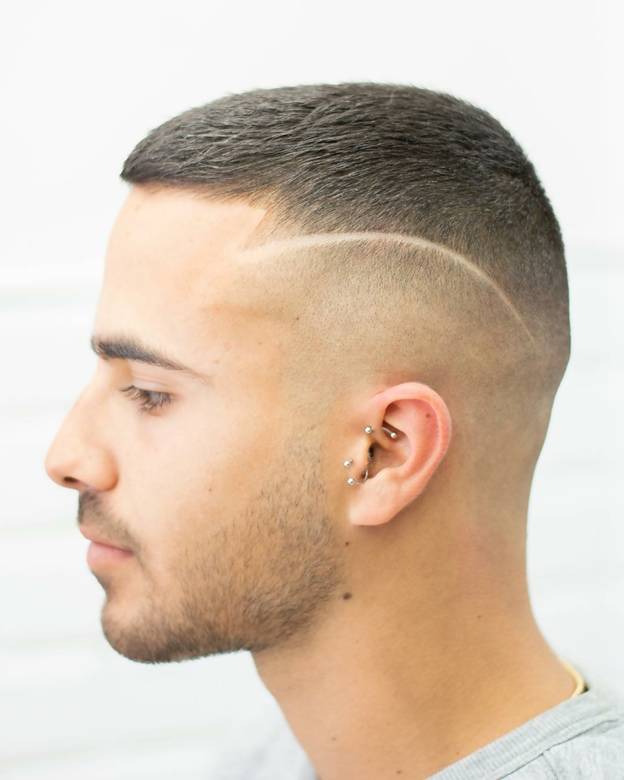 Simple is what so many men prefer. To spice it up, add a very thin line on the side.
Ideal for: Great for all ages and face shapes.
How to Style: You should go to the barbershop and tell your barber you want a thin line. That's pretty much it.
21. A Swirl in The Back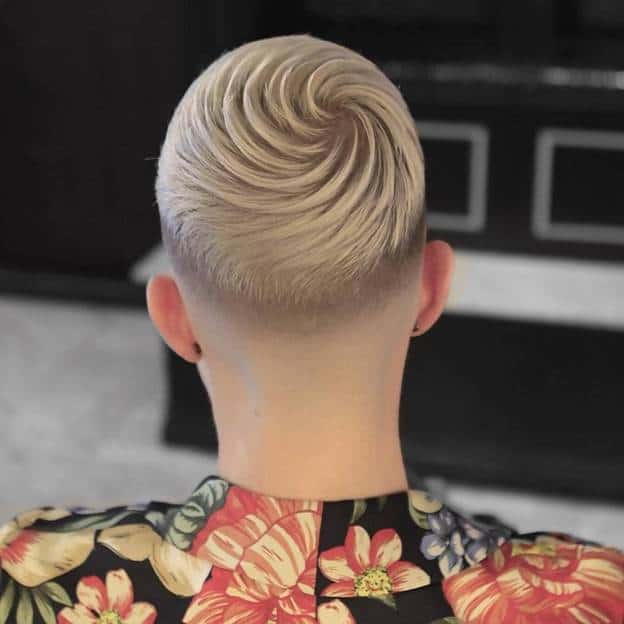 A twist in the back can become your go-to unique haircut for short-haired guys.
Ideal for: It is such a cool look anyone can try.
How to Style: Simply arrange the hair to create a twist and use pomade or wax to set it.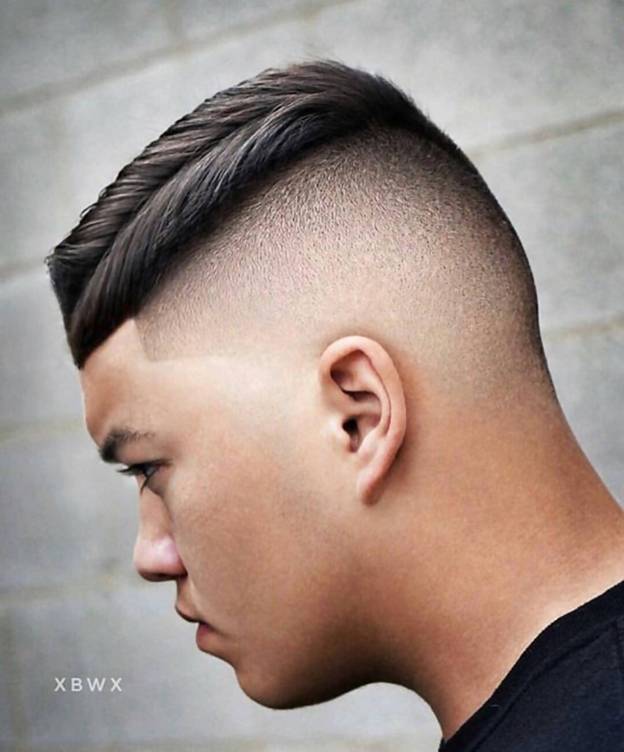 Not everyone is a fan of middle and low fades.
Ideal for: If you want to switch things up a bit and escape the low, medium fade, this super-high fade is the way to go.
How to Style: Leave the top part of the hair longer and do high fade on both sides.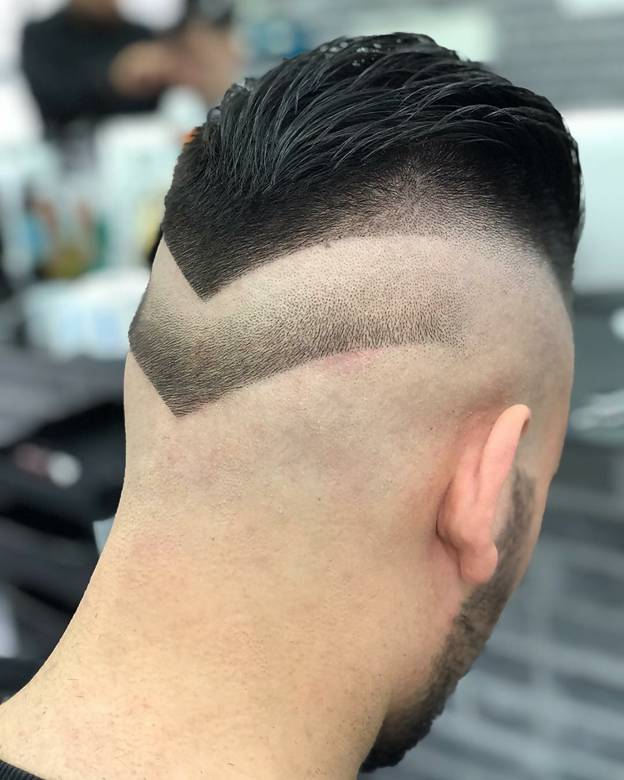 These men's hairstyles for short hair are meant for the boldest candidates.
Ideal for: If you don't mind experimenting with looks, try this art in the back.
How to Style: Do a slick back hair on the top with patterns in the back.
24. Short Hair with A Diamond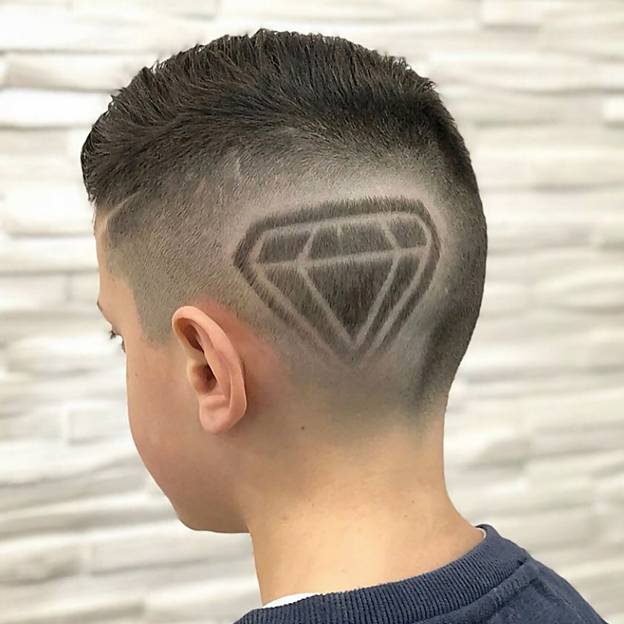 Jewels and diamonds can become a part of your short mane.
Ideal for: Ideal for kids, teenagers, and young adults.
How to Style: Visit the hairdresser and show them this look.
25. Lines All Over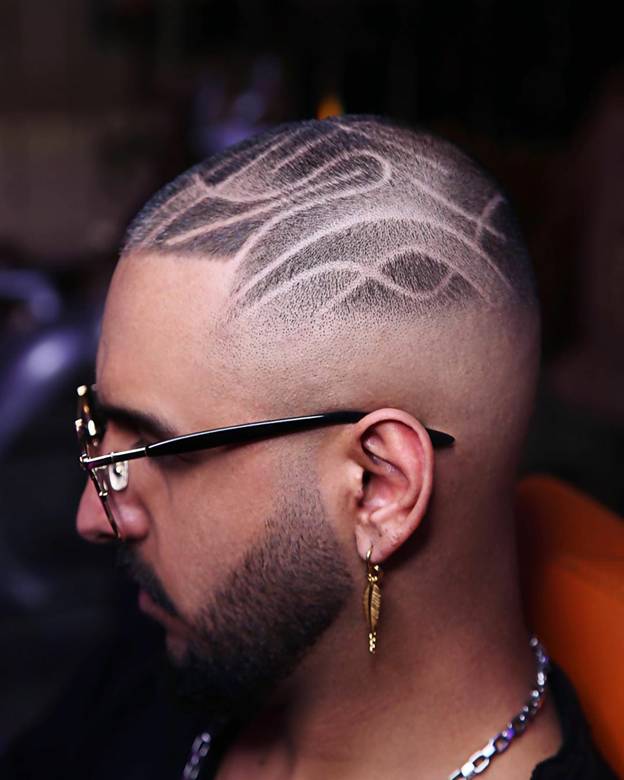 This is one of those detailed short haircuts that attract attention.
Ideal for: Great for adventurers and guys who love new art.
How to Style: A short and simple hairdo that doesn't require any styling.
26. Star-Studded Hairstyle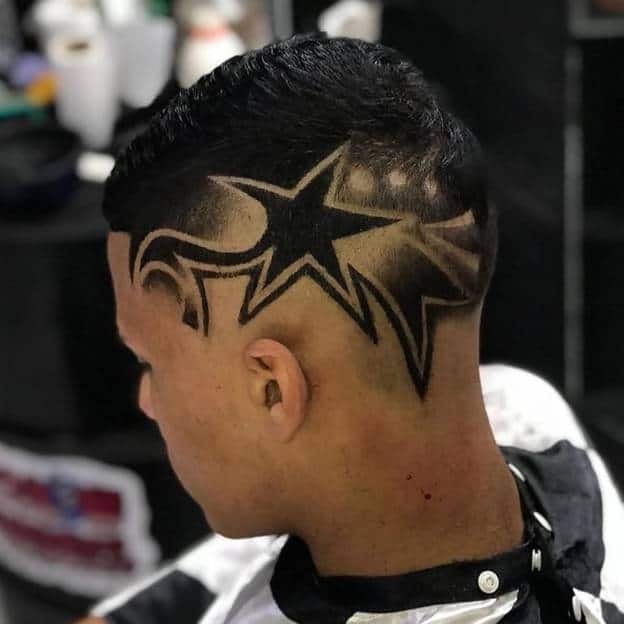 Stars are among the trendiest patterns that guys get as a part of their short hairstyles for guys.
Ideal for: Perfect for everyone who's into eye-catching patterns.
How to Style: This is all done by a hairdresser. You will need to visit the barbershop often to keep the art fresh.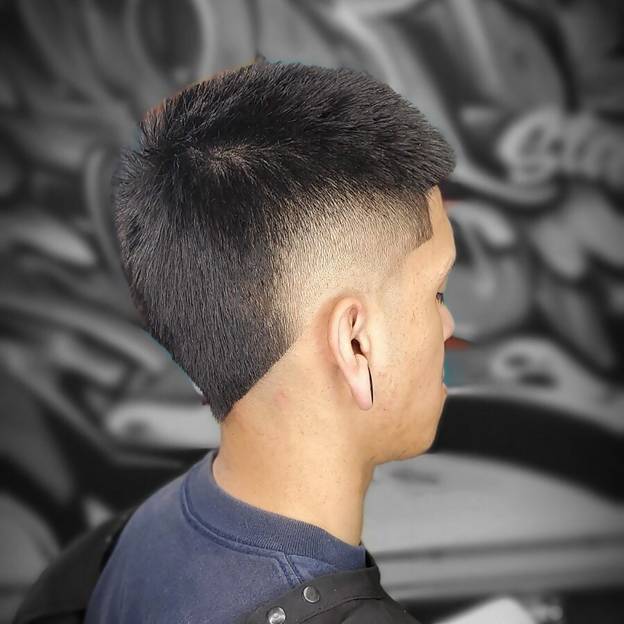 Who wouldn't love a bursting fade?
Ideal for: A fun choice for all short hair ideas for men.
How to Style: The bursting fade is located around the ear and it's a chic detail.
28. Heart-Shaped Art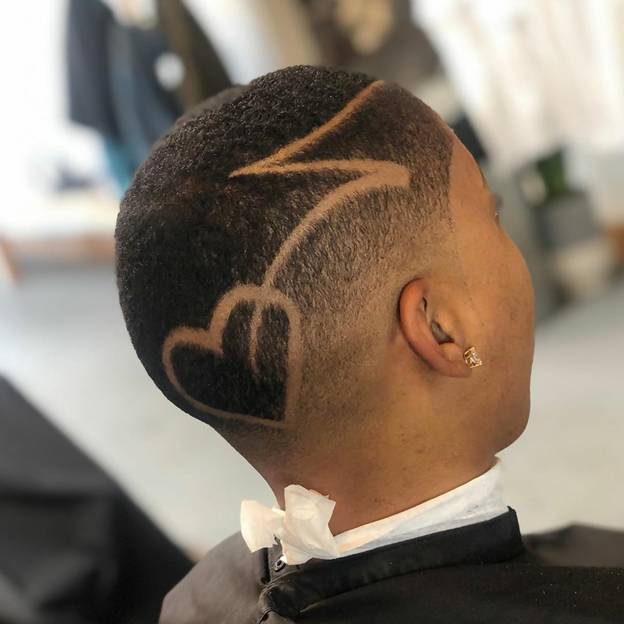 You can get creative with so many different patterns, but this one will win hearts over.
Ideal for: Great for Valentine's Day.
How to Style: Just ask your hairstylist for a heart-shaped pattern in the back.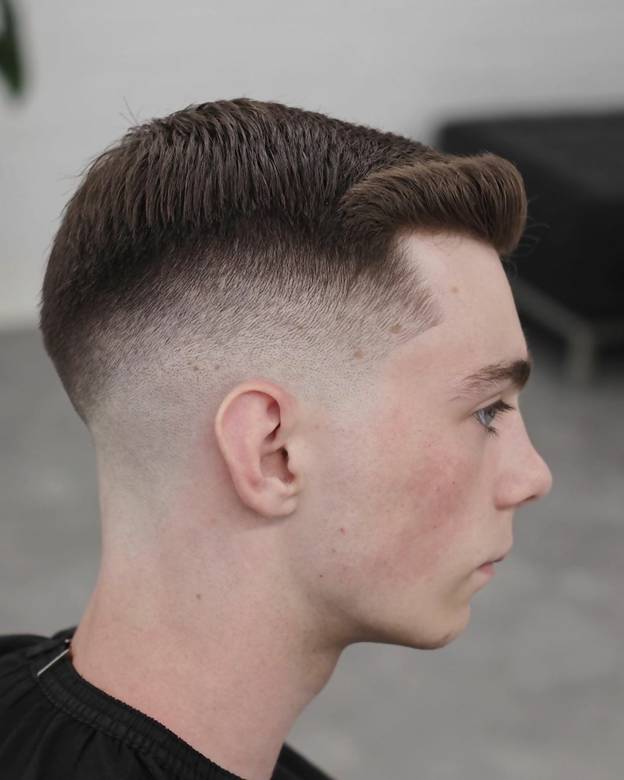 It is one of the simplest, most adorable looks on the list, paired with a medium fade.
Ideal for: Perfect for everyone who needs to be a little extra without doing a big change.
How to Style: This little detail in the front takes only five minutes of your time. Do it with a brush and a strong-hold product.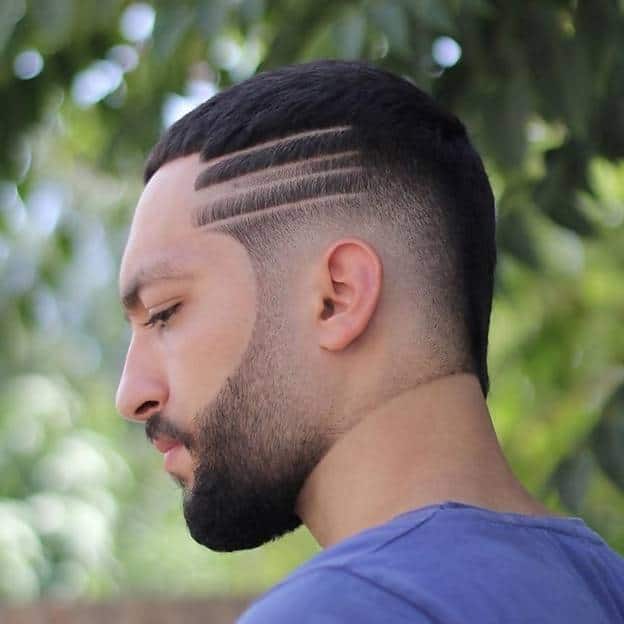 There is a brand new trend that literally connects your beard to the short hairstyle.
Ideal for: If you like unique hairdos and also have a beard, this one is a winner.
How to Style: The low fade starts with the hair but continues to the beard. Choose the location and number of lines that you want.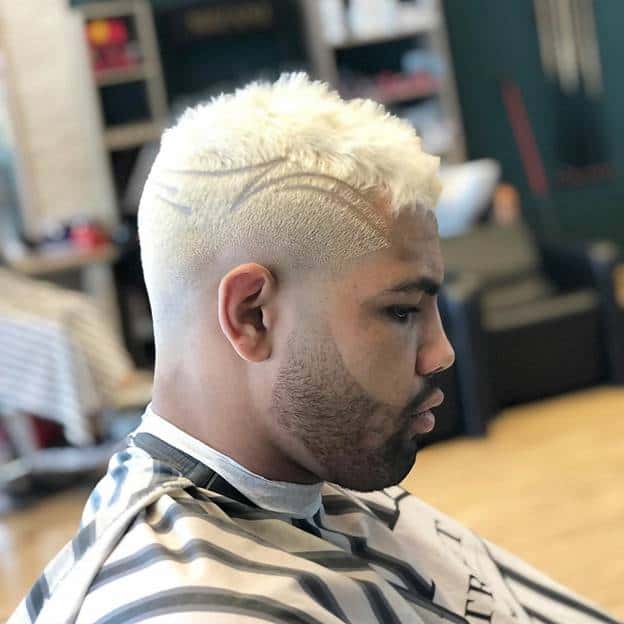 Platinum blonde is here to really accent your dark beard.
Ideal for: A flattering choice for African-American guys with a dark beard.
How to Style: Thing od some fun patterns that you want to add to the sides. You will need to do regular visits to the barbershop to keep the platinum blonde hue.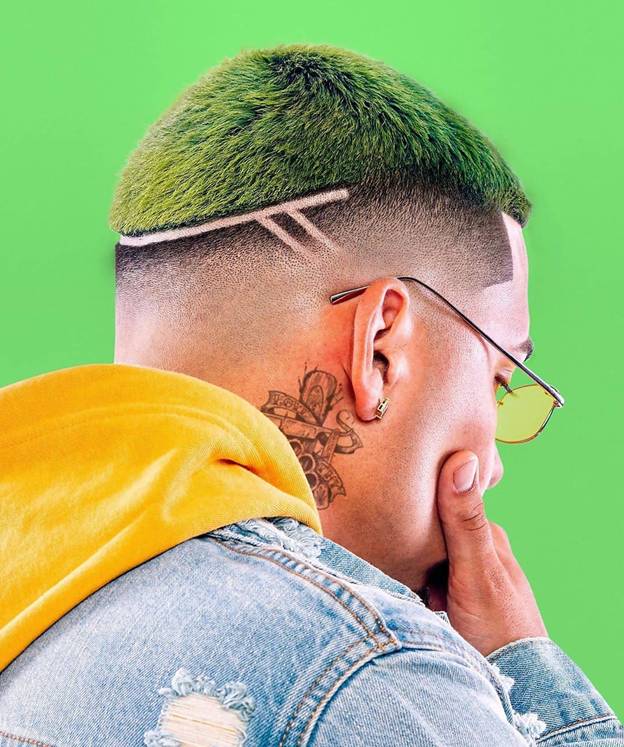 Neon hair colors are trending both for women and men.
Ideal for: This is one of the short haircuts for men that are an absolute hit for the summer and the choice of many teenagers.
How to Style: You will need a visit to the hairdresser to get the neon color.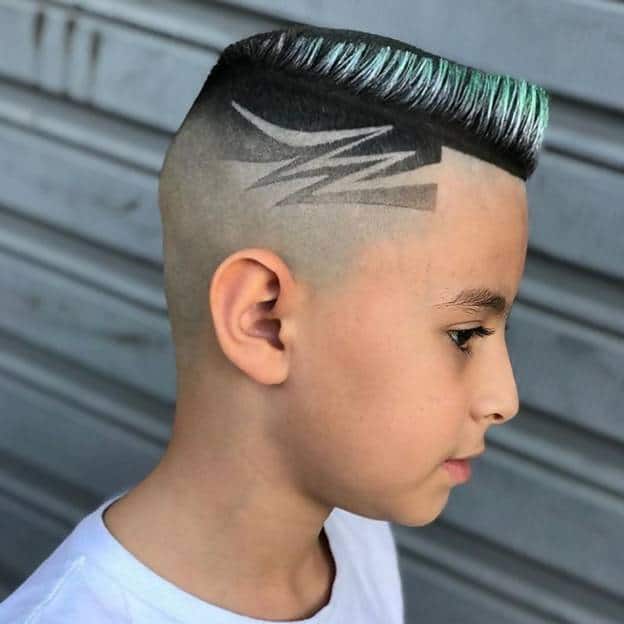 Interesting hair colors are always a fun idea for summer. Men find it so easy to try different hues out because their hair grows out so fast.
Ideal for: A great idea for all guys.
How to Style: Choose a color and do only the tips of your flat top. Combine it with chic patterns on the sides.
34. Hair with Crossing Lines
When you need a change, but don't want to go too far, take a look at this hairdo.
Ideal for: This is the best idea for men who want to add some flare to their classic short haircut.
How to Style: The patterns in the back are what makes the hairdo special, which means you don't have to do any styling.
35. Grey Hair with Red Details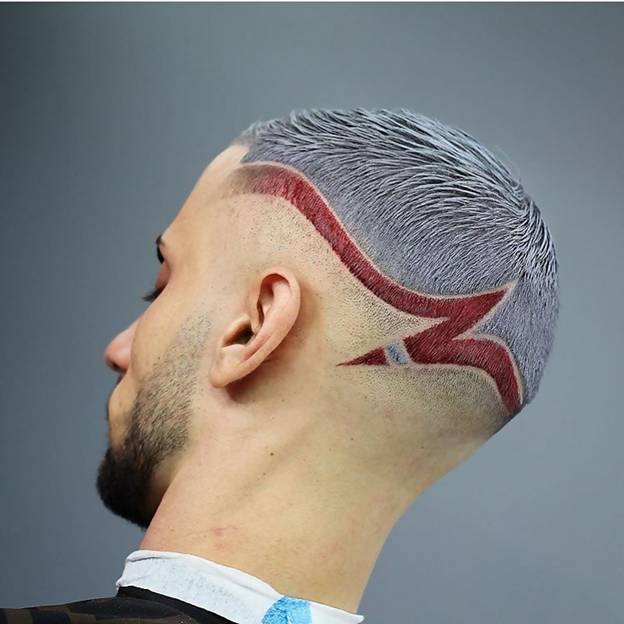 Grey and red are such a beautiful combination.
Ideal for: Great for young guys that are always on the search for unique short hairstyles.
How to Style: First, you will need to dye your hair grey, then add the bold red details. You can always change the pattern and fade.
Men's hairstyles for short hair are actually very diverse and interesting. As long as you keep an open mind, you will never have a boring haircut. Feel free to try out new colors, patterns and ways to upgrade your short hair. Find at least a few favorites on the list and you will have the coolest looks for this summer.