They might be rare, but Dutch braids for men are fascinating. They lift men style, by making it look hipster chic and stylish.
Braids are great because of their functionality and versatility. They are loved by both men and women, no matter how old you are. The key thing about the braids is that they don't require any special treatment.
You can even leave your hair unwashed for a more extended time than usual. You don't need any exclusive product to keep them in place. Just practice.
What are Dutch Braids?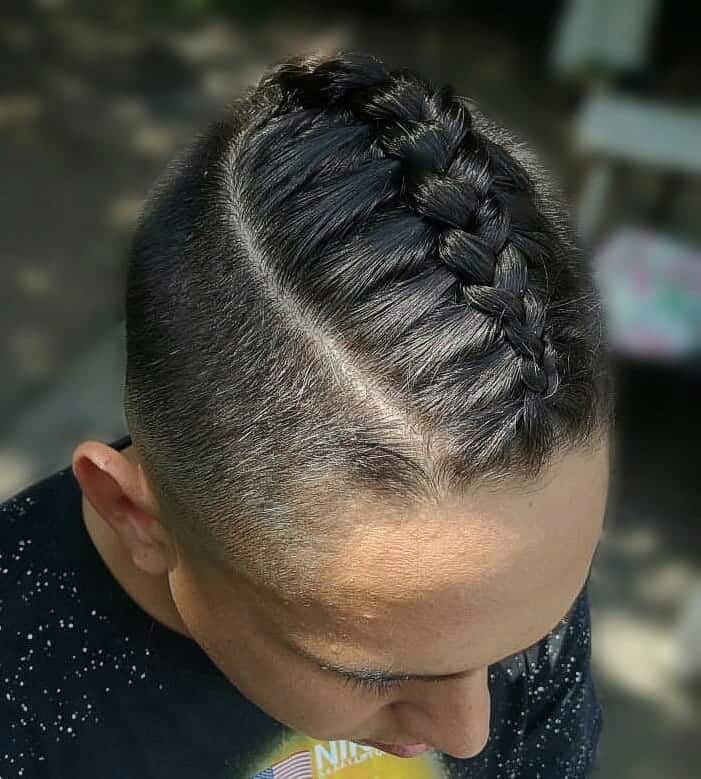 Dutch braids look like they lay down on your head. They have more volume than regular braids. We have to admit, they also look more attractive as well. It might not be so easy to braid them, but once you learn the technique, you will make braids in no time.
Classic Mohawk Braids Styles for Modern Guys
How to Get Dutch Braids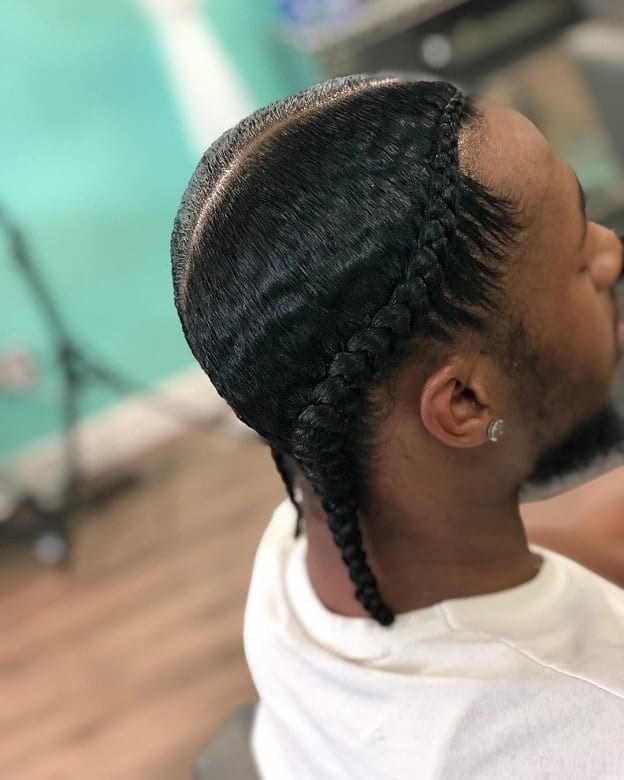 Once you improve the technique of men's Dutch braids, you won't stop doing them. You can always use some dry shampoo to give your hair some extra volume and shine. This is how you can braid your hair smooth and quick.
Comb your hair and separate it into three sections, starting from your roots.
You should place the right section under the middle part of your hair.
Then place the left part of the hair under the middle one.
Continue braiding and add more and more hair into the sections.
Watch The Following Video to Learn How to Do Dutch Style Single Braid for Men
Trendy French Braided Hairstyles for Men
Latest Dutch Braided Hairstyles for Guys
We have compiled here a list 11 best men's hairstyles with Dutch braids that anybody can try.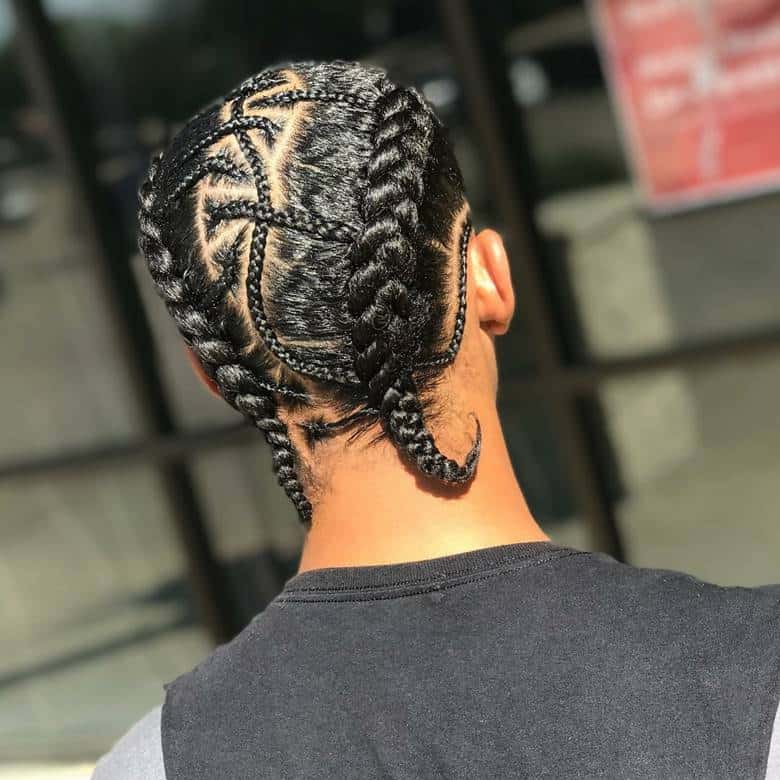 Combination of small and big Dutch braids on men's hair will leave everyone speechless. Make sure to section your hair right and to decide where you will braid your hair into small and big braids. This big two braids hairstyle is excellent for all those guys who are not afraid to try something new and interesting.
If you have long hair and you like it but want to make it look appealing, then this is the hairstyle for you. After you have Dutch braided your hair, you can gather it into a slick back bun. You can position the bun low as the man in the picture did, or to wrap it on the top of your head. It is on you to choose.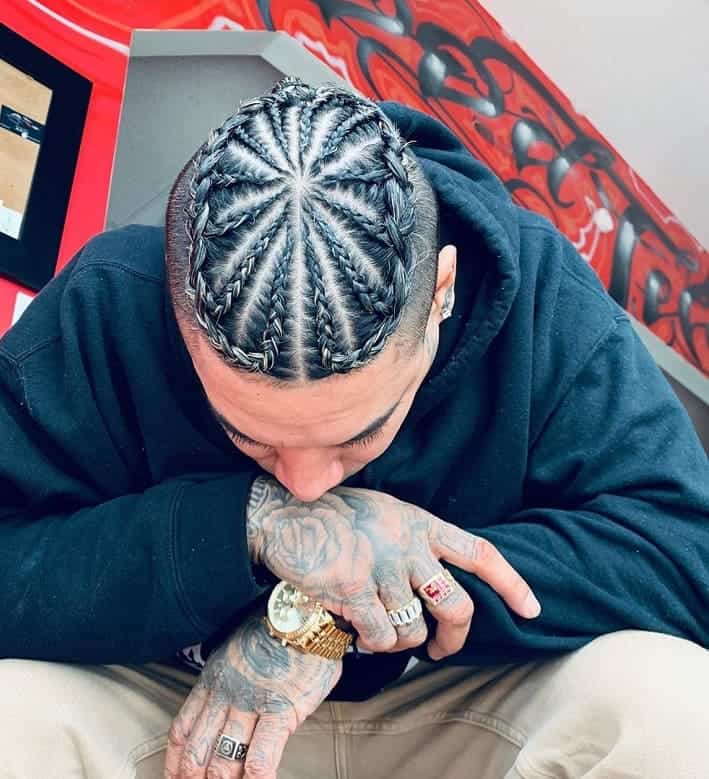 Trimmed sides and connected braids at the top of your head will blow everyone away. You will need a bit of skill to make this Dutch braids for men look amazing like this. To make your braids even more eye-catching, do blonde lights.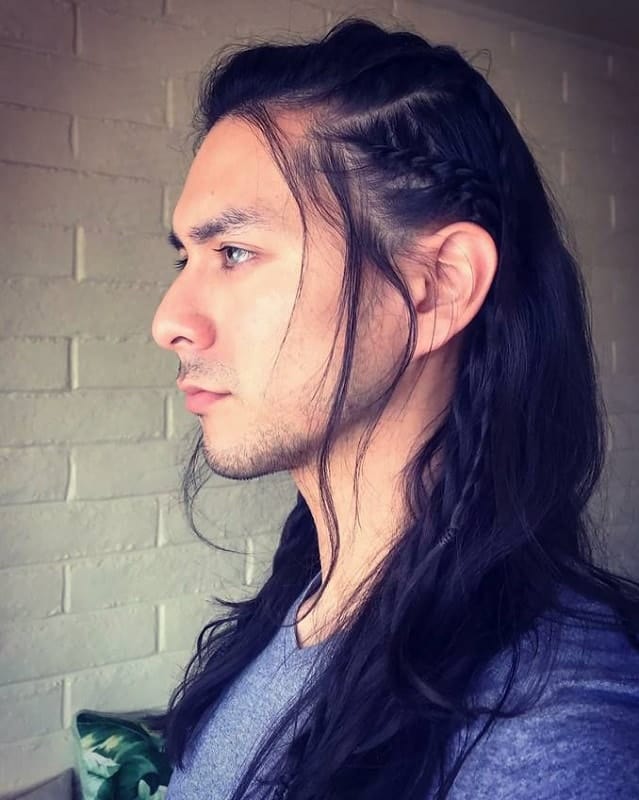 Men with long hair look, and we can say they are so bold. If you have long hair and you wish to make it appear even more eye-catching, braid it. Small side Dutch braid won't catch attention, but it will definitely make you look, hippie.
Men's Dutch braids and top knot make an interesting and pretty practical combination. When you are bored, you can simply release or wrap your hair into a top knot.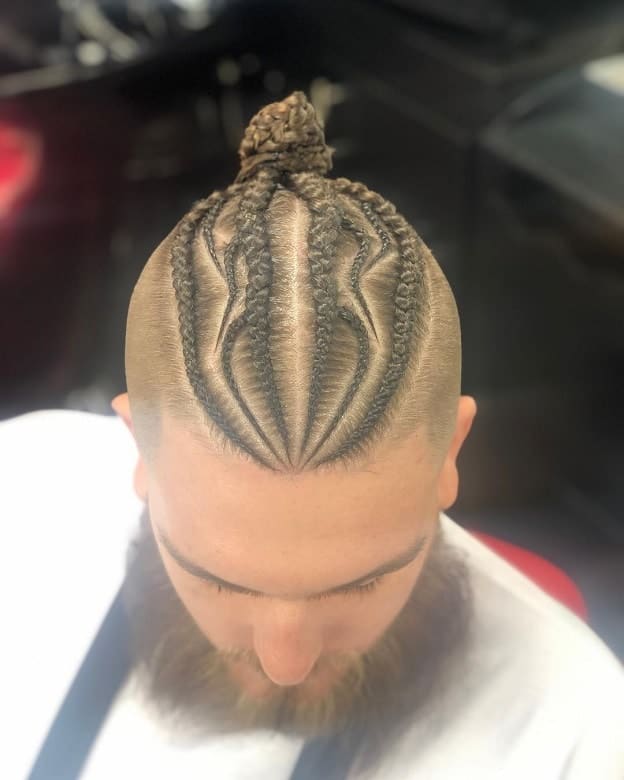 These braids look like waves. Small Dutch braids for men are fantastic. On the other hand, big side dutch braids look absolutely stylish and exciting. This is one of those universal haircuts – it is suitable for both women and men.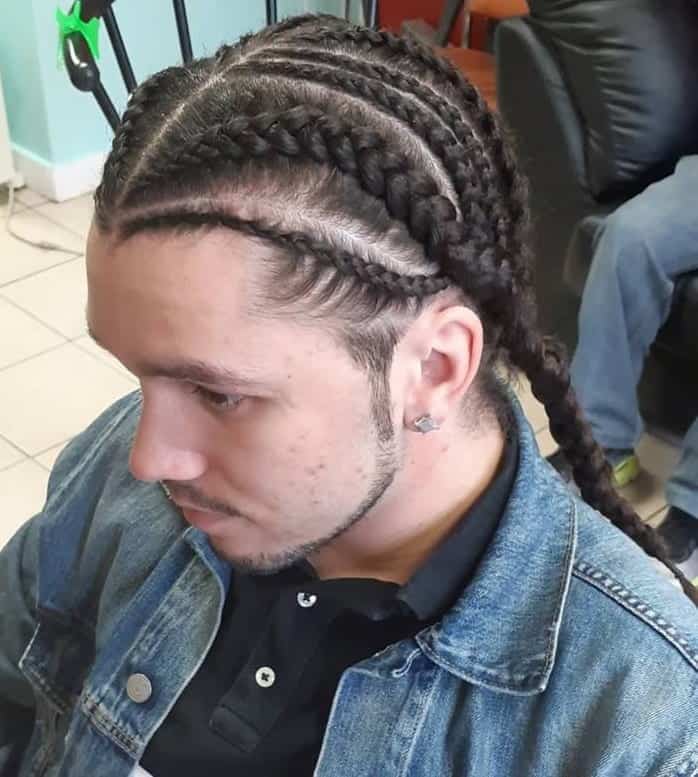 You can always section your hair at the one side and braid it like that. Depending on your hair length, make sure your braid is done all the way down to the hair ends. You can combine the braid sizes – smaller one should frame your face.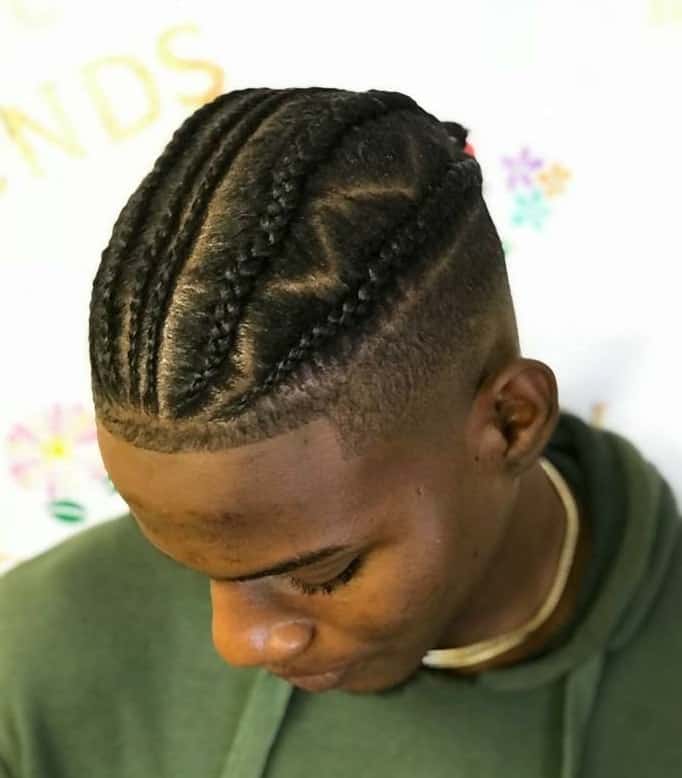 Dutch braids men style can help you protect your hair from everything coming from the outside. This lovely men hairstyle consists of zig-zag sectioning, which is very eye-catching, and a few Dutch style braids. It is excellent for everybody who seeks for something interesting.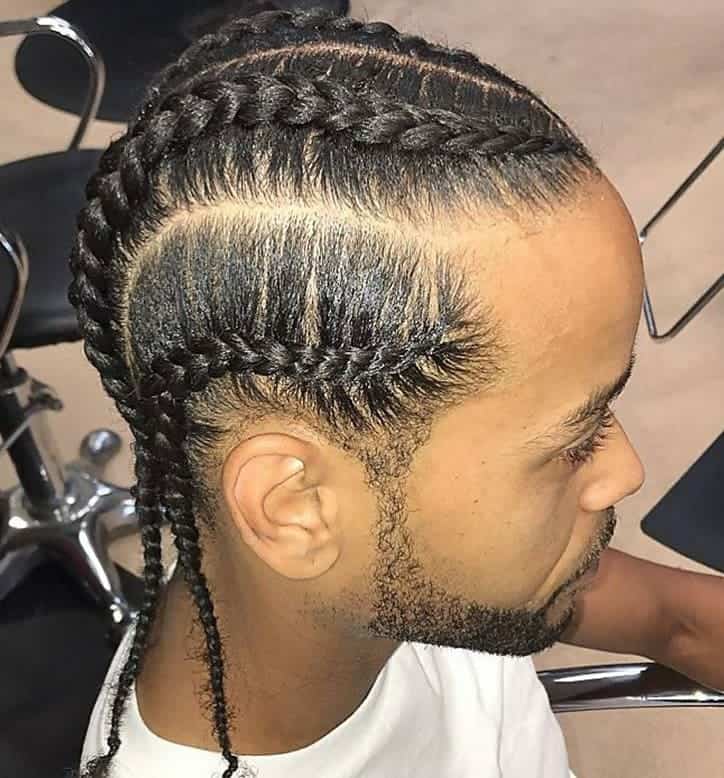 If two braids are not enough for you, then do four! You should simply section your hair into equal four parts and do these Dutch braids which are perfect for sporty men – your long hair won't bother you whatever you do.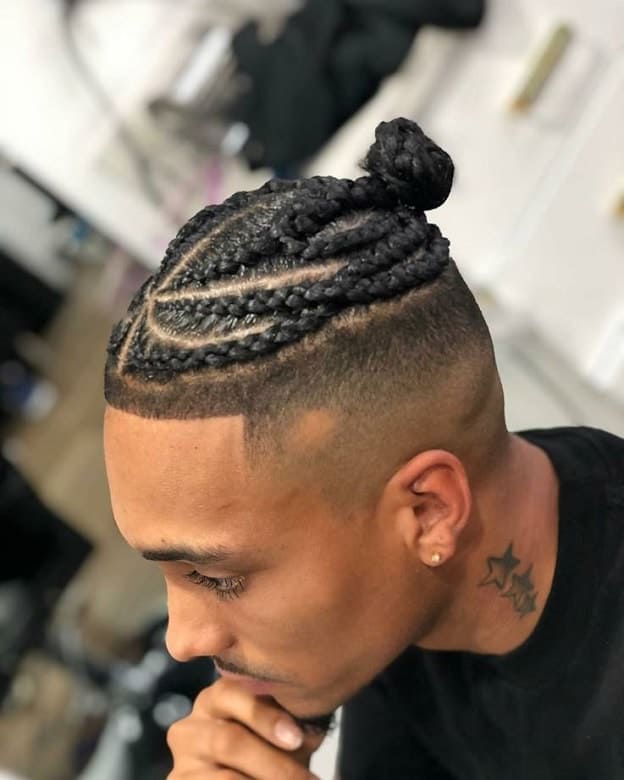 Sidecut is great for boys with short hair. However, if you want to combine short sides and men's Dutch braids in one, just do it. You will look great, and all your friends will copy your style.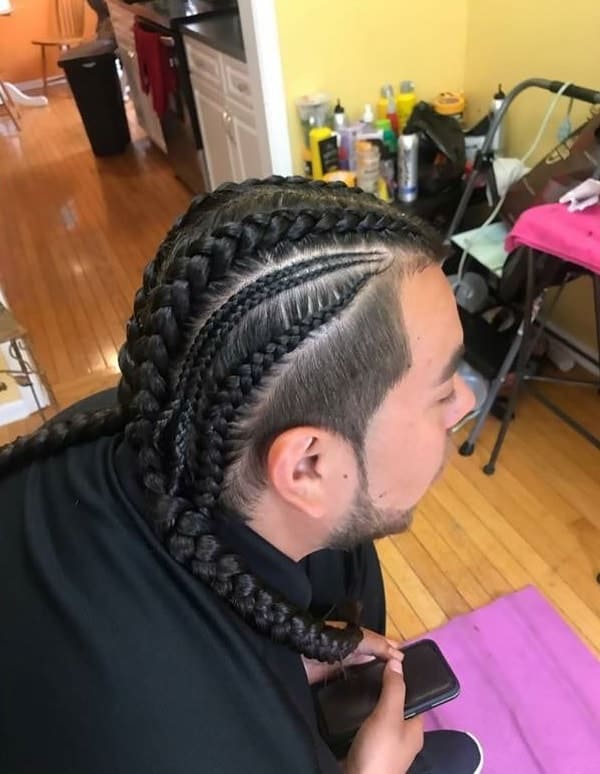 Long hair is beautiful hair, no matter if men or women wear it. You should do Dutch braiding on your thick hair from the roots to the hair ends.
Dutch braids on men's hair can be great for all those guys that seek for an interesting and practical hairstyle. You can only love your braided hair. Hopefully, after reading this, you will run to your hairdresser or braid your hair alone.