Mohawk and braided Mohawk are trending rapidly among men because of its uniqueness .but most of the people don't actually know that what the Mohawk is. In this article, you will come to know each and every detail about the men's braided Mohawk.
Mohawk style was inspired by rock music genre to show some kind of attitude in a fashionable manner. After that braided Mohawk was introduced to show the even more modern side of this hairstyle.
How Mohawk Style Is Made

First Wash your hair thoroughly
Then Blow-dry hair towards the roots to achieve a desire lift or volume
Apply styling product, in this case, apply wax (dollop) rub with hands together.
Repeat the step (rubbing) until you achieve the desired look.
Watch The Following DIY Video to Style Mohawk at Home
You have learned the Mohawk style now the next part is how to make a braided Mohawk for men. To make a braid is one the difficult work if you tried it for the very first time, we will discuss the very simple method here.
How to Style Men's Braided Mohawk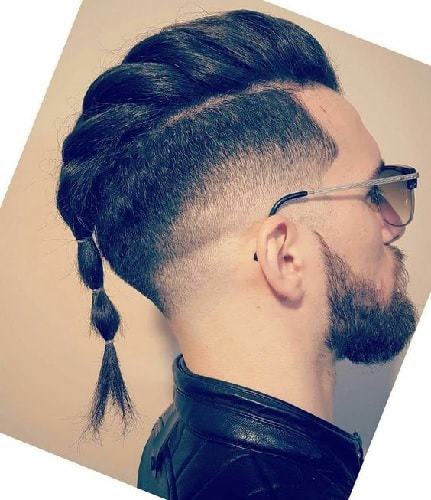 If you have a long hair then its plus point because you can choose a variety of hairstyles for yourself and you don't have to wait for your hair to become longer so that you can make a stylish braid.
If you have short hair then you have to wait for a couple of weeks to achieve the desired length to make Mohawk braids
After you achieve the desired length, you are ready to make the stylish men's braided Mohawk for yourself. Then apply any good quality moisturizer or protein cream on your hair to give them a moisturized look and it is easy to braid moisturized hair than the dry hair because dry hair is difficult to handle.
Then apply light spirit to your hair and massage it will prevent your hair from damage that usually caused due to blow-drying at high temperature. (We recommend you to blow dry at low temperature)
Start parting your hair to make plaits and create a cornrow on the sides of the head and leave a large portion of hair on the top of head to make the braid later.
If you have less volume then you can also use hair extensions.
Then start braiding your hair along the hairline giving it a "u" shape or any other shape you want, or you can also shave the sides (as shown in the below image).
Congrats you have made Men's braided Mohawk successfully.
Note: if you don't want a bulky look at the sides you can also create a quiff (slight)
Watch The Following Video about DIY Braided Mohawk Hairstyle in A Simple Way
Popular Braided Mohawk Hairstyles for Men
You have learned the simple men's braided Mohawk so far, now you will come to know about its types.
1. Men's Double Braided Mohawk with Bun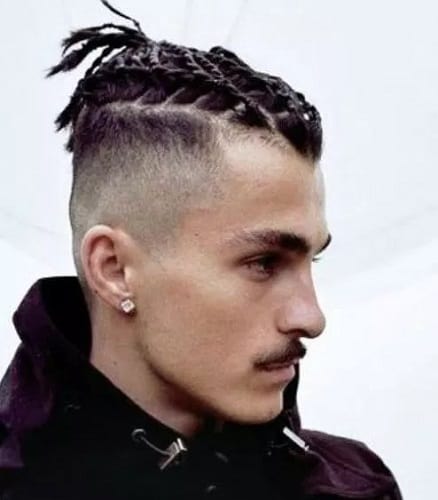 This style is mostly made for classy beach vacations. Double braids give an extra bang to men's braided Mohawk. In this style instead of one braid, two braids are made (as shown in the picture) and the rest of the method is just like the men's braided Mohawk.
2. Braided Mohawk with Shaved Side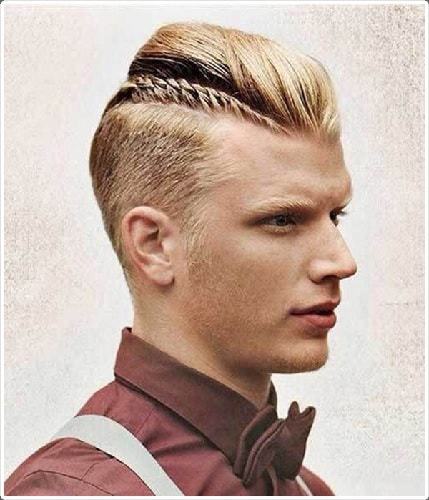 This hairstyle is the most stylish and cool among the men's braided Mohawk. The top of the head is braided and sides of the head are shaved slightly, which give a man very epic look. As shown in the image.
3. Extreme Braided Mohawk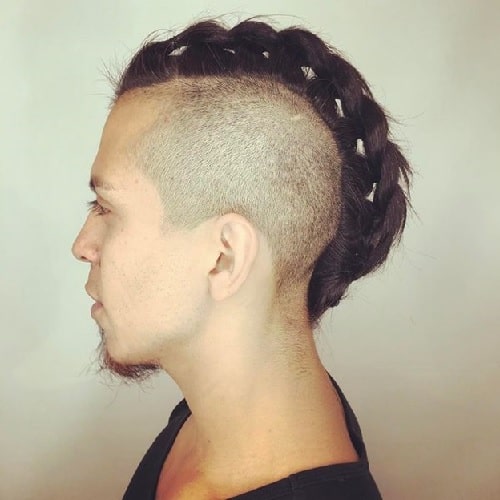 In this hairstyle, the braid is made on the top of the head, as shown in the image. This hairstyle gives a stylish and epic look to men. This braided Mohawk is the combination of braid at the top and the shaved sides of the head.
4. French Braided Mohawk with Blonde Hair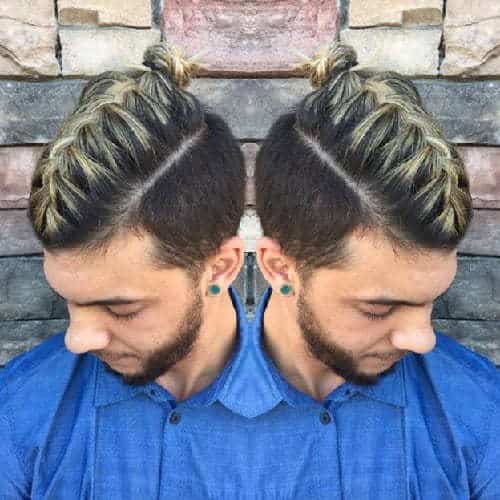 This braided hairstyle suits to men who have long hair on the top of their head and the sides have shorter hair. It looks even more stylish when you blond your hair or have naturally blond hair. This style also suits very well to white men.
It adds an awesome look to your personality. This men's braided mohawk hairstyle is combined with a bun giving a masculine effect.
So which style you are going to choose Mohawk or braided Mohawk style? If you have been tired of trying the Mohawk styles then we suggest you combine these Mohawk with braids.
After all, Men's braided Mohawk is a stylish, modern, cool and fun-looking way to style long thick and even shorter hair. Whatever braid styles you pick always keep in mind that whether it will suit your face or on your head. Always go to professional to make these types of styles as it is difficult to make such tricky styles all by you.