A business haircut is what all businessmen need to attain the perfect professional look. Having a formal haircut makes you look ready for all corporate meetings round the clock. Your partners and business associates are impressed by your looks as much as the success you have gained.
The formality and perfection in looks are a way of showing people that you value organization. So even your employees know that they have to follow the dress code and style seriously.
Classic Haircuts for Businessman
So, if you want to uplift your charisma with a decent haircut then here are 21 business hairstyles you can easily copy.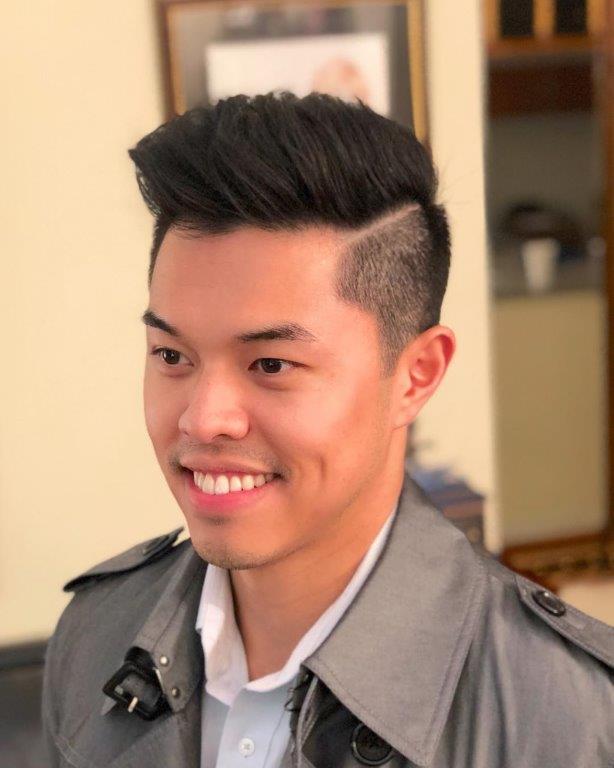 If you are up for an easy to do hairstyle for businessmen then this is perfect for you. The hair is brushed upwards in a gentle manner and swept slightly to a side.
The undercut makes the hair look sharper and well put together giving you the perfect appeal that you need. What's even better is that you just need to put a little gel on your hair and it will stay up for the whole day.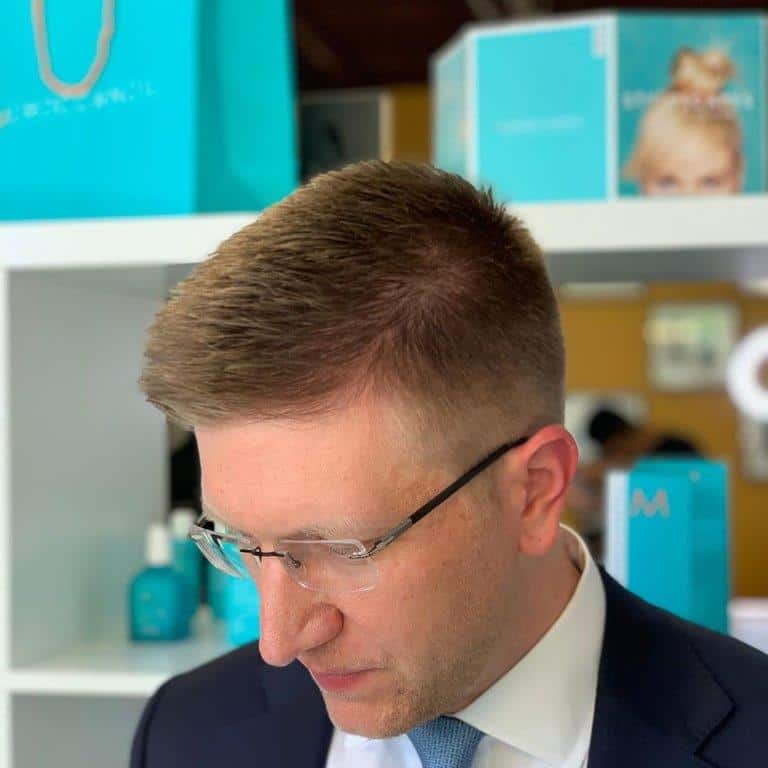 Short spikes look undeniably hot and formal at the same time even if they are a little messy. These short spikes are followed by a low fade which gives more detail to the businessman haircut.
The spikes are dyed differently from the base hair making them pop more. You can keep your natural hair color if you want to since this haircut looks on all types of hair.
3. Side Swept Style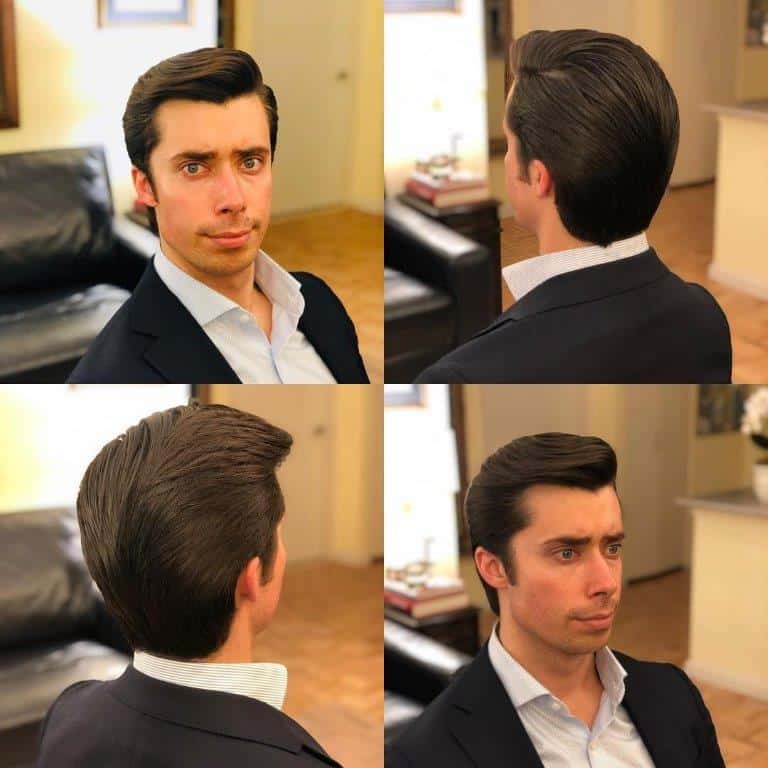 If you have slightly long hair and want to give it a gentle fresh look then this side-swept style is best for you. The hair is slicked with gel and then combed towards the side.
The side part is not too sharp or well defined adding a touch of mysterious charm to your hair. This is the go-to look for all business meetings as well as informal gatherings if you want something easy and highly attractive.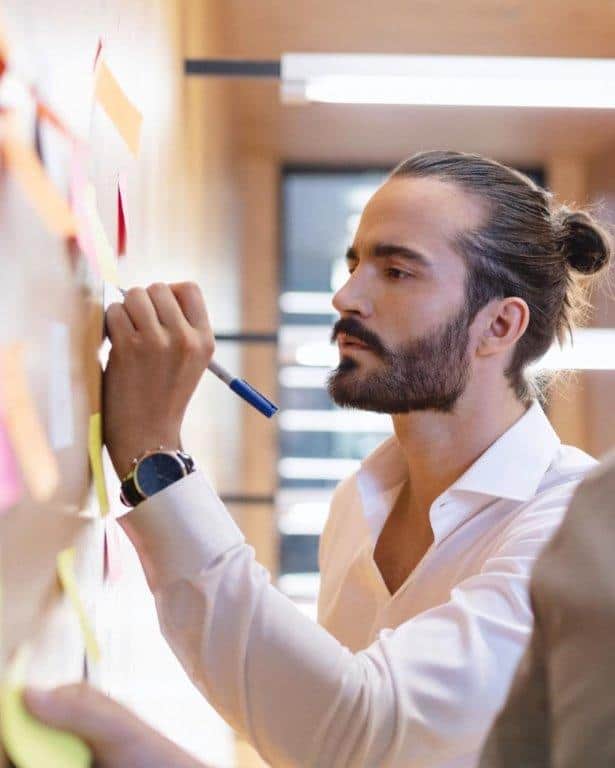 Who doesn't love a neat yet unconventional business hairstyle? This one is particularly good for those who want to keep things natural, a little high on style and a lot unconventional.
This man bun with beard look is even better if you have a strong personality and people find you intimidating since it gives you a natural look. This man bun is neatly tied and has no loose ends to make you look messy or not well put together.
5. Modern Side Part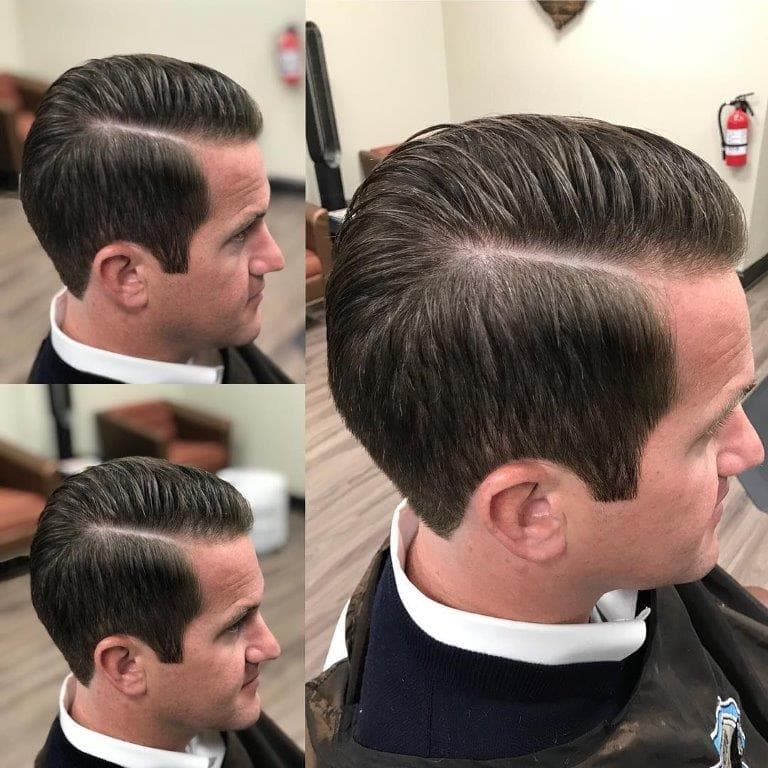 For those who want to keep the traditions alive, but still want a modern businessman haircut, this one is perfect. The hair is on the longer side of short and is cut in asymmetry making it so neat.
The side part is quite recent and has a well-defined line dividing the hair into two stylish halves. This is quite easy to maintain as you just need to give it a little brushing and apply your usual gel on it every day.
The elderly businessmen have an extra class and charm due to all the years of experience and wisdom. This should show in their haircut too, shouldn't it?
This is why we have brought this simple yet wisely stylish haircut for middle-aged businessmen who like to keep their haircut game strong. The hair is slicked back all the way to the base of the head creating an impressive look.
7. Hard Part with Medium Fade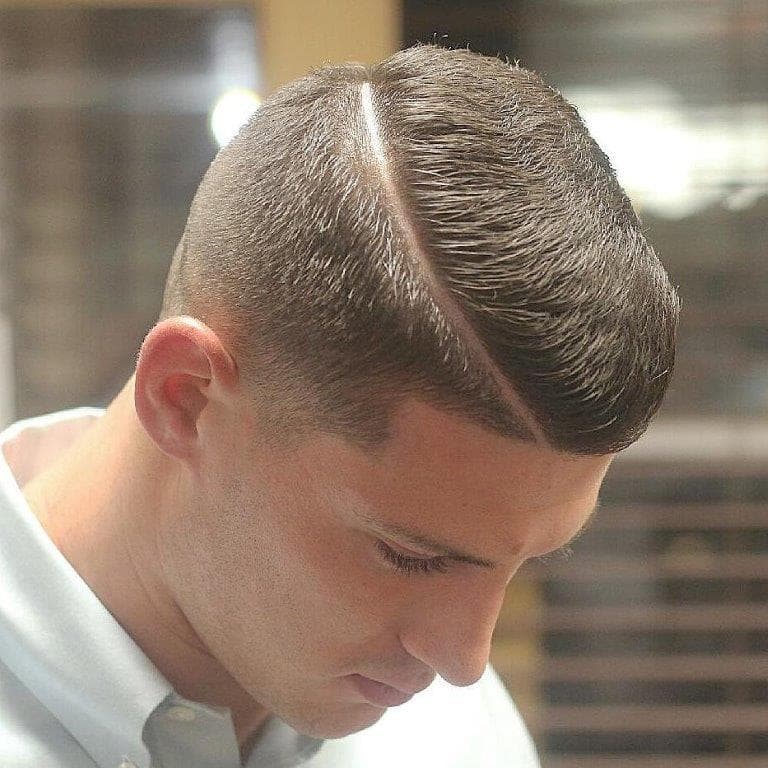 Short haircuts are the best for businessmen, aren't they? They are easy to style and even easier to maintain throughout the day once set properly.
This one comes with a defined part line which draws all attention to your hair. The medium fade gradually makes the hair shorter as it goes down creating a very neat look on the whole.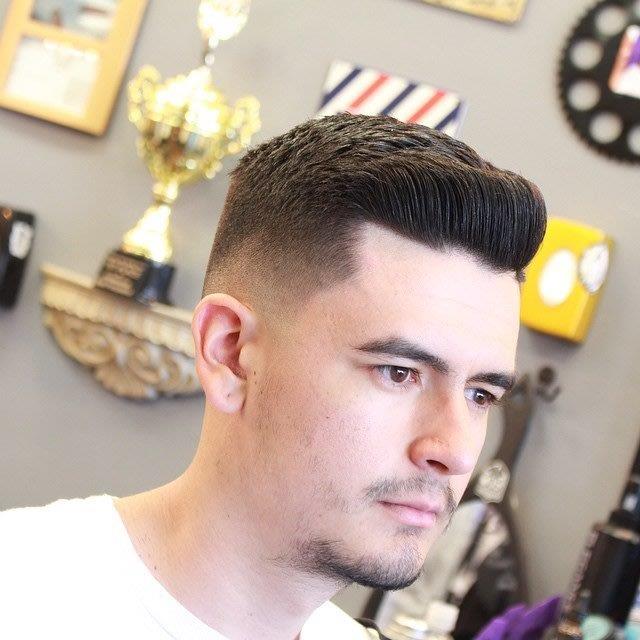 Half pomp hairstyles are undeniably charming and hot. This is one of the simplest yet hottest business haircuts that you will come across.
The short hall pomp at the front is attractive and easy to make with a little gel and some combing. While the hair at the back and sides have a medium fade making them sit neatly in their place all the time.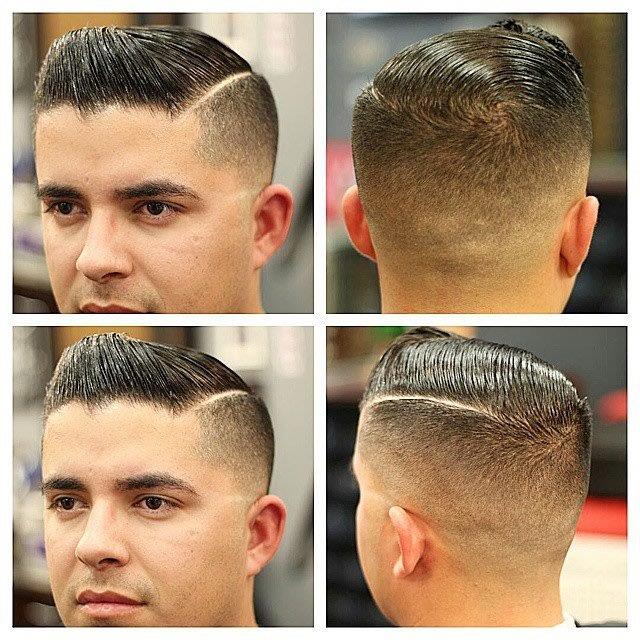 Gone are the days for boring and dull haircuts for businessmen. Now they like to come off as confident, bold, attractive and stylish, so they need modern haircuts.
This sleek comb over with high fade is not something new, but the hard parting line definitely is. The high fade at the back of the head is even more attractive and contrasts the comb over at the front perfectly well.
10. Parted Pompadour
Parted pompadours are not very common, but they are highly impressive. This one particular has the perfect balance of stylish and casual which makes it so good for your everyday look.
The haircut has a low taper fade for an additional neatness which any hairdresser can do for you. All you need to have this haircut styled daily is some gel and combing.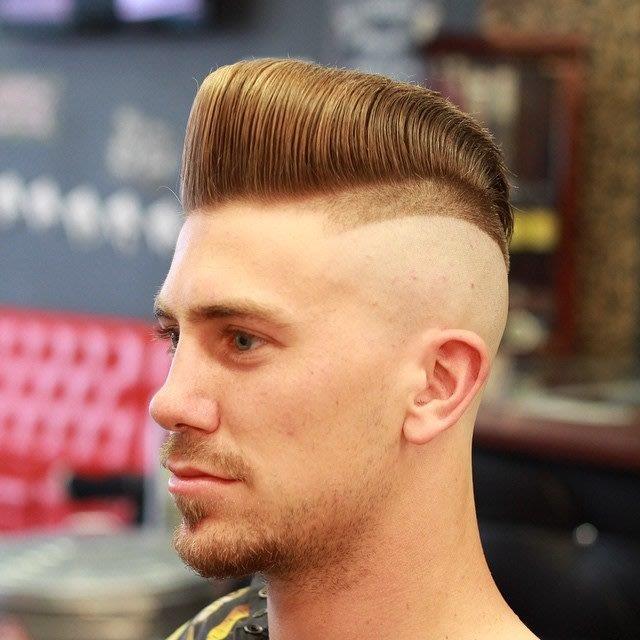 Want something fun and stylish for your work look as well? This pompadour undercut is just right for you since it has nice full pomp at the top with the sides shaved clean. The undercut makes the pompadour pop out even more and makes up for the length of the hair at the top.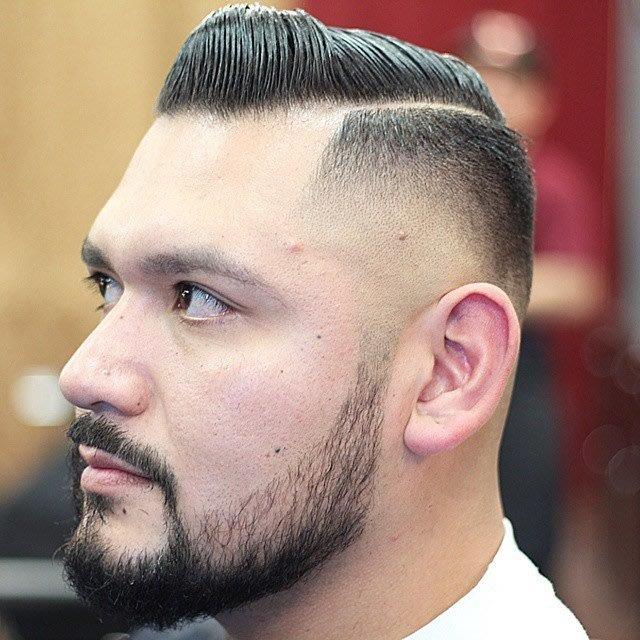 Some of you might be looking for businessman haircuts with a beard, this haircut is perfect for those. The side part is quite far away from the middle, unlike most parts, making it unique and impressive.
The sides have a medium to low fade which complements the beard very well. This is totally your haircut if you are looking for something simple but classy.
The life of businessmen is always abuzz, so should their haircut be. This creative haircut has a symmetrical vibe to it with the right amount of coolness. The medium to low fade puts more focus on the comb over making it the most attractive part of your businessman look.
14. Grey Hair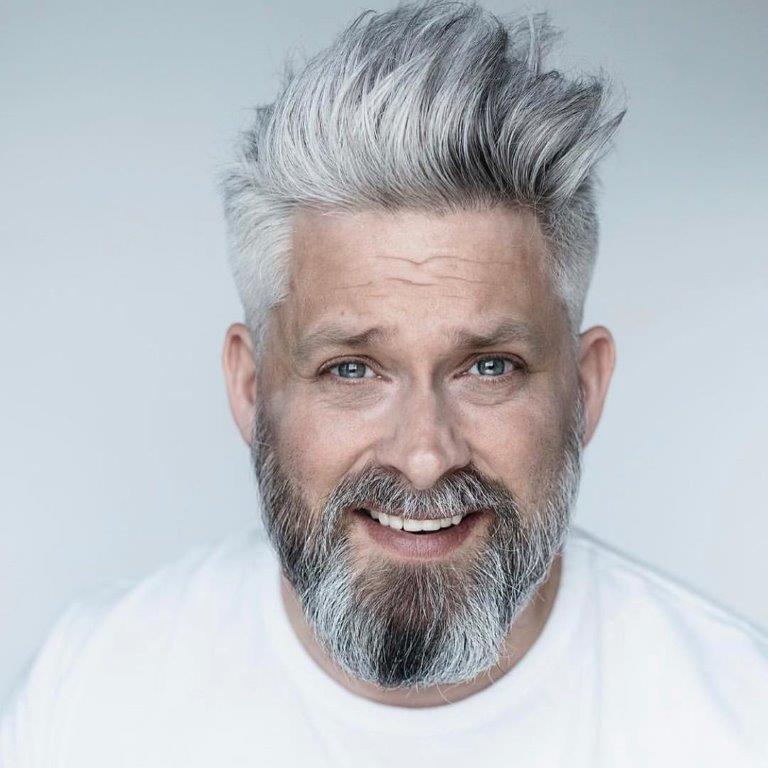 Well, the middle-aged businessmen deserve to look stylish and trendy too, don't they? This grey quiff is best for them as it has the perfect combination of class, ease, and style.
The style is quite natural and is easy to maintain with a little gel. The hair is not too sleek so as to stick to the scalp. So, lift up your businessman charm this season with this amazing business hairstyle.
If you love your hair to be on the longer side of short then this one is right businessman haircut for you. The vintage vibe is so prominent as all of the sleek black hair is combed backward. The sides are well slicked too, so you get to feel and look classy.
Short hair looks highly stylish with an undercut, doesn't it? This short comb over is just the right hairstyle that you need to make it big on hair fashion.
The nice undercut option is to make the short comb over look more prominent. You can even give it a subtle tattoo if you want to as it will make the haircut even more fashionable.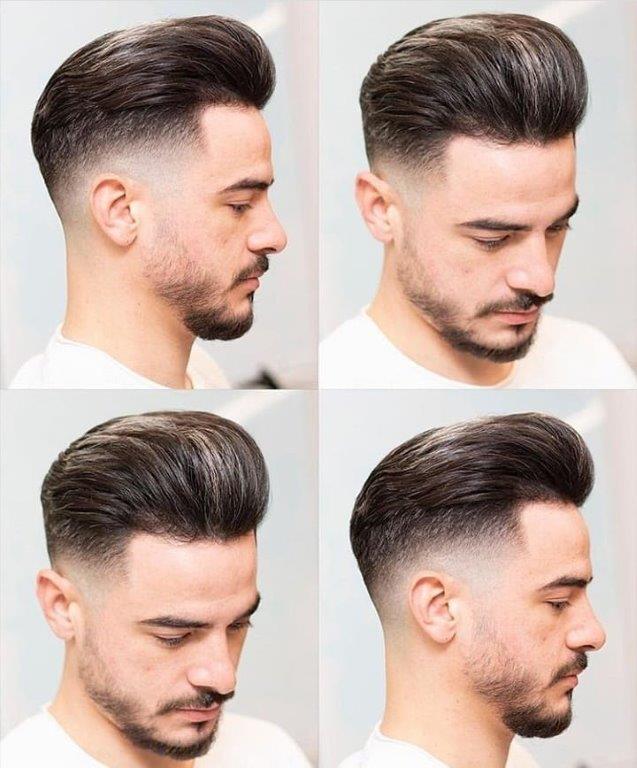 If a high-profile haircut is your thing then this full pomp is the most elegant option. The full pomp gets more stylish with the low drop fade which directs more attention to your hair. The hair needs a minimal product to stay in its shape, so it is quite easy to maintain.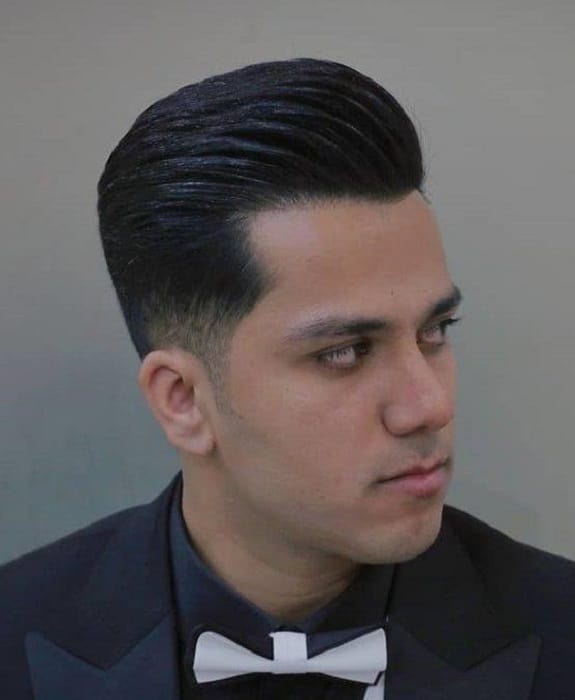 If you have thinner hair and still want a trendy haircut for businessmen then you will love it. The light comb over has medium length hair with quite a low volume which looks quite decent. Just avoid giving it a fade as that will make your hair look even thinner.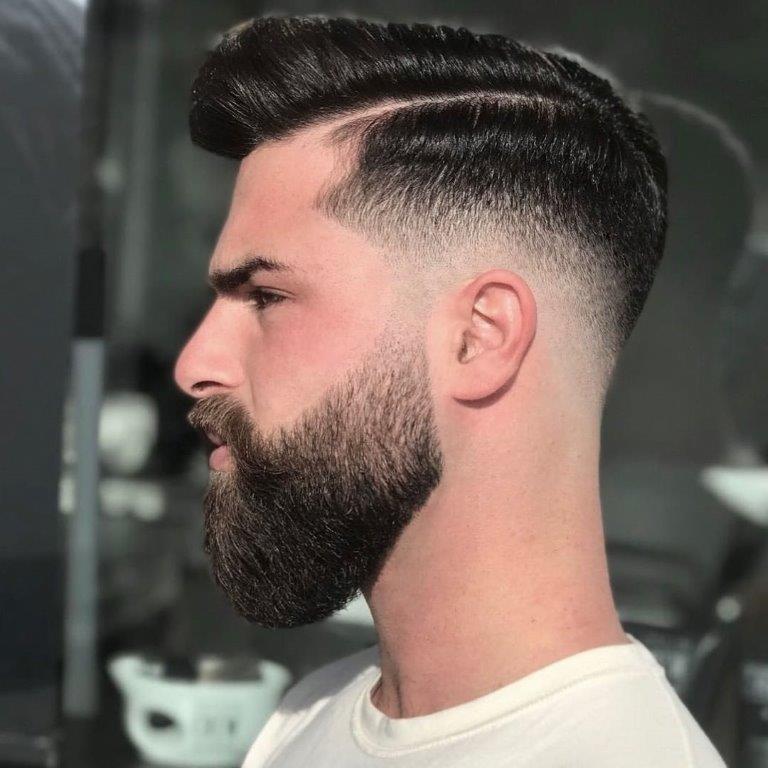 This hard part is going to make your business hairstyles look defined and attractive. The hair is short and swept to a side while the part line makes the divided hair look well proportioned.
The crew cuts give your hair an instant charm so go for one this season. The side part makes the military cut appear well maintained and the low fade complements the whole look amazingly.

If simplicity and class is your ultimate aim for a business haircut then this is going to be your favorite one. The hair is kept medium and is slicked to keep is in its place all the time.
So, if you want to look as competitive as your business is then these businessman hairstyles are going to be great for you!