If you want a real solution for your unusual hair routine than the top knot might be the answer. Nowadays, it's very compelling to look clear and graceful for both men and women. Basically, for hairstyle, both men and women are very sensitive and choose. They even puzzle over for what kind of hairstyle they can try on the salon. Therefore, to get a clear idea of the trends is the must.
Strategically for men's image, haircuts are crucial. Day by day, trends are changing and also the style of haircuts. Here, in this article, we will shed some light on men's top knot hairstyles.
What Is A Top Knot?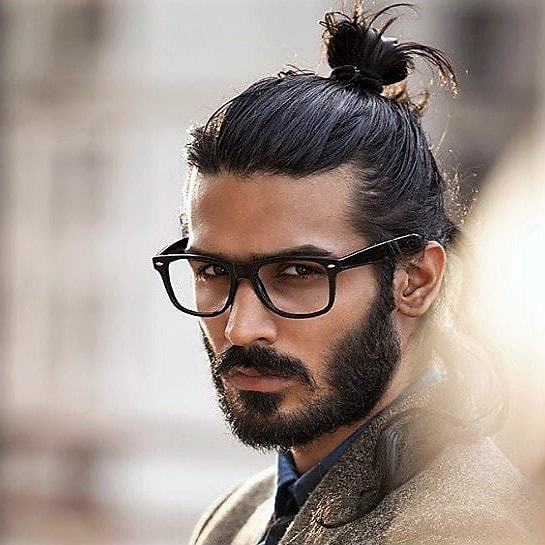 This haircut is basically a concept of trendy undercut and bun style cut. Therefore, the top knot is also known as the top knot bun. It features scraped or pale sides with long hair and combined on top with the tied up ponytail concept of the bun.
Top Knot vs. Man Bun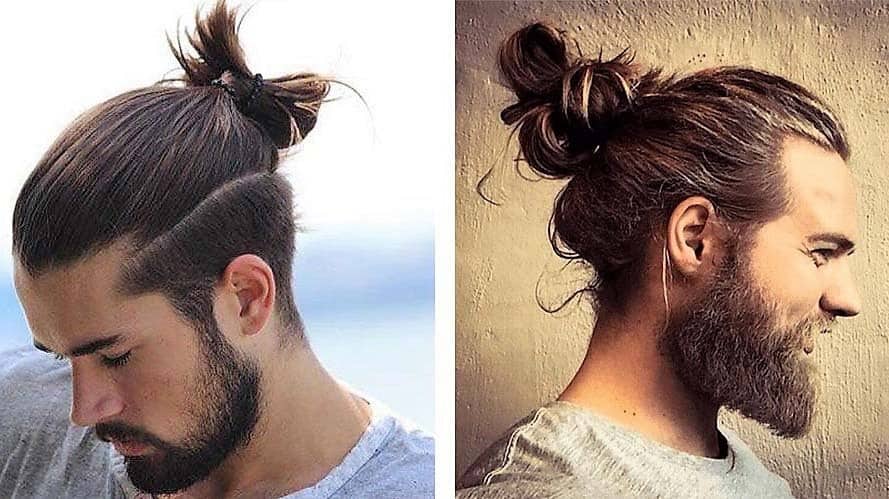 A top knot consists of having long hair on the top of your head and the bun hair didn't need long hair or the top form. Basically, this is the main differences this hairstyle. On top knot, you may truly look like a samurai. But on the other hand man buns hairstyle promote a guy actually has long hair all over. Here the purpose is to hold back the long hair.
How to Grow A Top Knot Fast
A top knot is a very versatile look and can range from sleek and sophisticated to messy chic. It begins with making the look by pulling your hair into a high ponytail, then wrapping your hair around the base of the ponytail and securing it with a hair tie. You can even use a hair doughnut to make the bun fuller and more voluminous.
Best Top Knot Hairstyles To Try
Here is a list of some of 20 best top knots all stylish men should consider giving a try:
1. Combo of beard and top knot
This hairstyle is the brilliant example of how to rock the top knot men trend with a beard. Here, your hair casually styled up with the high top knot that tight the sides. It strikes the exact balance between neat and statement-making.
2. A bald fade
This is a bold style bold with clean-cut, dapper top knot. It does make a stylish look to men. With featuring distinguished bald faded sides, that are smartly buzzed in a V-shape. Its alternative and edgy cut will give you a cool look.
3. Braided style top knot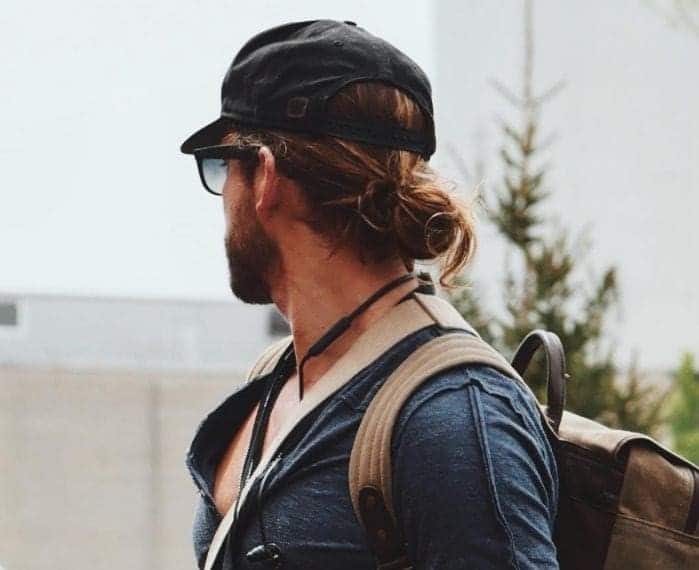 You may have the first one to see the trend. Thank goes to Marco Polo and Vikings because they are the pioneer of this style. It is boasting practical qualities that really is no down-side to the situation. And your hair will stay budge-proof throughout this style.
4. Messy top knot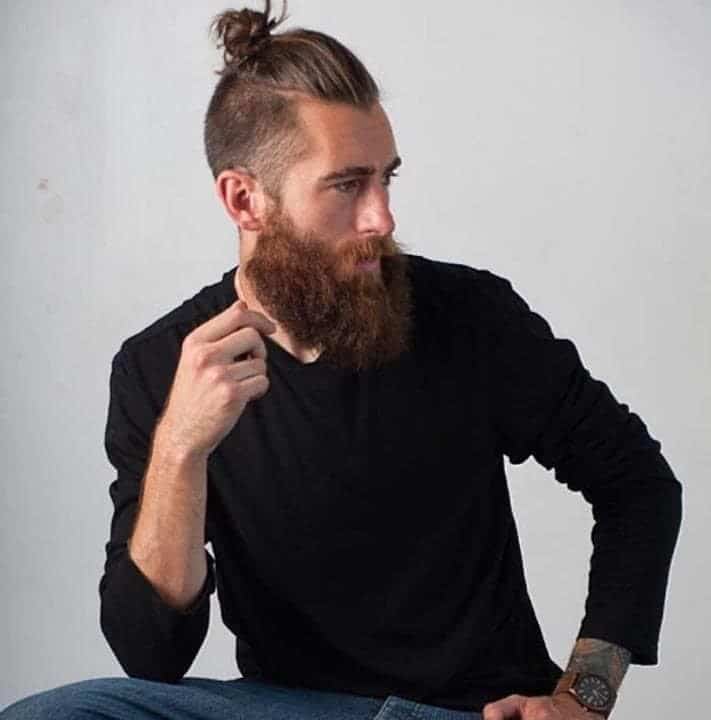 The beauty of top knot styles is that it even get messy. By appearing messy it adds funkiness to your personality. You even do not have to unite your hair again and again.
5. Japanese Top knot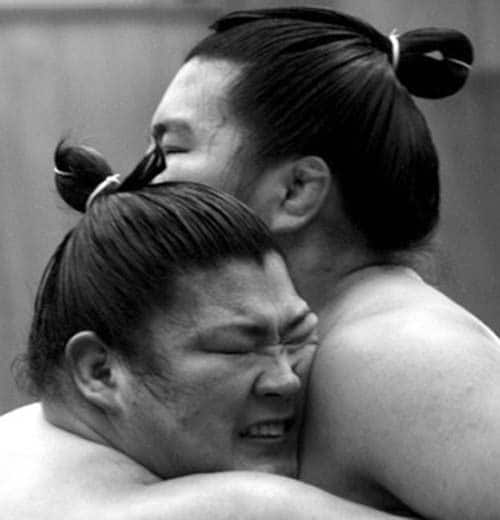 This particular style is usually known as 'Samurai knot'. Here, your hair will tie up little differently with two elastics. In this hairstyle, you have to use elastic to put and collect all your hair at the center of the top of the head to make a pony. Then you have to roll the elastic to pony back passing it through the first elastic and leaving the tail of the pony on the top of the head.
6. Top knot with braid at the back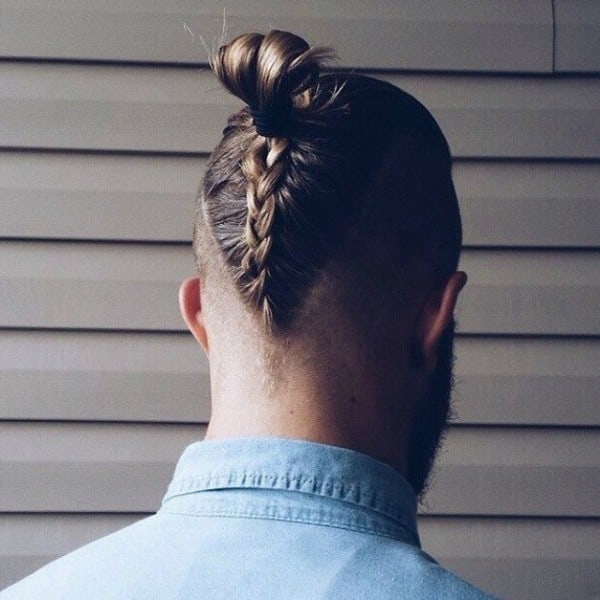 This is one of the kinds where you can call it as – watch your top knot from the back as the beauty of the style lies here. Get your hair cut making a 'V' on the back and your sides shaved. Now make a braid at the back and roll it above the top to form a knot at the center of your head.
7. Designer top knot
An experiment is a gateway to discovery, one can say when seeing this designer top knot style. The regular top knot has been turned to a sizzling hot hairstyle by the undercut sides and razored designs at the back of the head.
8. Top knot on curly hair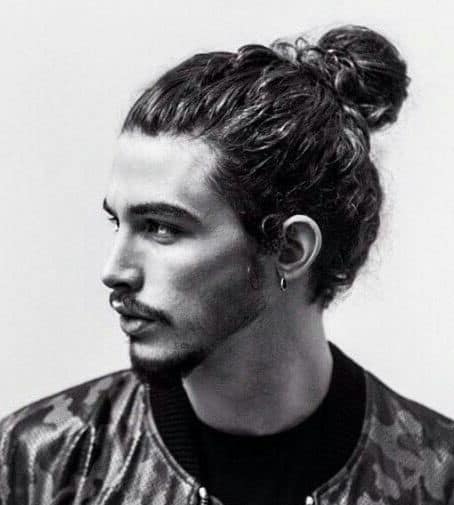 A perfect bun cum top knot hairstyle men with curly hair can wear. You only have to get buzzed sides while putting all your hair together on the top to form a bun at the center of the top of your head.
9. Top knot with razored strip
No matter how good a style may be, men know how to make it the best. The regular top knot style has become attractive by the double razored strips sides and combing the front hair with a broad comb after applying a good amount of hair gel.
10. Side part top knot
This knot is rather a bun which is not at the top but tied in a similar way. The hair is parted from the sides and hence gives a different look from the usual top knot style
11. Hot gray top knot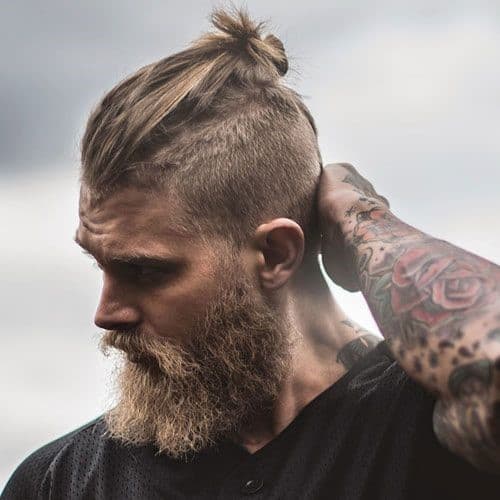 The top knot hairstyle male with any hair color can try it on. If you are bored with your natural color, try a top knot on gray hue with a dark goatee. Dude, you are surely going to look awesome!
12. High top knot with bun and curly hair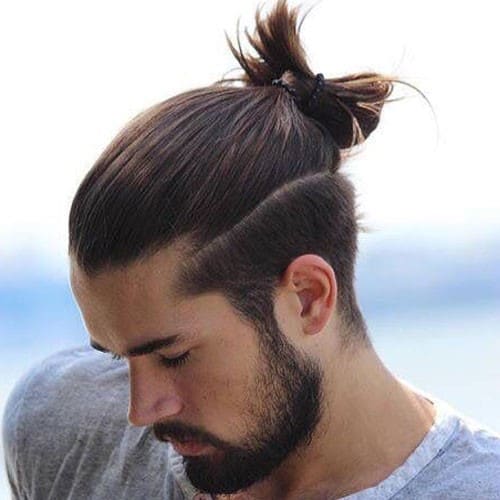 If you don't want to go for shaved sides with your long curly hair, then why not try a high top knot bun with a portion of your hair? Leave the rest of the hair to fall free on your shoulder as the curls are going to make everything look awesome, anyways.
13. Top knot with short curls
Men with short curls can roll up the hair to a top knot while keeping the sides razored. A beard will make everything look further great.
14. Chinese top knot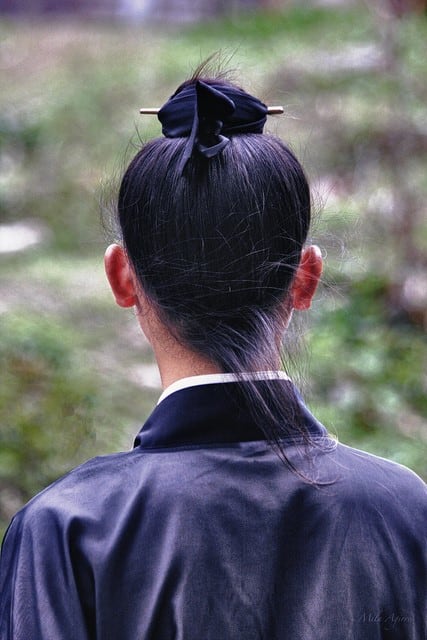 Mostly Taoist priests in China wear this top knot. This knot is no different from other knots, however, the hair at the sides are not shaved. Also, they have a different sort of hair stick to hold the bun at the top.
15. Mid-French braid and top knot with under shaves
Try a top knot style with shaved sides and a French braid that is woven from the middle of your head. Believe or not, this is the coolest of all the braided top knot styles.
16. Textured top knot style
Here, you have to use hair wax to give your hair strands a texture. Then it will tie them up high in a top knot. Here if you grow up a light beard than it would enhance your look a better way.
17. Undercut top Knot
You can say it a combination of top knot and undercut. It looks dashing and mesmerizing.
18. The classic top knot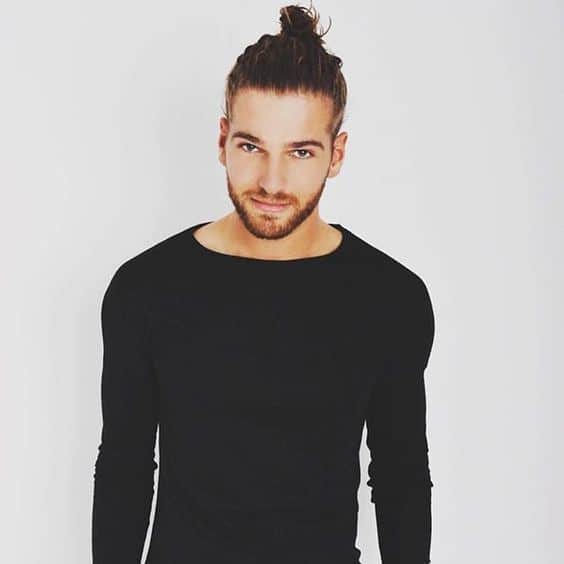 This is a style of simplicity and class. Especially when you're in a hurry, you may try it out.
19. Folded top knot
It's another classy version of the top knot for gents.
20. Small knot hairstyle
Here again, a new style named Small Knot Hair Style. To keep more hair in front and less in the knot, you can try it out.
Pros and Cons of Having A Top Knot Hairstyle
Just like everything else in this world, you also have pros and cons for rocking a top knot.
Pros
The first pro is the easiness of it. You can just get up to your bed and tied up your hair. That's it.
Versatility is another advantage of this knot style. Through this hairstyle, you can get any look out of it.
You can get a unique look.
Cons
If you are trying out this for the first time you may feel a bit awkward.
The short hairstyle may feel disadvantageous at times.
You need to use heavy hair products to maintain your long hair.
Frequently Asked Questions (FAQs) on Top Knot Hair
Can I have a top knot undercut instead of a man bun undercut?
Sure. Only make sure that the hair on top of your head which you will be tying as a top knot is between 6 to 8 inches.
Which are the best hair clippers to buy?
It does not matter whether you are a top knot or man bun kind of guy. Having a good hair clipper is essential grooming tool for every man to own. We recommend Oster hair clippers and Andis hair clippers.
Can I grow a beard with my top knot?
Absolutely, you can sport all kinds of facial hair styles with your top knot man bun. A full beard style is quite common.
I'm an old man, will I look good with a top knot?
It does not matter if you're old or young. As long as you have enough hair on top of your head, you can get a top knot or a man bun. It is the hair that matters, not your age.
What hair products can I use for my top knot?
If you're sporting a top knot, you need to take care of your hair. Some hair products that are useful for the top knot are a conditioner, a styling cream, and a leave-in conditioner.
What kind of hair accessories can I use for my top knot?
You can use anything you want on your top knot man bun which includes hair clips, elastic headbands, etc.
All in all, top knot is like a semi bun and you may need the help of a professional hairstylist to get your desired shape.