The temp fade has been around for over 3 decades now. A craze in the 1990s, today we see a way more modern version of this haircut. This is the style that is best suited for those who like to keep their hair short and want the natural facial features to be highlighted.
The temp haircut, that way, is a rather hassle-free low maintenance cut that works well with an extensive range of options. If you are a man looking for a hairstyle change to something hyper-stylish that is also banging on trend, then you may want to think about a temple fade haircut.
What is a Temp Fade Haircut?
Temp fade for men is also known as the temple fade or Brooklyn fade. This look is basically achieved by shaping the hairline to create a highly sharp and clean line which then blends down into a faded look around the temples, ears, and jawline.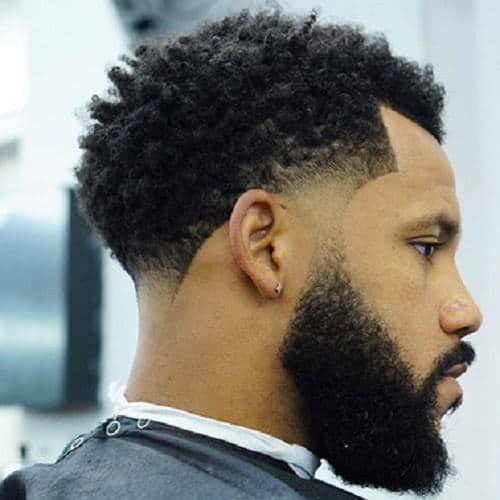 Don't be fooled into thinking that the temp fade haircuts is only for black men – this is a very trendy look for all fellas who like to have a unique cut.
The main reason it has become so popular is the huge number of variations available to customize your look based on your natural hair and personal preference.
Things to Know Before You Choose A Temp Haircut
Do not underestimate the amount of skill needed in creating a temp fade hairstyle for men. Choose a highly skilled barber or stylist who is acutely aware of what is involved in getting the look and also has the correct tools to carry out such a style. The Barber will need a good set of hair clippers, razors and trimmers.
Watch The Following Tutorial to Know about How to Do A Temple Fade Haircut
Most Popular Temp Fade Hairstyles for Men
The main purpose of the temp fade haircut is to highlight your facial features. The super-short style from the temple down to the jaw and nape makes your face shape and cheekbones stand out.
However, the added bonus is that you still have lots of hair to style around the crown of your head – so if you particularly favor having longer hair, or you enjoy varying your daily style then you don't have to miss out with the temp fade haircut.
Here are some stunning variants of the temp fade haircut. These are sure to wow you not just in terms of variety but also in the range of possibilities.
1. Temp Fade with A Weave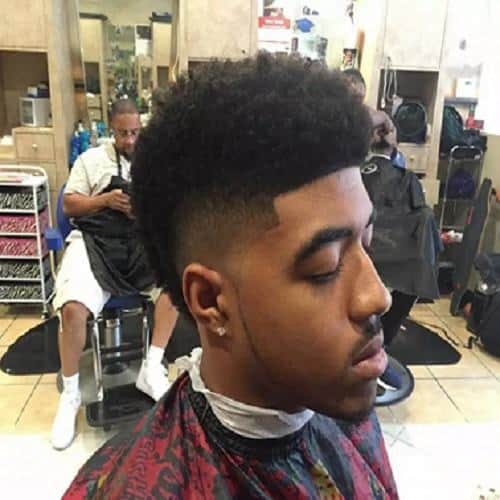 A weave is a great way to set off and highlight the intricate nature of any man's temp fade. By having a full and thick mop of hair or weave on top of your crown it can make for a more dramatic and stylish look.
A weave is also a great way to cover up thinning hair and coupling this with a temp fade haircut is a modern and contemporary style option.
For a cleaner look opt to keep the curl size and overall height to a minimum or try a more dense and tight curl. Enhancing the style with golden tips or highlights can also be a great look.
If you are looking to make a transformation to having dreads but don't have a great deal of hair length, then a temp fade hairstyle is a fantastic option. Short dreads tend to stick out and be unruly, but when worn in conjunction with a short and sharp hairline and a tapered undercut it makes the style look controlled and not wayward.
If you are wanting a more unruly look then opt for free-style dreads and really pick a highly sculpted pattern shaved into the scalp. This will make the style look more considered yet casual.
3. Fade Hairstyle with Beard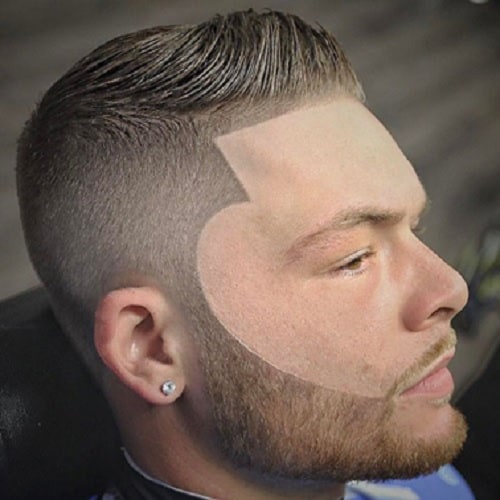 A men's temp fade hairstyle is a great way to have long hair and grow a beard without looking like a Yeti. You can avoid the mountain man look by fading the beard up towards the ear and temple which can create a graduated break between the hair and sideburns. This is a novel way of breaking up large portions of very dense and heavy hair.
This is also a nice idea for anyone who is just starting to grow a beard or anyone who's beard, and sideburns tend to be patchy and thin as this is covered up by the graduated shaved style.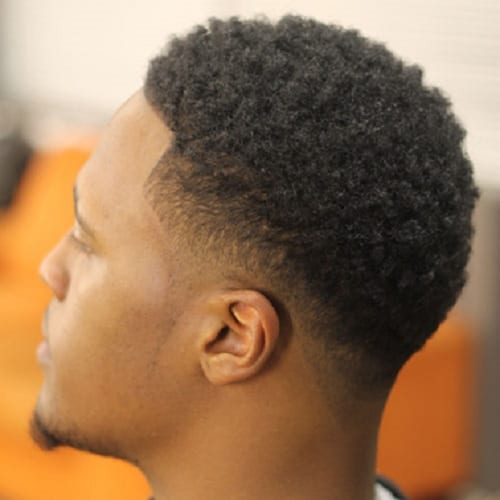 If you like a classic look or need a more suitably reserved haircut for your job – the low temp fade haircut is a good option for you. The hairline is left natural, but the temple is faded back behind the ears. For a more striking look and to make the low temp fade hairstyle stand out – it is often paired with a clean shave.
5. Hairstyle with A Parting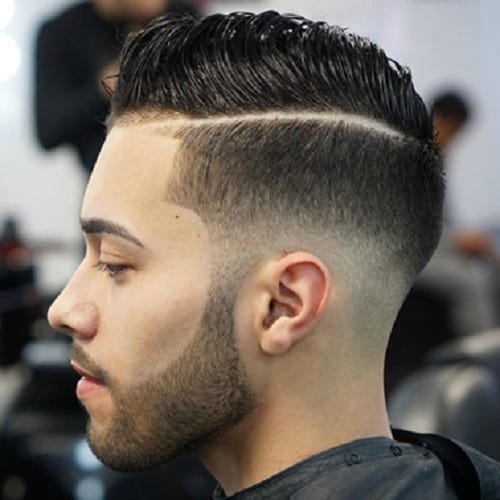 There are many ways a parting can be worn and by opting for a temp fade hairstyle, especially around the natural hairline, it can really boost your overall look.
If you like having long hair, then along top fade can give the impression of more lengthy locks but without looking bulky. By adding a parting, it can achieve a very bold and dramatic style.
A sculpted pompadour undercut is also a great way to wear a parting and get that uber cool look. Using the temple fade along the parietal ridge of the head, you can keep the volume and fullness of your style.
6. Avoid Those Bad Hair Days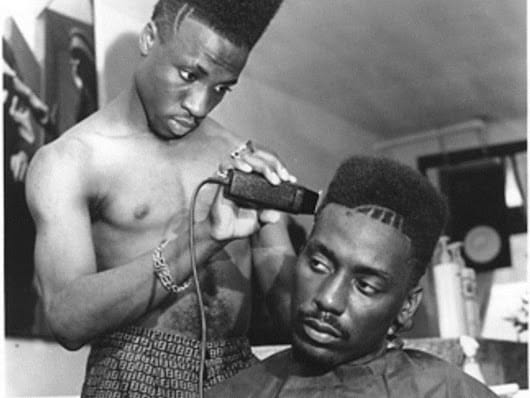 The temp fade hairstyle has been reborn since the 1990s when it was the favorite of many. Its unsurprising as the men's temp fade can be adapted to suit any style and any sort of hair.
With its revival, it is worth jumping on the bandwagon and joining in to get a trendy style that is also relatively easy to look after, although frequent trims will be needed. With this being a very timeless look, it's reasonable to expect this style to make a return again and again.
7. Medium Temple Fade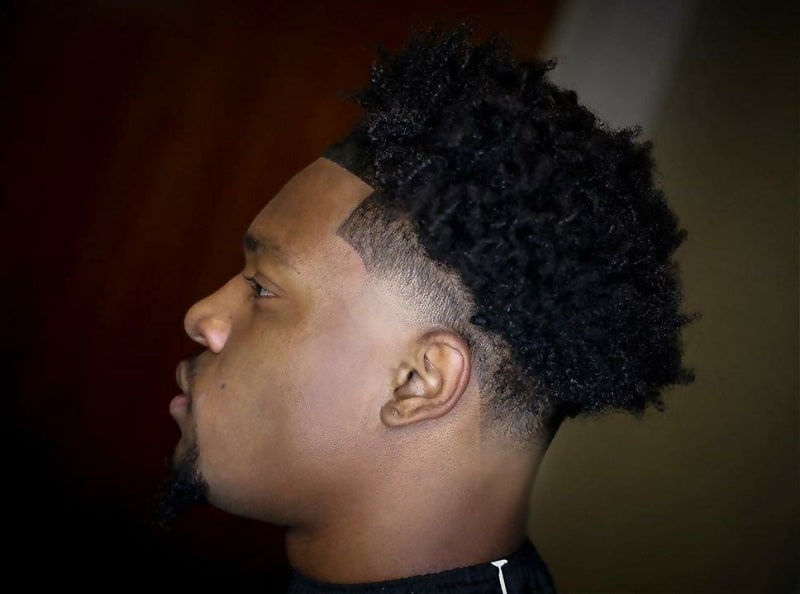 The heavy top comprising of tight curls and the dreadlocks offset the fade in the temple region. It also offers a striking contrast that is hard to ignore. The taper fade towards the nape accentuates the fade on the temple and enhances the overall contrast in the striking fashion.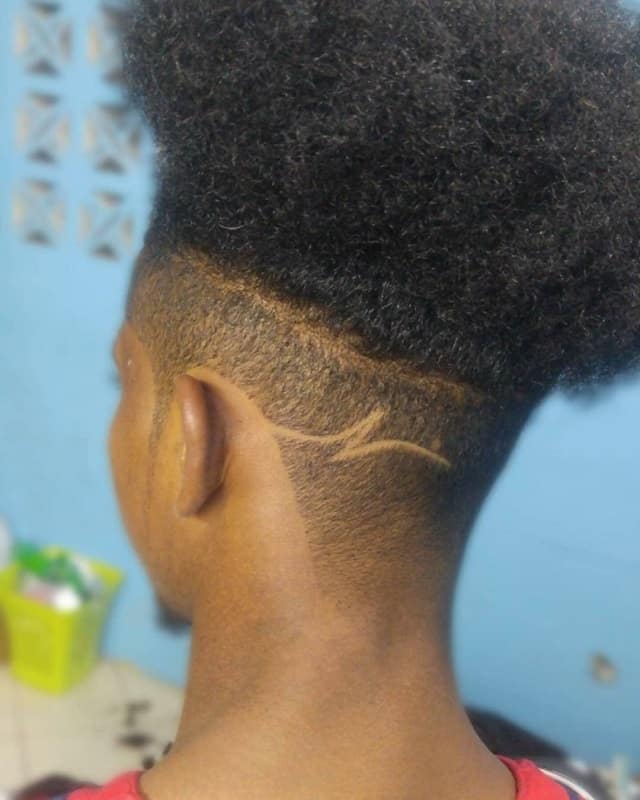 The temp fade, in this case, is complemented by the sharp fade at the back and designer lines along with it. The occasional beard with it goes on to even intensify the rugged look. But you can also try on this look without the beard. It makes it equally stunning.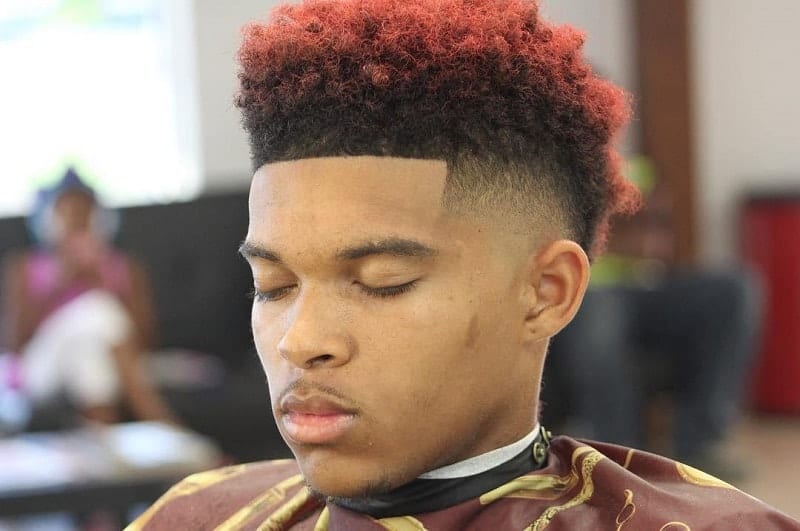 The bright Mohawk offsets the temple fade in a striking way. It enhances the overall rugged machismo despite the bright shade. Moreover, this is a type of styling that is hard to ignore, wherever you may go.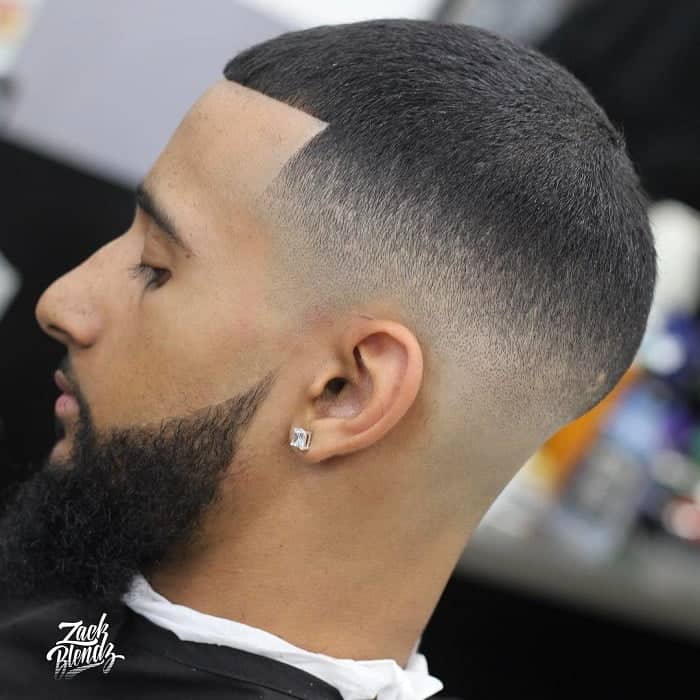 The super short buzz cut gets a definitive look in this temp fade haircut. This is ideal for those who prefer to wear their hair small and like functionality over styling. Actually, in many ways, this is also a fashion statement that can make for a stunning getup.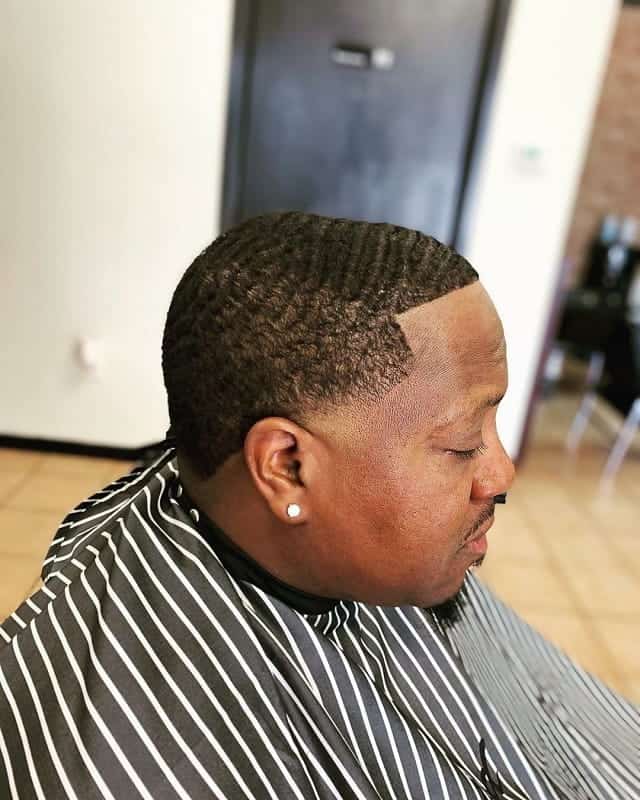 The 360 waves add a striking element to the temp haircut. It creates a sense of woven feel all around, and that makes the temple fade even more pronounced.
12. Side Swept Brushed Hair with Sharp Fade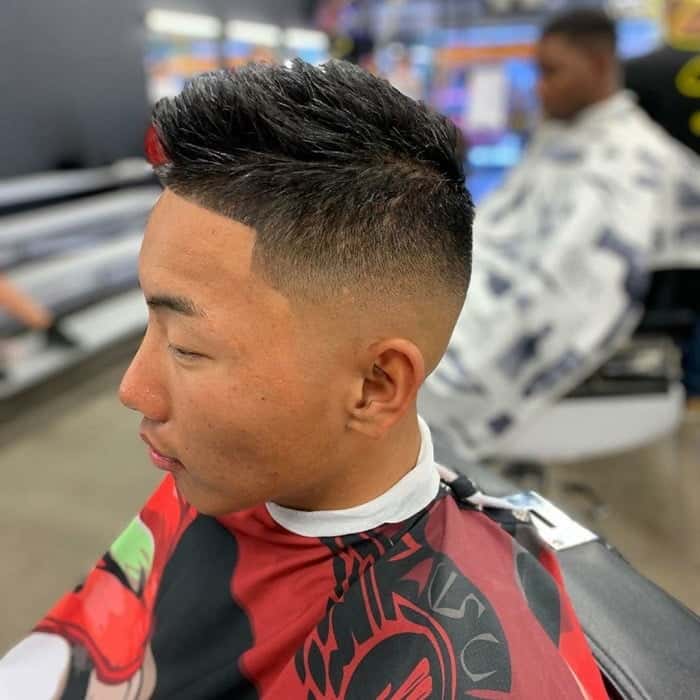 The side-swept brushed hair along with the sharp fade manage to stand out as a result of the temp fade. This is ideal for the upwardly mobile corporates. It gives a sleek, subtle and absolutely striking appeal to the whole styling.
13. Half Moon Parting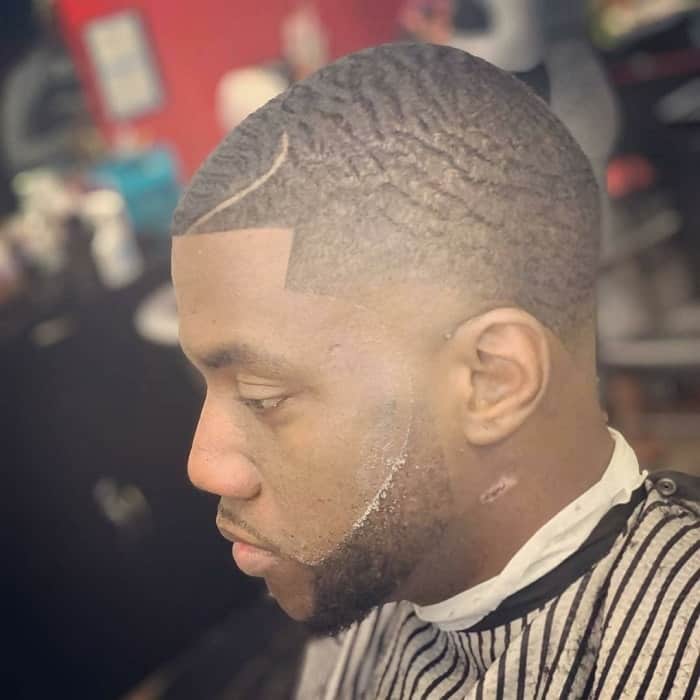 The half-moon shaped parting in the side makes for a compelling and creative variant of the temp fade haircut. It draws attention to the parting and away from the temple fade. The accompanying beard lends a further intensity to the whole look.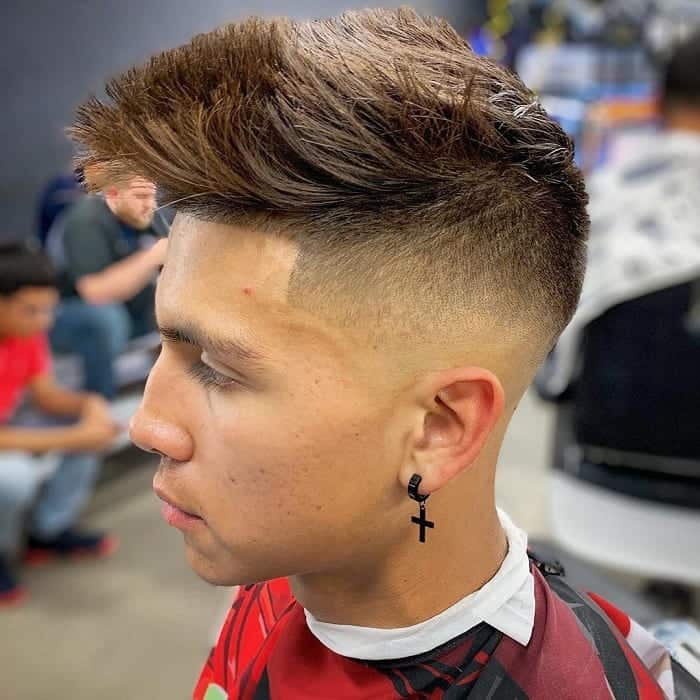 The heavy top with a hint of a spiky Mohawk makes this temp fade haircut stand out. It is also a convenient and versatile cut that can be adapted as per your required. This stylized Mohawk suits both casual and formal gatherings.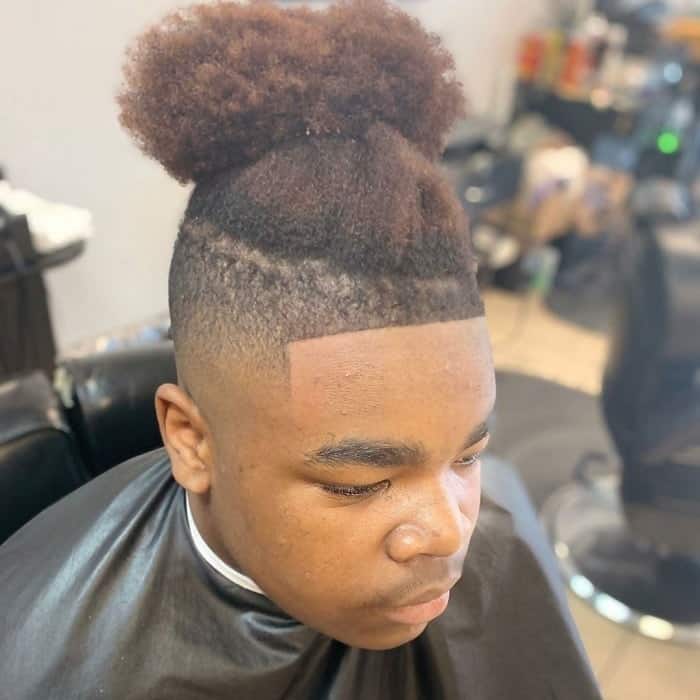 This is a rather interesting way to carry your ponytail when you are keen on having a temp fade. The contrast of the thick pony and the fade is absolutely eye-catching and makes quite an impression on people.
If you want some fun and games with your temp fade haircut, this is the right way to go about it. The golden Mohawk provides a sharp contrast to the dark temple fade. It creates a definitive, distinctive and decidedly striking impact.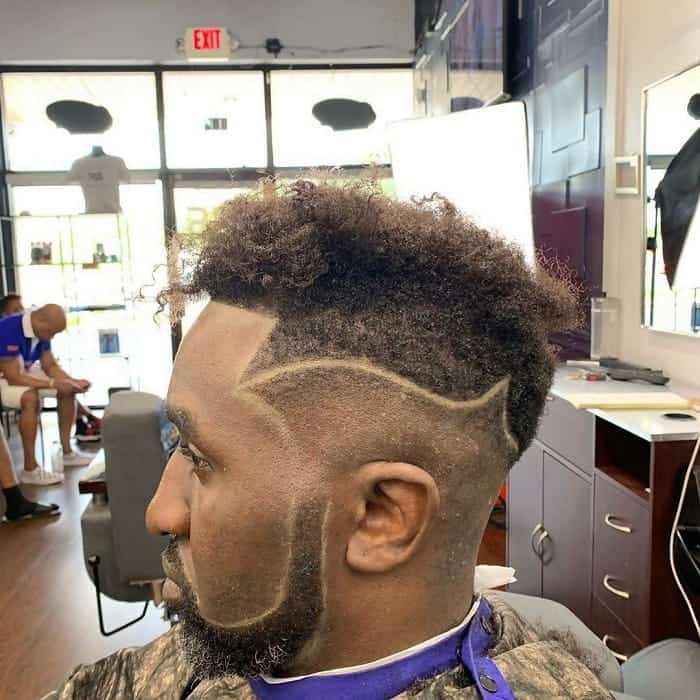 The artistic lines, even along the beard line enhance the clear temp fade and the accompanying comb-over. It works towards making the subtle sense of understated machismo even more intense.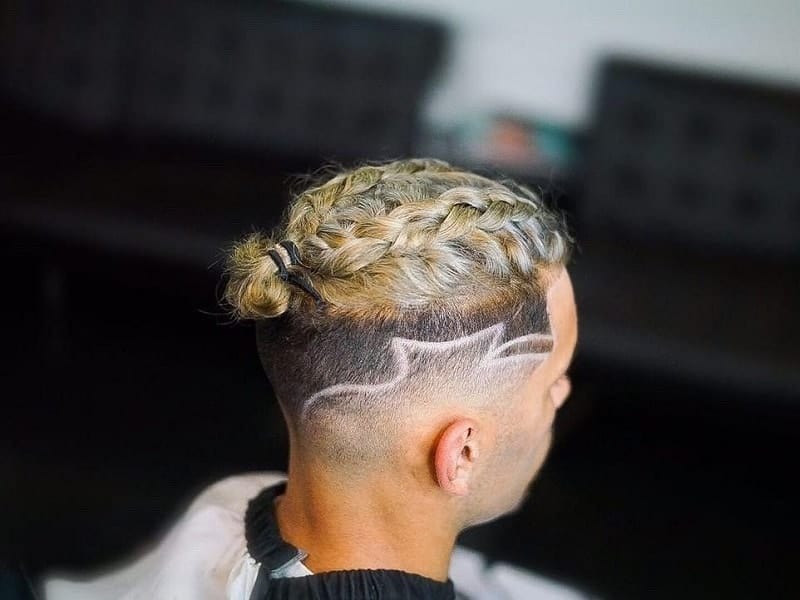 This temple fade haircut is practically a combination of a wide variety of elements, the braids in blonde, the high fade and the artistic lines. Together all of it makes an impressive impact. It is a type of style that will always gain center-stage.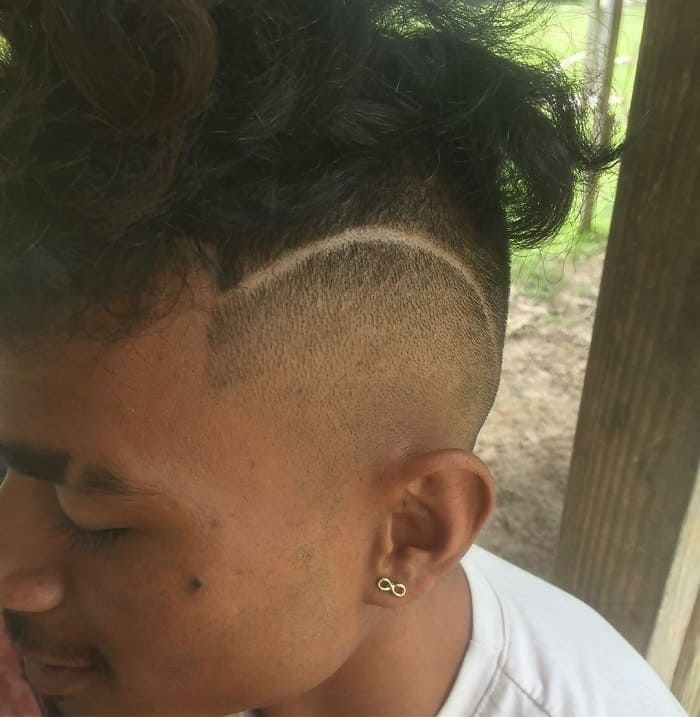 This high temp haircut is all about challenging established norms and creating brand new concepts. If you are keen on trying something new, this is an exciting option. It will always guarantee a second look.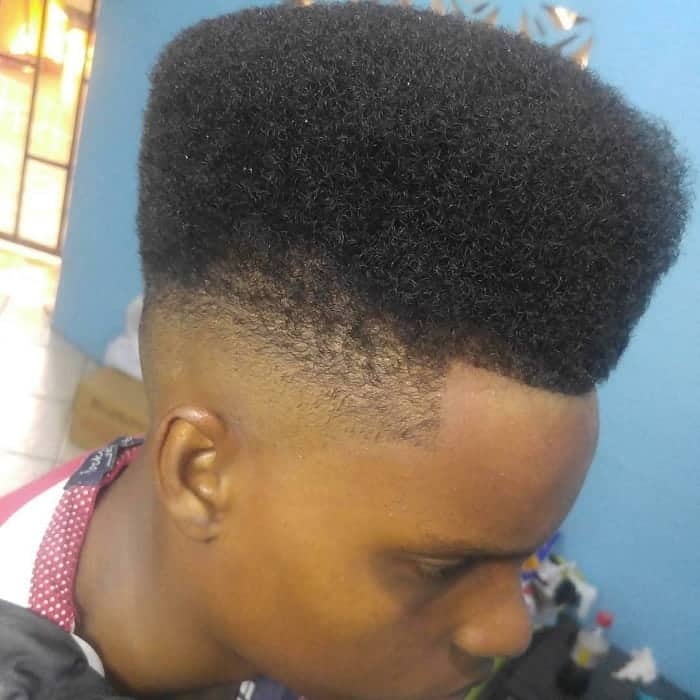 The box-shaped bushy crown on top enhances the overall intense impact of the temp fade. It also plays on the contrasts that it offers in a simple but stylish way. On the whole, it is a type of styling that will always be attractive.
This cut intelligently combines the temp fade with a functional crew cut. That no doubt brings in a definitive amount of style and niche appeal to this hairstyle.
The temple fade here does not interfere with the short cut hair on top that is brushed to the side. It gives a distinctive identity to the whole temp fade.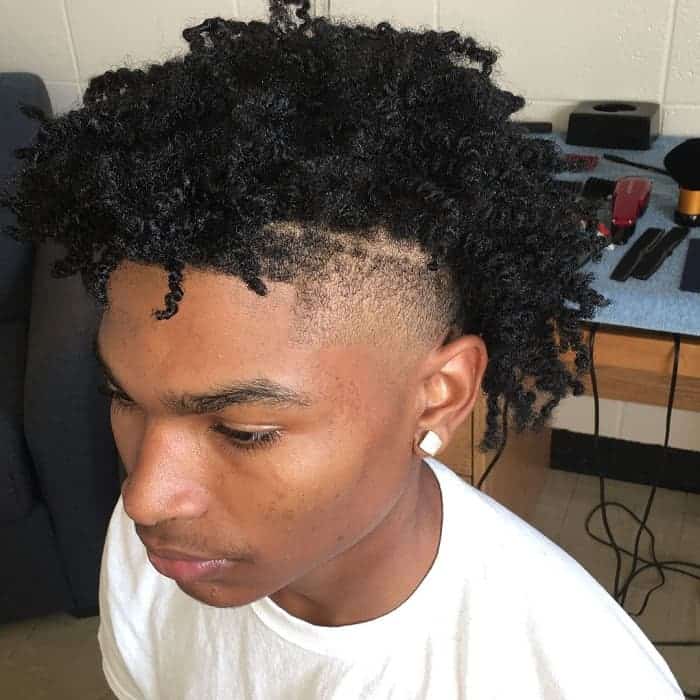 The curly hair on top as fringes gives a cool and casual impression. In many ways, it offsets the intensity of the high temp fade to a large extent and makes it a significantly more soft and subtle look.
The textured fringes along with the temp fade hairstyle make for a unique combination. As a result, you have a really striking haircut.
25. Blowout Bangs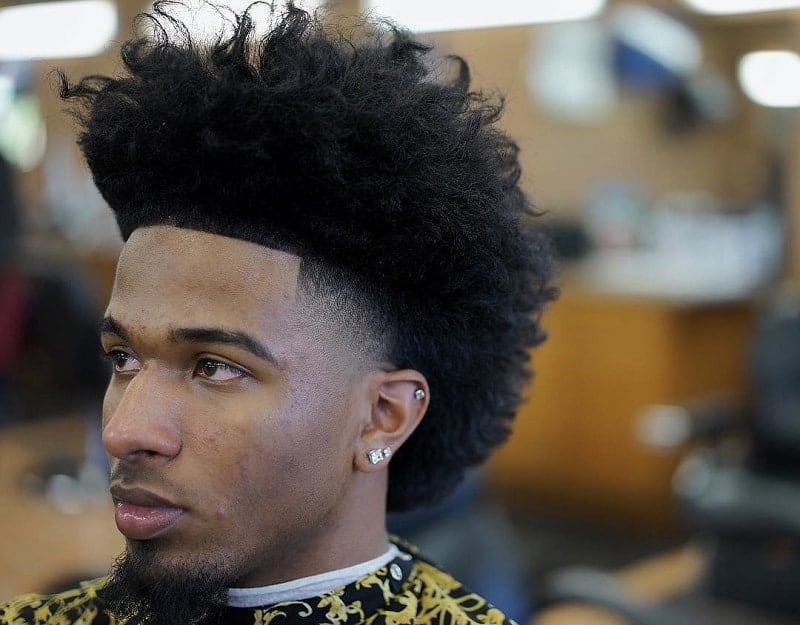 This is another interesting take on the conventional temp haircut. It creates an illusion of a soft and casual look and takes away some of the intensity of the temp fade.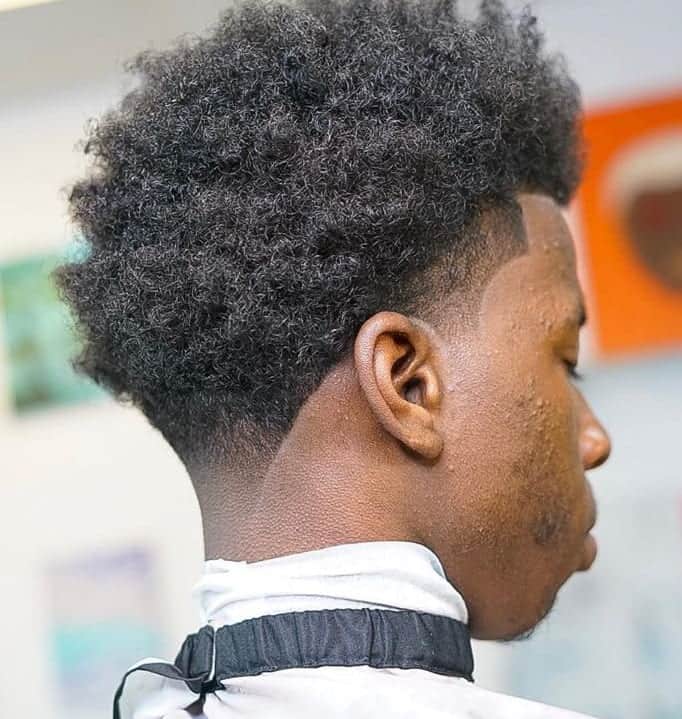 The combination of afro and fade creates a unique and stylish look. It shows the mind-blowing texture and enhances the volume of your hair. Afro along with fade around the temple adds the effectual detail without ruining the complete look.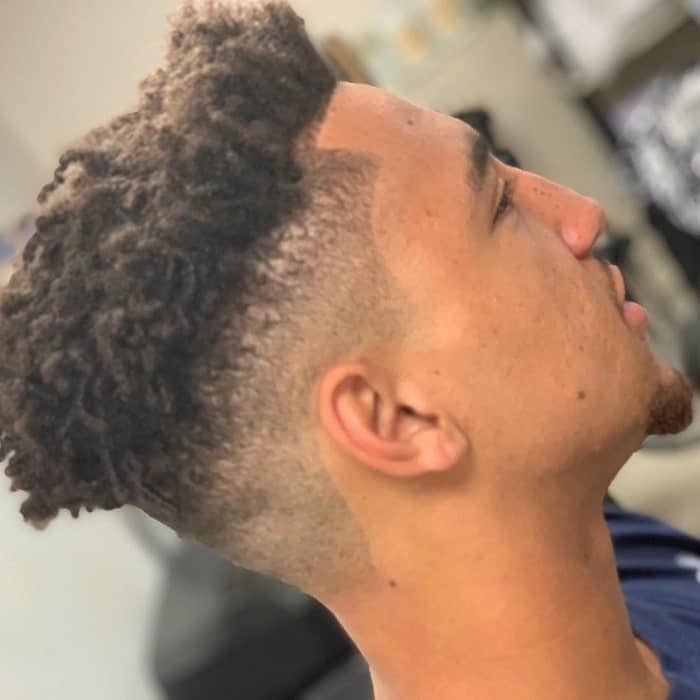 Just hire the best barber around you to give you a detailed Mohawk look that will rock in the crowd. Mohawk adds a perfect style to this haircut making them look more appealing and eye-catching.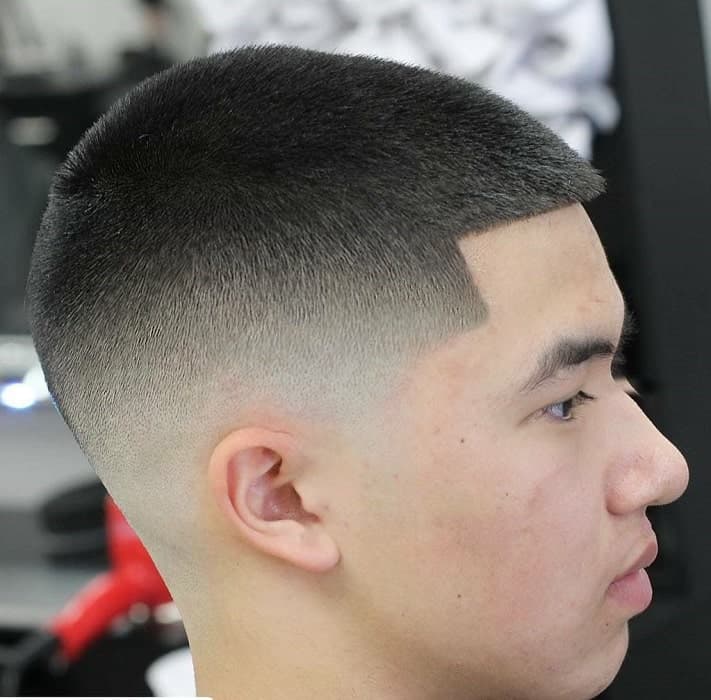 A standard cut looks a little boring on its own. But if you want something more fashionable, adding temp fade with neck taper will be a better option instead. The mix of this detailing will make you stand-out in public.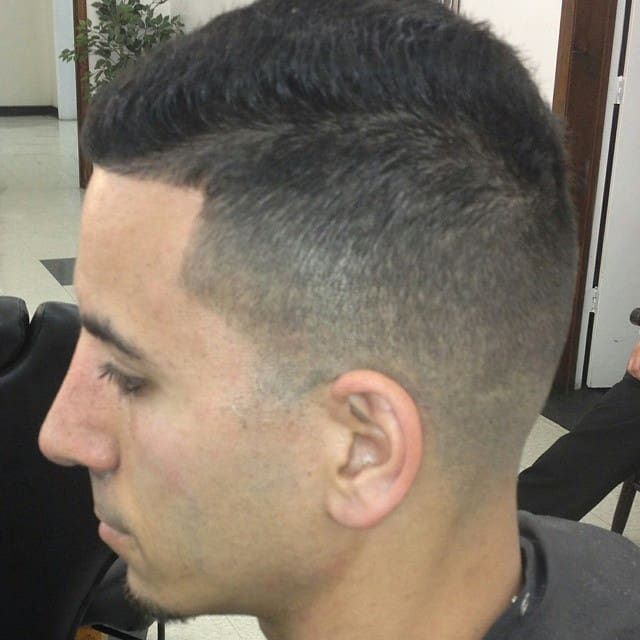 This fade haircut is the mix of high and low fade, providing a happy middle point which looks quite sleek with a twist. This medium fade works all around and it's the best alternative if you don't want that sharp edgy look.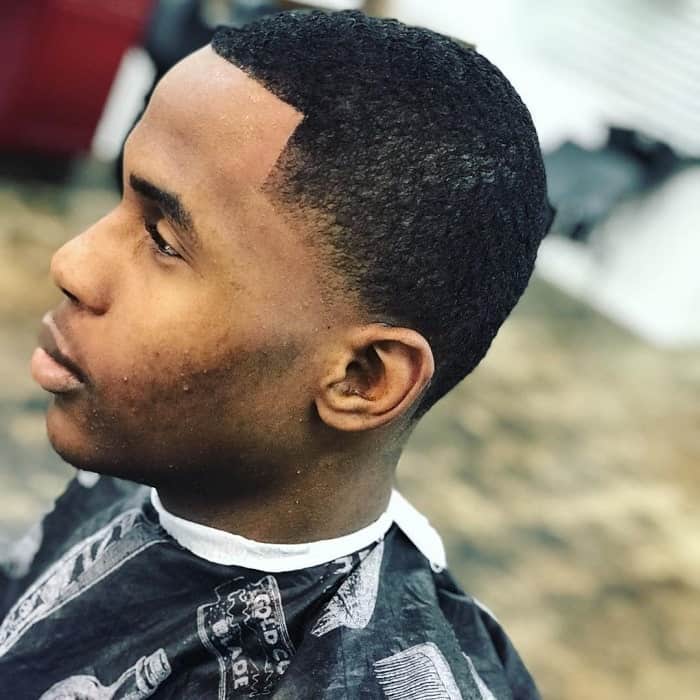 The most popular way in the temple fade is to go for low fade cut. It will not look too flashy but offer a sleek and defined look. The airline that is left below is completely natural which can be easily paired up with a clean shave.
There is no such issue if you don't have a full afro. You can perfectly rock in the little curled buzz and trimmed hair with this design. This ultra-modern look is a great choice for the youngsters out there as it is very trendy.
If you are having perfect and defined curled hair. You can do some magic to enhance this look by adding the fade touch to it. The curls will be more pronounced with a neat and stylish temple look while adding more volume to your hair.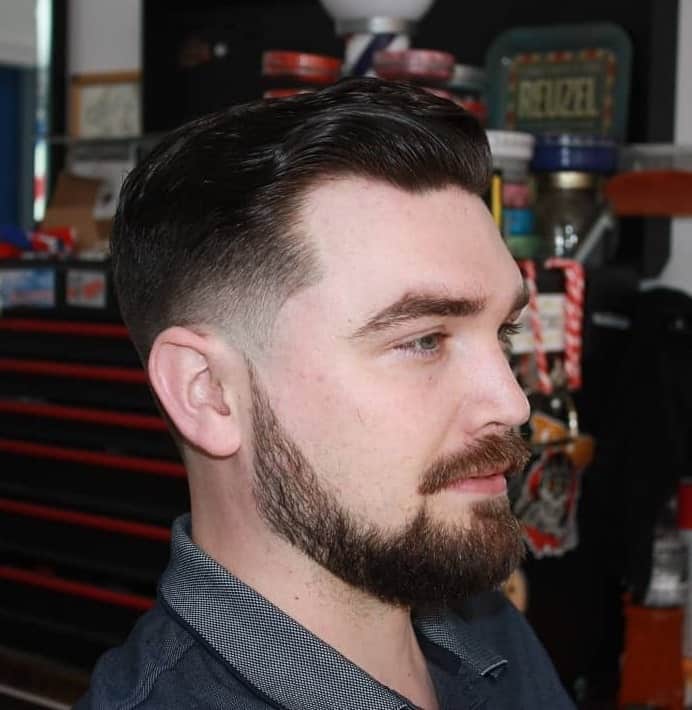 The fade on the temple is not the type of haircut that restricts you to a particular style. You can design it with versatility and combinations. The simple comb over with beard adds style to your simple look.
Mohawks are an all-time favorite and look more attractive if twisted with temple fade. So the Mohawk with a fade is highly recommended. This fresh style will never compromise on masculinity.
35. Creative Hair Design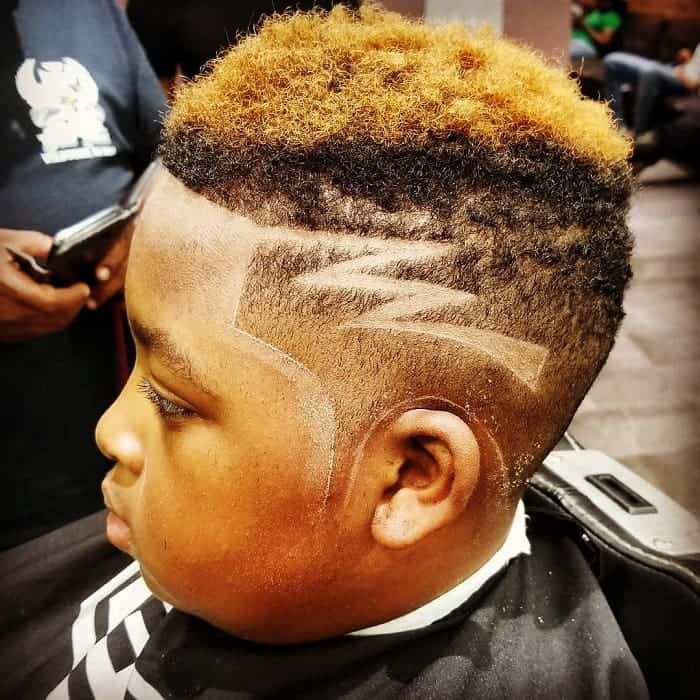 Some cool hairline patterns are really trending nowadays. Not one, two or three you can create your own original design that will look perfectly unique and creative.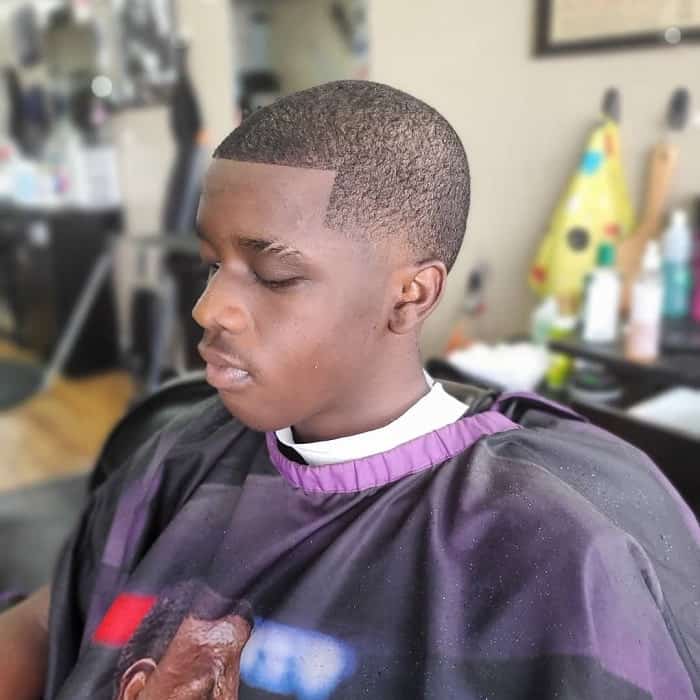 If you want a perfect bold look, we recommend you this bald fade cut. It's an ideal combination of skin and low fade which gives an exceptional appearance to your overall appearance.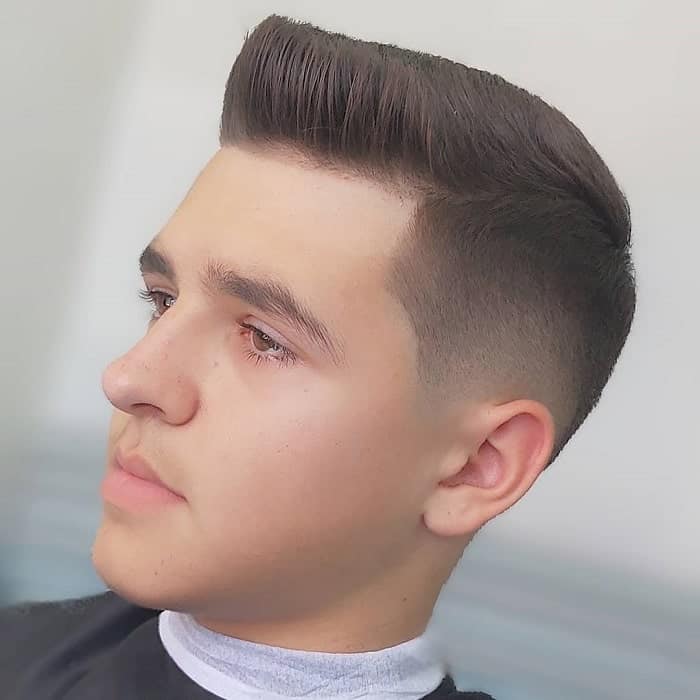 It has never been easy to combine two styles in one design but pompadours have been considered as one of the classiest hairstyles. You can always combine pompadour with other hairstyles. The pompadour with a touch of fade haircut gives a stylish yet modern look.
You can attain an outstanding look if you have straight hair by adding the temp fade style. A little addition of hair moose or gel and you can fix them easily. The style could remain still for long if the touch up is followed timely.
39. Two-Tone Curly Hair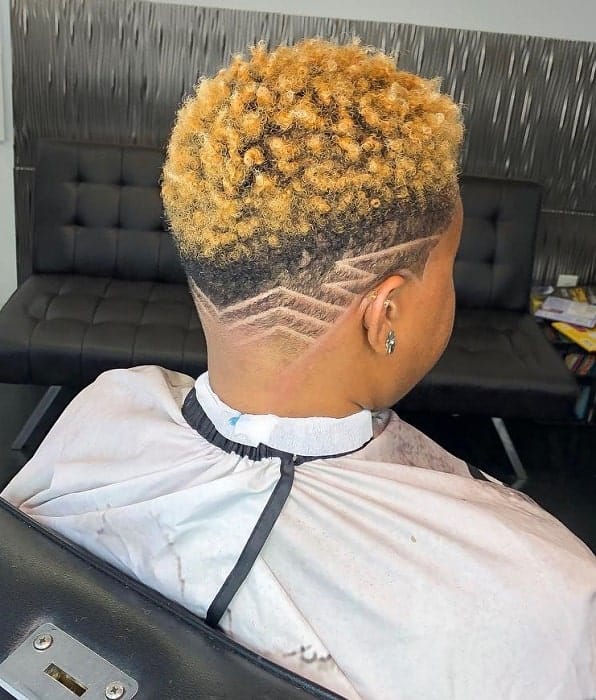 If you want to add more life to the boring hairstyle, just spice them up with the tint of colors! This addition will lift up your personality. Red, blonde brown or brassy colors are the trendiest in town and can work on every hair texture.
40. Fade with Line Up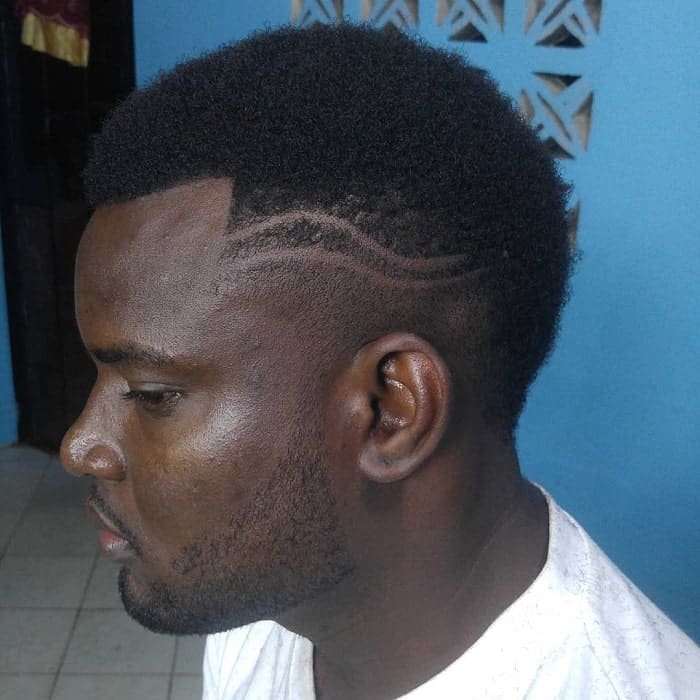 This fade styles on temp hair drifting your hair to the next level. It's all up to you how much or how little you want to tie according to the length. You can make it a small cute bun on top or you can make a majestic bun over the top.
Therefore the temp fade haircut is all about creating a sweet balance between the intensely masculine temp fade and the natural fall of the hair. The idea is to create a cool and convenient cut.