You're probably shocked to find out there are more than just a few different types of fades for men's hairstyles, right?
This is great news for you because your same old boring haircut just got a whole lot edgier and trendy.
Fades are the latest and greatest way to give a unique and hot style to your look. If you've ever felt the need to switch up your look, you need to try a fade with your favorite hairstyle. It will give it new life and you'll find new love for it.
Types of Fade Haircuts
Check out these 40 fade haircuts, all special in their own way and easy to rock.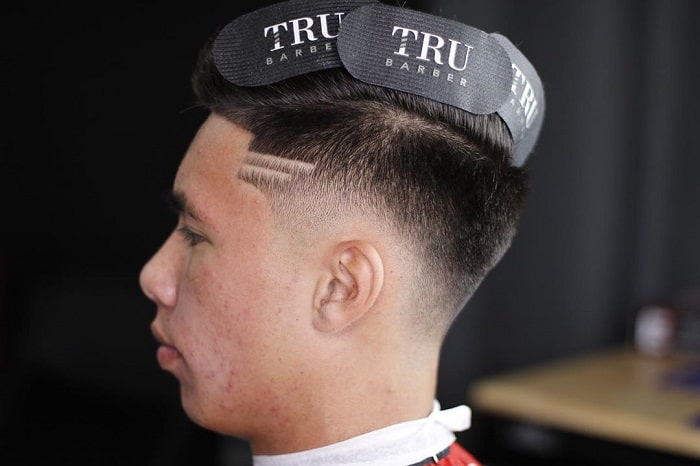 The taper fade is a good choice for when you're wanting an updated look but don't want anything too drastic right away. A couple of shaved lines at the front make an extra special detail.
Low fades are only about an inch tall but they are all the detail you need to make any short haircut stand out. They also help to blend facial hair and sideburns.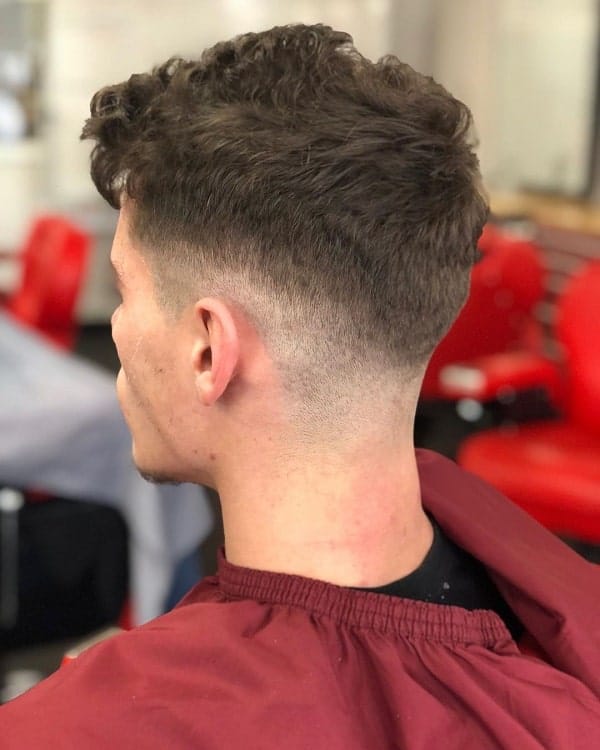 Drop fades are another way of gradually tapering hair from short to even shorter. See how short you can go with a drop fade on a short style of your own!
Temp fades – short for temple fade – bring attention to the structure of the front of the face and really clean it up with straight or curved lines. When you want a fresh look, go for this fade.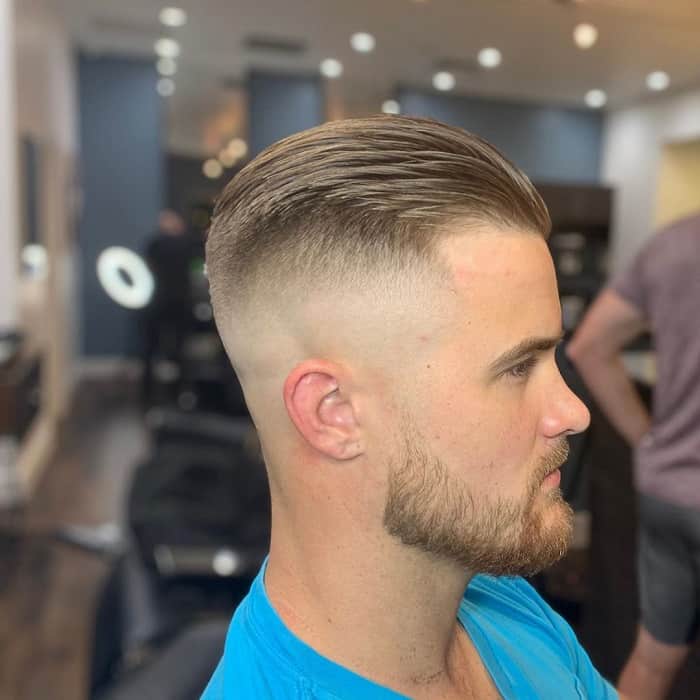 Bald fades leave no hair behind, meaning your final result is clean cut and smooth. Pair it with a slicked back style for a suave look.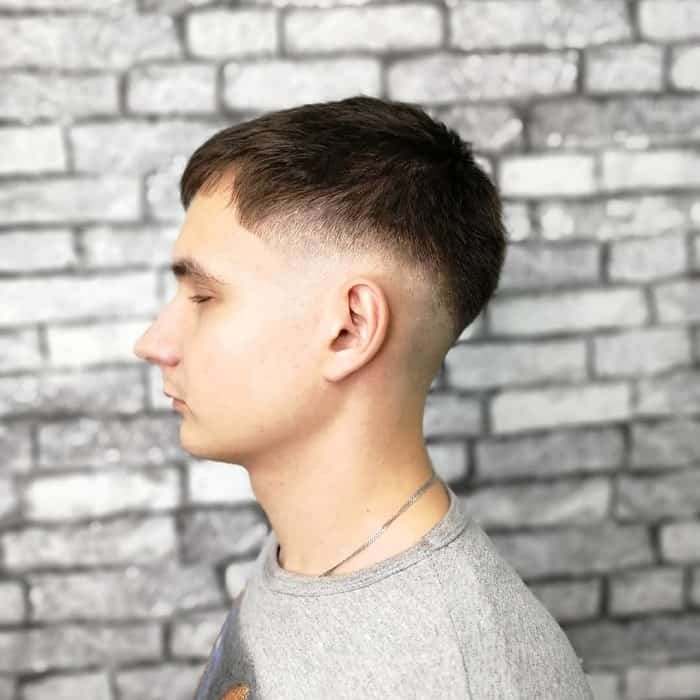 This mid fade follows the curve of the ear on a short haircut with choppy bangs. This style will last several weeks and in between, you can probably do touch ups on your own.
High fades come above the mid section of the sides of the head. Wear them with mohawks or another hairstyle with tons of texture up top.
A comb over is favored by men with professional jobs as it's a trust-worthy looking cut. Give it an update by wearing a fade with it in any level – high, mid or low – you choose.
A heightened pompadour is practically begging for your fingers to run across the top of it while the mid fade doesn't draw too much attention away from it.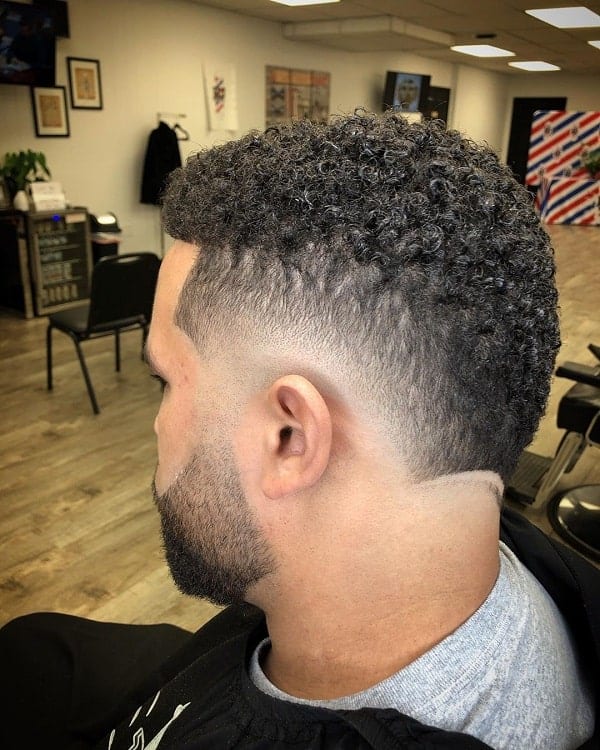 This burst fade pops out from the ear in an even curve while the neck's line matches perfectly. It all flows together on a short curly cut.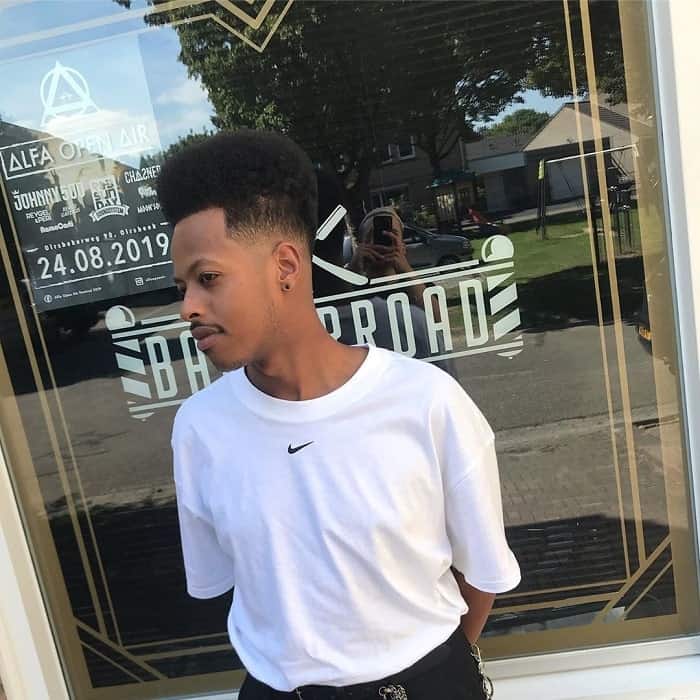 Box fades essentially "carve" out a man's hairline to form a rectangle or square shape. It's a dramatic and hip style that looks even cooler with a bit of afro-height at the top.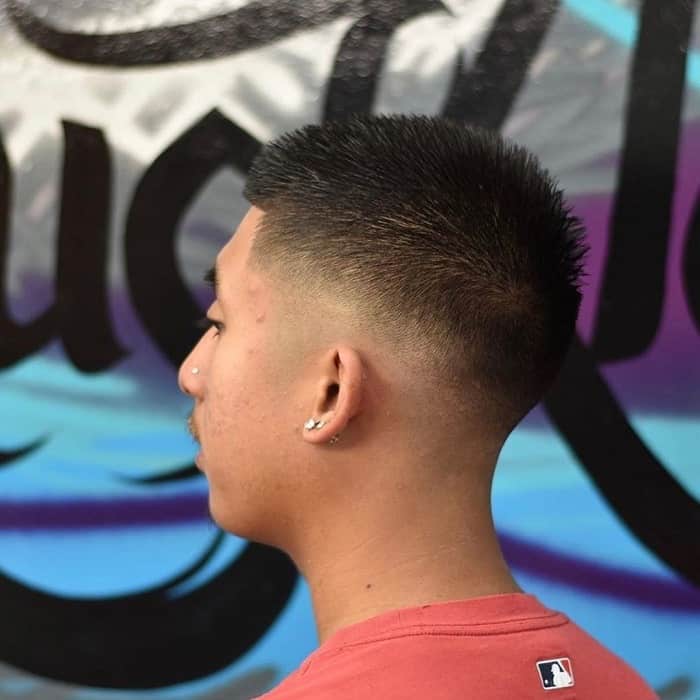 While the various fades differ in how they're cut, a razor fade is shaved on the sides and back. They last about two weeks before needing a touch-up.
Ultra-short buzz fades are a favorite for their low maintenance upkeep, something men who lead busy lives love!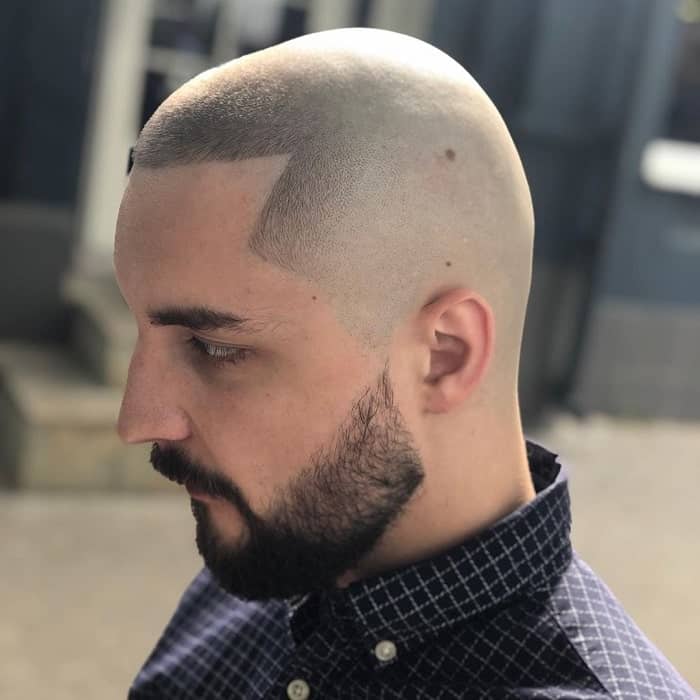 Thicker at the top and front while short on the bottom is how you'll achieve a Southside fade. It's a great option for men who are balding, especially.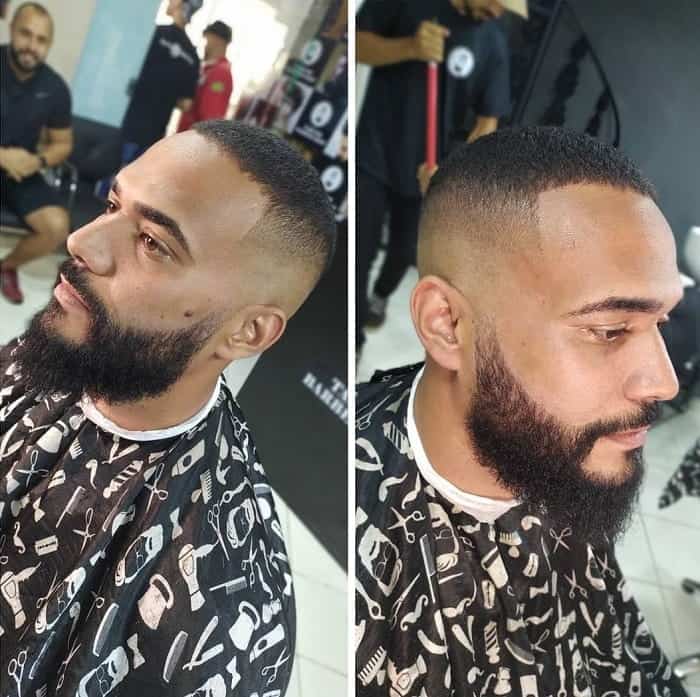 This skin fade is a nice contrast of bare skin between a full beard and a short haircut. You can alter how many inches of a bald fade you'd like, but start low when experimenting.
16. Crop Top Fade
To get a crop top fade, first layer top hair for that piecey texture you can easily play with. Then go for a mid or low skin fade and a close shave on facial hair.
17. Fade with Waves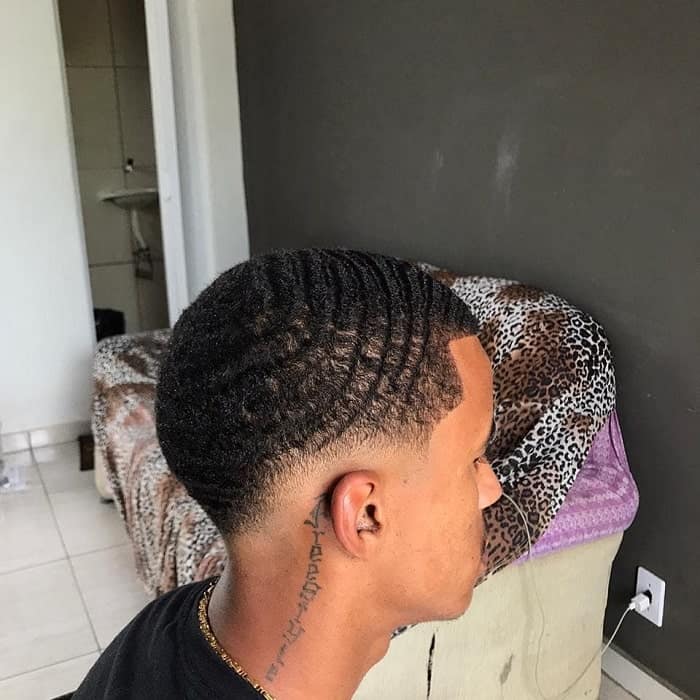 To make sure you don't distract too much from a 360 wave haircut, pair it with a small burst fade.
18. Fade Designs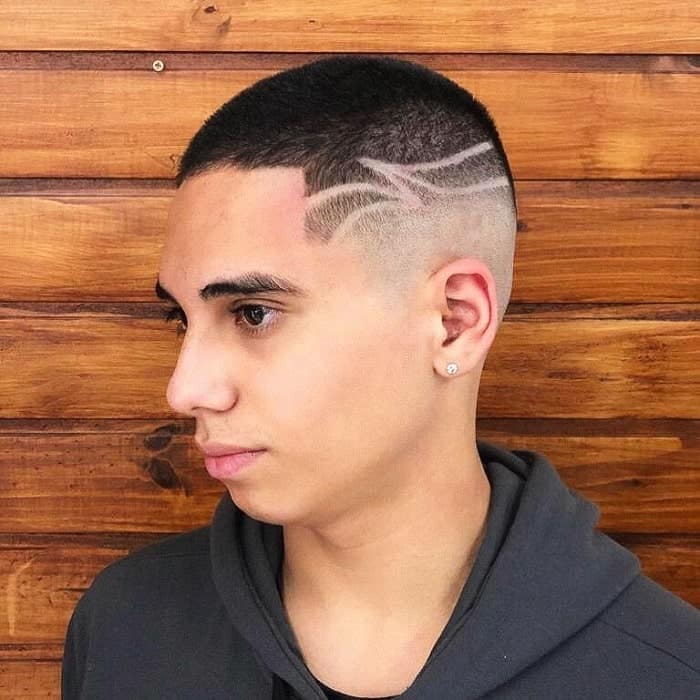 Short haircuts with blunt bangs will always draw attention to your eyes but the shaved details on the fade will give everyone something else to talk about.
The triangle indentation at the temple of a side parted haircut makes the fade a focal point. But texture is full and smooth with help from a little product.
20. Fade with Part
A hard part, which is a more distinguished shaved line, separates longer hair from a tapered fade on this hairstyle.
When you go from all over twists to a fade mid or high fade that frames them in a flattering way, your look becomes edgy and updated.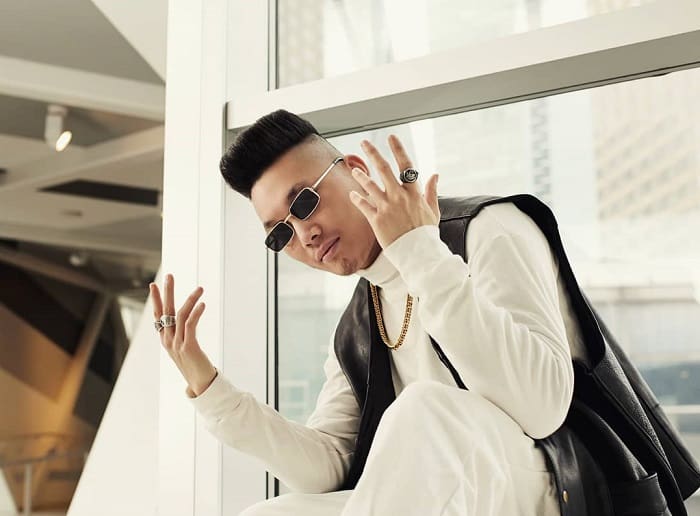 High top haircuts are stacked with inches of height on top and the skin fade takes this style to out of this world.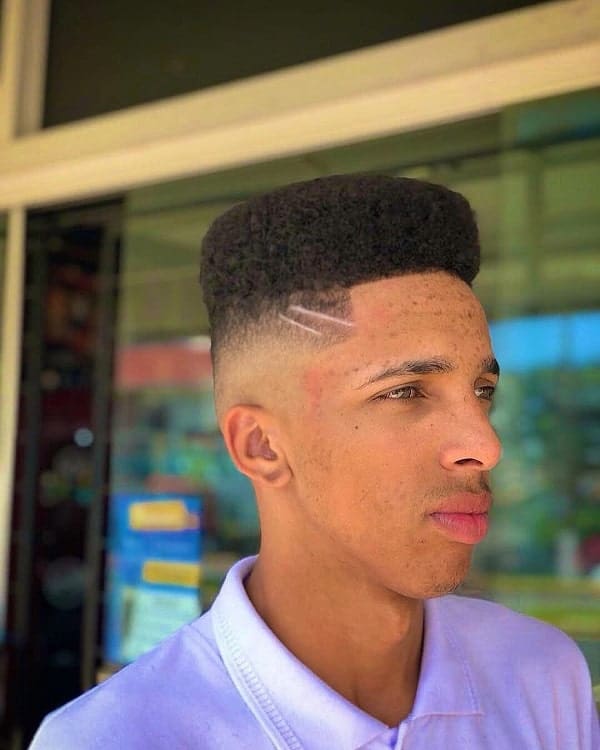 The favorite 80s flat top can elongate that round face you're trying to hide. Let a skin fade or a low fade with a couple shaved lines round out the look for a showstopping style.
24. Zero Fade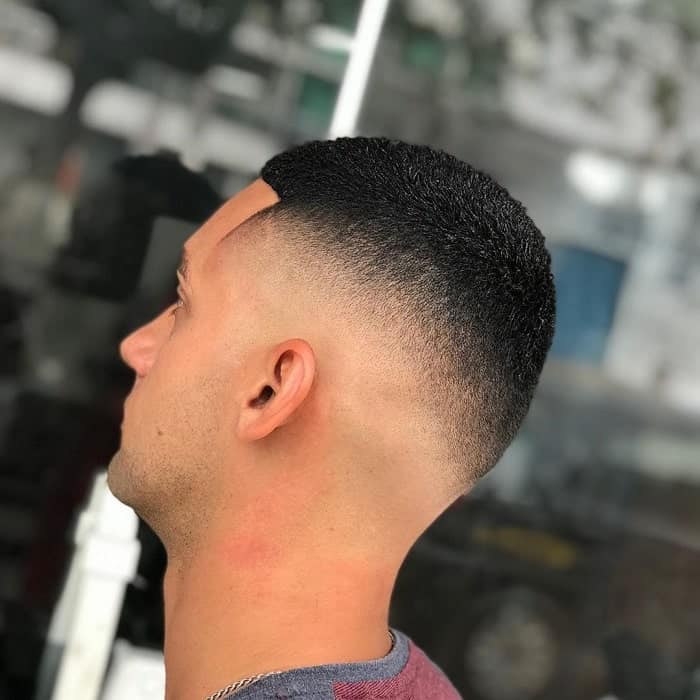 Zero fades shave hair down to just about as short as it can get without being bald. Done the right way, it'll look like a shadow on a short haircut.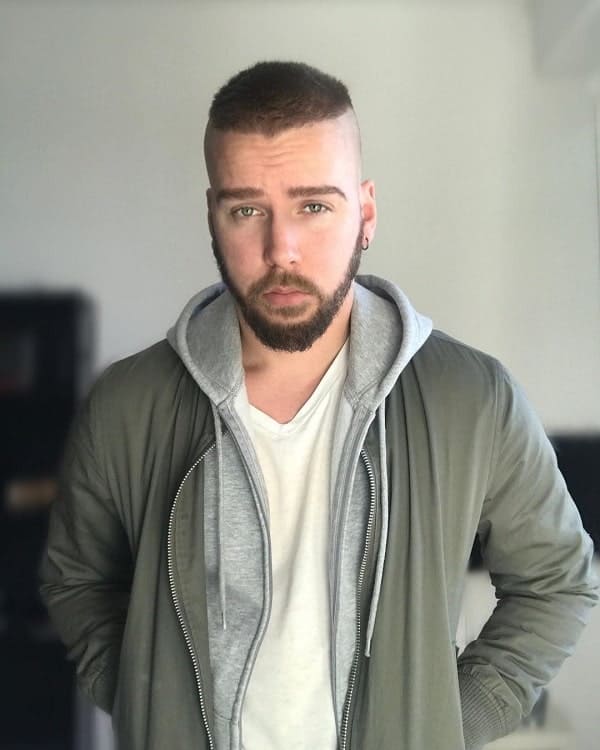 A super high fade and a short bit of hair on top is all you need for this high and tight style. At the gym or work, you'll always look fashionable.
You don't need to be in the military to rock this style, though that's how it got its name. Buzz hair super short and have your stylist take the fade down low for contrast.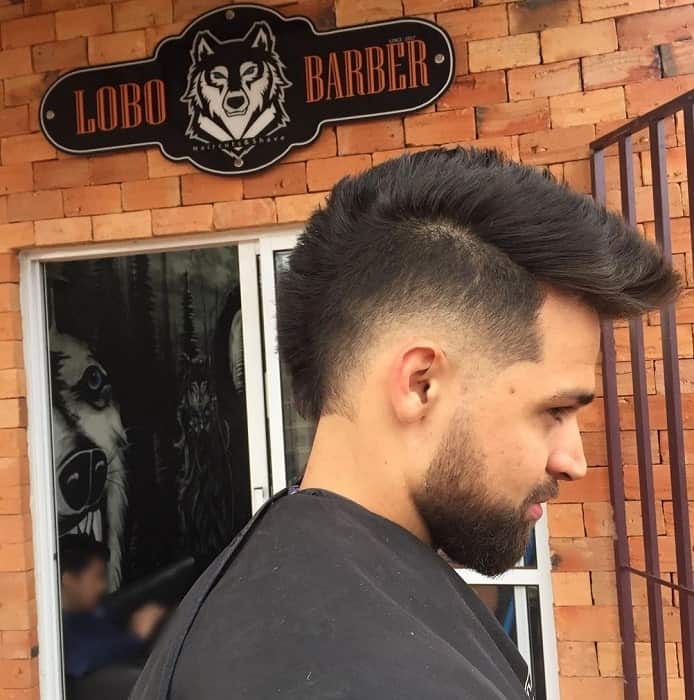 Fohawks are a favorite not just for men, but for the ladies to look at. A bald fade might be too harsh of a change, so go with a burst fade.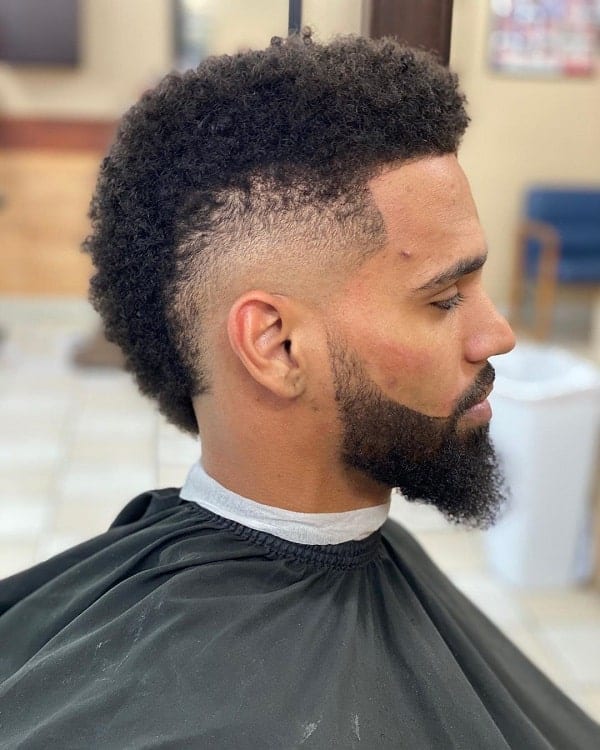 A low fade is subtle enough that it doesn't take any attention away from the curly afro this mohawk is showing off. A full beard finishes it all off.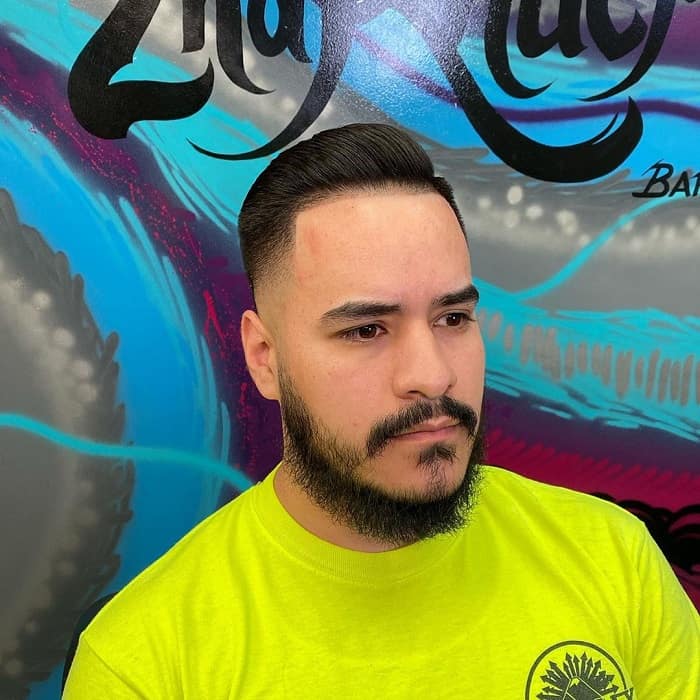 Are you a guy who likes his look with not a hair out of place? The slicked back look is for you with its mid tapered fade and neatly trimmed beard.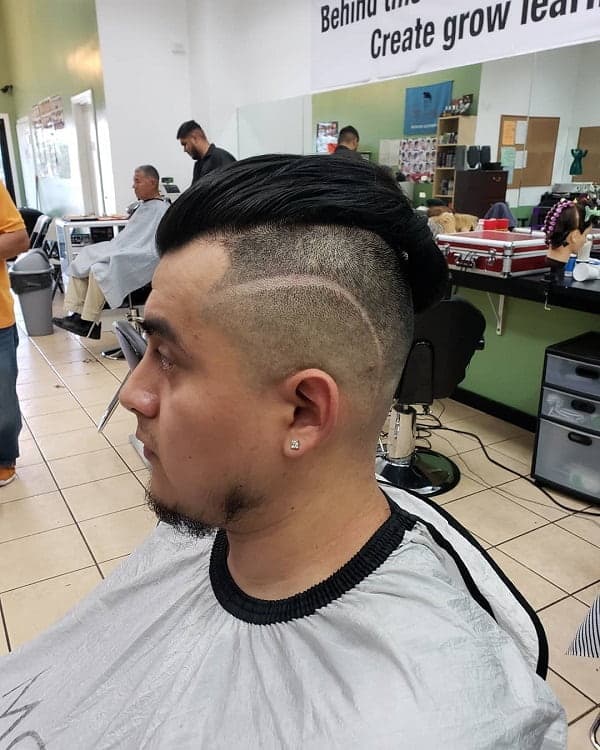 On a straight hair man bun or ponytail, an undercut and fade with curved shaved lines makes this style half rock, half punk, and all edge.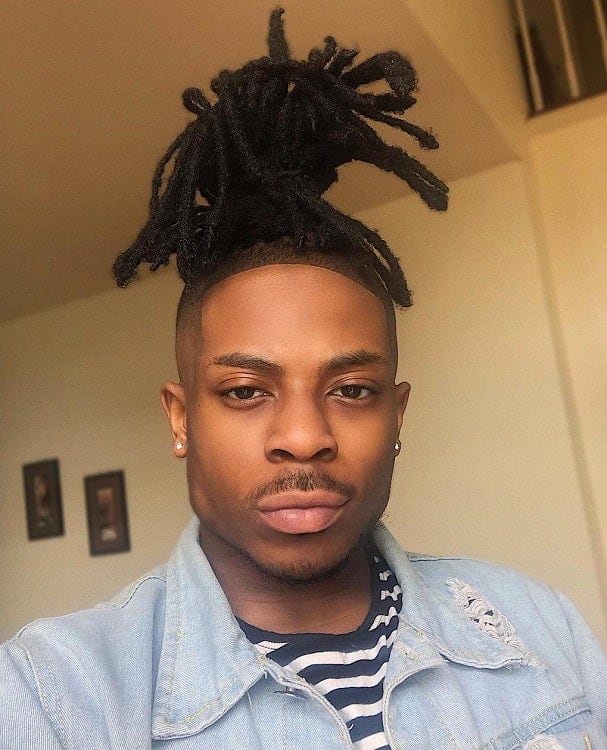 Wear a high man bun updo with a high fade. For oval or rectangle faces, the style is especially flattering to the face shape and jaw line.
A short fade that follows the shape of the ear lets everyone know you pay attention to detail and take pride in how you look.
33. Uptown Fade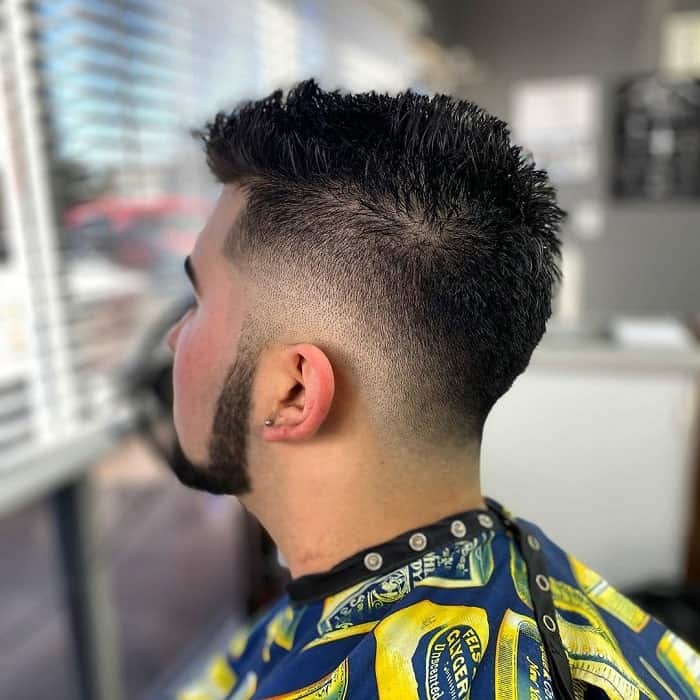 An uptown fade haircut is full of spiky texture at top and clippered hair everywhere else from the beard to the back.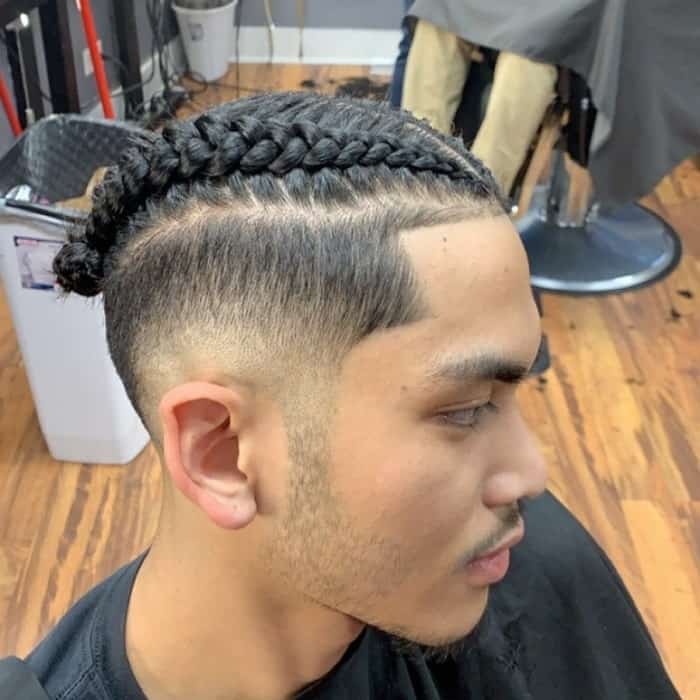 Braided haircuts deserve the best and that means a tapered fade with line up detail at temples. Minimal facial hair ensures your hairstyle is the focal point.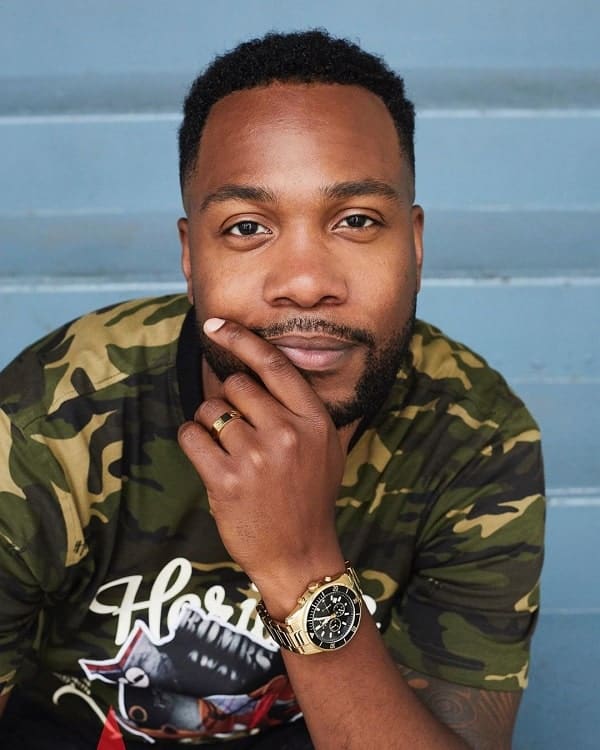 Sometimes simple is best when it comes to your hair. If all you want is a short haircut with a low fade, it'll work for you and make you look great.
Heavy texture up front is perfectly balanced out with a mid fade and a short back. For the longer hair, have fun experimenting with highlights.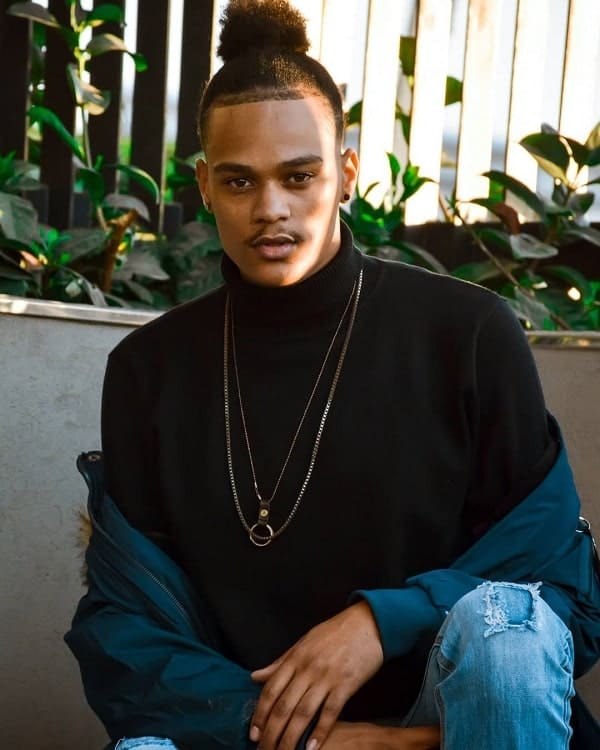 This smoothed back man bun ends in a poof and is surrounded by a half inch taper and fade for coolness. What else could you want?
Ramp up the texture in your hair by blow drying locks after washing. Use a bit of product to play up curl or waves – the contrast between those and a detailed low fade will look amazing.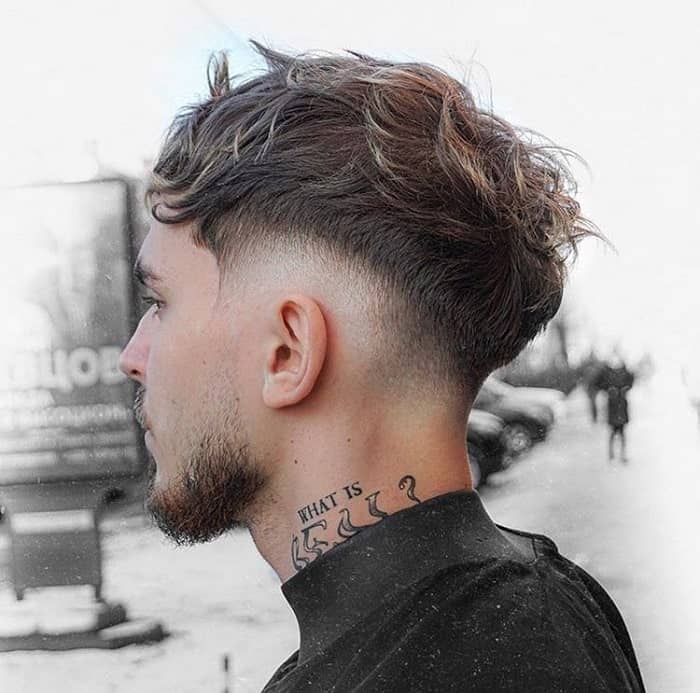 Looking for that perfect hipster haircut? Choppy highlighted layers lie on top of a tapered fade in this edgy style.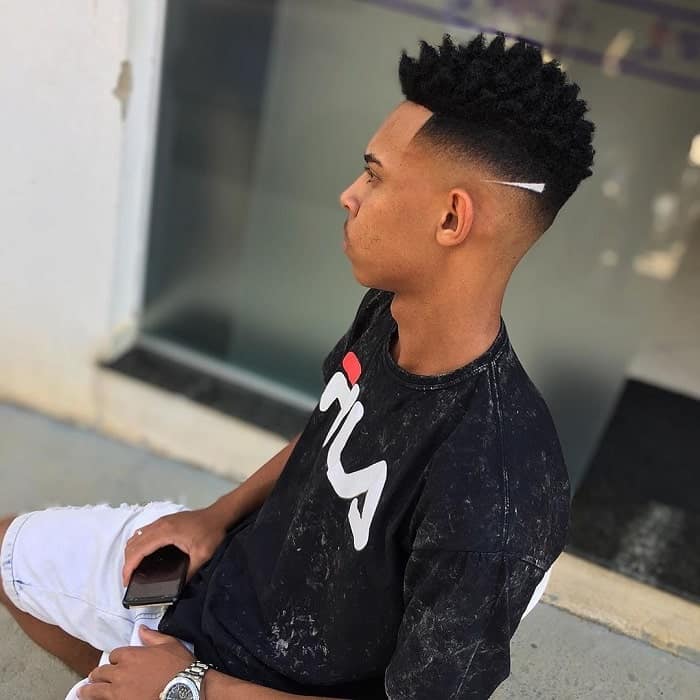 If you want there to be a standout feature in your short afro fade haircut, a pop of color on a personalized design will do it.
Hopefully you have some ideas for your new look. These fade haircuts are all interchangeable and easily tailored to fit your personal style. The best thing is there's no reason you have to pick just one: start with your favorite and in a few months, try the next one on the list you like!