The very mention of wavy hairstyles for men stirs up images of romantic heroes with lovely long locks. It's not only women who wish for much wavier hair. Men do too. This explains why you can find several hairstyles for wavy hair men.
You may ask, "Why wavy hair!". Well, there are two good reasons. First, a wavy hair denotes volume and malleability. Second, it covers areas of your head where there could be little hair.
How to Get and Style Wavy Hair for Men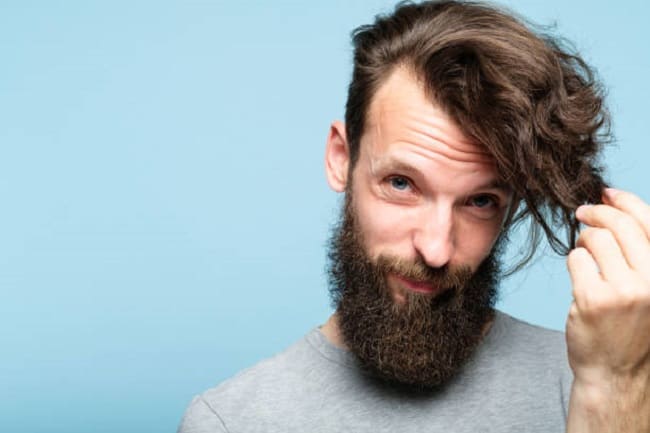 If you already have wavy hair, then there's absolutely no problem. Your ultimate goal would just to maintain such a look, which may entail the use of wax or firm hold gel. You can also visit your hair stylist at least once a month.
It becomes a challenge if you don't. The first thing you have to know is that to achieve a more obvious wavy hair, you need to have much longer hair. There are not a lot of "hair tricks" that you can do with the shorter one.
Generally, though, here's what you should do to achieve waves on men's straight hair. First, you have to style your hair dry. This means that if you have stepped out of the shower, you have to use a hair dryer if you're in a hurry, or a towel if you can take some time. Remove as much water as possible.
Once the hair is already dry, you can then apply your gel. Sometimes men use wax, but the firm hold gel provides more function or use than the former. Nevertheless, you have to take note of the brand or the benefit you can get from it. There are others that do not hold the style of your hair for quite a long time.
Make sure that you can apply the gel from the roots to the tips of your hair. This is how you can achieve long-lasting hold on your hairstyle. You can also add more texture into your hair, making it wavier.
To make your hair appear wavier, you have two options. You can either use a brush, or you can just use your fingertips. Some men would use the former because it leaves their hands messy free. However, you would realize that you can have more power over the style of your hair if you're going to do it with the latter:
Watch The Following Video to Get Straight to Wavy Hair Naturally for Men
Wavy Hairstyles for Men
Here is a look at some stunning hairstyle options for men with wavy hair.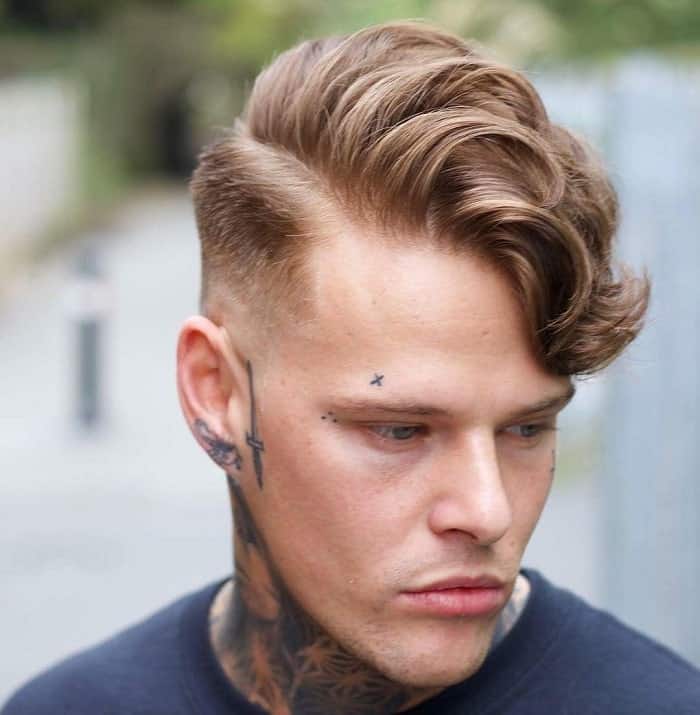 This hairstyle for wavy hair men is all about adapting to the natural fall of the hair. The side parting lends it a rather stylish edge. It further accentuates the waves and brings in a chic and classy look.
2. Messy Waves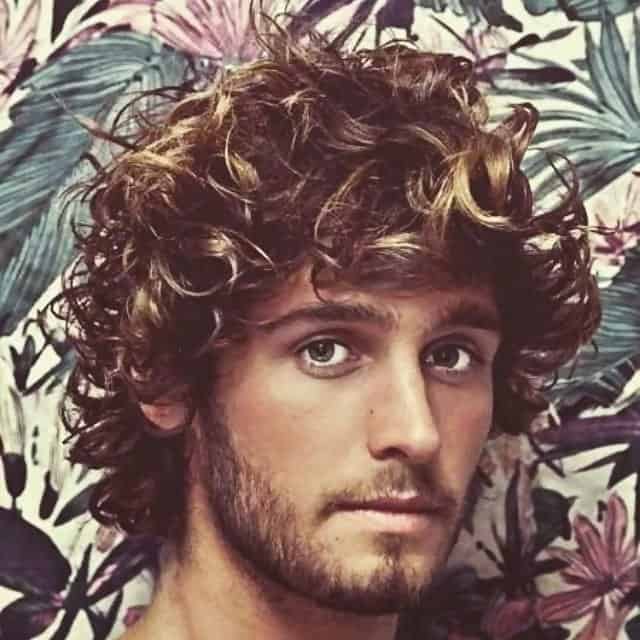 The blonde hair color gives this wavy hairstyle for men an additional oomph factor. When you have wavy hair, this is one of the most natural styles that can bring an additional zing to your personality. It is cool, casual and extremely confident.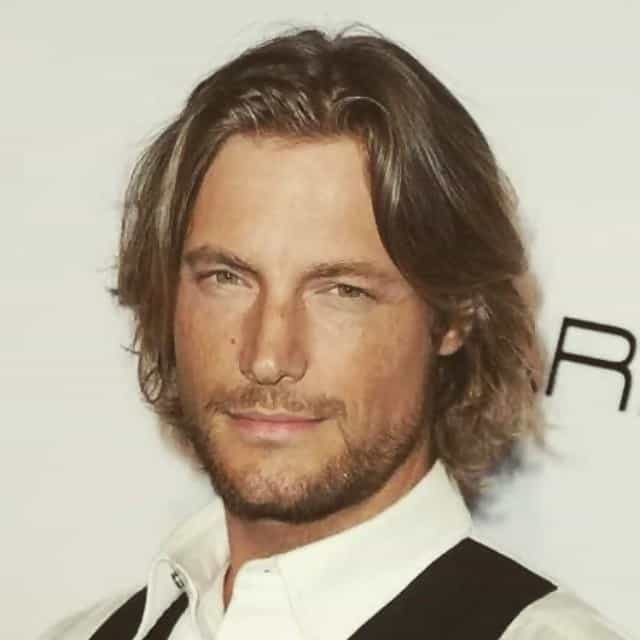 This is a straightforward and simple haircut for men with wavy hair that celebrates the natural waves. The hair is allowed to grow long that enhances the waves even more and creates a strong and natural elegance that is hard to beat. It is all about going with the flow.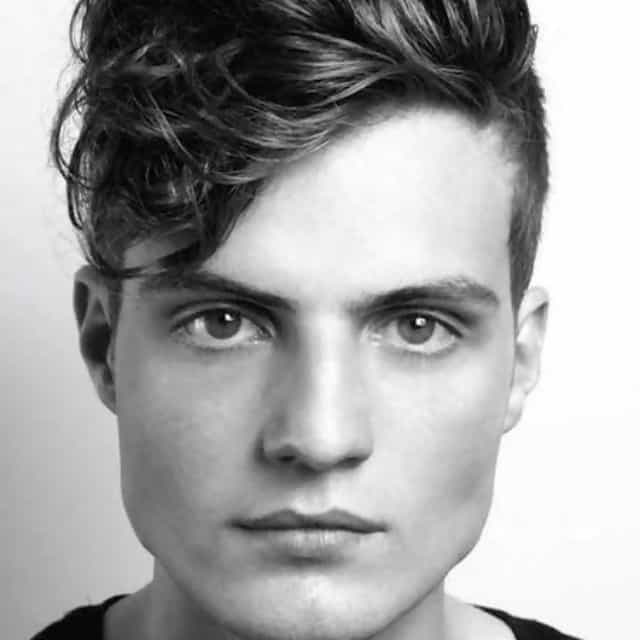 The short sides accentuate the wavy hair on top. Moreover, it is also a type of haircut that can be functional and versatile. The short sides allow you to stay comfortable without compromising with the stylish top. That is what makes it a popular haircut for wavy hair men.
This hairstyle for men with wavy hair is all about combining convenience with style. The quiff is a popular and well-accepted style statement. It brings in an effortlessly cool and casual demeanor to your overall personality. It also enhances the contrast element in this type of hair styling.
The undercut undeniably brings in a brand new style quotient to this wavy hairstyle for men. It gives a slight edge to a conventional style and brings out a unique element to the hilt. Talk about classy charm, and this is what this style is all about.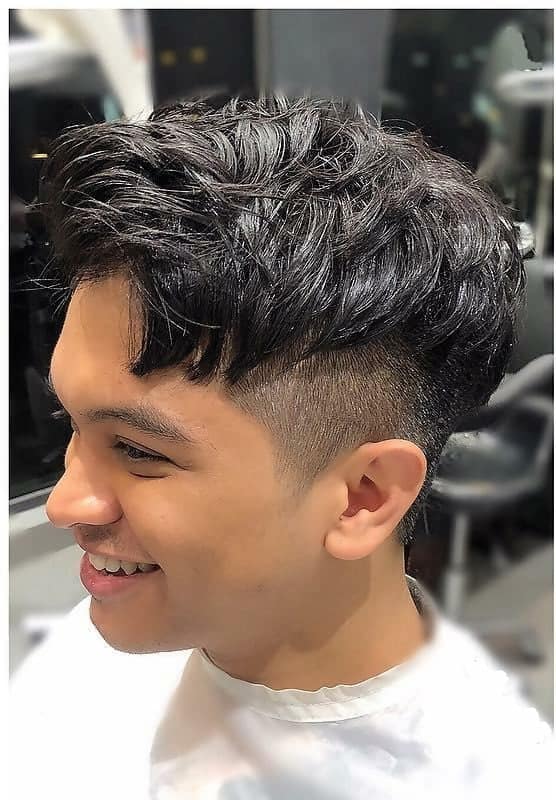 This style combines the whimsical waves, and the skin fade to recreate a stunning option for wavy hair men. It gives them a cool and casual appeal that is both attractive and low maintenance at the same time. The versatility of this style is one of its biggest advantages.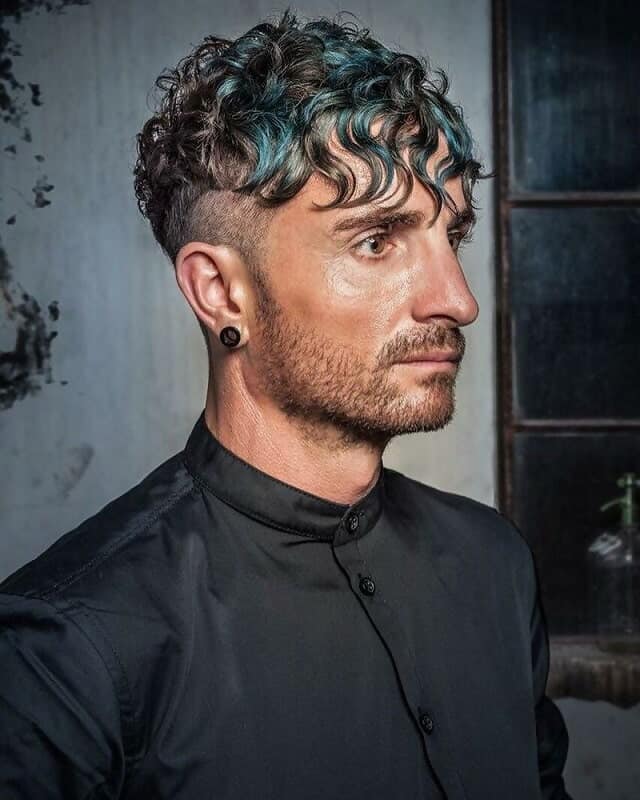 The blue highlights introduce a sense of exotic charm in this men's wavy hairstyle. The blue provides a unique contrast, and in many ways, it is all about the subtlety and cool appeal of the combination. It also gives a stunning flow to the wavy locks.
9. Designer Waves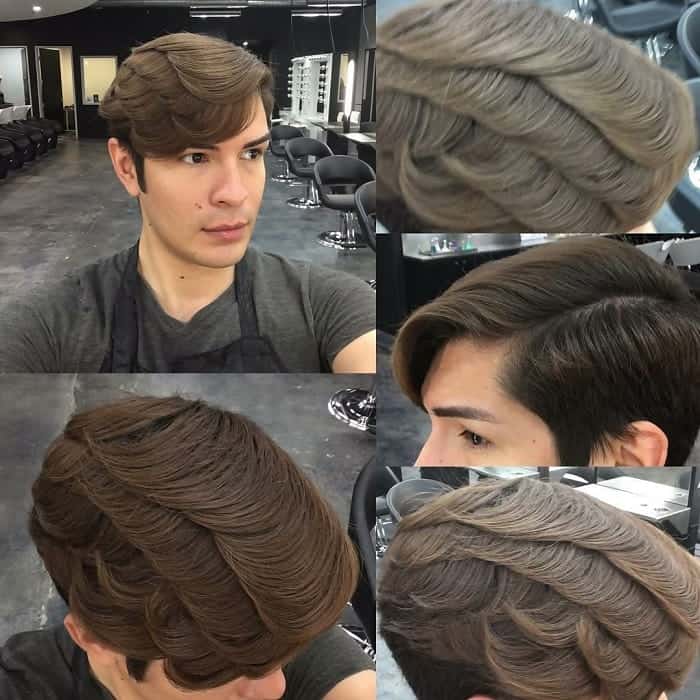 If you are looking for a creative and interesting wavy hairstyle, this is surely an eye-catching option. It uses a series of hair care products to help re-interpret your waves is a radically different fashion.
The undercut sides along with the golden wavy top completely change the dynamics of this hairstyle for men with wavy hair. It brings in intense masculine energy to the otherwise casual cut. There is also a rugged subtle vibrancy in this cut.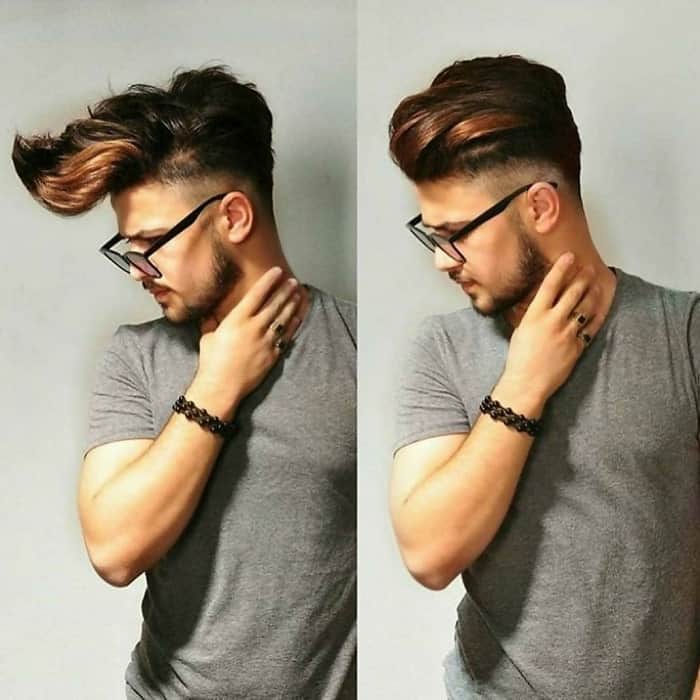 The burgundy highlights offer a definitive element of exotic to this otherwise conventional wavy hairstyle for men. It just goes on to show that if you are creative, how many variants can you bring out even in the most conventional cut.
12. Textured Short Spikes
If you like to wear your wavy hair short, this is a definitive option for you. It is functional, versatile and easy to maintain. Moreover, it follows the natural direction of your wavy hair. As a result, it is a much easier option to execute and sustain over a longer time.
13. Undercut and Double Part
The double parting and the undercut adds a sense of rugged machismo to this conventional wavy hairstyle for men. It also creates a completely new look that is out of the ordinary and attention-grabbing at the same time. But this is also a cut that is easy to maintain.
14. Cool Wavy Bangs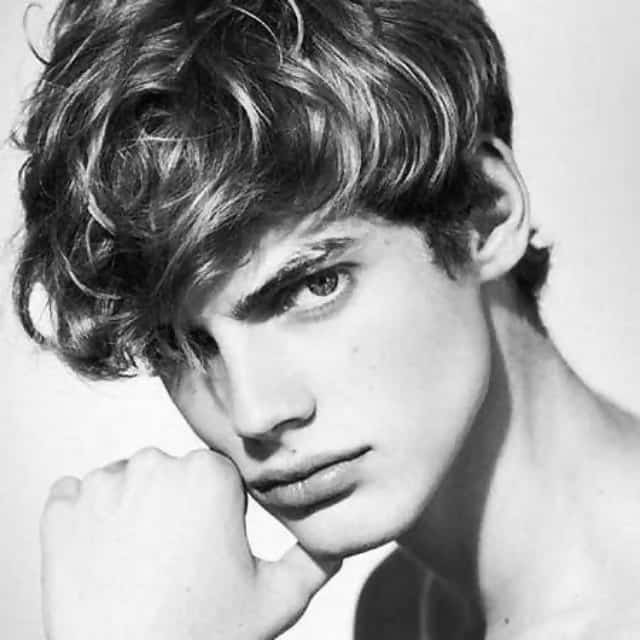 This hairstyle for men with wavy hair is cool, classy and absolutely brilliant. The slightly unkempt look adds to the overall charm. That also means that caring for this type of hair is much simpler and fairly easy.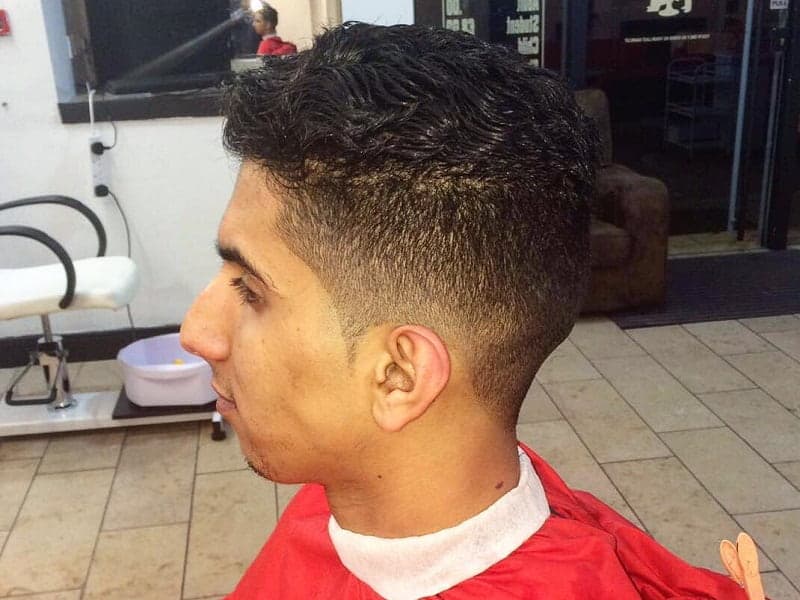 This haircut for men with wavy hair best suits the upwardly mobile corporates. It is neat, soothing and absolutely proper. Whether you are a business personnel or an executive, this is the kind of style that screams business from the word go.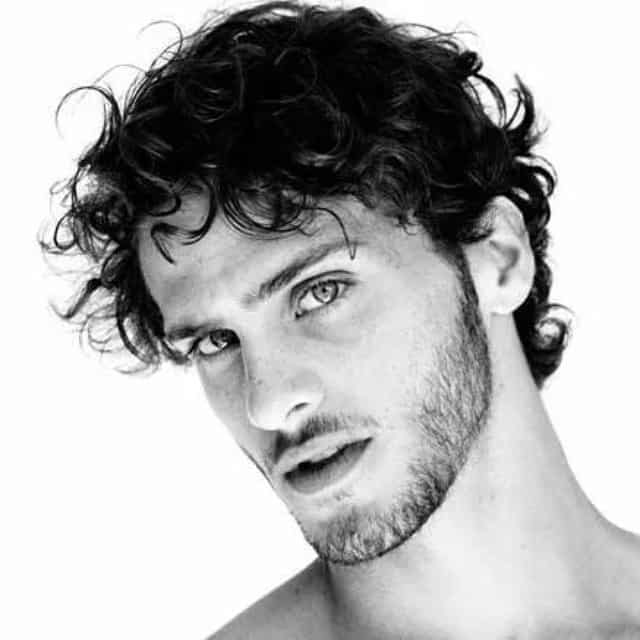 It is all about letting your naturally wavy hair take center-stage in this hairstyle for men with wavy hair. The waves create their own typical styling that lends a sense of individuality to your styling.
17. Wavy with Tapered Ends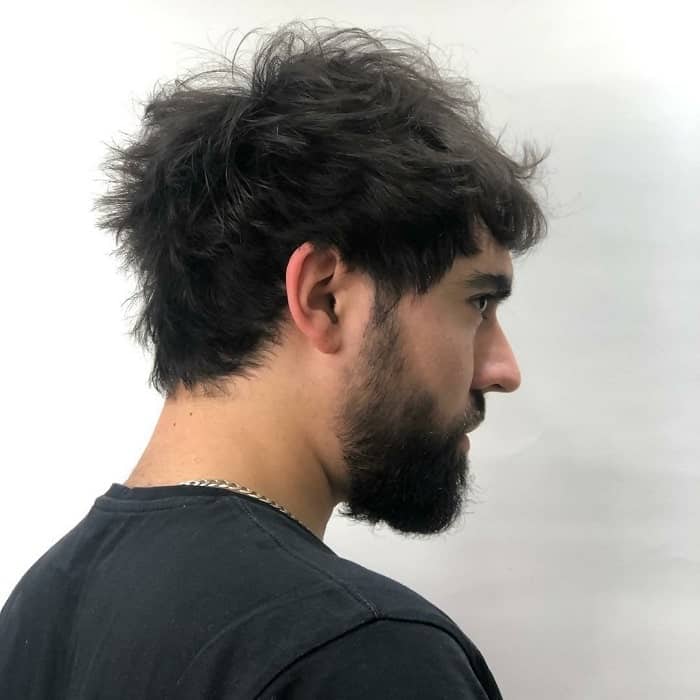 The tapering ends gives this haircut a completely new look. It is also easy maintenance haircut and gives a cool, classy look. This is what sets this style apart from most other wavy hairstyles.
18. Faux Hawk with Sharp Fade
In this wavy haircut for men, the conventional tousled shag gets reincarnated into a tousled top. The sharp fade makes a striking contrast. It also makes it an acceptable style for those who like to wear their hair short but don't mind a hint of styling at the same time.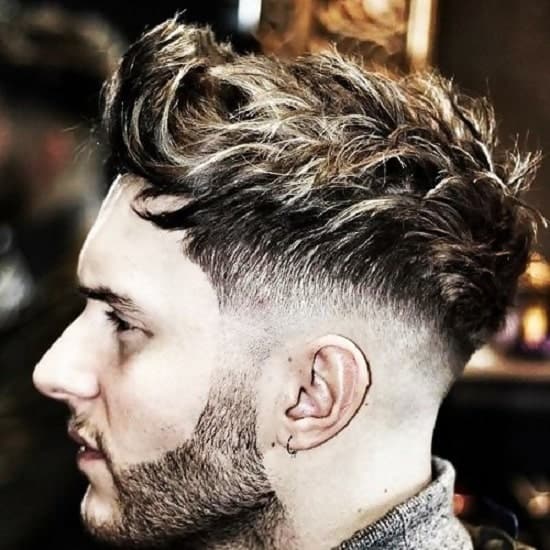 This wavy hairstyle for men is a functional and relatively low maintenance cut. It is a cool and comfortable option. It brings out a hint of subtle masculinity and ruggedness to your personality. In many ways, that also adds to the charm of this specific hairstyle for wavy hair.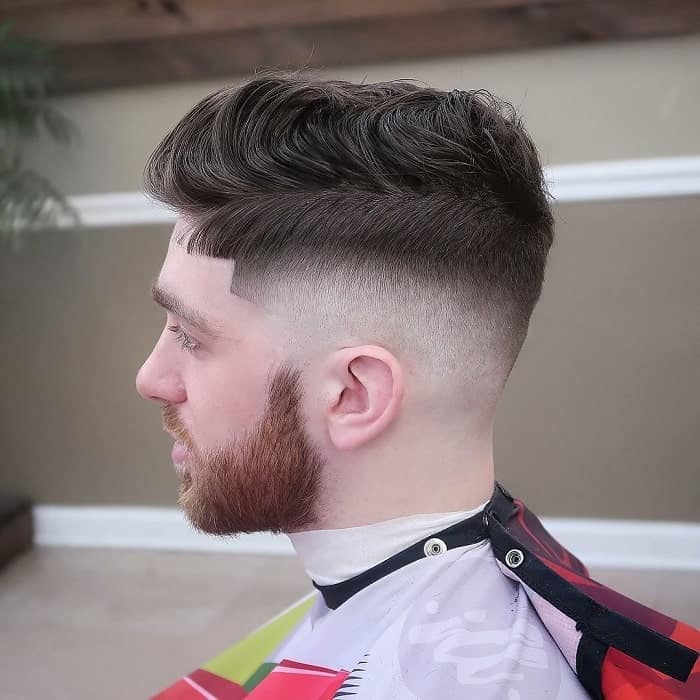 This hairstyle for men with wavy hair is a pure-play on contrasts that seek to bring out a striking impact.