If you have curly hair and in love with the mohawk, don't be upset! Mohawk can look awesome on men with curly hair too!
Most guys are not really into changing their hairstyles from time to time, but if you take great pride in your looks and your hair, you might be one of those guys who want their hair to complement their personal styles.
How to Get Curly Mohawk
The mohawk is a stylish do and although it may be a drastic change compared to the usual hairstyle for men, you can pull it off with the right kind of confidence, even if you have naturally curly hair. Here are some tips on how to get a mohawk with curly hair.
Shaved Sides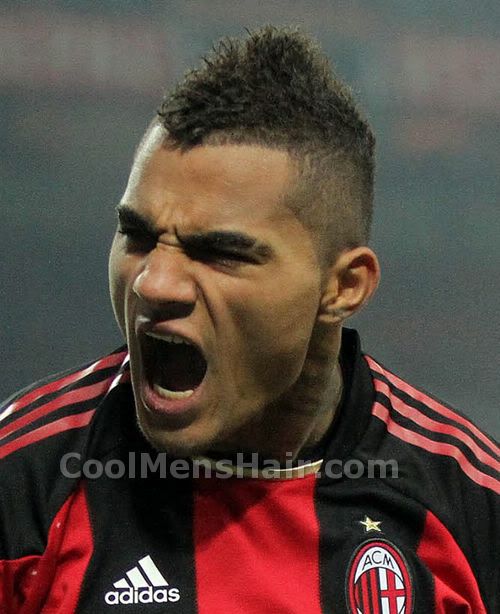 The first thing to do would be to make sure that the sides are primed to make the curly hair Mohawk stand out. You can do this by getting a buzz cut on the sides or opting for cornrows. You can do either at the salon for a couple of dollars. Cornrows will work great especially in the summer because they keep your curly hair neat and tidy and will help keep the head cool.
A buzz cut is great if you still want to rock a masculine hairstyle with a mohawk thrown in for added flair. If you want to sport the curls and the Mohawk at the same time, going short is the way to go. Keep the hair on the sides shaved close to the scalp and retain the hair on top. About a half to one inch of hair at the top is enough to show your curls off.
If you do not want to work too much on your hair every day, you can keep the width of the hawk to a comfortable one inch. This way the Mohawk stands but does not require too much product to be kept upright. You can use a curl boosting cream to make the curls stand out before using a setting spray to keep the hair in place and to tame any frizz.
This style is great for guys because it requires very little maintenance. You can also opt for a narrow mohawk. Most guys like to keep it narrow since this needs a shorter styling time as well, but you may need more product to keep the style in place. It will not show off your curls that well but you can tease the tips to create a bit of texture on top.
Keep the sides short to make the do stand out. Use water-based styling clays and avoid anything that contains alcohol to avoid drying out your hair.
For cornrows that you can make into a mohawk, you need to start braiding from the roots upwards. Section the hair so that it is easier to work on. Braid upwards and leave the free part of the hair unbraided since this will form your curly Mohawk style.
You can leave the middle section of the hair unbraided to add more puff. Once you have braided all sides into cornrows, secure the top with a rubber band and bobby pins to make the row of unbraided curls on top of stand up and out. Use a curl boosting spray to emphasize the curls.
You can keep the hair on top curly and bushy and style the bottom part of the Mohawk with setting or styling spray to make it rigid and strong enough to support the top. Some guys simply slather setting gel over the hair and style it upright before using a setting spray, but you need to make your that you have a thicker base that becomes narrower towards the top.
You can do this by pushing the hair off the sides up and setting it upright using bobby pins that you stick along the sides to create a sturdy frame. For guys with thicker hair, you can use black or transparent banana clips or rubber bands to keep the hair upright.
Popular Curly Mohawk Styles
Curly Mohawk hairstyle is an on-trend demand for bold guys. Have a look at these 20 curly Mohawk hairstyles to adopt your next punk looks and have fun with your curls.
1. Simple Faded Curly Mohawk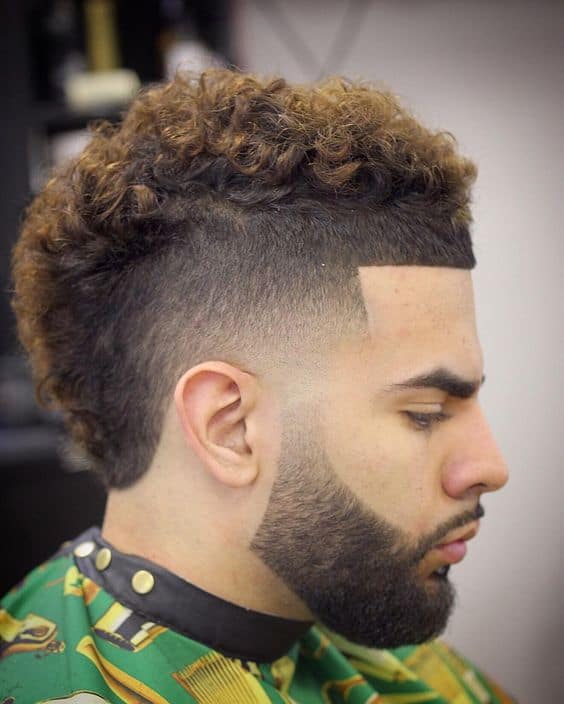 This curly Mohawk with simple taper fade is quite classic and more conservative than you may expect from a Mohawk cut.
Ideal for: Long faces which benefit from bangs or a detailed fringe cut.
How to Style: The Mohawk can have a bad rap for being seen as an extreme hairstyle but when done right it can also look smart and conservative. So, if your job restricts you then a little imagination can still enable you to have a variation of a style you love.
Go for a more subtle fade and closely cropped curls across the crown. Add detailing around the forehead and temples.