Short fade haircuts look stylish and fashionable. Not only do they make you look highly attractive, but they are easy to maintain as well. These haircuts have a whole range of classy and funky styles that are sure to leave you feeling like a Hollywood star.
Short Fade Hairstyles for Guys
So, why wait further? Here are 30 of the best short fade haircuts for men you can choose from.
1. Short Brush Up
What better way to have a short haircut then something which is a perfect blend of messy and put together? Brush up haircuts are usually quite fun and untamed.
But this one has the feel of neatness to it too. The hair is short and the sides have a high bald fade which ends into a skin fade above the ears.
2. Crew Cut with Skin Fade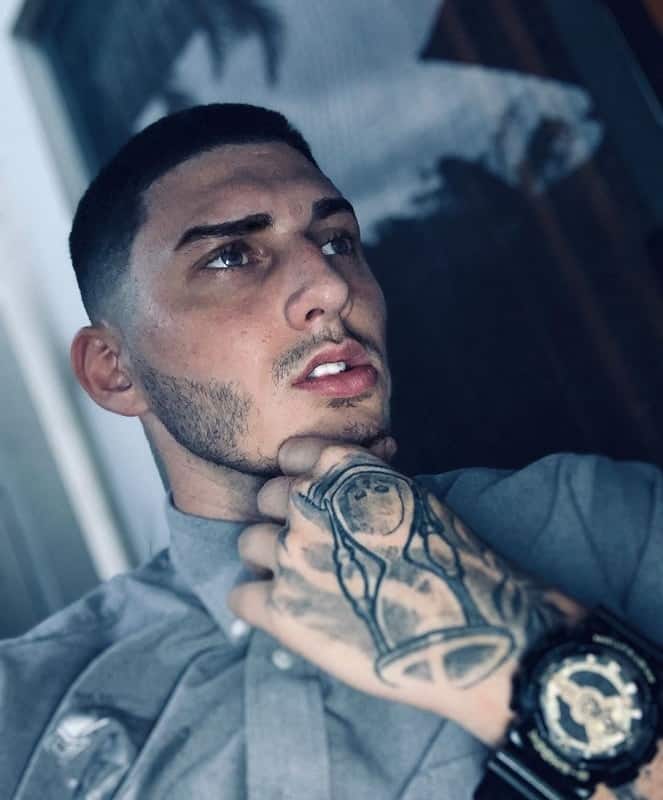 If you love having a rugged sexy appearance then this crew cut is just the haircut for you. It is one of the most liked short fade styles for men as it has all the right features to uplift your appeal. The skin fade amps up the crew cut even more, so you should not skip it.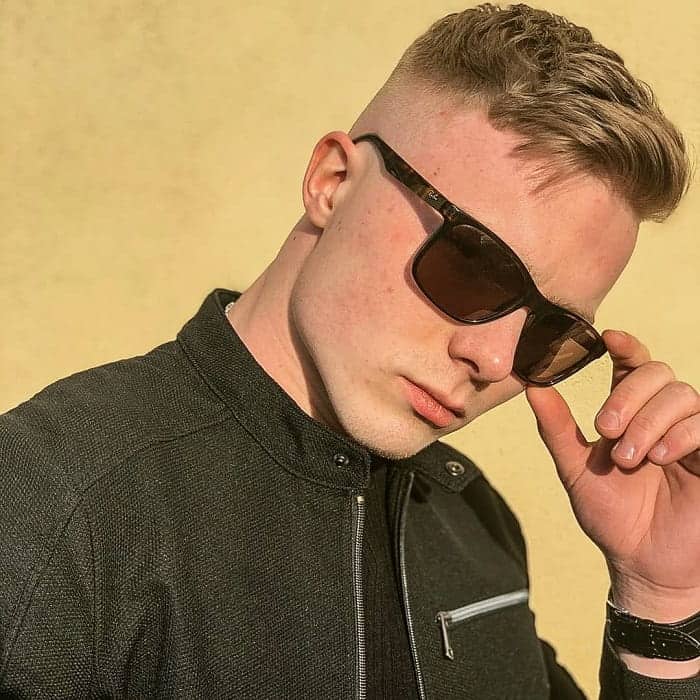 If you want to bring in the vintage vibe from the '80s but still want to keep things modern then this short quiff is the best option for you. The sides and back of the head have a nice skin fade making the hair on top stand out even more. To make this look more stylish tease up the hair with a thorough brushing.
Comb over with taper fade haircuts are so much in at the moment that it would be a crime not to try them. This one has a gentlemanly feel about it as all of the hair is neatly combed back.
The lined design at the side gives it a boyish charm that balances the strictness if the comb over. The medium fade gives this short haircut all the right angles and sharpness that you are looking for.
5. Shaggy Side Part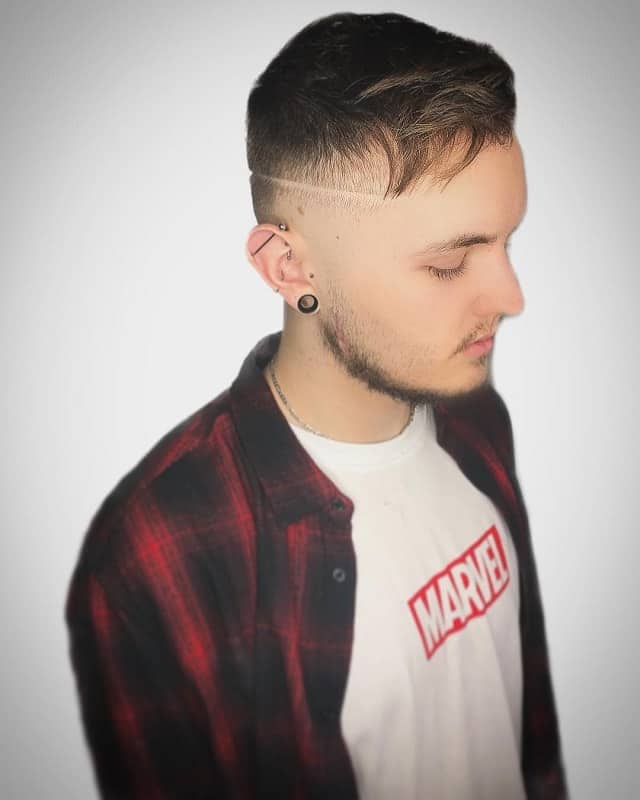 Mens shaggy hairstyle does not have to be all messy and punk-inspired. You can keep it low profile but highly attractive by going for a short shag which has a side part. The temp fade helps the shag blend in perfectly while lined design keeps the fun spirits alive.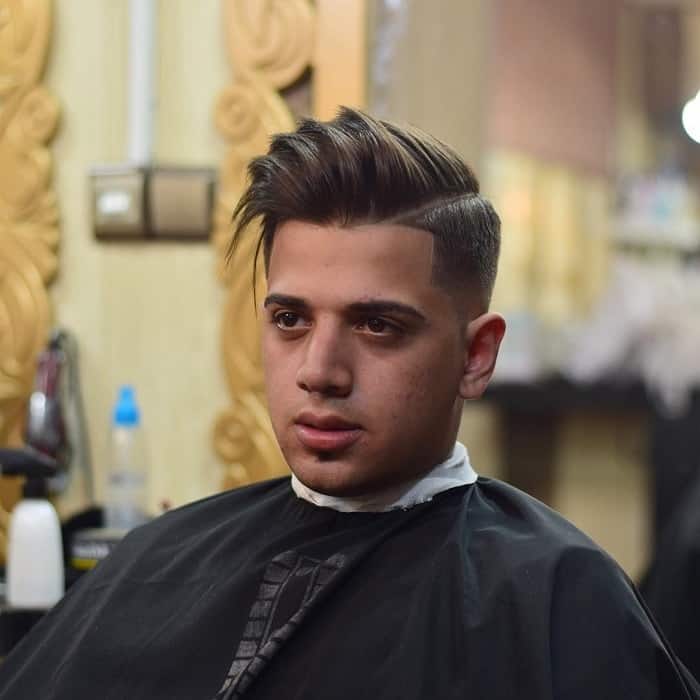 Why not flaunt your perfectly voluminous hair with a full quiff when you can pull it off like star? This full quiff has the hair falling at sharp angles which make you look intense and hot. The other side has a neat medium fade which takes away the excess intensity making you look just perfect.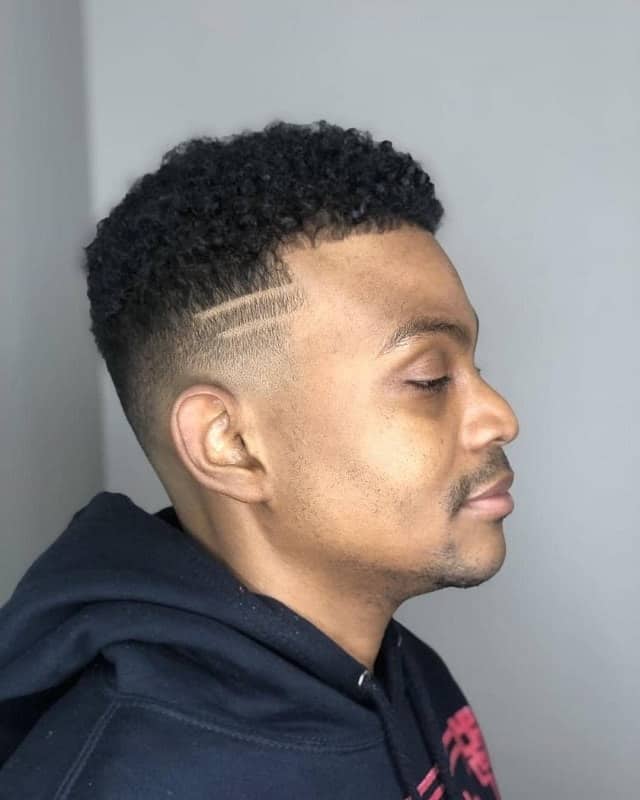 Who said that Afro curls cannot carry the crew cut as well as the straight hair? They look even better than the straight hair as the crew cut takes away all the roughness leaving the neatly cropped locks only. This looks amazing with the taper fade at the sides which has a design of small lines near the ear.
8. Curved Spikes with Faded Side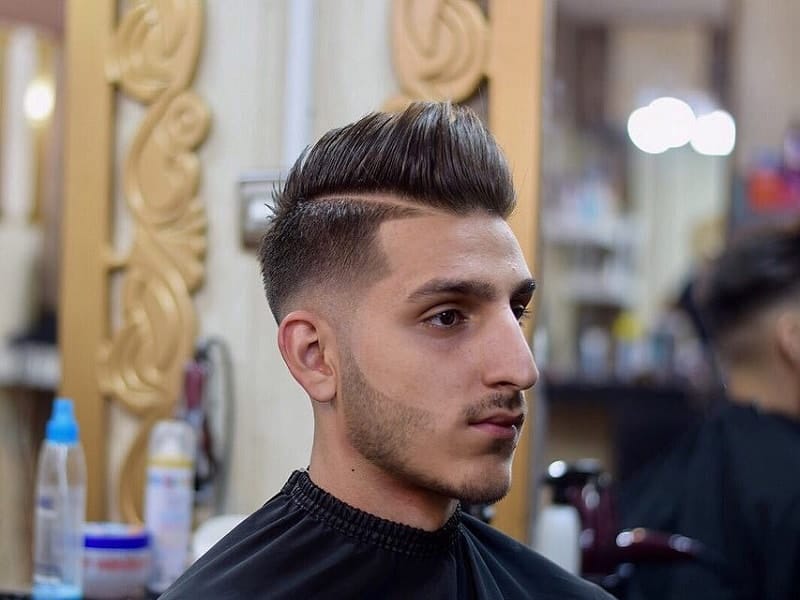 Short haircuts for men with fade also include the fancy hairstyles like the curved spikes. The spikes are usually all funky and poking out in different directions, but this haircut has all of them gathered together. They create such a formal look when combined with a low taper fade like this one.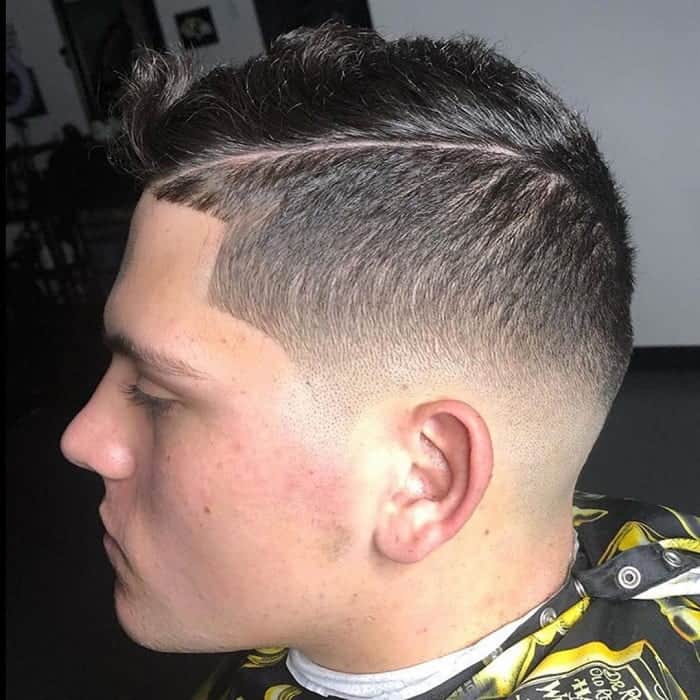 A comb-over is the best way of getting a low maintenance hairstyle which works well in all seasons. The hair is all combed back in a nice fashion while the sides have a medium taper fade which gives you a most balanced haircut.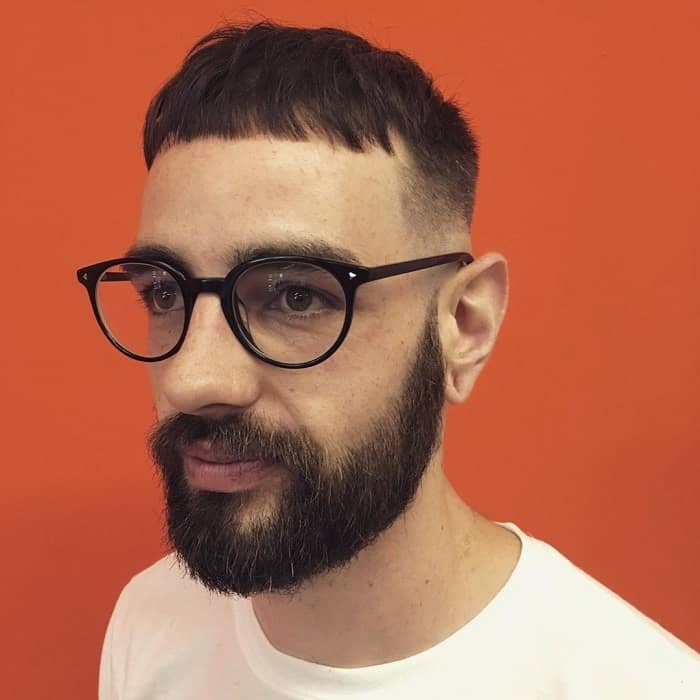 The young men who want to keep their hairstyle game strong will love this one. The short hair has choppy cuts at several angles which fall about unpredictably. The low fade helps this haircut avoid looking too wild, so don't forget it.
11. Spiky Side Part with Hard Line
The spiky haircuts usually have the hair standing upright, but this one has a nice modification to it. The spikes are all swept to a side with the help of a merged side part. The other side has a low fade which helps the hard-lined design stand out even more.
12. Curved Side Part with Fade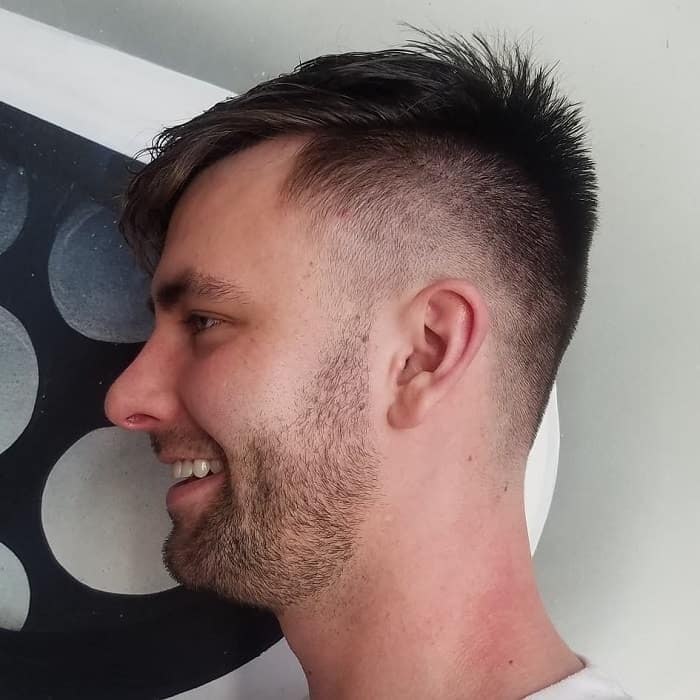 A simple side part can be incredibly hot and attractive when you know how to rock it. This one has the hair slightly curved to bring in a pleasant modification to the classic short hairstyle. The sides and the back have a low taper fade to complete this look.
13. Brush Over with Tapered Sides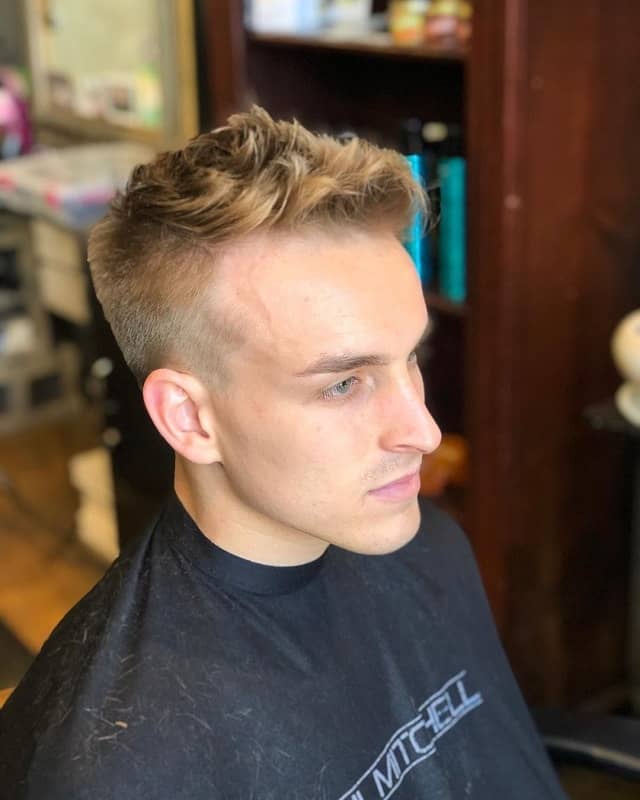 A thoroughly done brush over never fails to get you the amount of attention that you desire. This one has such a cool aura that you just cannot resist it. The taper fade at sides gives a tidy and attractive appearance which goes well with the brush over.
14. Side Swept Hair with Lined Fade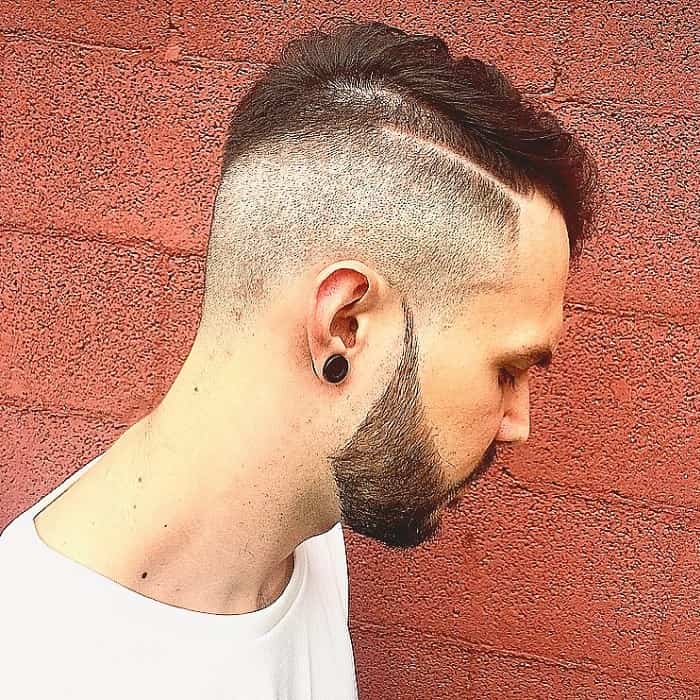 You can use the classic short fade haircuts and give them a modern touch just like this one. The side part has a nice touch to it with the back and the side gives a high skin fade. The hard-line just below the part is an additional cool feature to make it so good.
15. Medium Quiff with Hard Part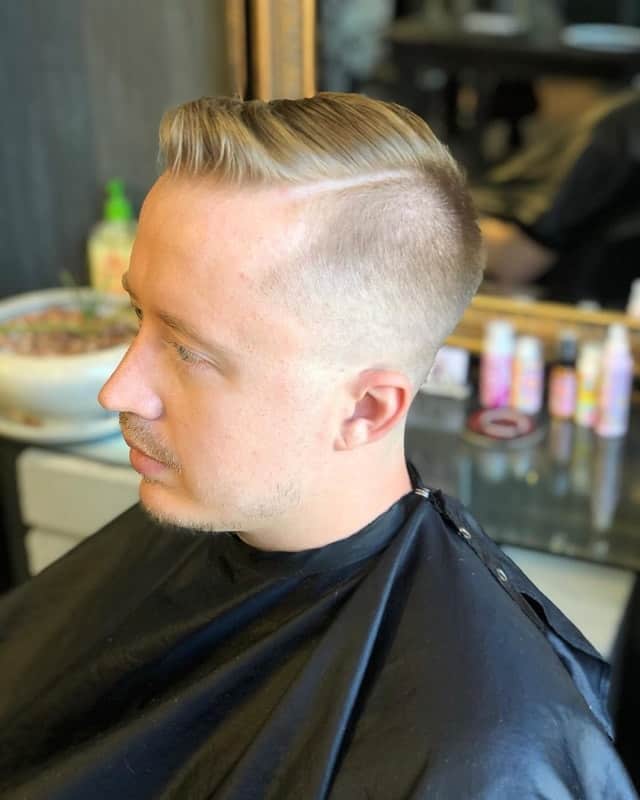 This medium quiff is a sure way of boosting up your confidence and getting the coolest hairstyle. The hair has a gentle curve in the front which looks even better on the dyed hair. So, if you have dyed hair or are naturally blond then you will love this look.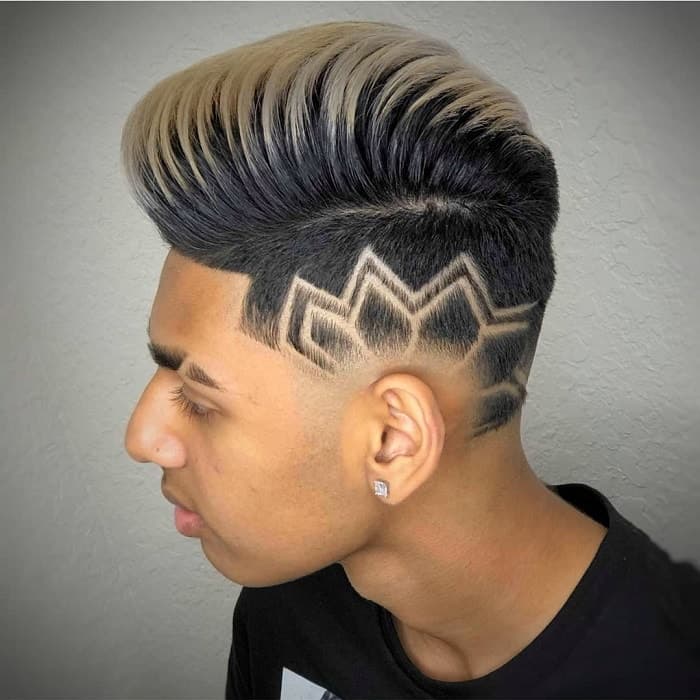 A side comb is one of the coolest ways of going for a sleek yet fun look. This side comb has a touch of blond to it which makes your hair pop even more. To keep things natural and impressive, give the other side a low fade.
The vintage side part has the true feels of a classy short hairstyle for gentlemen. This is one of the nicest fade haircuts as it has a very tidied up and put together look. The low fade gradually tapers into a high skin fade for an even more attractive finishing touch.
This comb over has all the hair settled in the right place by sweeping it backward. The hair is on the longer side of the short and has such a balanced look that you will love going for it. The sides have a medium taper fade which begins with a hard line.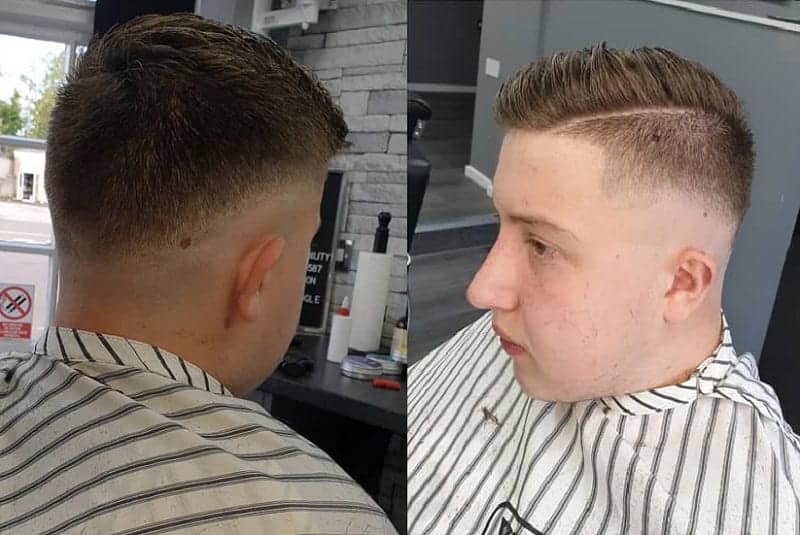 Medium fade looks the best with a well-combed side part, doesn't it? The hair is all slicked to a side while it uses the lesser product and lesser time to stay in its shape. Just make the part line hard and see how well it looks.
20. Short Choppy Brush-Up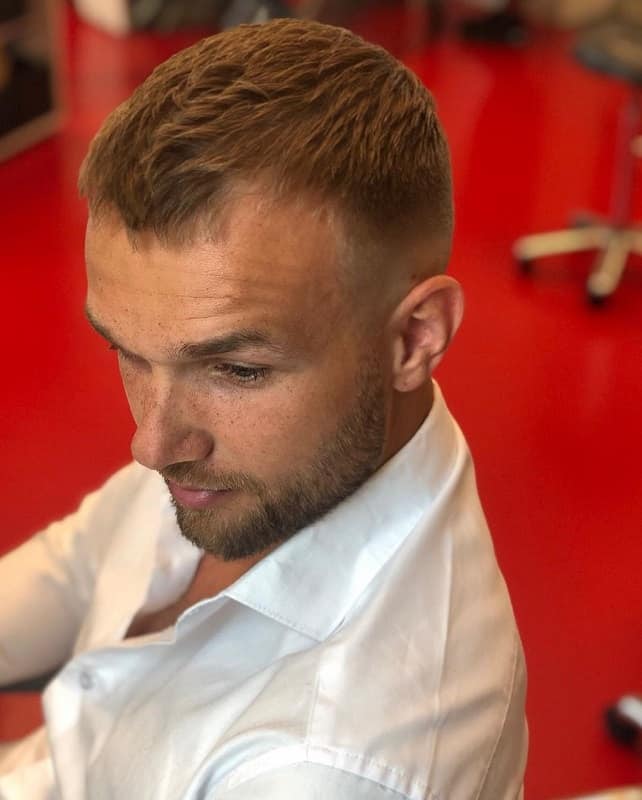 A choppy brush up is never going to let you down no matter the situation or the kind of gathering. The lower part of the sides and the back has a neat skin fade which counteracts the wildness of the choppy haircut.
Men do not usually go for platinum hair, but when they do it is a sure way of getting them all the attention. So, if you love attention and like being the life of parties then this short faded hairdo is great for you. The comb overlooks exceptionally good with the fade at the sides and back, so never miss it.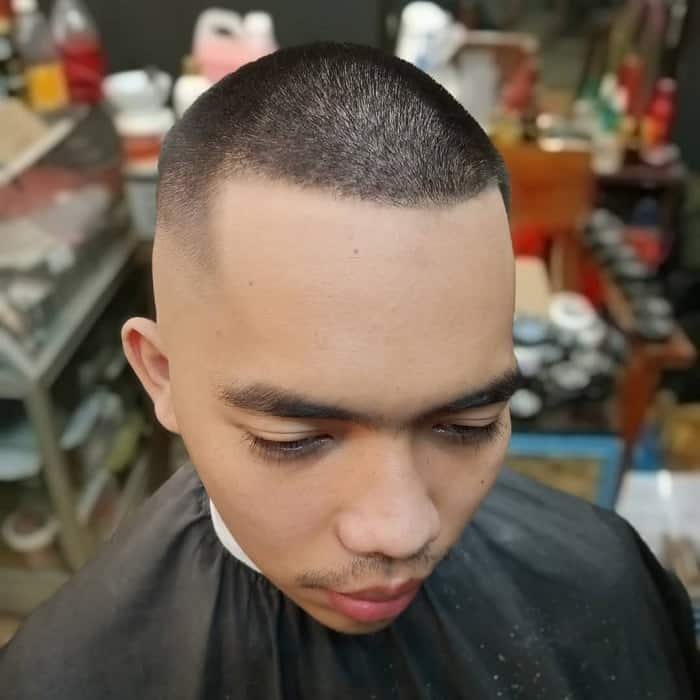 Buzz cuts never go out of style, do they? They have such a nice and charming vibe to them that everybody loves them. Of course, you need a certain measure of confidence to pull off something as blunt as a buzz cut. But it is always worth it if you pair it up with a high skin fade.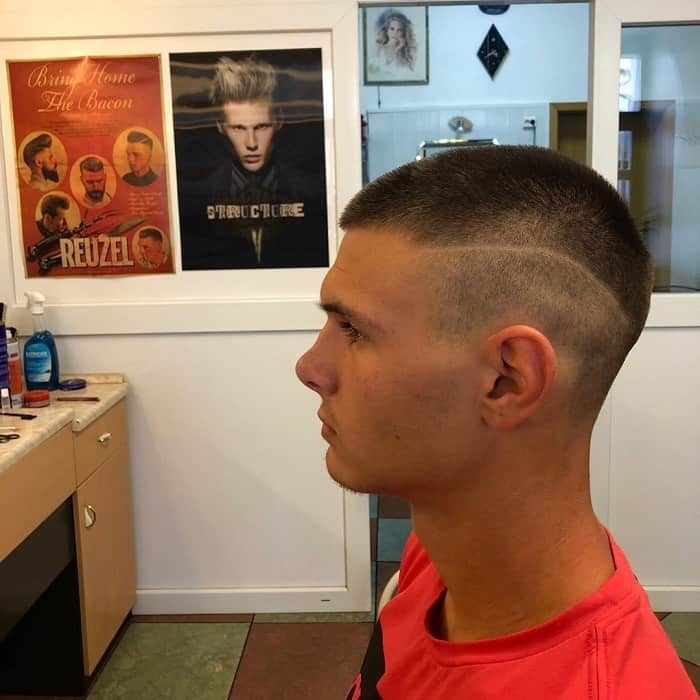 This buzz cut variation takes the whole look to an even higher level. The addition of the hard-line design to the buzz cut is refreshing and goes perfectly with both medium and high fades. So, do give it a try the next time you visit your hairdresser.
24. Short Shag with High Fade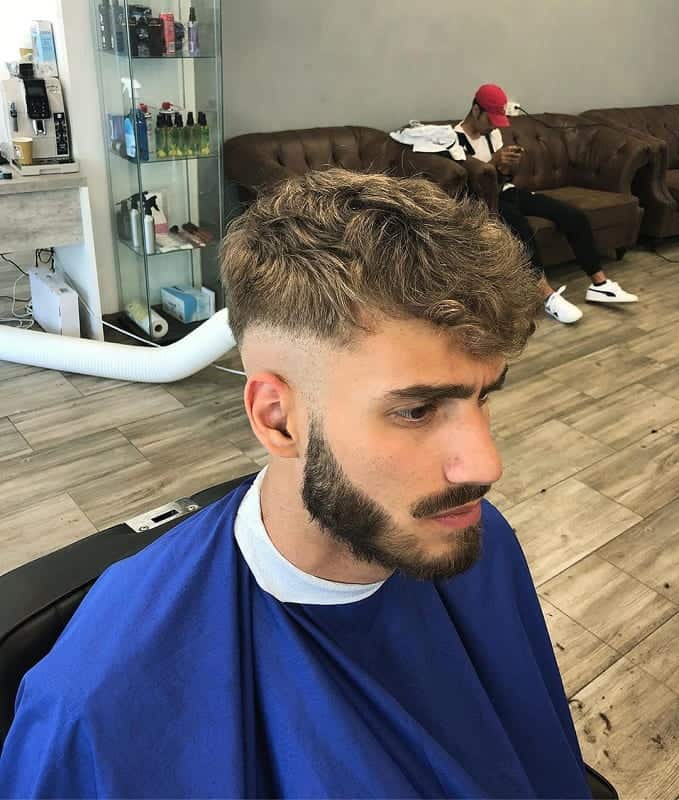 Shags are a fun way of making a strong fashion statement, aren't they? This one has an energetic and vibrant appearance which is sure to set the mood joyful wherever you go. The high fade that goes along with it is a huge plus, so make sure to keep it in your to-get list.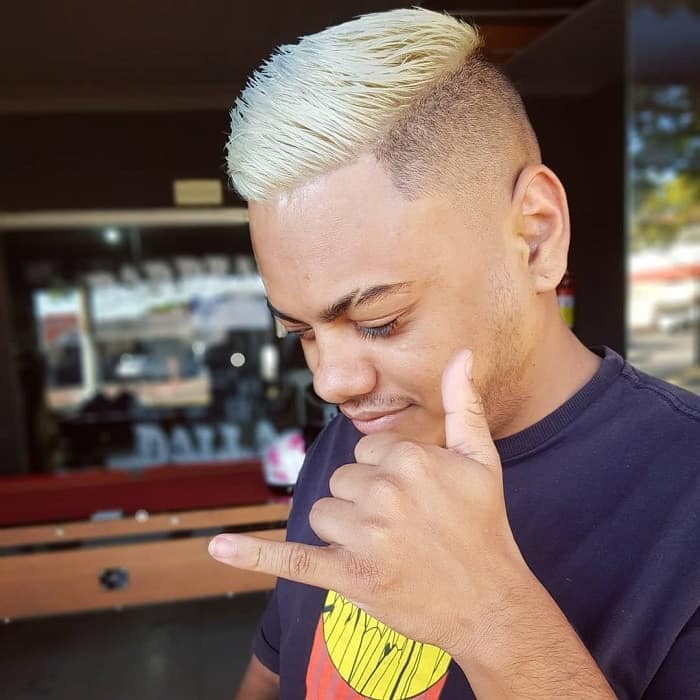 Do you want to go for a twin colored short fade look this time around? Then this blond comb-over with dark faded sides is an amazing option for you. The best way of going for this one is to have a high or medium faded side so that it doesn't look awkward.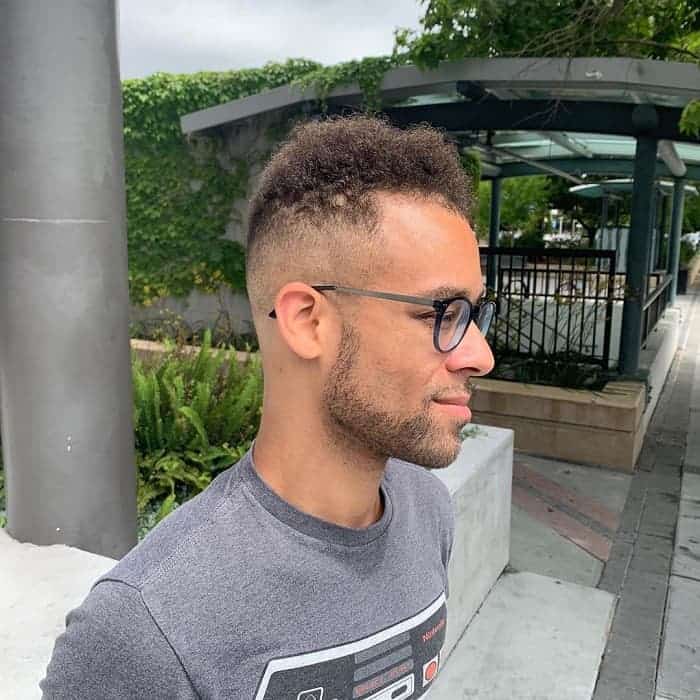 A classic Mohawk hairstyle is surely impressive, but you can alter it to short Mohawk fade to suit your personality too. The people with Afro hair can rock this too, but you will have to have a high fade to keep things simple and attractive.
27. Caesar Cut with Medium Fade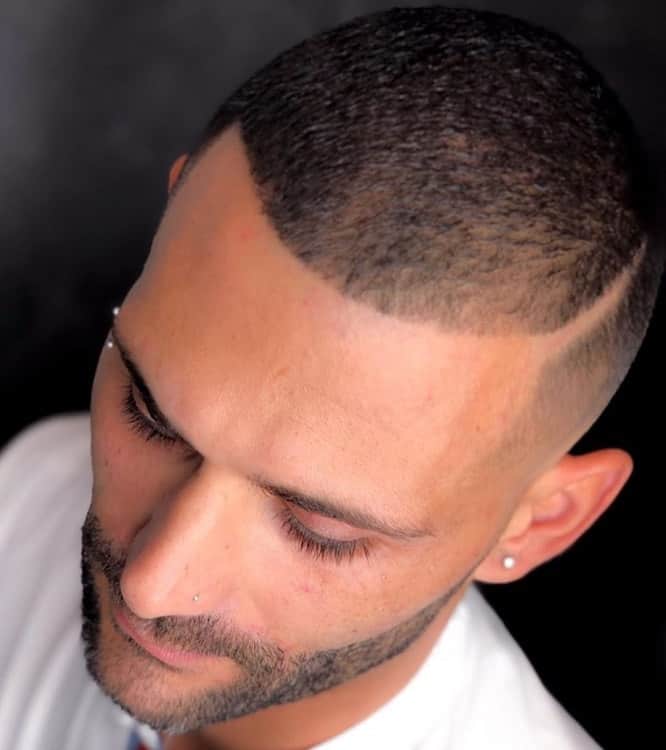 With so many impressive hairstyles on our list of men's short fade haircuts, it is quite obvious to have very short haircuts too. This cut has a raw feel to it while the lined design runs in sharp contrast with the buzzed hair.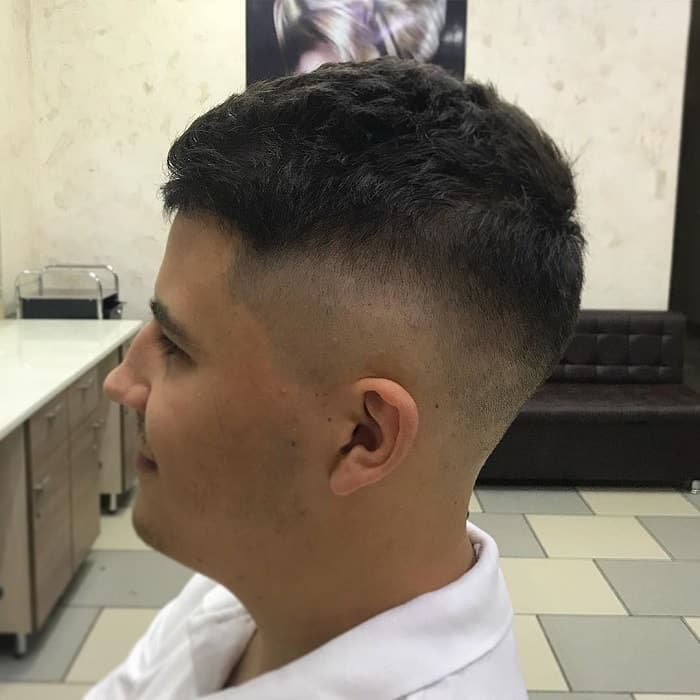 Having a curved top haircut is quite common if you have Afro hair, but it looks equally well on straight hair too. The curved top has nice chops at the ends to keep things less intimidating. The high fade at the lower side is the best way of finishing it off.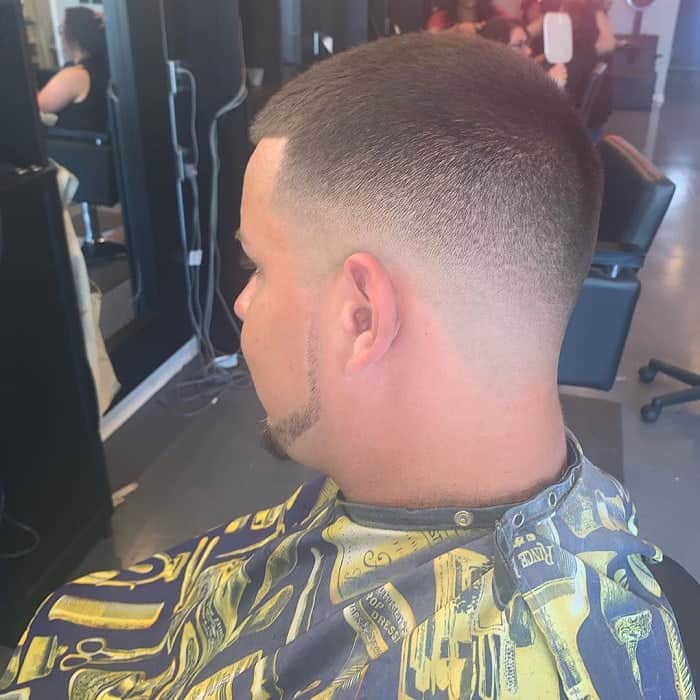 Crew cuts are great for you if you have thin hair. This one has a nice taper fade which leads to a gradual dwindling of hair. The overall look is so great that you can be confident about it wherever you go.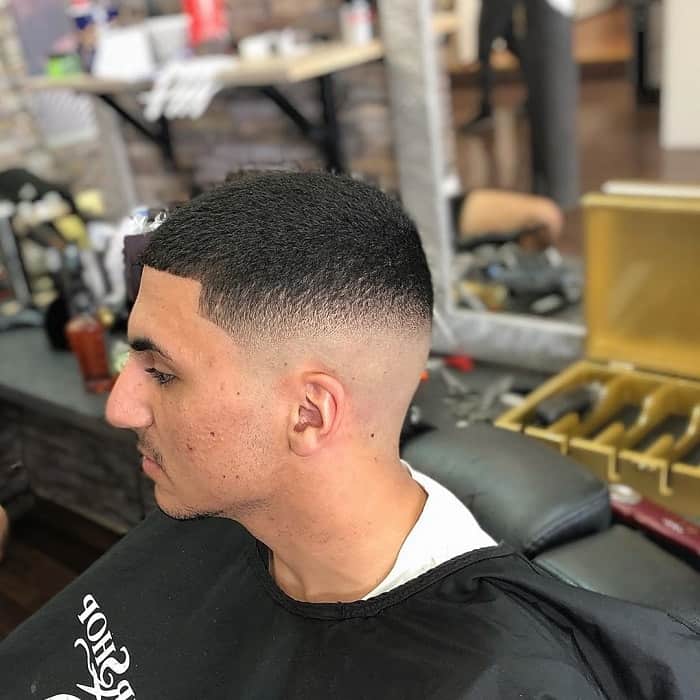 Now, we haven't seen anyone carrying Afro hair so neatly, have we? The hair is buzzed off very stylishly while still retaining the Afro texture. The skin fade helps it look much cooler, so keep that in mind too.
All of these short fade haircuts are amazing so, what are you waiting for? Just go to your stylist and get the one you love!