Back in the 1990's men were wearing a very different style of haircut. It was called the Caesar haircut. All after the renowned Julius Caesar. This haircut has made a return in recent years. Many stars of the past have had taken it upon themselves to adopt this hairstyle.
How 'Caesar Haircut' Was Named
It doesn't take a genius to figure out where the name for Caesar cuts came from – Julius Caesar. Named after Rome's well-known emperor, this haircut can be considered one of the oldest and most classic haircut styles for men.
Although this haircut style is really simple, there are more than meets the eye. There are actually some benefits that men can get from using this hairstyle! Keep reading to find out more about Caesar haircut styles and 70 looks that you can go for on your next hairstylist appointment.
The haircut is known for the short bangs that it has and how the sweep the forehead area on a man. The style is usually short about 1-2 inches (2-5 cm) all over the head with the bangs pushed forward at the front.
George Clooney is one of many stars that favored this type of style. Remember the style that he wore on the ER drama? It also helps those that have thinning hair. It hides this issue that they have. Also, it is an incredibly sexy look on some men.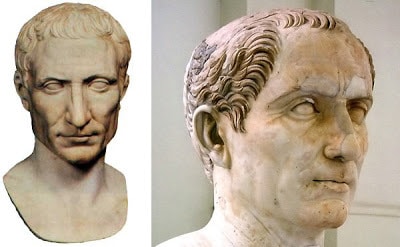 Being no longer than 2 inches all over the head, and sometimes even shorter than that. It all is a matter of the person getting the haircut and their personal likes. Some go even further and shave it very close to the head; they rather not have the length. Men all around the world are opting for the Caesar haircut all the time.
The shortness in length is a great thing for many men who feel that spending time on their hair is a waste. The style is easily maintained with some gel or styling cream. Easy maintenance, what else can a man ask for? The truth is out of the bag now!
Popular Styles for Caesar Cuts
It's difficult to pick 61 Caesar cut styles – but only because there's so many to choose from! Celebrities rocked the Caesar look, and even middle-aged men get a good boost in appearance just by adopting this hairstyle. Here are men's hair looks you can consider when you're thinking of getting a Caesar Cut.
1. Bowl Caesar Cut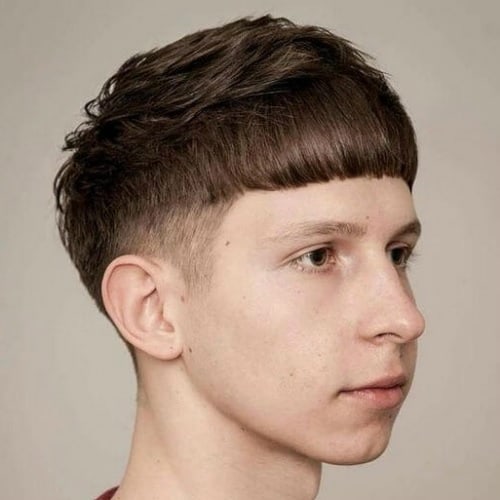 The most straightforward cut there can ever be, your hair only needs to be a short crop and a straight cut all around to make this haircut a reality.
2. Caesar Cut With Pattern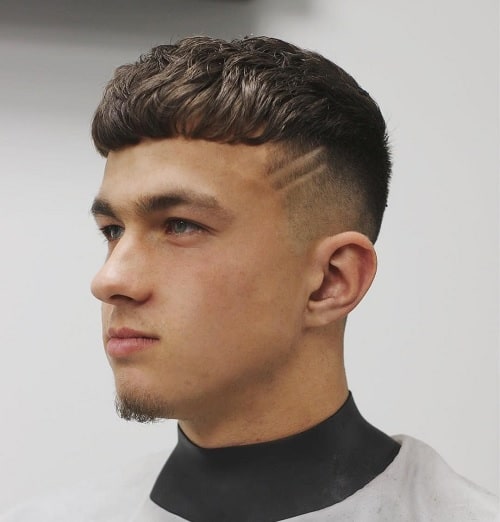 If the bowl caesar cut is too plain for you, you can always add in some patterns on the side to make it more attractive.
3. Caesar Haircut for Thick Hair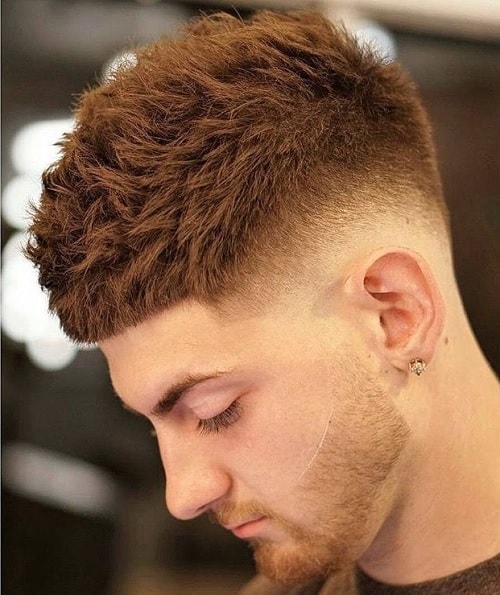 Thick hair is no problem for a good ol' Caesar cut. Fade it down the side and line-up that facial hair for a complete look!
4. Choppy Curls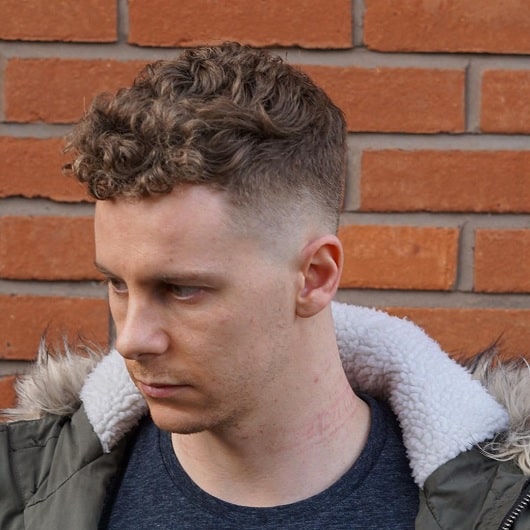 You can also have a Caesar haircut if your hair is a little more on the curly side. The only thing you need would be to trim the sides really short so that the curls seem to appear only on the top.
5. Caesar Cut With Undercut
Caesar cut or not, an undercut is always fashionable when paired with many other styles. You can even spike the top part a little!
6. Top Wavy Hair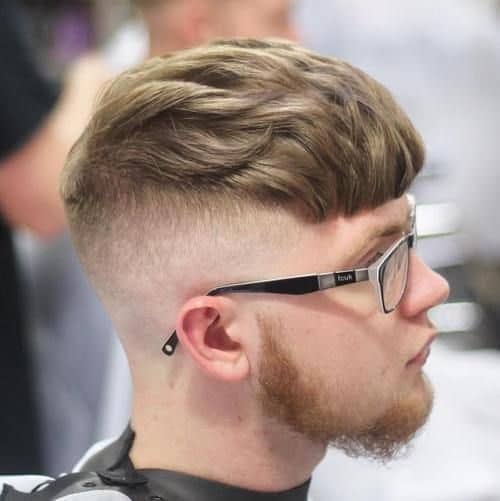 Your wavy hairdo is going to thank you for highlighting its seamless glow in a Caesar cut. Segment your hair properly for the best effect!
7. Messy Top Long Hairstyle
The best part about a Caesar hairstyle is that there isn't any bad natural hairdo that can ever spoil it.
8. Copper Bangs Hairstyle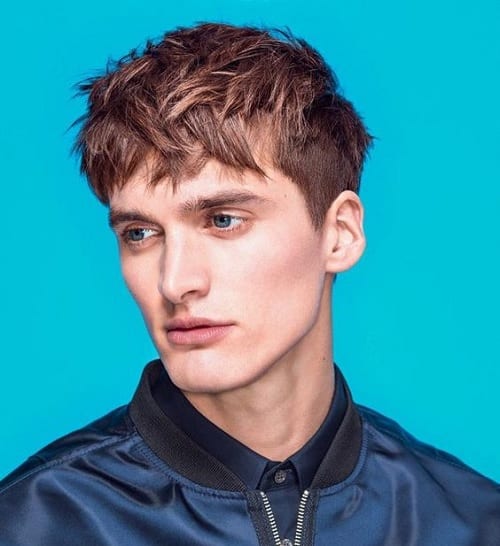 There's just something so good about copper-colored hair. Not even a Caesar haircut can make this hair color look bad.
9. Curly Caesar Cut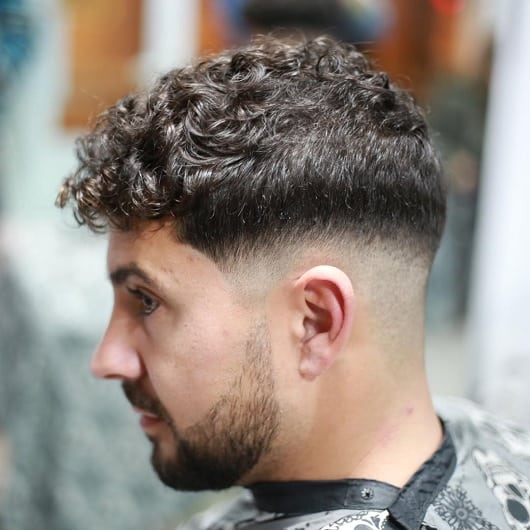 Yet another example of a curly Caesar cut, this one is a good reminder to keep your fade real high to make sure the haircut looks good!
10. Grey Hairstyle
Old age or white hair is not a problem when you want to use this hairstyle. If anything, it makes you look even more trendy!
11. Fade Caesar Cut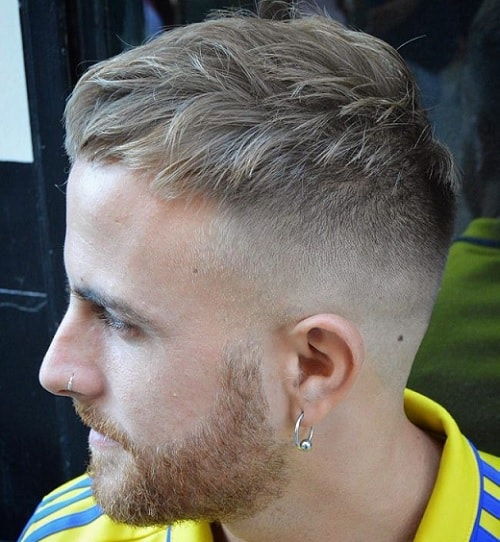 A lot of work was put into making this the perfect Caesar fade, and we appreciate it! Fades should appear seamless for lighter hair tones.
12. Caesar With Shaved Side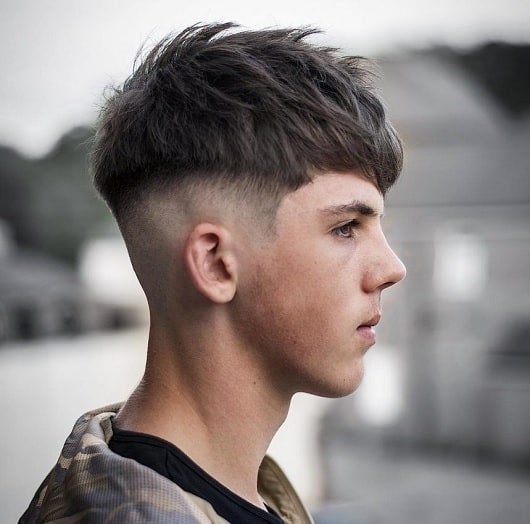 Don't just focus on the top and front part for your Caesar cut. Keep the hairlines at the side neat by shaving it too!
13. Fringe Caesar Cut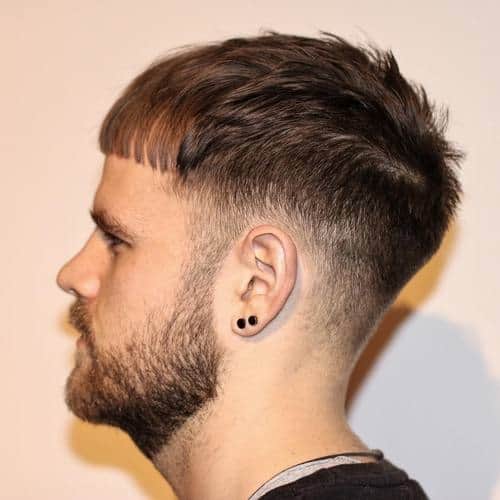 Even men can rock fringe Caesar cuts as long as they have some longer hair at the top. All you need is an even cut to pull this off.
14. Haircut For Fine Hair
The point of a Caesar hairdo is so that you can wear it even if you have very thin hair. Everyone can look stylish – no excuses accepted!
15. Honey Comb Blonde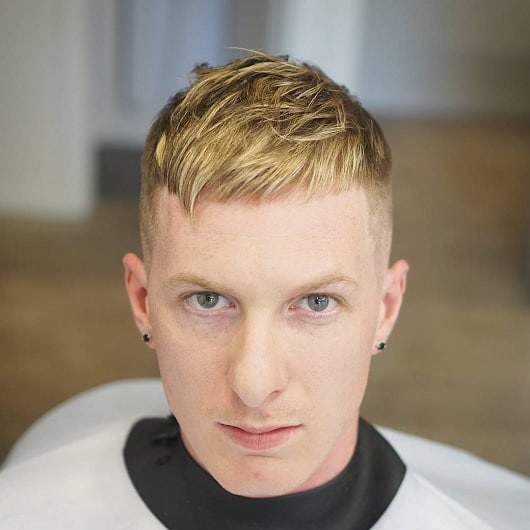 Notice how a small sliver of the fringe drooping over the forehead makes this haircut look really good? Every color works, even this honey blonde tone!
16. Mature Caesar Haircut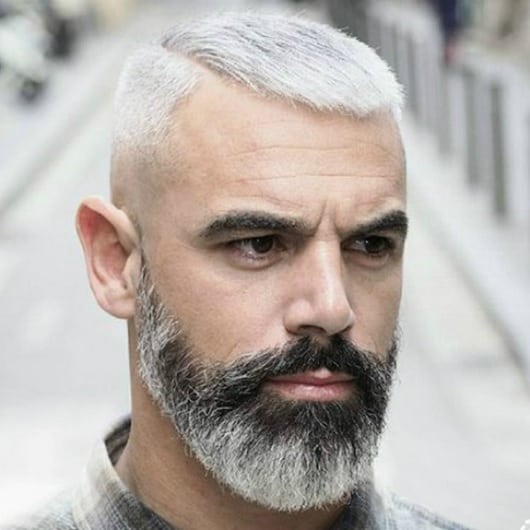 Say YES to this amazing look! White hair, neat beard and an awesome haircut – everything is perfected to create this look.
17. Short Wavy Hair
If your hair is neither curly nor straight, but rather something in between, you can expect your Caesar cut to look a little more fluffy.
18. Straight Hair Caesar Cut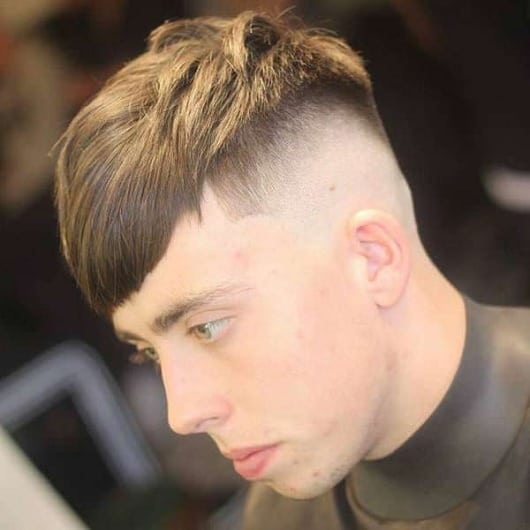 Straight hair, curly hair, everything looks good with a good Caesar-do. Comb your hair in a front-ward direction to get this look.
19. Tape Up Haircut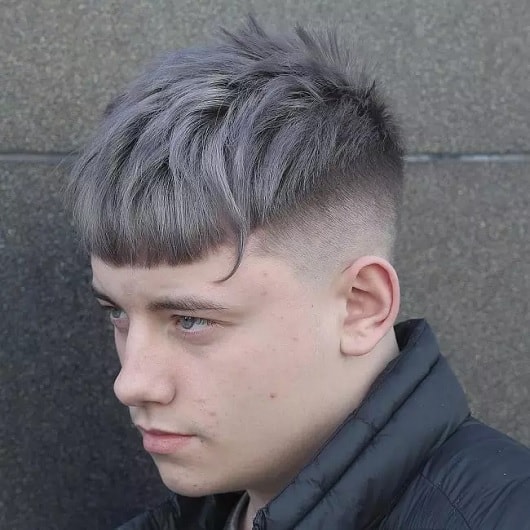 If you want your hairdo in a more creative color or tone, how about using this ash undertone for your hair?
20. Very Short Hair With High Fade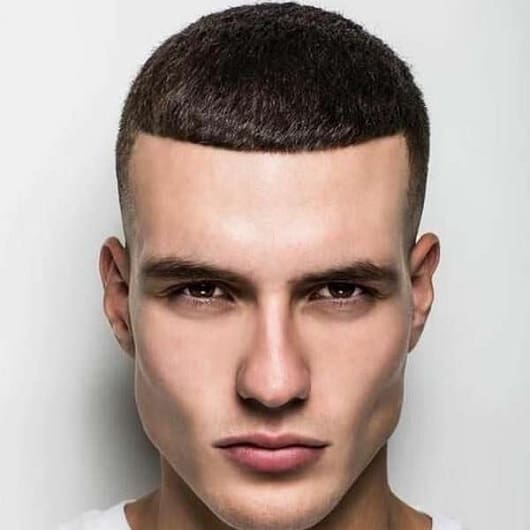 If you ever wanted to know how a cross between a buzz cut and a Caesar cut would look like, this is your answer. Certainly charming to say the least!
21. Two Colors – Duality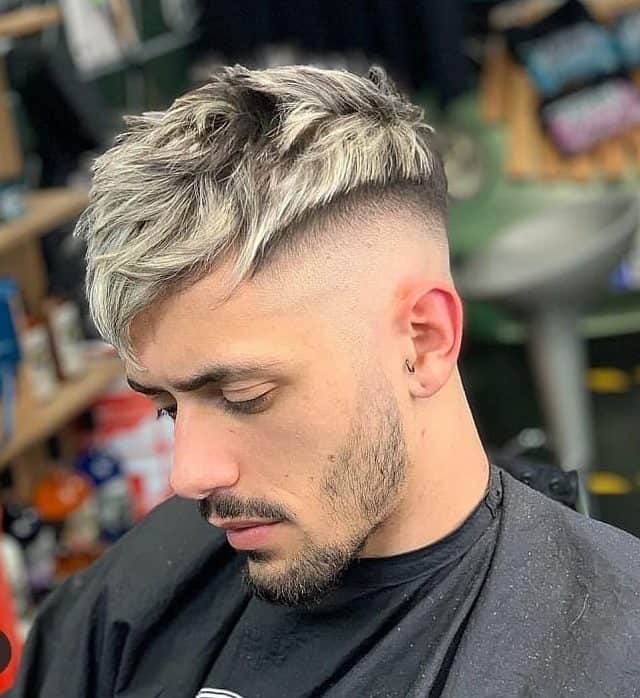 A two-toned look will always catch other people's eyes as they walk by, and we can't blame them. This is one way to rock the classic Caesar!
22. Pink and High Cut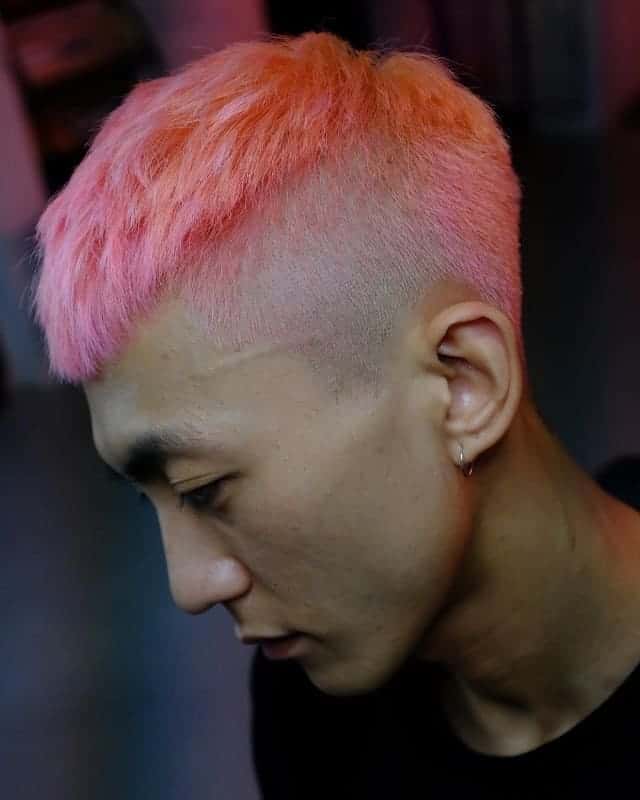 Not afraid to go crazy with colors? Then this Caesar cut is perfect for you. Go wild with the colors and styles!
23. Pink and Blue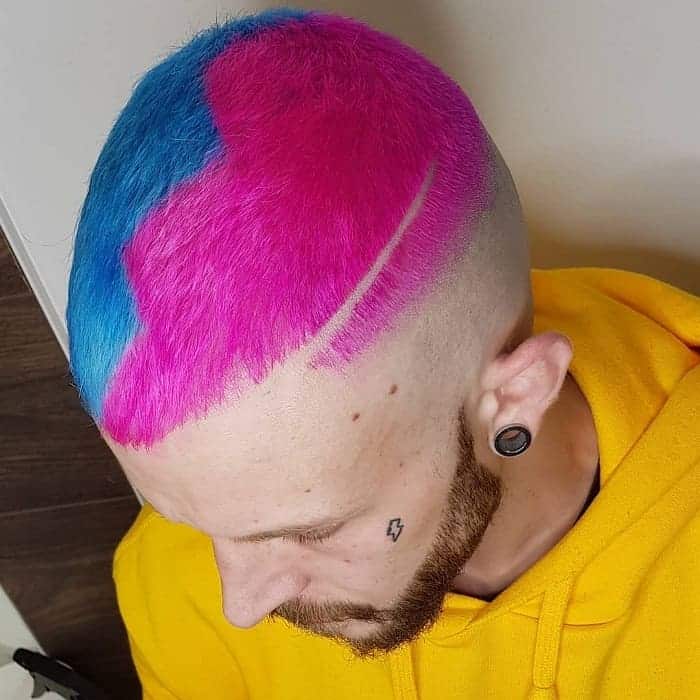 One thing aside from the obvious vibrant colors that you should note about this haircut is the neat line along the sides. That's one great way to get a double-look!
24. Neatly Combed Down
This has got to be one of the sleekest Caesar cuts that we have seen today! We're definitely attributing some of this goodness to the beautiful fade on the side.
25. A Little Casual
This guy here made a Caesar cut for daily outings look so simple and easy! After getting the haircut, minimal effort is needed to keep that hair looking neat and awesome.
26. Thick Hair Caesar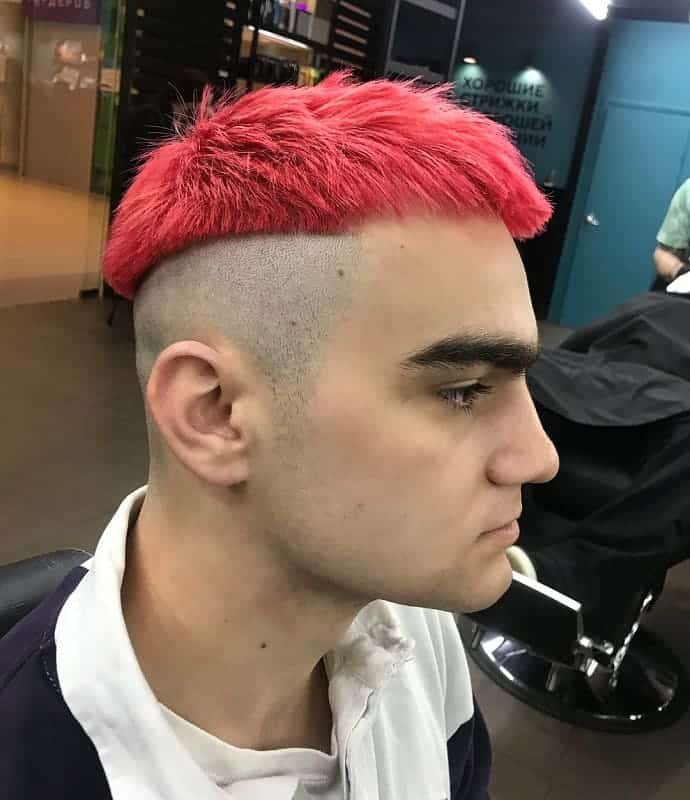 If you prefer to have your hair continue looking thick instead of the usual thin look, you can make your hair volume stick out like this. Just trim it all around! Pink color optional.
27. Almost Caesar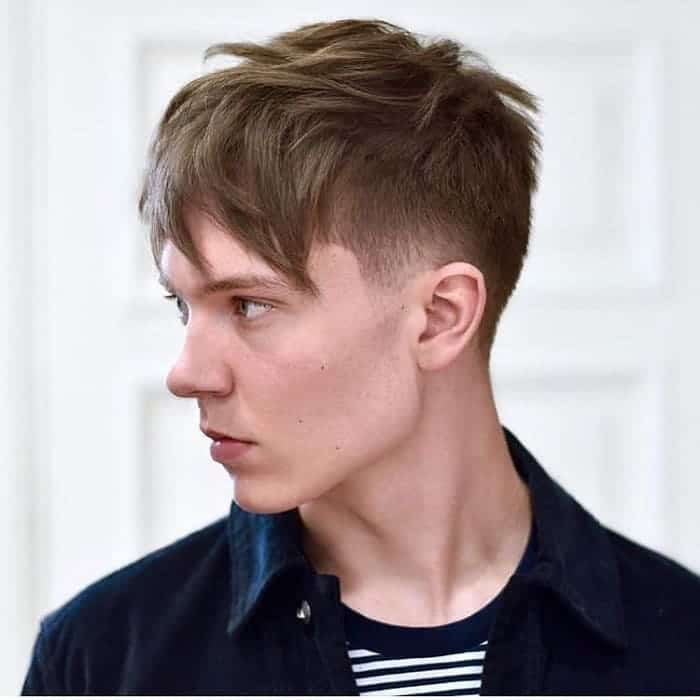 A Caesar haircut has never looked so casual and wholesome! Keep your fringe a little longer to get this look.
28. Neat Lines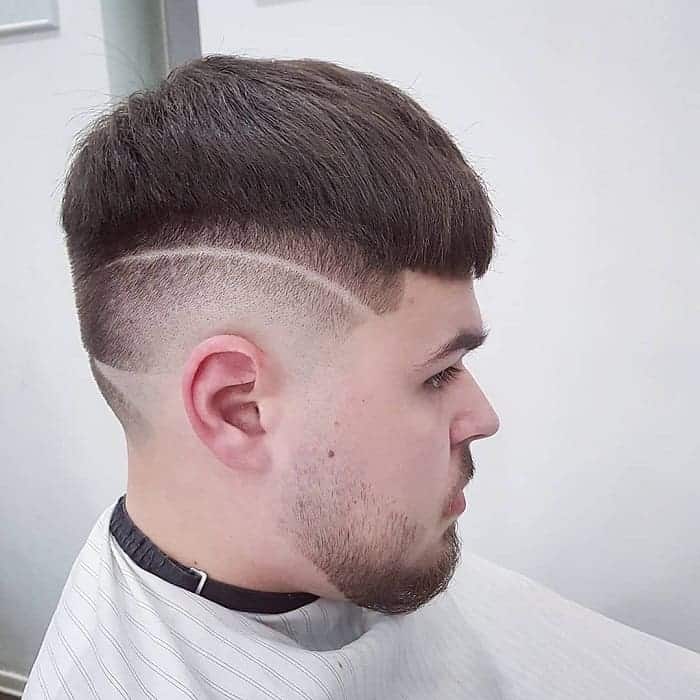 The two line-ups on this hairstyle in particular seems to line up perfectly – one along the sides, and one linking right from the beard area. Perfect to accessorize a Caesar cut.
29. Natural Spiky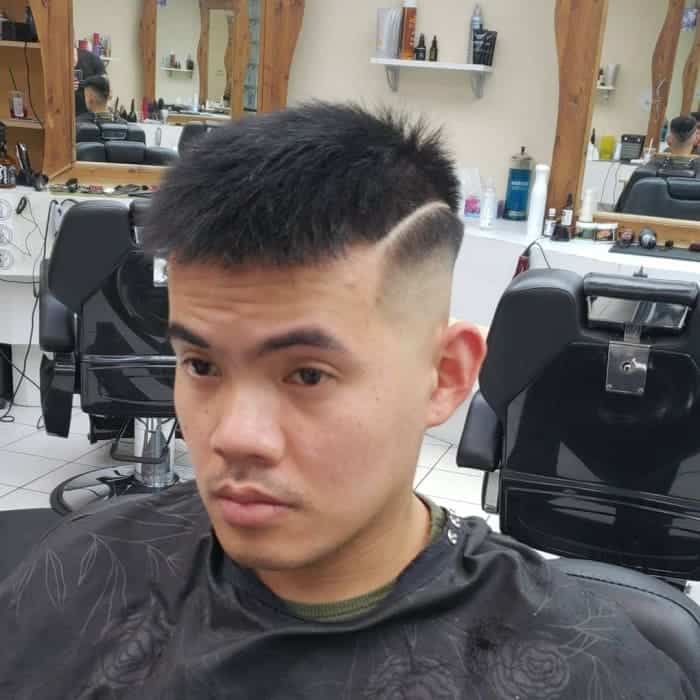 People with hair textures that are a little rougher can expect their Caesar cut to look similar to this, if not exactly the same.
30. Soft Hair Texture on Caesar Hairstyle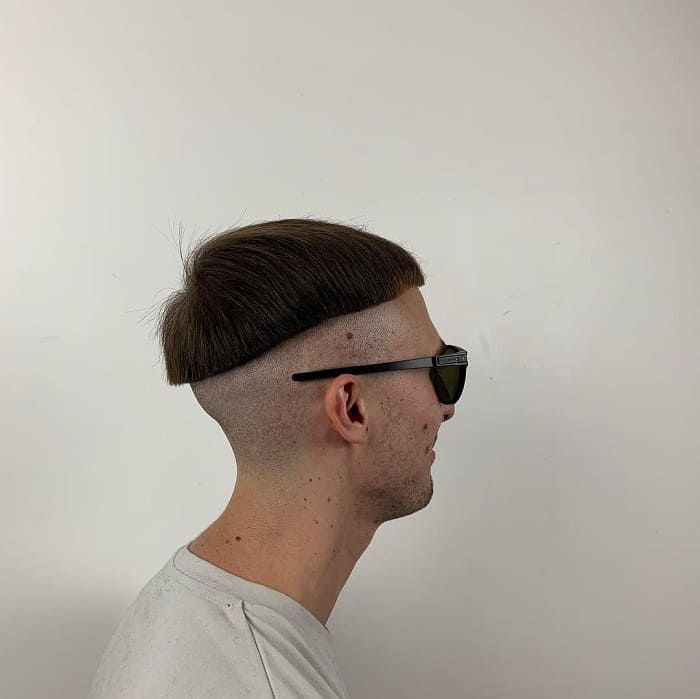 When your hair is of a fine texture or softer in general, it's easy for your hair to fall down naturally in this pattern. Trim shorter for a more classical Caesar look!
31. Sideswept Caesar
Don't like the classic Caesar haircut? That's alright. Keep your hair with a little more volume on the top and comb them towards one direction and you can get this look easily!
32. That Unique Rounded Line-Up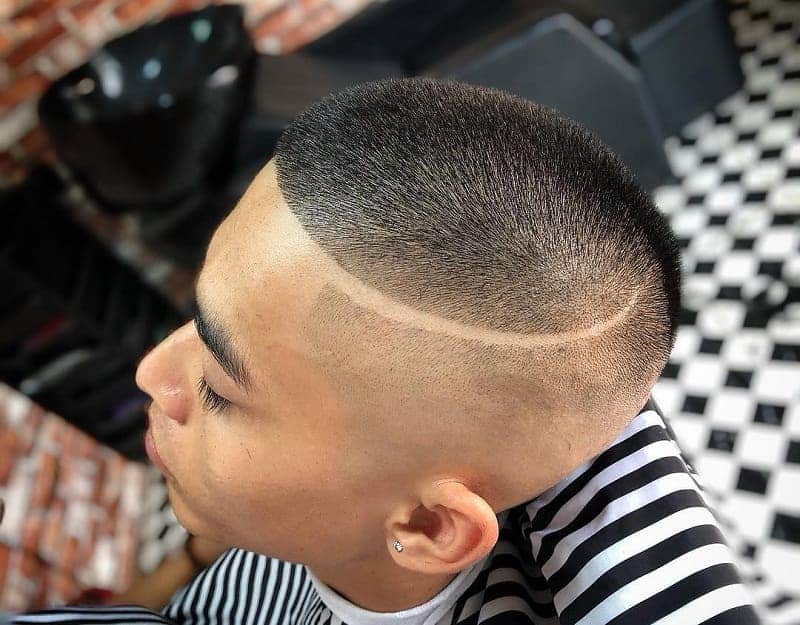 With hair as short as a buzz cut and a line-up that curls towards the center, you'll have a low-maintenance look that still amazes onlookers at the same time.
33. Short Fringe Caesar
Staying true to the traditional Caesar haircut, this look can be perfected with a close shave on the sides and a straight trim across the fringe.
34. Mid-Length Hairdo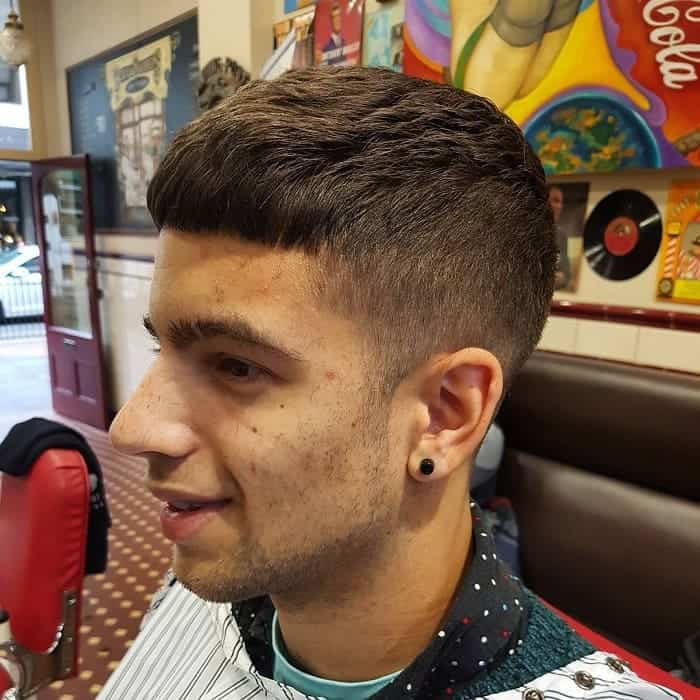 Not everyone will like the super short haircut needed to perfect the Caesar haircut. Don't worry – even mid-length is good too!
35. Like a Bowl Cut
Take care of how much you cut your hair, or your Caesar cut may be too long along the sides and look like a bowlcut from childhood instead!
36. Uneven Sides Haircut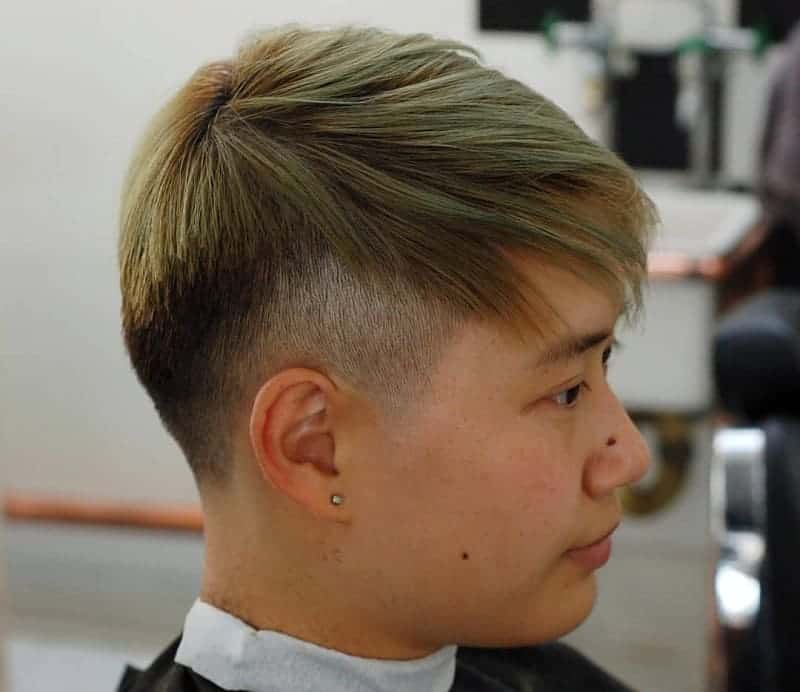 Yet another twist to the classic style, this one features uneven sides, with a little bit of layering there the top layer is dyed an ash green.
37. Split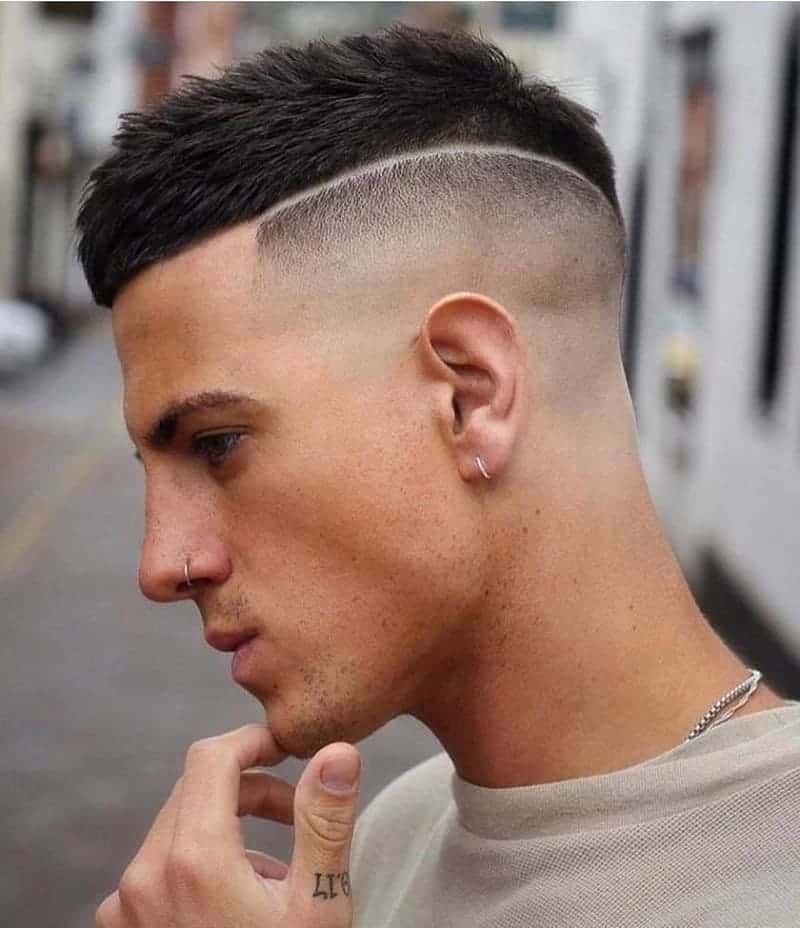 There is a clear and distinct parting between the top of this haircut and the fade on the side. Perfect for people who wants an edgy look.
38. Textured & Parted
People with thick and textured hair can consider adding on a light color to make their hair stand out more. Contrast it with the black fade on the side!
39. Messy All Around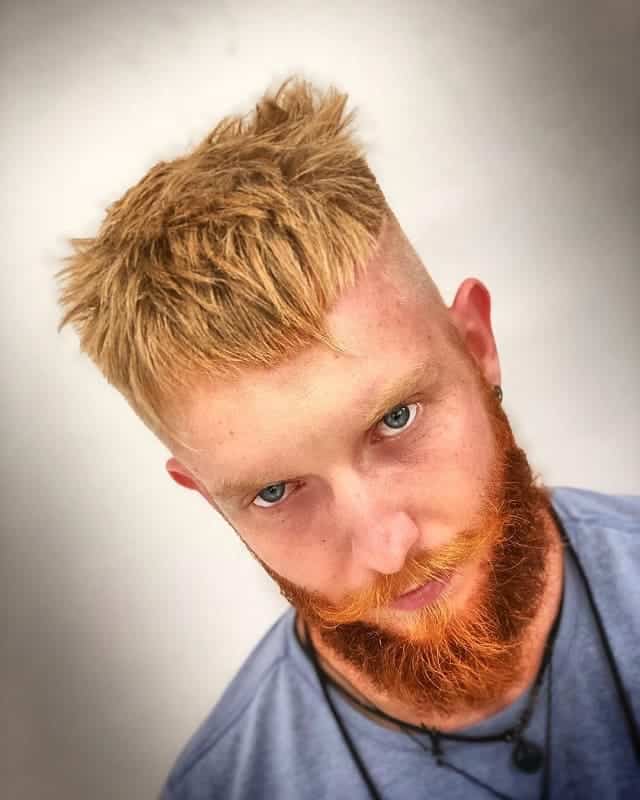 There's twists on classic Caesars, and then there's this. You can make your hair spiky if you prefer something not too toned-down.
40. Long Fringe Caesar Cut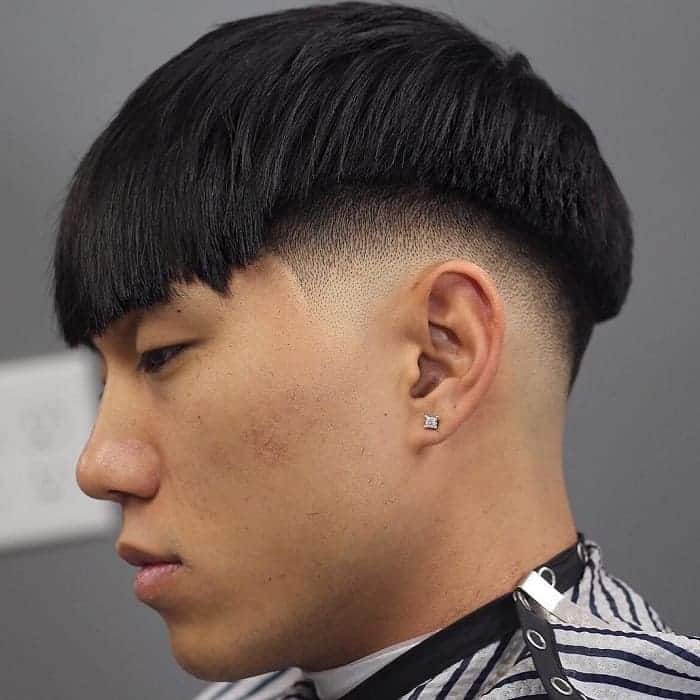 Short fringe a little too edgy for your taste? Get that K-pop idol look with this twist of long fringe.
41. Pure White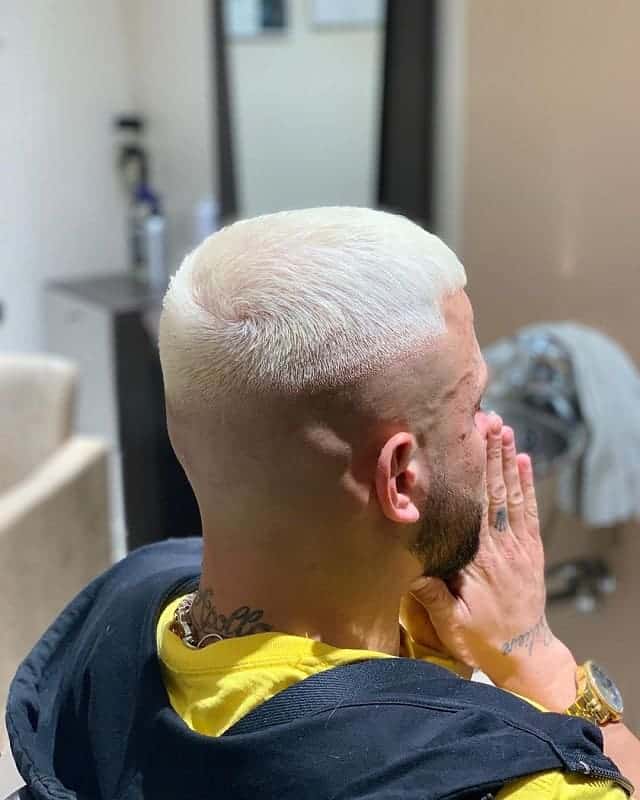 Your hairstyle will not stand out too much if your hair is trimmed short like this and paired with a color tone close to your skin tone.
42. Gentle Wavy Hairstyle
Even slightly wavy textured hair can look awesome when you have this haircut. Don't be afraid to try this look!
43. Close to Buzz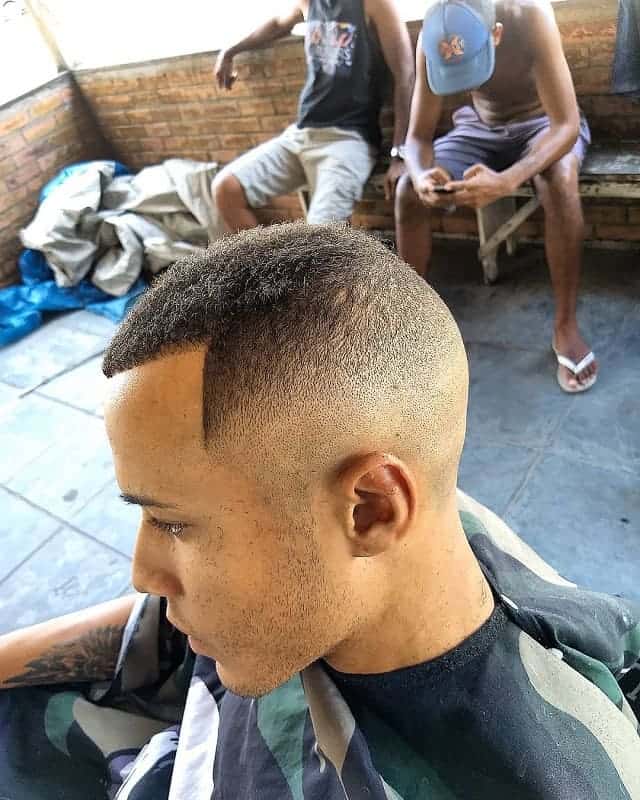 This one is much closer to a buzz cut than a Caesar, but yes, the basics are still there – high hairline, fade down the side, and this one has neat sides to boot!
44. Neon Green Caesar Highlight
Nothing highlights your hair more than neon colors and bright shades just like this one. Keep the sides au natural for even better contrasting.
45. Partial Bright Highlights
Don't want to go committing fully to the whole dyed hair agenda? There's always the highlighting option to go for, so don't worry.
46. Low Fade Caesar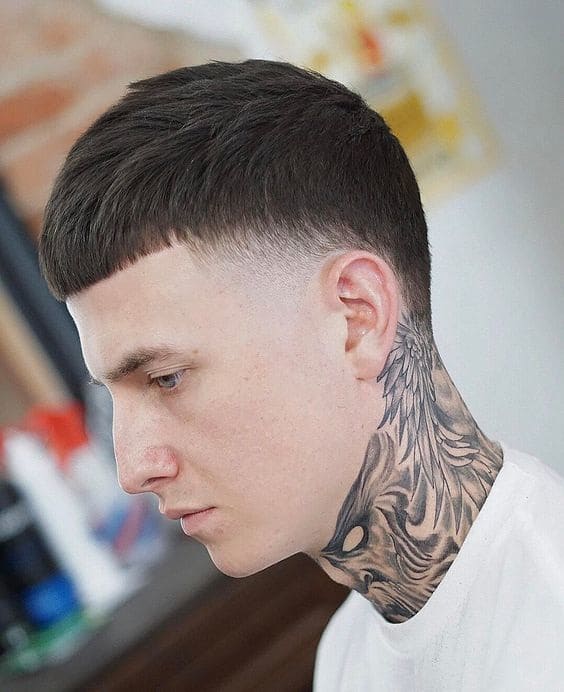 Keep the fades less obvious with a subtle low fade. You won't even be able to tell that it's a Caesar cut from the back.
47.Careful Toning & Unique Fades
Way to go hipster and all edgy with this fade! Aside from a line-up right below the hair on the top, the careful fade cut makes this look special.
48. High Fade Caesar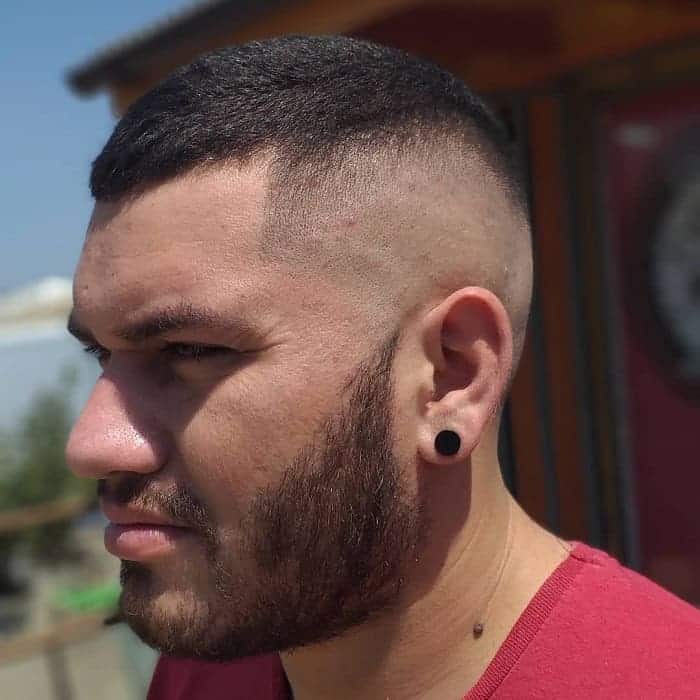 If we'd talked about low-fade Caesar, we also have to include one with a high fade, and it looks just like this!
49. Curly and Natural
If you just get an even trim all around, you can already get this look. Go for this one if you want to retain your natural hairstyle.
50. A Little Mohawk Caesar
Spice up your Caesar hairdo with a faux mohawk on the top. Remember to use just enough hair gel for this!
51. A Snippy Razor Cut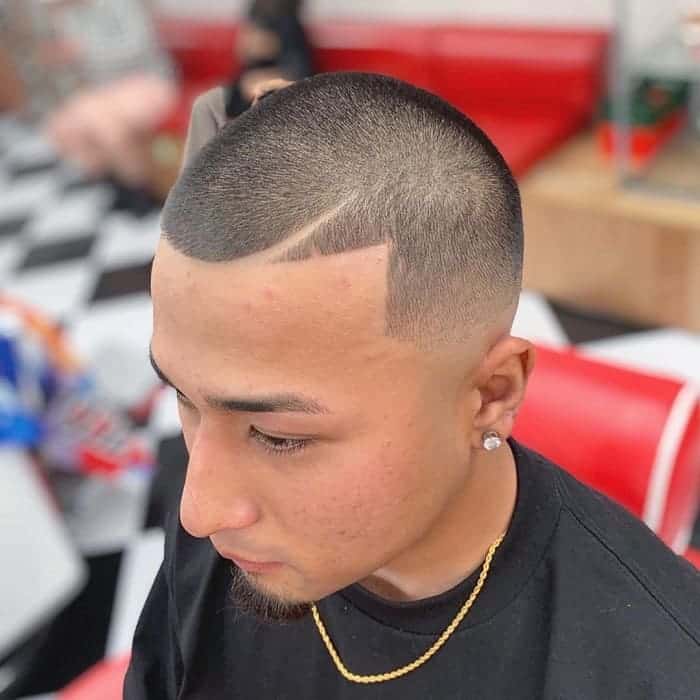 Pair a buzz cut with the perfect line-up along the sides and a medium fade. Then, get an extra line in for some extra texture.
52. Caesar Buzz Look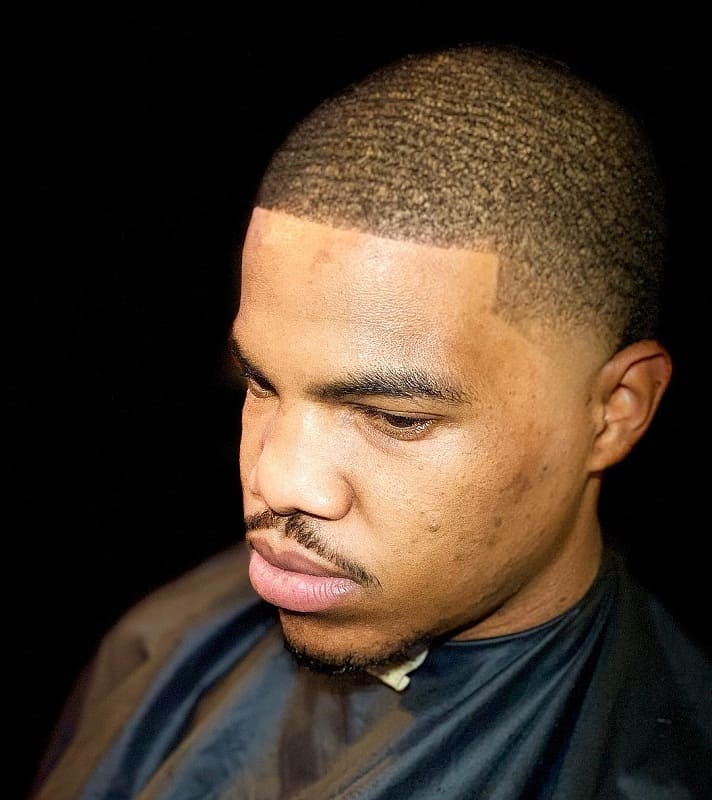 Even if your hair is naturally curly from the base, the look is still attainable. Just trim short as you always do!
53. Simple and Short
If you haven't maintained your Caesar look for a while, you might find that the hair growing on the sides are starting to eat up the neat lines created previously. Remember to maintain this look well!
54. Pale Blonde Caesar Cut
Like some others in this list, the Caesar cut leans towards the longer hair length side. Light colors work just fine.
55. Ruffle It Up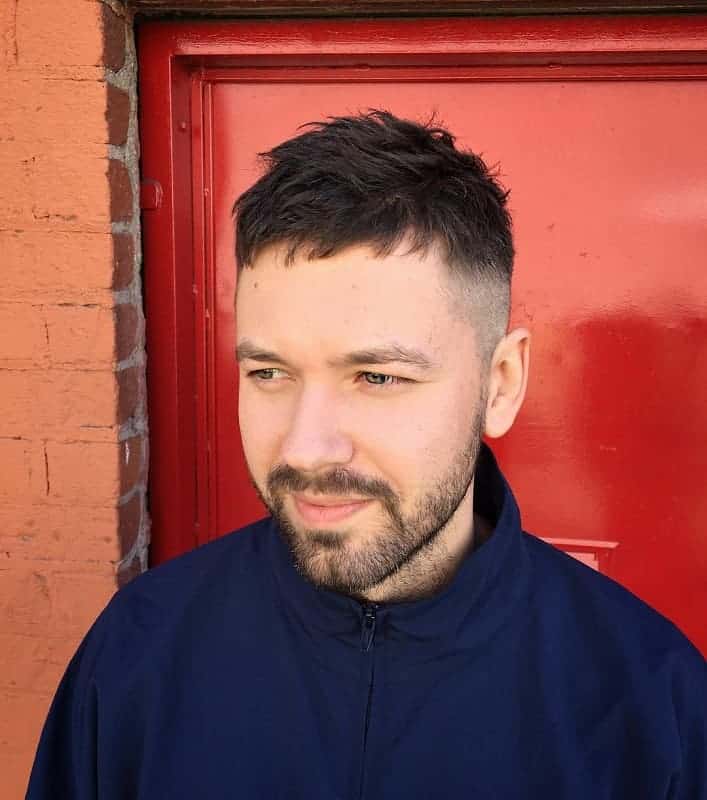 You can give your Caesar haircut a less formal look if you have some hair gel or pomade to give your hair a just-woke-up look.
56. Curled Up on Top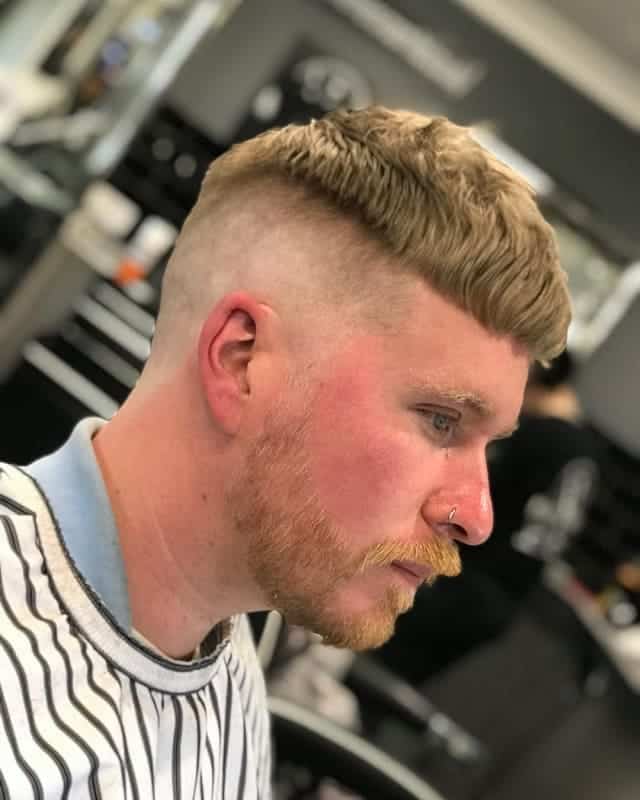 When your hair is naturally thicker and curly on the top, it may create a layered look that appears just like in this picture.
57. Not All Fringe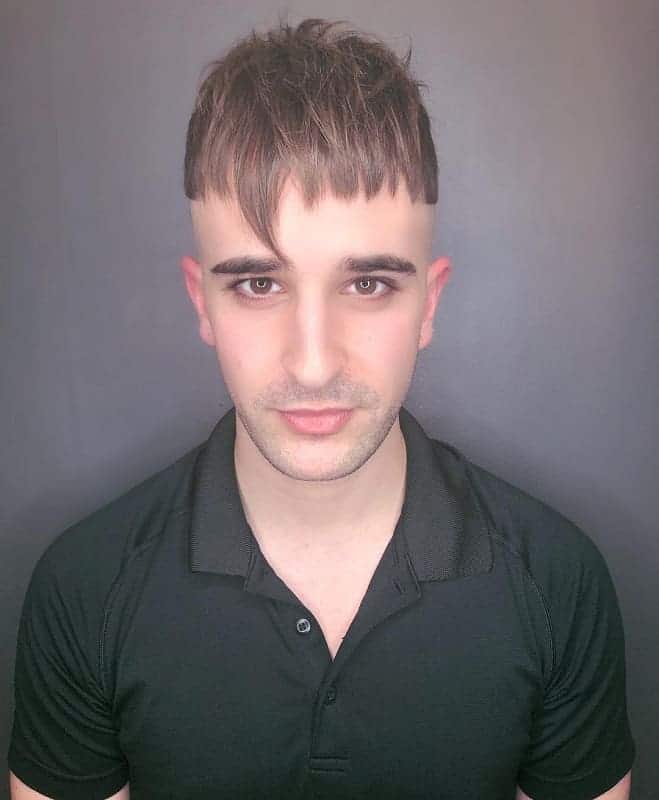 Go full edgy with this version of the Caesar hairstyle. Leave just one portion of your fringe uncut, preferable nearer to the sides.
58. A Mix of Straight and Curly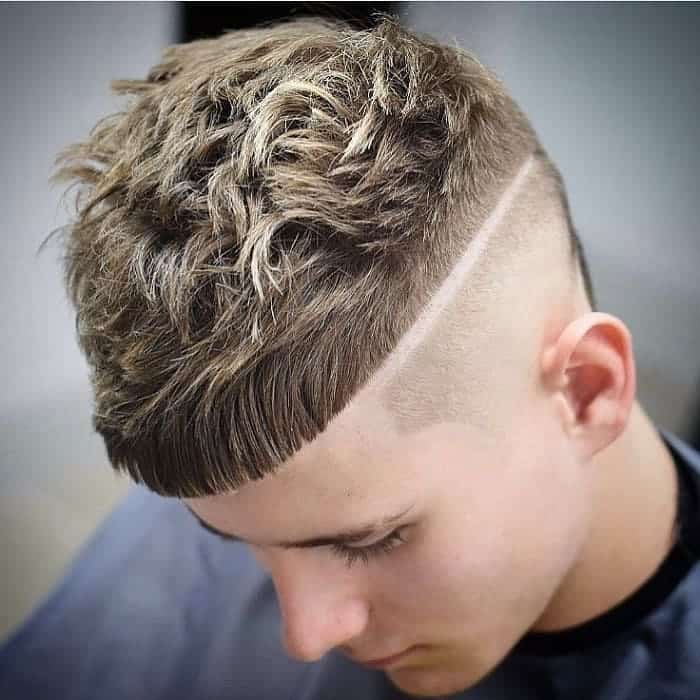 This hairstyle may require a little preparation in the morning if your hair isn't fully straight in the front. But the effort is sure to be worth it!
59. Slightly Curled Fringe
Freshly cut fringe has a tendency to appear like this – slightly curled inwards towards your forehead. We won't complain though, it does look pretty decent!
60. Long & Curly Caesar Cut
Grow out your Caesar cut and you'll end up like this – much more hair on the top than on the sides, and it's easy to tell.
61. A Little Wavy
You can also perm your hair just a little bit to make your Caesar cut look a little thicker than it is. This is perfect for people with naturally thin hair.
Pictures of Men with Caesar Haircut
The success of the Caesar haircut can be reflected by the way it keeps coming back into the forefront. The decision on this type of haircut is a man's personal choice to make. There are some pictures and options that you can find. Take some time to browse and find one that suits you:

So, which Caesar cuts do you like the best? Some of us prefer the more classical versions of Caesar cuts, while others, understandably, prefer the more modern look. Regardless of your preference, you can be sure that Caesar cuts are among the best Caesar haircuts that you should try at least once in your lifetime! If you have had your own Caesar cuts before, remember to link it to us or tell us about it in the comment section below..