Taper fade complements long hair perfectly. A taper fade haircut is when you keep your hair on the top long whilst tapering it on all sides. The most appealing part is how low maintenance this haircut is.
With the fashion industry becoming advanced at a fast pace, there are newer trends in the market every other day. However, there are some trends that remain classic and adorable forever.
Irrespective of the styles changing, all types of fades have stayed intact and the reason is none other than their chic and clean appearance.
Trendy Long Taper Fade Hairstyles
Check out 30 different ways you could style long hair with taper fade complementing it.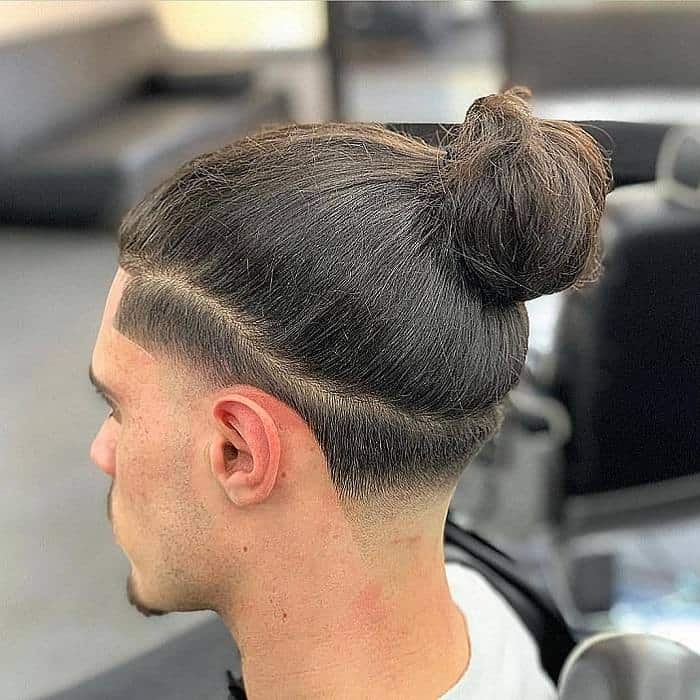 Man buns have recently been worn more and more. Thus, it is understandable if you are reluctant on getting your style changed from sporting a man bun to something else.
If you are stuck in a ruckus with regards on how you could bring change and still keep your length, a tapered side is your answer. By opting this fade on classic long hairstyle, it will instantly make the look better.
2. Cornrow Taper
To add a little change to your regular cornrow braids and look more handsome, all you have to do is opt for a fade along with it. To make it better, go for a tapered type in it. The clean geometric cuts for the beard enhance the look even more.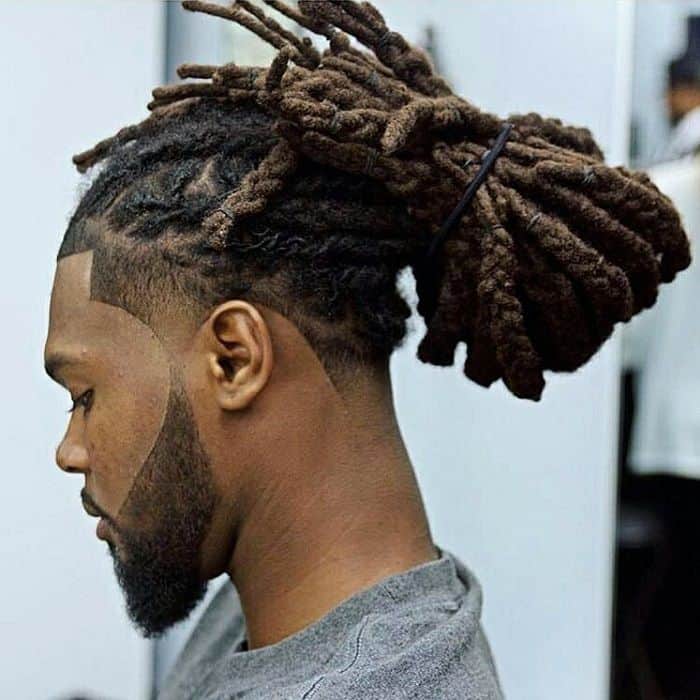 Dreads and man buns have both been in trend for quite some time now. Blend the dreads with an ideal taper fade and there you have it, a perfect hairstyle ready for your long hair. Carrying a long length of hair with such ease and style was previously just a dream, isn't it?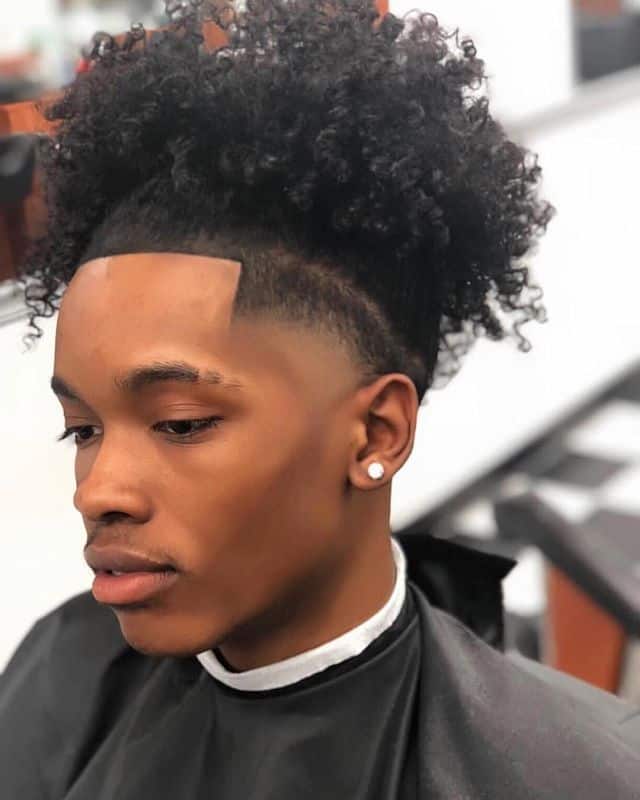 Long curls suit certain face structures really well. If you are one of them and are looking for ways to style your curls, here's a classic one for you! Add the perfect taper to your curls and change the way you look!
5. Taper Fade with A Pony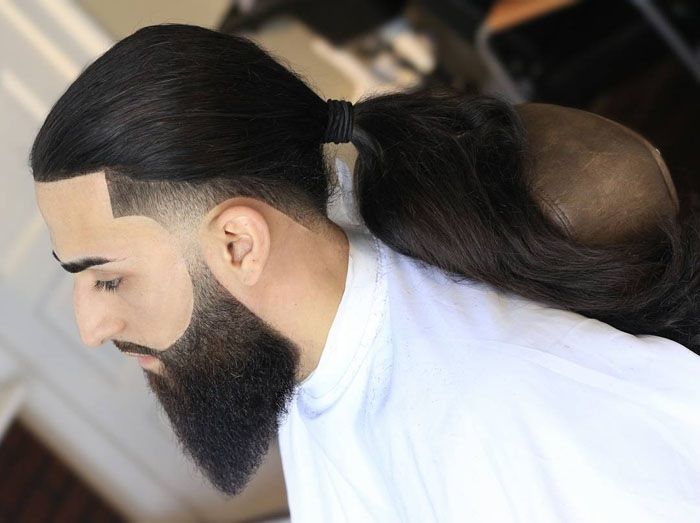 Who said soft and smooth ponytails are only meant for women? Men can carry off long, smooth ponytails just as perfectly.
Keep a royal beard and your long hair tied into a ponytail for an elegant, gentlemanly appeal. For the sides, add a little dimension of style by adding a low taper fade.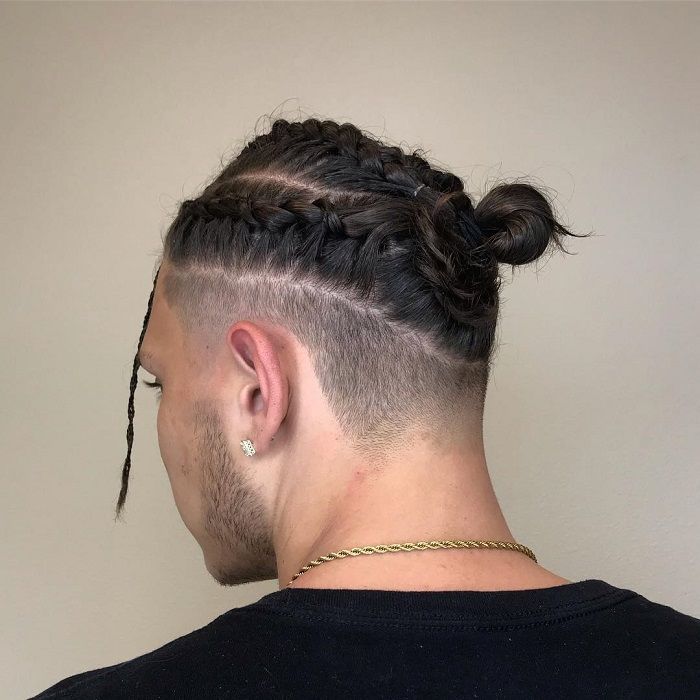 Show off your taper fade style better by braiding the rest of your long hair backward. The braids make the fade even sexier. The best part about this hairstyle is that it looks equally good on casual as well as formal attire.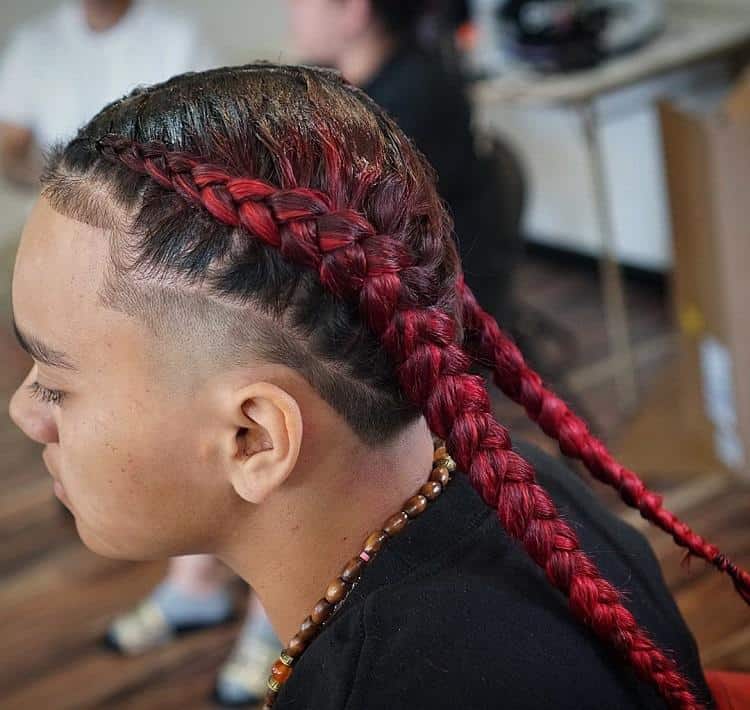 Braids are totally in trend! To style your hair, get them colored a blingy shade and keep them long and thick. Opt for French braids blending in with the taper.
This long taper fade hairstyle looks edgy and fun. If you have a fun and quirky side to you and would like to show out more often, this haircut is the one for you!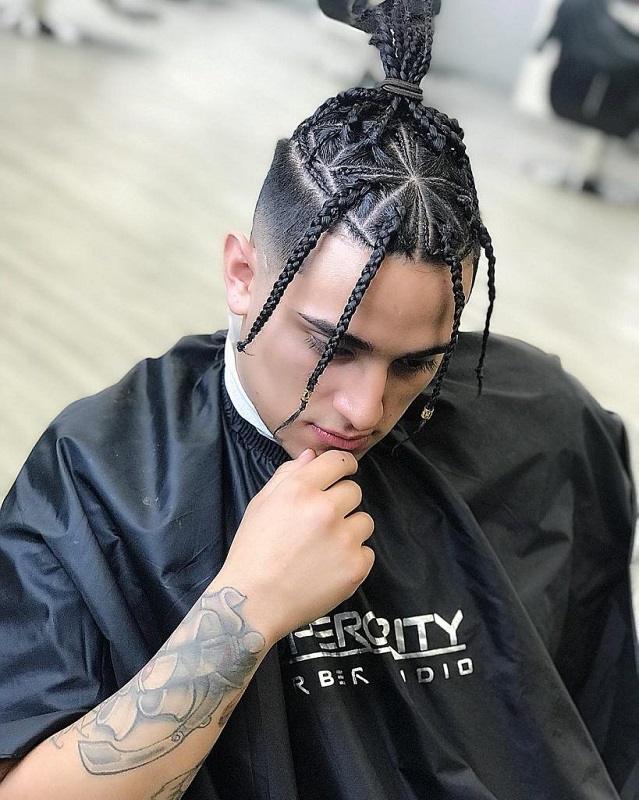 If you have a relatively round face, this style would suit you better. For the top part, divide the hair into multiple sections and form braids for each section. Pull all the tiny braids into a ponytail.
The top of the head looks like a finely crafted spider web. A gradual fade for the sides would suit this style a lot.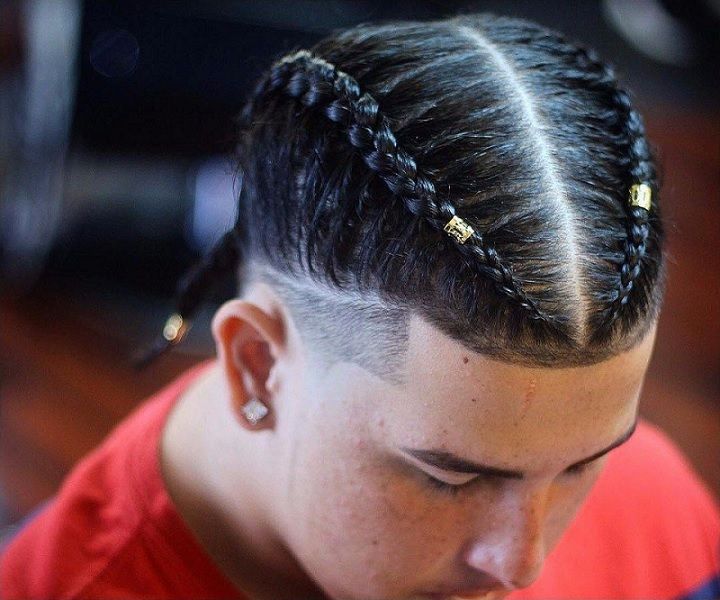 You could braid your long hair backward after parting it. The taper fade haircut, in this case, starts really low and thus, makes your face look a little elongated. This look is a completely put together one, edgy and elegant.
10. Candy Fade
If you have medium to the long length of hair and are looking for a quirky change, add a little candy color to your hair! The soft and shiny hair falls perfectly over the forehead. A slight fade on the sides, starting above the ear complements the look really well.
If you are one of those men who prefer the clean look with all the hair pulled back well, this look is ideal for you! The fine twists are pulled over the head, to the other side to not leave any part of the hair lying low. The cropped sides forming a fade also look charming.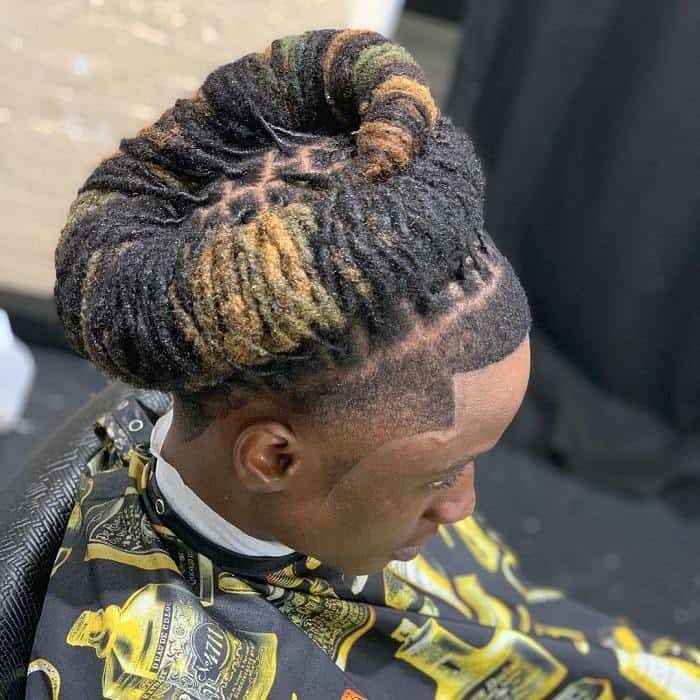 No matter how long your hair is, or how you style it, a fade for the sides will only make you look better. Hence, it is a perfect idea to have something extravagant like a crown and taper fade for the side. This will help balance out your entire look and make you look more stylish.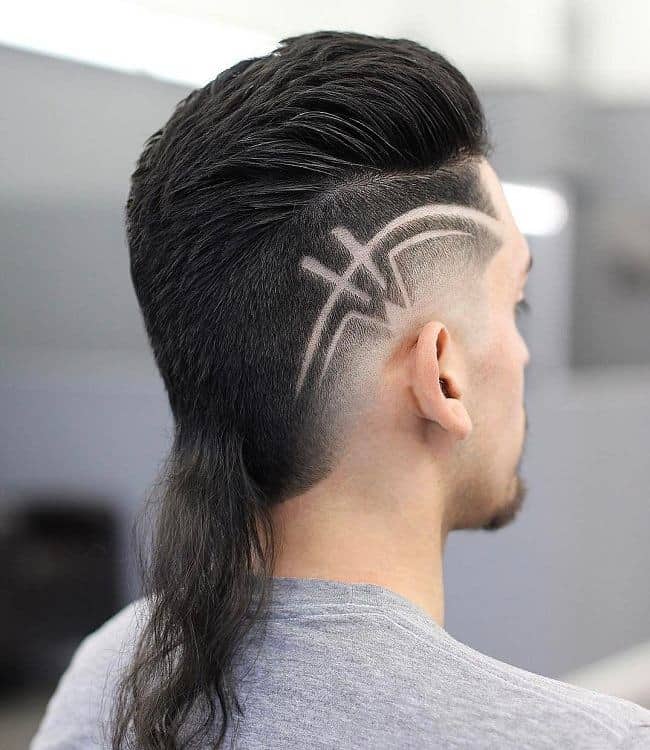 Adding a few razor cuts here and there over the fade makes the look tenser. This looks funky and that's the best part about it. If you prefer edgier looks and they spell out your personality, this mullet haircut is perfect for you.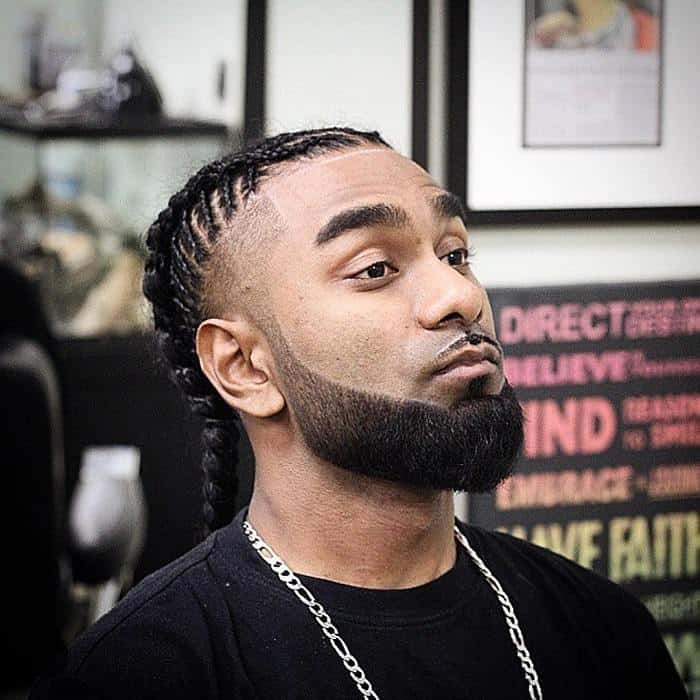 This braided long hairstyle complements a fine beard. If you are a man who prefers an elegant, well-shaped cut and beard, this taper faded look could be your new style statement.
Braid the hair towards the back, starting from the top. And, fade on sides add the much-needed appeal.
Coolest Taper Fade Hairstyles for Bearded Men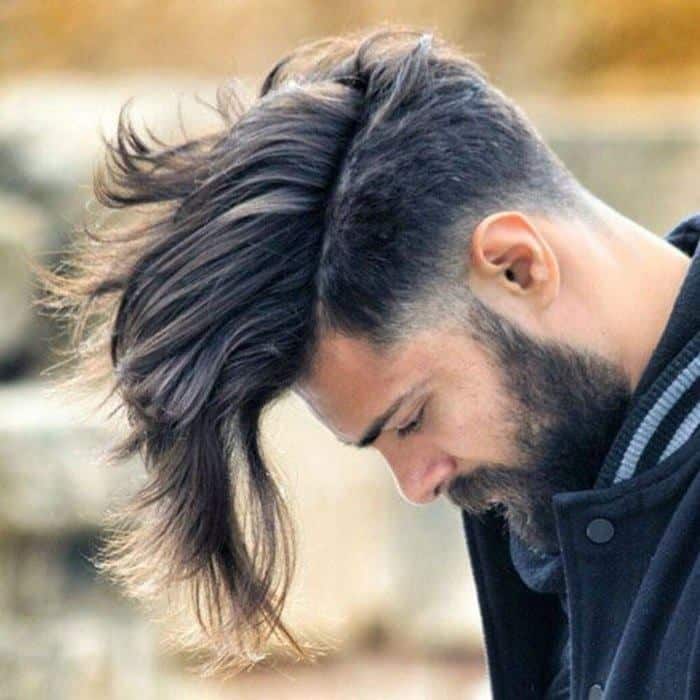 This taper fade is much more full as compared to the other. This could be perfect if you don't have it in you to go crazy too soon. The fade as so much depth and sexiness to this otherwise mediocre long haircut.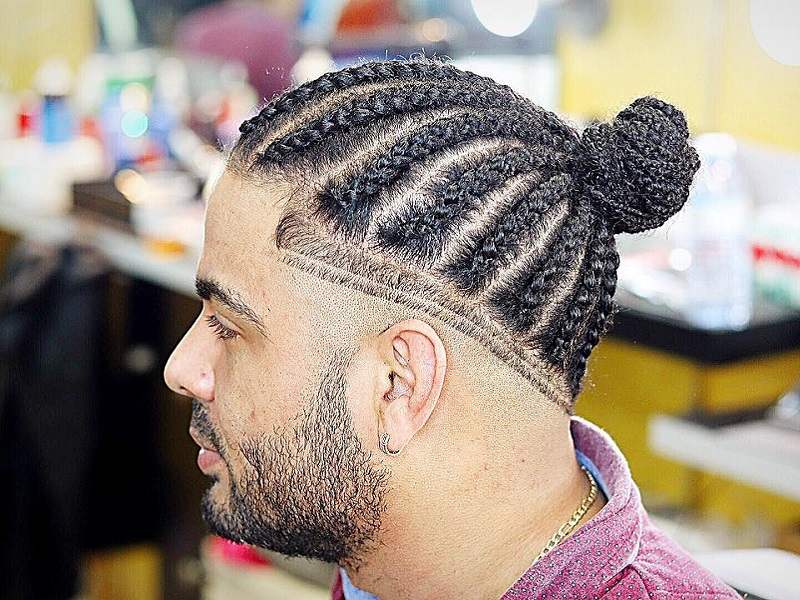 You could have a bald tapered fade even with your braided dreads. Again, it adds a little bit of oomph to it which isn't common otherwise.
The braids look like stripes being pulled towards the center of the head, looking ideal for a formal and sophisticated look.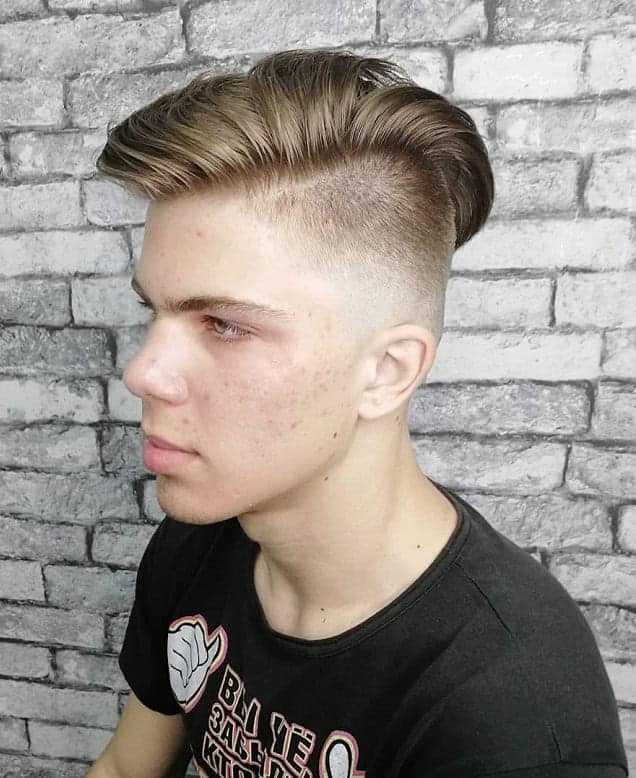 The long hair and taper fade perfectly complementing each other look beyond perfect. Opting for this style will allow you to keep your look while looking sleek because of the faded sides.
18. Clean and Curly
This clean-cut fade makes these ringlet curls even more appealing than they already are. This look is truly an amazing one to follow for men with long hair in this spring summer season.
If you don't want to get rid of your ringlets and yet want something different, you should definitely go for this hairstyle.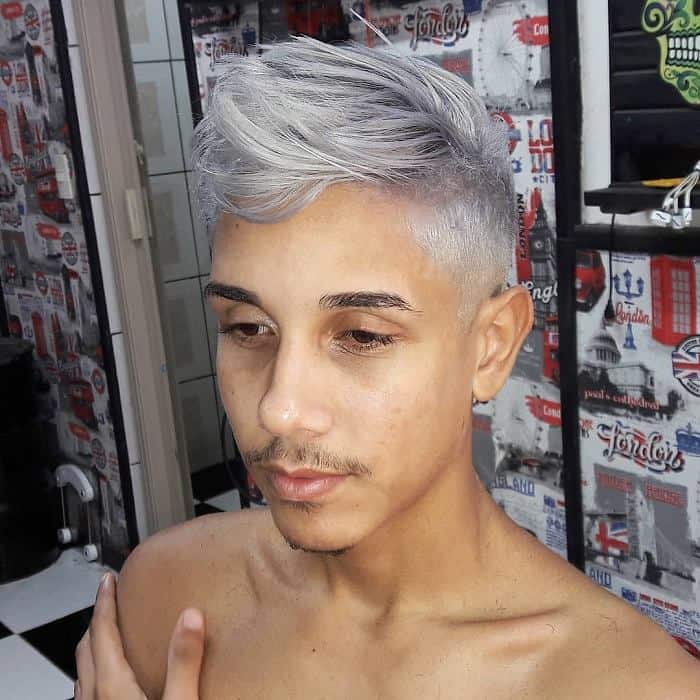 This taper fade haircut is perfect for men with long straight hair. Mainly because it won't be any maintenance at all to have this hairstyle. The tapered sides look amazing side by side with the point cut long hair.
You can have your long red-orange hair pushed back in a sleek manner and have the sides tapered. Let the sides be your natural hair color to balance out the other bright color. This look is different yet extremely sexy.
As soon as you look at this long taper faded hairstyle you instantly think, Elvis. But why not add a modern twist to it? Instead of sleeking the sides back just add a high fade to it.
It's almost like you have a little bit of old and a little bit of new. It's perfect to reflect your old soul personality at the same time you can look trendy.
22. Dreadlock Ponytail with Shape Up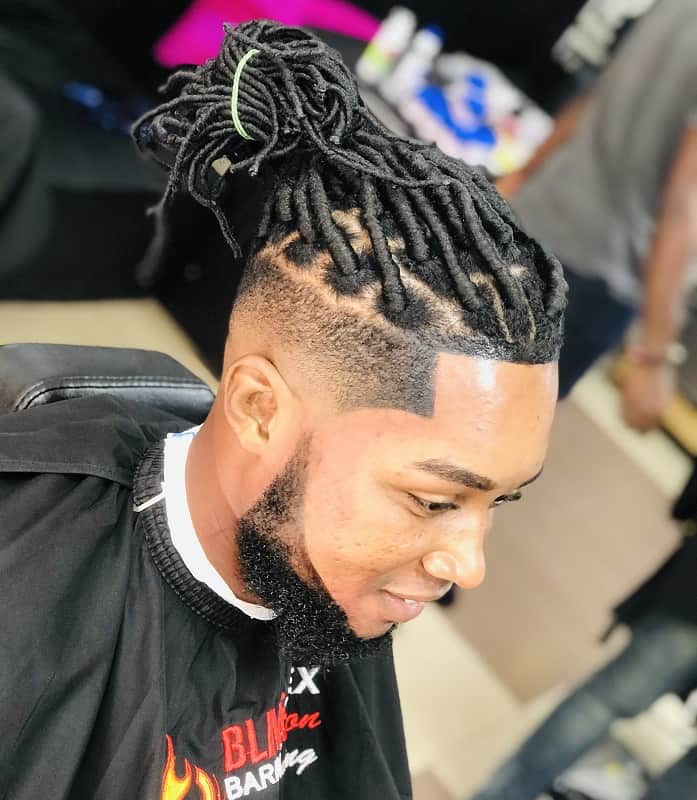 From the long dreadlocks in a ponytail to a precisely shaven beard and a long taper fade that works with a shape up, this men's haircut is full of detail.
23. Short Dread Ponytail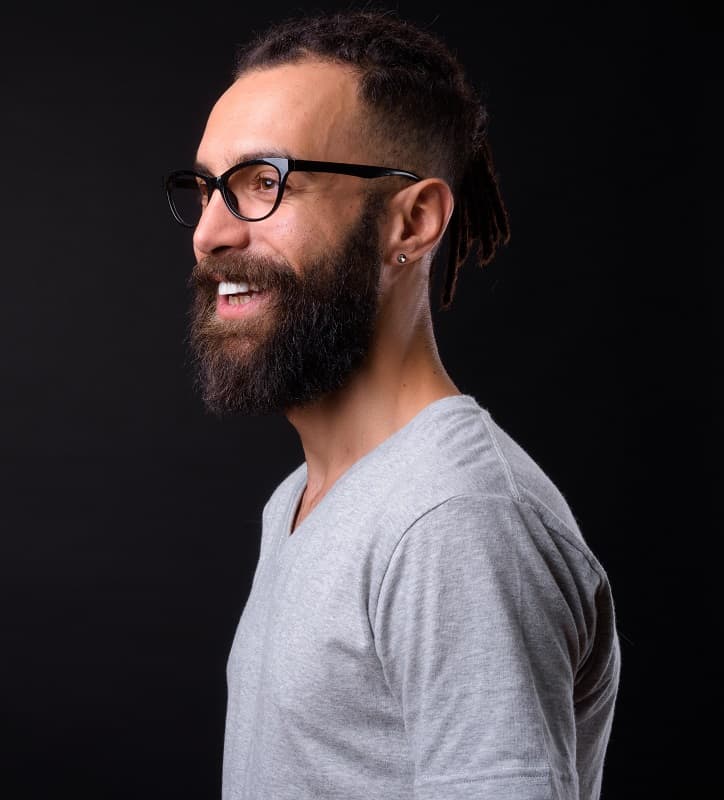 A long taper fade helps to narrow this oval shaped face. Gather the long dreads into a low ponytail. Wear with a bushy beard or keep it trim for a neat style.
24. Cornrow Braids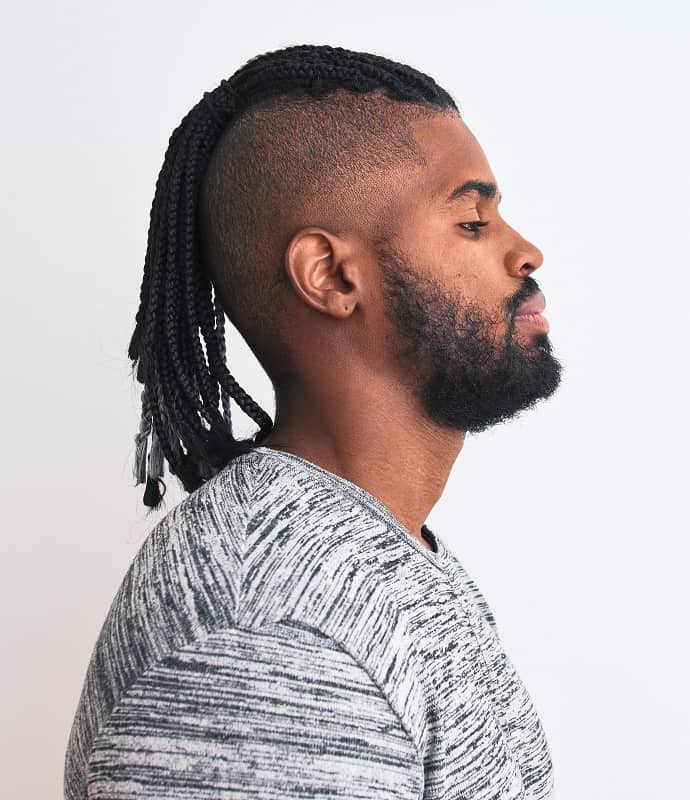 Cornrow braids in a medium thickness are great for black men's natural hair. Combine with a long taper fade and a full beard to handsomely define your face shape.
25. Thin Braids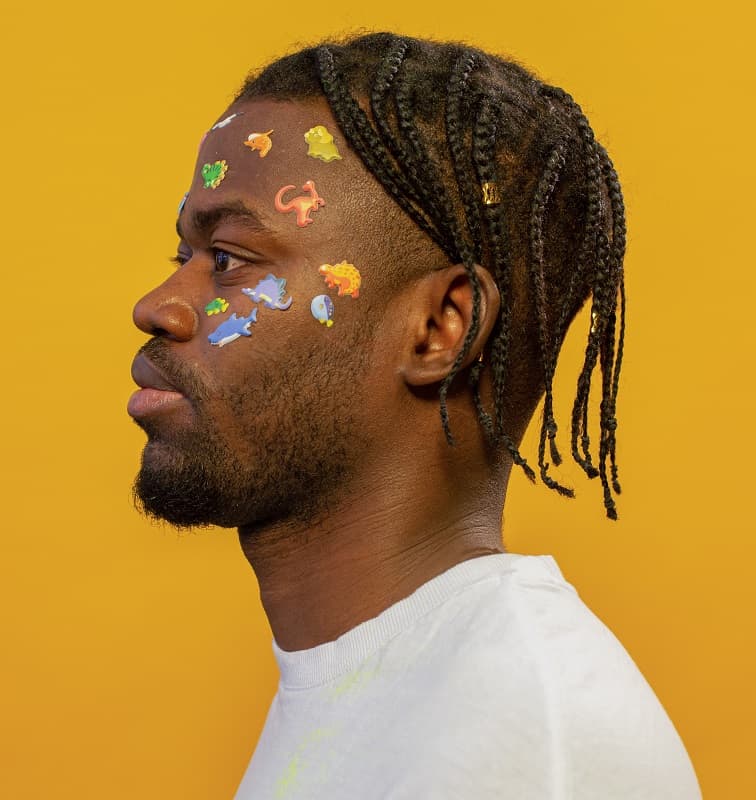 On natural black hair, mix a buzz cut with a handful of thin braids and a long taper fade. Use hair ties in brown or black for seamless style; you can even play with gold hair cuffs for accessory.
26. Thick Dreads with Highlights
Long dreads and a long taper fade look hot together. Gather in a messy low pony or man bun to get hair off the shoulders. You can even add some caramel or blonde highlights up front for color.
27. Skin Taper Fade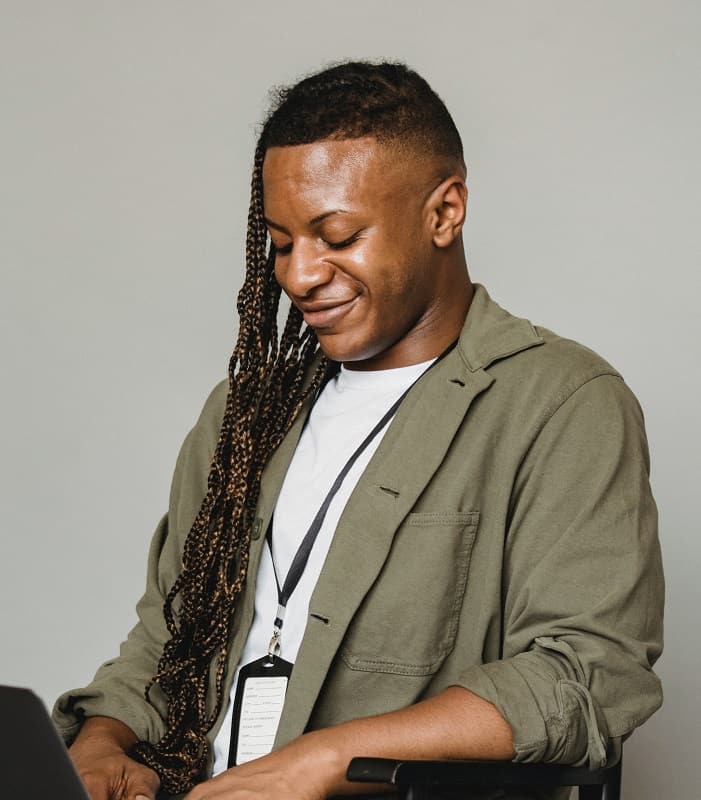 Half of this men's hairstyle features long braids with blonde highlights, while the other half features a skin fade. If you have an oval or square face shape, you definitely need to try this style.
28. Mullet with Long Taper Fade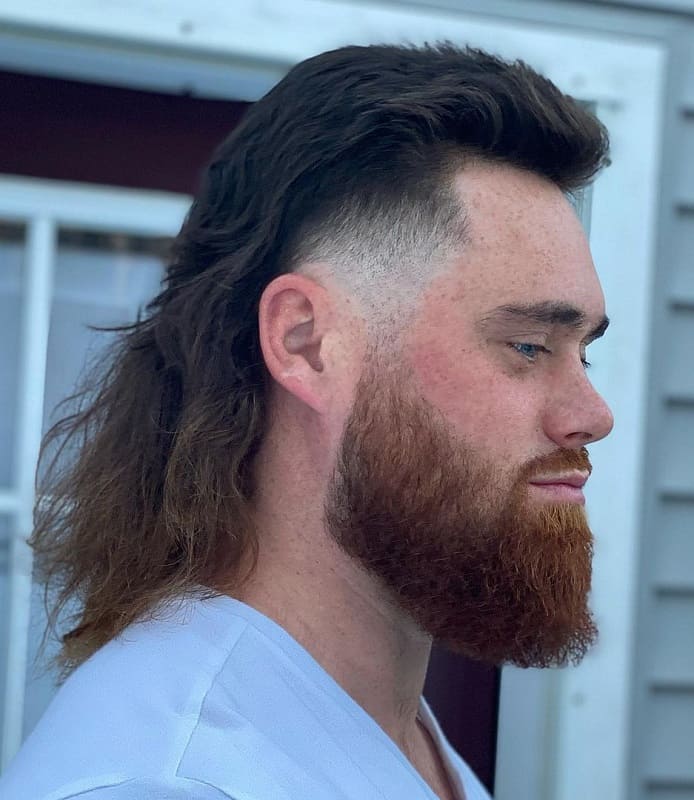 Most mullets feature a thick hairstyle with short length on sides. This one uses a long taper fade to add a new edgy feel to a typically country hairstyle.
29. Slick Man Bun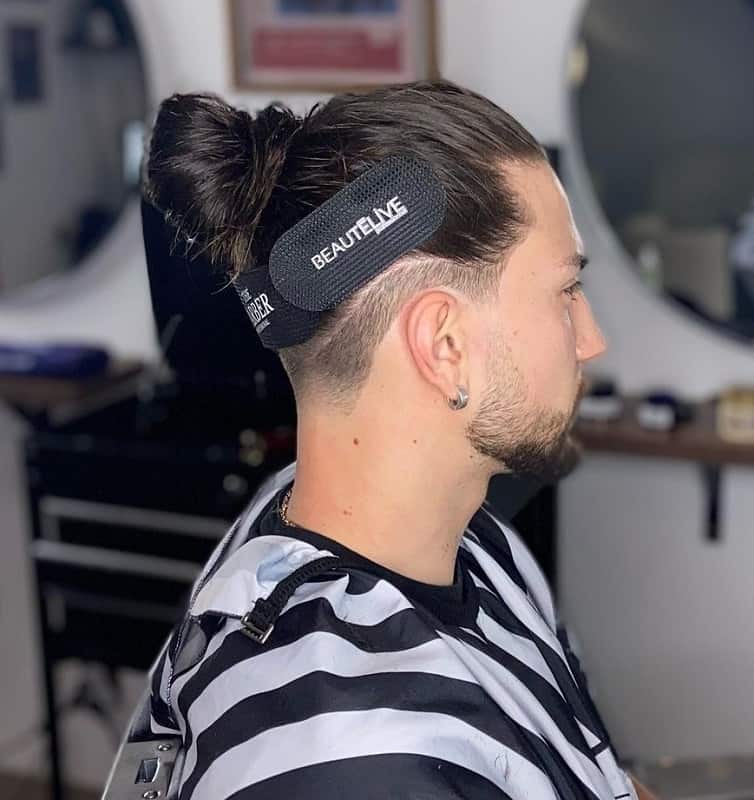 You'll be surprised how quickly a man bun or ponytail for long hair turns from blah to amazing just by adding a long taper fade. Make sure to keep facial hair trim as well for consistency.
30. Thick Curly Ponytail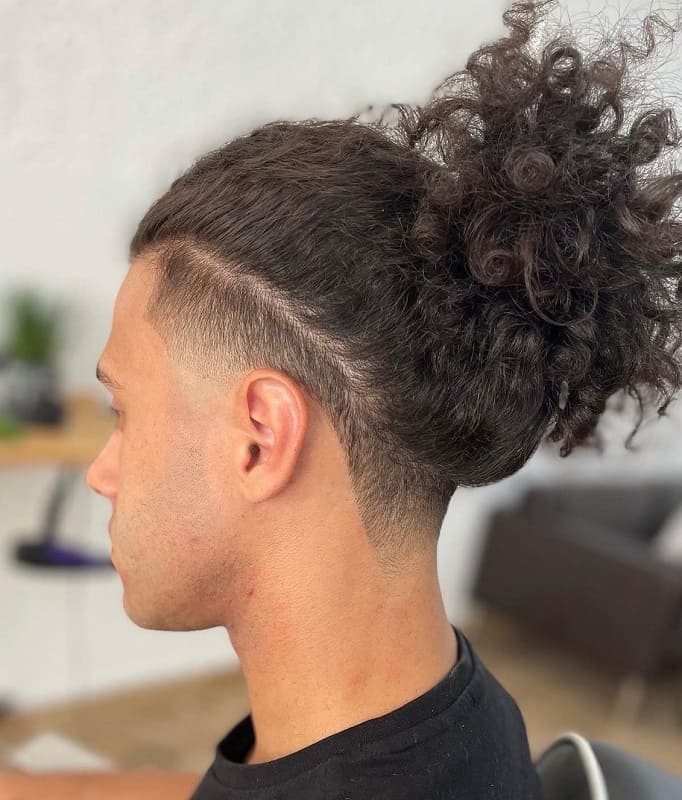 One great way to frame a thick ponytail for your curly hair is by adding a long taper fade. The precise style adds handsome definition.
We intend to inspire you and help you style your hair if you already have fade or are looking forward to getting one. Either way, these are just a few options for timeless long hairstyles with taper fade you could go for.