Buns not only skyrocketed the hairstyle trends for women, but they also are among men's favorites. If you are wondering why, the answer is pretty simple! Because any guy can achieve a fashionable modern look in a glimpse of an eye. They can be messy, sexy, and even perfect for the office, and they save you a lot of time spent styling.
Also, they make a great match with faded sides and back, and you can even build them when you already pulled off a braided or a dreadlock hairdo. Because we don't want to ruin the surprise, check the pictures below and find out 15 man buns that can make you fall in love with this hairstyle!
1. Low Fade Man Bun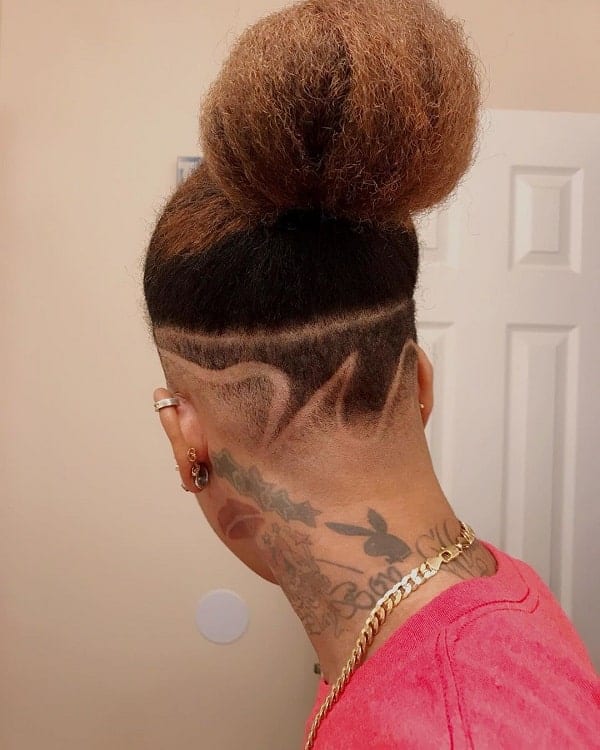 Style a low fade for the back and sides, and use your gorgeous Afro hair to create a fabulous ombre. Also, you can create an abstract razored line design, and pin your textured hair into a big bun.
2. Man Bun + Undercut Fade
To make a fabulous hairdo, create low fades for the sides, and opt for a mohawk. They are incredibly versatile, and you can wear the hair up or even styled into a man bun.
3. Faded Black Man Bun
When having black African American hair, you need to control the fuzziness and the volume of the hair. Low fades for the sides and a couple of braids for the top, and you can adopt a stunning updo if you gather all the knits. A man bun fade is a perfect choice for you!
4. Taper Fade on Man Bun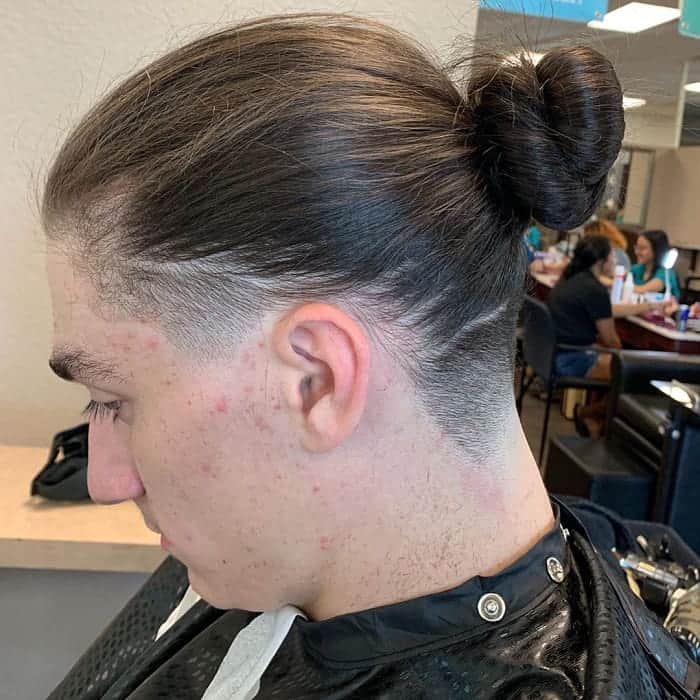 When you want to get an astonishing look, consider trimming your hair in the back and the temple area. Keep the rest of the strands long and pin them into a bun.
5. Man Bun Braids + Fade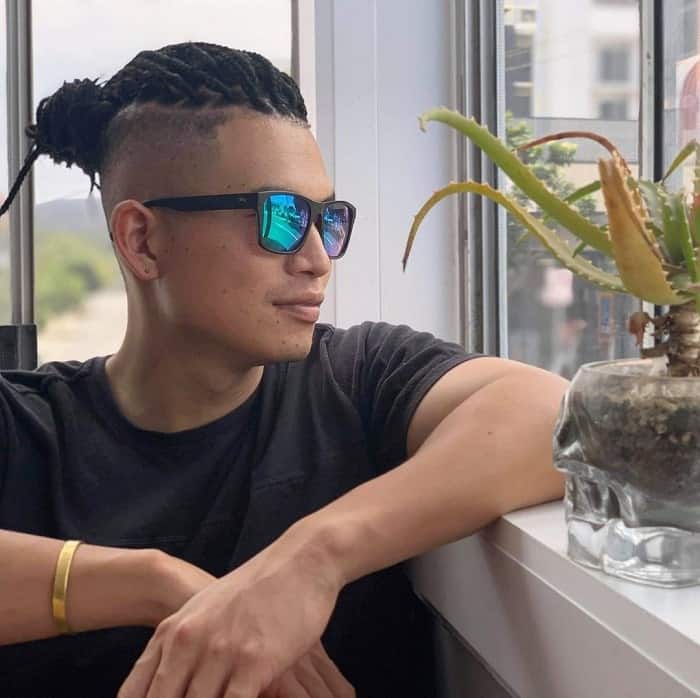 A high fade for the back and sides will highlight your top hair, and if you choose to style braids, you can knot them in a fantastic updo.
6. Man Bun with Faded Sides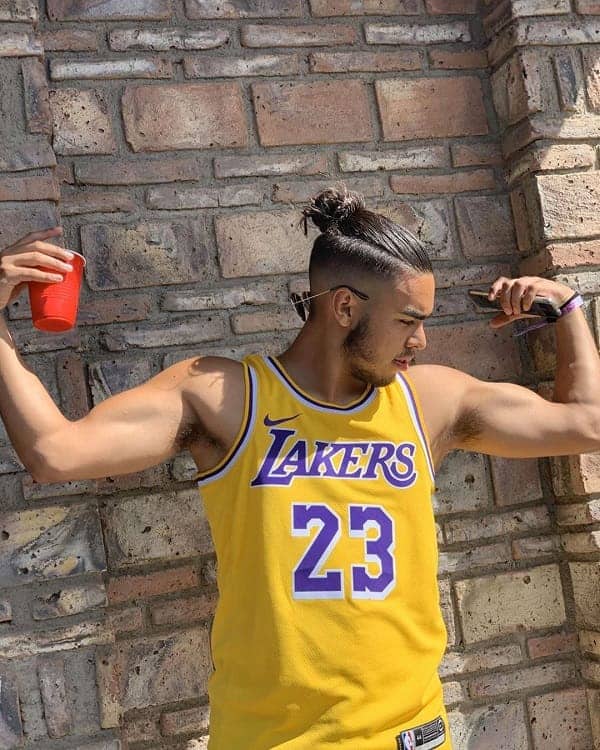 Faded sides work best with a short beard and top hair that is carefully combed backward and pinned into a bun. The front locks will have a particular shine that will undoubtedly boost your image and confidence.
7. Man Bun with Beard And Fade
A man who wants to look cool and trendy can opt for a long, rich beard and high faded sides. For the top hair, gather all the locks and pin them in a beautiful high bun. You'll get a man bun fade that will undoubtedly attract girls like a magnet.
8. Curly Man Bun + Fade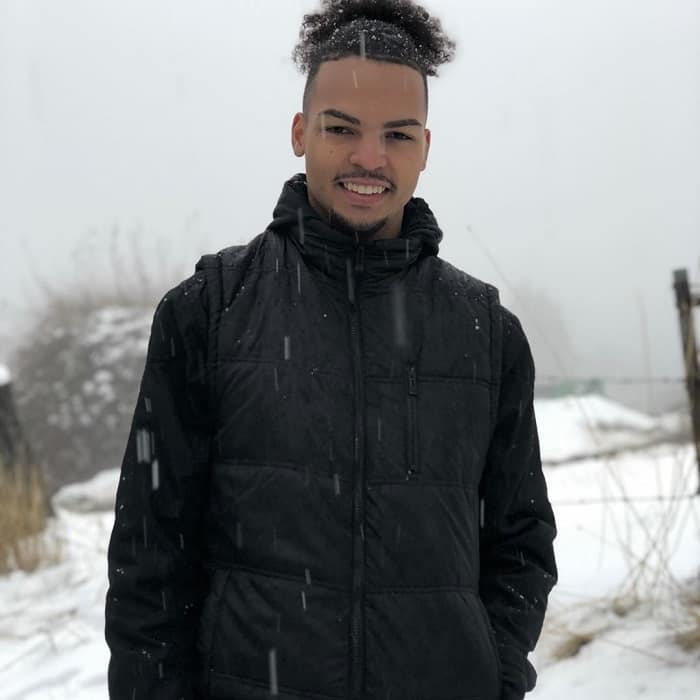 African American curly hair can make any man bun look outstanding because it will have texture and a lot of volume. On the sides and back, you can make a low fade and war a mustache.
9. Bald Faded Man Bun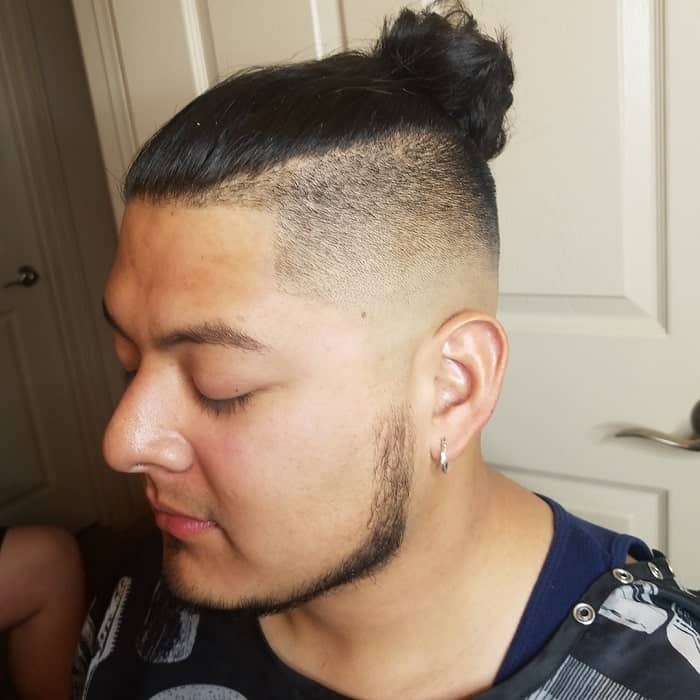 Contour your face with a beard that follows your jawline and get a bald fade for the sides. You can also choose a mohawk or long hair to create your favorite updo. Look even more ravishing by piercing one of the ears.
10. Drop Fade with Man Bun on Top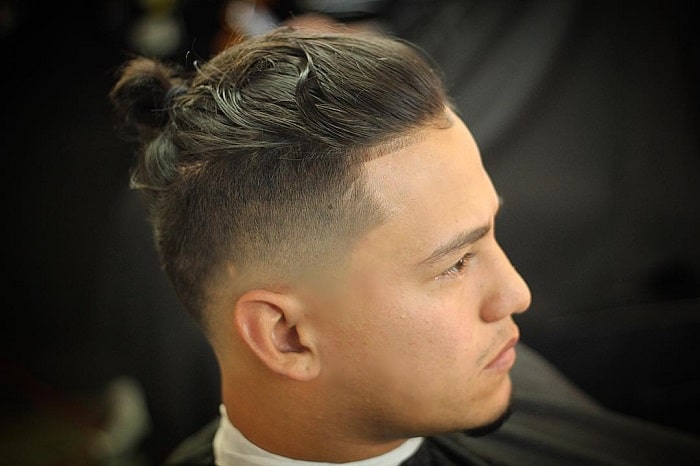 A bun makes any men out there look sexy and cool, and you can take the hairstyle to the next level with a drop fade and a messy styling for the top.
11. High Faded Man Bun
High skin fades keep most of your scalp bald but fantastically work with beards and buns. Whenever you want to look modern, choose a high updo to style on top of your head.
12. Skin Fade + Man Bun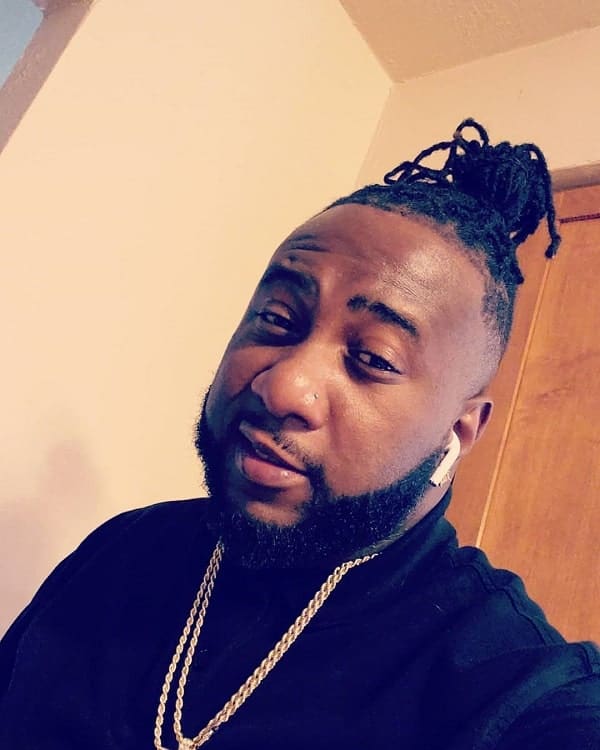 A low fade on sides, beautiful braids for the top hair, all tied into a bun; this all that you need to pull out a fantastic image. A short, neat beard will complete your look, and you are ready to rock.
13. Temp Fade on Man Bun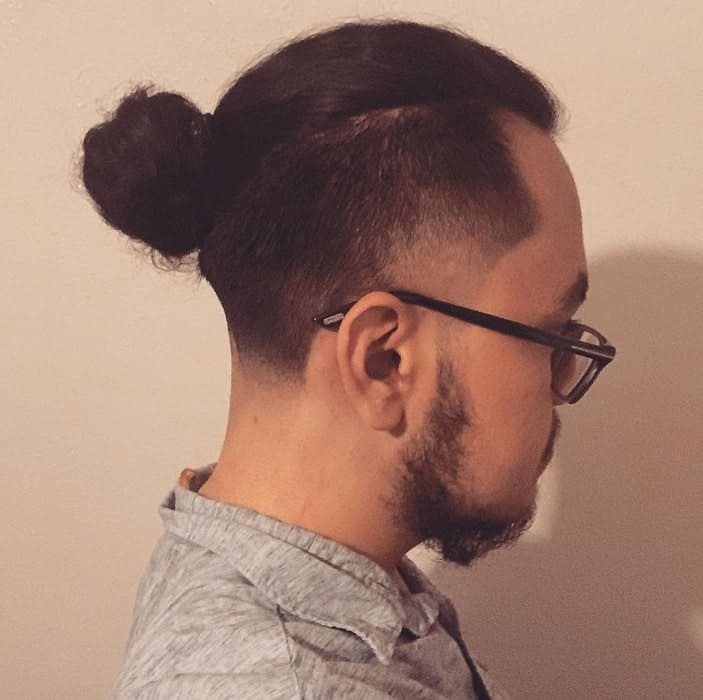 Arrange a beard that gorgeously frames your face and opt for a temple fade. Gather all the remaining top hair and tie it up into a bun. Remember that if you wear glasses, this hairstyle is an excellent option for you.
14. Man Bun Fade for Long Hair
Opt for a fade on the sides and style a long mohawk. Make a voluminous bun using your excellent twists. Get an even more outstanding look with a big diamond earring. That man bun fade is so luxurious!
15. Man Bun Fade with Design
A fabulous razored line design that goes all around the sides and back will make you look ravishing. Use foam or moisturizer to create that wet look and pin all the hair into a big bun on top of your head.
One of the biggest perks about the man buns is the possibility to combine them with razored designs, fades, or braids. In conclusion, when you need a hairdo that can fix or match anything, a man bun is the right pick!