Looking for a suave new look to change your perspective on life? A suave high top fade hairstyle is exactly what you need. A favorite for their versatility, the high top features sides that are cut super short or bare with long hair on top of the head. Whether it's long, wavy, or curly hair you have, the high top fade is a style sure to show it off.
High Top Fade Haircut Ideas
Take a trip back to the 80s and 90s when this look was popular because it's making a comeback! Here are 35 high top fade haircuts for men to consider.
1. Curly High Top Fade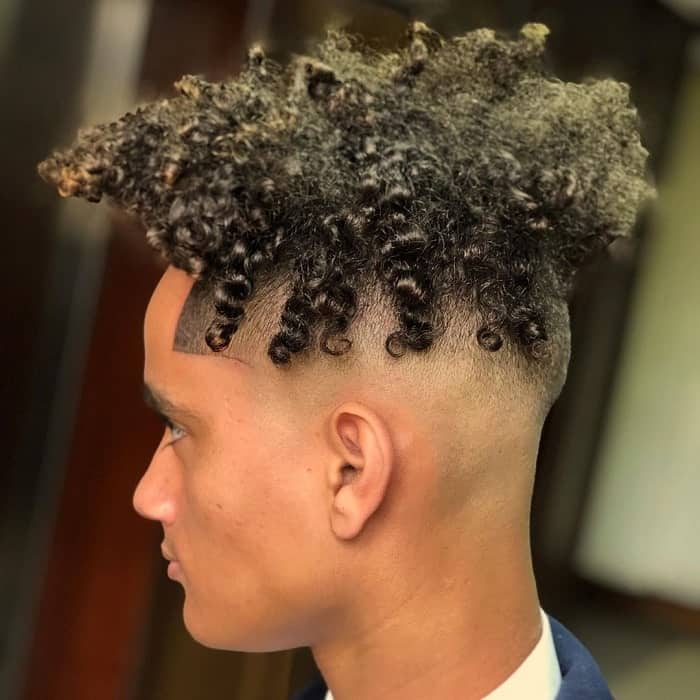 Do you have 4c hair that is kinky curly? Let it spring out from the top of your head in a high top fade that keeps the sides and the neck super smooth.
2. High Top Dreads with Fade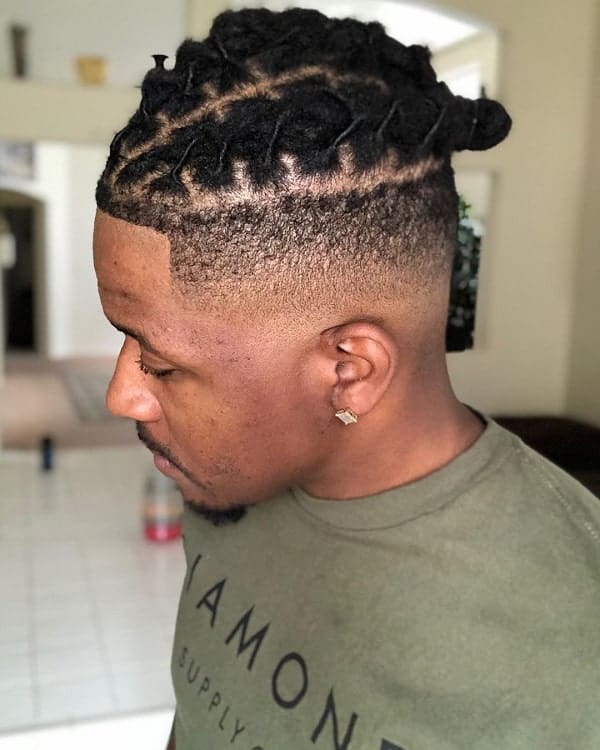 A dread hairstyle can be braided into two up top and pulled into a bun while the bottom features a high fade.
3. Parted High Top Fade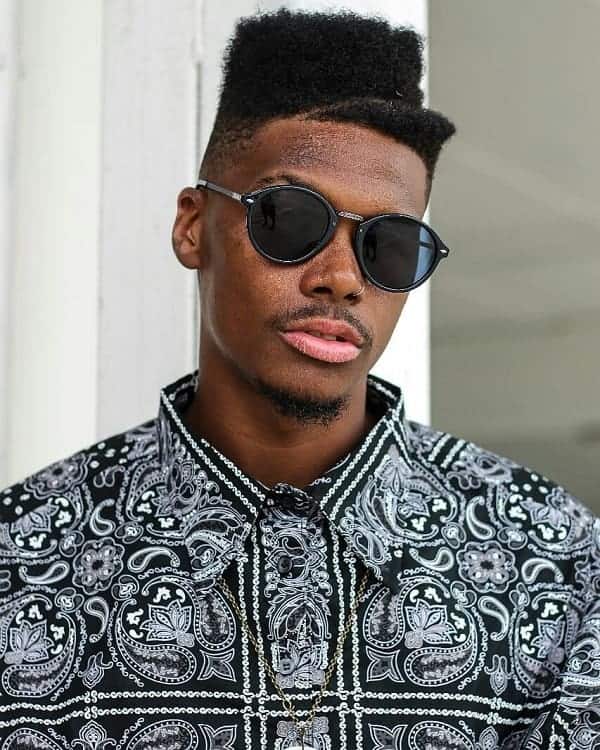 A bold printed shirt paired with a flat high top fade hairstyle isn't short of style at all. Shave in a diagonal line across the front of the head for that extra special detail.
4. Low High Top Fade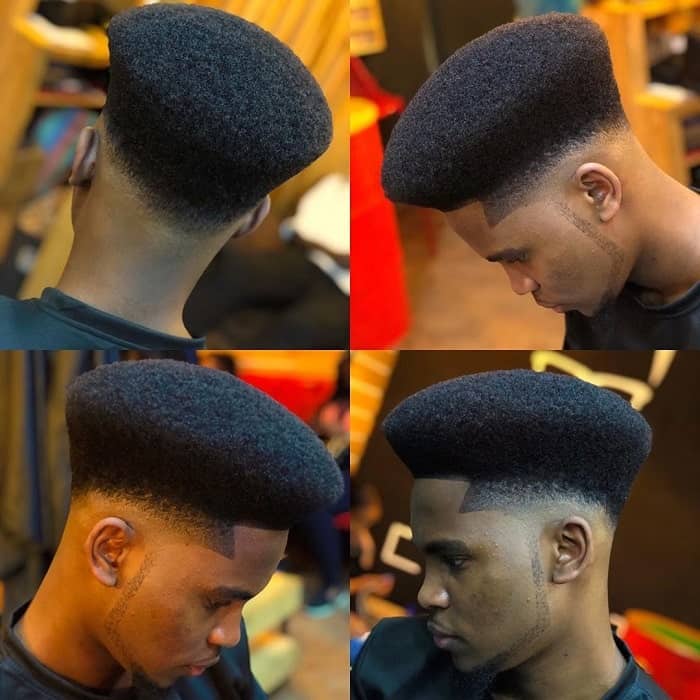 This low high top fade is perfectly rounded and smooth up top. Sideburns and facial hair along the cheekbones is kept to a thin line to fine tune the overall shape.
5. Fade Designs + High Top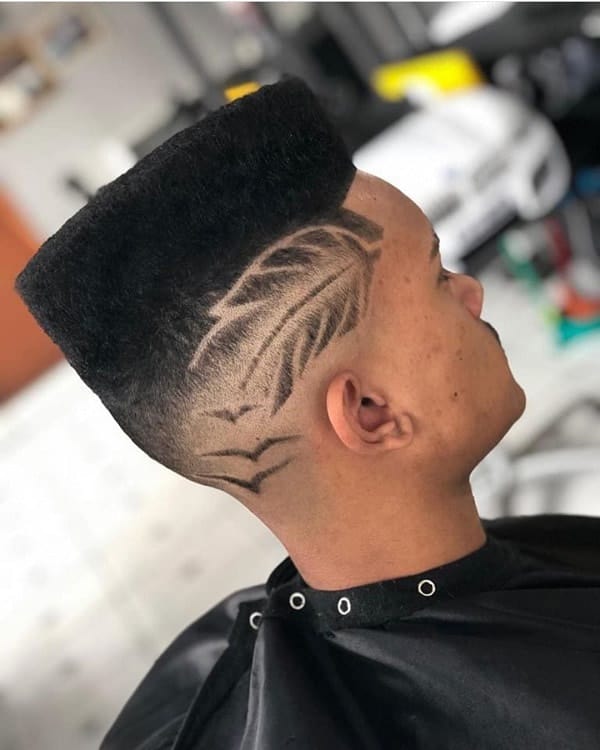 A flat high top fade gets major detailing on the side with shaved designs. Let your stylist get creative or come prepared with your own ideas.
6. High Top Braids And Fade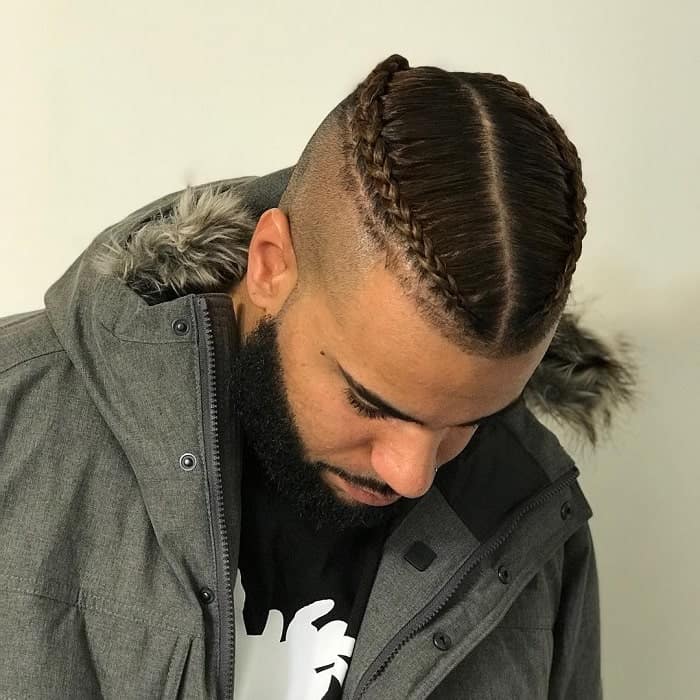 Two braids form a crown on this smooth style while a high fade keeps everything crisp. Use gel for touch ups and even go for highlights to catch the sun.
7. Twisted High Top Fade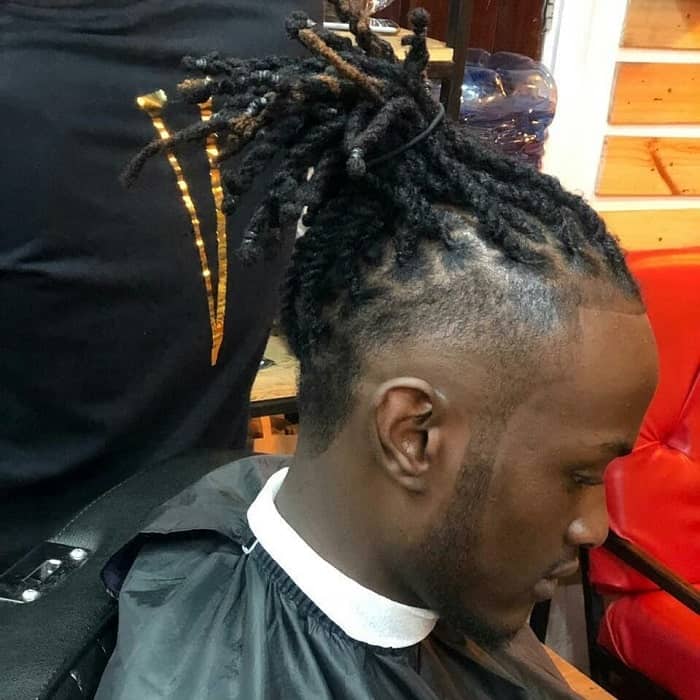 Another style for braids or dreads, this twisted high top is simply a loose ponytail with a couple strands of color. Perfect for the gym or any informal profession.
8. High Fade on Waves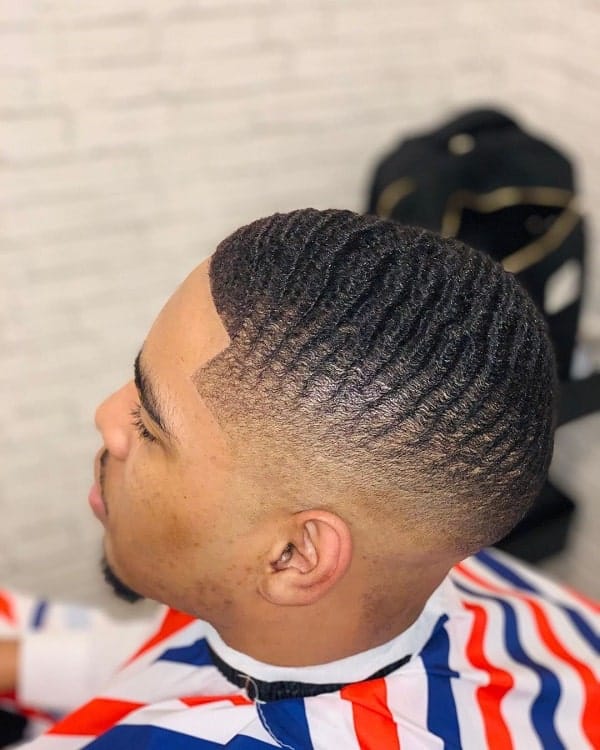 Loving the 360 wave hairstyle? Use a high top fade to make it fresh and classy. The straight lines at temples help to frame both oval and round faces.
9. High Top Fade Haircut with Beard
Men with afro-textured hair will love the way a high top fade gives height and dimension. A beard that's a mix of scruffy and trimmed adds chic contrast.
10. High Top Fade for Black Men
Here's another high top fade with several inches of height. If you have a round face, this haircut will elongate it.
11. Kids High Top Haircut + Fade
Your little one will be the cutest kiddo at school with a high top fade haircut of his own. Styling will also be a breeze for you in the mornings – it's a win both ways!
12. Short High Top Fade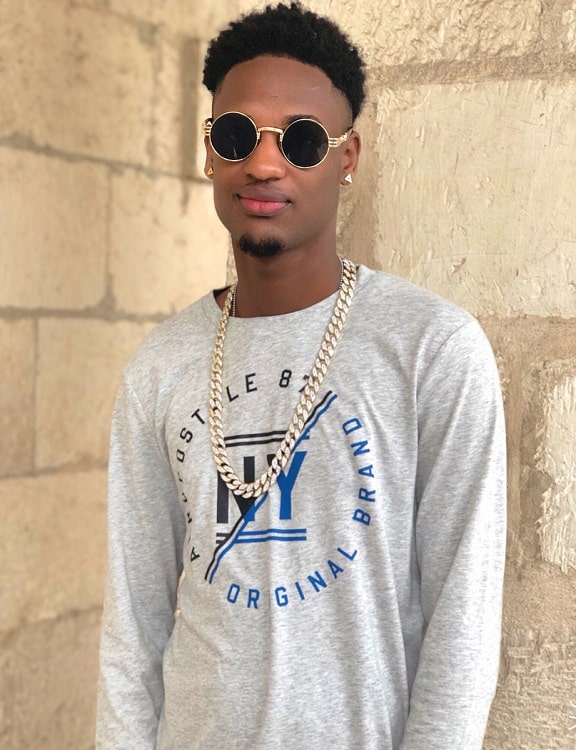 If you like to keep your haircut short and sweet, opt for a short high top fade. It's just as stylish, especially when worn with your favorite pair of shades.
13. High Top Fade on Straight Hair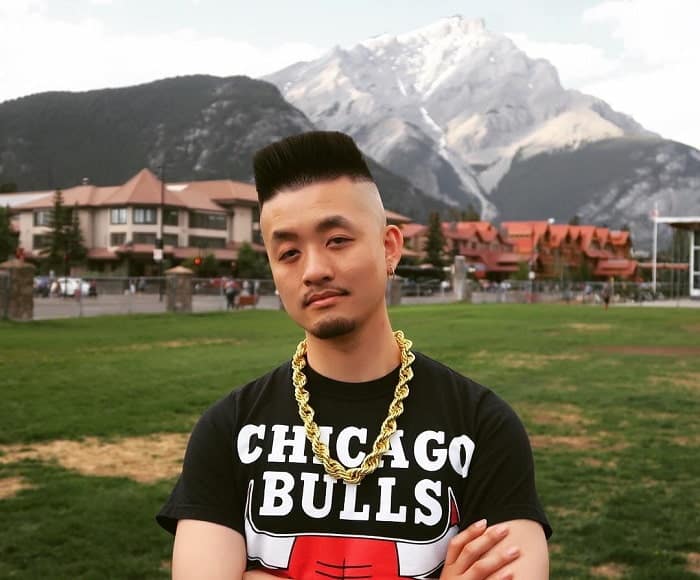 Don't worry if you have straight hair, you can still rock the high top fade. Slick it straight up and shave the fade down to the skin for a punk vibe.
14. High Flat Top Fade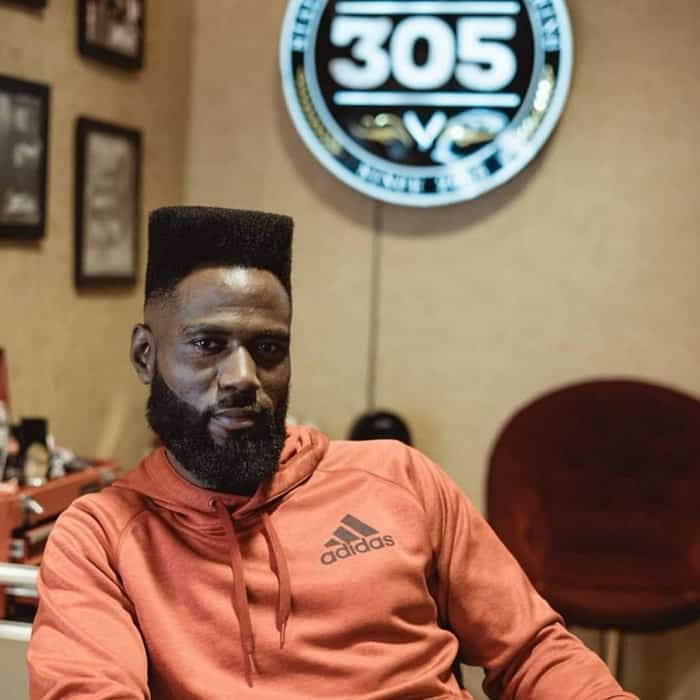 From the curved cut at the forehead to the flat top, this high top fade has no shortage of shape. For older men with a full beard, this is the go-to look.
15. High Top Mohawk + Fade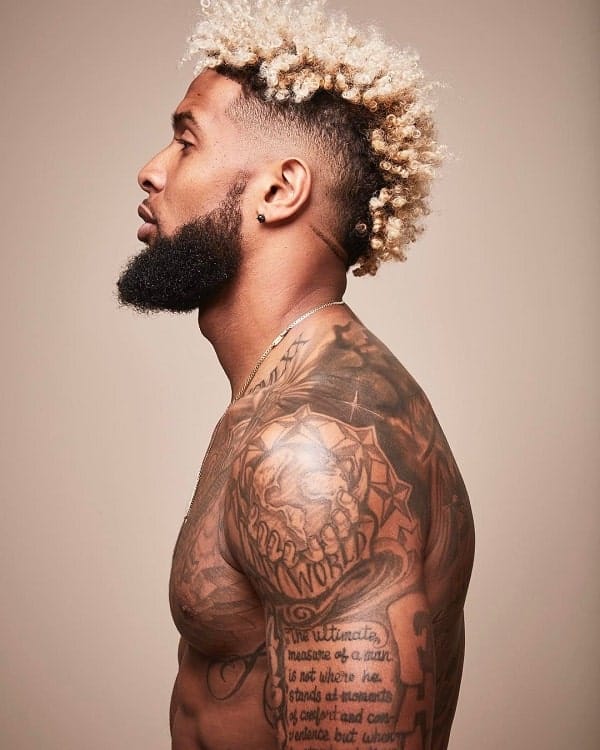 Who doesn't love a curly high top fade with platinum color? Pair a high fade with a mohawk hairstyle and a full beard with disconnected side burns for a truly hot look.
16. High Top Tapered Fade
High bald fades elongate the neck and flatter oval faces. An afro-textured haircut is full of height with it's several inches of curls.
17. High Top Bald Fade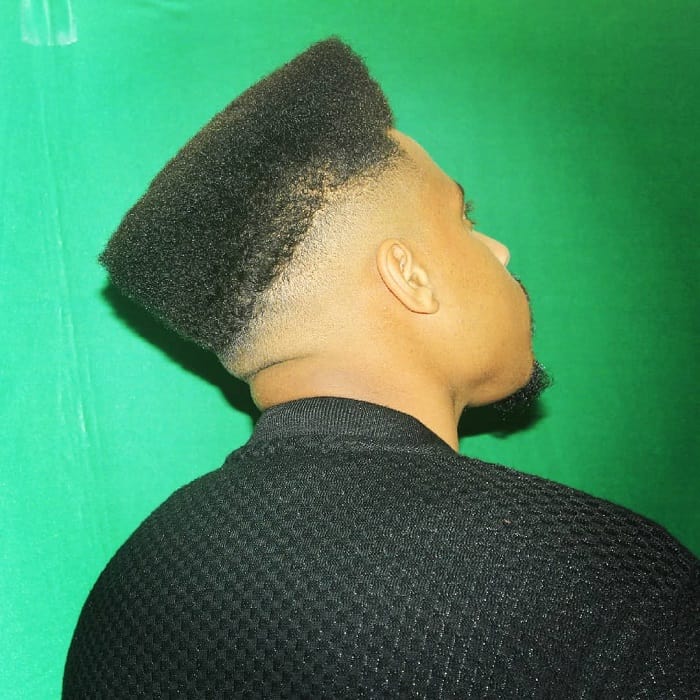 With a flat top haircut and a high fade, you can make touch ups at home with a clipper set. This clean cut look is definitely work-appropriate.
18. Drop Fade on High Top Hair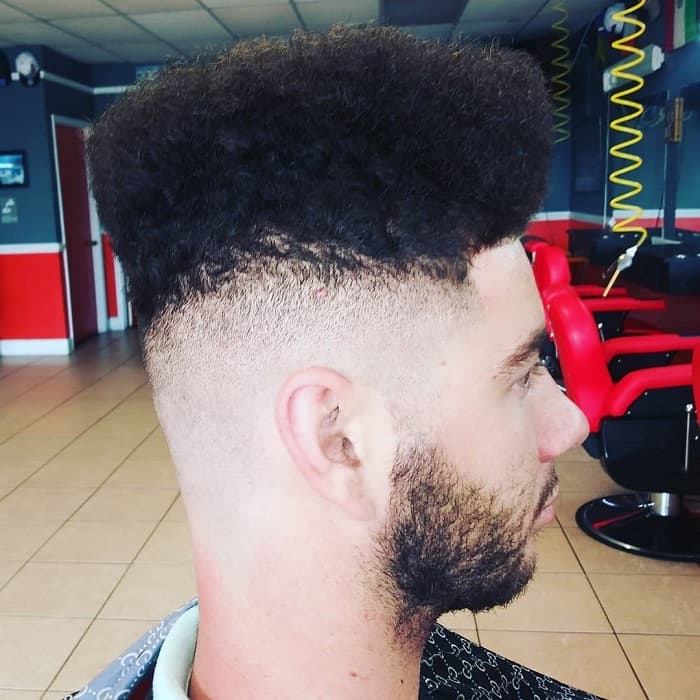 A drop fade features a gradual tapering of hair from the top of the head down to the ears. This style is perfect for afro hair.
19. High Top Skin Fade
Paired with a snazzy suit, a high top fade haircut is super stylish. Skin fades keep everything clean cut and the top hair is full of body.
20. Afro High Top Fade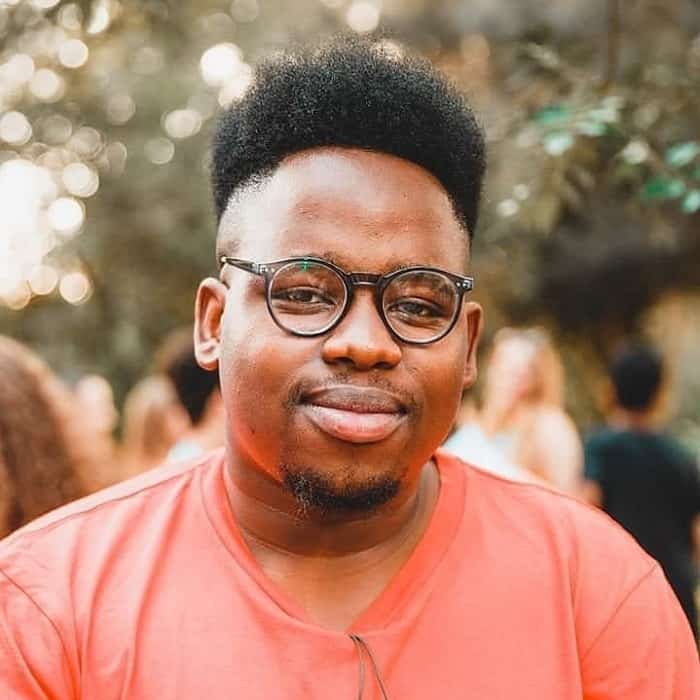 Do you have a round face? A high top skin fade with hair just a couple inches high is manageable and attractive with a little unevenness since it's not rounded perfectly.
21. High Top Temp Fade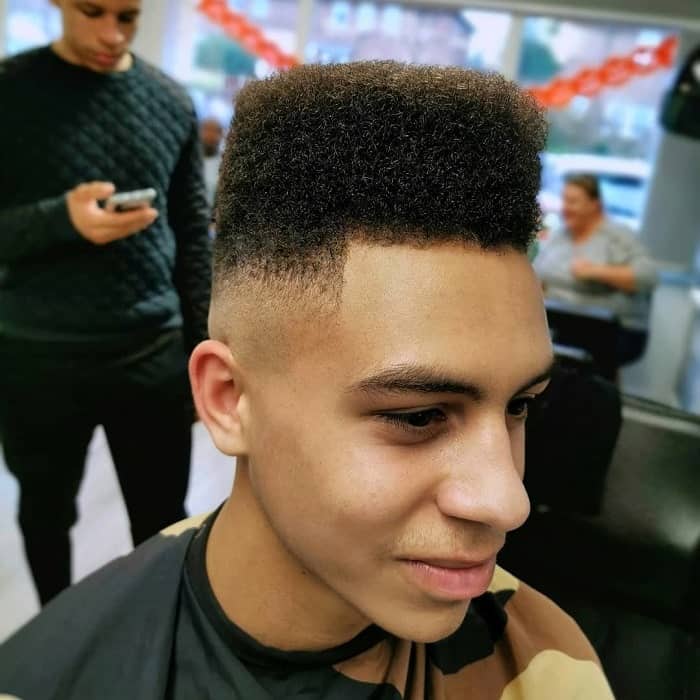 When your face is on the narrow and long side, keep the top hair of your high top temp fade narrow as well to match. Not having facial hair will keep the style looking young.
22. High Top Fade on Cornrows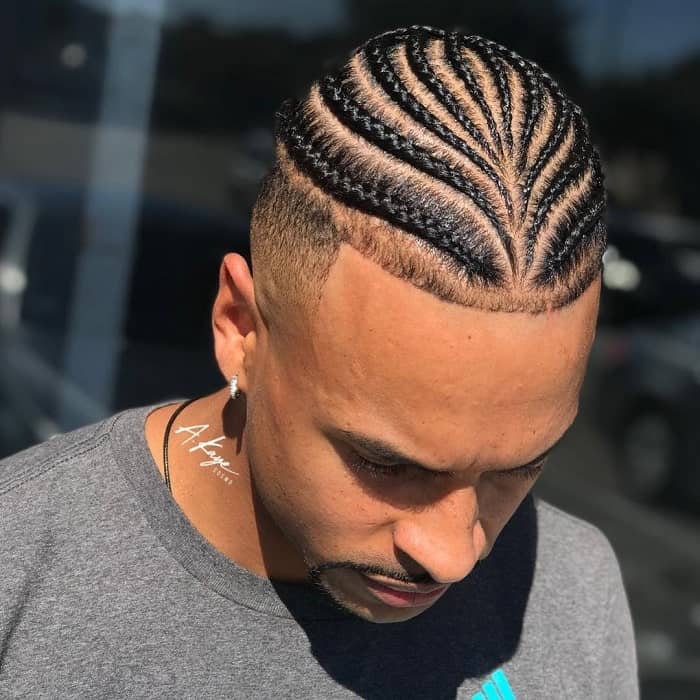 The cornrow look is a classic and a high top fade will only make it look even better. This look will last several weeks and makes for a great protective style as well.
23. High Top Fade for Caucasian Men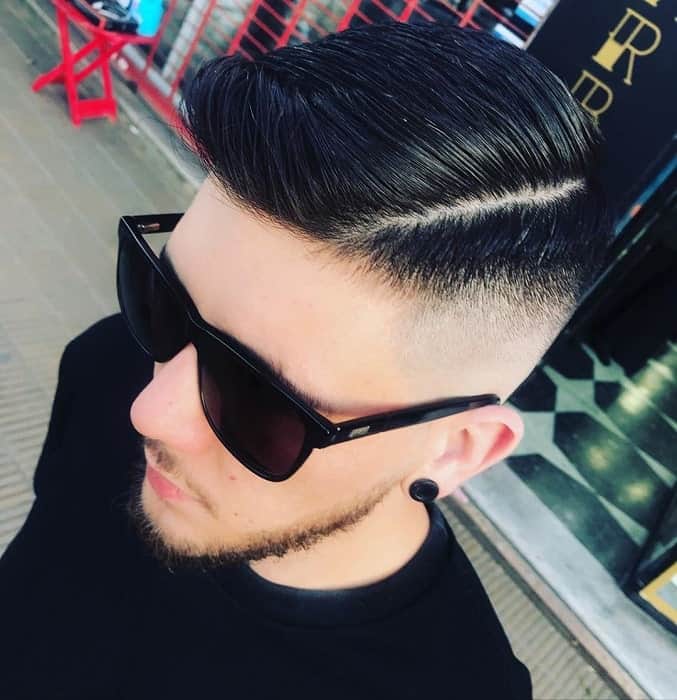 Like the look of a side parted haircut? Pair a subtle or hard part style with a high fade and smooth everything down for a stunner.
24. High and Tight Fade + Long Top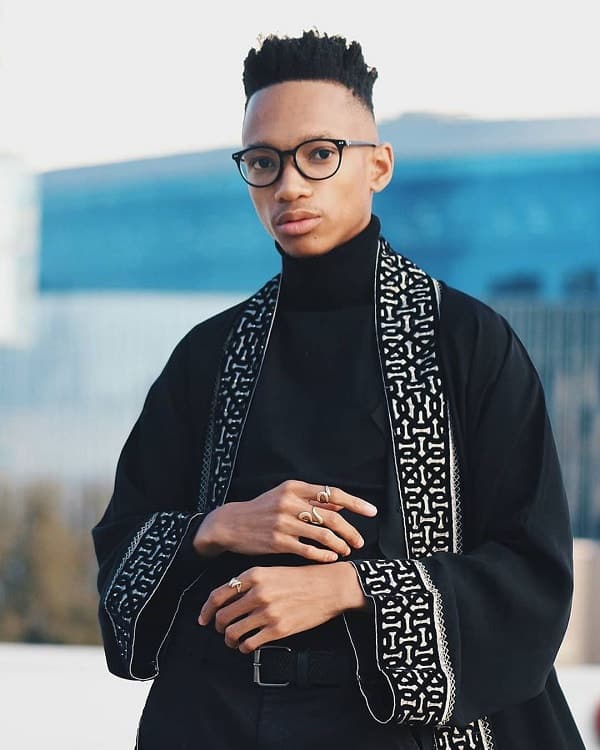 High and tight fades feature back and sides shaved down to the skin while the top hair is long and very subtly blends into the fade, almost like a slope. This textured top is choppy for a nice contrast to perfectly shaved sides.
25. High Top Ponytail with Fade
Man ponytails that are dreads or braids can be livened up with high fades. An outline of the lineup at temples helps to give the face front shape and framing.
26. High Top Afro Fade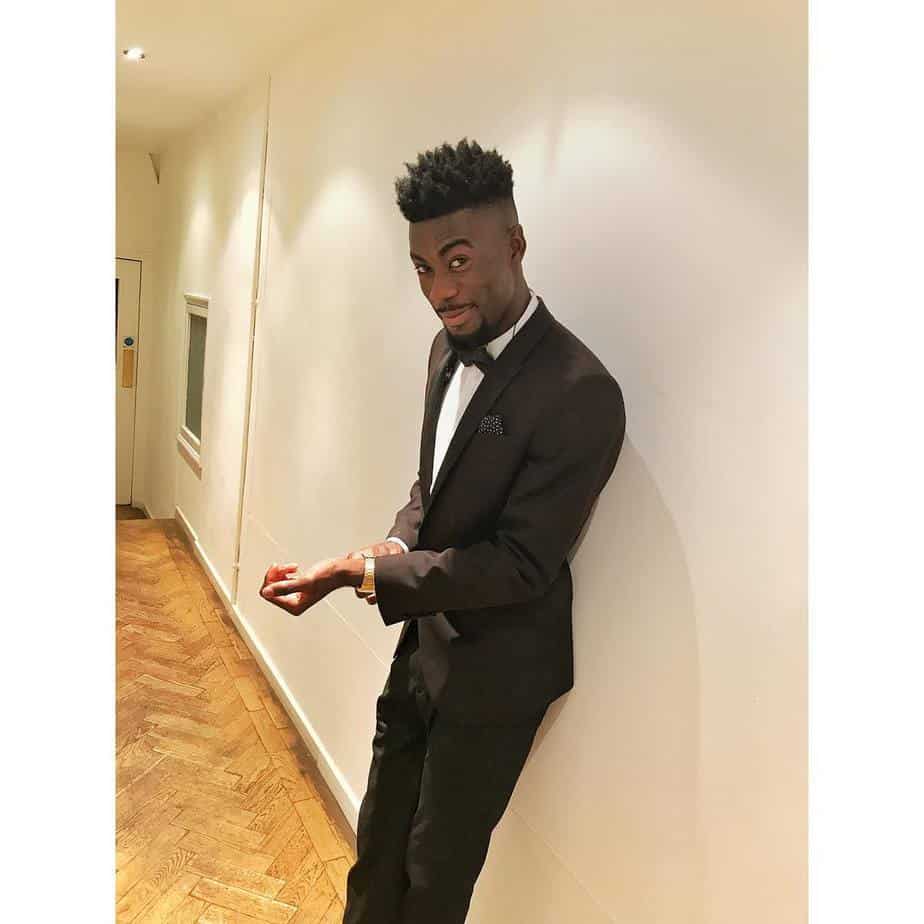 Heading to a fancy event? A high top afro fade looks super snazzy with a tuxedo – everyone is going to want to dance with the hottest guy there.
27. High Top Box Fade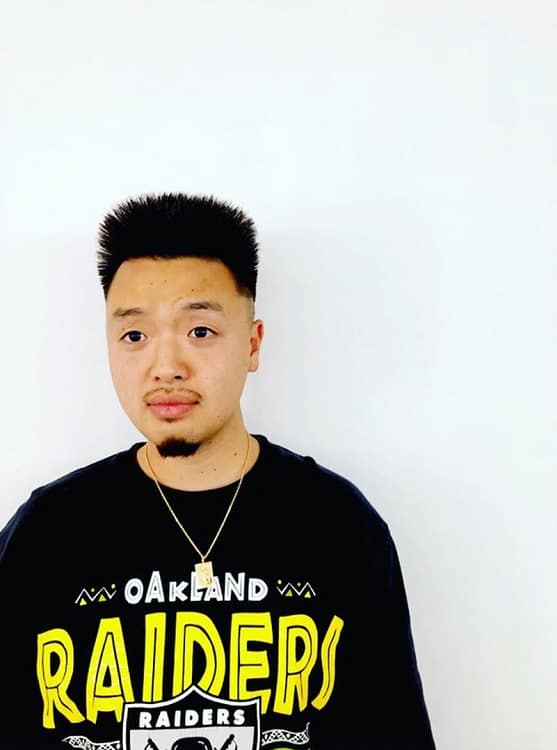 A box fade is when your stylist cuts your hairline in a rectangular shape. Combine it with spiky texture and you've got a trendy new do.
28. High Top Colored Fade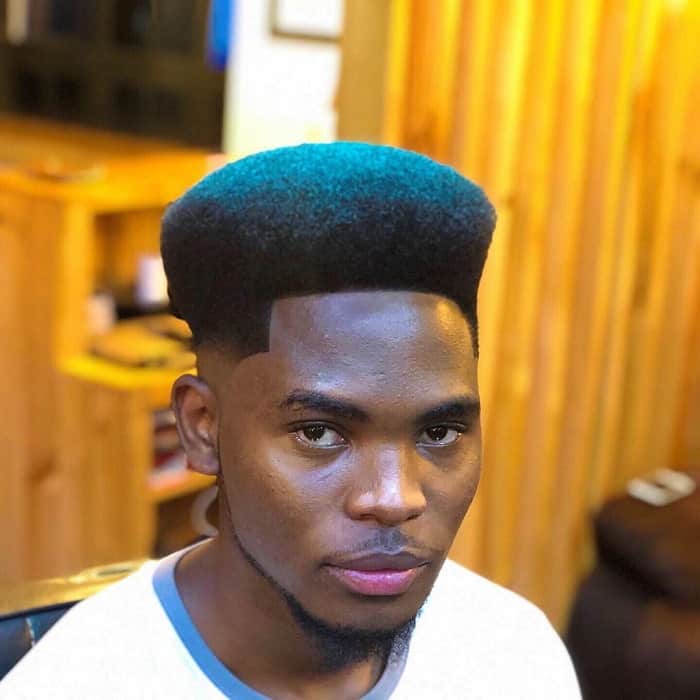 Nothing says style like a pop of color on a high top fade. Just spritz the top with blue and smooth the top over for a look that will turn heads.
29. High Spiky Top Fade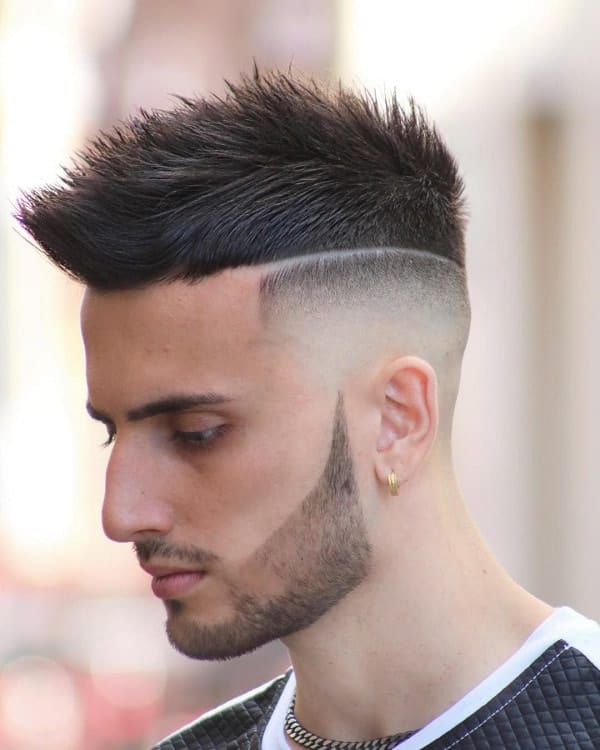 Just a little styling gel is all you need to create enviable texture on this spiky high top fade.
30. High Top Blowout Fade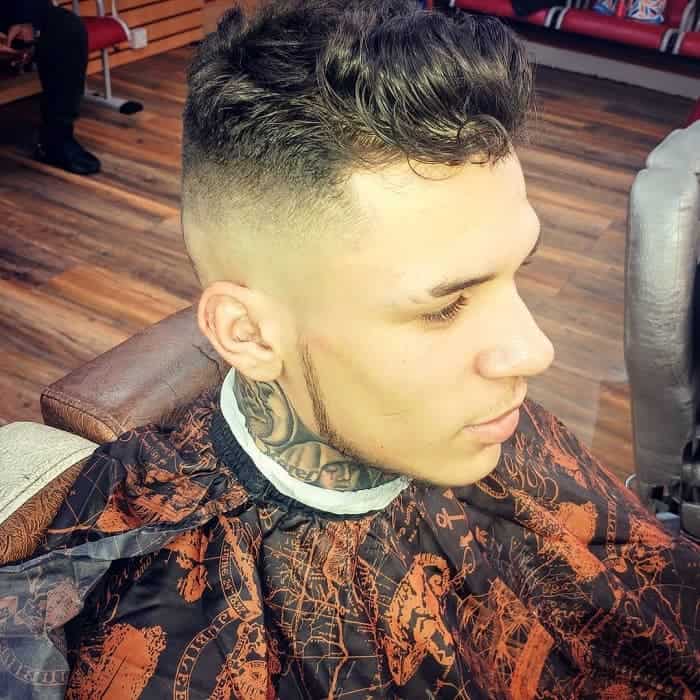 A mini wave stands at the forefront of this style while the high fade is tapered and facial hair is thin, framing cheekbones.
31. High Top Faded Comb Over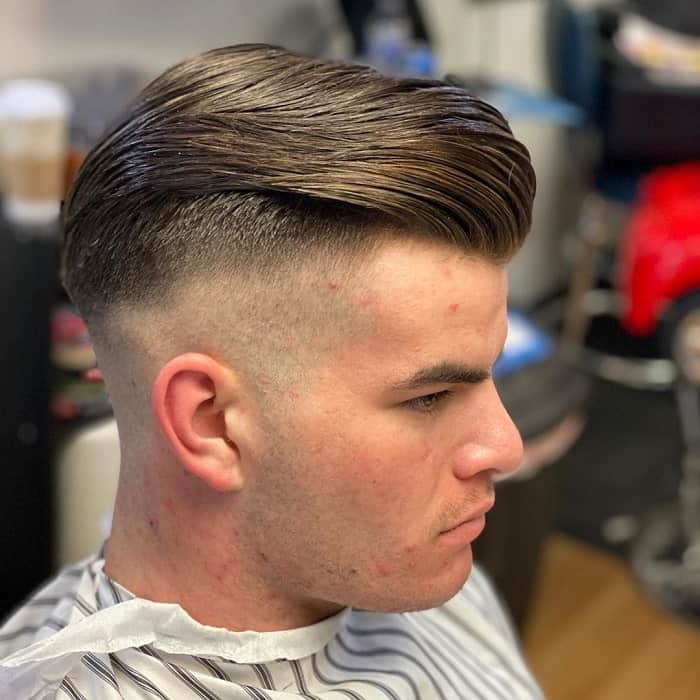 Long hair rocks the high top fade beautifully. Simply comb back the hair and smooth with mousse or gel for a quick 5 minute style that won't hold you up in the morning.
32. High Top Pompadour Fade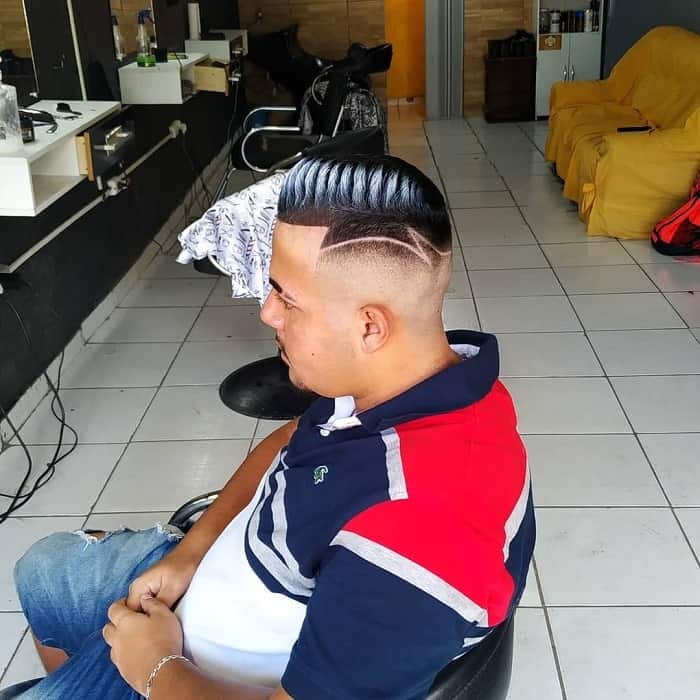 An old-fashioned pompadour stands out with streaks of white and shaved detail in its high top fade.
33. Man Bun Hairstyle + High Top Fade
Are you always at the gym? A high top fade man bun will keep your hair out of your face in a stylish way and be work-ready when you need it to be.
34. Blonde High Top Fade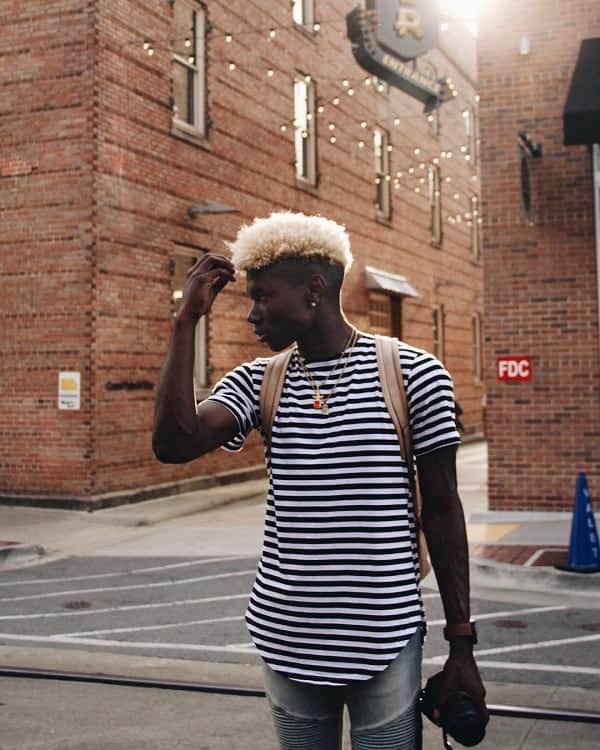 On black men, platinum hair color stands out beautifully on afro hair. The high top fade frames curls so your look is modern.
35. High Top Burst Fade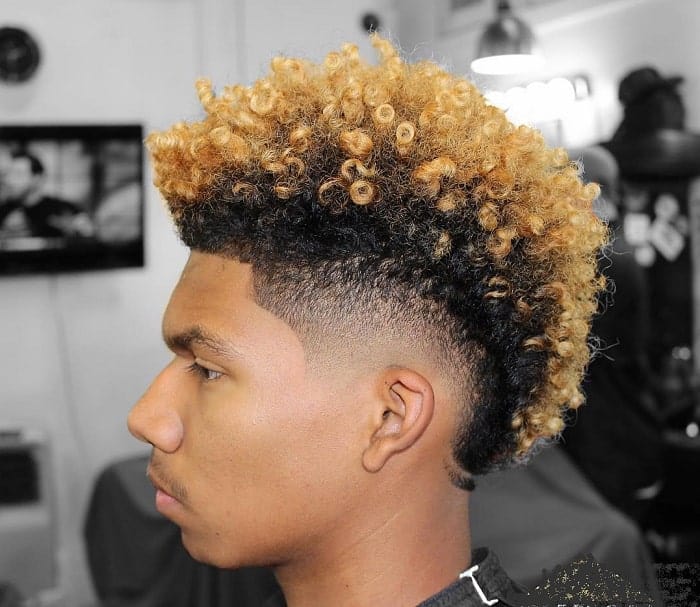 To show off strong jawlines, consider a high top burst fade. Combined with a shaved line at the neck and gold hair color on curls, this look is packed with detail.
If a style full of personality is your goal, you need to try one of these high top fade haircuts. Not only will your final look turn heads, but you'll also feel the most confident you've ever felt. The way this style frames your favorite haircut, complements bone structure, and allows for customizing, it's no wonder it's a favorite!