Have you heard of mohawk fades? If you haven't, there are several reasons they should be on your haircut list the next time you head to the salon for a new look: first, they're an edgy and bold style; second, they flatter a variety of face shapes; and third: they're just hot. Mohawks paired with any level of fade are the latest and greatest way to sport the look, bottom line.
Men With Mohawk Fade
Here are the 25 best mohawk fade haircuts for men who want to be the most stylish of his friends.
1. Burst Fade Mohawk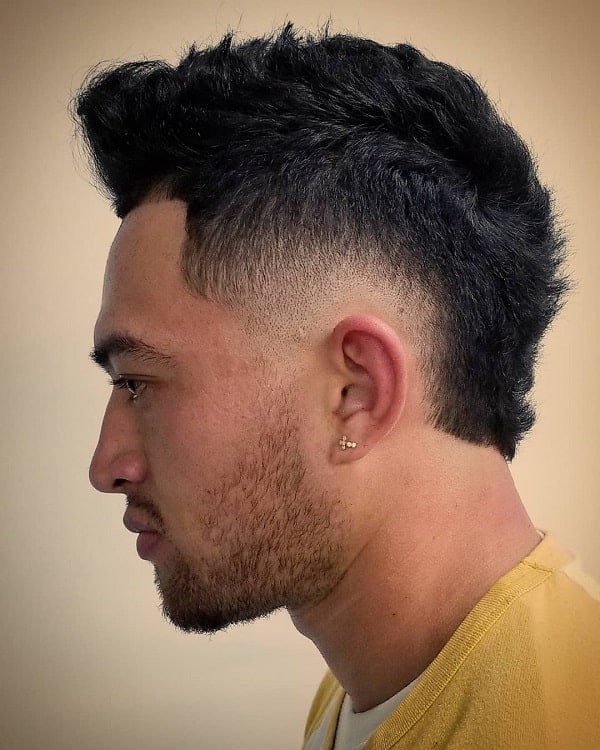 While some mohawks keep the hair even all along the strip, this one starts long at the forehead and gets shorter at the nape. A burst at the ear adds cool detail.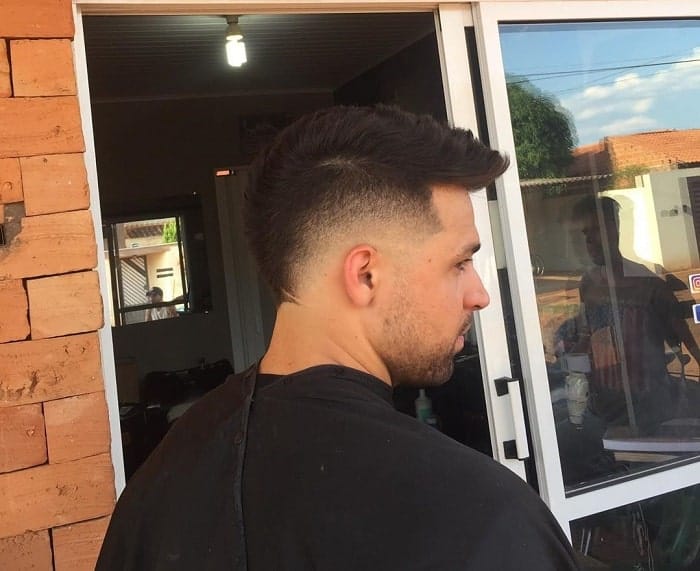 A low fade on a mohawk blends in smoothly with facial hair and sideburns while a shaved diagonal line at the nape adds a punk detail.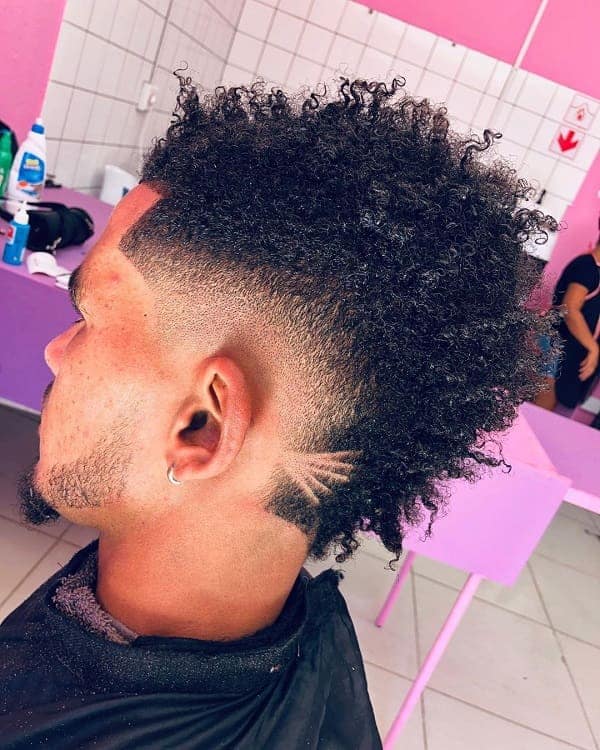 You won't have to worry about which is your good side with a taper fade – it flatters all angles on a curly mohawk fade.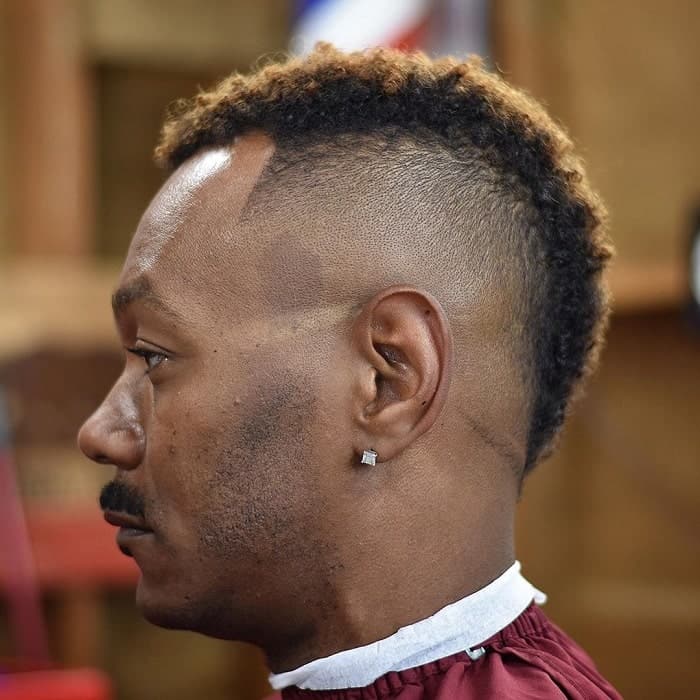 Men with short hair can pull off a mohawk fade as well. Make sure lines at the temples are straight for a truly classy cut.
5. Long Mohawk + Fade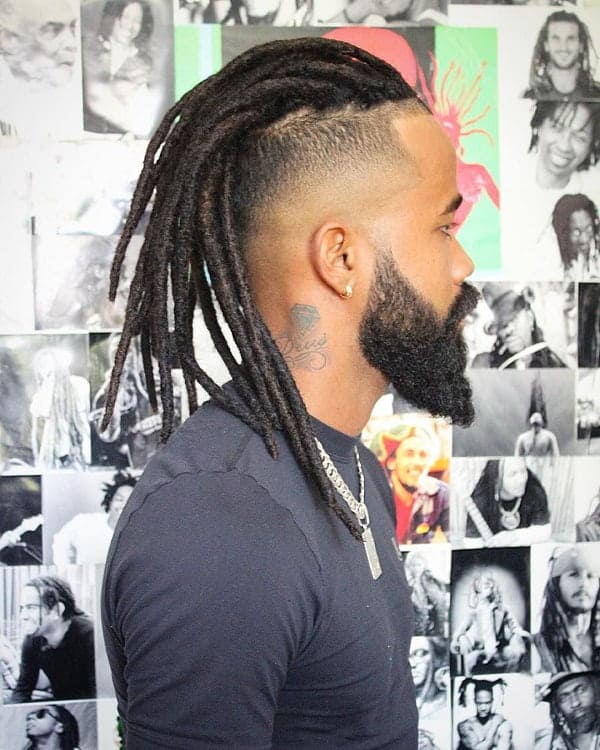 Long dreads pull off a classy mohawk and a trimmed beard keeps the whole look professional. A high fade makes this style super modern.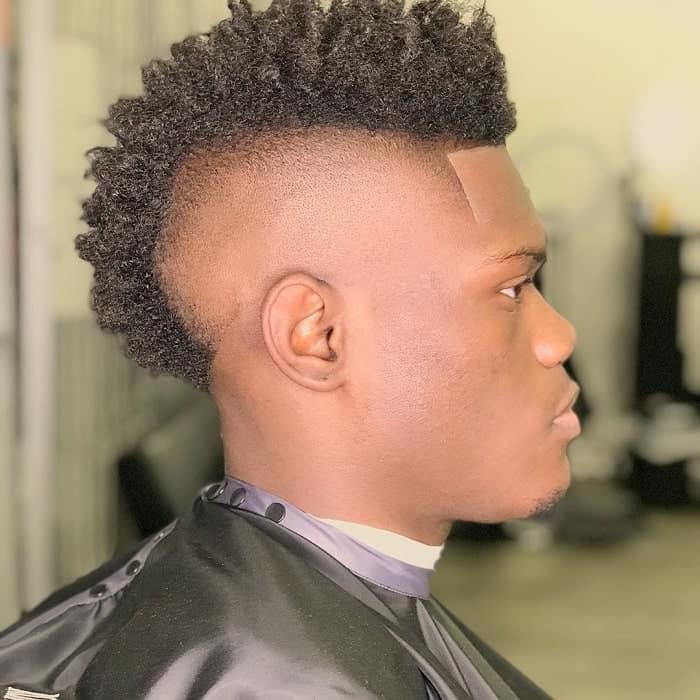 Create a spiky appearance in afro-textured hair by shaving in the shape or using texture creme. A high skin fade requires a bit more maintenance but looks amazing.
7. Curly Mohawk Fade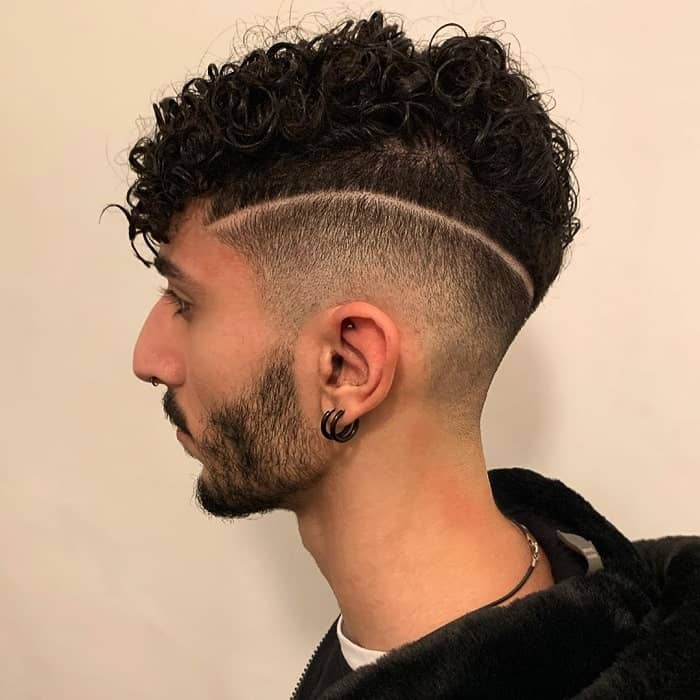 To set a curly mohawk fade apart from others, shave in a curved line along the side. Accentuate curls with a creme or a perm.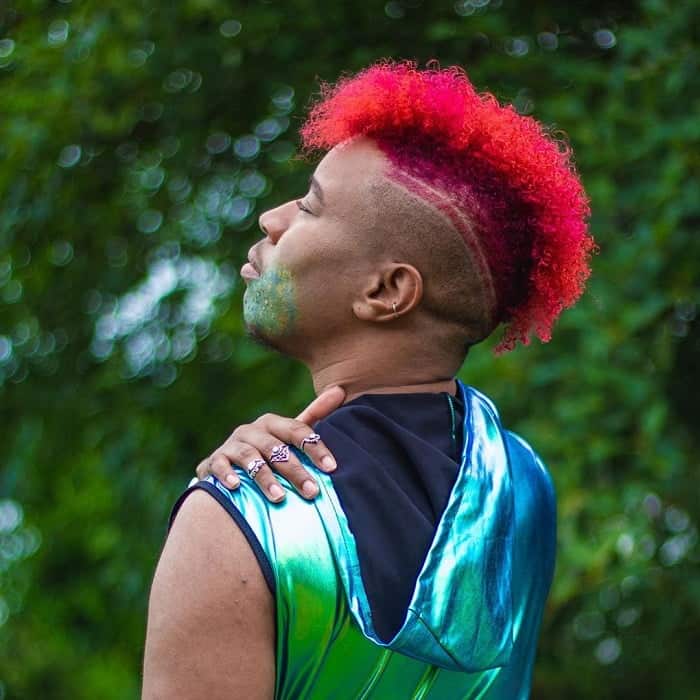 Faded undercut mohawks can be made to look artistically colorful with a bold splash of red and a mix of thin and thick shaved parallel lines.
9. High Fade with Mohawk Top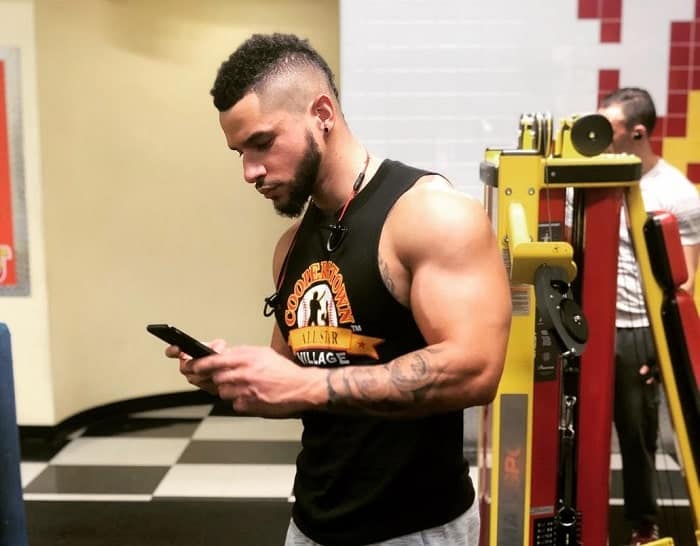 Always be gym ready with a high faded mohawk. The wash and go style doesn't require anything other than a hair oil after washing to keep any texture shiny.
10. Bald Fade Mohawk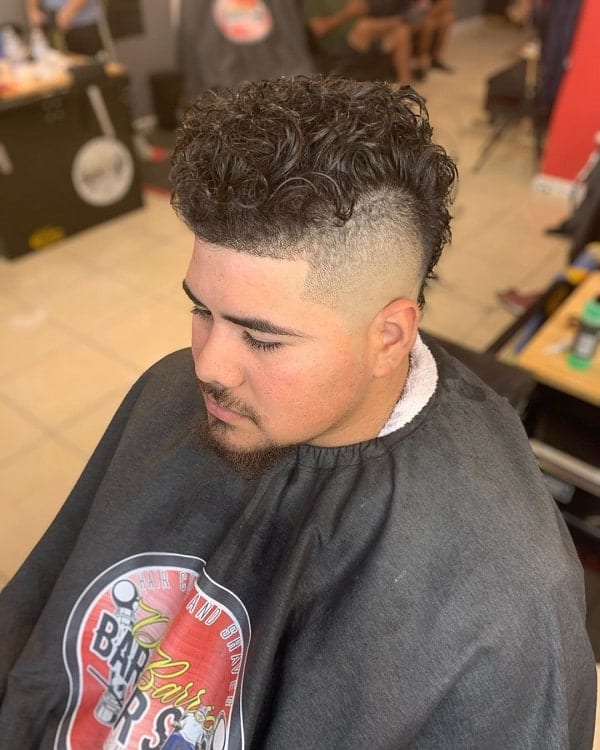 Thick top texture stands out among a bald fade and makes for a cool contrast, especially with the classy line up detail.
11. Mohawk Haircut + Temp Fade
A temp fade competes for attention with a platinum mohawk. The light and dark colored hair are a punk-rock style fit for any edgy man.
12. Faded Mohawk Design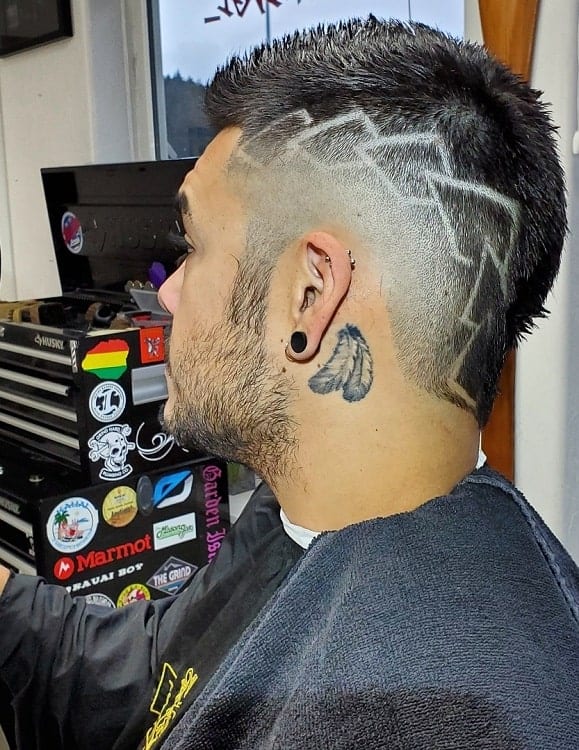 The diamond detailing in this fade will set your mohawk apart from everyone else's. Spike up top texture for the sexiest look.
Curly texture deserves a rich color and a skin fade with line detail at the nape. Keep your facial hair trimmed and neat for the perfect contrast.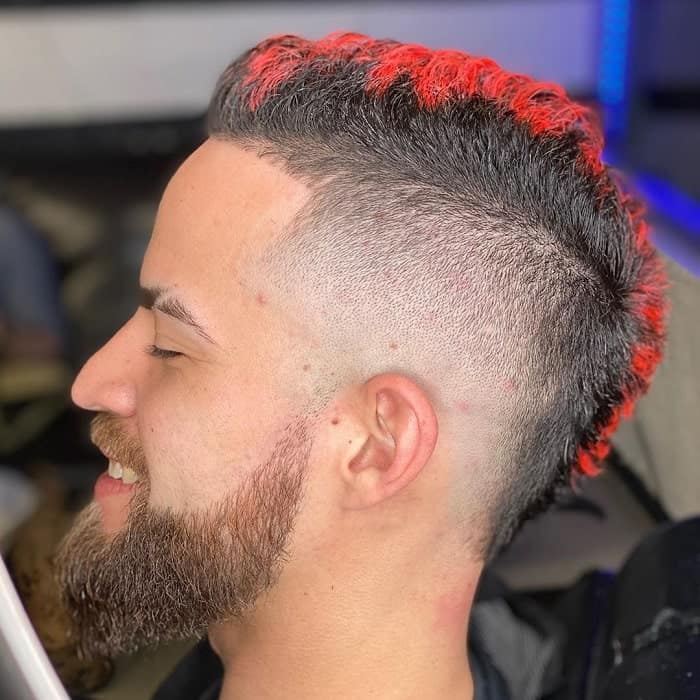 A drop fade is when there are two levels of clipped fade before the mohawk strip. Add highlights in a rocker red or something cooler like light blue.
15. Frohawk Fade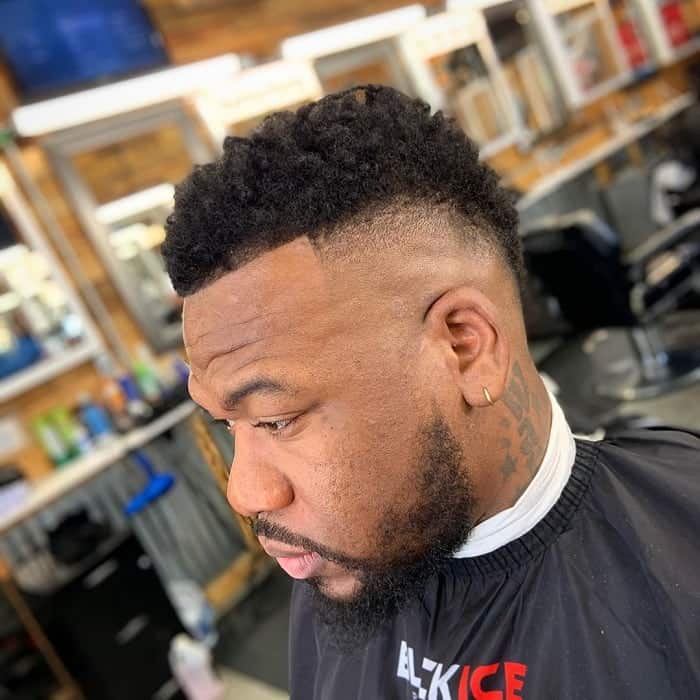 Afro-textured hair gets its very own mohawk: the frohawk. A skin fade will keep your look classy and professional but make sure your beard area is always touched up as well.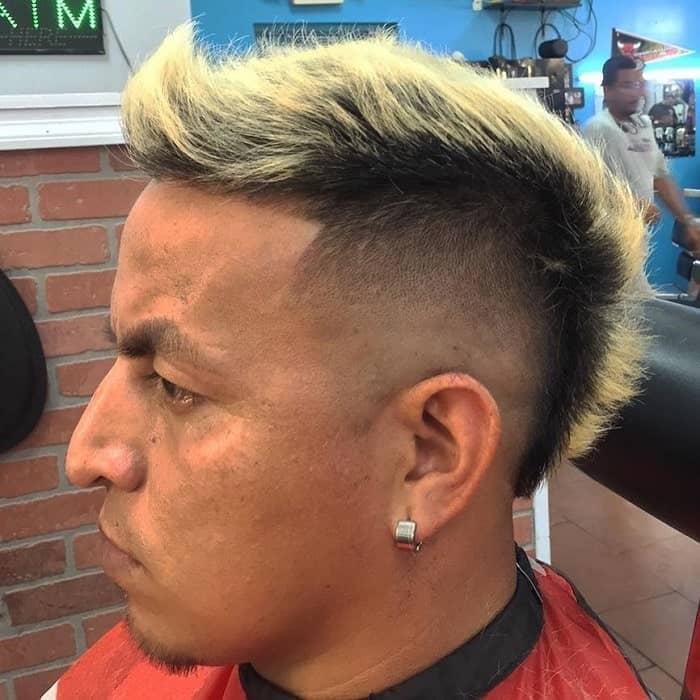 Men with straight hair will like the look of this mohawk fade. A fun color like yellow or platinum will liven up the look.
17. High Top Fade + Mohawk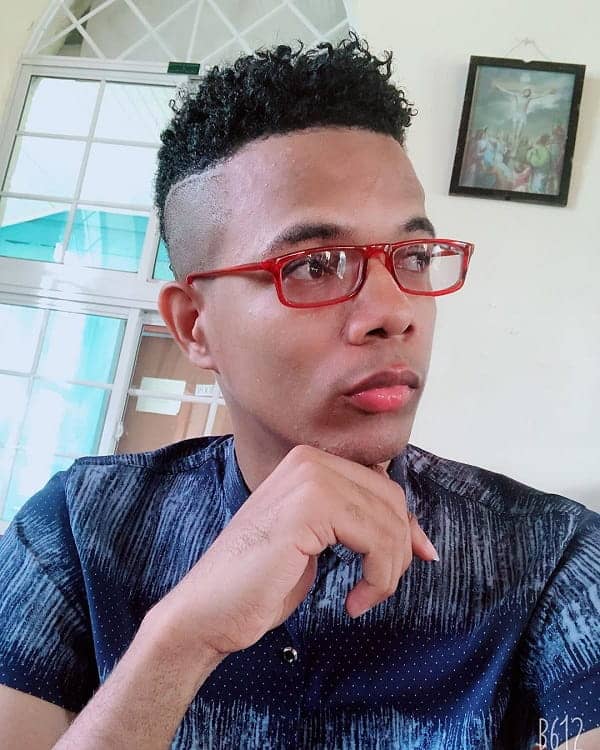 If you're new to mohawks, try a high top fade which will allow you to keep more of your hair on top but keep sides stylish.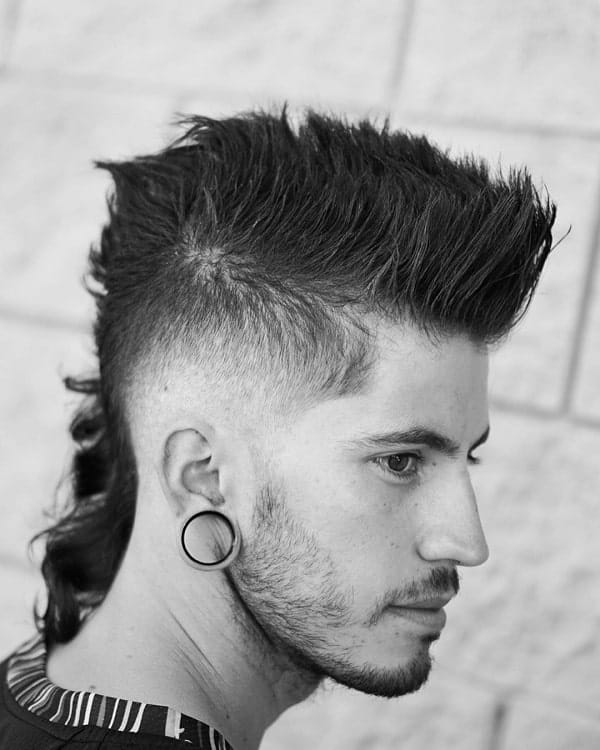 When you want something totally different, the mohawk mullet is there for you. Hair is long all the way past the nape but spiky texture up top keeps the look rocker-chic.
19. Twisted Mohawk Fade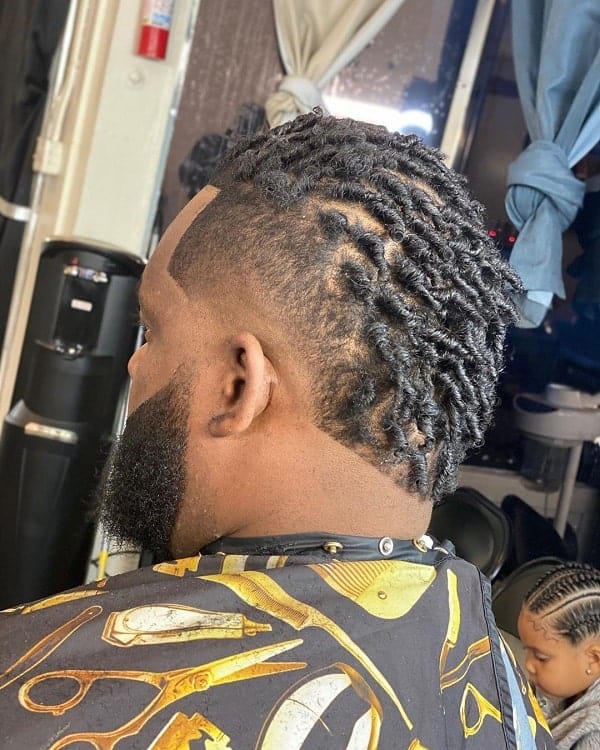 For black men interested in the mohawk hairstyle, twisted braids are another way to do up the style. Sharp lines at the nape and temples make the look fresh.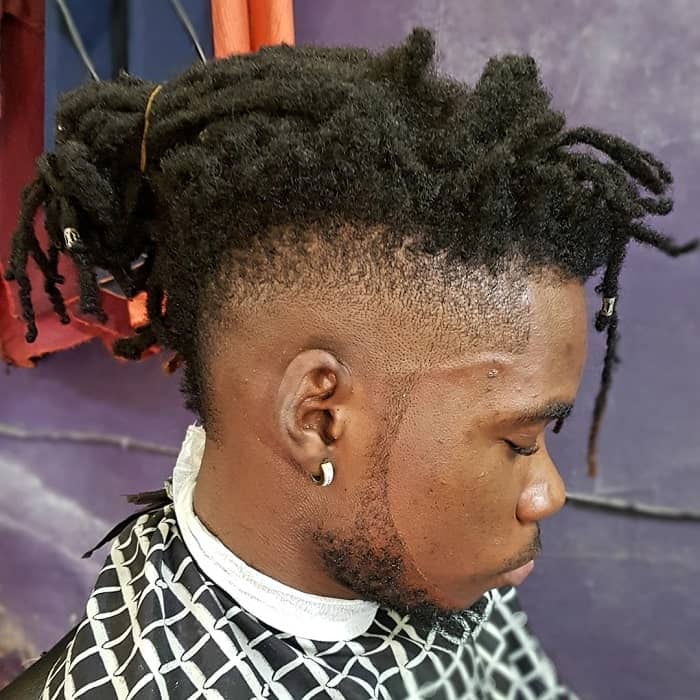 A long mohawk with dread can be worn down or pulled back in a ponytail. Decorate ends with silver beads for special detail.
21. Faded Mohawk + Beard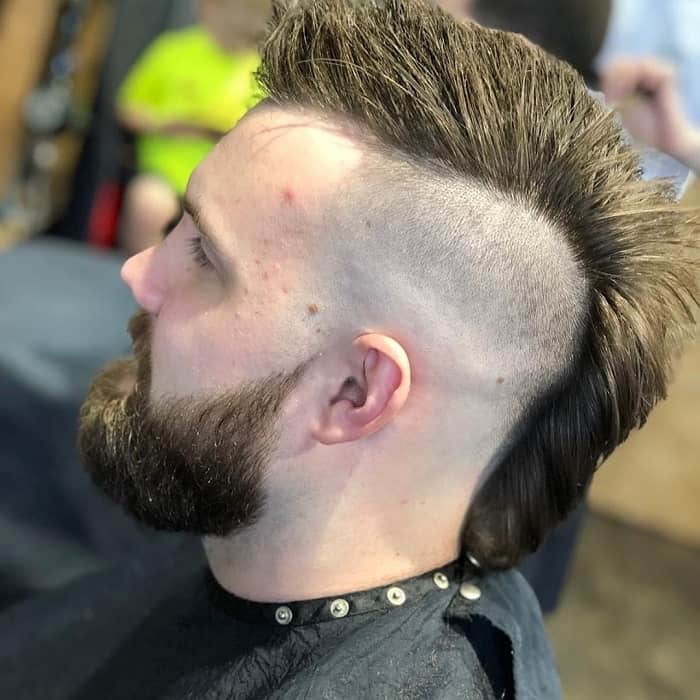 A mohawk full of body and a groomed beard in the same color keeps this hairstyle consistent with a smooth skin fade in the middle.
22. Caucasian Guy with Mohawk Fade

Men with pale skin tones should definitely try out a platinum mohawk. A shaved X marks the spot where your edgy fade frames this out of the world style.
23. Comb Over Mohawk + Fade

Concerned about staying professional at work? Comb over mohawks are work appropriate and suave smoothed back.

Braided mohawks are full of intricate detail. A trimmed fade lines the forehead for a cool face-framing feature.
25. Kid's Mohawk Fade

Your little one will be the most stylish at school with their own mohawk and fade. Let them choose a special design to shave into the side to make the style their own.
It doesn't matter if your mohawk is long or short or if your fade is bald or has a little hair to it. These are all great looks you're sure to pull off. The best tip you can keep with you is to switch up your look if you find yourself unhappy with something – remember it's hair and it'll grow back!